With us all spending more time at home and a lot of us turning to baking, check out these Easy Biscuits & Cookies for #CookBlogShare Week 14.
Welcome to Curly's Cooking and #CookBlogShare Week 14! I am really happy to be guest hosting again this week. #CookBlogShare is a weekly link where food bloggers come to link up their delicious treats and share and comment on each other's recipes.
It is also a great place for non food bloggers to come and find new recipes.
The regular hosts are Recipes Made Easy who hosted last week & Lost in Food. CookBlogShare is also hosted by guest bloggers twice a month.
It's all gone a little bit crazy
I think we can all agree that the world has gone a little bit crazy recently. People are coping with it in different ways. Some people are eating all of the food in their house, others are hiding from their children and some of us are spending far too long playing Food Truck Tycoon on the Nintendo Switch.
Whichever category you fit into, I hope you're all staying safe at home.
Something that has come from this situation is that a lot more people are searching for new recipes to cook. I know in the grand scheme of things running a food blog may not feel very important right now. But I have had lots of people message me asking for advice and more people making my recipes than normal.
This has made me happy that in a very small way we can at least help people make tasty food!
We know that people aren't going to baking and cooking the same recipes as before, but that doesn't mean it doesn't cheer people up to see them.
I intend to still share recipes like my Funfetti Cake to add a bit of fun and happiness to people's days. How about you? Have you changed which recipes you've been posting or searching for?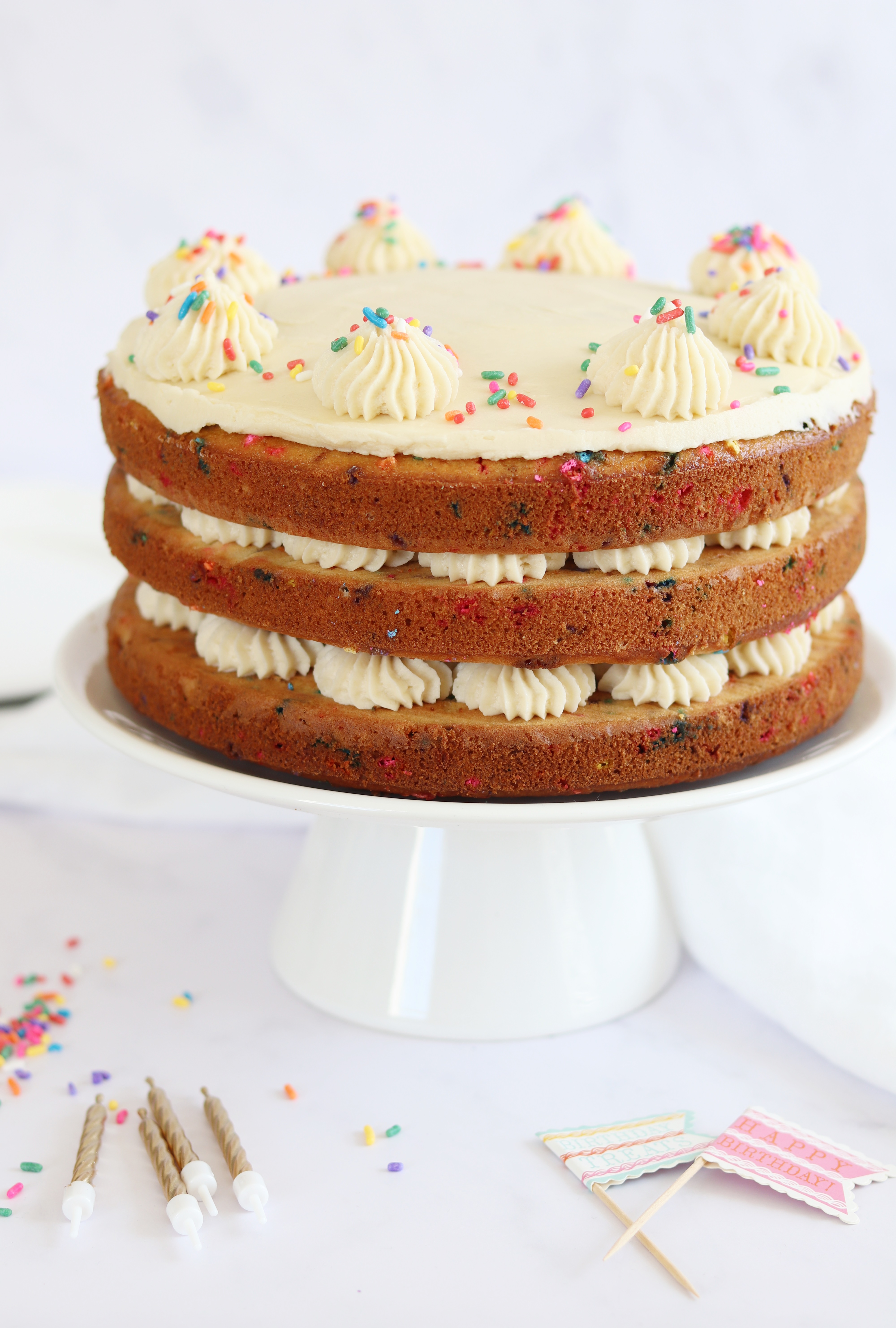 Easy Biscuits & Cookies
With everyone spending a lot more time at home, people have been turning to baking. I've seen more people than ever baking.
My baking has had to slow down though because I no longer have anyone to eat my bakes due to social distancing!
It is lovely to see that parent's are incorporating baking into their homeschooling timetables as well as people that haven't baked in years giving it a go.
So for me, when I saw the recipes linked up last week I had to feature Easy Biscuits & Cookies!
Blueberry Cookie Traybake
Blueberries are one of my favourite fruits and the idea of putting them into a cookie traybake is fantastic! I like a soft cookie so this Blueberry Cookie Traybake by Sisley from Sew White is absolutely perfect for me.
They're also great to get children to help out with; even more so that standard cookies because you don't need to make individual cookies.
Easter Biscuits (Cookies)
These simple and delicious biscuits are called Easter Biscuits because they were traditionally given at Easter time. They make a very welcome change from all of the chocolate bakes over Easter.
Lightly spiced and speckled with currants, these would be perfect with a cup of tea. These are from Jacqui at Only Crumbs Remain
Lemon Shortbread Squares
These Lemon Shortbread Squares from Karen at Lavender & Lovage are a lemon lover's dream. A tasty shortbread base with a lemon filling topped with a lemon buttercream. These would be a great bake for children to help decorate!
Eggless Chocolate Chip Cookies
Chocolate chip cookies are one of my favourite bakes and these Eggless Chocolate Chip Cookies from Jess Eats & Travels look great. At a time when people are struggling to buy eggs, these cookies are a fantastic recipe so you don't have to miss out on a sweet treat.
#CookBlogShare Week 29
And that leads us to this week, we'd love you to join in!
I'll visit and comment on every post that is linked up. I'll also pin all of your recipes to the #CookBlogShare Pinterest Page and share across social media.
Make sure if you share your recipes on Twitter and tag myself @CurlysCooking along with the regular hosts @recipescrumbs and @lostinf00d using the #CookBlogShare hashtag and we will do our best to retweet.
Also use the #CookBlogShare hashtag on Instagram so we can all see each other's posts and share the love by liking and commenting.
You can also post your recipes on the #CookBlogShare Facebook Page so everyone can see which delicious recipes you are linking up this week!
To join in, all you need to know is:
You can link up any foodie posts you have. Both old and new posts are welcome as long as they have not been linked to #CookBlogShare before.
Link up a recipe or foodie post by clicking the blue 'add your link' button below and following the instructions. You can link up to 4 posts.
Add a link from your post back to this post (so everyone else can find it and link up too!)
Add the #CookBlogShare badge to your post (Code below – for WordPress copy and paste the code below into the text view of your post).
Comment on some of the other recipes linked up here (at least 2 for each link you added but the more you can the better) and generally share the love with a bit of social media action!
Plus comment on either this post or one of the posts labelled HOST in the linky
Just a reminder that by linking up, you are giving the #CookBlogShare hosts permission to use your pictures in a roundup and on social media if your recipe is selected as one of our favourites.
Thank you for stopping by and joining in with #CookBlogShare. I can't wait to see what you've all been making!
You are invited to the Inlinkz link party!
Next week's #CookBlogShare is back to regular hosts Lesley & Michelle at Lost in Food.

WHY NOT CHECK OUT OTHER COOKBLOGSHARE POSTS