Easter is one of the most exciting holidays to bake for and if you're looking for some inspiration look no further than these Eggcellent Easter Bakes! Which will you make first?
WHAT IS #COOKBLOGSHARE?
CookBlogShare is a community for food bloggers to share recipes and foodie posts and generally support the food blogging community. The community is centred around the #CookBlogShare linky.
It is a wonderful way for a wide range of food writers, recipe creators and bloggers to come together and share each other's recipes.
The linky is now hosted regularly by Sisley from Sew White & Chloe from Feast Glorious Feast. New members are always welcome to join so make sure you invite your other food blogger friends!
The last linky was hosted by Sisley at Sew White who chose Delicious Spring Desserts.
Each week the host chooses a selection of recipes which have been submitted during the previous week to showcase. As soon as I saw people linking up Easter bakes, I couldn't see any other option.
So I chose my theme to be Eggcellent Easter Bakes! Do you see what I did there?!
time to get baking!
Easter is one of my favourite times of year simply because of the baking opportunities! There are so many Easter themed chocolates and other treats available that are just screaming to be made into something even more delicious.
Supermarkets stock Easter chocolate pretty much as soon as Christmas is finished these days. So you have no excuse to wait until Easter to start making some of these tempting treats.
I would definitely recommend working your way through as many of these bakes as you can on the build up to Easter.
Which of these Eggcellent Easter Bakes will you make first?
easter baking doesn't have to include chocolate
Although all of the recipes I am including in this round up feature chocolate in one form of another, it isn't an essential ingredient for Easter bakes.
Now don't get me wrong, I am a huge chocolate fan. But sometimes it is good to have other options or just to give yourself a small break from the chocolate feasting.
I recently reshot my Carrot Cake Cupcakes. They were one of the first recipes on my blog that have been very popular with friends and family for years. But they needed a bit of an over haul!
These would be perfect for the Easter weekend. And the Easter bunny would love them because of the carrots!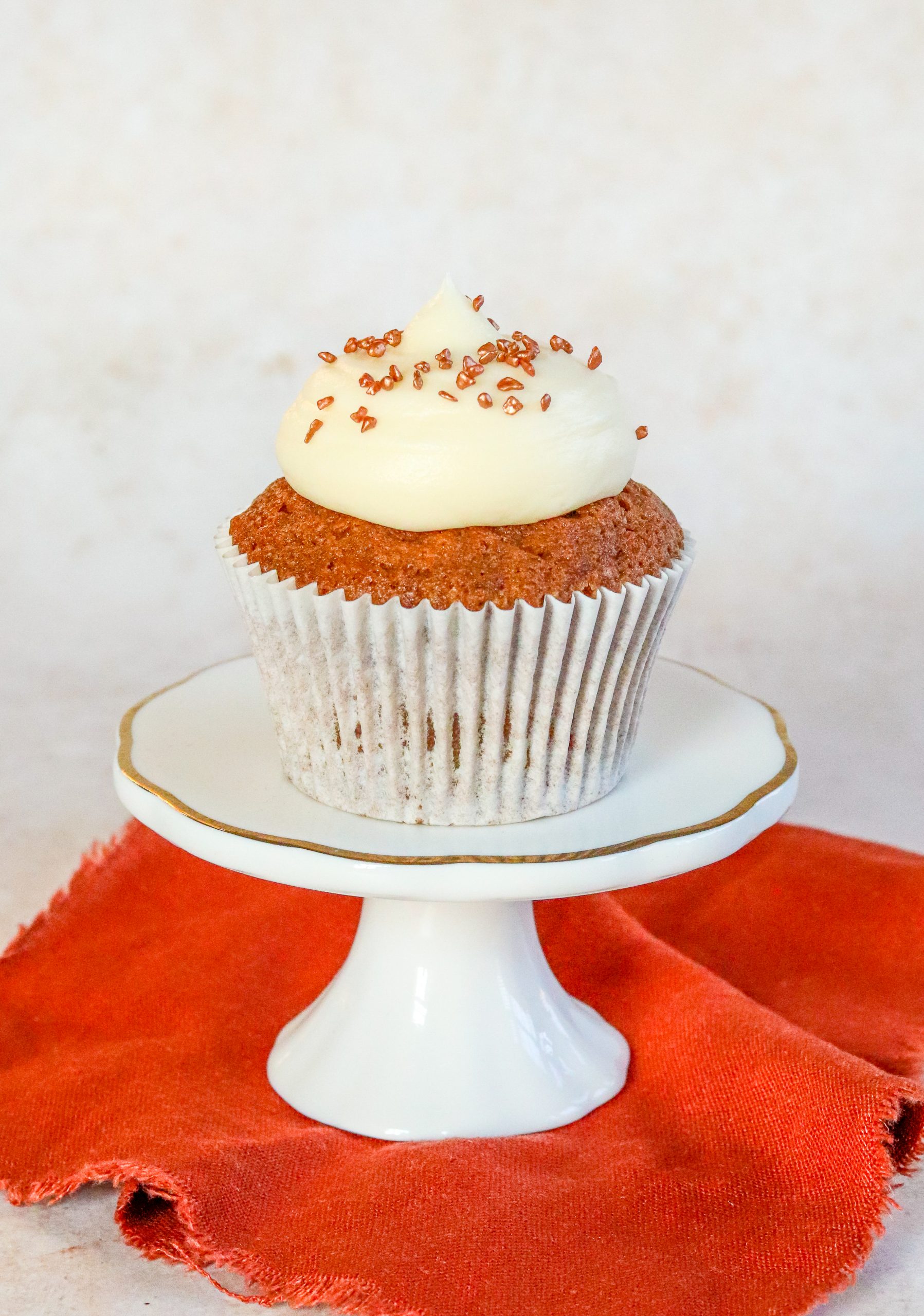 EGGcELLENT EASTER BAKES
Now onto the main event. Don't blame me if you're very hungry whilst looking at these recipes. Just get yourself to the shop as soon as possible so you can get baking!
If you are looking for a shower stopper of a dessert you will love this easy White Chocolate Easter Tart from Sisley at Sew White. This easy mini egg tart is so tasty and perfect for all your Easter events.
Gluten free chocolate sponge, topped with layers of white chocolate-vanilla mousse and drizzles and drips of dark chocolate ganache… all decorated with Creme Eggs. Oh… and there's a hidden layer of chopped Mini Creme Eggs too!
If that hasn't got you wanting to make this from Kate at Gluten Free Alchemist I don't know what will!
Easy Easter Nest Cupcakes are a simple vanilla sponge cupcake topped with chocolate buttercream and decorated with colourful mini eggs.
These cupcakes from Janice at Farmersgirl Kitchen would be perfect for children to help decorate.
This Gluten Free Tiffin is a delicious no bake treat from Rebecca at Glutarama. The perfect chocolate treat for children to help with that everyone will enjoy.
If you're looking for a centrepiece this Easter, Rebecca from Glutarama's second recipe I am featuring is for you. A delicious show stopper that you can decorate with Easter chocolates.
A beautifully textured and delicious bundt cake subtly flavoured with Easter spices and containing a little dried fruit. Chocolate orange and Easter chocolates – count me in!
This indulgent cake is from Choclette at Tin & Thyme.
HOW TO TAKE PART IN THIS WEEK'S #COOKBLOGSHARE
BLOGGERS
Scroll down to the linky widget and add your links. Make sure to read the rules so we can all share the love!
I'll be commenting and sharing as many of the links as possible. I'll aslo pin them to the #CookBlogShare group Pinterest board.
Use the same hashtag #CookBlogShare on Instagram and social media and you can post your recipes in the CookBlogShare Facebook Page.
READERS
Scroll down to see what recipes have been linked up so far this week. Have a read and let us know what you think. Feel free to help share the love by sharing the recipes far and wide! You can also follow the #CookBlogShare hashtags on Twitter and Instagram to discover new and wonderful recipes.
THE RULES
You can link up any recipe or foodie posts you have. Both old and new posts are welcome as long as they have not been linked to #CookBlogShare before. There is no set theme but it is always sensible to think about upcoming seasons and holidays.
It is usually beneficial to link up towards the beginning of the week for maximum benefit to you.
You can link up to a maximum of 4 posts per linky.
Required
Add a link from your post(s) back to the host's post. E.g. "I have linked this recipe to #CookBlogShare run by Sisley & Chloe which was hosted by Cat at Curly's Cooking.
For each recipe that you link up, choose at least 2 of the other recipes which have been linked that week, go to the blog post and leave a 5* rating & lovely positive comment. You might want to come back later in the week when more posts have been linked up – but don't forget!
Please also comment on at least one post from that week's host. Their linked posts will be marked "HOST" in the title. Please note that a host might request that comments are not left on the linky post as this isn't always the most beneficial place for a host to feel the love!
I have linked up my Cheese & Thyme Straws.
Bonus – There is no set requirement but there are several other ways that you can help share the love with the other members linking up. These can include:
Pinning the recipe
Sharing or scheduling a share to your Facebook page
Sharing or scheduling a share to your Twitter Feed
Saving the post to other sites like Yummly
Hitting the heart icon in the bottom left corner if the blogger is using Grow.Me or Slicksteam.
Please note that by joining in, you are giving the #CookBlogShare hosts permission to use your pictures in a roundup and on social media if your recipe is selected as one of our favourites!
Next week, Nancy at Nomss.com will be hosting.
HOSTING
All CookBlogShare participants are asked to host the linky at least once a year. More details about hosting can be found in our Facebook Group.
OTHER WAYS TO HELP THE COMMUNITY
Follow #CookBlogShare on Instagram and like/comment on linked up posts.
Follow #CookBlogShare on Twitter and like/retweet linked up tweets.
Keep up with the Facebook Group for roundup recipe requests and other shouts for help.
And do all these things yourself too!
Get involved with the Facebook Group. Ask questions, answer questions, share successes and generally be part of the awesome community!
THIS WEEK'S #COOKBLOGSHARE LINKY
Click the blue button, inlinkz doesn't like my site!