These Tasty Sausage Recipes are a great collection of recipes linked up to Cook Blog Share. There are some traditional recipes featured as well as some new takes on how to celebrate sausages.
WHAT IS #COOKBLOGSHARE?
CookBlogShare is a community for food bloggers to share recipes and foodie posts and generally support the food blogging community. The community is centred around the #CookBlogShare linky.
It is a wonderful way for a wide range of food writers, recipe creators and bloggers to come together and share each other's recipes.
The linky is now hosted regularly by Sisley from Sew White & Chloe from Feast Glorious Feast. New members are always welcome to join so make sure you invite your other food blogger friends!
The last linky was hosted by Janice at Farmersgirl Kitchen who put together a collection of Seasonal Pumpkin Recipes.
Each week the host chooses a selection of recipes which have been submitted during the previous week to showcase. This week I've gone for a sausage fest and chose to feature Tasty Sausage Recipes. (Sorry, I couldn't help myself…)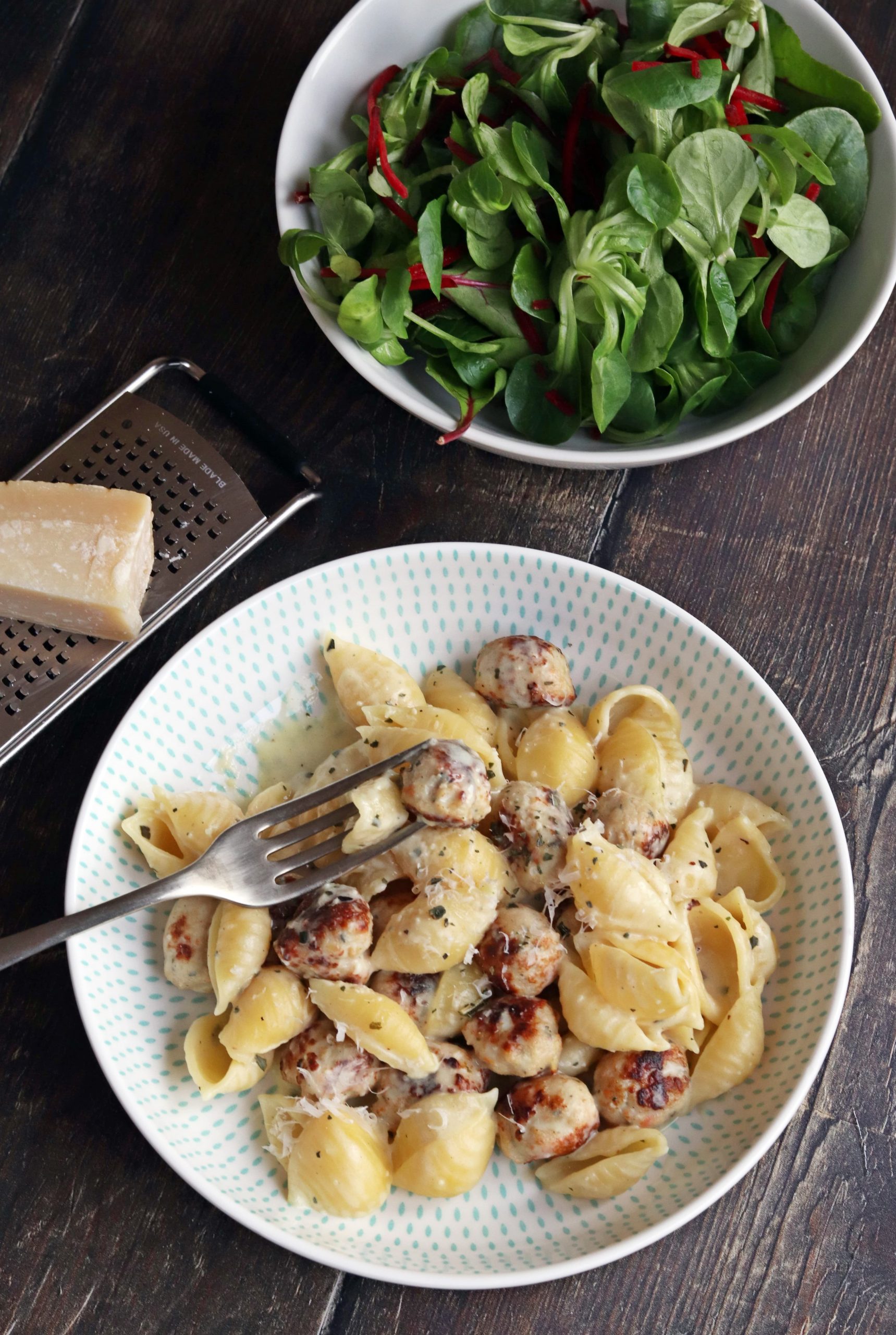 Who doesn't love a good sausage?!
Sausages are such a versatile and delicious addition to so many different recipes.
They are an ingredient that everyone can enjoy because although they are traditionally pork, you can find chicken, beef or vegetarian/vegan sausages. So no one needs to miss out on the joy of sausages.
Although sausages can be served as they are for a delicious meal, with a bit more effort they can be turned into something even more special.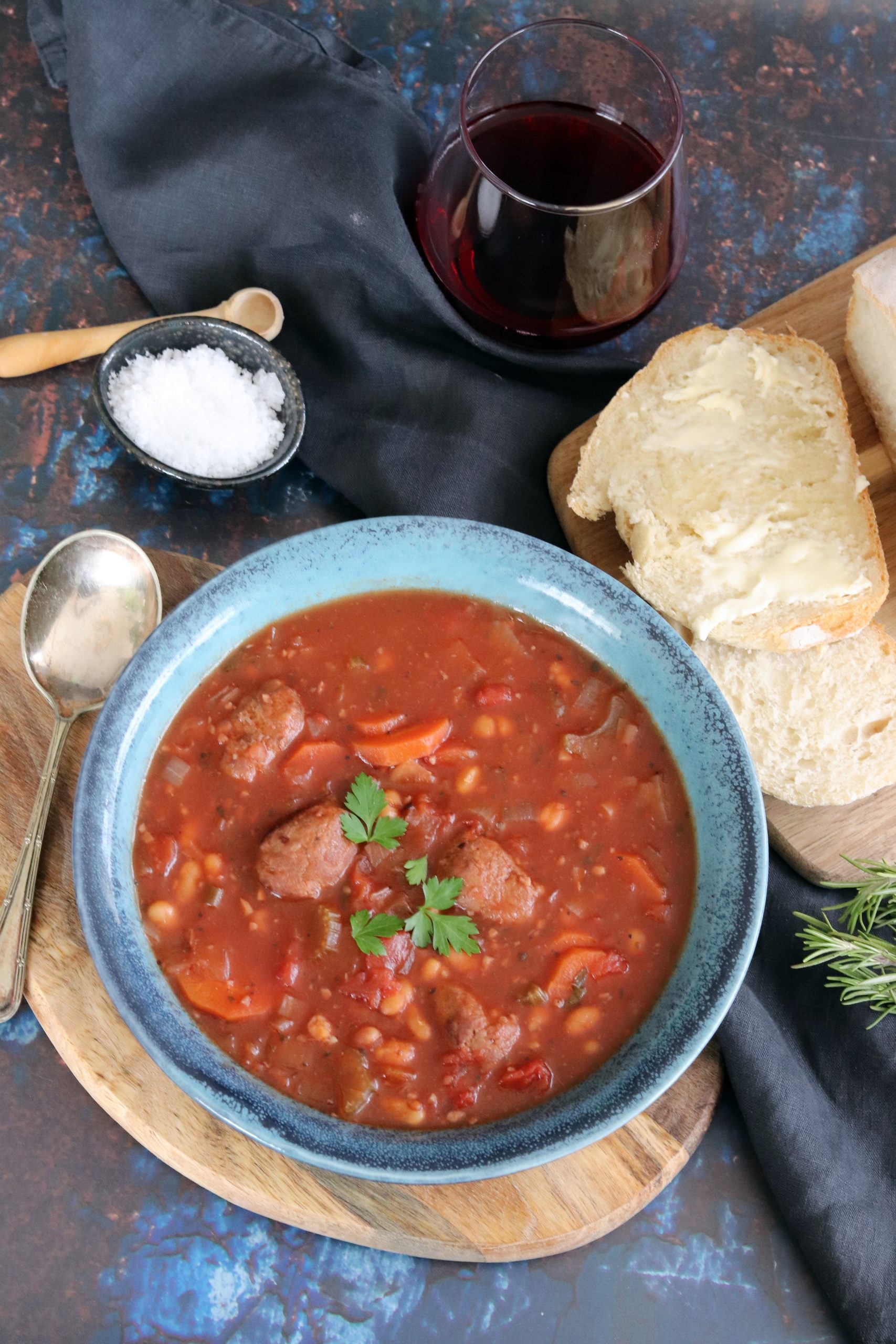 Craving home cooked food
We are currently half way through renovating our kitchen. I have a very basic 'kitchen' set up in my dining room which consists of my microwave and Ninja Foodi.
I tried to fill my freezer with as many meals as I could including my Spicy Korean Pork Stew, Slow Cooker Fiesta Chicken and Vegetable & Red Lentil Curry. But I am definitely missing cooking and having my own kitchen!
Our new kitchen is installed, but we are waiting for the quartz to be templated and fitted. It has always been a dream of mine to design my own kitchen and I am not within touching distance of that and I can't wait!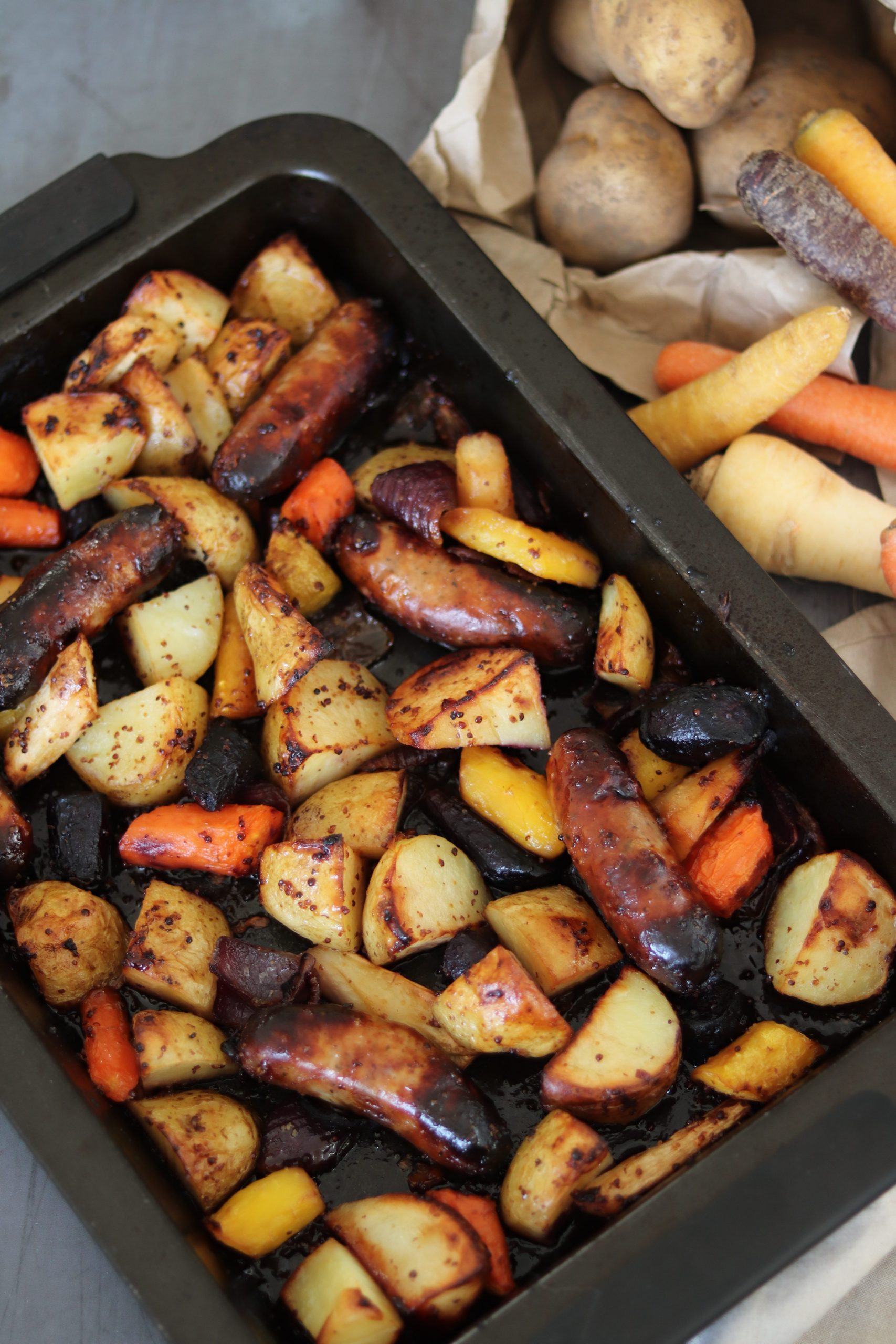 Easy Sausage Meat Stuffing
I couldn't talk about sausages without mentioning my sausage meat stuffing recipe. An essential addition to any roast dinner in my opinion. And it is never too early to start planning for Christmas.
This stuffing is super easy and will take your Sunday roasts up a notch.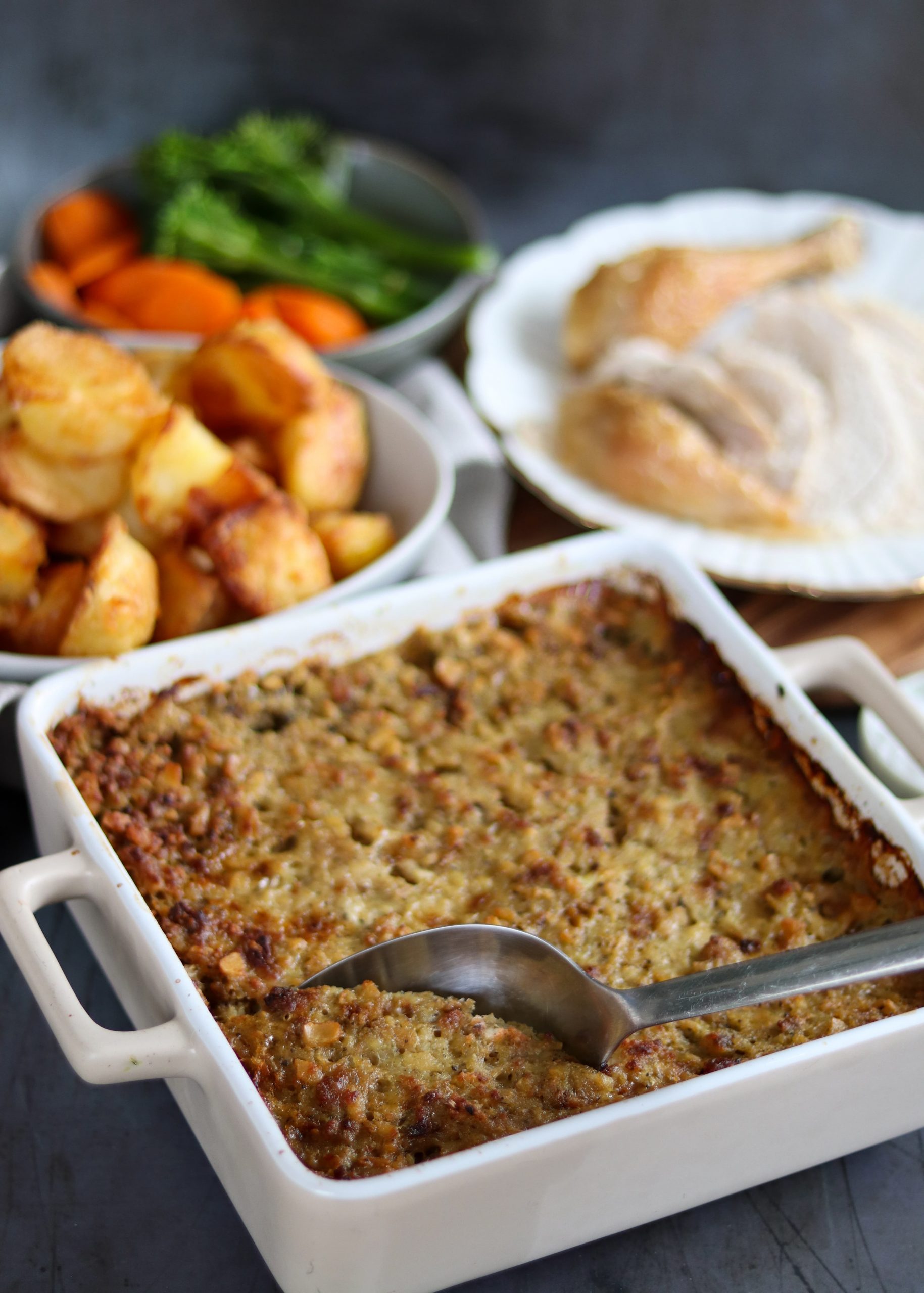 Honey & MUstard Cocktail Sausages
Another of my favourite sausage recipes are these sticky and delicious cocktail sausages. Perfect at anytime of year but one definitely keep in mind for the festive season!
My only advice is to at least double the recipe because these tasty little sausages will not last long!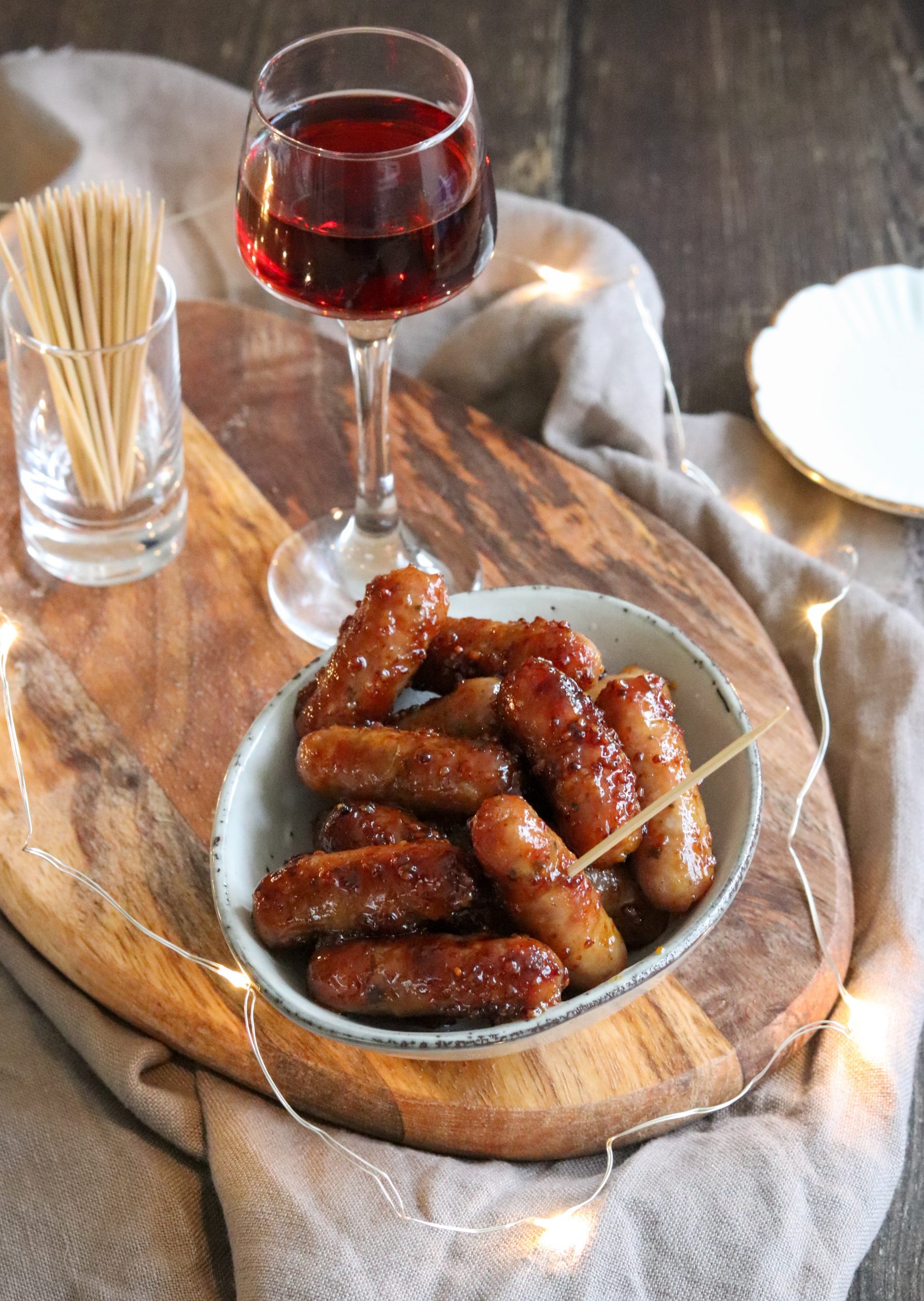 Tasty Sausage Recipes
Without further ado, onto the tasty sausage recipes which I'm sure will tempt you as much as they are tempting me!
Which recipe do you want to try first?
Crisp buttery pastry and juicy pork sausage meat combine to make a British classic which are great on a buffet, at a picnic, in a lunchbox or just as a tasty snack.
If you can pass up the offer of a sausage roll you are a better person than I am!
Quick, simple and virtually foolproof, this Toad In The Hole is perfect for busy midweek evenings or even as an alternative to your usual Sunday roast!
I don't think you can go wrong with sausages and delicious Yorkshire pudding. I'll take mine with lots of gravy please!
Sausage Sandwiches with roast peppers and onions. The hot sandwich filling is all cooked on one tray for an easy and delicious meal that everyone will enjoy.
These would be great at any time of year but especially perfect for Bonfire Night.
A cross between a sausage roll and a pie, this Giant Sausage Dinner Roll uses homemade gluten free suet pastry and is packed with sausage meat and vegetables.
The perfect comfort food for the colder months.
HOW TO TAKE PART IN THIS WEEK'S #COOKBLOGSHARE
BLOGGERS
Scroll down to the linky widget and add your links. Make sure to read the rules so we can all share the love!
I'll be commenting and sharing as many of the links as possible. I'll aslo pin them to the #CookBlogShare group Pinterest board.
Use the same hashtag #CookBlogShare on Instagram and social media and you can post your recipes in the CookBlogShare Facebook Page.
READERS
Scroll down to see what recipes have been linked up so far this week. Have a read and let us know what you think. Feel free to help share the love by sharing the recipes far and wide! You can also follow the #CookBlogShare hashtags on Twitter and Instagram to discover new and wonderful recipes.
THE RULES
You can link up any recipe or foodie posts you have. Both old and new posts are welcome as long as they have not been linked to #CookBlogShare before. There is no set theme but it is always sensible to think about upcoming seasons and holidays.
It is usually beneficial to link up towards the beginning of the week for maximum benefit to you.
You can link up to a maximum of 4 posts per linky.
Required
Add a link from your post(s) back to the host's post. E.g. "I have linked this recipe to #CookBlogShare run by Sisley & Chloe which was hosted by Cat at Curly's Cooking.
For each recipe that you link up, choose at least 2 of the other recipes which have been linked that week, go to the blog post and leave a 5* rating & lovely positive comment. You might want to come back later in the week when more posts have been linked up – but don't forget!
Please also comment on at least one post from that week's host. Their linked posts will be marked "HOST" in the title.
I have linked up my Crumble Topped Mince Pies – it's never too early to get in the festive mood!
optional
Add the below linky badge to your linked up post. Copy/paste the html in the below box into your post editor or a custom html block to display the badge:
Bonus – There is no set requirement but there are several other ways that you can help share the love with the other members linking up. These can include:
Pinning the recipe
Sharing or scheduling a share to your Facebook page
Sharing or scheduling a share to your Twitter Feed
Saving the post to other sites like Yummly
Hitting the heart icon in the bottom left corner if the blogger is using Grow.Me or Slicksteam.
Please note that by joining in, you are giving the #CookBlogShare hosts permission to use your pictures in a roundup and on social media if your recipe is selected as one of our favourites!
Next week, Chloe at Feast Glorious Feast will be hosting.
BECOME A GUEST HOST
CookBlogShare are always looking for new bloggers to become guest hosts. Please get in touch with one of the regular hosts or post in the Facebook group if you want to be added to the rota.
OTHER WAYS TO HELP THE COMMUNITY
Follow #CookBlogShare on Instagram and like/comment on linked up posts.
Follow #CookBlogShare on Twitter and like/retweet linked up tweets.
Keep up with the Facebook Group for roundup recipe requests and other shouts for help.
And do all these things yourself too!
Be active in the Facebook Group. Ask questions, answer questions, share successes and generally be part of the awesome community!
THIS WEEK'S #COOKBLOGSHARE LINKY
Click the blue button, inlinkz doesn't like my site!