Since I was young I have always had an interest in cooking. Growing up my Mum cooked us lovely home-made meals which when I was old enough, she taught me. My earliest memories of cooking were making cheese straws from my Mum's Be-Ro cooking book and her own recipe for Chilli Con Carne.
When I went to uni, I realised that my love for cooking wasn't shared by everyone. Whilst others were cooking pasta with shop bought sauce (sometimes even without the sauce), I was making soup and pies from scratch. I'll always remember the look one of my flatmates gave me and my friend when he came into the kitchen to put his pizza in the oven and we had taken over the kitchen with nearly every pot and utensil making homemade sweet and sour pork. I wasn't going to let my budget student days stop me from cooking. Much to my housemate's upset, I used to bake cupcakes to take to my now husband's house as a thank you to his parents for putting up with me for half of the week.
One contributing factor to my love of cooking is that I am a fussy eater. Not only am I fussy about what I do and don't like to eat, but I'm also fussy about how it is prepared. I have no doubt that my husband, Rien thinks I am slightly weird because when I make fajitas, the chicken has to be cut into strips and can't be cubes; whereas with a curry the chicken is cubed. But that's obvious to everyone isn't it?!
Its been in the last few years that I have started getting really into baking. I started making a few cupcakes and taking them into work for my colleagues to try. They have always been so complimentary with what I have made that they either really like my cakes or are very polite (if you know the people I work with, then it's definitely not the latter!) My friend at work was where my nickname Curly came from. Initially because my name is spelt with a 'curly C', but the far more obvious reason and why I think it has stuck is due to my curly hair.
I am passionate about not only cooking, but also photographing and sharing what I have made with others. My Facebook, Instagram and Twitter are always covered with my lastest efforts so a blog is a perfect way of showcasing what I have made. It was Rien's idea to start a blog and with his help and encouragement, here I am! Without him I don't think I would have managed to even start the blog because the technical side of it is beyond me. He has a background in software engineering so is always on hand to help out with my constant questions.
We live together with our two dogs, Tilly the Pomchi and Izzy the Siberian Husky. Tilly keeps her eye on me whenever I'm in the kitchen, but Izzy has a more refined pallet and is only interested in (more accurately goes crazy for) buttercream.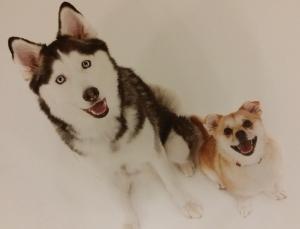 We have had a great few years, buying our first house together and getting married a couple of months ago. To avoid confusion, I refer to Rien as Mr Curly in my blog. Before blogging full time, I was a travel agent which may explain my obsession to travel; not only to see the sights but to also experience the food which you will often see on my Facebook and Instagram accounts.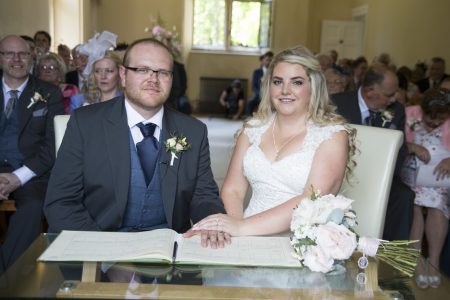 I hope you enjoy reading my blog and watch me improve and hopefully give a recipe or two a go yourself!