When you want that chocolate fix but you don't want to bake a full batch, these Small Batch Chocolate Cupcakes are perfect. Share them or keep them all for yourself!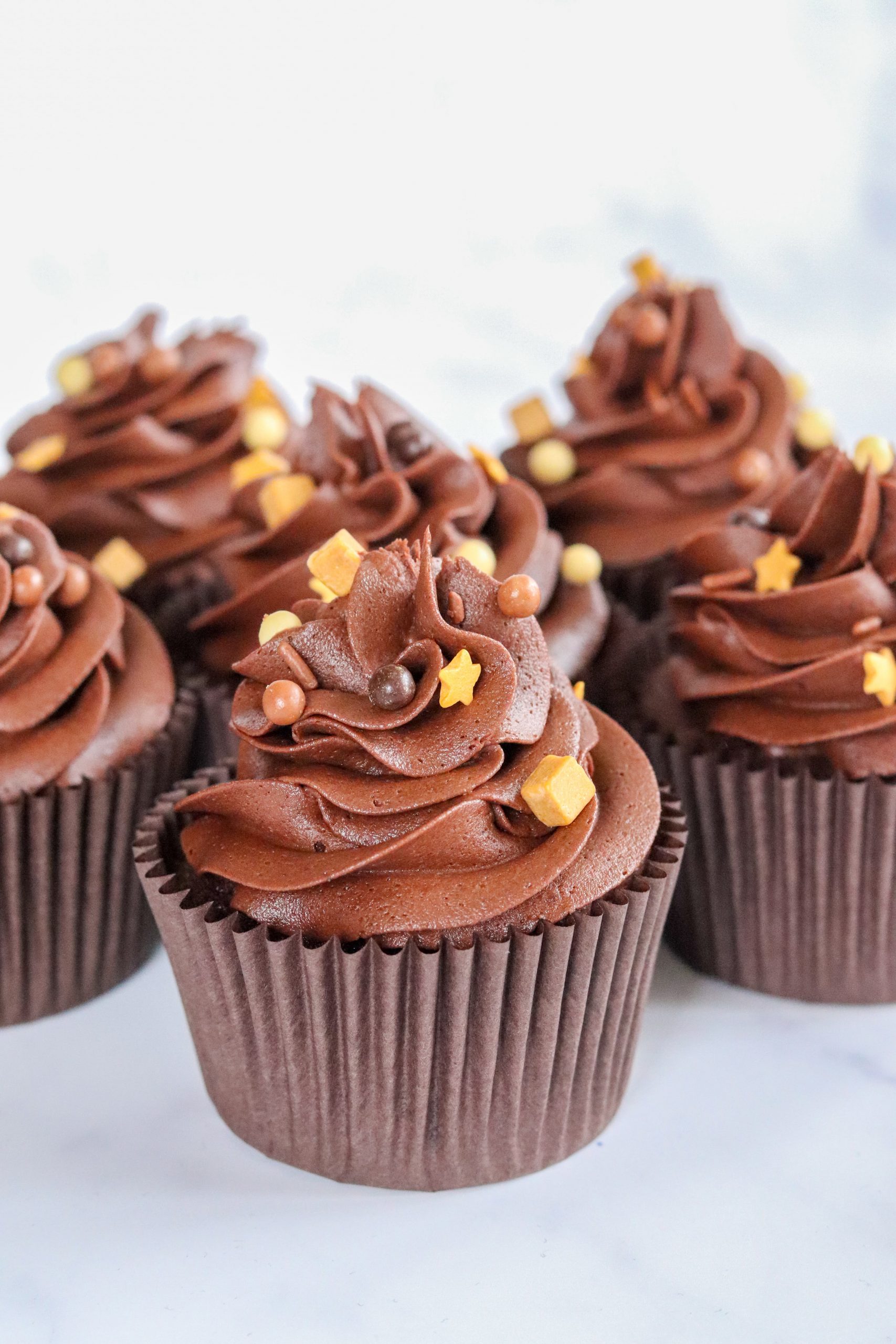 Why do you need a small batch chocolate cupcakes recipe?
But why would anyone want less cupcakes you might ask?! I think everyone should have a few go-to small batch recipes.
There are times in life when twelve cupcakes is just too many. There are only Mr Curly and I at home so if the cupcake craving hits, six is a much more manageable number for us!
If there are only a few of you at home, you might not eat a full batch of twelve cupcakes before they start getting a little past their best. That is where these Small Batch Chocolate Cupcakes come in!
You might also like my Small Batch Vanilla Cupcakes or my Small Batch Brownies.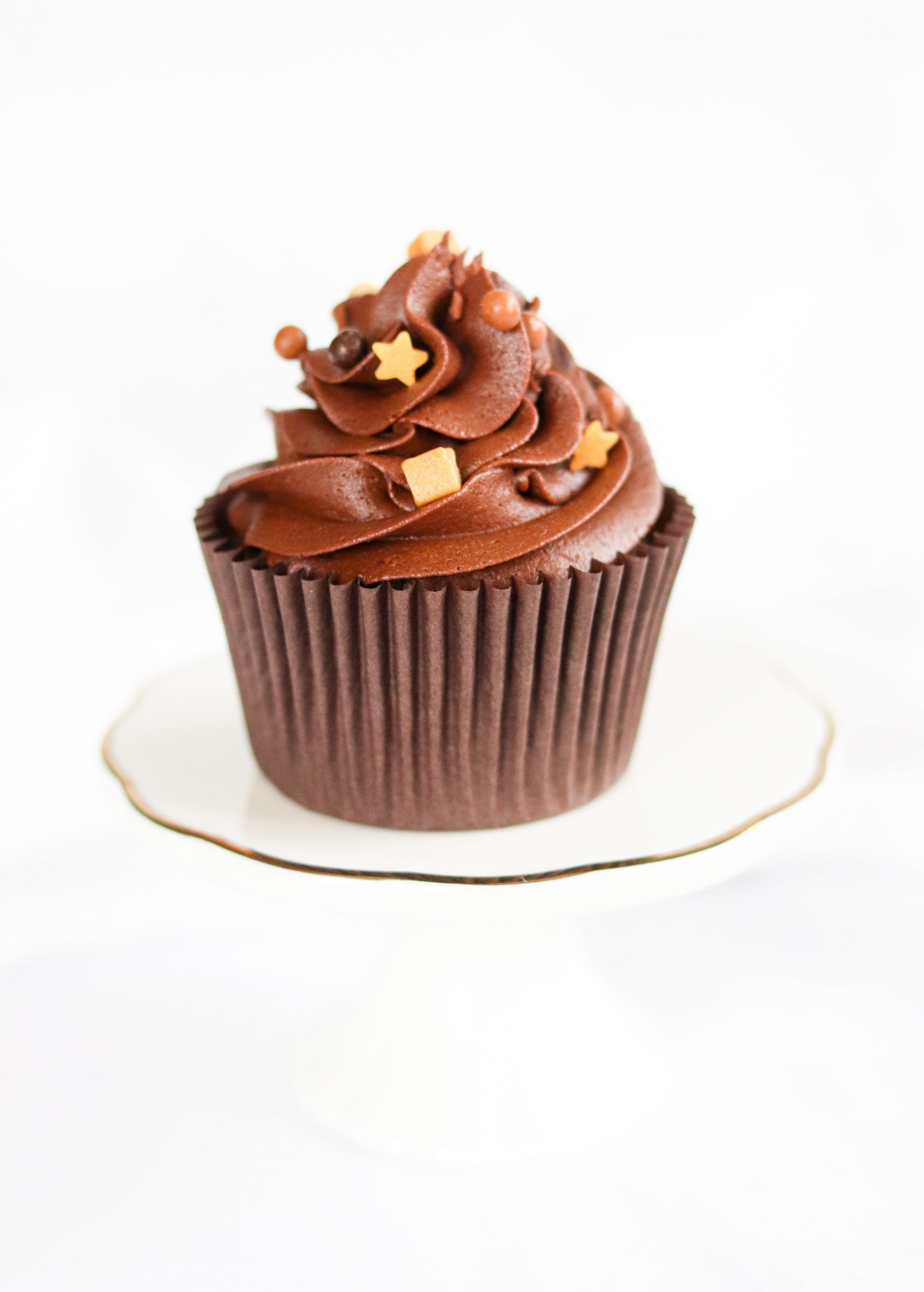 How many cupcakes are in a small batch?
These Small Batch Chocolate Cupcakes make six cupcakes with a generous amount of buttercream.
My Chocolate Cupcake recipe hasn't been published yet – but is on the way! However it is not simply just a case of halving recipes for twelve cupcakes to make six.
As with my Vanilla Cupcake recipe, my recipes for twelve cupcakes uses 3 eggs. Halving eggs isn't the easiest thing to do and can get a little complicated.
Whenever I make cupcakes I use muffin cases and if you use these, you will make six large cupcakes. However if you use smaller cupcake cases, you will make a few more.
If you do use smaller cupcake cases they are likely to bake quicker too. Check on them after 10 -12 minutes to see if they are baked.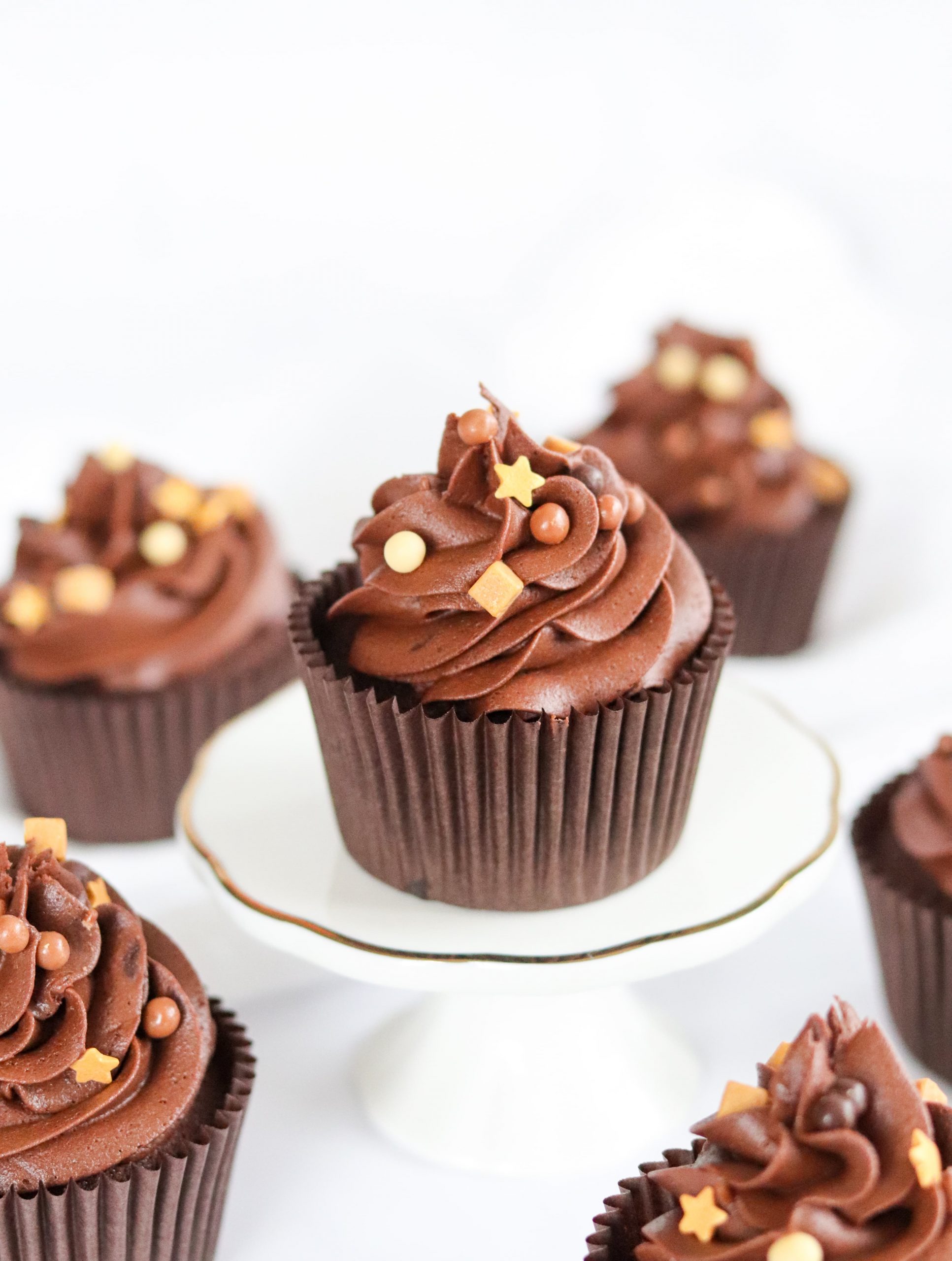 Which cocoa powder is best to use?
Depending on where you live, there are different types of cocoa powder available. The distinction is more obvious in the US where they have Dutch processed and natural cocoa powder.
When making Dutch processed cocoa powder, the cocoa beans are washed in an alkaline solution which reduces the acidity. This means that it doesn't react when mixed with bicarbonate of soda (baking soda).
Natural cocoa powder as the name suggests, is natural. It is acidic and bitter with a more concentrated chocolate flavour. Natural cocoa powder is often used in recipes with bicarbonate of soda as it reacts and gives bakes a good rise.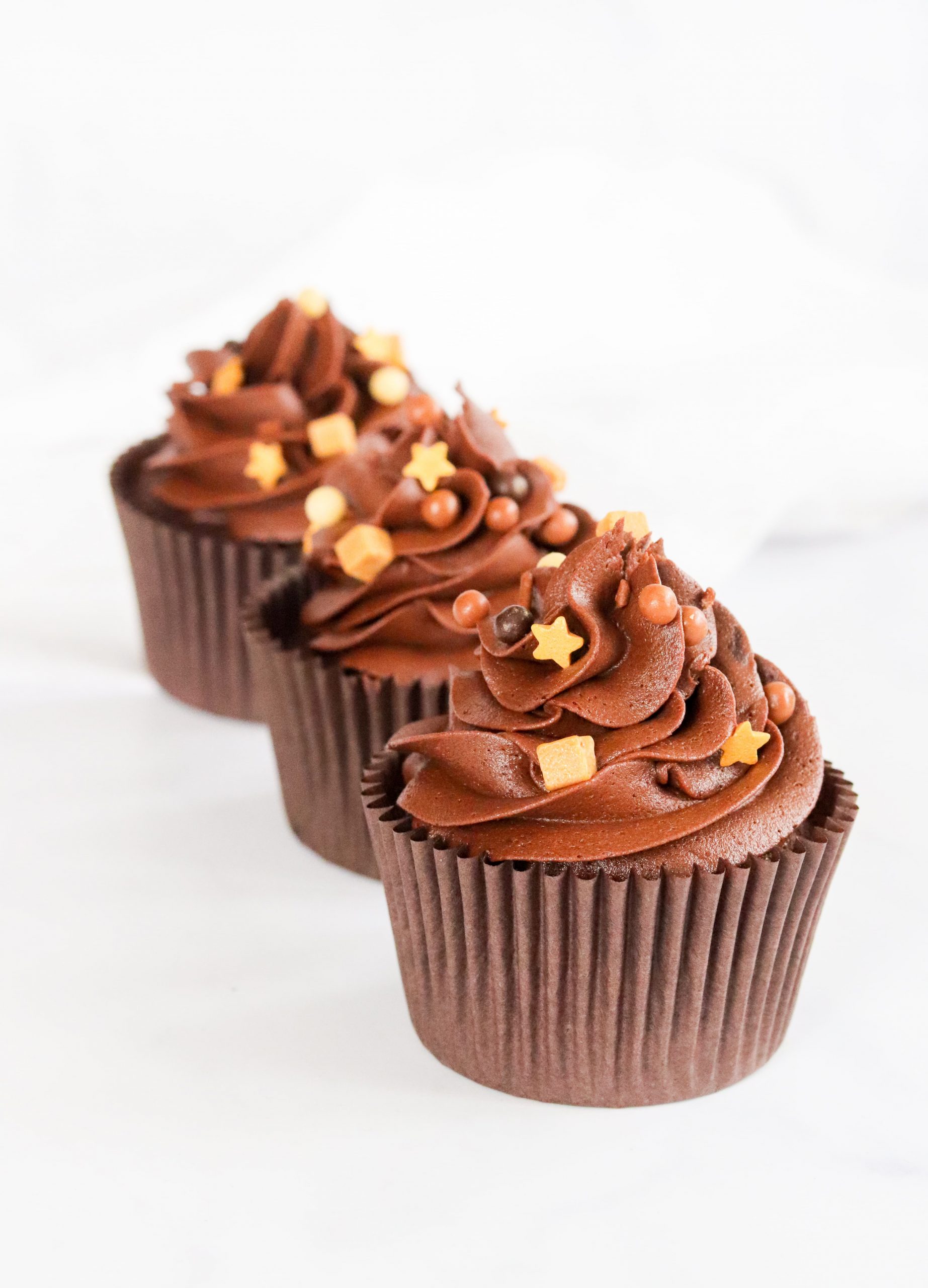 For these Small Batch Chocolate Cupcakes I would use Dutch processed cocoa powder. Read more about Dutch processed vs Natural Cocoa Powder over at Sally's Baking Addiction.
Here in the UK all of our cocoa powder is Dutch processed unless otherwise specifically stated. Natural cocoa powder only tends to be found in speciality and health food stores. So chances are, if you are buying cocoa powder it is Dutch processed.
Just make sure you don't buy drinking chocolate and use cocoa powder from the baking aisle.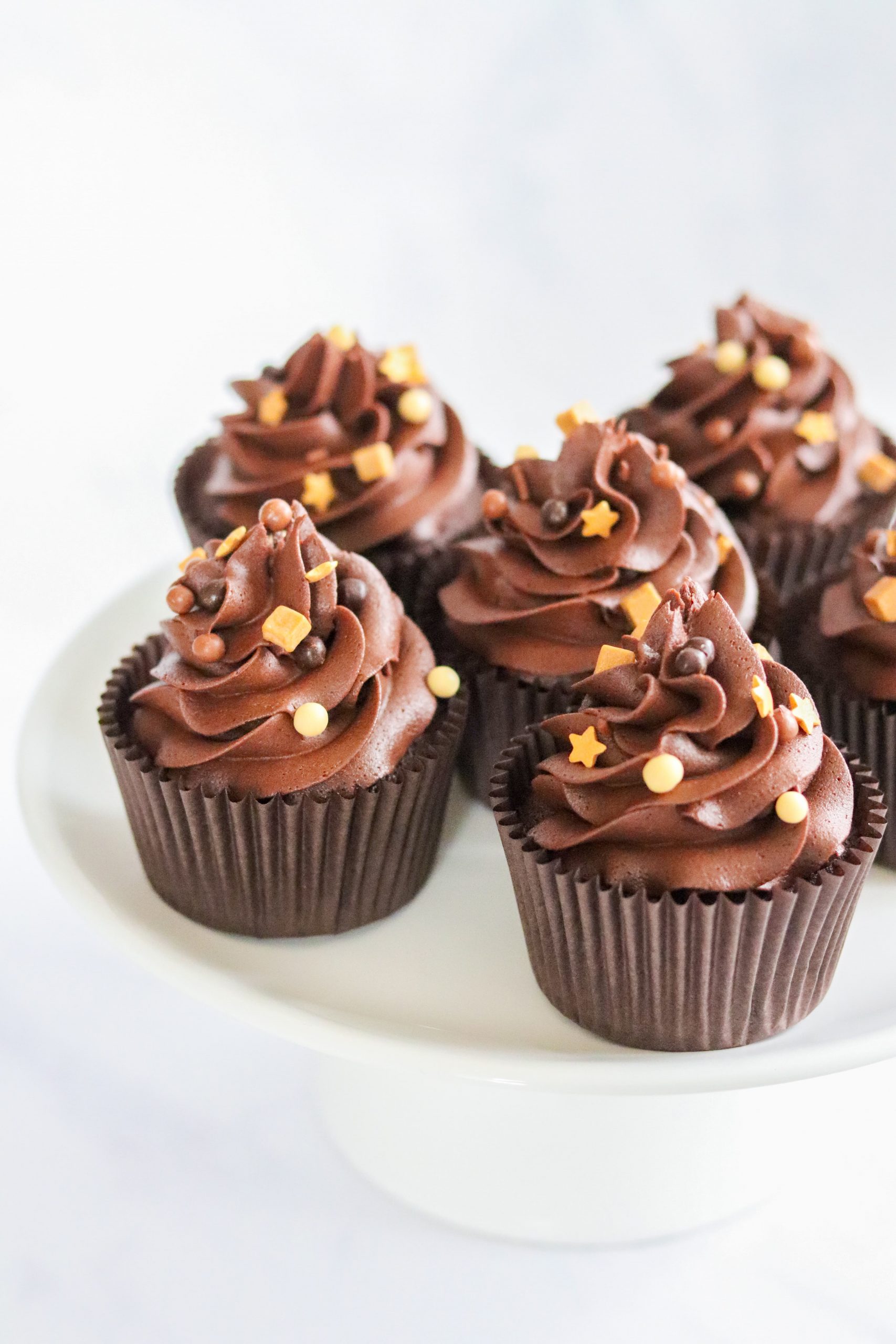 will these cupcakes taste like coffee?
No, definitely not!
Coffee acts as a flavour enhancer to chocolate and makes it taste even more rich and delicious. You only need to add a small amount but it really does elevate the flavour.
The salt in the recipe also enhances the chocolate flavour. But don't worry you won't taste this either!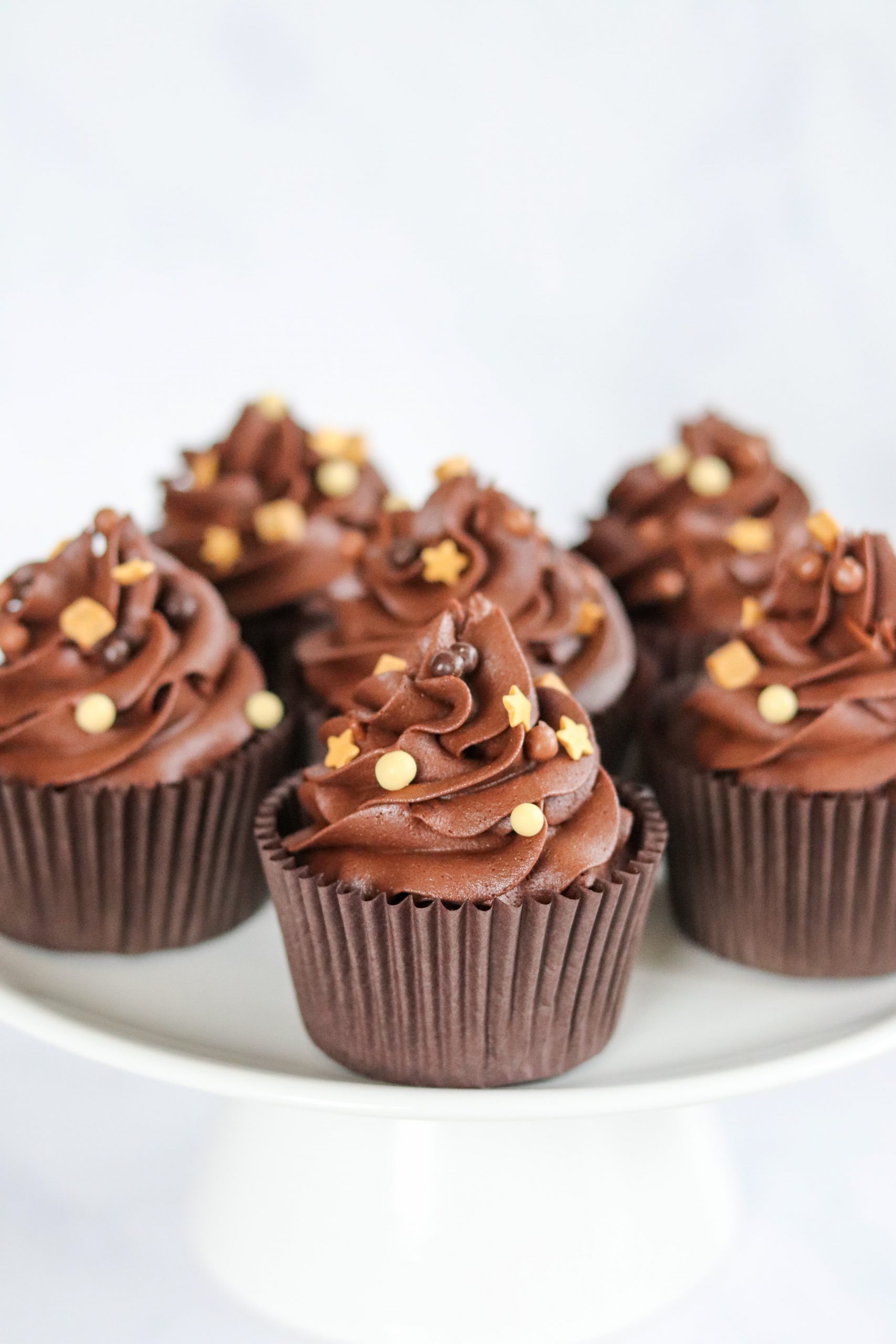 how to make smooth buttercream
My top tip to remember when making buttercream is to use room temperature butter. Make sure you get the butter out of the fridge plenty of time before you want to make your buttercream.
If you are making buttercream in the winter or when it is particularly cold, you will need to allow for more time for the butter to soften. On a warmer day in the summer, it will take less time. But watch it because you don't want melted butter!
I also always beat the butter by itself before I add the rest of the ingredients. This helps get rid of any lumps in the butter and makes it as smooth as possible. You can then add the rest of the ingredients.
Add the milk a little at a time because you might not need it all. You want the buttercream to be smooth and soft so that it is easy to pipe. You don't want it to be so wet that it won't hold it's shape when piped.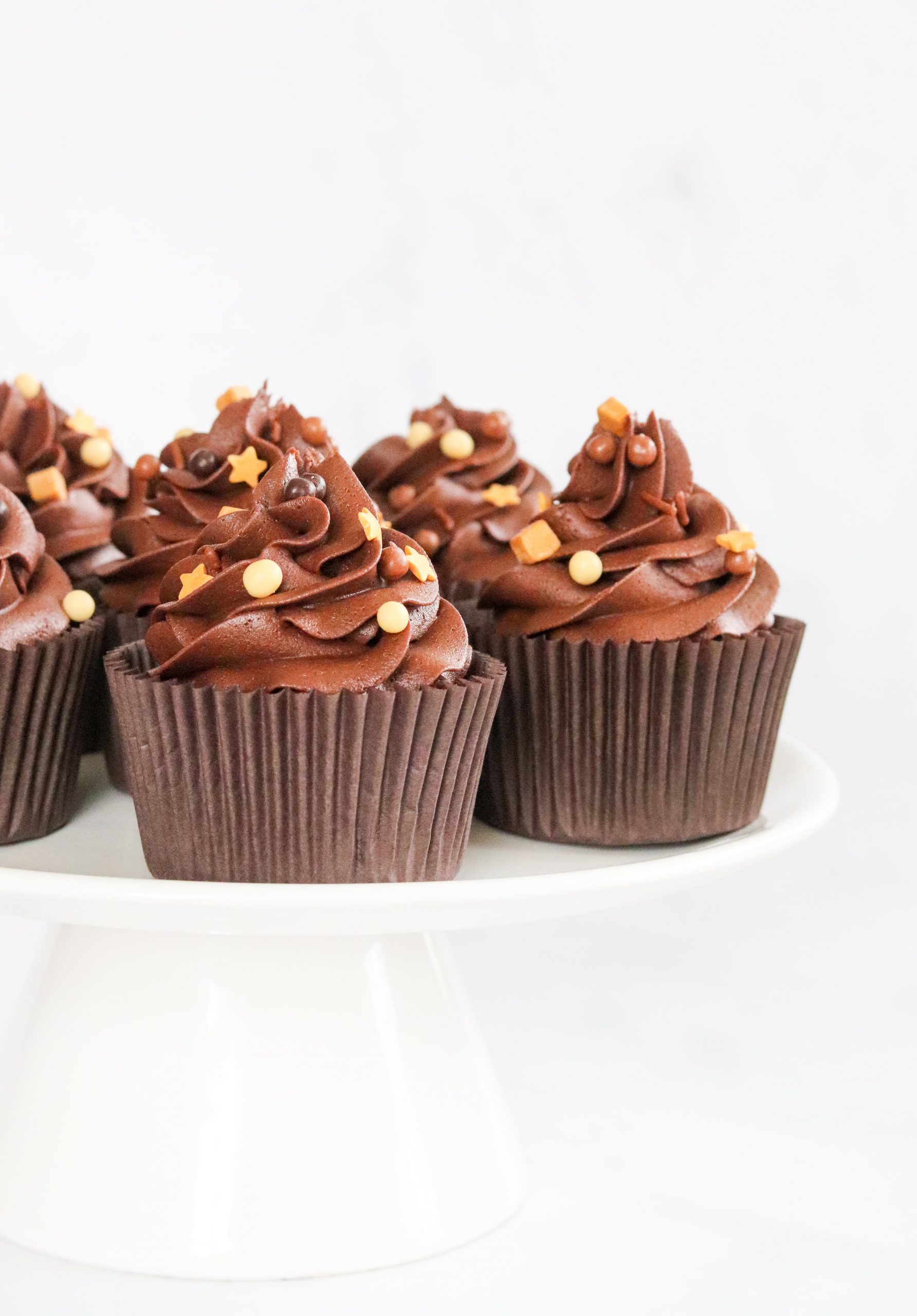 how to decorate your cupcakes
You can decorate these Small Batch Chocolate Cupcakes however you like – let your creativity flow!
I like to use a star shaped nozzle when piping these cupcakes. A 1M or a 2D nozzle are my go-to nozzles for this kind of piping. It is quite a lot of frosting but its nice to be a bit indulgent!
You can then decorate with any sprinkles, grated chocolate or whatever you have at home that you think would work.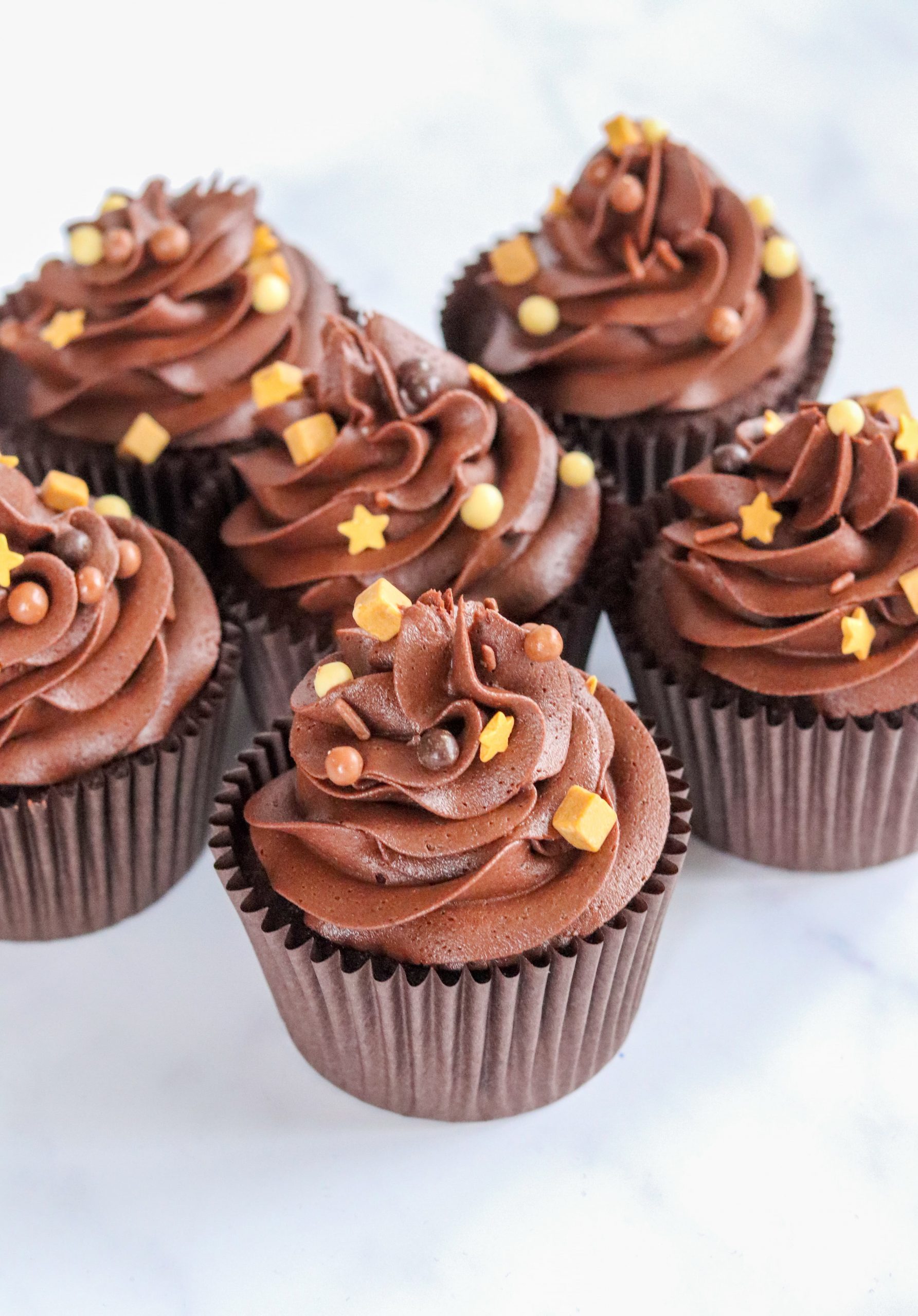 how long will these cupcakes keep for?
These cupcakes will keep for 3-4 days in an airtight container. After this they will start to get a little bit dry.
If you wanted to make these cupcakes in advance, you can freeze them before they have been decorated. Wrap them tightly in cling film and freeze for up to three months.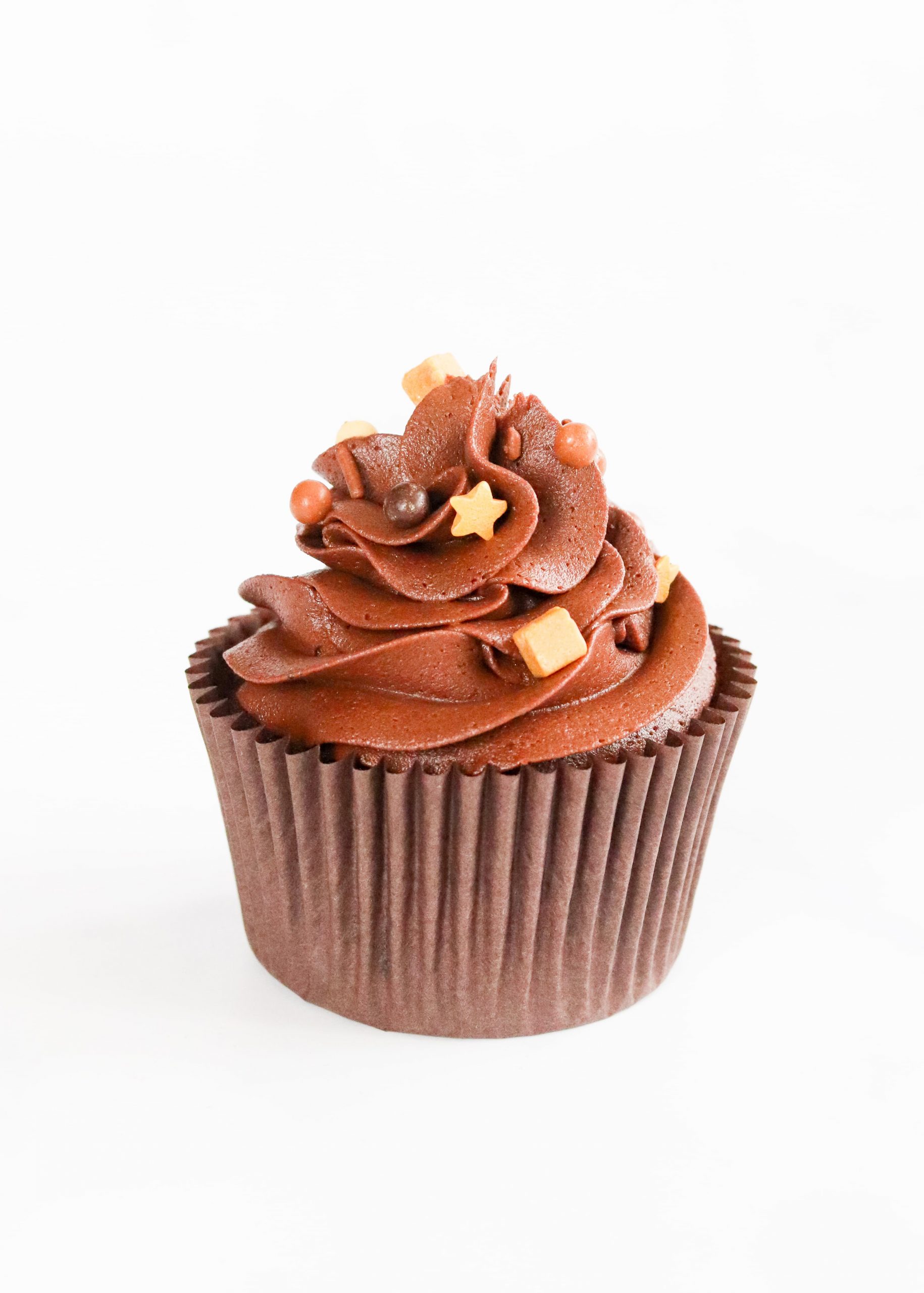 Swap the buttercream
Although this chocolate buttercream is delicious, it is always good to have other options!
My Chocolate Cream Cheese Frosting would be incredibly delicious on top of these cupcakes. You would just need to divide the recipe by three to get enough to frost six cupcakes.
If you would prefer vanilla buttercream, use the buttercream from my Small Batch Vanilla Cupcakes recipe.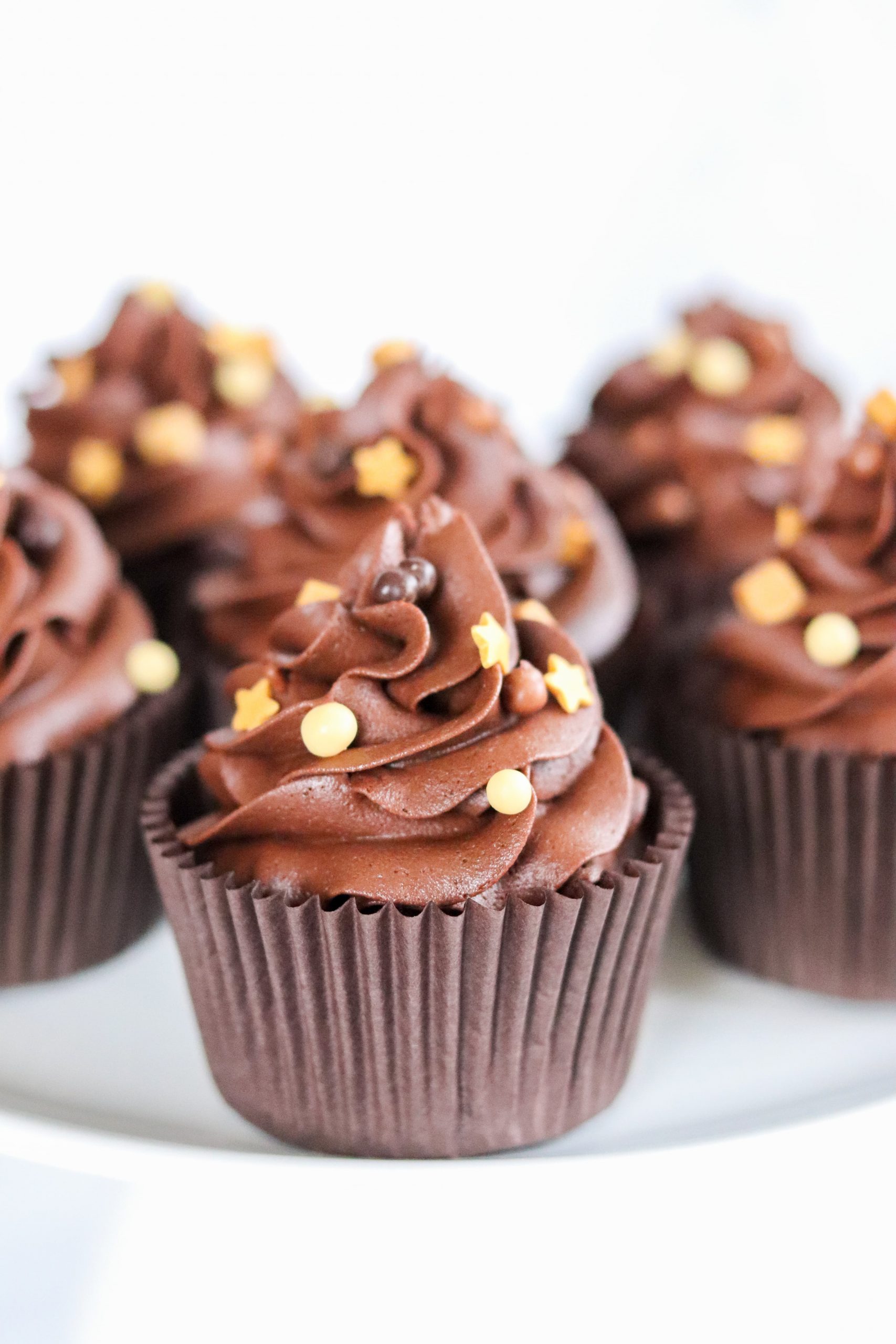 Other recipes you might like
Pin for later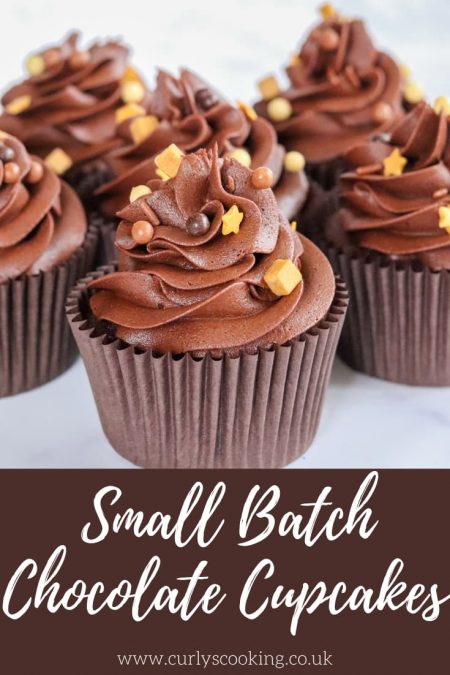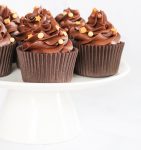 Small Batch Chocolate Cupcakes
When you want that chocolate fix but you don't want to bake a full batch, these Small Batch Chocolate Cupcakes are perfect. Share them or keep them all for yourself!
Ingredients
For the cupcakes
20

g

cocoa powder

2

tbsp

boiling water

1

egg

75

g

margarine

75

g

caster sugar

55

g

self raising flour

⅛

tsp

instant coffee

½

tsp

baking powder

⅛

tsp

salt
For the buttercream
70

g

unsalted butter

120

g

icing sugar

20

g

cocoa powder

pinch

salt

2

tbsp

whole milk
Instructions
Preheat the oven to 160ºC (fan assisted, 180ºC non fan) and line a cupcake tin with 6 cupcake cases and set aside

Add 20g cocoa powder to a bowl along with 2 tbsp boiling water. Mix until it forms a thick paste

Add 1 egg, 75g margarine, 75g caster sugar, 55g self raising flour, ⅛ tsp instant coffee, ½ tsp baking powder, ⅛ tsp salt and mix until combined

Divide the mix between the cupcake cases. Bake for 14 minutes or until a cocktail stick comes out clean

Leave to cool in the tin for 10 minutes or so before allowing to cool completely on a wire rack

When the cupcakes have cooled completely, make the buttercream. Add 70g unsalted butter to a bowl and beat until soft and smooth

Add 120g icing sugar, 20g cocoa powder and pinch of salt and mix until combined

Add 2 tbsp whole milk a little at a time and beat until the buttercream is smooth

Spoon into a piping bag and pipe onto the cupcakes. Decorate with your choice of sprinkles
Recipe Notes
Nutritional information is given as a guide only and may vary.
Nutrition Facts
Small Batch Chocolate Cupcakes
Amount Per Serving
Calories 362
Calories from Fat 189
% Daily Value*
Fat 21g32%
Cholesterol 53mg18%
Sodium 183mg8%
Potassium 171mg5%
Carbohydrates 44g15%
Protein 4g8%
Vitamin A 787IU16%
Vitamin C 1mg1%
Calcium 41mg4%
Iron 1mg6%
* Percent Daily Values are based on a 2000 calorie diet.
Linking to