These Cinnamon Cookies are deliciously soft with a lovely drizzle. They are tasty at any time of year but especially perfect for Christmas when they would also make a great gift.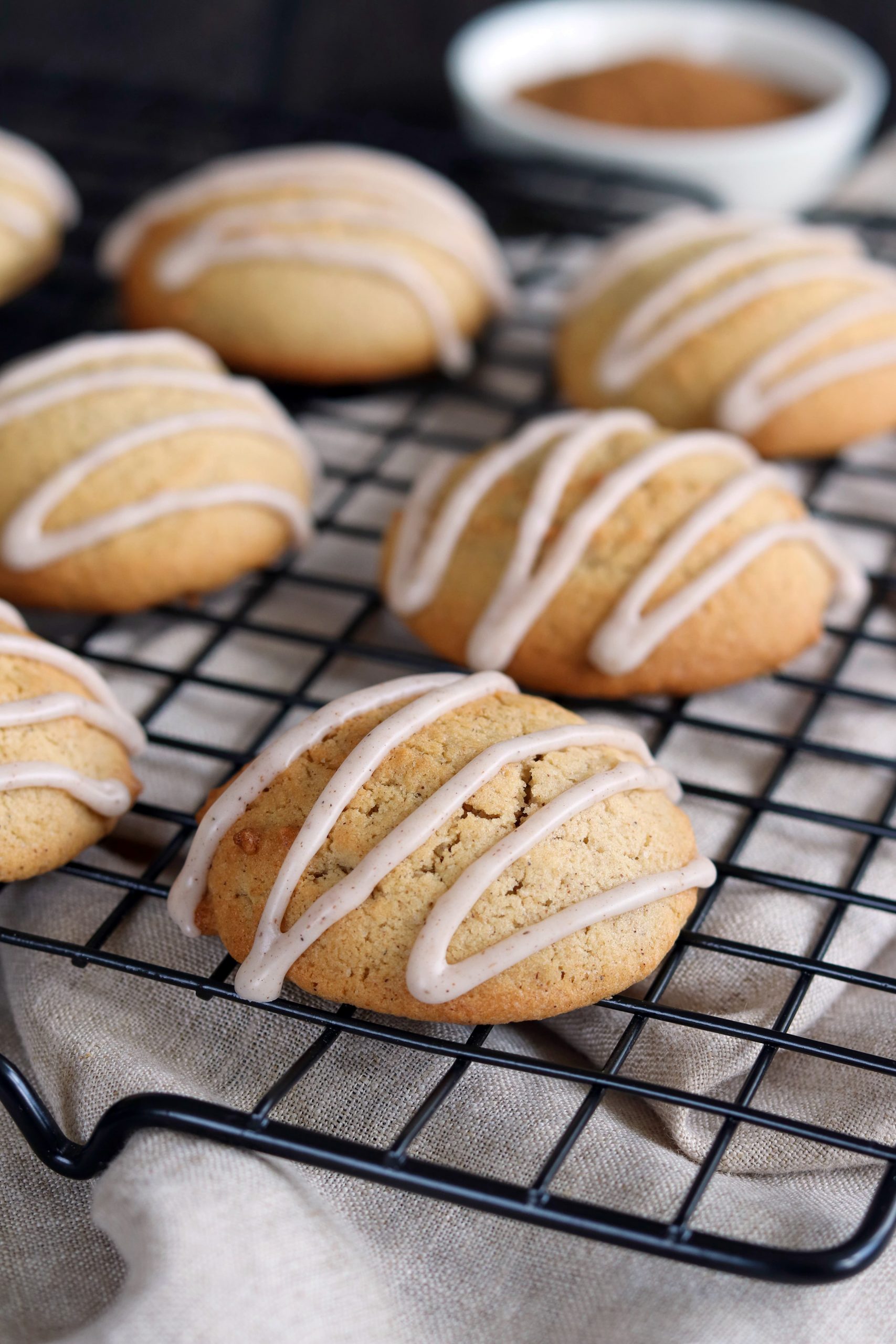 Perfecting Cinnamon Cookies
Some recipes work out first time and others take a bit of tweaking before they make it to the blog. These Cinnamon Cookies took three attempts before I was completely happy with them.
They had a lovely taste from the start, but needed some tweaks to get them looking how I wanted them to. I had various taste testers but their reactions to my final batch cemented the fact that the recipe was ready to share!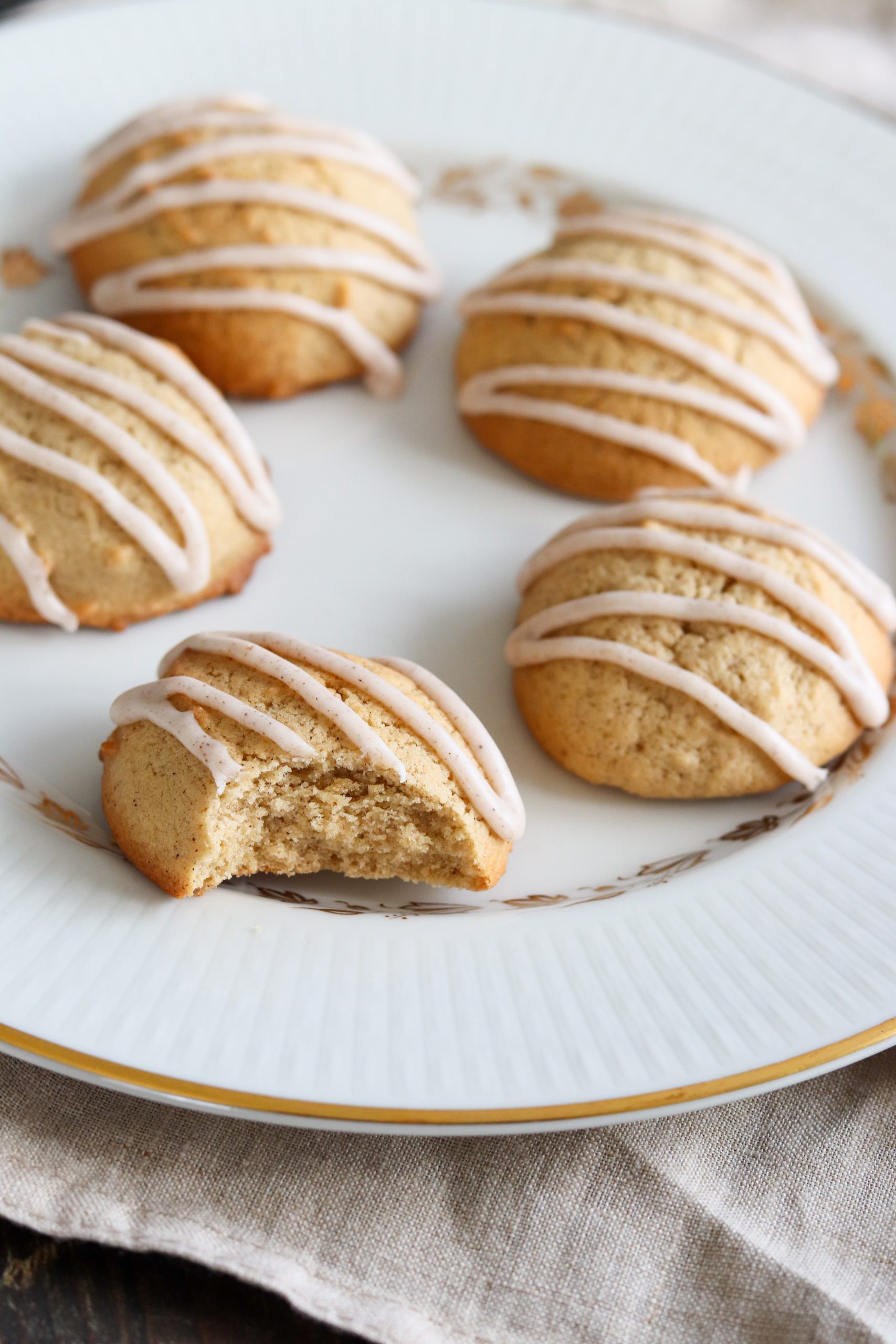 A comforting and cosy cookie
Cinnamon is such a delicious and comforting spice often associated with Winter, and especially Christmas. Not only does the taste evoke cosy feelings, but the smell does too.
The smell of these cookies while they are baking is so delicious you won't want to wait for them to cool before tucking in!
Not only does the cookie have cinnamon in it, but the drizzle does too. A cinnamon lover's dream!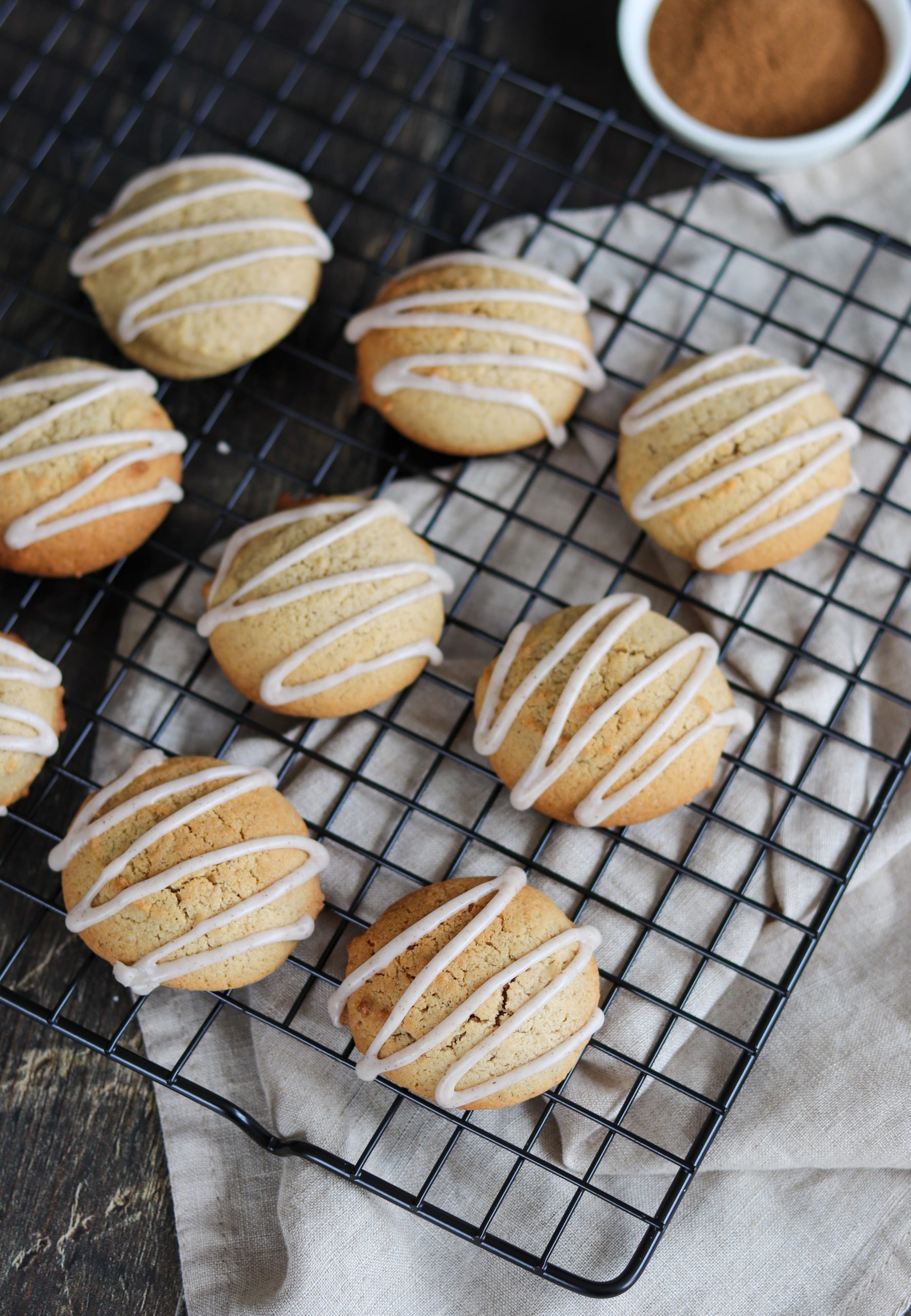 soft cookies are my favourite
I am a sucker for a soft cookie. In my opinion you can't beat a soft cookie which is why I'm pretty sure all of my cookie recipes are soft.
These Cinnamon Cookies are are similar to my Pistachio Cookies in that they are fluffy and almost cake like inside.
They also don't spread as much as other cookies do. They stay in their attractive little mounds which keeps the inside lovely and fluffy.
If you are looking for a crisp cookie, I'm afraid these aren't for you.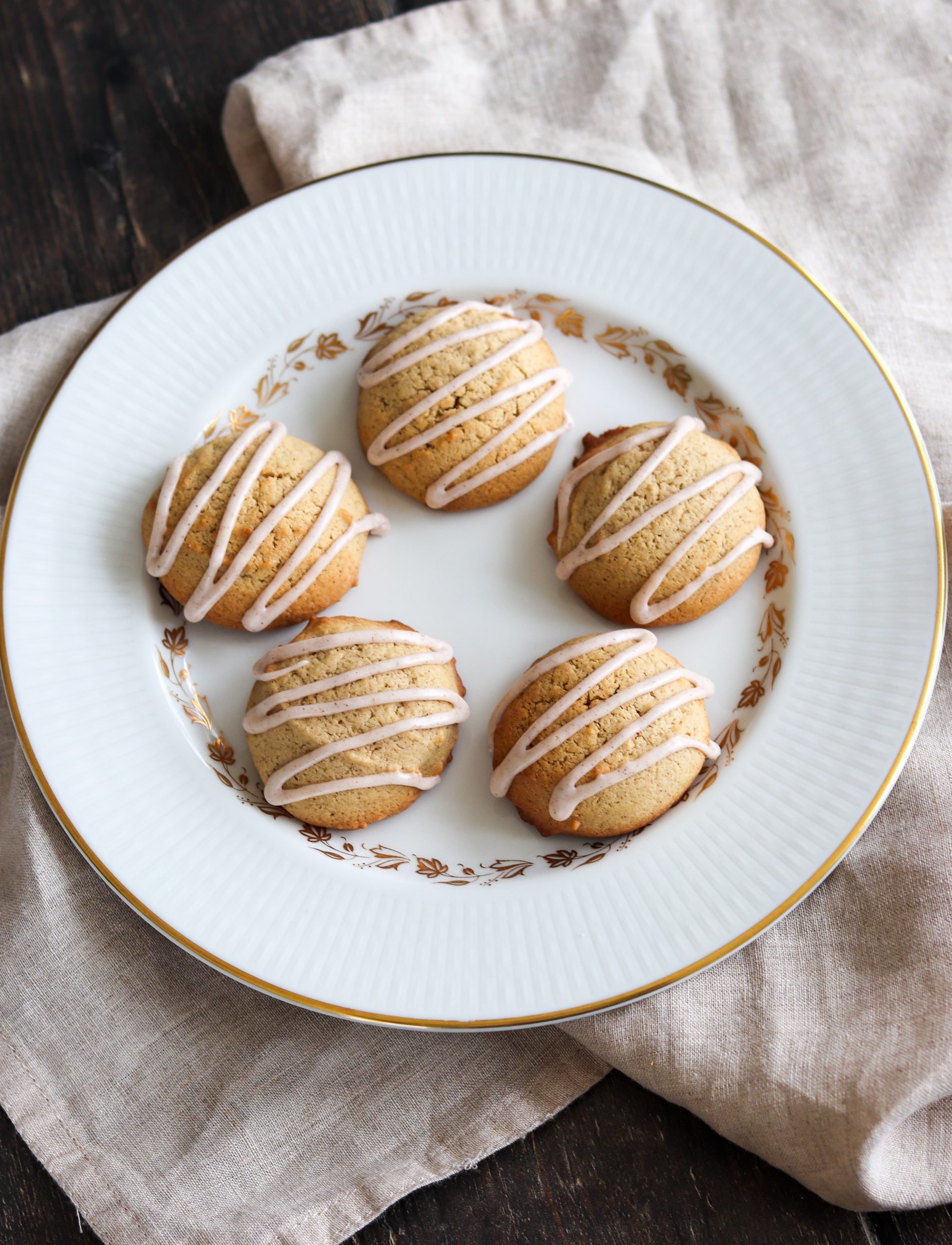 Don't over bake the cookies!
When baking the cookies, they will look quite pale when they come out of the oven. Don't be tempted to cook them for longer than ten minutes thinking they're not baked.
One of the best things about these cookies are the delicious softness of them so you don't want to over bake them! Remember that the cookies will also firm up slightly as they cool too.
If you really do prefer a crisper cookie, you could bake them for a couple more minutes. But they are never going to be a cookie with a crisp snap.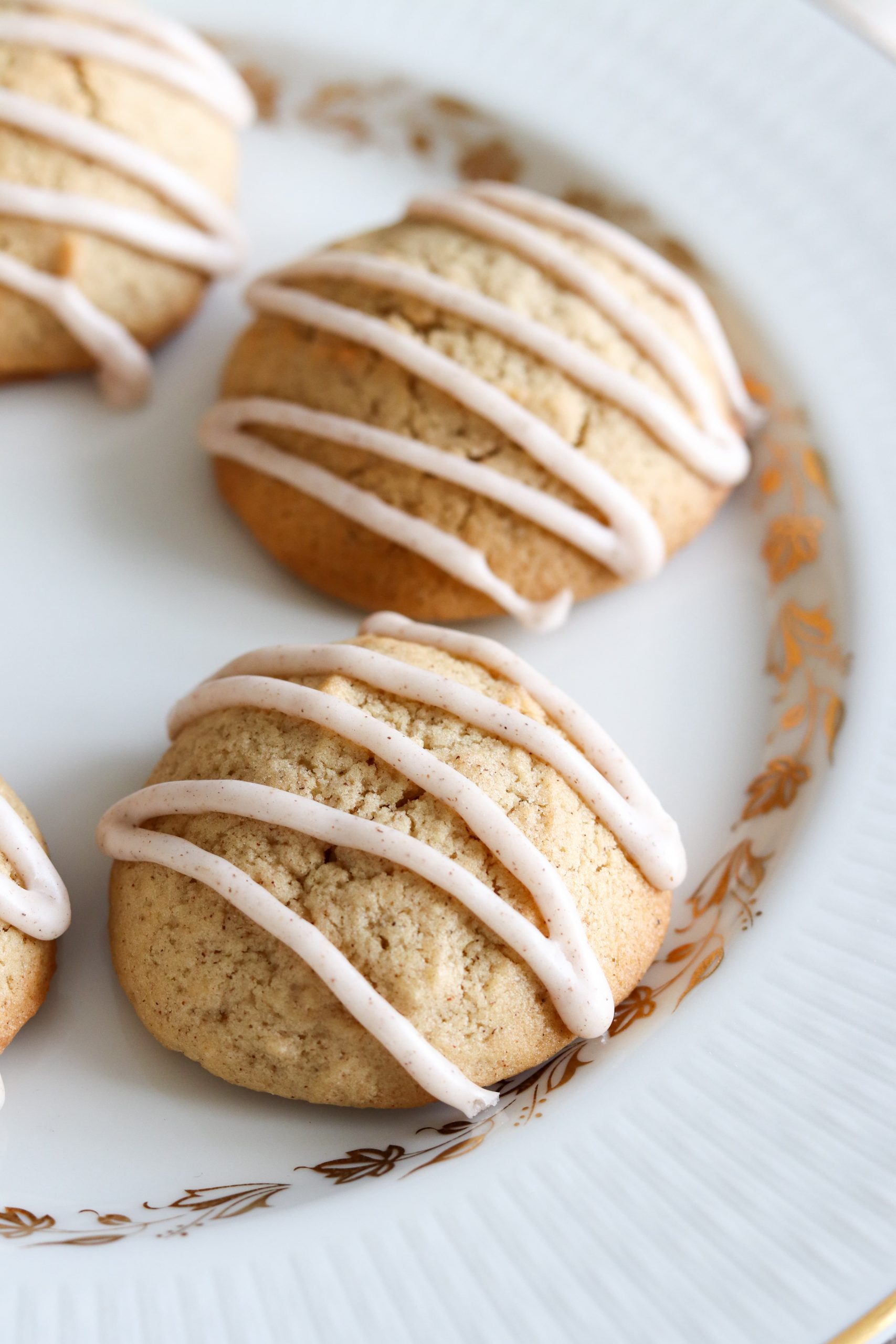 Margarine or butter?
I like to use margarine in baking simply because I find it easier.
Margarine or baking butter comes in tubs and is soft straight from the fridge. This means it creams with the sugar much easier.
If you wanted to, you can definitely use unsalted butter for these cookies. Just make sure you get it out of the fridge before you want to start baking to allow it to soften.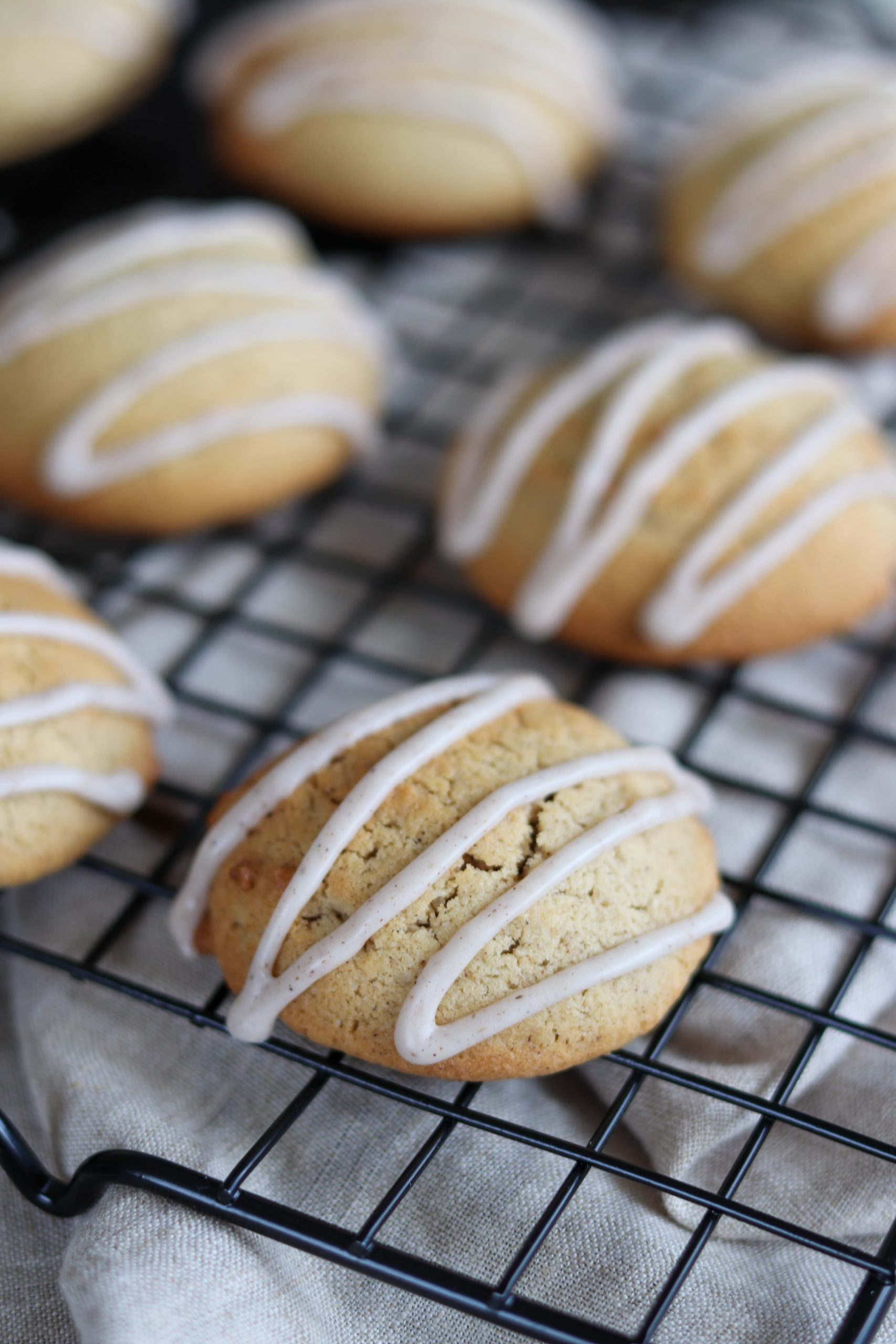 Does the drizzle have to be perfect?
Definitely not!
You can go as fancy or rustic as you like for the drizzle. I spooned the drizzle into a piping bag and snipped off the tip to get a small hole and then piped it across each cookie.
If you don't want to do this, you can easily use a spoon and either drizzle it across the cookies or spread a small amount across the top. You will get a more rustic look with a spoon but I think that is quite nice with home baking.
Decorating these cookies is definitely something children can help with so they don't need to be perfect.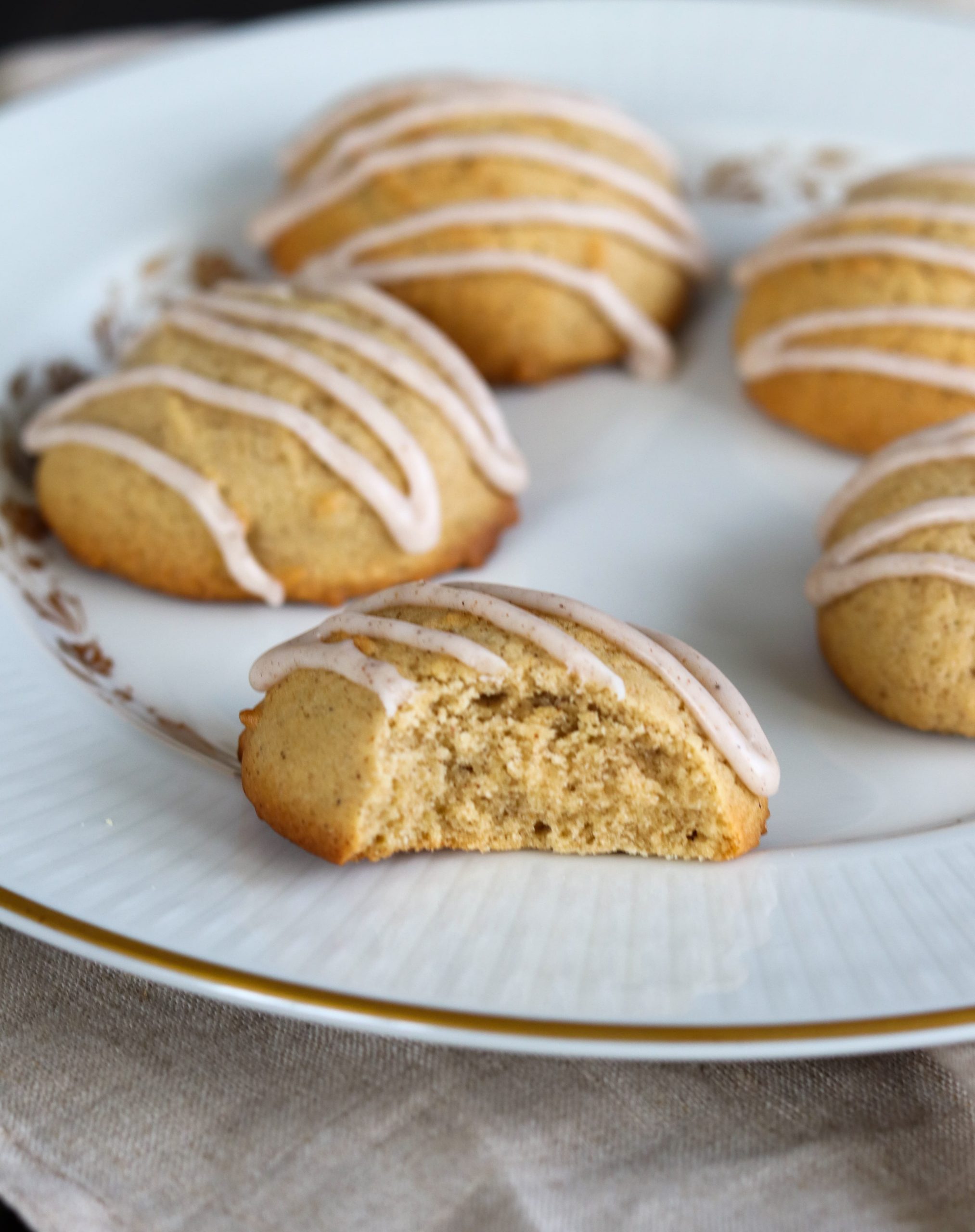 How do you get even sized cookies?
I think the best way of getting even sized cookies is to use a small ice cream scoop. I have an ice cream scoop for every occasion. It is definitely the easiest way of scooping out cookies or cupcake batter.
My smallest scoop gave me balls of cookie dough that weighed approximately 25g. If you don't have a small ice cream scoop, then a tablespoon measuring spoon should work quite well.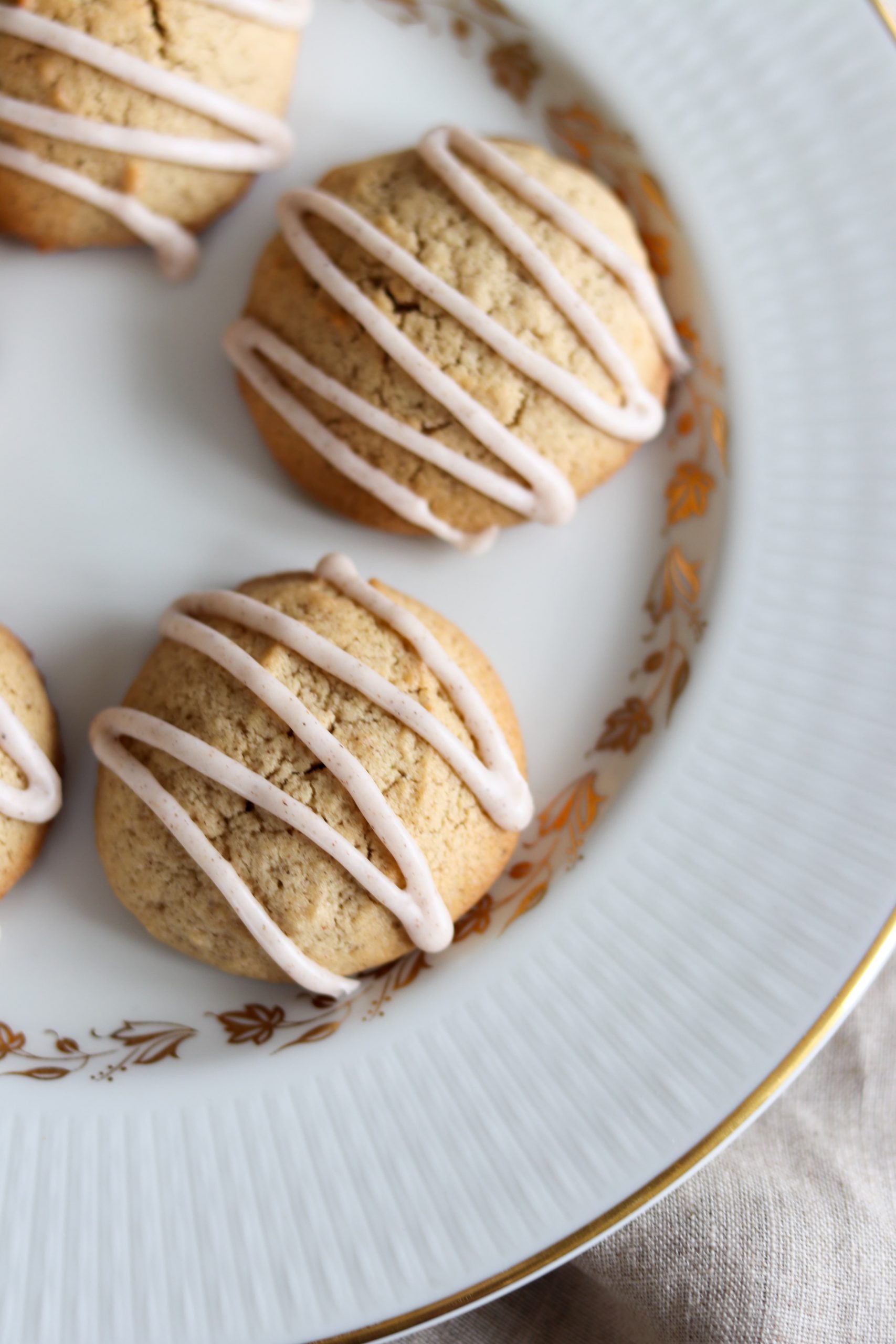 How many cookies does the recipe make?
This depends how big you make the cookies. If you the same sized scoop as I do then you will make around 22 cookies.
You can make them smaller to make more cookies which would be quite cute. Check on them in the oven though as they should take less time to bake.
I wouldn't necessarily make them much bigger because they are quite a thick cookie so they would be quite a generous size!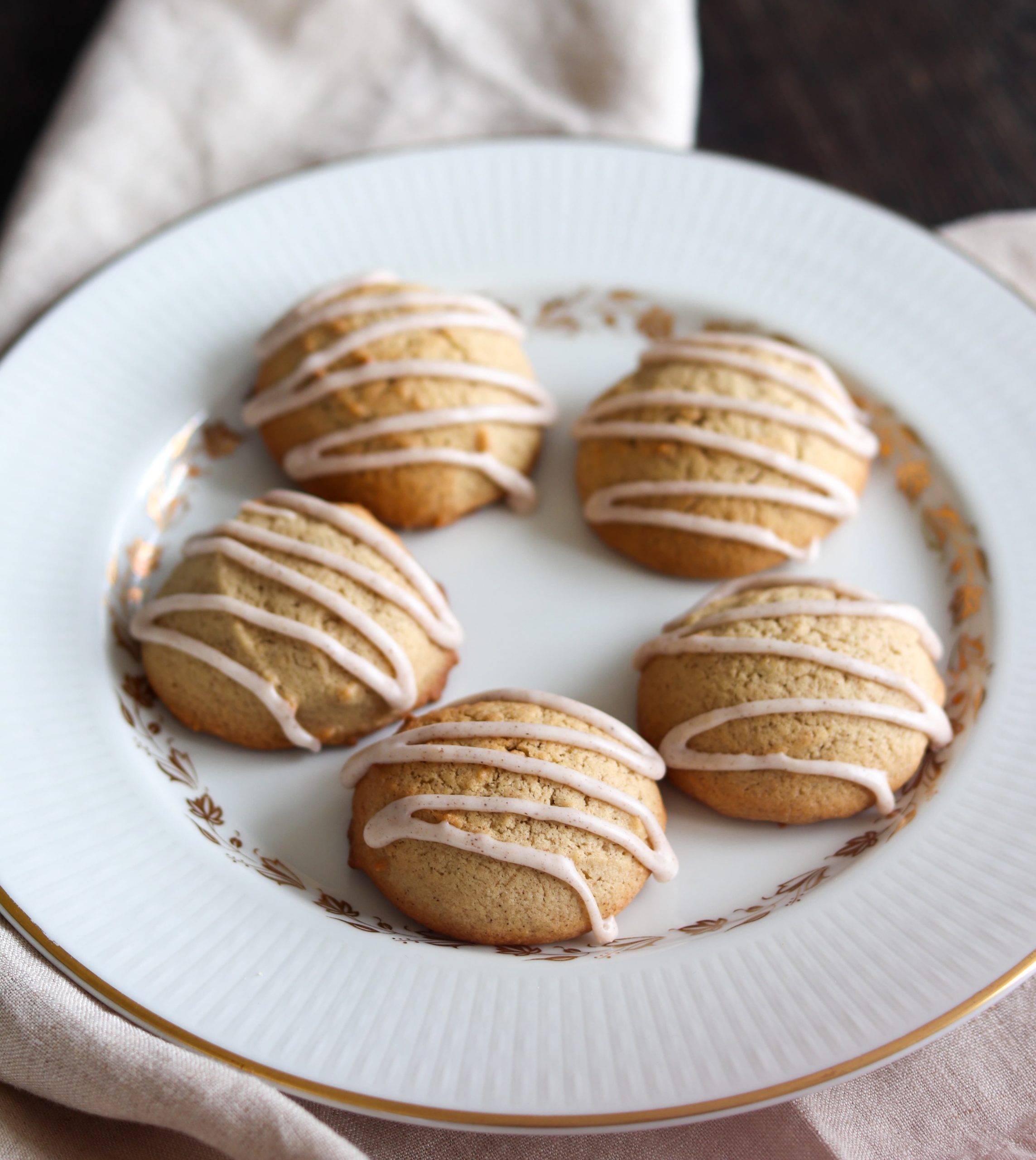 Can these Cinnamon Cookies be frozen?
Yes, I think cookies freeze well in general.
Scoop the cookies into balls and place them onto a baking tray. Put the tray in the freezer for around an hour until they have become hard to the touch.
Once they are firm, transfer them to a container or bag and put them in the freezer to cool completely.
When you want to bake them, cook them from frozen for ten minutes longer than the recipe below.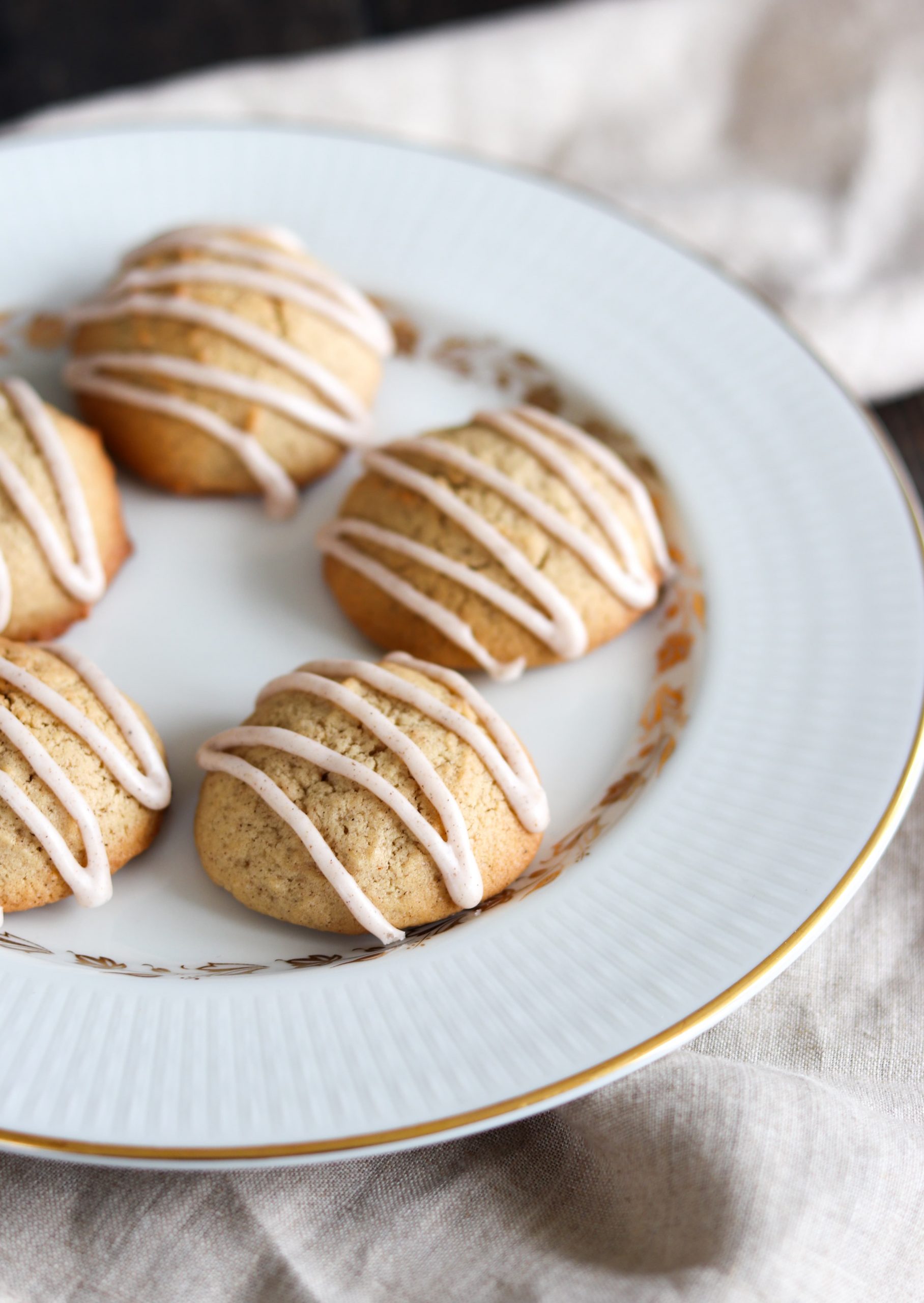 A perfect homemade gift
These are the perfect Christmas cookie. The smell and taste screams Christmas but they would also make a lovely gift.
Homemade Christmas presents have become more popular in recent years. A bag of these Cinnamon Cookies would make a lovely thoughtful gift.
How long do these cookies last?
These cookies will keep in an airtight container for up to three days. You could always freeze them so they last longer and then you can bake them just before you need them.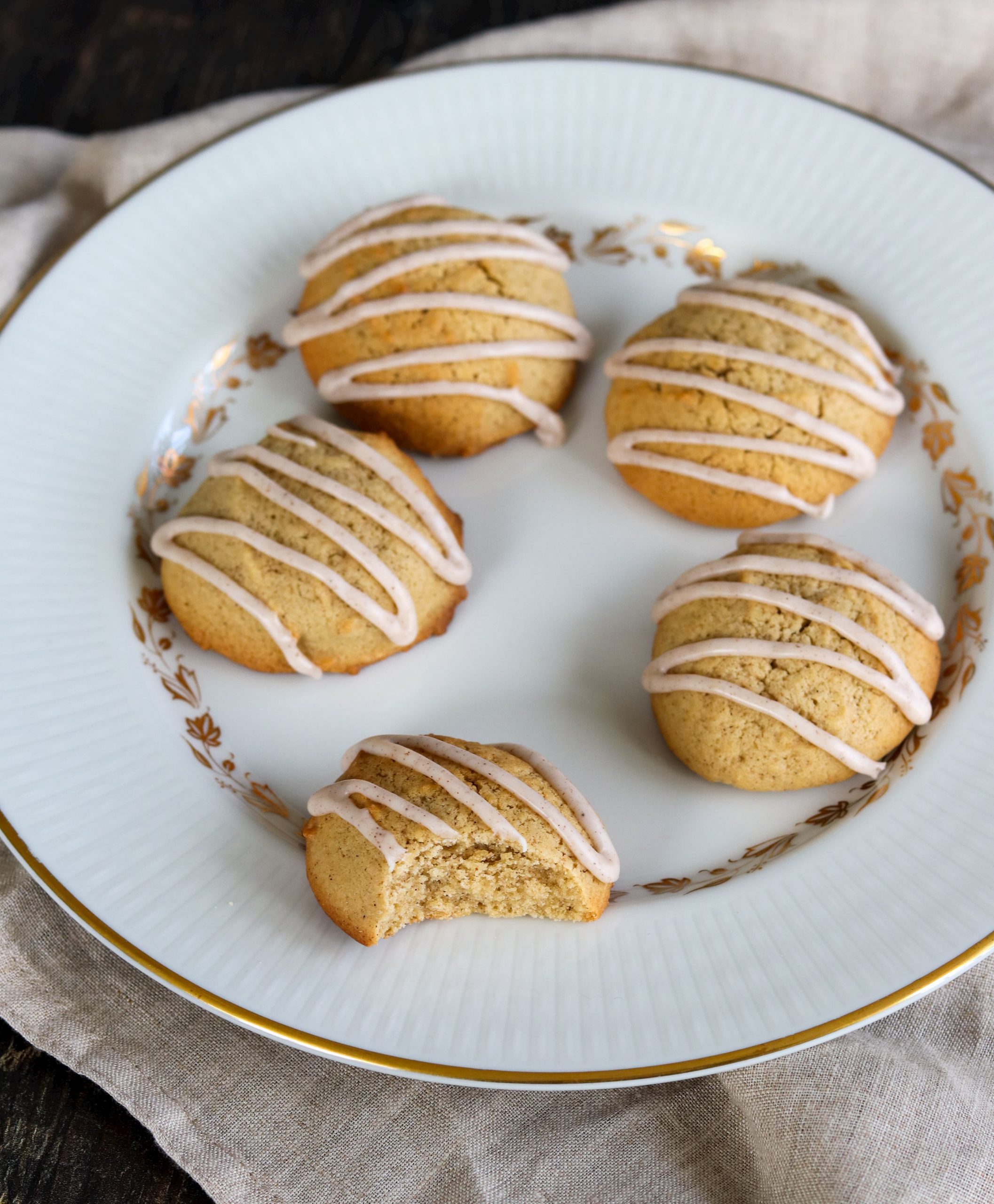 Other recipes you might like
Pin for later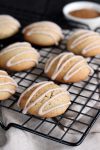 Cinnamon Cookies
These Cinnamon Cookies are deliciously soft with a lovely drizzle. They are tasty at any time of year but especially perfect for Christmas when they would also make a great gift.


Ingredients
For the cookies
100

g

light brown sugar

125

g

margarine

½

tsp

vanilla extract

1

egg

200

g

plain flour

1

tsp

ground cinnamon
For the drizzle
100

g

icing sugar

½

tsp

ground cinnamon

4

tsp

semi-skimmed milk
Instructions
Preheat the oven to 180°C (fan assisted, 200°C non fan) and line two baking trays with silicone liners or parchment paper

Add the margarine and sugar to your mixer or a large bowl and beat until pale and fluffy

Add the egg and vanilla extract and mix again

Add in the flour and ground cinnamon and mix until just combined

Spoon balls of cookie dough onto the lined tins leaving enough space for the cookies to spread slightly when baking

Bake in the oven for 10 minutes until lightly golden

Leave to cook for a few minutes on the trays before transferring to a wire rack and leaving to cool completely

Once the cookies have cooled, make the drizzle. Add the icing sugar, milk and ground cinnamon to a bowl and stir until any lumps have gone

Drizzle over the cookies either by spooning into a piping bag and cutting a small hole in the end or with a spoon for a more rustic look
Recipe Notes
Keep in an air tight container for 3-4 days.
Nutritional information is given as a guide only.
Nutrition Facts
Cinnamon Cookies
Amount Per Serving
Calories 113
Calories from Fat 45
% Daily Value*
Fat 5g8%
Cholesterol 8mg3%
Sodium 58mg3%
Potassium 21mg1%
Carbohydrates 16g5%
Protein 1g2%
Vitamin A 214IU4%
Calcium 11mg1%
Iron 1mg6%
* Percent Daily Values are based on a 2000 calorie diet.