Soft cookies crammed with dried cranberries and chunks of white chocolate. These Cranberry & White Chocolate Cookies are delicious at any time of year, but especially at Christmas.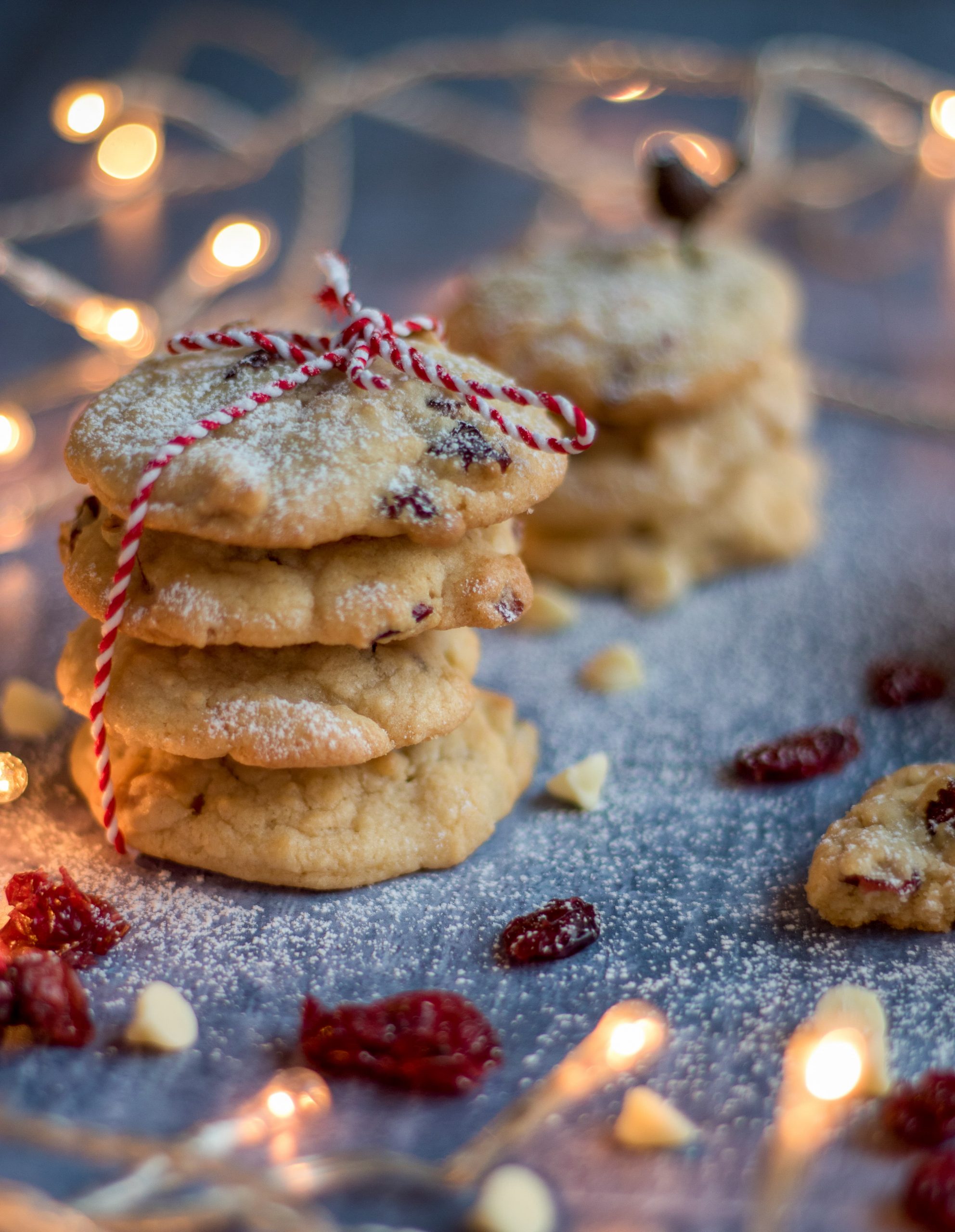 Do you like white chocolate?
I am not typically a fan of white chocolate, I find it quite sweet. But there are instances when it is the perfect chocolate of choice and makes me realise it is actually quite tasty.
These Cranberry & White Chocolate Cookies are an adaptation of my go-to cookie recipe which I wanted to make a little festive. The white chocolate and the cranberries go so well together!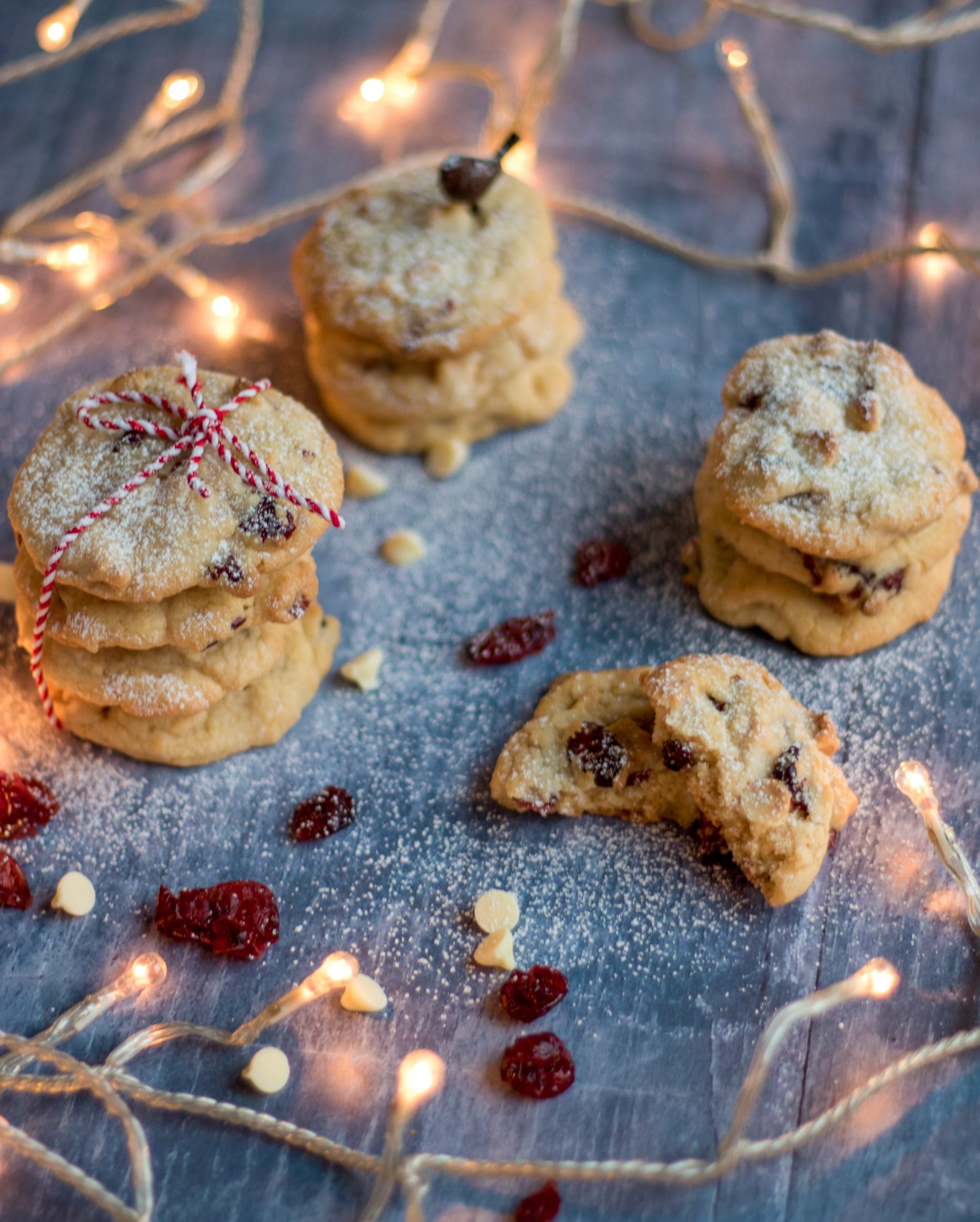 Cranberries and Christmas go hand in hand
Cranberries are an obvious choice for Christmas and can be a little tart which I thought would work really well with the sweet white chocolate.
Cranberries are popular at this this time of year in both sweet recipes like my Orange & Cranberry Loaf Cake and savoury recipes like my Turkey & Cranberry Sauce Sausage Rolls.
For these cookies you need dried cranberries as fresh ones will make the cookies too wet as they bake.
Although these flavours are commonly associated with Christmas, you can obviously make and enjoy these cookies year round.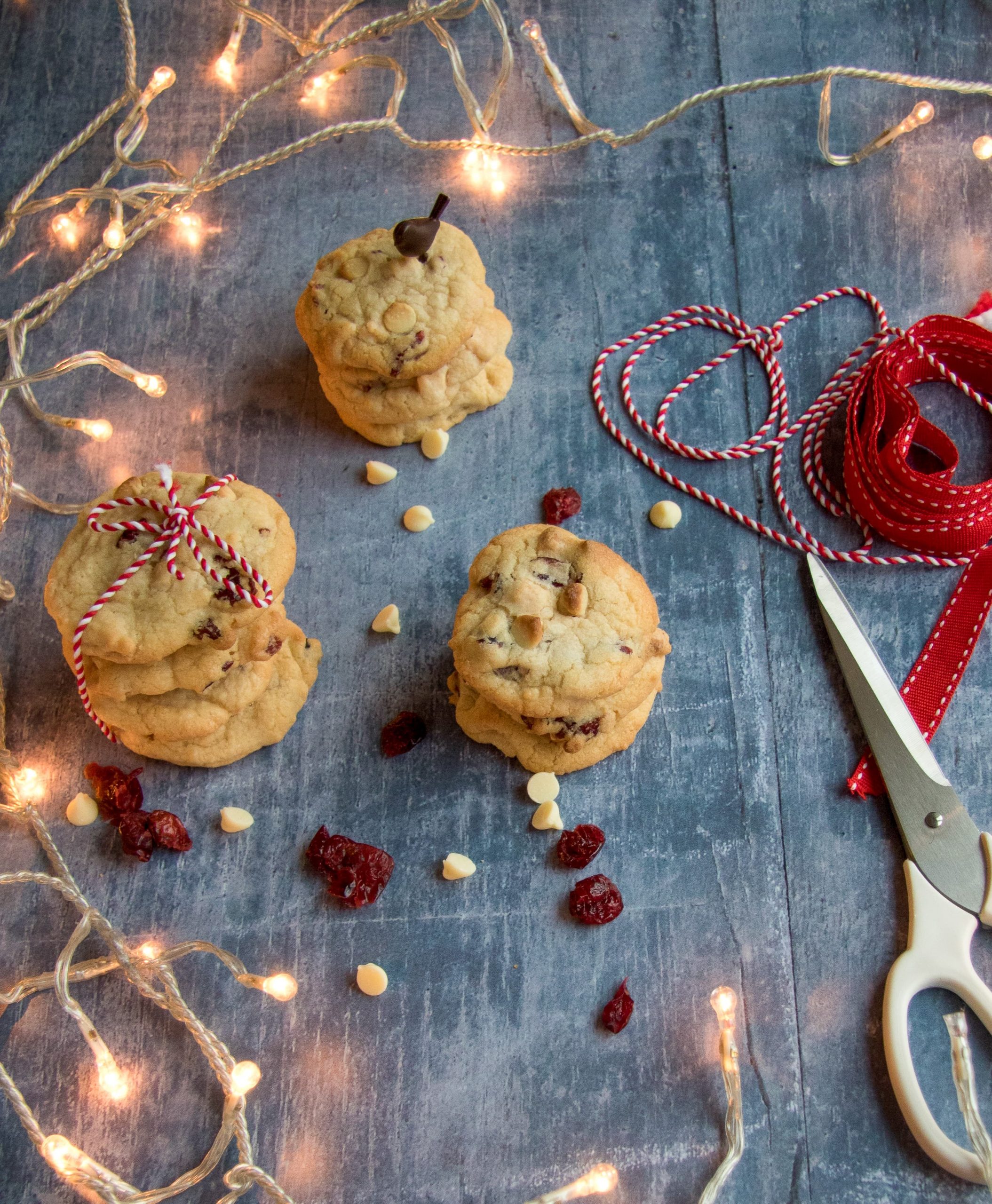 It's all about soft cookies!
The reason why I like this cookie recipe so much is because I love a soft cookie. I have always been a soft cookie fan. I want a squidge to my cookie and for it to have a soft bend not a crisp snap like some do.
One of the secrets behind a soft cookie is not cooking them for too long. After being baked, they will be soft to touch in the middle.
You may be tempted to bake them for a few minutes longer thinking they aren't quite done – but don't! They will harden up slightly as they cool making the perfect soft cookie.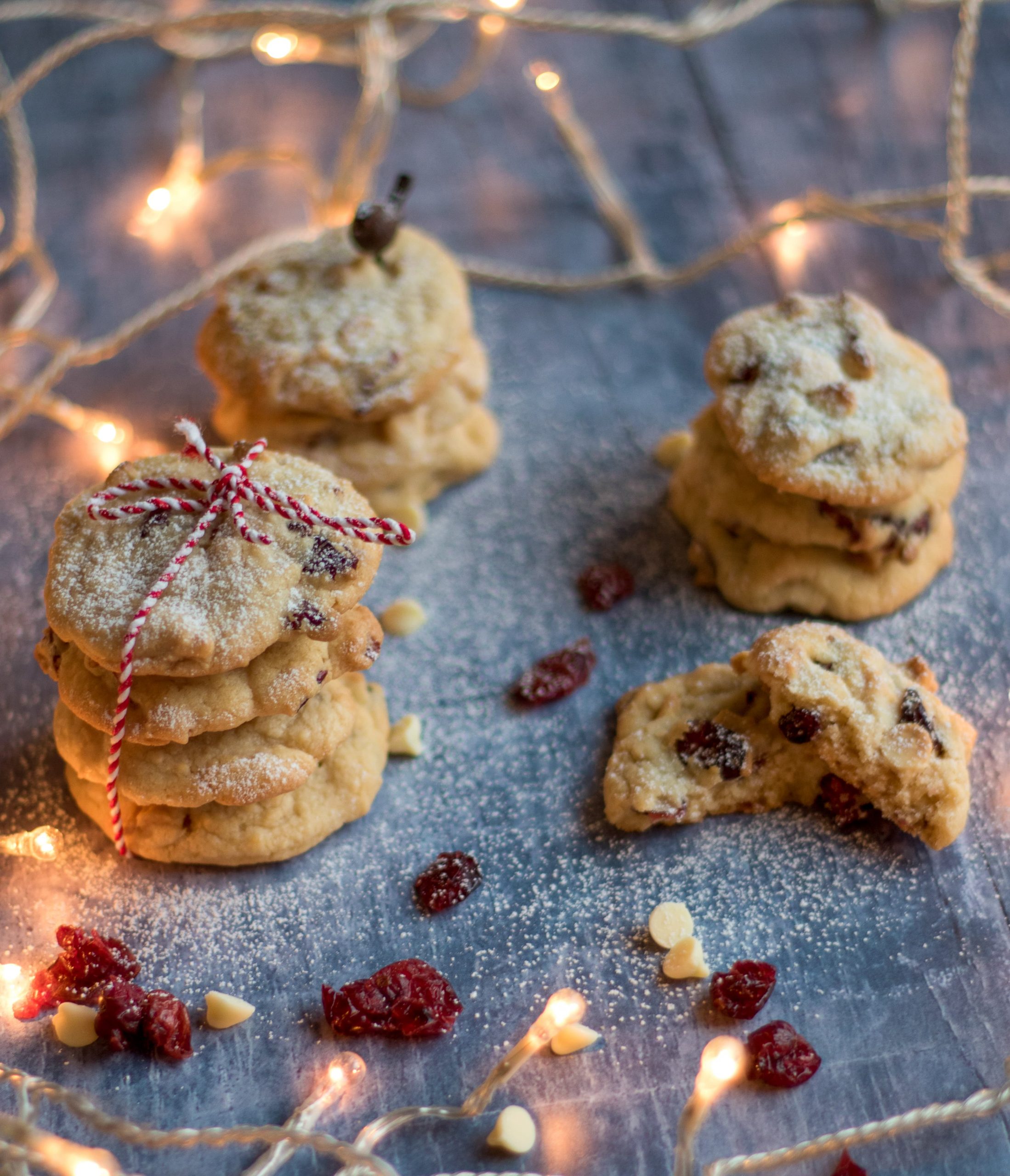 Which white chocolate is best to use?
You can use any type of white chocolate you like for these cookies.
White chocolate chips or chunks are the easiest as you can tip them in straight from the packet. But you could also use a bar of white chocolate and chop it up.
Remember to save some extra chocolate to sprinkle on top of the cookies before they bake. Although this isn't essential, it makes them look extra special.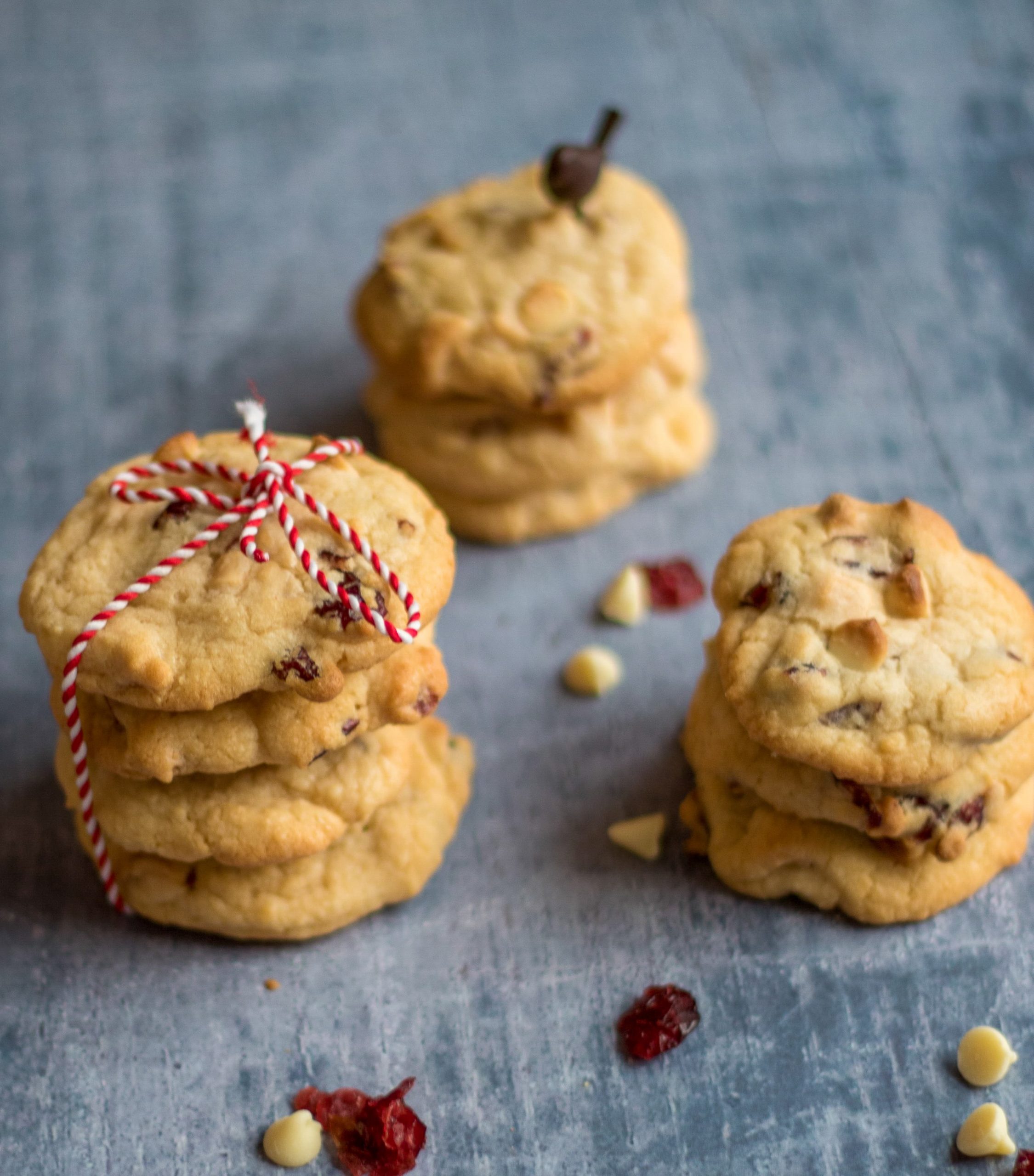 How to shape the cookies
I find the easiest way to shape the cookies is to use a mechanical ice cream scoop. It is the easiest way to get identical sized cookies with minimal mess.
I use my smallest scoop which around 1.5 inches. It makes the perfect size and shaped cookies.
If you don't have a small scoop, you can use a one tablespoon measure. This will give you about the same size.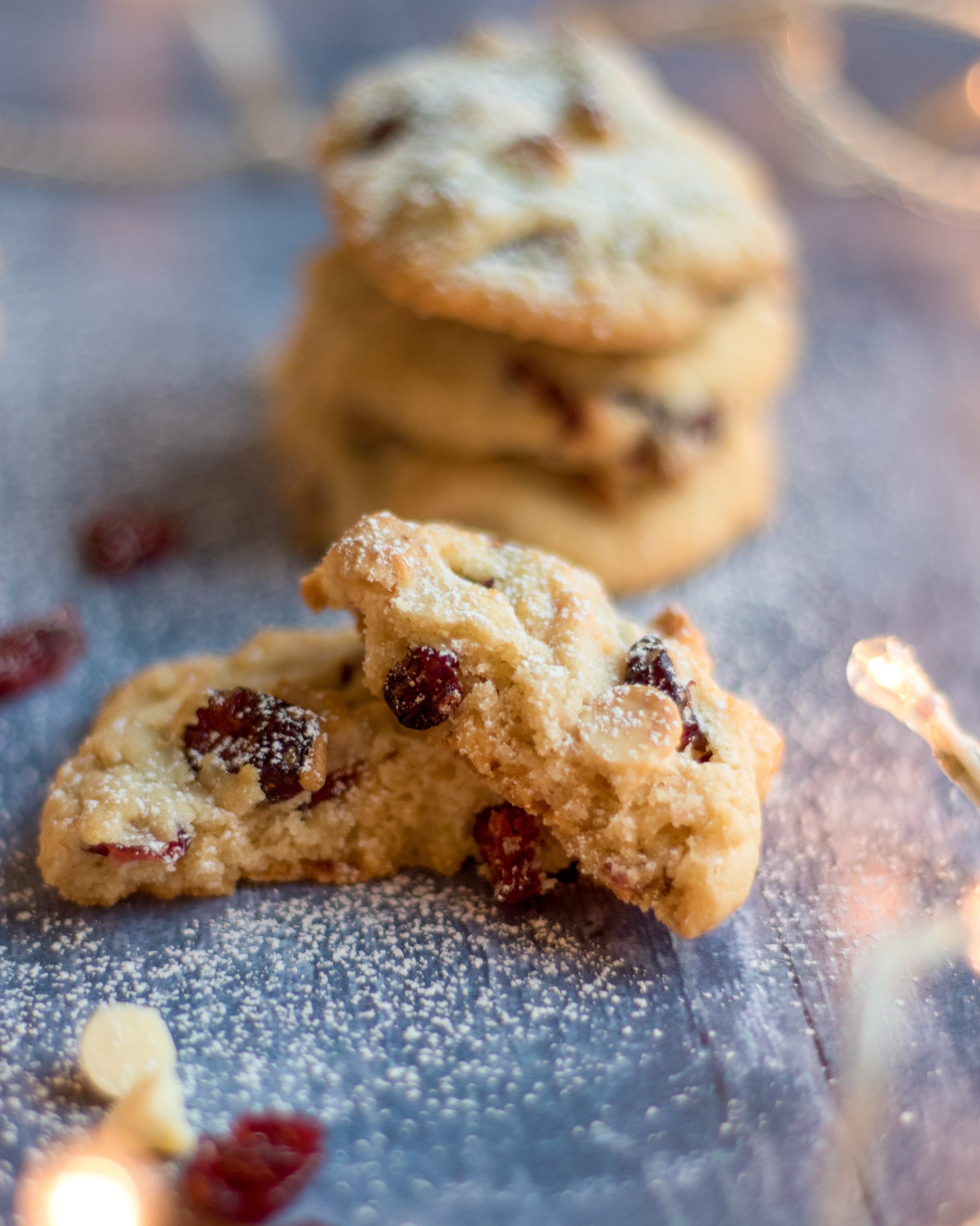 Don't put the cookies too close together on the baking tray!
These cookies spread when they bake so don't put them too close to each other on the baking trays or else you will end up with one big cookie!
I would always recommend leaving more room than you think just to be safe!
You can also really easily bake these cookies in your air fryer. Just make sure you leave enough room for them to spread like you would if you were baking them in an oven.
How many cookies does the recipe make?
Well that depends entirely on how big you make the cookies!
If you use a small ice cream scoop then you should make around 30 cookies. You can definitely make them bigger but they would need a couple more minutes in the oven.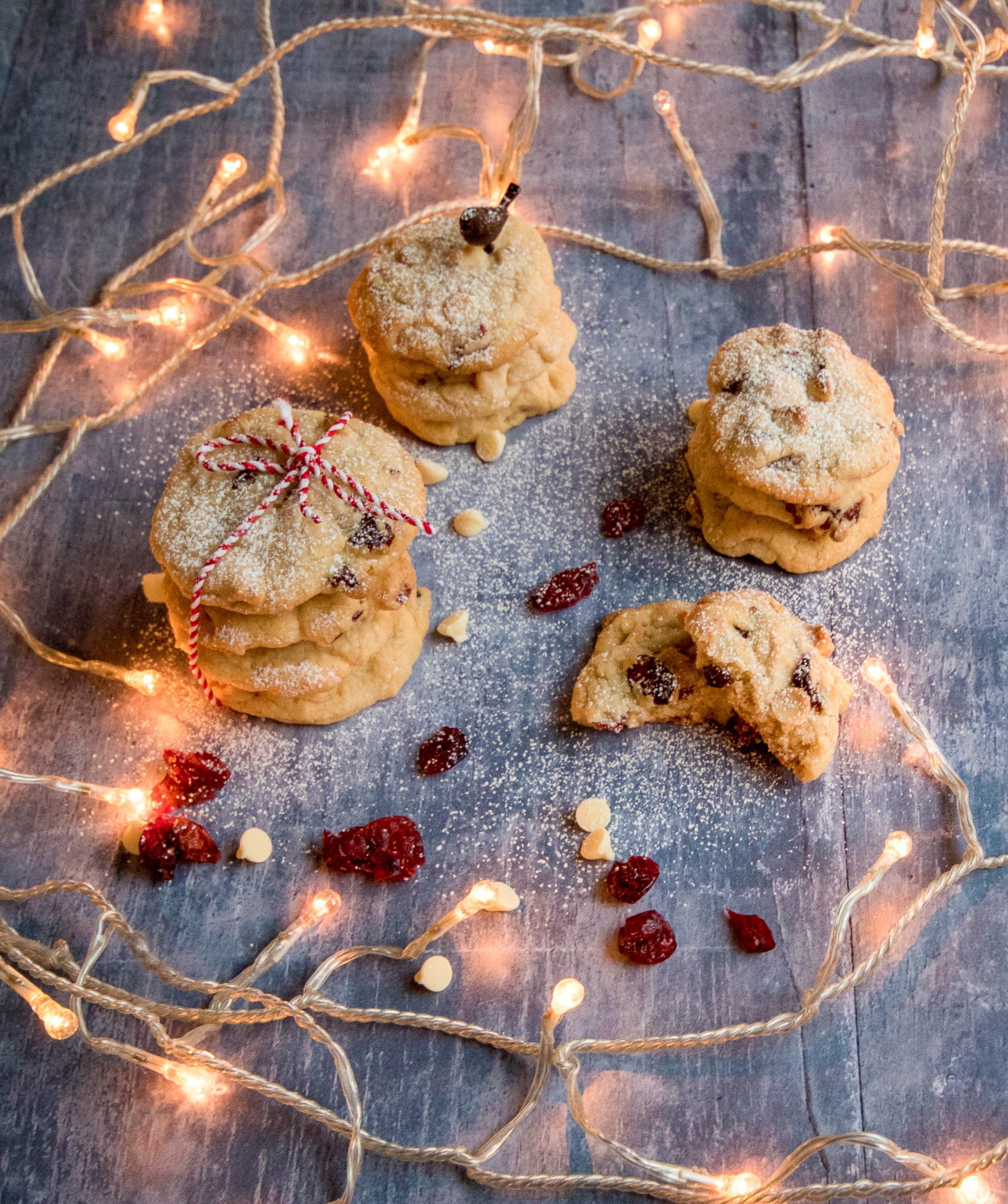 How long do these cookies keep for?
These cookies will keep in an airtight container for at least 4-5 days.
As they get older, they will become slightly more crisp on the outside which is another reason to make sure you don't cook them for too long in the first place!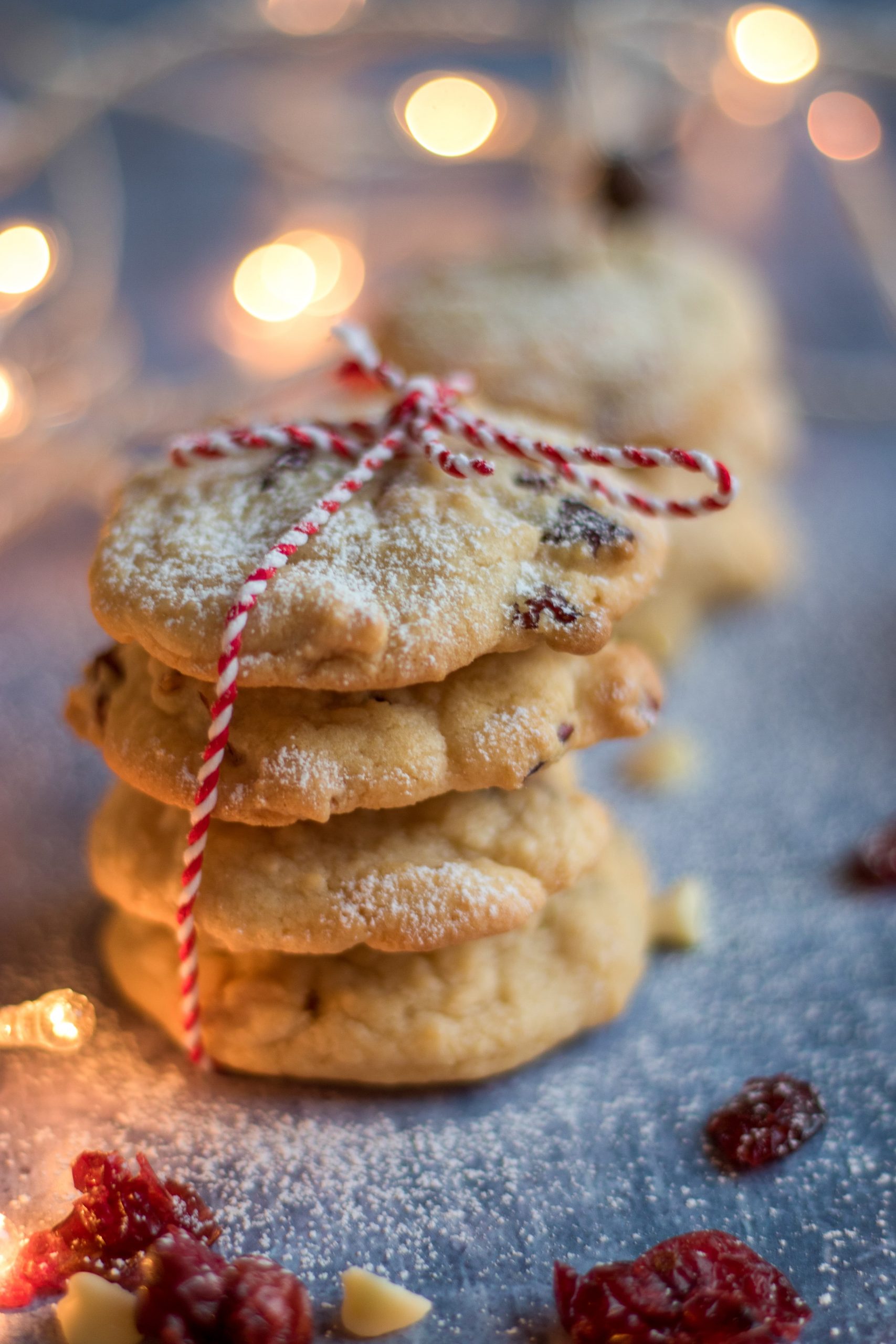 Can these cookies be frozen?
Yes, they freeze really well. This is great if you want to get ahead and make them in advance ready to bake over the Holidays.
Form the cookies into balls and place them on a lined tray. Put the tray into the freezer for around an hour until they become firm.
Transfer the cookies into a bag or container and freeze for up to three months.
When you are ready to bake them, put them on a lined baking tray and leave to thaw slightly for 15-20 minutes before baking them as per the recipe below.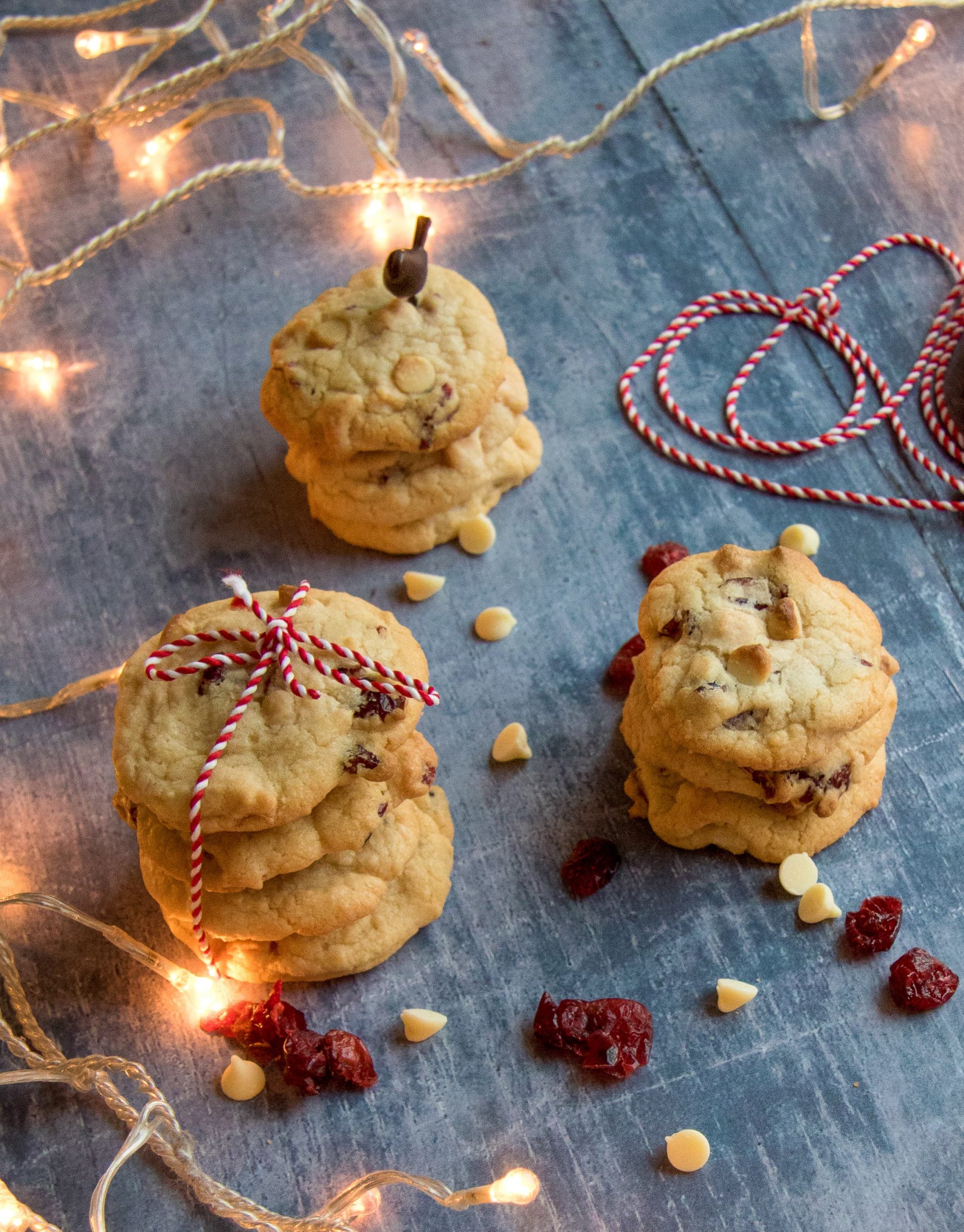 Add even more christmas flavours
If you wanted to add even more festive flavours, why not add the grated zest of half an orange.
Orange and cranberries work really well together and this will add a level of freshness to the cookies.
You don't want to add too much so it doesn't overpower the rest of the flavours though.
Cookies make a great gift
At Christmas, I love to make homemade gifts to give to people. I often put together little hampers for people which include a selection of cookies, Caramelised Onion Chutney, Sweet Chilli Jam and some Frangipane Mince Pie Slices.
People really love the effort and thought put into homemade gifts and the treats are a nicer than what you can buy in shops.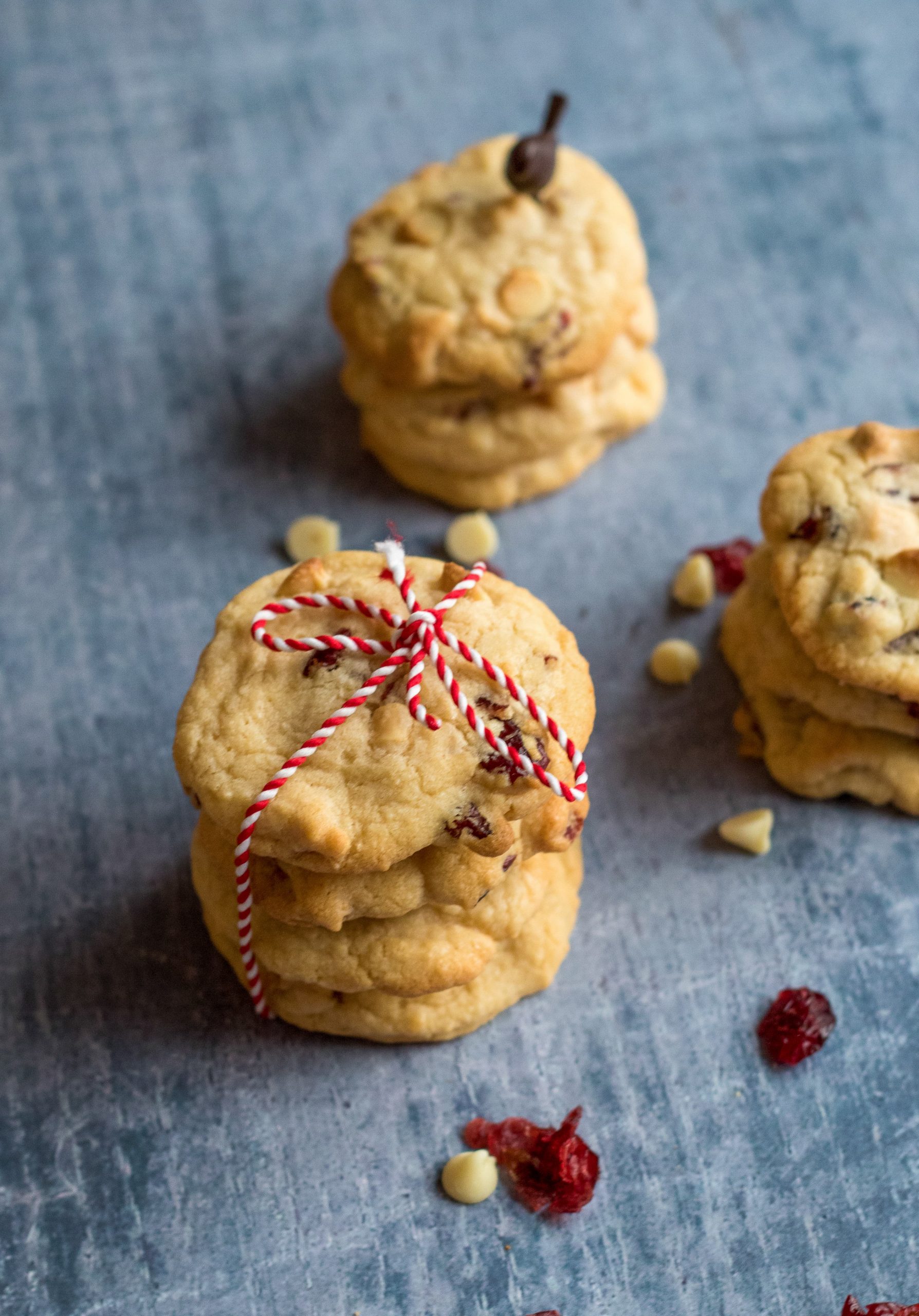 Other recipes you might like
Pin for later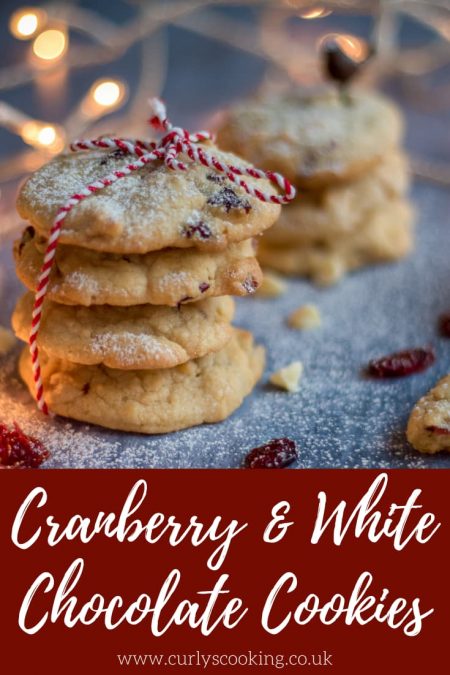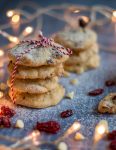 Cranberry & White Chocolate Cookies
Soft cookies crammed with dried cranberries and chunks of white chocolate. These Cranberry & White Chocolate Cookies are delicious at any time of year, but especially at Christmas.
Ingredients
125

g

margarine

100

g

light brown sugar

125

g

caster sugar

1

egg

1

tsp

vanilla extract

225

g

self raising flour

½

tsp

salt

100

g

white chocolate chunks/chips

100

g

dried cranberries
Instructions
Preheat the oven to 180ºC (fan assisted 200ºC non fan). Line baking trays with grease proof paper or silicon liner and set aside

Cream the butter and the sugars together until light and fluffy don't be afraid to keep it mixing for 5 minutes or so

Add the egg and vanilla and mix until combine

Add the flour and salt and mix before then adding the dried cranberries and white chocolate

Shape into equal sized balls. To do this I use a tablespoon measure to scoop out the mix. You can then put the mix onto the trays as they are or roll them between your palms to create a smoother ball. Leave a good gap between each cookie to allow for spreading whilst cooking

Bake in the oven for 10 minutes before leaving to cool on the tray for a further 5 minutes. Transfer the cookies to a wire rack to cool completely
Recipe Notes
Keep in an air tight container for 3-4 days.
Nutritional information is given as a guide only.
Nutrition Facts
Cranberry & White Chocolate Cookies
Amount Per Serving
Calories 88
Calories from Fat 18
% Daily Value*
Fat 2g3%
Cholesterol 4mg1%
Sodium 61mg3%
Potassium 12mg0%
Carbohydrates 11g4%
Vitamin A 120IU2%
Calcium 4mg0%
Iron 0.1mg1%
* Percent Daily Values are based on a 2000 calorie diet.