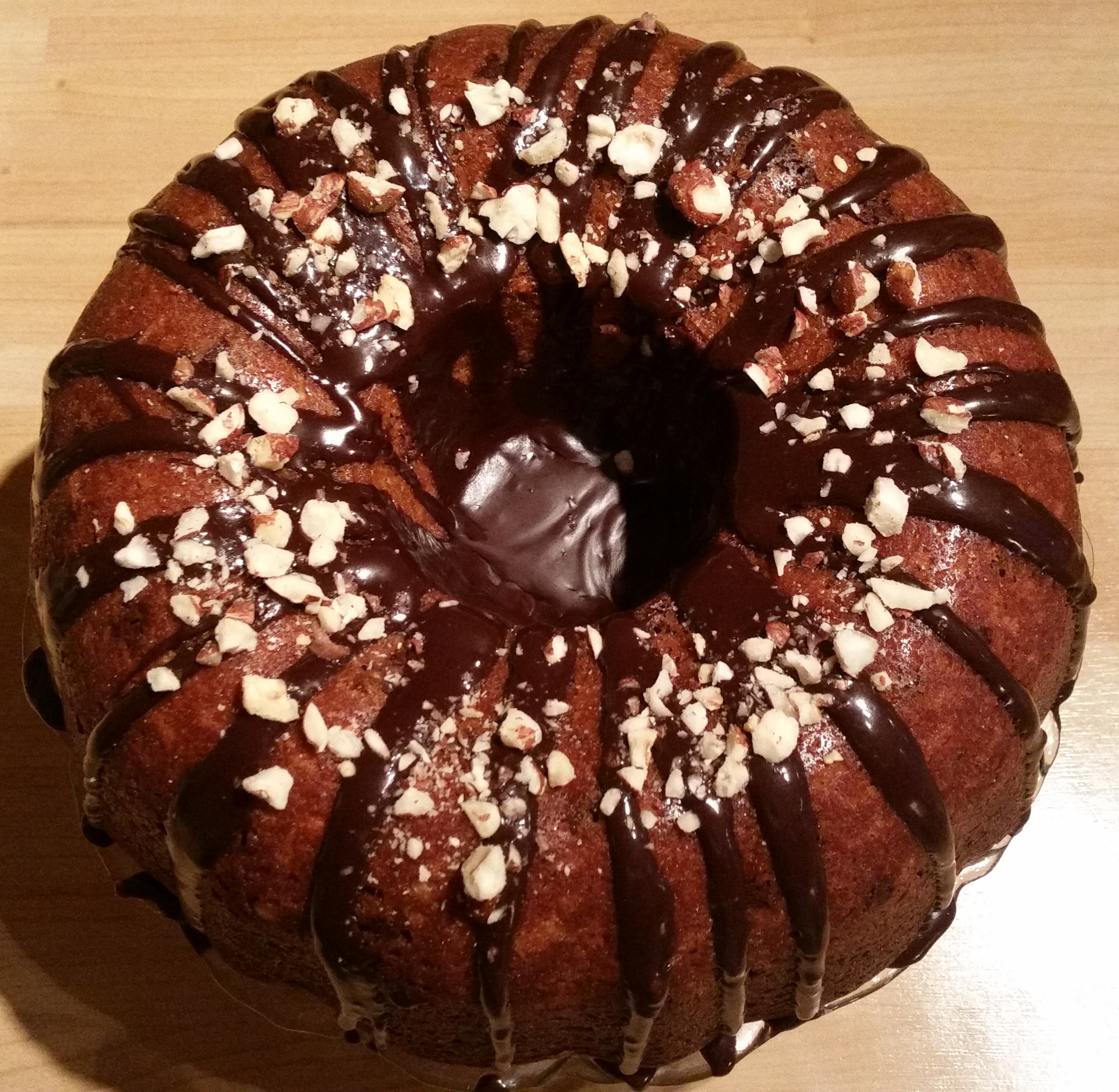 I have been very quiet on here recently because I have been on holiday in Mexico. The hotel was amazing and the food was delicious! They'll be more of that in a later post.
Just before I went, Mum bought me a bundt tin. Bundt cakes look amazing and come in fantastic patterns and are recognised by their ring shape. When it came to finding a recipe, I knew exactly where to look. I follow someone on twitter who is referred to as the Bundt Queen – @DollyBakes. After looking at her recipes I was instantly drawn to her chocolate and hazelnut bundt cake – anything with Nutella in gets my vote! (http://www.dollybakes.co.uk/2013/09/chocolate-hazelnut-bundt-cake.html)
The hazelnut yogurt was as a little tricky to find. The original recipe said it could be found in Morrisons and Marks & Spencer. I couldn't see it in M&S but after some serious hunting, we found it in Waitrose. I asked someone in M&S if they had it and it was definitely worth it to see their face wondering what on earth I was talking about!
For the cake
225g butter
450g golden caster sugar
4 medium eggs
1 tsp vanilla extract
350g plain flour
1/2 tsp bicarbonate of soda
1/2 tsp salt
250ml hazelnut yogurt
100g milk chocolate chips
50g chopped hazelnuts
4 tbsp Nutella
Spray oil
Preheat the oven to 160ºC and grease a 2.4L, 10 cup, 10 inch bundt tin. I used spray oil
Cream the butter and sugar until pale and fluffy
Add the eggs one at a time, beating well after egg and then add the vanilla extract
In a different bowl, mix the flour, bicarbonate of soda, salt, chocolate chips and nuts
Alternate between adding the flour and yogurt starting and ending with the flour, sifting it as you add it. Don't over mix
Tip in the dry ingredients trapped by the sieve, which have been coated in flour which will help them from sinking
Mix everything together once more just so the dry ingredients mixed through
Pour 3/4 of the mix into the prepared tin
Spread the Nutella over the cake mix. If you mix it with a spatula in a bowl first this makes is easier to spread. Keep the Nutella away from the edges of the cake
Cover with the remaining mix and spread evenly. Give the tin a wipe with kitchen roll if you have managed to get the mix on the tin like I did!
Bake in the centre of the oven for about 1 hour 15 minutes or until a skewer comes out clean. It should be shrinking from the sides of the tin slightly. It took approximately 1 hour for the cake to be cooked in my oven so keep an eye on it!
Leave the cake to cool for 10 minutes, then remove from the tin
Allow to cool completely
For the icing:
300g icing sugar
100g cocoa powder
Chopped hazelnuts for scattering
Mix the icing sugar and cocoa powder together with enough water to make a runny icing
Pour over the cake and sprinkle with chopped nuts
This is a fantastic recipe and can't wait to try more bundt cakes!