Delicious hazelnut sponge with Nutella running through it. This Nutella Swirl Cake is a real showstopper perfect for all occasions!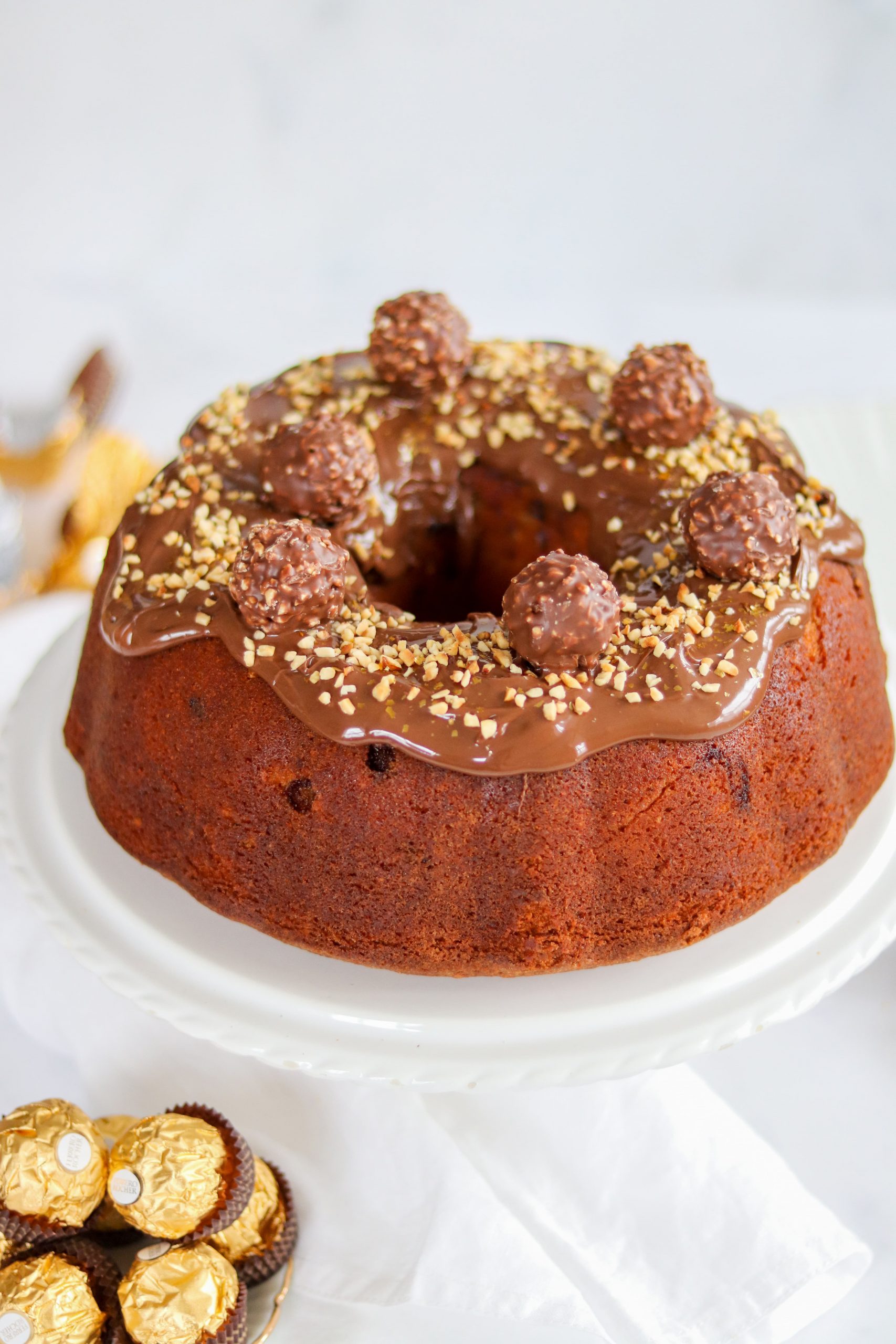 What is a bundt cake?
Encase you haven't seen this type of cake before, it is called a bundt cake.
Bundt cakes are cakes that are baked in a bundt tin. The tins have a distinctive doughnut shape, but can some in a huge variety of different styles.
Bundt tins can be very decorative with lots of different shapes in the tin which are then shaped into the finished cake. The bundt tin I have is very simple compared to a lot I have seen!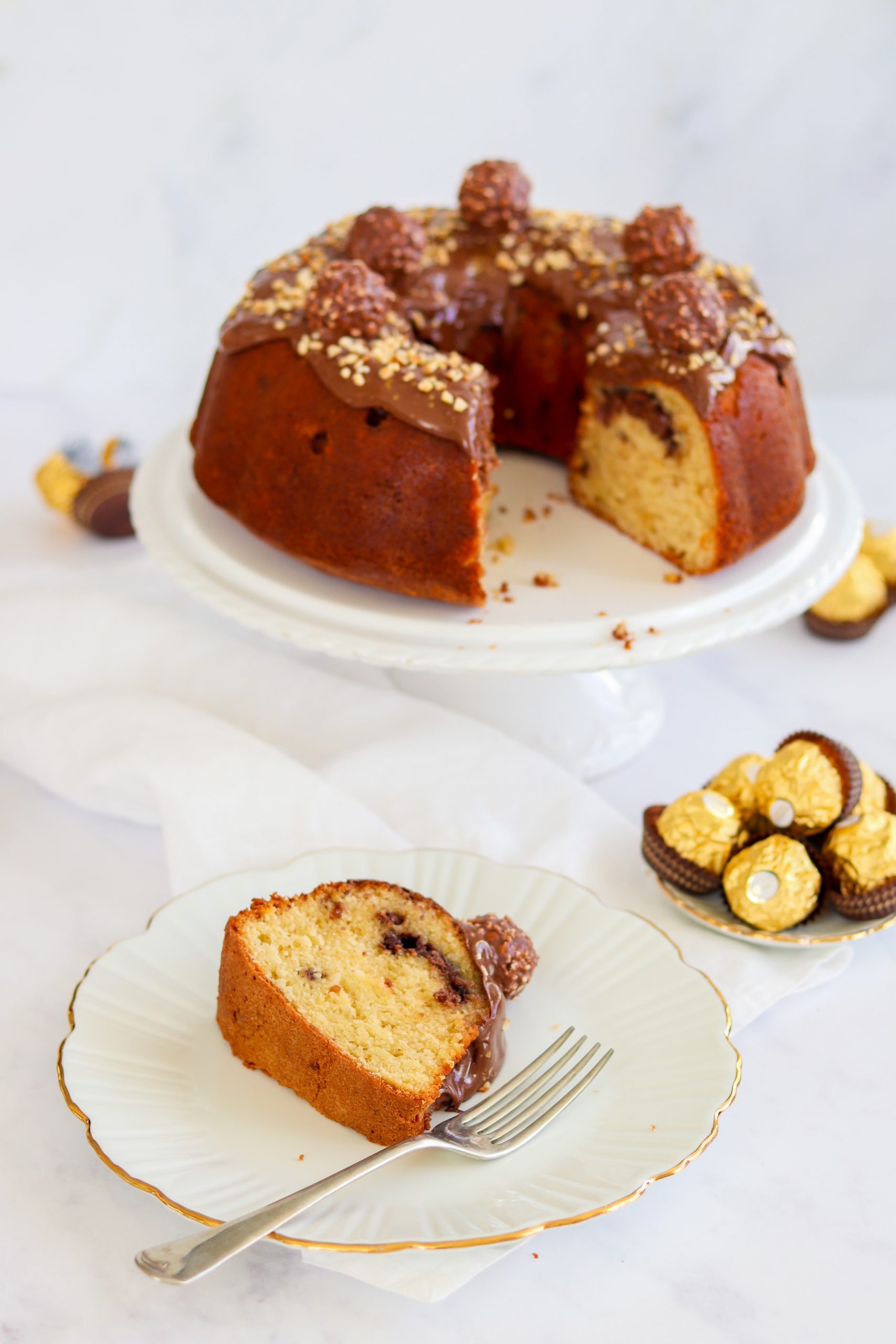 Do I need to use a bundt tin to bake this cake?
With a lot of cakes you can sometimes get away with using a different tin to bake them in.
However for this Nutella Swirl Cake I really do think it needs to be baked in a bundt tin. This is because it is such a lot of batter that it would usually take a very long time to cook.
This is where the bundt tin helps. The hole in the centre allows the cake to bake quicker and more evenly. It also provides the iconic look that are associated with bundt cakes.
Bundt cake tins aren't too expensive and you should be able to find quite a large selection to buy online.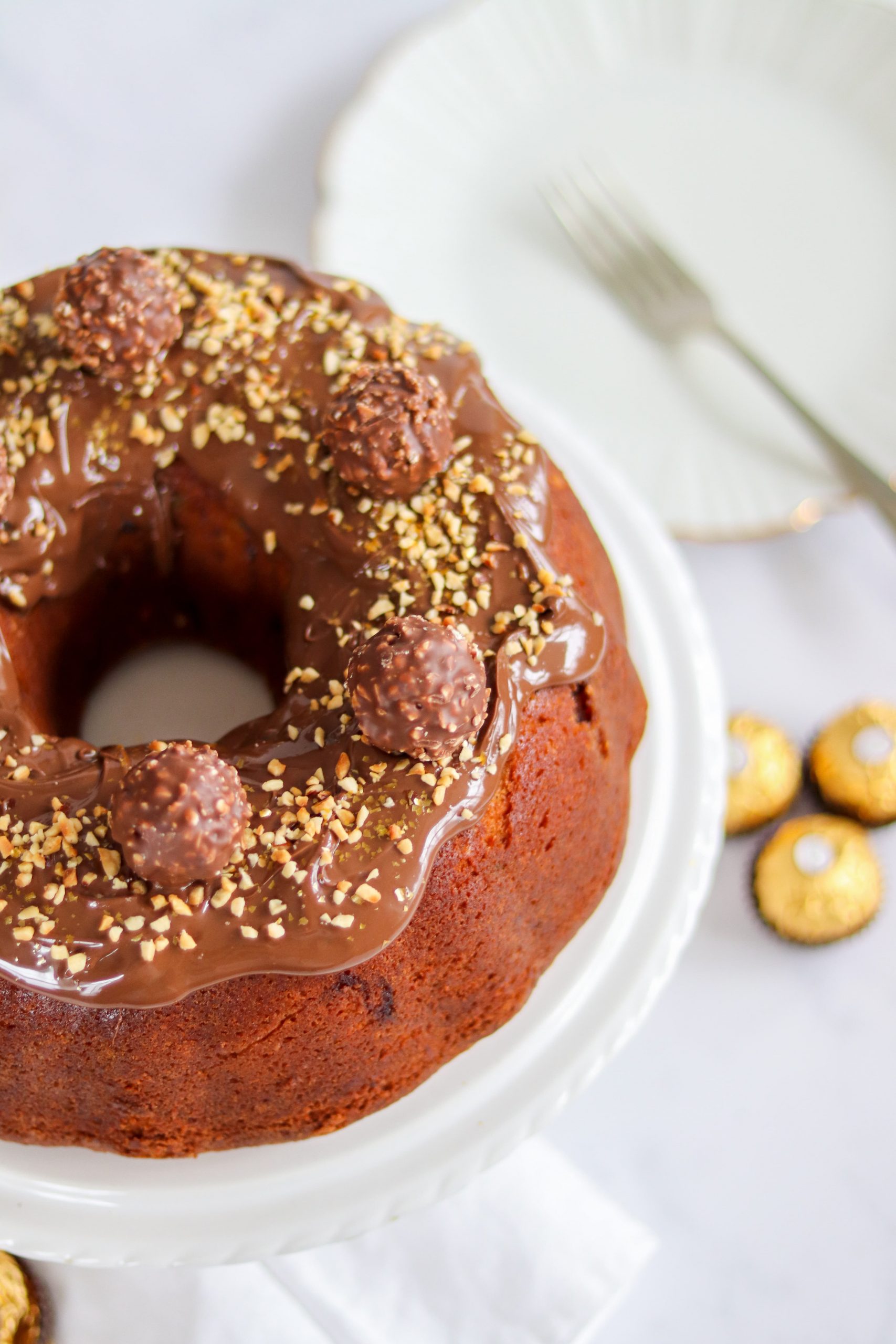 Chocolate & Hazelnut – One of my favourite flavour combinations
It is no secret that chocolate and hazelnut is one of my favourite flavour combinations.
The delicious nuttiness of the hazelnuts is a match made in heaven with chocolate.
This cake is a moist hazelnut flavoured sponge with a Nutella centre. This is then smothered in more chocolate and sprinkled with nuts. What is not to love?!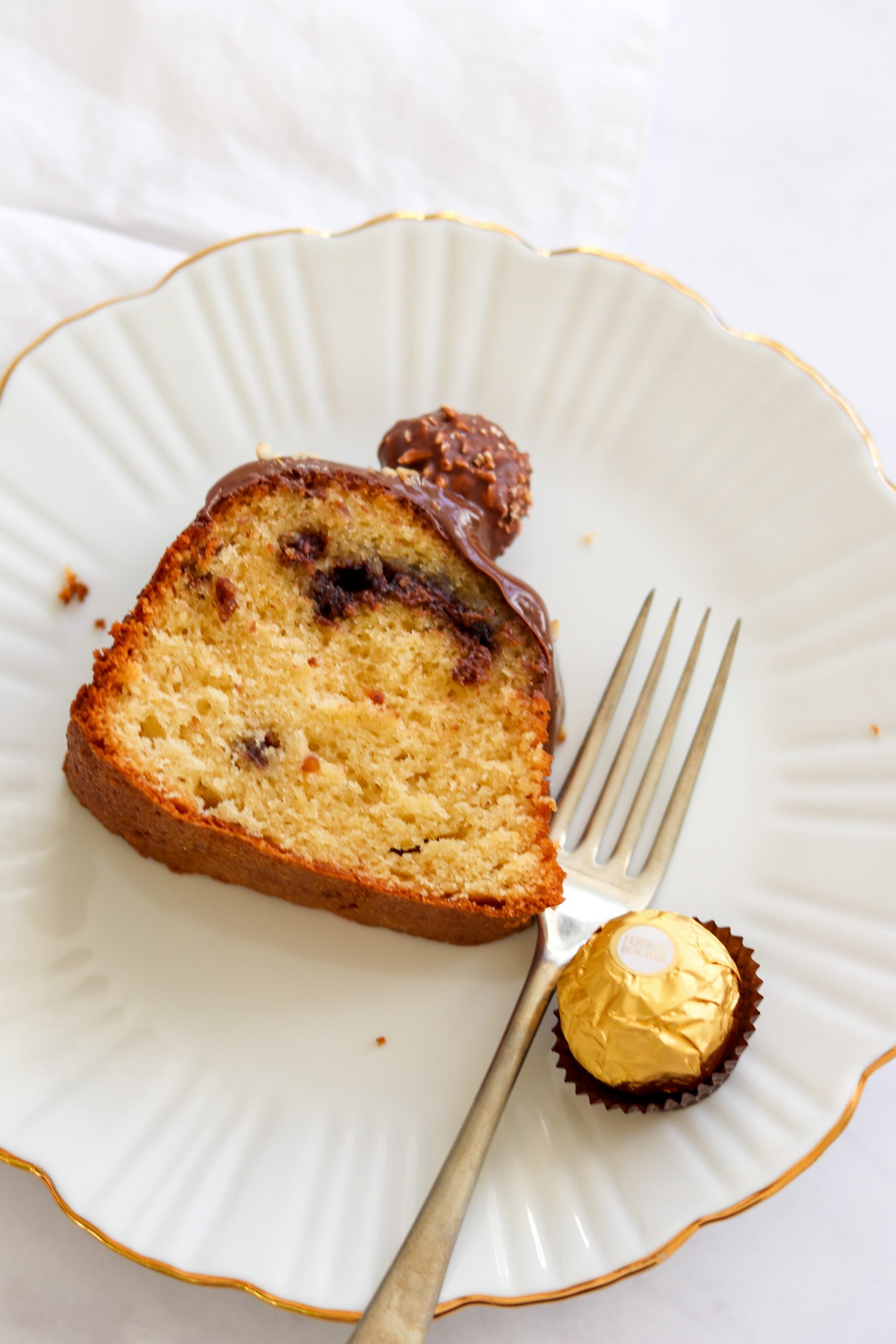 Where can i buy hazelnut yogurt?
Hazelnut yogurt has become a lot more easily available in the last few years.
It used to be an ingredient that was a little bit harder to find. However you should be able to find it in most larger supermarkets.
Some well known brands now make hazelnut yogurt as well as supermarkets stocking it as their 'finest' brands. It tends to come in smaller pots rather than large sharing pots.
It doesn't matter if you use low fat or full fat yogurt for this Nutella Swirl Cake.
If you can't find hazelnut yogurt, you can just use natural or Greek yogurt. The cake might not taste as strongly of hazelnuts but it will still be delicious.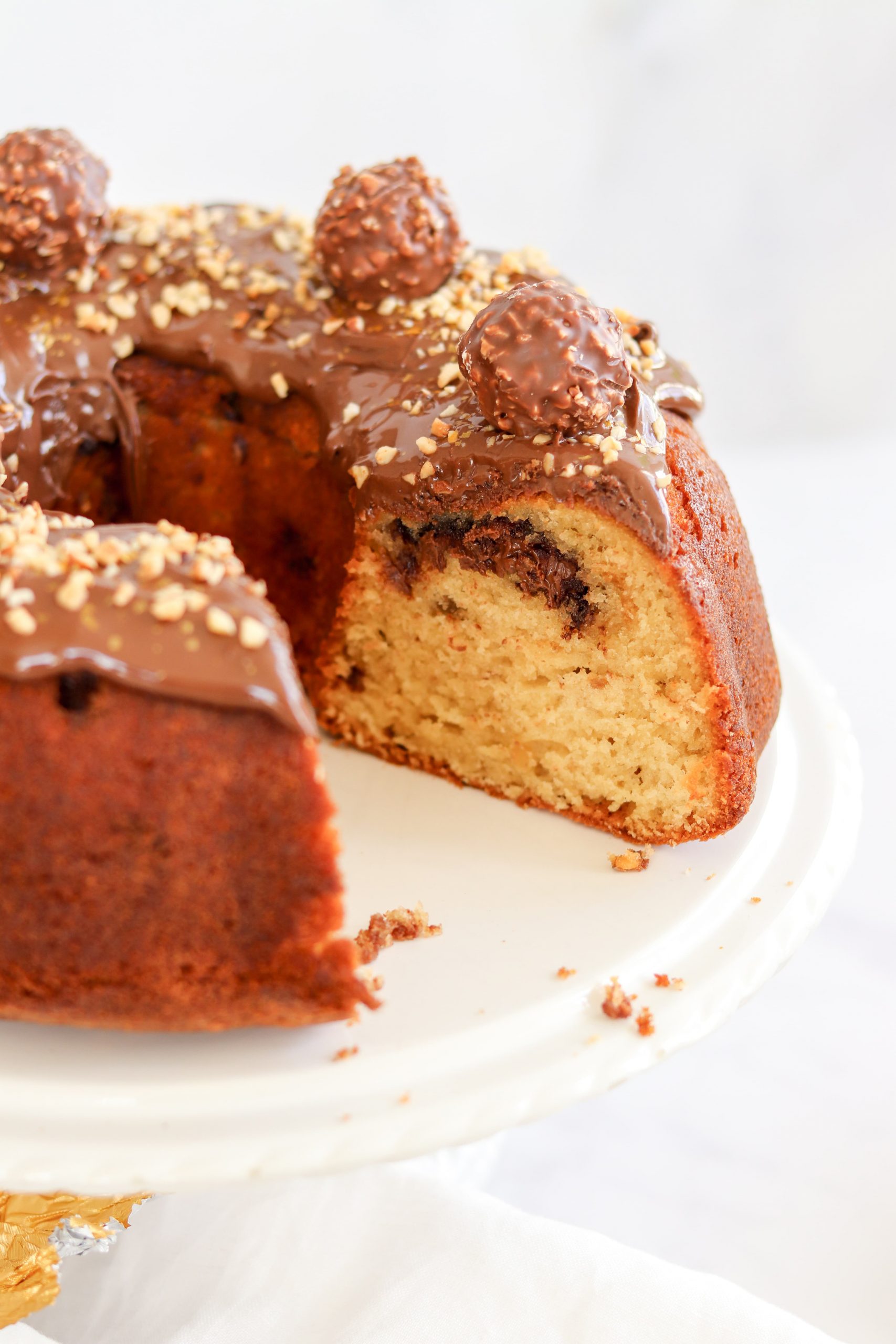 Do you have to use nutella?
I am a massive fan of Nutella and it enhances the hazelnut flavour of the cake perfectly.
I did realise a few years ago that Nutella includes palm oil. However they have since changed their recipe and now only use sustainable palm oil.
If you don't want to use any products that include palm oil, then Gü have a delicious palm free version.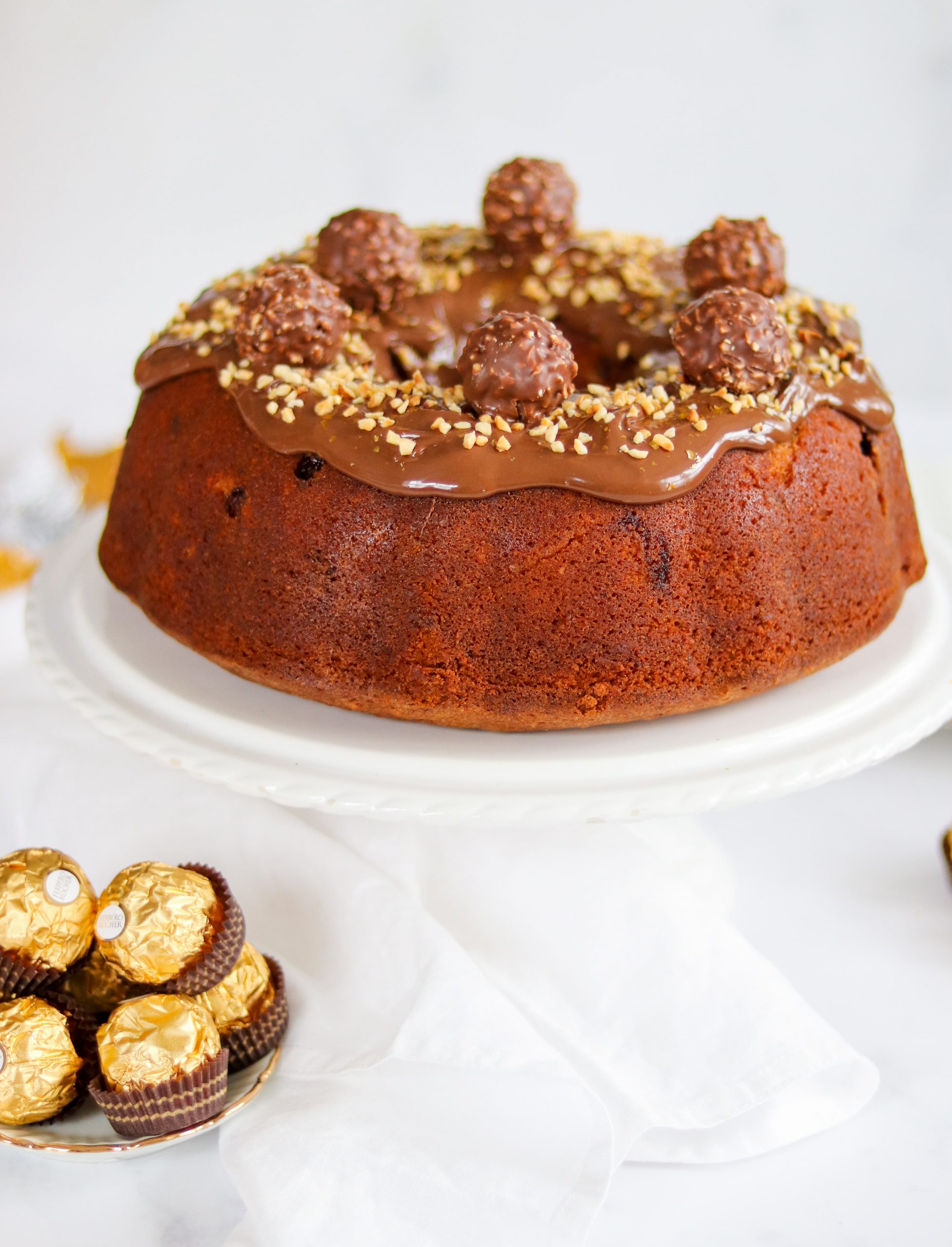 How to get the cake out of the bundt tin
Sometimes people can find it a little tricky to get the cake out of the bundt tin. This is usually the case if the tin has more intricate patterns.
Make sure you spray the tin really well before you pour in the cake batter. Some people like to sprinkle the tin with flour as well as spray oil to help ensure the cake doesn't stick.
The next time I make this cake, I am going to use Charlotte's Homemade Cake Release. I think this will be an even safer way to ensure the cake comes out in one piece.
I also like to make sure the cake cools in the tin for around thirty minutes before trying to remove it from the tin. This helps reduce the likelihood of it sticking too.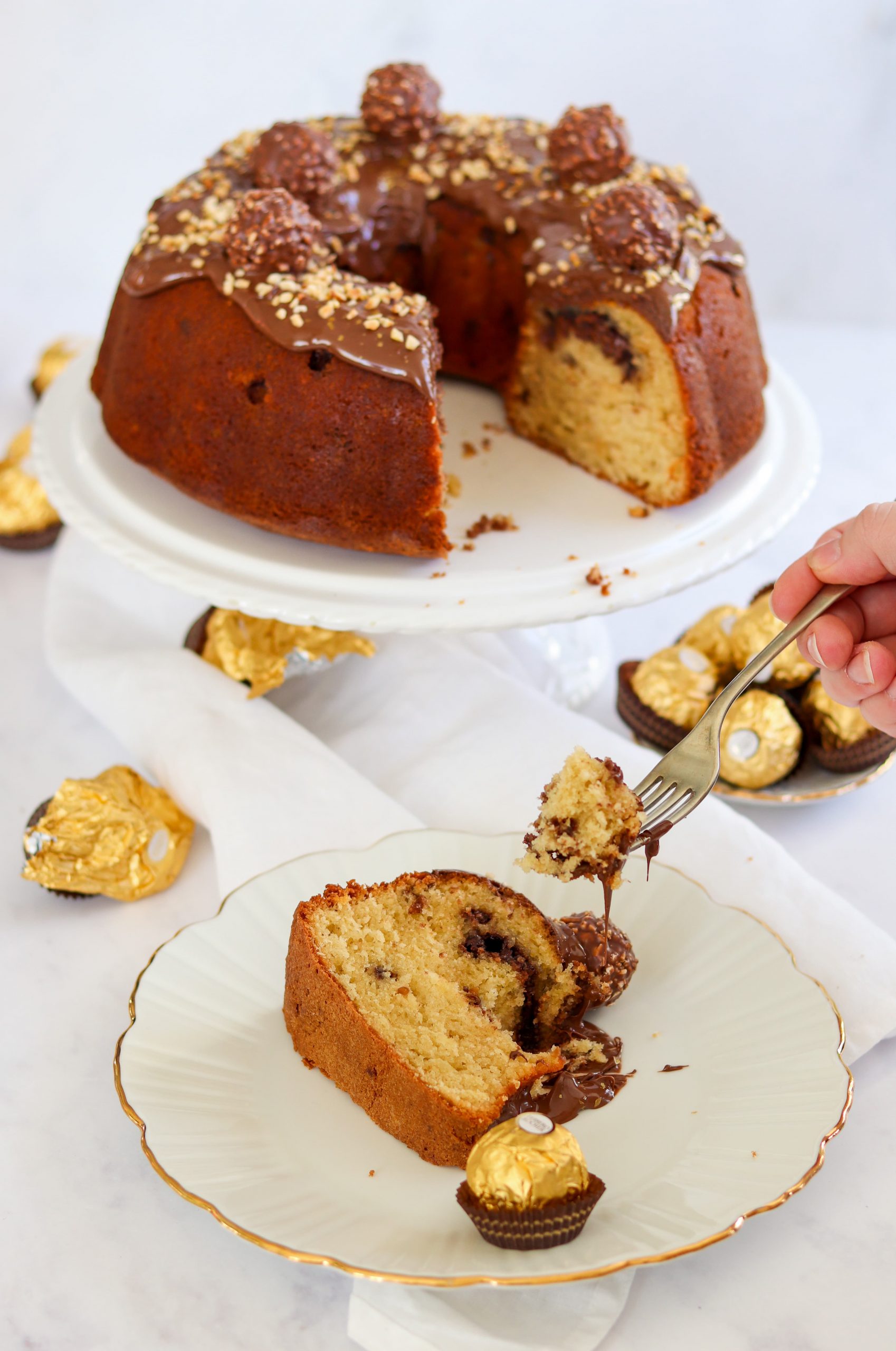 Why did my cake stick to the tin?!
There could be a few reasons for why your cake may have stuck to the tin.
It may not have been left to cool for long enough
You might have put the Nutella too close to the bottom of the bundt tin and it seeped out
The tin might not have been greased well enough
But don't worry if the cake does stick slightly; it has happened to the best of us! It will usually stick at the bottom. You can carefully prise these bits of cake off the tin and place them back on the cake.
As you are going to be covering it Nutella, no one will be able to tell if you have had to do a bit of patching up. Plus it tastes so good you will have no complaints!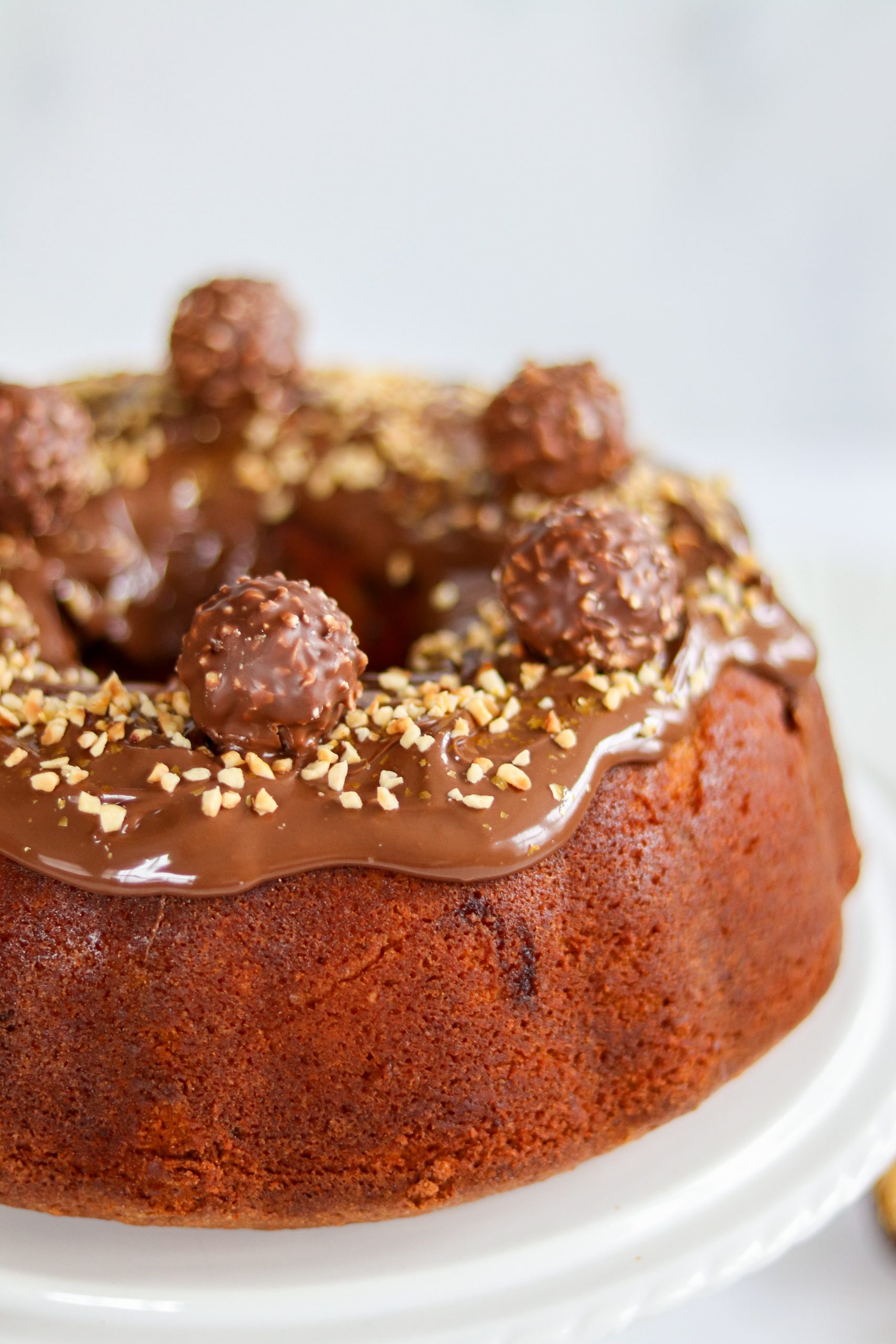 How to decorate this bundt cake
One of the great things about bundt cakes is that the tin does most of the hard work to make the cake look great for you.
Decorating it then couldn't be more simple! I heat the Nutella up in the microwave briefly so that it is runny enough to spread easily. I like to encourage the Nutella so it starts to drip down the sides slightly.
The rest of the decorating is optional. I like to sprinkle over chopped roasted hazelnuts and then add some Ferrero Rochers for extra extravagance. But if you want to decorate it differently you definitely can.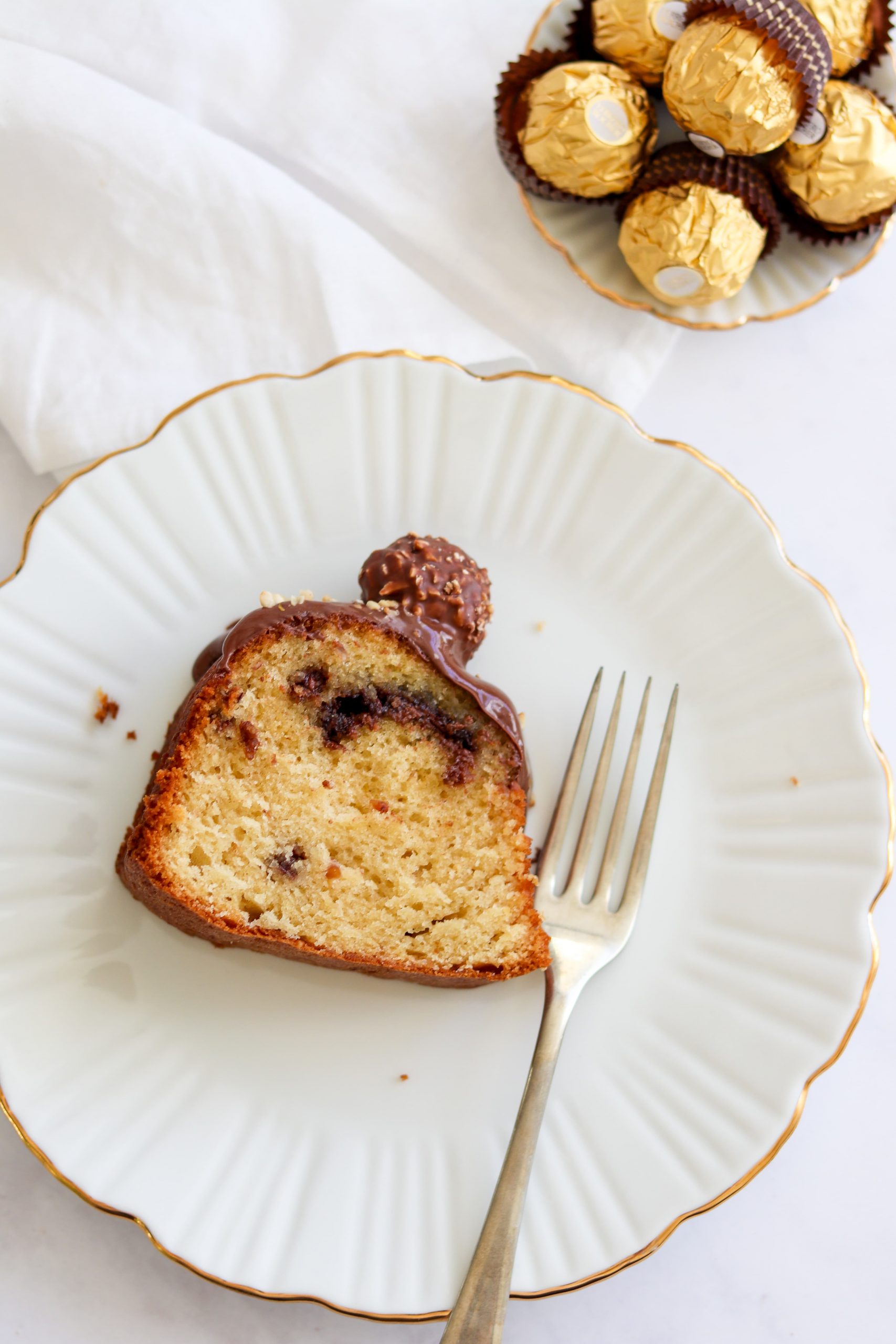 How many people will this Nutella Swirl Cake serve?
This is quite a big cake! But how many people it serves depends on how big you want to cut the slices!
I think it will easily serve twenty people with quite generous slices. You could also cut them smaller and get quite a few more slices than this.
This makes it a great option to serve for birthdays or special gatherings such as Christmas. Especially as the decorating is so simple too!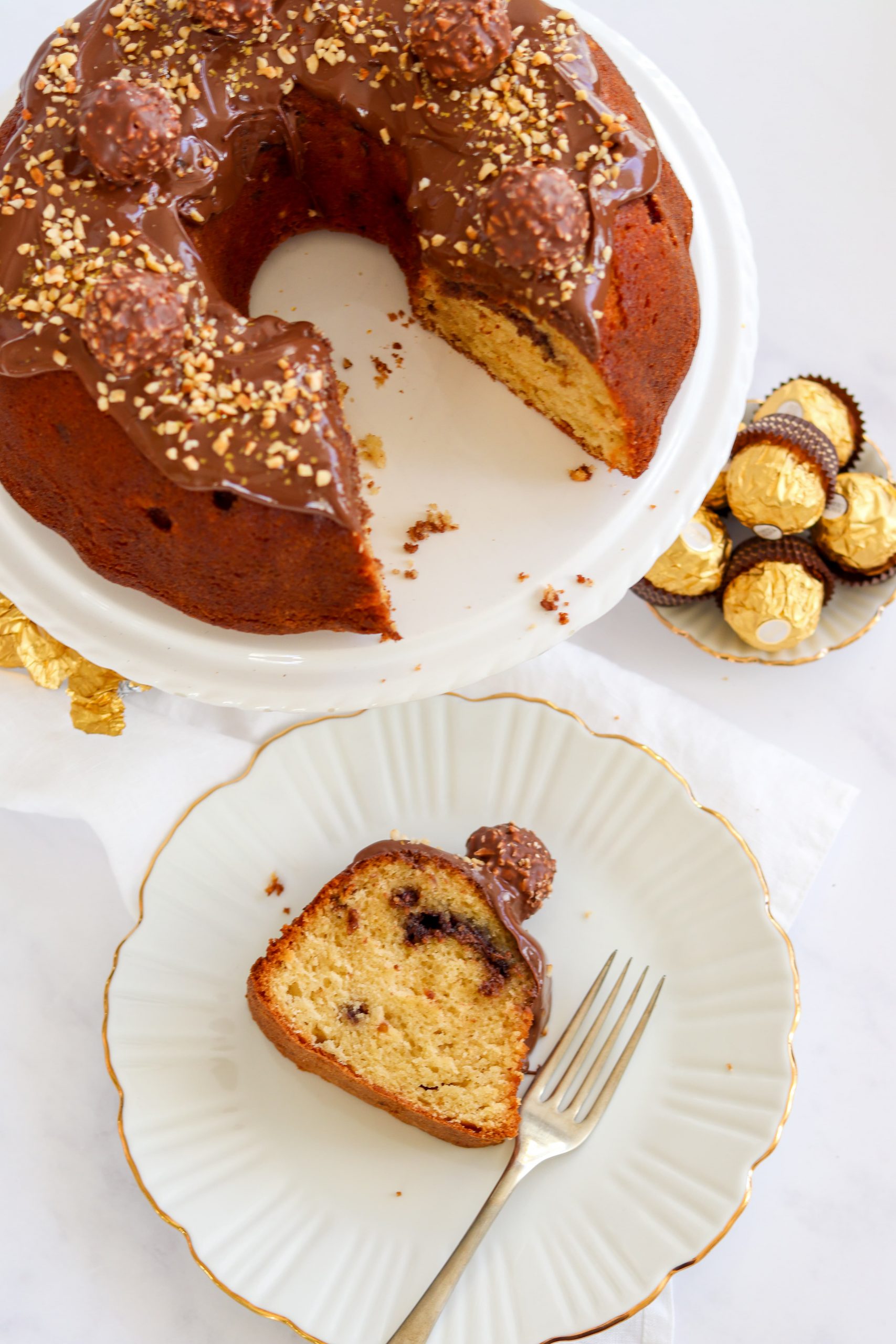 How long will this cake keep for?
This Nutella Swirl Cake will keep in an airtight container for 3-4 days. After this it might start to get a little more firm. You can put it in the microwave for a twenty seconds or so to moisten it up a bit.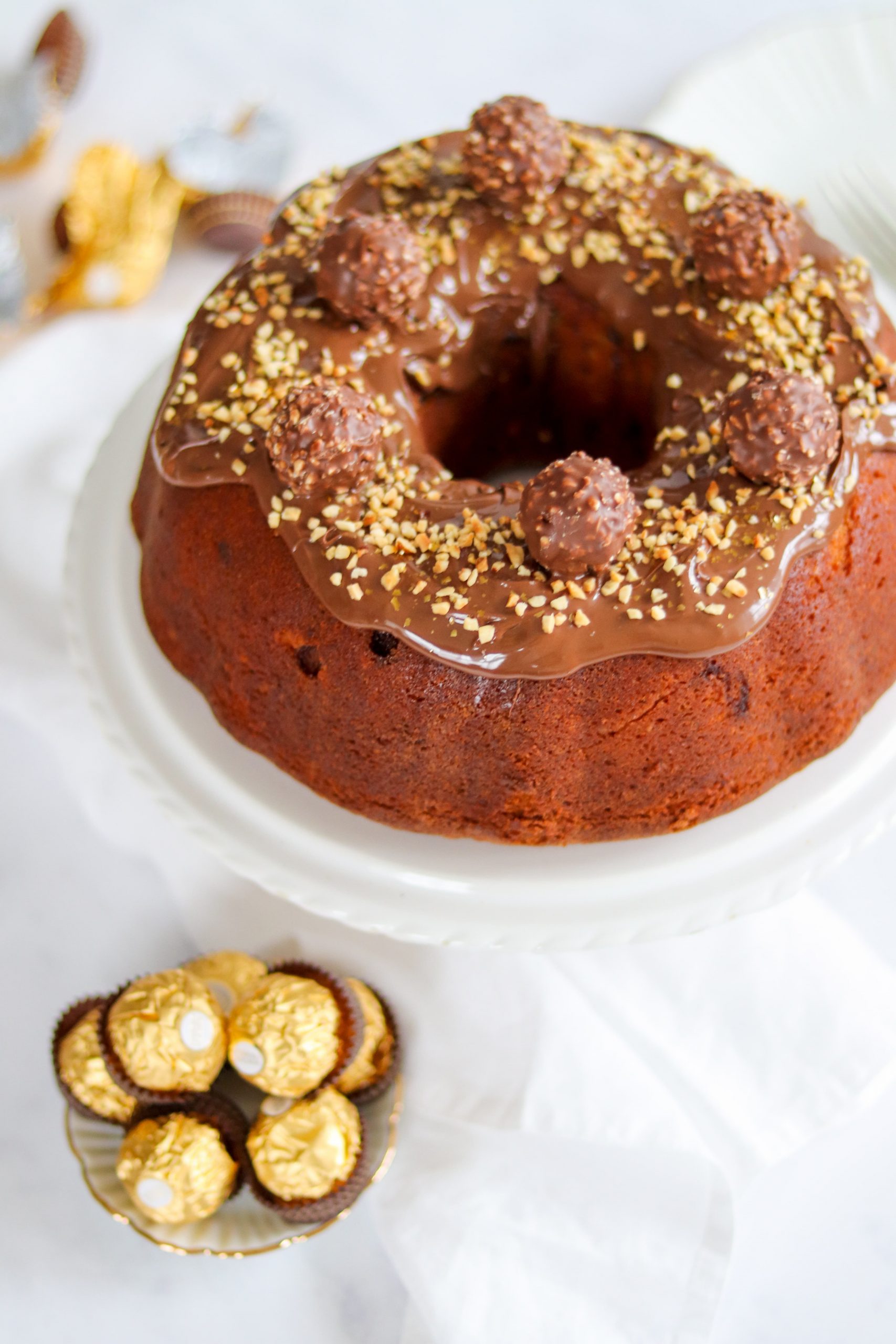 Other recipes you might like
Pin for later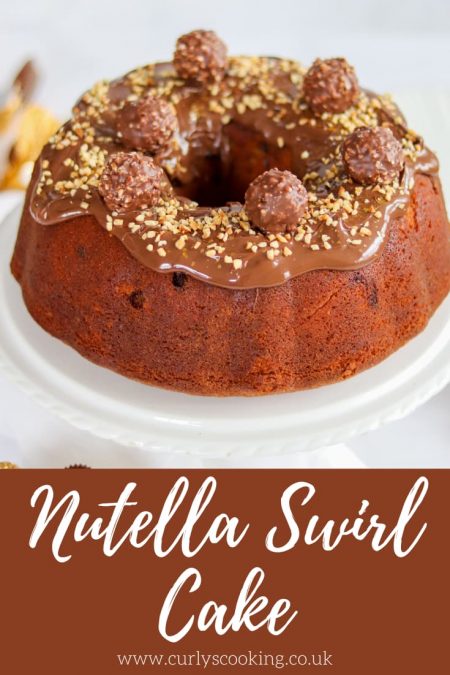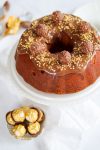 Nutella Swirl Cake
Delicious hazelnut sponge with Nutella running through it. This Nutella Swirl Cake is a real showstopper perfect for all occasions!
Ingredients
For the cake
225

g

margarine

450

g

caster sugar

4

eggs

1

tsp

vanilla extract

350

g

plain flour

½

tsp

bicarbonate of soda

½

tsp

salt

250

ml

hazelnut yogurt

100

g

milk chocolate chips

50

g

chopped hazelnuts

150

g

Nutella

Spray oil
For the icing
175

g

Nutella

1

roasted chopped hazelnuts

Ferrero Rochers

(optional)
Instructions
Preheat the oven to 160ºC (fan assisted, 180ºC non fan) and spray a 2.4L/10 cup/10 inch bundt tin with oil

Cream the butter and sugar until pale and fluffy

Add the eggs one at a time, beating well after egg and then add the vanilla extract

In a different bowl, mix the flour, bicarbonate of soda, salt, chocolate chips and nuts

Add the flour and other dry ingredients and mix until just combined

Add in the yogurt and mix to combine, don't overmix

Pour 3/4 of the mix into the prepared tin

Spread the Nutella over the cake mix. If you mix it with a spatula in a bowl first this makes is easier to spread. Keep the Nutella away from the edges of the cake

Cover with the remaining mix and spread evenly

Bake in the centre of the oven for 50 mins to 1 hour until a skewer comes out clean

Leave the cake to cool for 30 minutes, then remove from the tin

Allow to cool completely

Melt the Nutella for 20-30 seconds in the microwave

Pour over the cake and sprinkle with chopped roasted hazelnuts and decorate with Ferrero Rochers
Recipe Notes
Keep for 3-4 days in an airtight container.
Nutritional information is given as a guide only and my vary.
Nutrition Facts
Nutella Swirl Cake
Amount Per Serving
Calories 427
Calories from Fat 144
% Daily Value*
Fat 16g25%
Cholesterol 33mg11%
Sodium 219mg10%
Potassium 102mg3%
Carbohydrates 50g17%
Protein 4g8%
Vitamin A 461IU9%
Calcium 34mg3%
Iron 2mg11%
* Percent Daily Values are based on a 2000 calorie diet.