Crispy pastry with layers of sweet Nutella and roasted hazelnuts, these Nutella Pinwheels are great as a canape at a party or if you just fancy a sweet treat.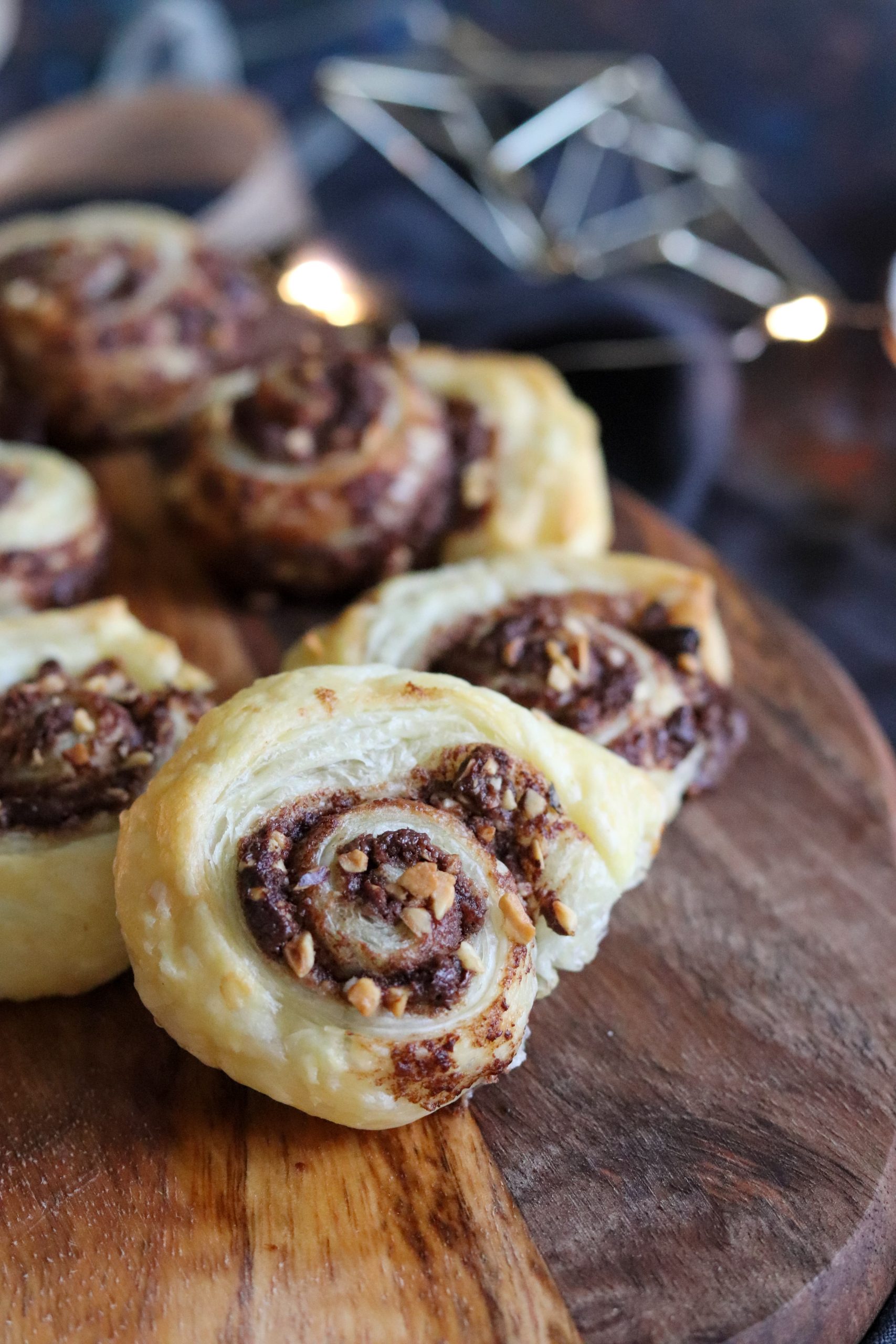 What is a pinwheel?
Pinwheels are simply puff pastry, spread with a filling and then rolled up tightly before baking.
Once rolled and baked they have a lovely spiral of the filling and the pastry. The filling can be sweet or savoury for these simple and tasty treats.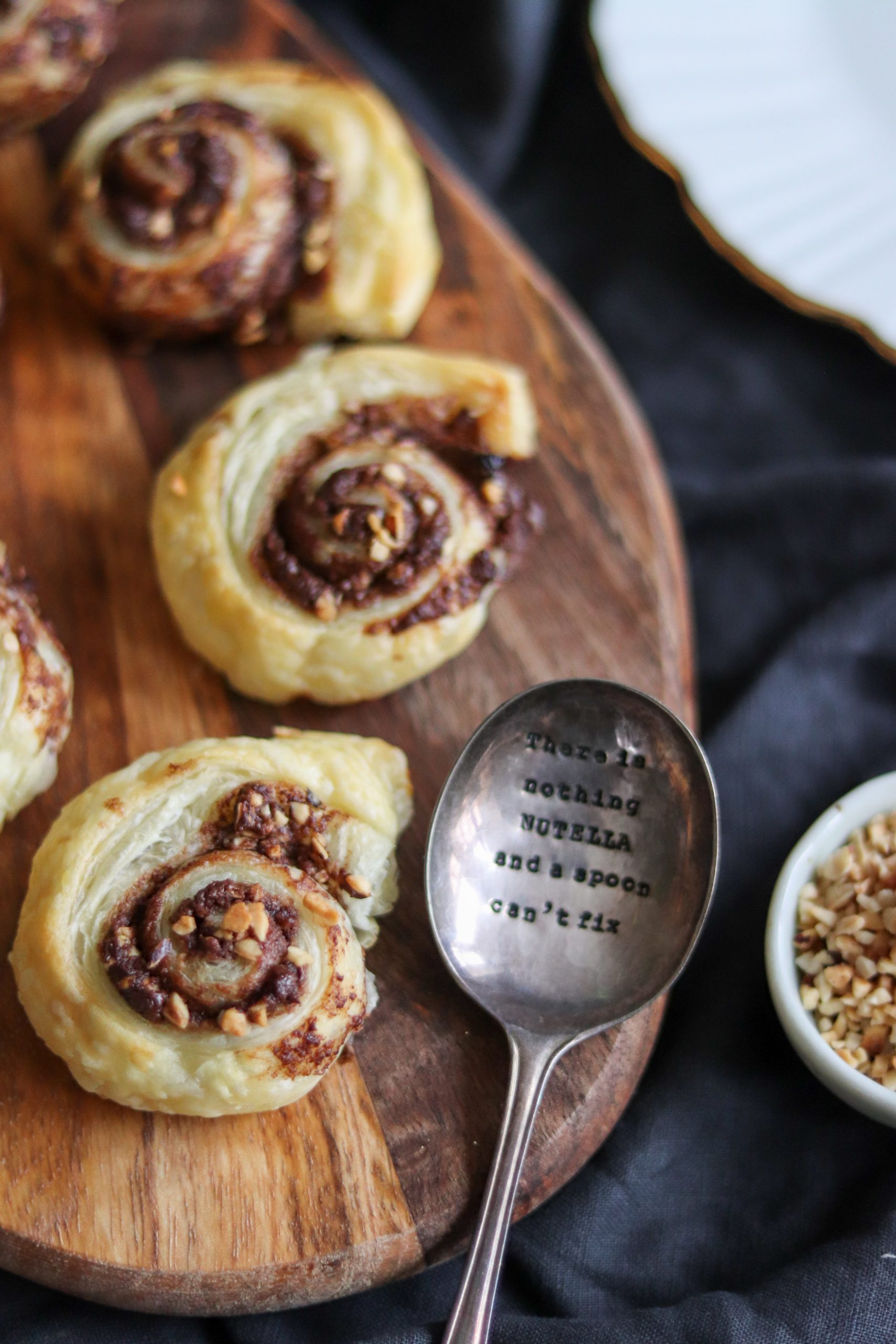 Which Puff pastry to use
I am a firm believer in buying ready made puff pastry from the supermarket. Very rarely do people, including chefs; make their own puff pastry.
Not only do I buy my puff pastry, but I buy the ready rolled puff pastry too. If you're going to make your life easier, why not make it as easy as possible?!
I chose ready rolled puff pastry whenever possible because I lack the skills of being able to roll pastry out into the perfect rectangle.
You can obviously make your own puff pastry or buy a block and roll it out if you would prefer.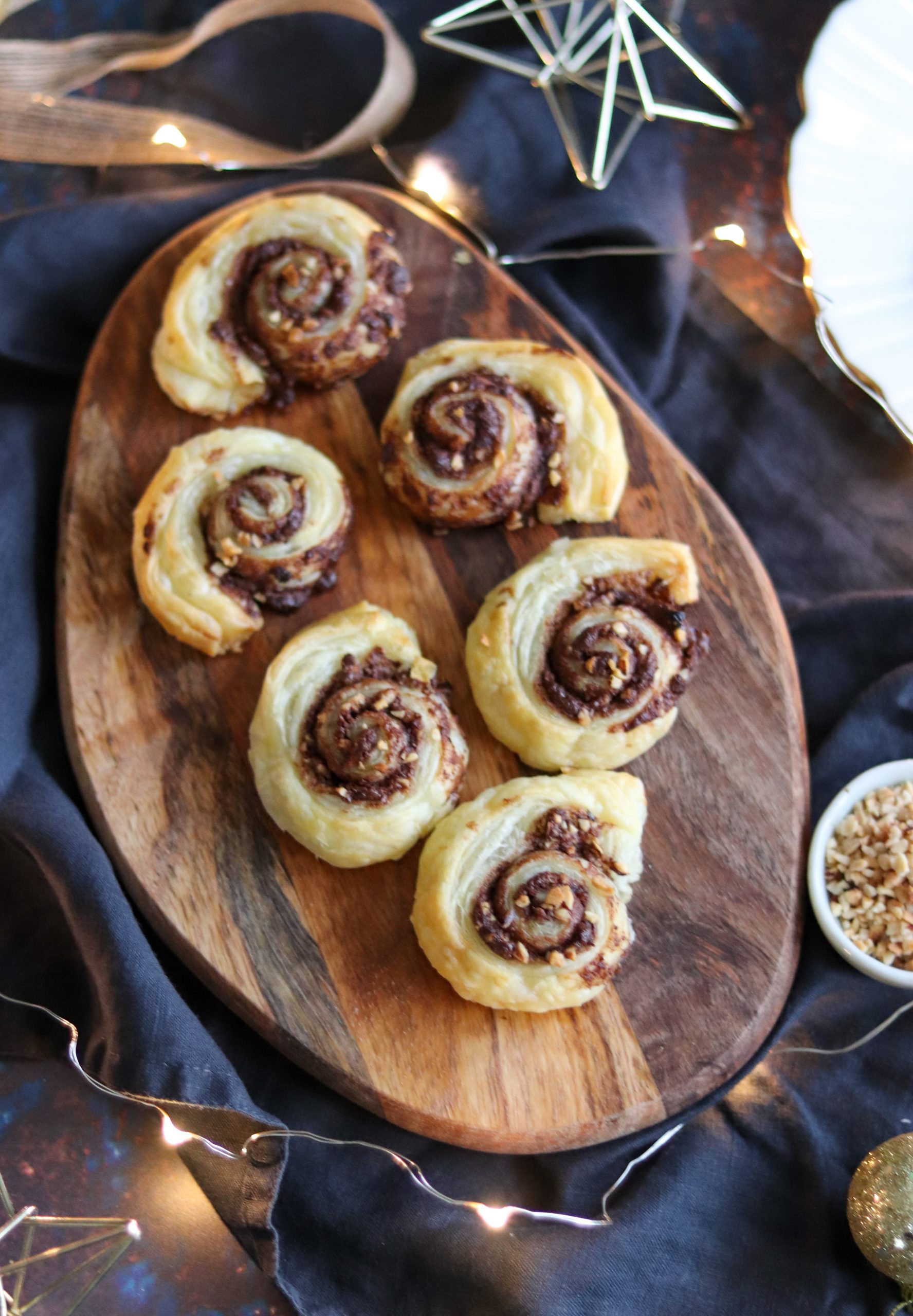 Can you use light puff pastry?
You can use light puff pastry, but it does have the tendency to be a little trickier to work with.
I think it is softer and stretcher
to work with which can sometimes be a bit more fun!
You might want to chill it for a little longer in the fridge; maybe 20 minutes if you do decide to use light puff pastry.
Personally I don't think I can taste the difference between light and normal pastry so use whichever you prefer.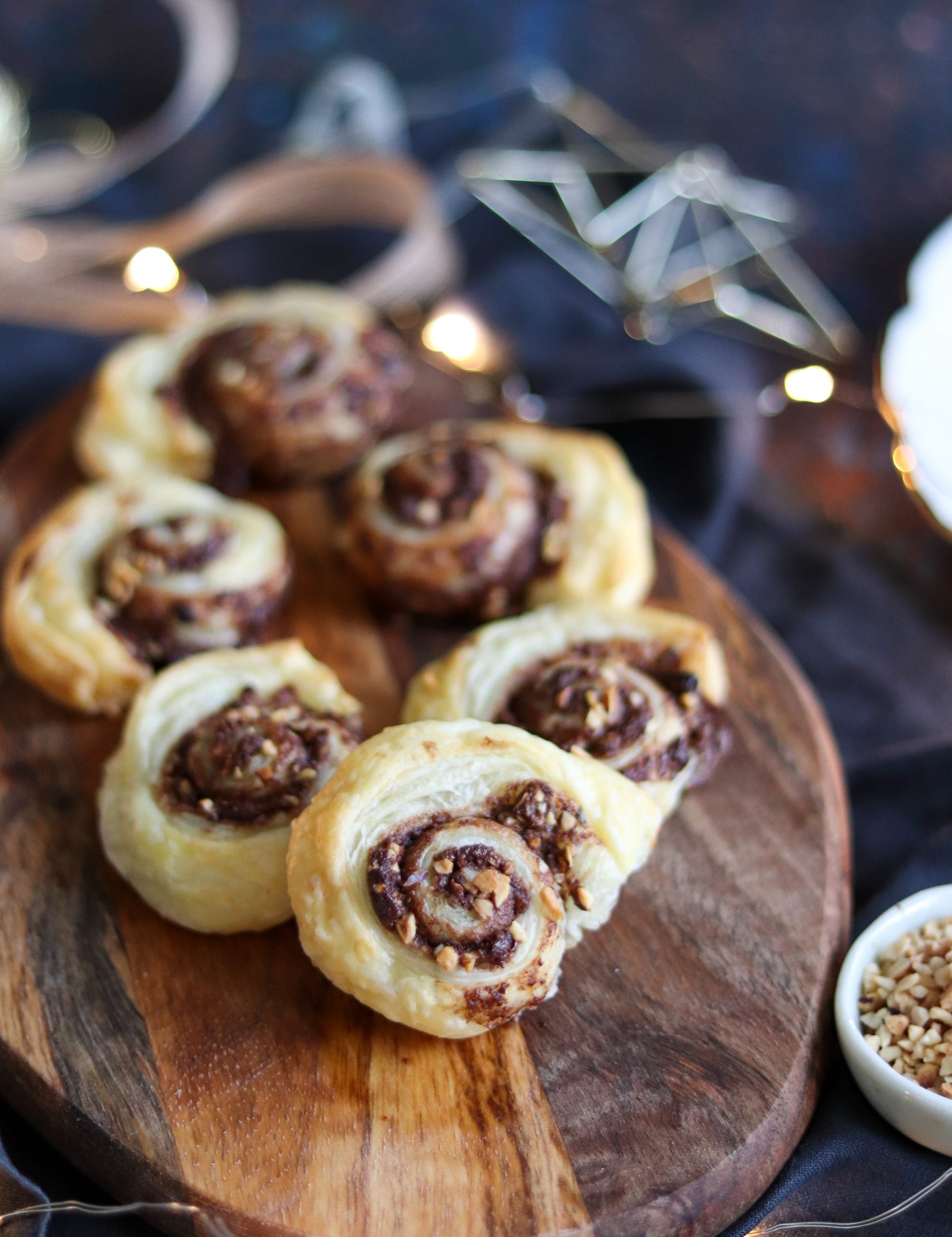 A Nutella lover's dream
I am a massive fan of Nutella and use it in baking whenever I can.
I did realise a few years ago that Nutella includes palm oil. However they have since changed their recipe and now only use sustainable palm oil.
If you don't want to use any products that include palm oil, then Gü have a delicious palm free version.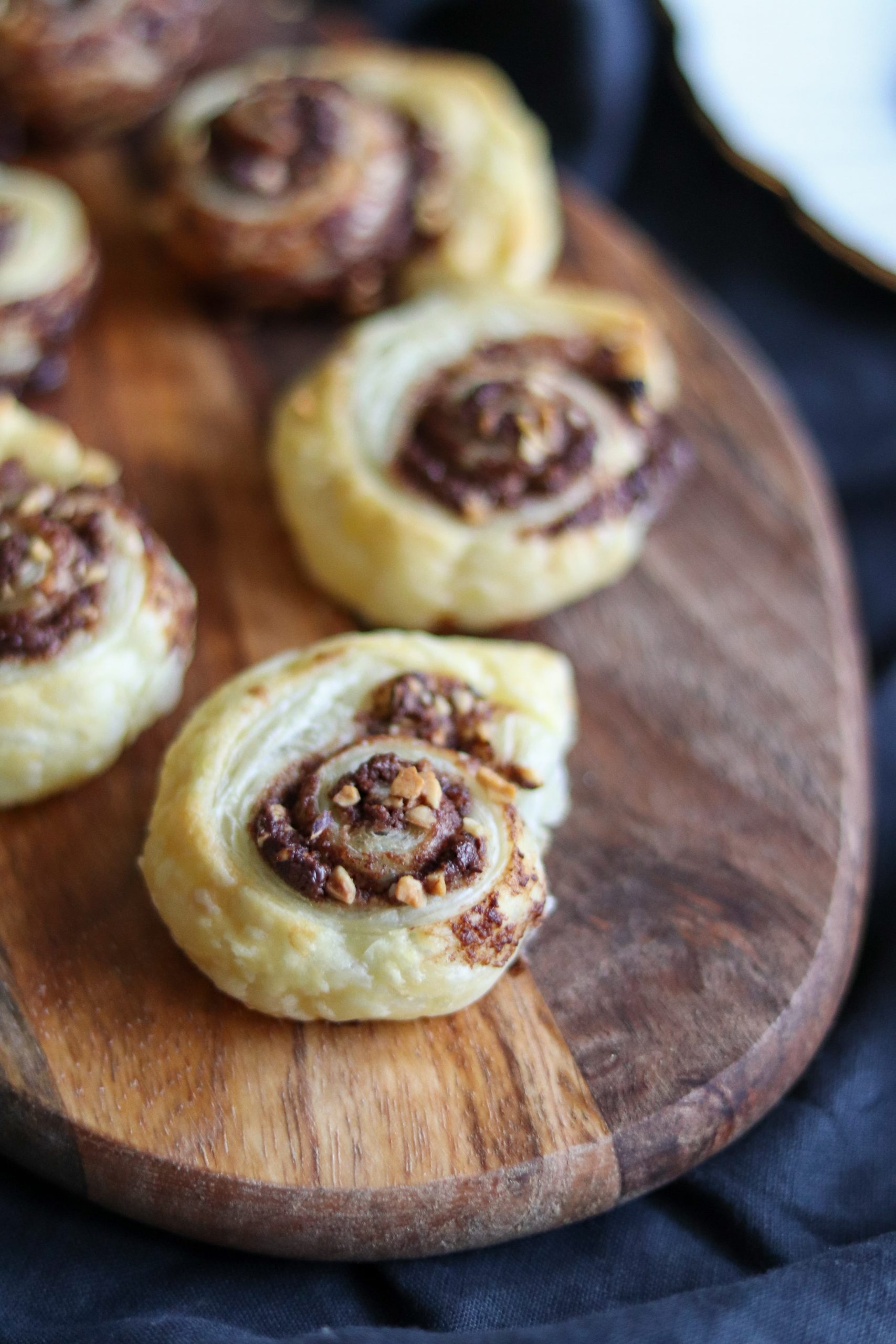 Do you have to use Nutella?
No, if you prefer to use a different chocolate hazelnut spread you absolutely can. You can also just use a chocolate spread if you prefer.
Another option would be to use white chocolate hazelnut spread which is like the filling in a Kinder Bueno.
Do not be too enthusiastic with the Nutella!
If you're anything like me there is a huge temptation to want to include as much Nutella as possible in these pinwheels.
If you add too much, then the Nutella will squidge out when you roll the pinwheels up.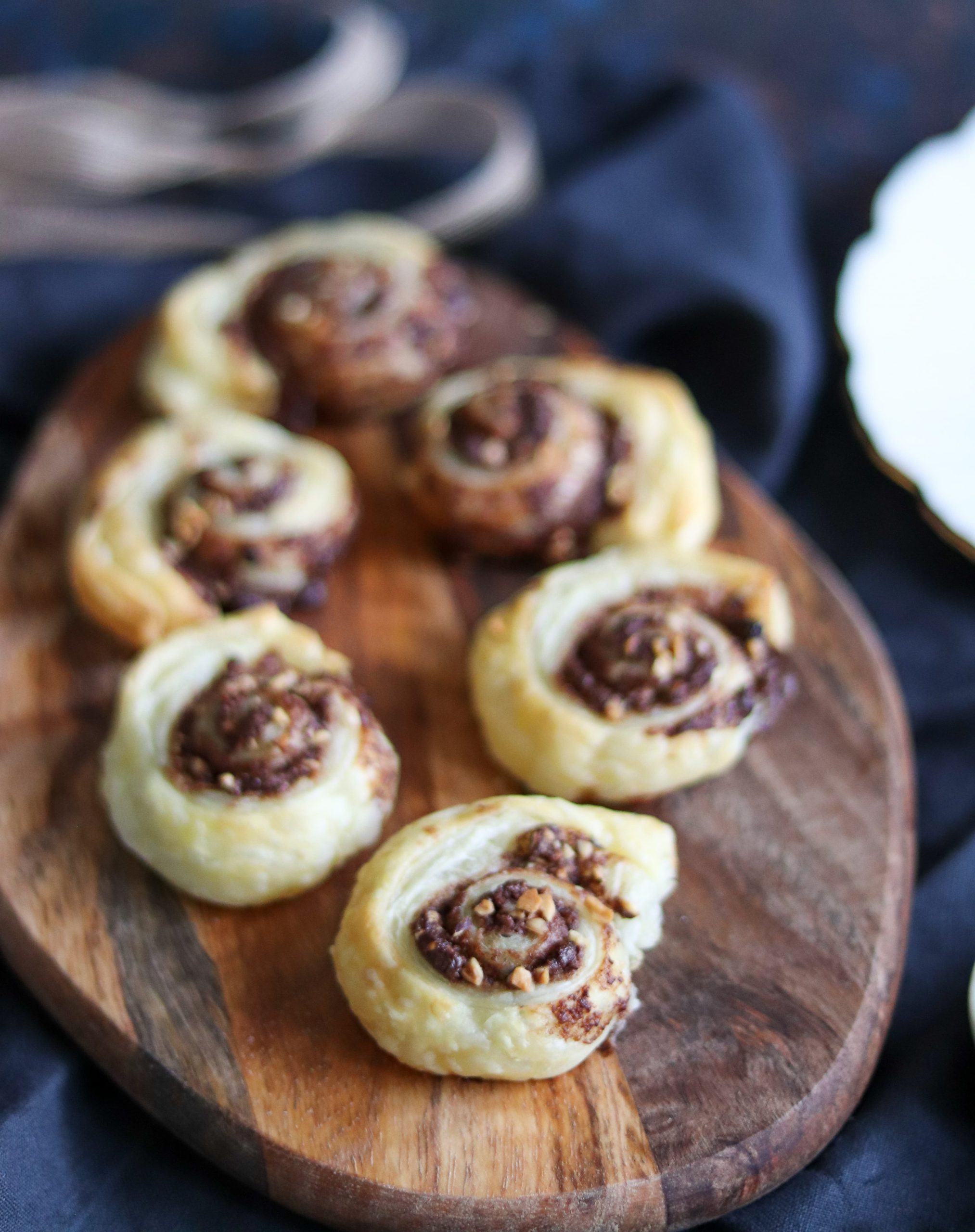 Roll the pinwheels nice and tight
You want to make sure you roll the pastry as tightly as possible so you get a nice number of swirls in your pastry.
It doesn't matter if your rolling isn't neat at all. If you roll your pastry more loosely they are likely to spread when they are baked. This won't change how tasty they are though!
Is it essential to chill the pinwheels before cutting them?
I do think this is an essential step. It not only helps the pastry firm up again but it also firms the Nutella too.
This makes it easier to cut the pastry and to avoid Nutella squiding out the pastry when you cut it.
It is only ten minutes so doesn't add much time at all but is definitely worthwhile.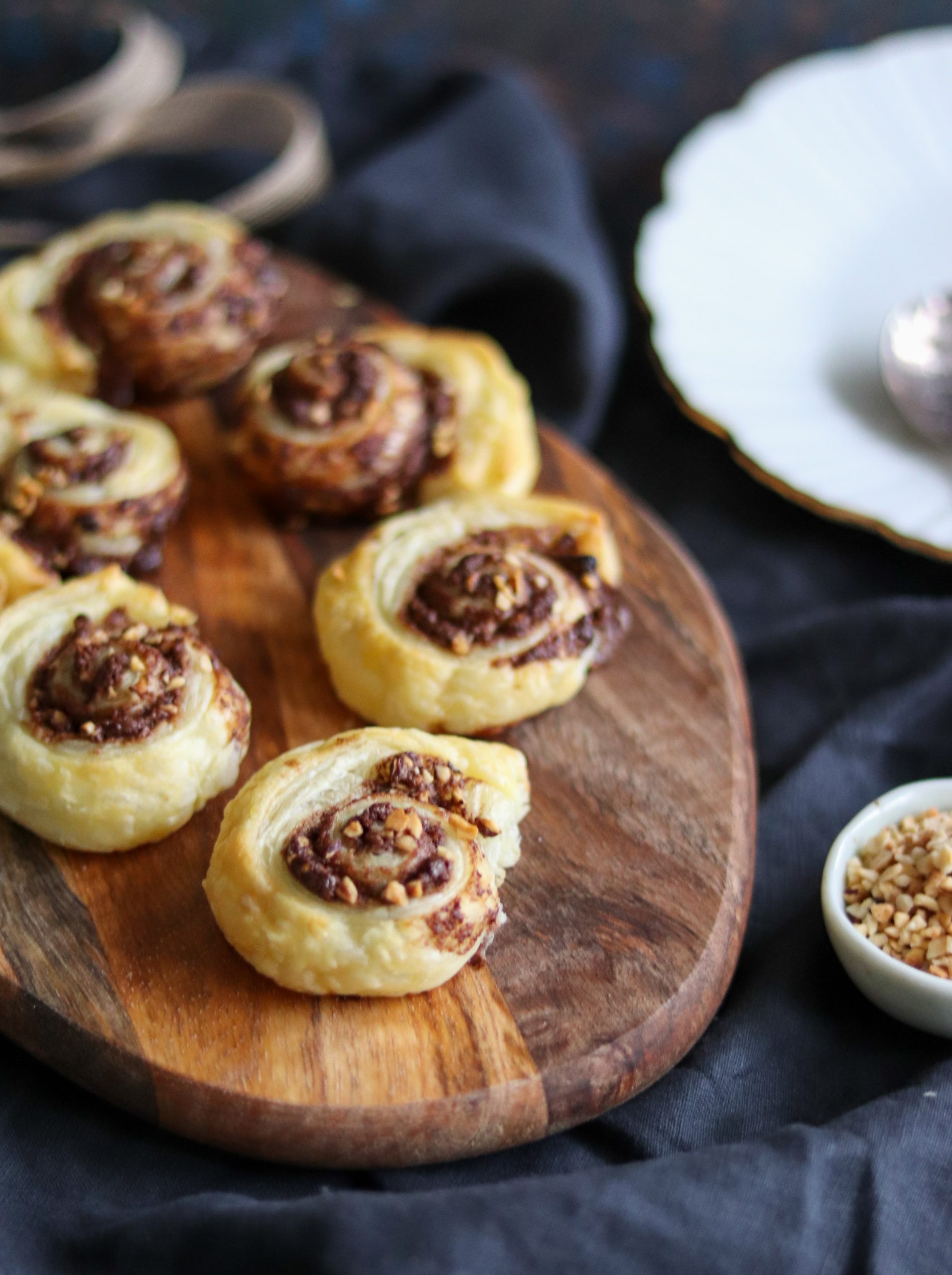 Which hazelnuts are best to use?
I prefer to use roasted hazelnuts because they have a nice toasty flavour.
You can buy these toasted and chopped from most supermarkets which is very convenient.
If you would prefer you can buy them whole and roast them in the oven for ten minutes or so until they smell toasted and delicious. You can then chop them or blitz them in a mini food processor.
I really like the hazelnuts as they add a lovely texture to the pinwheels. They also enhance the hazelnut flavour.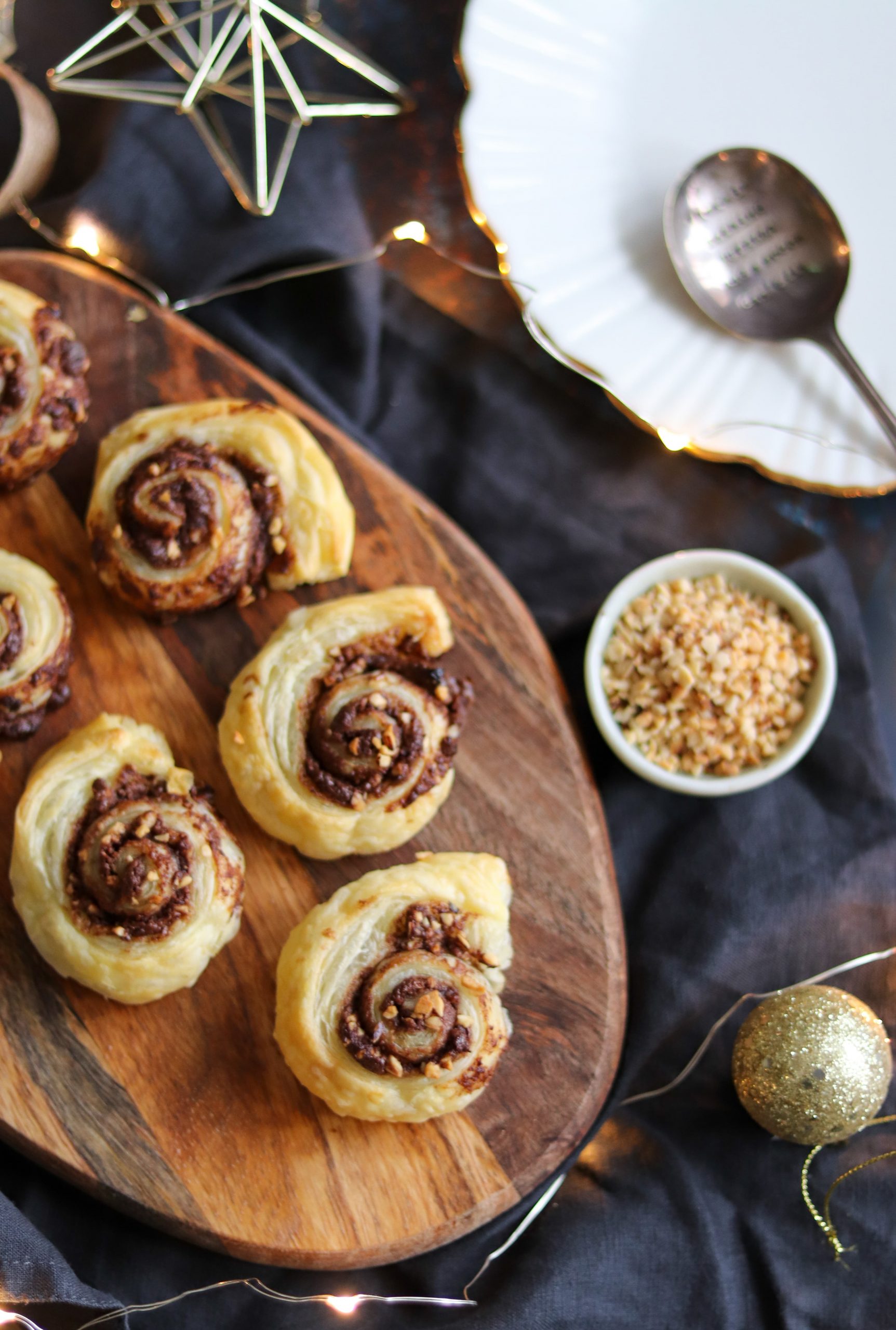 Can these be made gluten free?
Yes, very easily.
Gluten free ready made puff pastry can be bought in a lot of large supermarkets. If you can't find it in the fresh section, look in the frozen section as it is more commonly found here.
Nutella is gluten free, but if you are using a different brand make sure you check the ingredients on the label before using.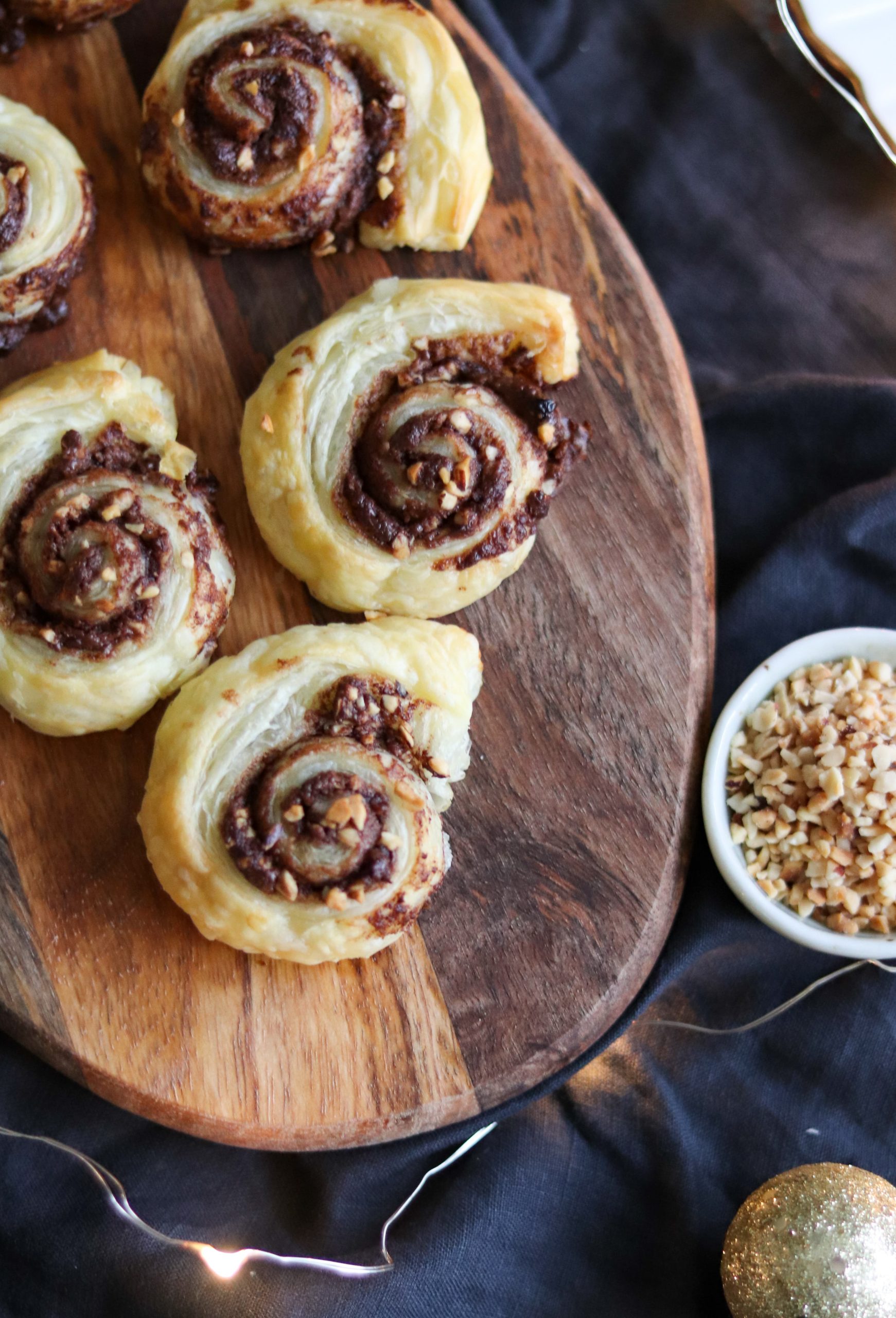 Can these pinwheels be made vegan?
A lot of shop bought pastry is naturally vegan unless you buy the all butter version.
You can also buy vegan friendly chocolate hazelnut spreads. You can then just swap the milk to a plant based milk to brush the pinwheels.
How long will these Nutella Pinwheels keep for?
If kept in an airtight container, these Nutella Pinwheels will keep for up to five days.
The pastry does start to become slightly less crisp as the days go on as they pastry absorbs the moisture from the Nutella. They are still delicious though and I don't mind this.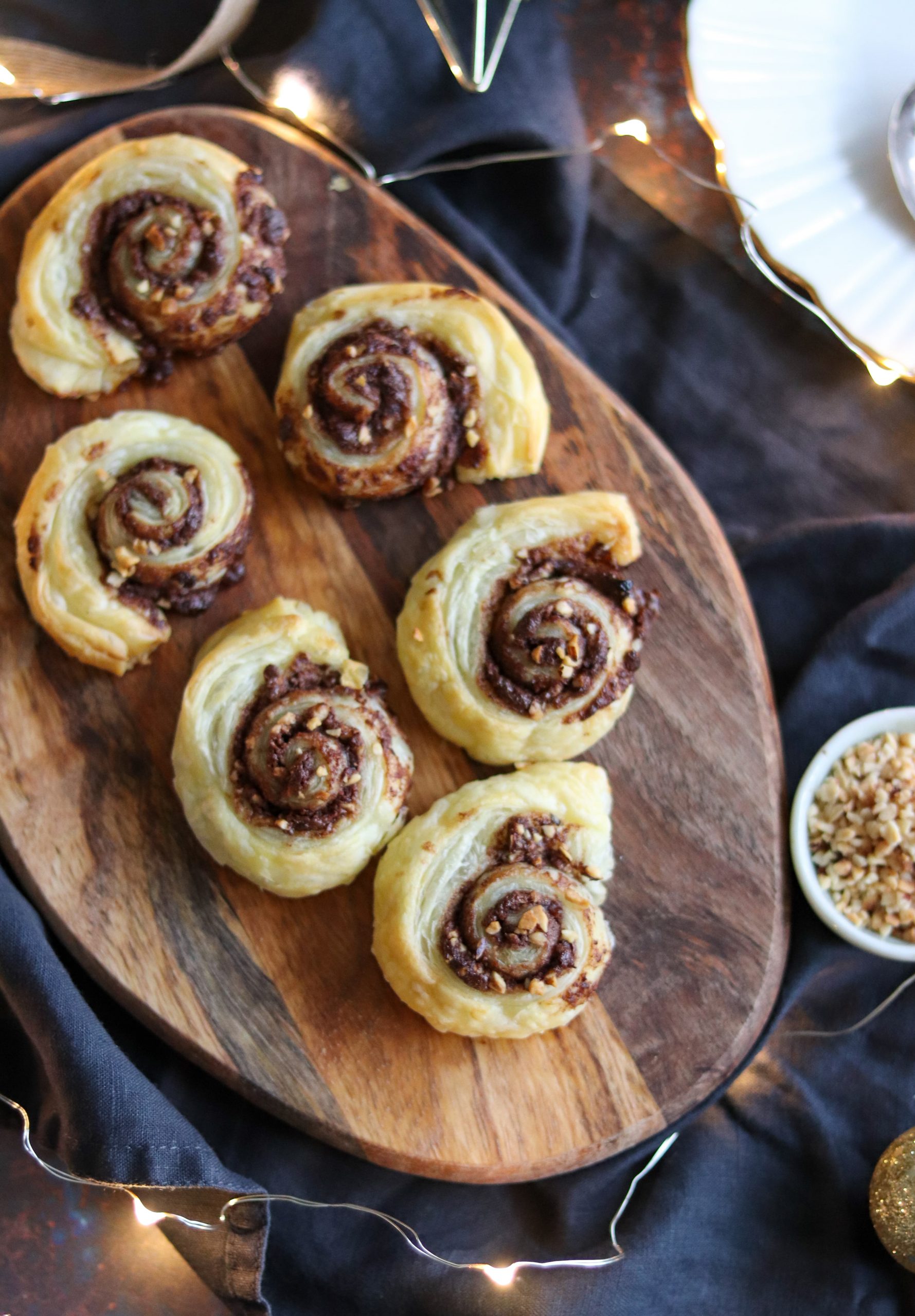 Can you freeze them?
Yes, they freeze really well.
Cut them and lay them on a baking tray and put them in the freezer. After an hour they should be frozen enough to transfer to a bag or container and frozen until later.
When want to bake them, place the on a baking tray and brush them with milk. Bake them from frozen for 8-10 minutes longer than the recipe states until they're golden and delicious.
Other recipes you might like
Pin for later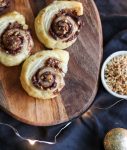 Nutella Pinwheels
Crispy pastry with layers of sweet Nutella and roasted hazelnuts, these Nutella Pinwheels are great as a canape at a party or if you just fancy a sweet treat.
Ingredients
375

g

ready rolled puff pastry

160

g

Nutella

4

tbsp

hazelnuts

roasted and chopped

1

tbsp

milk

spray oil
Instructions
Unroll the pastry and using a rolling pin, roll until it is 2-3mm thick keeping it on the baking paper it comes with

Spread the Nutella evenly over the pastry leaving roughly one centimetre of pastry uncovered on one of the long sides

Scatter the hazelnuts evenly over the Nutella

Starting from the long end closest to you, tuck the pastry over as tight as you can. Then using the baking paper roll the rest of the pastry up to create a long roll

Leave to chill in the fridge for 10 minutes

Preheat the oven to 180ºC (fan assisted, 200ºC non fan) and spray 2 trays with oil

Take the pastry out of the fridge and slice into rounds around 1cm in thickness

Place the pinwheels on the oiled baking trays. Brush with the milk and sprinkle with a few more hazelnuts

Bake for 17-20 minutes until the pastry is golden brown. Allow to cool on a wire rack
Recipe Notes
Keep in an airtight container for 3 days.
Nutritional information is given as a guide only and my vary.
Nutrition Facts
Nutella Pinwheels
Amount Per Serving
Calories 92
Calories from Fat 27
% Daily Value*
Fat 3g5%
Cholesterol 1mg0%
Sodium 3mg0%
Potassium 38mg1%
Carbohydrates 4g1%
Protein 1g2%
Vitamin C 1mg1%
Calcium 10mg1%
Iron 1mg6%
* Percent Daily Values are based on a 2000 calorie diet.
Linking to