Fluffy doughnuts with a rich chocolatey nuttiness – heaven. These Baked Nutella Doughnuts are the perfect fix for any Nutella lover.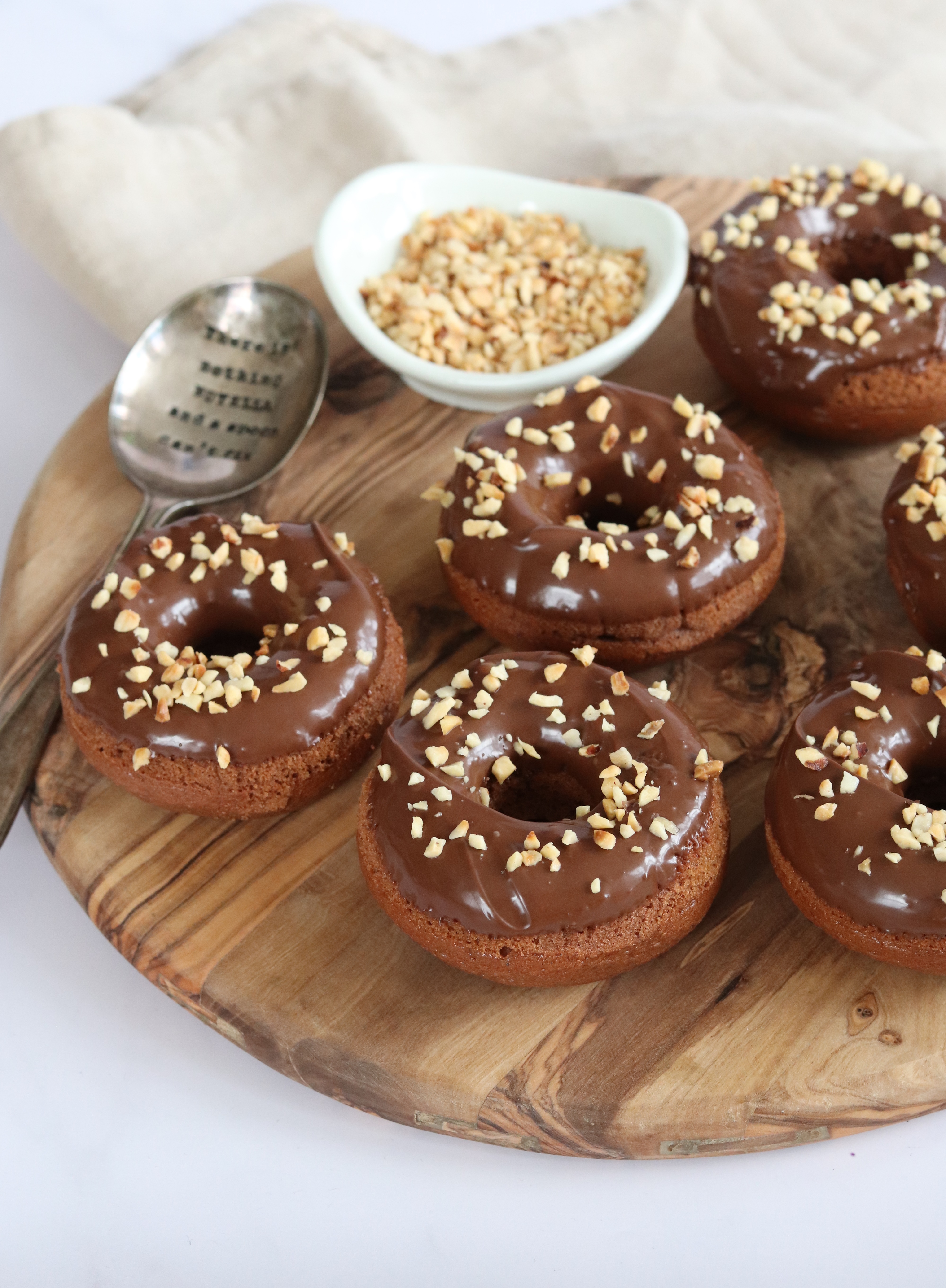 The perfect doughnuts for Nutella fans
I am obsessed with Nutella. This chocolate and hazelnut spread is the perfect flavour combination in my opinion. These Baked Nutella Doughnuts have Nutella in the doughnut batter which provides a subtle flavour.
But it is the icing that really packs the Nutella flavour. Well that is if it can even be called icing as it is just melted Nutella! The toasted hazelnuts add a delicious crunch that finishes these doughnuts perfectly.
I have always been a fan of Nutella and never bought any other brand of chocolate hazelnut spread. However after finding out Nutella has palm oil as one of it's ingredients I have been trying to find an alternative.
So far the only chocolate hazelnut spread I have found that doesn't contain palm oil is by Gü. It is a very tasty option so you might want to keep your eyes open for it the next time you are in the supermarket.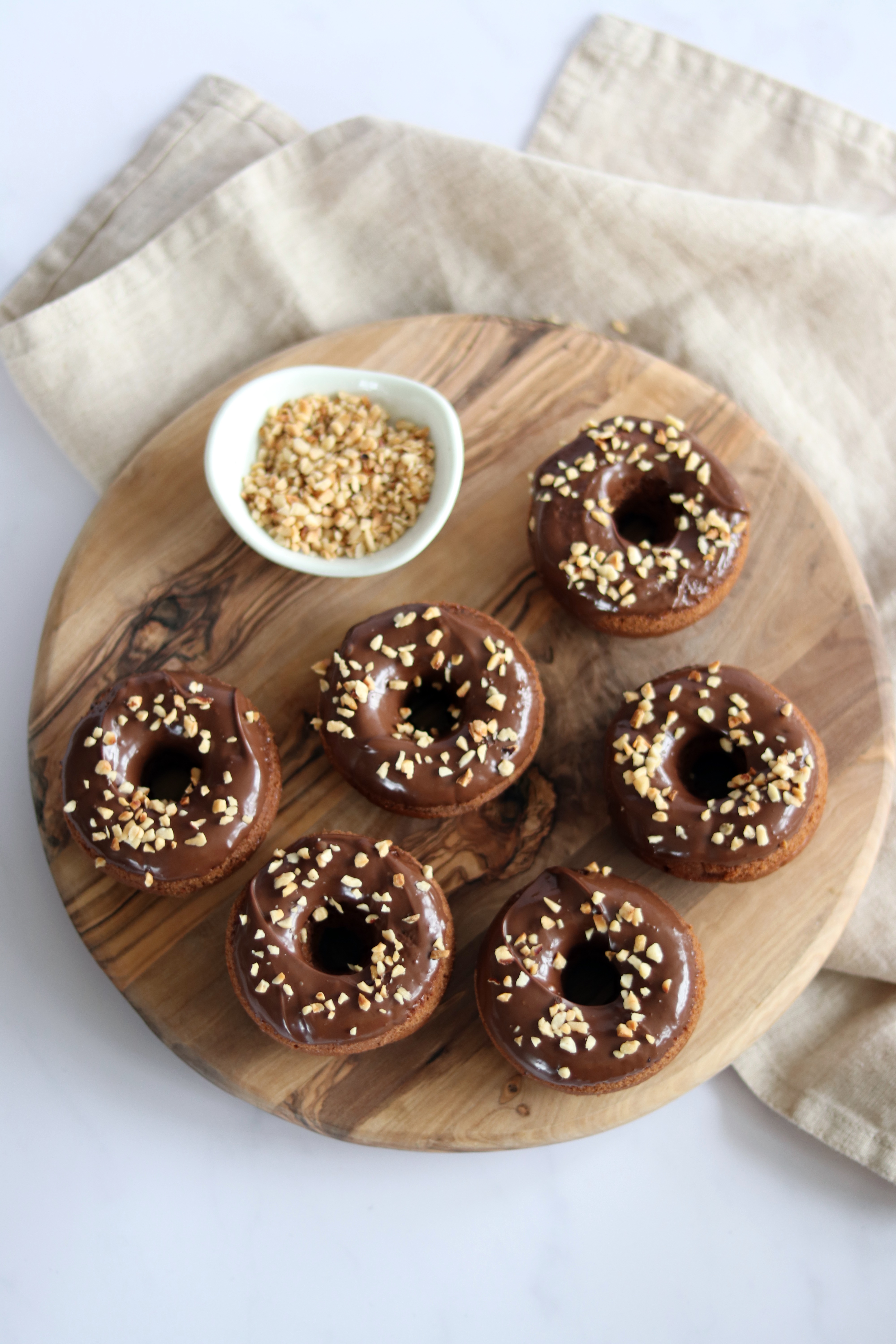 Baking instead of frying doughnuts
Baked doughnuts are so much easier to make because you don't need to worry about frying them. This also means that they're healthier, and I'll take any excuse to make myself feel like baking is healthy!
They are just as easy and versatile to make in my opinion as cupcakes. You can get children involved with icing and decorating them as dunking in Nutella is a bit easier for children than frosting cupcakes.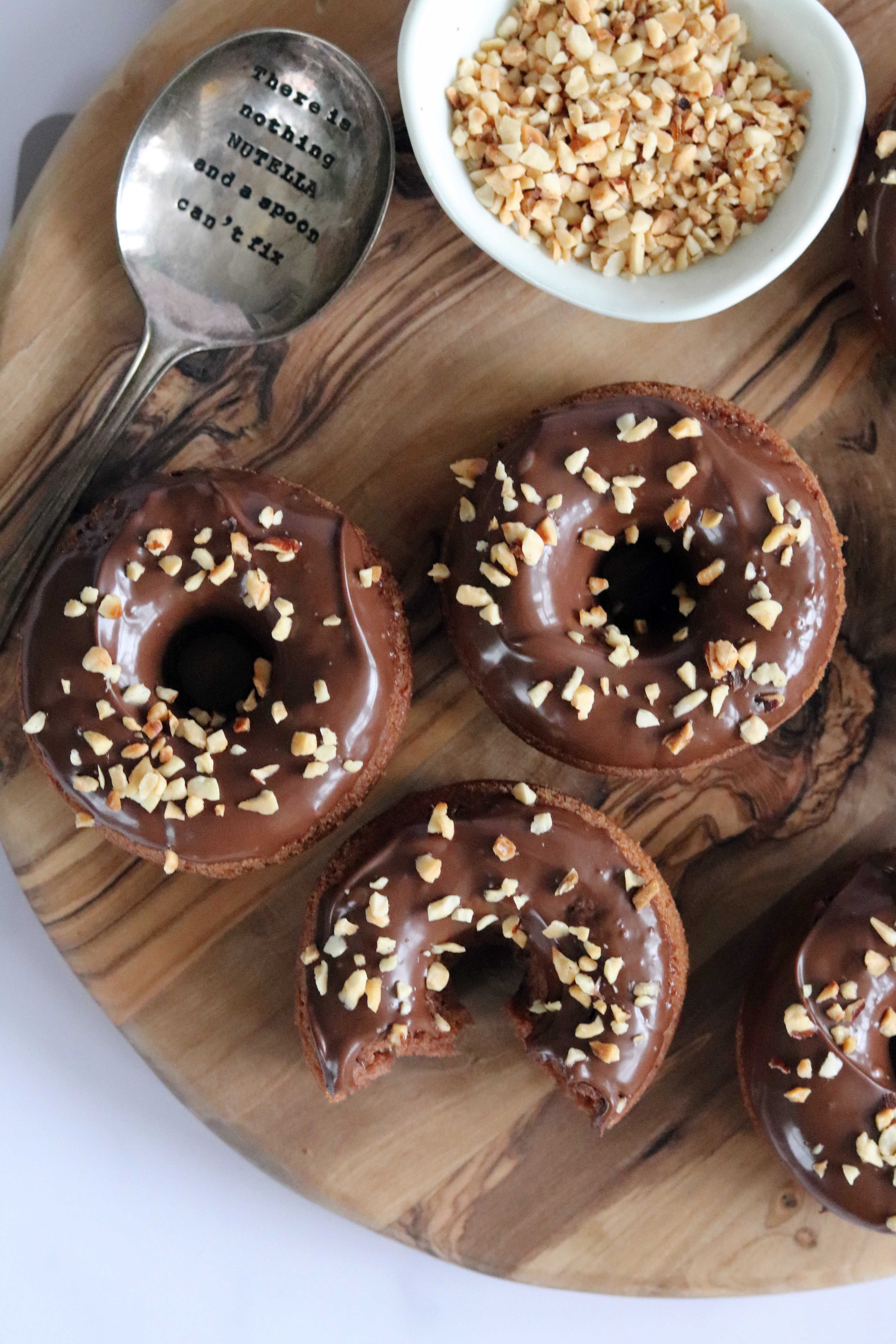 Baked Nutella Doughnut baking tips
The only slightly tricky part of doughnut making is filling the doughnut tin with the perfect amount of batter. Too little and you'll have a thin doughnut, too much and when it cooks the mix with cover the hole.
Don't get me wrong, if you overfill it is by no means the end of the world, but you just don't get the iconic doughnut hole through the middle.
I find the easiest way to fill the doughnut tin is to put the doughnut batter in a piping bag. I think this is easier than spooning the batter in and you can more evenly distribute it.
I fill each doughnut hole half way and find this is the perfect amount.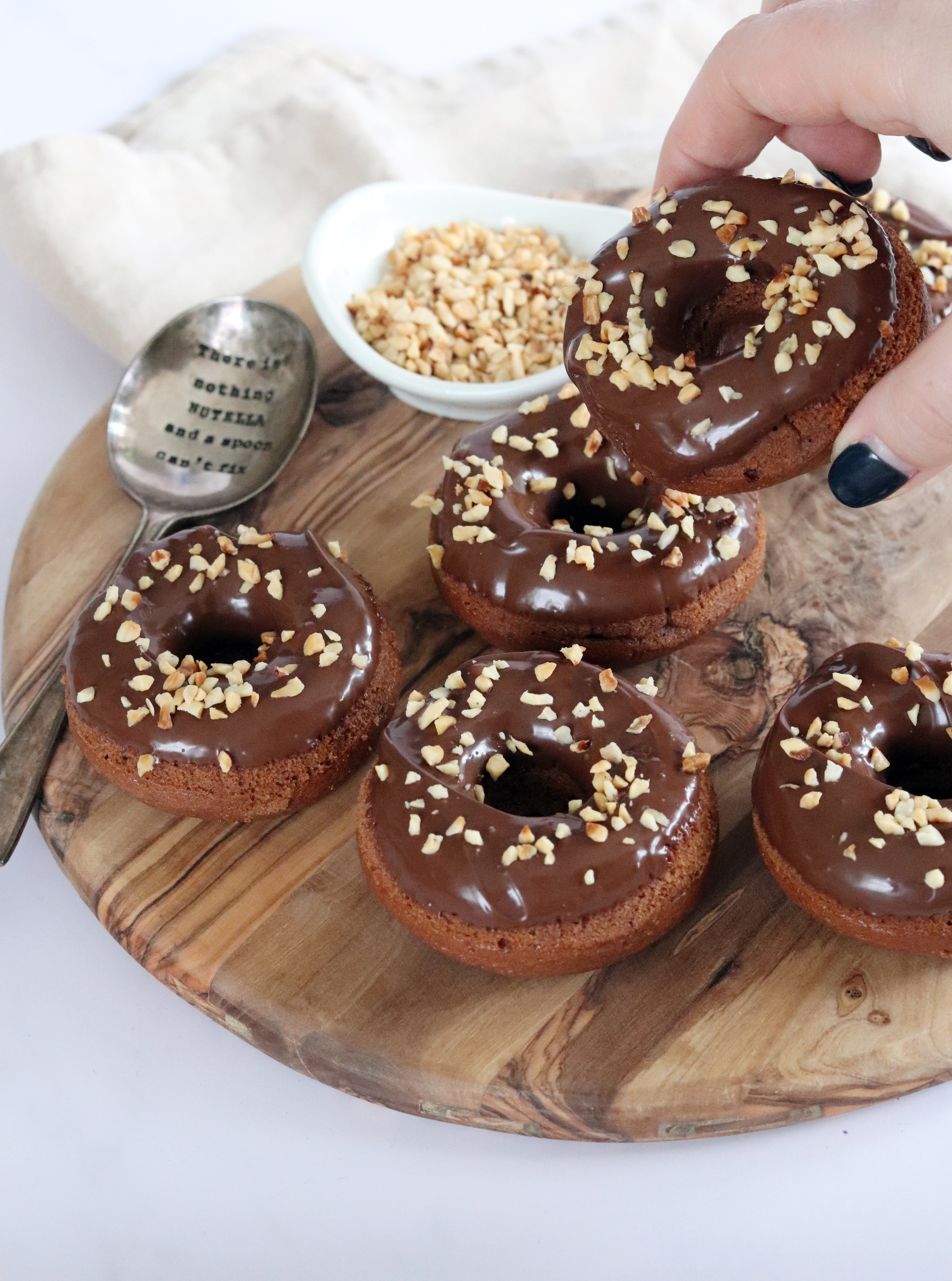 I bought roasted chopped hazelnuts because they were only fractionally more expensive than whole hazelnuts. If you have whole hazelnuts, I do recommend roasted them as it brings out their flavour.
To roast then, lay them on a baking tray and put them in the oven for 5-10 minutes at 180ºC. Make sure you keep a eye on them so they don't burn. You can then either crush them with a rolling pin or pulse them in a food processor.
Remove any pieces of hazelnut skin there may be at this stage. As you can see it is easier to buy the roasted chopped hazelnuts!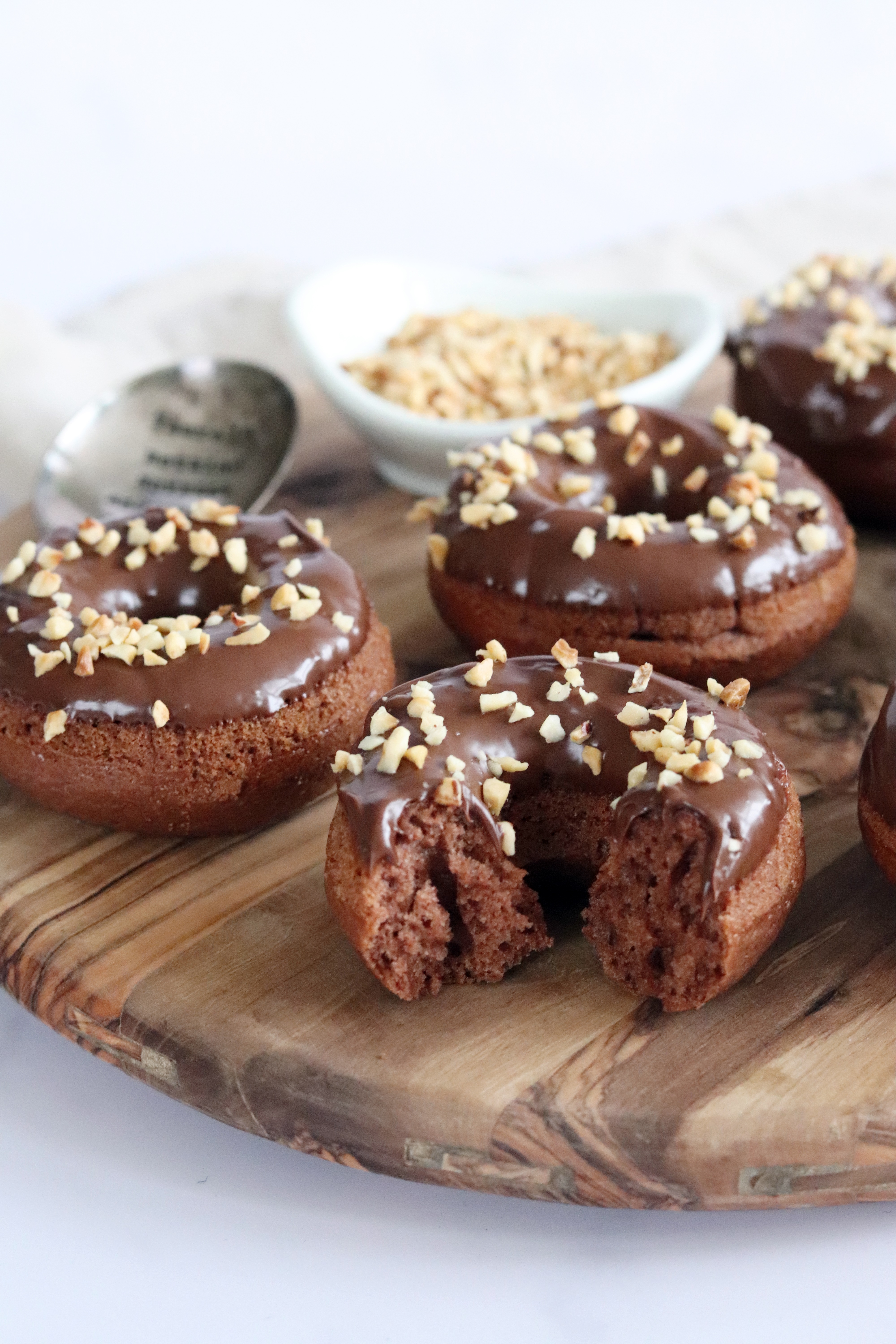 Other recipes you might like
Pin for later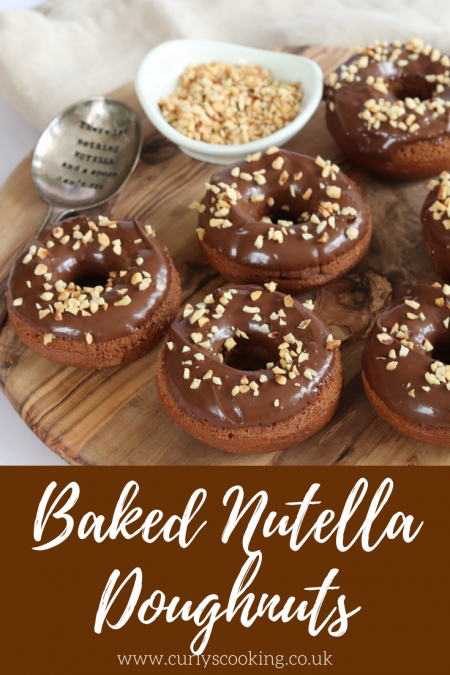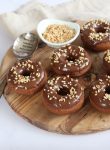 Baked Nutella Doughnuts
Fluffy doughnuts with a rich chocolatey nuttiness – heaven. These Baked Nutella Doughnuts are the perfect fix for any Nutella lover.


Ingredients
For the doughnuts
140

g

plain flour

70

g

caster sugar

1

tbsp

cocoa powder

1

tsp

baking powder

pinch

instant coffee granules

¼

tsp

salt

125

ml

milk

1

egg

30

g

Nutella

30

g

unsalted butter

melted and cooled

Spray oil
For the topping
120

g

Nutella

melted

2

tbsp

toasted chopped hazelnuts
Instructions
Preheat the oven to 160ºC (fan assisted, 180°C non fan) and spray two six hole doughnut pans lightly with oil

In a large bowl or your mixer, mix together the flour, sugar, cocoa, baking powder, salt and coffee granules

In a large jug whisk together the milk, eggs, melted butter and Nutella

Add the wet ingredients to the dry ingredients and stir until everything is just combined

Divide the mix between each doughnut mould. I find the easiest and less messy way of adding the batter to the moulds is by using a piping bag – remember not to overfill!

Bake the doughnuts for 13-15 minutes until a cocktail stick comes out clean

Allow to cool in the pan until they are cool enough for you to transfer to a wire rack

Melt the Nutella and dip each doughnuts in making sure they are thoroughly coated

Sprinkle with the toasted hazelnuts
Recipe Notes
These are best eaten on the day you bake them or the next day.
Nutritional information is given as a guide only and my vary.
Nutrition Facts
Baked Nutella Doughnuts
Amount Per Serving
Calories 178
Calories from Fat 63
% Daily Value*
Fat 7g11%
Cholesterol 20mg7%
Sodium 64mg3%
Potassium 131mg4%
Carbohydrates 23g8%
Protein 3g6%
Vitamin A 99IU2%
Calcium 47mg5%
Iron 1mg6%
* Percent Daily Values are based on a 2000 calorie diet.