This Lemon & Mascarpone Cake is a must for lemon lovers! So zesty and fresh, this simple and delicious cake is perfect for any occasion.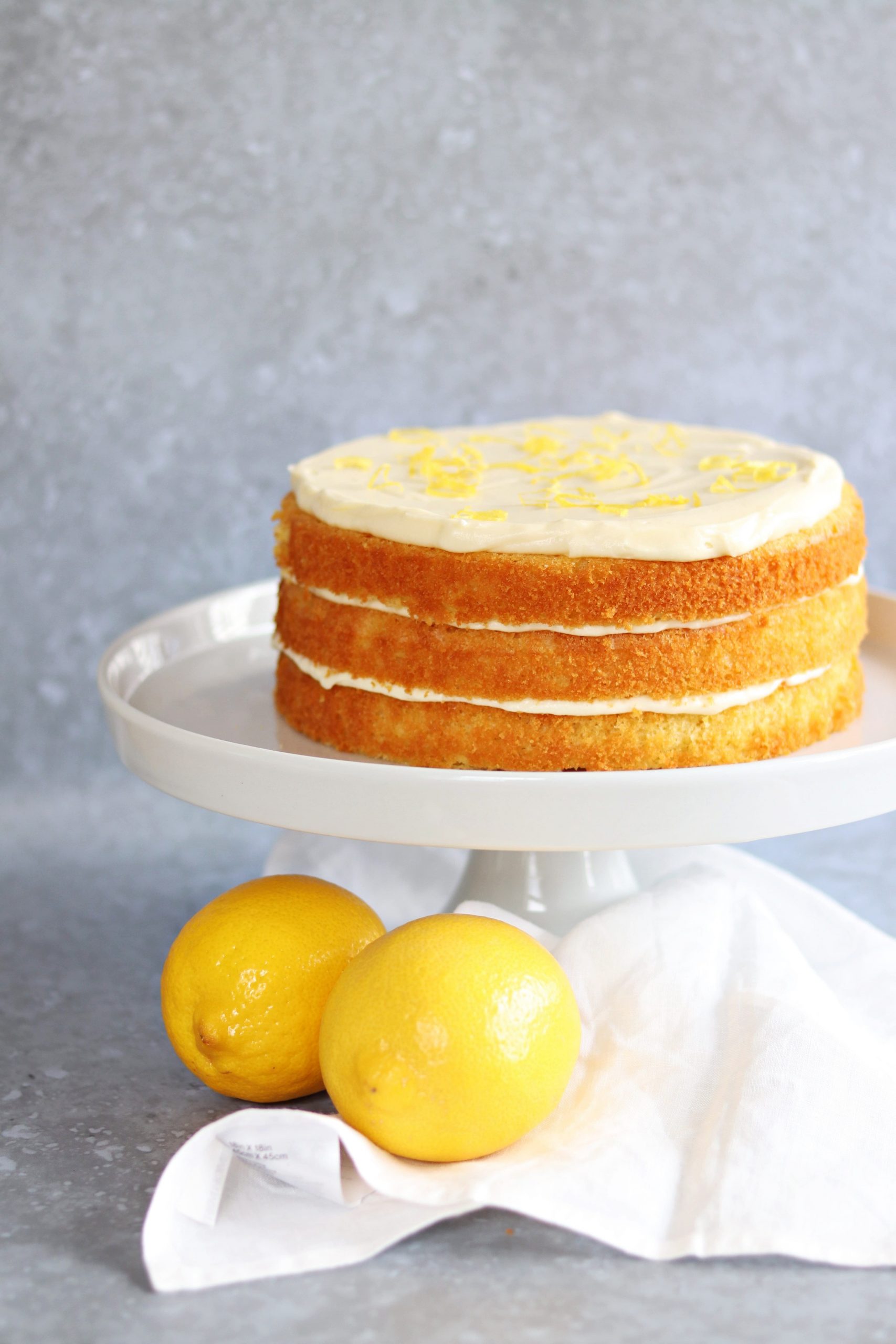 Who knew lemon cake was so popular?
I've always liked lemon cake whether it is my Lemon & Thyme Drizzle Traybake or my Blueberry & Lemon Swirl Loaf Cake.
But it was only when I asked my followers on Facebook and Instagram whether they preferred chocolate or lemon cake that I realised how popular lemon cake was.
After realising just how many people love lemon cake, I knew it was time to make my own version. I also realised a slightly lack of layer cakes.
I have quite a few cake recipes but a lot of them are loaf cakes or cupcakes.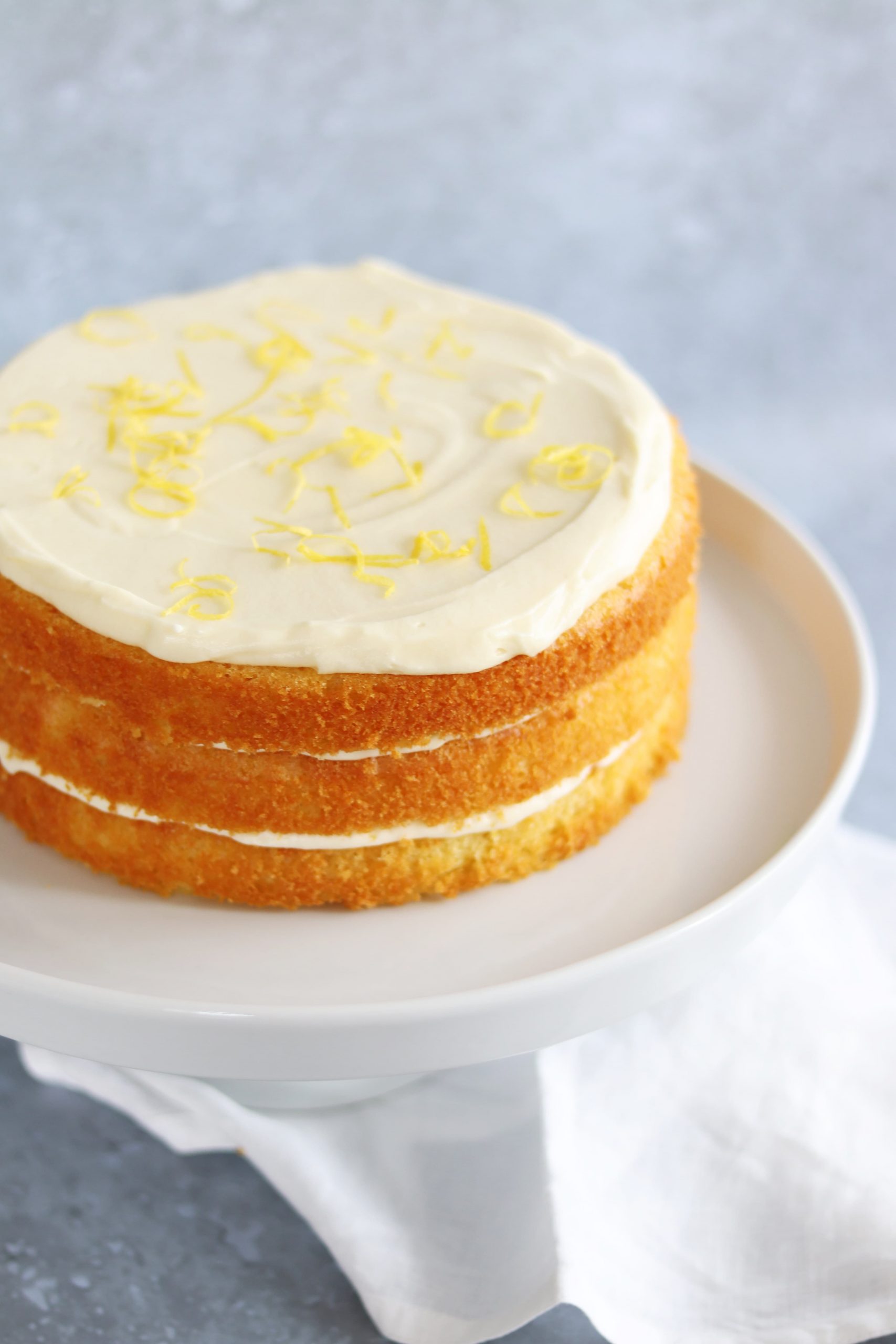 what is mascarpone?
Mascarpone is a cheese that be used in both sweet and savoury dishes.
It is an Italian cream cheese that is made from whole cream which gives it a much richer and creamier taste than standard cream cheese.
I love the extra creaminess mascarpone provides and particularly like to use it to decorate cakes instead of buttercream.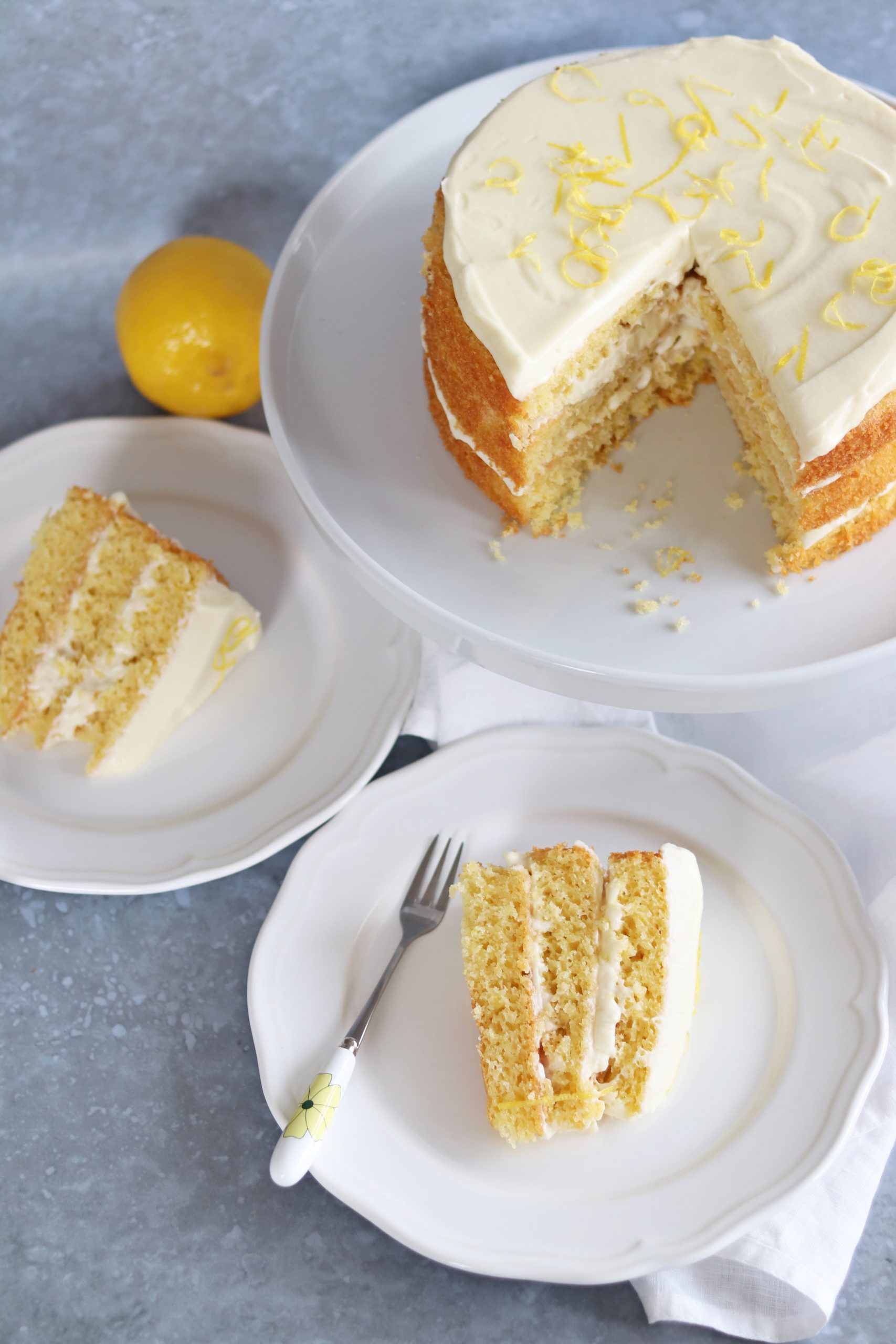 Why use mascarpone?
If you have followed my blog for a while you will probably know that standard buttercream isn't my favourite. Whenever I can switch it up for something like my Chocolate Cream Cheese Frosting, I will!
I took inspiration from my Raspberry & Mascarpone Layer Cake to create a delicious mascarpone frosting.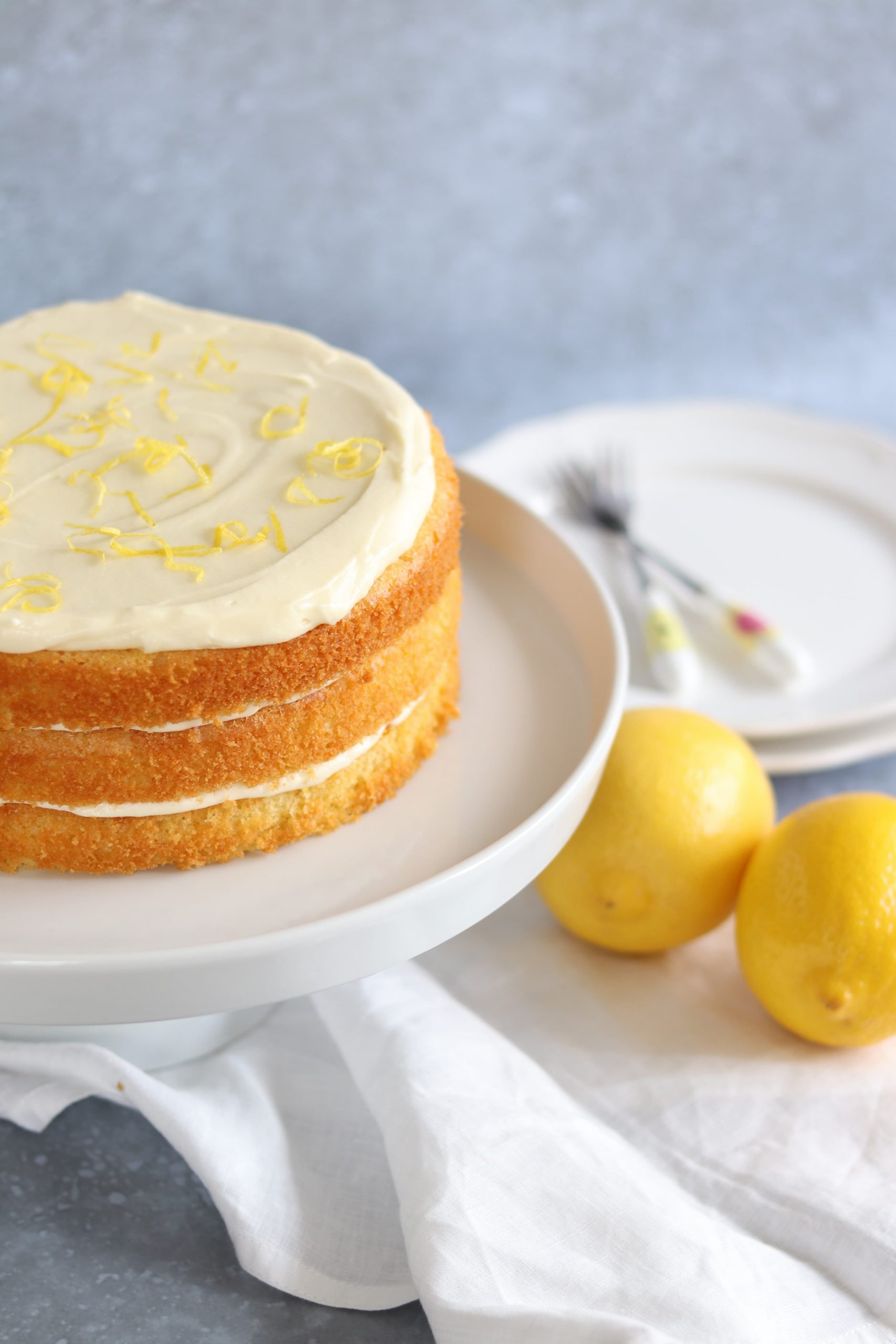 Butter or margarine?
I prefer to use margarine when I am making sponges.
This is because you can use it straight from the fridge and don't have to wait for it to come up to room temperature like you do with butter.
I have been using margarine in my cakes for years now and I have never had any complaints about their texture or flavour. You can absolutely use butter if you prefer but make sure it is unsalted butter.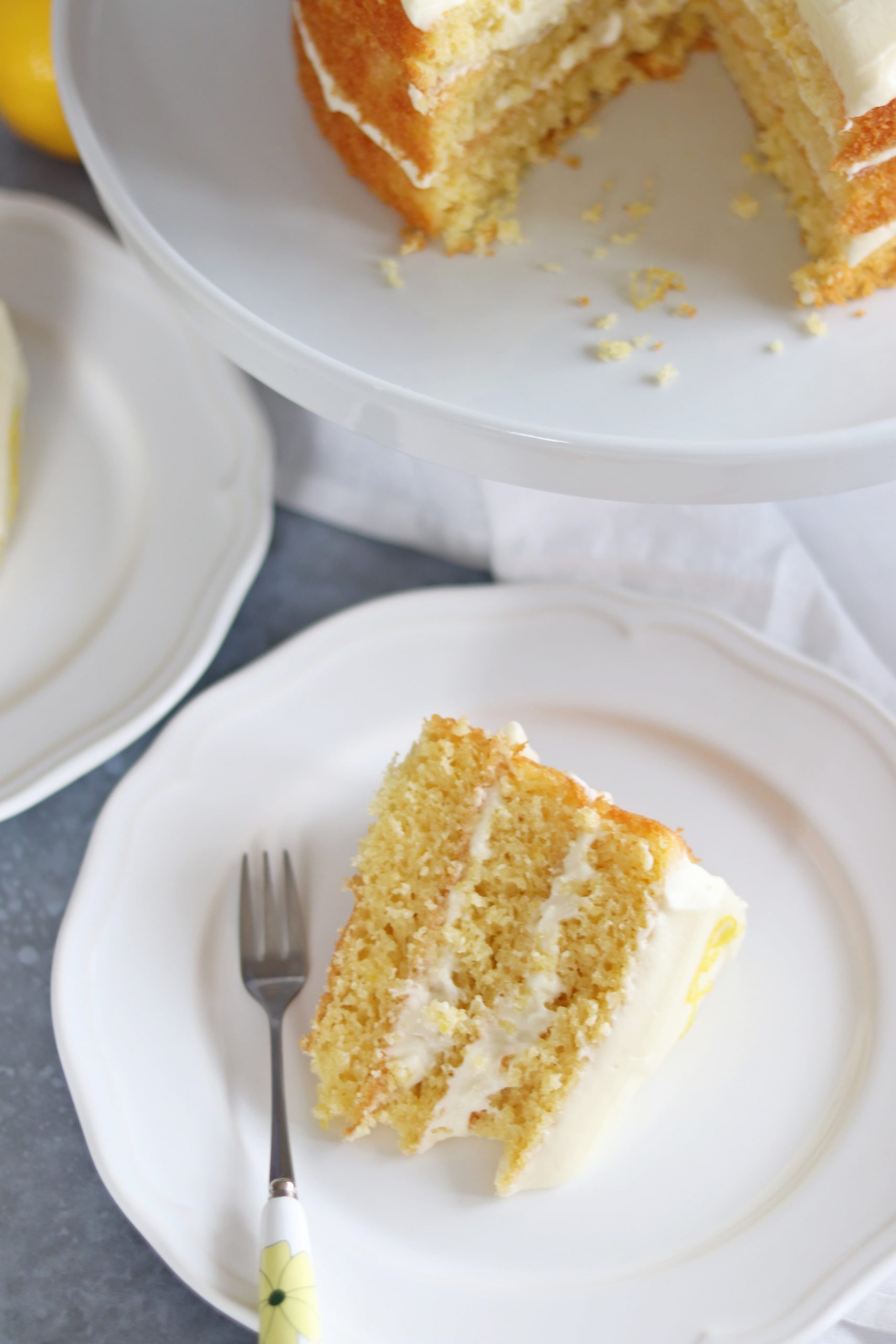 Baking with lemons
When I am using lemon zest in recipes I prefer to buy unwaxed lemons. The wax on lemons is suitable to eat, but most people would prefer not to eat it.
Make sure that when you are zesting the lemon you only get the actual zest and not the white pith underneath. This is bitter and not what you're looking for in your cake!
If you need zest and lemon juice for a recipe, make sure you zest the lemon first. It is a lot harder to zest a lemon when you've already squeezed the juice out!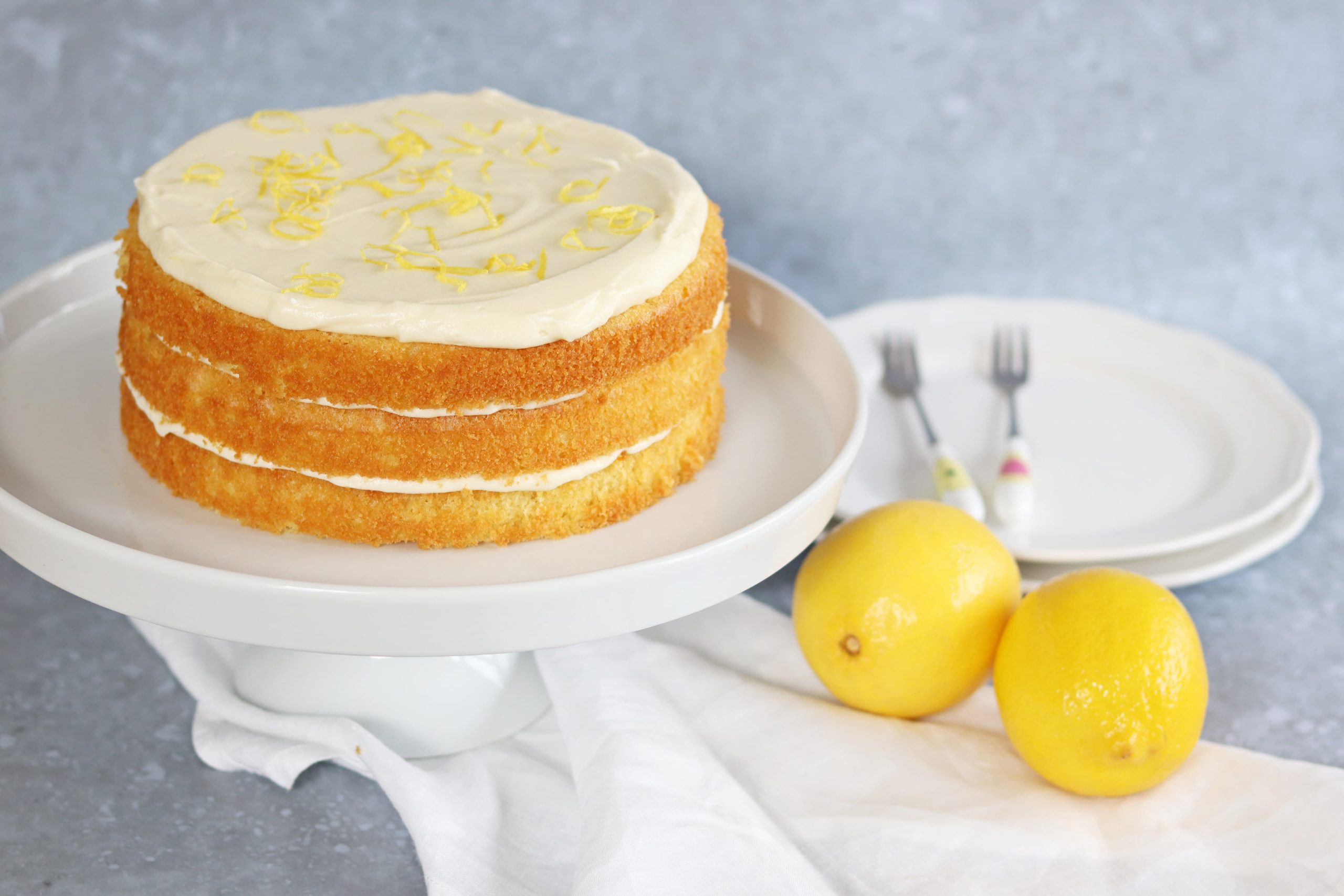 Which lemon curd is best to use?
I always have a jar of lemon curd in my fridge. It adds an instant delicious flavour to all number of cakes and desserts.
I would recommend buying a good quality lemon curd if possible as you will notice the difference in the finished cake.
You could definitely make your own lemon curd for this cake. Check out FabFood4All's Granny's Quick Lemon Curd for step my step instructions on how to make your own.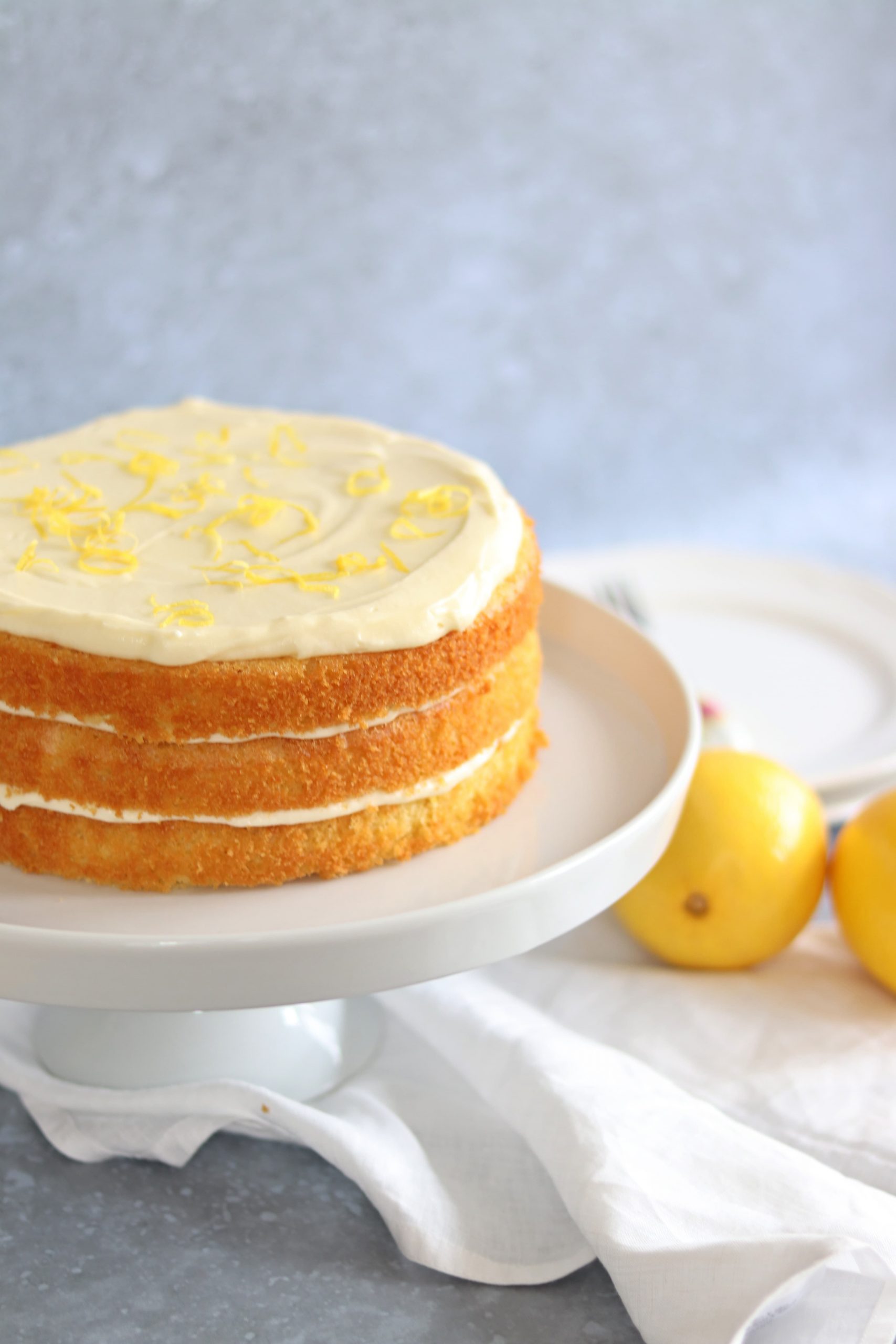 A beautiful but easy to make cake
This Lemon & Mascarpone Cake is a lovely looking cake (even if I do say so myself!). And the best thing about it is it is very simple to make and decorate.
Whatever your baking ability, you will be able to produce a pretty cake.
This mascarpone frosting isn't as stiff as a standard buttercream. This means that I wouldn't attempt any elaborate piping because it might not hold up.
Although piping does look beautiful, from speaking to some of you it isn't something you would usually attempt. This is either because you aren't confident with piping or just don't want to spend the time doing it.
So this mascarpone frosting is perfect for simply spreading on.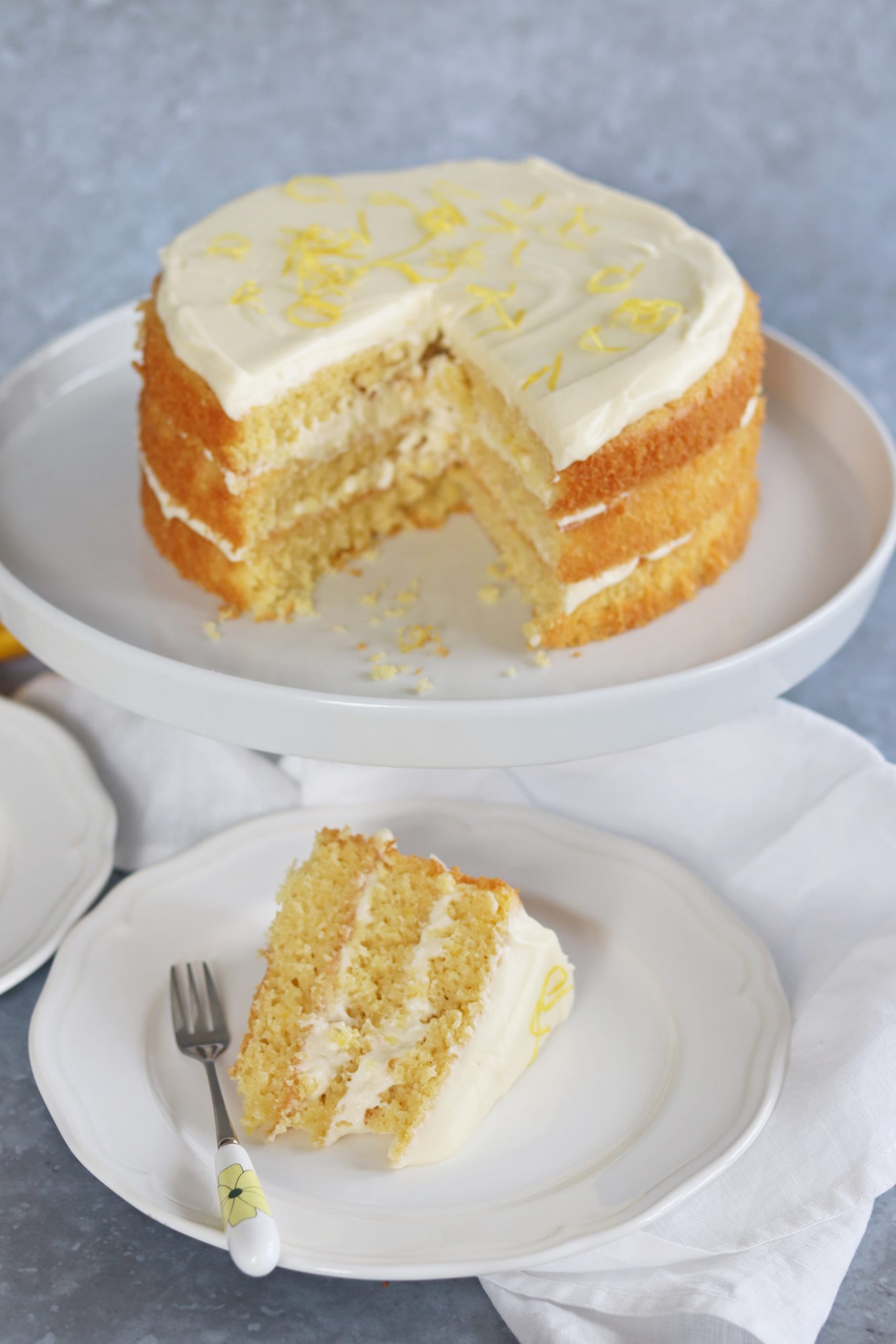 How to level your cakes
I do recommend levelling your cakes before you stack them. This ensures that the layers are all the same height and creates a more professional looking cake.
I have a cake wire that I use for even cake layers. If you don't have one I would recommend using a serrated knife.
You obviously don't have to level your cakes and your finished Lemon & Mascarpone cake will still look and taste great, but it might just look a bit more home made – and there's nothing wrong with that!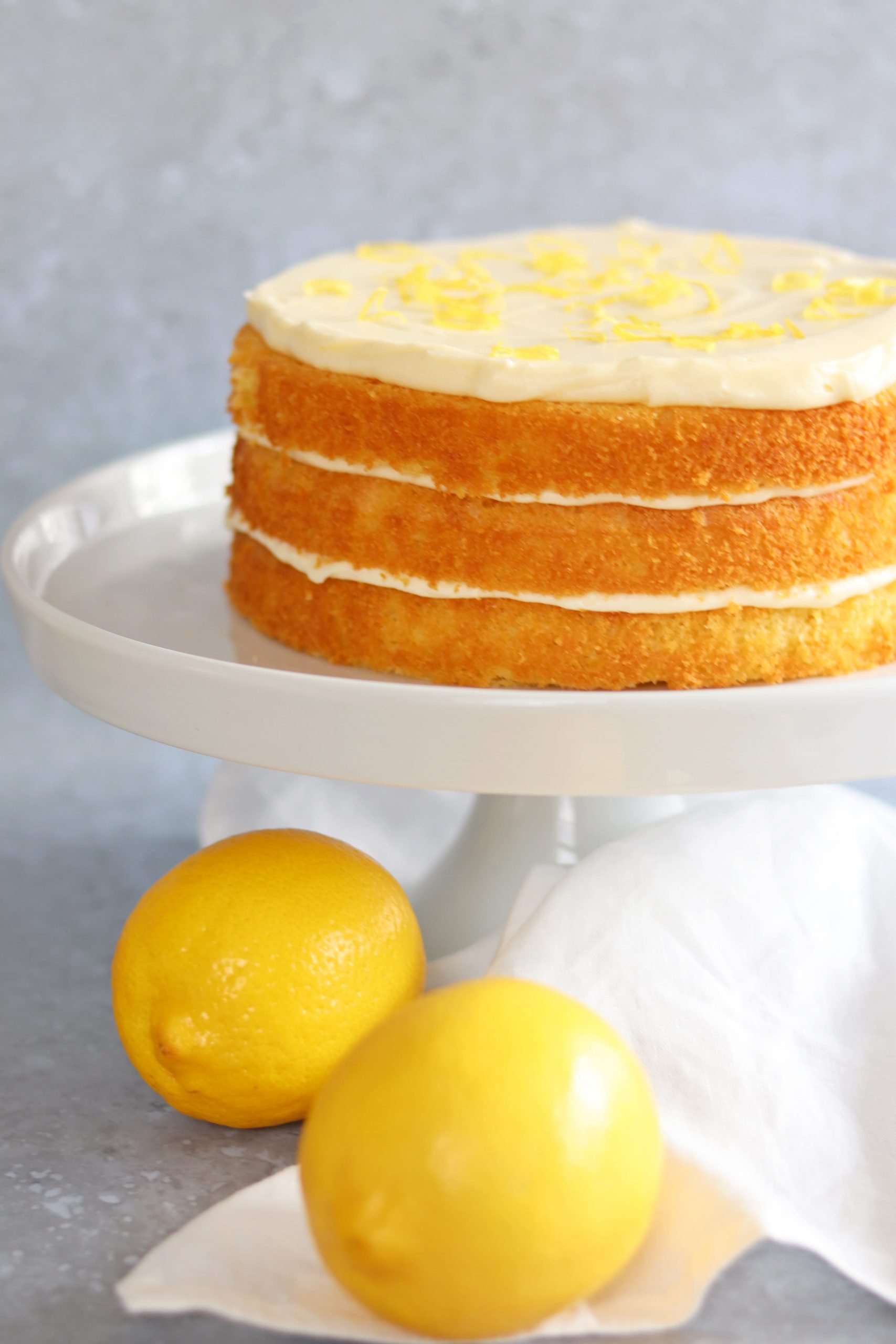 Can I use different sized tins?
You can bake this cake in different sized tins.
The most obvious option would be to bake in a traybake tin around 26x20cm. This will be quite a thick cake so it might need slightly longer to cook than the recipe below. Test with a cocktail stick and when it comes out it is ready.
If you don't have three tins, you could bake this cake in two deep 8 inch tins. You would need to make sure they are deep tins so the batter doesn't come up too high.
You could definitely use the batter to make cupcakes, however you might want to check out my Lemon Cupcakes with Lemon Curd and Cream Cheese Frosting instead.
If you're looking for a smaller cake, check out my Three Layer Lemon Cake which uses six inch tins. You would need to reduce the amount of frosting you made.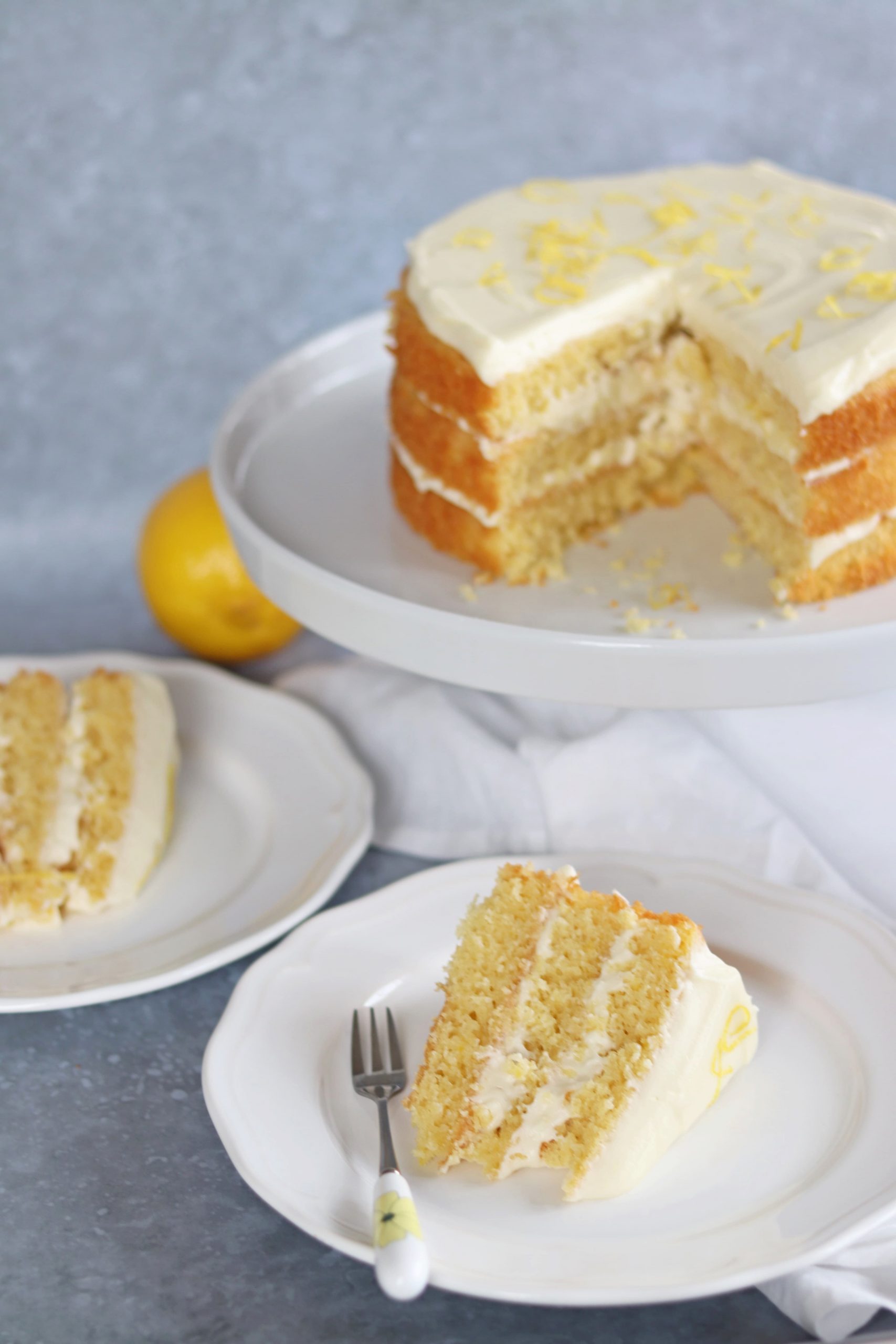 How long will this cake keep for?
This cake will keep for 3-4 days.
As it includes cream and mascarpone, I would recommend keeping this cake in an airtight container in the fridge.
You can also freeze the sponges without any frosting. Make sure you wrap them thoroughly and defrost in the fridge.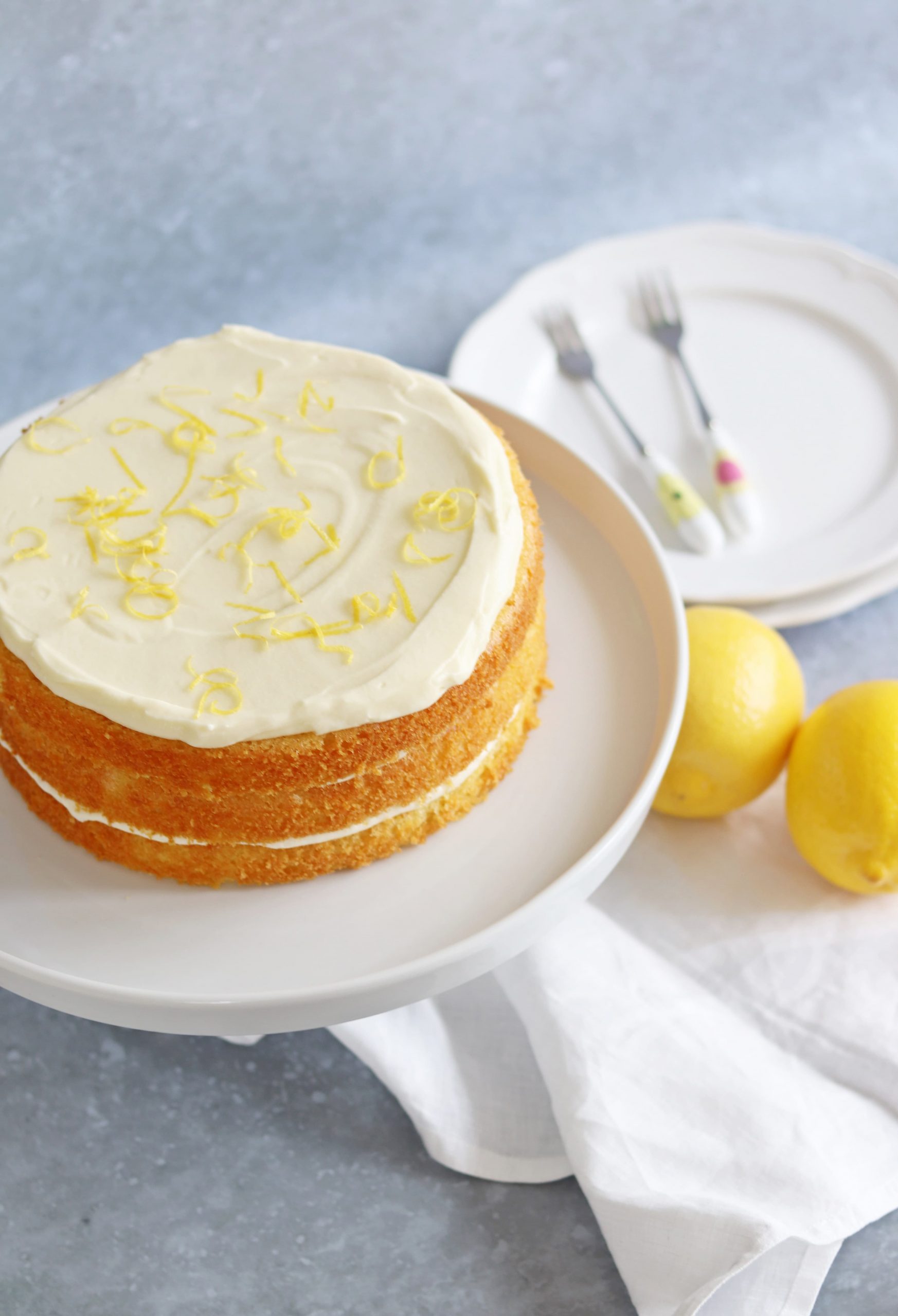 other recipes you might like
Pin for later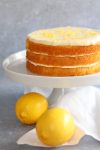 Lemon & Mascarpone Cake
This Lemon & Mascarpone Cake is a must for lemon lovers! So zesty and fresh, this simple and delicious cake is perfect for any occasion.
Ingredients
For the cake
335

g

margarine

335

g

caster sugar

6

large

eggs

335

g

self raising flour

3

tsp

baking powder

3

tbsp

lemon juice

2

lemons

zested
For the frosting
175

g

mascarpone

185

g

icing sugar

185

g

double cream

3

tbsp

lemon curd
Instructions
Preheat the oven to 160°C (fan assisted, 180°C non fan) and line three 20cm (8 inch) cake tins

Add the margarine and sugar to your mixer or a bowl and beat until pale and fluffy

Gradually add the eggs whilst still mixing. Add the flour and baking powder before mixing again

Add the lemon zest and juice and mix one final time

Divide equally between the three tins and bake in the oven for 25-30 minutes until a cocktail stick comes out clean

Leave the cakes to cool in the tins for at least 10 minutes before leaving them to cool completely on a wire rack

When the cakes are completely cool, make the frosting. Using a whisk attachment, whisk the masarpone and icing sugar together

Add the double cream and lemon curd and whisk until thickened. Keep watching and do not over whisk

Level the cake so they are as close to being flat as possible. Do this by using a cake wire or a serrated knife. Turn one of the cakes upside down onto your serving plate. Spread the cake with ⅓ of the mascarpone

Repeat with the next two layers of cake and mascarpone. Sprinkle to top of the cake with lemon zest
Recipe Notes
Nutritional information is given as a guide only.
Nutrition Facts
Lemon & Mascarpone Cake
Amount Per Serving
Calories 391
Calories from Fat 207
% Daily Value*
Fat 23g35%
Cholesterol 85mg28%
Sodium 201mg9%
Potassium 147mg4%
Carbohydrates 42g14%
Protein 5g10%
Vitamin A 949IU19%
Vitamin C 7mg8%
Calcium 71mg7%
Iron 1mg6%
* Percent Daily Values are based on a 2000 calorie diet.