Sometimes you want a cake to be that little bit special; my Raspberry & Mascarpone Layer Cake is the perfect cake for any celebration.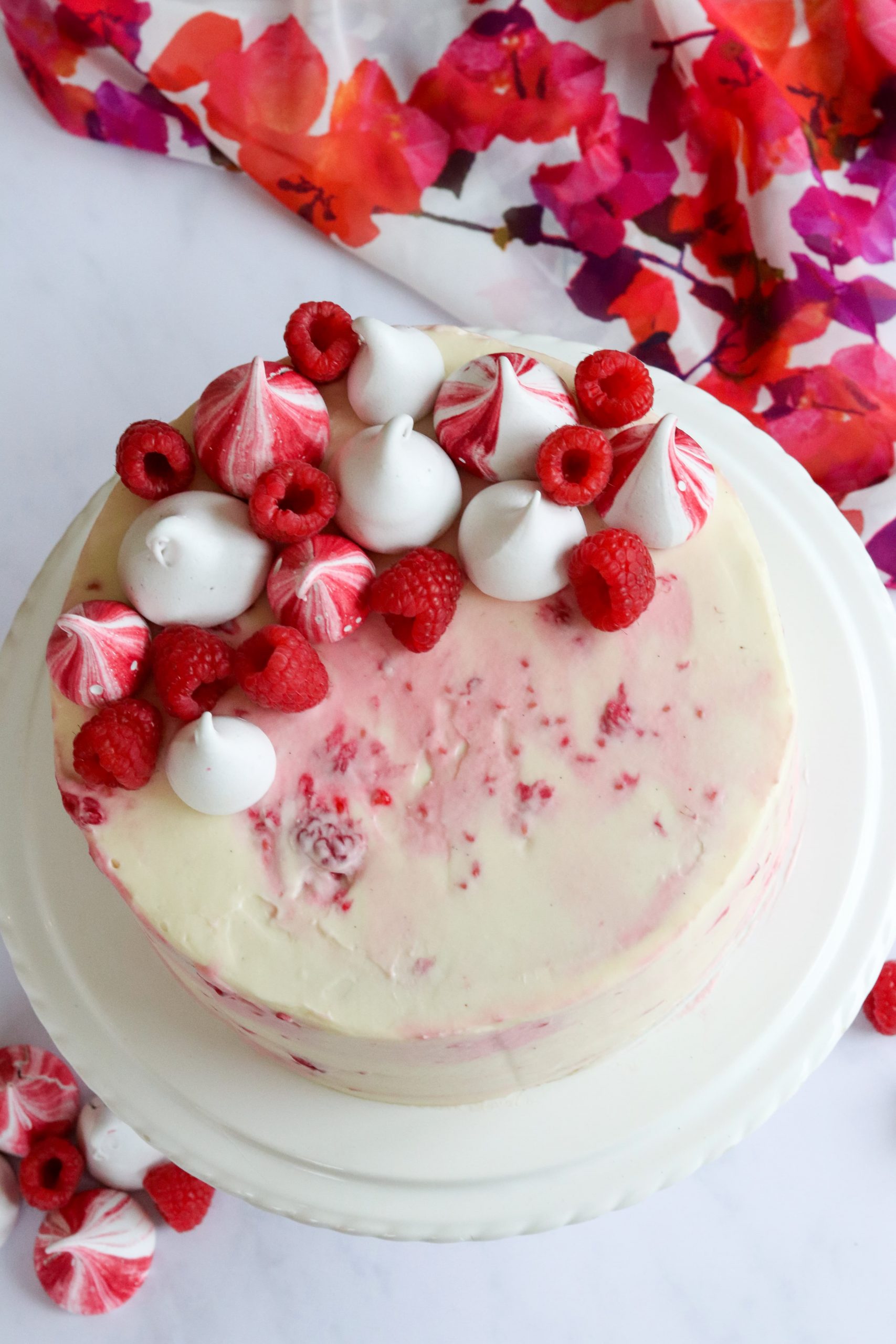 Raspberry & Mascarpone Layer Cake – great for any celebration
This cake is absolutely perfect for a celebration.
It isn't the type of cake you make when you fancy something sweet at the weekend. It is definitely a cake you make for a celebration when you want a cake to have the wow factor.
It isn't difficult to make, but it takes a little bit of time to assemble and decorate. Plus it is quite big and feeds quite a few people.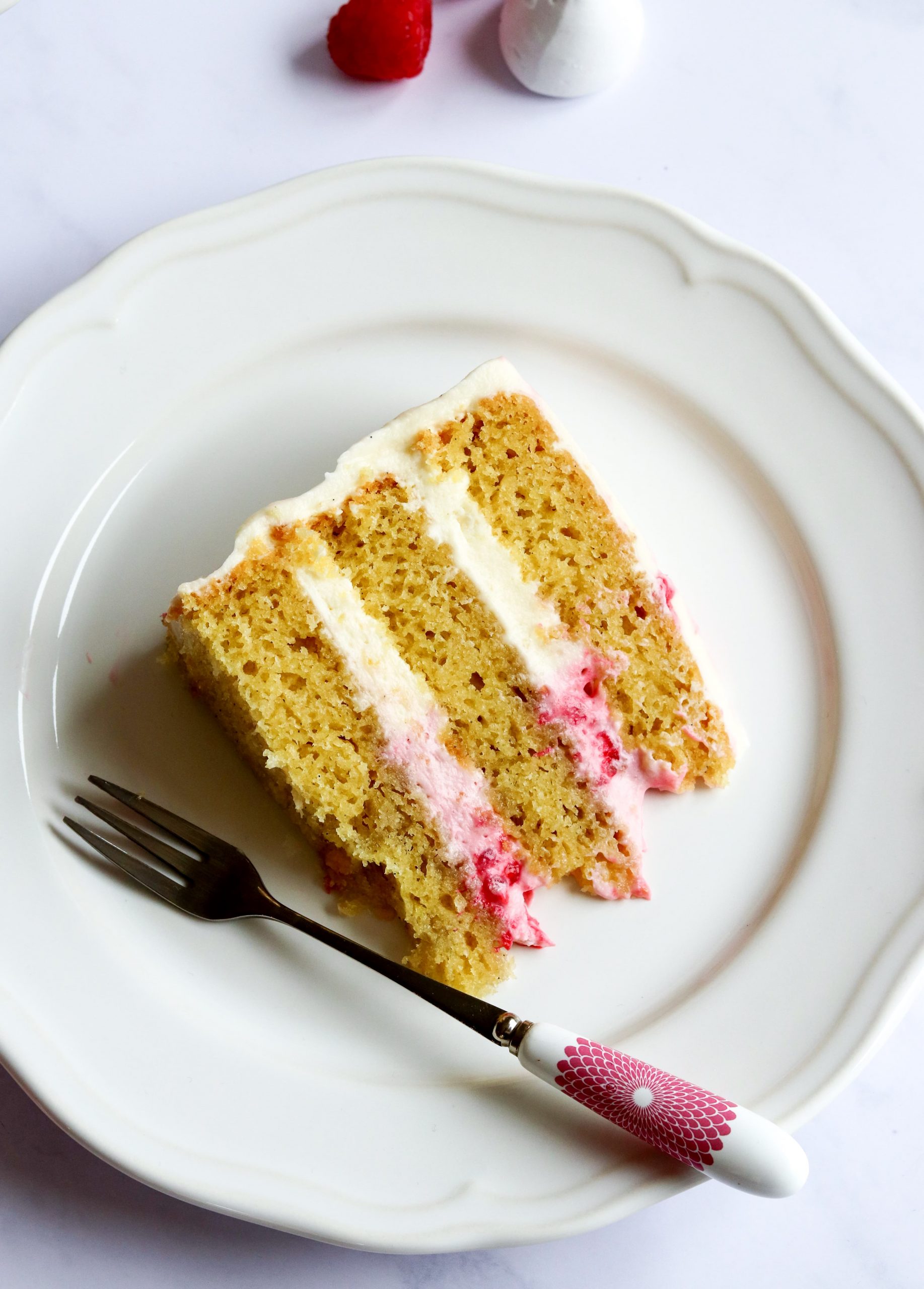 WHAT IS MASCARPONE?
Mascarpone is a cheese that be used in both sweet and savoury dishes.
It is an Italian cream cheese that is made from whole cream which gives it a much richer and creamier taste than standard cream cheese.
I love the extra creaminess mascarpone provides and particularly like to use it to decorate cakes instead of buttercream.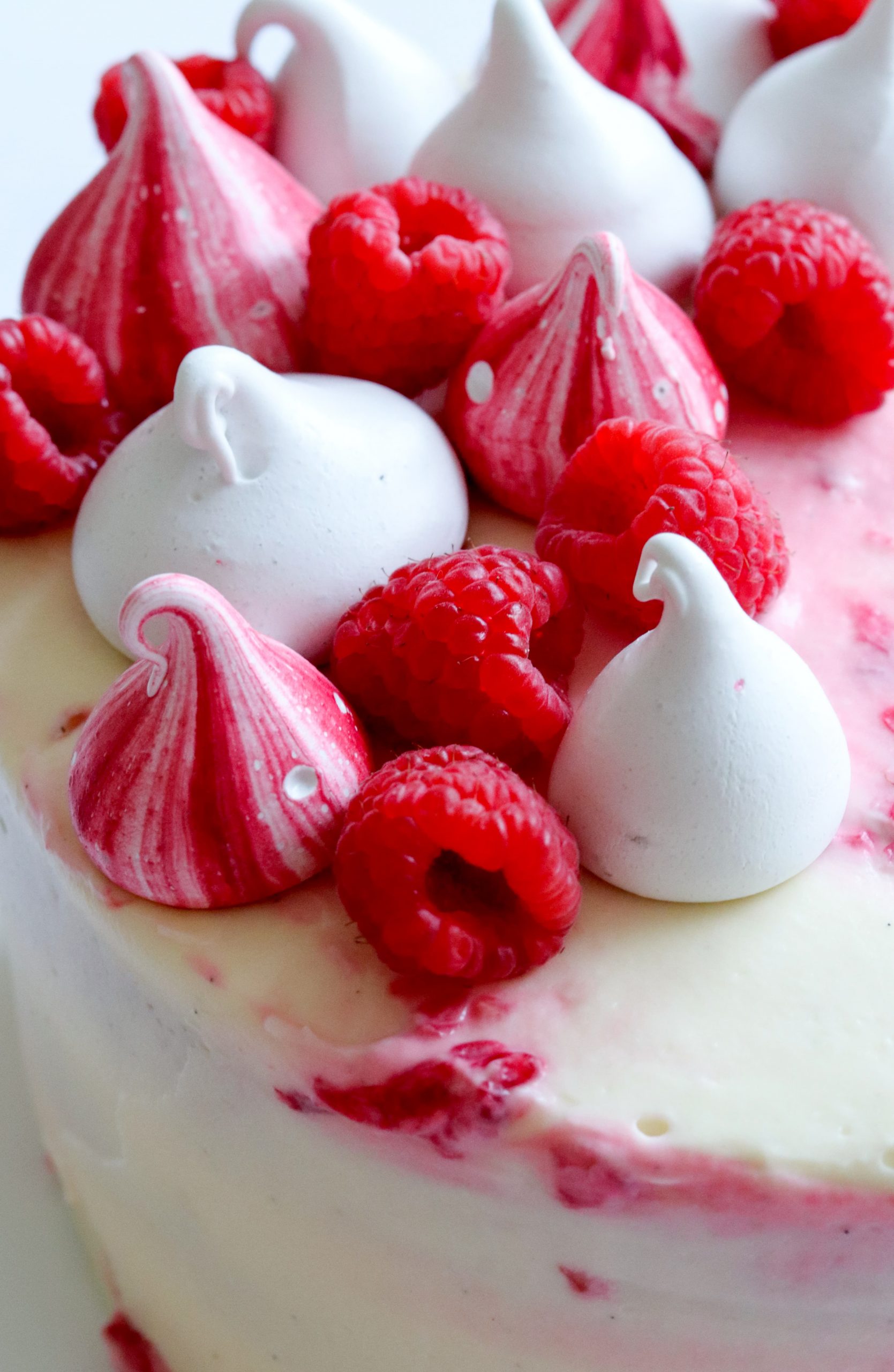 British raspberry season
When British raspberries are in season, this cake is a fantastic way to use them.
Here in the UK, raspberries are in season from June until October/November time. Nothing beats a delicious fresh raspberry when they are in season.

Can I use frozen raspberries?
Absolutely. Although raspberries are delicious when they are in season, you might want to make this cake out of season or not have fresh raspberries to hand.
Frozen raspberries will work just as well in this Raspberry & Mascarpone Layer Cake. For the filling you can just defrost them and crush them with a fork the same as you would do with fresh raspberries.
If you would like to use some for decoration, make sure they are only just thawed and put them on the cake at the last minute. Frozen raspberries become softer as they get warmer and may start to bleed their colour.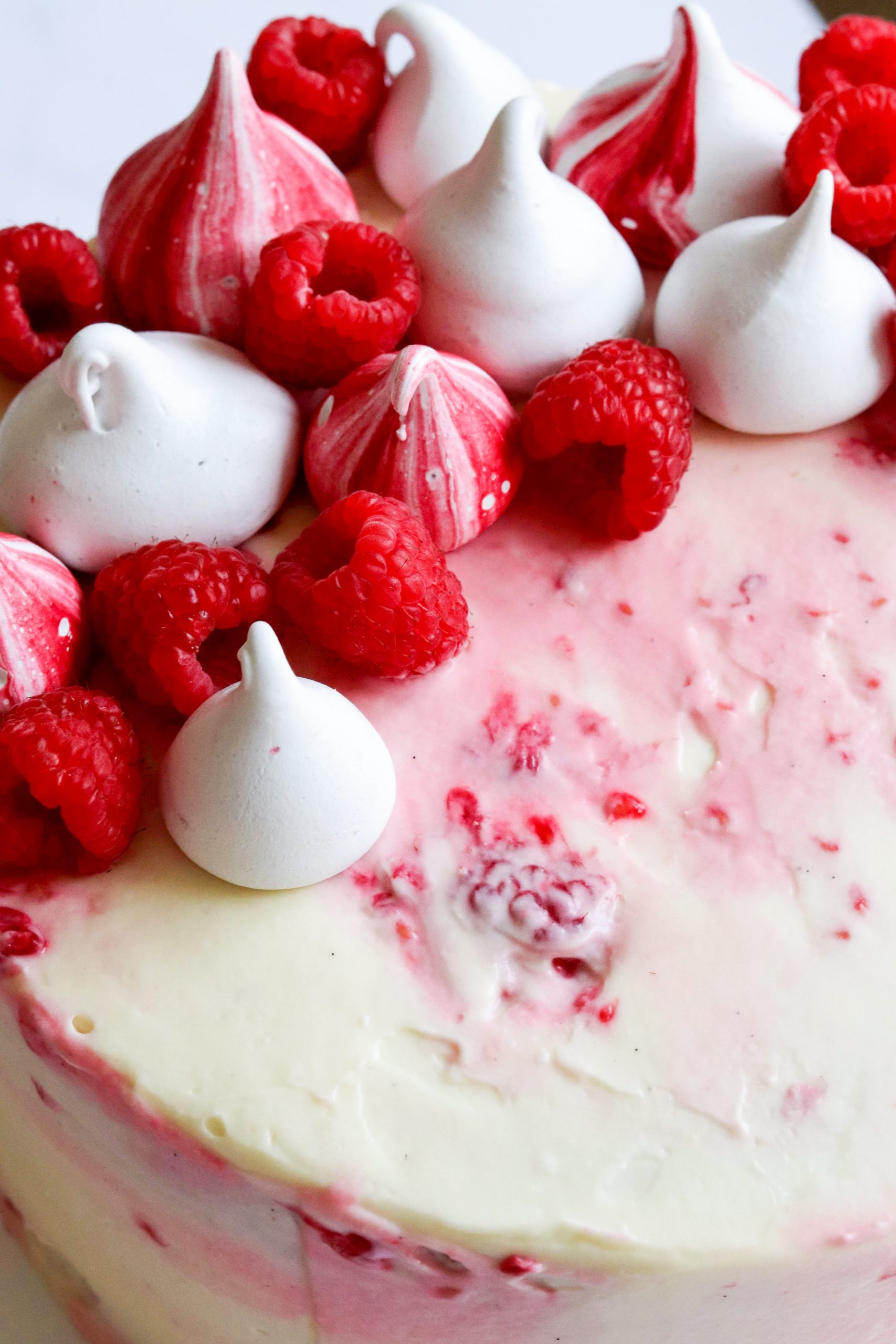 Vanilla bean paste or vanilla extract?
You can use either vanilla extract or vanilla bean paste, depending on which you prefer. I really like the flavour vanilla bean paste gives the cupcake and I like the little black flecks it leaves in the cake.
Whichever vanilla you decide to use, try to buy a good quality vanilla. If you can, aim to buy pure vanilla extract as this has very few ingredients and doesn't have any additives or preservatives. This is usually brown in colour.
Pure vanilla extract will provide you with a stronger, deeper vanilla flavour which makes these cupcakes even more delicious.
Vanilla bean paste is my favourite to use because of it's delicious flavour, but also because of the small flecks of black it adds to the cake. It is a bit more expensive than vanilla extract however so use which you prefer.
You can also add some vanilla to the buttercream for even more vanilla yummy-ness. Whichever you use will give you a delicious cupcake!
I would avoid using vanilla essence or flavouring if you can. These are more artificial in flavouring and won't give you as good a flavour.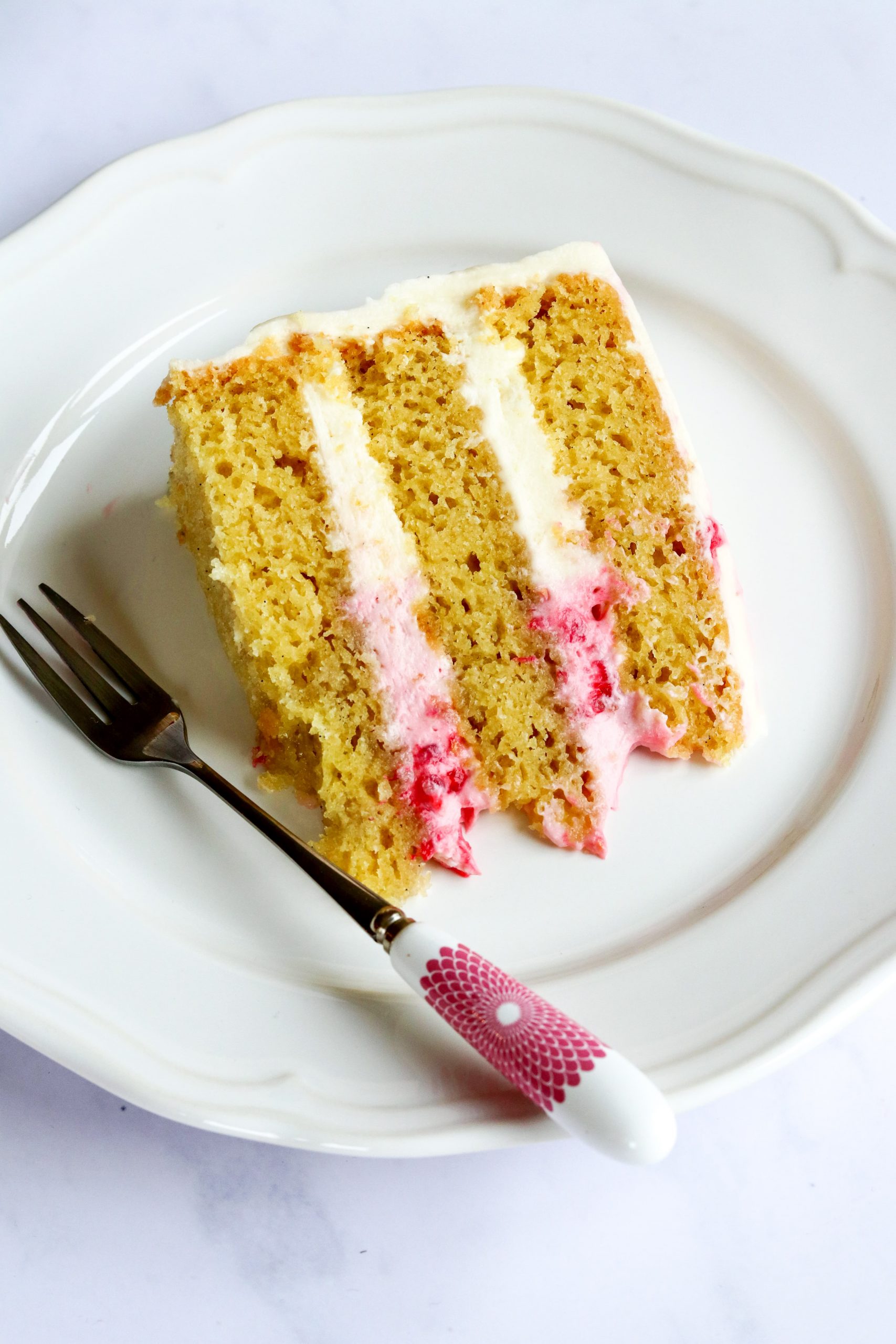 What is a crumb coat?
A crumb coat is a very thin layer of icing that's purpose is to lock in the crumbs. This crumb coat then stops crumbs appearing in your final layer of icing.
It shouldn't be a thick layer and you should be able to still see the cake through the crumb coat.
You need to refrigerate your cake after you have applied the crumb coat so it sets and locks the crumbs in place. This should take around twenty minutes.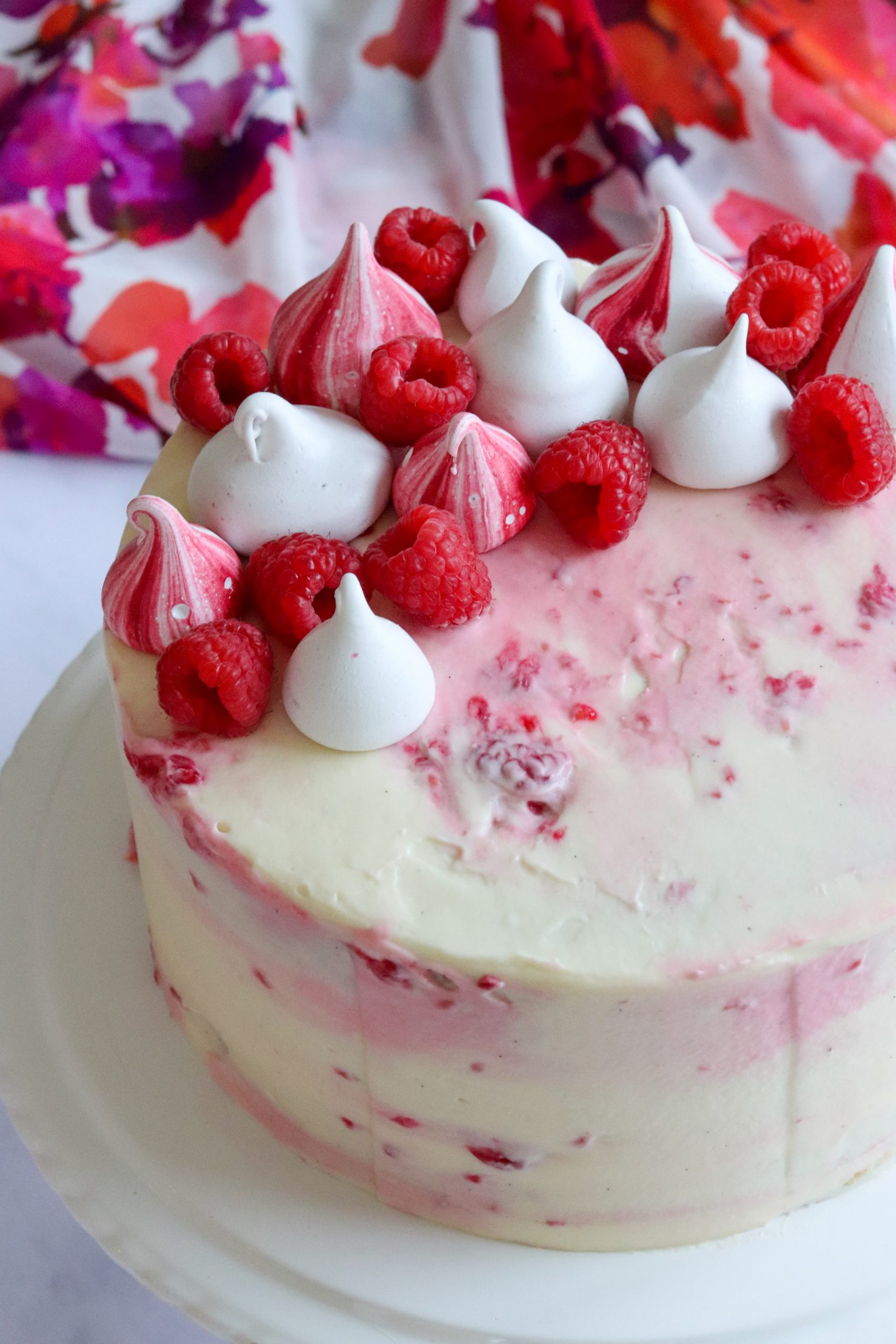 Is it essential to level the cakes once baked?
It isn't essential, the cake will still be delicious; but I do think it is necessary for the cake to look it's best.
Typically when cakes are baked they don't have perfectly flat tops. If you don't level the tops so they are all the same thickness, the finished cake is likely to have a slightly domed top. Also when you cut into the cake you won't have perfectly uniform layers.
I level my cakes using a cake wire which is incredibly easy. You can set it to a certain height and cut all of the cakes to be the same height.
If you don't have a cake wire, you can do this with a knife. I would use a serrated knife like a bread knife and slowly level off the cakes.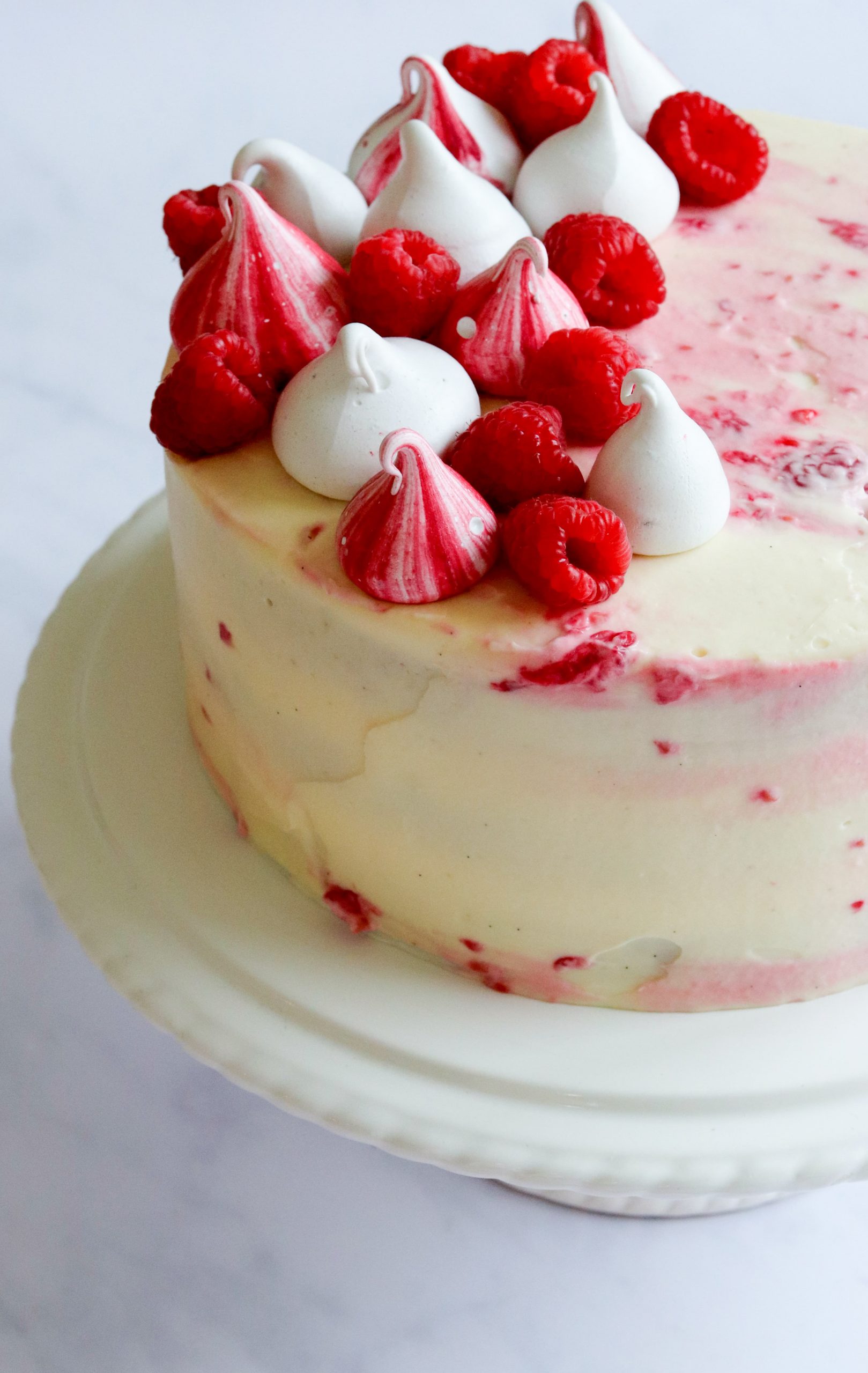 Cake frosting tips
Although I aim to get the mascarpone icing smooth, it is quite a forgiving cake to frost. This is due to slightly abstract pattern with the raspberry mascarpone icing.
Once the crumb coat has set, use an offset spatula to frost the cake. There is no right way to do this, but I do have my preferred method.
I pile quite a lot of the mascarpone icing on the top of the cake and then start smoothing it out using my spatula. The icing then starts to fall down the sides of the cake which you can begin smoothing out too.
I then add more icing to the sides using my spatula until the whole cake is covered.
Then either using your spatula or a cake scraper, drag it across the sides and top of the cake at a 45º angle.
Once you are happy with the cake, I dip a clean offset spatula in boiling water and dry on a tea towel. I then run this over the cake one last time. The heat from the water leaves a lovely smooth finish to the cake.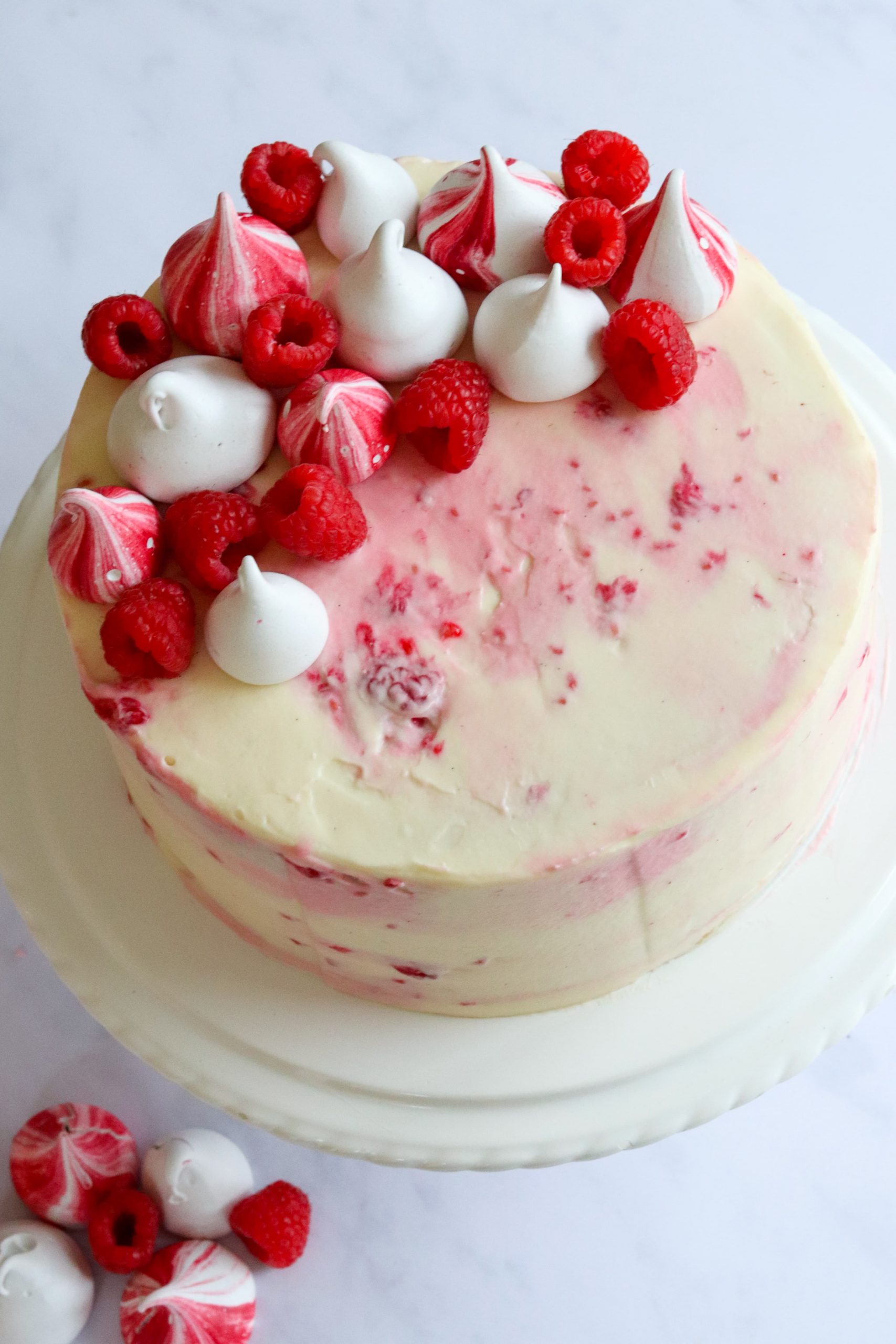 How to decorate your cake
You can also decorate the cake however you would like. I chose to keep it fairly simple with raspberries and Meringue Kisses but you can go as far as simple or flamboyant as you would like.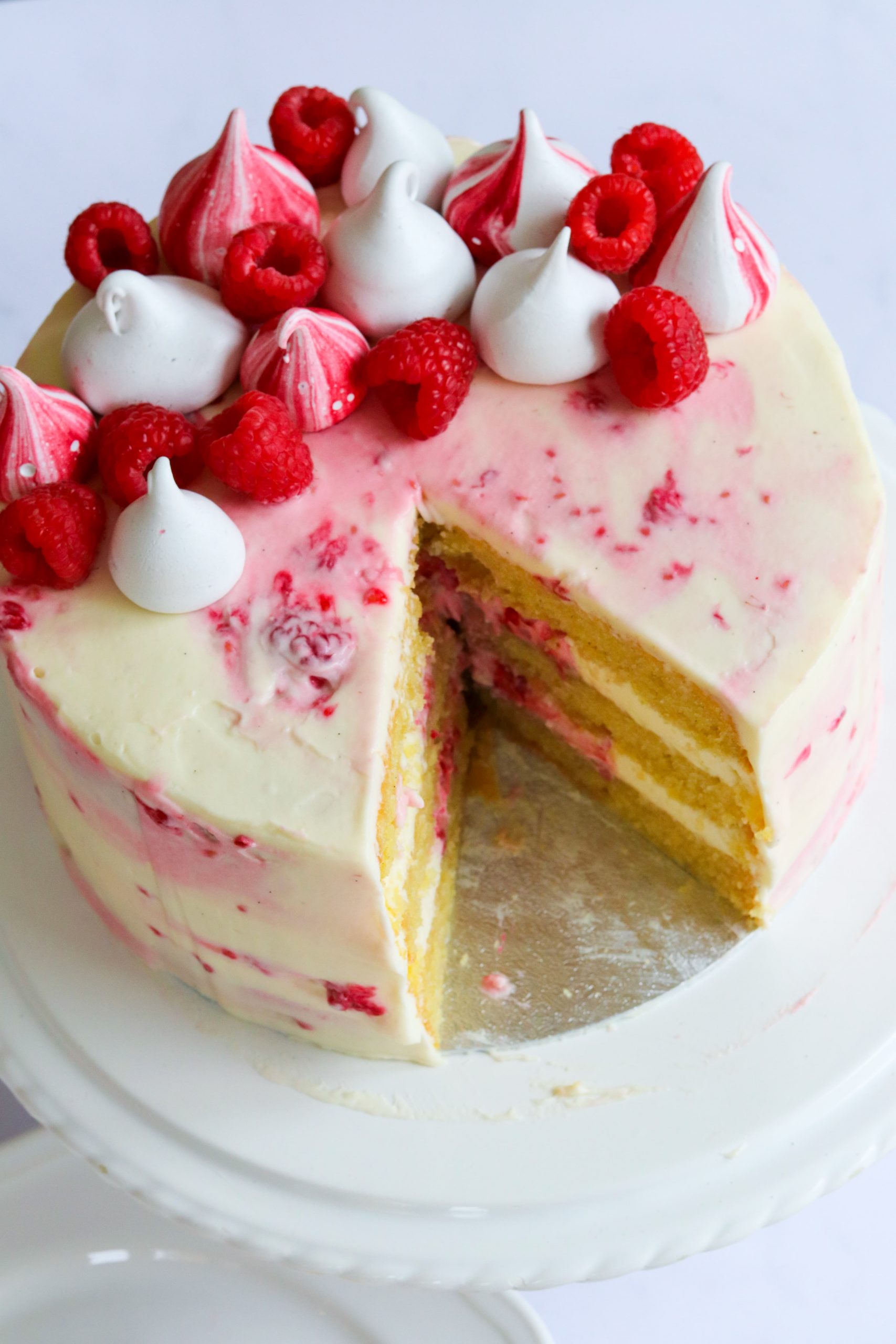 How long will this cake last?
Due to the cream, this Raspberry & Mascarpone Layer Cake does need to be kept in the fridge. It will keep for 4-5 days in an airtight container.
If you do decorate it with meringue kisses, these might get slightly softer when kept in the fridge.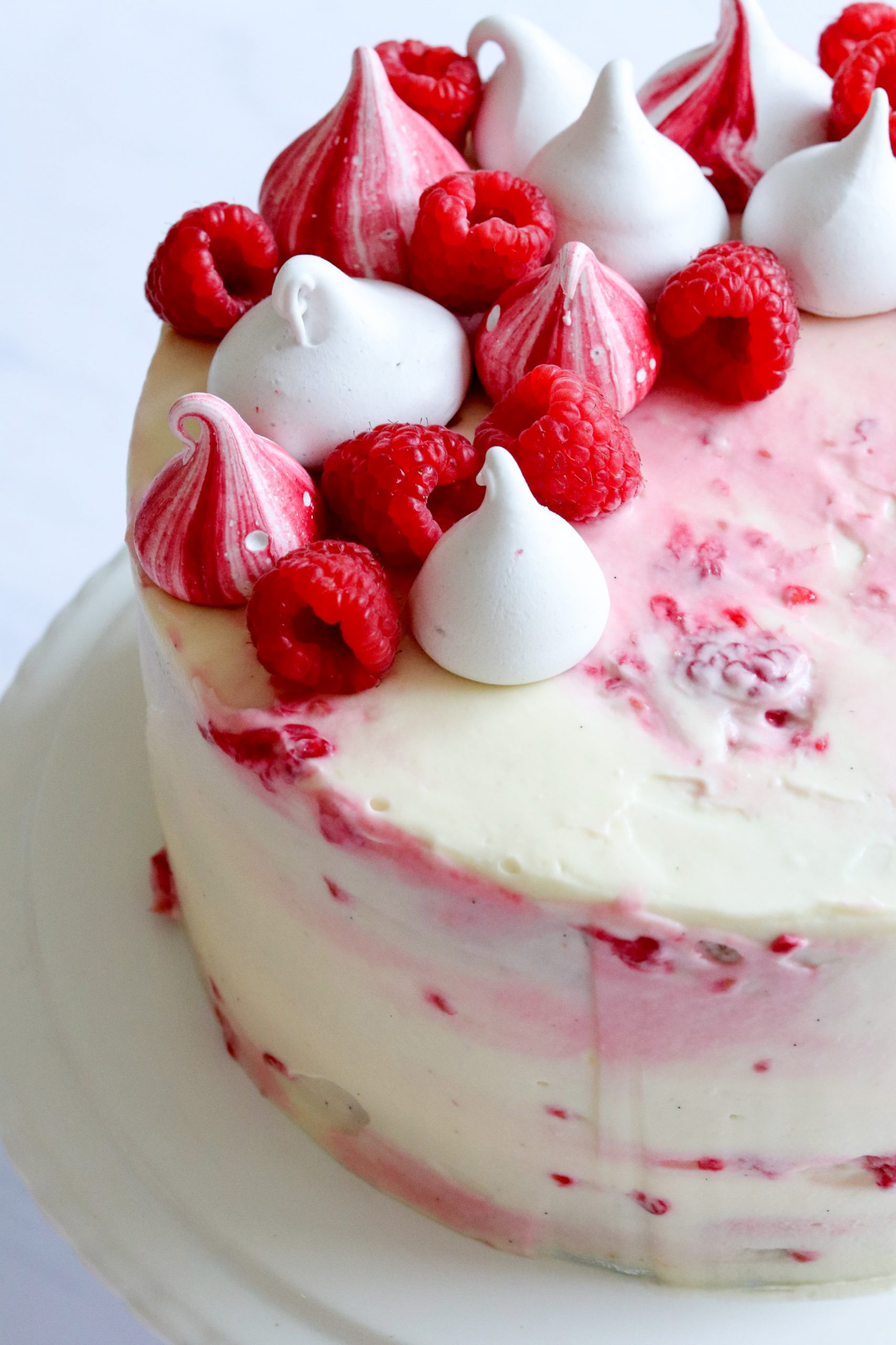 How many people with this Raspberry & Mascarpone Layer cake serve?
I think this cake will easily serve eighteen people. As it has three layers you don't need a huge slice.
However you could stretch this cake to feed more or obviously have bigger slices and serve less.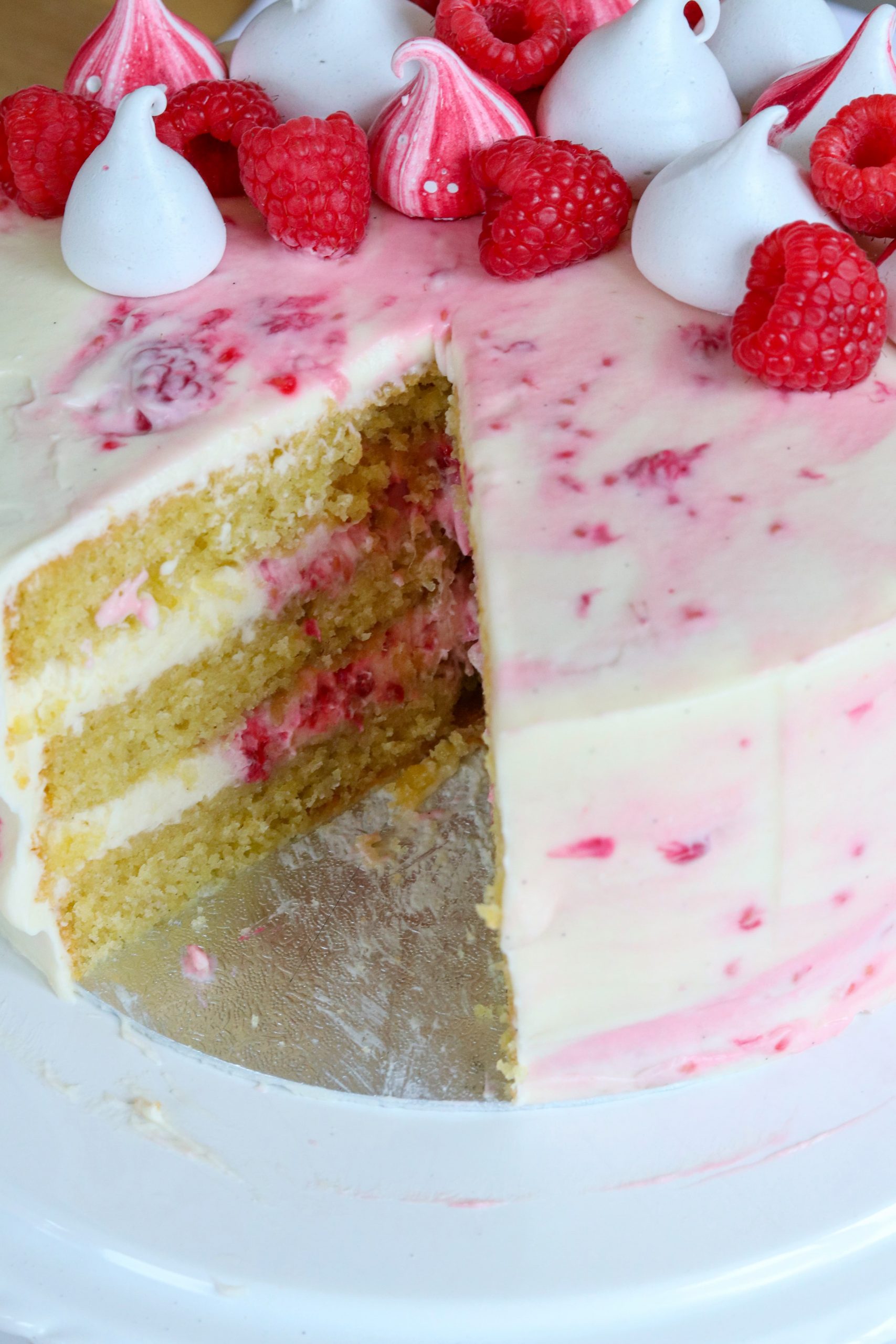 Other recipes you might like
Pin for later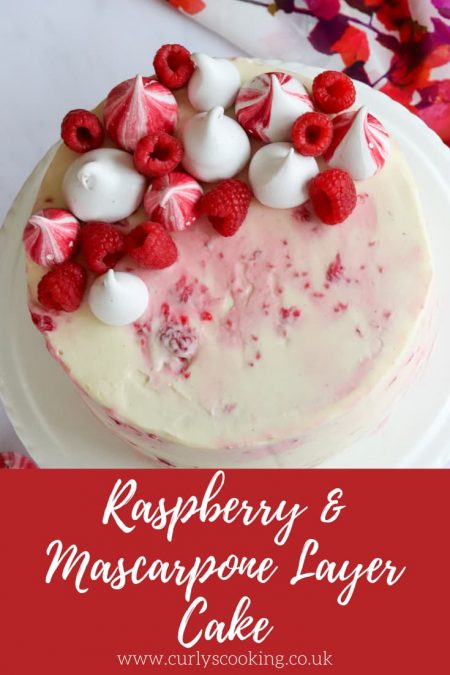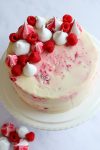 Raspberry & Mascarpone Layer Cake
Sometimes you want a cake to be that little bit special; my Raspberry & Mascarpone Layer Cake is the perfect cake for any celebration.
Ingredients
For the cake
335

g

margarine

335

g

caster sugar

6

eggs

335

g

self raising flour

3

tsp

baking powder

1 ½

tsp

vanilla bean paste
For the frosting
345

g

mascarpone

375

g

icing sugar

375

g

double cream

½

tsp

vanilla bean paste

100

g

raspberries
Instructions
Preheat the oven to 170ºC (fan assisted 190ºC non fan) and line three 20cm loose bottomed sandwich tins. Set aside

Cream the butter and sugar together for at least 5 minutes until pale and fluffy

Add one egg at a time, mixing before adding the next

Add the flour, baking powder and vanilla extract and mix until everything is fully incorporated

Divide evenly between the three tins and smooth the top using a spatula. Bake in the oven for 30-35 minutes until a cocktail stick comes out clean when inserted into the cake

Allow to cool slightly in the tins before cooling completely on a wire rack

Once the cakes are cooled, make the frosting. Using a whisk attachment, add the mascarpone and icing sugar to the bowl and whisk until combined

Add the double cream and vanilla bean paste and whisk for 1-2 minutes until the frosting has thickened and become fluffy. Do not over whisk

In a separate bowl, crush the raspberries with a fork. Add two large spoonfuls of the mascarpone frosting (approximately 150g) and mix together

Level each of the cakes with either a cake wire or a bread knife so that the top of each is completely flat

Take the first cake and turn it over so what was the bottom is facing up. Place it on the plate/cake board

Spoon the mascarpone frosting into a large piping bag and the raspberry mascarpone into another

Cut a hole in the bottom of the piping bag at least 1cm wide. Starting from the outside of the cake, pipe around the outside of cake creating two circles of frosting

Do the same with the raspberry mascarpone icing to fill in the centre of the cake and then spread to flatten with a small pallet knife

Add the next cake layer on top and repeat the same process with the icing

Add the final layer of cake on top of the others and crumb coat the cake. This is covering the whole cake in a thin layer of frosting which locks in the crumbs. Make sure you scrape off your pallet knife in the bowl with the remaining frosting in. You will still see the cake through the crumb coat

Put the cake in the fridge for 20 minutes to set

Remove the cake from the fridge and using the remaining frosting, cover the cake and smooth using a pallet knife

You should have some raspberry mascarpone remaining, using your pallet knife, dot this around the cake and smooth again using your pallet knife

Decorate the cake with meringue kisses and raspberries – or however you prefer
Nutrition Facts
Raspberry & Mascarpone Layer Cake
Amount Per Serving
Calories 540
Calories from Fat 297
% Daily Value*
Fat 33g51%
Cholesterol 102mg34%
Sodium 217mg9%
Potassium 157mg4%
Carbohydrates 56g19%
Protein 6g12%
Vitamin A 1320IU26%
Vitamin C 2mg2%
Calcium 94mg9%
Iron 1mg6%
* Percent Daily Values are based on a 2000 calorie diet.