My Cuban Pork Sandwich is a next level sandwich that is really simple to make. Decadent, delicious and definitely a recipe you should try.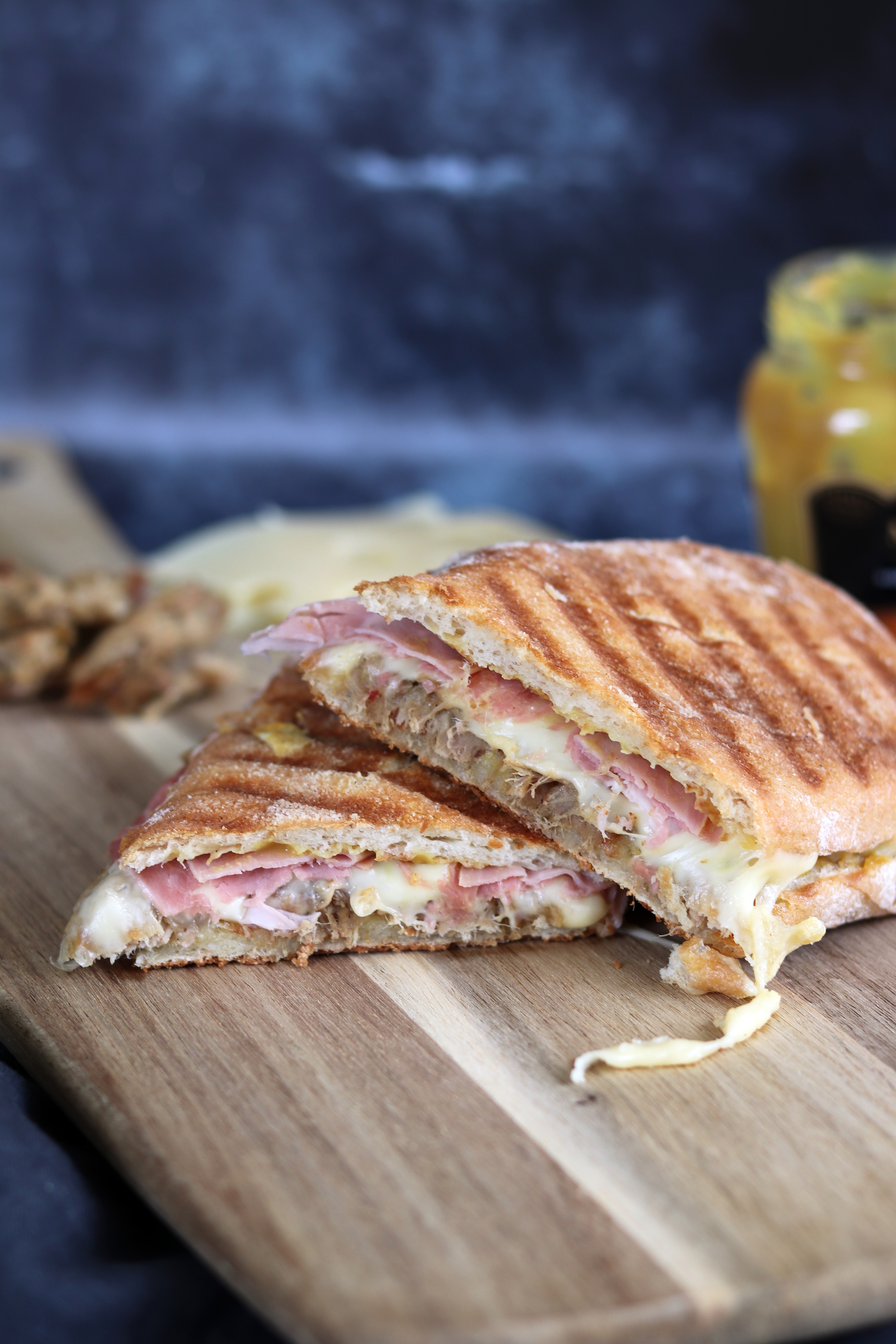 Some preparation is required
Although my Cuban Pork Sandwich is very easy to make, you do need to do some preparation in advanced.
You will need to make my Slow Cooker Cuban Pork ideally the day before you want to make this sandwich. You then not eat it all so you have leftovers to make this sandwich!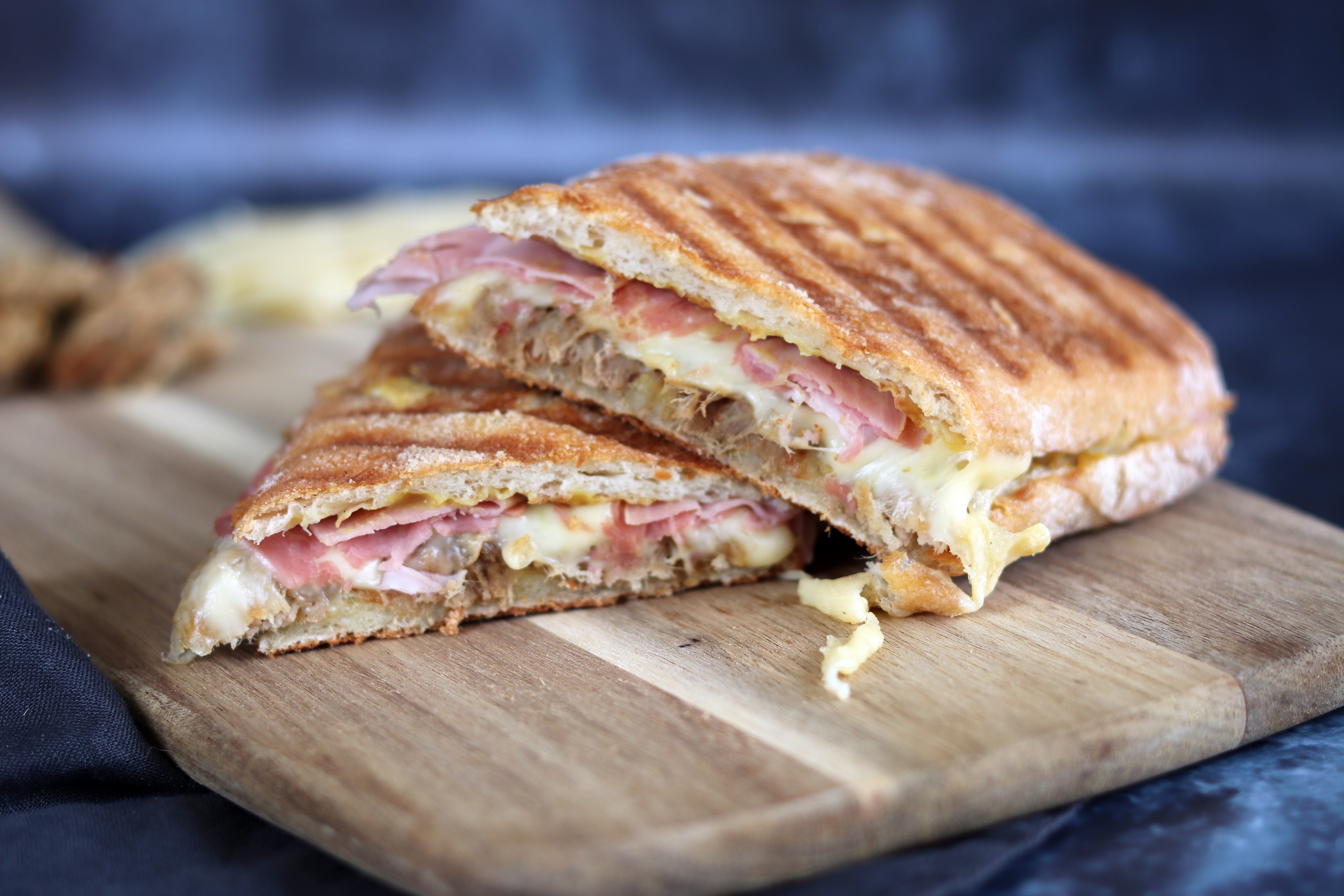 My take on an authentic Cuban Pork Sandwich
Cuban Sandwiches all have certain ingredients which makes them authentic. Most of them you will find in my recipe below. One ingredient I left out by choice, the other I had to substitute.
In a truly authentic Cuban Sandwich you will find gherkins or pickles. Personally, these really aren't for me so I left them out. If however you do like them, I would add a few to your sandwich before you toast it.
The other ingredient I couldn't find was authentic Cuban bread. Now this might not seem like a huge shock to you seeing as I don't think Cuban cuisine is very well known here in the UK. It is similar to a French baguette but softer.
I decided to use ciabatta as an alternative to the Cuban bread because it is readily available and has a soft crust.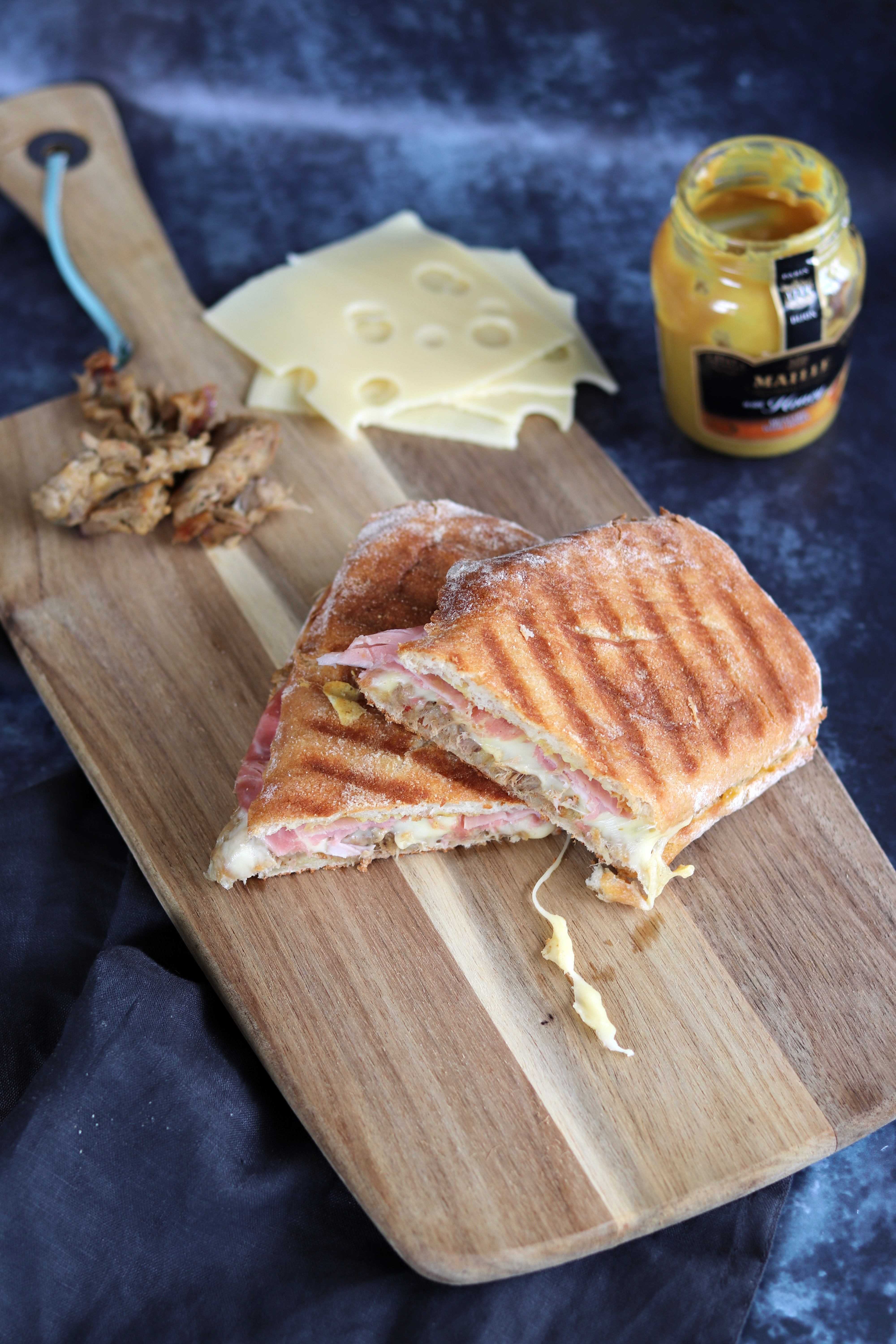 An easily adapted recipe
Although I have obviously included quantities of ingredients in the recipe, it is just a guide. If you like more mustard, cheese or ham then add more.
It is also hard to give exact quantities because slices of cheese and ham aren't always the same size. So use this recipe more as a guide than exact rules.
Half of one of the ciabattas would make a generous sized lunch. If you are feeling particularly hungry you could attempt to eat the whole thing.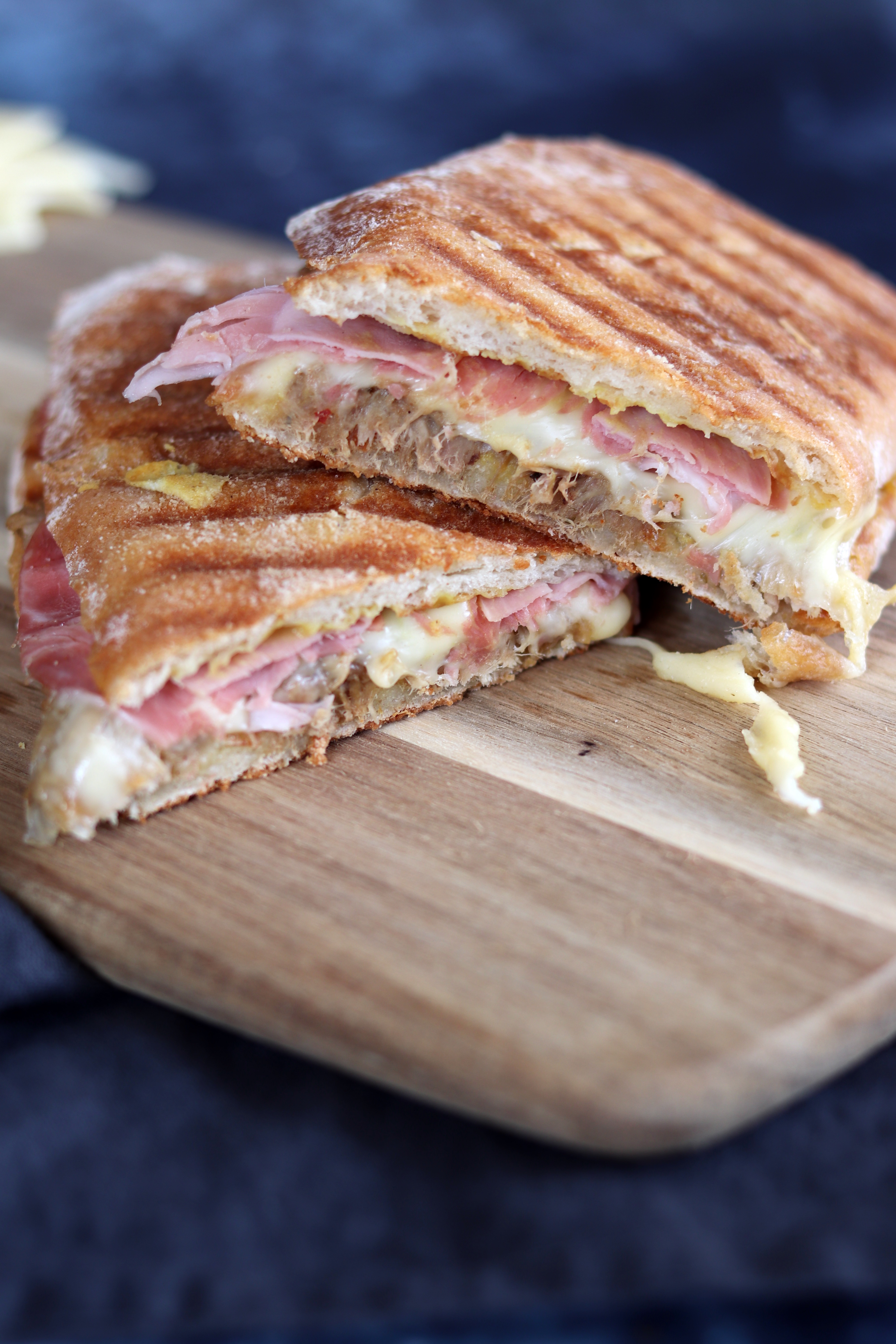 Other recipes you might like
Pin for later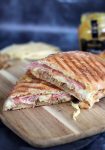 Cuban Pork Sandwich
My Cuban Pork Sandwich is a next level sandwich that is really simple to make. Decadent, delicious and definitely a recipe you should try.


Ingredients
300

g

Cuban Pork

2

large

ciabattas

8

slices

ham

4

slices

Emmental

4

tsp

Dijon Honey Mustard

spray oil
Instructions
In a small frying pan, gently heat the Cuban pork to reduce any liquid

Cut the ciabattas in half and spray with oil. Lightly toast on the inside on a griddle pan until you have golden brown lines

Spread the Dijon honey mustard on both sides of the toasted ciabatta

Spread the pork onto the bottom half of both of the ciabattas

Add the emmental on top of the pork

Lay the ham slices on top of the cheese and place the top on both ciabattas

Spray the bottom of the ciabattas and add them to the griddle pan over a medium heat. Place a heavy bottomed pan on top of the ciabatta to press it down. If you have a panini press or table top grill, spray both sides and cook for 4-5 minutes until the cheese is melted

After 3-4 minutes spray the top of the ciabatta and then carefully turn it over and press using the pan

Cook for a further 3-4 minutes until the cheese is gooey and melted. Cut in half an serve
Recipe Notes
Nutritional information is given as a guide only.
Nutrition Facts
Cuban Pork Sandwich
Amount Per Serving
Calories 660
Calories from Fat 171
% Daily Value*
Fat 19g29%
Cholesterol 60mg20%
Sodium 1846mg80%
Potassium 182mg5%
Carbohydrates 109g36%
Protein 39g78%
Vitamin A 232IU5%
Calcium 225mg23%
Iron 1mg6%
* Percent Daily Values are based on a 2000 calorie diet.