This small but perfectly formed Three Layer Lemon Cake is packed full of zesty lemon flavour and is a total showstopper whilst being the perfect size for a smaller celebration!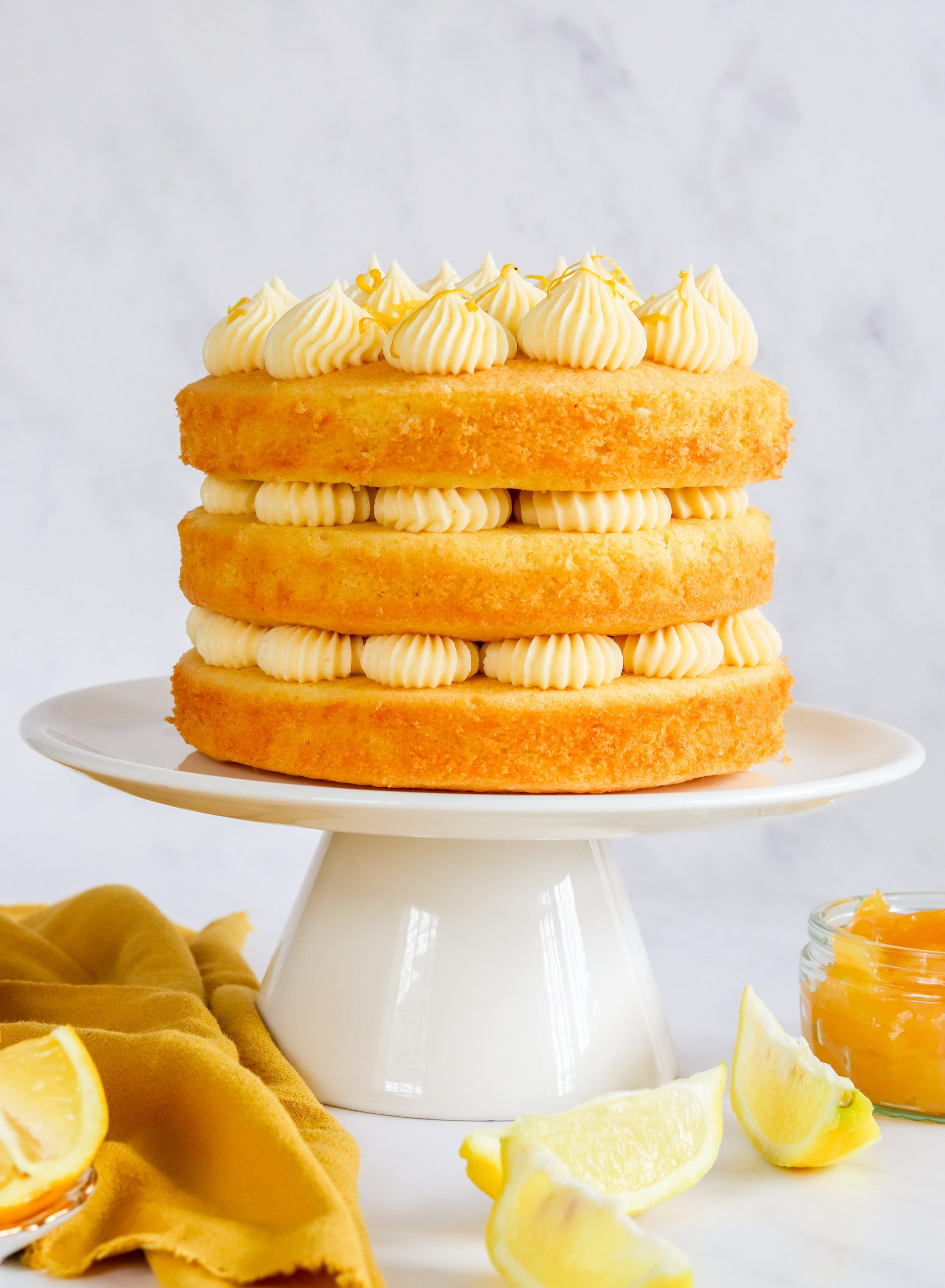 Three layer lemon cake is perfect for any celebration
This cake is a great cake because it is simple to make, looks great and is such a pretty little cake. Plus lemon is such a popular flavour that it is sure to be a hit!
The beauty of this cake is that it is easy enough to whip up if you and your family just fancy some delicious lemon cake. But it is also the perfect cake for smaller celebrations because you can make it look that little bit special.
The three layers of delicious lemon sponge are sandwiched with lemon curd buttercream which give this cake a real show stopping look.
Which occasion will you make this cake for first?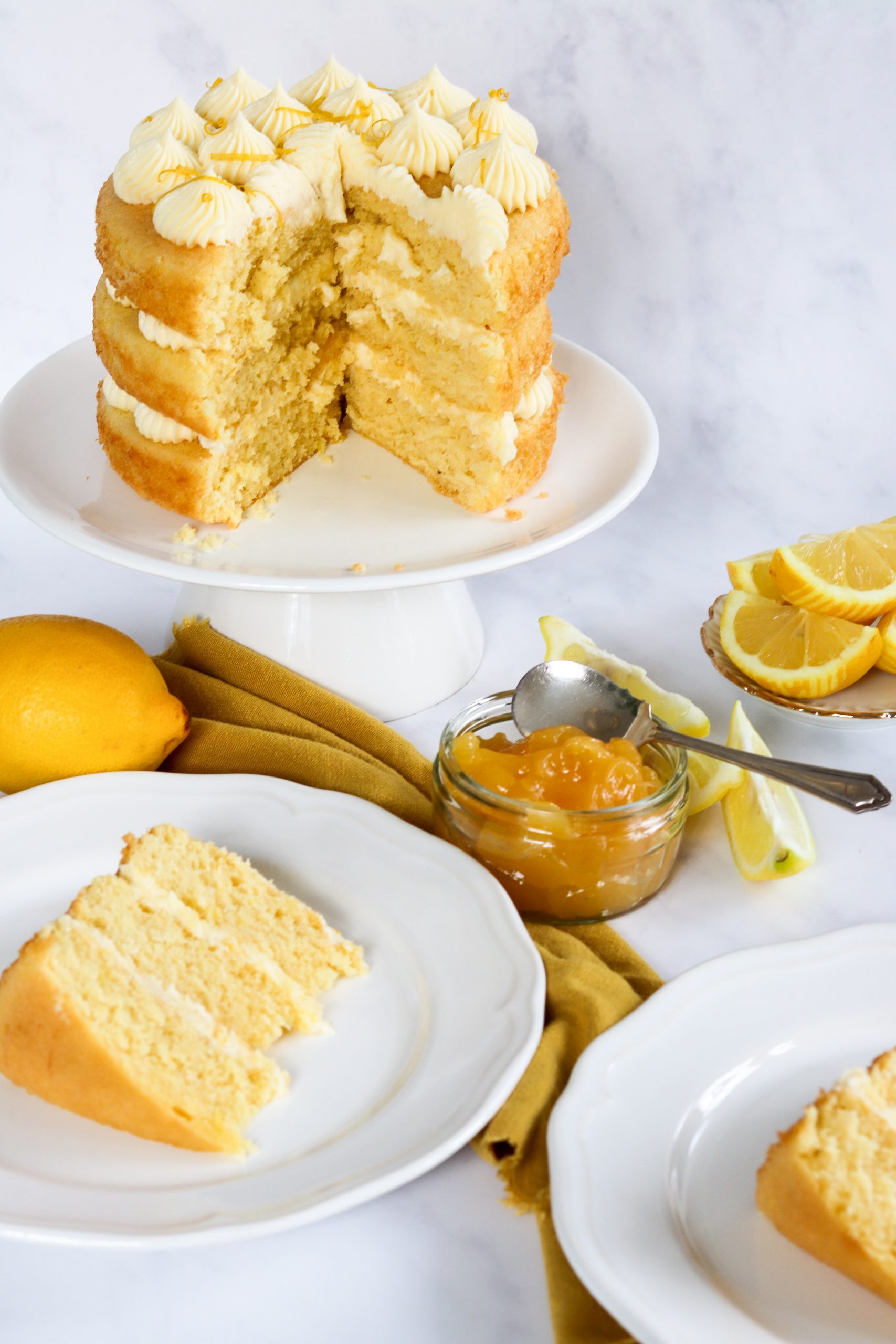 adding lots of lemon flavour
When you are making a lemon cake, it really needs to taste like lemon in my opinion. You want the bright and zesty flavour to shine through.
In the sponge cakes I have used the zest of two lemons. If you have particularly small or large lemons you will need to adjust this. You're looking for around 1½ tablespoons of lemon zest.
The buttercream then further enforces the lemon flavour. I use lemon curd and lemon juice to make sure every element of this cake is packed with lemon flavour.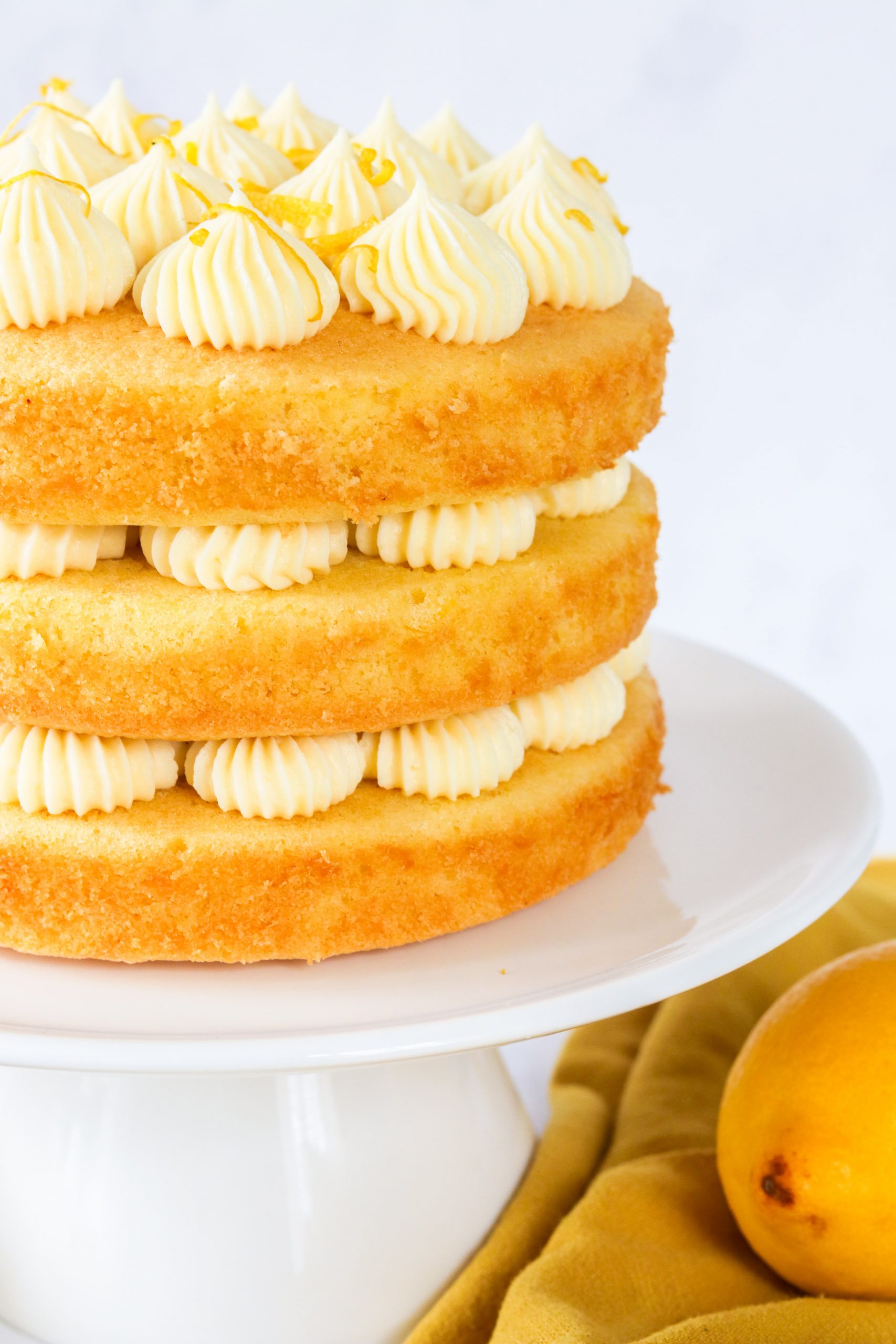 which lemon curd is best to use?
I tend to use shop bought lemon curd for this Three Layer Lemon Cake because it is very convenient. I would recommend trying to buy a good quality lemon curd if possible as it will make a difference to the cake.
You can of course make your own Lemon Curd which would be really delicious in this cake. I am always tempted to make my own and one day I will!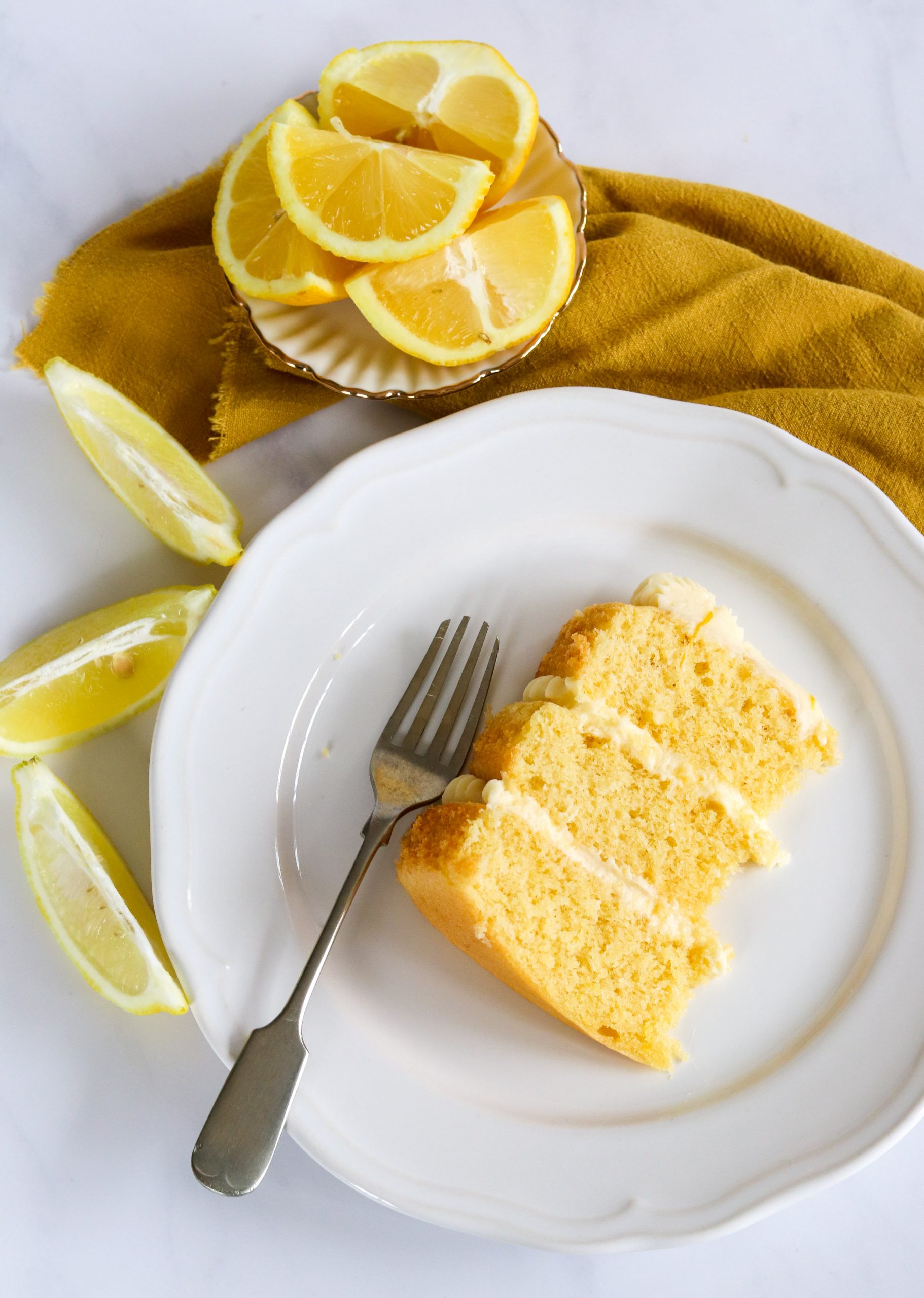 why use six inch tins?
I really love to use six inch tins. I think three layers of six inch cakes looks a lot more dramatic than two layers of eight inch cakes.
Obviously you could bake three layers of eight inch cakes, but this makes the cake quite a bit larger.
The actual quantity of cake batter is the same whether you add it to two eight inch tins or three six inch tins.
By using the three layers of six inch cake, I think you are keeping the number of people the cake will serve down whilst also not compromising on the look of the cake.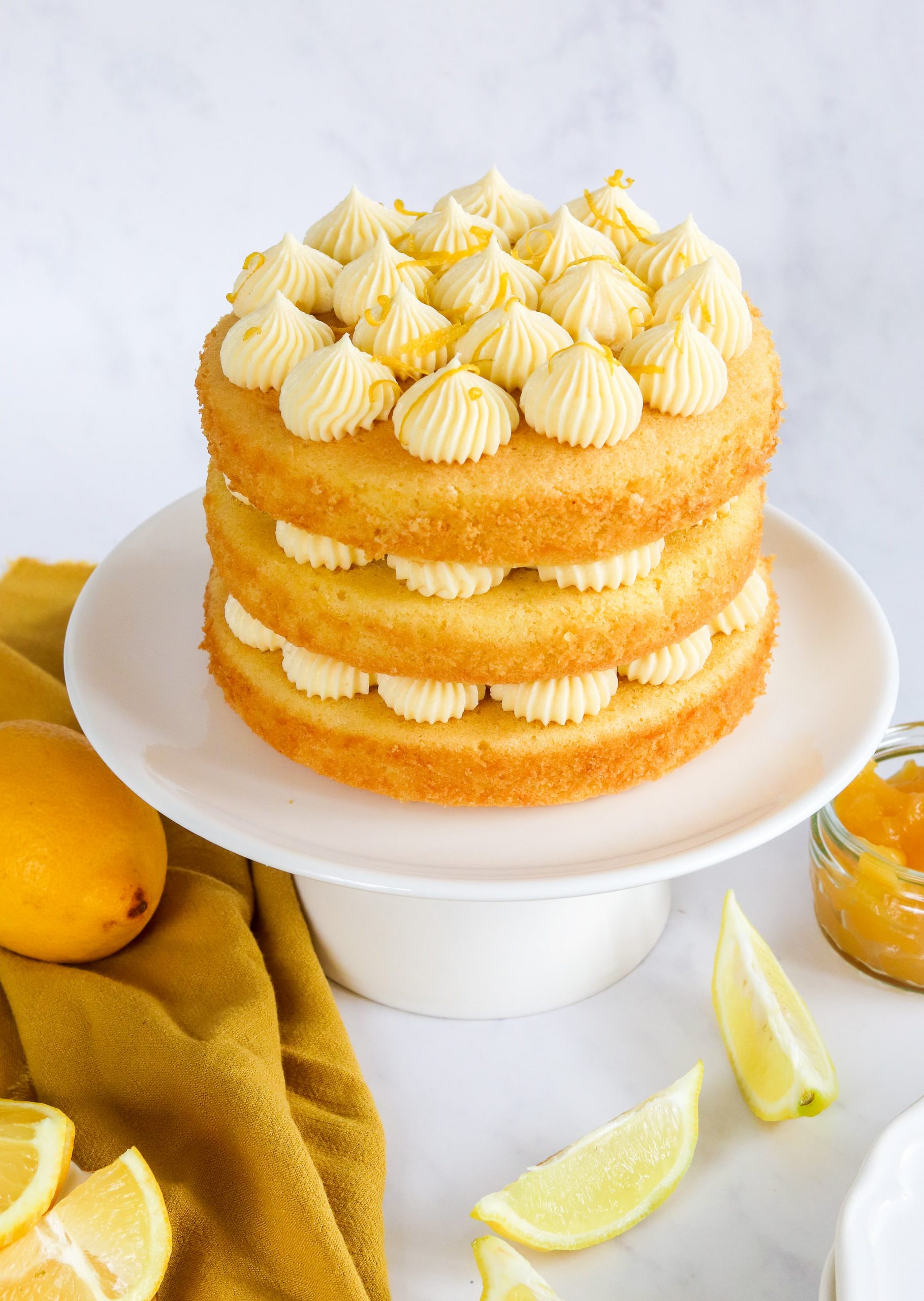 can other sized tins be used?
As I mentioned before, the same quantity of cake batter can be used to make three six inch cakes or two eight inch cakes.
This makes it very easy to swap and use eight inch cake tins if this is what you have, or what you would prefer.
If you do want to use eight inch tins, they will take slightly longer to bake. I would check them at around 18 minutes but they will probably take around 20 minutes.
Keep an eye on them as you should do when baking any cakes. You'll know they are baked when a cocktail stick comes out clean.
I do think six inch cake tins are very useful to have so if you are a fan of baking cakes I would recommend investing in some loose bottomed tins.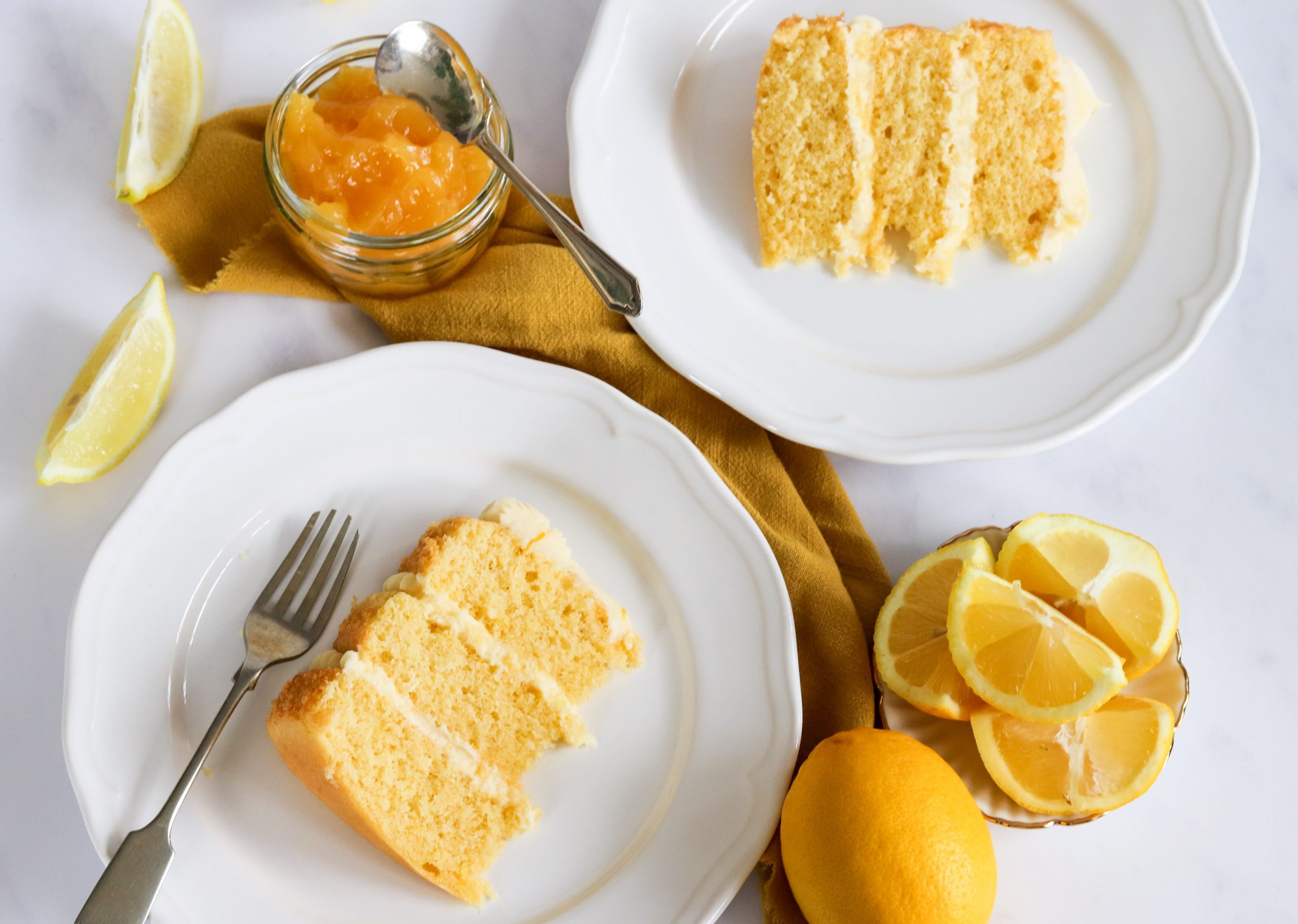 margarine or butter?
When I am baking cakes that require the fat and sugar to be creamed, I tend to use margarine.
This is because you can use it straight from the fridge and don't have to wait for it to come up to room temperature like you do with butter.
I have been using margarine in my cakes for years now and I have never had any complaints about their texture or flavour. You can absolutely use butter if you prefer but make sure it is unsalted butter.
When it comes to buttercream, you have to use unsalted butter. Margarine would not work in this instance.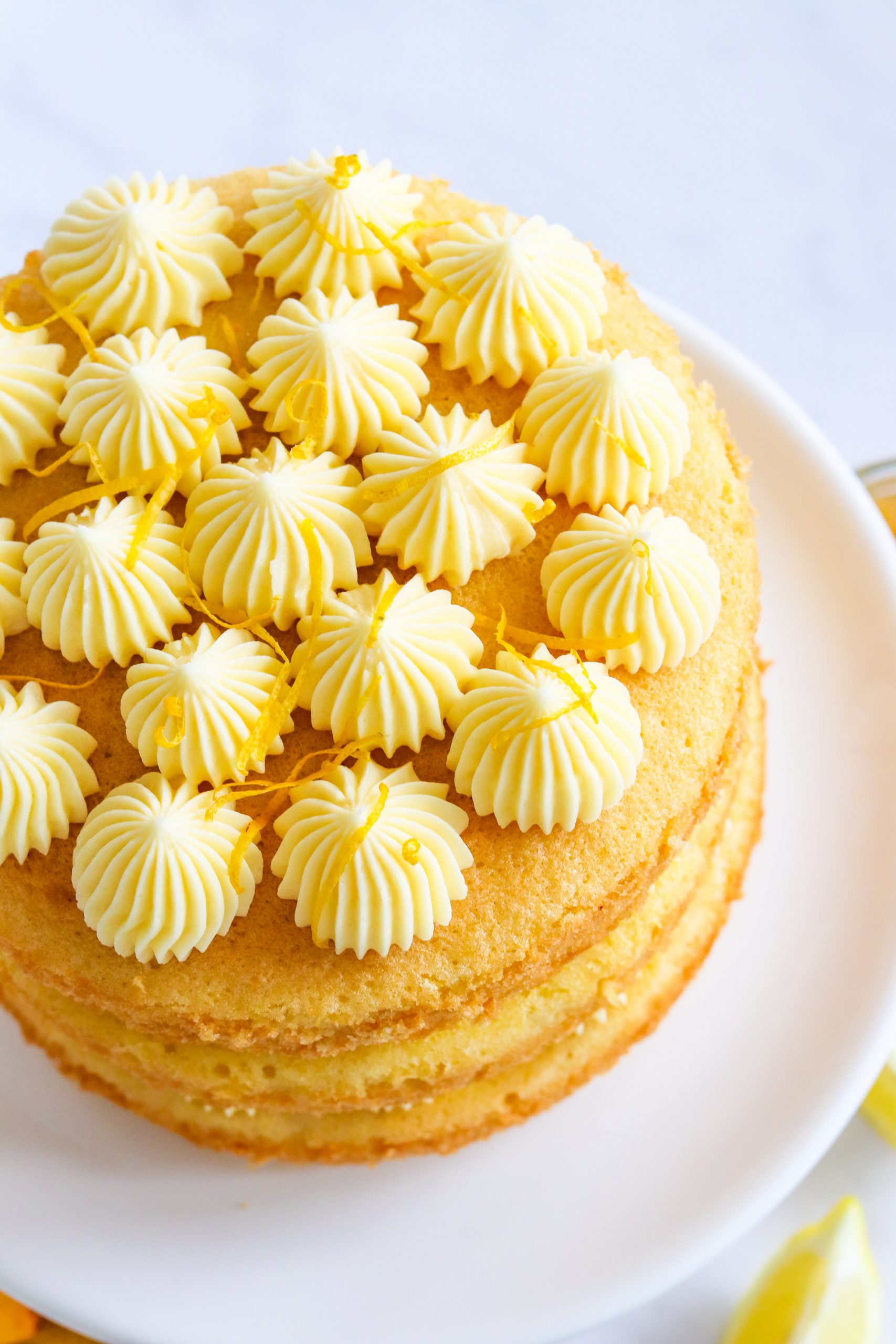 How to decorate this cake
You can decorate this cake however you like.
Baking the cakes at a lower temperature will hopefully mean the cakes bake level. However if you do get a domed top to your sponges, I would recommend levelling them so they stack nicely.
You can do this with a serrated knife or a cake wire. However this isn't compulsory and you can leave them as they are if you prefer.
I chose to use a 4B piping nozzle to pipe the buttercream between the layers of cake. I really liked the effect it gave to the buttercream and the finished cake. You can use whichever piping nozzle you like.
You also don't need to pipe the buttercream at all. You can spoon the buttercream on and spread it out. This is perfect if you aren't very confident when it comes to piping.
I like to scatter some lemon zest on the top because then people can tell instantly that the cake is lemon. You can of course decorate the cake however you like.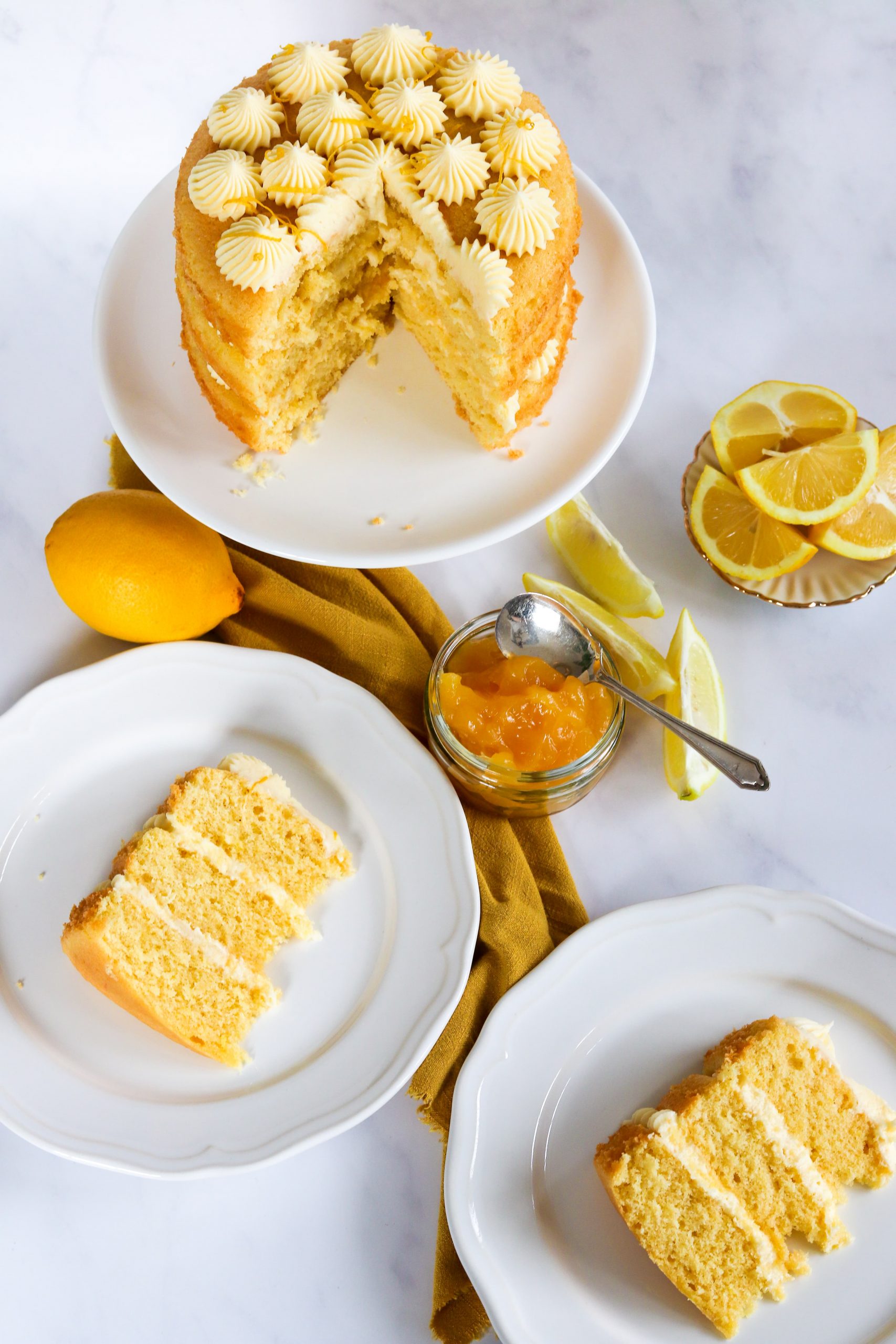 Can the cake be covered completely in buttercream?
Absolutely! If you would prefer to completely cover the cake in buttercream it will take a little bit longer and is slightly more difficult, but it is definitely an option. You can decorate it like my Small Chocolate Layer Cake.
You will need to use an additional 70g unsalted butter, 140g icing sugar, 35g lemon curd and 1 tbsp lemon curd. You should assemble the cake as per the instructions below but without decorating the top layer.
You will then need to crumb coat the cake. This is applying a thin layer of the buttercream all over the cake to lock in the crumbs. This helps ensure there are no crumbs in the final layer of buttercream.
Put the cake in the fridge for 20-30 minutes to firm up before adding the final layer of buttercream. You will have enough buttercream to pipe some decorations on the top of the cake if you want.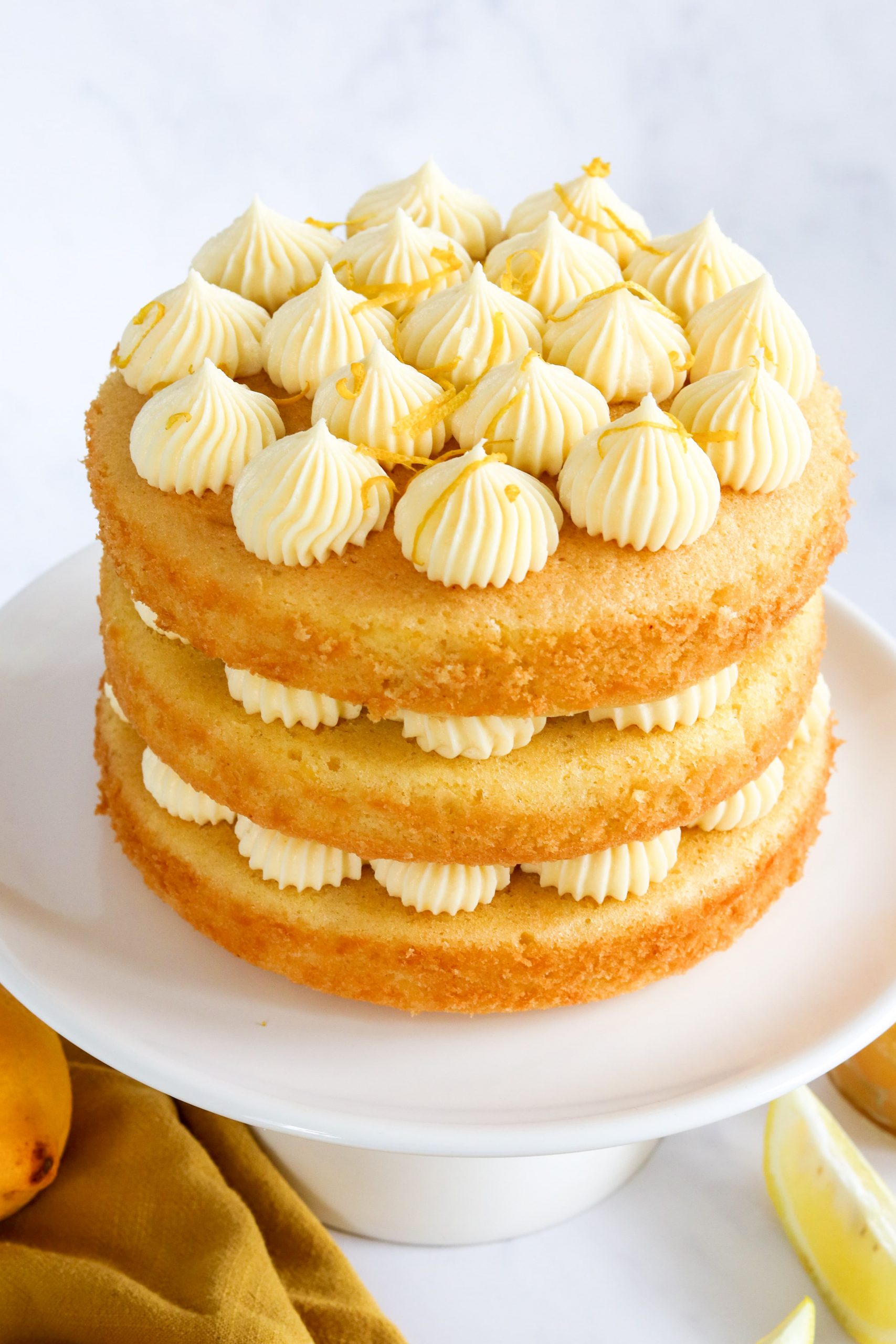 how long will this three layer lemon cake keep for?
This cake will keep in an airtight container for 2-3 days. You don't have to keep it in the fridge. The cake will start to become a little dry after 3 days.
If you wanted to make this cake in advance you could bake the sponges and freeze them. Wrap the sponges really well and freeze them for up to three months. Defrost thoroughly before decorating.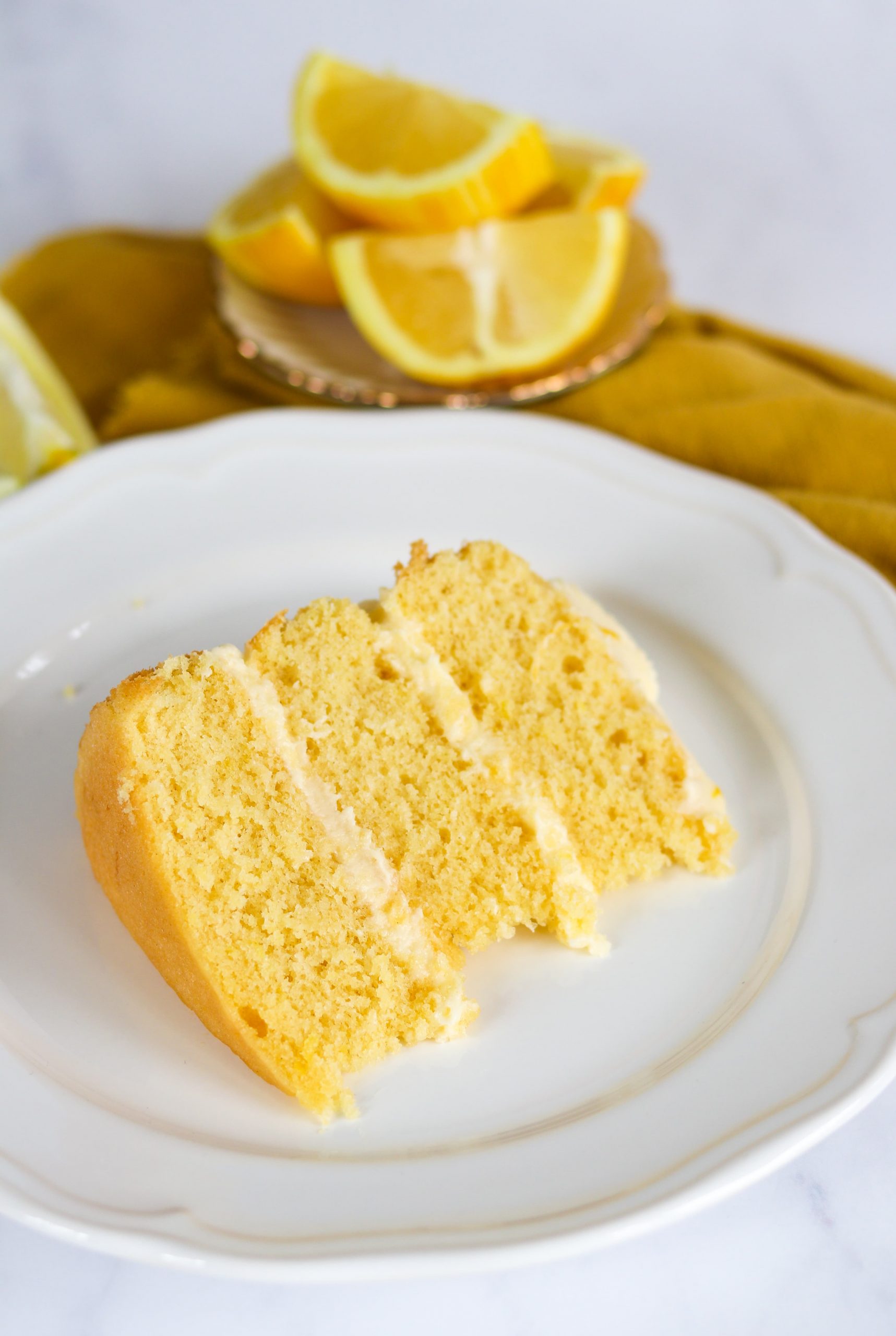 how many people will this cake serve?
That very much depends on how much cake you like to eat!
I think this Three Layer Lemon Cake will serve 8-10 people easily. This makes it the perfect sized cake for smaller celebrations when you don't want lots of cake to be leftover.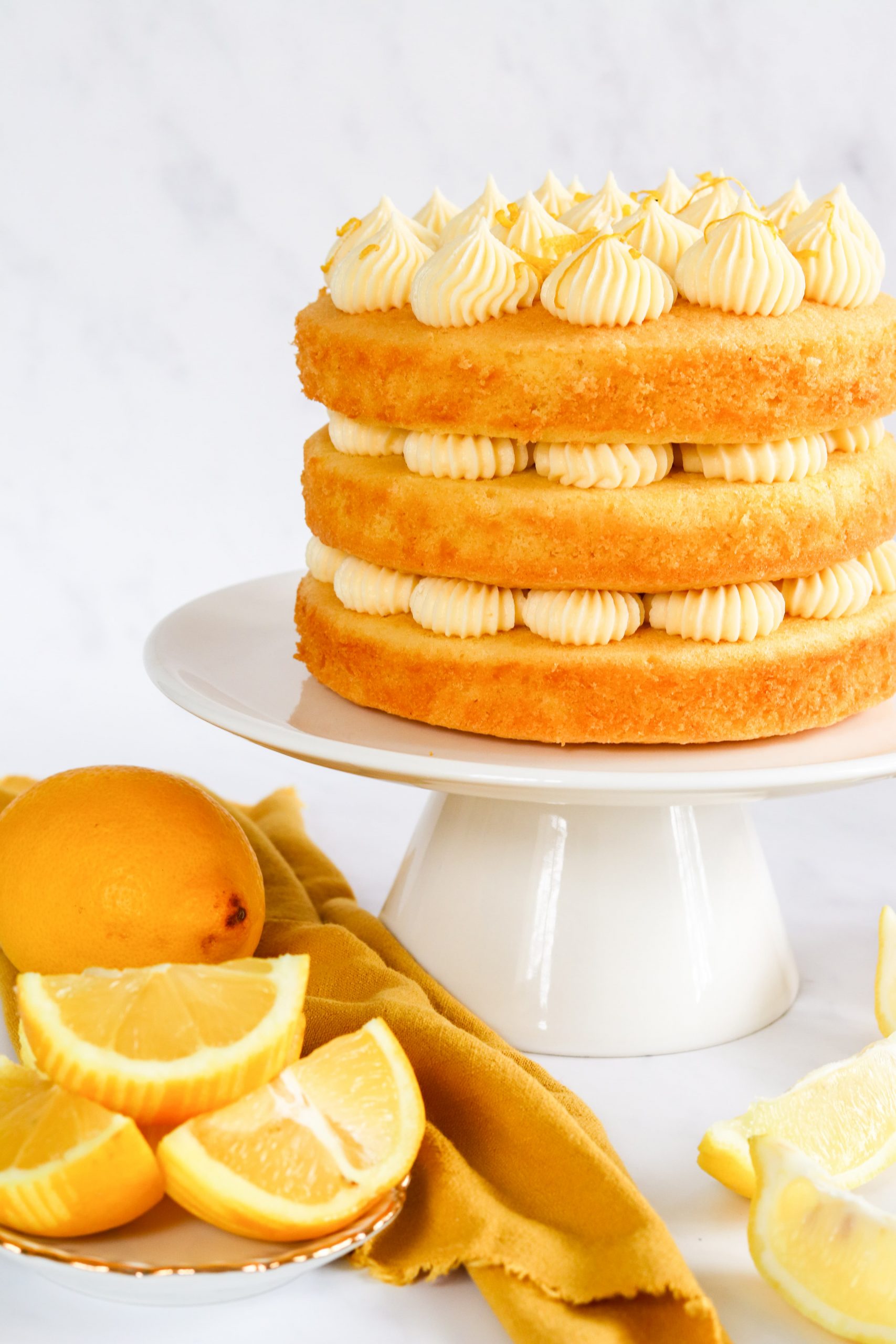 other recipes you might like
Pin for later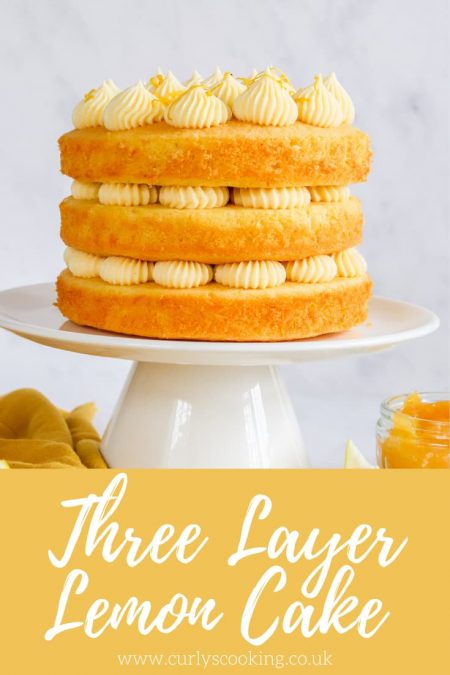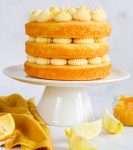 Three Layer Lemon Cake
This small but perfectly formed Three Layer Lemon Cake is packed full of zesty lemon flavour and is a total showstopper whilst being the perfect size for a smaller celebration!
Decorating time
15
minutes
Ingredients
For the cake
175

g

margarine

175

g

caster sugar

3

eggs

2

lemons

zested

175

g

self raising flour
For the buttercream
140

g

unsalted butter

softened

280

g

icing sugar

70

g

lemon curd

1-2

tbsp

lemon juice

½

lemon

zested
Instructions
Preheat the oven to 160°C (fan assisted, 180°C non fan) and line three 6 inch cake tins

Add 175g margarine and 175g caster sugar to a bowl and mix for up to five minutes until pale and fluffy

Add 3 eggs and the zest of 2 lemons and mix briefly

Add 175g self raising flour and mix until just combined

Divide the cake batter equally between the three prepared tins

Bake for 15 minutes or until a cocktail stick comes out clean. Leave to cool in the tins for around 30 minutes before leaving to cool completely on a wire rack

Once the cakes are completely cooled, make the buttercream. Beat 140g unsalted butter until smooth

Add 280g icing sugar and 70g lemon curd and beat until combined

Finish by adding 1-2 tbsp lemon juice a teaspoon at a time until you get a pipeable consistency

Lay the first cake upside down on your serving plate. Pipe the buttercream however you like. Repeat with the next two layers of cake

Sprinkle the finished cake with the zest of ½ lemon
Recipe Notes
If you want to cover the whole cake in buttercream use an additional 70g unsalted butter, 140g icing sugar, 35g lemon curd and 1 tbsp lemon curd. I would recommend crumb coating the cake first.
Keep the cake in an airtight container for 2-3 days.
Nutritional information is given as a guide only and may vary.
Nutrition Facts
Three Layer Lemon Cake
Amount Per Serving
Calories 517
Calories from Fat 252
% Daily Value*
Fat 28g43%
Cholesterol 79mg26%
Sodium 208mg9%
Potassium 86mg2%
Carbohydrates 65g22%
Protein 5g10%
Vitamin A 1053IU21%
Vitamin C 15mg18%
Calcium 26mg3%
Iron 1mg6%
* Percent Daily Values are based on a 2000 calorie diet.