Buttery shortbread topped with peanut studded Caramel covered with peanut butter and chocolate. If that hasn't persuaded you to make these Individual Peanut Millionaire's Shortbread then I don't know what will!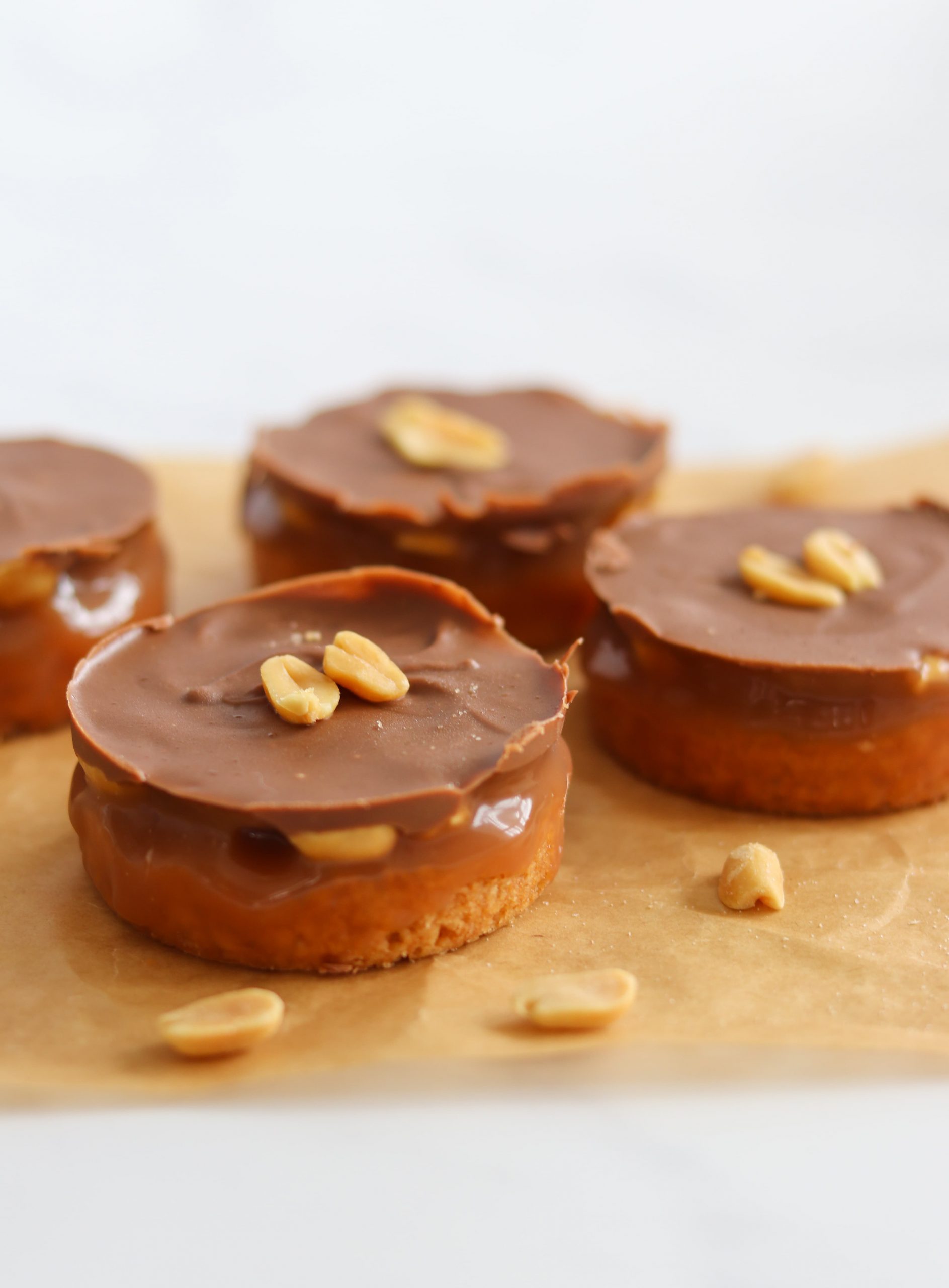 what is millionaire's shortbread
If you haven't heard of millionaire's shortbread before, you might have seen it!
It is a three layered tray bake. The first layer is shortbread followed by a layer of caramel. Finally there is a layer of chocolate. This is then cut into individual portions.
I love millionaire's shortbread, but that doesn't mean you can't play around with the flavours and how they look!
Why make individual peanut millionaire's shortbread?
I wanted to make individual portions because I think they look even and precise. I find when I make Millionaire's Shortbread in one large tray that when you cut it, no matter how careful you are, the chocolate always seems to crack in one place or other.
This means you don't get the perfect neat edges. This is why I wanted to make individual portions because there is no cutting or messy edges involved.
Plus I think people feel a bit more special if they have a mini dessert that is all theirs!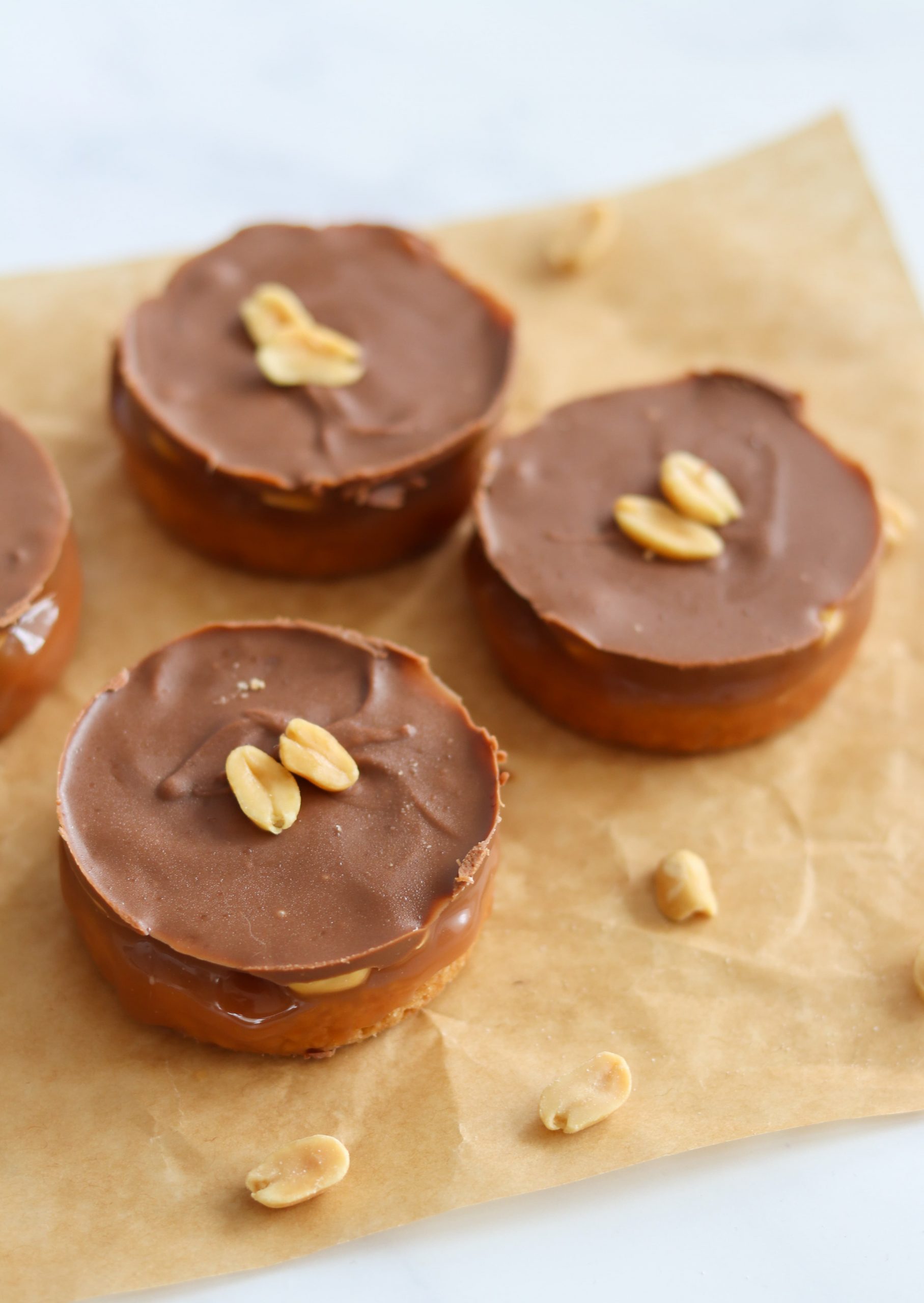 Which tin is best to use?
I used a 12 hole loose based sandwich tin which does make quite generous portions, but sometimes that is the only sized portion you need!
If you don't have this type of tin, you could use a standard muffin tin. I would recommend either greasing this really well or using muffin cases. The caramel can be quite sticky so you don't want to scratch your tin trying to get them out!
You could use a standard square tin for these instead, but I haven't tested it myself! Let me know if you do try this.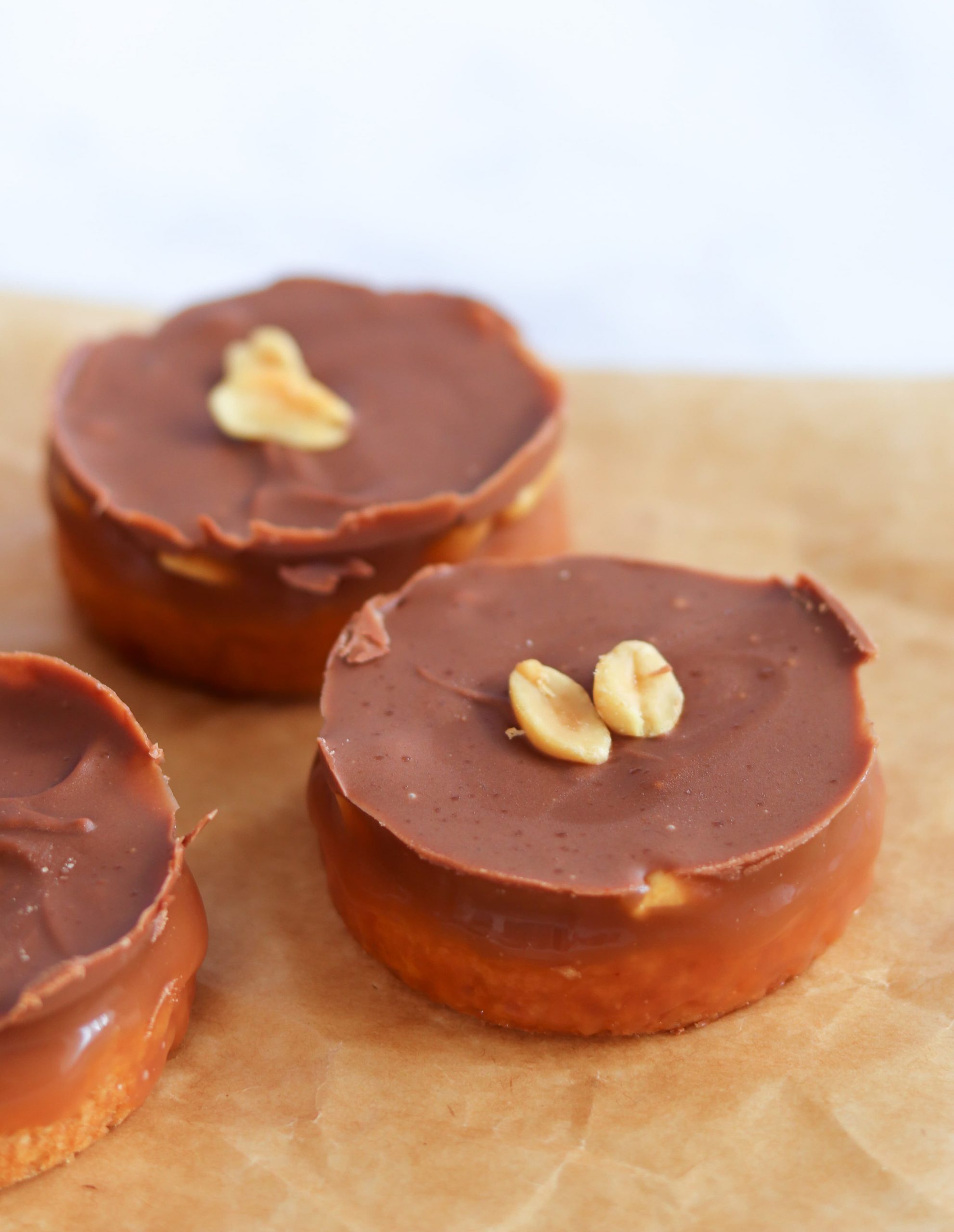 Which caramel is recommended to use?
Well obviously I would recommend for everyone to make my Caramel Sauce! It is a little bit of effort but well worth it in my opinion.
I say it is a little bit of effort, but that is just because you have to keep your eye on it. The second you take your eye off it, it is likely to burn. If you watch it, you'll have a delicious caramel sauce.
If you don't want to make your own, you can of course use a jar of caramel. I wouldn't use a tin of caramel like Carnations because this will be too thin and won't set.
You need a really thick caramel sauce that will hold its shape in the final dessert.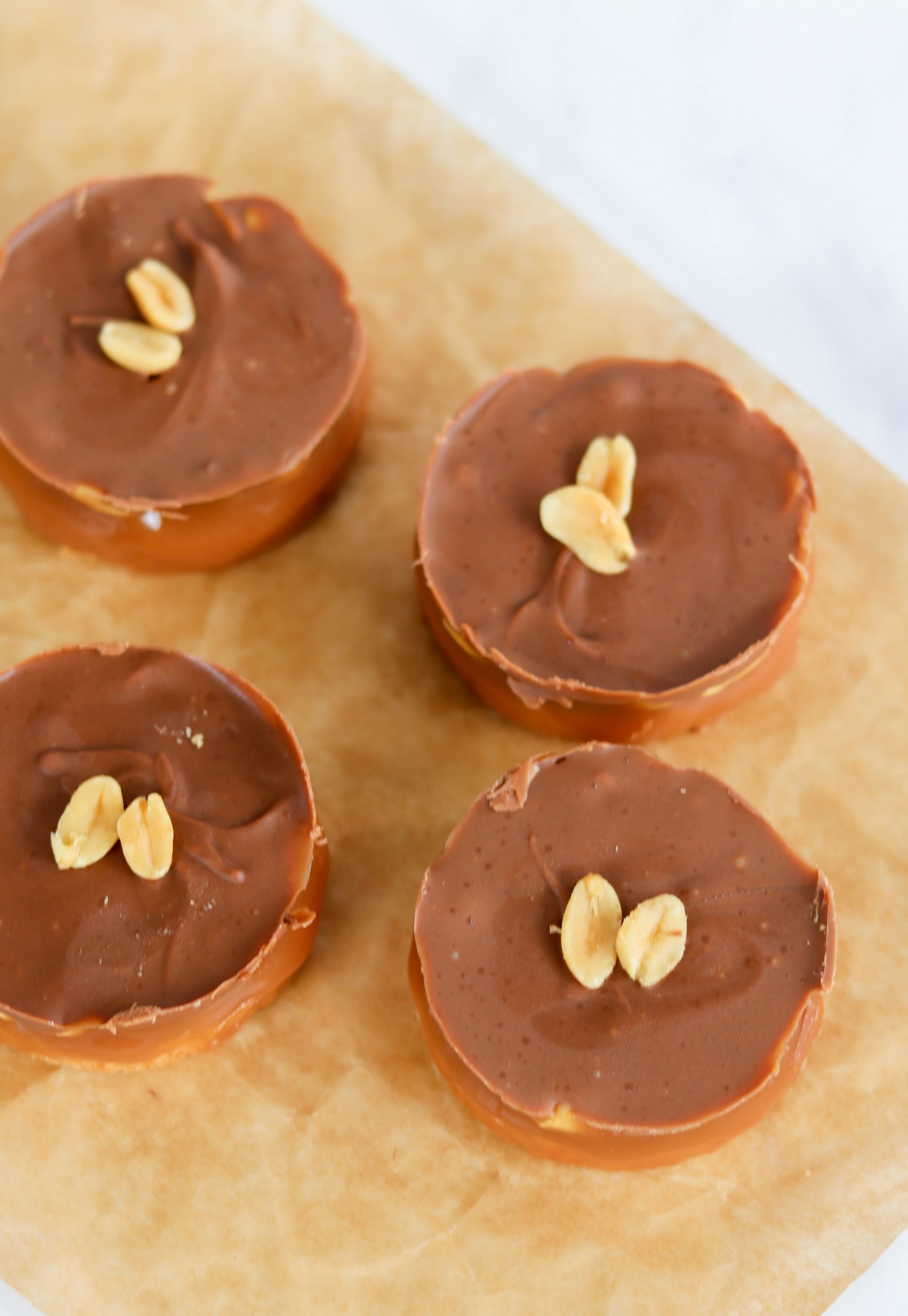 which peanuts should be used?
For the whole peanuts, there are two options. You can use plain peanuts or salted peanuts.
Salted peanuts are definitely the easiest and cheapest option which is why I have included them in the recipe. I'm pretty sure every supermarket will stock salted peanuts.
Plain peanuts aren't as easily available but you should be able to find them in most large supermarkets.
If you decide to use the plain peanuts, I would add a small pinch of salt when you add the peanuts on top of the caramel. This gives a salted caramel type flavour.
For the peanut butter, I would recommend using smooth. This melts really nicely with the chocolate and give a smooth, silky finish. You could use chunky peanut butter if you want but the finish won't be as a smooth.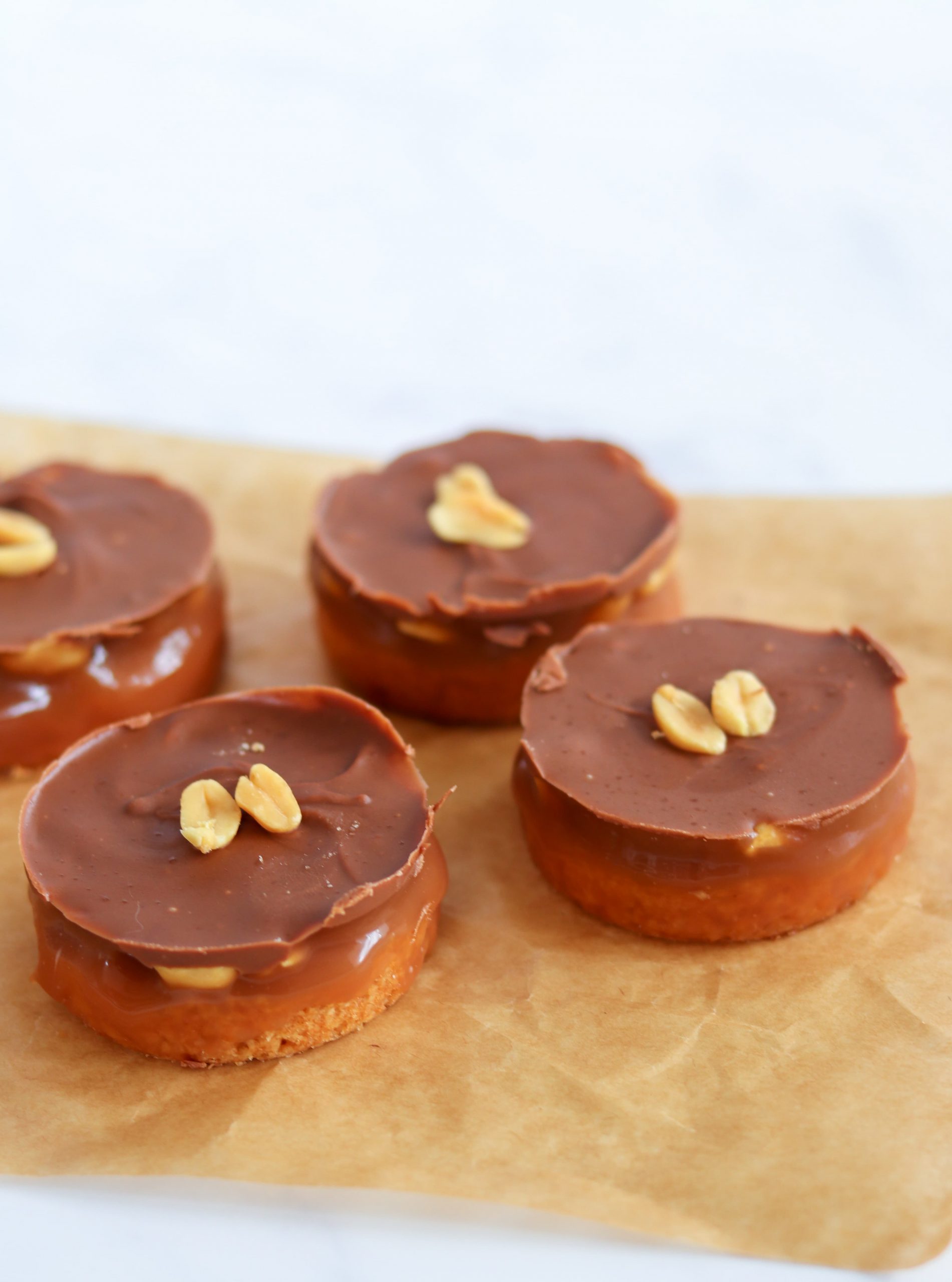 Butter or margarine?
When you're making the shortbread, it is best to use unsalted butter. This gives the shortbread a lovely rich, buttery taste.
I always use unsalted butter in baking but it is especially needed for this recipe. Because you are adding extra salt, you don't want there to be sale in the butter too as it could be too much.
You can use baking spread if you prefer or this is all you have. But for the extra richness I would recommend using unsalted butter if you can.
which chocolate is used?
I like to use milk chocolate for these Individual Peanut Millionaire's Shortbread. Peanut and milk chocolate is one of my all time favourite flavour combinations!
If you wanted to, you could use dark chocolate. I think this would work just as well. I wouldn't use white chocolate however as I don't know how well this would go with the salt.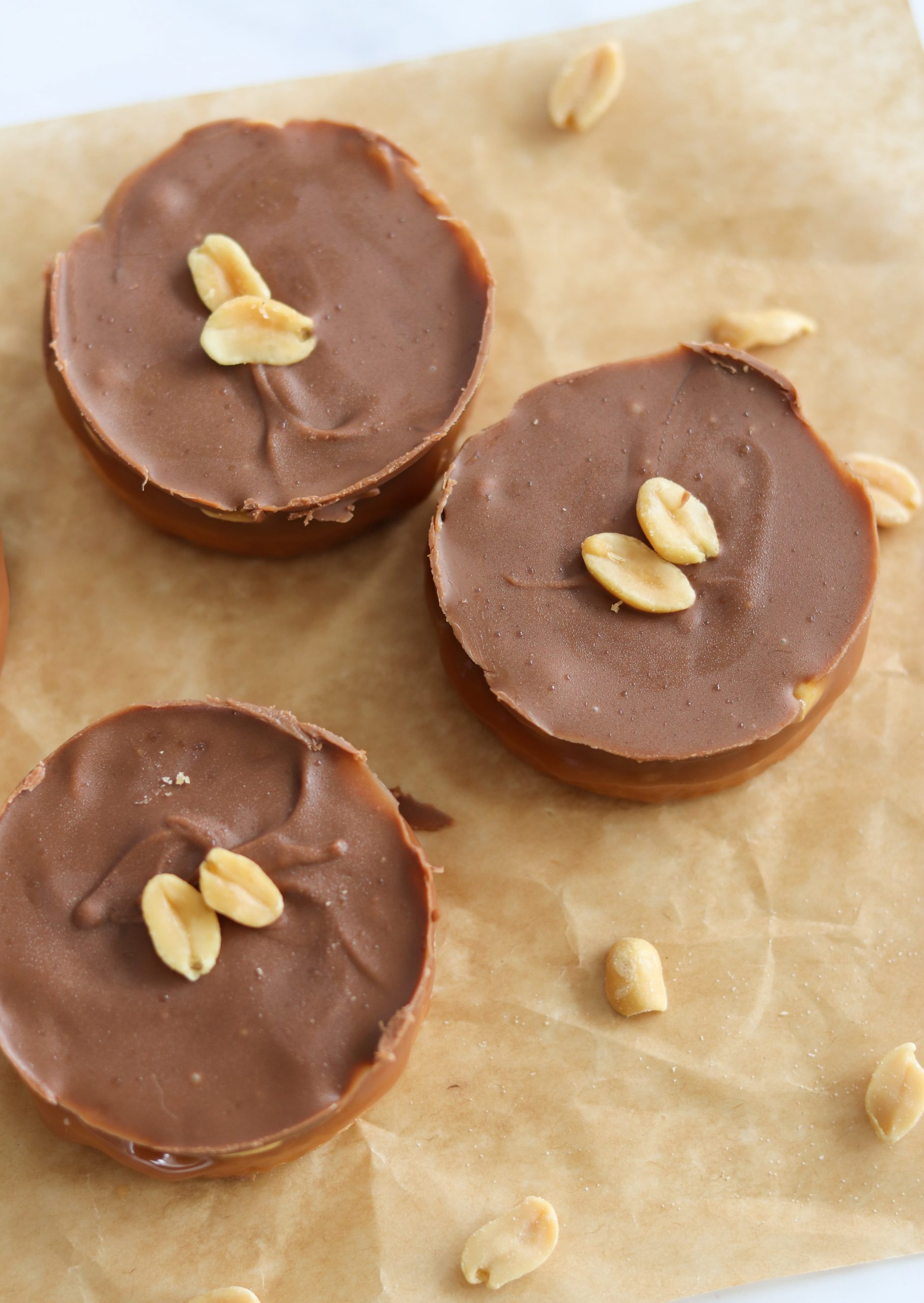 Dont worry if they aren't perfect
As you can see – mine aren't!
Don't stress too much about spending hours to get them perfect. The chocolate might not be perfectly smooth of flat. These things definitely don't affect how delicious they are.
Can these be made vegan or gluten free?
To make these vegan you just need to make a few swaps. Instead of the unsalted butter in the shortbread, use dairy free margarine instead.
For the caramel sauce, you can buy dairy free caramel sauce or you could make your own Vegan Carmel Sauce.
Then for the chocolate layer, use dark chocolate instead of milk chocolate.
To make these gluten free, you would need to use gluten free flour in the shortbread. Gluten free bakes can sometimes be a little more crumbly.
I haven't tried making these gluten free myself, but as they are individual and don't need cutting, they should hold together a bit better than traditional millionaire's shortbread. Please let me know if you make these gluten free!
If you are using salted peanuts, it is worth checking the packaging as these sometimes I have a 'may contain gluten' warning. Also make sure the chocolate you use is gluten free.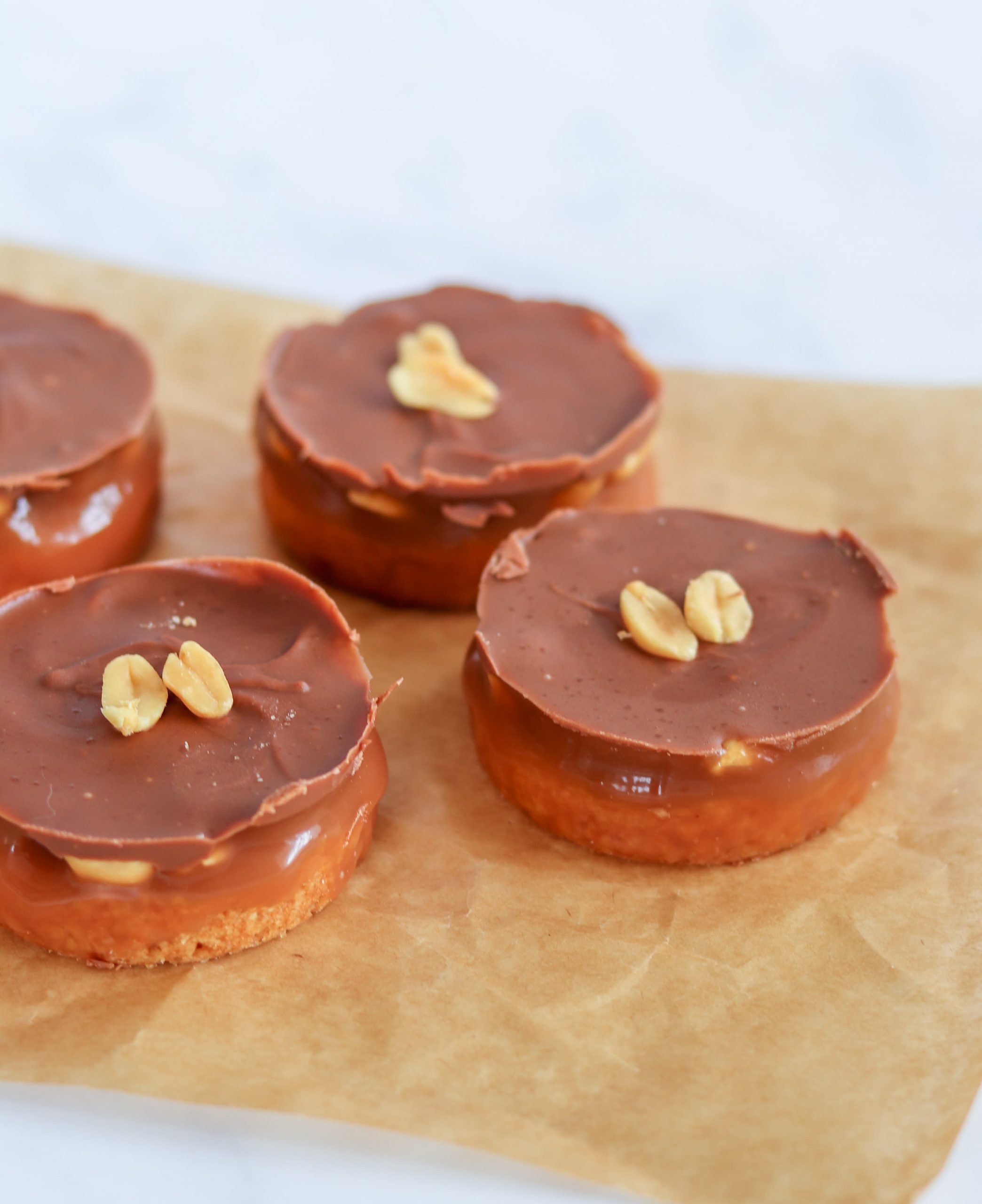 How long will they keep for?
These Peanut Millionaire's Shortbread will keep for at least three days in an airtight container.
If it is a particularly hot day, or like Mr Curly like your chocolate cold; I would recommend keeping them in the refrigerator.
other recipes you might like
Pin for later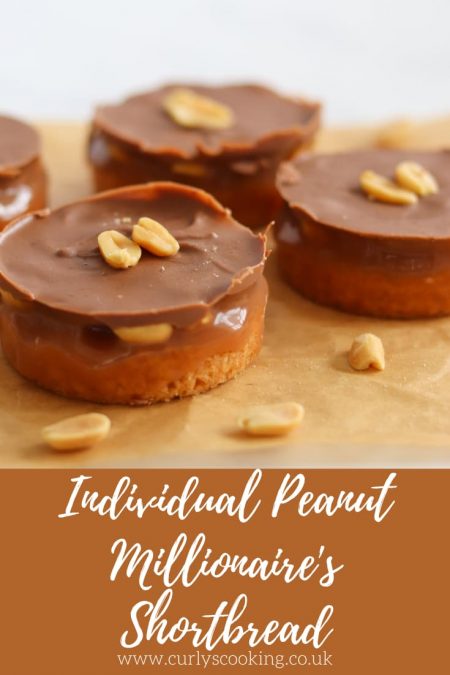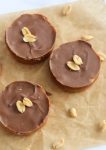 Individual Peanut Millionaire's Shortbread
Buttery shortbread topped with peanut studded Caramel covered with peanut butter and chocolate. If that hasn't persuaded you to make these Individual Peanut Millionaire's Shortbread then I don't know what will!
Cooling time
2
hours
10
minutes
Ingredients
For the shortbread
115

g

plain flour

90

g

unsalted butter

40

g

caster sugar

Spray oil
For the Caramel layer
200

g

caramel sauce

25

g

salted peanuts
For topping
150

g

milk chocolate

50

g

smooth peanut butter

1

tbsp

salted peanuts
Instructions
Preheat the oven to 150ºC (fan assisted, 170ºC non fan). Spray a mini loose bottomed sandwich tin with oil

Put the flour and butter in a bowl and rub together with your fingertips until you have a fine breadcrumb texture add the caster sugar and mix again

Divide the mixture between 9 of the holes and press down to make a flat surface using the back of a teaspoon

Bake the shortbread for 30 mins, it should be a very light colour. Set aside to cool slightly

Divide the caramel between each shortbread

Add a few peanuts to on top of each caramel layer and sprinkle with a few flakes of sea salt if you're not using salted peanuts

Melt the chocolate and peanut butter together for short blasts in the microwave, giving it a stir between each blast

When the chocolate and peanut butter are melted, stir to completely combine and then spoon over each dessert. Once you have added the chocolate, using a spoon smooth out the chocolate. Sprinkle with a few extra peanuts

Allow to cool completely in the fridge for at least 2 hours
Recipe Notes
Store in an airtight container for up to three days. If the weather is hot, store them in the refrigerator.
Nutritional information is given as a guide only and may vary.
Nutrition Facts
Individual Peanut Millionaire's Shortbread
Amount Per Serving
Calories 321
Calories from Fat 153
% Daily Value*
Fat 17g26%
Cholesterol 22mg7%
Sodium 112mg5%
Potassium 136mg4%
Carbohydrates 41g14%
Protein 4g8%
Vitamin A 270IU5%
Calcium 24mg2%
Iron 1mg6%
* Percent Daily Values are based on a 2000 calorie diet.