Crisp skin-on fries with a slight spice covered in delicious melted cheese and bacon. These Cheese & Bacon Loaded Fries are a real indulgent treat to be enjoyed responsibly!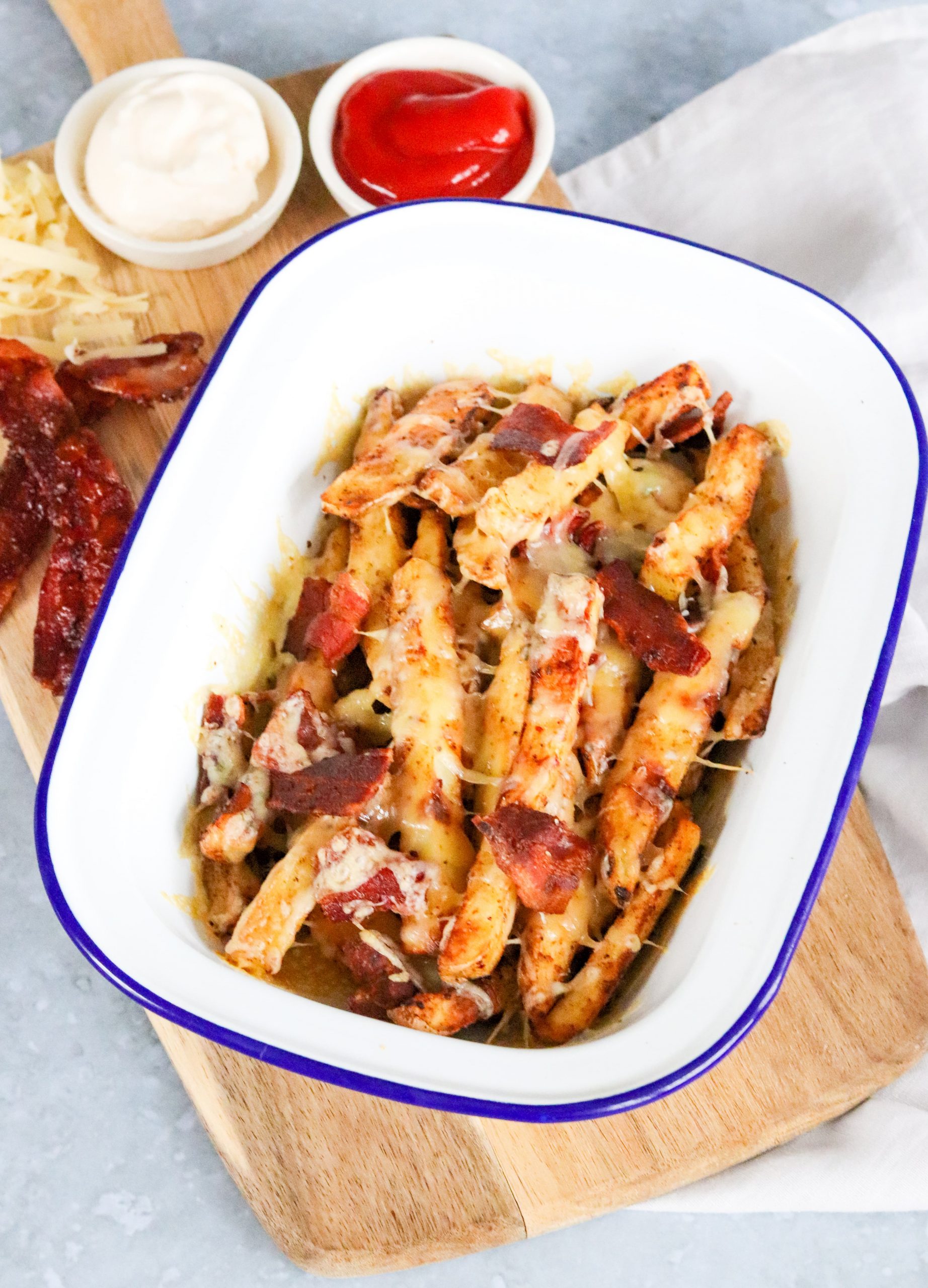 What are loaded fries?
Loaded fries are a delicious and indulgent treat. They have become a lot more popular in recent years. When I was growing up the only loaded fries I was aware of were cheesy chips!
Since then, loaded fries have become a lot more extravagant; mostly due to the influence of American style food. You see them topped with all sorts of things like chilli and steak but all of them have cheese.
I kept my Cheese & Bacon Loaded fries relatively simple with the toppings. Instead I added more flavour to the actual fries with chilli powder and garlic.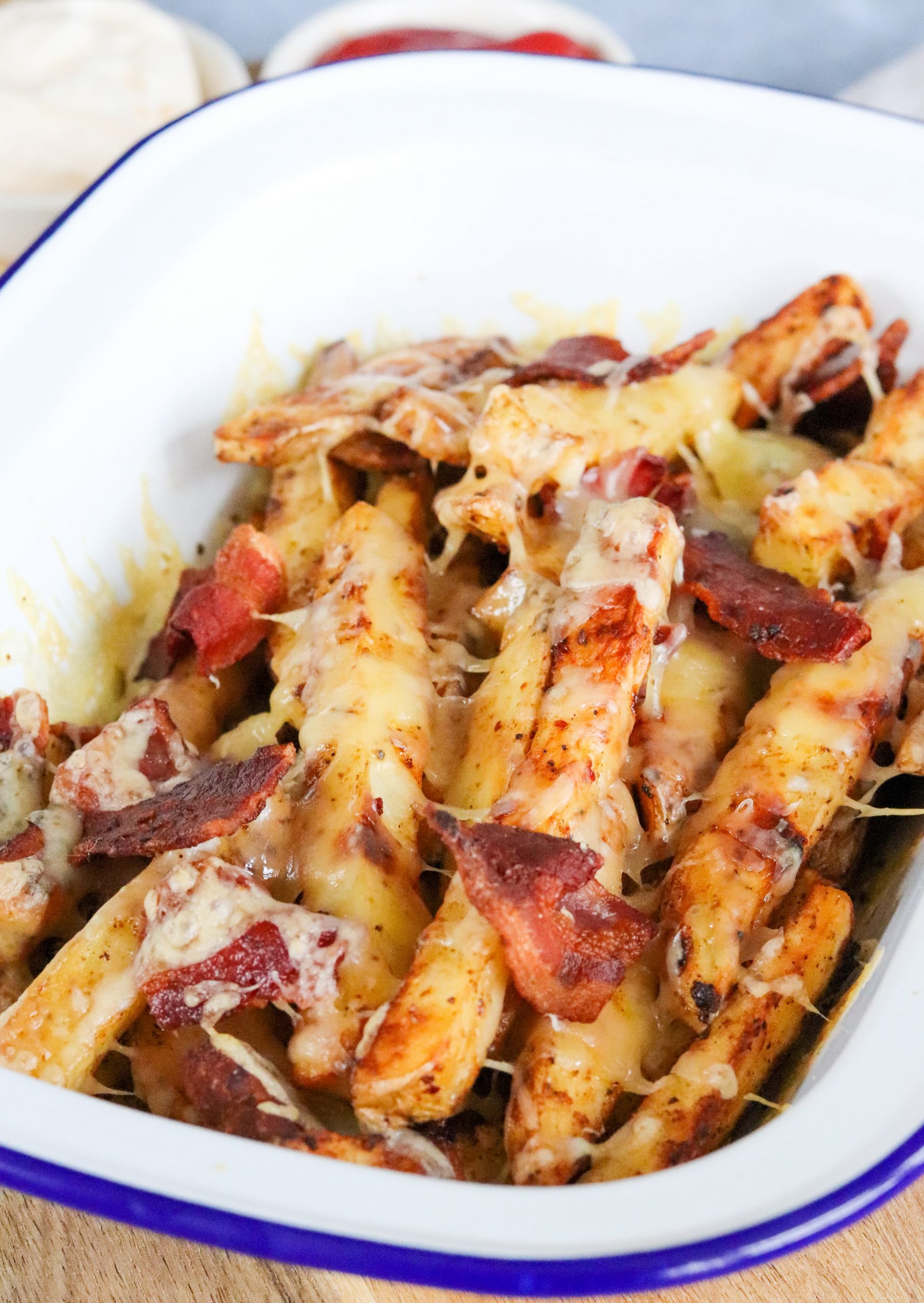 Which potatoes are recommended to use?
Starchy potatoes are best for fries and chips because they have a soft, dry texture. This means you can get them nice and crisp on the outside but they'll still be nice and fluffy in the centre.
King Edward and Maris Piper are great options of European potatoes to use for this recipe. Idaho potatoes which are sometimes also known as Russet potatoes are what you should look out for if you're in the US.
You could also use 'all rounder' potatoes which are typically floury potatoes. These are neither too starchy or too watery. Here in the UK these potatoes are usually marketed as all rounders but elsewhere look out for Yukon Gold potatoes.
Waxy potatoes are generally not considered to be the best when it comes to making fries. They won't give you the fluffy interior which is what you're looking for.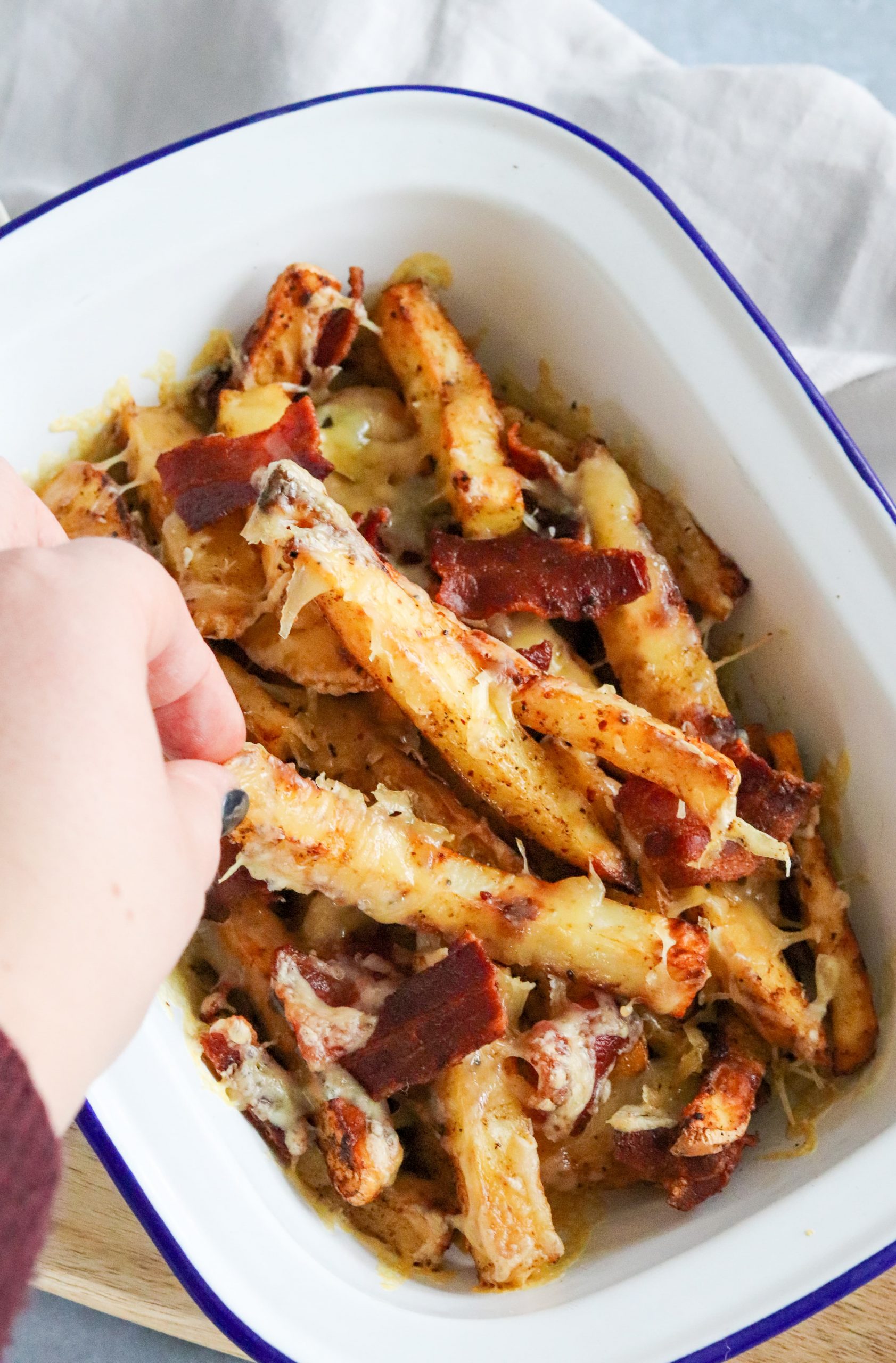 Which bacon is best to use?
This recipe is really flexible; use whichever bacon is your favourite!
I have used smoked streaky bacon here, but you could just as easily use back bacon or bacon medallions. Although it pains me because I am a huge smoked bacon advocate, you can definitely use unsmoked bacon.
If pork bacon isn't your thing, turkey bacon would work well. You can also use meat free alternatives too.
When cooking the bacon, cook it to your level of preferred crispness. And bacon is something that should me measured by your heart, so if you want to double the amount of bacon you use, don't let me stop you!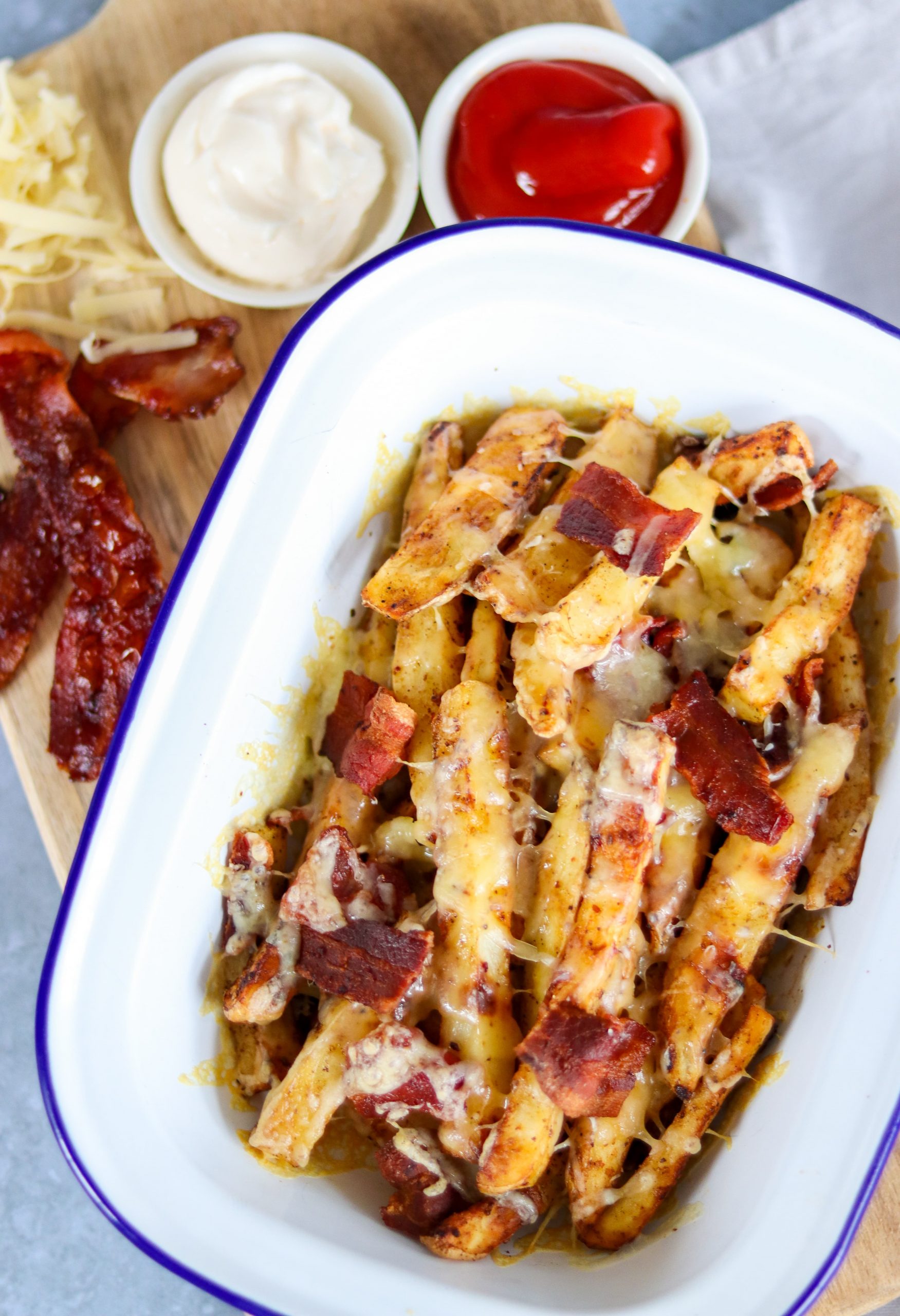 How to cook your fries
There are quite a few ways you can cook your fries for this recipe. My preferred way to cook them is in an air fryer. It doesn't use too much oil and they are deliciously crisp. If you have an Actifry this works in a similar way.
If you don't have any air fryer, you can absolutely cook your fries in the oven.
If you wanted to make these Cheese & Bacon Loaded Fries even easier, you could use shop bought frozen fries instead. It doesn't get much easier than that!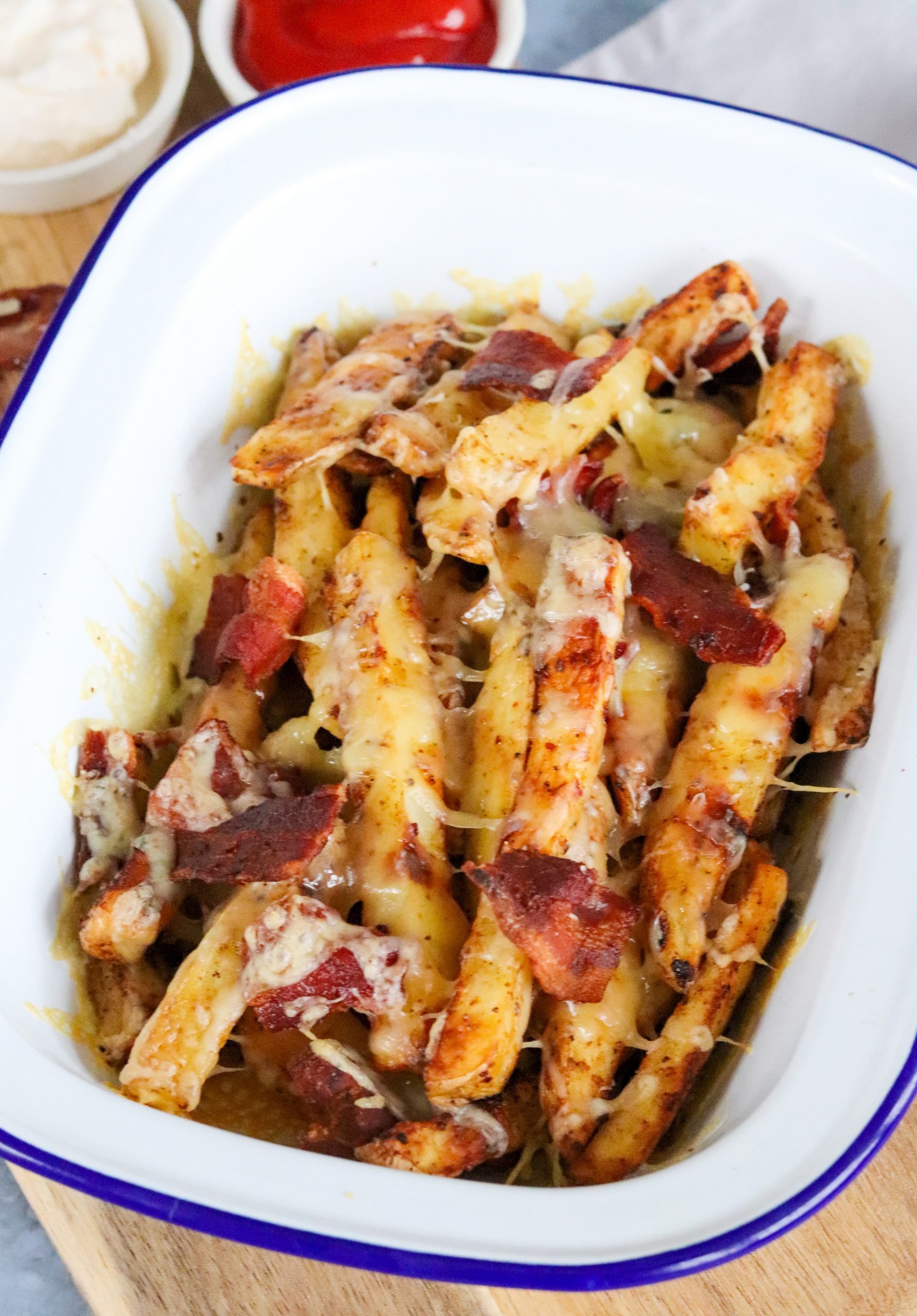 Adapting your Cheese & Bacon Loaded Fries
This is such an easy recipe to tweak to your preferences. I have used ancho chilli powder because it is one of my favourites. If you don't have this, you can use whatever chilli powder you have. Or if it not your thing, leave it out altogether.
When making this, I really don't expect you to weigh your cheese out. Use as much as you like! I have learnt that reduced fat cheese doesn't melt as well as normal cheese so bear that in mind if you were thinking of using it.
These Cheese & Bacon Loaded Fries are really easy to make to cater for a crowd. If you are making these for a lot of people you might want to use a baking tray rather than an oven proof dish. This would make it a lot easier for people to help themselves.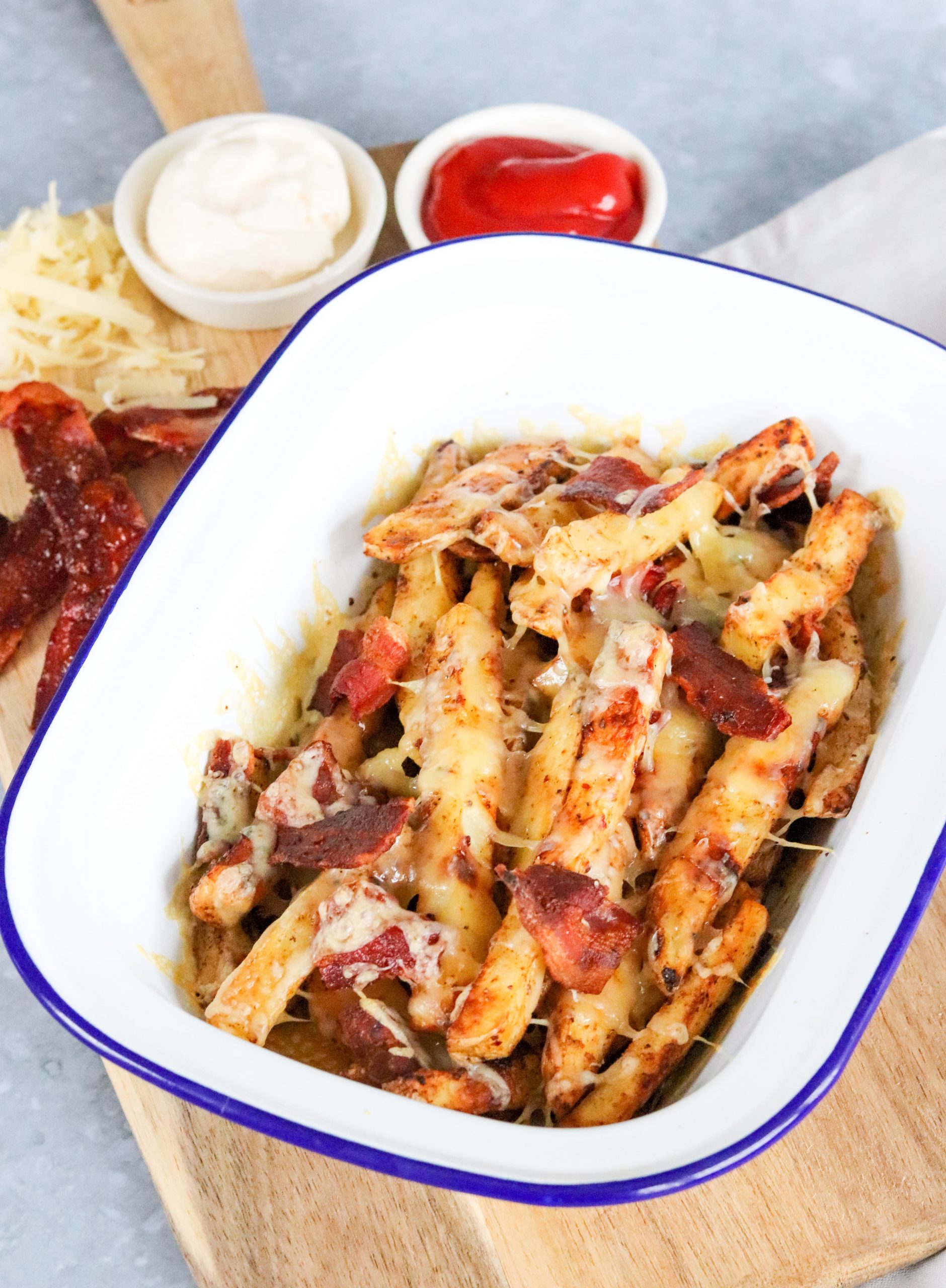 how to make these loaded fries gluten free, vegetarian or vegan
You can easily make these fries vegetarian or vegan. To make them vegetarian, you just need to swap the bacon for your favourite meat free alternative.
To then make this dish vegan, you would also need to change the cheese to a vegan alternative. Make sure you choose something that melts well because that is essential!
This recipe is naturally gluten free so no changes need to be made.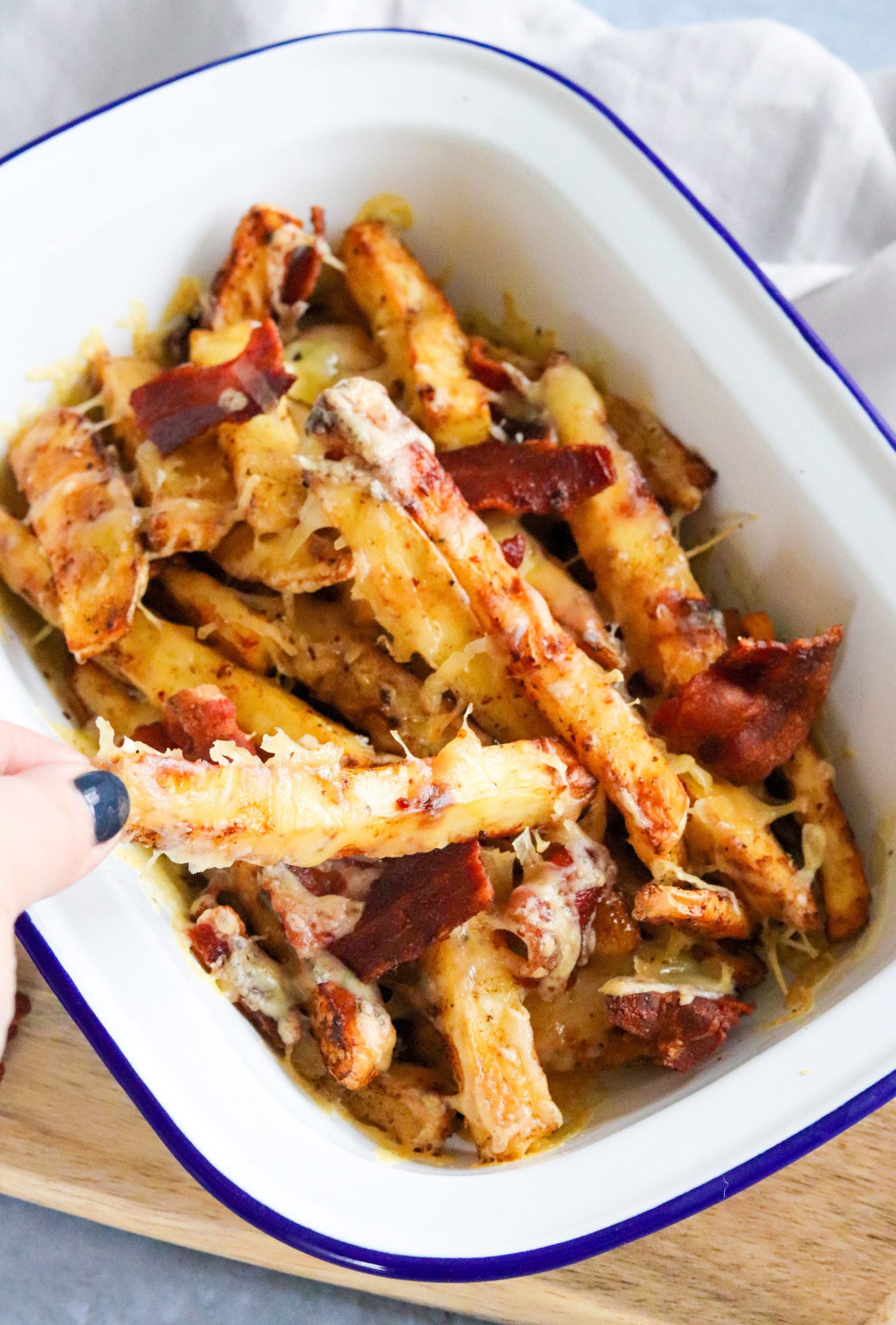 how many people does this recipe serve?
With the quantities below, I think this recipe serves two people for lunch. It would also make a great snack to eat whilst watching a film on the sofa.
It is really simple to scale the quantities up if you want to feed more people or make it more of a substantial meal.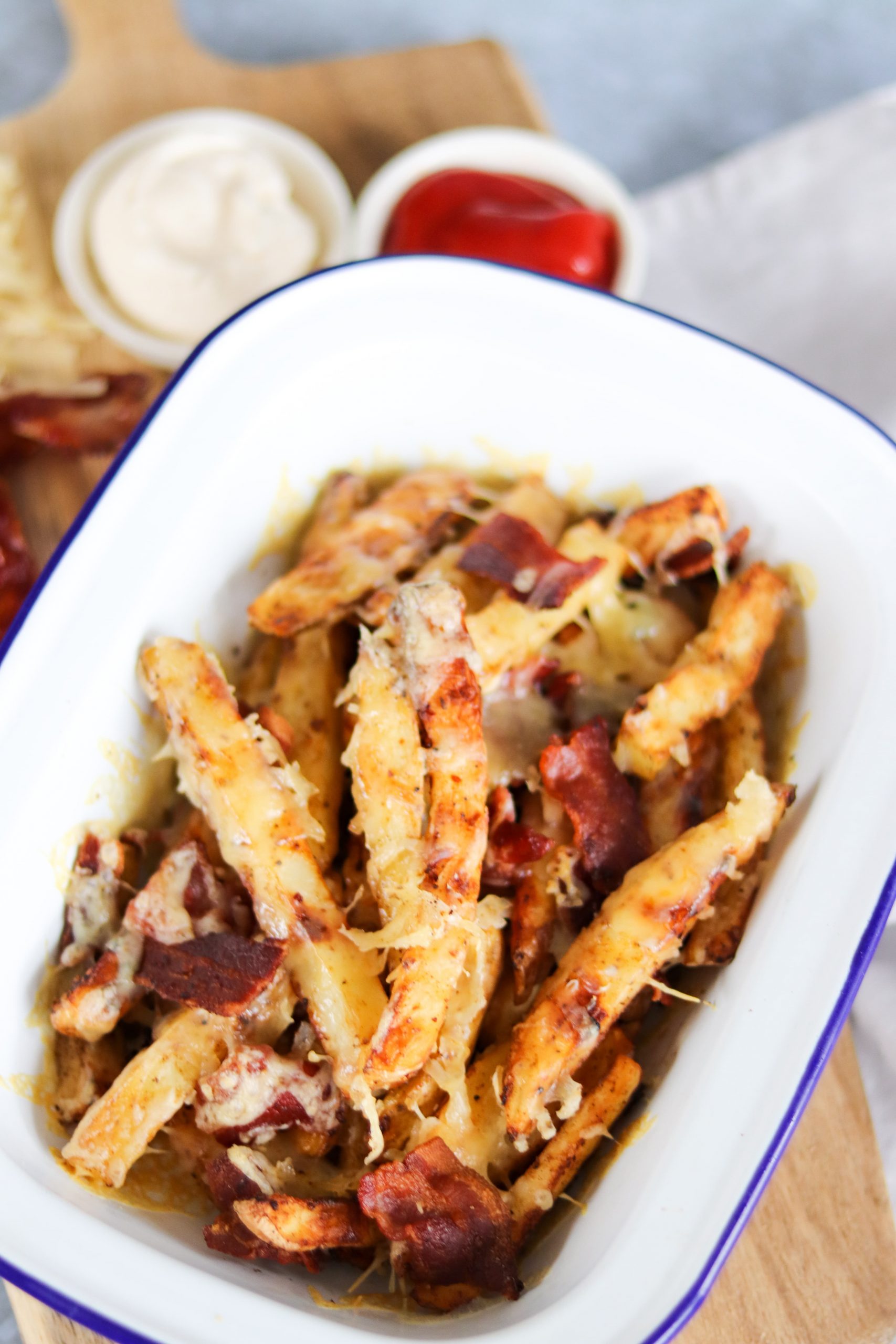 Turn these loaded fries into a full meal
As I've mentioned, these Cheese & Bacon Loaded Fries make a delicious lunch or movie snack. However these fries can definitely be served alongside some other dishes to make a tasty spread.
Korean Chicken Wings, Garlic & Lime Chicken Thighs or Slow Cooker Pulled Pork would all be great ideas to serve with these fries. But then you also need some freshness which could come from Coleslaw, Stilton, Apple & Walnut Salad or Mexican Street Corn Salad.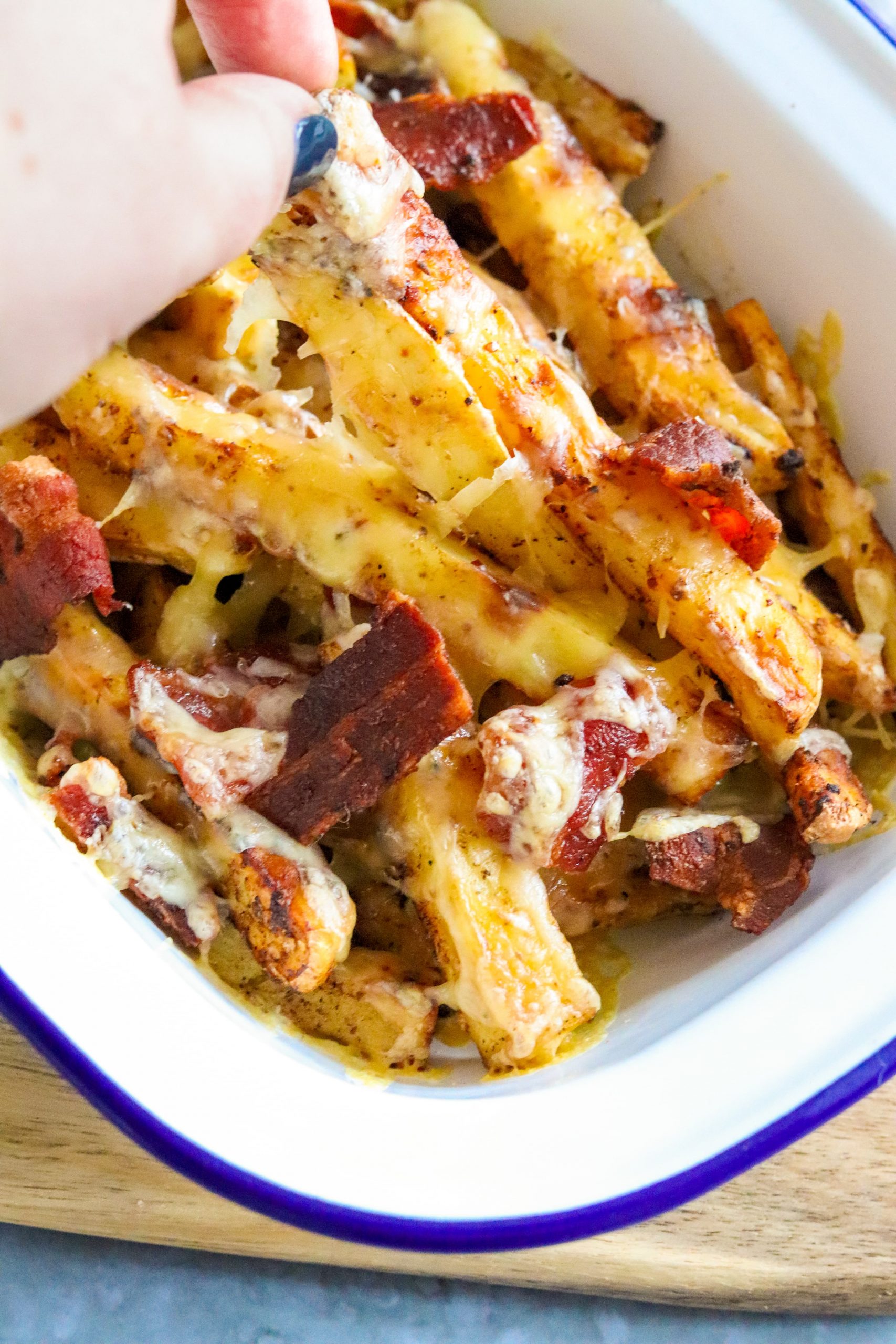 other recipes you might like
Pin for later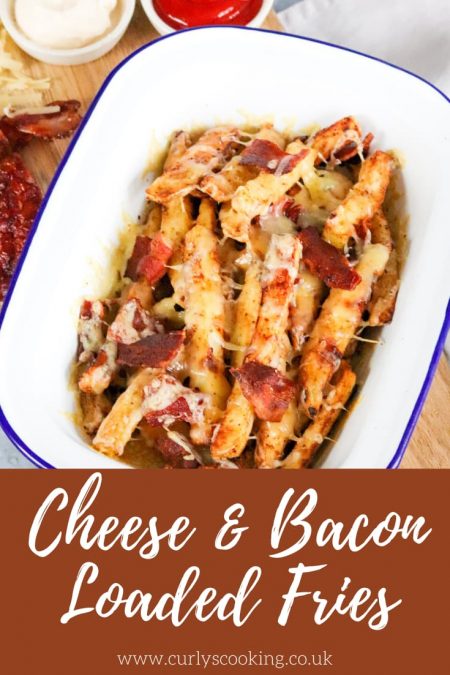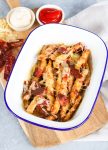 Cheese & Bacon Loaded Fries
Crisp skin-on fries with a slight spice covered in delicious melted cheese and bacon. These Cheese & Bacon Loaded Fries are a real indulgent treat to be enjoyed responsibly!


Ingredients
500

g

potatoes

1

tbsp

sunflower oil

1

tsp

sea salt

½

tsp

ancho chili powder

½

tsp

garlic powder

4

rashers of streaky bacon

50

g

cheddar cheese

grated
Instructions
After cleaning the potatoes, cut them into slices and then each slice into strips to form fries

Add the fries to a bowl and toss with the oil, chilli powder, garlic powder and salt so they are evenly coated

Add the fries to your air fryer and cook for 20 mins at 200°C , turning half way.

When the fries are cooked, add to an oven proof dish while you cook the bacon

Add the bacon to your air fryer and cook for 6-7 minutes at 200°C, turning half way.

Preheat the oven to 180°C (fan assisted, 200°C non fan)

Mix half of the cheese and most of the bacon with the fries. Finish with the rest of the cheese and bacon

Cook in the oven for 5 mins or until the cheese has melted. Eat whilst hot.
Recipe Notes
Nutritional information is given as a guide only and my vary.
Nutrition Facts
Cheese & Bacon Loaded Fries
Amount Per Serving
Calories 427
Calories from Fat 144
% Daily Value*
Fat 16g25%
Cholesterol 26mg9%
Sodium 1352mg59%
Potassium 1057mg30%
Carbohydrates 32g11%
Protein 13g26%
Vitamin A 399IU8%
Vitamin C 29mg35%
Calcium 255mg26%
Iron 8mg44%
* Percent Daily Values are based on a 2000 calorie diet.