My Caramel Rocky Road is a must for caramel lovers. Tasty caramel treats covered in chocolate then drizzled with decadent caramel sauce.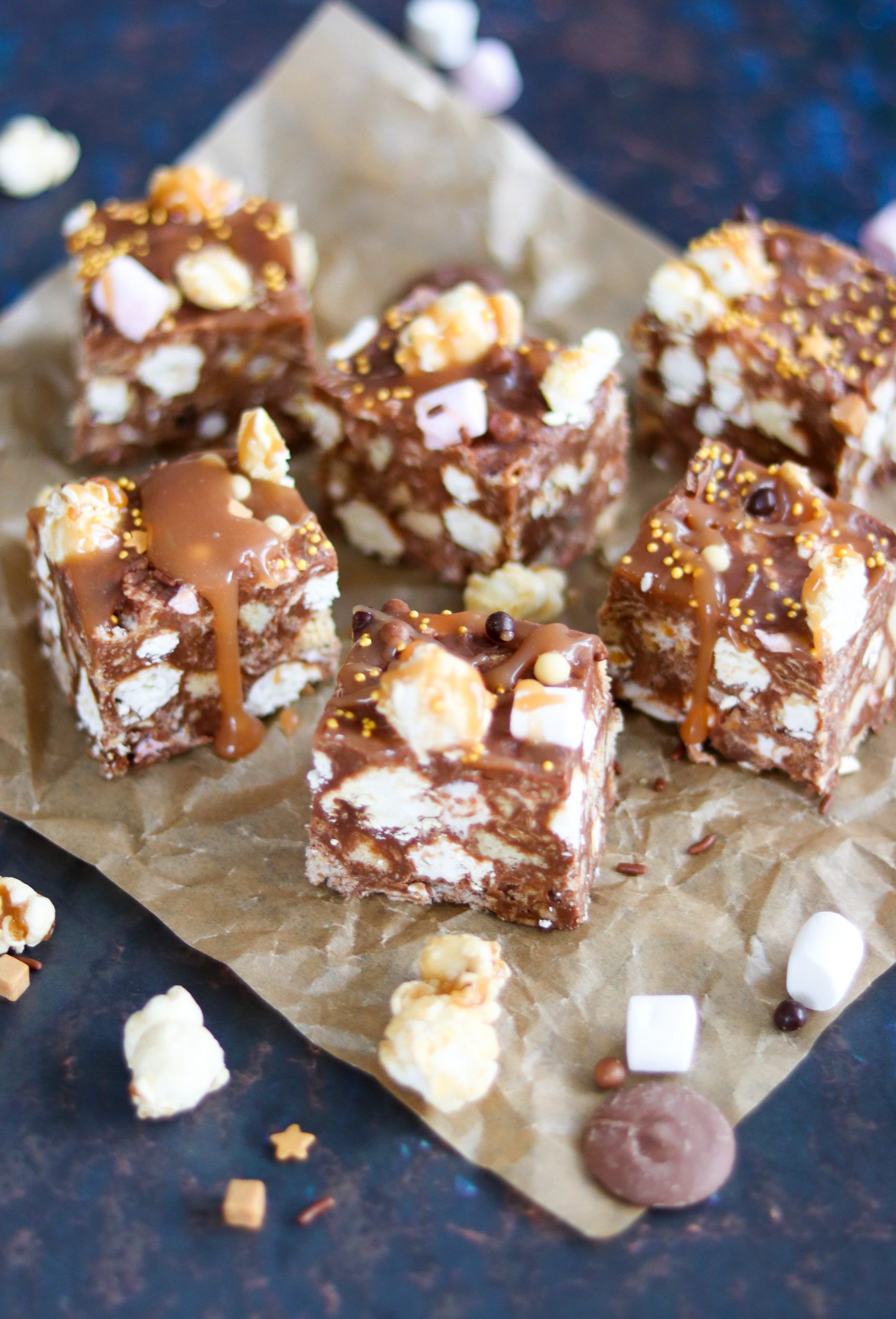 What is rocky road?
Rocky Road is one of those recipes that is referred to by a few different names. As well as rocky road, I have heard it referred to as tiffin and refrigerator cake. Personally, I think Tiffin is different as it doesn't typically have marshmallows in it and rocky road does.
But what actually is rocky road? It is a no bake sweet treat from Australia that usually includes marshmallows, biscuits and chocolate.
What is included varies from country to country and person to person. There isn't really a wrong way to make rocky road!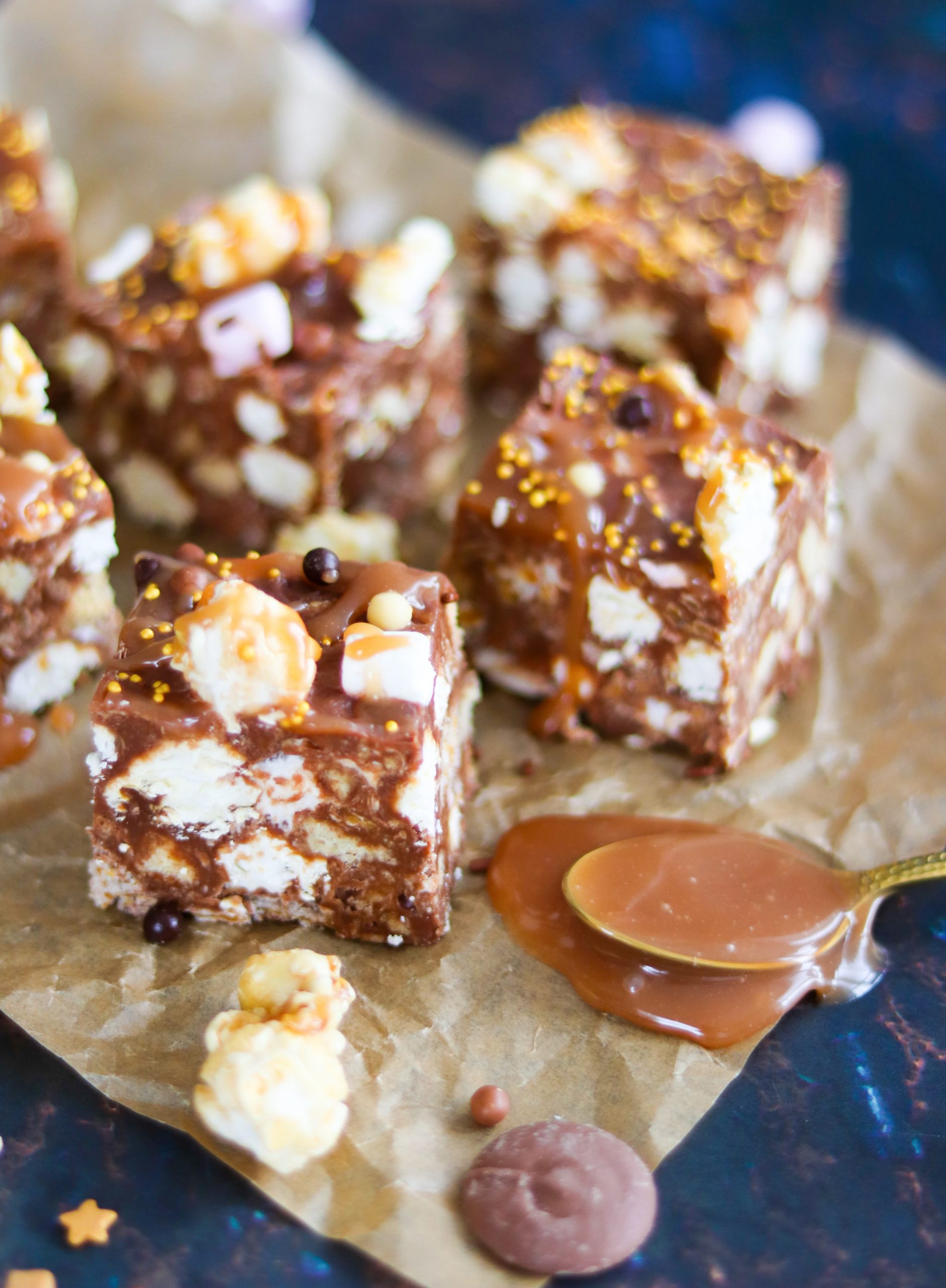 Who doesn't like Rocky Road?
The traditional recipe has been one I have been making for years and has been incredibly popular. When thinking of ways to elevate it and make it extra special caramel instantly came to mind, and voila my Caramel Rocky Road was born!
A delicious no bake treat
No matter what your baking abilities, you will be able to make this Caramel Rocky Road. It is a fantastically simple no bake treat that is perfect for children to get involved with.
All you have to do is melt some ingredients together in the microwave and chop up some others. Some easy assembly before putting it in the fridge and you're done!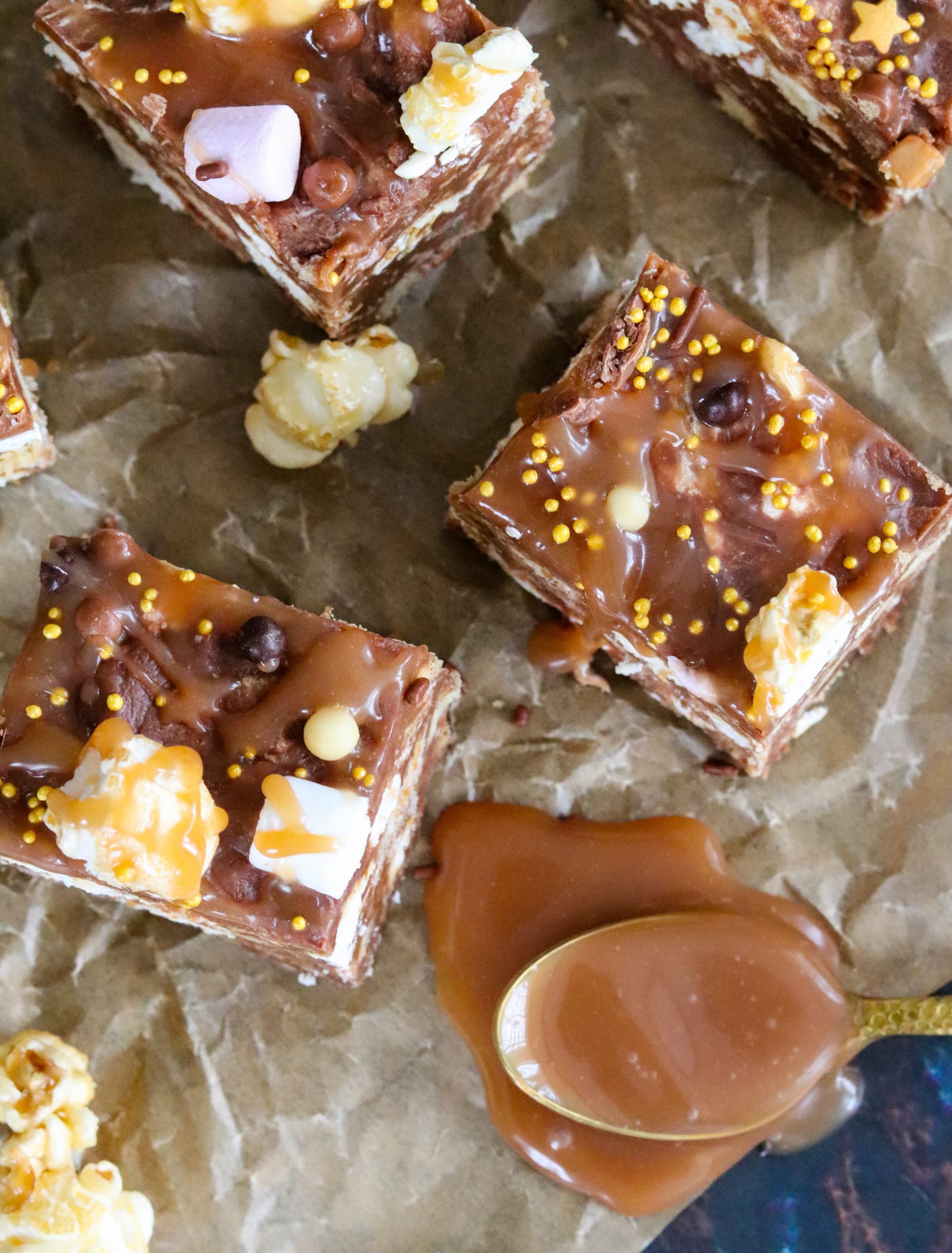 Which caramel sauce is best to use?
I would definitely recommend making my Caramel Sauce for this Caramel Rocky Road.
I am not a huge fan of caramel, but even I can't resist my homemade version! It makes a good amount so you can either make a few recipes with it or scale down the ingredients if you only want to make this Caramel Rocky Road.
The caramel sauce is quite runny when warm but gets quite firm when cold. If you are using this from the fridge, I would heat a couple of tablespoons of it in the microwave which will then make it far easier for you to drizzle – just be careful as hot caramel burns!
You can also use bought caramel sauce to drizzle on the top if you don't want to go to that extra bit of effort to make your own.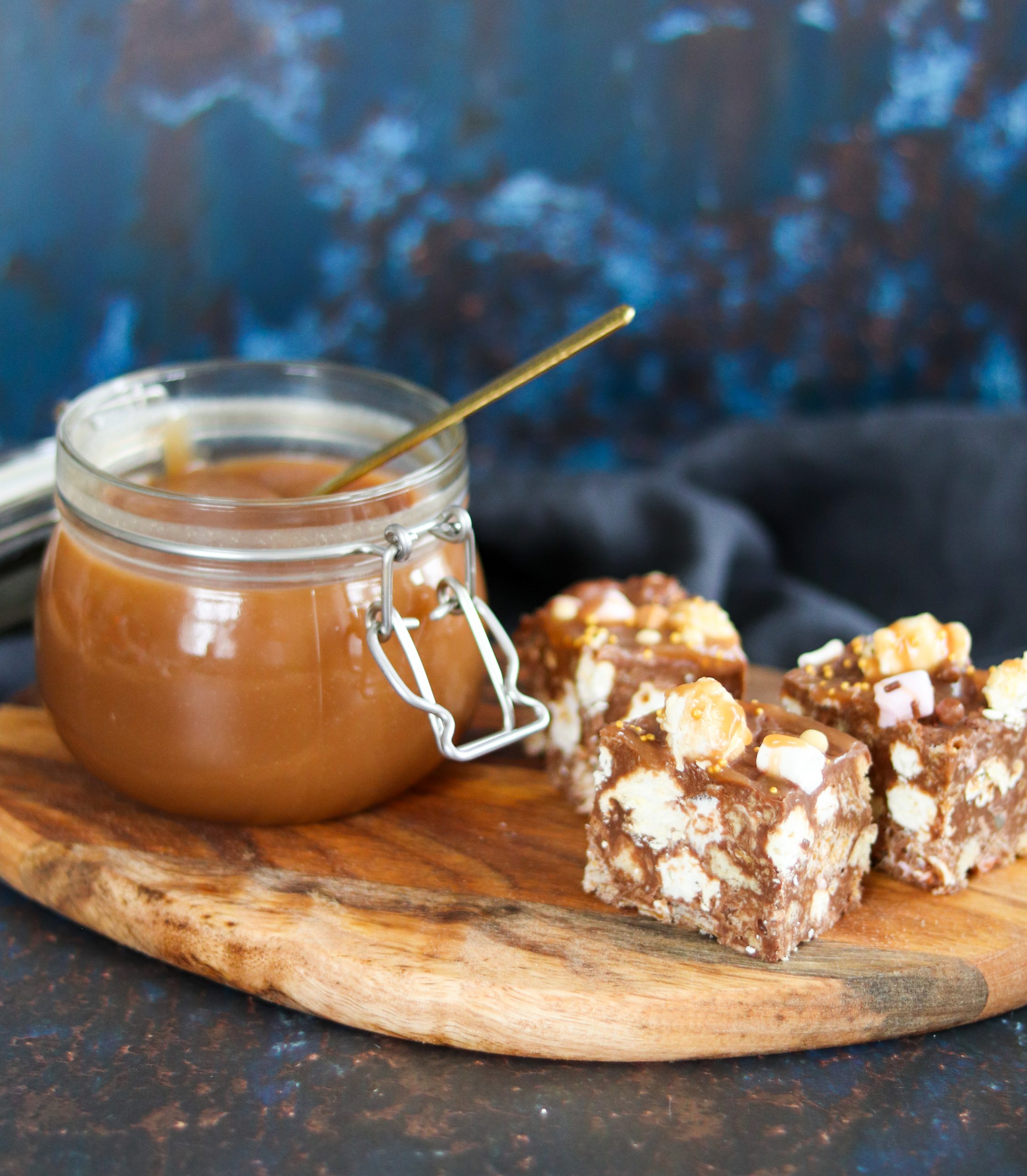 Adapt this Caramel Rocky Road to your liking
One great thing about Rocky Road is how easy it is to adapt the recipe to include more of what you want and less of what you don't. For example if you don't like marshmallows, leave them out and add more popcorn or digestives. It really is that simple.
Also you don't have to use exactly the ingredients I have listed below. Any caramel biscuits would work really well as would sweet popcorn instead of toffee popcorn.
How is best to break up the biscuits?
My preferred method for breaking up the digestive biscuits is to put them in a large bowl and bash them with the end of a rolling pin.
This way you get a variety of different sized pieces of biscuit which is great in the rocky road.
I wouldn't recommend using a food processor to blitz the biscuits as you tend to end up with some fine crumbs. This isn't the end of the world but you're looking for chunks rather than crumbs.
Plus you can't get easier than using a bowl and a rolling pin – a great job for children!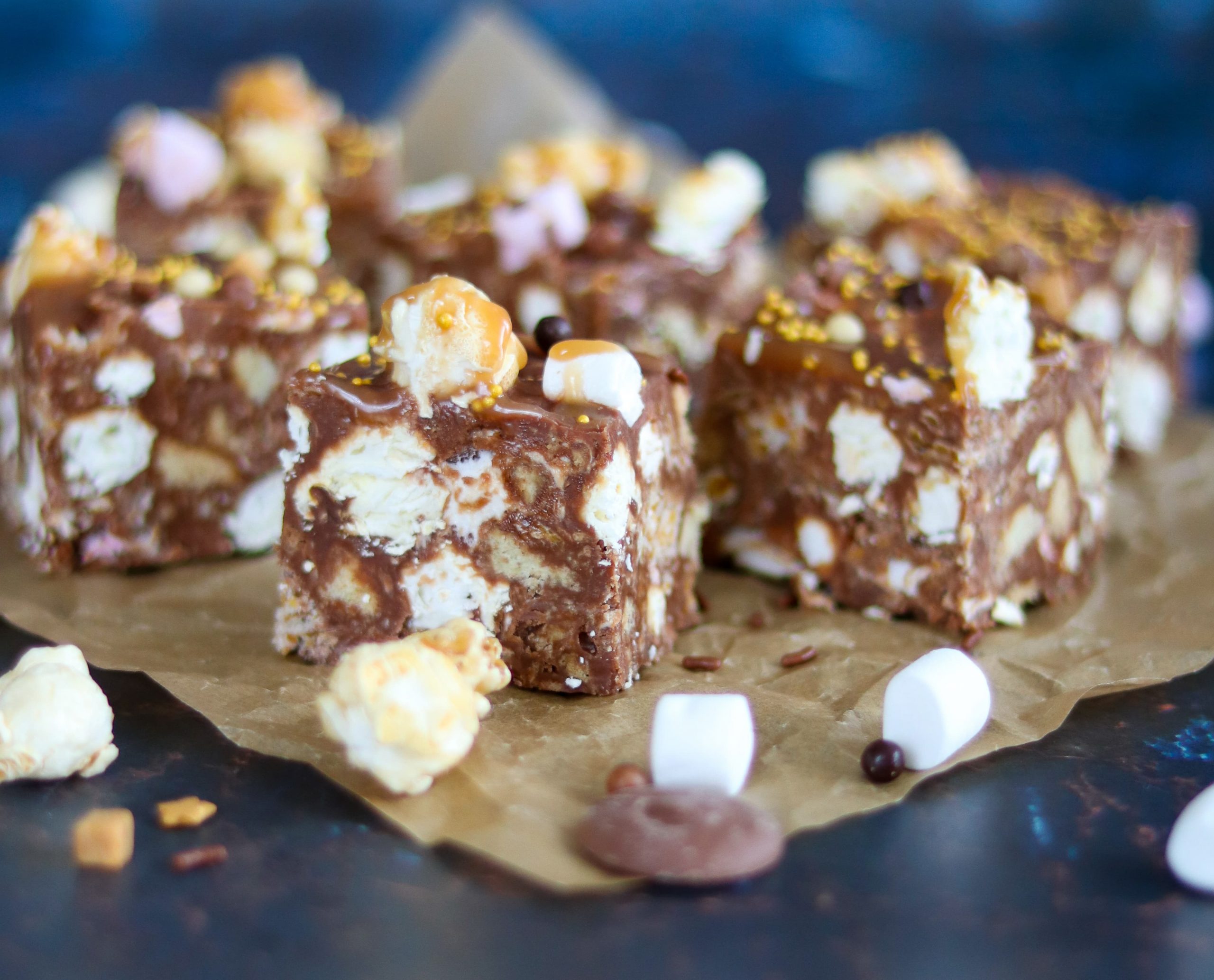 Which chocolate is best to use?
I always use milk chocolate for this Caramel Rocky Road. This is because I prefer milk chocolate, but also because the chocolate wafer and caramel buttons I add are milk chocolate.
If you wanted to, you could use dark chocolate instead.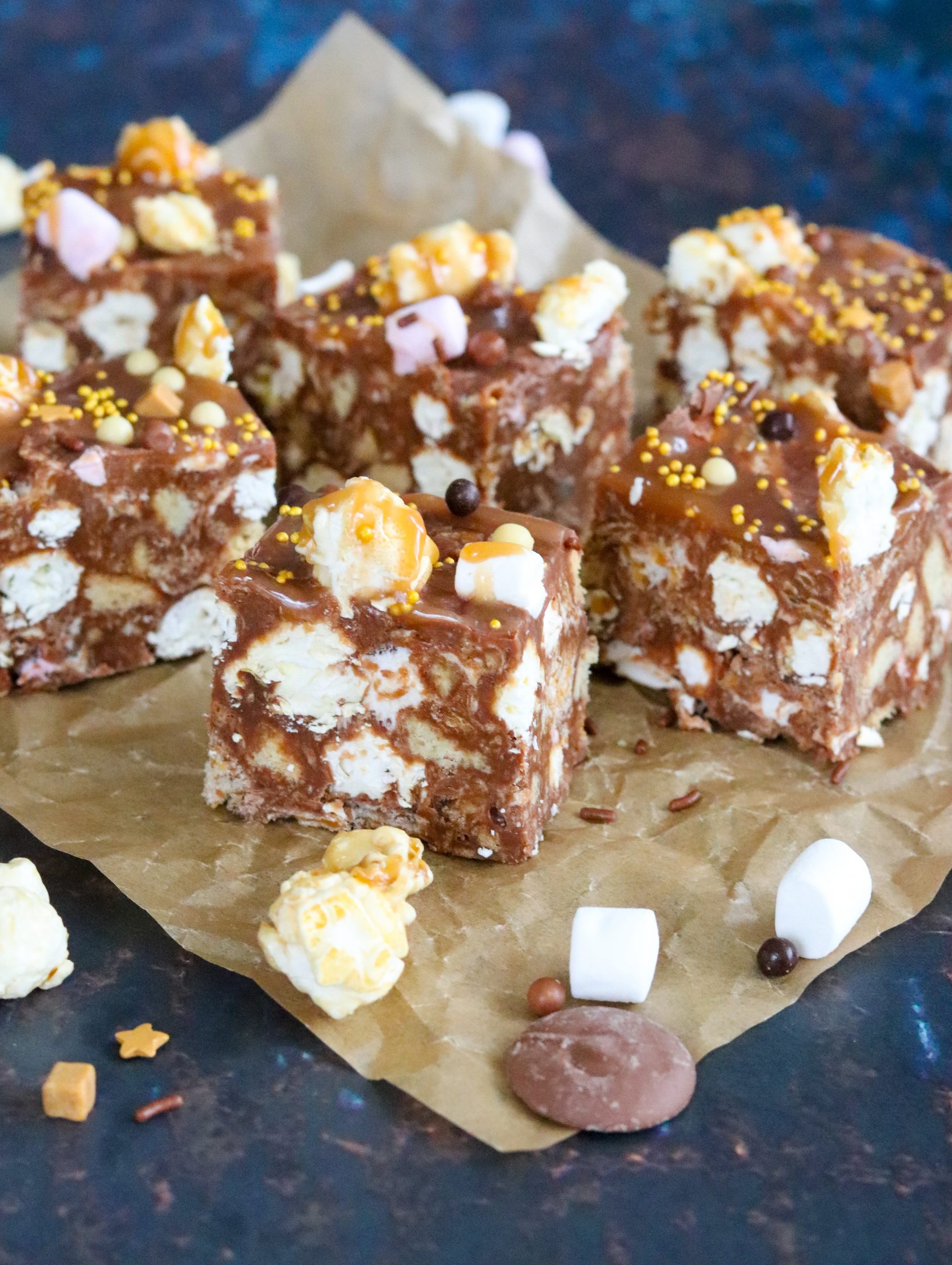 How long does this take to set?
Caramel Rocky Road usually takes around 4 hours to set enough to be cut into pieces.
What I tend to do is make it in advance and leave it in the fridge overnight so set completely. This makes it nice a firm and easier to cut into pieces the next day.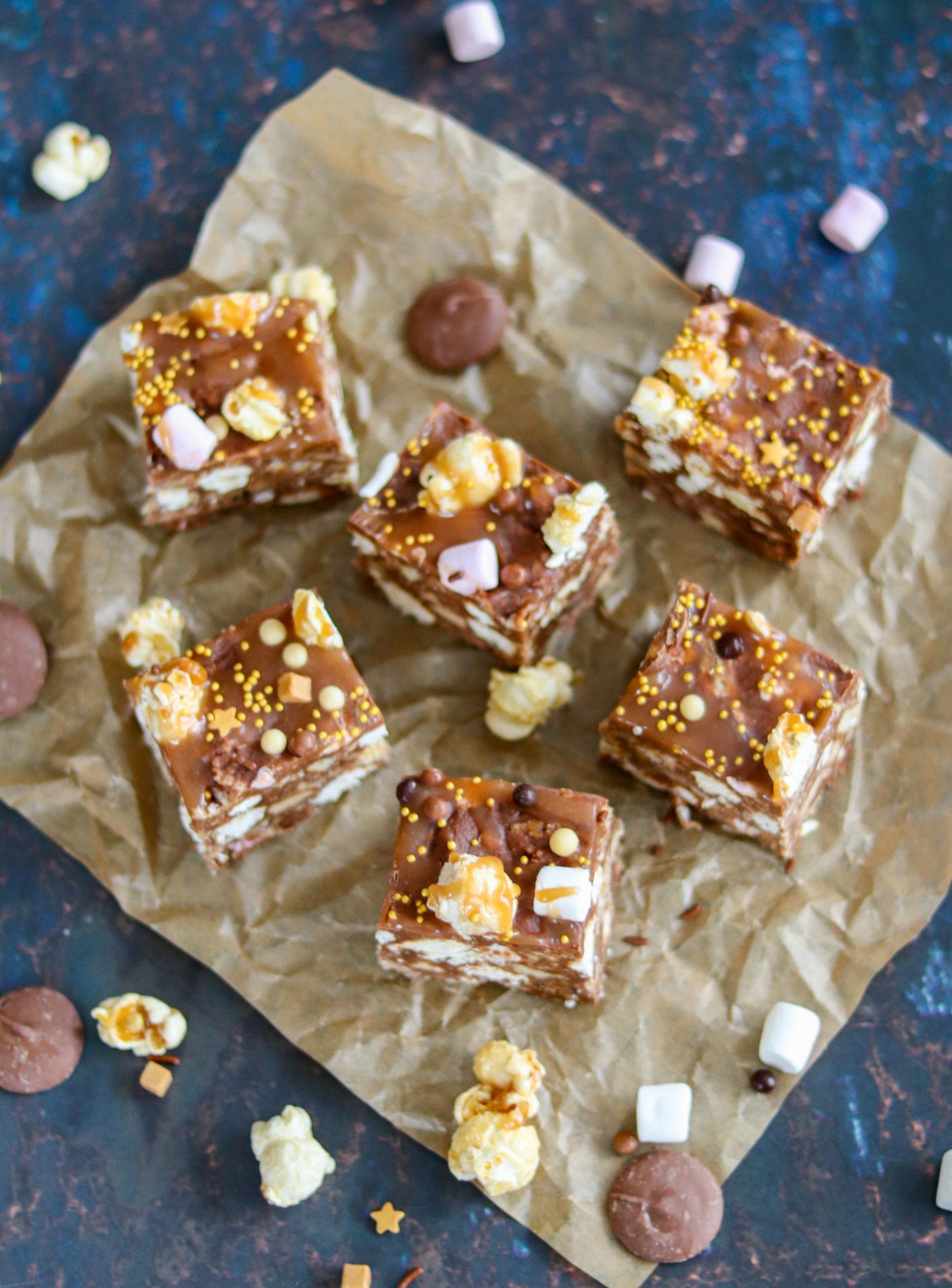 How many pieces does this make?
That depends how big you want to cut the rocky road!
I like to cut it into twenty squares because I think these are about the right size. You can obviously cut them larger if you would prefer. Any smaller might be a little small!
You don't have to be too neat when cutting the Caramel Rocky Road because it is already quite a rustic treat.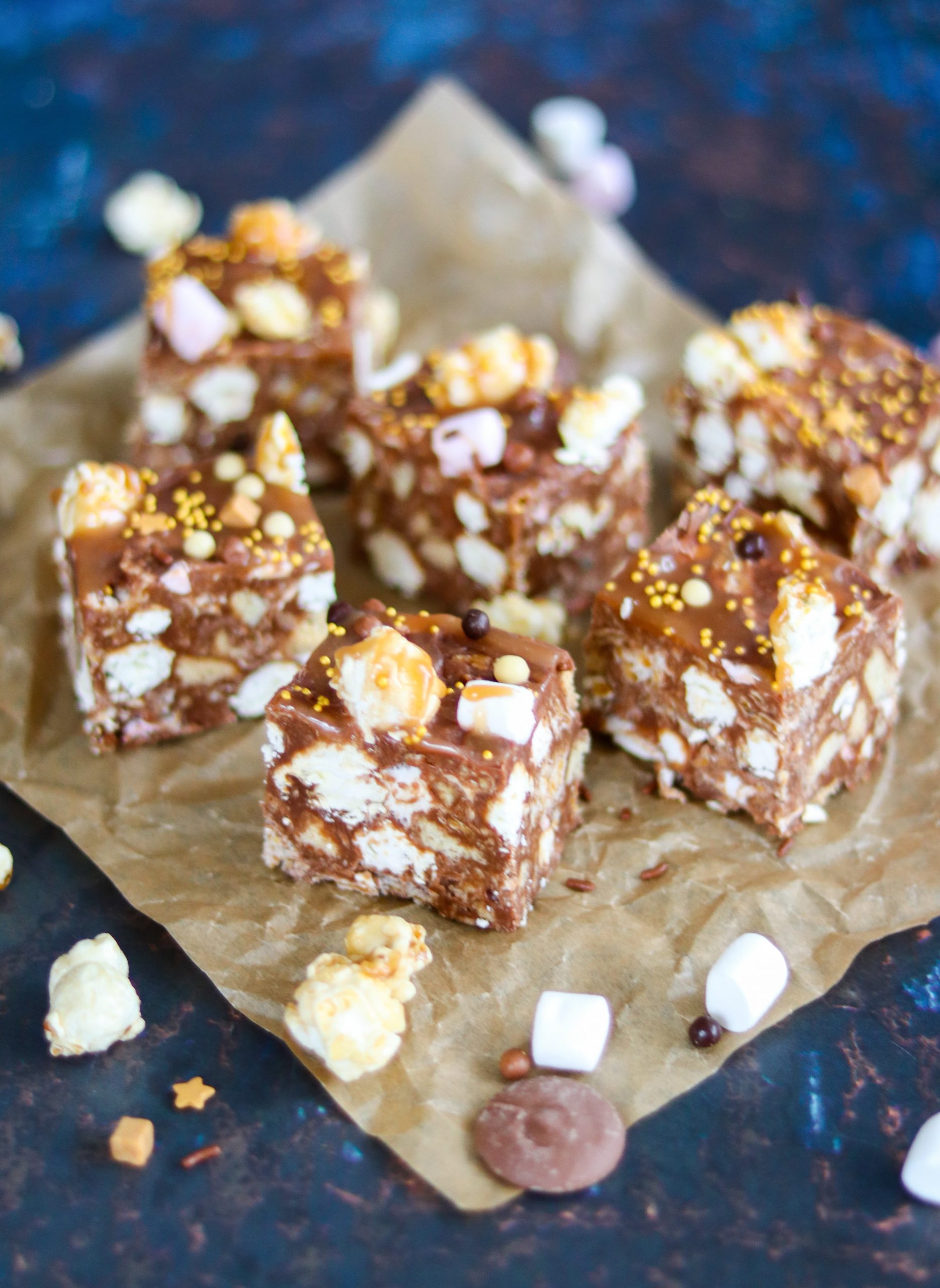 Make this Caramel Rocky Road look extra special
Once I have tipped the ingredients into the lined tin and flattened the top, I like to add a few extras to make the finished Caramel Rocky Road even more special.
I scatter over a few marshmallows, caramel buttons and toffee popcorn before I drizzle it all with caramel sauce.
Then to make it even more special, I add some gold coloured sprinkles. Who could resist them now?!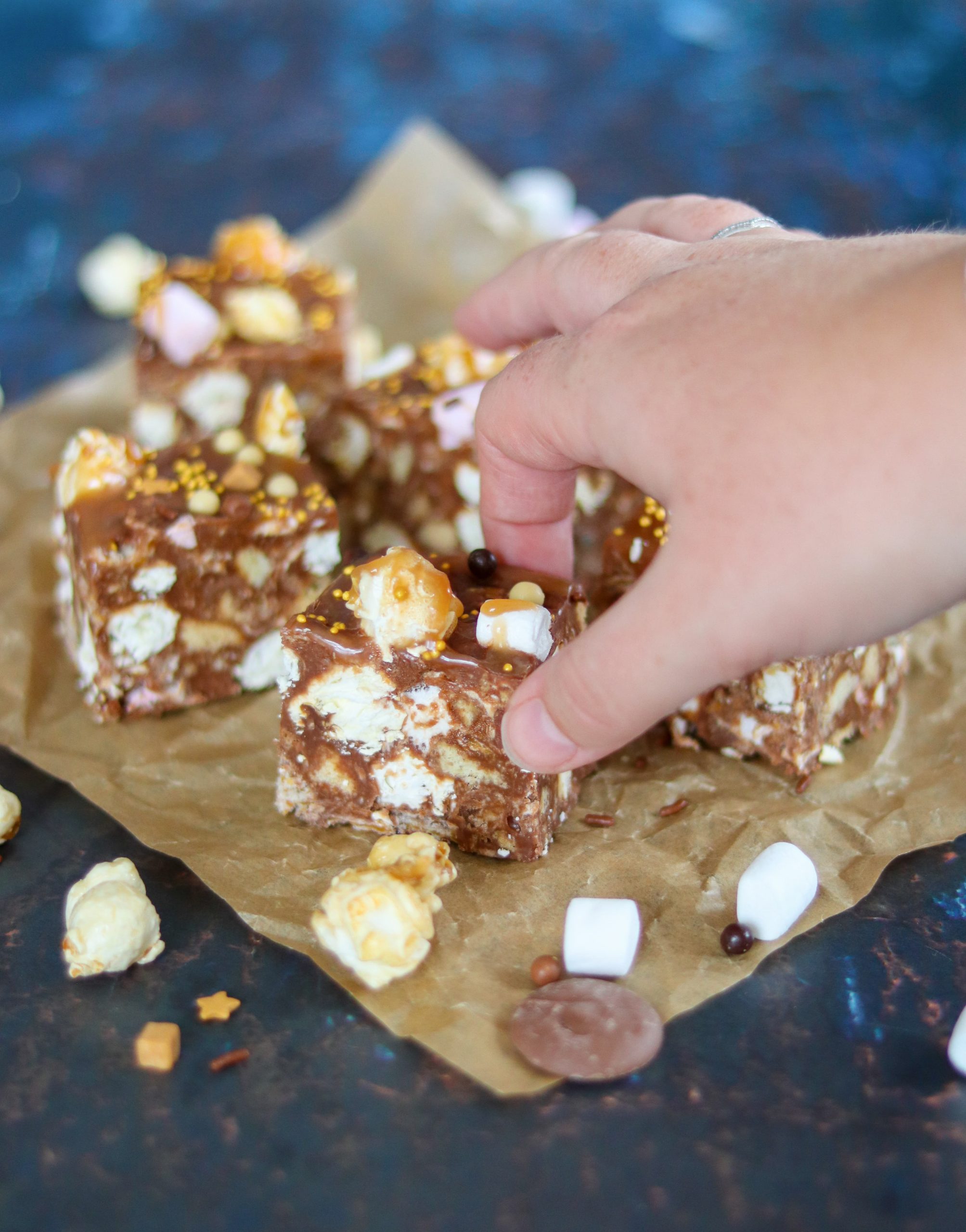 Why not give this as a gift?
This Caramel Rocky Road makes a great homemade gift.
You can make this a few days in advance and it will also keep once you have gifted it. There is nothing worse than giving someone a present and telling them they have to eat it that day!
How long will this Caramel Rocky Road keep for?
This Rocky Road will easily keep in an airtight container in the fridge for 2-3 weeks.
You can also freeze it with baking paper in between the layers of rocky road to prevent sticking. It will keep in the freezer for up to one month.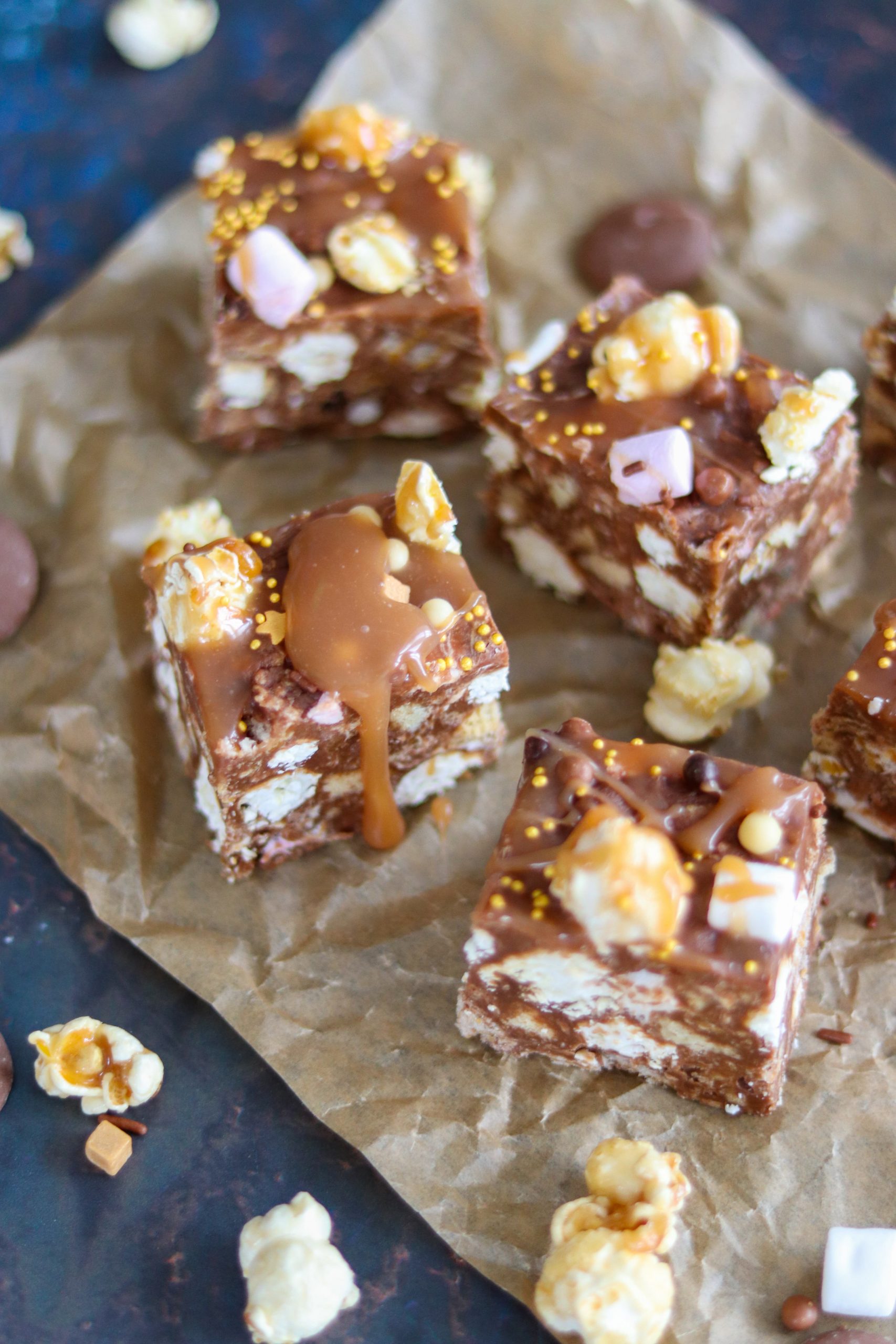 Other recipes you might like
Pin for later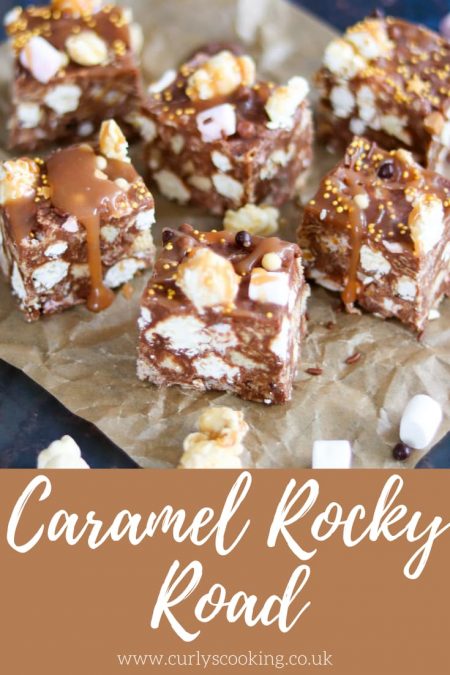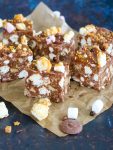 Caramel Rocky Road
My Caramel Rocky Road is a must for caramel lovers. Tasty caramel treats covered in chocolate then drizzled with decadent caramel sauce.
Refrigeration time
4
hours
Total Time
4
hours
30
minutes
Ingredients
300

g

milk chocolate

150

g

golden syrup

100

g

unsalted butter

100

g

digestive biscuits

80

g

toffee popcorn

150

g

caramel wafer bars

5 bars, chopped

50

g

mini marshmallows

60

g

caramel buttons

100

g

caramel sauce

Sprinkles to decorate
Instructions
If you are making your own caramel sauce, start by making this before the actual Rocky Road.

Line a square 20x20cm tin with parchment paper and set aside

Add the chocolate, butter and golden syrup to a heatproof dish and melt in short bursts in the microwave, stirring between each burst

While the chocolate is melting, add the digestive biscuits to the bowl and crush using something like a rolling pin

Once the biscuits are crushed, add the chopped caramel wafers, mini marshmallows, caramel buttons and toffee popcorn and mix through

Once the chocolate is fully melted give it a really good stir to fully combine and then add to the dry ingredients and stir through to make sure everything is coated in the chocolate

Tip into the lined tin and spread out evenly

Add any sprinkles or extra caramel buttons you fancy and then drizzle with the caramel sauce using as much or as little as you fancy

Chill in the fridge for around 4 hours, or even overnight

Once fully chilled, cut into squares. Store in an airtight container in the fridge and it will keep for at least one week
Recipe Notes
Store the Caramel Rocky Road in the fridge for up to 3 weeks.
Nutritional information is given as a guide only and may vary.
Nutrition Facts
Caramel Rocky Road
Amount Per Serving
Calories 237
Calories from Fat 90
% Daily Value*
Fat 10g15%
Cholesterol 11mg4%
Sodium 46mg2%
Potassium 54mg2%
Carbohydrates 24g8%
Protein 1g2%
Vitamin A 129IU3%
Calcium 9mg1%
Iron 1mg6%
* Percent Daily Values are based on a 2000 calorie diet.