Light and fluffy sponge with the subtle flavour of pistachios and silky smooth cream cheese Icing. This Pistachio Cake with Vanilla Cream Cheese Icing is one of my family's favourites.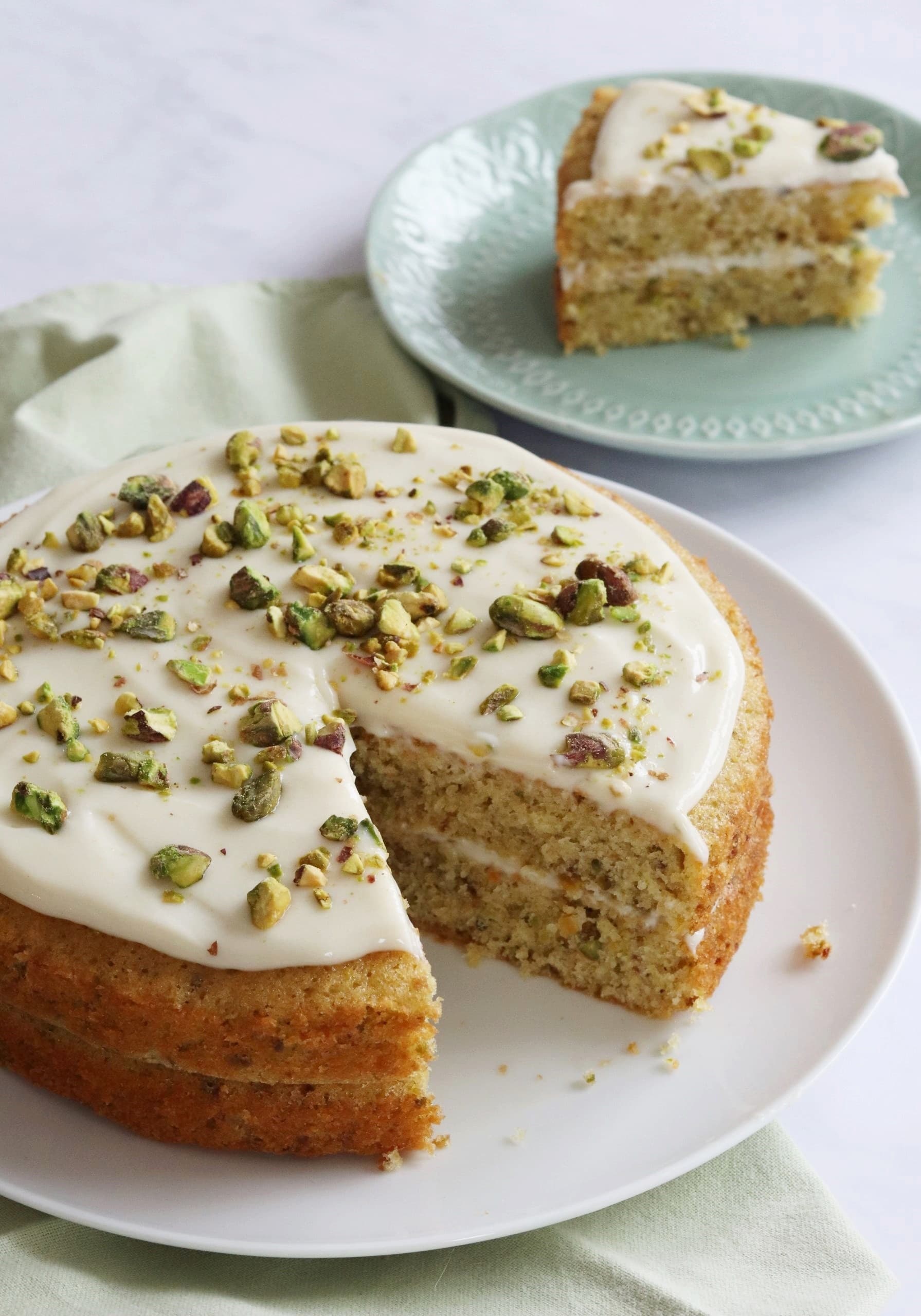 Baking this Pistachio Cake with cream cheese icing for my sister
Each year I try to come up with a new birthday cake idea for my sister. Her birthday is at the start of April which means it unfortunately falls before Easter and therefore during lent. I won't make her a chocolate cake because I give up chocolate for lent.
This year, I wanted pistachios to feature in the cake because she loves them. I started looking online and found a few different recipes for pistachio cakes to get some inspiration.
I came across a Good Food recipe which sounded like it would be perfect after I had made a few tweaks. Another possibly strange reason I wanted to use this recipe as a guide was that the comments weren't that great.
They were generally mentioning that the recipe was very unclear and confusing. So I took this as a challenge to tweak it and come up with my own, clearer recipe which is how my Pistachio Cake with Cream Cheese Icing was born!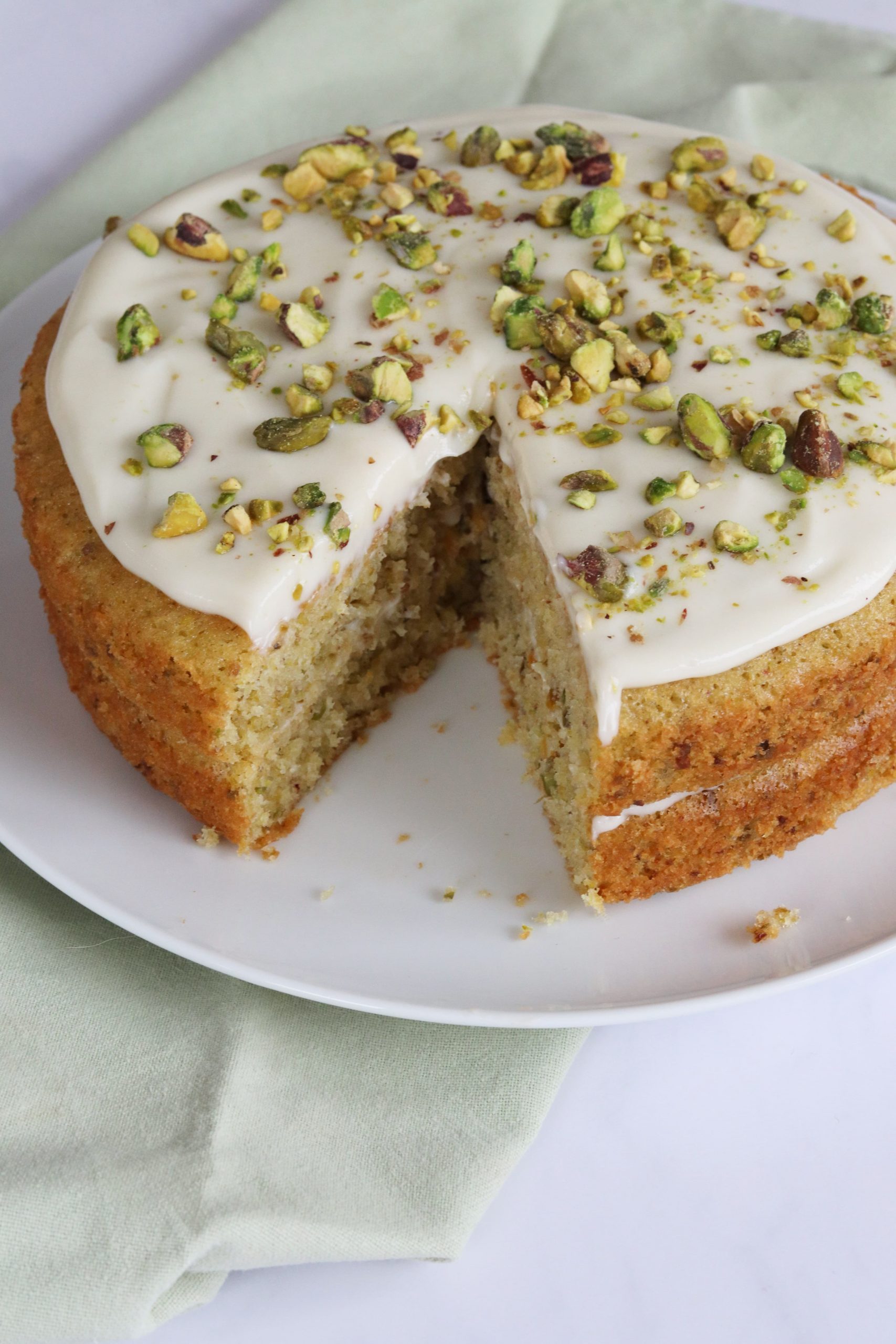 Pistachio is a very underrated flavour
I think pistachios are a very underrated flavour in baking. Whether that is pistachio cake, cookies or even ice cream.
Pistachios have a lovely delicate nuttiness which is so tasty! They not only add a lovely flavour but a natural colour to the cake.
Some recipes use artificial flavouring to create their pistachio flavor. This cake is all natural flavours which makes it even tastier.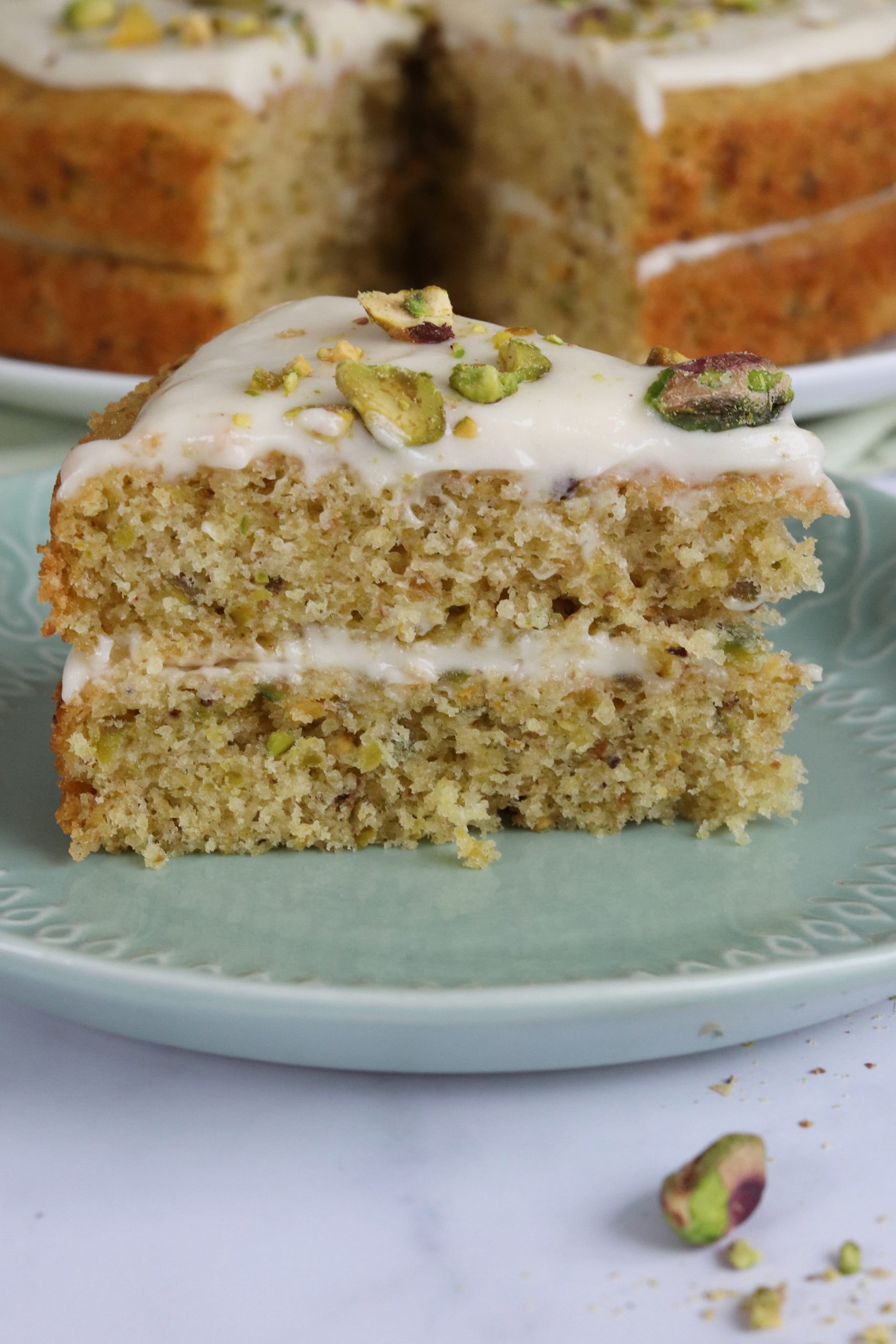 The wonder of cream cheese icing
My sister isn't the easier person to please with her cake preferences as she doesn't tend to like buttercream or jam. So this cake is perfect because it has a cream cheese icing.
I'm deliberately referring to it as icing as it is a lot thinner than buttercream or frosting usually is. This is because it is literally cream cheese, icing sugar and vanilla. The lack of butter gives it a silky smooth and delicate flavour, but also doesn't provide much thickness.
I don't think this is a problem, it just means you need to take a little bit of care when spreading the icing. If you start by spooning the icing into the middle of the cake and gradually encouraging it towards the edges then you will be able to cover the cake beautifully.
It definitely isn't the type of icing you can pipe on top of the cake. Personally, I like the simplicity of the decoration of the cake and it means you don't have to worry if you don't have any piping skills.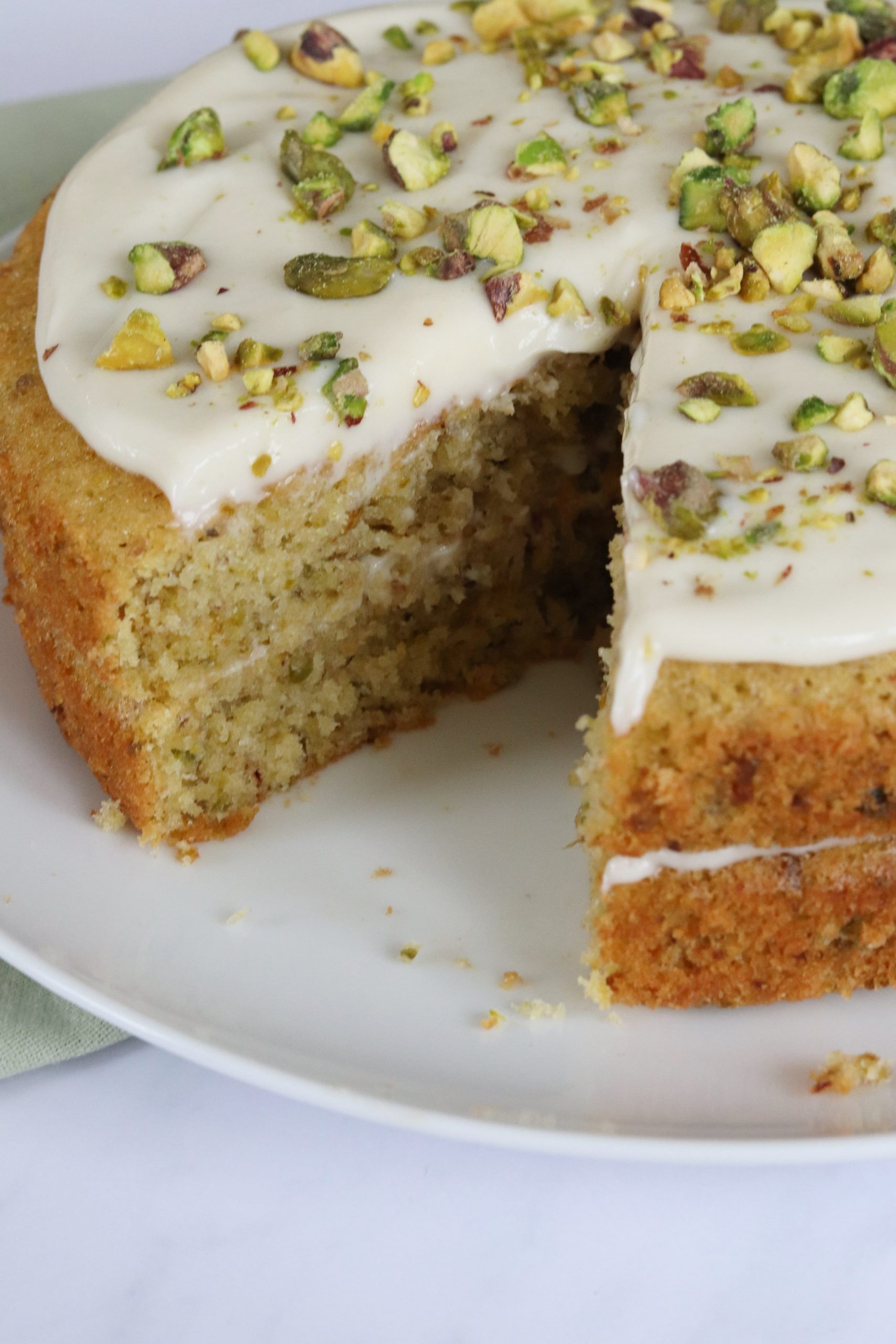 Can I use low fat cream cheese?
I really do not recommend using low fat cream cheese in this recipe.
I don't recommend using it in any cream cheese icing recipes I have, but especially not this one. That is because the icing is already quite thin for this cake.
If you were to use low fat cream cheese the icing would be even thinner and quite possibly run off the cake. It would still taste just as good but wouldn't look so good in my opinion.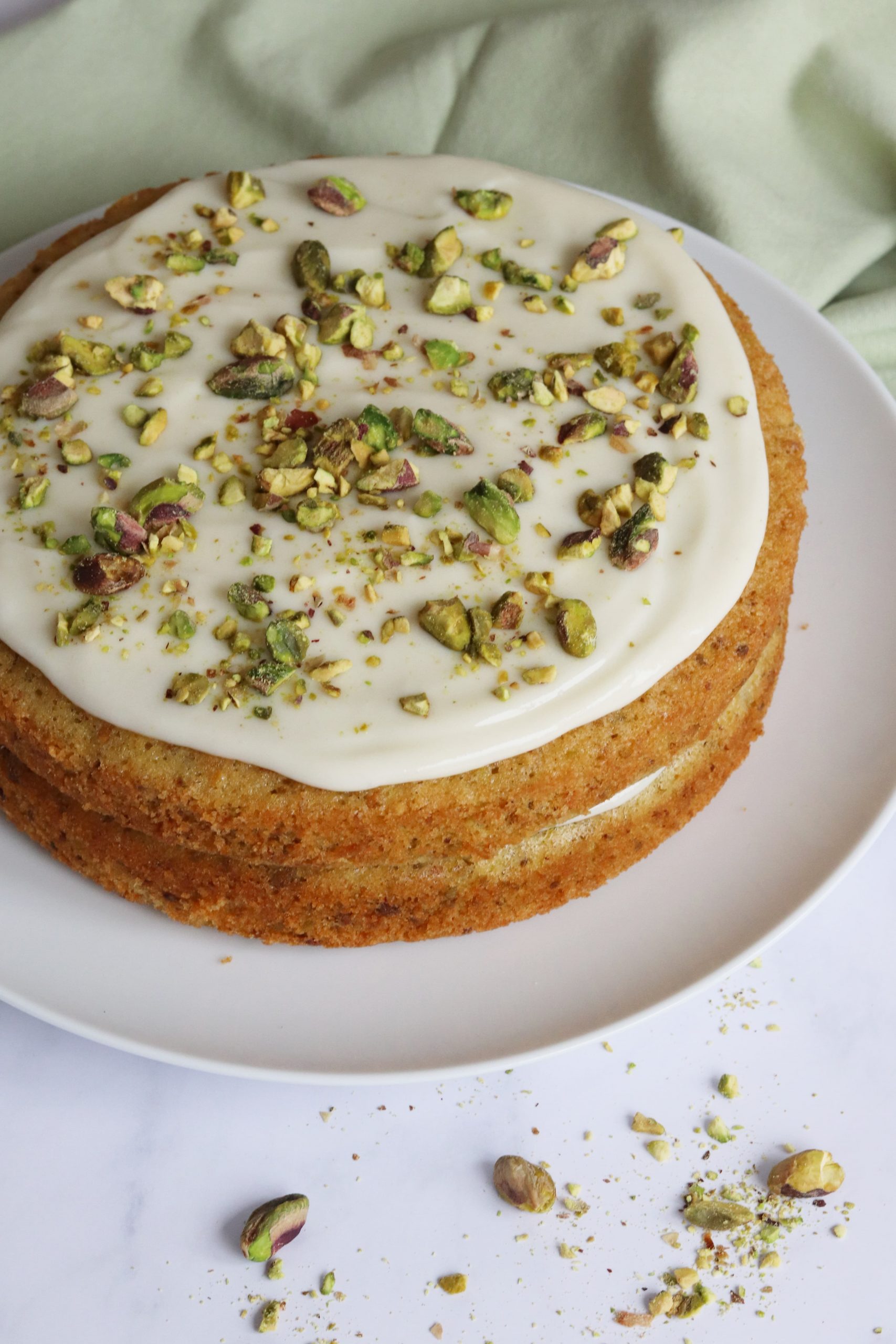 Pistachio Cake with Cream Cheese Icing – simple but delicious!
This Pistachio Cake with Cream Cheese Icing is very simple to make and very quick too. Apart from blitzing the pistachios, you really only need to mix the ingredients together and spoon it onto the tins and you're done.
Sometimes you do want to spend hours creating a work of art, but on the other hand there are also times when you want a quick cake that still tastes delicious.
I love the flecks of green that the pistachios bring to the cake. They are a lovely contrast to the white cream cheese icing.
If you like pistachios, you need to give this Pistachio Cake with Cream Cheese Icing a go!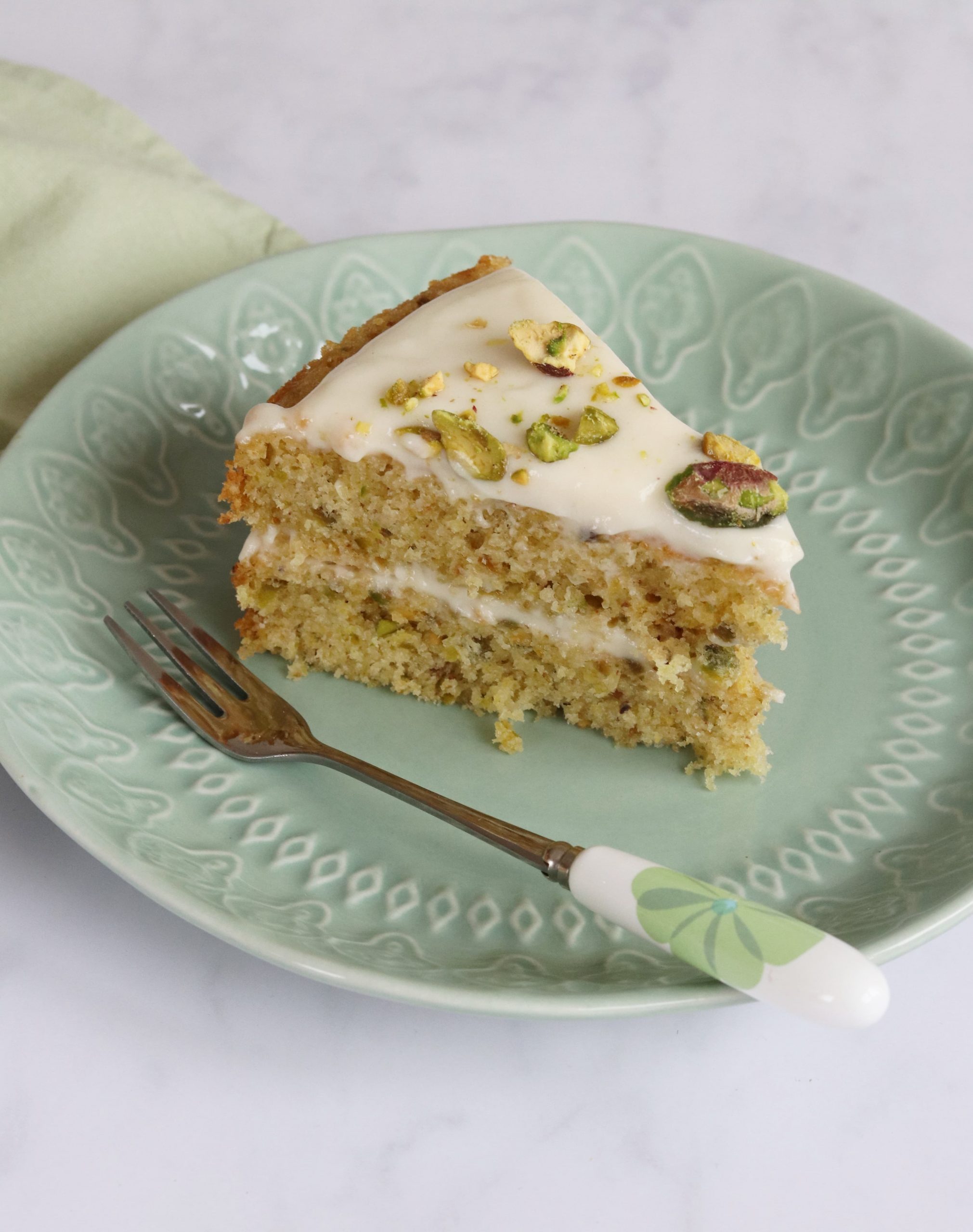 Which pistachios are best to use?
You really cannot use salted pistachios in this recipe. They would make the whole cake salty which definitely isn't what you are looking for!
You can buy shelled and deshelled unsalted pistachios in most supermarkets. The shelled pistachios are cheaper because the hard work hasn't been done for you!
Once when making this cake, I did buy the shelled unsalted pistachios because I thought it wouldn't take me long to deshell them all. It took a lot longer than I thought and I chipped my nail varnish.
So personally, I would always recommend buying the deshelled unsalted pistachios.
If you like this Pistachio Cake with Vanilla Cream Cheese Icing, why not try my Pistachio & Vanilla Cookies or my Courgette Cupcakes with Lemon Curd and Cream Cheese.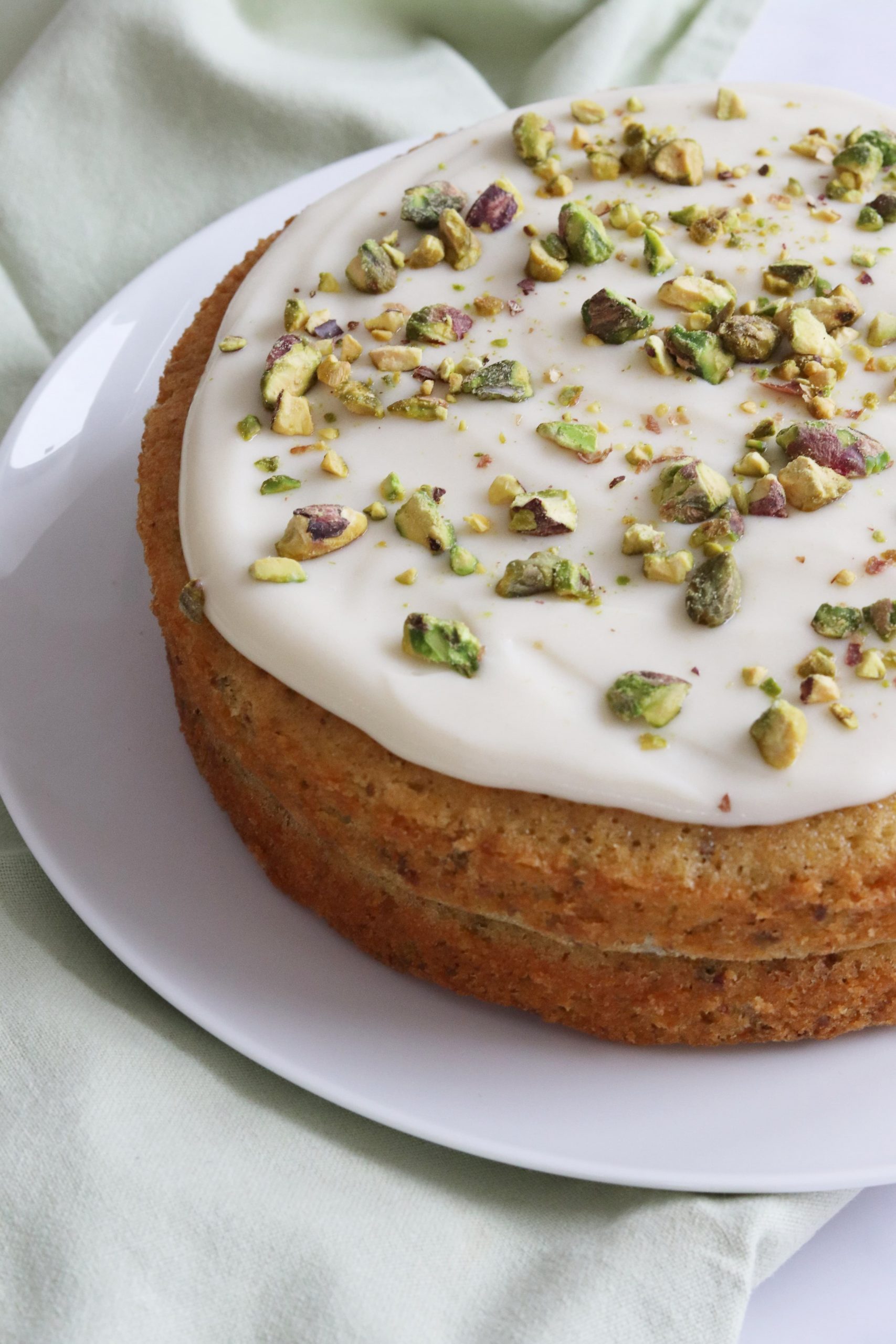 How to grind the pistachios
The easiest way to grind the pistachios is in a food processor. You are aiming for a mixture of sizes of the nuts when they are ground. You want some larger pieces and then some fine dust.
These different sized pieces will add a lovely texture to the cake which really makes it special. If you grind the pistachios too much you will end up with all dust and miss out on the texture.
If you don't have a food processor, add the pistachios to a bag and hit them with a rolling pin. This way will take a little bit longer but you will still get the same end result.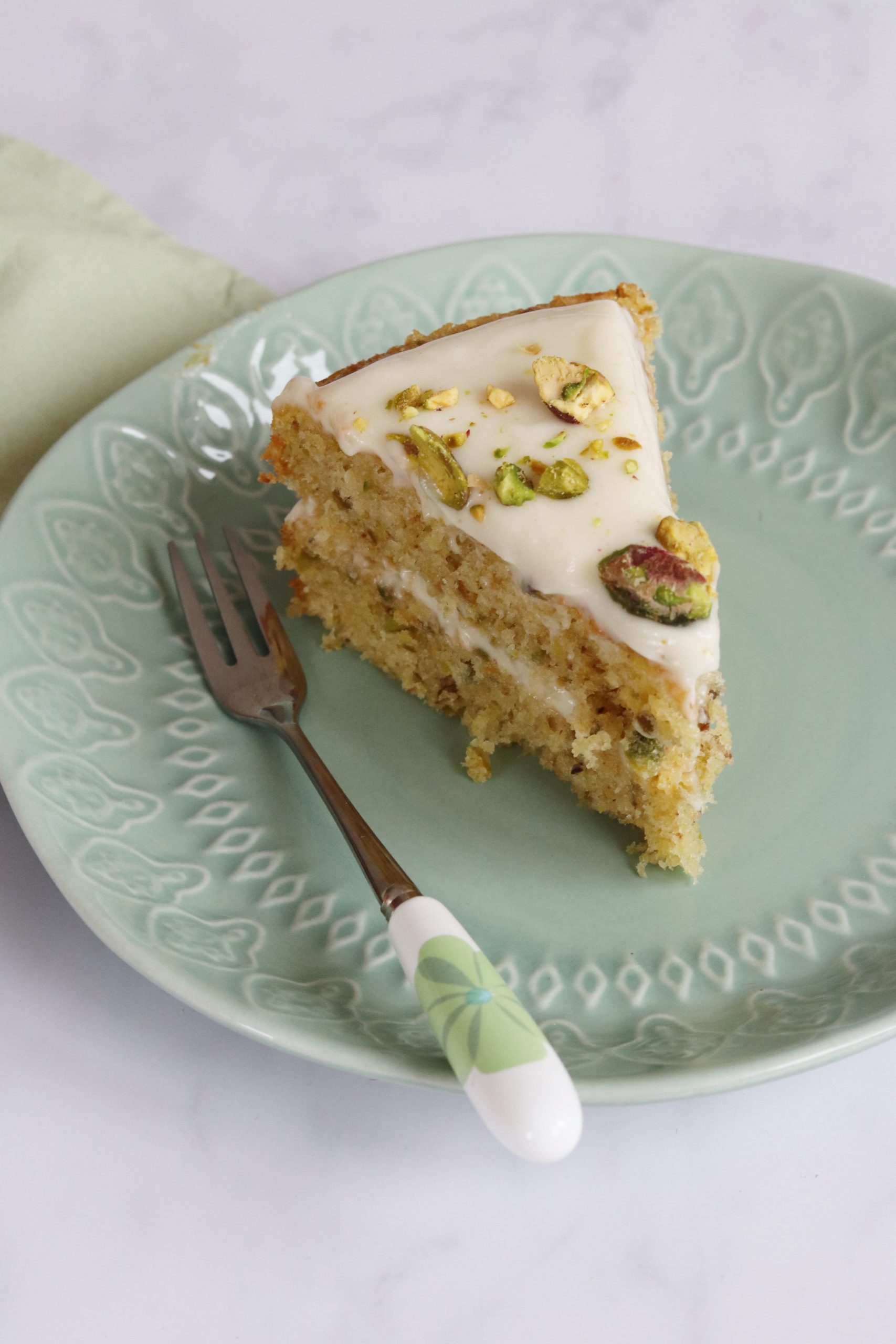 How long will this pistachio cake with cream cheese icing keep for?
This cake will keep for up to three days. After this it might start to get a little dry.
I would recommend keeping it in the fridge because of the cream cheese icing. It isn't recommended to leave this out of the fridge for a long period of time.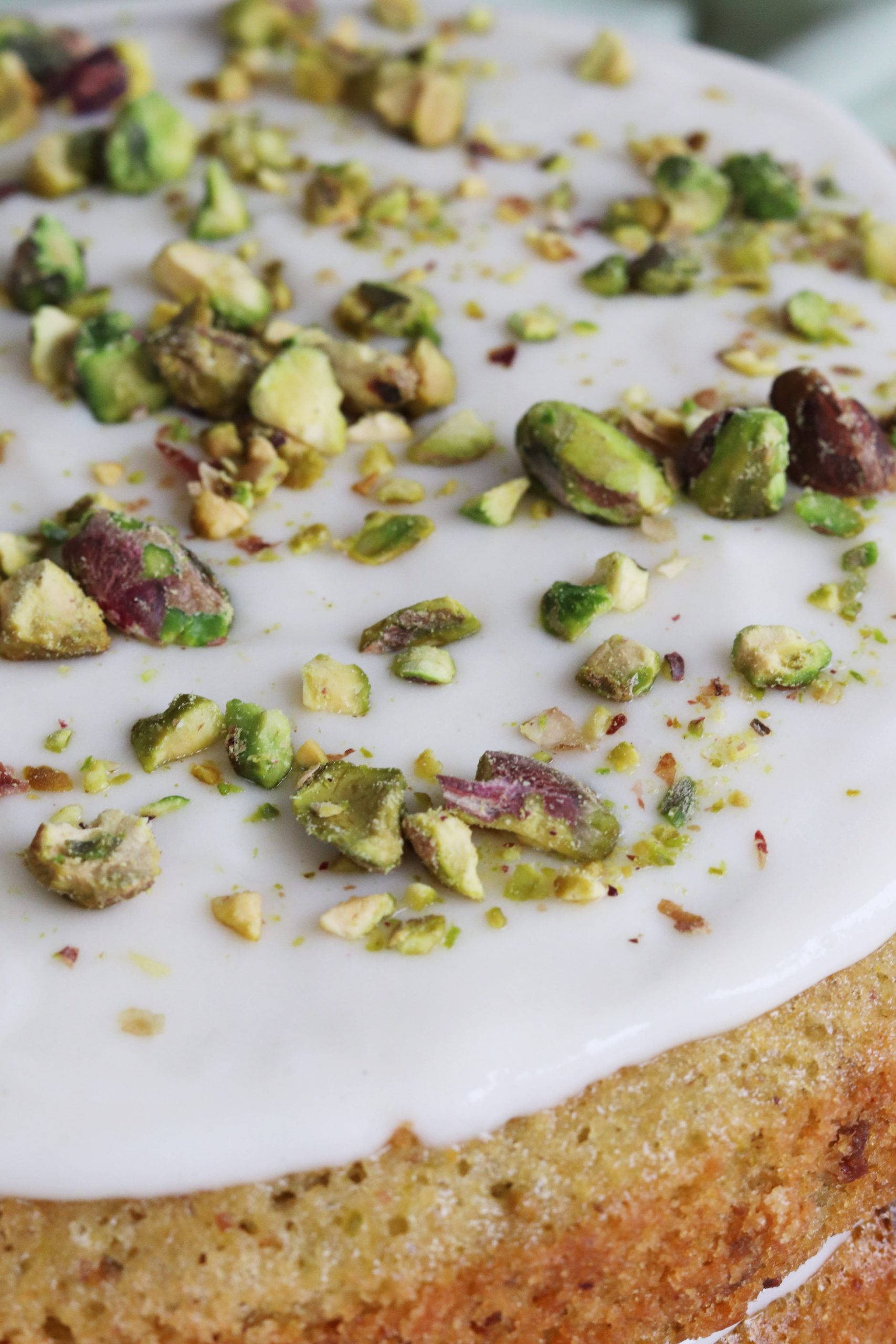 other recipes you might like
Pin for later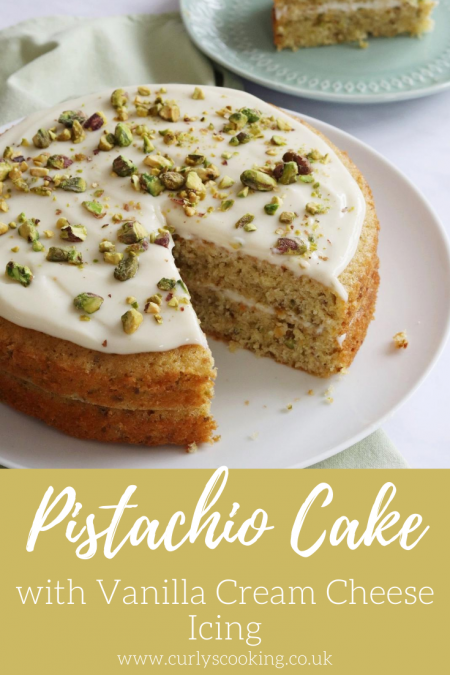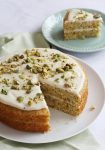 Pistachio Cake with Vanilla Cream Cheese Icing
Light and fluffy sponge with the subtle flavour of pistachios and silky smooth cream cheese Icing. This Pistachio Cake with Vanilla Cream Cheese Icing is one of my family's favourites.
Ingredients
For the cake
100

g

unsalted pistachios

de-shelled

200

g

caster sugar

200

g

margarine

150

g

self raising flour

1

tsp

baking powder

4

eggs

2

tbsp

milk
For the icing
200

g

full fat cream cheese

130

g

icing sugar

⅛

tsp

vanilla extract
Instructions
Preheat the oven to 170ºC (fan assisted, 190°C non fan). Line two 8 inch loose bottomed sandwich tins with parchment paper

Using a food processor, blitz 100g unsalted pistachios until quite fine

Cream 200g caster sugar and 200g margarine together until light and fluffy

Add the pistachios to the creamed butter and sugar along with 150g self raising flour, 1 tsp baking powder, 4 eggs and 2 tbsp milk. Mix until just combined

Divide the mixture evenly between the two tins and smooth. Bake in the oven for 20 minutes or until golden and a cocktail stick comes out clean

Leave to cool slightly in the tin before turning out onto a wire rack and letting cool completely

When the cake is completely cooled, mix 200g cream cheese, 130g icing sugar and ⅛ tsp vanilla extract together

As with all sandwich cakes turn one of the cakes upside down so the top is on the plate/cake board you are using to serve. Spoon half of the mixture onto the cake and spread out using a pallet knife

Place the remaining cake on top the correct way up. Spread the rest of the cream cheese mixture on the top of the cake

Blitz 2 tbsp pistachios until coarse and sprinkle over the top of the cake
Recipe Notes
You can use margarine or butter to make the cake.
As the cake has cream cheese, I recommend keeping it in the fridge.
Nutritional information is given as a guide only and may vary.
Nutrition Facts
Pistachio Cake with Vanilla Cream Cheese Icing
Amount Per Serving
Calories 388
Calories from Fat 171
% Daily Value*
Fat 19g29%
Cholesterol 54mg18%
Sodium 180mg8%
Potassium 181mg5%
Carbohydrates 39g13%
Protein 5g10%
Vitamin A 700IU14%
Vitamin C 0.3mg0%
Calcium 46mg5%
Iron 0.8mg4%
* Percent Daily Values are based on a 2000 calorie diet.