This Rosemary & Salt Fougasse not only looks special but tastes delicious too! The rosemary and salt along with the crisp crust will make it hard for you to stop eating.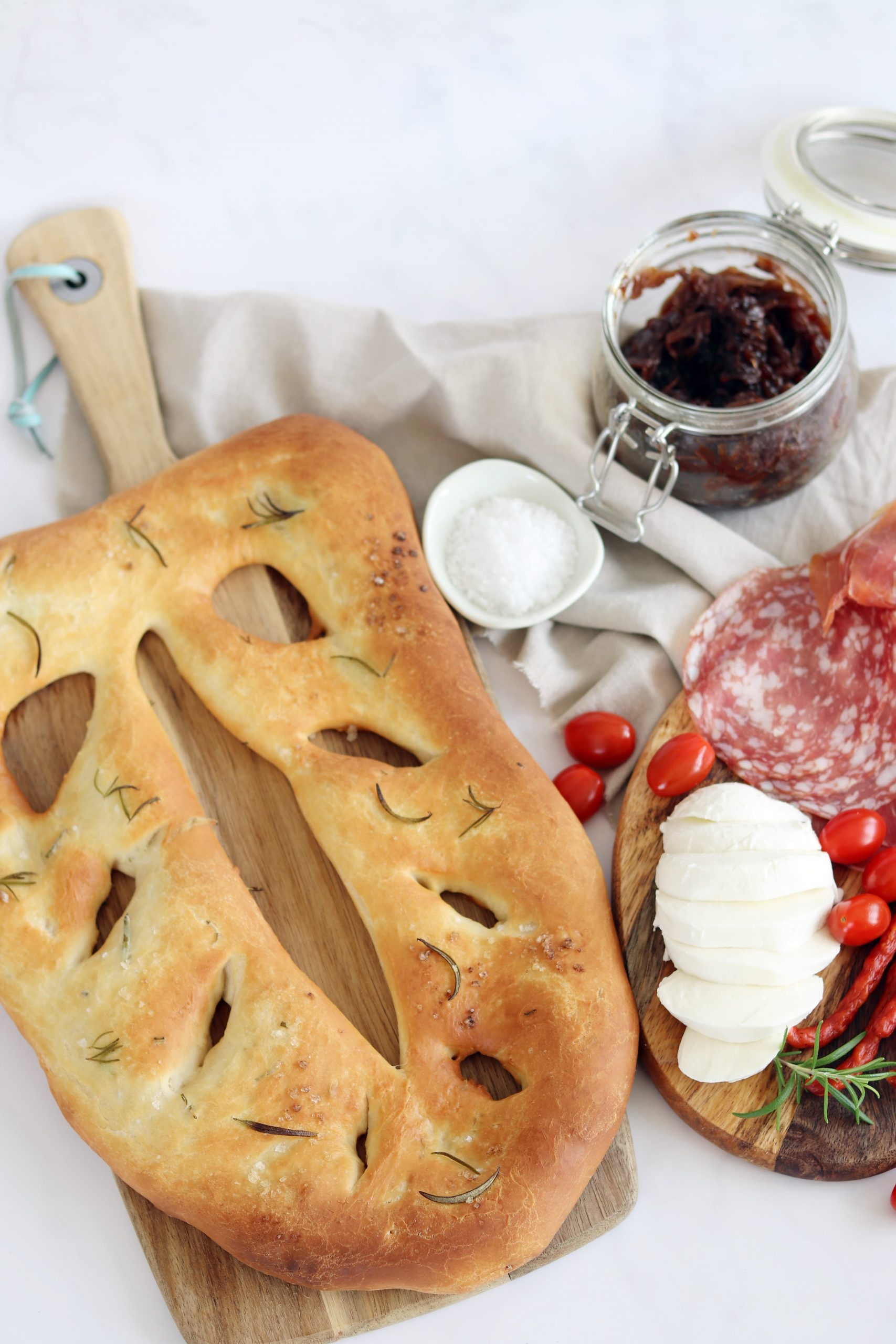 What is fougasse?
Fougasse is a French style bread typically found in Provence. Different variations can be found in different regions.
Fougasse is a cousin of Italian focaccia. They are both similar, however fougasses have numerous slits in them which are to resemble an ear of wheat.
These slits not only give the finished fougasse a lovely appearance but they are for taste purposes too. The slits increase the crust to soft interior ratio. This means that nearly every bite will include the crisp crust and airy interior.
This Rosemary & Salt Fougasse is definitely for crust lovers!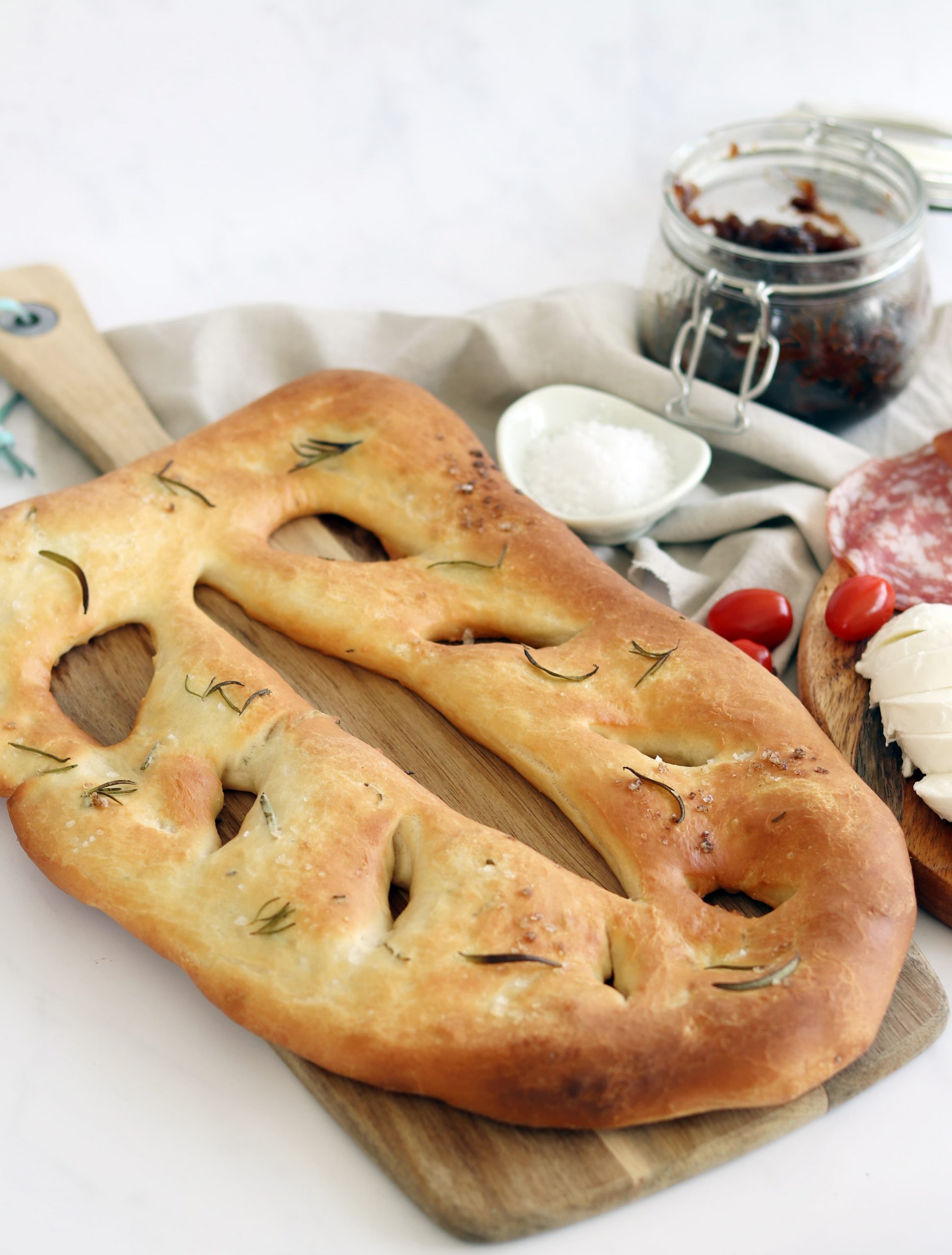 Adding rosemary and Salt to fougasse
Fougasse is delicious as it is, however it is a great bread to add flavours to.
Herbs, olives and cheese are common additions to the dough. Rosemary and salt is one of my favourite flavour combinations when it comes to bread. These are not only incorporated into the dough but sprinkled on top too.
Adding the rosemary to the dough really helps ensure the flavours are in every bite.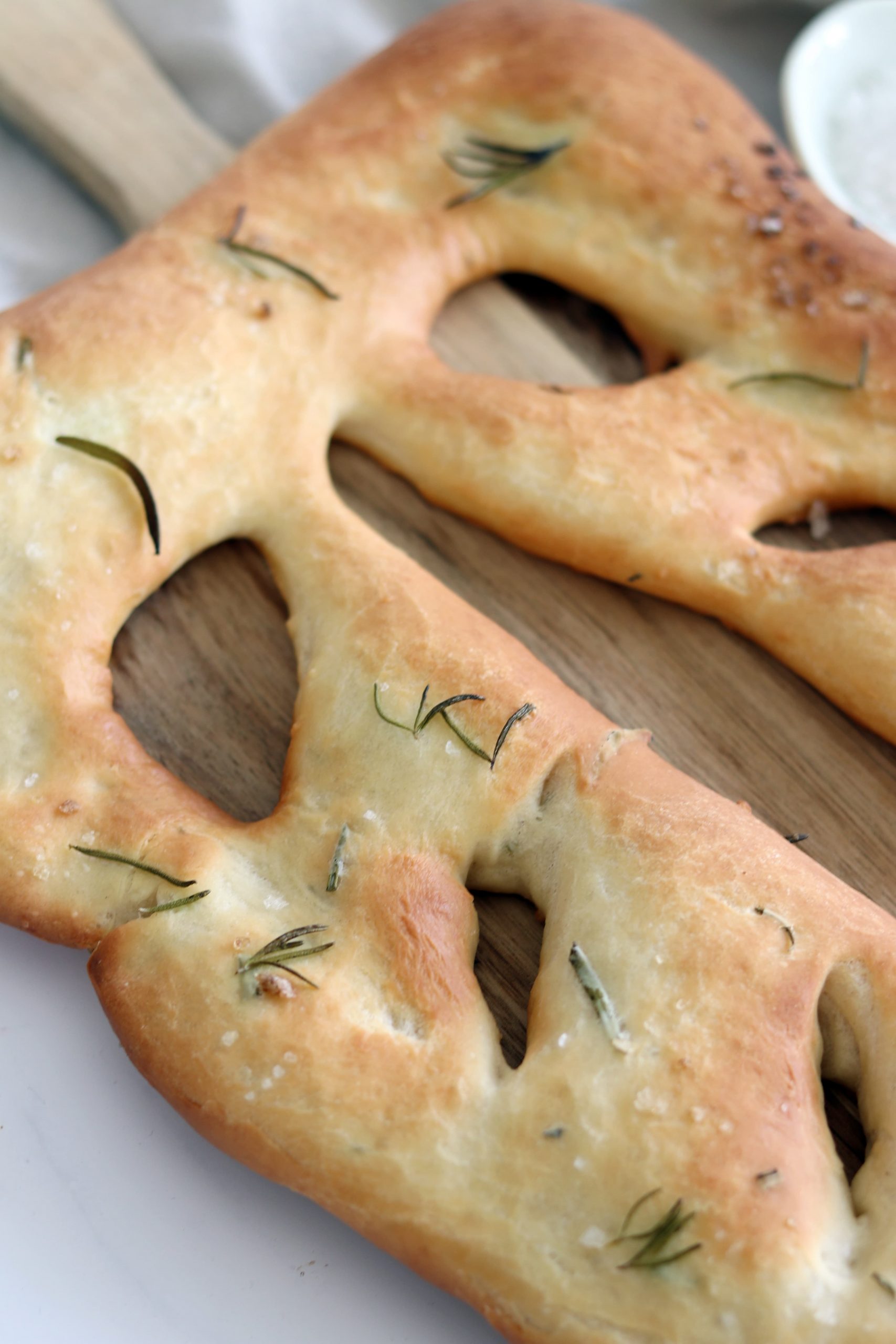 Fougasse isn't as hard to make as it may look
Don't panic, making fougasse isn't as hard to make as you may think!
Yes it looks fancy, but that doesn't mean it has to be difficult. If you have made bread before you will definitely be able to make this Rosemary & Salt Fougasse.
The only step that is slightly different to other types of bread is the shaping. Fougasses are meant to be rustic so don't worry if yours doesn't look perfect.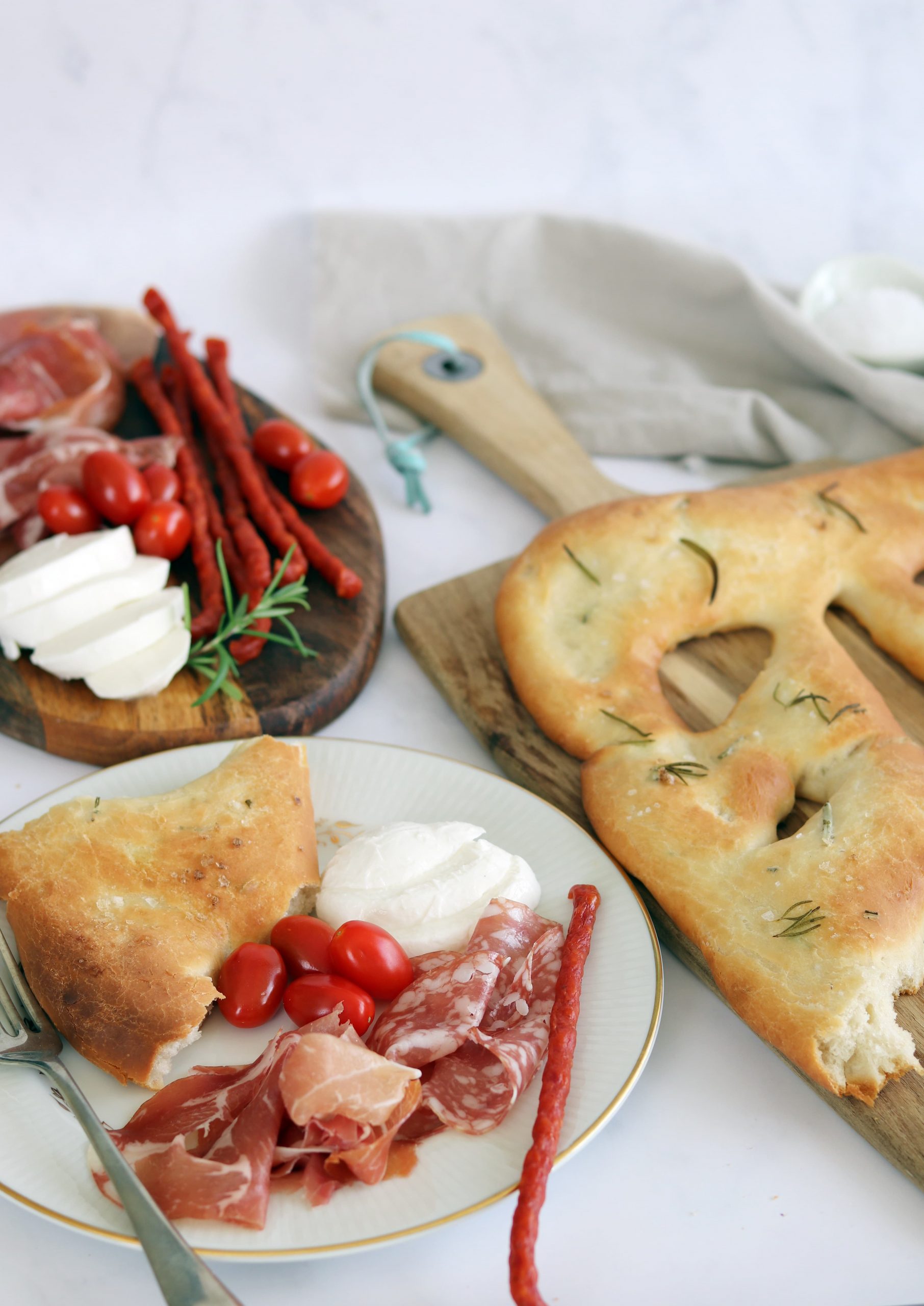 Shaping the dough
When you are shaping the dough, you want to roll the dough to a rectangle roughly 25cm in length. Ideally you are looking to get it wider at one and and thinner at the other – like an upside down teardrop.
I then cut one large slit down the middle of the dough followed by diagonal slits on either side. There are no hard and fast rules of exactly how your fougasse should look.
This is how I have always made fougasse, however I have since seen them all different shapes. Get creative and make your own designs!
You do need to make sure the slits are large enough so they don't close when baking. Stretch them wider than you would think to make them to ensure they are still there after baking.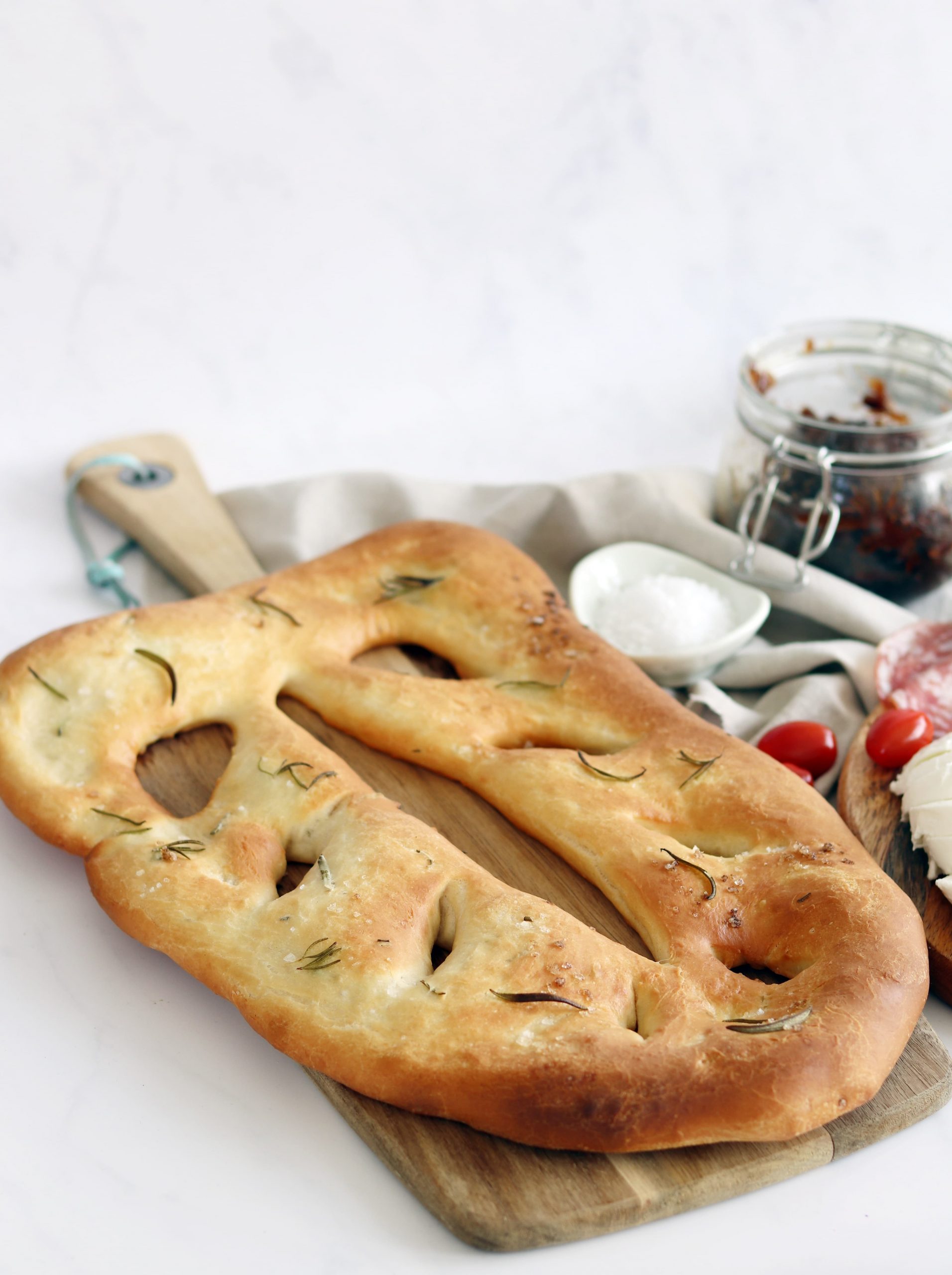 Tips for making the dough
I am no Paul Hollywood (obviously), but I have taught myself a few things with regards to making bread.
As with my Bread Rolls recipe, this Rosemary & Salt Fougasse took a few attempts before I was completely happy with it.
One tip I found produced a better finished bread was using oil to stop the dough sticking to your surface instead of flour.
When I used flour it impacted the finished bread making it fluffier. Although this tasted nice, it wasn't what you want in a fougasse.
Using the oil when kneading meant there was no additional flour being added to the dough which had a much better outcome.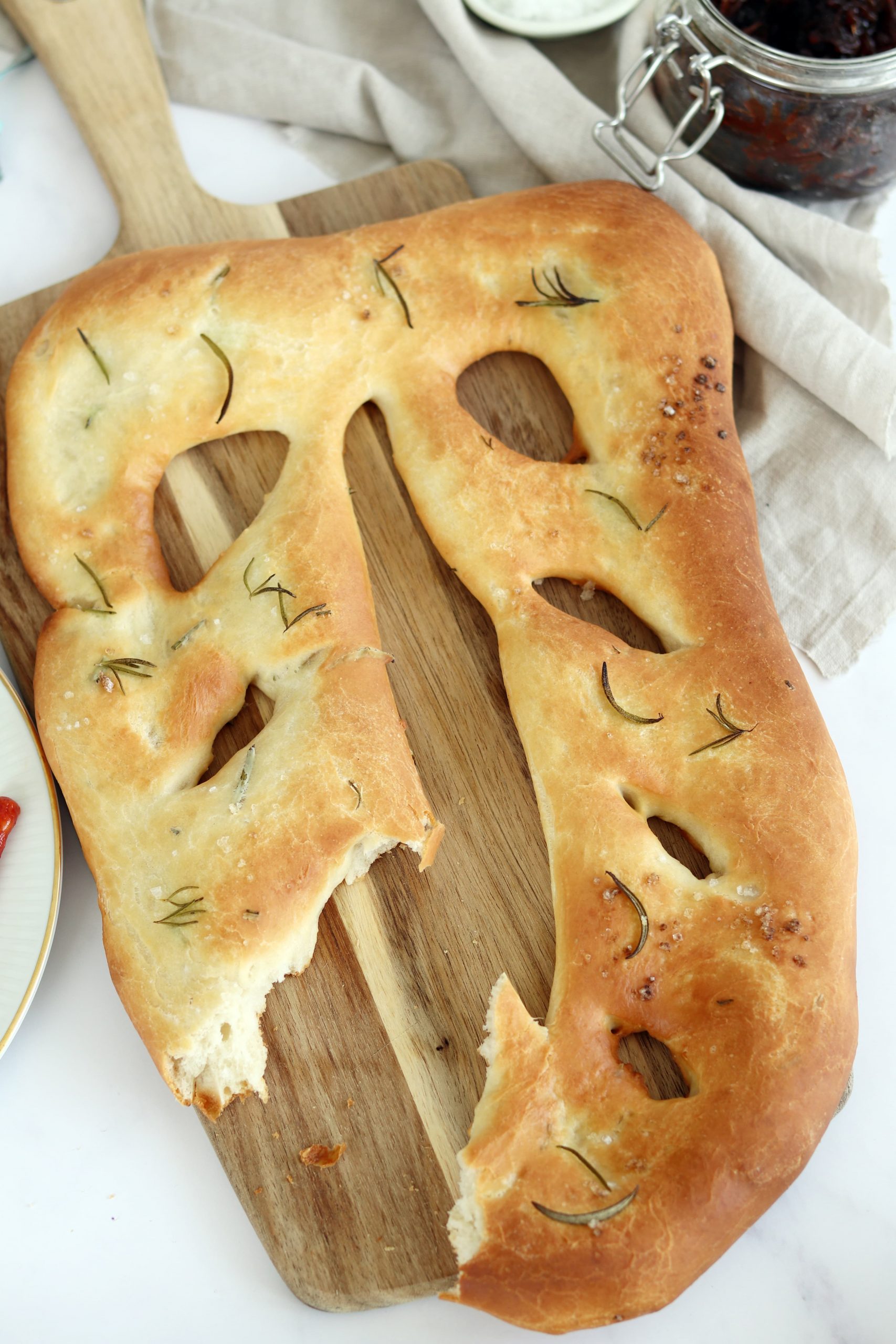 How long do I need to prove my dough for?
This is a little bit of a tricky one as it can really vary. A lot of factors can affect how long your dough will take to prove so it is hard to say a specific time.
Temperature – this can affect how quickly your dough will rise. On a cold day it will take longer to double in size than on a warmer day. Leaving the dough to prove in a warm place will help speed up the process
Keep your yeast and salt separate – when you are adding the ingredients, make sure you keep the yeast and salt away from each other as the salt can kill the yeast. This would then mean the dough doesn't rise as well as it should
How old your yeast is – if your yeast is out of date or has been open for a while, but might not be at it's best. It should still work, but it might take a little longer for the dough to double in size
Your dough is ready for the next step when it has doubled in size. Taking into account the points above, this should take between one and a half to two hours. But use your own judgement as it might take a little less or longer.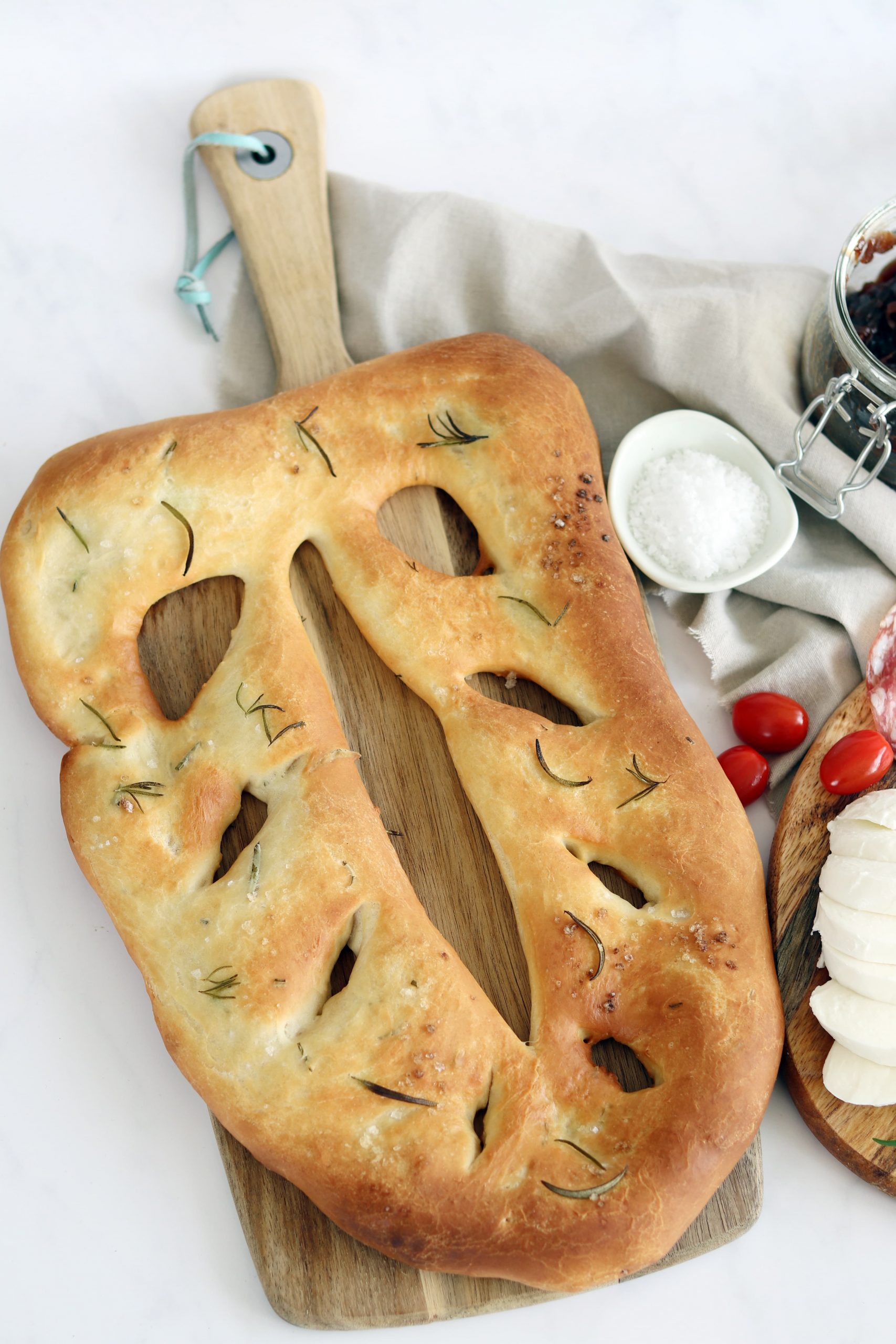 How long will this fougasse keep for?
As with a lot of bread, this Rosemary & Salt Fougasse is best eaten on the day you bake it. This is when it is at its freshest.
The next day it is still perfectly edible but the crisp crust becomes softer and chewier.
You could spray the fougasse with some water and bake it in the oven at 180°C (fan assisted) for 5 minutes or so to refresh the bread and crisp up the crust again.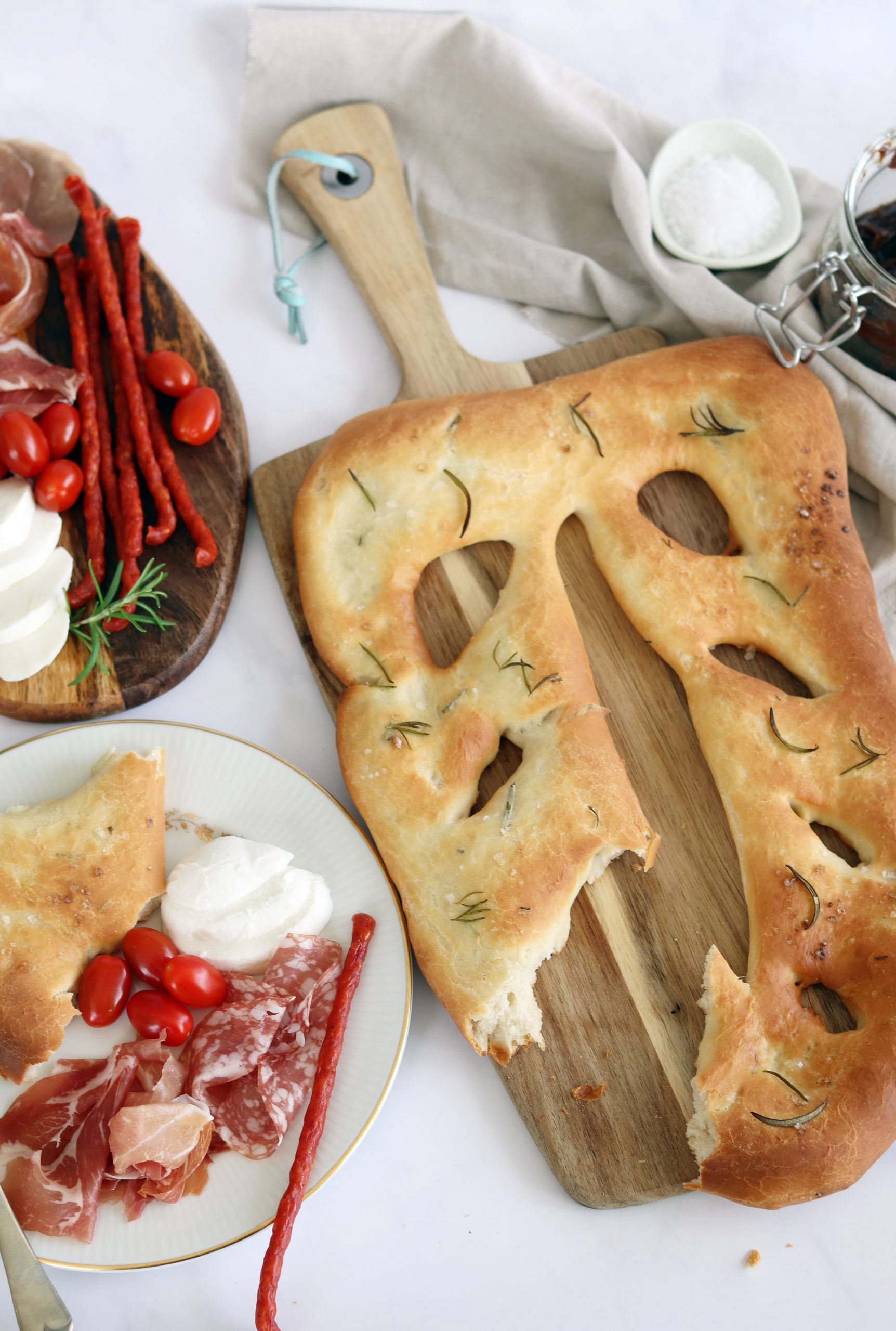 Can I freeze this fougasse?
This recipe makes two loaves. You may not want to eat both of them on the same day so freezing is a great way to preserve the freshness.
I would freeze the fougasse once it has cooled. It will keep in the freezer for up to three months.
When you would like to eat the bread, defrost it at room temperature for around two hours.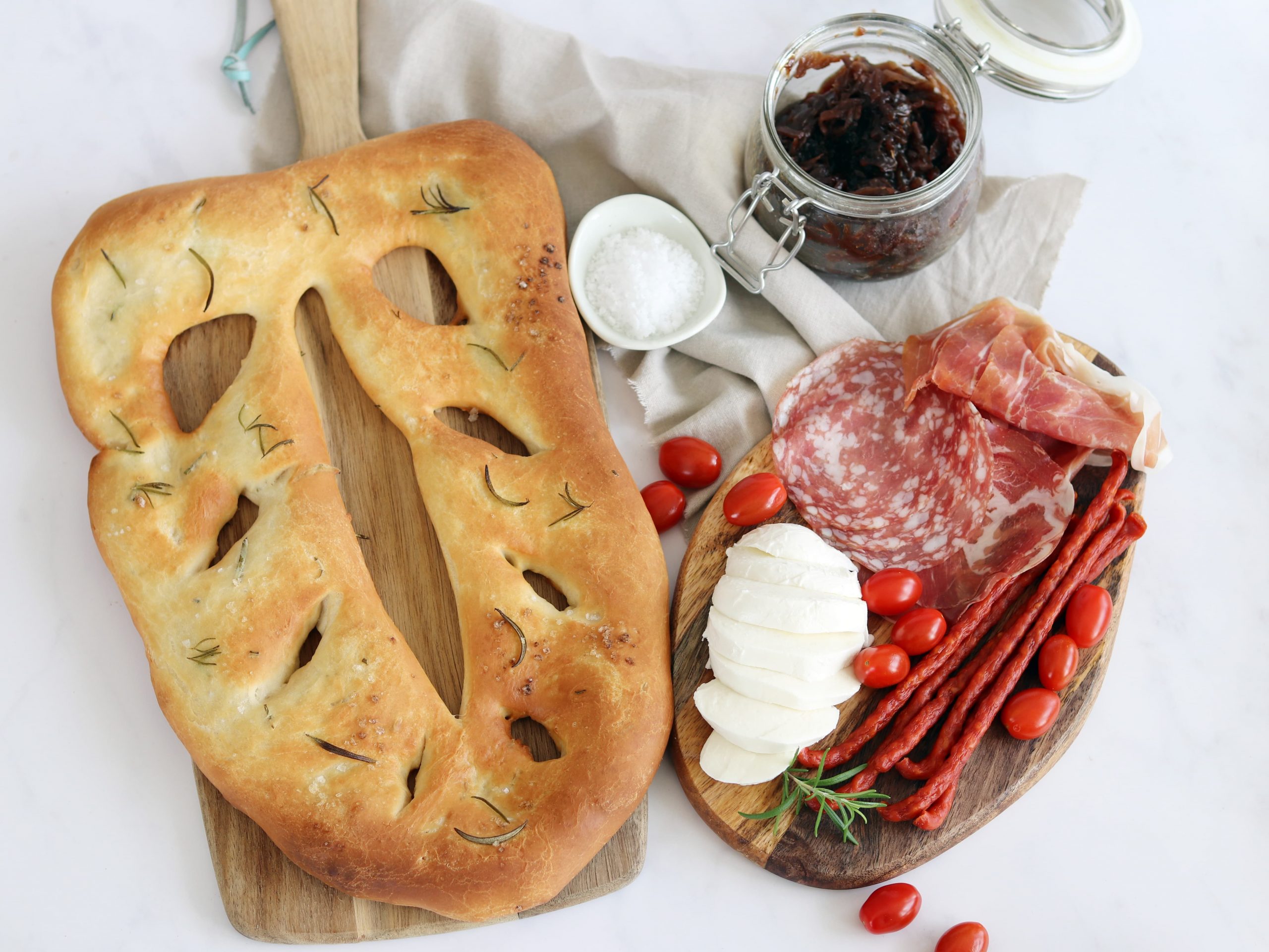 What to eat with this fougasse?
You can eat this Rosemary & Salt Fougasse with a whole number of things. Because it is a flat bread, it doesn't lend itself to being used for sandwiches. But apart from that it is very versatile.
This fougasse would also be great served alongside my Easy Couscous Salad or Simple Chicken & Bacon Salad to make them more substantial. It would also be very tasty with my Easy Greek Salad.
If you're looking for something warming, this fougasse would be great with my Roasted Tomato & Red Pepper Soup. The flavours would also go well with my Sweet Potato, Leek & Rosemary Soup.
My favourite way to eat this Rosemary & Salt Fougasse is as part of a mezze style platter. Get some charcuterie, cheese, Caramelised Onion Chutney and delicious tomatoes and dig in.
These recipes would also be fantastic with this fougasse: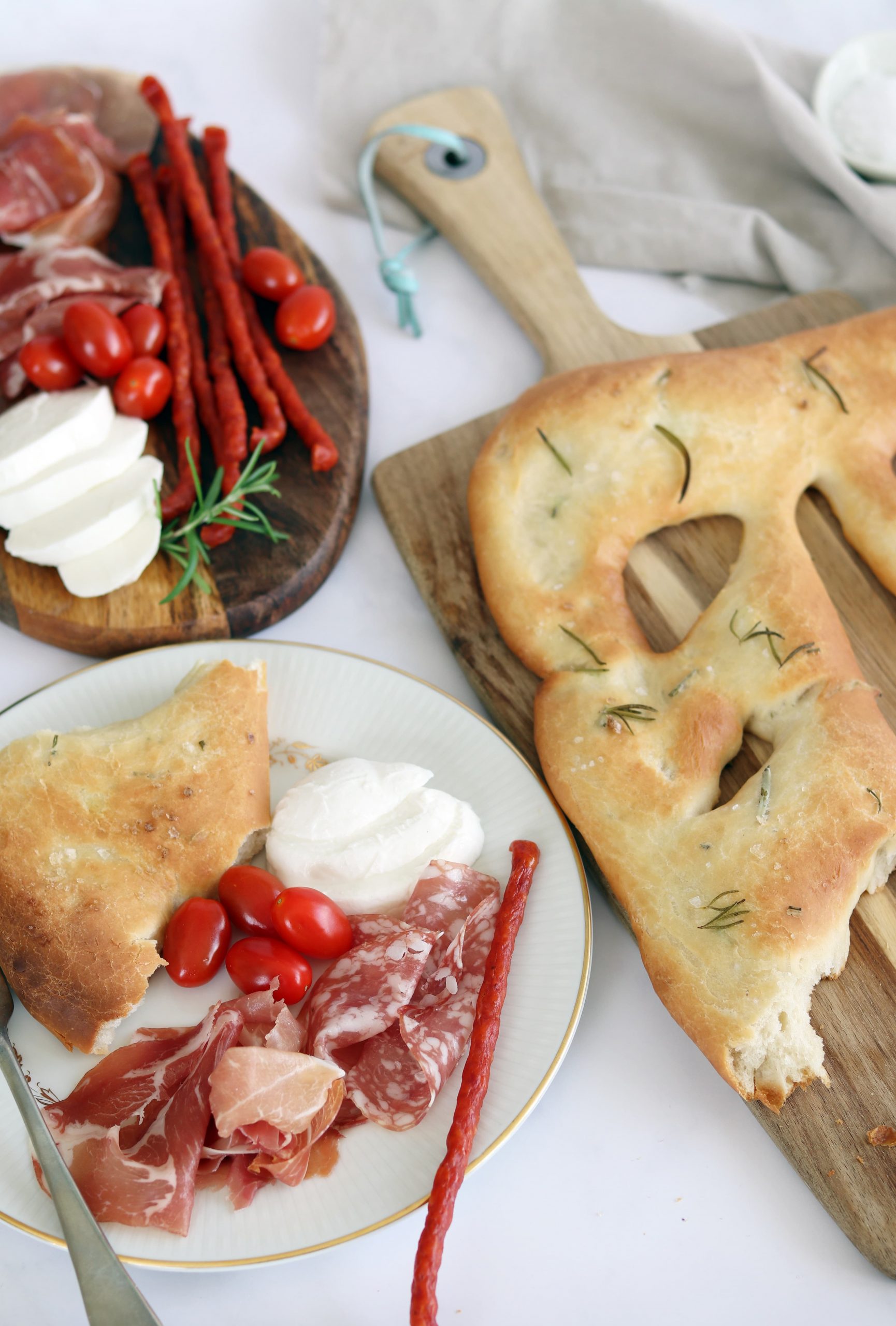 Other recipes you might like
Pin for later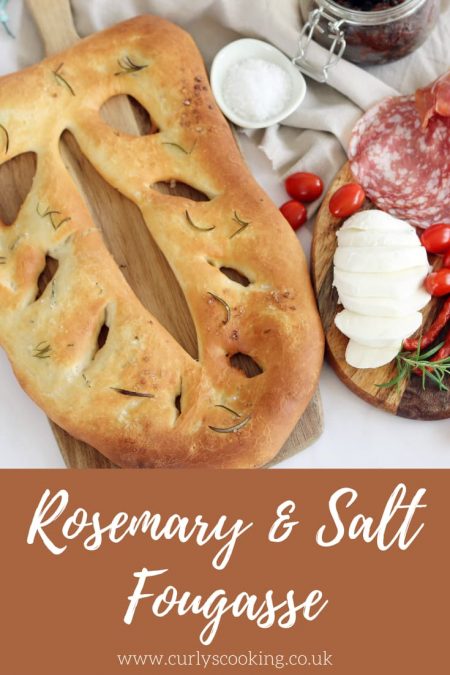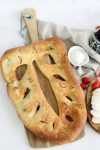 Rosemary & Salt Fougasse
This Rosemary & Salt Fougasse not only looks special but tastes delicious too. The tasty rosemary and salt along with the crisp crust will make it hard for you to stop eating!
Ingredients
For the dough
500

g

strong white bread flour

7

g

yeast

(one sachet)

1

tsp

sea salt

1

tsp

caster sugar

320

ml

lukewarm water

40

ml

olive oil

2

tbsp

rosemary leaves

chopped
For the topping
1

tbsp

olive oil

1

tbsp

rosemary leaves

1

tsp

sea salt
Instructions
Add the flour, yeast, salt, sugar and chopped rosemary to your mixer or onto a clean surface.

If mixing by hand, make a well in the middle before adding the water and oil and mix to form a soft dough

If using a mixer attach the dough hook and leave to knead for 10 minutes. If you're kneading by hand, it may take a little longer. When pressed, the dough should spring back when it has been kneaded enough

Put in a bowl and cover with a clean tea towel. Leave to prove until doubled in size for 1½ – 2 hours

Once the dough has doubled in size, tip it out onto an oiled surface. Preheat the oven to 200°C (fan assisted, 220°C non fan)

Divide the dough into two equal balls and use a rolling pin to shape it into long rectangles approximately 25cm long. Ideally they should be wider at one end

Place on an oiled baking sheet. Cut one vertical slash through the dough and then slashes either side to give the dough leaf like markings. Open out the slashes slightly with your fingers

Lightly brush the dough with olive oil and scatter the salt over the bread. Dip the rosemary leaves in the oil to help prevent them from burning

Cover and leave to prove for a further 15-30 mins, then bake for 15-20 mins until golden brown
Recipe Notes
When you are kneading the bread, use olive oil instead of more flour to stop the dough sticking.
As with most bread, this fougasse is best eaten on the day you bake it.
Nutritional information is given as a guide only and my vary.
Nutrition Facts
Rosemary & Salt Fougasse
Amount Per Serving
Calories 281
Calories from Fat 63
% Daily Value*
Fat 7g11%
Sodium 582mg25%
Potassium 13mg0%
Carbohydrates 1g0%
Protein 1g2%
Vitamin A 23IU0%
Vitamin C 1mg1%
Calcium 10mg1%
Iron 1mg6%
* Percent Daily Values are based on a 2000 calorie diet.