Delicious melt in your mouth slow cooked Mexican Pork, these Carnitas are an amazing authentic dish. If you love pork, you have to try this simple and incredibly tasty dish.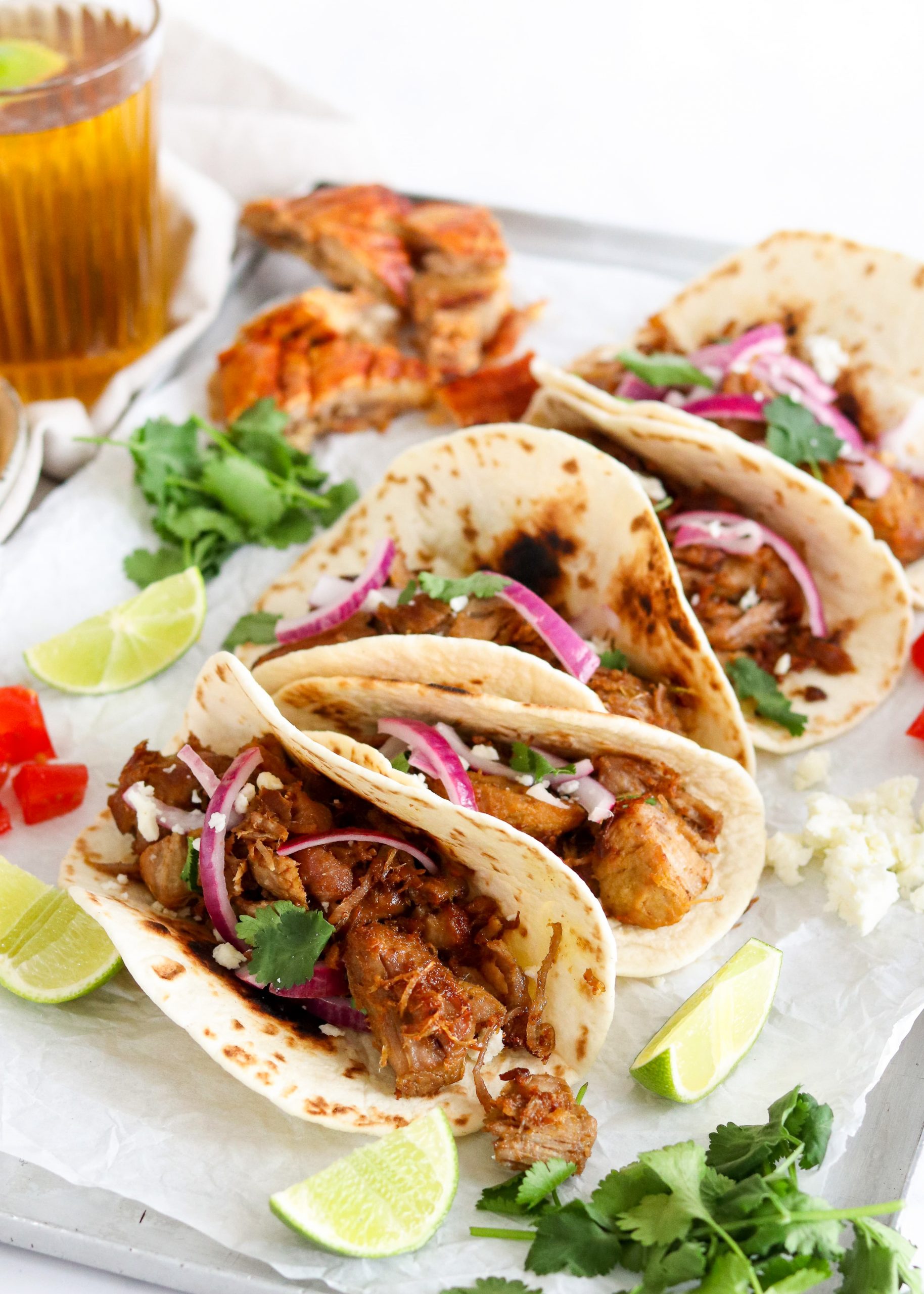 Carnitas – a delicious Mexican Pork recipe
Carnitas is a Mexican Pork dish that originates in Michoacán and translates as 'little meats'. It is pork that is simmered slowly in oil for hours until tender.
Marbled pork shoulder is diced and cooked in oil with a few simple ingredients. The amount of oil may look like a lot, but it really is worth it for the fall apart tender pork once it's finished.
Carnitas are a perfect example that Mexican food doesn't have to be spicy. There are no chillies or any spice in this recipe. The few ingredients used simply flavour the pork in such a delicious way.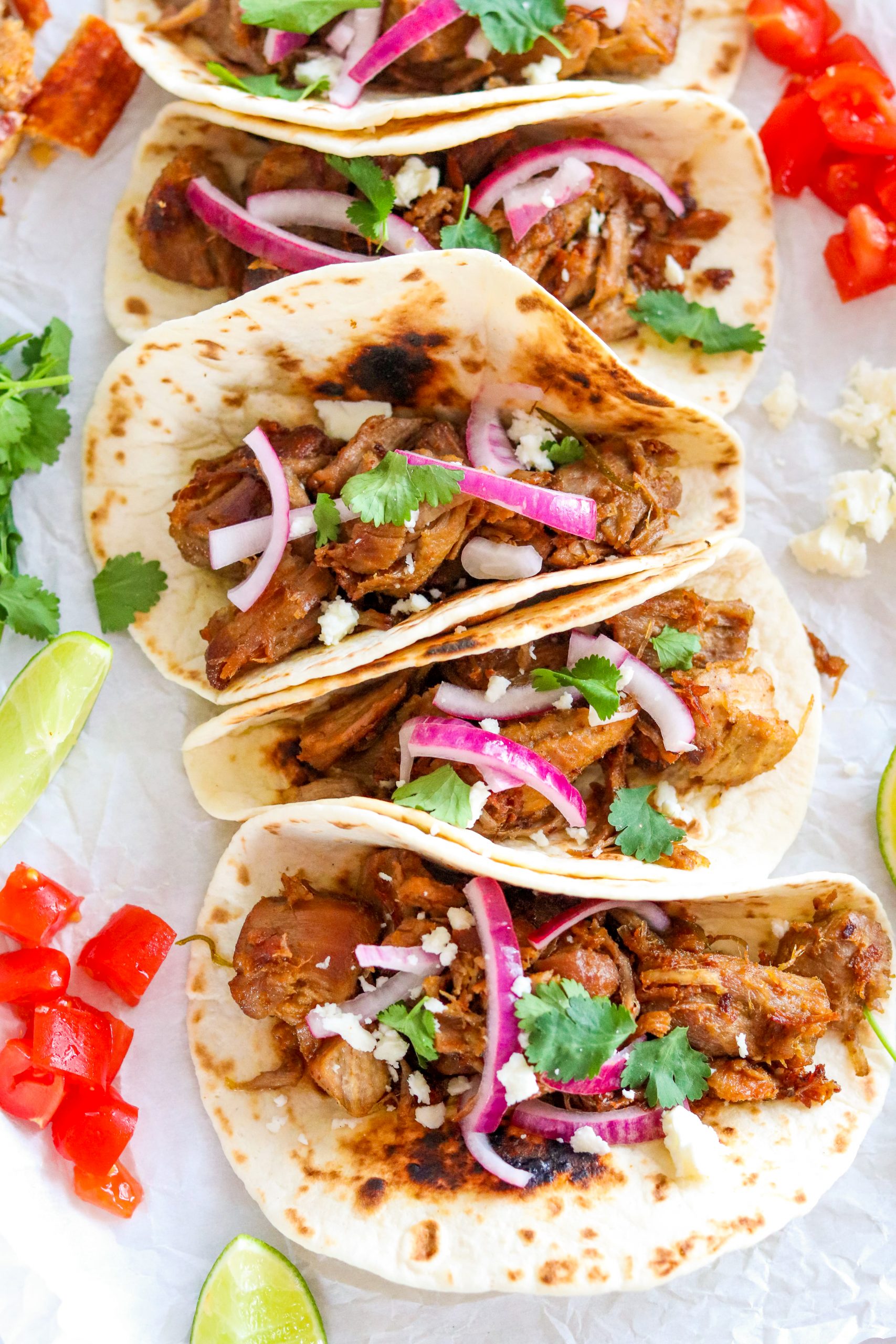 Which cut of pork is recommended to use?
You need a cut of pork with a good amount of fat as this will make the pork even more flavoursome.
I like to use pork shoulder for these Carnitas. Pork shoulder is also known as pork butt or Boston butt in the US.
I prefer to buy a pork shoulder joint and remove the rind myself before cutting it into a large dice. You can buy pork shoulder already diced if you would prefer not to prepare the meat yourself but this is usually a little more expensive.
Pork shoulder is the ideal cut of meat because it really lends itself to be cooked for a long time. This allows the fat to render down and become tender which wouldn't happen in a short cooking time.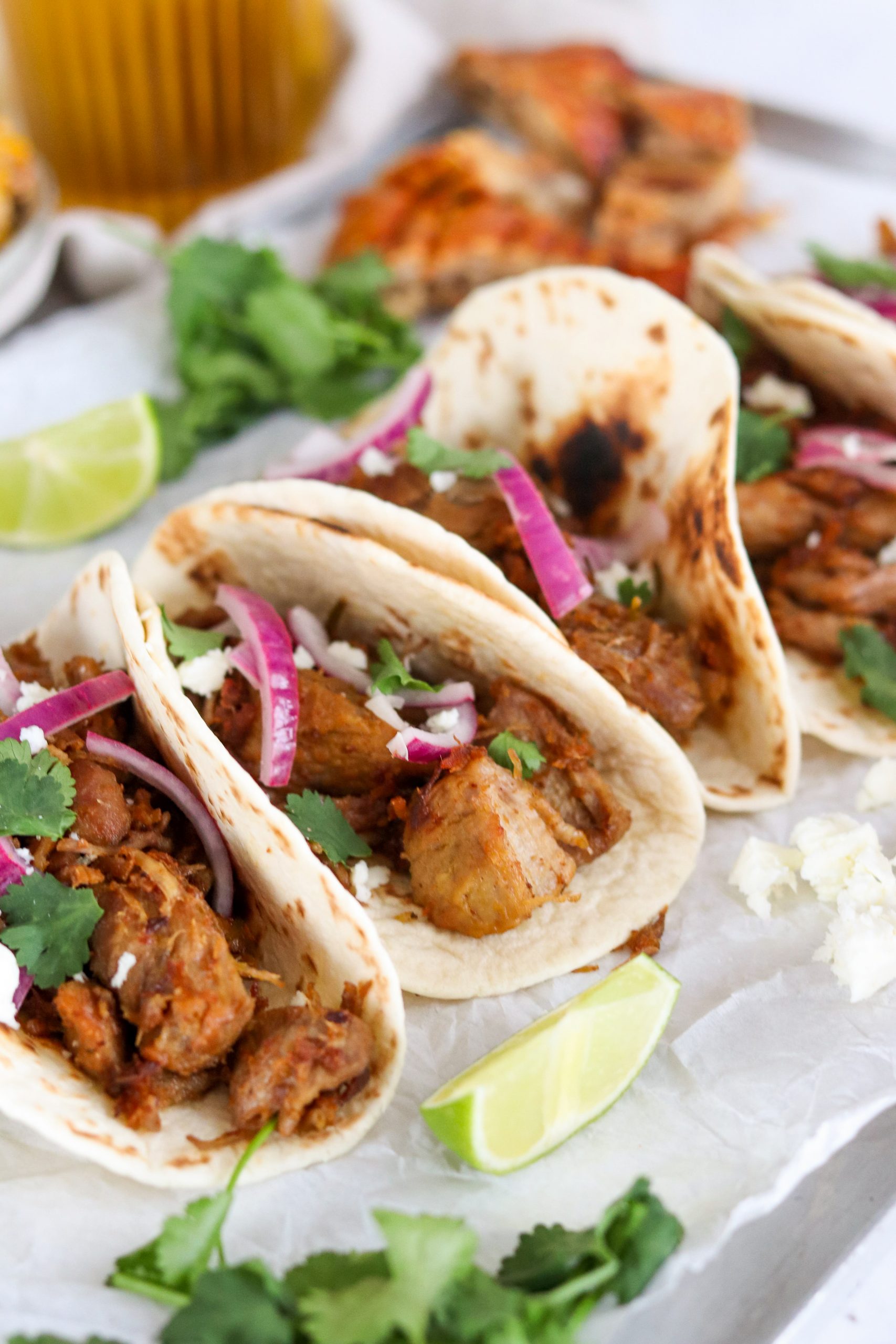 Do you really need that much oil?
Yes, you do.
Traditionally, Carnitas are cooked in lard. This isn't an ingredient I keep so I do use vegetable or sunflower oil instead. You can use lard or shortening if you prefer, but I think oil is easier.
And yes it does look like a lot of oil, but you really do need it. It keeps the pork moist as it cooks and then crisps it up towards the end of the cooking time.
You may not want to eat these Carnitas every day because of the oil; but boy are they a treat when you do make them!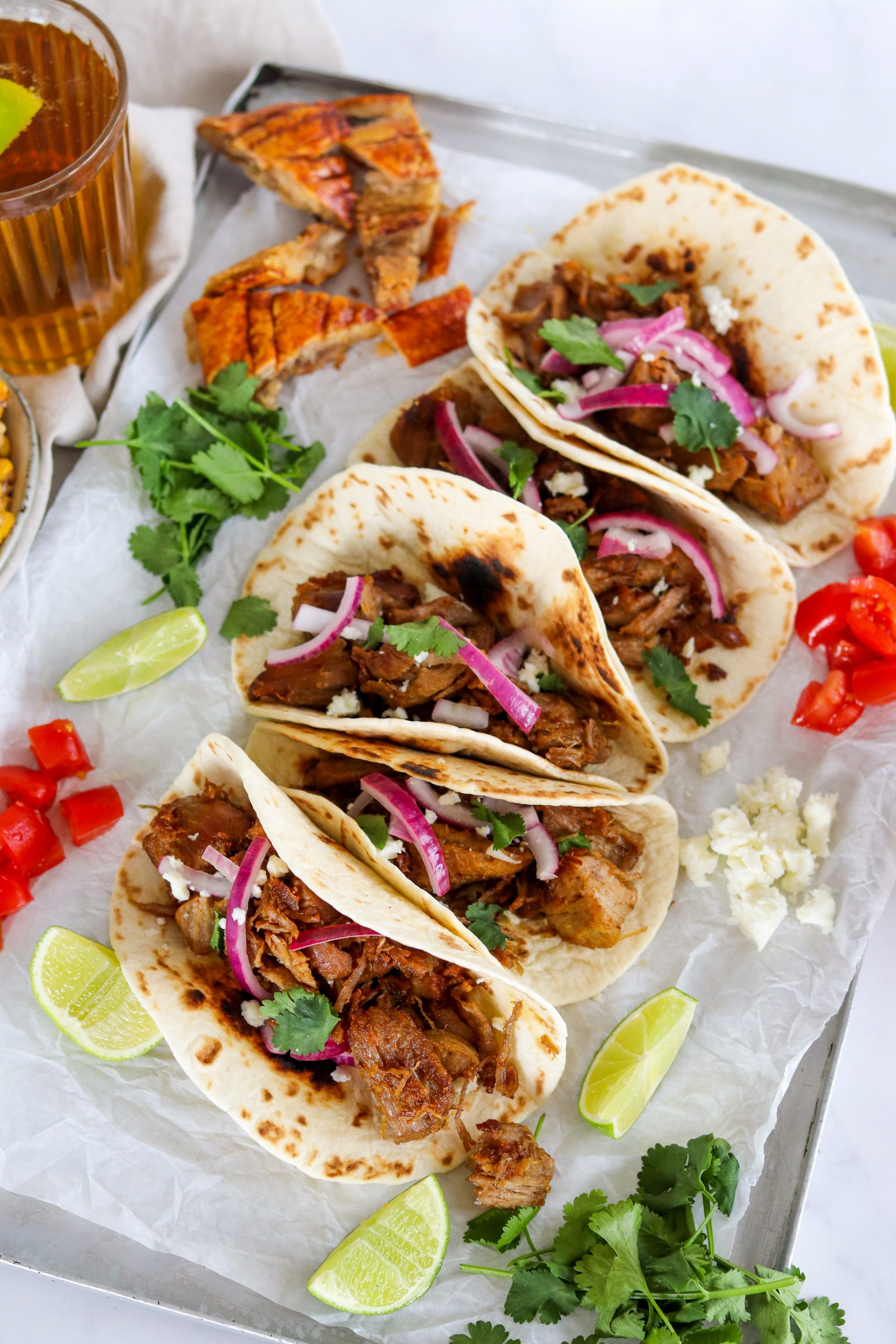 Why is milk used?
Adding milk to pork and oil might seem like a bit of a strange thing to do. And I admit, it is something you I have seen very often. But it really works.
The milk tenderises the pork along with the other ingredients that are added. The orange juice also breaks down the meat to make it super tender. It also adds a lovely subtle flavour to the finished Mexican Pork.
The oil, milk and orange juice all work together to make the most melt in your mouth tender pork.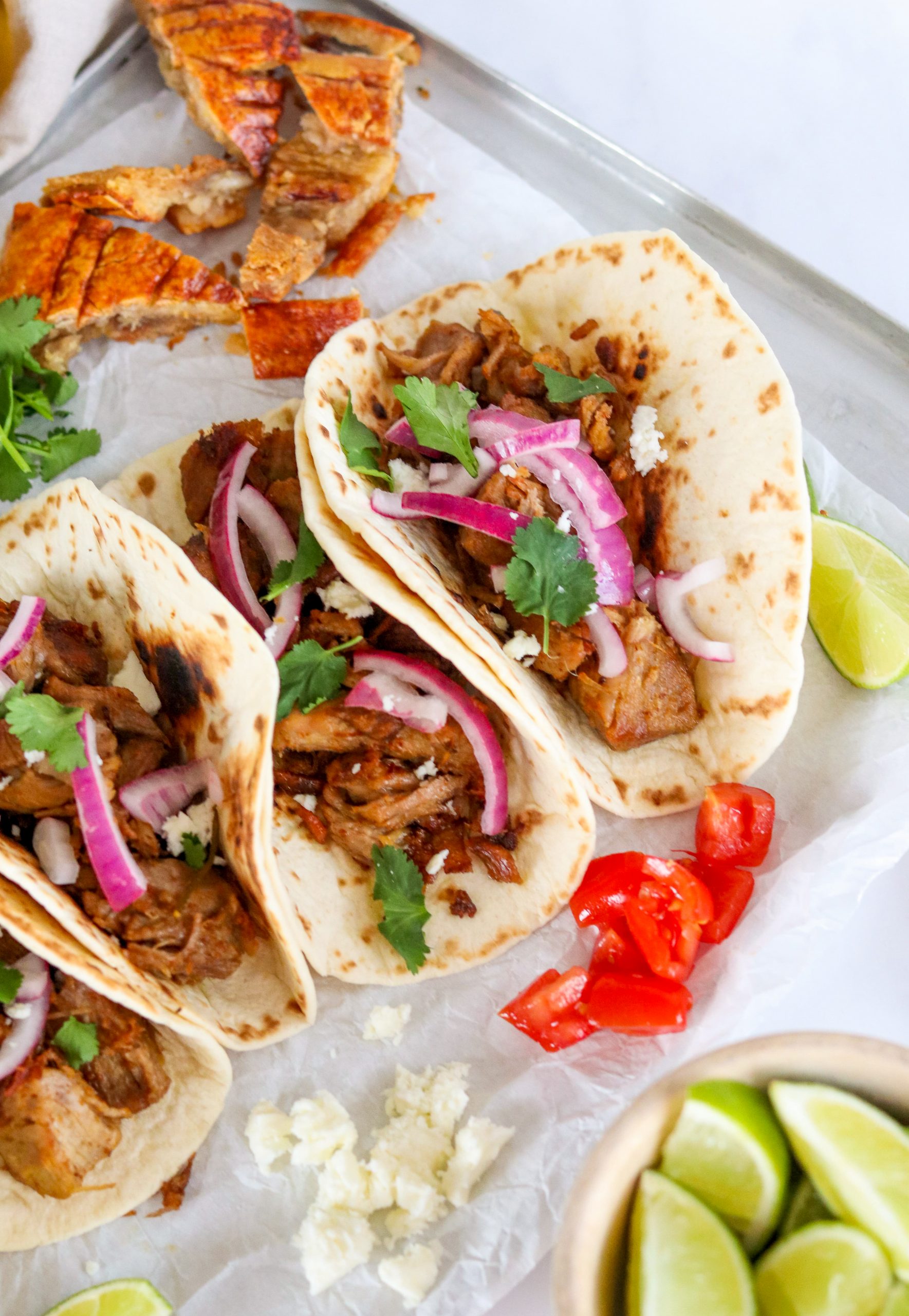 How do you know when the Mexican pork is cooked?
You will know when the Carnitas are cooked because most of the liquid will have evaporated. The pork will have broken down slightly but you will still have chunks.
The oil will have helped crisp up the pork towards the end of the cooking time. If you would like yours a bit crispier, just cook it for a little longer. Carnitas are quite a forgiving recipe and not easy to overcook.
Towards the end of the cooking time, make sure you stir the pork quite often so it doesn't stick to the pan. As the liquid evaporates it has the tendency to want to stick to the pan which could risk it burning.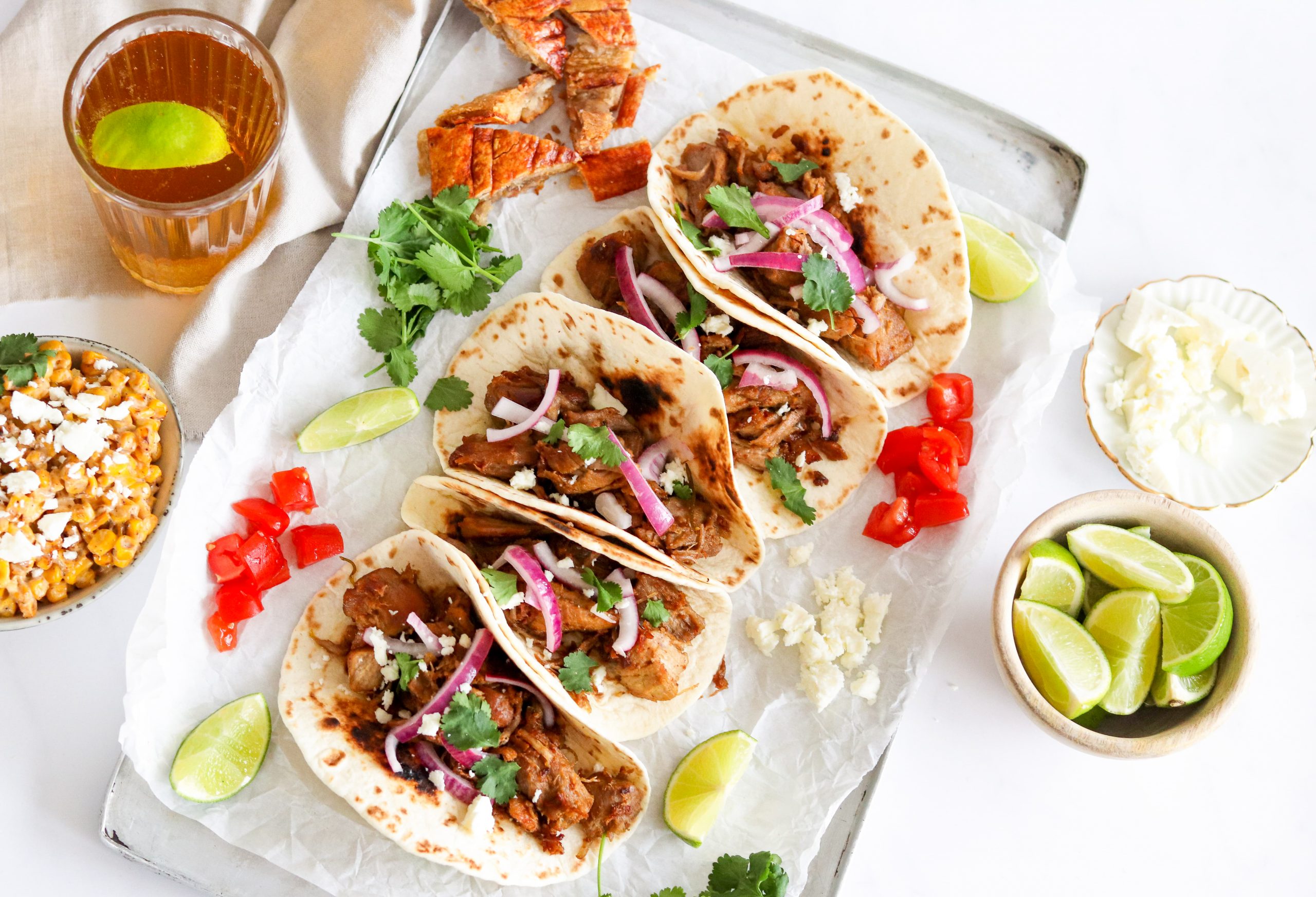 what is the difference between pulled pork and carnitas?
Carnitas are similar to Pulled Pork, but they aren't the same thing. Carnitas are chunkier with less of a 'pulled' texture. It also has a crispness that you rarely find with pulled pork.
When you cook pulled pork, you cook the joint of meat whole and then once it is cooked you 'pull' it apart. With Carnitas, you cut the pork into chunks before you cook it.
The pork then almost disintegrates as it is cooking so you end up with some small strands of pork but also have chunks too.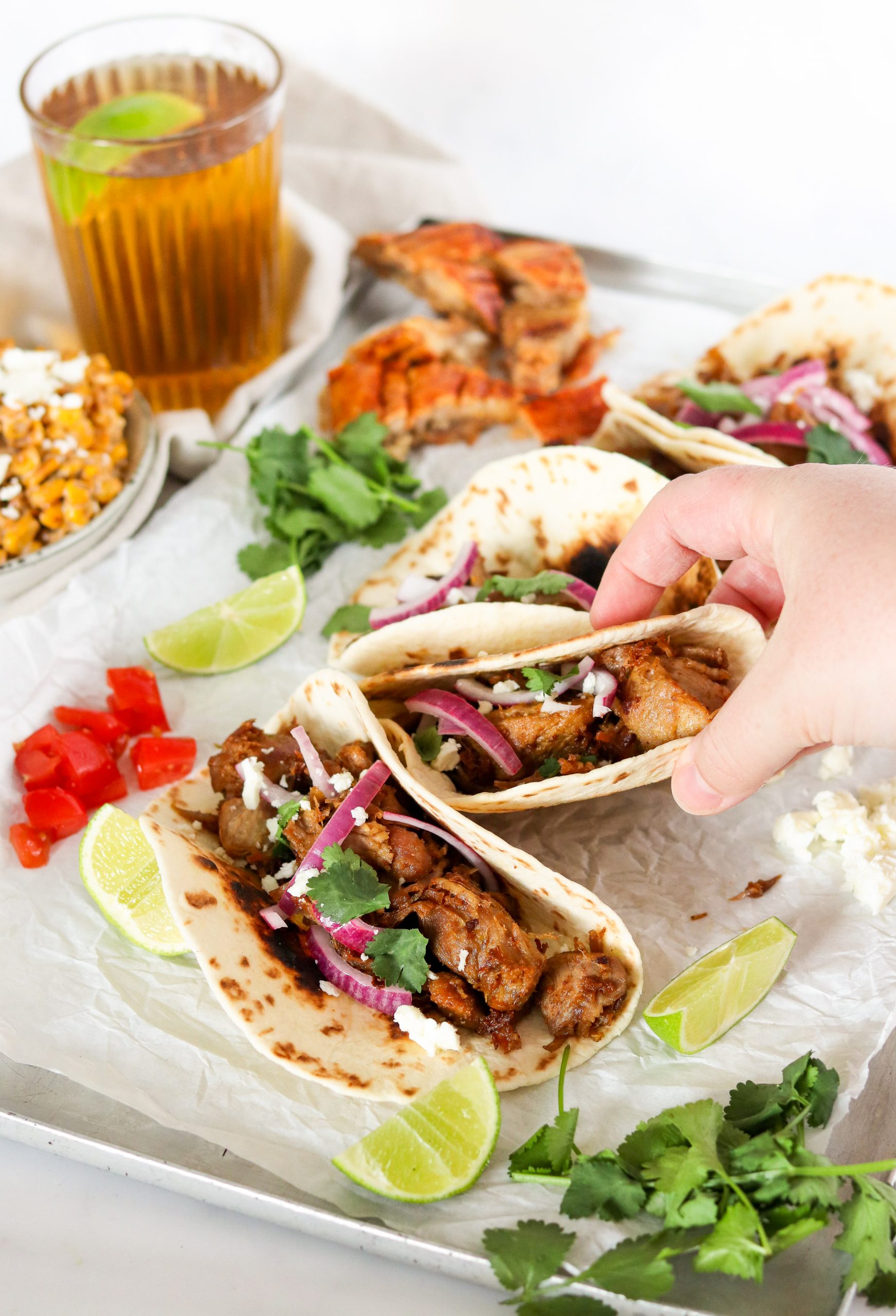 How to serve Mexican Pork
There are countless ways to serve Carnitas and every way will be absolutely delicious!
My favourite way to serve this is in tacos – who doesn't love a taco?! I like to keep it really simple and add the carnitas to tortillas along with some Easy Pickled Red Onions. You can add a sprinkling of feta and coriander to finish them off.
I also like to serve these as part of a Mexican taco feast with my Slow Cooker Chicken & Chorizo Stew. A big bowl of Mexican Street Corn Salad is also compulsory!
With any leftovers you could make so many delicious meals. You can swap the chorizo for Carnitas in my Chorizo & Potato Quesadillas. And again replace the chorizo in Chorizo & Egg Breakfast Burritos.
You could also whip up a Quick Pulled Pork Pizza – the options really are endless!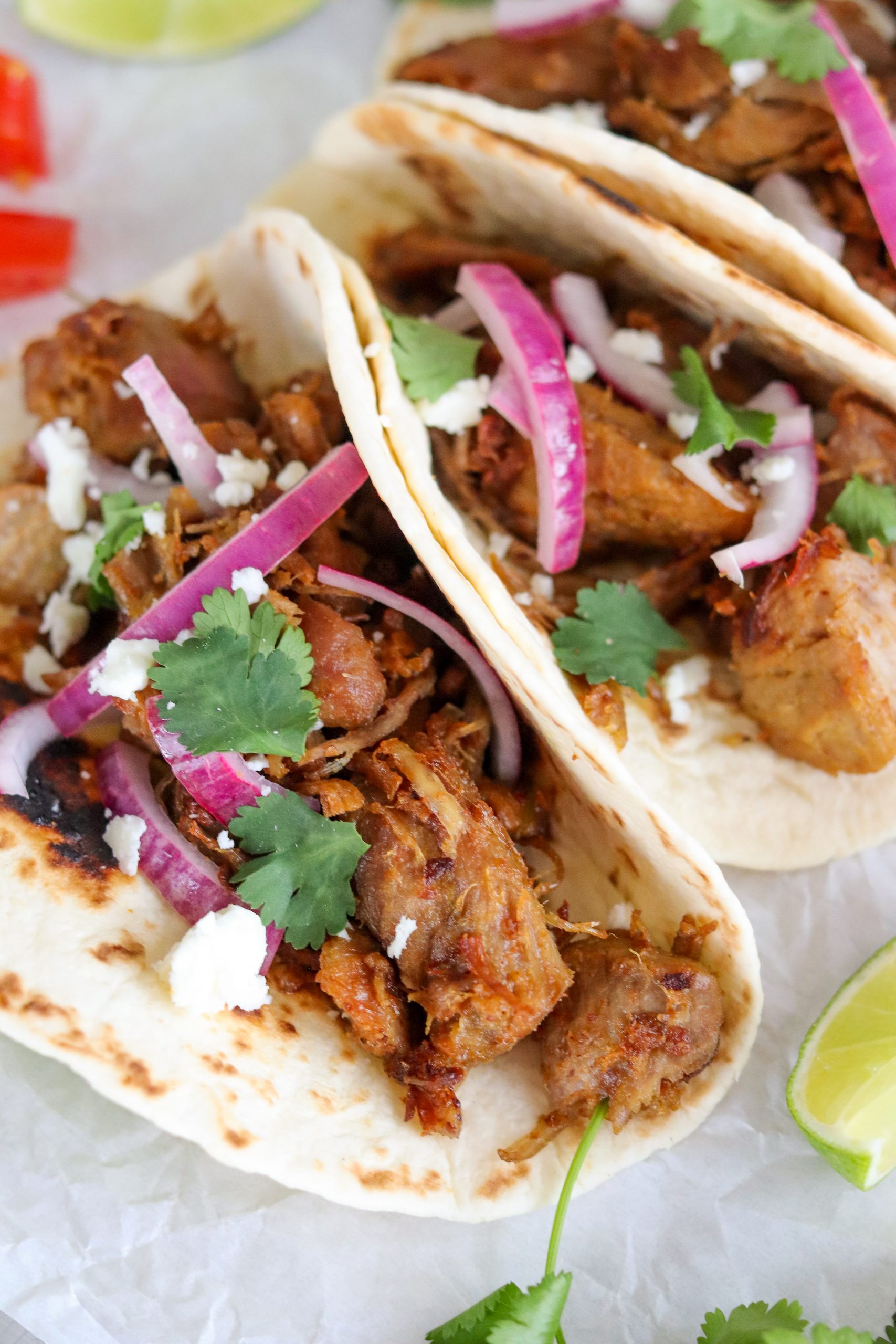 How long will leftover Carnitas keep for?
You almost certainly want to make sure you have leftovers because there are so many tasty meals you can make with them.
Keep leftovers in an airtight container in the fridge for up to three days. You can eat them cold or hot but I prefer it to be heated.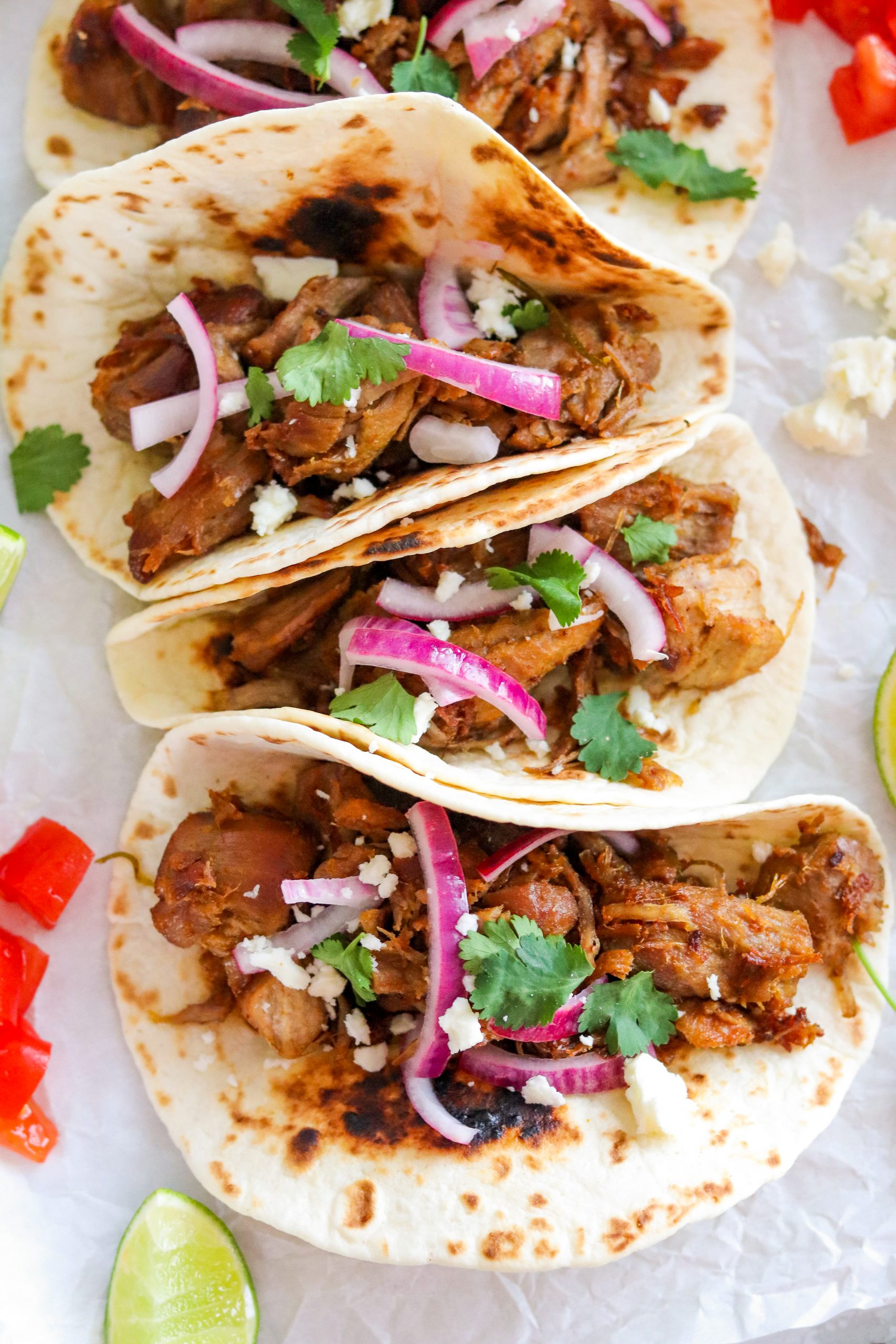 Is this mexican pork gluten free?
Yes, Carnitas are naturally gluten free. If you are serving then as tacos make sure you use 100% corn tortillas. You could also make your own Gluten Free Wraps.
Unfortunately I do not have a way of making Carnitas vegetarian or vegan. I think it would be advised to search for jackfruit recipes.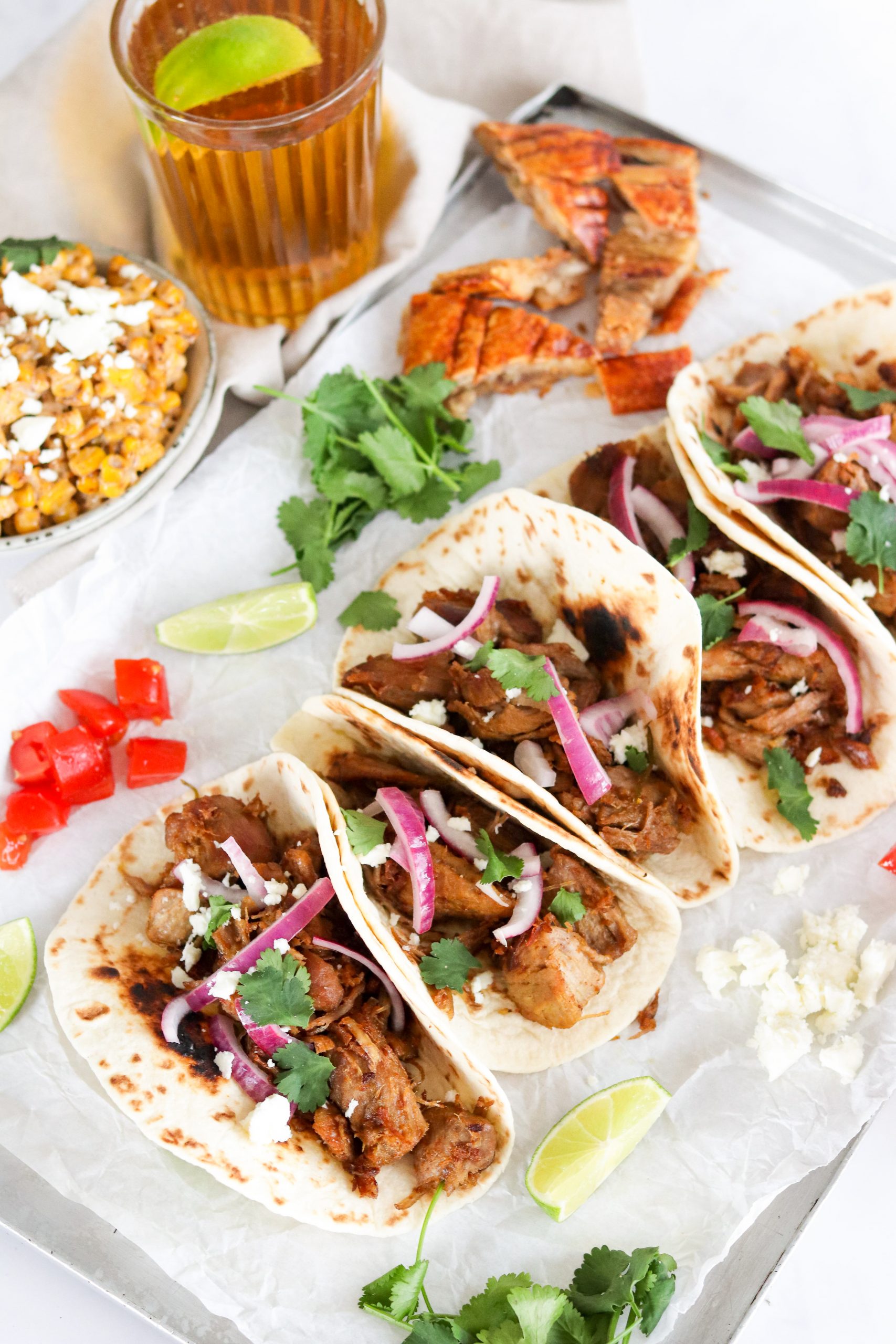 Other recipes you might like
Pin for later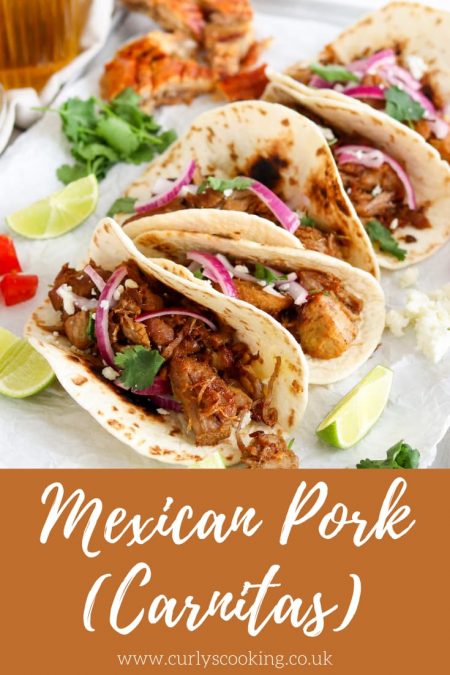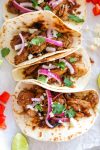 Mexican Pork (Carnitas)
Delicious melt in your mouth slow cooked Mexican Pork, these Carnitas are an amazing authentic dish. If you love pork, you have to try this simple and incredibly tasty dish.
Cook Time
2
hours
10
minutes
Total Time
2
hours
40
minutes
Ingredients
250

ml

vegetable oil

1.5

kg

pork shoulder

cubed

1

small

onion

250

ml

semi skimmed milk

250

ml

water

1

orange

zested

80

ml

fresh orange juice

(approx ½ orange)

1

tsp

sea salt

¼

tsp

black pepper

couple of rosemary & thyme sprigs

Flour or corn tortillas to serve
Instructions
Heat 250ml vegetable oil in a large pan on a medium heat. Add 1.5kg pork shoulder and 1 onion. Cook, stirring occasionally for about 8 minutes until browned all over

Remove the onion and pour in 250ml semi skimmed milk, 80ml orange juice and 250ml water. Add the rosemary & thyme springs, zest of 1 orange, 1tsp sea salt and ¼ tsp pepper. Don't worry it will look a little bit strange at this stage!

Reduce the heat to low and cook stirring occasionally for 1½ to 2 hours until the liquid has evaporated. Make sure the pork doesn't stick to the bottom of the pan as the liquid reduces

Remove any herb stalks and serve immediately
Recipe Notes
Keep any leftovers in an airtight container in the fridge for up to three days.
Nutritional information is given as a guide only and may vary.
Nutrition Facts
Mexican Pork (Carnitas)
Amount Per Serving
Calories 937
Calories from Fat 720
% Daily Value*
Fat 80g123%
Cholesterol 158mg53%
Sodium 788mg34%
Potassium 976mg28%
Carbohydrates 10g3%
Protein 47g94%
Vitamin A 190IU4%
Vitamin C 29mg35%
Calcium 130mg13%
Iron 2.8mg16%
* Percent Daily Values are based on a 2000 calorie diet.