A lovely light and zesty cake. This Courgette Cake with Lemon Curd & Cream Cheese Icing is the perfect cake to make to use up a glut of courgettes!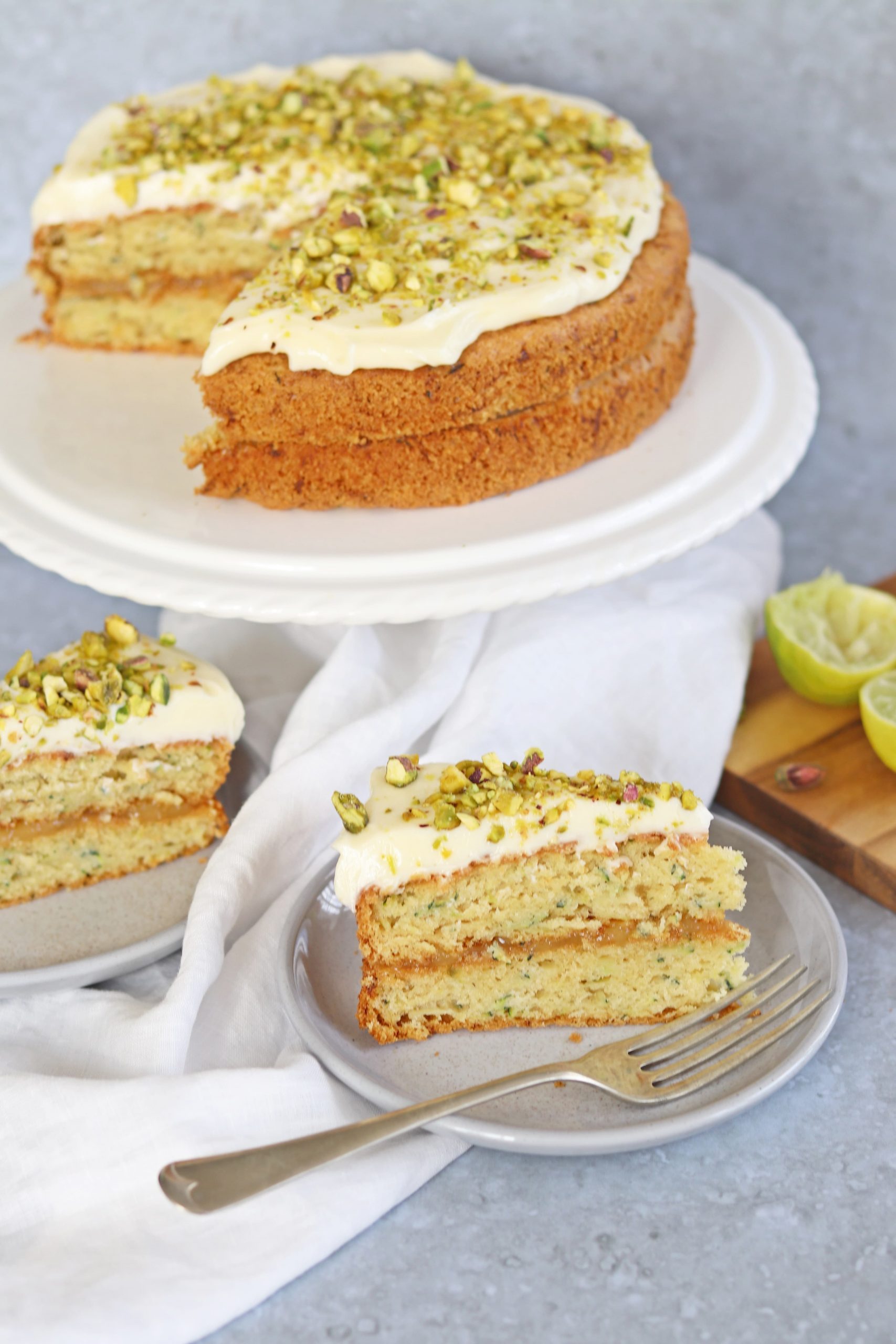 A nigella Classic
This Courgette Cake with Lemon Curd & Cream Cheese Icing is a Nigella Lawson classic. She is a cook that likes delicious food that isn't too fussy. So you know this cake is going to be tasty and not take you all day to bake!
I have ever so slightly tweaked the recipe. Nigella suggests adding raisins but I have never made it with raisins in.
I do like raisins but I don't add them to my Carrot Cake either. I know a lot of people are funny about raisins in cakes so it is always easier to leave them out!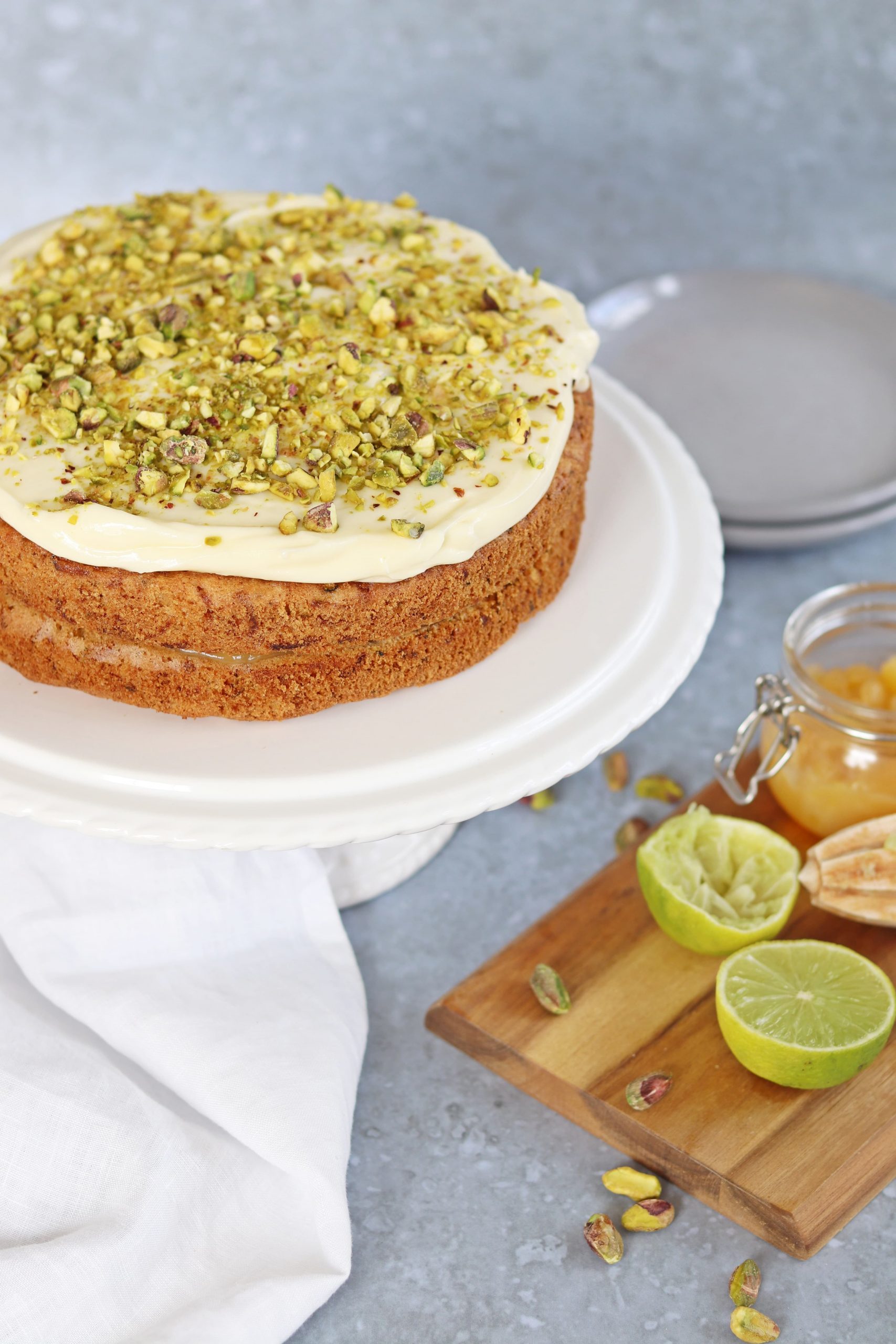 courgettes are great in baking
Courgettes or zucchinis are great to use in baking. They add a lovely moisture to the finished cake as well as flecks of green.
If you're a little bit apprehensive about the idea of courgette in cakes; just remind yourself how delicious carrot cake is!
You can't actually taste the courgettes in the cake at all. So you get all the goodness without tasting courgette.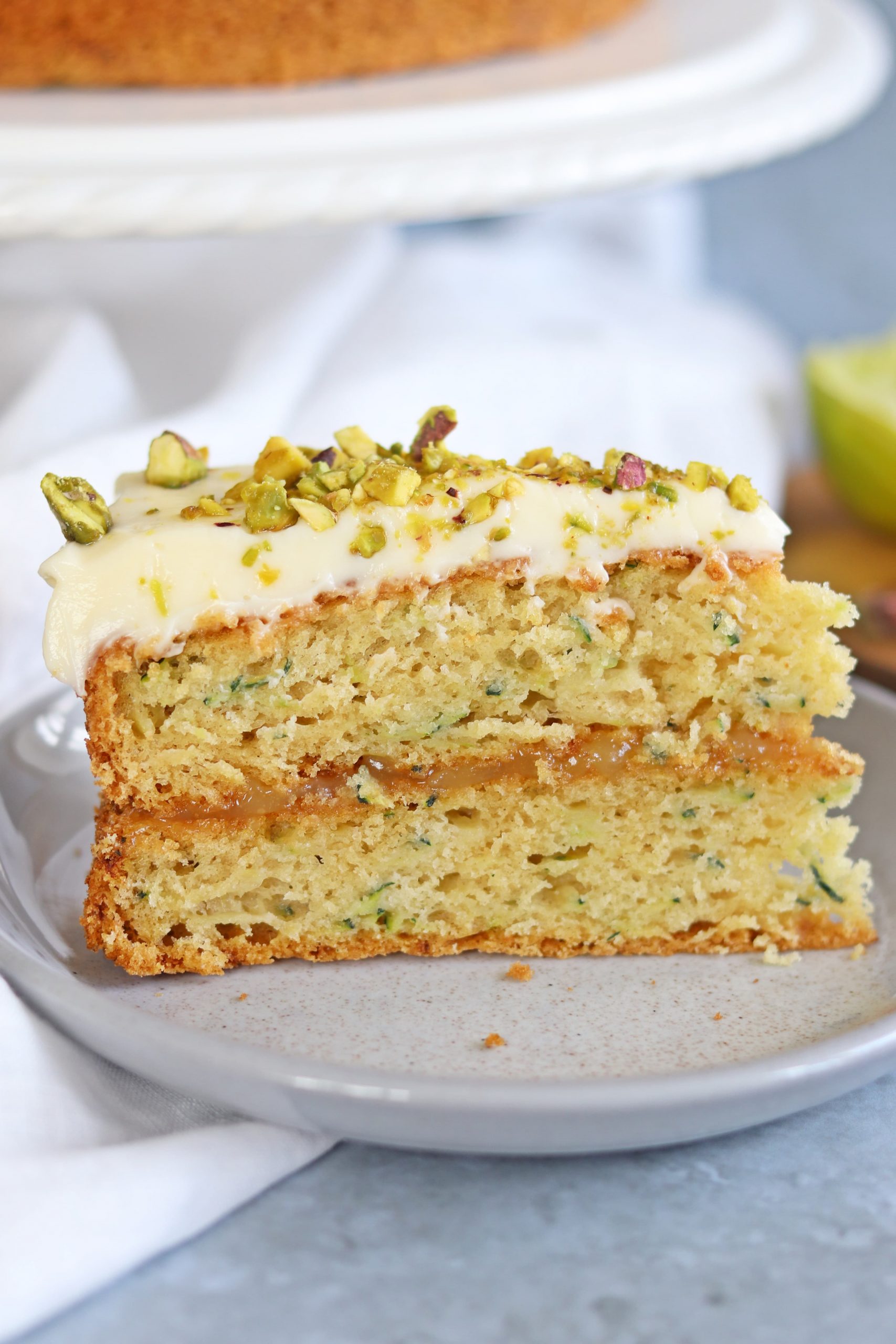 A great way to use homegrown produce
Growing your own vegetables has become increasingly popular in the last few years. Whether that is in an allotment or your own back garden.
If you're lucky, you could end up with a bumper crop of vegetables. However they do all seem to ripen at the same time!
This Courgette Cake with Lemon Curd & Cream Cheese Icing is a great way or using up a glut of courgettes. My parents have an allotment and I have made this cake many times using their courgettes.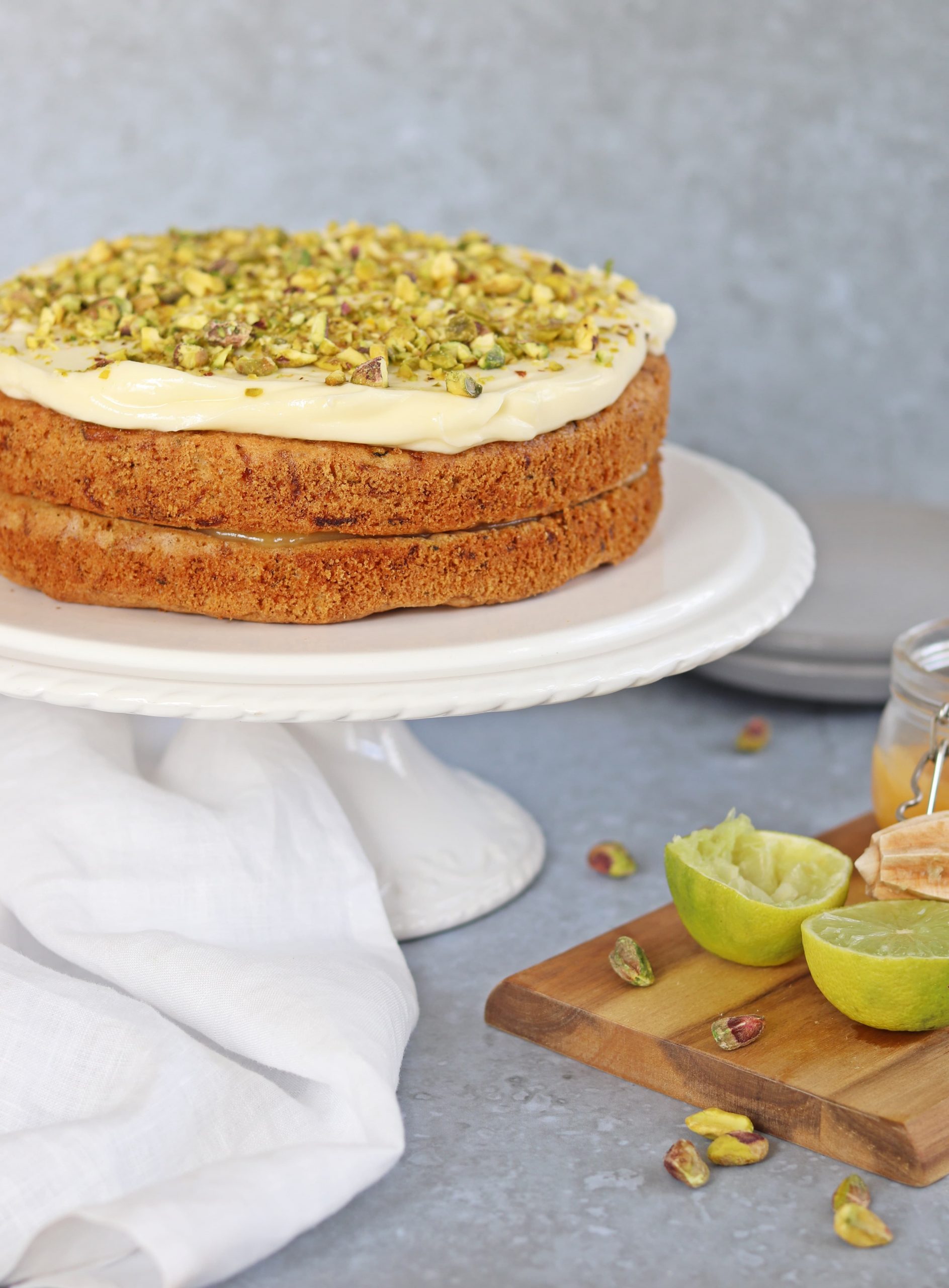 When are courgettes in season?
If you grow your own, you won't need me to tell you when courgettes are in season!
Although courgettes are available to buy year round, they are at their best from June to October. This is when you would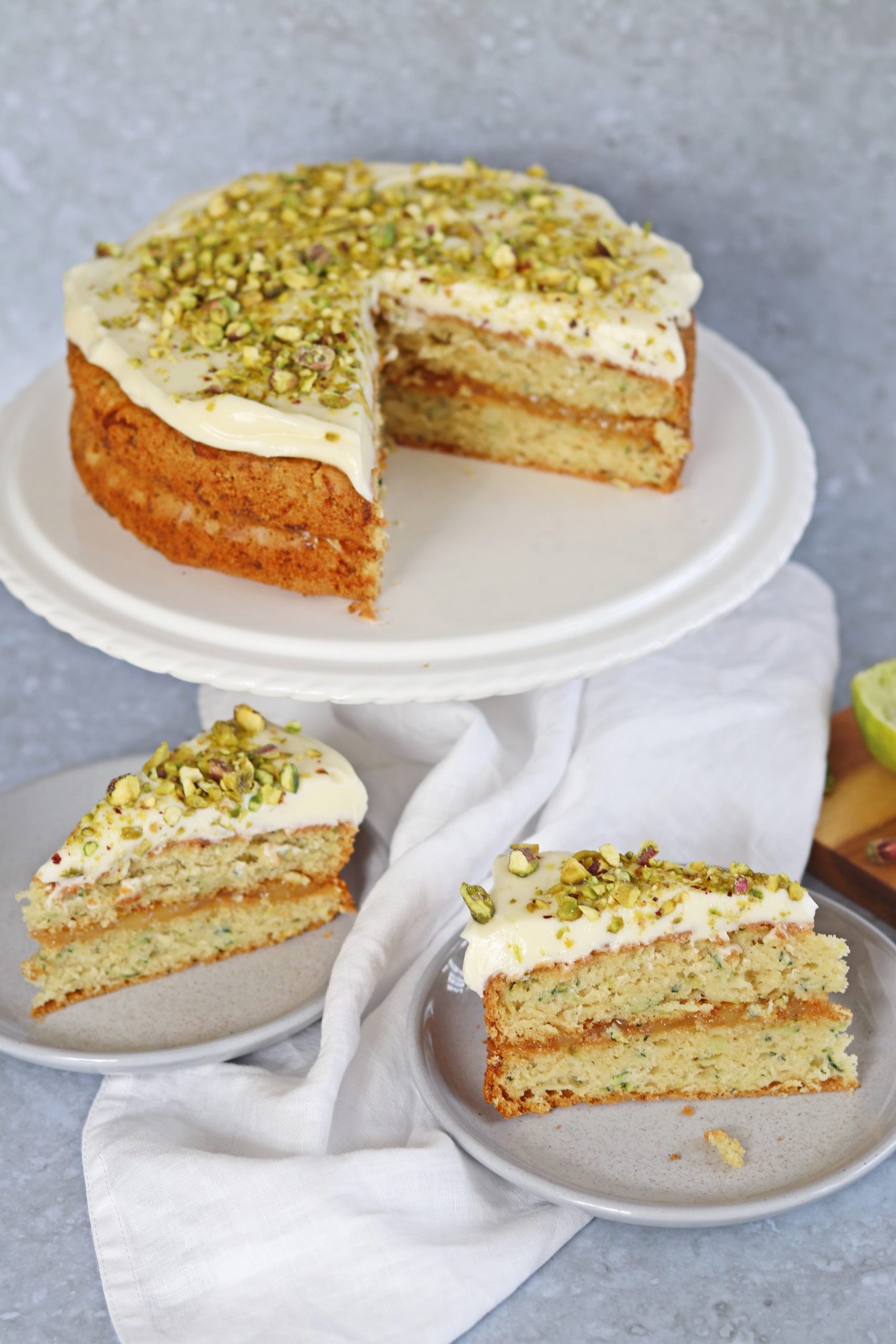 Grating the courgettes
For this cake you need one medium to large sized courgette. Because it isn't much to grate at all I always use a handheld grater.
You could use a food processor if you prefer, but this seems like a lot of washing up for just one courgette to me!
You do need to use a coarse grater for the courgette though. If the grater is too fine the courgette will turn mushy which isn't what you want.
A coarse grater will give you the individual strands that you need without it turning into courgette pulp.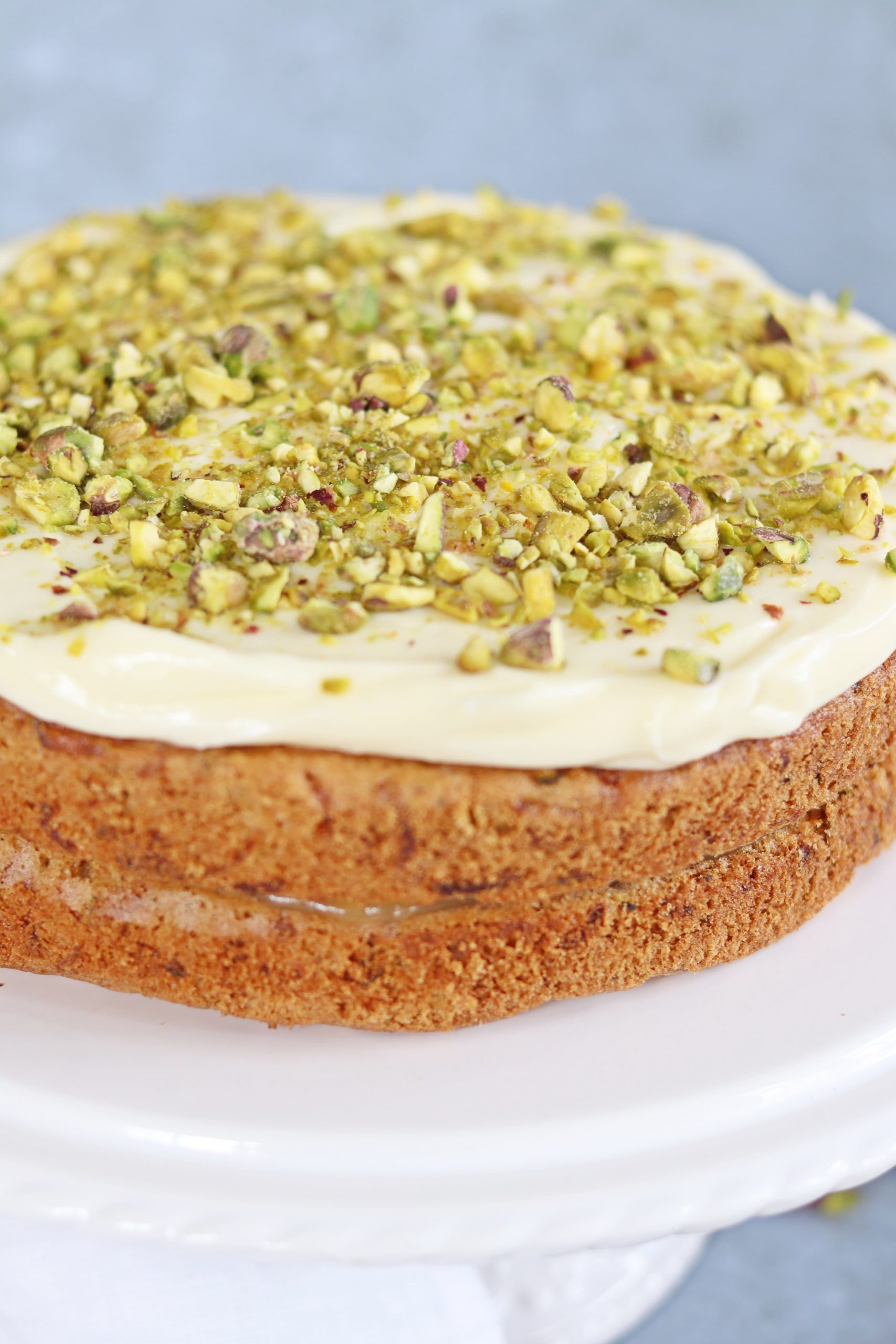 Which cream cheese is best to use?
Cream cheese or soft cheese; whatever you call it is my favourite type of icing.
Although it is delicious, it is sometimes a little trickier to use than buttercream as it is typically runnier.
It is essential that you always use full fat cream cheese when you are making icing. Low or reduced fat cream cheese is thinner as it doesn't have the fat content needed to help keep its shape.
If you were to use reduced fat cream cheese the icing is likely to escape over the edge of the cake. Although this won't ruin the cake it will mean it isn't as pretty.
If you are desperate to make this cake and only have reduced fat cream cheese you can give it a go, but don't say I didn't tell you about the icing being runny!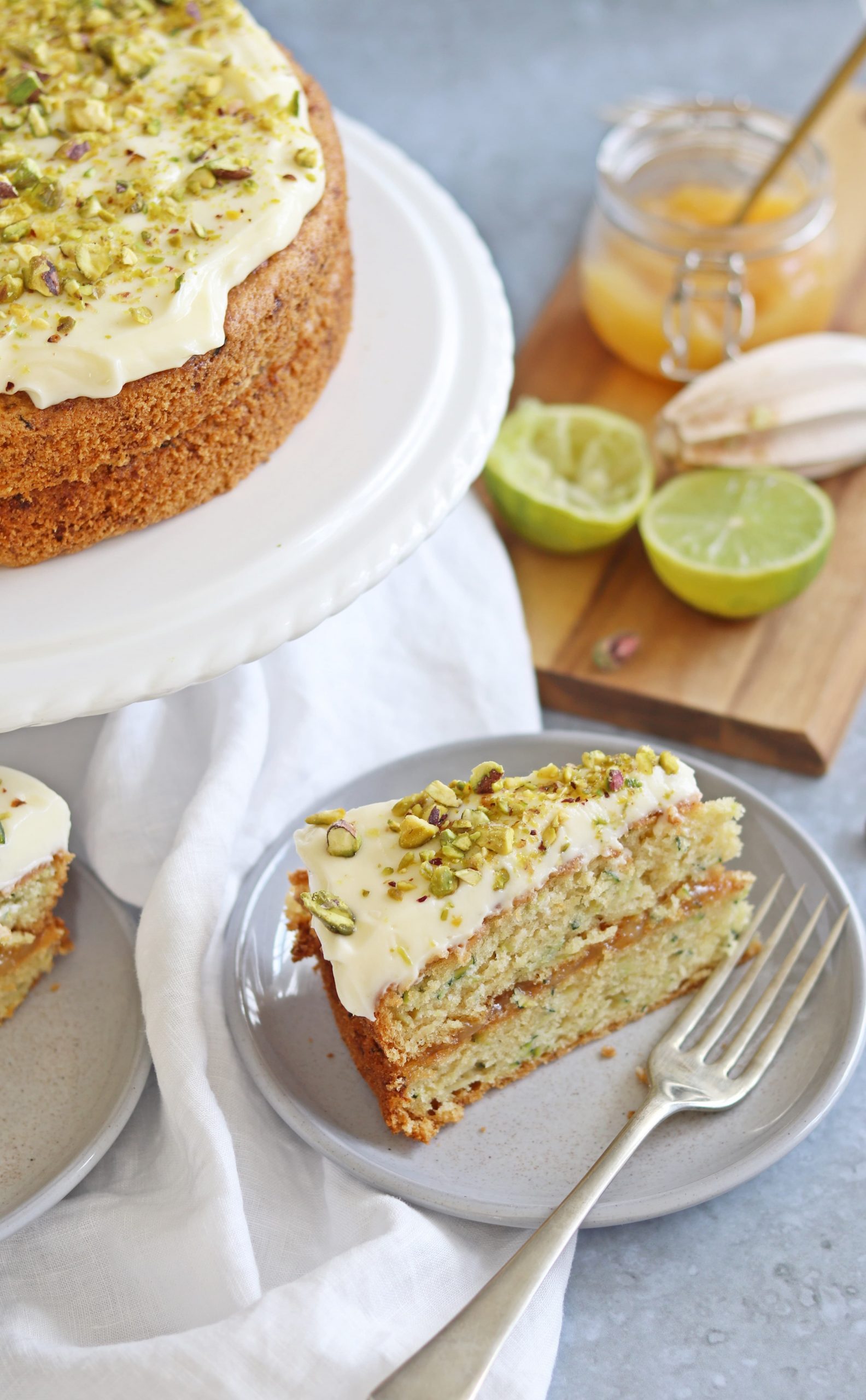 Why does this courgette cake have lemon curd as a filling and not icing?
Something a little unique about this cake is that the filling is lemon curd and not icing.
Usually if cakes have icing or buttercream on the top, you might expect to see it in the filling too.
The combination of the lemon curd filling works so well with the cream cheese icing. The lemon curd brings a delicious freshness to the cake which cuts through the rich cream cheese icing.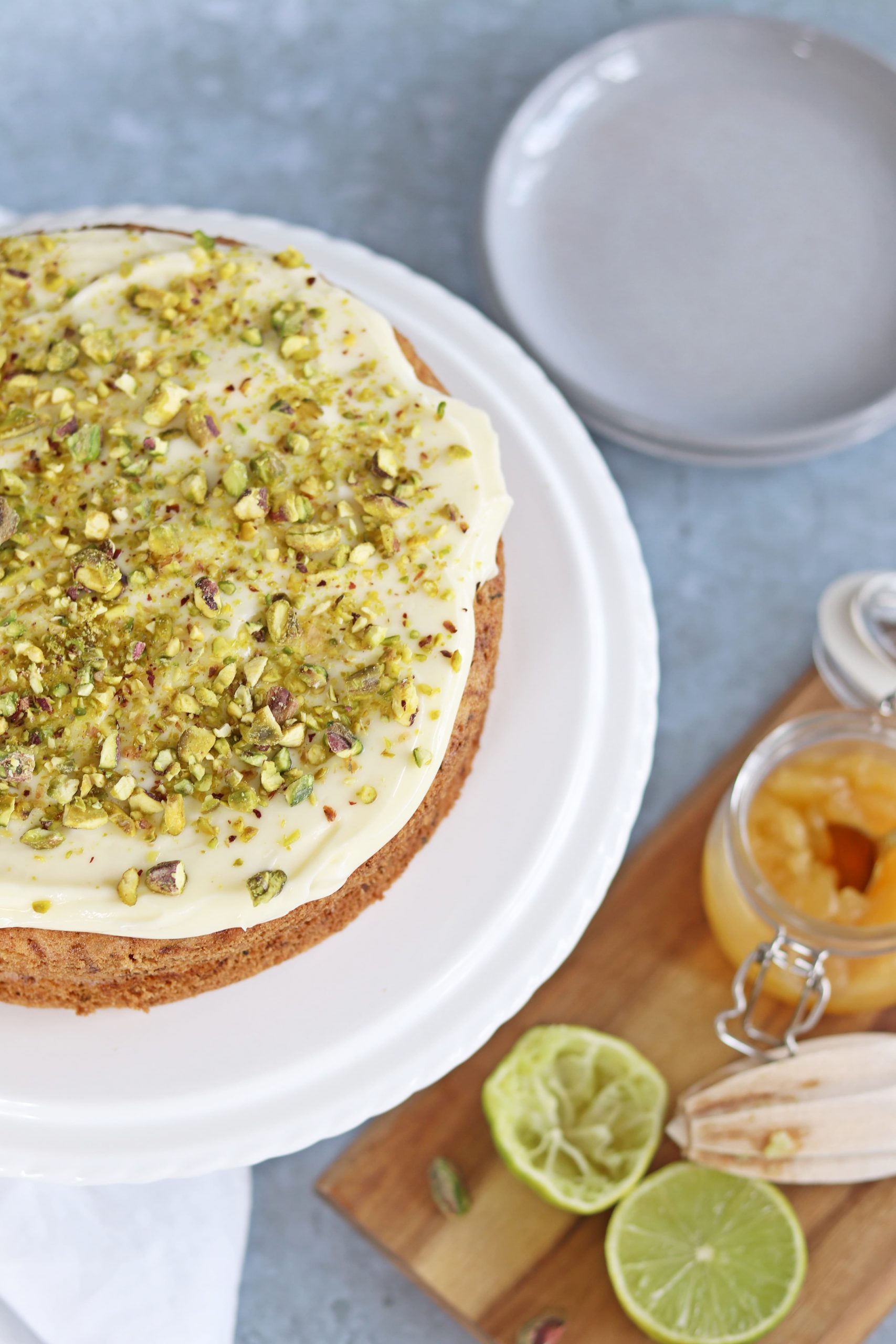 Which lemon curd is best to use?
I always have a jar of lemon curd in my fridge. It adds an instant delicious flavour to all number of cakes and desserts.
I would recommend buying a good quality lemon curd if possible as you will notice the difference in the finished cake.
You could definitely make your own lemon curd for this cake. Check out FabFood4All's Granny's Quick Lemon Curd for step my step instructions on how to make your own.
If you wanted to make it a little bit different, you could use lime curd. This would work well with the lime juice in the icing. FabFood4All also has a 5 Minute Lime Curd recipe.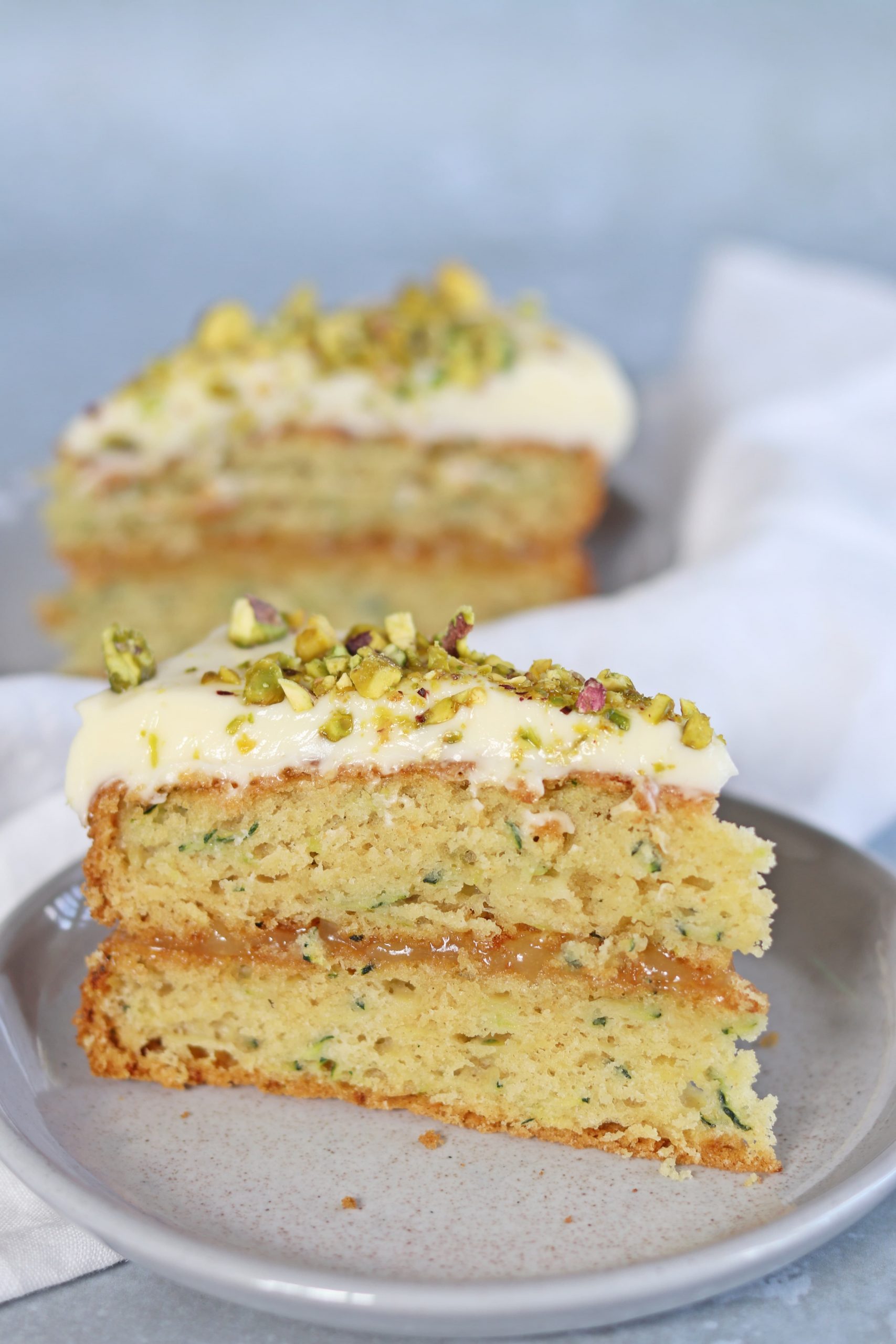 A simple but pretty cake
One of the things I like most about this cake is how pretty it looks and how little effort it takes.
I really like the green flecks of courgette you get throughout the cake and the look of the white icing oozing over the side of the cake.
It isn't a cake that takes lots of time to assemble which is another advantage. No piping is required, just a bit of spreading and sprinkling!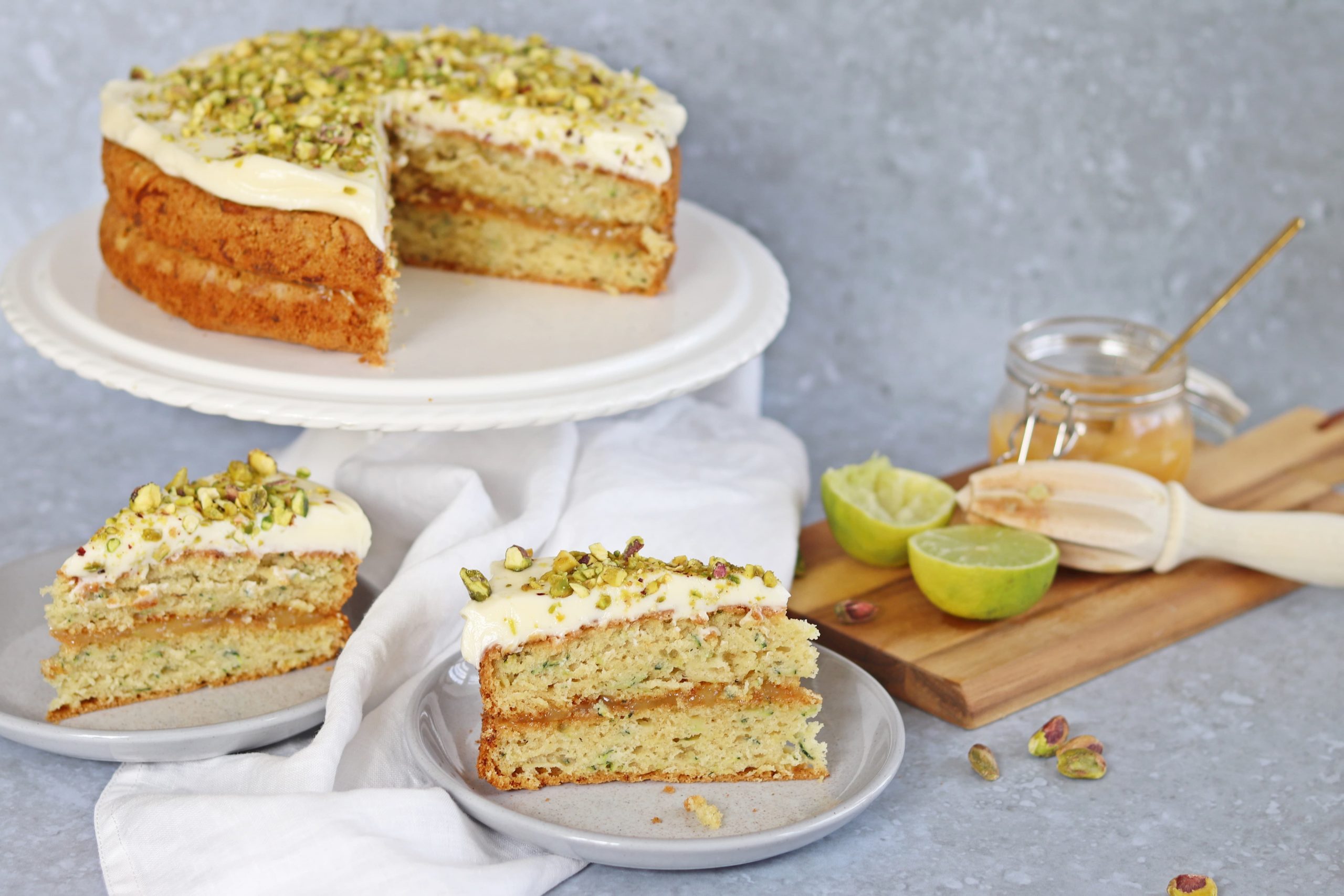 Can I use different sized tins?
This Courgette Cake uses two, eight inch cake tins. The sponges it makes are not the thickest but they are light and fluffy.
If you wanted to make this cake more of a statement or to feed more people I would recommend increasing the recipe by half and making three layers.
You could also use three six inch cake tins to make a smaller, taller cake. Just remember the smaller cakes will take less time to cook so check on them after 15-20 minutes.
If you would prefer cupcakes, I would recommend looking at my Courgette Cupcakes with Lemon Curd & Cream Cheese.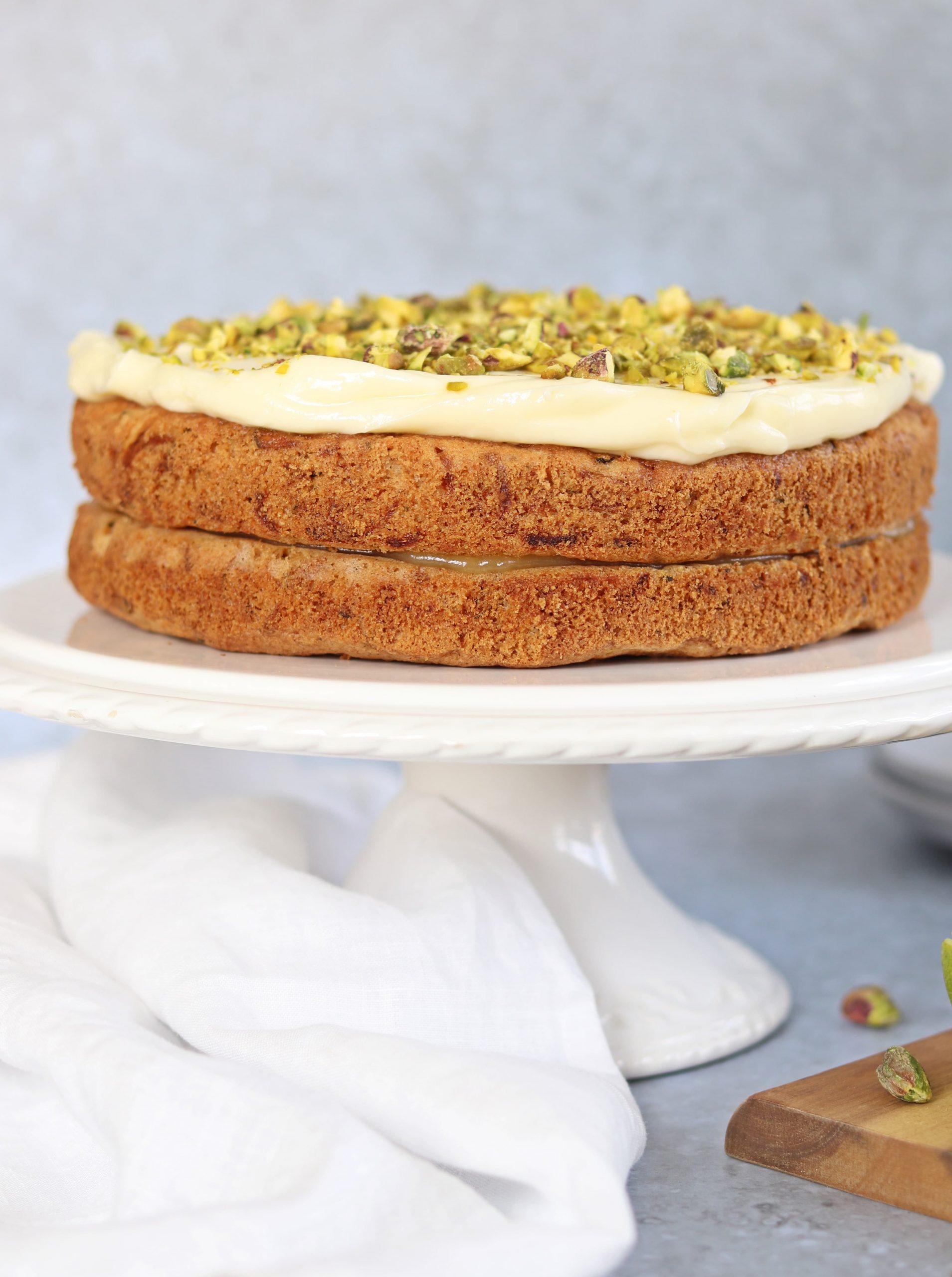 How long will this cake keep for?
This cake will keep for 3-4 days. As it includes cream cheese I would always recommend storing it in an airtight container in the fridge.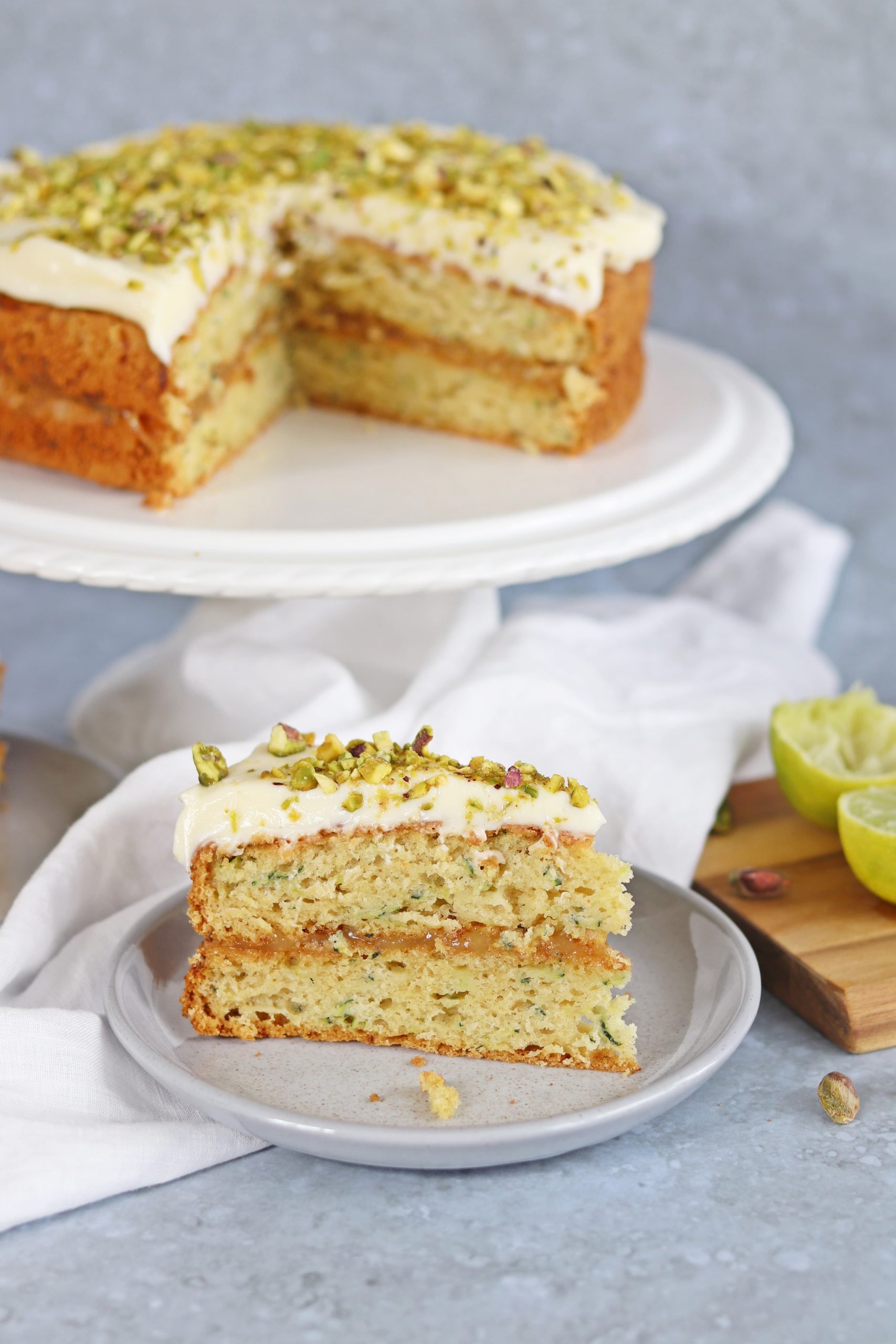 Other recipes you might like
Pin for later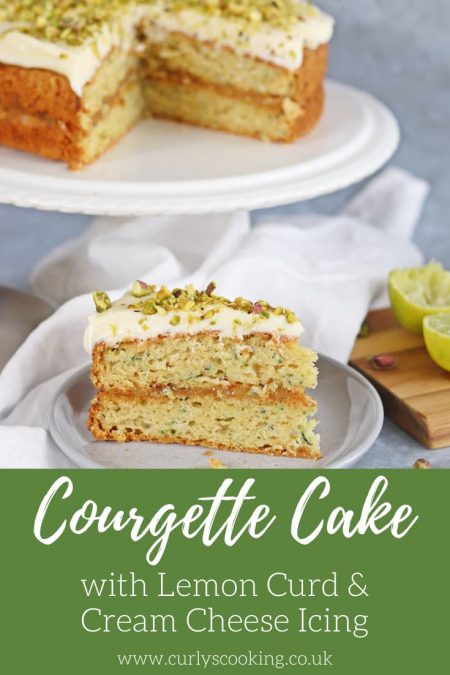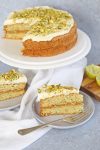 Courgette Cake with Lemon Curd & Cream Cheese Icing
A lovely light and zesty cake. This Courgette Cake with Lemon Curd & Cream Cheese Icing is the perfect cake to make to use up a glut of courgettes!
Ingredients
For the cake:
250

g

courgettes

(approx 2 courgette)

2

large

eggs

125

ml

vegetable oil

150

g

caster sugar

225

g

self-raising flour

½

tsp

bicarbonate of soda

½

tsp

baking powder
For the frosting:
200

g

full fat cream cheese

100

g

icing sugar

1

tbsp

lime juice

25

g

unsalted pistachios

chopped
Instructions
Preheat then oven to 160°C (fan assisted, 180ºC non fan). Grease and line two 8 inch round cake tins

Rinse the courgettes and then grate them using a coarse grater

Put eggs, oil and sugar into a bowl and mix until creamy

Add the flour, bicarbonate of soda and baking powder. Stir in the grated courgette

Divide the mixture into the two tins and bake for 25-30 minutes until golden and a cocktail stick comes out clean

Leave to cool for approx 30 minutes and then remove from the tins and allow to cool completely on a wire rack

Turn one of the cakes upside down on a plate and spread the lemon curd onto it

Beat the cream cheese and icing sugar together until completely combined and smooth

Once combined, add the lime juice. Pour the icing onto the cake and smooth to cover the cake

Scatter with the chopped pistachios
Recipe Notes
Make sure you use a coarse grater as if it is too small the courgettes will become mushy.
Keep the cake covered in the fridge for 3-4 days.
Nutritional information is given as a guide only and may vary.
Nutrition Facts
Courgette Cake with Lemon Curd & Cream Cheese Icing
Amount Per Serving
Calories 355
Calories from Fat 126
% Daily Value*
Fat 14g22%
Cholesterol 31mg10%
Sodium 104mg5%
Potassium 127mg4%
Carbohydrates 43g14%
Protein 4g8%
Vitamin A 92IU2%
Vitamin C 4mg5%
Calcium 22mg2%
Iron 1mg6%
* Percent Daily Values are based on a 2000 calorie diet.