Super light, fluffy and deliciously moist, no one will believe you that this Vegan Chocolate Orange Loaf Cake is actually vegan!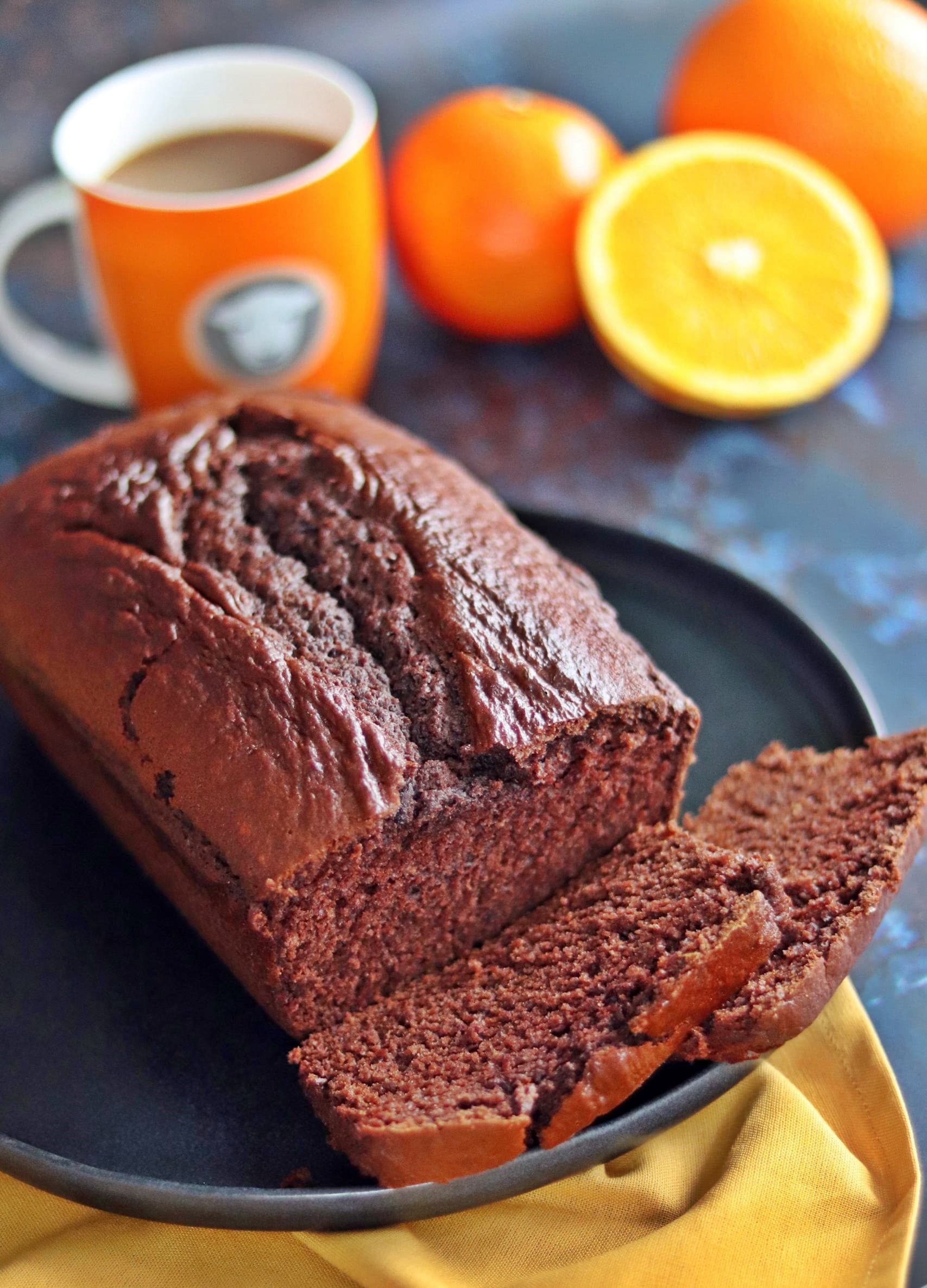 What are vegan cakes?
In case you aren't aware, vegan cakes are made without eggs, dairy butter or dairy milk.
The butter and milk can easily be replaced by dairy free alternatives. However there are lots of options to replace the eggs.
Veganism has become a lot more widespread in the last few years and you can easily buy vegan cakes in supermarkets. But as with most cakes, they taste far better if you bake your own.
Vegan cakes are delicious!
If you are vegan you don't need me to tell you this, you already know! Before I'd given vegan baking a try, I was very sceptical.
I didn't know what the taste would be like and whether the texture would be different to the baking I was used to.
This Vegan Chocolate Orange Loaf Cake was my first attempt at vegan baking. Obviously I needed some help and that came in the form of Kate from Veggie Desserts.
If anyone refers to a cake as The Best Vegan Chocolate Cake, you know it has to be great.
So I took this as my base recipe and gave it a few tweaks to make it into my version which is Vegan Chocolate Orange Loaf Cake.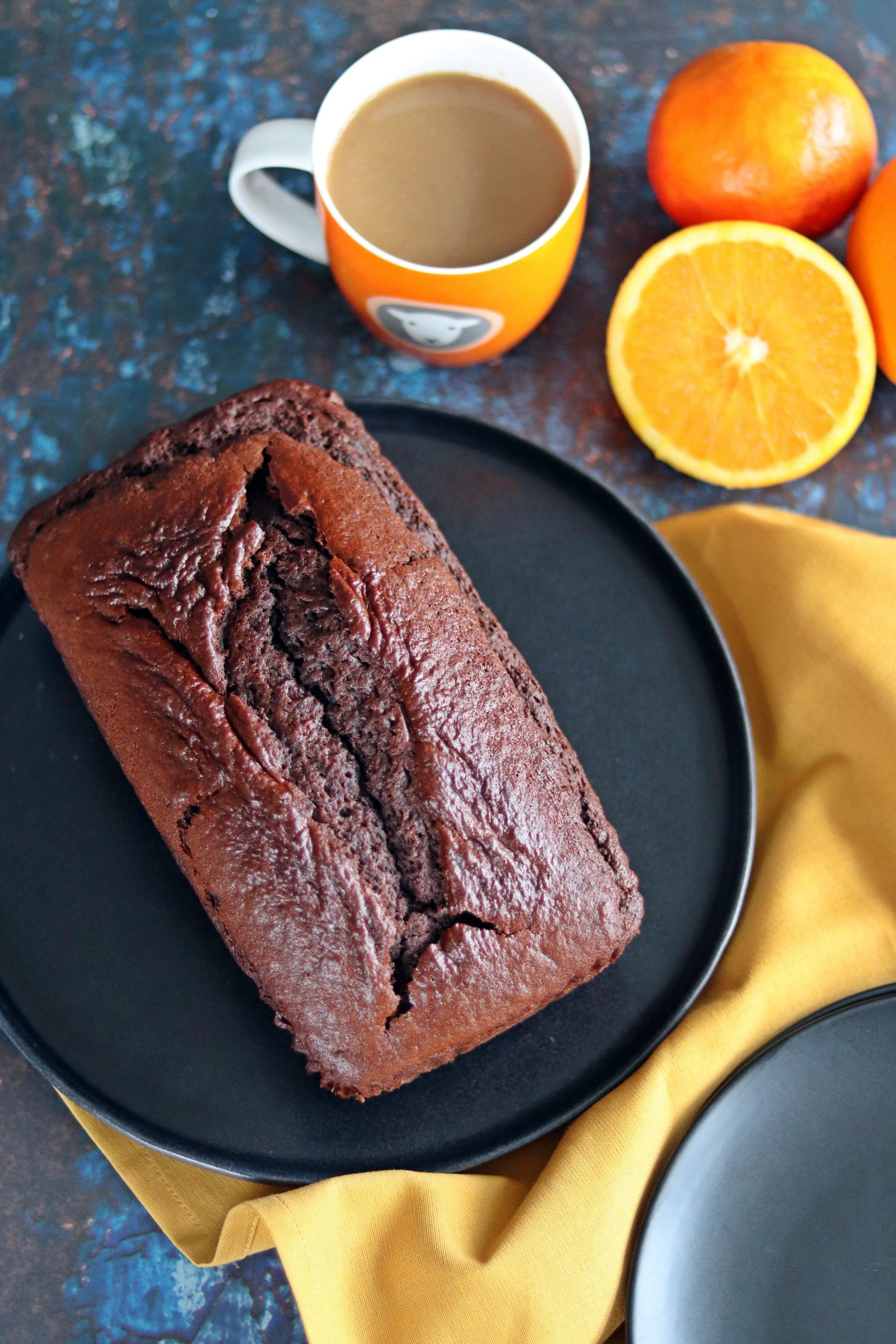 Vegan food is increasing in popularity
Over the last few years, veganism has become a lot more popular. Whether you are vegan, dairy free or just trying to eat less dairy; vegan cakes are great to have in your repertoire.
It is always nice to have a collection of recipes you can go to so that everyone's dietary requirements are catered for.
It makes people feel more loved and included if you can cater for them which is always lovely.
Another variation that you might like are Gluten Free & Vegan Chocolate Orange Cupcakes.
Which dairy free alternatives are best to use?
There are quite a few different dairy free margarines available to buy. They are usually very clearly marked as vegan so you don't have to worry about checking the ingredients.
I tend to use Vitalite, but there are lots of other brands that will work just as well.
For the milk, you could use soy, almond or oat milk. I would avoid using anything like coconut or hazelnut milk that has a distinct flavour as this may mask or not work with the orange.
You can use sweetened or unsweetened dairy free milk for these recipes, whichever you prefer.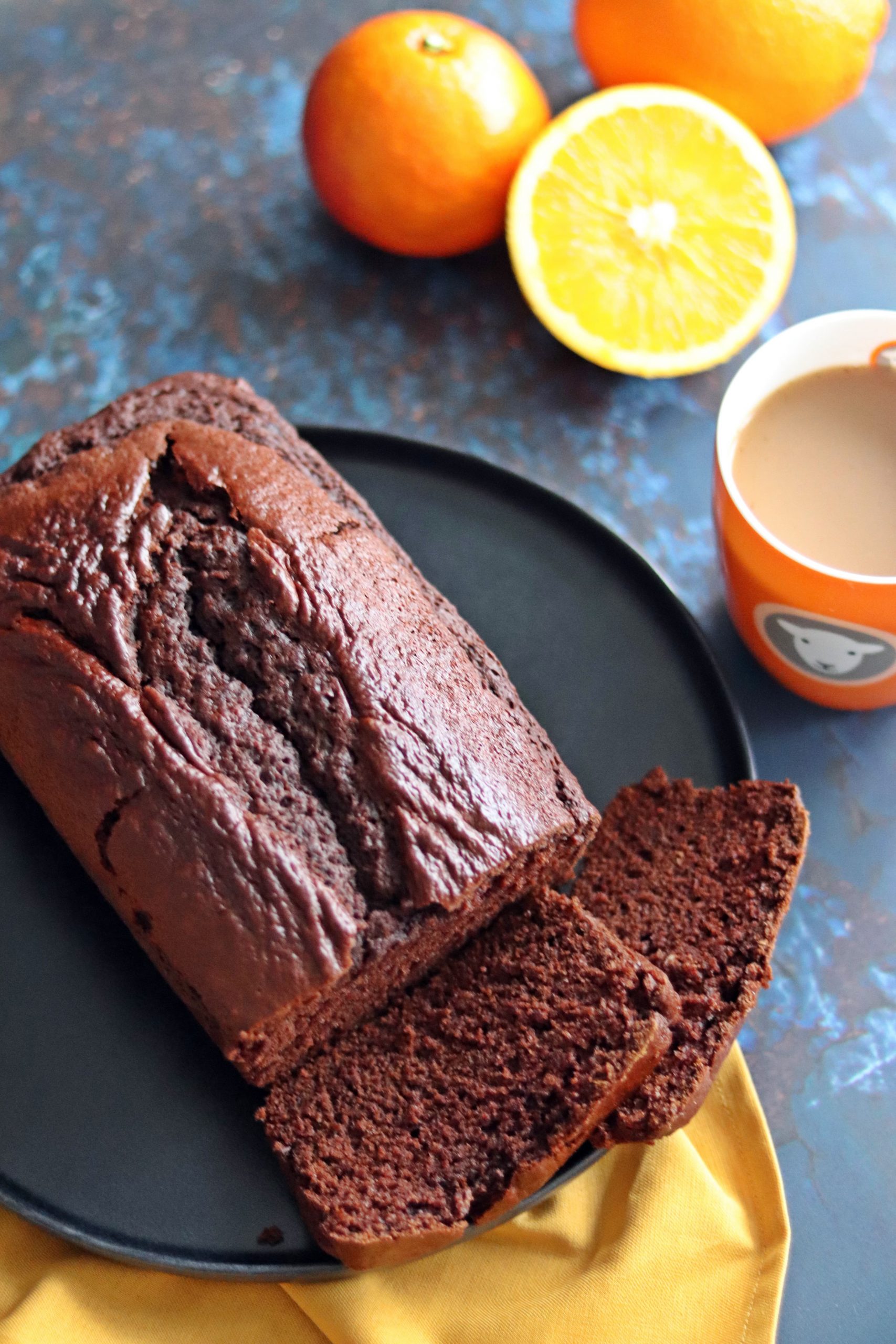 Do vegan cakes taste different?
Not at all. If you weren't told this cake was vegan, I strongly believe you wouldn't be able to tell.
Numerous people have tasted this cake and other vegan cakes I have baked and they wouldn't have guessed. When they find out they are surprised at how light and fluffy they are.
The beauty of a loaf cake
I love loaf cakes because of how simple and delicious they are.
All you need to do it mix the ingredients together and pour them into the tin and then you're done! You don't need to divide the batter between tins, no additional decorating is required. Just simple.
If you do want to make it a bit more fancy you can do though.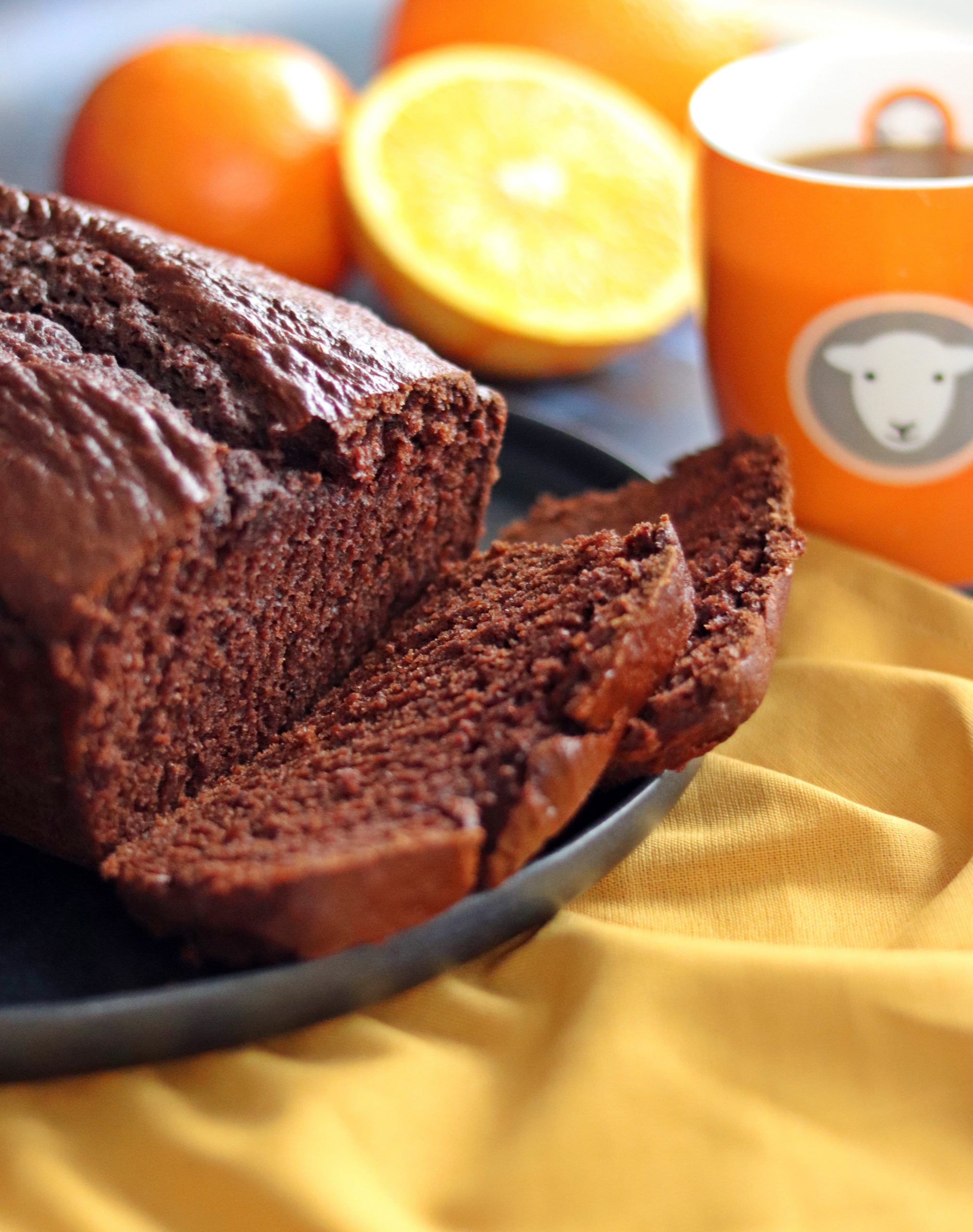 Can you add buttercream to this cake?
Yes you definitely could. I think dairy-free margarine makes absolutely delicious buttercream.
If you wanted to add buttercream, I would use half the amount that is in my Gluten Free & Vegan Chocolate Orange Cupcakes recipe.
You could then decorate it with orange peel or anything else you'd like.
If you didn't want to use buttercream but wanted to decorate it, you could drizzle melted dark chocolate over the top.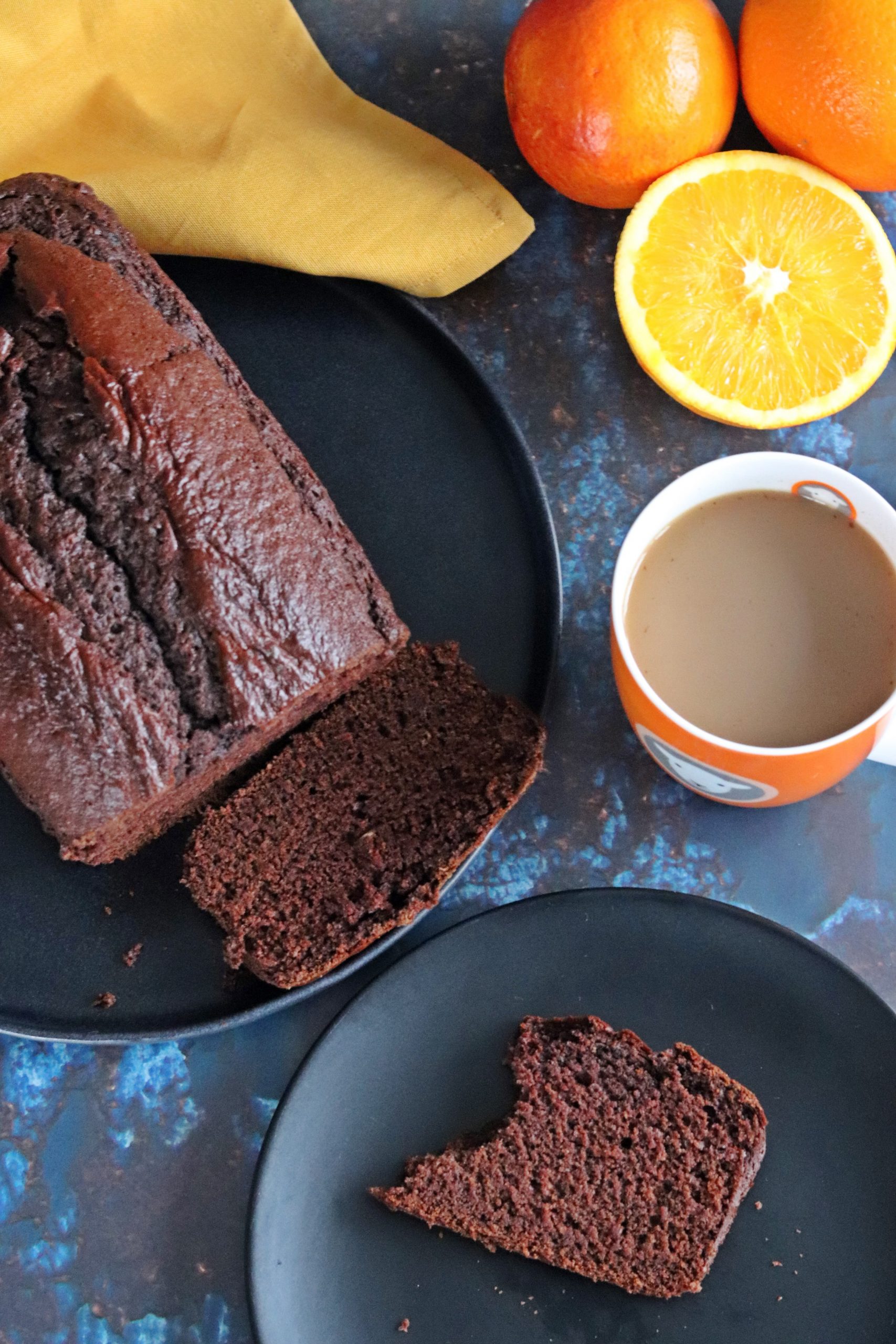 Vegan Chocolate Orange Loaf Cake baking tips
One of my least favourite baking tasks is sifting ingredients. Because of this, I do try to avoid sieving as much as possible but please do make sure you sieve the flour and cocoa powder for this cake.
If you don't you do run the risk of little lumps of flour finding their way into your finished cake. While this isn't a disaster, it doesn't look the best in the finished cake. So bite the bullet and get your sieve out!
Don't get alarmed by adding coffee to the cake! Coffee is a great way of enhancing the chocolate flavour in baking. You won't taste it in the finished cake but it will have worked its magic.
How long will this cake keep for?
This cake will keep for 2-3 days in an airtight container.
You could wrap this cake thoroughly and freeze it for up to three months.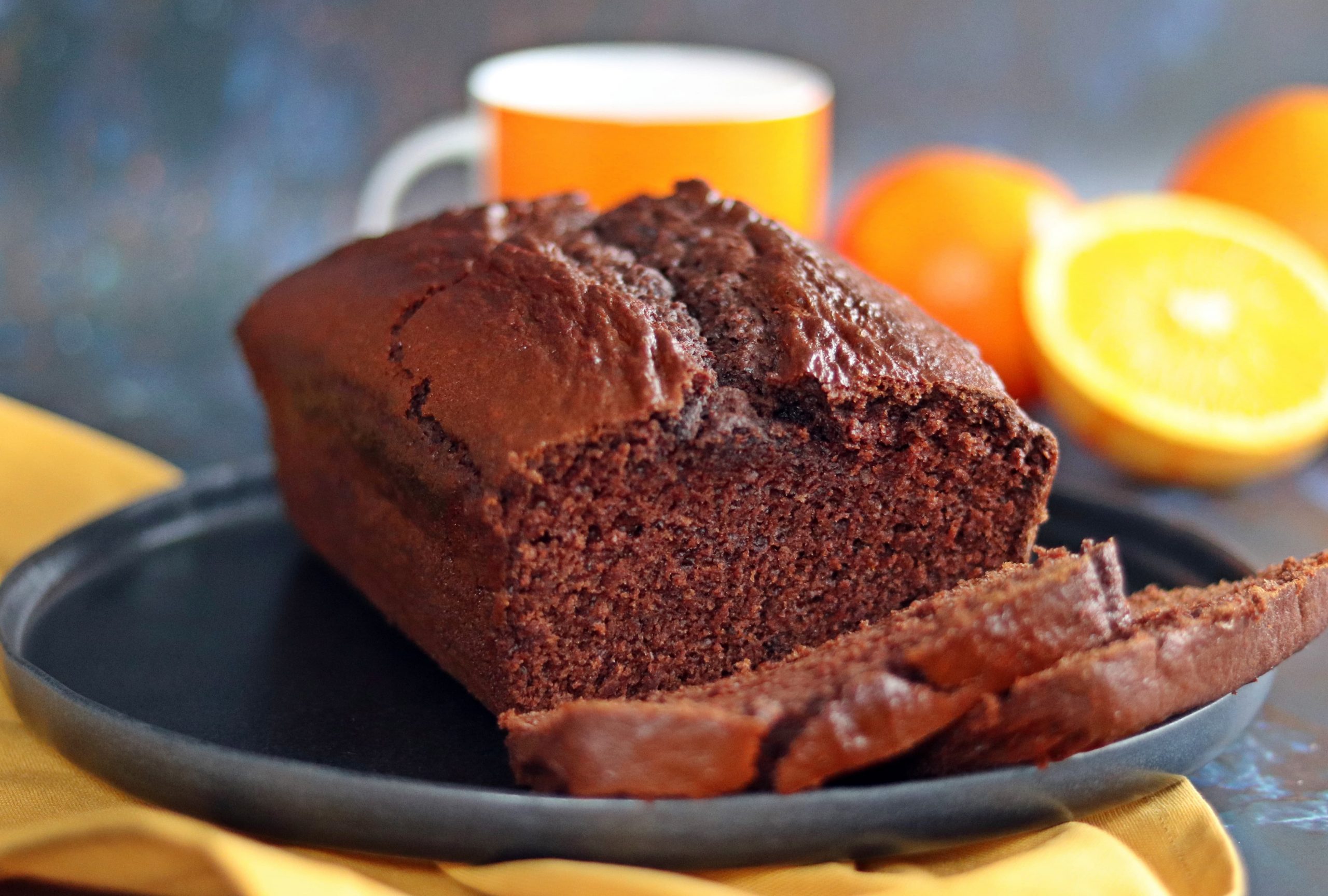 Other recipes you might enjoy
Pin for later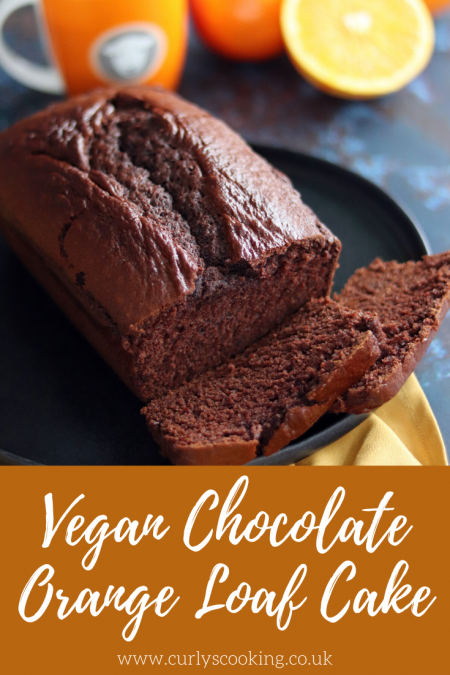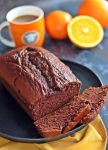 Vegan Chocolate Orange Loaf Cake
Super light, fluffy and deliciously moist, no one will believe you that this Vegan Chocolate Orange Loaf Cake is actually vegan!


Ingredients
280

ml

soy milk

or any non-dairy milk such as almond

1

orange

zested

4

tbsp

orange juice

150

g

dairy free margarine

3

tbsp

golden syrup

1

tsp

instant coffee granules

275

g

self raising flour

175

g

caster sugar

4

tbsp

cocoa powder

1

tsp

bicarbonate of soda
Instructions
Preheat the oven to 160ºC (fan assisted, 180ºC non fan) and line a 2lb loaf tin

Zest the orange before juicing it. Whisk the orange juice and soy milk together and set aside

In a pan over a medium heat, gently melt the margarine, coffee and golden syrup. Once melted take off the heat and allow to cool slightly

Sift the flour, cocoa powder, sugar and bicarbonate of soda together in a bowl before adding the milk and margarine mixtures and orange zest. Stir well until the batter is smooth

Pour the cake mix into the loaf tin. Bake in the oven for 50 minutes or until a cocktail stick comes out clean when poked into the cake

Allow to cool for a few minutes in the tin before turning out onto a wire rack and leaving to cool completely
Recipe Notes
Keep in an airtight container for 2-3 days.
Nutritional information is given as a guide only and my vary.
Nutrition Facts
Vegan Chocolate Orange Loaf Cake
Amount Per Serving
Calories 207
Calories from Fat 9
% Daily Value*
Fat 1g2%
Sodium 101mg4%
Potassium 101mg3%
Carbohydrates 34g11%
Protein 3g6%
Vitamin A 109IU2%
Vitamin C 9mg11%
Calcium 37mg4%
Iron 1mg6%
* Percent Daily Values are based on a 2000 calorie diet.