Leek & Potato Soup is a classic for a reason and this soup maker version makes it even easier. You will have a delicious creamy soup ready in no time!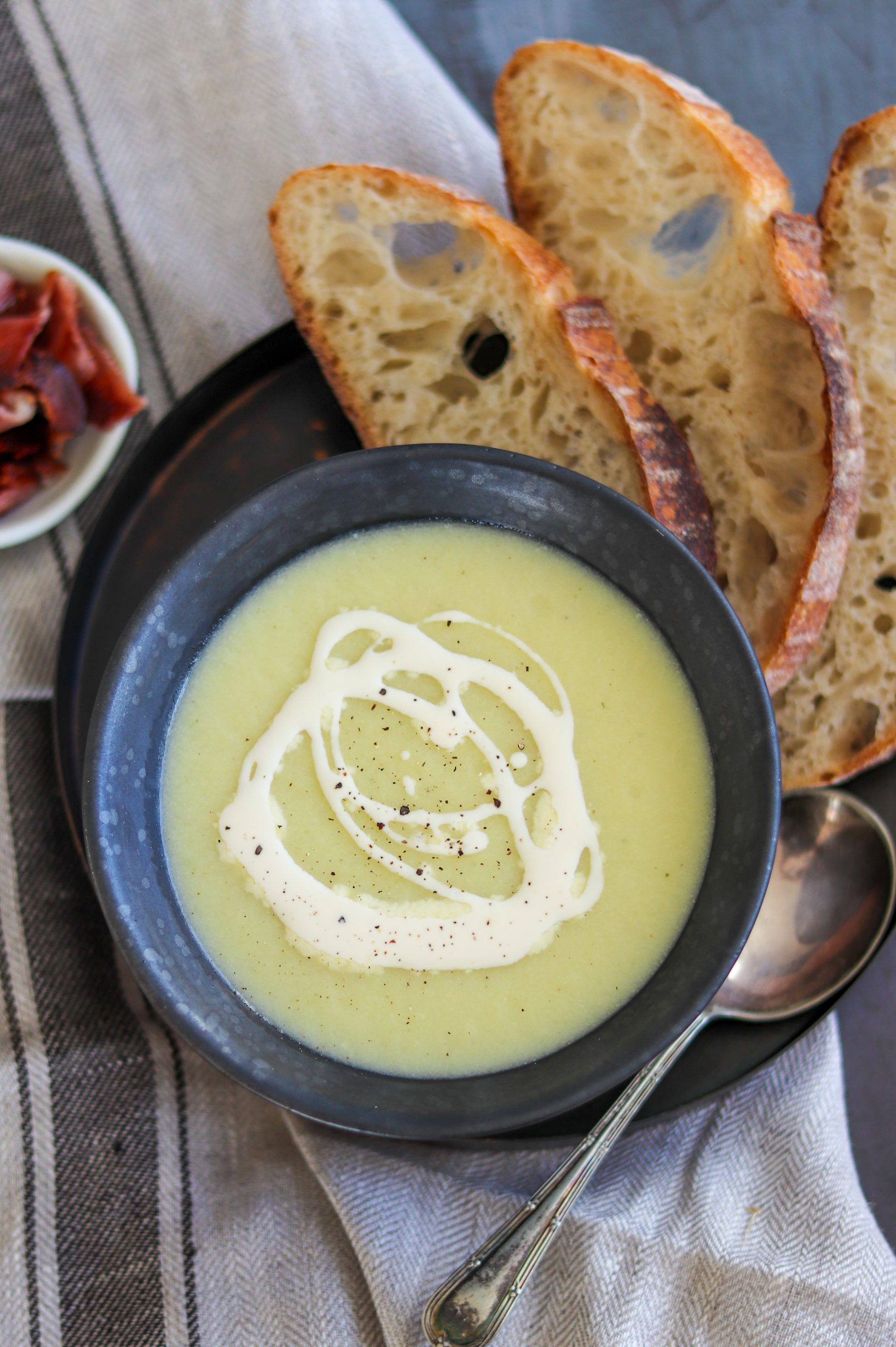 Leek & Potato Soup – a delicious classic
Leek and potato has to be one of the most popular soups. It is comforting, delicious and oh so familiar. It isn't a very strong flavoured soup so appeals to a lot of people.
Although everyone may have eaten Leek & Potato Soup, there is a difference between an okay one and a really tasty one!
One of the great things about this soup is that the potato acts as a thickening agent which along with the milk helps create a really smooth and creamy tasting soup without adding any actual cream.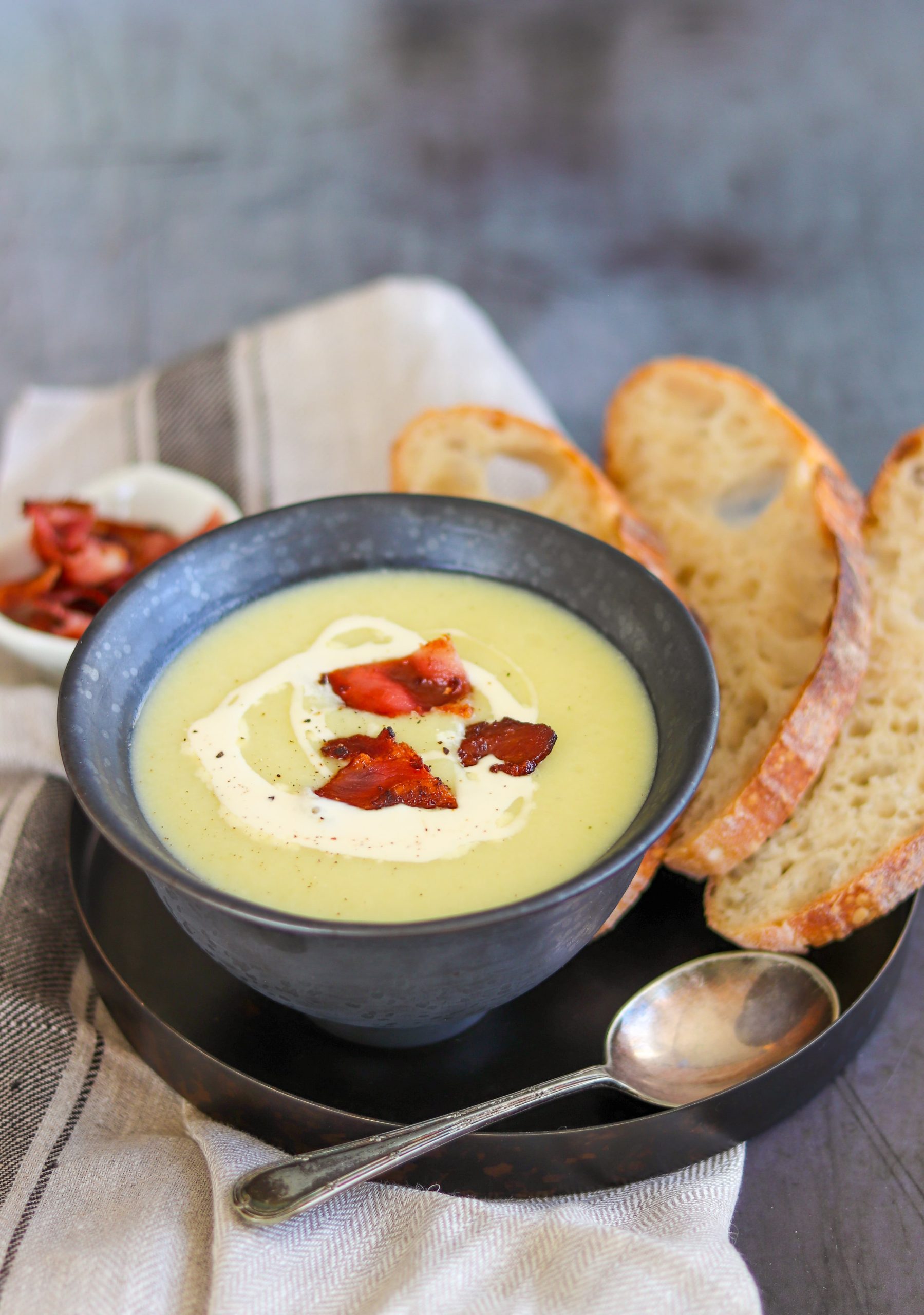 Which potatoes are recommended to use?
Being completely honest, I don't think you need to be too worried about which type of potatoes you use for this soup. I have been making this soup for years and have different potato varieties and have never made a bad soup.
But if you are looking for some guidance, I would recommend potatoes like Maris Piper or Yukon Gold for this soup. They have a medium starch content so they will blend well in the soup without making it gluey.
If you were to use a waxy potato, you might just have to cook the potatoes for a bit longer to make sure they are soft.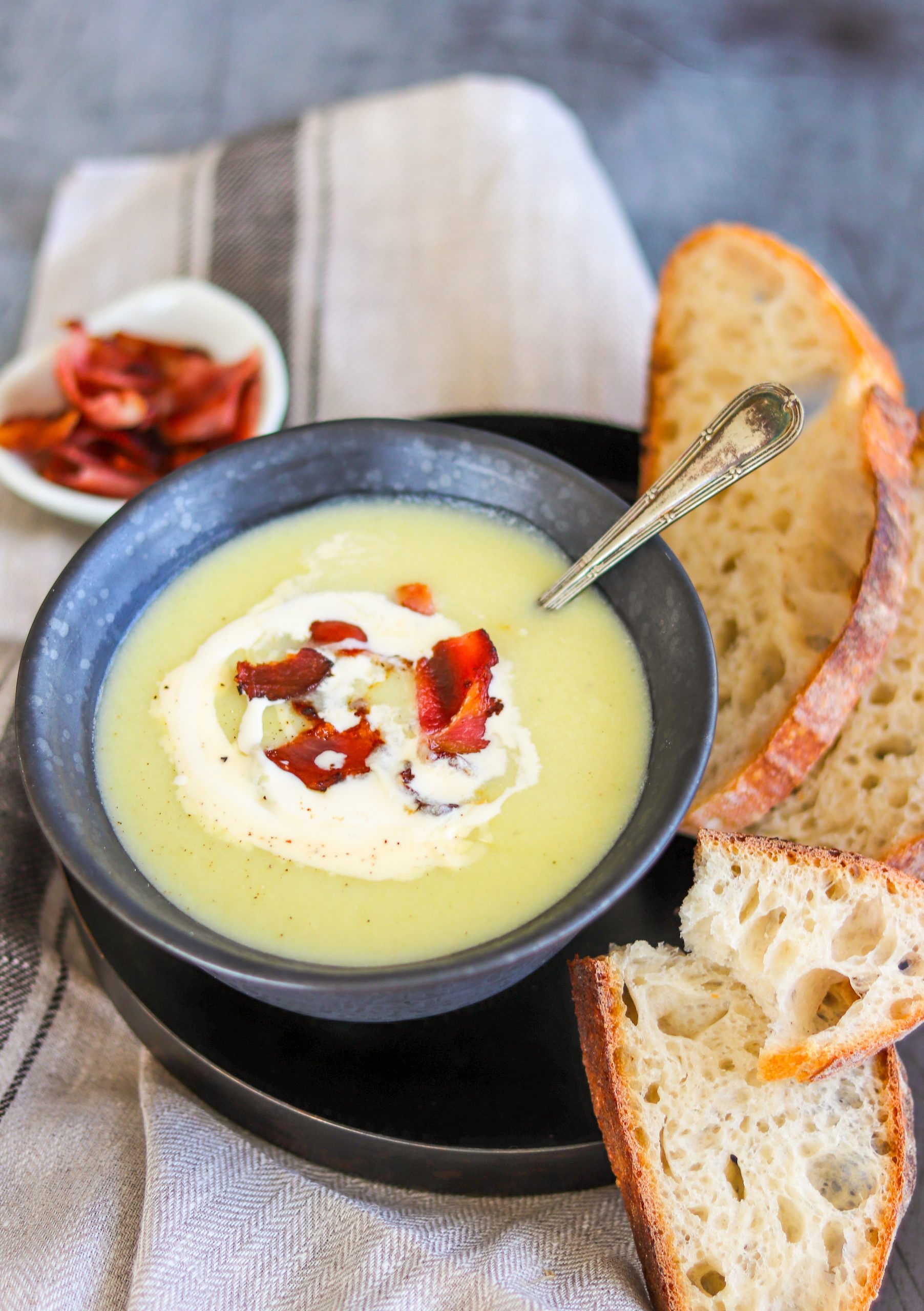 Using a soup maker couldn't be easier!
Making soup is so easy whether you have a soup maker or not. I love my soup maker because it is so incredibly easy.
With a soup maker you don't have to worry about blending the soup because not only does it cook the soup, but it blends it too. What could be easier than that?!
My soup maker has a setting for smooth soup which takes 21 minutes. Occasionally if I have cut the potatoes a bit larger than usual, the finished soup is a bit grainy in texture.
Don't worry if this happens to you, I just set the soup to run for another 'smooth' cycle. After this the soup should be perfectly smooth.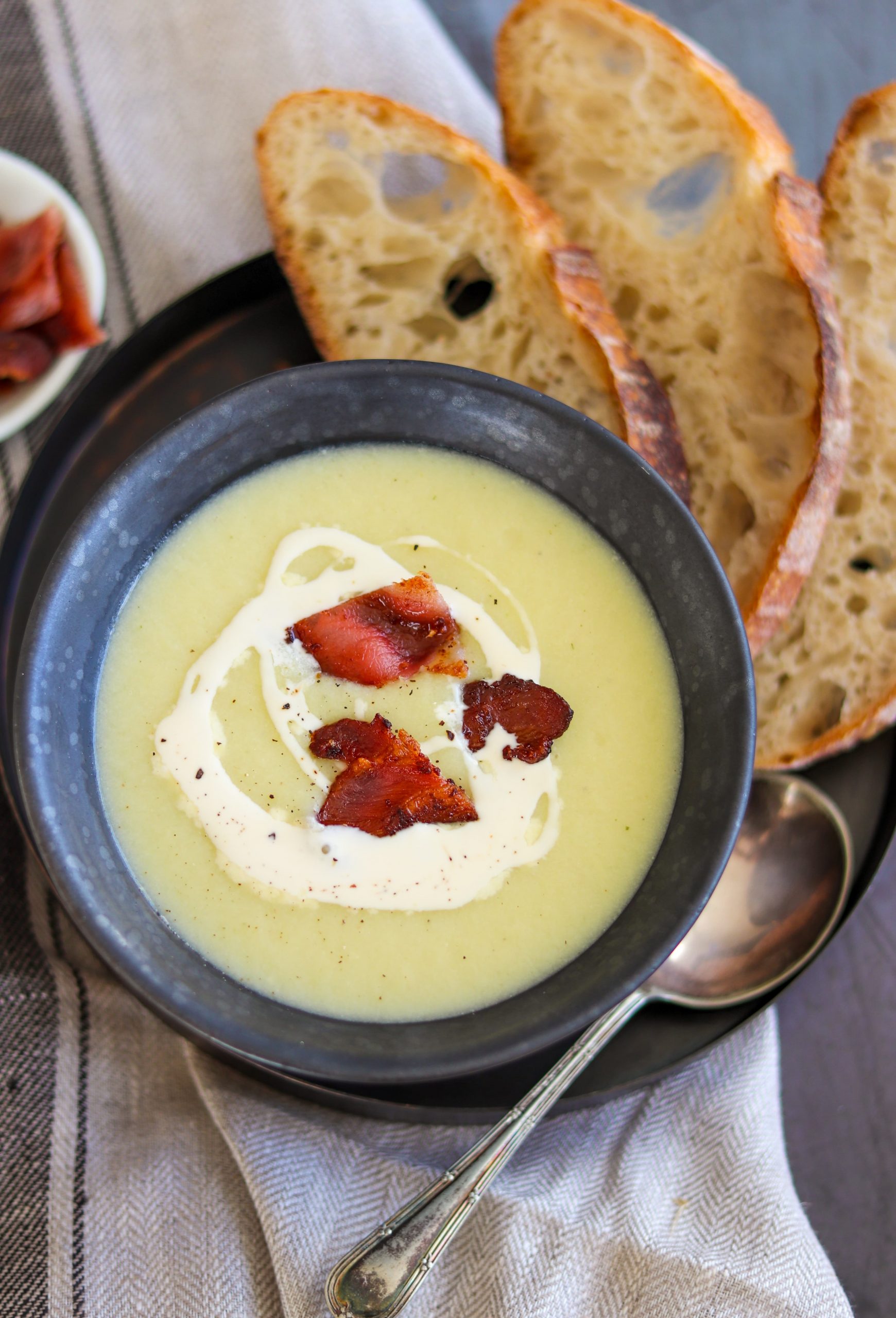 Can you make this soup without a soup maker?
Of course! Just add all of the ingredients to a large pot. Bring to the boil and then leave to simmer until the potatoes are cooked through.
I wouldn't cut the potatoes as small if you are making this soup in a pan. If you cut them small they may become starchy and make the finished soup a bit gluey in texture.
Once the potatoes are cooked, blend the soup. The easiest way to do this is with a stick blender. But if you don't have one, you can carefully transfer the soup to a blender.
Be careful whichever way you blend the soup because it will be hot and you don't want it to splash on you.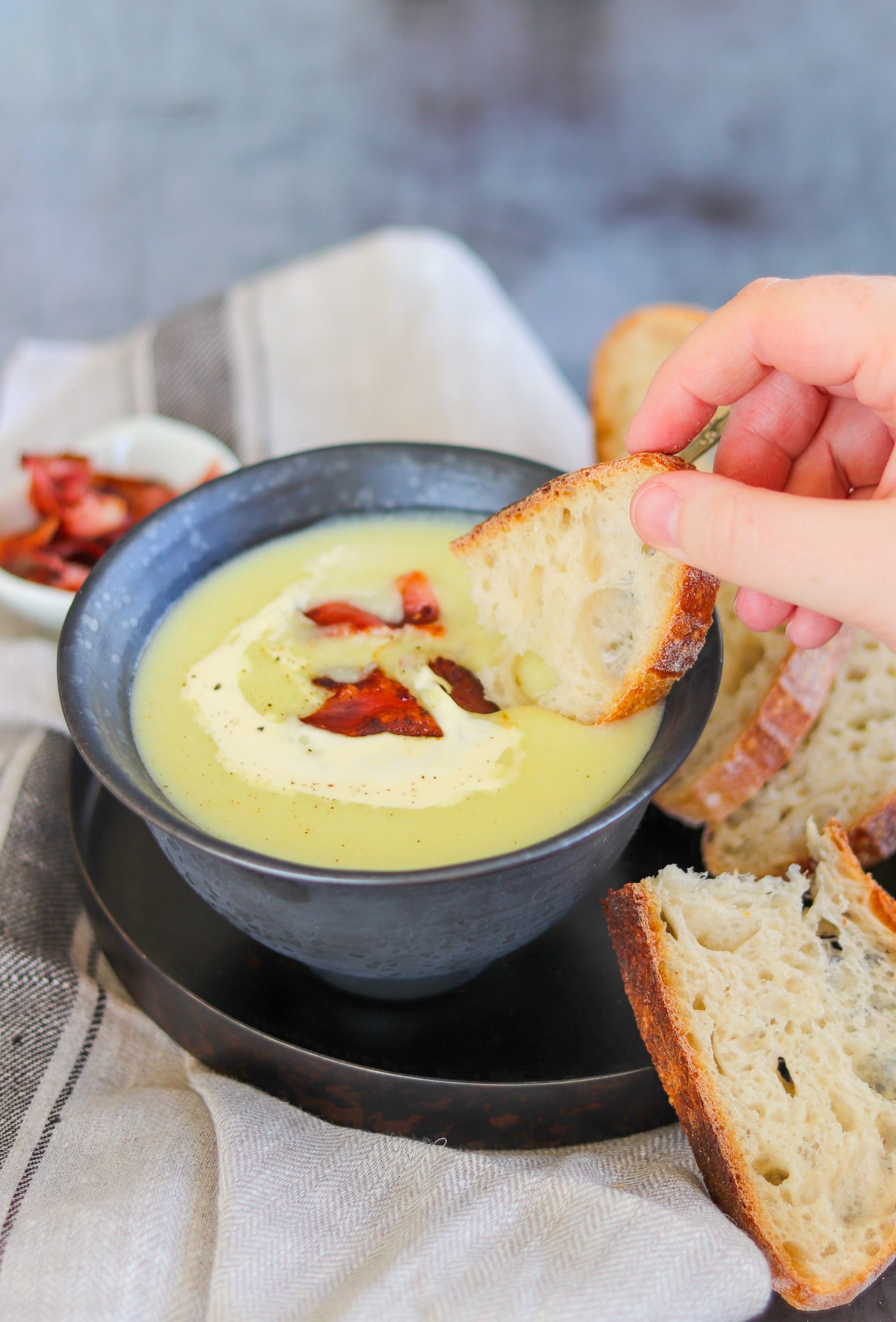 how to make sure your soup isn't bland
Potatoes and leeks don't instantly scream flavour to most people. But if you season the soup sufficiently then it will be anything but bland.
Potatoes can take a lot of seasoning in my experience. The quantities in the recipe are just as a guide as seasoning is down to personal preference.
I add some salt and pepper to the soup maker at the start and then I taste it when it is finished. This is the point when you can adjust and add more seasoning if you want.
Remember you can always add seasoning but you can't take away, so taste as you go and add a little bit at a time.
For black pepper fans, you can grind some pepper over the soup before you serve.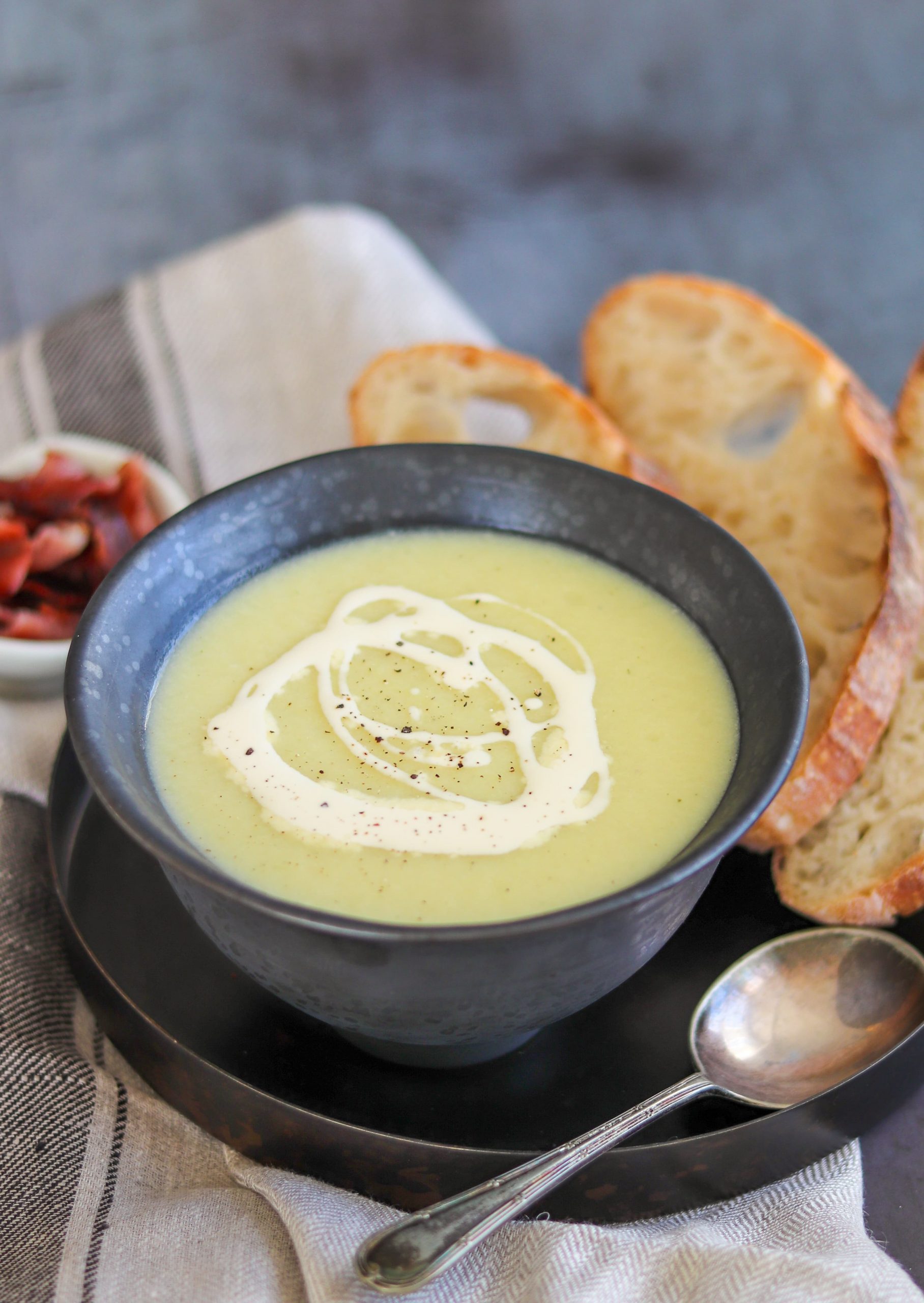 how thick do you like your soup?
In my house, we prefer a thick soup rather than a thinner broth style soup. This Leek & Potato Soup is naturally thickened by the potatoes so you don't need to add any additions to make it thicker.
The soup as per the recipe below is quite thick and makes three generous portions. If you prefer a thinner soup, I would recommend adding more vegetable stock.
You can always add more stock once the soup is cooked if you decide you would like it a little thinner.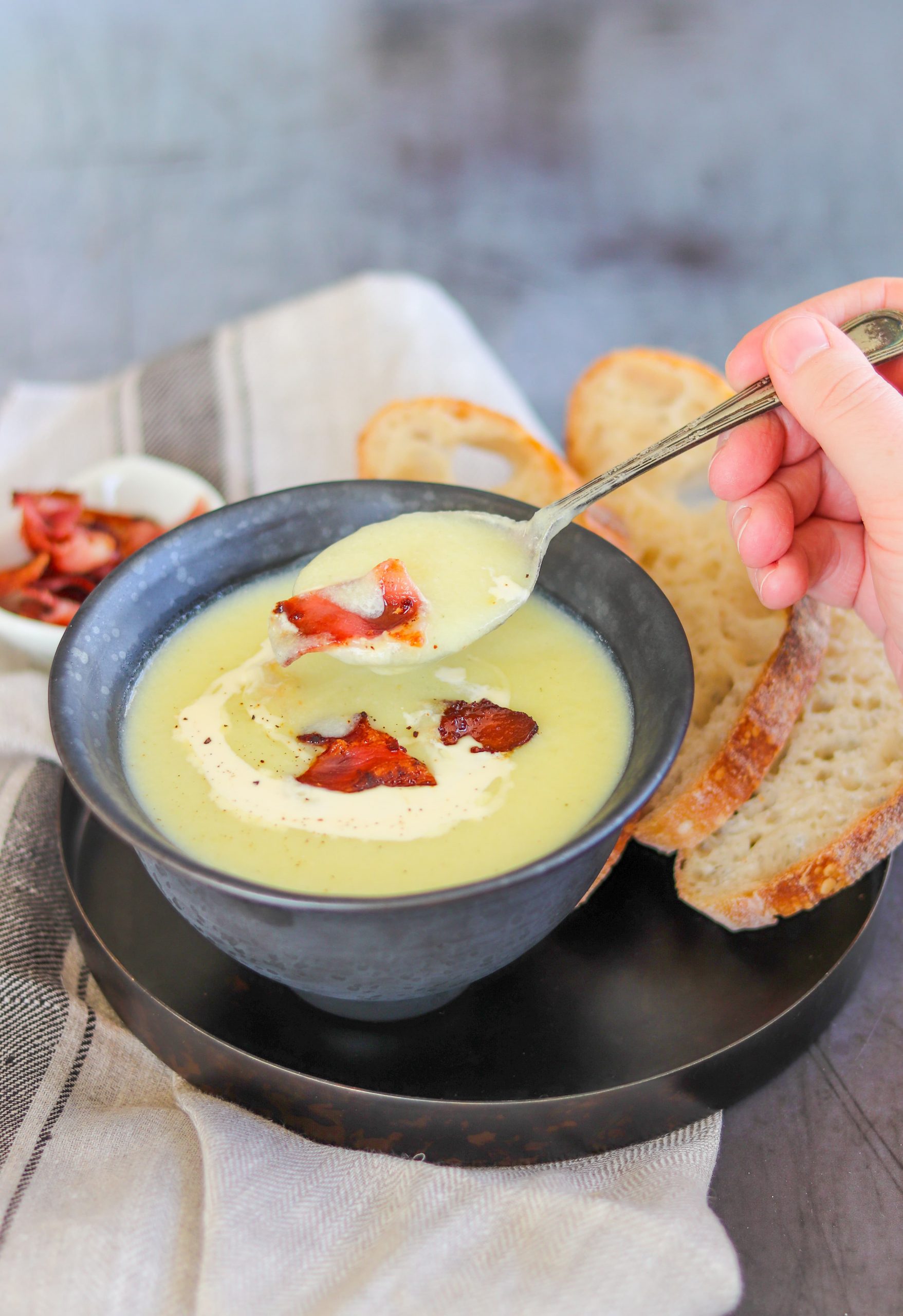 How long will this soup keep for?
This soup will keep in an airtight container for two to three days in the fridge. When you want to reheat it you can do this in the microwave in a pan on the hob; just make sure it is piping hot.
If you would like the soup to keep for longer, I would recommend freezing it.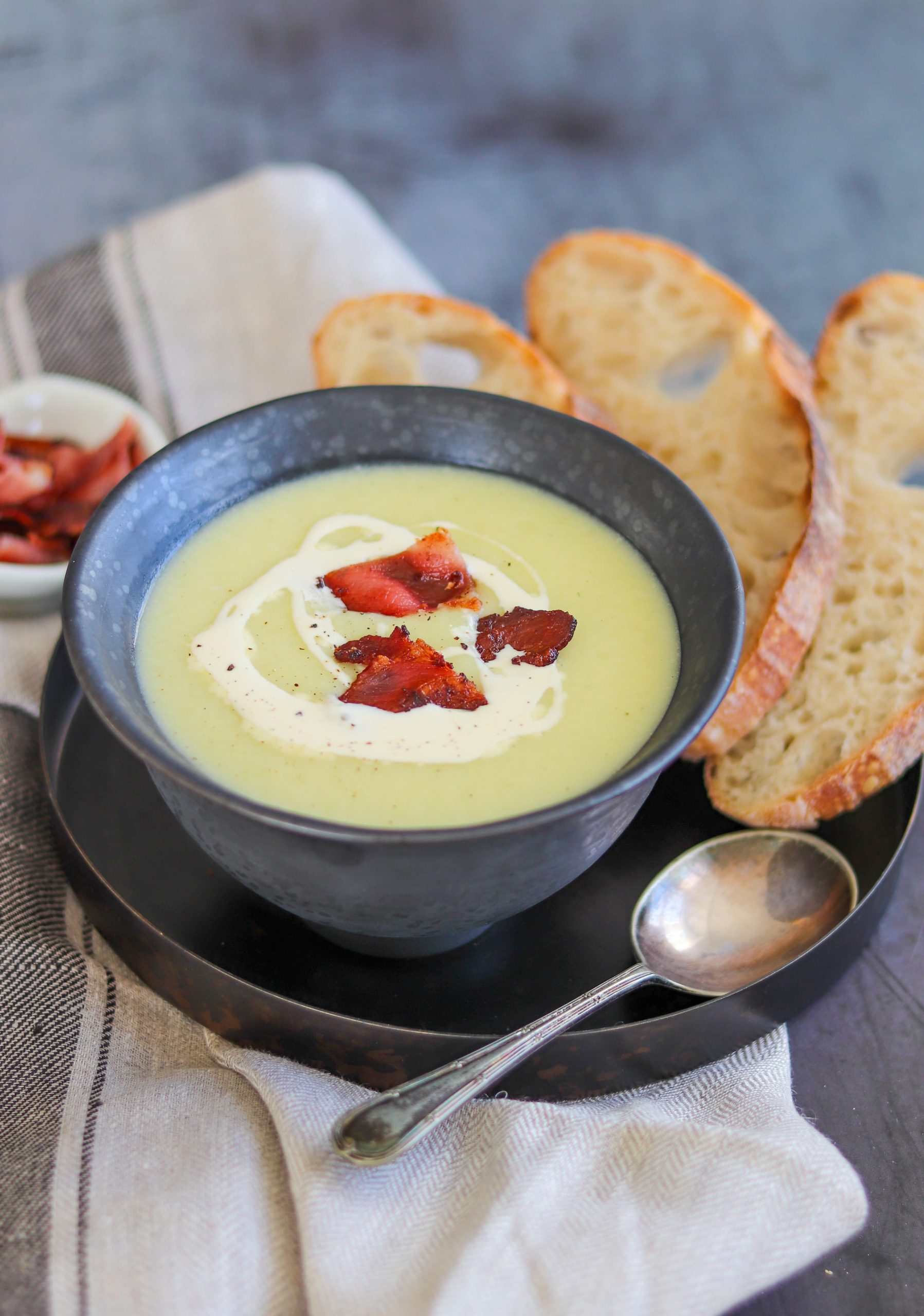 Can you freeze this Leek & Potato Soup?
Yes absolutely, it freezes really well. I like to make a batch of this soup and freeze it for easy meals at a later date.
To defrost the soup, all you need to do is take it out of the freezer and leave it to defrost in the fridge for a few hours.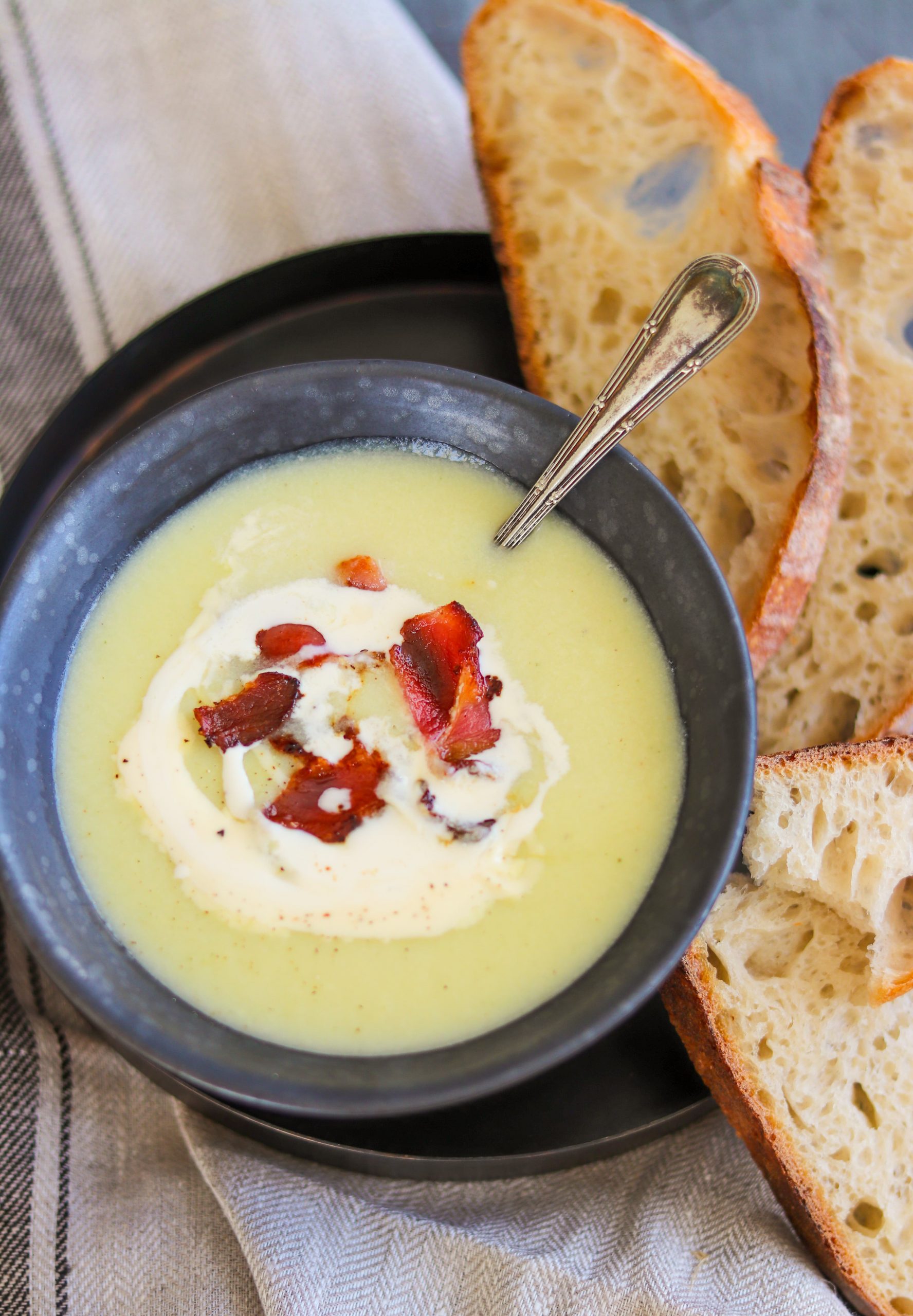 Don't forget the toppings!
Toppings can really elevate a soup and make it even tastier. For this soup I like to cook some bacon until it is nice and crispy and then cut it up to sprinkle over the finished soup.
The saltiness of the bacon works so well with the creamy soup and it also adds another texture.
For an extra touch of indulgence, I like to add a drizzle of double cream. The soup is naturally creamy from the potatoes, but a splash of cream really elevates it.
You could also save the potato peelings to make my Air Fryer Potato Peel Crisps. They'd make a great topping to the soup, or just to eat as a snack!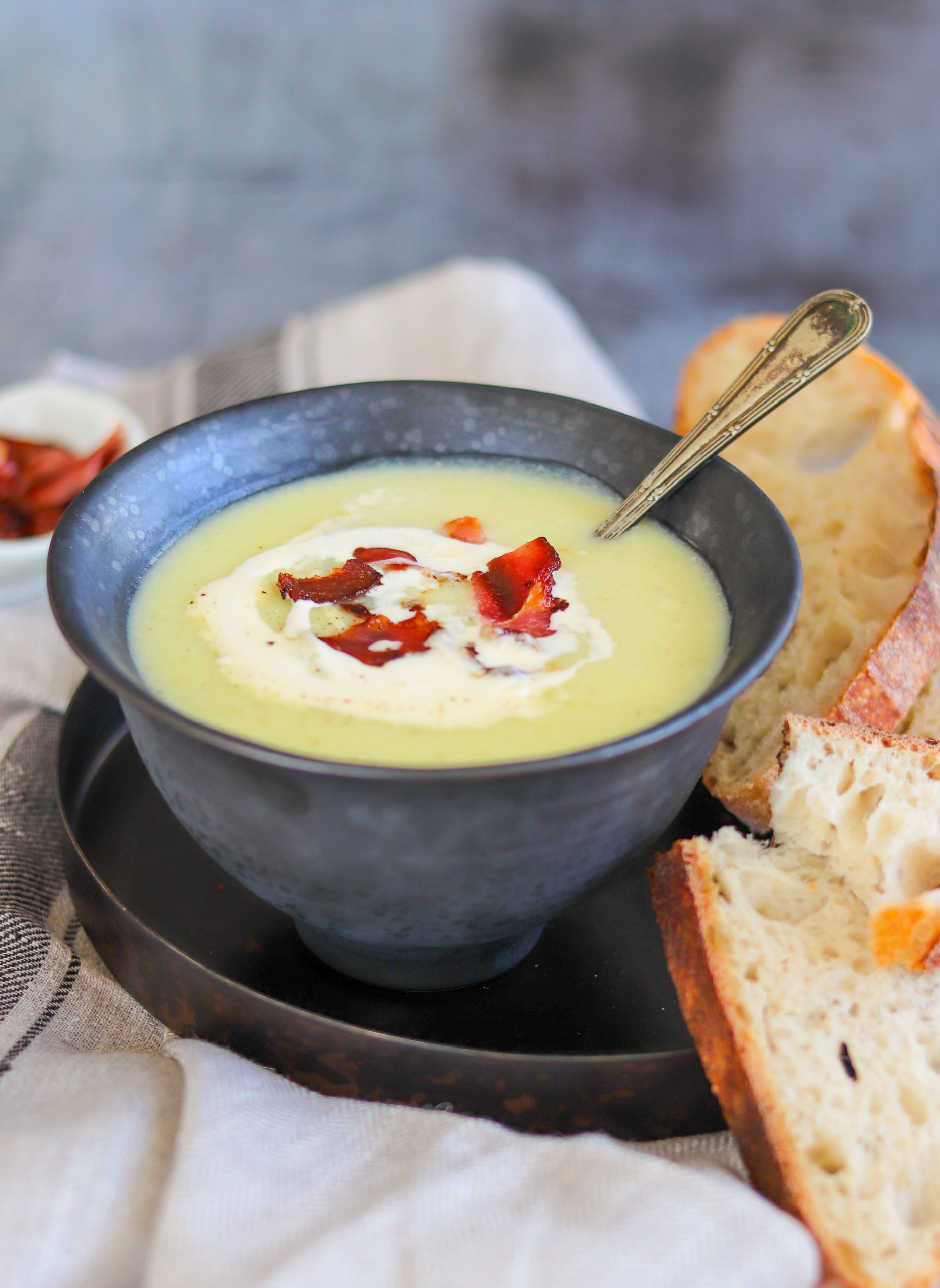 Can this soup be made vegan?
This Leek & Potato Soup is naturally gluten free. And obviously if you don't add the bacon at the end, this soup is also vegetarian.
To make it vegan you would just need to swap the milk in the recipe for your favourite dairy free alternative. Well I say your favourite, but pick something with a neutral flavour and not hazelnut milk for example!
Other recipes you might like
Pin for later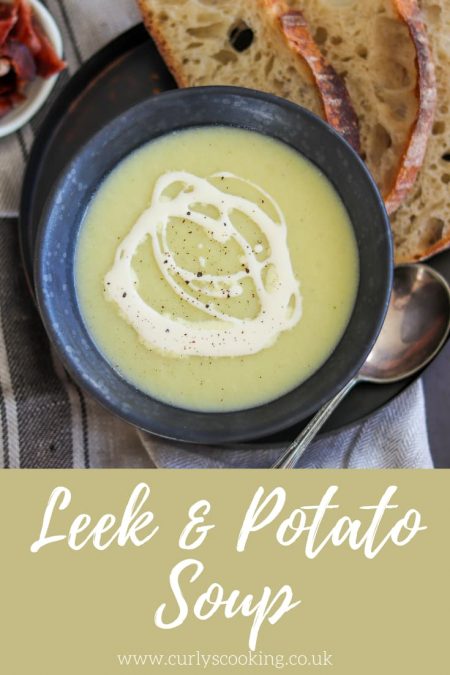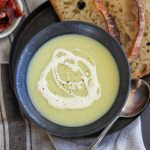 Leek & Potato Soup
Leek & Potato Soup is a classic for a reason and this soup maker version makes it even easier. You will have a delicious creamy soup ready in no time!
Ingredients
350

g

potatoes

peeled & diced

300

g

leeks

washed

300

ml

semi skimmed milk

500

ml

vegetable stock

1 ½

tsp

sea salt

¼

tsp

pepper

Crispy bacon

optional
Instructions
Wash, peel and chop 350g potatoes and 300g leeks and add to your soup maker with 300ml semi skimmed milk, 500ml vegetable stock, 1½ tsp sea salt, ¼ tsp black pepper

Set to the smooth setting and leave the machine to do the work

If the soup is too thick for your liking, add a little bit more stock until it is the thickness you like

Eat as it is to keep it vegetarian, or add some crispy bacon
Recipe Notes
Nutritional information is given as a guide only and may vary.
Nutrition Facts
Leek & Potato Soup
Amount Per Serving
Calories 187
Calories from Fat 18
% Daily Value*
Fat 2g3%
Cholesterol 8mg3%
Sodium 1908mg83%
Potassium 802mg23%
Carbohydrates 36g12%
Protein 8g16%
Vitamin A 2124IU42%
Vitamin C 26mg32%
Calcium 214mg21%
Iron 6mg33%
* Percent Daily Values are based on a 2000 calorie diet.