Colourful, chocolatey and deliciously sweet. This Unicorn White Chocolate Rocky Road will hopefully make you smile both because of its taste and also because of it's bright and fun look.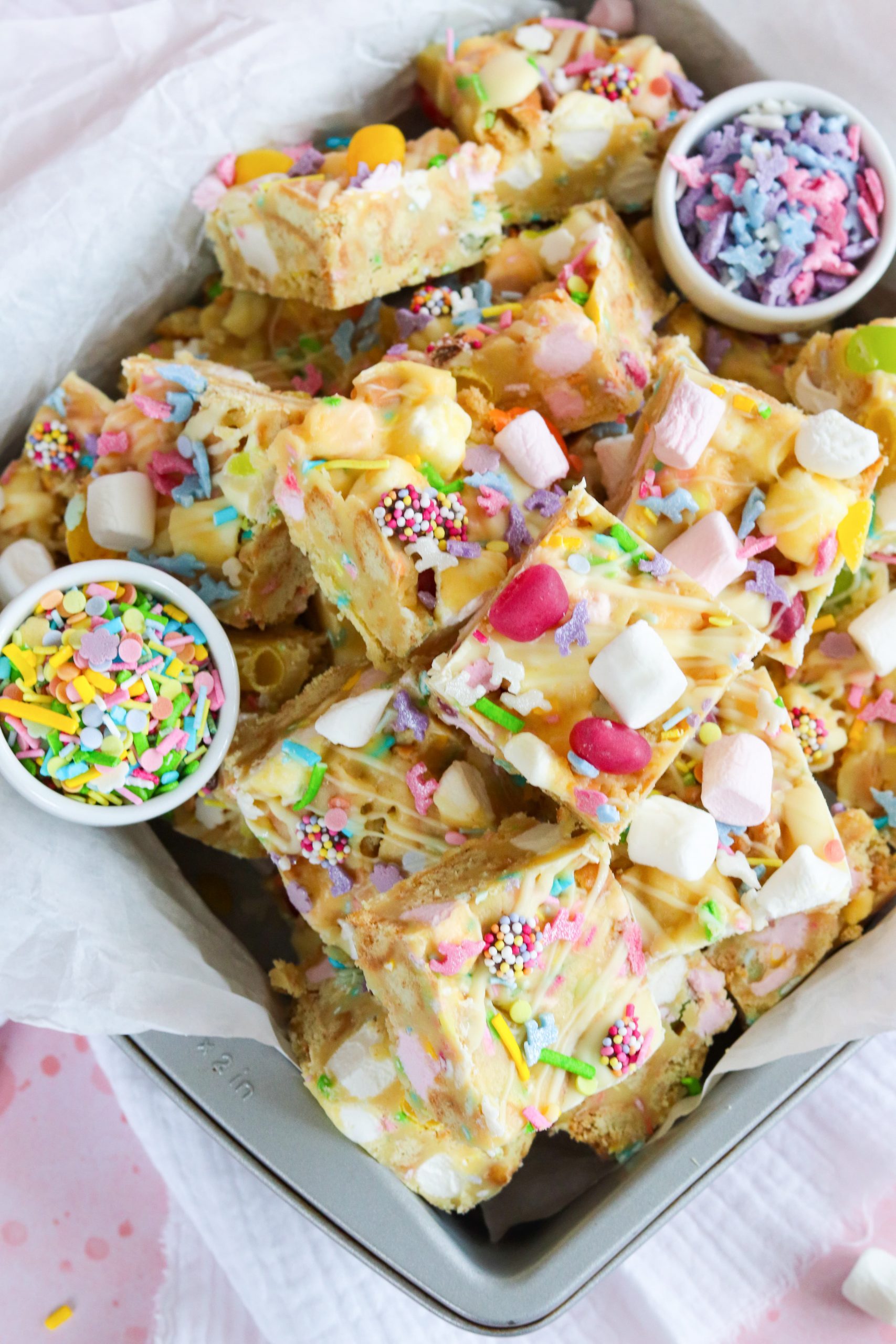 What is Unicorn White Chocolate Rocky Road
As you can probably tell from the name, this is a white chocolate rocky road. But what is rocky road?
Rocky road is one of those recipes that is referred to by a few different names. As well as rocky road, I have heard it referred to as tiffin and refrigerator cake. Personally, I think Tiffin is different as it doesn't typically have marshmallows in it and rocky road does.
Rocky road is a no bake sweet treat, originally from Australia, It usually includes marshmallows, biscuits and chocolate. What is included varies from country to country and person to person.
What makes this Unicorn White Chocolate Rocky Road a bit different is that it is made with white chocolate. Rocky road is more commonly used with milk or dark chocolate.
And the unicorn part? Well that is because it is filled with colourful sweets sprinkles that make this rocky road that little bit magical!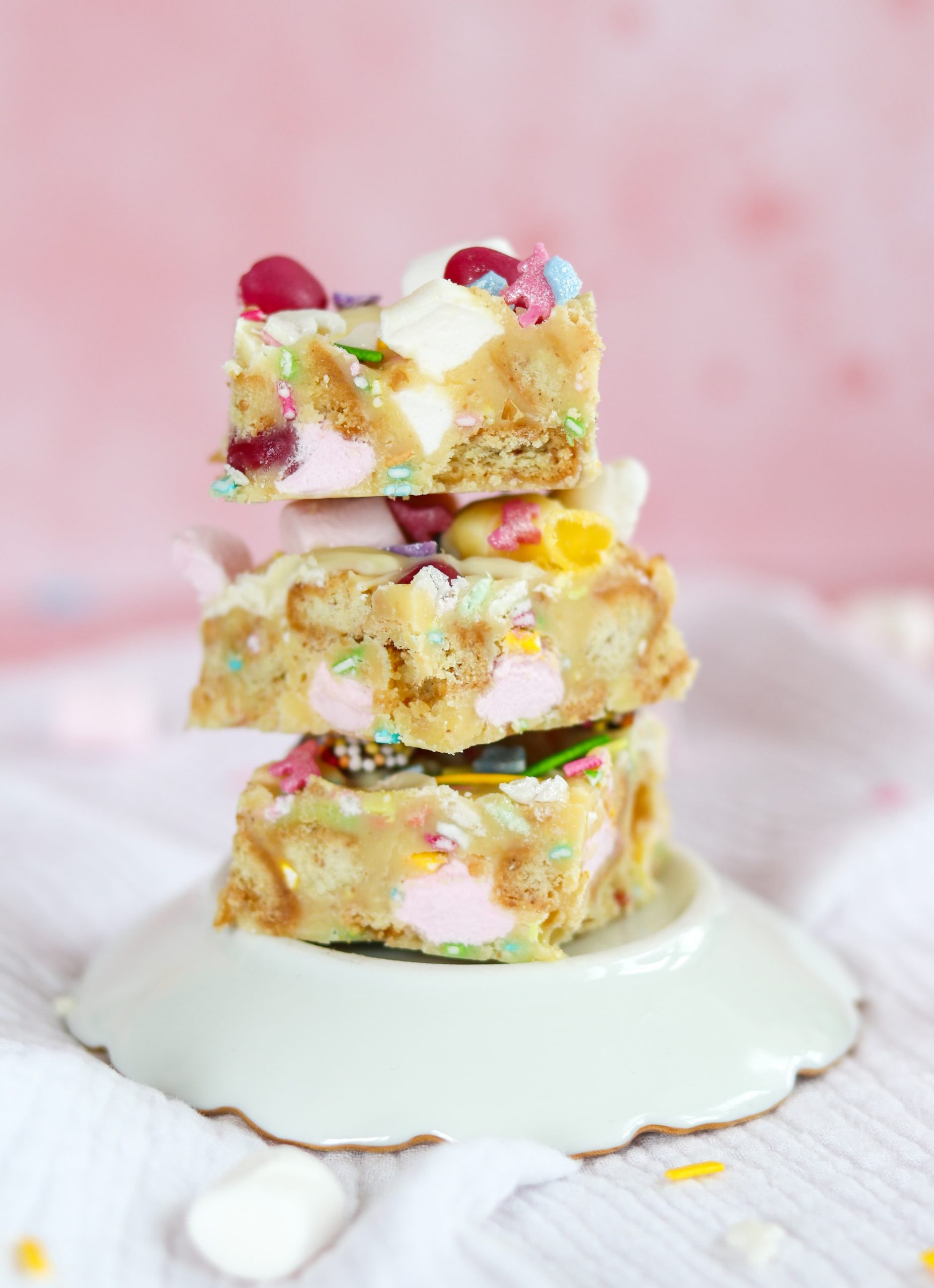 A tasty no bake treat
No matter what your baking abilities, you will be able to make this Unicorn White Chocolate Rocky Road. It is a fantastically simple no bake treat that is perfect for children to get involved with.
All you have to do is melt some ingredients together in the microwave and crush some others. Some easy assembly before putting it in the fridge and you're done!
The fun part is definitely in the decorating – something children will definitely enjoy!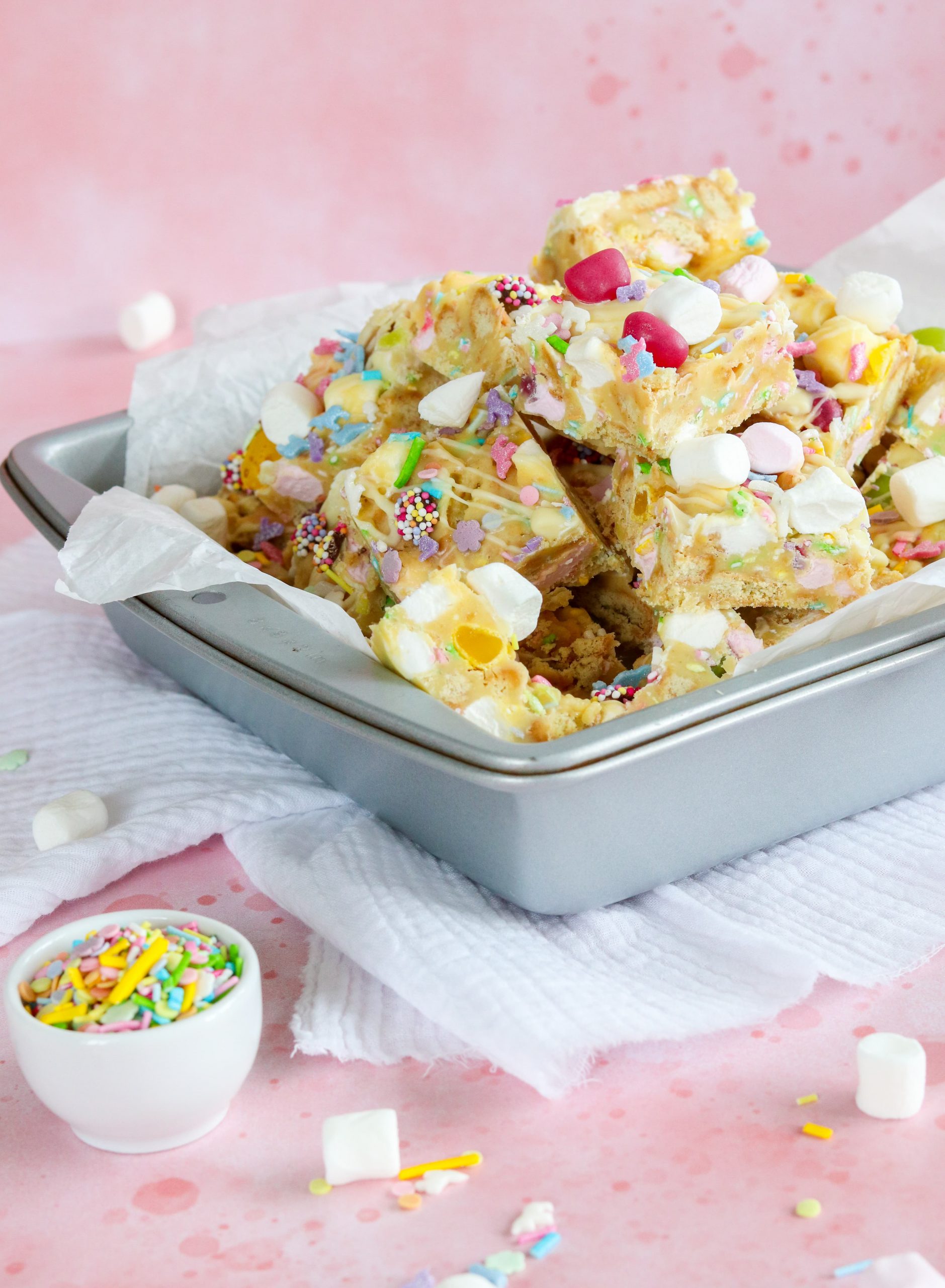 Do you like white chocolate?
This Rocky Road is the perfect treat for fans of white chocolate, or sweet things in general. I initially came up with the recipe thinking it would be great for children because of all of the bright colours and sprinkles, but it turns out adults love it too – Mr Curly being one of them!
I feel the need to say that this recipe won't be for everyone. If you aren't a fan of white chocolate or very sweet things, then this recipe unfortunately won't be for you.
It can be quite sickly – well that is my opinion because I always find white chocolate very sweet; so I do recommend cutting the rocky road into relatively small squares.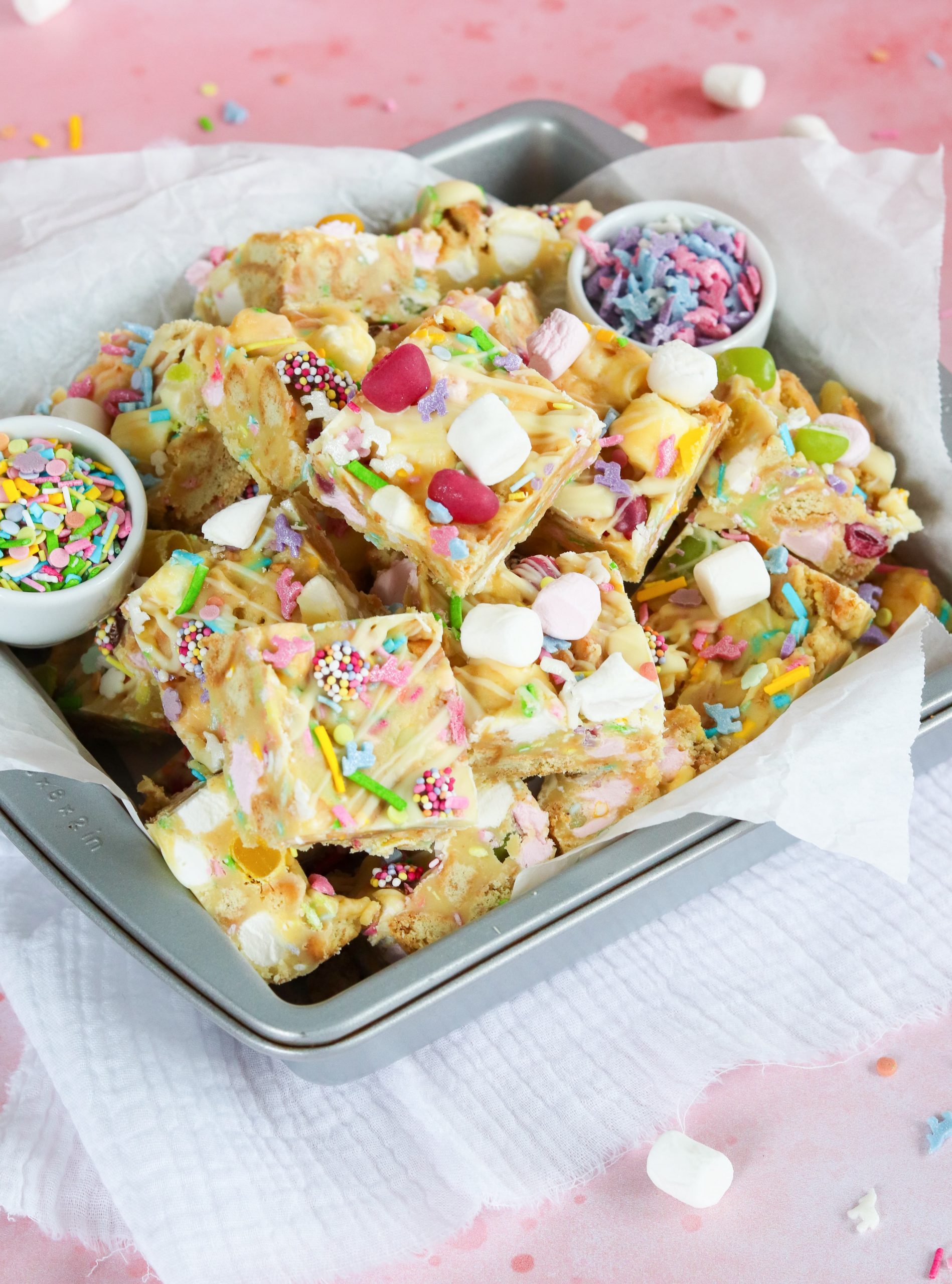 Which biscuits are best to use?
Biscuits are an integral part of rocky road so I would recommend you including them. My favourite biscuits to use for rocky road are digestives but rich tea biscuits would also work really well.
If you live in the US and you are already confused about me talking about biscuits – I mean cookies! You can use Graham crackers instead here.
I have also used white chocolate fingers in the past. Get creative and use whichever biscuits you think would work well.
When it comes to breaking them up, I add them to a bowl and bash them with a rolling pin. By doing this you get a variety of different sizes.
I wouldn't use a food processor to break up the biscuits because they are likely to be too small which wouldn't work as well for this rocky road.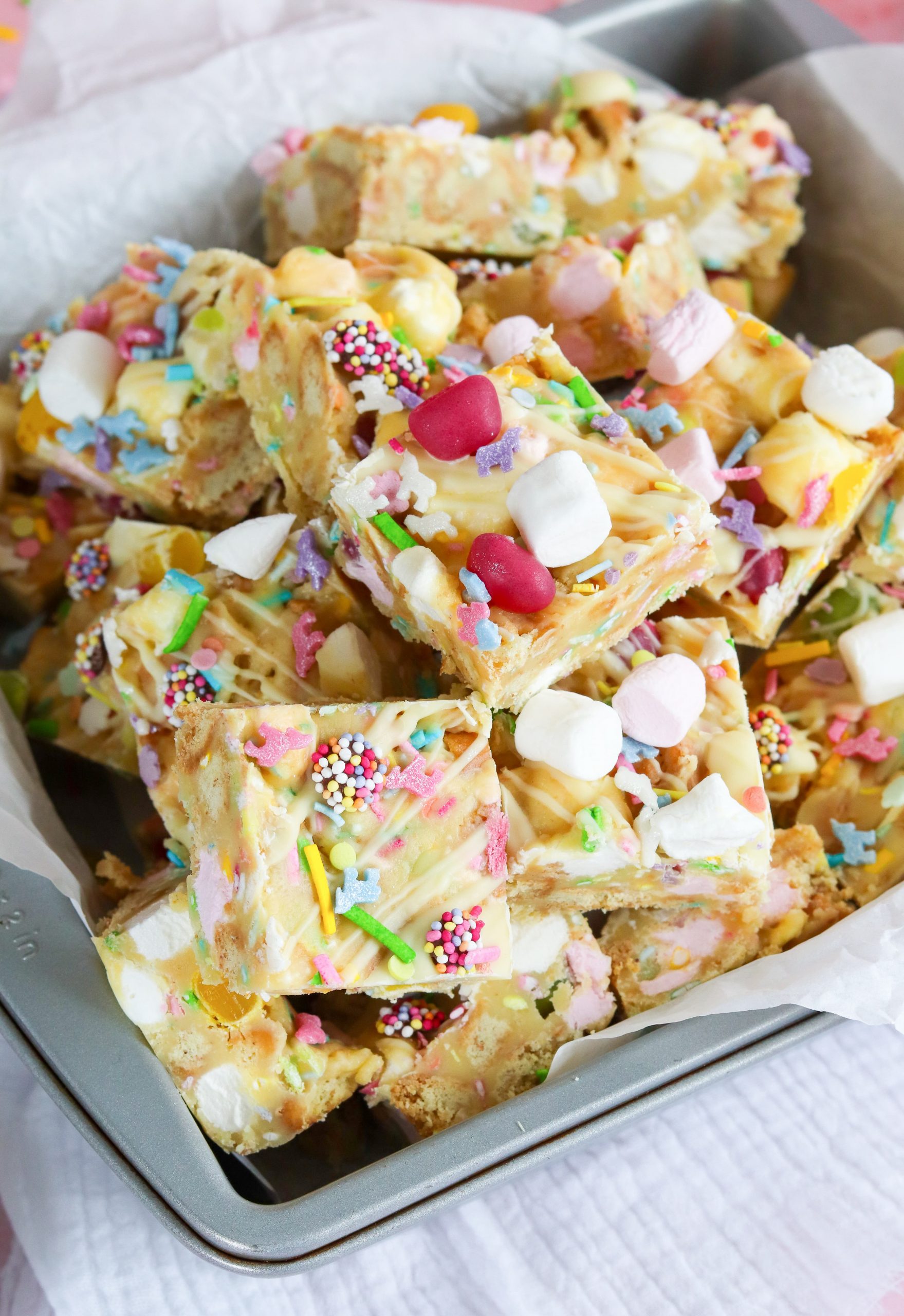 An incredibly customisable treat
I love rocky road because it is so versatile and easy to make. You can tailor make it to include all of your favourite things using a base recipe.
I like to add jelly beans because they add a lovely pop of colour to the rocky road and add to the unicorn vibes. They also help to break up the white chocolate sweetness with a pop of fruit.
You really can be as creative as you like with this Unicorn White Chocolate Rocky Road!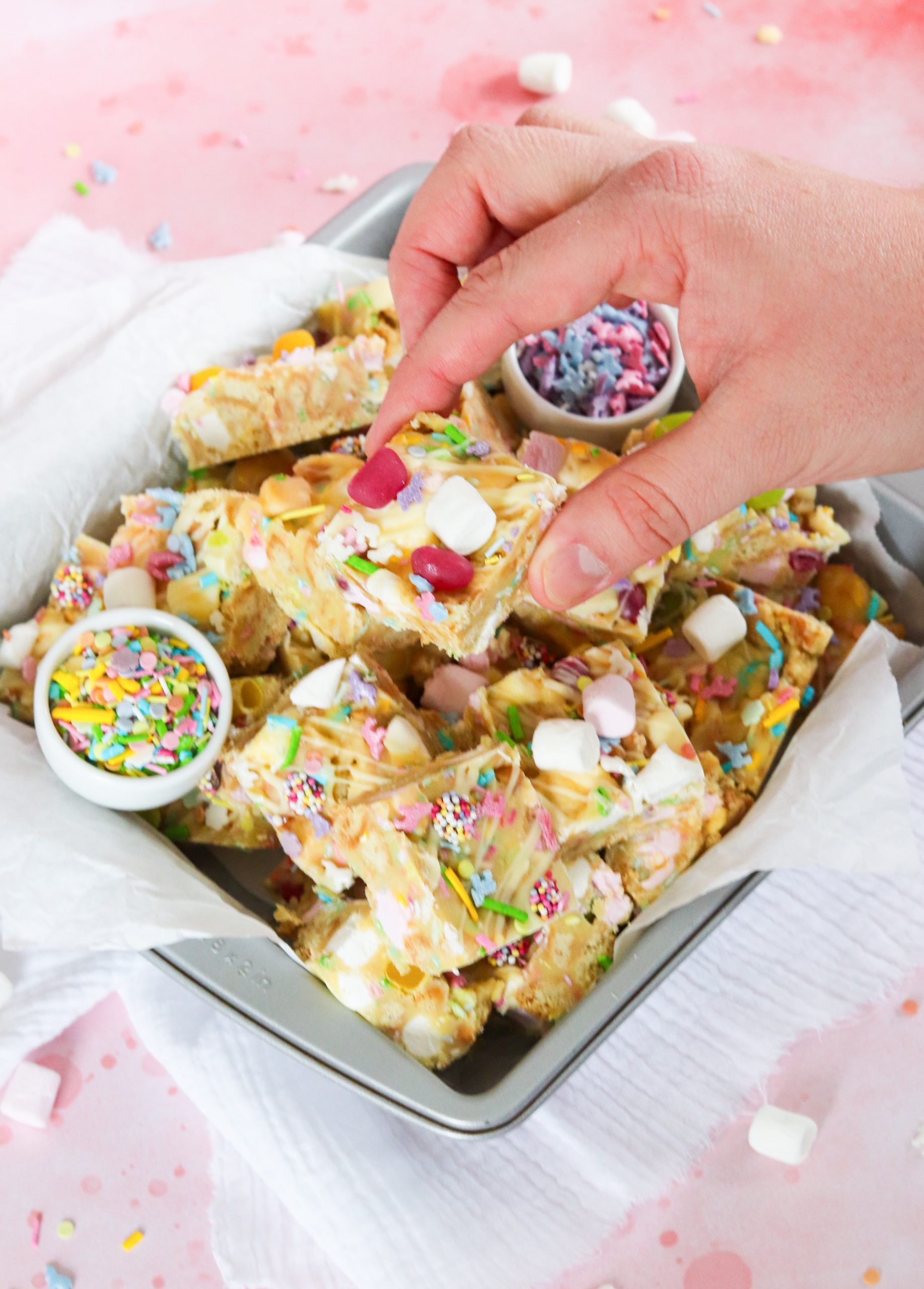 How long will this Unicorn White Chocolate Rocky Road keep for?
This rocky road can be kept in a sealed container in the fridge for at least a week. But I'm not going to lie to you, it won't stay in your fridge anywhere near that long because it will mysteriously disappear before your eyes.
The only reason it needs to be kept in the fridge is so it doesn't melt. So if you aren't someone that likes to keep your chocolate in the fridge and it isn't too hot, you can leave this out of the fridge.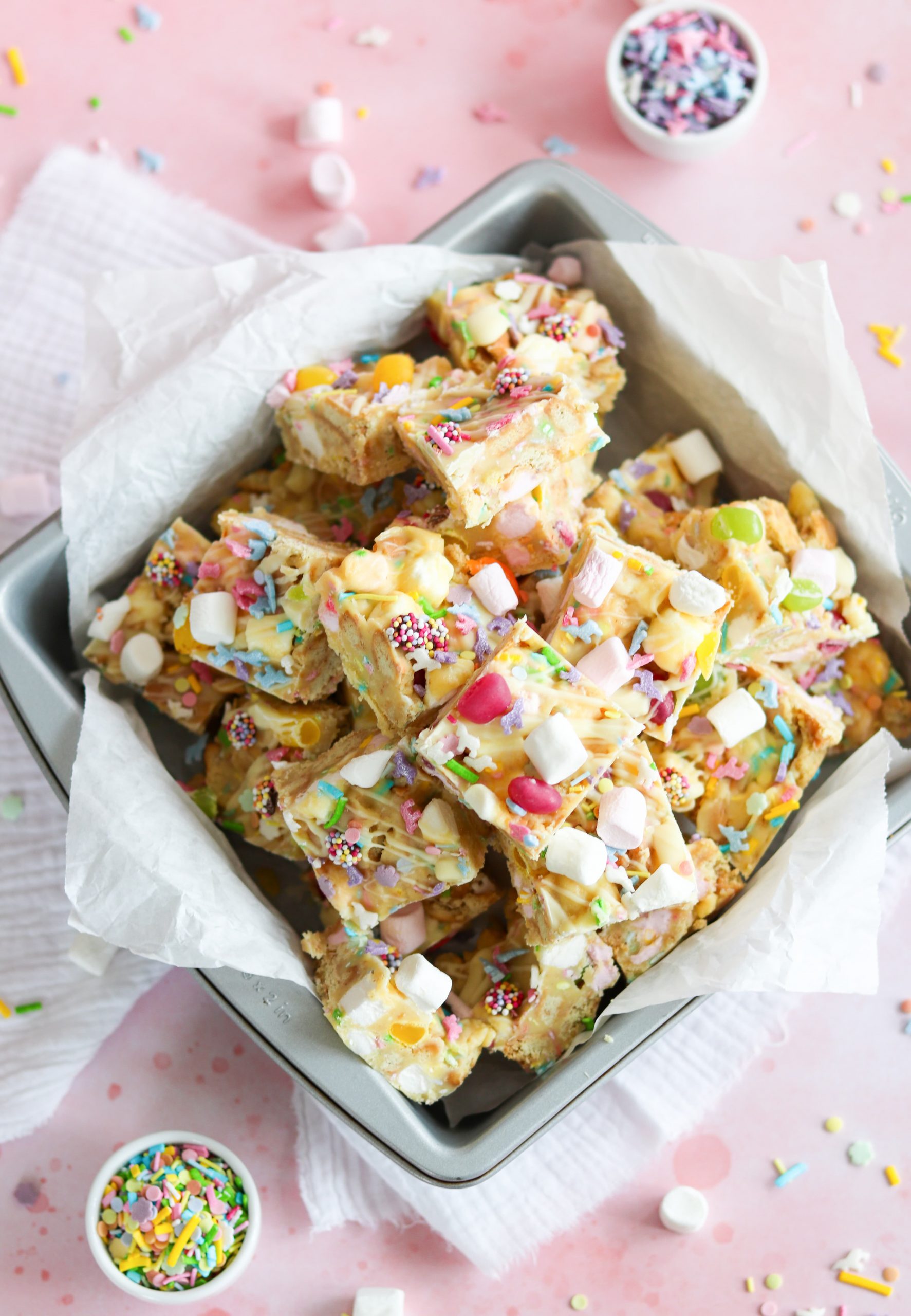 How to make this rocky road gluten free, vegetarian or vegan
To make this Unicorn Rocky Road gluten free, you will need to use a gluten free biscuit. You will also need to check the white chocolate is gluten free. It is also worth checking all of the ingredients are; they should be but it is always worth making sure!
For this to be suitable for vegan diets you will need to use a dairy free white chocolate. You will also need to find vegan marshmallows.
Some jelly beans are suitable for vegetarians, but not vegans. Check the packet to see which meet your dietary requirements. If you can't find any suitable, you can use another alternative.
It is also always worth checking the sprinkles meet your dietary requirements too.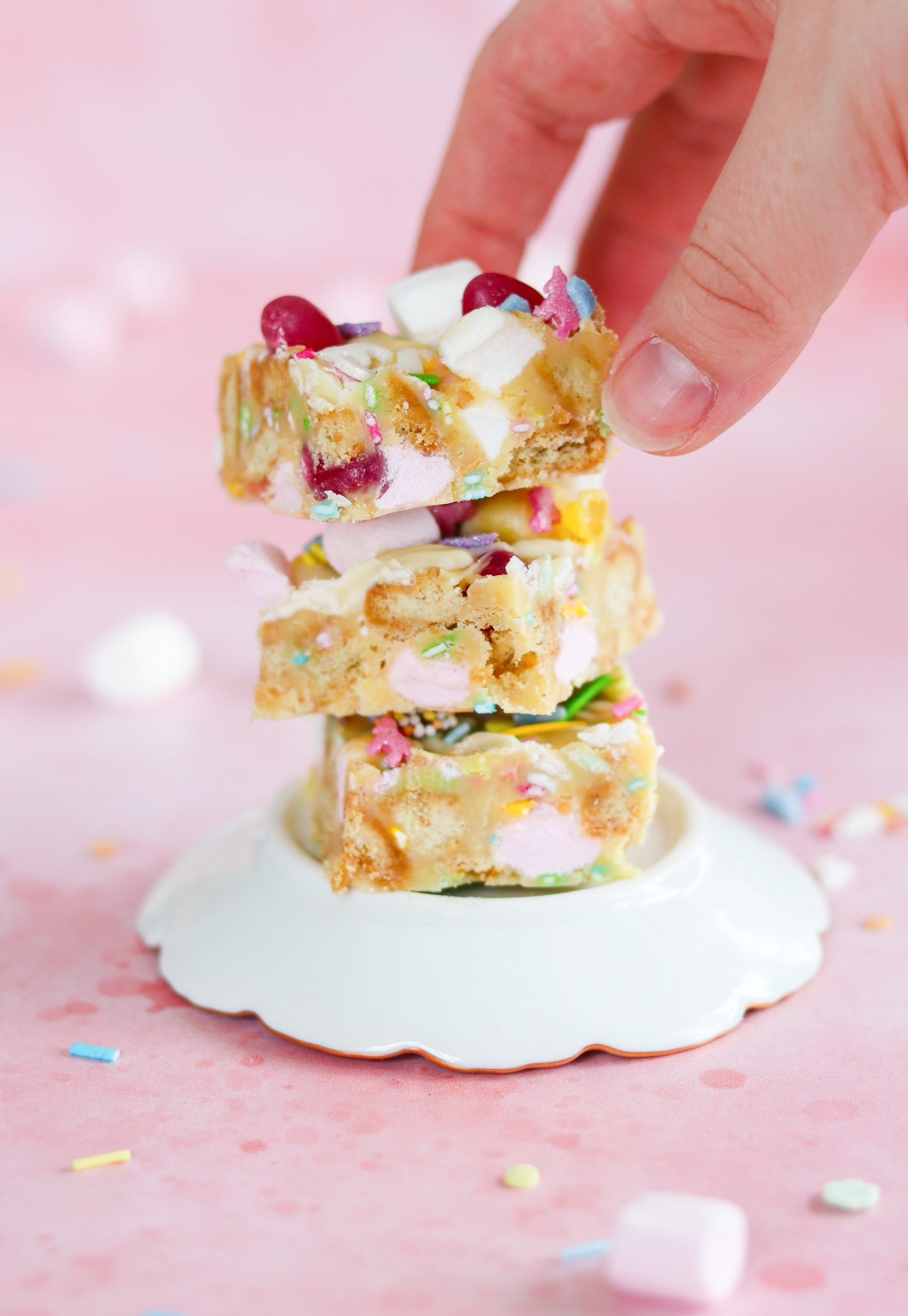 Unicorn White Chocolate Rocky Road Tips
Although this is a very easy treat to make, there are a couple of tips that will help.
When you melt the white chocolate, butter and golden syrup together it can take a little bit more work to fully incorporate than milk or dark chocolate.
I melt the chocolate in the microwave in short bursts and stir well between. When everything has melted, I then beat the mixture until the ingredients are fully incorporated.
It will look like fudge almost when it is incorporated. It might take a minute or so but it will come together!
The rocky road needs to chill in the fridge for at least 2-3 hours. I usually leave it overnight so I know it is definitely firm enough to cut.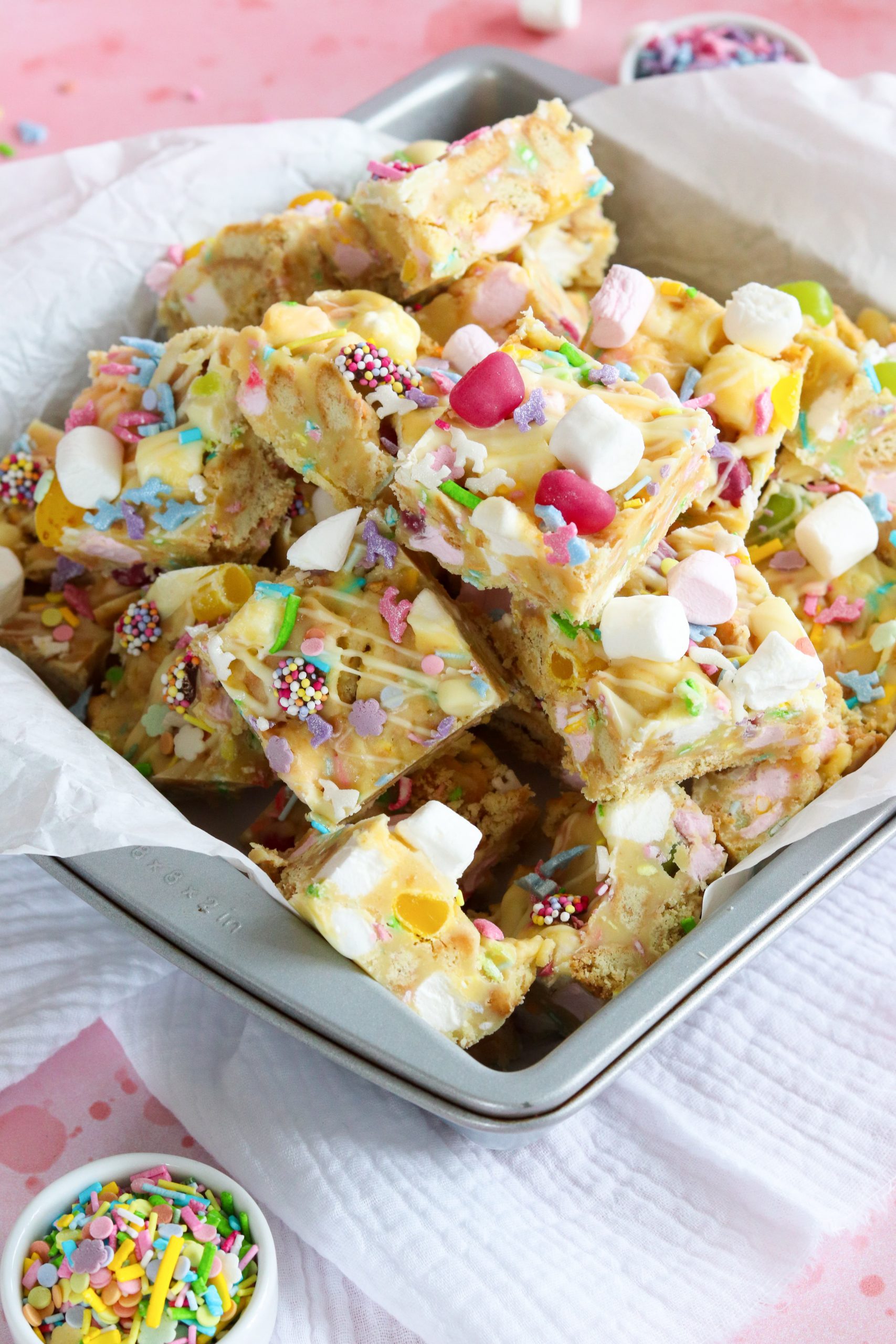 Other recipes you might like
Pin for later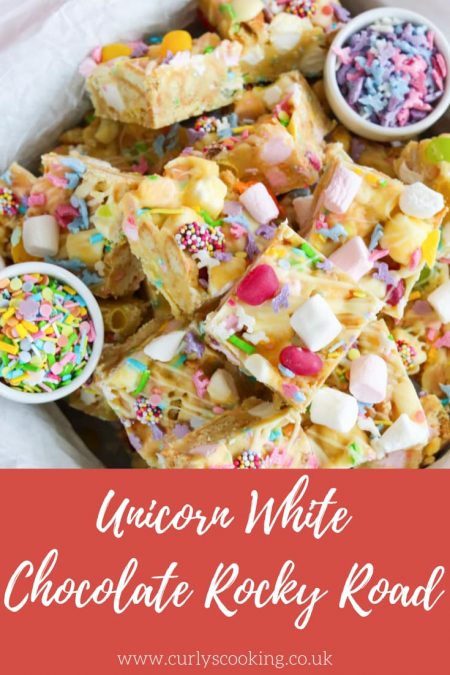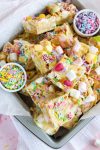 Unicorn White Chocolate Rocky Road
Colourful, chocolatey and deliciously sweet. This Unicorn White Chocolate Rocky Road will hopefully make you smile both because of its taste and also because of it's bright and fun look.
Total Time
3
hours
20
minutes
Ingredients
300

g

white chocolate

100

g

golden syrup

100

g

unsalted butter

160

g

digestive biscuits

80

g

mini marshmallows

85

g

mini jelly beans

60

g

rainbow sprinkles
To decorate
30

g

white chocolate

melted

1

tbsp

mini jazzies

1

tbsp

sprinkles

20

g

mini marshmallows
Instructions
Line a 20x20cm square tin with baking parchment and set aside

Break 300g white chocolate into chunks and put it in a heatproof bowl along with 100g unsalted butter and 100g golden syrup

Melt the ingredients in the microwave using short bursts of power and stir in between each burst. Once the chocolate has melted, set it aside to cool slightly while you prepare the rest of the ingredients

In a large bowl, break 160g digestive biscuits into smallish chunks using a rolling pin

Add in 80g mini marshmallows, 85g mini jelly beans and 60g of sprinkles

Add the melted white chocolate mix to the other ingredients and stir through

Tip the mix into the tin and spread out as evenly as you can

Melt 30g white chocolate in short bursts in the microwave. Drizzle this across the top of the rocky road

Finish my scattering over 1 tbsp mini jazzies, 1 tbsp sprinkles and 20g mini marshmallows. Leave to set in the fridge for a minimum of 3 hours

Once chilled, cut into squares
Nutrition Facts
Unicorn White Chocolate Rocky Road
Amount Per Serving
Calories 178
Calories from Fat 72
% Daily Value*
Fat 8g12%
Cholesterol 11mg4%
Sodium 46mg2%
Potassium 48mg1%
Carbohydrates 22g7%
Protein 1g2%
Vitamin A 104IU2%
Vitamin C 1mg1%
Calcium 29mg3%
Iron 1mg6%
* Percent Daily Values are based on a 2000 calorie diet.
Linking to