This Balsamic Tomato Salad is super simple and incredibly delicious. Enhance the beautiful flavours of tomatoes with garlic, basil and a tasty balsamic dressing.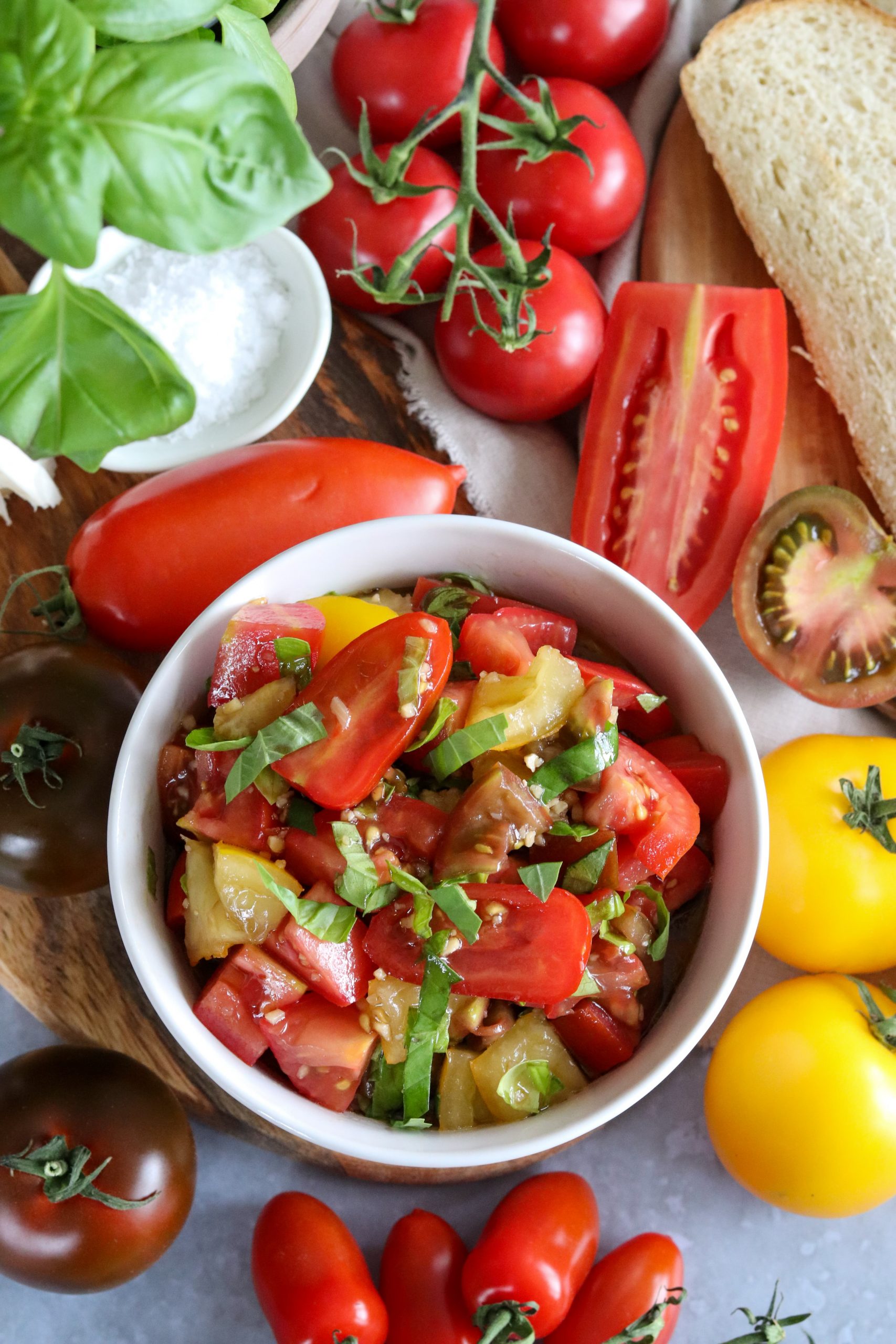 super simple balsamic tomato salad
I have been making this Balsamic Tomato Salad for years. I thought it was too simple and everyone knew about it so my recipe wasn't needed.
However over the years I have been asked numerous times how I make it. So here is my super simple but really delicious recipe.
Yes this recipe isn't anything new and it is flavours we all know and love, but it is one I think everyone should make.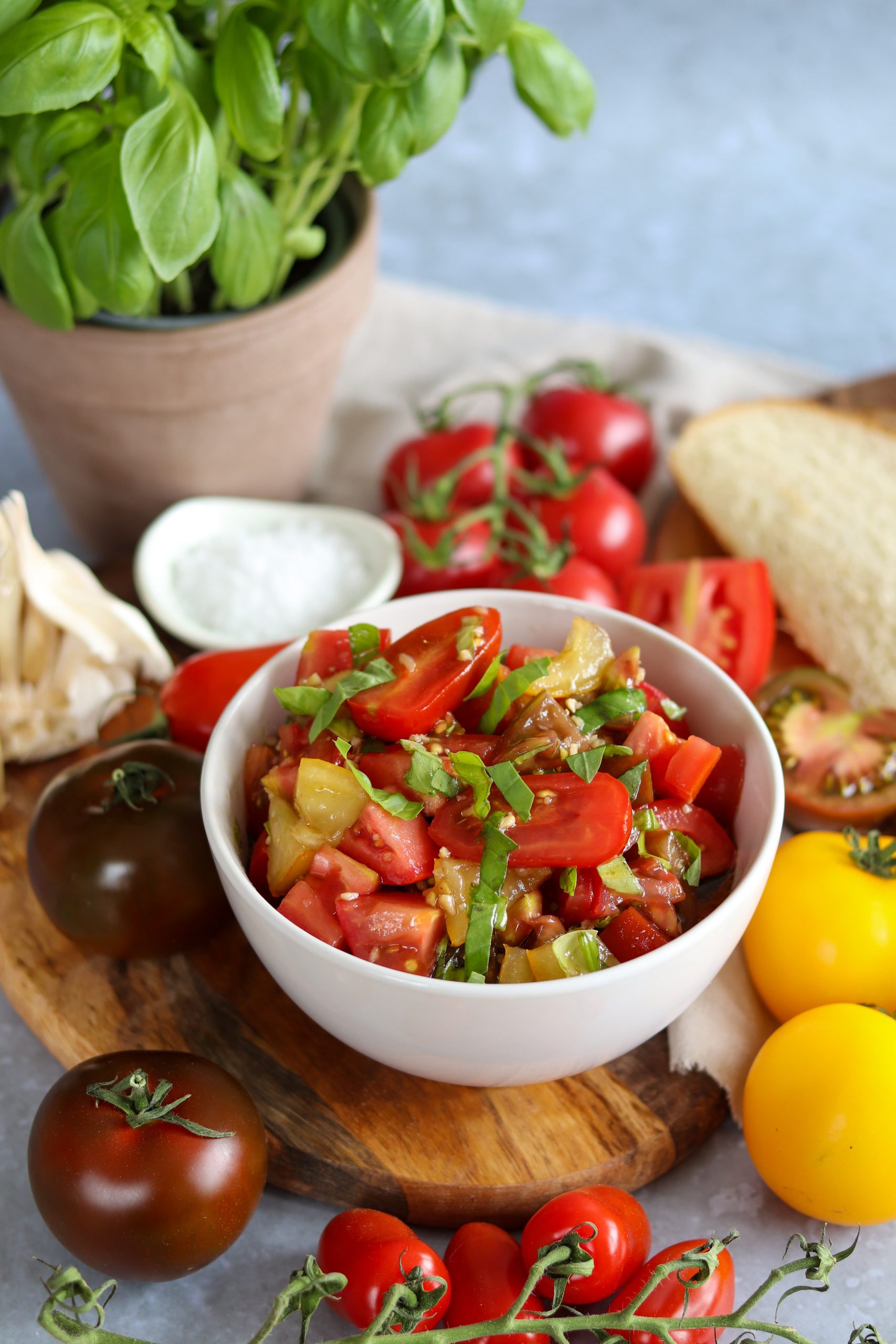 Which tomatoes are recommended to use?
I really recommend using lovely quality, ripe tomatoes for this Balsamic Tomato Salad.
Personally I think you can definitely tell the difference when you use really good tomatoes. They are so full of flavour and taste like sunshine!
If you can, try to go for the slightly more expensive tomatoes. The salad tomatoes that a lot of supermarkets like to sell never seem to get very ripe and flavoursome in my opinion. So I would try to avoid these.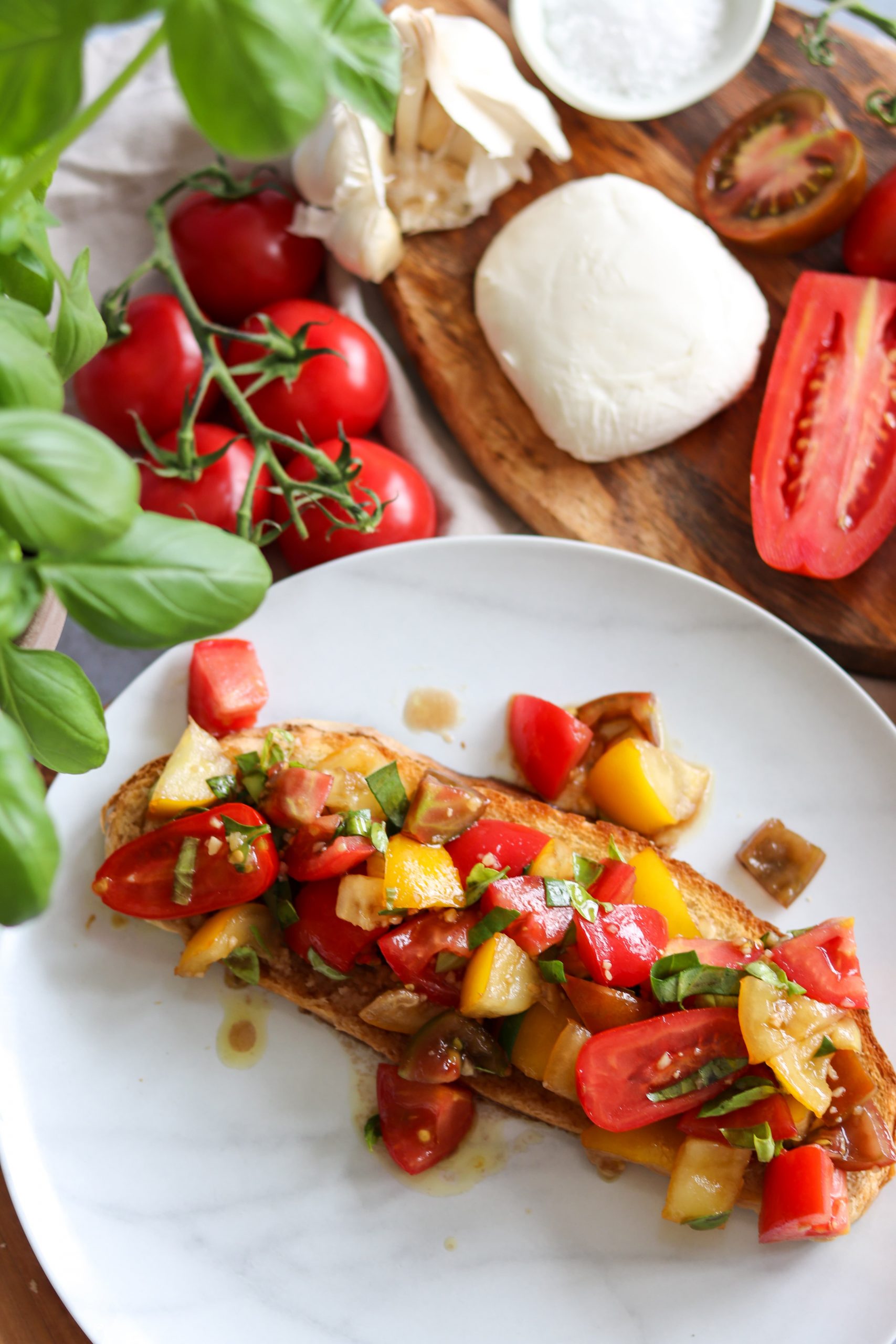 You can use any size and variety of tomatoes you like for this salad. As you are cutting them up, it doesn't matter whether they are small or large.
I also like to use a variety of different coloured tomatoes if I can find them. They add a lovely colour to the final dish which makes it look even more appealing. You can find different coloured cherry or plum tomatoes in lots of supermarkets.
Although not compulsory for this recipe, heirloom tomatoes are perfect to use. They have delicious flavour and look fantastic too.
I have been buying some from The Tomato Stall. They are more commonly known as Isle of Wight Tomatoes. These are the ones you can see in my photos.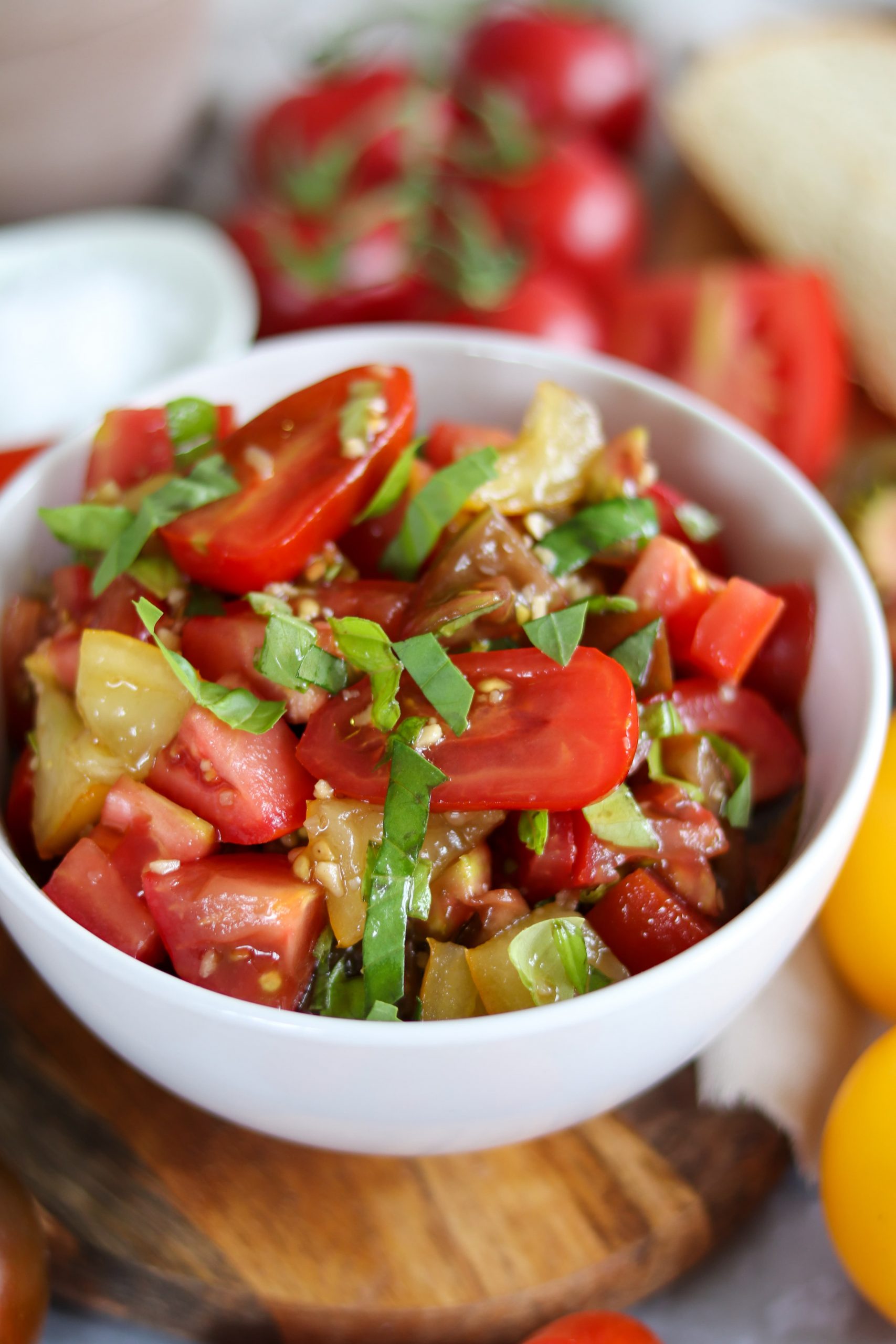 Buy a good quality balsamic vinegar
A good quality balsamic vinegar will make a difference. Balsamic vinegar can range hugely in price. I'm not saying you have to buy the most expensive one in the shop, but try to avoid the cheapest one if you can afford to.
The best balsamic vinegar will labelled 'tradizionale' and/or DOC and will be expensive. The cheaper alternative is the mass produced 'aceto balsamico di Modena'. It is much more affordable as it hasn't been aged as long. This also means the flavour isn't as strong.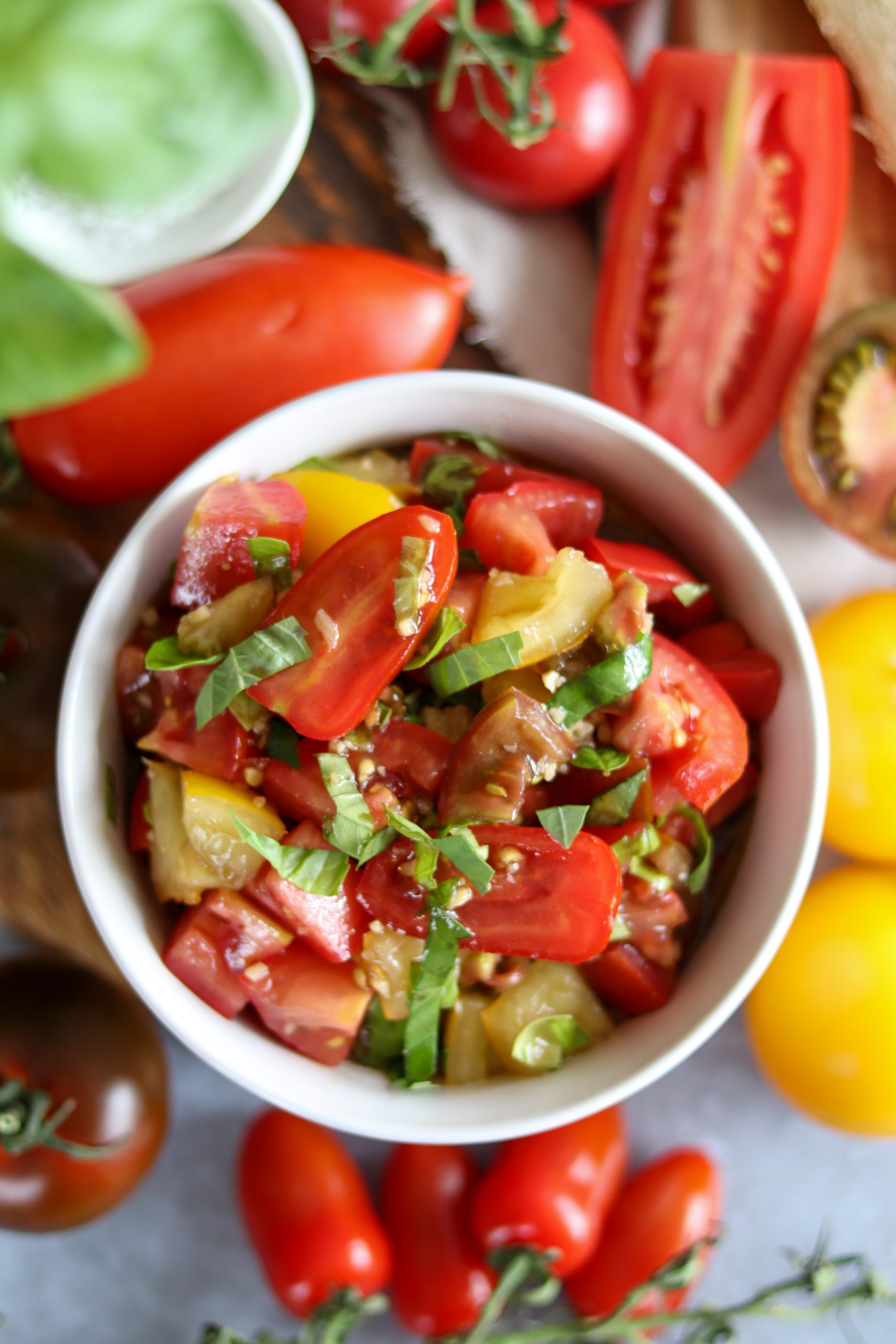 why use extra virgin olive oil?
Extra virgin olive oil is my preference to use in dressings anything that isn't going to be cooked.
It uses pure cold pressed olives which means it is more flavoursome than standard olive oil. When you aren't using it to cook with, you want the olive oil to flavour your food. You will get a much better flavour from extra virgin olive oil.
It is also the time to crack out a high quality extra virgin olive oil. You don't have to spend a fortune, but if you have a nicer bottle I would definitely use it!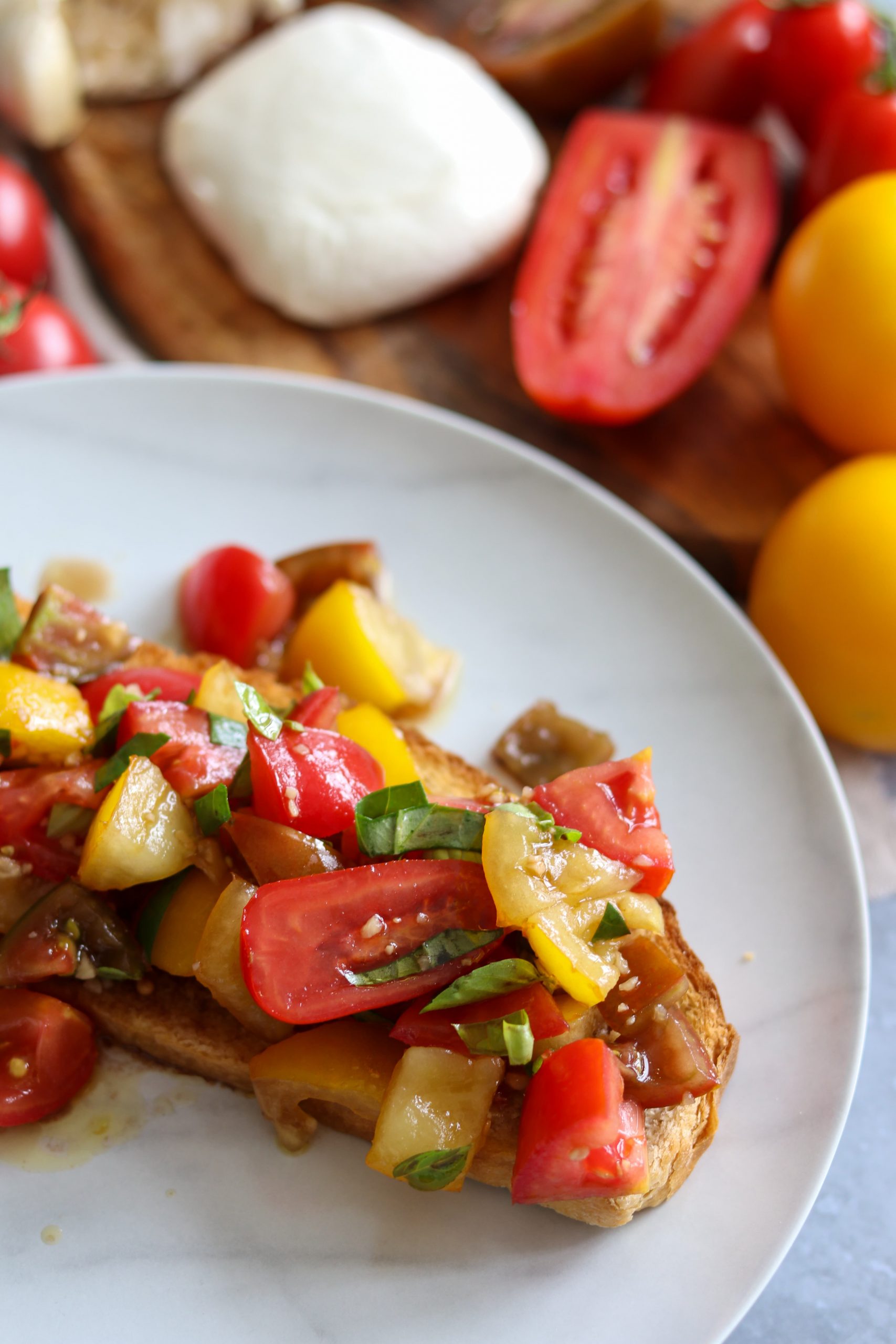 Add garlic to your preferences
I love garlic, so I add quite a lot to this Balsamic Tomato Salad. As you are eating it raw it is more powerful than if it were cooked.
You can always add a small amount of garlic and taste it. Then add more if you want. Remember you can always add more but you can't take away!
I also use jarred chopped garlic in this recipe. I know this is a bit lazy, but peeling garlic cloves is one of my least favourite jobs in the kitchen. Jarred garlic is also already chopped which is an added bonus!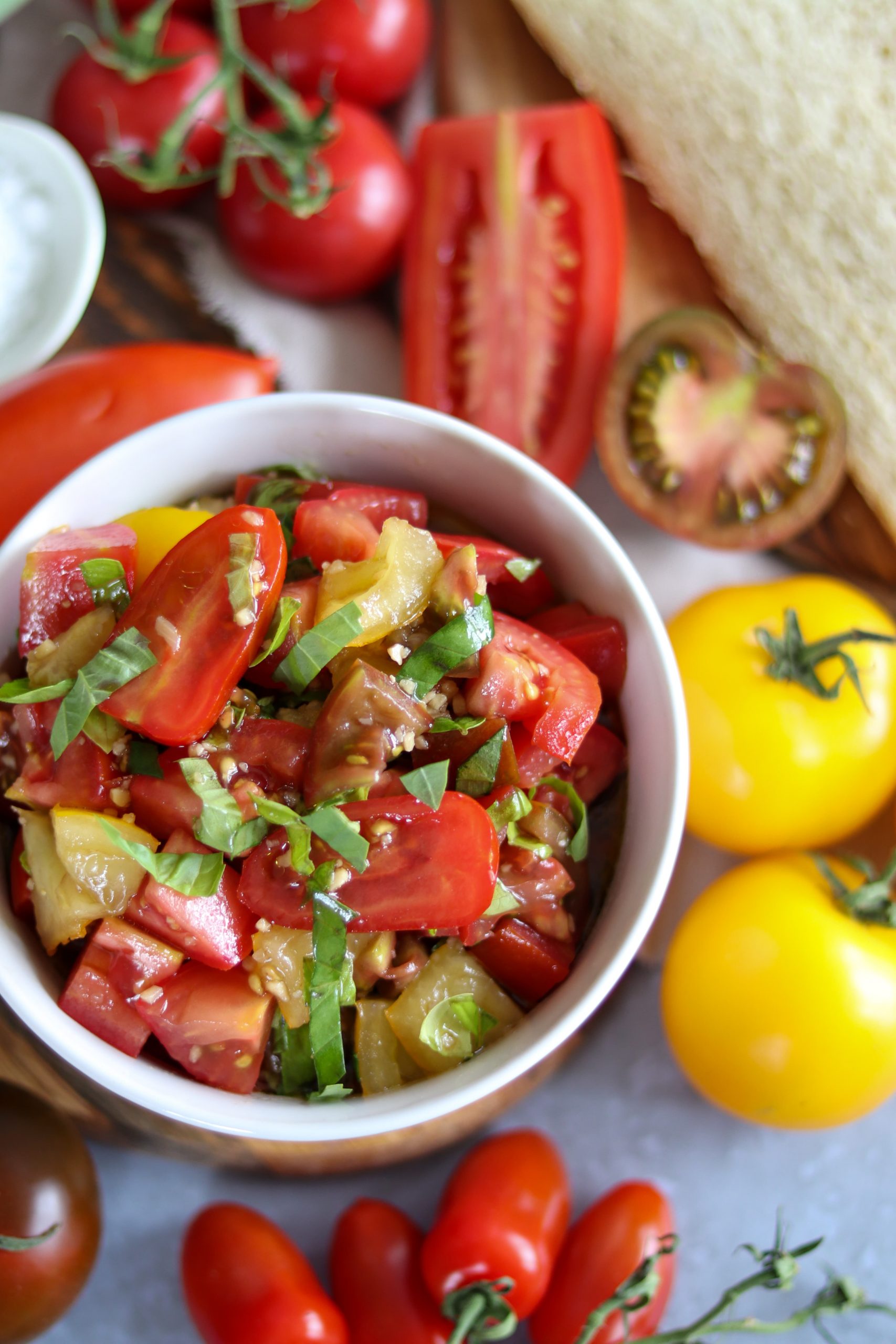 which basil is best to use?
Fresh Italian basil is always the best to use for this Balsamic Tomato Salad.
You want to avoid any different varieties that have an aniseed flavour such as Thai basil. These will affect the balance of the flavours of the dish and not taste quite right.
In a pinch, you could use frozen basil. I think this would still add the basil flavour you are looking for, but just not be quite as good as fresh basil.
I would not recommend using dried basil for this salad.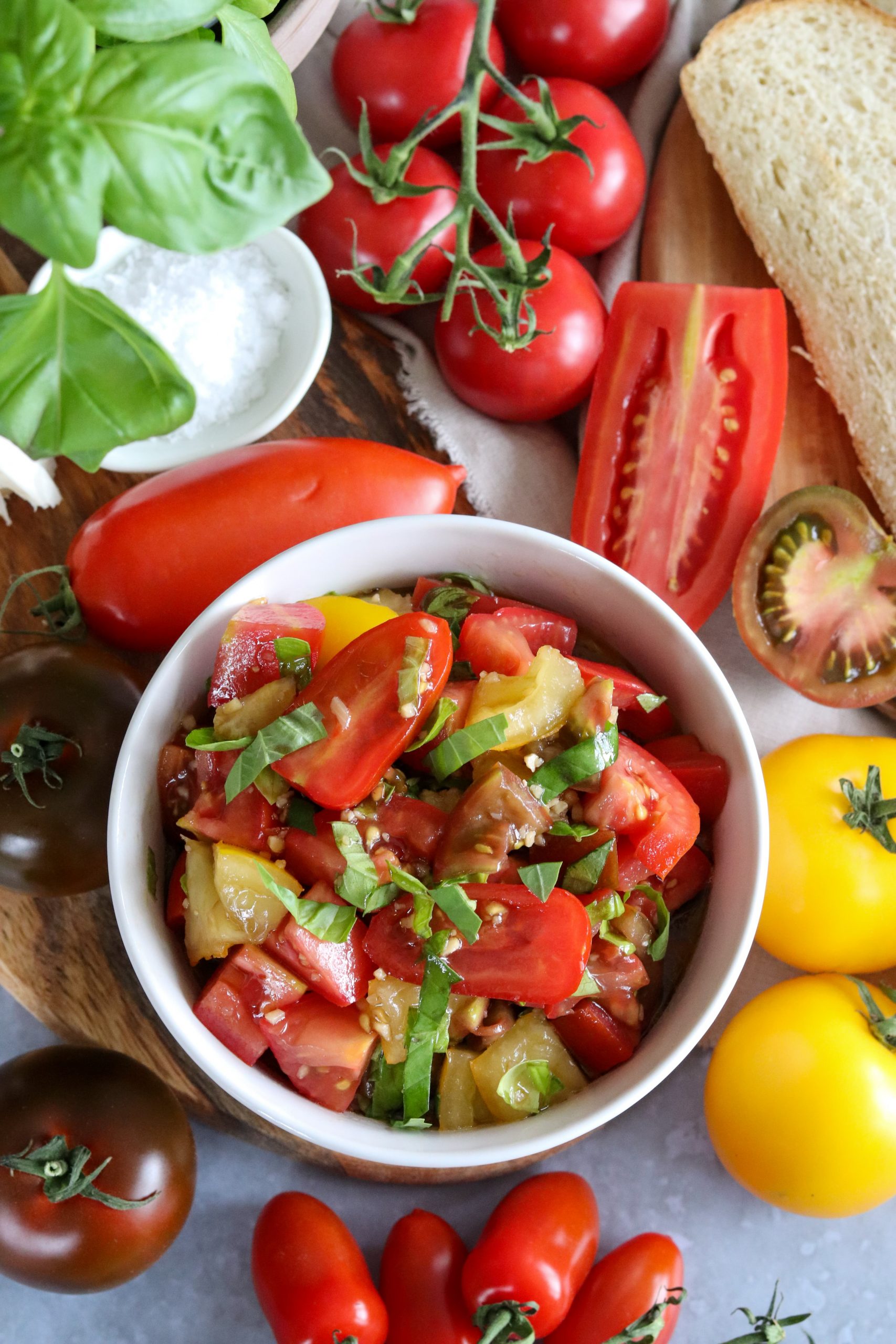 Can this balsamic tomato salad be made in advance?
I recommend making this Balsamic Tomato Salad roughly 10-30 minutes before you want to serve it. This lets the flavours meld together and become even more delicious.
Before you serve the salad, give it a quick stir as the balsamic vinegar and olive oil may separate slightly.
Personally, I wouldn't make this in advance to eat later in the day. The acid in the balsamic vinegar tends to make the tomatoes become softer. If you left the salad for too long the tomatoes could become mushy.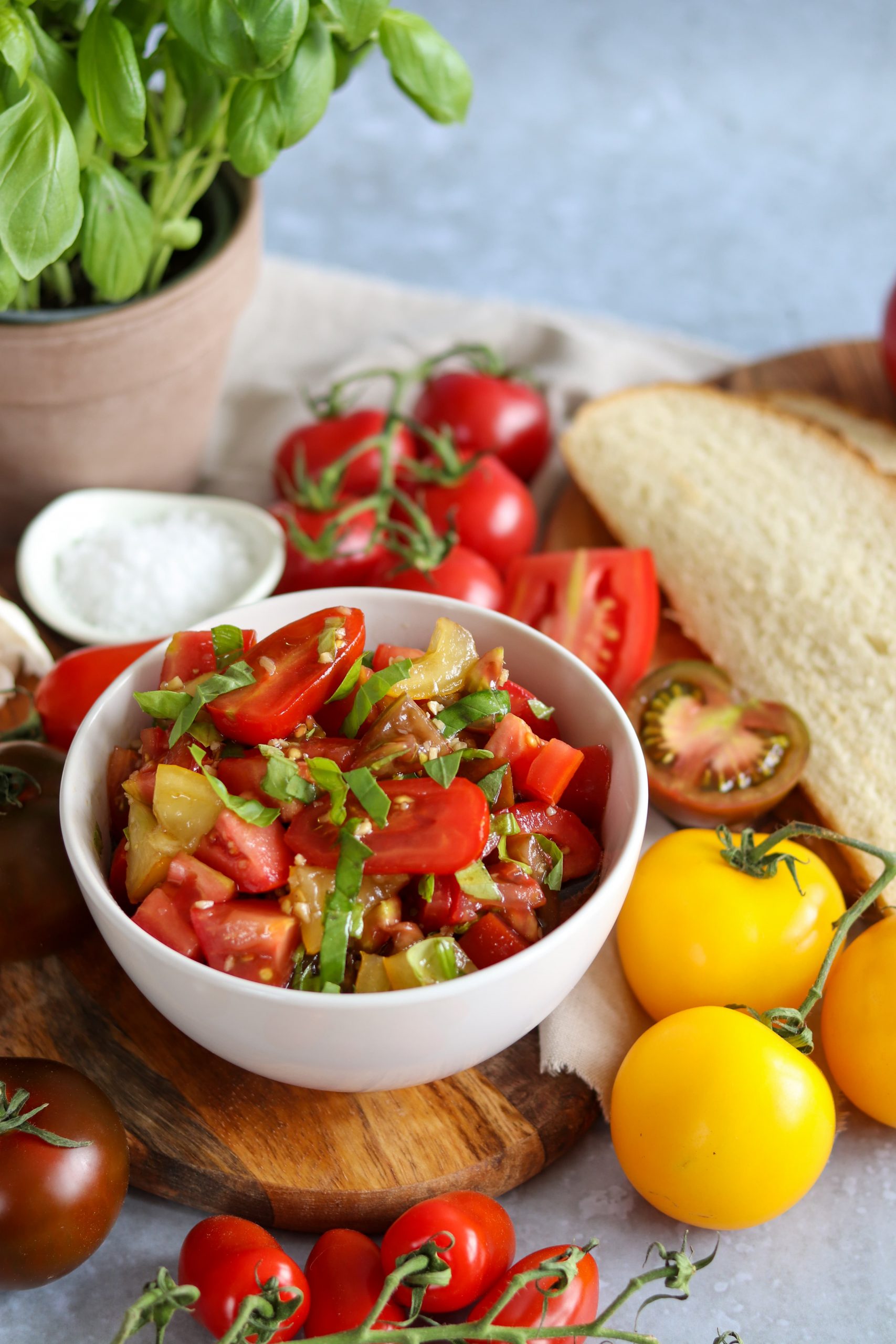 what to serve this salad with
I eat this Balsamic Tomato Salad with as many meals as possible!
I often spoon these tomatoes over a simple lettuce salad alongside a delicious steak or as part of a BBQ spread.
It is also perfect to turn this into a bruschetta by spooning the tomatoes over toasted sourdough bread. That is one of my favourite lunches at the moment and is so delicious!
These Balsamic Roasted Tomatoes also feature in my Giant Couscous, Tomato & Rocket Salad. The dressing from the tomatoes works so well with the couscous and is so tasty!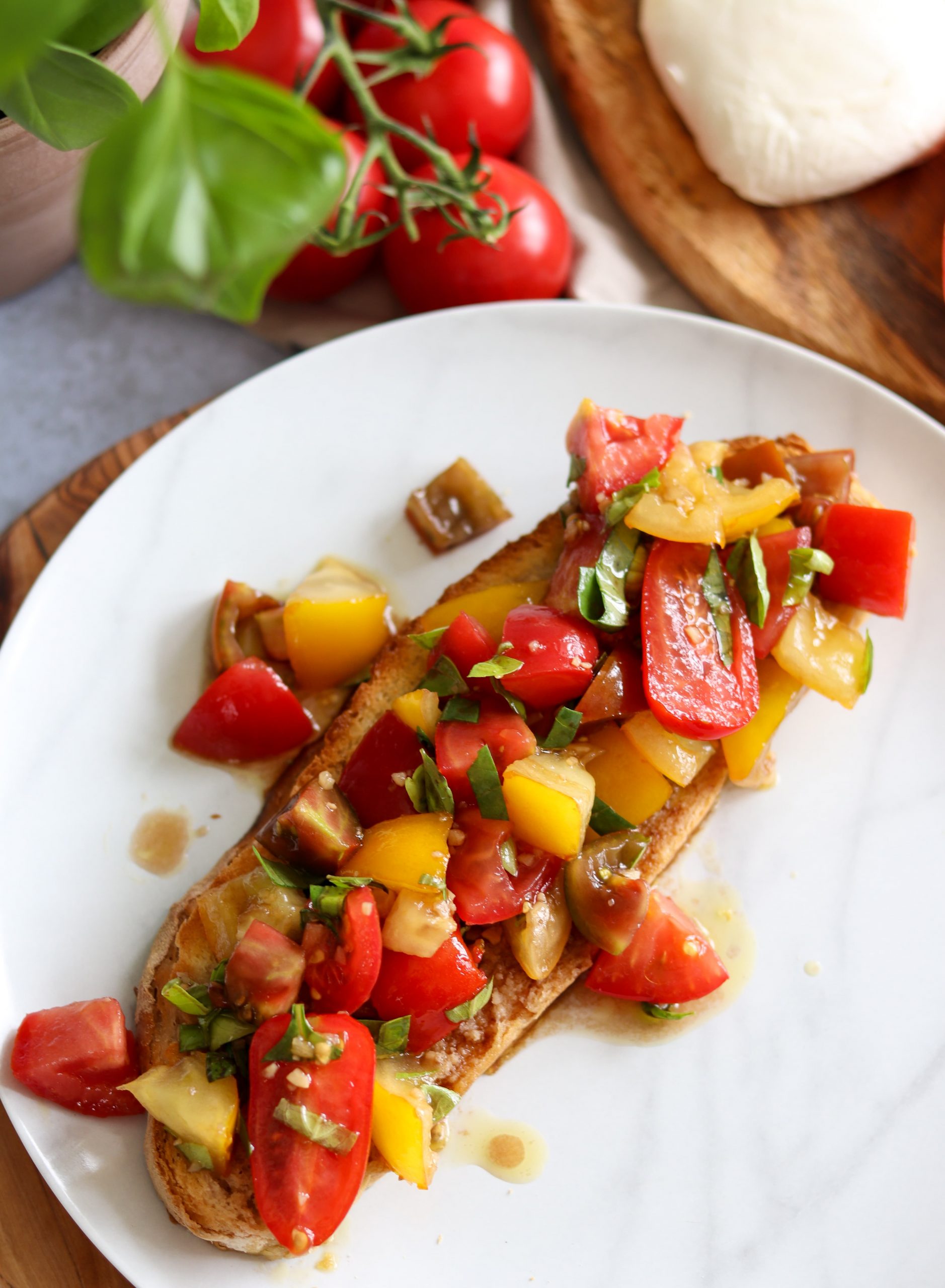 How many people does this serve?
It is quite hard to say as it depends what you are eating this Balsamic Tomato Salad with. If you like to pile the tomatoes as high as I do then it might not feed as many people!
The good thing is that the recipe is very easy to scale up or down.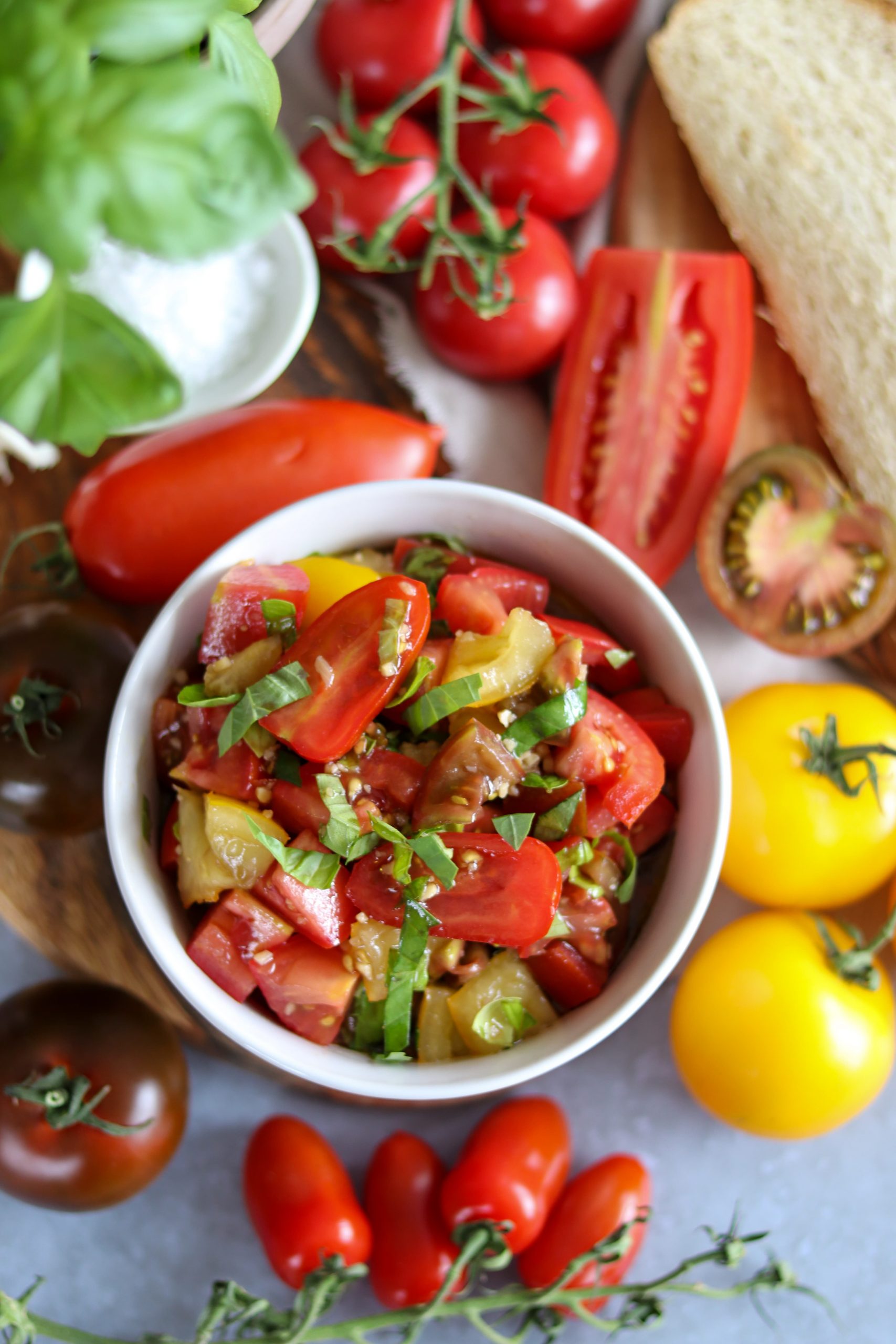 Other recipes you might like
Pin for later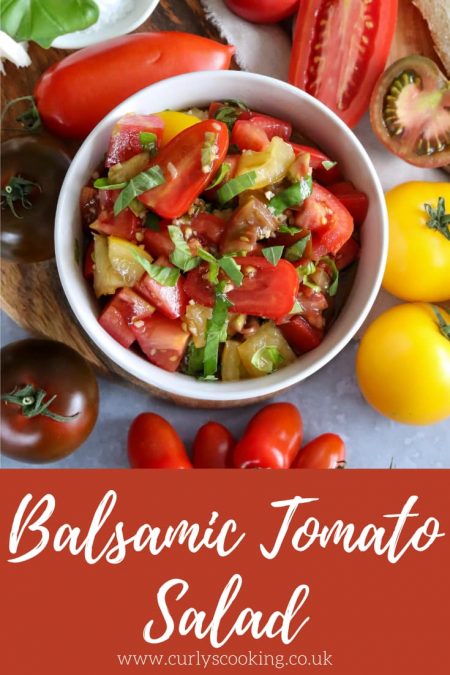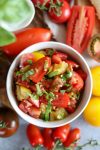 Balsamic Tomato Salad
This Balsamic Tomato Salad is super simple and incredibly delicious. Enhance the beautiful flavours of tomatoes with garlic, basil and a tasty balsamic dressing.
Ingredients
250

g

tomatoes

4

tbsp

extra virgin olive oil

3

tbsp

balsamic vinegar

1

tsp

garlic

finely chopped

1

tsp

sea salt

pinch

black pepper

10

leaves

fresh basil
Instructions
Chop the tomatoes into similar sized pieces and add to a bowl

Add the olive oil, balsamic vinegar, garlic, salt, pepper to the bowl and stir

Snip in the leaves of basil and stir again

Taste to check for seasonings and adjust if needed. Leave to sit at room temperature for 10 minutes
Recipe Notes
Let the tomatoes sit for 10 – 30 minutes before serving to allow the flavours to meld together.
Nutritional information is given as a guide only and may vary.
Nutrition Facts
Balsamic Tomato Salad
Amount Per Serving
Calories 294
Calories from Fat 252
% Daily Value*
Fat 28g43%
Sodium 1175mg51%
Potassium 323mg9%
Carbohydrates 9g3%
Protein 1g2%
Vitamin A 1173IU23%
Vitamin C 18mg22%
Calcium 19mg2%
Iron 1mg6%
* Percent Daily Values are based on a 2000 calorie diet.
Linking to