Crisp pastry with a delicious layer of hazelnut pesto finished with beautiful tomatoes. This Puff Pastry Tomato Tart with Pesto is really simple to make and the perfect light meal.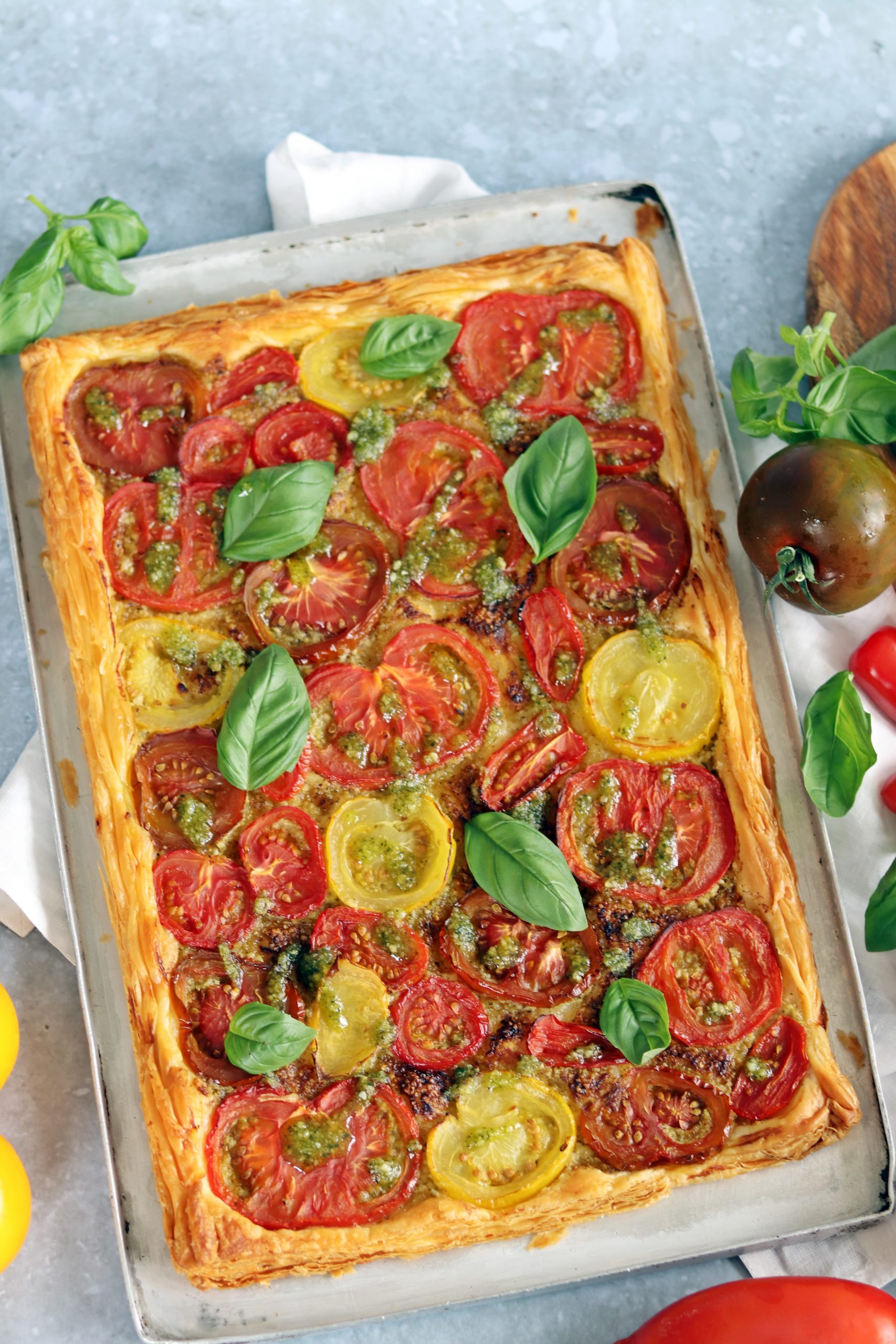 Simple & delicious
There are quite a few tomato tart recipes online already. So I wanted to make my tomato tart a little bit different by using Hazelnut Pesto. And also by making it as simple as possible.
This Puff Pastry Tomato Tart with Pesto is such a simple and delicious recipe. No matter what your cooking expertise, you will be able to make this tasty tart.
It doesn't matter if your tart is a perfect rectangle or if your tomatoes are laid neatly. The finished tart will still be great.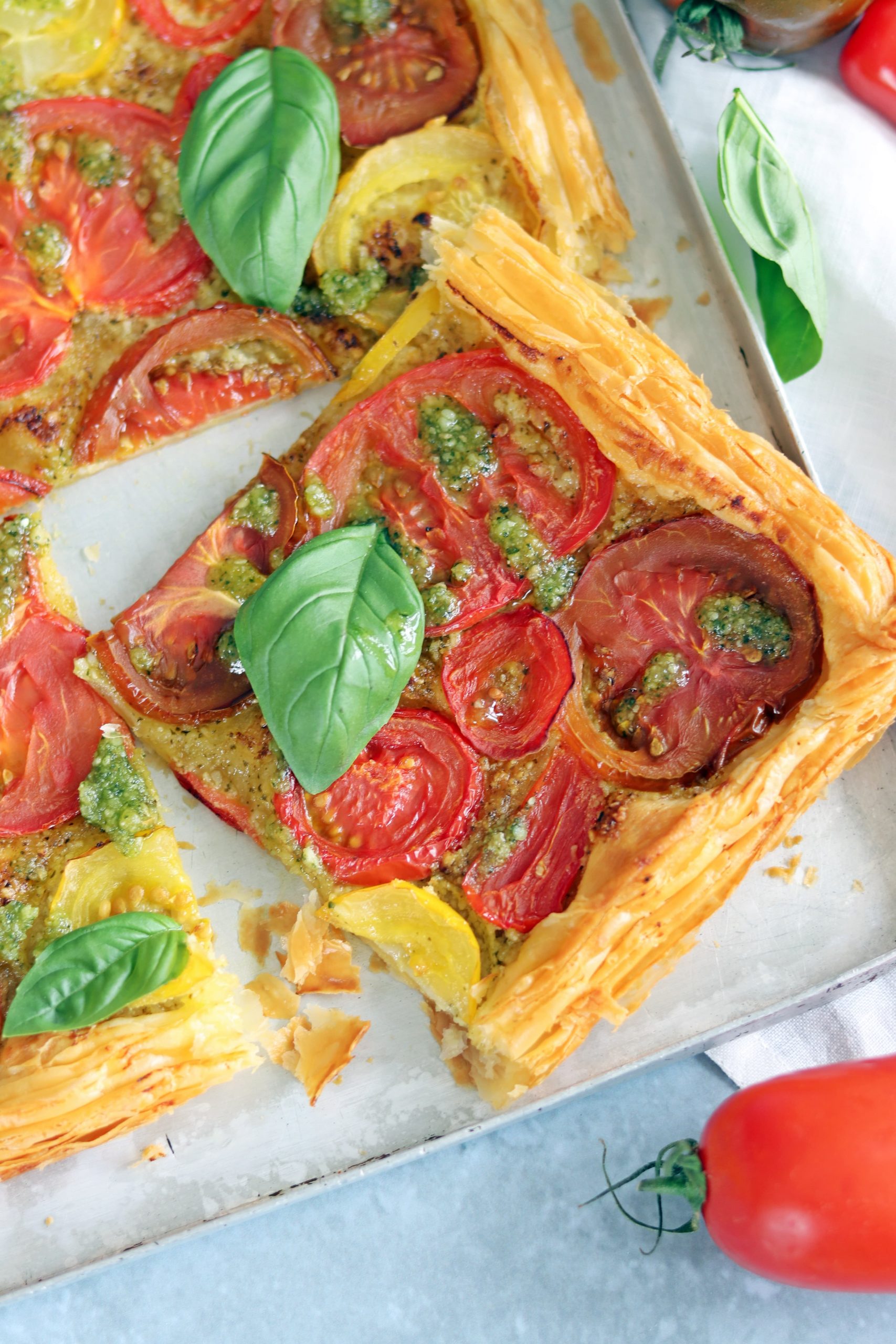 Recommended tomatoes for this tart
You can use all sorts of different tomatoes for this Puff Pastry Tomato Tart with Pesto.
I would recommend buying some really good quality tomatoes if possible. For something like this I would try to stay away from the standard salad tomatoes that you often see in supermarkets.
These tomatoes never seem to get that red and ripe and always seem to say a little firm in my opinion.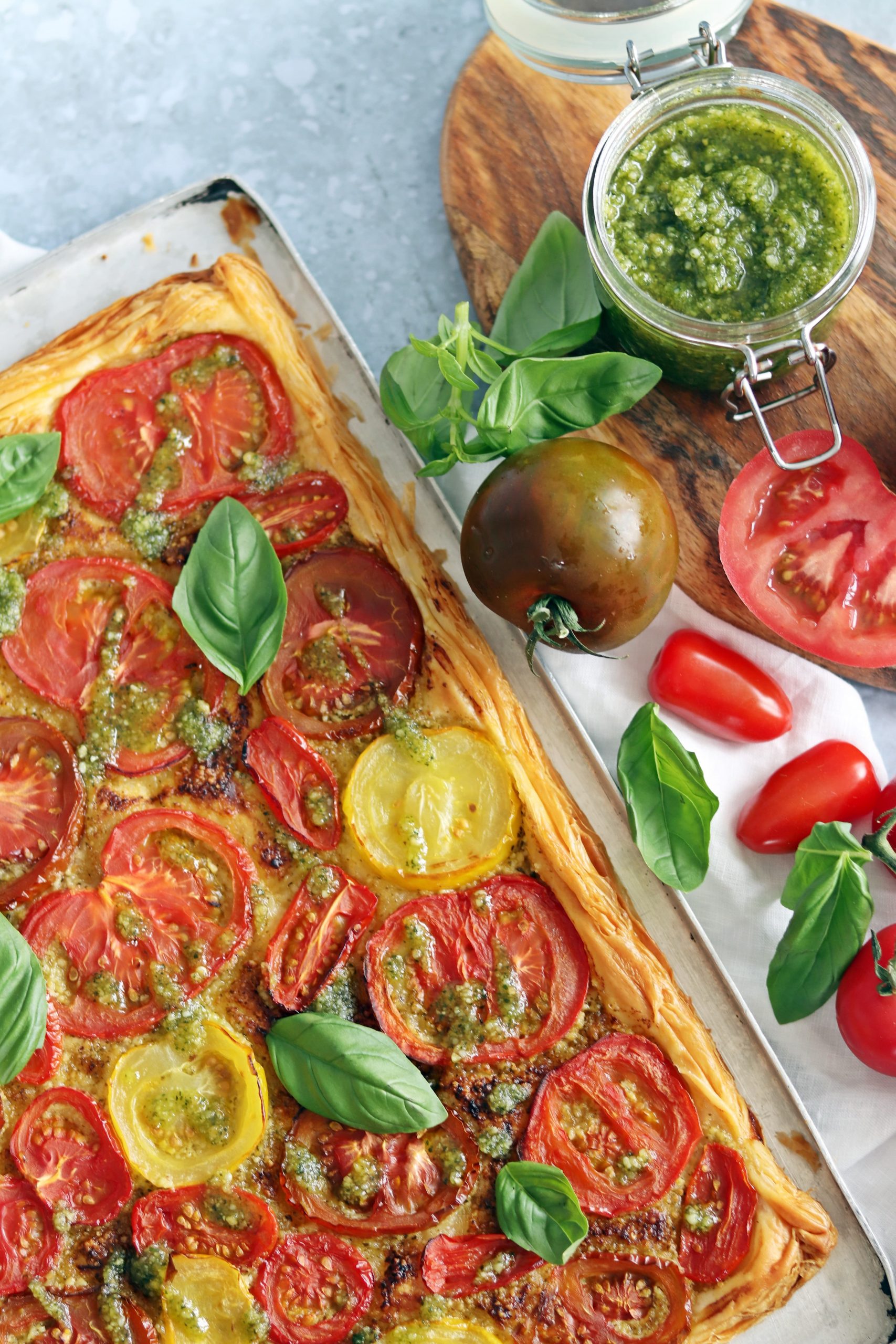 Cherry or small plum tomatoes wouldn't be the best for this tart either. You'd need to cut each tomato into approximately three to get them thin enough.
You would also need quite a few tomatoes to fill the whole tart! These things are not helping to keep this recipe quick and easy!
I like to use heritage tomatoes for this tart. I like the unusual shapes and different colours as well as the really delicious flavour.
The ones I have used for these photographs were from The Tomato Stall. They are more commonly known as Isle of Wight Tomatoes. This isn't an affiliate link at all, I just really love their tomatoes and they are perfect for this tart.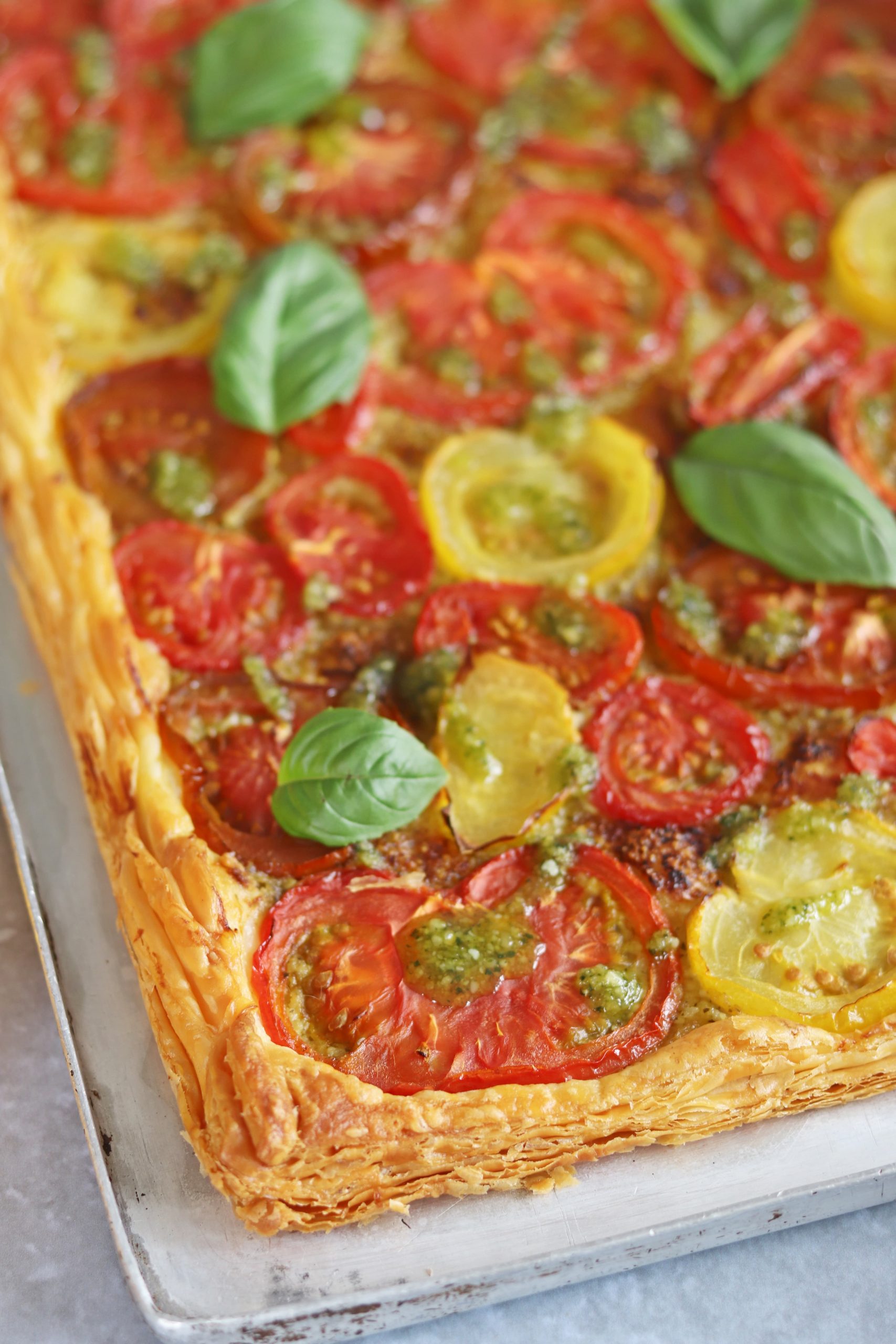 Which pesto can you use?
I love to use my Hazelnut Pesto for this Puff Pastry Tomato Tart with Pesto.
The flavour of the hazelnuts in the pesto works really well with the tomatoes. It is also really quick and easy to make.
However if you don't want to make your own pesto, you can use shop bought pesto. I don't know if there is hazelnut pesto readily available to buy so you will probably have to use standard pesto.
If you are going to buy the pesto, I wouldn't recommend buying one with additional flavourings such as chilli. You don't want any flavours that will overpower the delicious tomatoes.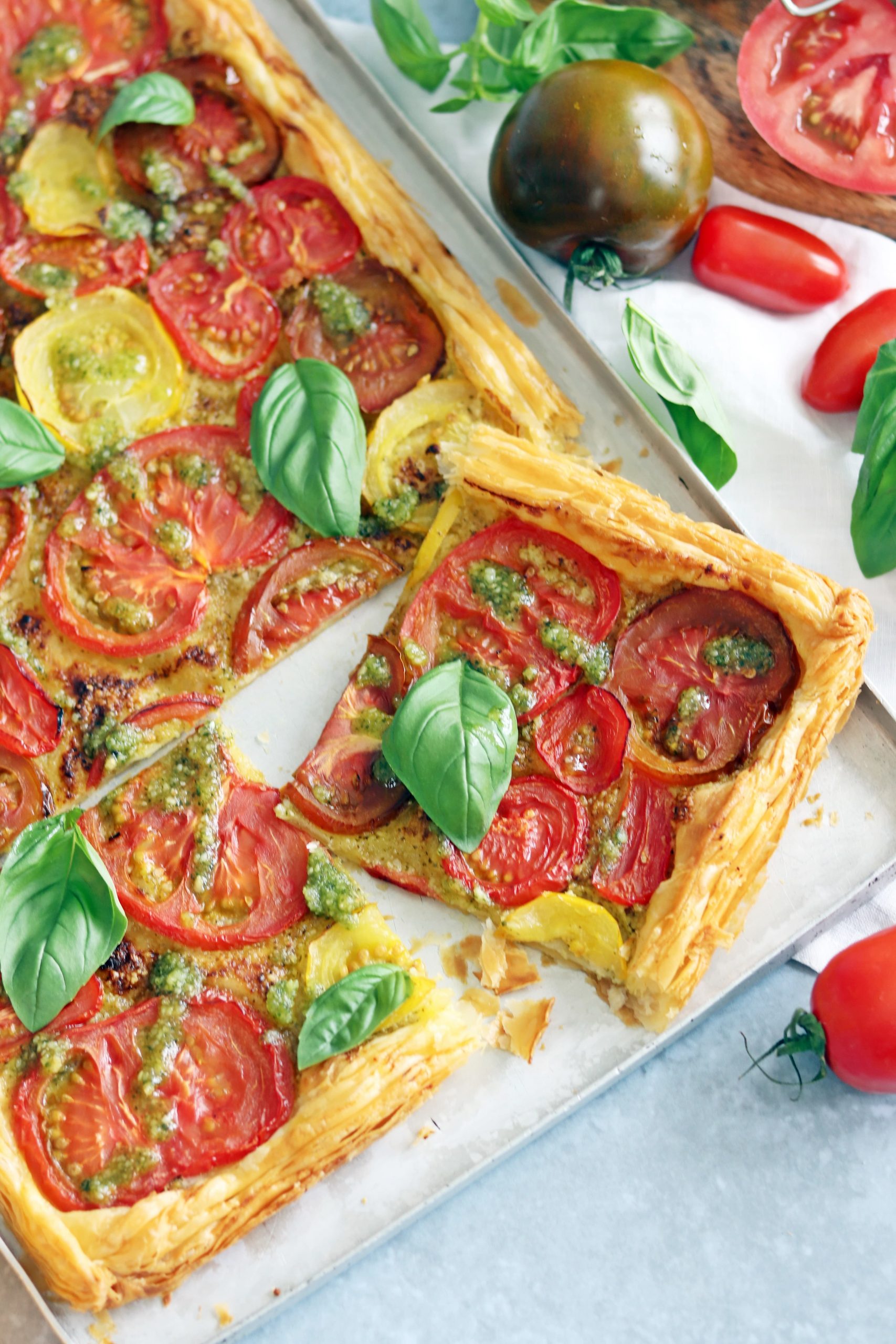 READY ROLLED OR BLOCK PASTRY?
Notice how I completely avoided the idea of making your own pastry there?
You absolutely can make your own puff pastry. But this is something I don't feel inclined to do.
Shop bought pastry is nothing to be frowned upon. Many cooks and chefs have owned up to using it because it is such a fantastic time saver.
You can buy pastry ready rolled or in a block. I have made this Puff Pastry Potato Tart with both. The ready rolled pastry is definitely easier…because there is no rolling.
If you are using a block of pastry and have questionable pastry rolling skills like me, don't worry. The edges are very forgiving because they get folded over.
And who really minds if the finished tart isn't perfectly rectangular?!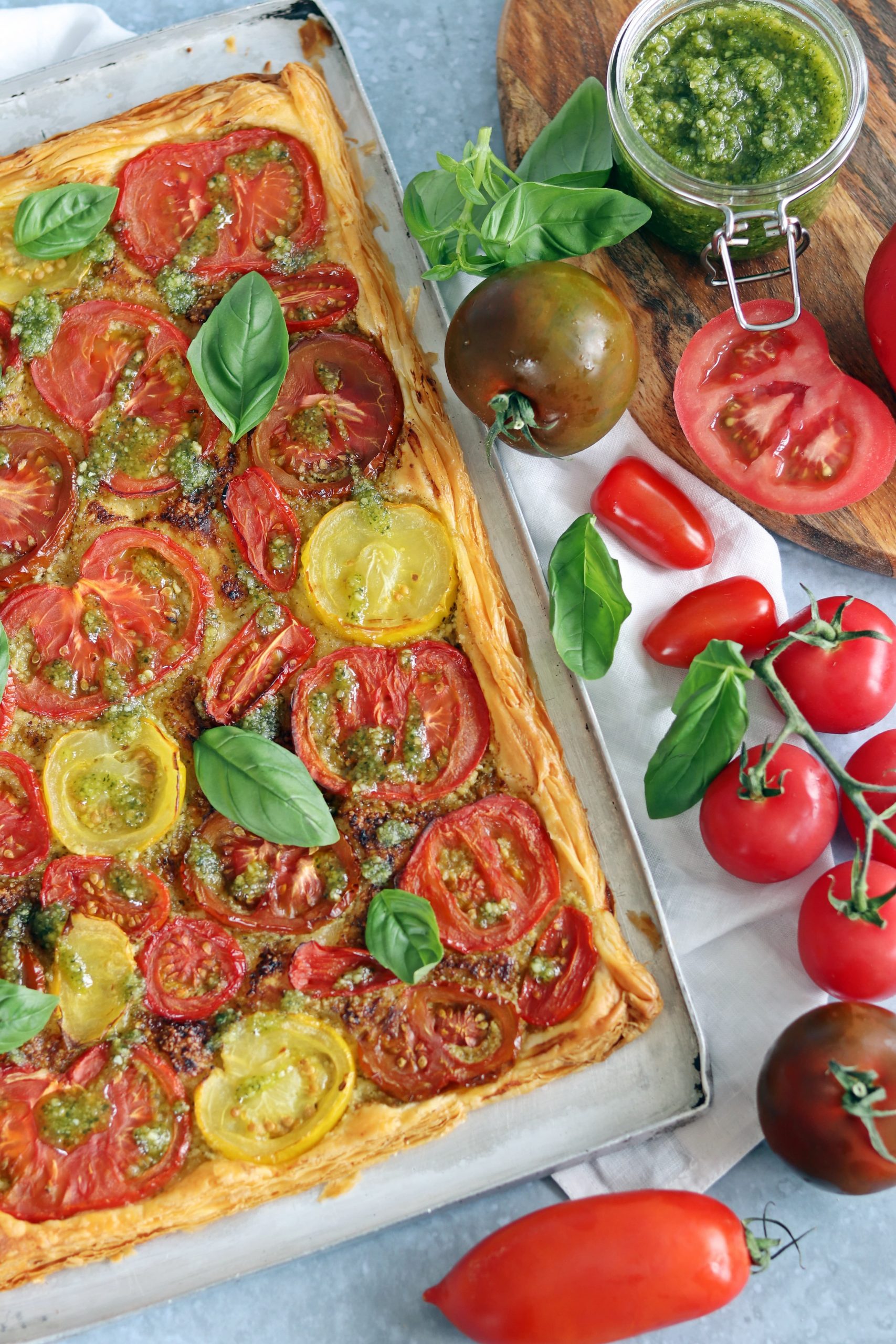 Can you use light puff pastry for this tart?
You can use light puff pastry, but it is a little bit more temperamental.
As it has a lower fat content, it is a bit softer which makes it a little trickier to work with. It also has a tendency to stick to the baking paper it comes on.
You can definitely still use it, but standard puff pastry is easier to work with. Light puff pastry tastes exactly the same in my opinion so it is completely up to which you would prefer to use.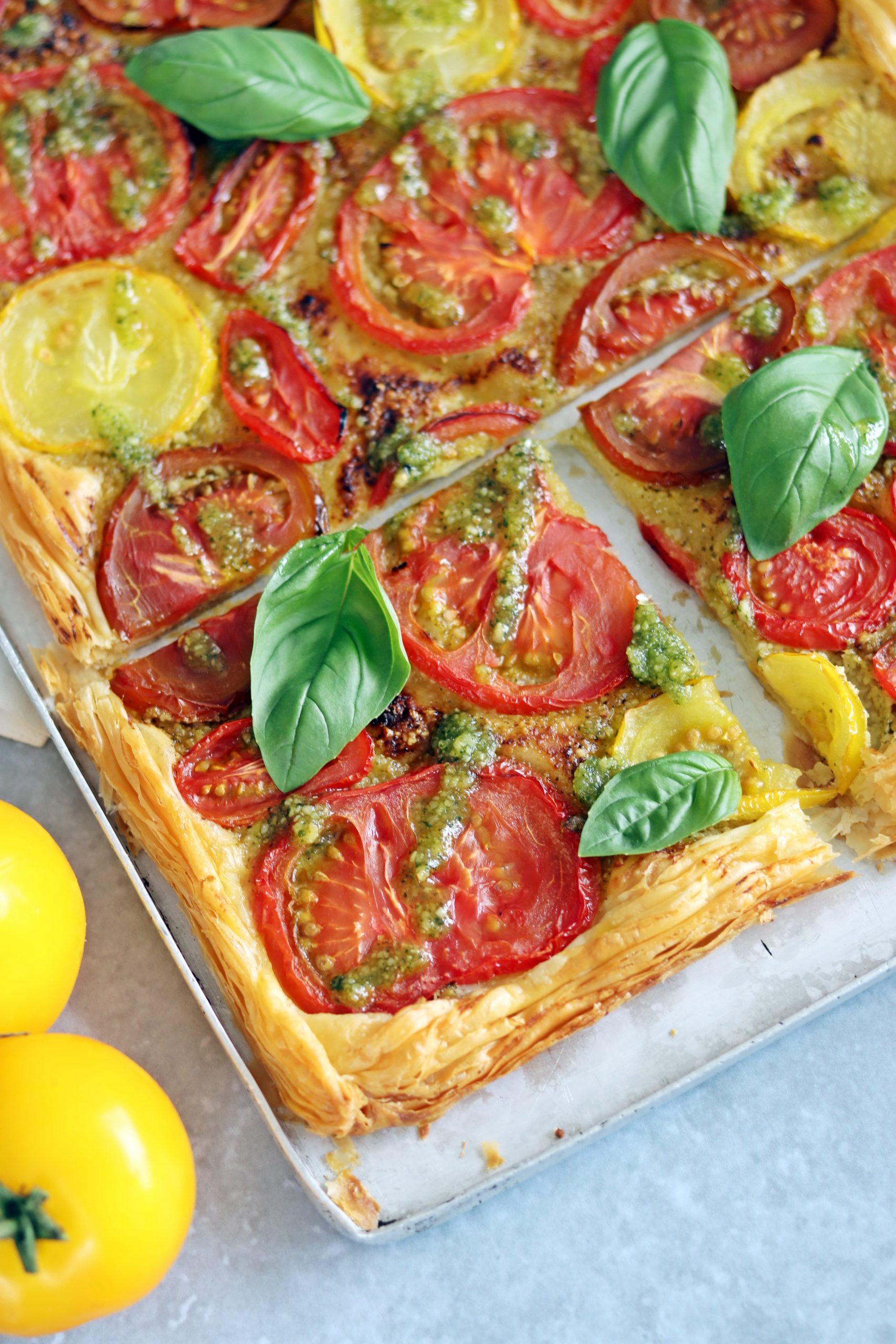 Customise your tart
This Puff Pastry Tomato Tart with Pesto is very easy to customise.
My sister has already made this; she gets insider information into what new recipes I have coming up! She had some mozzarella that needed using so she tore that up and added it to the tart too.
If you wanted to leave the pesto out altogether you could instead brush the puff pastry with olive oil and garlic before laying on the tomatoes.
Customise this tart with whatever you have in the fridge!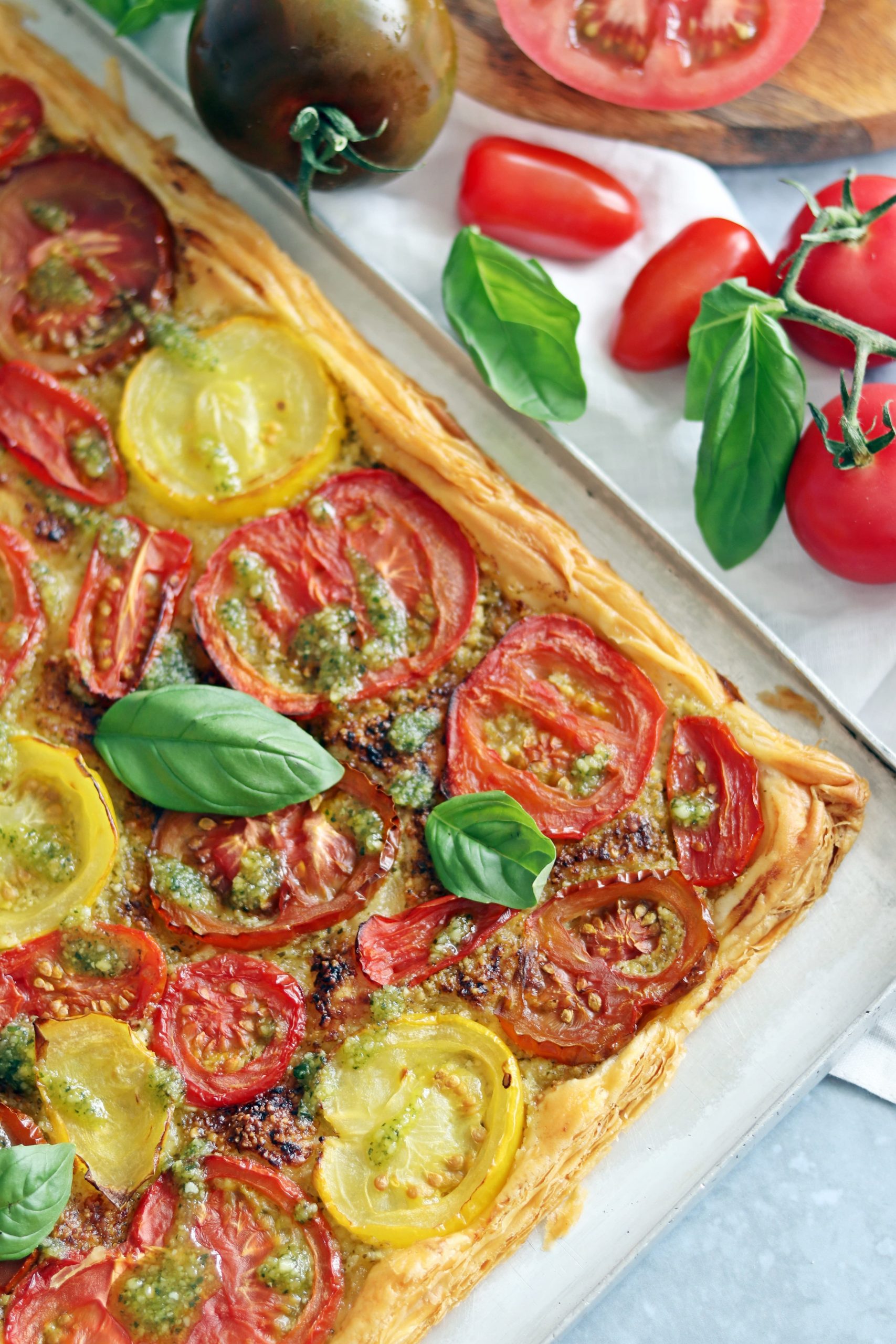 HOW CAN I MAKE THIS TART VEGETARIAN AND VEGAN?
You may think this tart is vegetarian already, but the Parmesan actually makes this tart unsuitable for vegetarians. It is incredibly easy to swap this to a vegetarian suitable cheese however.
You may not know that a lot of shop bought pastry is actually vegan. So this Puff Pastry Potato Tart is very easily amended to be vegan too.
Just swap the mozzarella and Parmesan to your favourite vegan cheese and you're good to go!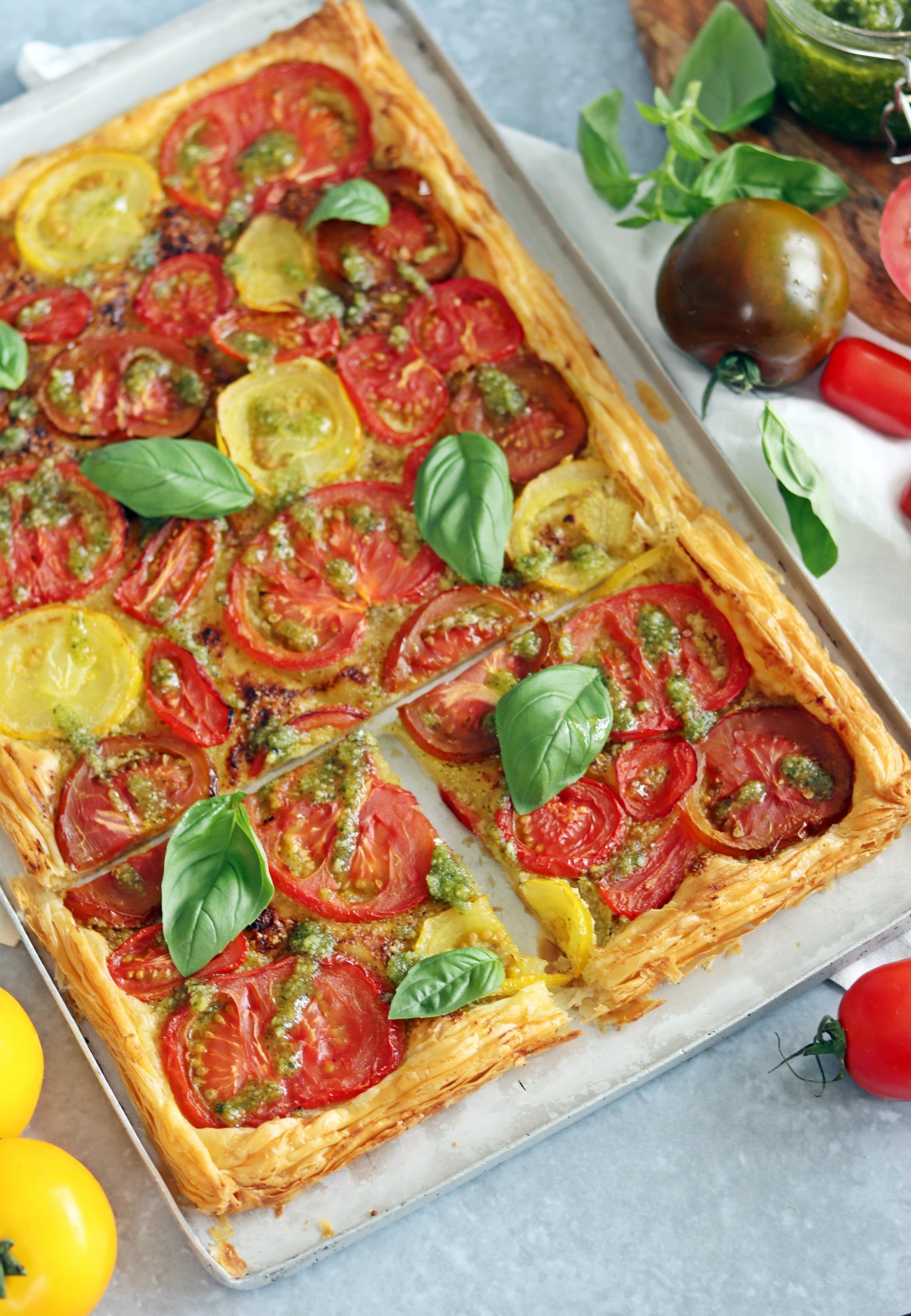 What to serve this Puff Pastry Tomato Tart with Pesto with
This tart makes a delicious light lunch by itself or can be turned into more of a substantial meal by adding a salad.
My Beetroot, Red Pepper & Goat's Cheese Salad and Fig, Prosciutto & Rocket Salad would be great options.
It could also be served as party of a mezze spread with some continental meat and cheese.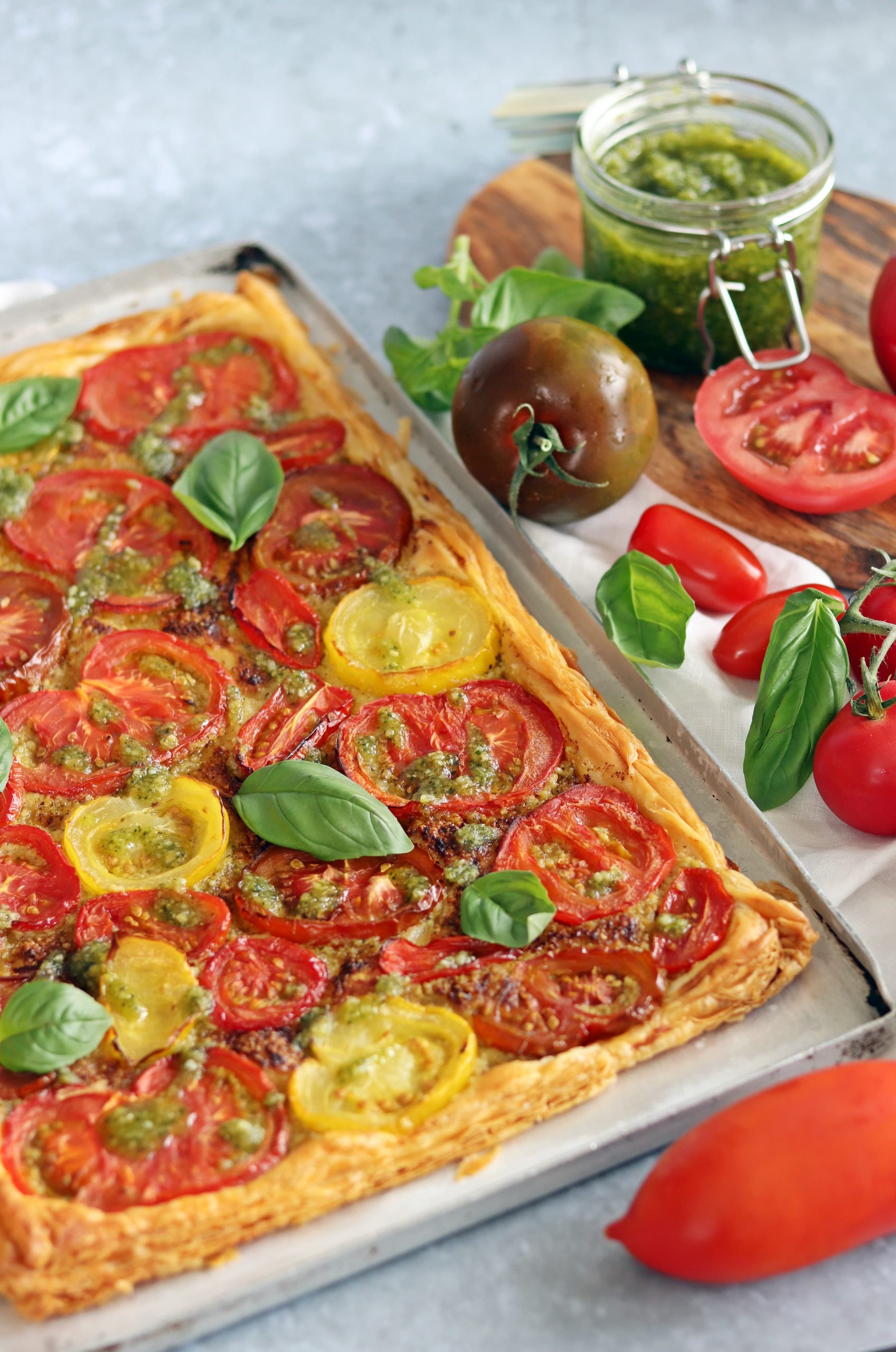 Other recipes you might like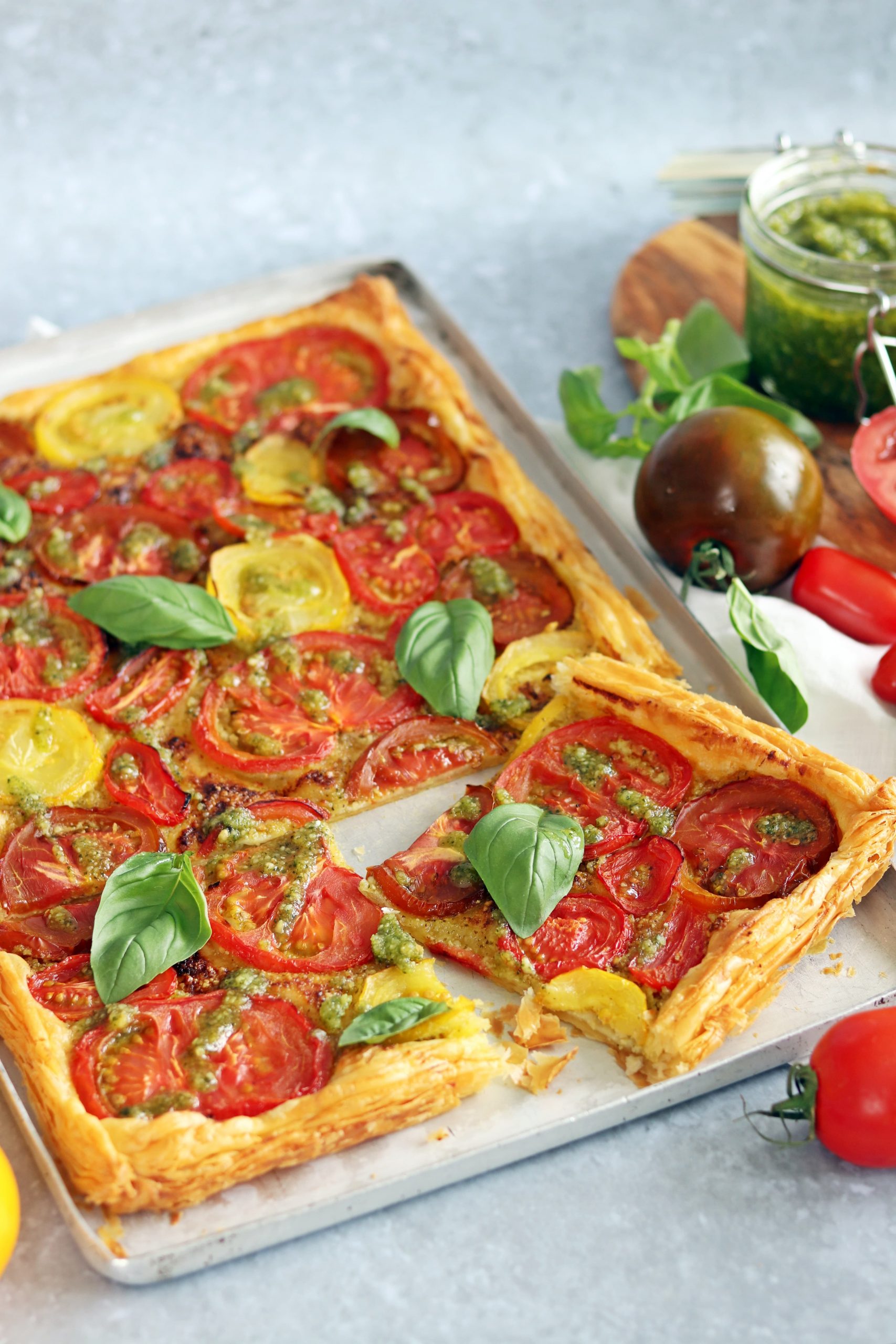 Pin for later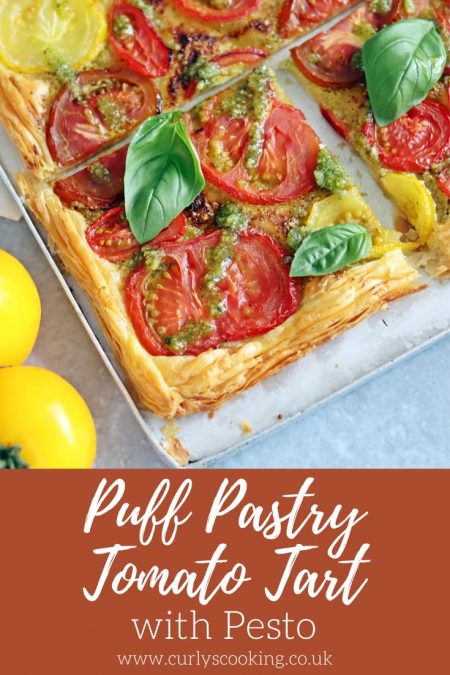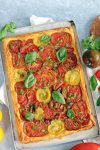 Puff Pastry Tomato Tart with Pesto
Crisp pastry with a delicious layer of hazelnut pesto finished with beautiful tomatoes. This Puff Pastry Tomato Tart with Pesto is really simple to make and the perfect light meal.
Ingredients
375

g

ready rolled puff pastry

3

tbsp

hazelnut pesto

3-4

large

tomatoes

¼

tsp

olive oil
To finish
½

tbsp

hazelnut pesto

¼

tsp

olive oil

basil leaves
Instructions
Preheat the oven to 190°C (fan assisted, 210°C non fan)

Unroll the pastry and lay it on a large baking tray. Fold over the edges ½ cm to form a crust/border. Stab the pastry with a fork

Spread the hazelnut pastry evenly across the pastry

Slice the tomatoes so they are roughly 5mm in thickness and arrange them in a single layer covering the pesto

Brush the edges of the pastry with olive oil

Bake in the oven for 25 minutes or until it is golden brown

Mix the remaining hazelnut pesto with up to ¼ tsp olive oil until you get a drizzling consistency. Drizzle this over the tomatoes and scatter with a few basil leaves.
Recipe Notes
Ready rolled puff pastry varies in weight. Supermarket own brand pastry is usually 375g whereas the well known brand Jus-Roll is 320g. Either will work for this recipe.
Nutritional information is given as a guide only and may vary.
Nutrition Facts
Puff Pastry Tomato Tart with Pesto
Amount Per Serving
Calories 349
Calories from Fat 9
% Daily Value*
Fat 1g2%
Sodium 5mg0%
Potassium 216mg6%
Carbohydrates 4g1%
Protein 1g2%
Vitamin A 758IU15%
Vitamin C 12mg15%
Calcium 9mg1%
Iron 1mg6%
* Percent Daily Values are based on a 2000 calorie diet.