This Giant Couscous, Tomato & Rocket Salad is fresh, light and summery and makes the perfect salad as part of a BBQ or a tasty lunch.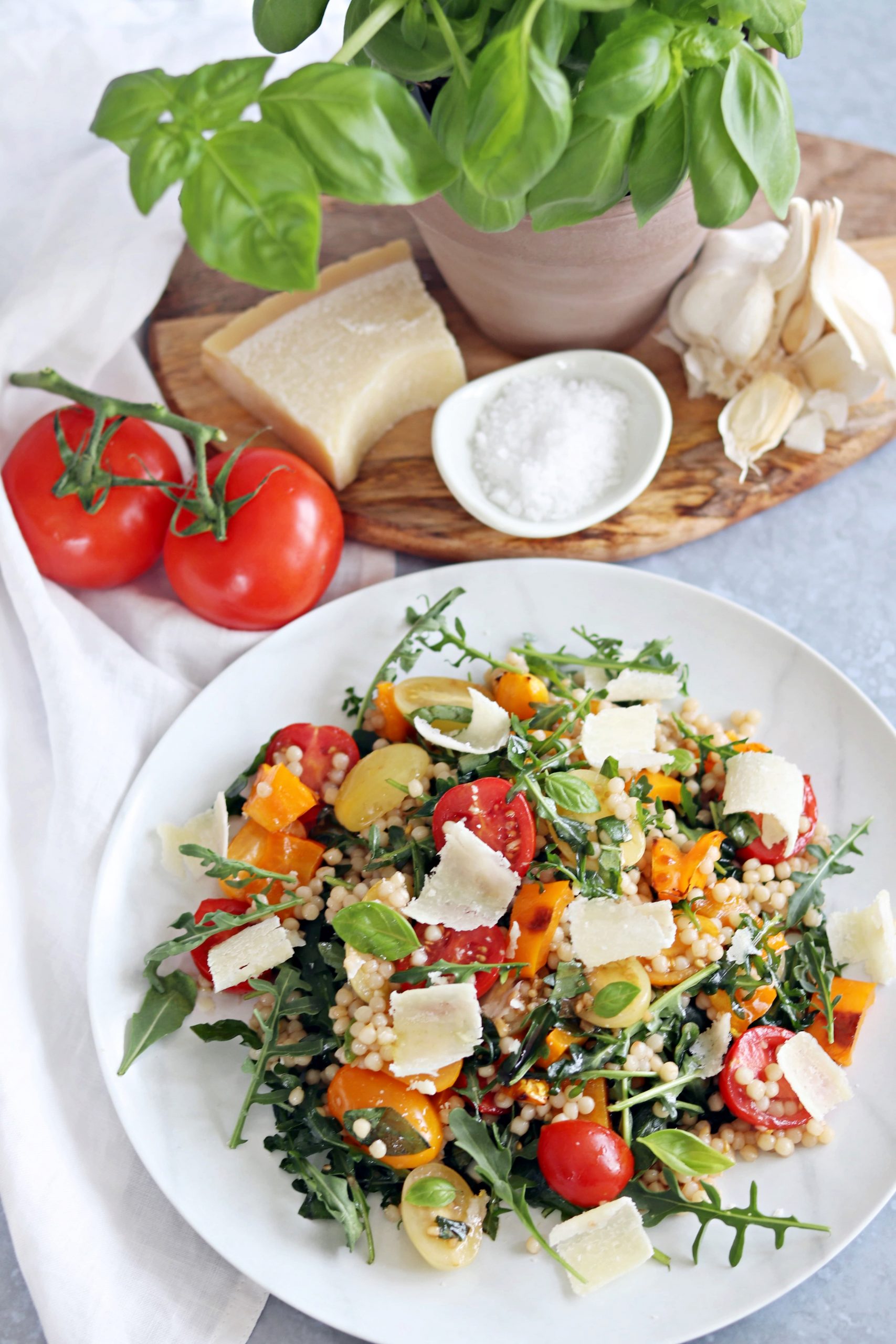 Making your salads a bit more interesting
Like a lot of people, I tend to eat a lot of salads in the summer, especially for lunch. After a while, I start to get a little bored of the standard involving variations of lettuce, cucumber and tomato.
That is why I came up with this Mediterranean inspired version as an alternative to my Easy Couscous Salad.
This Giant Couscous, Tomato & Rocket Salad is a simple and delicious way to make your salad a but more interesting. And it is delicious!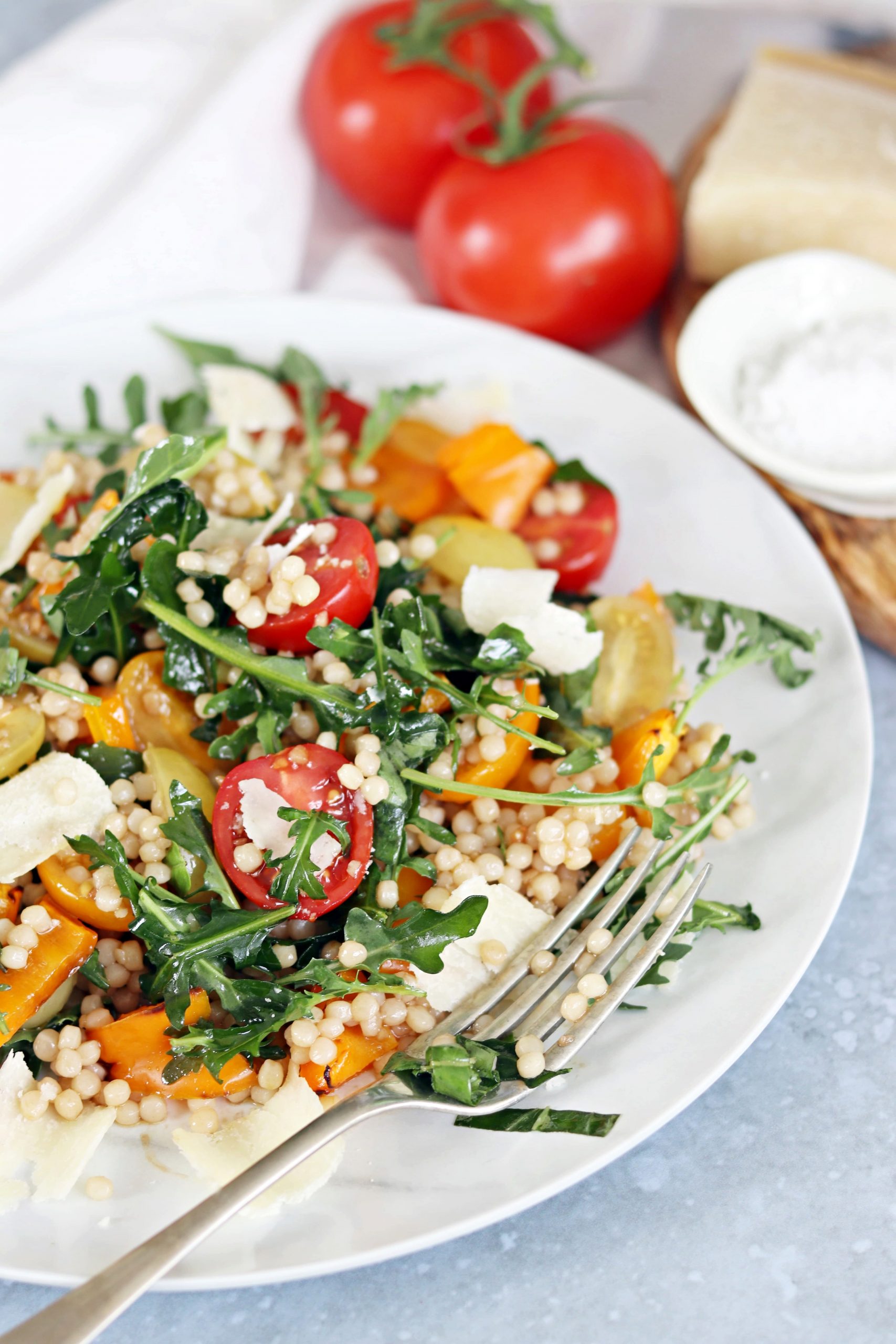 Tomatoes with olive oil and balsamic vinegar
I really love tomatoes marinated in olive oil, balsamic vinegar, garlic and salt. These flavours are a match made in heaven and are absolutely delicious.
I often mix these ingredients together as part of a standard salad. It instantly brightens up a salad and makes it even tastier.
The tomatoes really benefit from being allowed to sit in the olive oil and balsamic mixture and absorb all of the delicious flavours. If you can let them sit for even ten minutes it will make the final dish even tastier.
Another reason for marinating the tomatoes is it acts as the dressing in the final salad which I was looking for as I think that couscous can sometimes be quite dry.
The olive oil in the marinade also helps keep the couscous from clumping together in the way that couscous likes to do!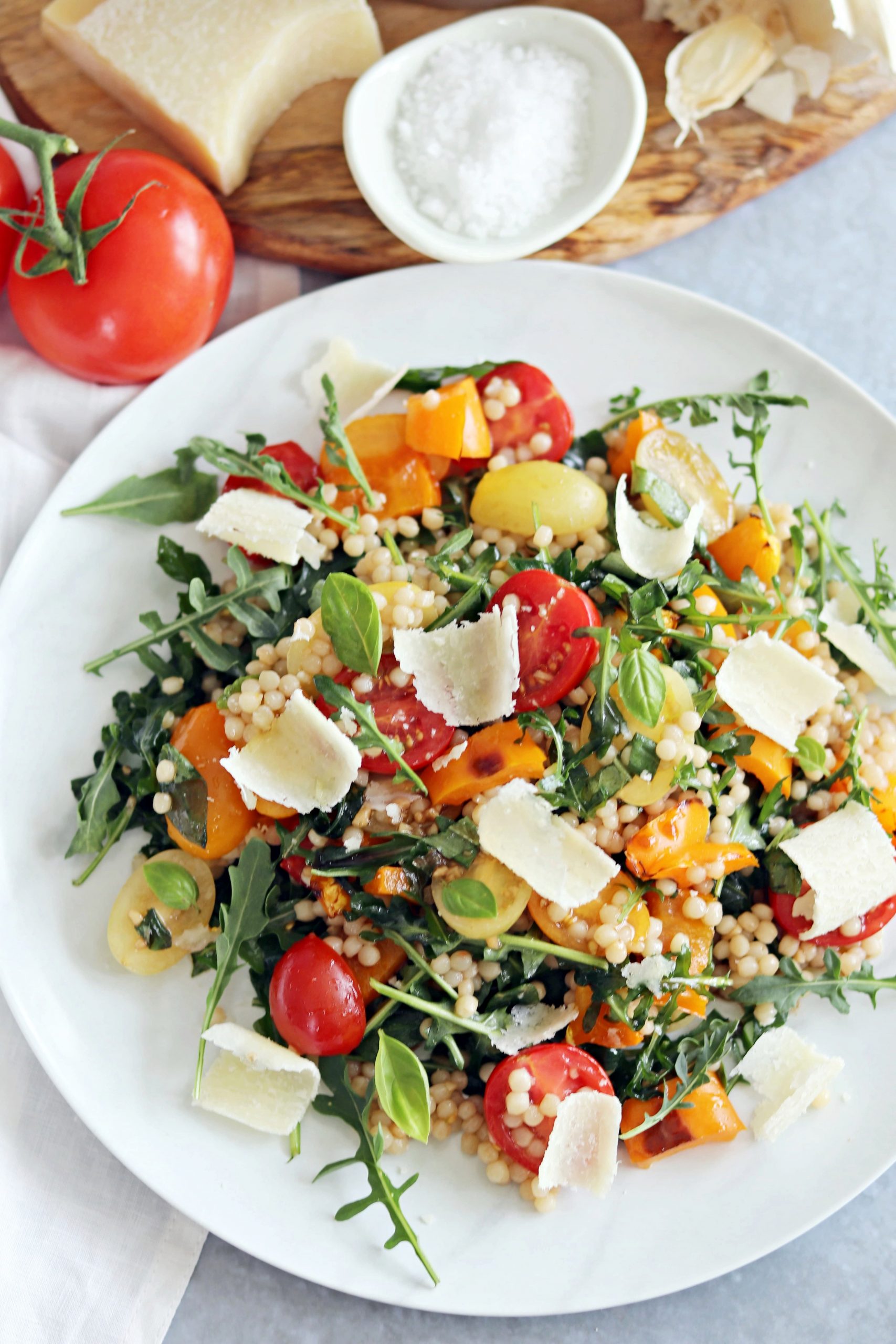 What is giant couscous?
Giant couscous was originally known as ptitim. It is also known as Israeli or pearl couscous.
As the name suggests, giant couscous is bigger than the standard couscous that you might be more familiar with. It is soft and fluffy with a slightly chewy texture.
Giant couscous is cooked more like pasta than standard couscous. Instead of covering it with boiled water and leaving it to absorb in a bowl, you boil it in water in a pan.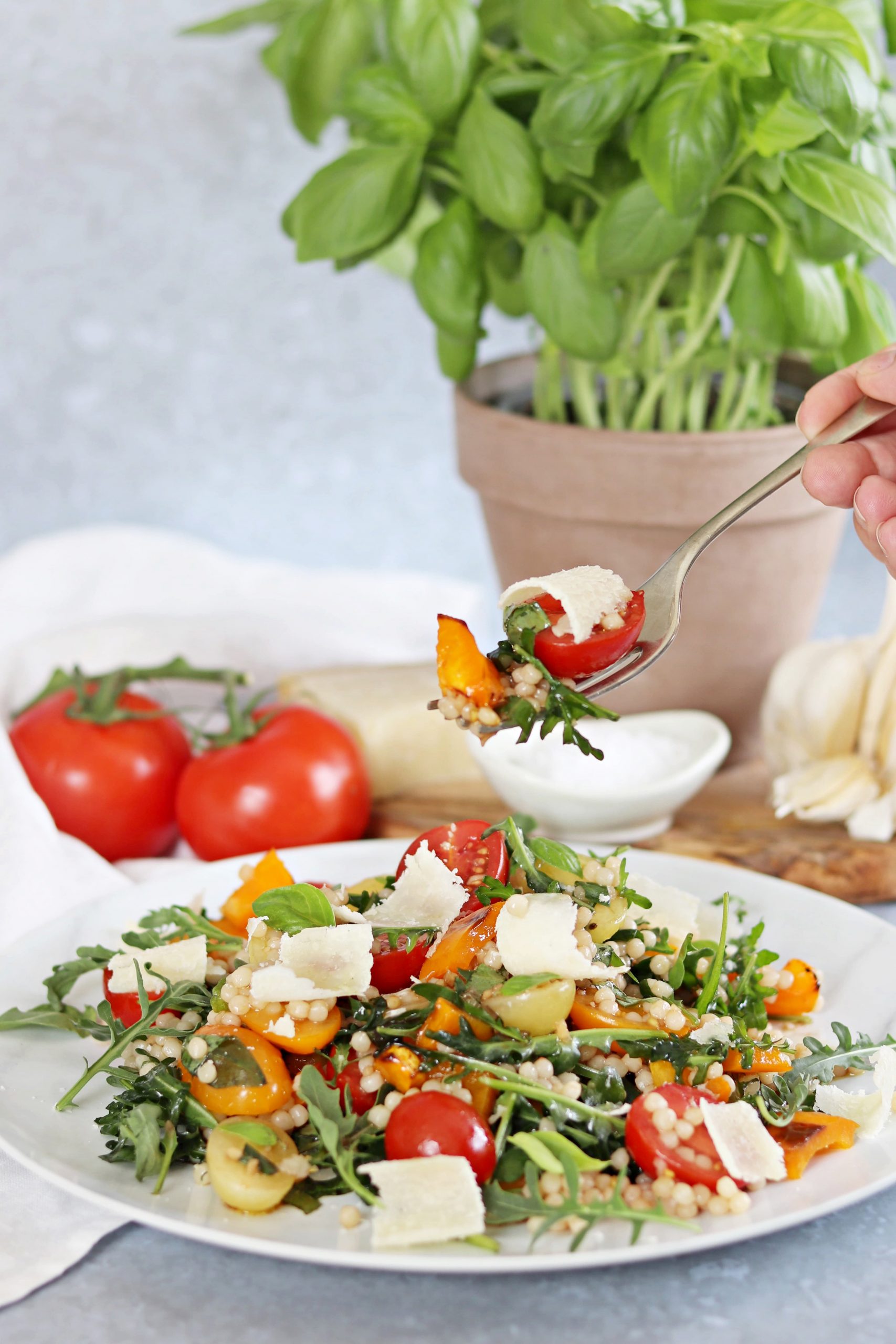 Can I use standard couscous?
When I went to make this Giant Couscous, Tomato & Rocket Salad recently I didn't find is as easy as I thought I would to buy giant couscous.
Don't get me wrong I found it in the second supermarket I tried, but I thought it was something that was widely stocked.
If you can't find it, or would prefer to use standard couscous, you absolutely can. When I first made this recipe I wanted the couscous to really stand out and be a main ingredient which is why I used it.
Giant or standard couscous will both taste just as delicious for this salad.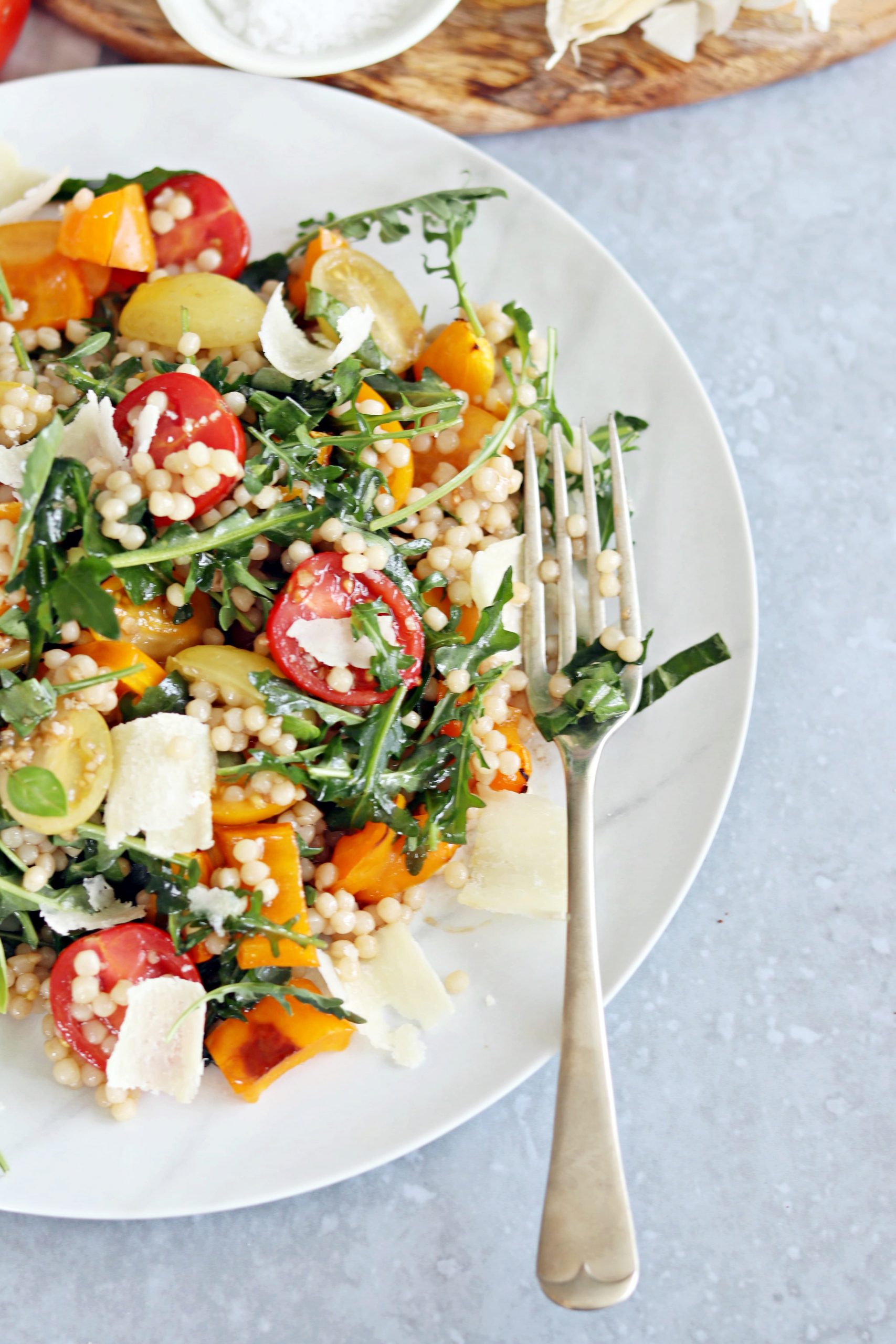 Benefits of adding couscous to a salad
I sometimes find that salads aren't as filling as you would like because they don't tend to include any carbohydrate.
So I like to include something that would gives the salad some substance so it keeps you fuller for longer, but also not something too unhealthy.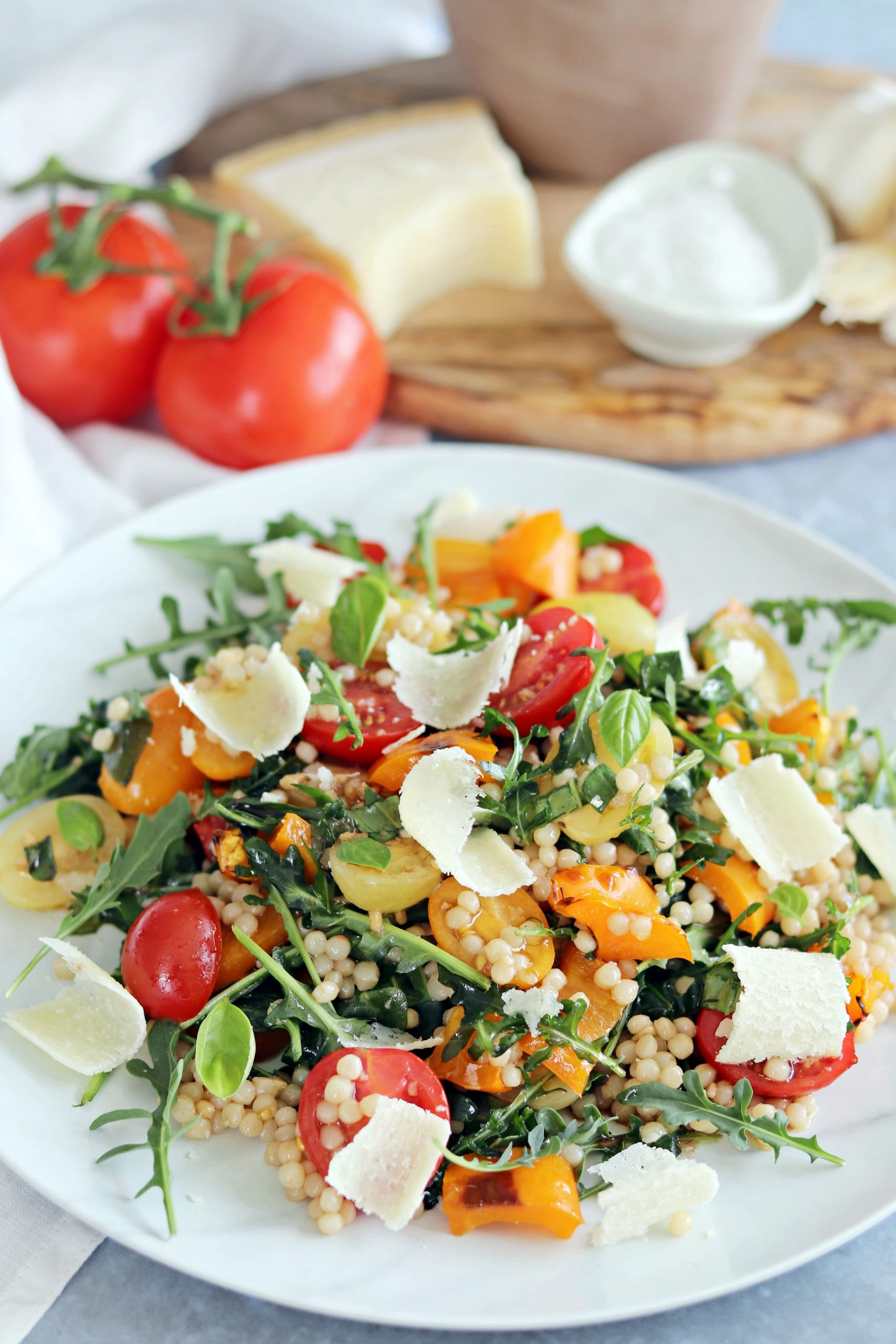 Use the best quality ingredients
In simple recipes like this, the best quality ingredients do make a difference.
This Giant Couscous, Tomato & Rocket salad is the perfect opportunity to use extra virgin olive oil. The higher quality of the olive oil will really elevate the flavours in the dressing.
This is the same for the balsamic vinegar you buy. Balsamic vinegar can range hugely in price. I'm not saying you have to buy the most expensive one in the shop, but try to avoid the cheapest one if you can afford to.
The best balsamic vinegar will labelled 'tradizionale' and/or DOC and will be expensive. The cheaper alternative is the mass produced 'aceto balsamico di Modena'. It is much more affordable as it hasn't been aged as long. This also means the flavour isn't as strong.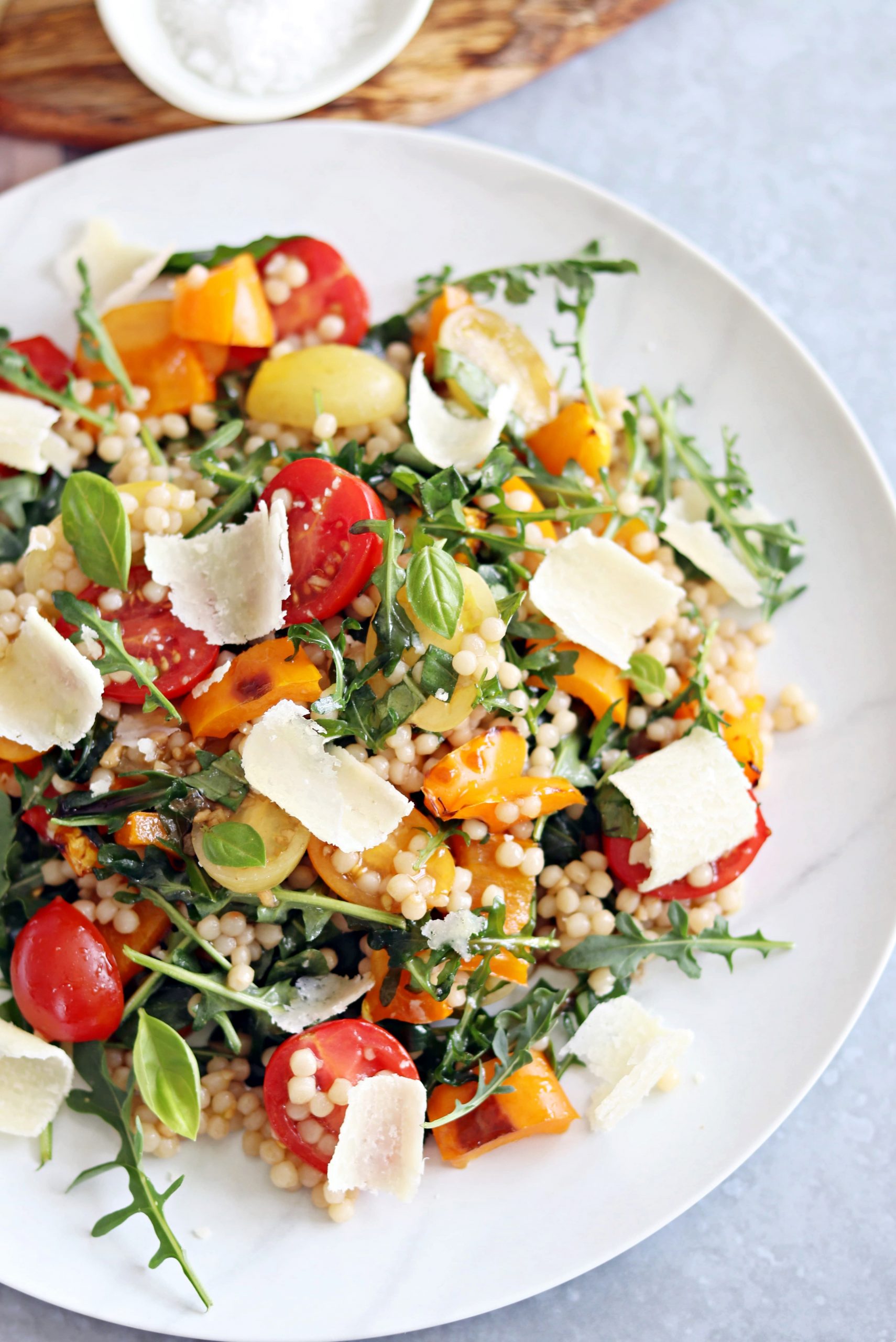 Which tomatoes are best to use?
It is also important to use the most ripe and delicious tomatoes you can find. I definitely wouldn't recommend buying 'salad tomatoes' for this salad.
They are very common in the supermarkets and never seem to ripen or taste very good in my opinion!
It might sound silly, but if the tomatoes smell like tomatoes then they are more likely to taste nice and be ripe.
I like to use a few different colours and types of tomatoes as this makes the salad more interesting. However you can use whichever you like.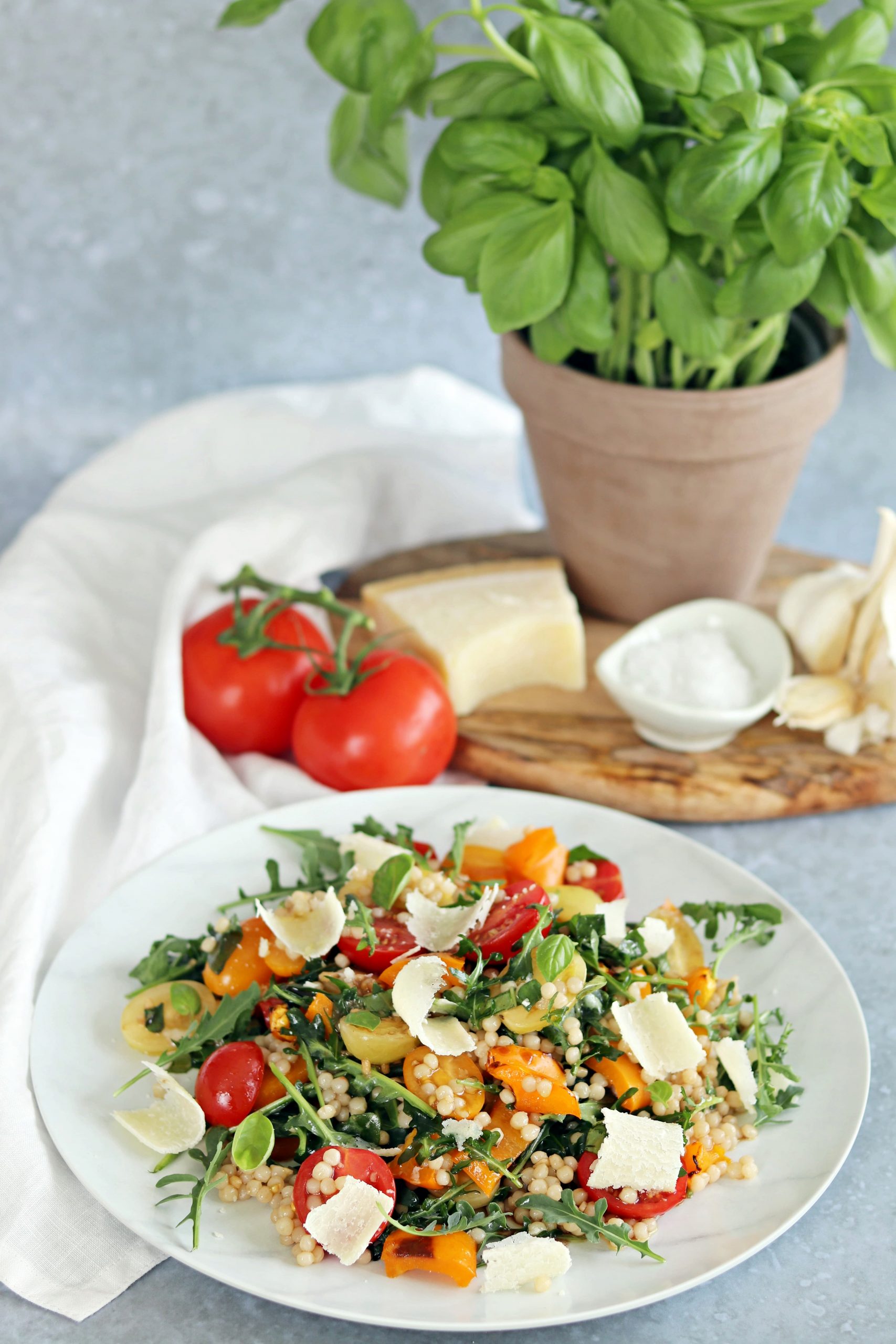 Healthy and delicious
Couscous is great because it is low in calories but really helps bulk up a dish. And as I already mentioned it makes a salad feel more substantial so you are less likely to reach for snacks!
I would class the salad as being relatively healthy. The only aspect which is higher in calories is the olive oil. Although olive oil is fat, it is classed as a healthy fat as it a healthy monounsaturated fat.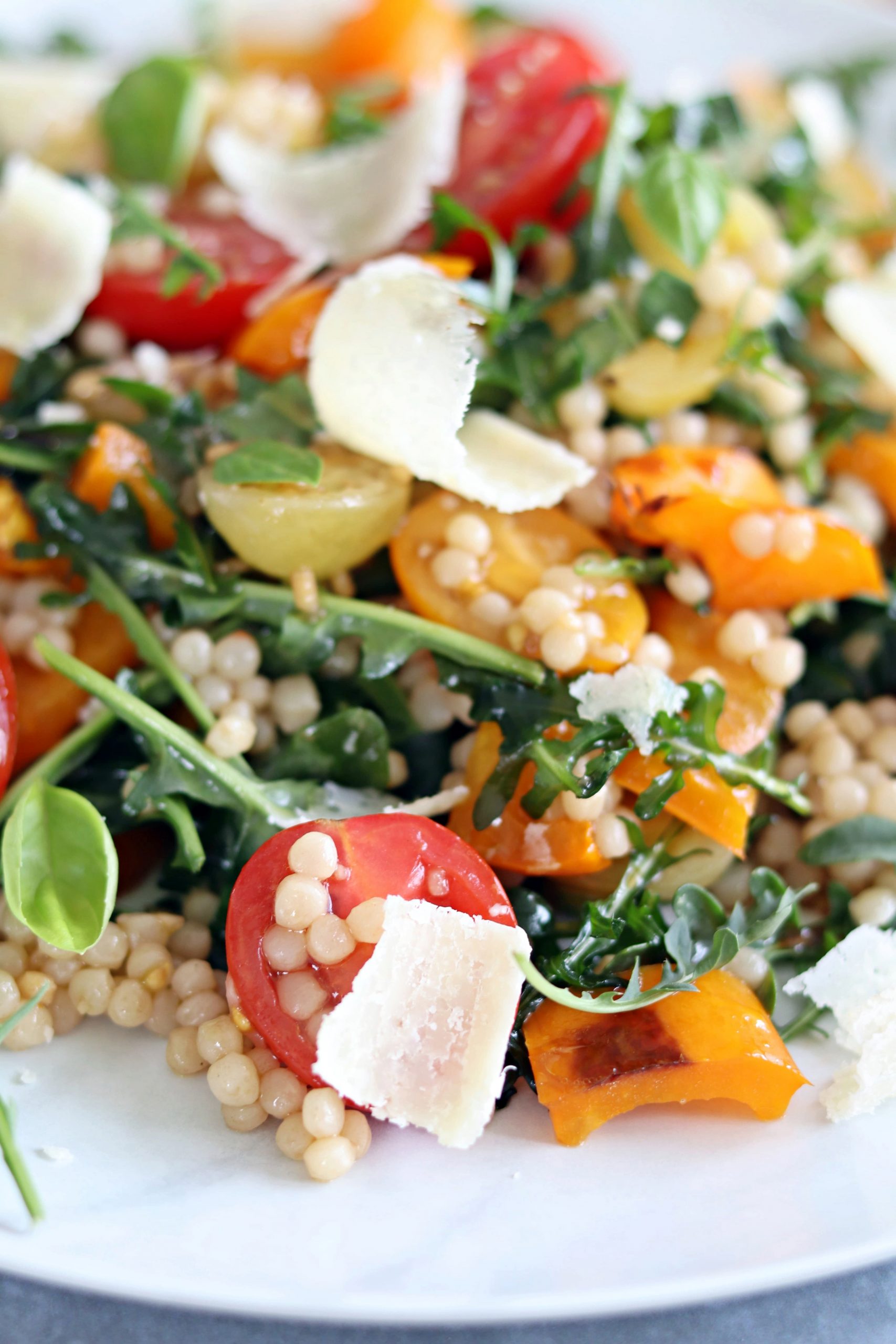 How long does this Giant couscous, tomato & rocket salad keep for?
This salad will keep for a couple of days in the fridge. However the dressing will soak into the couscous more the longer it sits.
I don't mind this at all because I like the couscous to be full of flavour and soak up the dressing. However not everyone may like this so I would recommend eating it on the day you make it.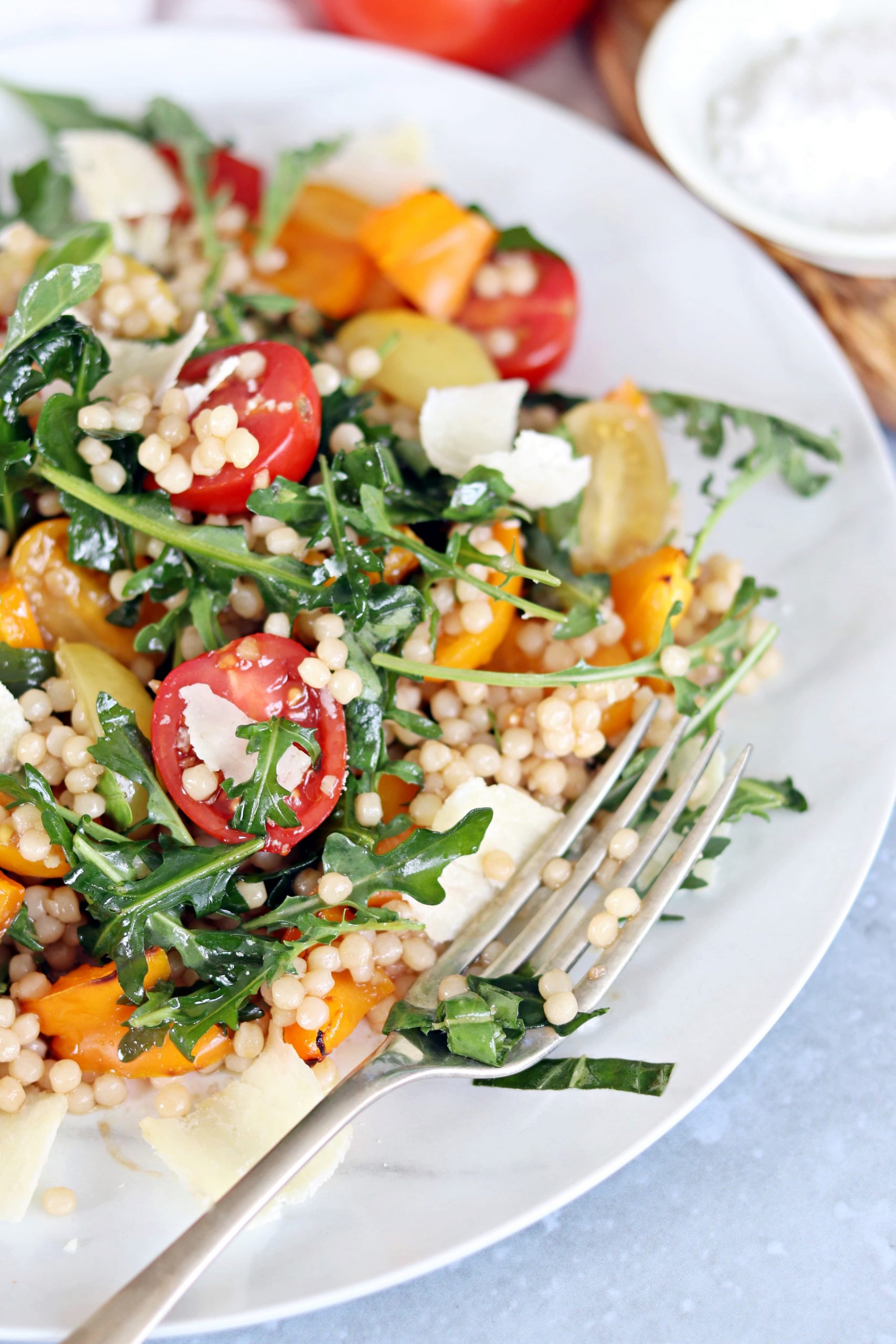 Other recipes you might like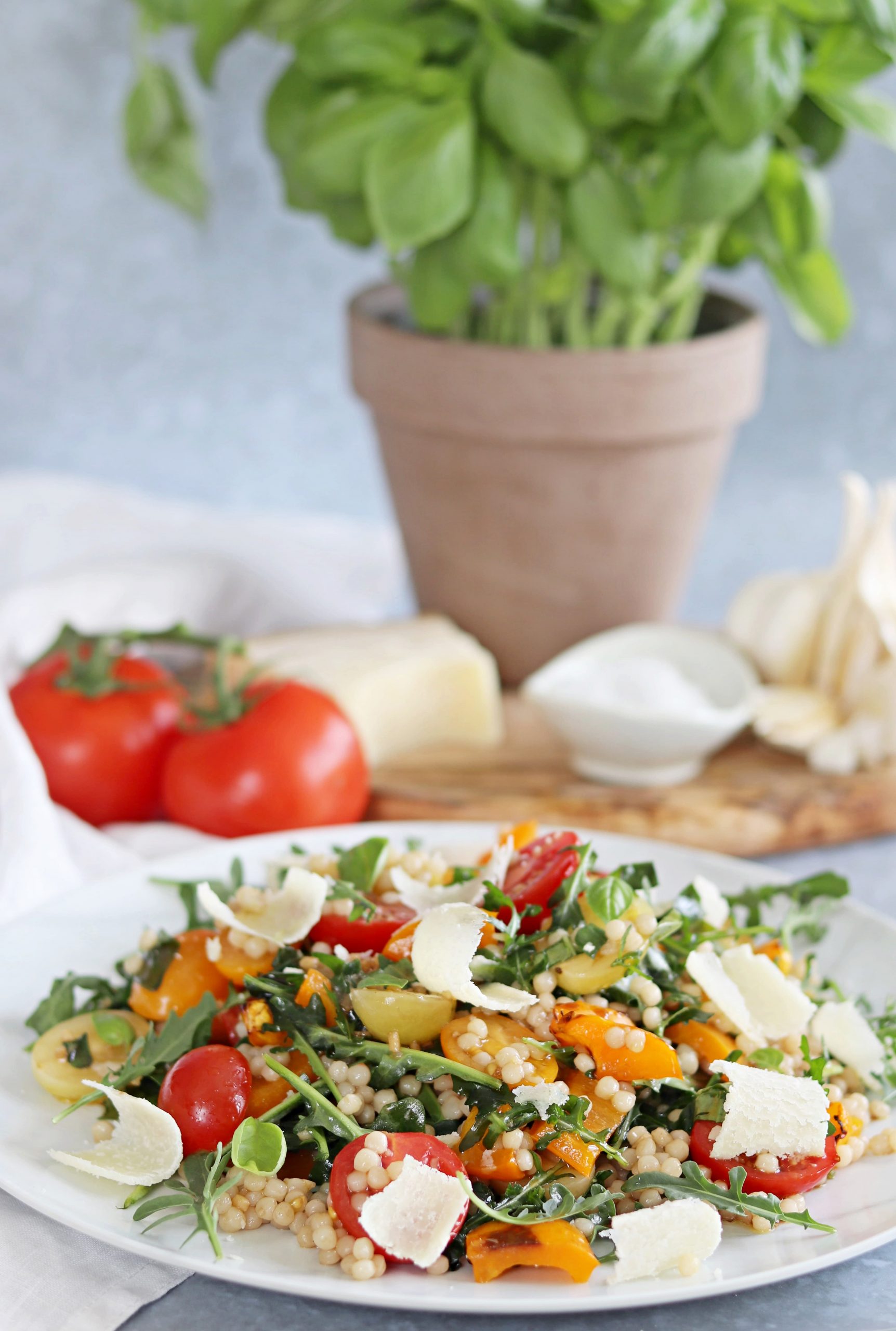 Pin for later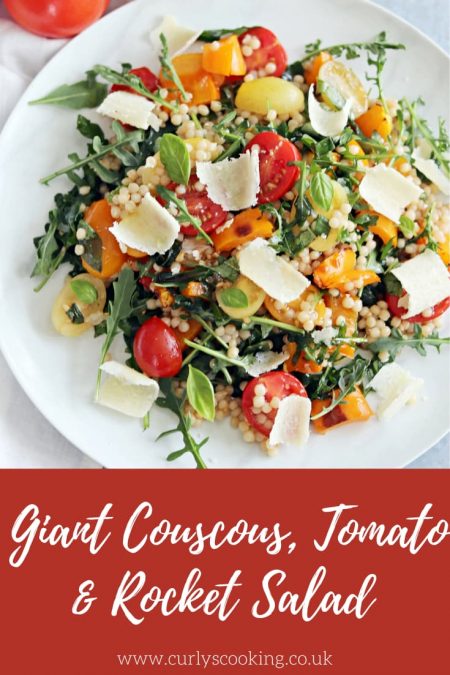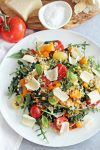 Giant Couscous, Tomato & Rocket Salad
This Giant Couscous, Tomato & Rocket Salad is fresh, light and summery and makes the perfect salad as part of a BBQ or a tasty lunch.
Ingredients
100

g

giant cous cous

1

tsp

concentrated chicken stock

230

g

plum tomatoes

1

large pepper

4

tbsp

olive oil

plus ½ tsp

3

tbsp

balsamic vinegar

1

tsp

sea salt

pinch

black pepper

1

tsp

garlic

crushed

10

basil leaves

shredded

30

g

rocket

(a couple of handfuls)

20

g

Parmesan
Instructions
De-seed and cut the pepper into large slices and place them on a baking tray. Roast them in the oven at 190°C (fan assisted 210° non fan) for 15-20 mins until they have softened and coloured slightly. When cool enough, dice the peppers

Cook the giant couscous as per the packet's instructions with the addition of the concentrated chicken stock

Cut each tomato in half and add to a bowl along with the olive oil, balsamic vinegar, sea salt, pepper, garlic and basil. Stir and leave to marinate

Once the couscous has cooked, drain and toss with ½ tsp olive oil and stir through with a fork. Leave to cool slightly

When all ingredients have cooled a little, add the couscous to a bowl along with a couple of generous handfuls of rocket, the peppers and the tomatoes with their olive oil mixture

When ready to serve, garnish with a few shavings of Parmesan
Recipe Notes
Nutritional information is given as a guide only.
Nutrition Facts
Giant Couscous, Tomato & Rocket Salad
Amount Per Serving
Calories 402
Calories from Fat 279
% Daily Value*
Fat 31g48%
Cholesterol 7mg2%
Sodium 1339mg58%
Potassium 355mg10%
Carbohydrates 10g3%
Protein 5g10%
Vitamin A 1498IU30%
Vitamin C 18mg22%
Calcium 160mg16%
Iron 1mg6%
* Percent Daily Values are based on a 2000 calorie diet.