Incredibly simple and quick to prepare, this Pear & Rocket Salad is delicious. The peppery rocket & salty Parmesan work so well with the sweet pear and balsamic vinegar.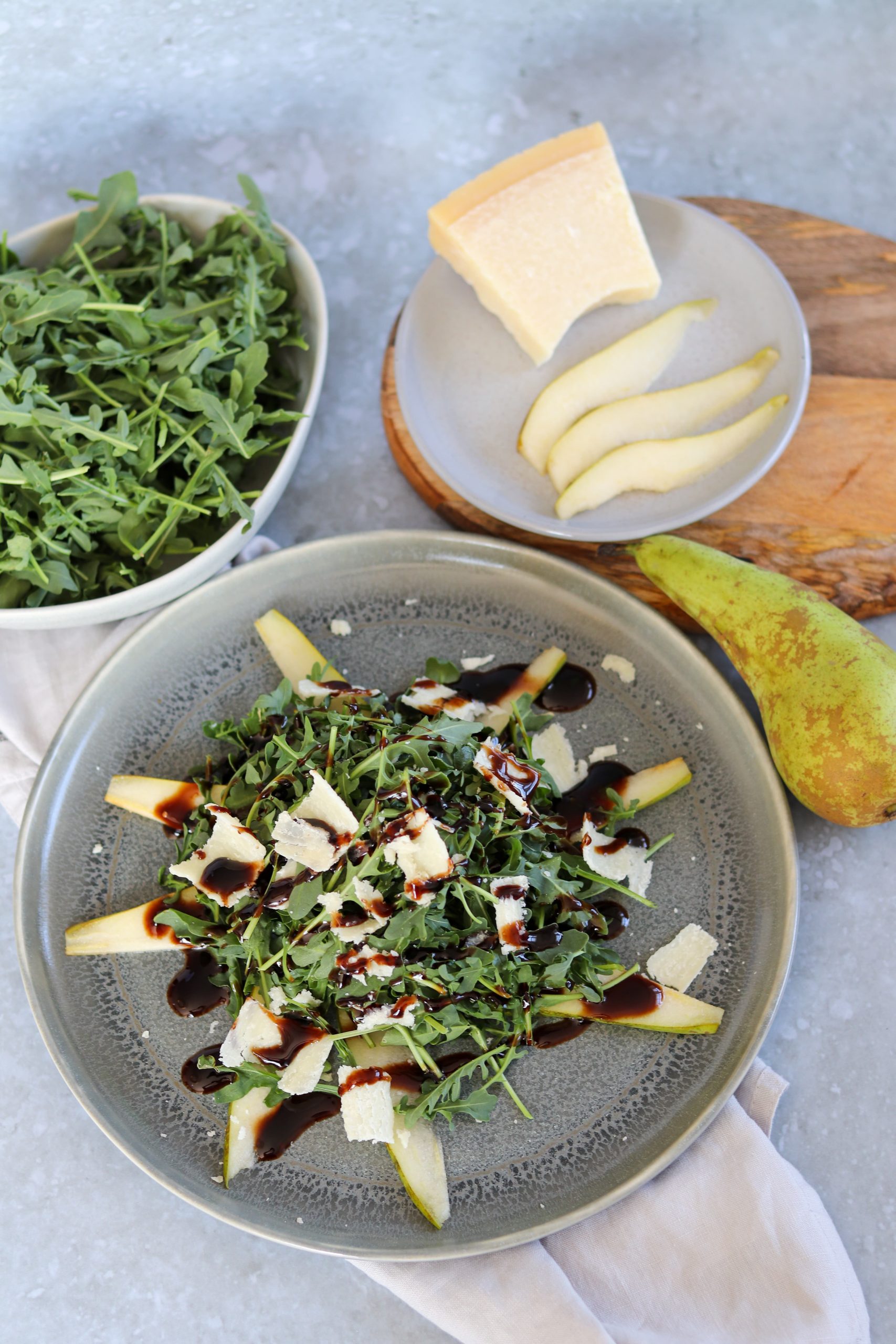 A simple, delicious salad
You couldn't get much more simple than this Pear & Rocket Salad. There is no cooking involved, just some easy preparation of ingredients.
I first had this salad in Fuerteventura at a lovely little tapas restaurant. We have been there many times, and always order this Pear & Rocket Salad. My Spanish Baked Chorizo & Beans is another take on a tapas recipe we order on holiday.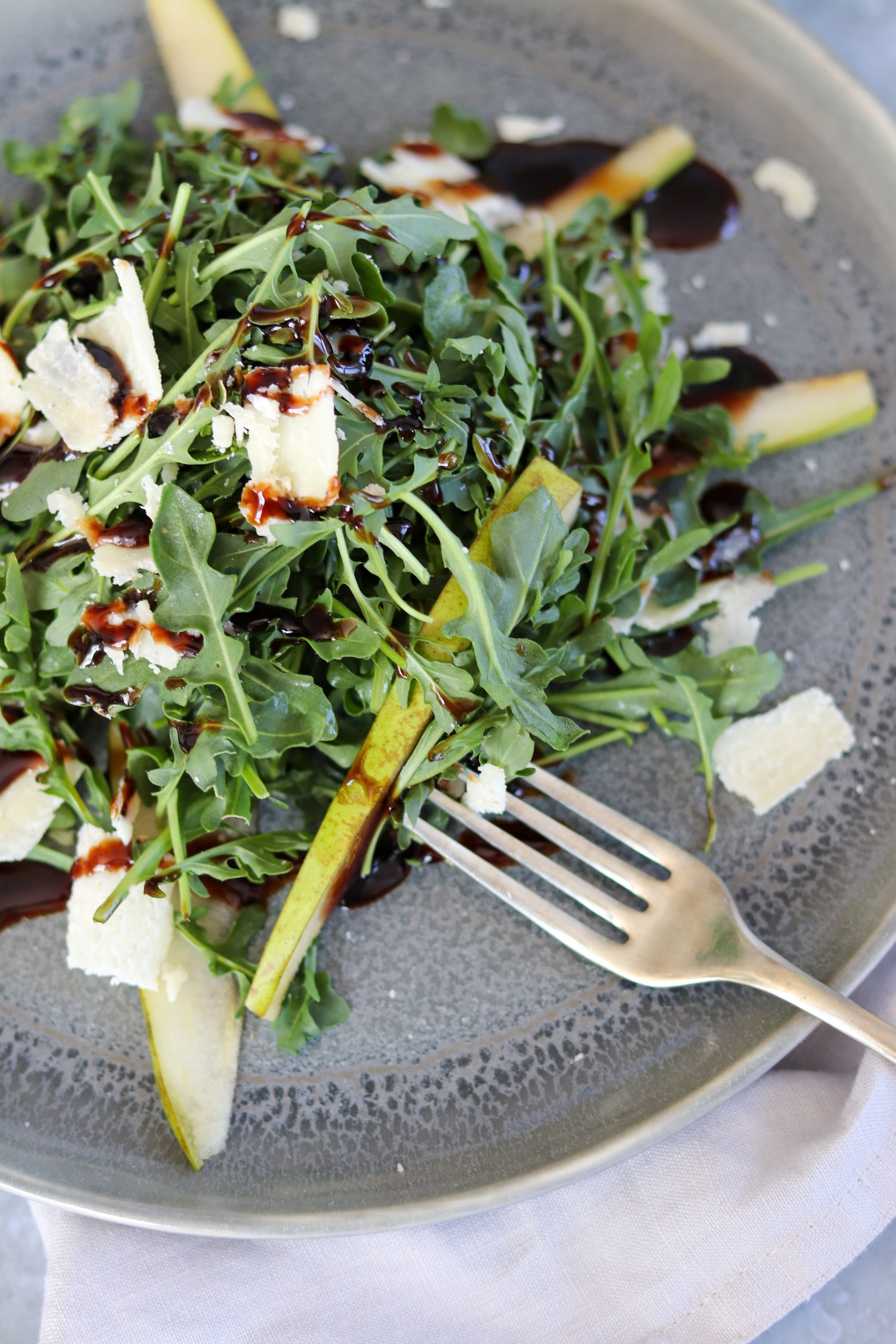 Pear & Rocket Salad is a little different
Although this Pear & Rocket Salad isn't a new idea, it is something a little different.
It definitely isn't one of those lettuce, cucumber and tomato salads that can be repetitive and boring. The flavours are interesting and exciting.
I really love how the peppery rocket, salty Parmesan work so well with the sweet pear. If you haven't tried this before, you really should.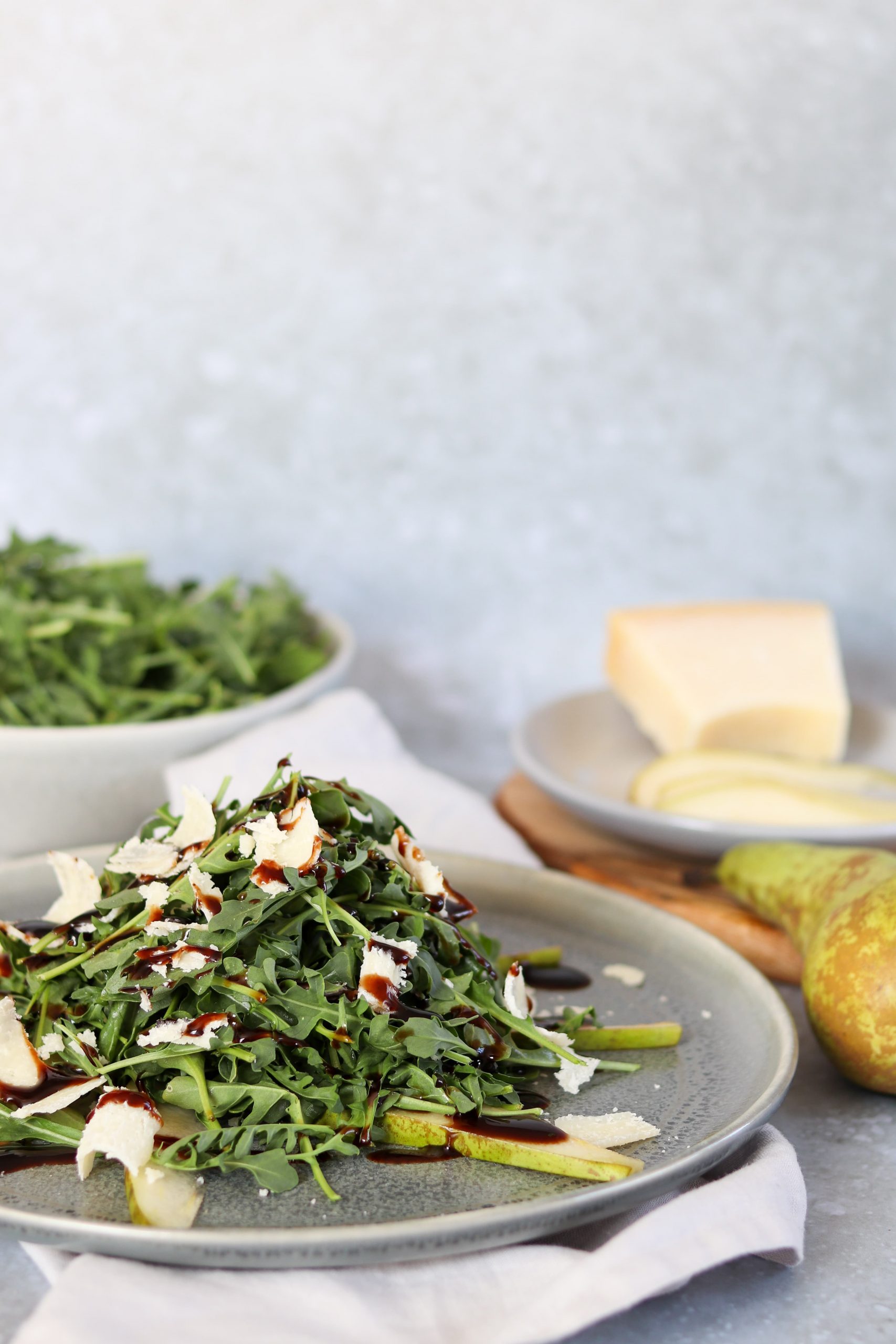 When are pears in season?
Here in the UK, we can buy pears year round. However they are at their best and most flavoursome when they are in season.
The season for pears varies depending on the variety. Some pears start to come into season in August and others are still available in February.
Which pears are best to use?
There are so many different varieties of pear and a lot of them would work really well in this recipe.
Personally I like to use pears with a softer texture, rather than a crisp texture like an Asian pear. However you can use whichever you'd prefer.
The most common pears in supermarkets are conference and comice pears. Both have sweet, juicy flesh which work really well in this Pear & Rocket Salad.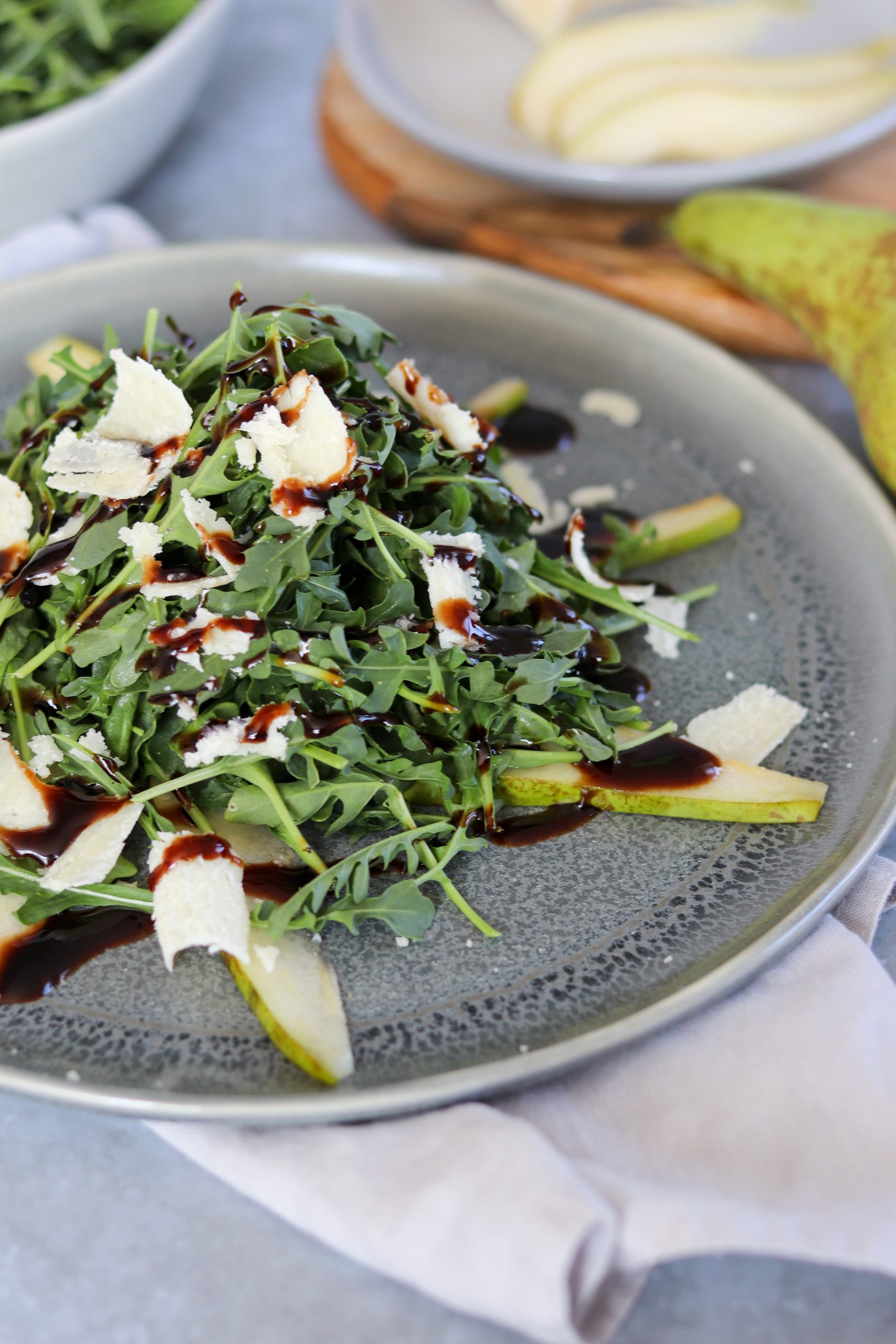 How ripe should the pears be?
You don't want an under ripe pear, but you also don't want it to be overripe and mushy.
If the pears are under ripe they will have a bit too much of a bite to them and generally not be as pleasant to eat. And if they are too ripe they might be bruised and turn mushy.
You want to use pears that are are slightly soft to the touch but still have some firmness.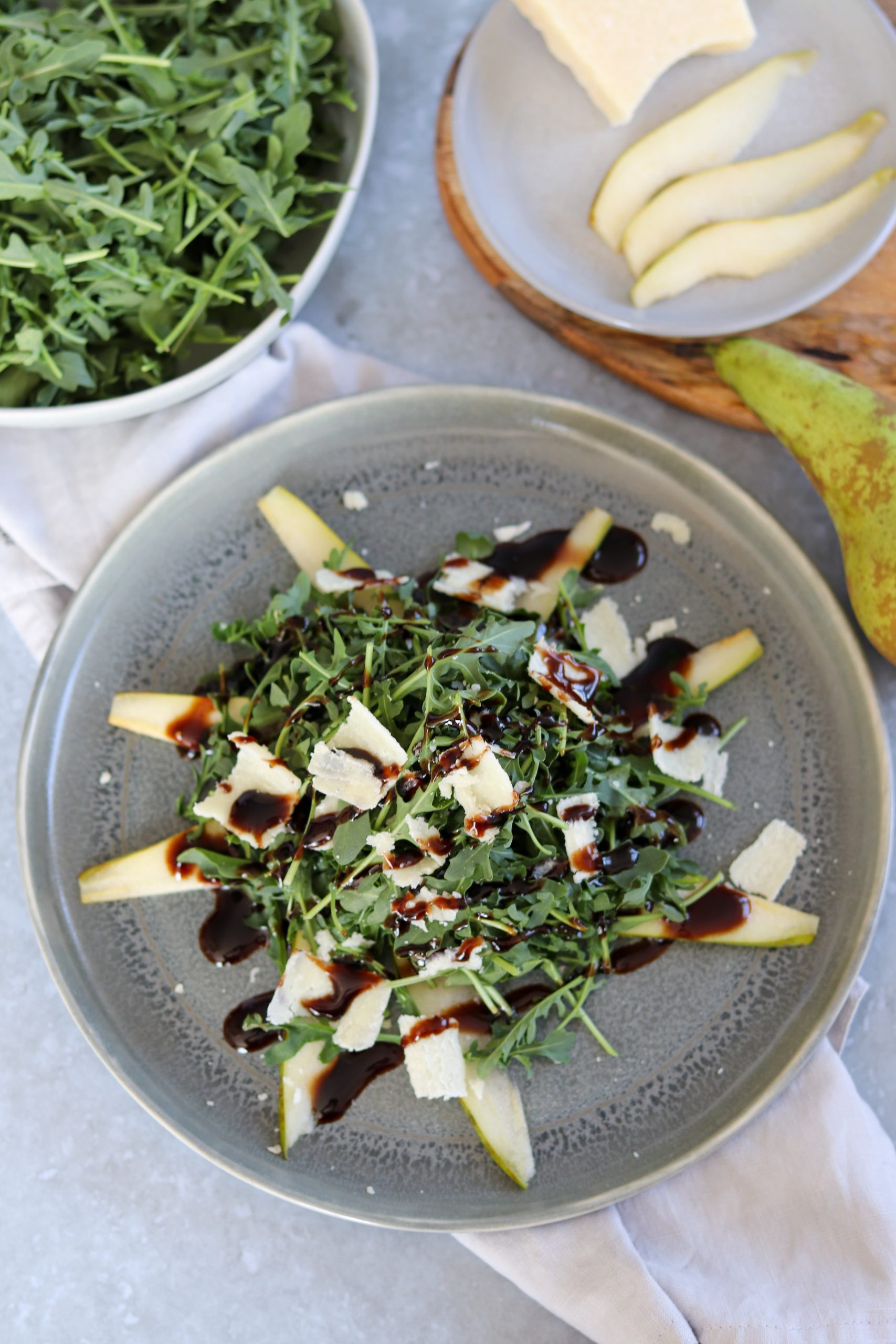 how to create parmesan shavings
I prefer to use Parmesan shavings for this recipe. Not only goes it look better than grated Parmesan in my opinion, it makes it stand out and act as more of a main ingredient.
To create the shavings is really simple. I just use a potato peeler! This gives you lovely, thin slices of Parmesan which also have a slight curl to them too. Quick and easy!
why use rocket?
Rocket or arugula has a lovely peppery flavour which works really well with the rest of the ingredients in the salad.
If you didn't want to use just rocket, you could use a mix of different salad leaves. I would recommend making sure rocket was featured though so you have the peppery flavour.
If you find find rocket, watercress would be a good substitute as it has a similar peppery flavour.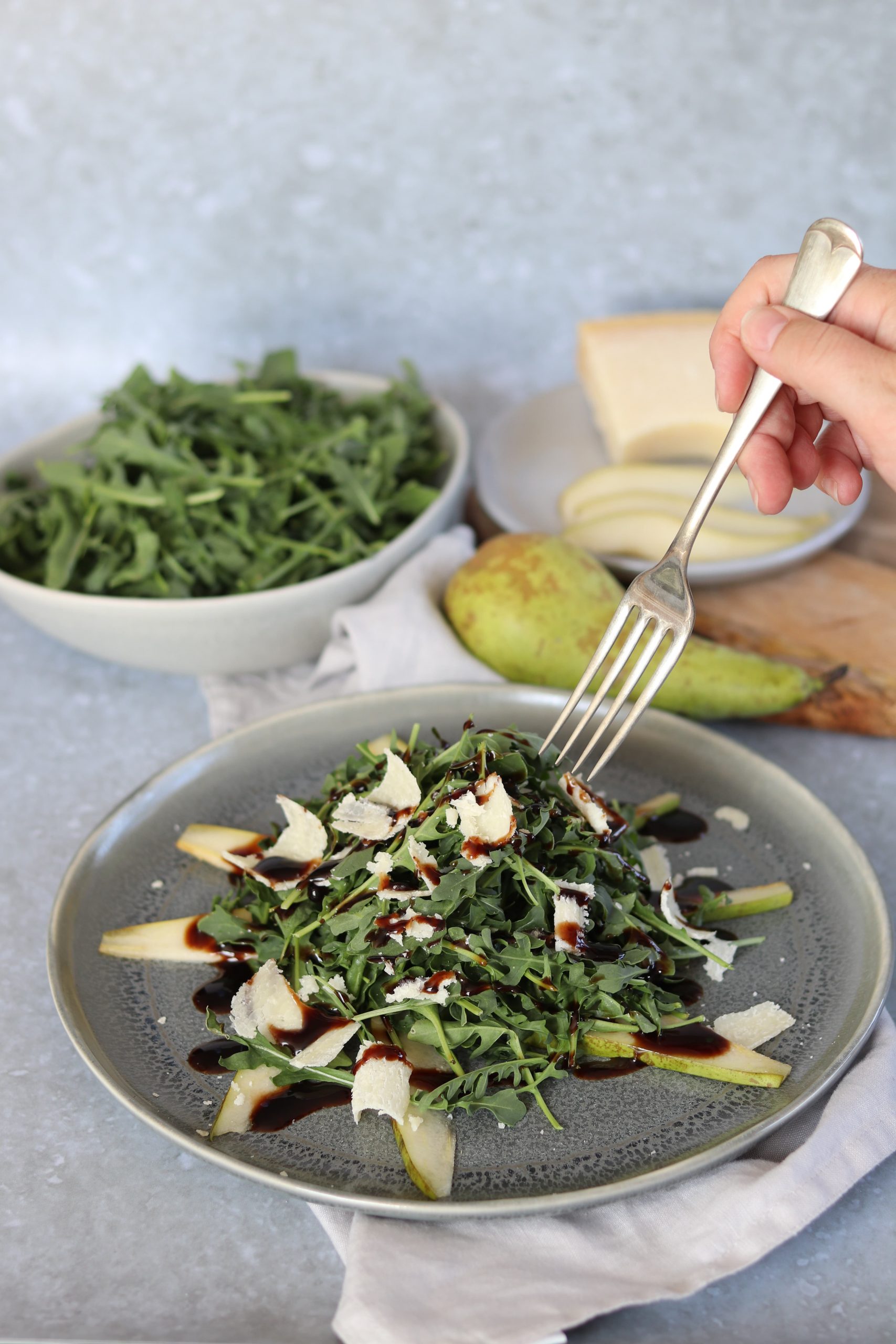 how to make this salad vegetarian
You may think this salad is already vegetarian but it isn't.
Parmesan includes an ingredient called rennet which is an animal product therefore making this Pear & Rocket Salad not suitable for vegetarians.
However you can very easily make this vegetarian. There are many vegetarian and vegan hard cheeses which are similar to Parmesan.
This small change would make this salad suitable for vegetarians and vegans. It is already gluten free.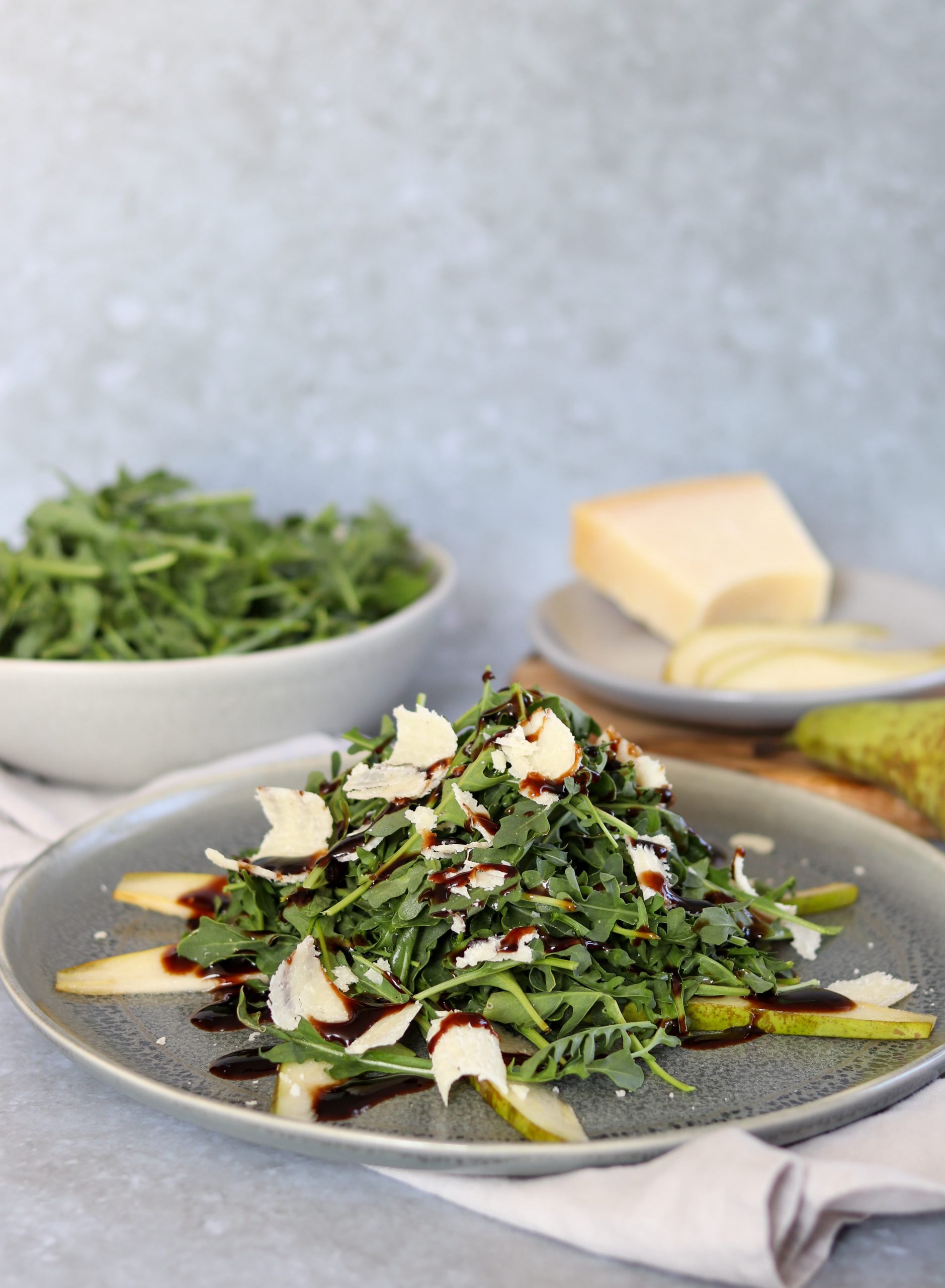 What is balsamic vinegar drizzle?
If you haven't heard of it before, balsamic vinegar drizzle or glaze is a thicker, sweet version of balsamic vinegar.
It is reduced with a sweetener such as honey or brown sugar. This makes it deliciously thick and glossy.
I much prefer using it to dress salads as sometimes balsamic vinegar can be a bit thin and sink to the bottom.
It used to be a little trickier to get hold of, but it is now readily available in most large supermarkets.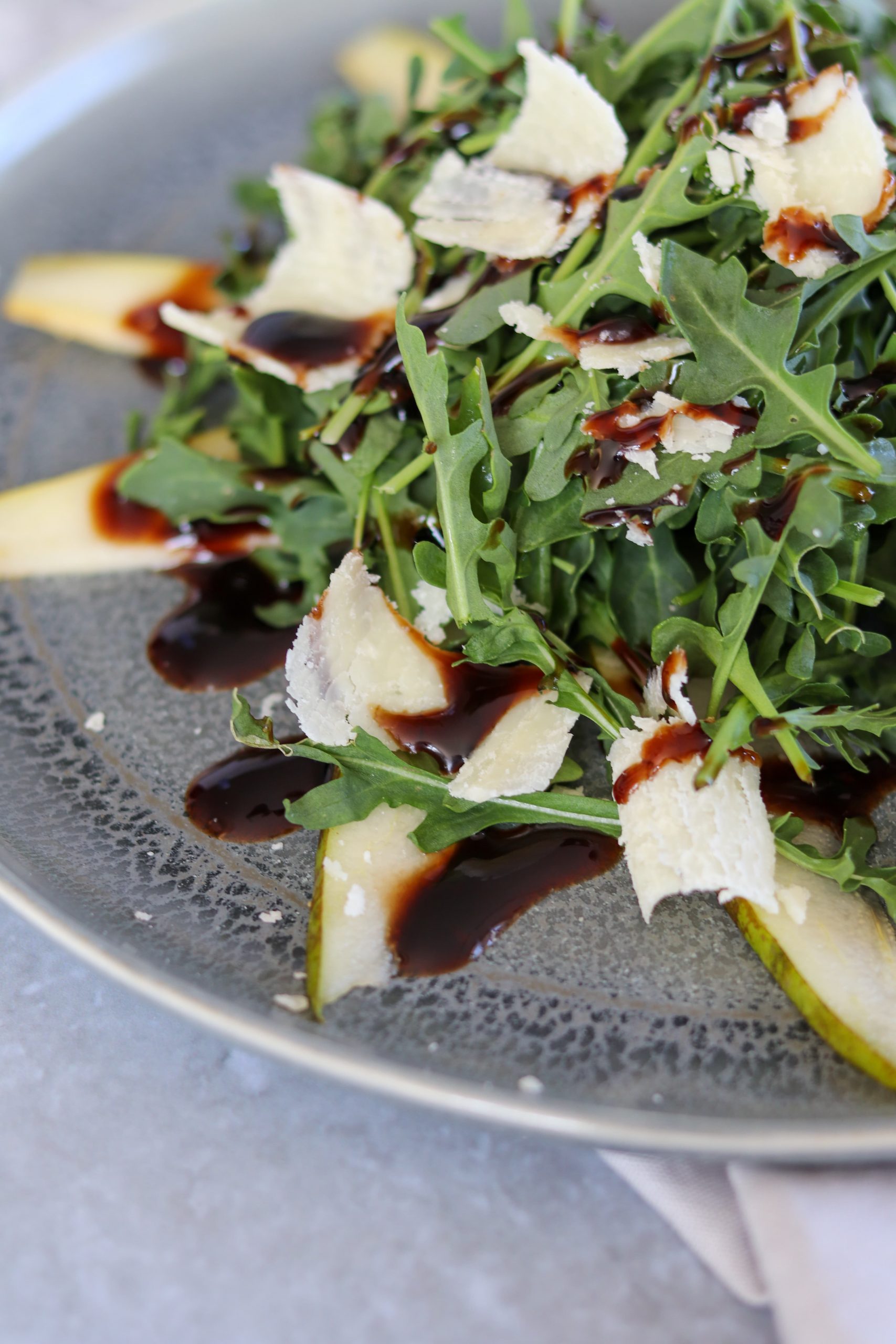 add even more tasty flavours
This Pear & Rocket Salad is simple and perfect as it is, but there are a few easy additions you could add.
If you are looking for a bit of crunch, you could add some walnuts to this recipe. Walnuts and pear work really well together so this would be great.
You could also add dried cranberries for another level of sweetness along with the pear.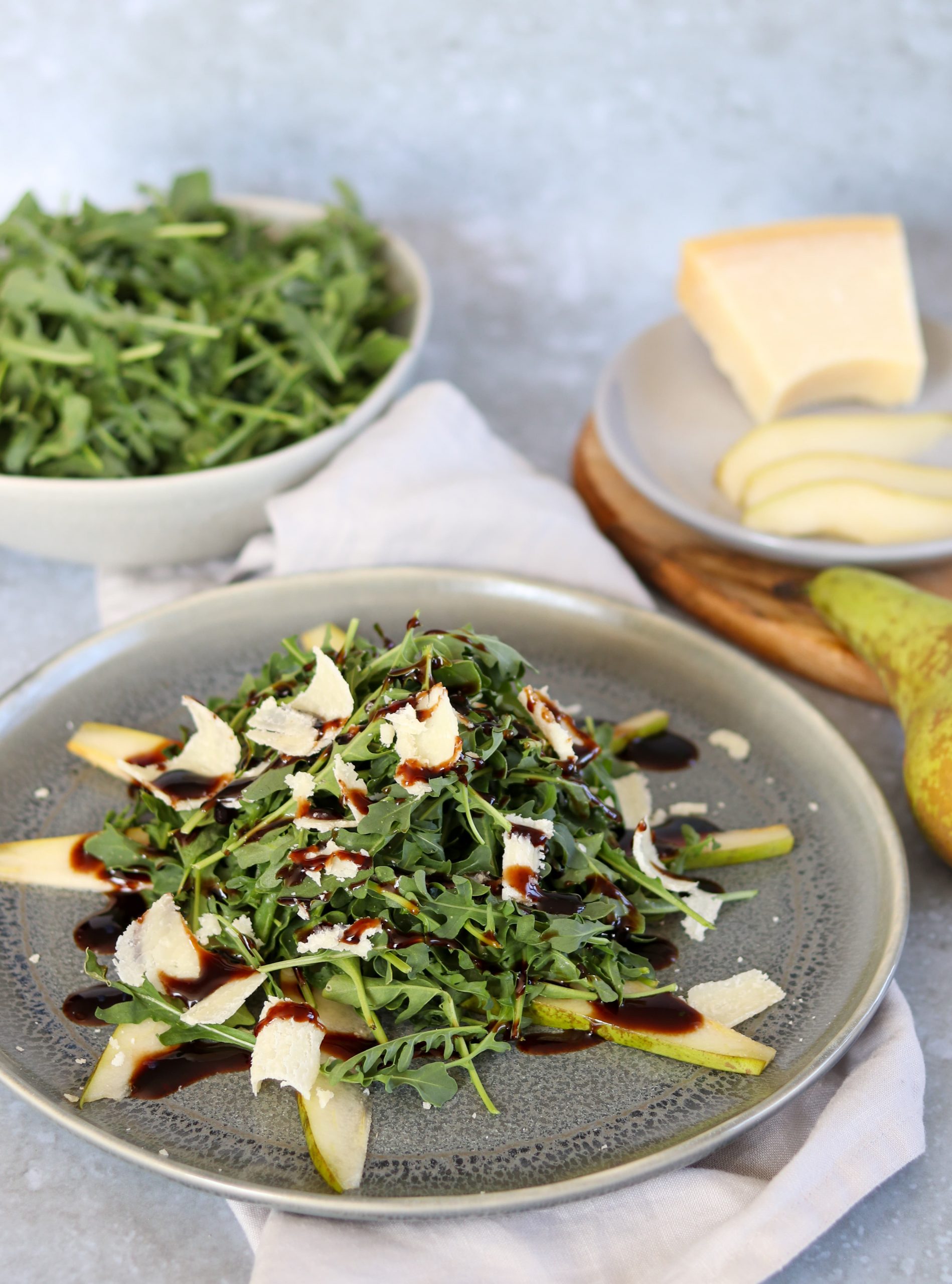 How to serve this Pear & Rocket Salad
This Pear & Rocket Salad is a delicious addition to any meal.
It is delicious served alongside simply grilled meat or fish. It would also be a great side dish for a BBQ, picnic or buffet spread.
It would also be great served alongside a pizza; especially my Quick Pulled Pork Pizza.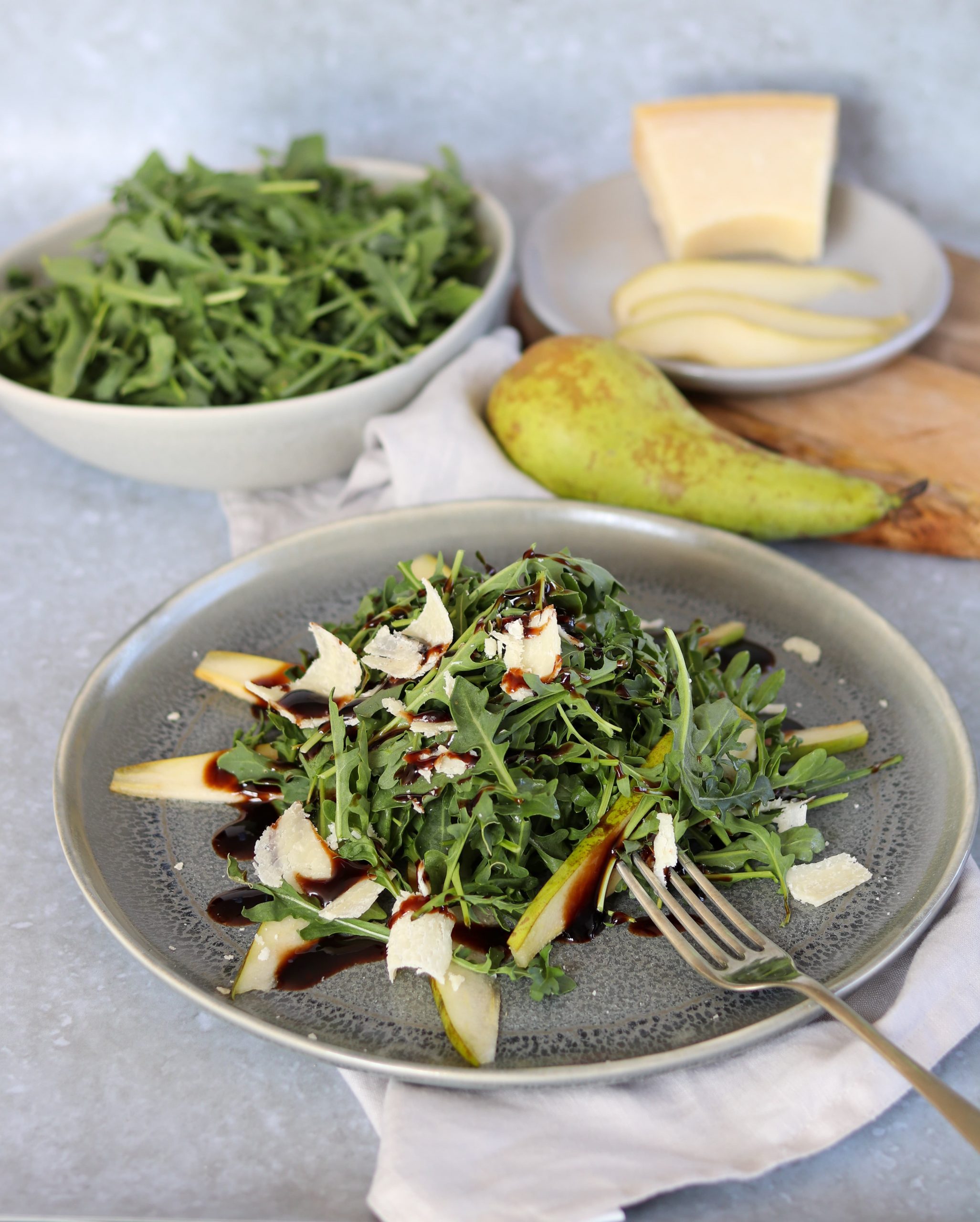 Can I make this salad in advance?
I do think this Pear & Rocket Salad is best made just before you plan to serve it.
Pears have the tendency to start to discolour and become brown when they are cut. You can sprinkle the pear with lemon juice to help prevent this from happening as quickly.
But this salad is so quick and easy to make, I wouldn't recommend making it in advance. I would also recommend making just what you are going to eat as the pears are likely to discolour if kept for later.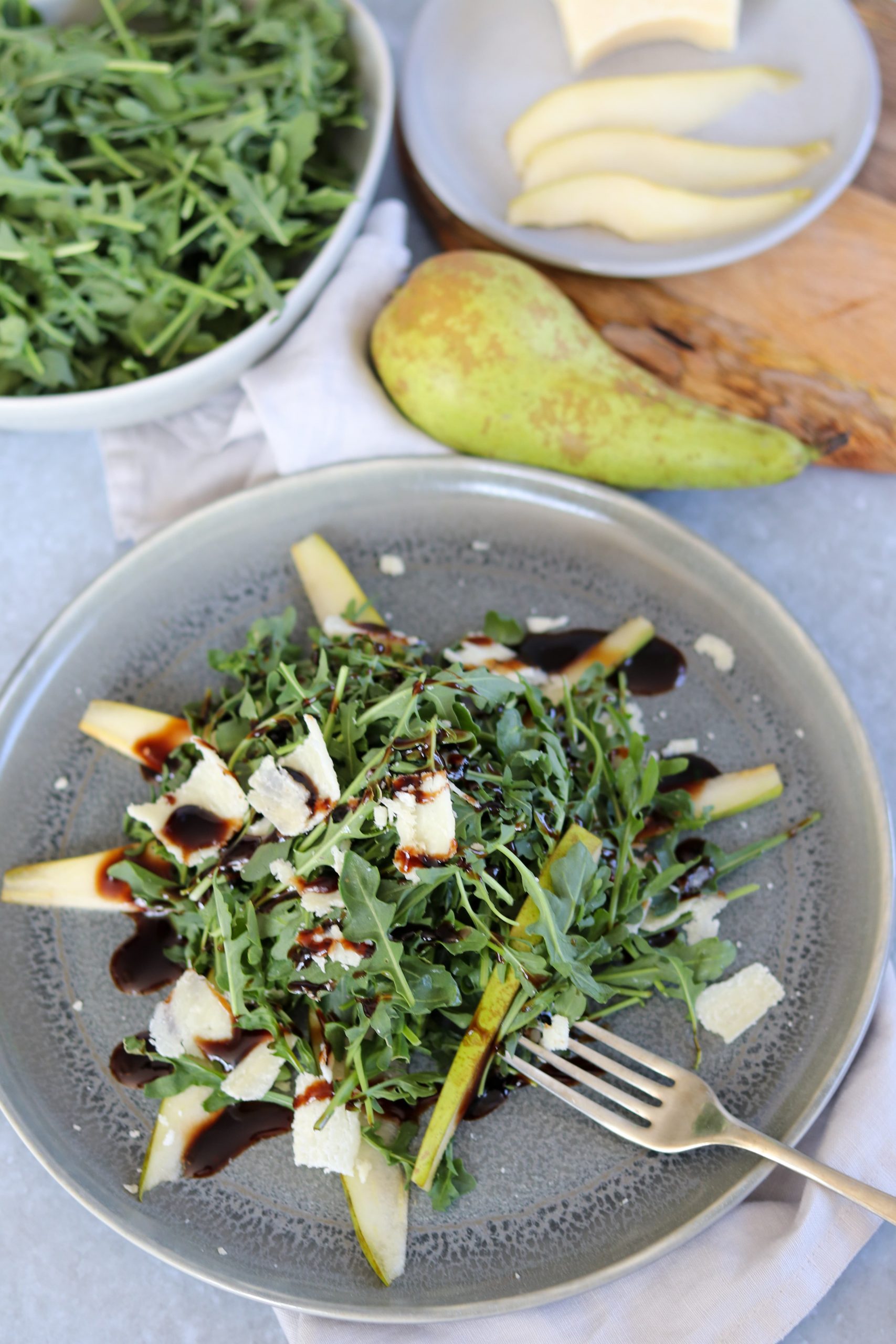 Other salads you might like
Pin for later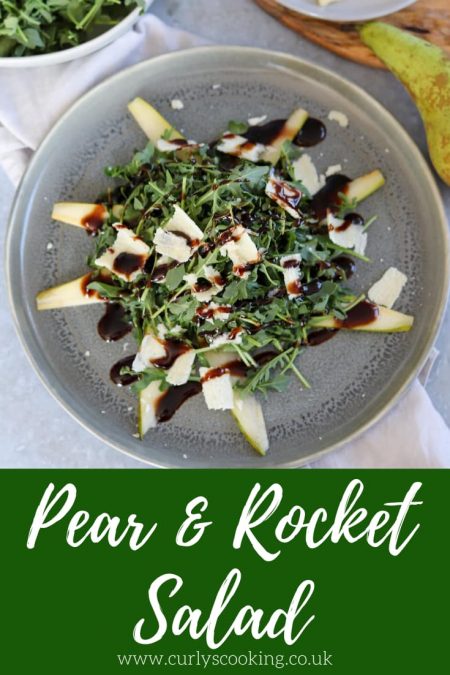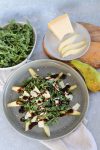 Pear & Rocket Salad
Incredibly simple and quick to prepare, this Pear & Rocket Salad is delicious. The peppery rocket & salty Parmesan work so well with the sweet pear and balsamic vinegar.
Ingredients
2

pears

cored

60

g

rocket

(approx)

40

g

Parmesan

shaved

balsamic vinegar drizzle
Instructions
Core the pears and cut them into thin slices. Lay them on your serving plate in a circle

Add a pile of rocket into the middle of the pear slices

Scatter over the Parmesan shavings and finish drizzling with balsamic vinegar drizzle
Recipe Notes
Pear can discolour if left out. Prepare this salad just before you are going to serve it. You can sprinkle with some lemon juice to prevent discolouring.
I use a potato peeler to make the Parmesan shavings.
Nutritional information is given as a guide only and can vary.
Nutrition Facts
Pear & Rocket Salad
Amount Per Serving
Calories 104
Calories from Fat 27
% Daily Value*
Fat 3g5%
Cholesterol 7mg2%
Sodium 165mg7%
Potassium 168mg5%
Carbohydrates 14g5%
Protein 4g8%
Vitamin A 456IU9%
Vitamin C 6mg7%
Calcium 150mg15%
Iron 1mg6%
* Percent Daily Values are based on a 2000 calorie diet.