Make the most of your foraged blackberries by making this delicious Blackberry Crumble Loaf Cake. A fluffy cake studded with juicy blackberries topped with crisp crumble.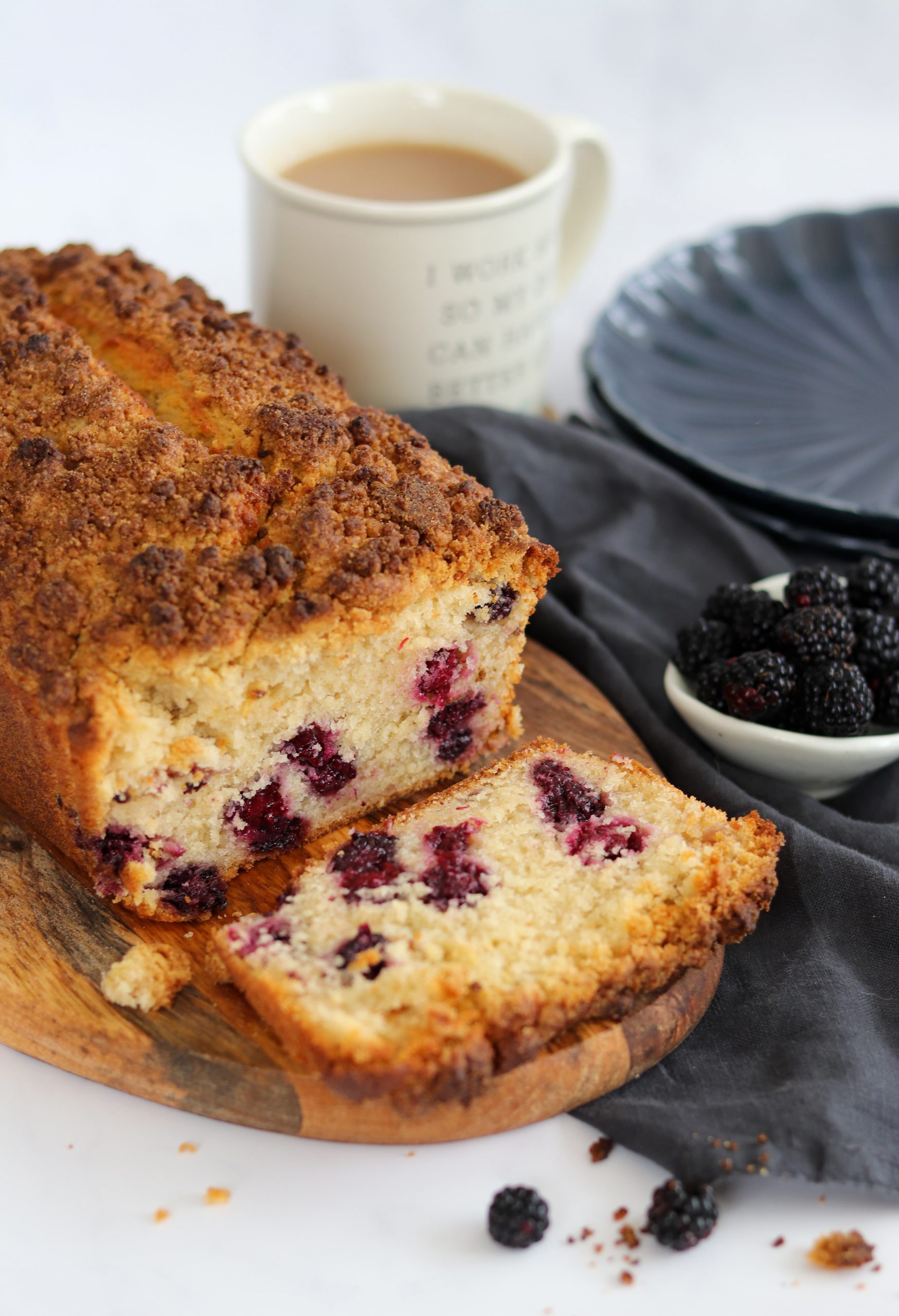 Blackberries are a British institution
You can't go for a walk in the British countryside towards the end of summer without seeing blackberries growing in the hedgerows.
It is part of growing up to go blackberry picking in the countryside. As any one will tell you, one blackberry goes in the container and one goes in your mouth!
There's also something exciting about foraging for your own food. They are a fruit that everyone knows is 'safe' to pick and therefore an activity that children can join in with.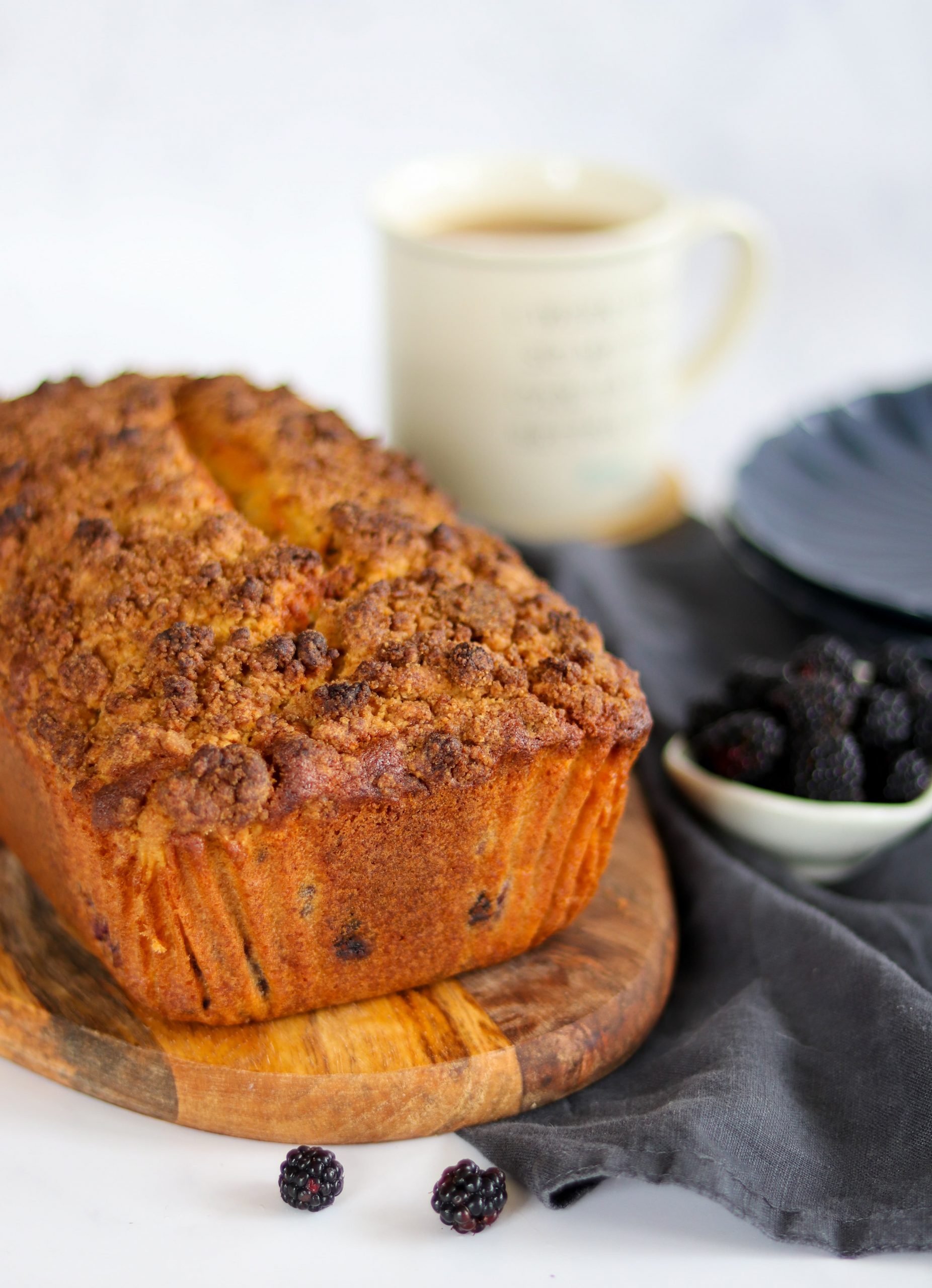 when are blackberries in season?
Blackberries start coming into season towards the middle of August and last until October. It is a relatively short season so it is best to make the most of them while you can.
The great thing about them is that you can pick them yourself from brambles in hedgerows as well as buying them. Just make sure you avoid brambles near busy roads and low to the ground.
If you are picking them, you will know they are ripe when they are black and glossy and can easily be pulled from the bramble.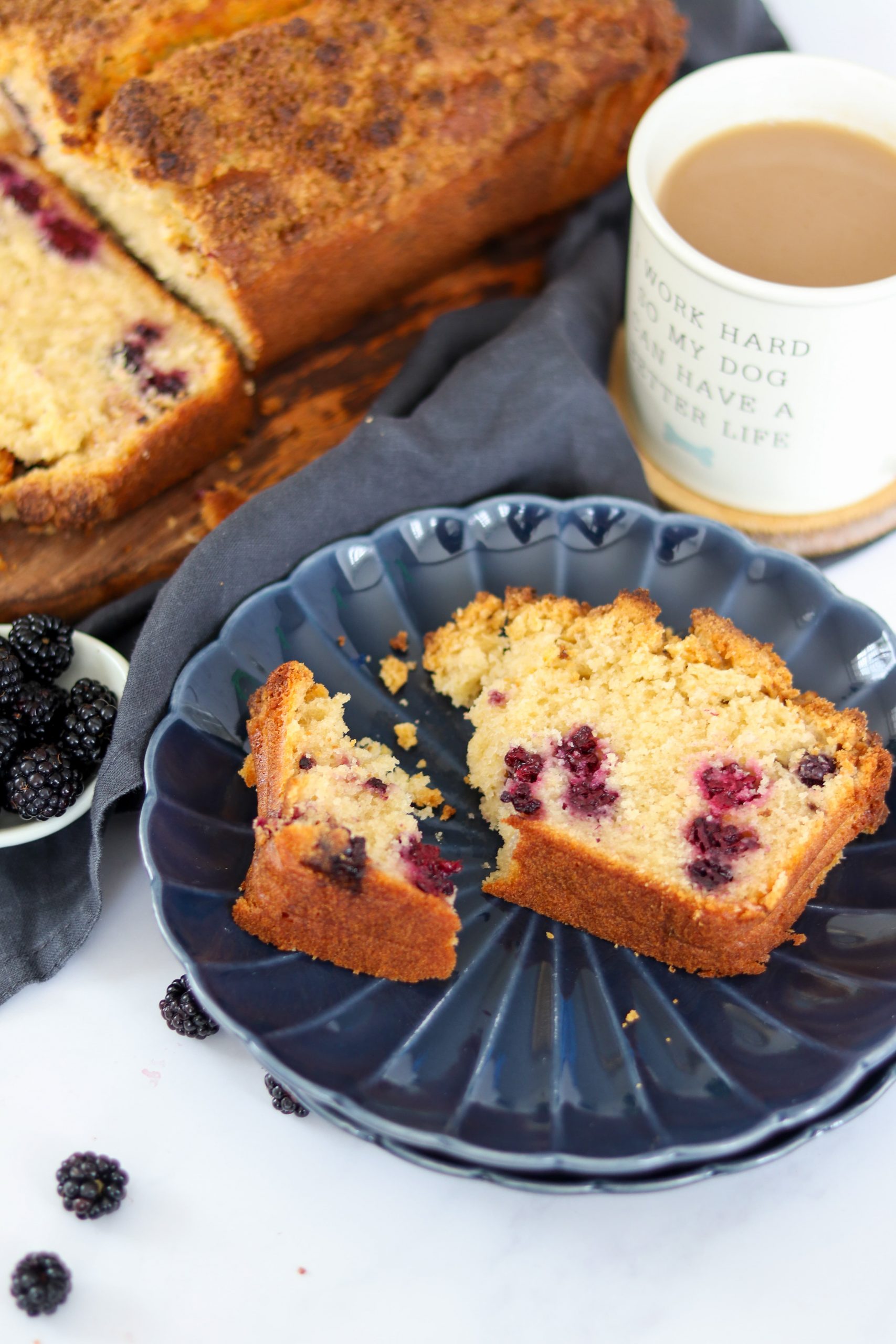 why add a crumble topping?
I associate blackberries with a crumble (or crisps if you're from the US). It is what so many of us make with the blackberries we have so lovingly picked.
That is why I wanted to add a crumble element to my blackberry cake. It worked so well with my Rhubarb Crumble Muffins and Rhubarb Crumble Cake Bars, I knew it would be delicious in this too!
You have the fluffy cake studded with juicy blackberries topped with a crisp crumble. Delicious!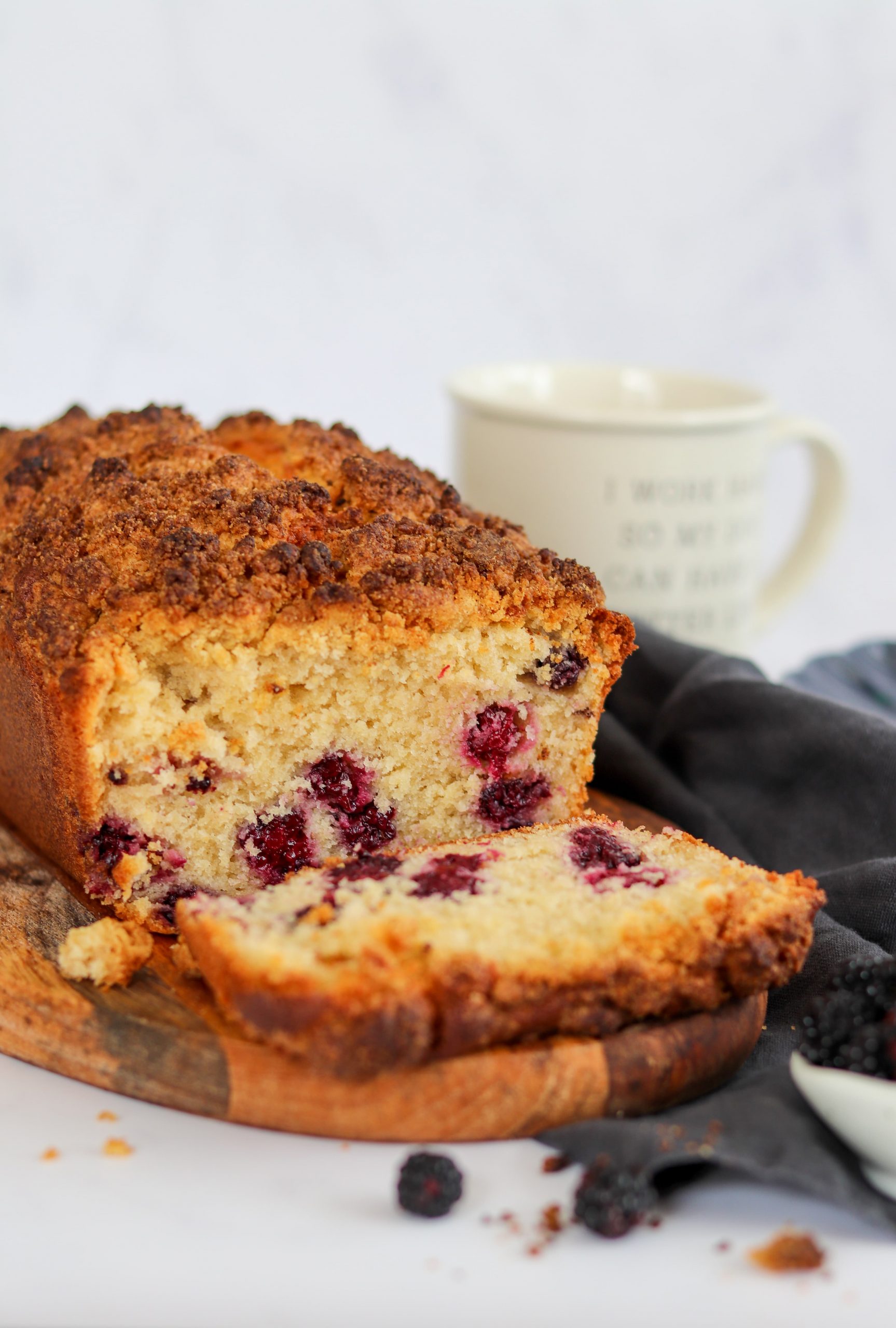 Loaf cakes are underrated
I love a loaf cake and don't think they get made enough.
Yes they may not be as fancy looking as some other layered cakes with buttercream and sprinkles; but they are simple and delicious.
As well as being tasty, they are also incredibly easy to make! You mix the cake ingredients together, scatter with the crumble topped and then put it in the oven. Once it is cooled, it's finished.
There is no additional effort or time needed to decorate which is fantastic if you are busy and just want a delicious no fuss cake.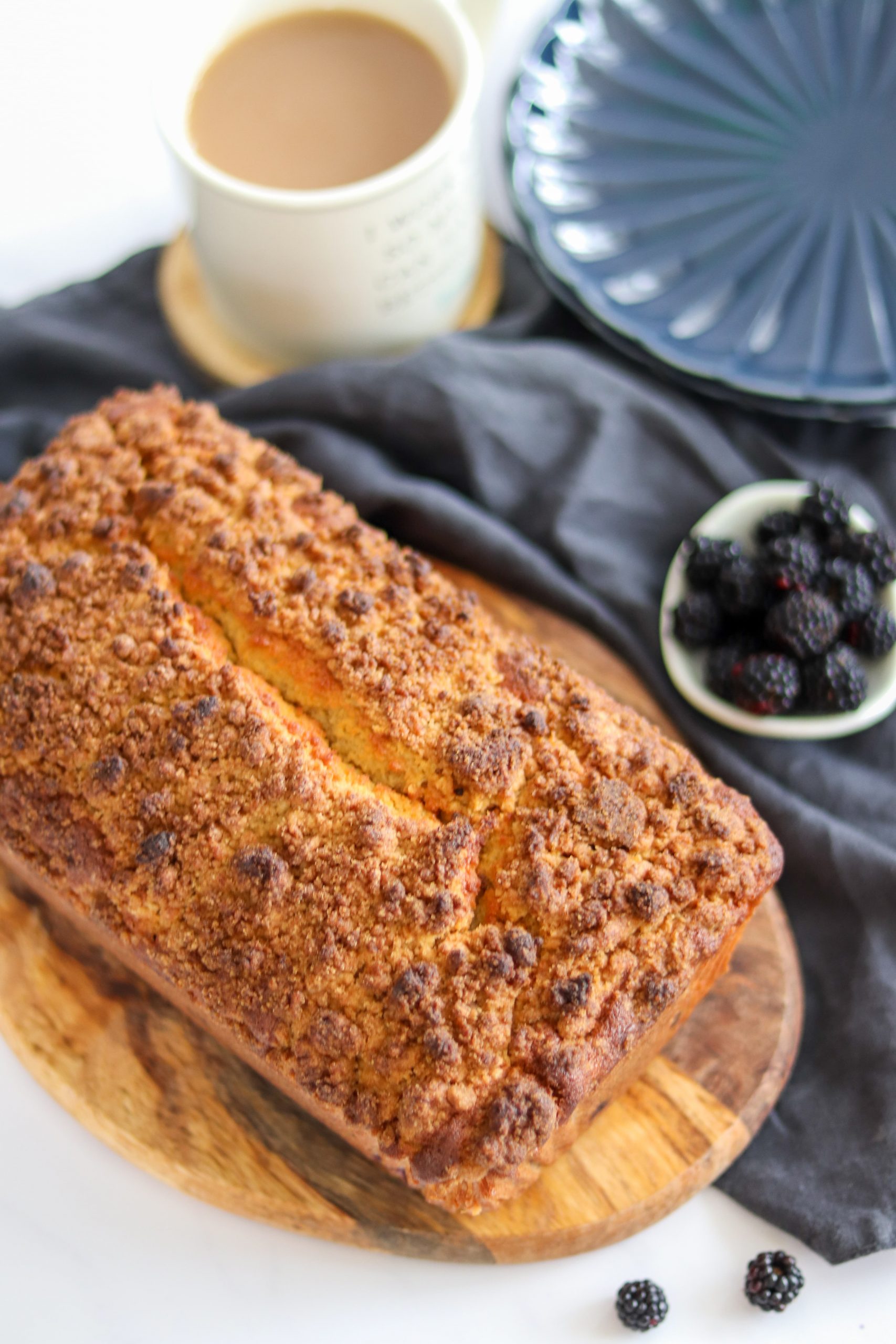 Can frozen blackberries be used?
If you don't want to go blackberry picking or can't get hold of any fresh blackberries, you can use frozen.
Add them to the cake straight from the freezer, they don't need to be defrosted first.
Frozen blackberries will weigh more so you might not need to add the full quantity below. Start with 150g and add more if you want.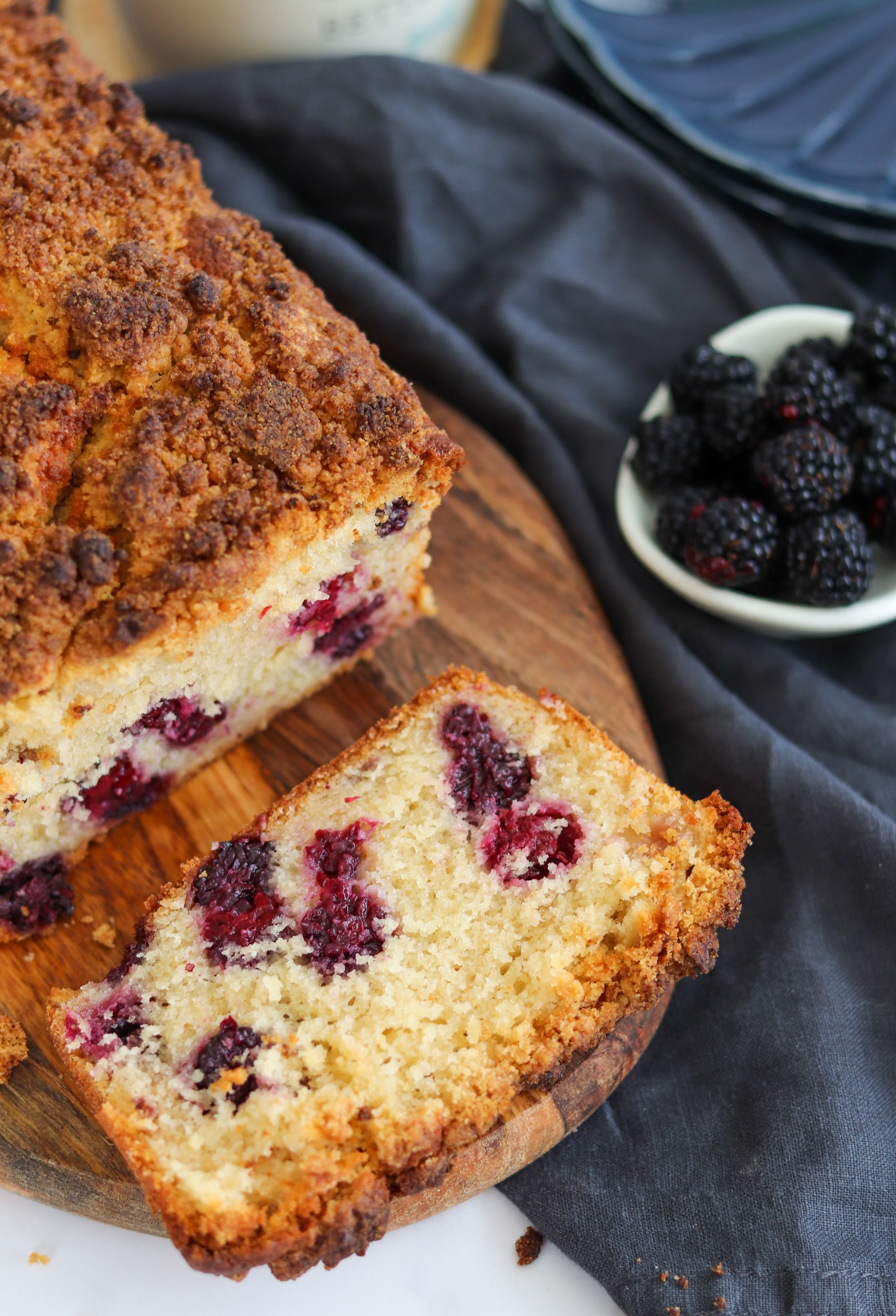 why do my blackberries sink?
When using fruit in cakes it does have the tendency to sink to the bottom of the cake.
My blackberries were grouped towards the bottom of the cake slightly more, but I was happy with their distribution through the cake.
If when you make this Blackberry Crumble Loaf Cake all of your blackberries sink to the bottom, you can dust them lightly in flour before adding them to the cake mix. This will hopefully stop them sinking whilst baking.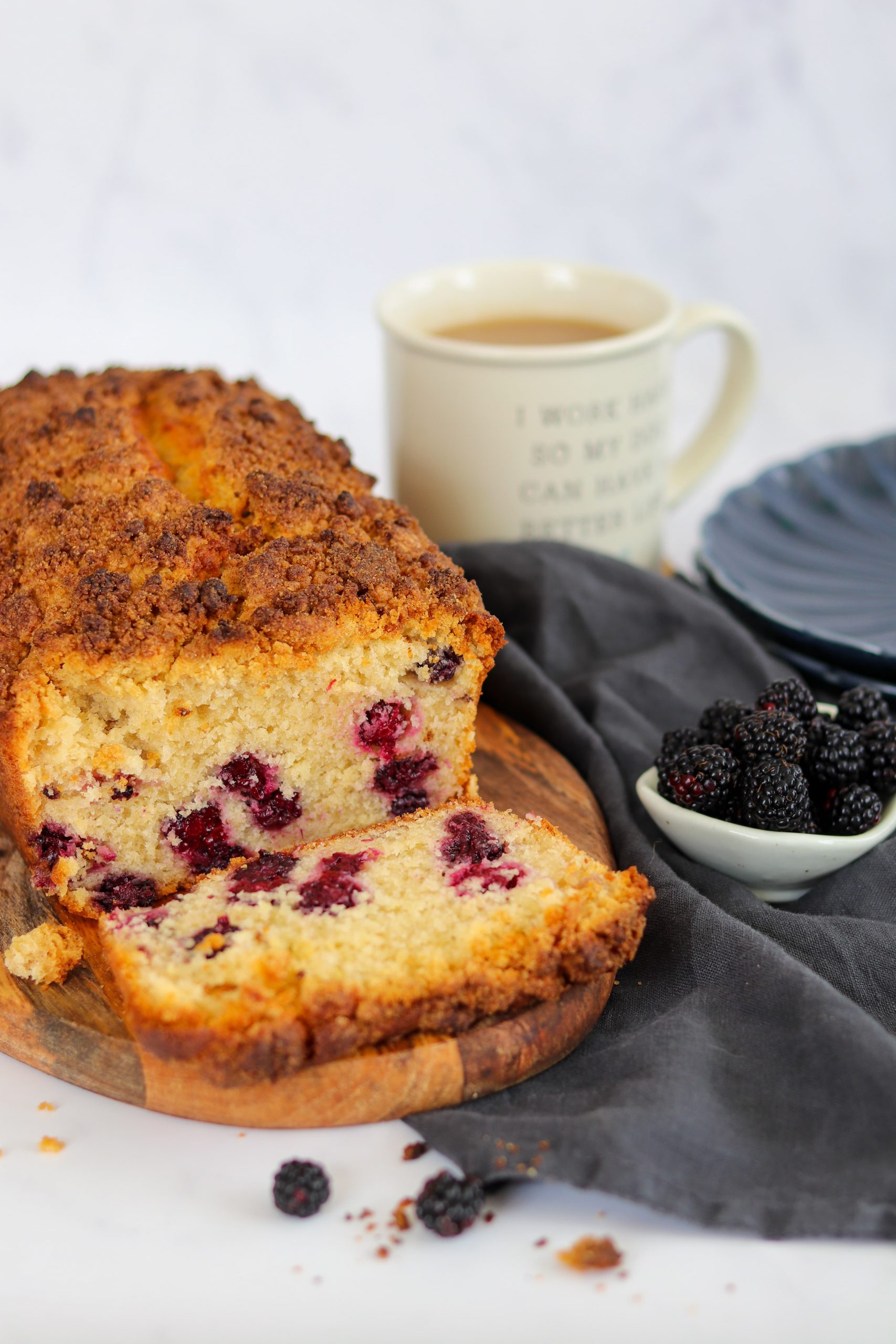 Margarine or butter?
For this Blackberry Crumble Loaf Cake you can use either margarine or unsalted butter.
I prefer to use margarine because I don't have to remember to leave the butter out to soften before I bake. It is easy to beat with the sugar straight from the fridge.
I also prefer to use margarine for the crumble topping as it is really easy to rub into the flour and sugar.
You can definitely use unsalted butter instead if you prefer. I would just recommend taking it out of the fridge around an hour before to soften.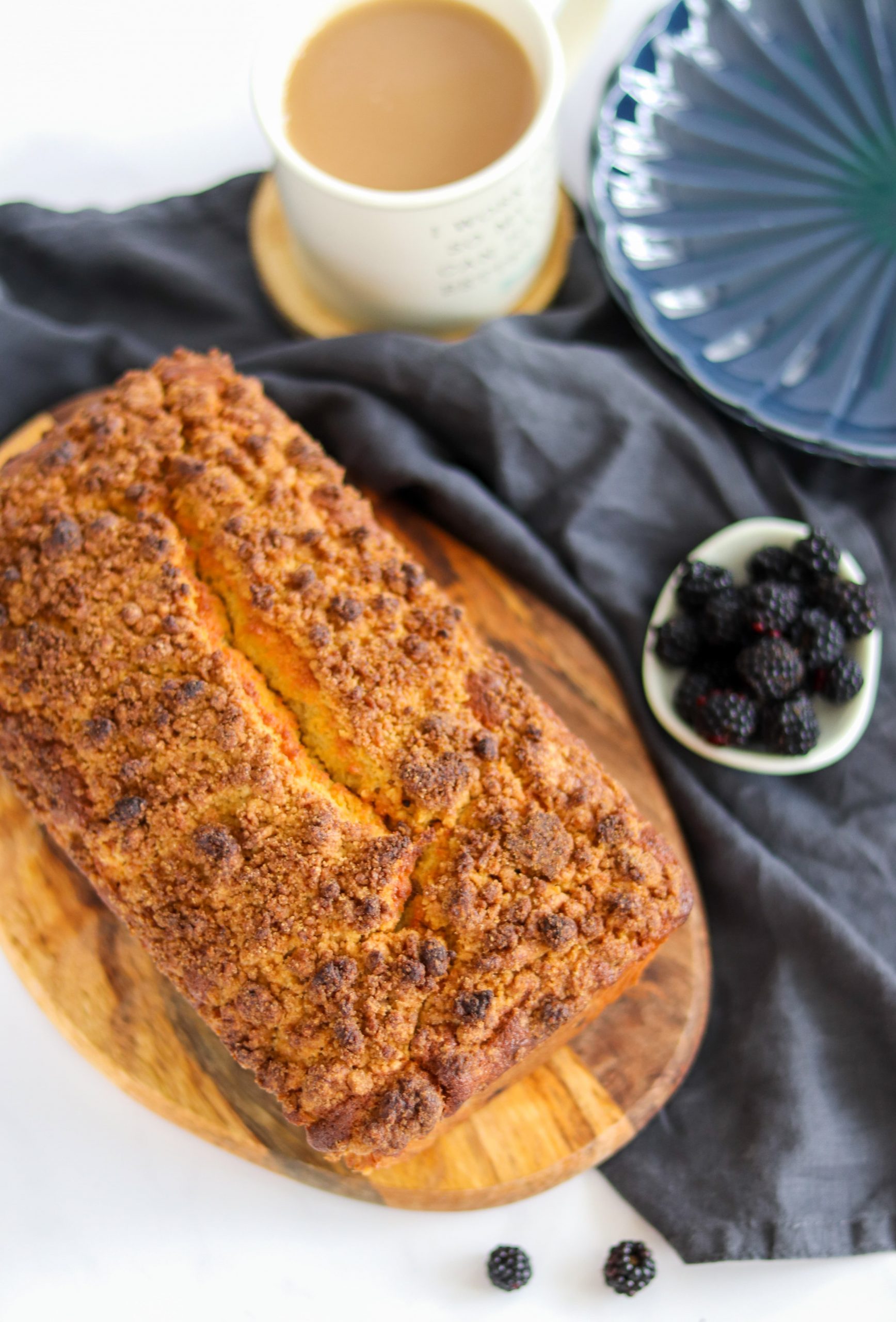 What to do if your crumble is getting too dark
If your cake hasn't finished cooking but the crumble topping is starting to look a little dark, don't panic!
Loosely cover the top of the cake with foil and put it back in the oven to continue baking.
It doesn't matter if you have some darker patches of crumble as these are tasty, but you don't want them to burn!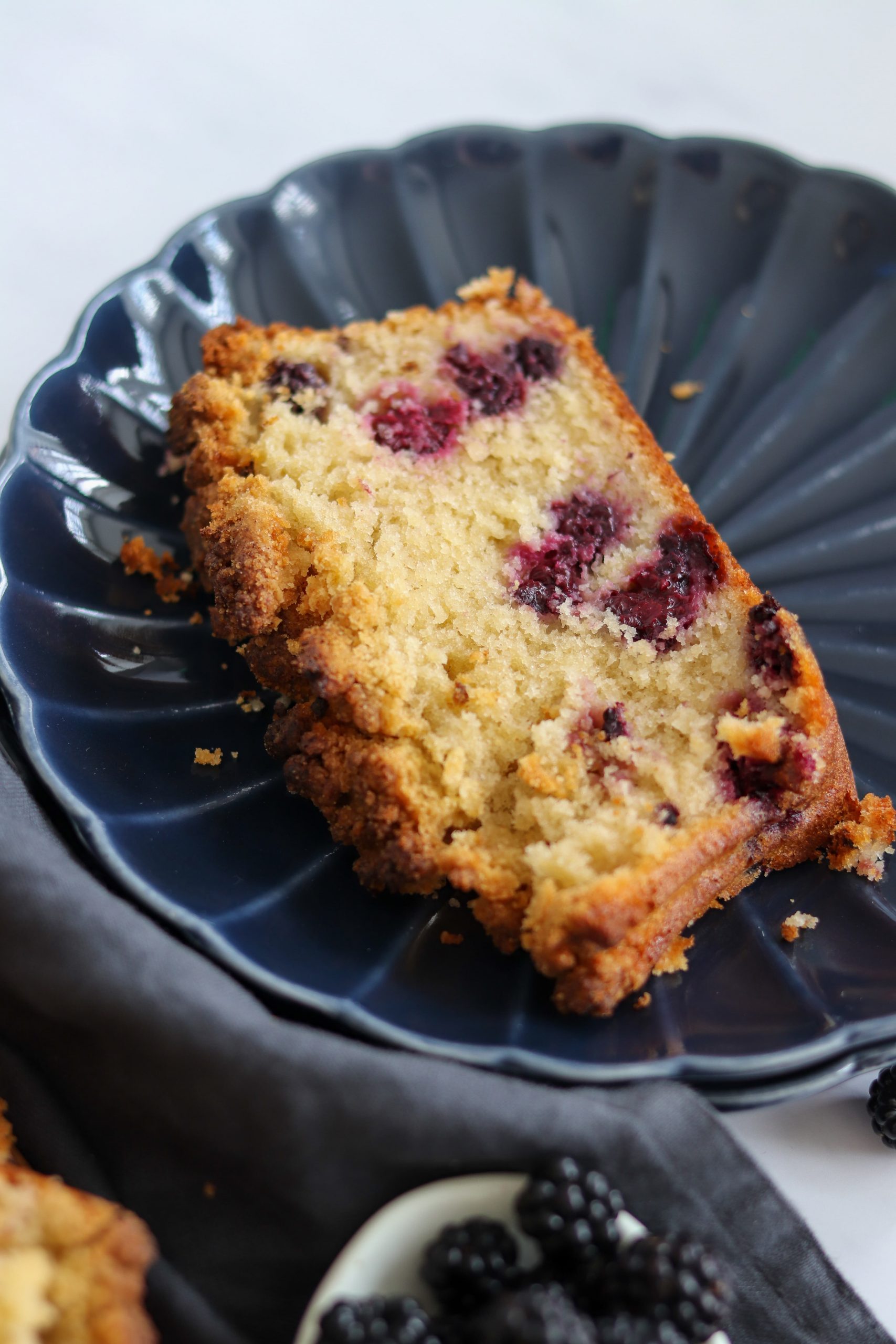 How many people does this cake serve?
I think this Blackberry Crumble Loaf Cake will serve twelve people. However that does depend how big you cut the slices!
How long does this blackberry crumble loaf cake last?
This cake is naturally quite moist so it will keep in an airtight container for 4-5 days.
You can also freeze the whole cake or part of the cake. I would recommend wrapping them tightly in baking paper and then adding them to a freezer safe container.
The cake can be frozen for up to three months. Allow it to defrost at room temperature for a few hours.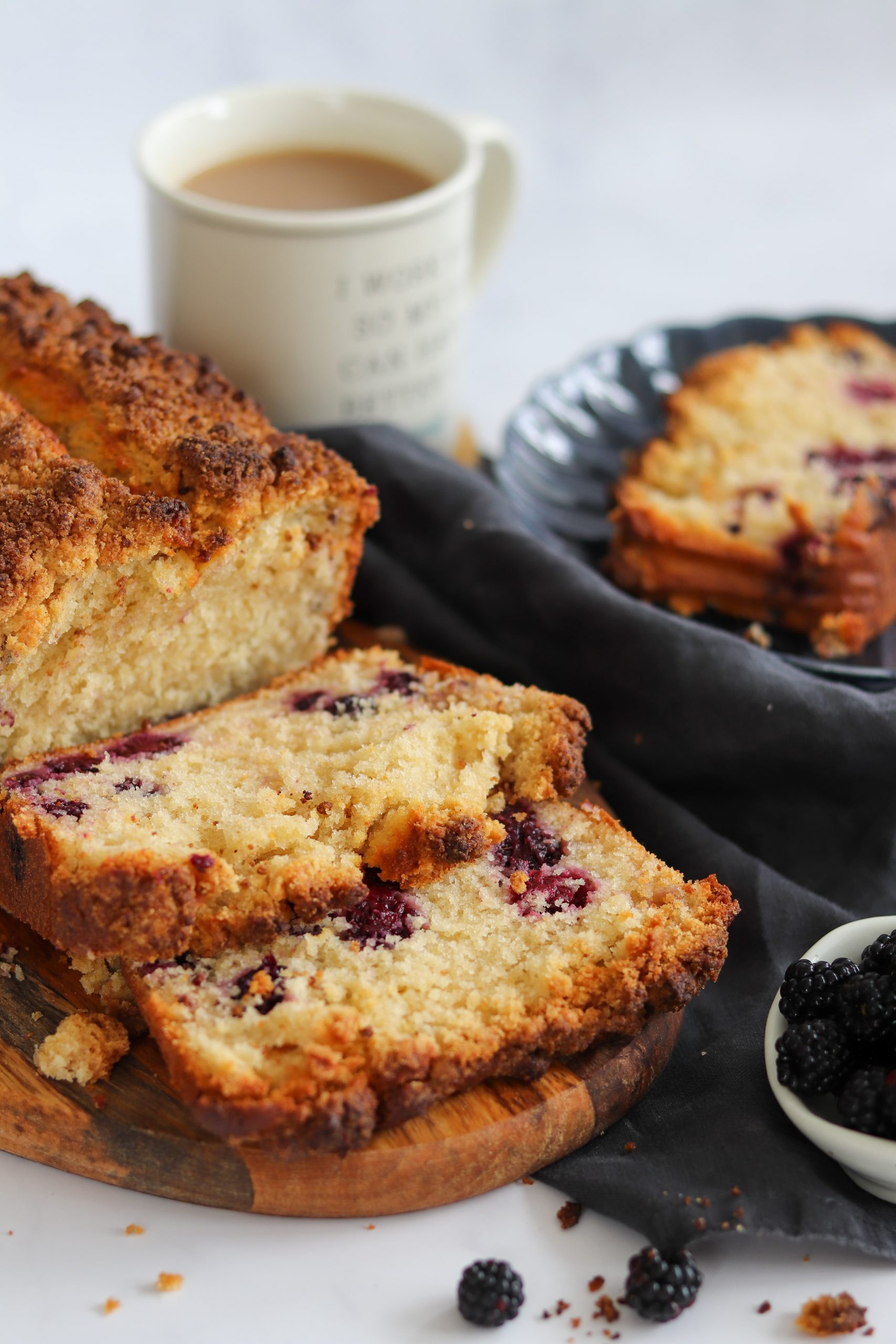 How to serve this cake?
Obviously you can eat this Blackberry Crumble Loaf Cake as it is. It makes the perfect cake to eat with a cup of tea or coffee snuggled under a blanket on the sofa.
This cake can also be served as a dessert. It would also be delicious served slightly warmed through with custard or cream.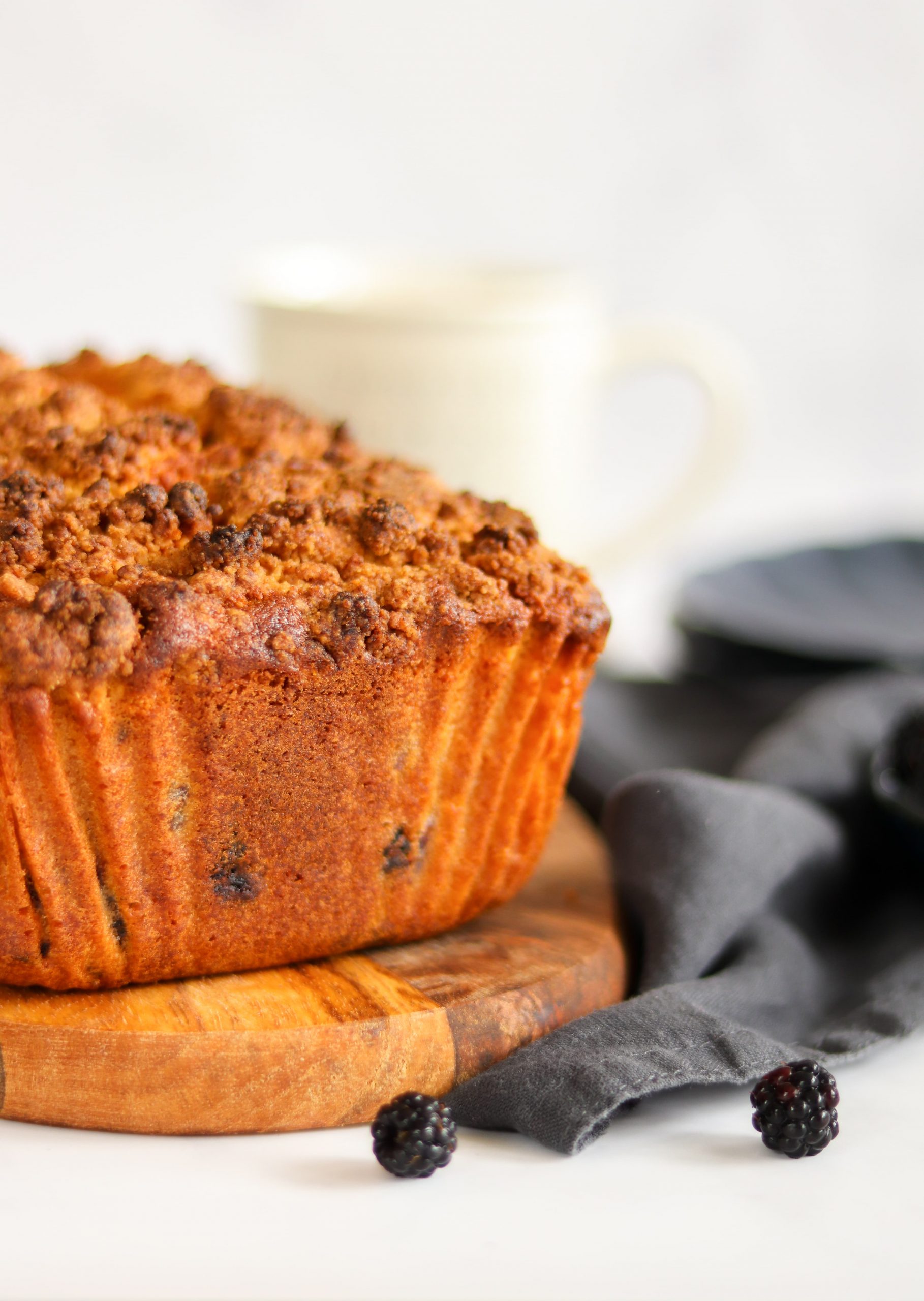 Other recipes you might like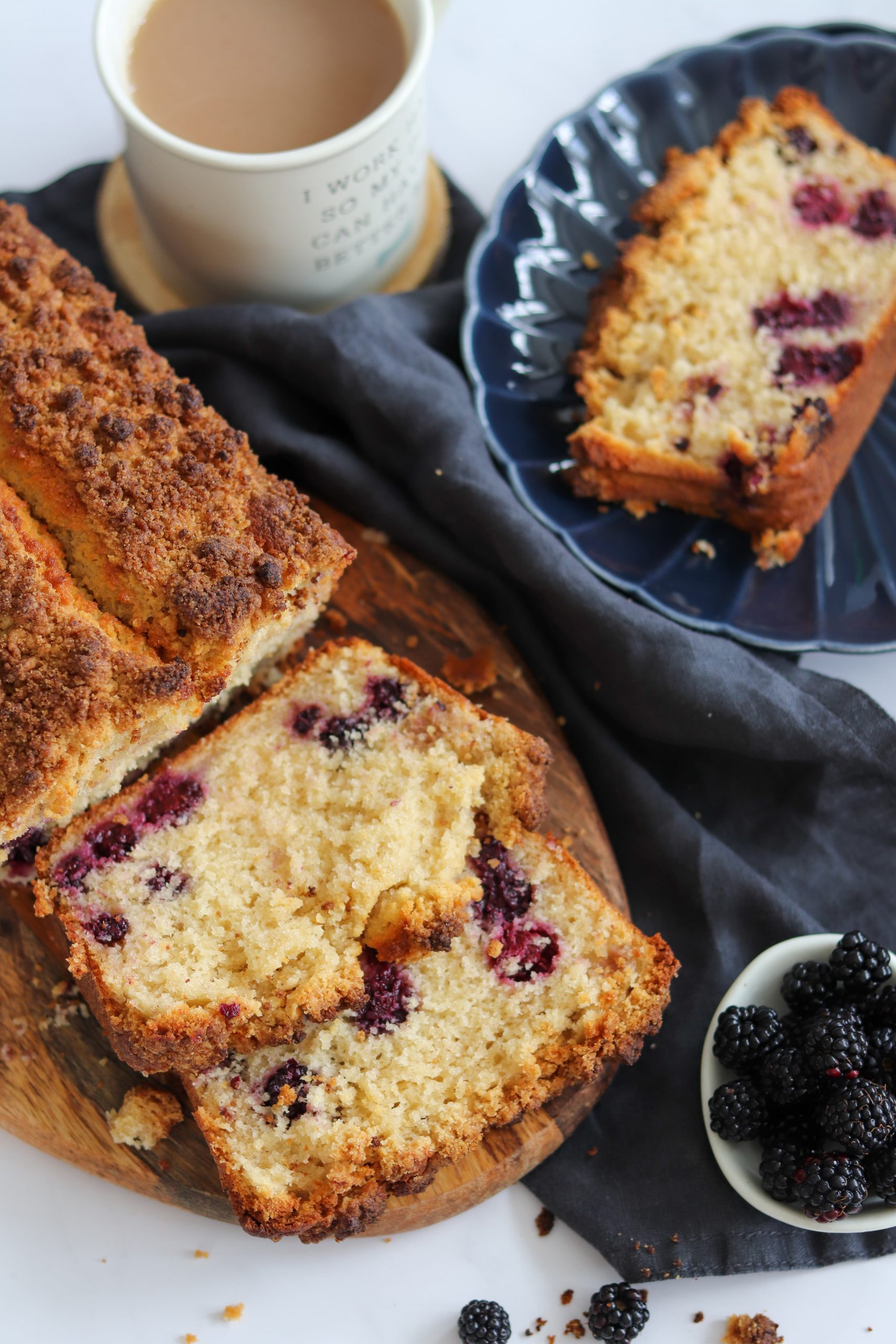 Pin for later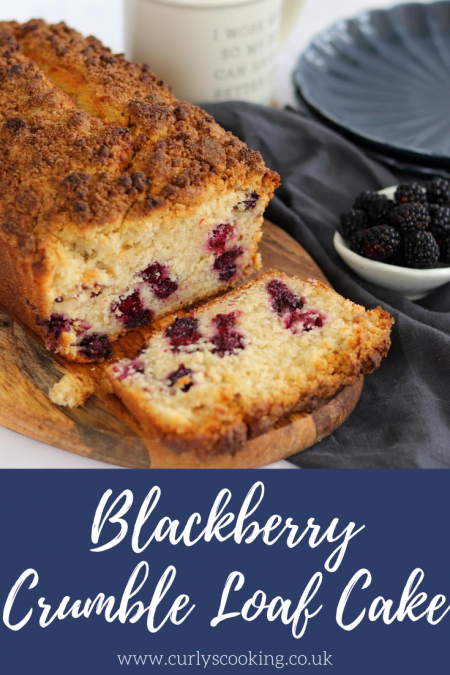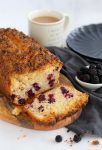 Blackberry Crumble Loaf Cake
Make the most of your foraged blackberries by making this delicious Blackberry Crumble Loaf Cake. A fluffy cake studded with juicy blackberries topped with crisp crumble.
Total Time
1
hour
30
minutes
Ingredients
For the crumble topping
70

g

self raising flour

45

g

margarine

25

g

light brown sugar
For the cake
225

g

margarine

200

g

caster sugar

3

eggs

2

tsp

vanilla extract

250

g

plain flour

1½

tsp

baking powder

pinch

of salt

120

g

fat free yogurt

200

g

blackberries
Instructions
Preheat the oven to 170ºC (fan assisted or 190ºC non fan) and line a 2lb loaf tin

Add the flour, sugar and margarine to a bowl. Rub the margarine into the flour and sugar until you get a breadcrumb consistency. Set aside

Cream the margarine and sugar together until pale and fluffy, usually around 5 minutes

Add the eggs and vanilla and mix

Add in the flour, baking powder and salt and mix until completely combined

Spoon in the yogurt and mix until just combined

Fold the blackberries through the cake mix making sure you are gentle

Tip the cake into the tin and smooth the top

Sprinkle over the crumble topping and bake in the oven for 55-60 minutes until a cocktail stick comes out clean

Leave to cool in the tin for 30 minutes or so before tipping out and allowing to cool completely on a wire rack
Recipe Notes
Keep the cake in an airtight container for 3 – 4 days.
If the cake is browning too much on top, loosely wrap it in foil.
Nutritional information is given as a guide only and can vary.
Nutrition Facts
Blackberry Crumble Loaf Cake
Amount Per Serving
Calories 362
Calories from Fat 180
% Daily Value*
Fat 20g31%
Cholesterol 41mg14%
Sodium 238mg10%
Potassium 167mg5%
Carbohydrates 42g14%
Protein 5g10%
Vitamin A 900IU18%
Vitamin C 4mg5%
Calcium 70mg7%
Iron 1mg6%
* Percent Daily Values are based on a 2000 calorie diet.
Linking to