These Banana & Peanut Butter Muffins are light and fluffy with the delicious combination of peanut butter and bananas. Great for breakfast on the go!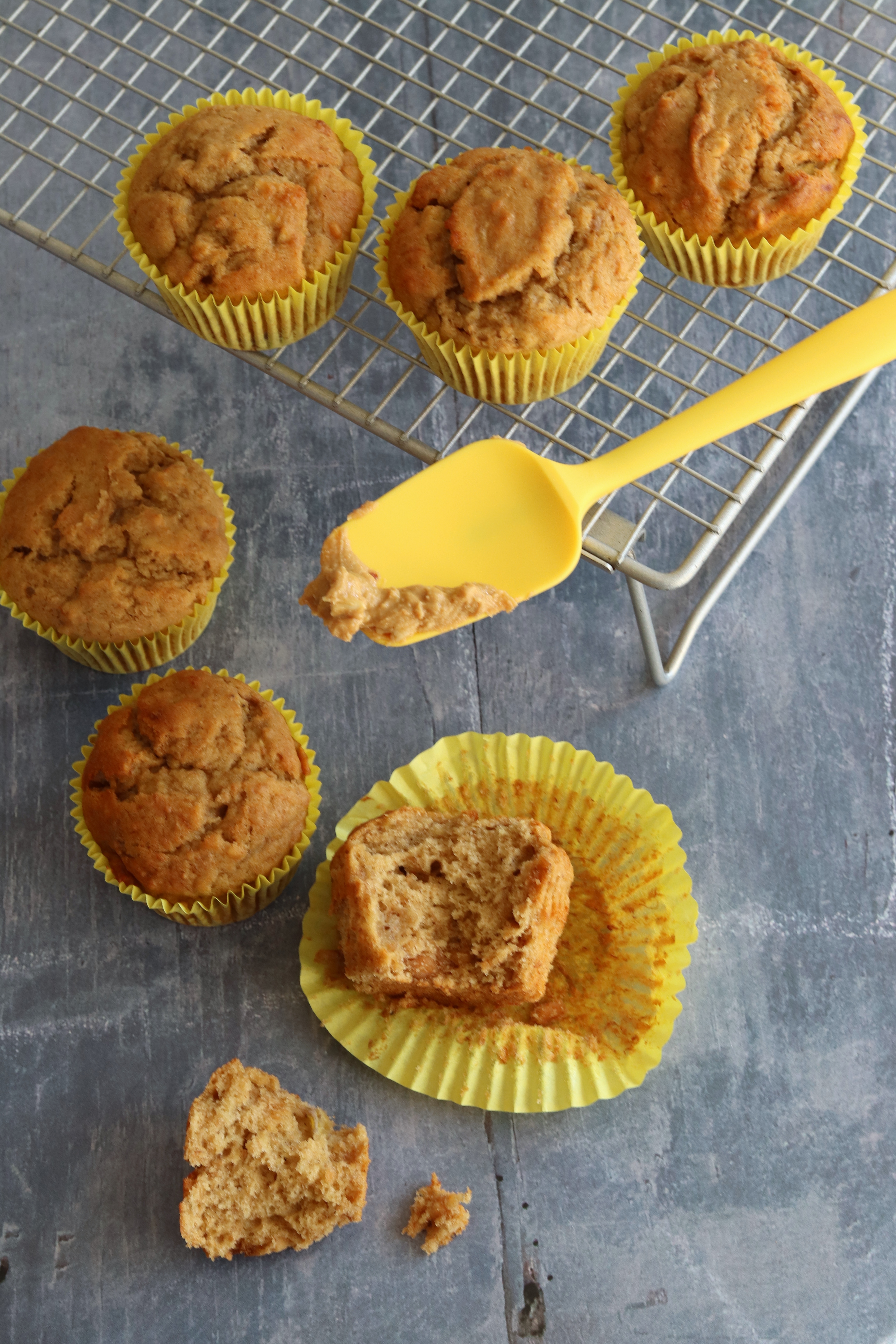 Who doesn't have a few old bananas lurking around? As I have mentioned before in my Peanut Butter & Chocolate Banana Bread post, I certainly always seem to. This is why I wanted to come up with another way to use up those pesky old bananas.
Banana Bread is lovely, but sometimes you don't have an hour to leave something in the oven for. These Banana & Peanut Butter Muffins take half the time but are still just as fluffy and tasty! As they are muffins, they are more easily portable which makes them perfect for breakfast on the go.
I have added some wholemeal flour to these muffins which is slightly more coarse than ordinary plain flour. I think this works well in the muffins along with the crunch of the peanut butter. It is also a healthier type of flour which makes me feel like I'm not being as naughty as I stuff muffins into my mouth! Wholemeal flour does tend to provide a drier texture which is why I have used a mix. Feel free to just use plain flour if you would prefer.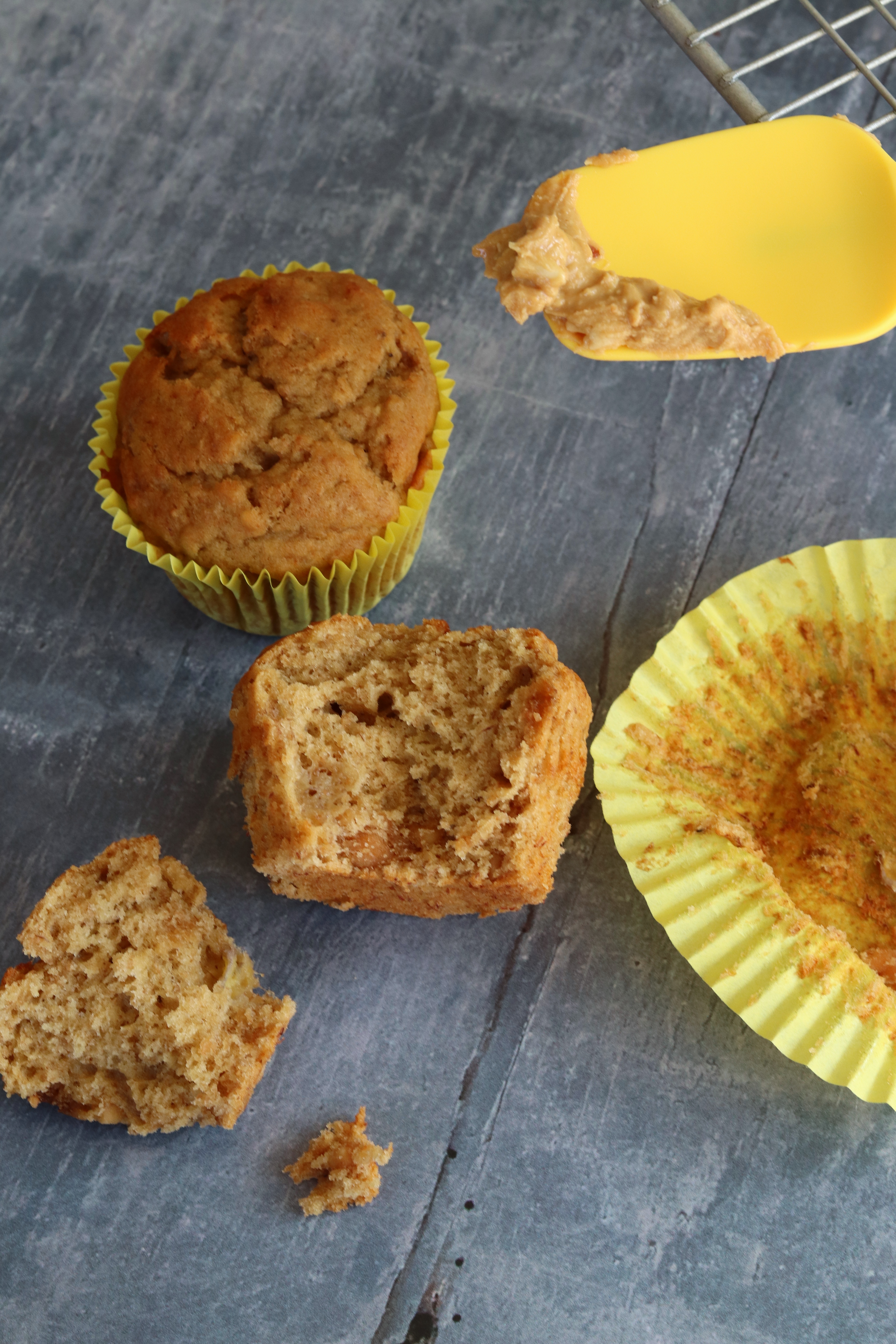 Another advantage of these Banana & Peanut Butter Muffins are that they freeze really well. This recipe makes 12 muffins and unless you're making them for a lot of people, you may not eat them quickly enough before they start going past their best. This is why I like to freeze the muffins by individually wrapping them in cling film and then putting them all in a large freezer bag. You can then take one out and defrost it overnight or even in a couple of hours and you have a tasty moist muffin ready to eat.
You do need a large muffin liner for these and not one of the smaller cupcake liners. Muffins are meant to be large and proud so don't worry about filing the muffin liners to the top.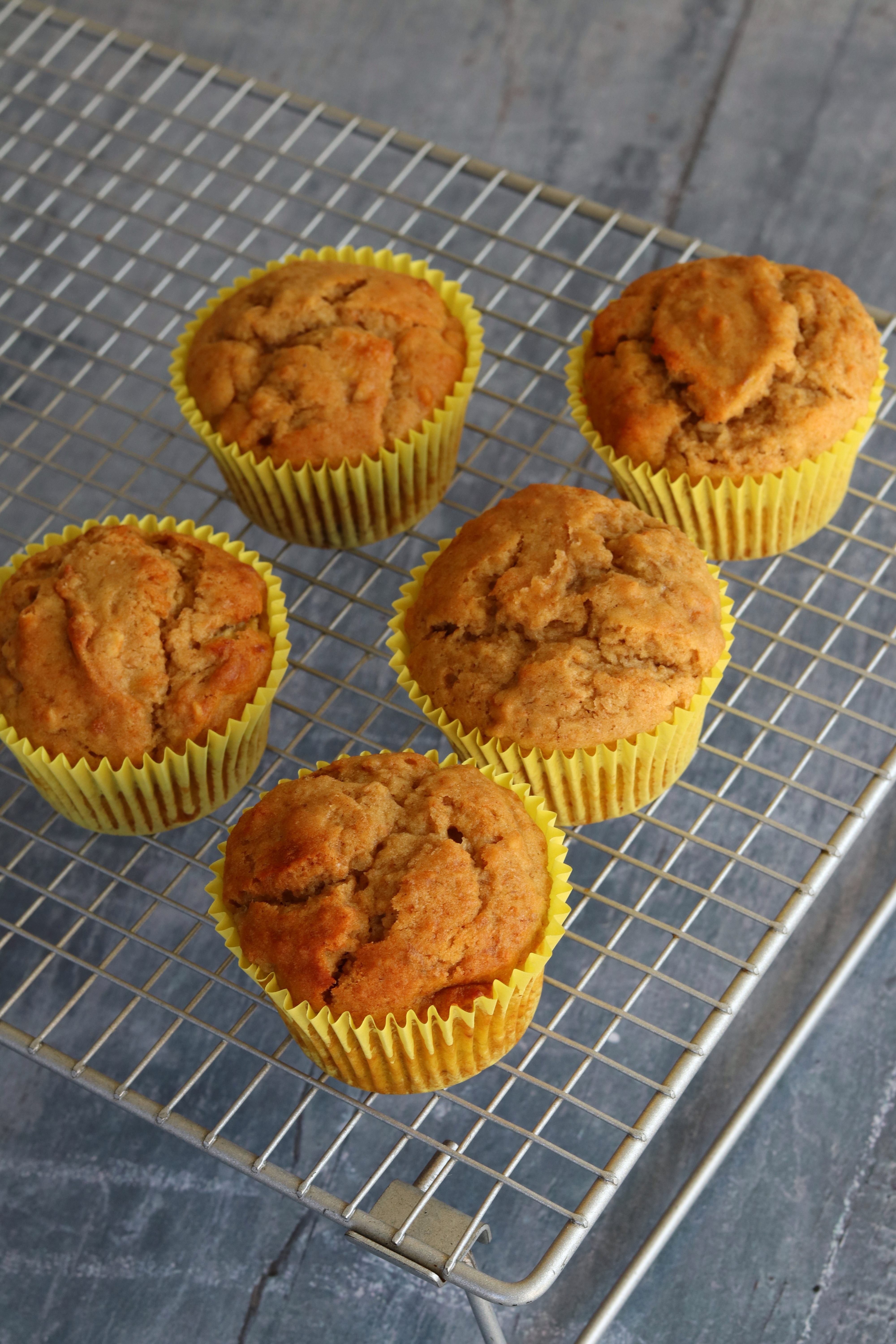 Makes 12
125g margarine
100g light brown sugar
50g dark brown sugar
2 eggs
150g plain flour
100g wholemeal flour
2 tsp baking powder
Pinch of salt
250g bananas, mashed
130g crunchy peanut butter
2 tbsp milk
Preheat the oven to 160ºC (fan assisted or 180ºC non fan) and add muffin liners to a muffin tin
Beat the margarine and sugar together for at least 5 minutes until pale and fluffy
Add the eggs and mix again
Add the flours, baking powder and salt and stir into the butter until the flour is nearly combined, but not quite
Mash the bananas roughly with a fork and add them to the mix along with the peanut butter and milk. Mix until combined
Divide the mix between the 12 muffin liners and bake in the oven for 25-30 minutes or until a cocktail stick comes out clean and the muffins are light brown
Allow to cool for around 10 minutes before removing from the tin and leaving to cool on a wire rack