You will either love or hate these Cheese & Marmite Palmiers! Flaky puff pastry with the tasty flavours of cheese and Marmite – I am certainly in the love team!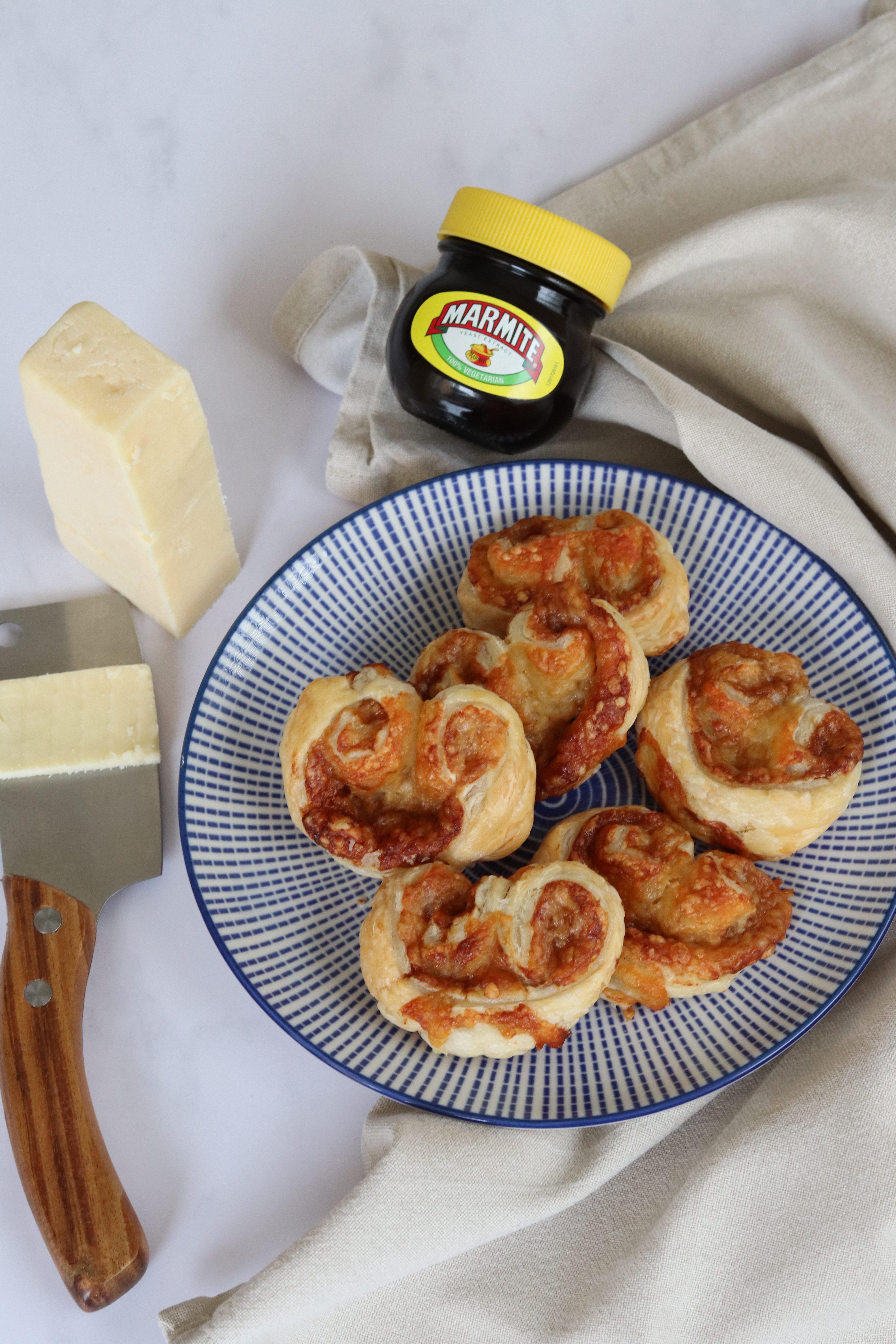 These Cheese & Marmite Palmiers will definitely not be for everyone. As the saying goes, you either love or hate Marmite and I am obviously in the love team.
Cheese and Marmite are a classic combination. I remember my Dad making my sister and I Marmite and cream cheese sandwiches for school which we both loved. I must admit this isn't a sandwich filling I tend to have very often anymore, but I did want to recreate the flavours.
We are hopefully going to be getting some more Spring-like weather now which means we can start enjoying picnics and eating outside. Picnics are a great British institution but unfortunately we don't always have the weather to make the most of them! These Cheese & Marmite Palmiers make a great snack for lunch and are easily portable if the weather does stay good enough for a picnic!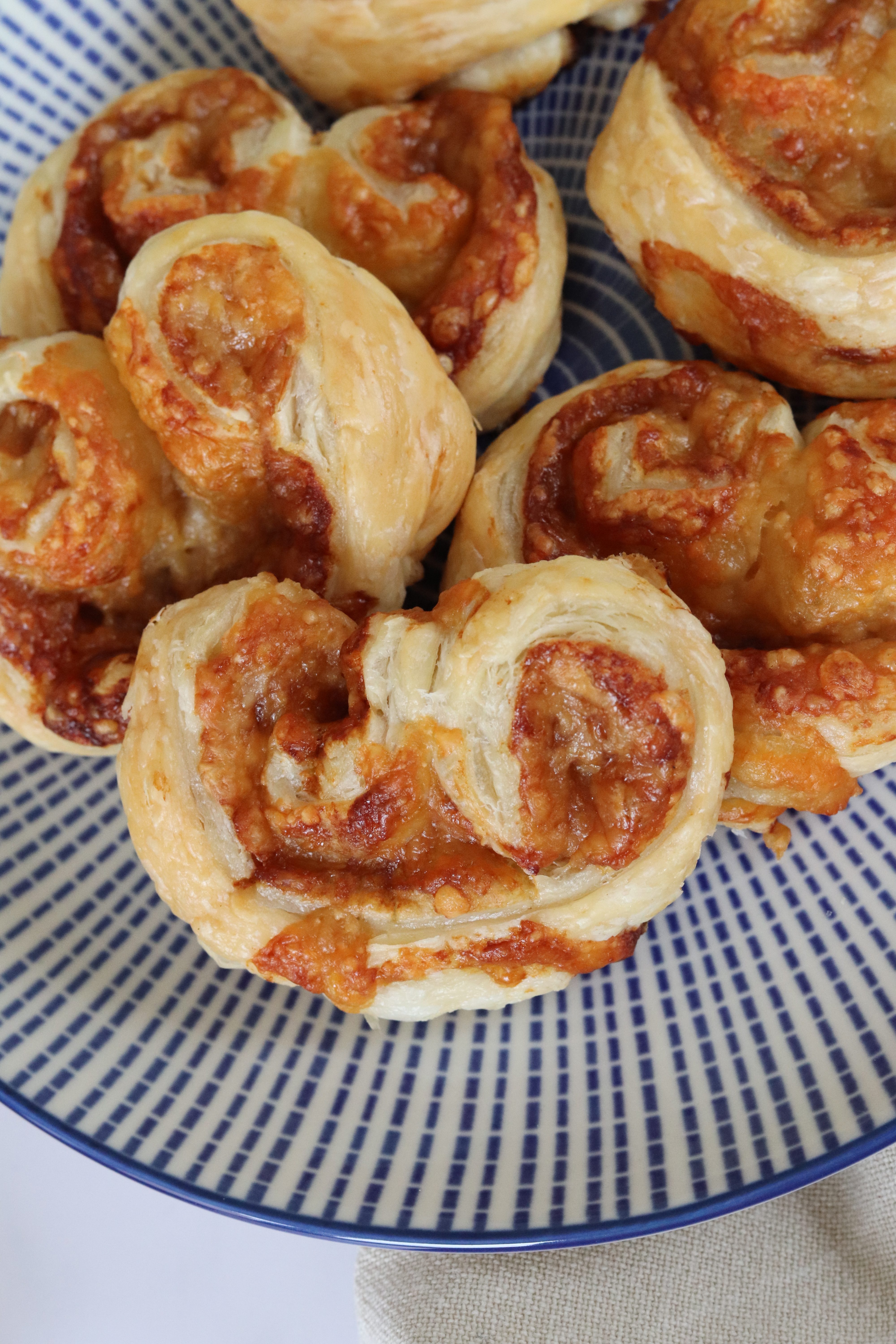 You can use whichever cheddar you prefer, but if you would like my recommendation it would be extra mature cheddar. It has a delicious saltiness which works really well with the Marmite and will make it very hard for you to stop eating them!
I first made these using a silicone baking mat – don't! The butter mixed with the Marmite seeps out as you would expect during cooking and the silicone mat stops this draining away from the palmiers and means they sit in a puddle of butter. As delicious as this may sounds, it stops them from becoming deliciously crisp. So make sure you just spray a baking tray with oil and you will have perfect palmiers!
These palmiers are homemade and I don't think there is anything wrong with them looking that way. Not all of mine had the perfect palmier shape but they still looked good and they definitely tasted yummy!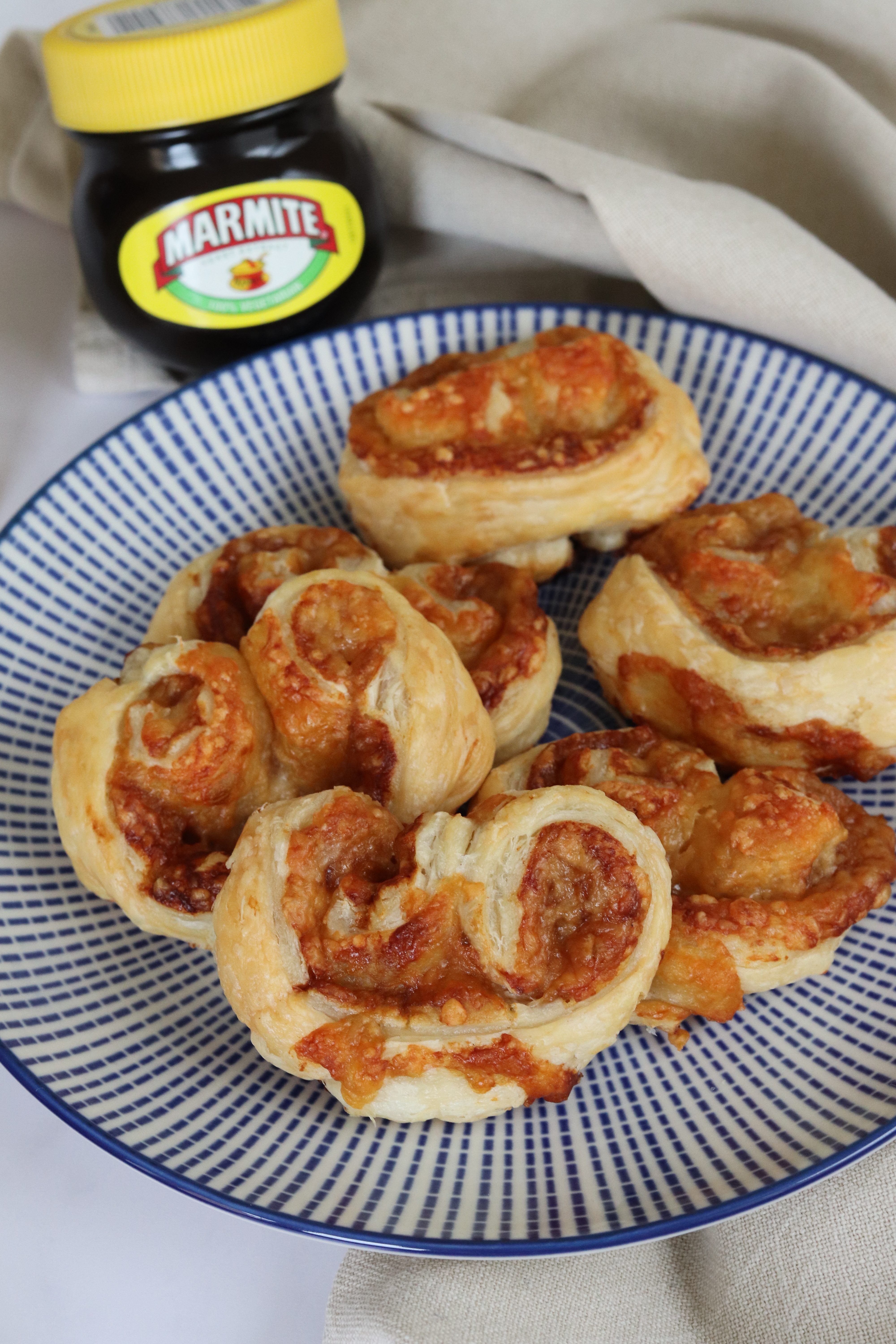 Makes 24
375g puff pastry, ready rolled
100g cheddar, grated
40g butter, softened
2 tsp Marmite
1 tbsp milk
Spray oil
Unroll the pastry and using a rolling pin, roll until it is 2-3mm thick keeping it on the baking paper it comes with
Make sure your butter is very soft – you might need to put it in the microwave for 20 seconds so that it is really soft but not melted. Mix the butter with the Marmite until it is a smooth paste
Spread the Marmite paste across the pastry and then sprinkle with the grated cheese
Starting from the long end closest to you, tuck the pastry over as tight as you can. Then using the baking paper roll the rest of the pastry to the middle of the pastry sheet
Then repeat with the other long end to the two sides of the pastry meet in the middle
Leave to chill in the fridge for 10 minutes
Preheat the oven to 190ºC fan assisted (170ºC non fan) and spray 2 trays with oil
Take the pastry out of the fridge and slice into rounds around 1cm in thickness
Place the pinwheels on the oiled baking trays and brush with the milk or egg
Pin for laterLinking to