Deliciously light and fluffy muffins with tasty roasted rhubarb and finished with a crumble topping. These Rhubarb Crumble Muffins are a new way to enjoy a popular dessert.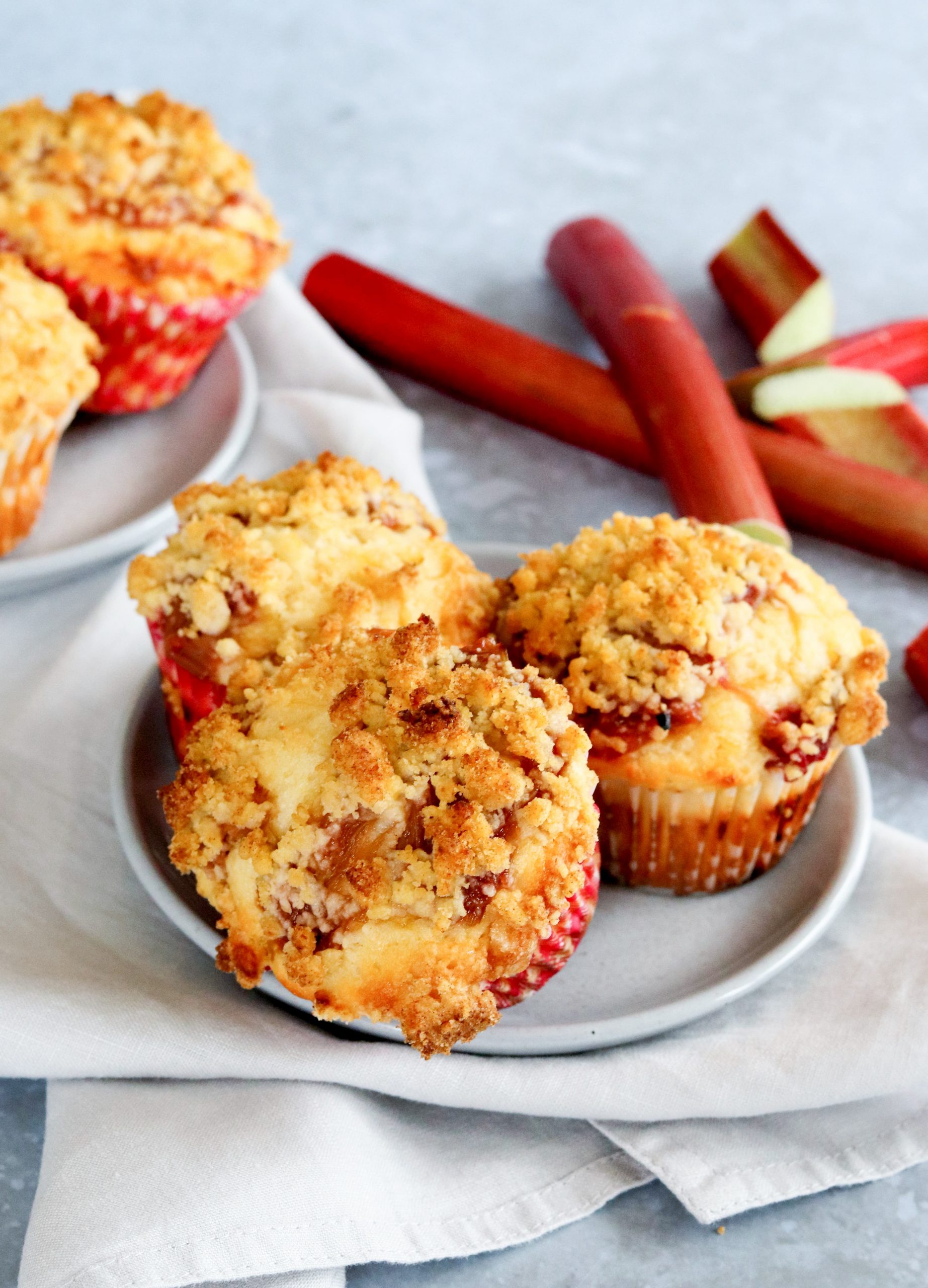 What is rhubarb and when is it available?
Rhubarb is a leafy green plant with pink stalks. The leaves are inedible as they are poisonous and it is the stalks that are eaten. Technically it is a vegetable but it is largely considered a fruit because it is usually used in desserts and cooked with sugar.
You can grow and buy forced or unforced rhubarb. Forced rhubarb is grown in the dark which promotes the plant to produce lighter pink, sweeter stalks.
Forced rhubarb is in season first, usually around mid January until March. This is popularly grown in Yorkshire in the UK and is well known for it's fantastic bright pink colour.
Rhubarb that isn't forced comes into season in March until September. This is the rhubarb that I tend to use because my parents and Mr Curly's Nan both grow it.
The stems are a mix of green and pink so don't have the same vibrancy. It can also be a little more tart but it is always delicious when I have used it.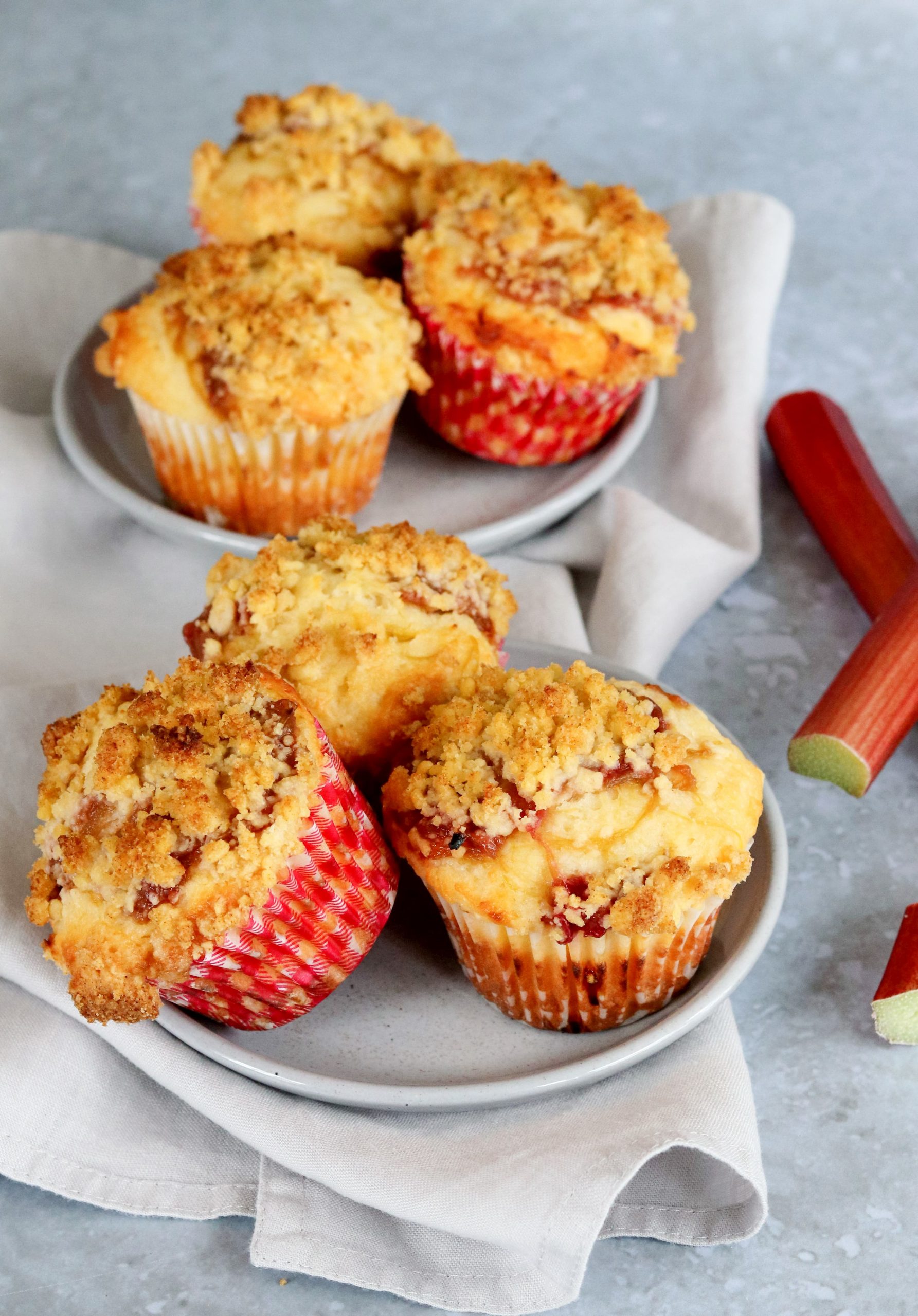 What are rhubarb crumble muffins?
Who doesn't love a Rhubarb Crumble?! It is probably what most people think of when they think of rhubarb. It is a British classic that is so comforting and delicious.
So why not make it into a muffin? These Rhubarb Crumble Muffins are a fluffy muffin topped with roasted rhubarb and then sprinkled with crumble.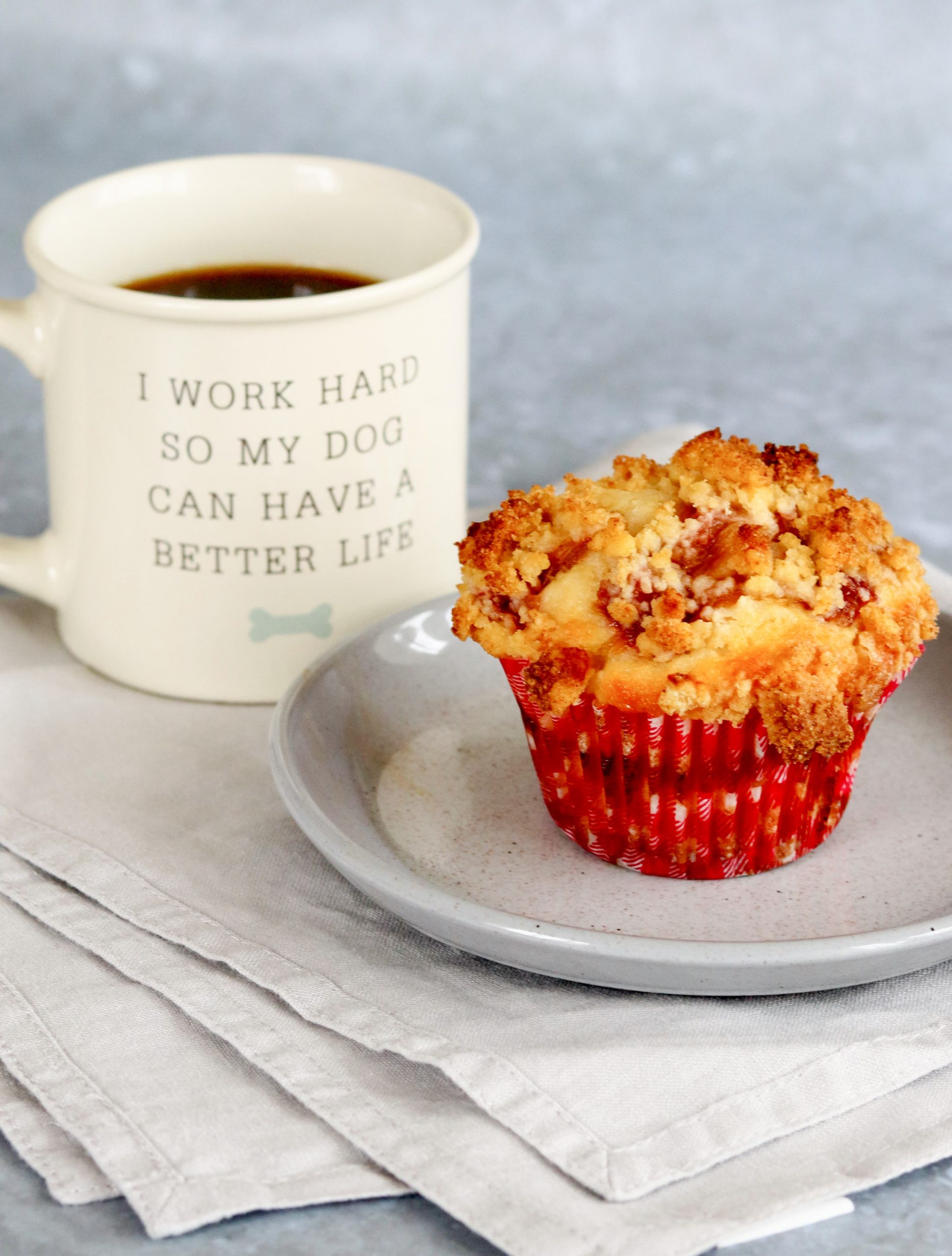 Why roast the rhubarb?
Roasting rhubarb is a great way of using it in baking. Adding raw rhubarb to a cake could mean the liquid from the rhubarb seep into the cake. This excess juice could make the cake soggy – not ideal!
I decided to add the roasted rhubarb to the top of the muffins instead of mixing it through the batter. If you wanted to, you could ripple it through the muffin mix.
My only reason not to do this was I didn't want it's flavour to be lost. By adding it to the top of the muffin and then adding the crumble on top, you also don't loose the lovely pink colour.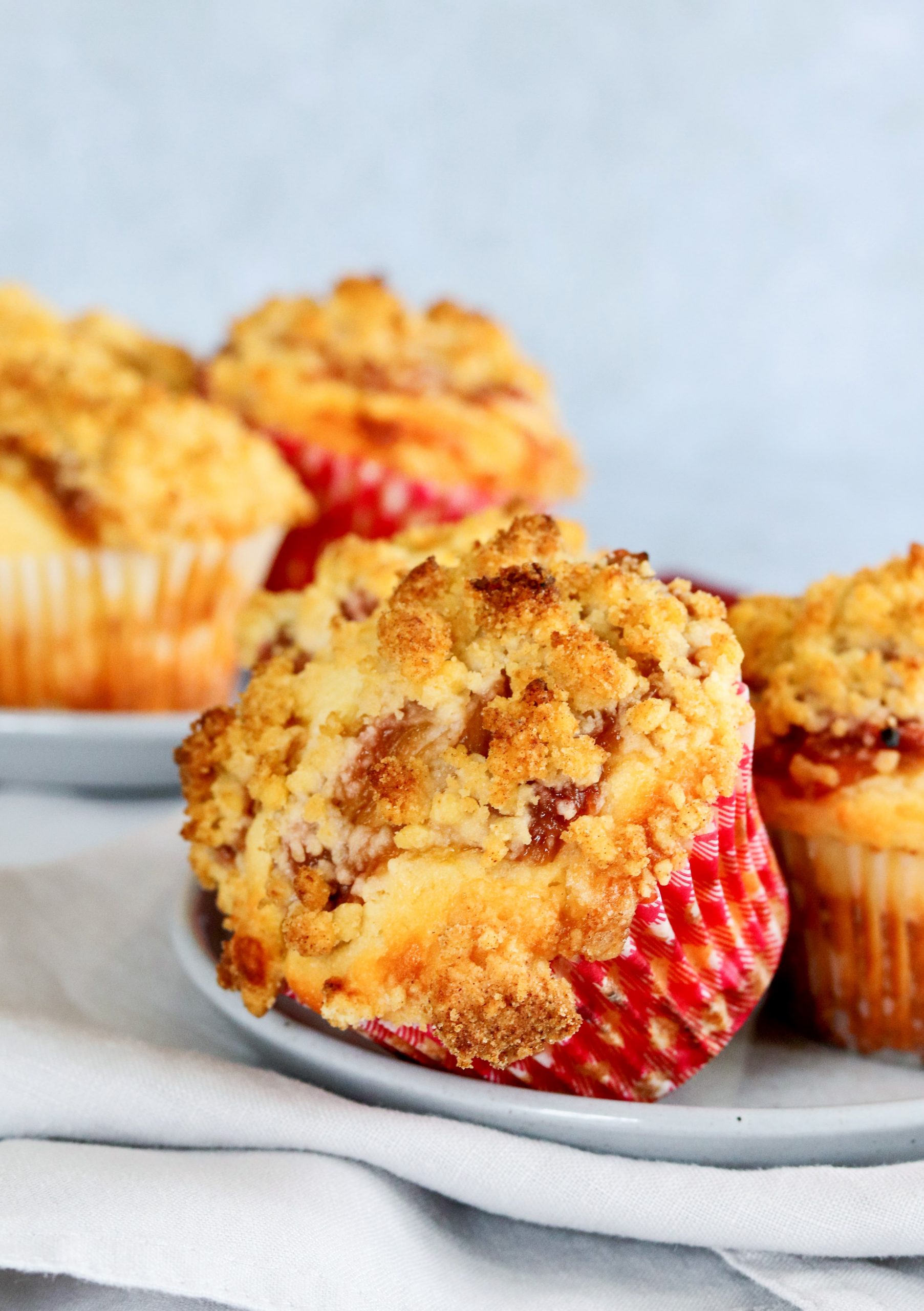 What to do with excess rhubarb
If you find yourself with more rhubarb than you can use, I recommend freezing it. I get given so much rhubarb each year I can't constantly be making crumbles and cakes!
Instead I wash it and trim it into similar sized pieces and freeze it. I've done this for a number of years now and it always turns out great. It is up to you whether you want to defrost it or not, you could just add it straight to the baking tray for roasting.
I love freezing rhubarb because it means I have a supply year round and can enjoy it when it isn't in season anymore. You also don't want rhubarb to go to waste so it is a great way to save it for later.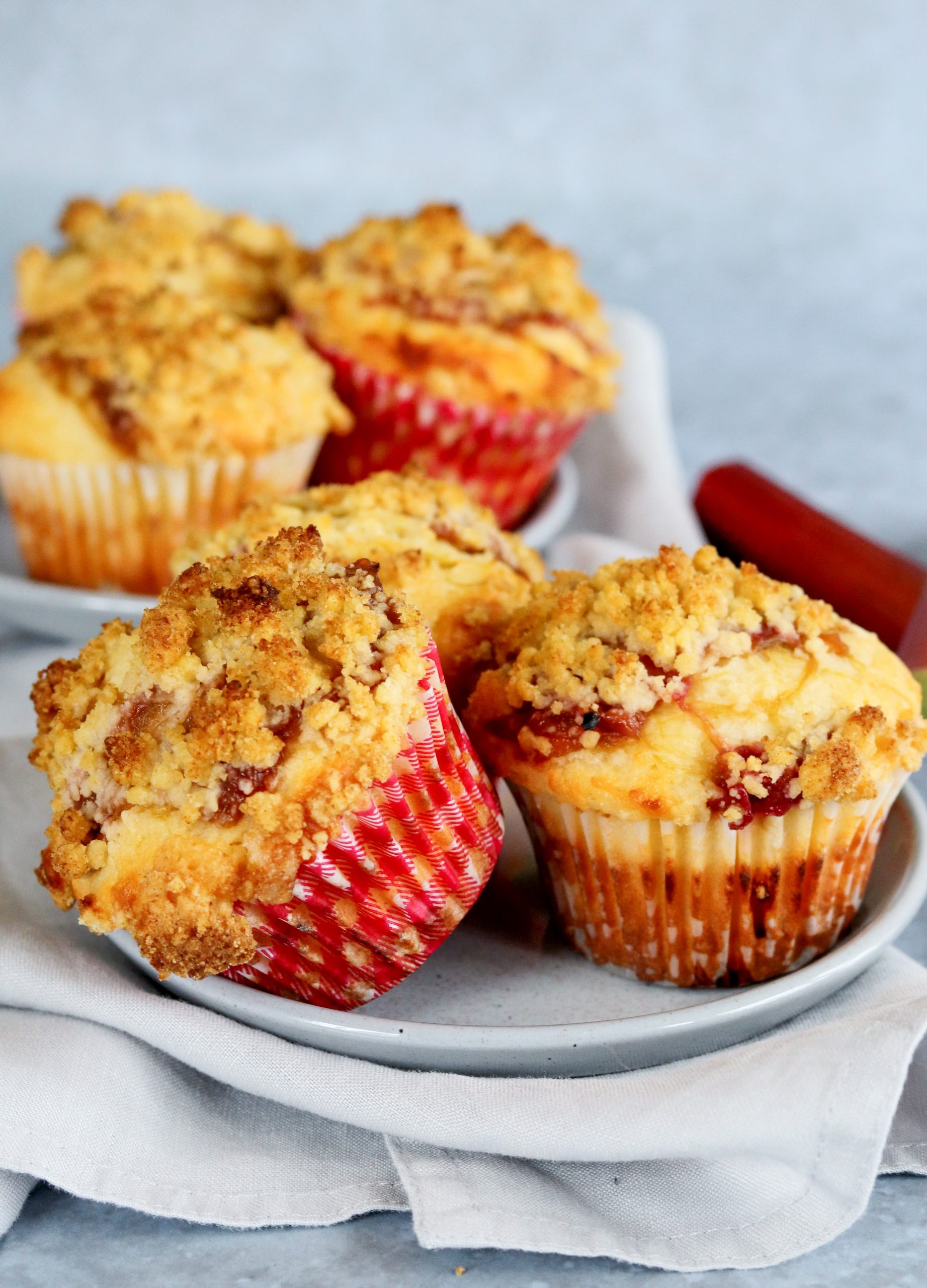 Rhubarb Crumble Muffins are simple and delicious
What I love about these muffins, and muffins in general is how simple they are to make. You don't need a mixer or anything fancy to make muffins, a bowl and a spoon is perfect.
In fact the less you mix muffins, the better. You want to mix them until there is no dry patches of flour and then stop. If you overmix the muffins they risk loosing their fluffiness.
You also don't need any fancy equipment to make the crumble. Rubbing the butter, flour and sugar between your fingers is the method I prefer to use.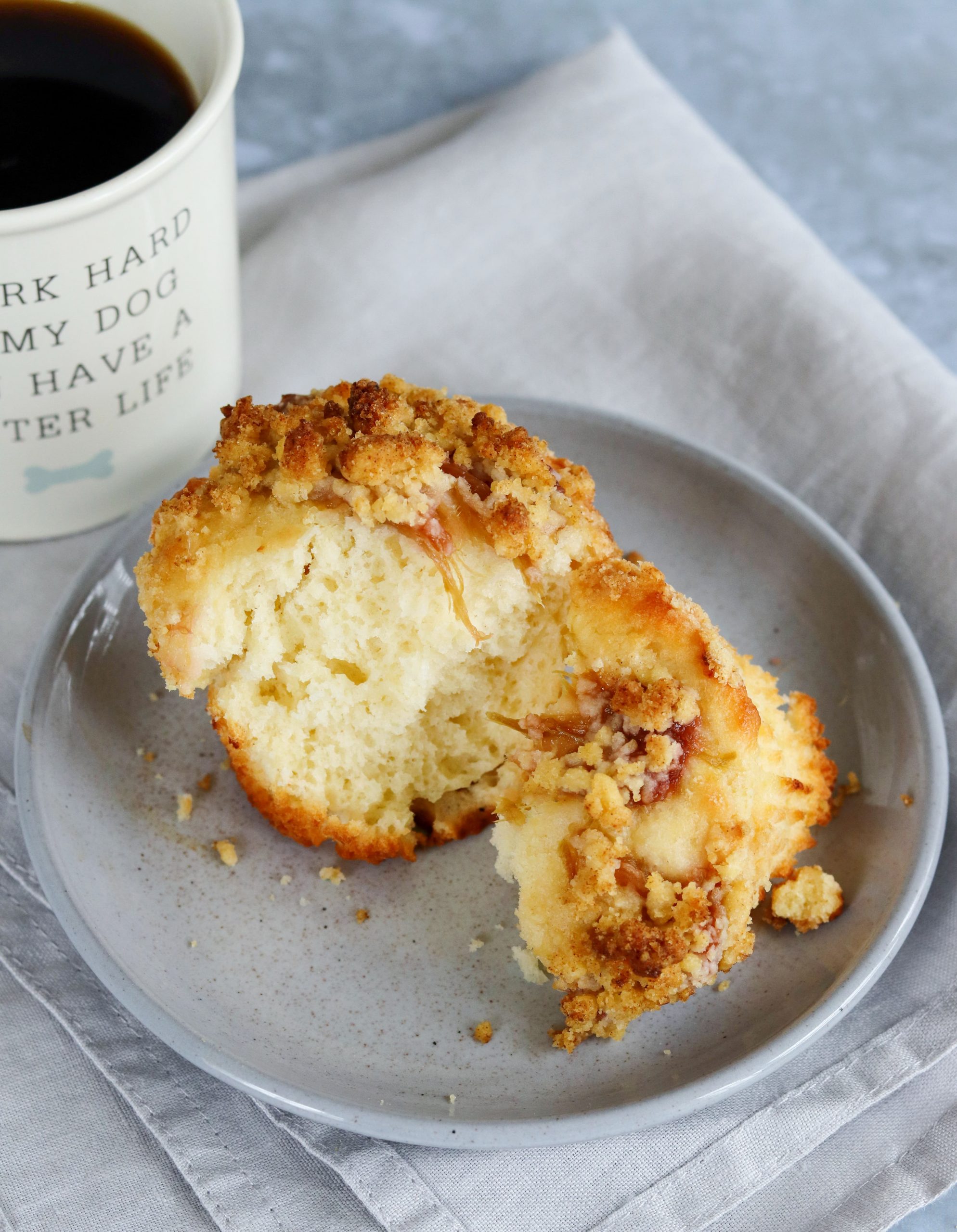 How long will these muffins keep for?
Although muffins are delicious, they don't tend to stay fresh for very long. I always think that they are best eaten on the day they are baked or the next day.
After this, they do start to become slightly more dry. If you don't think you will eat them all in a couple of days I would recommend freezing them.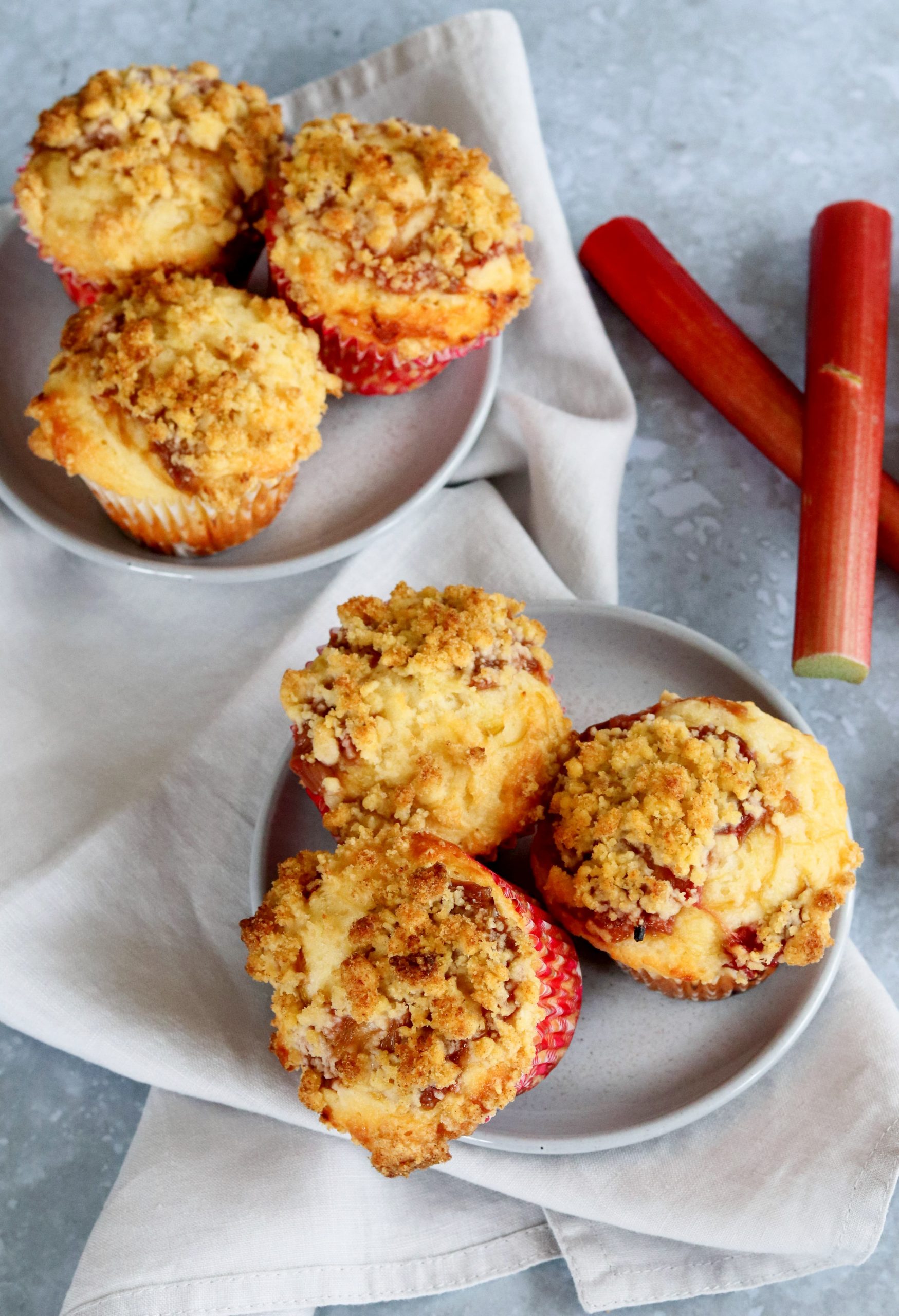 How to freeze these Rhubarb Crumble Muffins
These muffins freeze really well. I like to wrap them individually so you can get them out as and when you want to eat them.
I wrap them in cling film (haven't found a better alternative yet!) and put them into a bag. They can then be frozen for up to three months.
When you want to eat them, take out however many you want and leave them at room temperature to defrost for a couple of hours. Then you will have fresh muffins ready to eat.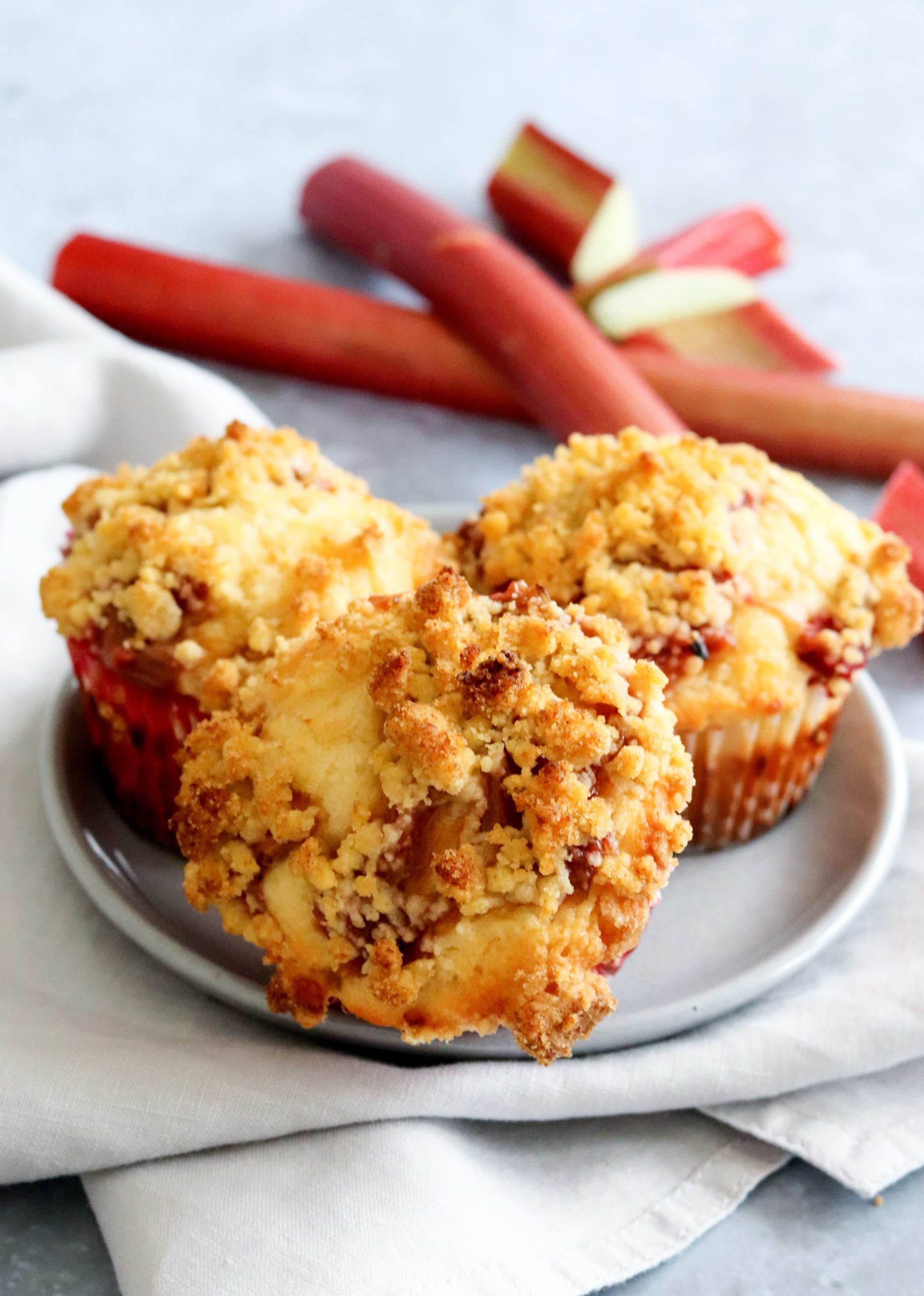 How to serve these muffins
These Rhubarb Crumble Muffins make the perfect afternoon snack with a nice cup of tea or coffee. However they also make a delicious on-the-go breakfast too.
They can also easily be turned into a dessert. They would be really nice warmed through and served with custard.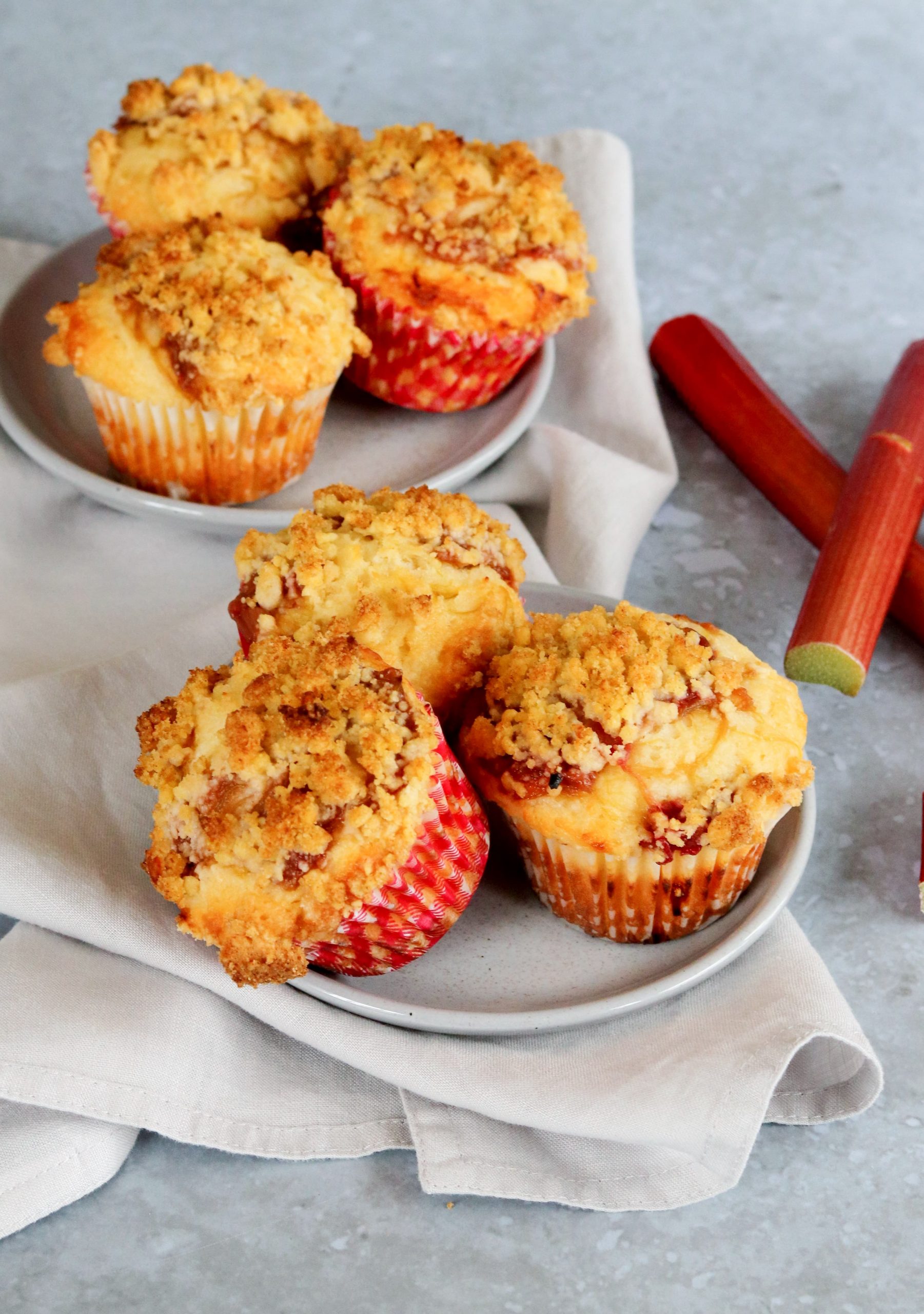 Other recipes you Might like
Pin for later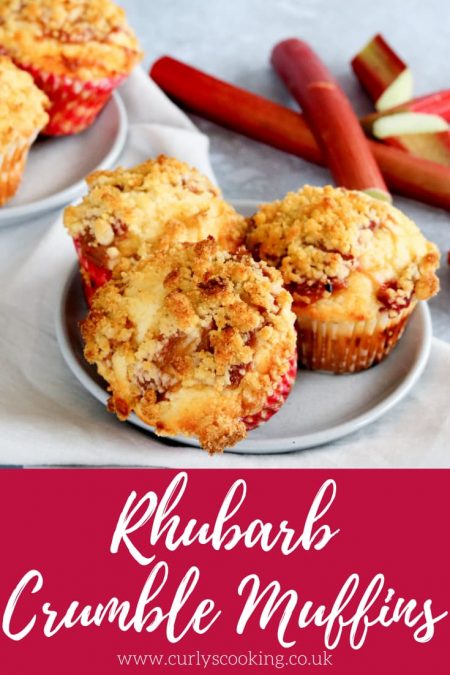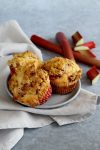 Rhubarb Crumble Muffins
Deliciously light and fluffy muffins with tasty roasted rhubarb and finished with a crumble topping. These Rhubarb Crumble Muffins are a new way to enjoy a popular dessert.
Total Time
1
hour
10
minutes
Ingredients
For the roasted rhubarb
400

g

rhubarb

50

g

caster sugar
For the muffins
350

g

plain flour

3

tsp

baking powder

150

g

caster sugar

320

g

non fat yogurt

60

ml

sunflower oil

1

egg
For the crumble topping
70

g

self raising flour

45

g

margarine

25

g

light brown sugar
Instructions
Preheat the oven to 180ºC (fan, 200ºC non fan). Wash the rhubarb and cut into pieces roughly 3cm long

Add to a baking tray and sprinkle with the sugar. Toss to coat the rhubarb in the sugar and cover with foil. Roast for 20 minutes

After 20 minutes, remove the foil and roast for a further 5 minutes

Drain the roasted rhubarb in a sieve over a bowl while you make the muffin batter. Leave the oven on

Line a muffin tin with paper liners

Add the flour, baking powder and caster sugar to a large bowl

In a jug, whisk together the yogurt, vegetable oil and egg

Add the wet ingredients to the dry ingredients and stir together just until all of the flour is mixed in – do not over mix. Set to one side

In another bowl make the crumble by rubbing the margarine and flour together with your fingertips to get a breadcrumb texture. Add in the sugar and lightly mix with your fingers

Divide the muffin mixture evenly between the 12 muffin cases

Add approximately one tablespoon of the drained roasted rhubarb to the top of each muffin

Sprinkle the crumble mixture evenly on top of each muffin

Bake in the oven for 20 minutes until golden brown. Leave to cool for 10 minutes before cooling completely on a wire rack
Recipe Notes
Nutritional information is given as a guide only.
Nutrition Facts
Rhubarb Crumble Muffins
Amount Per Serving
Calories 299
Calories from Fat 72
% Daily Value*
Fat 8g12%
Cholesterol 14mg5%
Sodium 65mg3%
Potassium 332mg9%
Carbohydrates 49g16%
Protein 6g12%
Vitamin A 190IU4%
Vitamin C 2.9mg4%
Calcium 146mg15%
Iron 1.7mg9%
* Percent Daily Values are based on a 2000 calorie diet.