This Hot Cross Bun Bread & Butter Pudding is the perfect Easter desert. It is a great way of turning the humble hot cross bun into something a little bit fancier.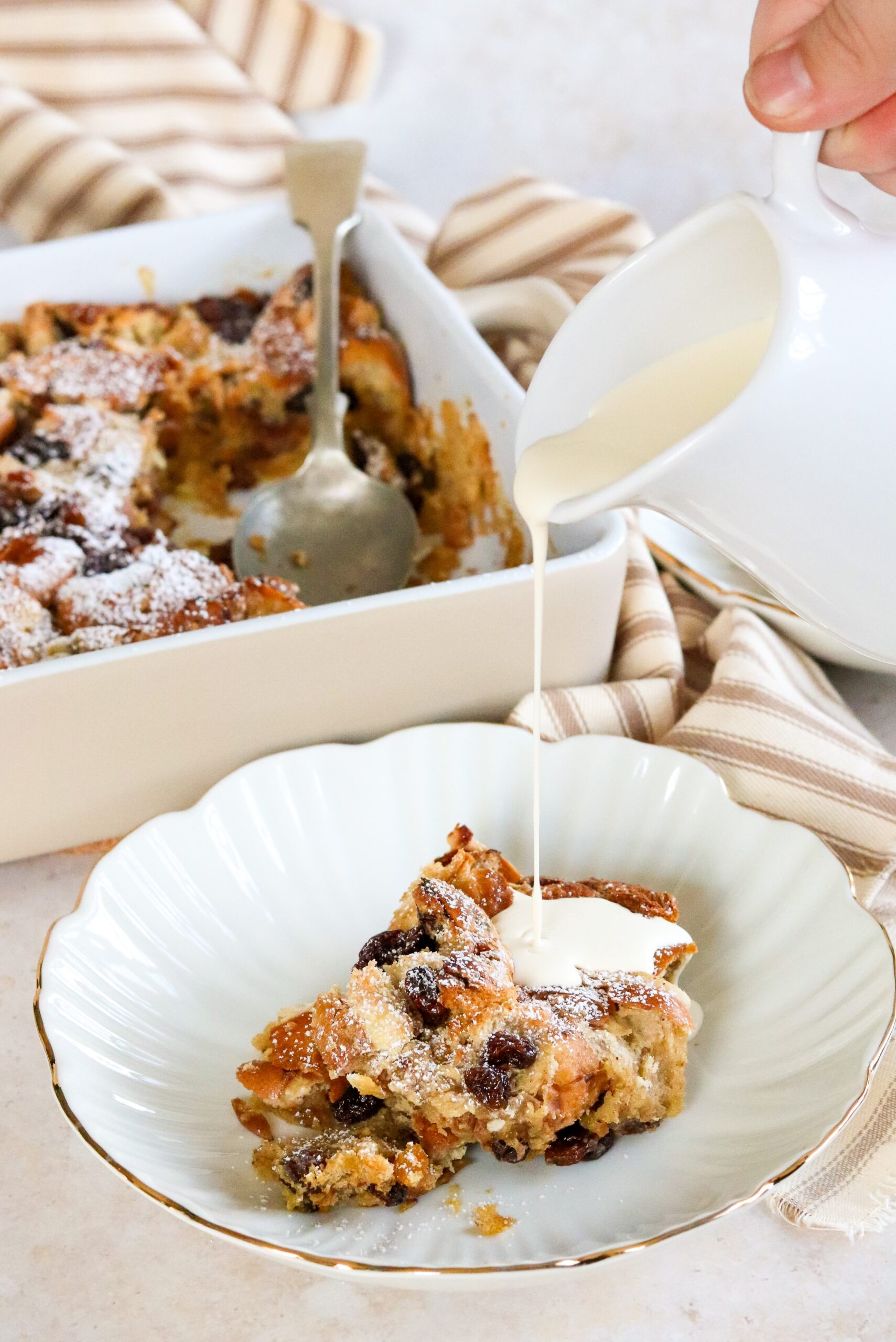 The perfect Easter dessert
I love hot cross buns and am very happy when I start seeing them in the supermarkets again. Although a warm hot cross bun dripping in melted butter is absolutely delicious, I wanted to come up with another way to eat them.
As they are a bread, they tend to become stale relatively quickly. My Hot Cross Bun Bread & Butter Pudding is a great way to perk them up again.
I took inspiration from my Brioche & Christmas Pudding Bread & Butter Pudding to come up with this Hot Cross Bun version.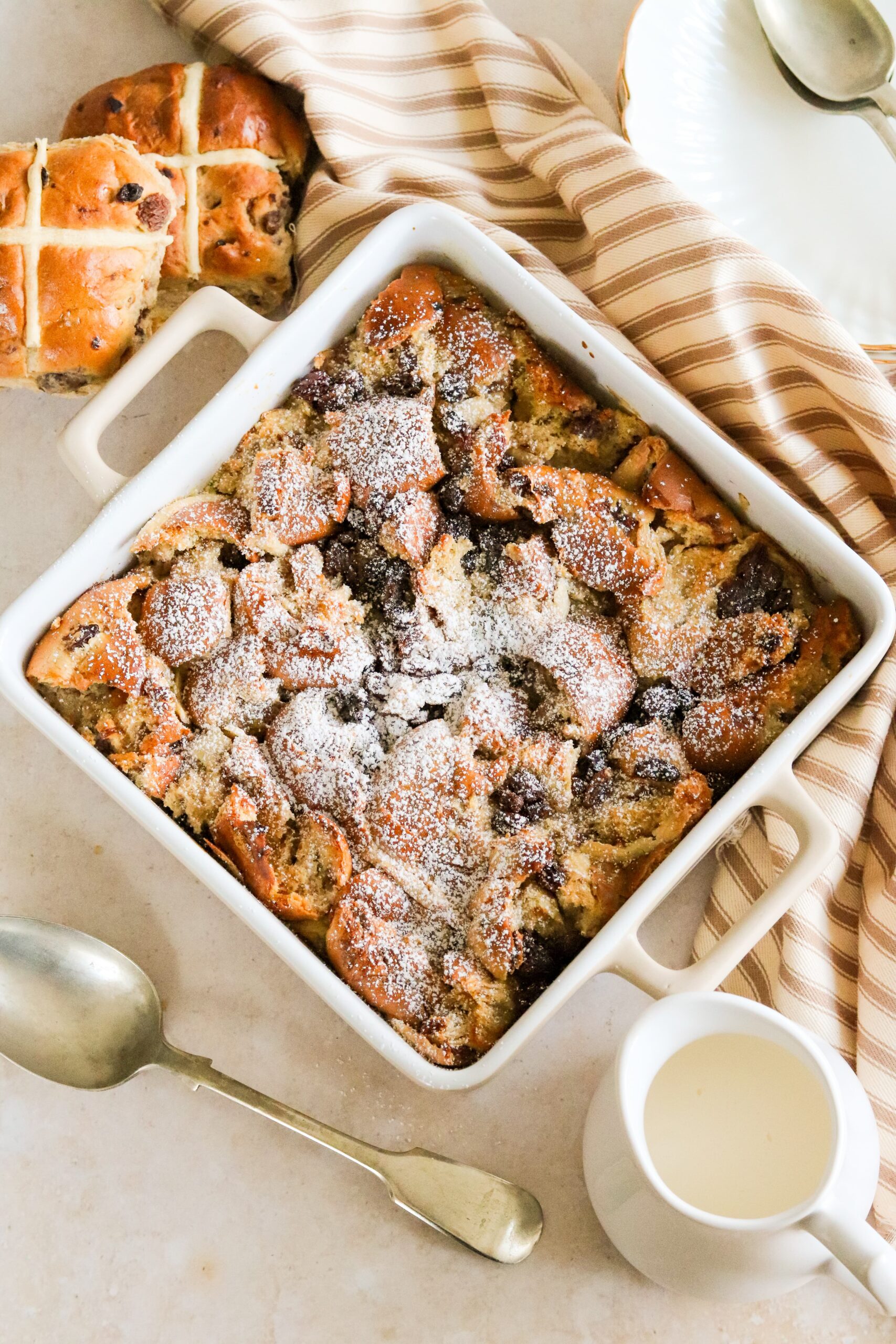 What are hot cross buns?
Hot cross buns are sweet, spiced yeasted buns filled with dried fruit. They are topped with a cross and traditionally eaten on Good Friday to mark the end of Lent.
The ingredients have different religious symbolism, but I won't get into that here! They get their name because they are typically eaten hot, and well, the cross on top.
Although hot cross buns are associated with Easter, supermarkets now stock them for quite a few months of the year.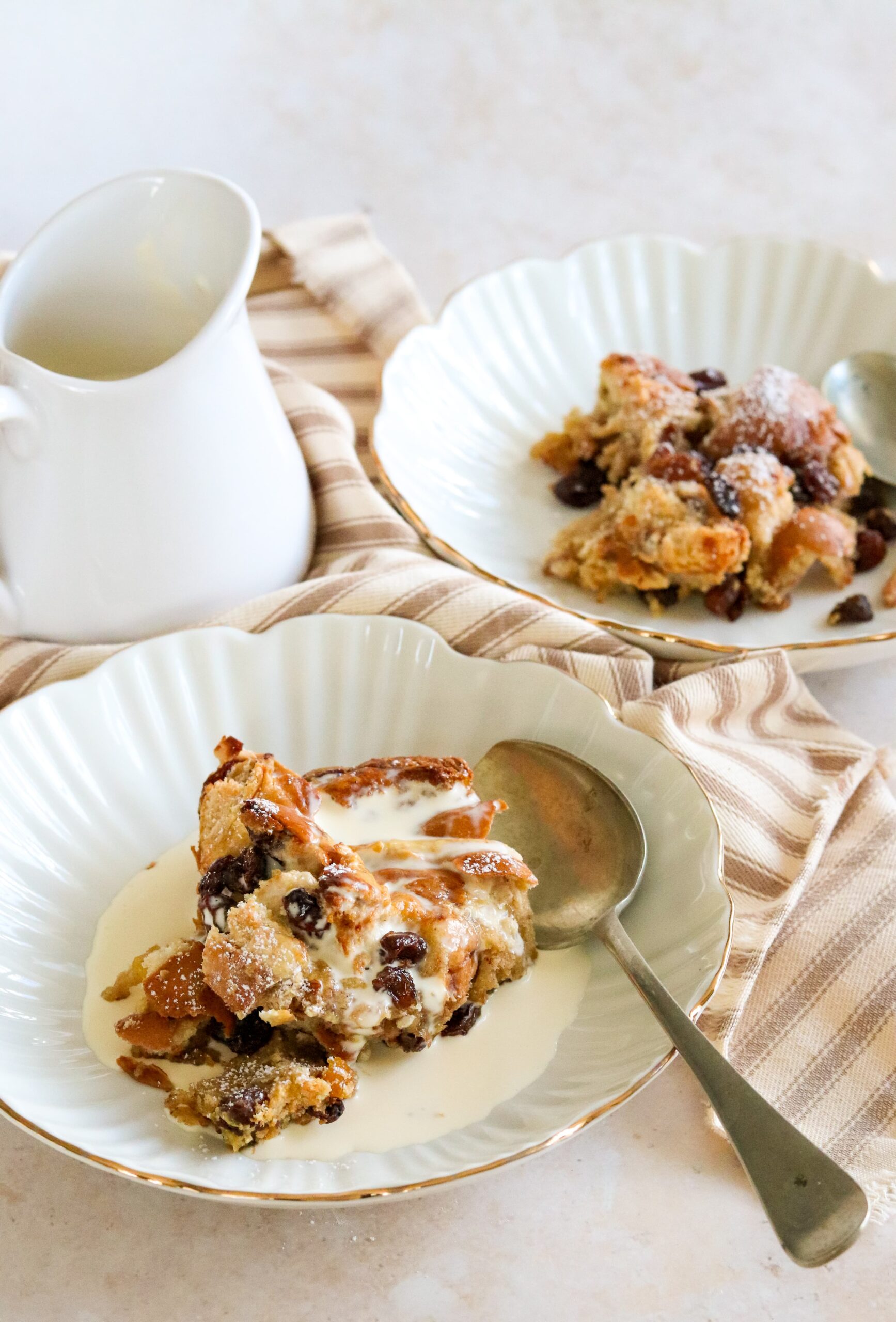 Which hot cross buns should be used for this dessert?
Of course you can make your own hot cross buns to use, but there is absolutely nothing wrong with using shop bought buns.
Hot cross buns that are slightly past their best and becoming a little stale are perfect to use in this recipe.
You can buy so many different flavours of hot cross buns these days. I must admit I still prefer the traditional type with sultanas and mixed peel which is what I have used in this recipe.
I do also like the apple and sultana hot cross buns you can buy. If you wanted to use these you could add some dried apple along with the sultanas. My Apple & Sultana Teacakes would also work really well.
You could also add some orange zest to enhance the flavours in the hot cross buns.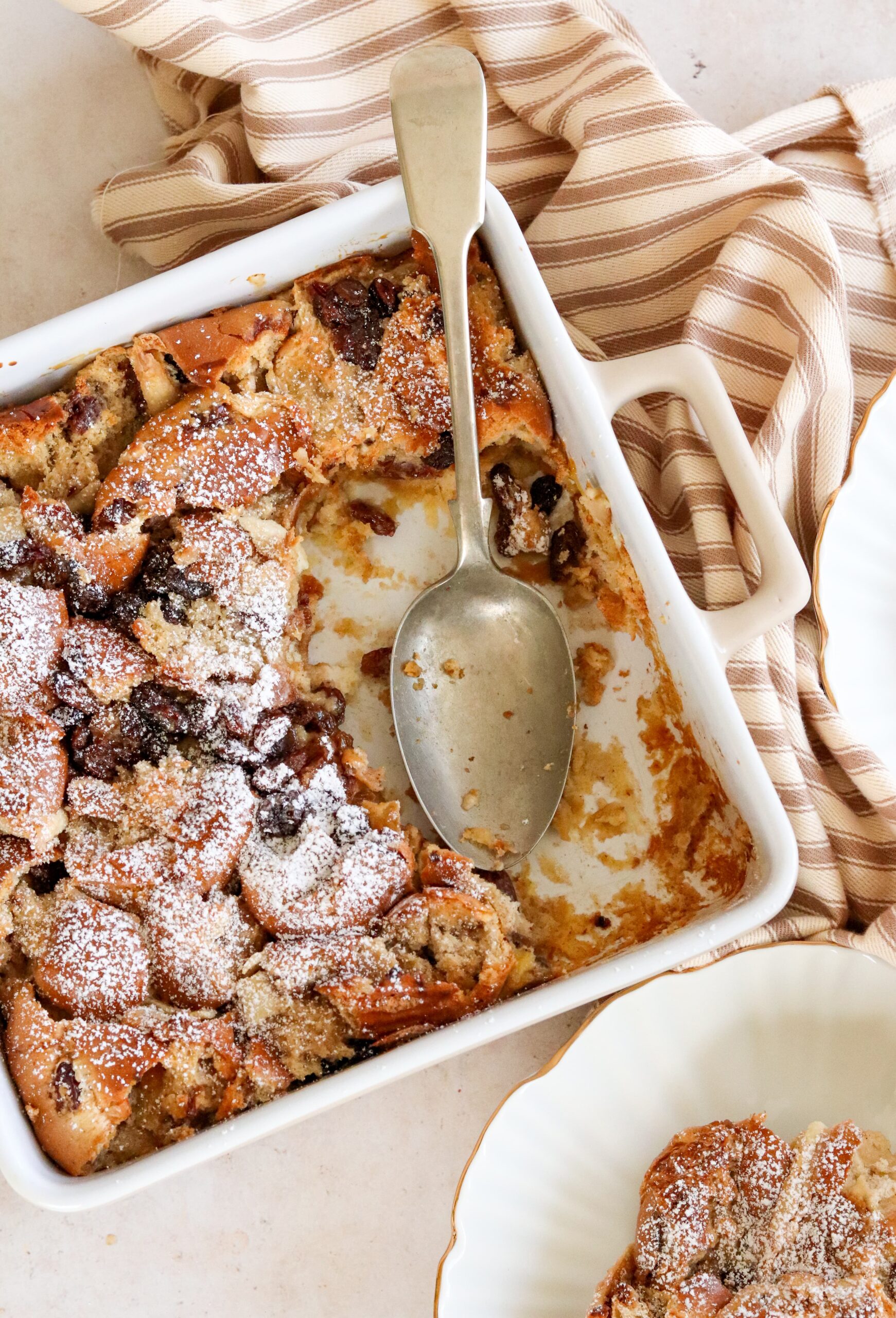 Do you have to use Cointreau?
No, you can definitely leave this out if you would prefer.
I like the orange flavour it adds to the Hot Cross Bun Bread & Butter Pudding. You could swap this for freshly squeezed orange juice; especially if you are adding orange zest to the dessert.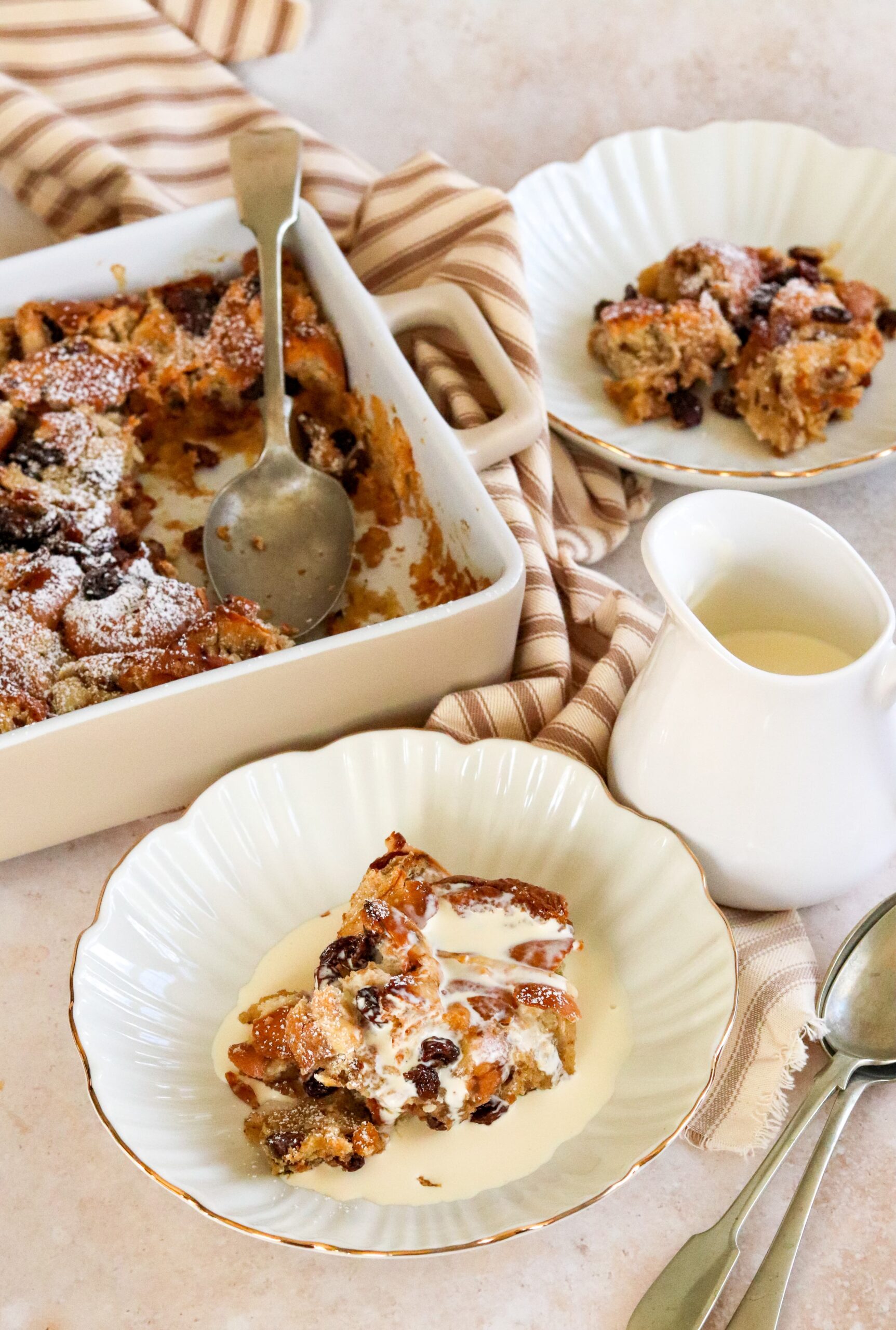 Make this dessert gluten free
This Hot Cross Bun Bread & Butter Pudding is incredibly simple to make gluten free.
The only thing you need to swap is the hot cross buns. Just swap these to your favourite gluten free versions. You could of course make your own Gluten Free Hot Cross Buns too.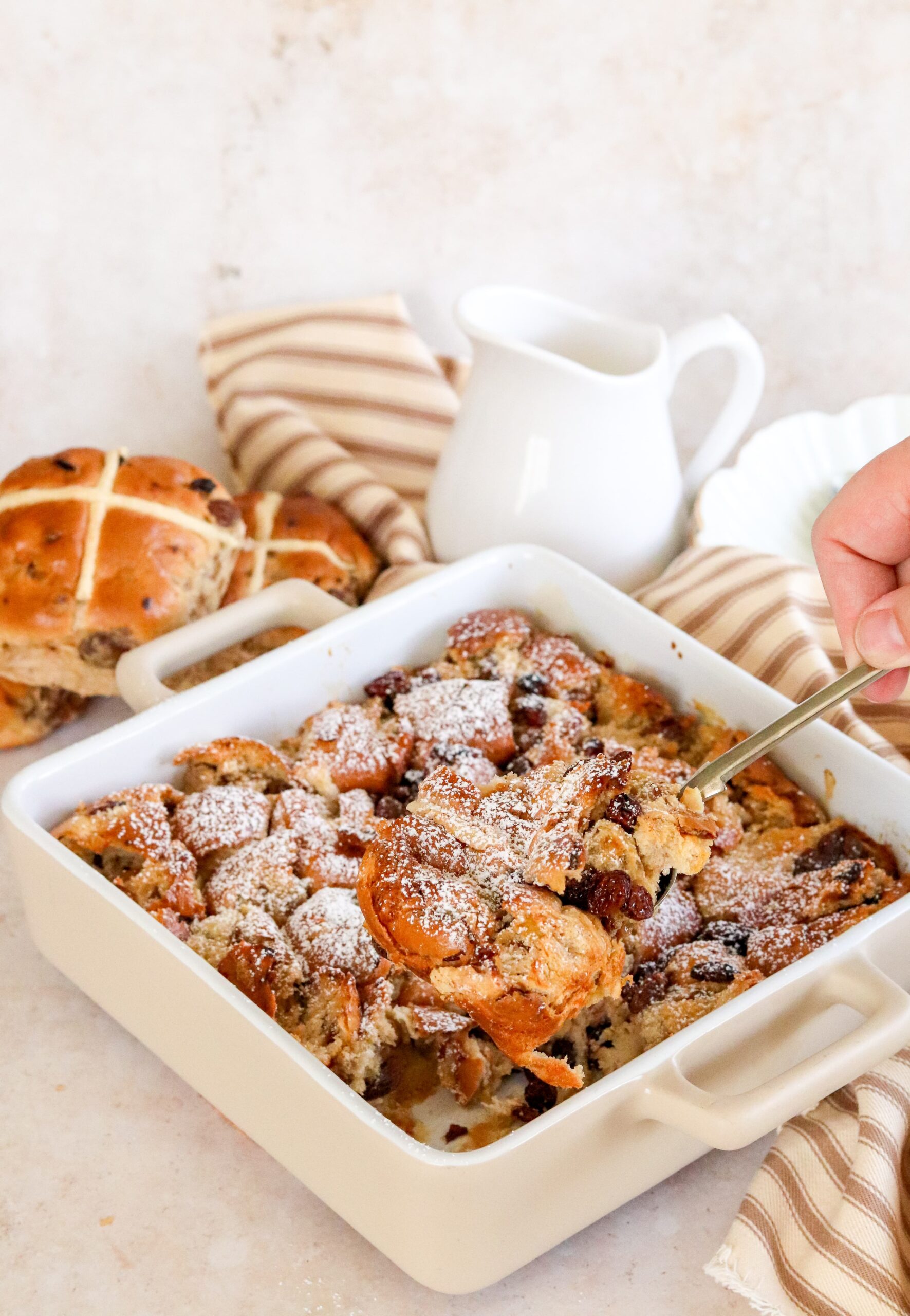 How many people does this dessert serve?
This is a smaller version that feeds four people generously.
It is very easy to scale up if you have a larger family or are feeding more people for an Easter gathering.
This Hot Cross Bun Bread & Butter Pudding makes great leftovers so don't worry if you make a bit too much.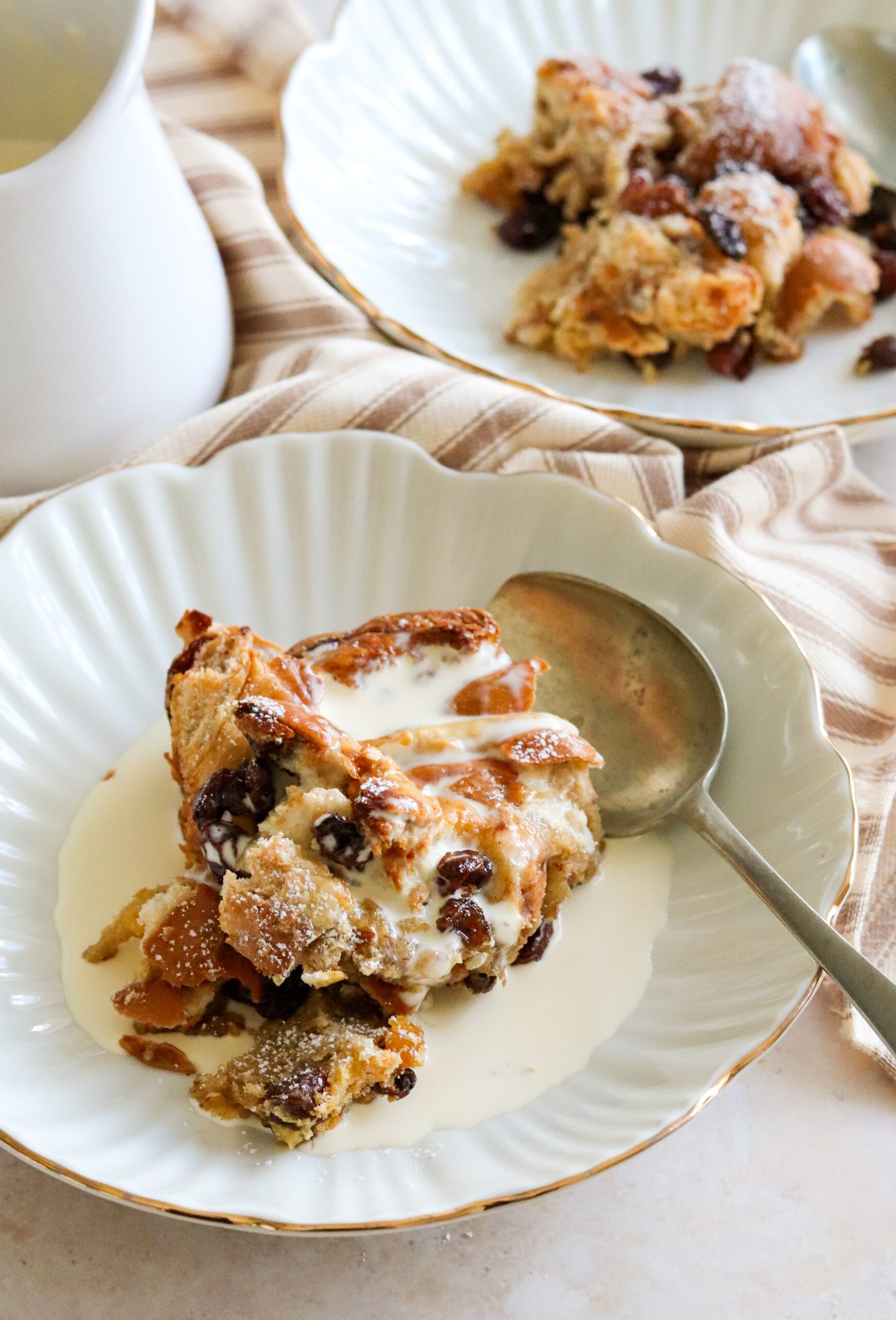 Hot Cross Bun Bread & Butter Pudding Leftovers
As I mentioned, I would always recommend making more of this dessert so you will have leftovers the next day.
I reheat the leftovers in the microwave. This is incredibly easy to do, and I also quite like the way the microwave softens the hot cross buns again. Heat the pudding until it is piping hot throughout.
Keep any leftovers in an airtight container in the fridge for up to two days.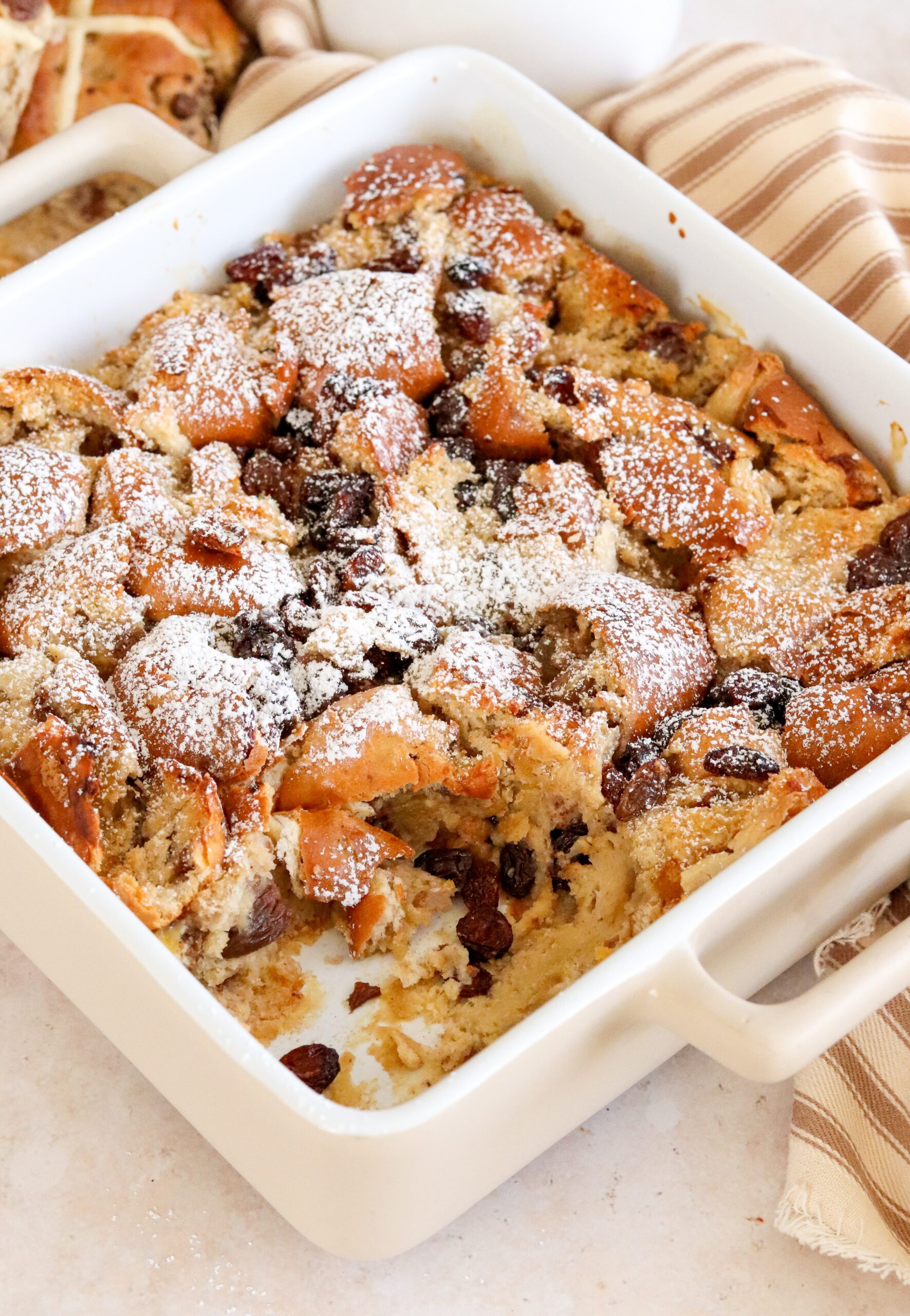 How to serve this delicious dessert
My favourite way to serve this is with lashings of double cream.
You could also serve it with some vanilla ice cream or homemade custard. Whichever takes your fancy.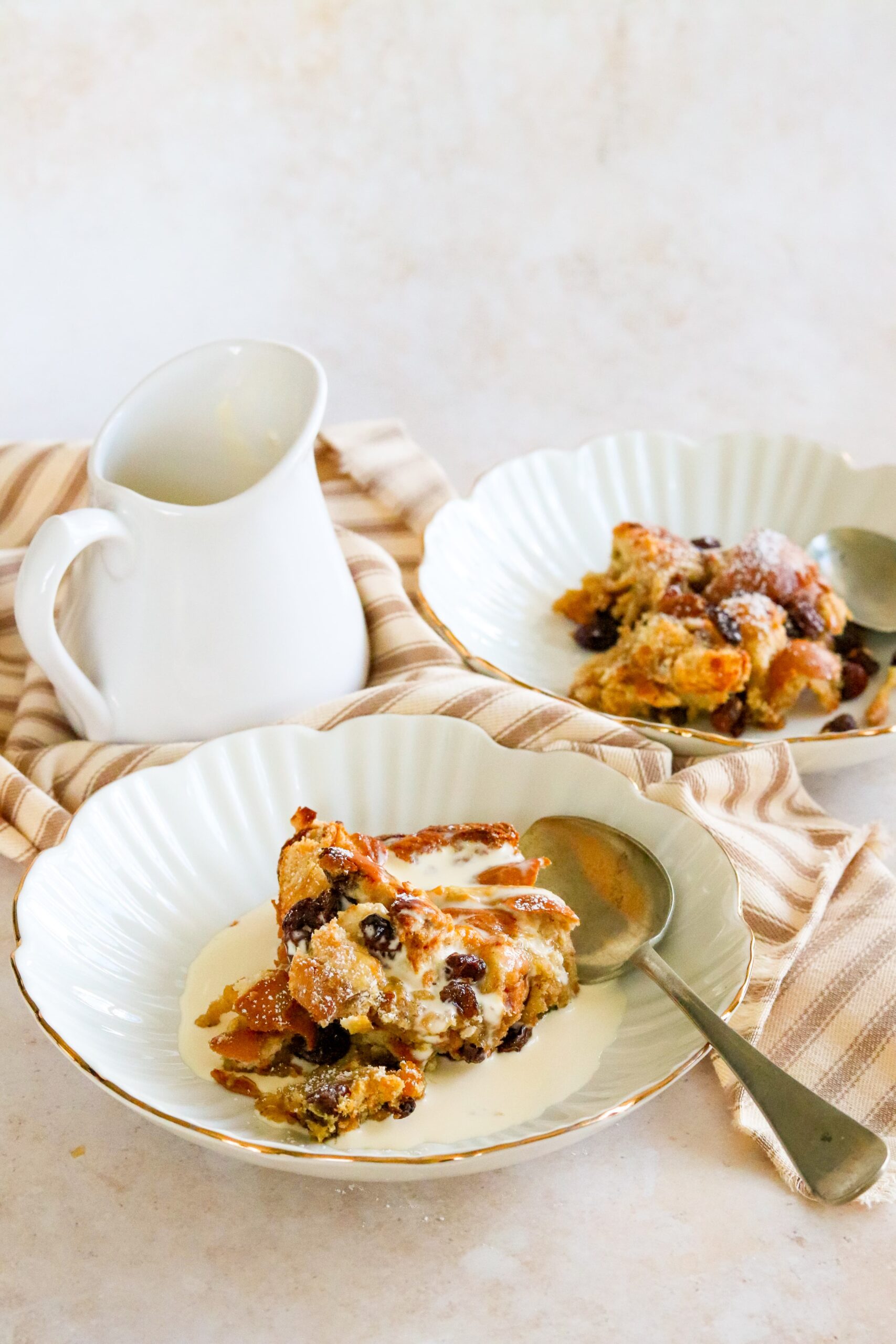 Switch up the flavours
Each year, there seems to be new hot cross bun flavours available. Although the traditional flavours of hot cross bun will always be my favourite for this dessert, you can definitely get creative and switch up the flavours.
Chocolate chip hot cross buns are quite common and would make a good swap. Instead of adding sultanas, you could add chocolate chips.
Salted caramel hot cross buns seem to be increasingly popular. These would work well with either chocolate chips or a salted caramel chocolate bar cut up. You could also drizzle over some salted caramel for extra indulgence.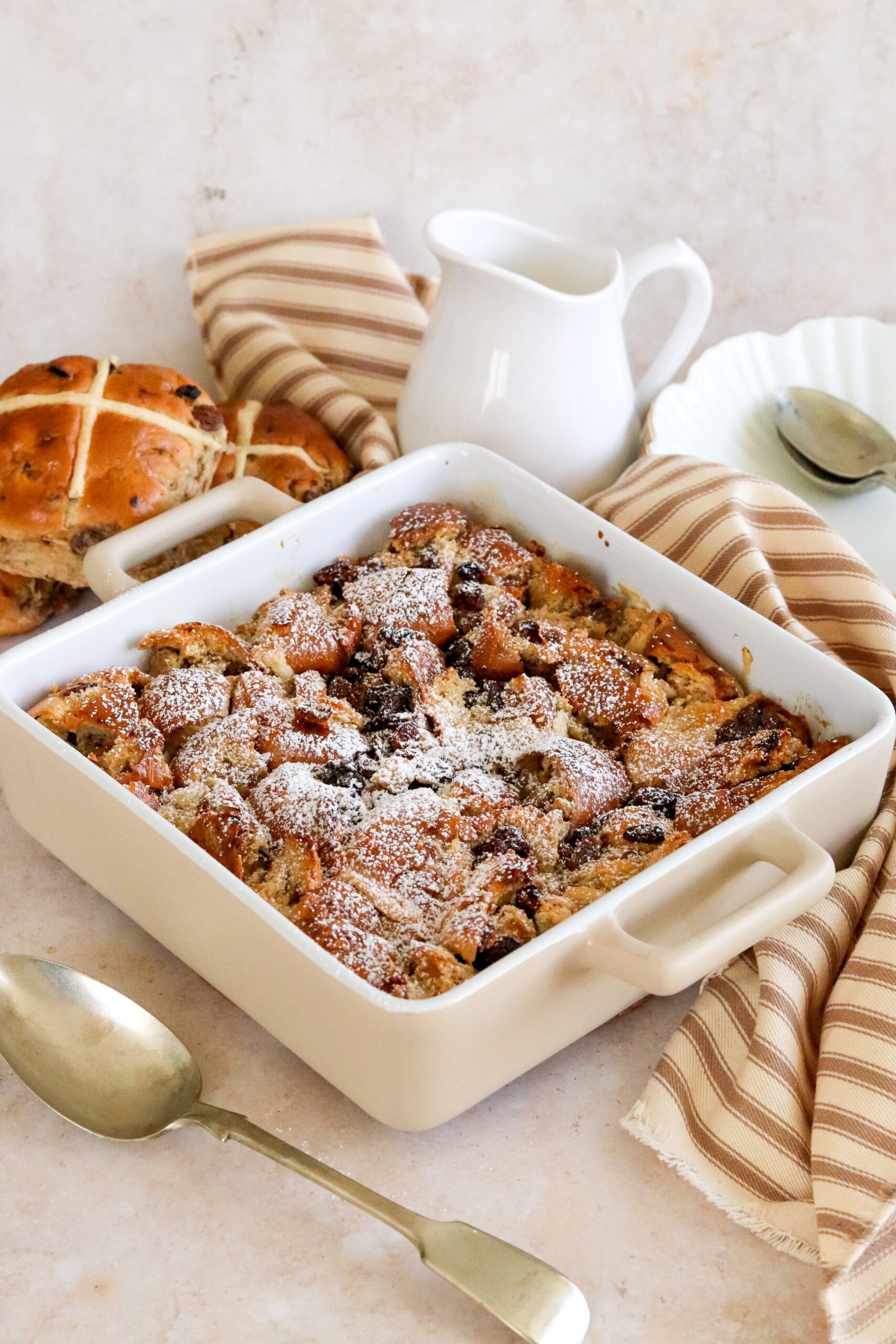 Make this bread and butter pudding year round!
Although this is a perfect dessert for Easter, that doesn't mean it is the only time you should make it!
Hot Cross Buns are available for more of the year than ever before. But if you can't get hold of them, fruit bread is available all year round.
Just tear up approximately 350g of fruit bread and use that instead. Or as I have said before you can use teacakes. There is no reason to not make this all year!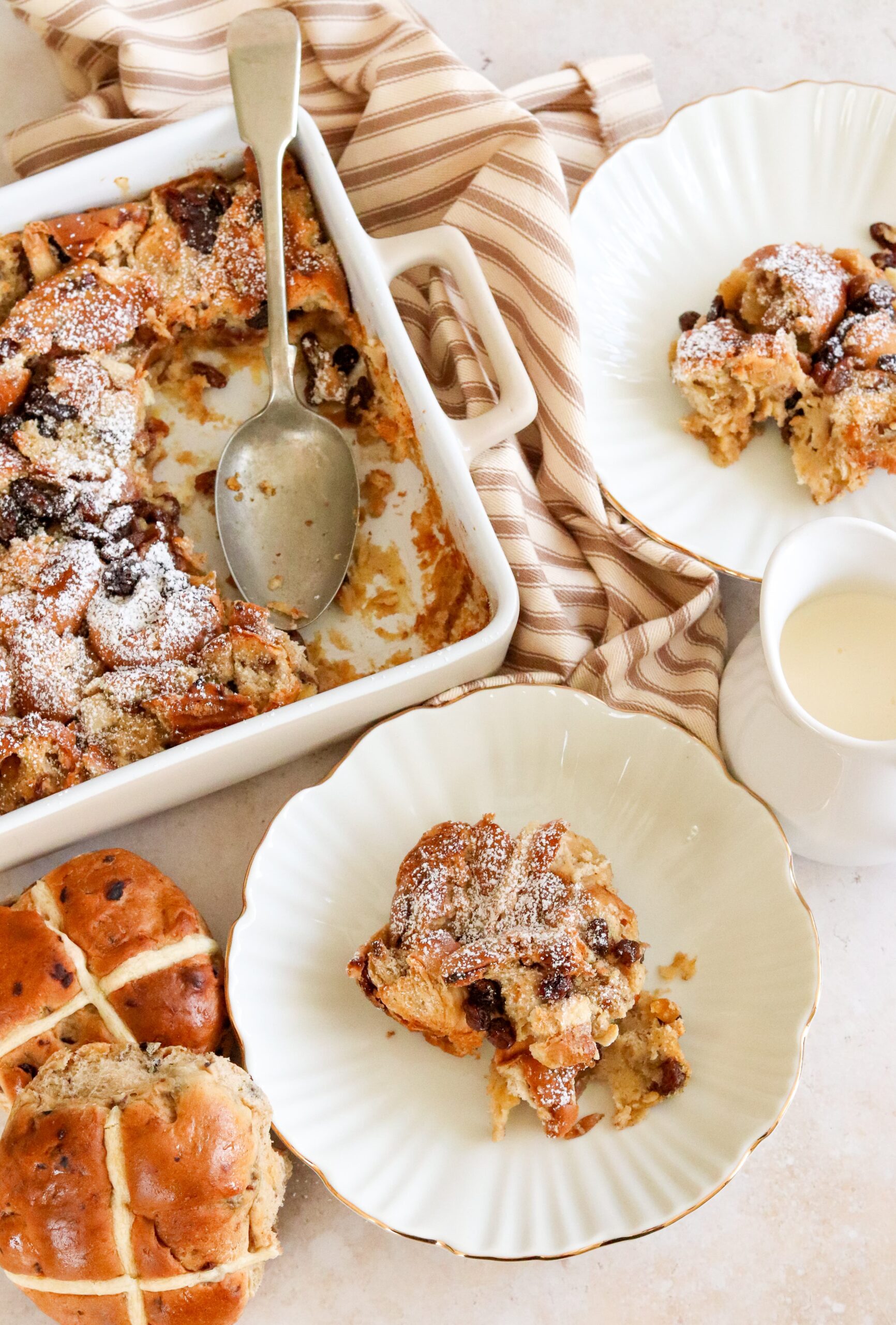 Other recipes you might like
Pin for later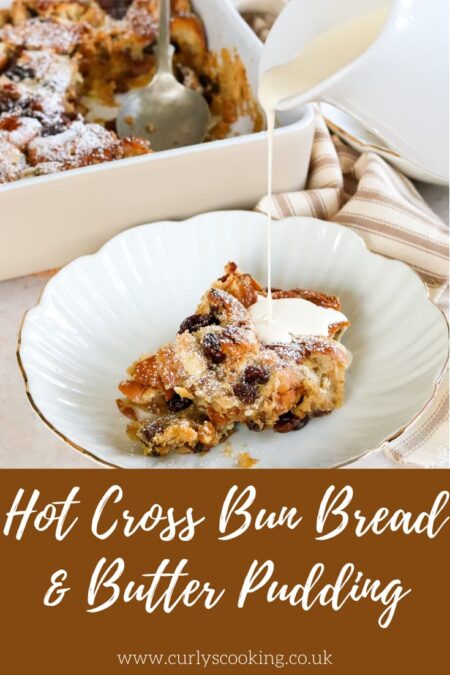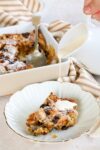 Hot Cross Bun Bread & Butter Pudding
This Hot Cross Bun Bread & Butter Pudding is the perfect Easter desert. It is a great way of turning the humble hot cross bun into something a little bit fancier.
Ingredients
5

hot cross buns

torn into large pieces

40

g

unsalted butter

melted

75

g

sultanas

2

eggs

1

egg yolk

25

g

caster sugar

115

ml

milk

75

ml

double cream

2

tsp

Cointreau

¼

tsp

ground cinnamon

Pinch

of salt

Icing sugar to serve
Instructions
Rip 5 hot cross buns into roughly five pieces. Add to a large bowl and put in the microwave for one minute to soften them up

Brush the inside of an ovenproof dish with some of the 40g melted butter

Add the hot cross buns to the buttered dish along with the sultanas

Spoon the remaining melted butter over the hot cross buns

Whisk the 2 eggs, 1 egg yolk and 25g caster sugar together until pale and fluffy

Add 115ml milk, 75ml double cream, 2 tsp Cointreau, ¼ tsp cinnamon and pinch of salt to the eggs and whisk again

Pour the egg mix over the hot cross buns making sure it is all covered. Gently push the hot cross buns down into the custard and leave to absorb for 15 minutes

Preheat the oven to 180ºC (160ºC fan assisted). Bake in the oven for 30-35 minutes until it is just set and a lovely brown colour

Dust with icing sugar before serving
Recipe Notes
Nutritional information is given as a guide only and may vary.
Nutrition Facts
Hot Cross Bun Bread & Butter Pudding
Amount Per Serving
Calories 561
Calories from Fat 171
% Daily Value*
Fat 19g29%
Cholesterol 180mg60%
Sodium 56mg2%
Potassium 222mg6%
Carbohydrates 23g8%
Protein 5g10%
Vitamin A 755IU15%
Vitamin C 0.6mg1%
Calcium 73mg7%
Iron 0.8mg4%
* Percent Daily Values are based on a 2000 calorie diet.