These Gluten Free Blueberry Muffins are so light and fluffy they make the perfect breakfast or midday treat whether you follow a gluten free diet or not.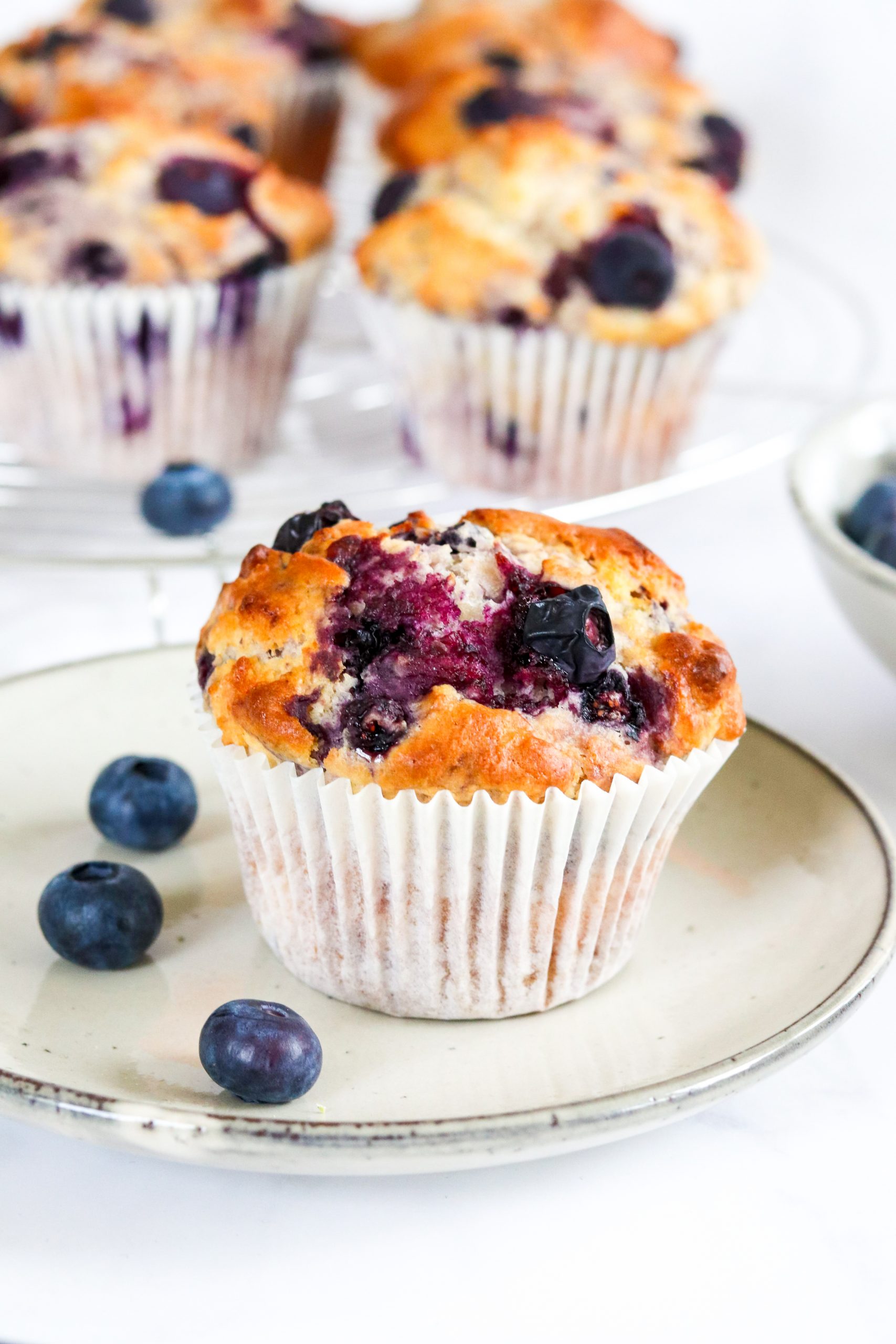 Blueberry muffins are a classic recipe
Blueberry muffins have been one of my favourite muffins for as long as I can remember. They are such a classic recipe that I am sure most people have tried them; if not heard of them.
The blueberries add a lovely burst of sweetness to the deliciously soft and fluffy muffins. Great for breakfast or at any time of the day!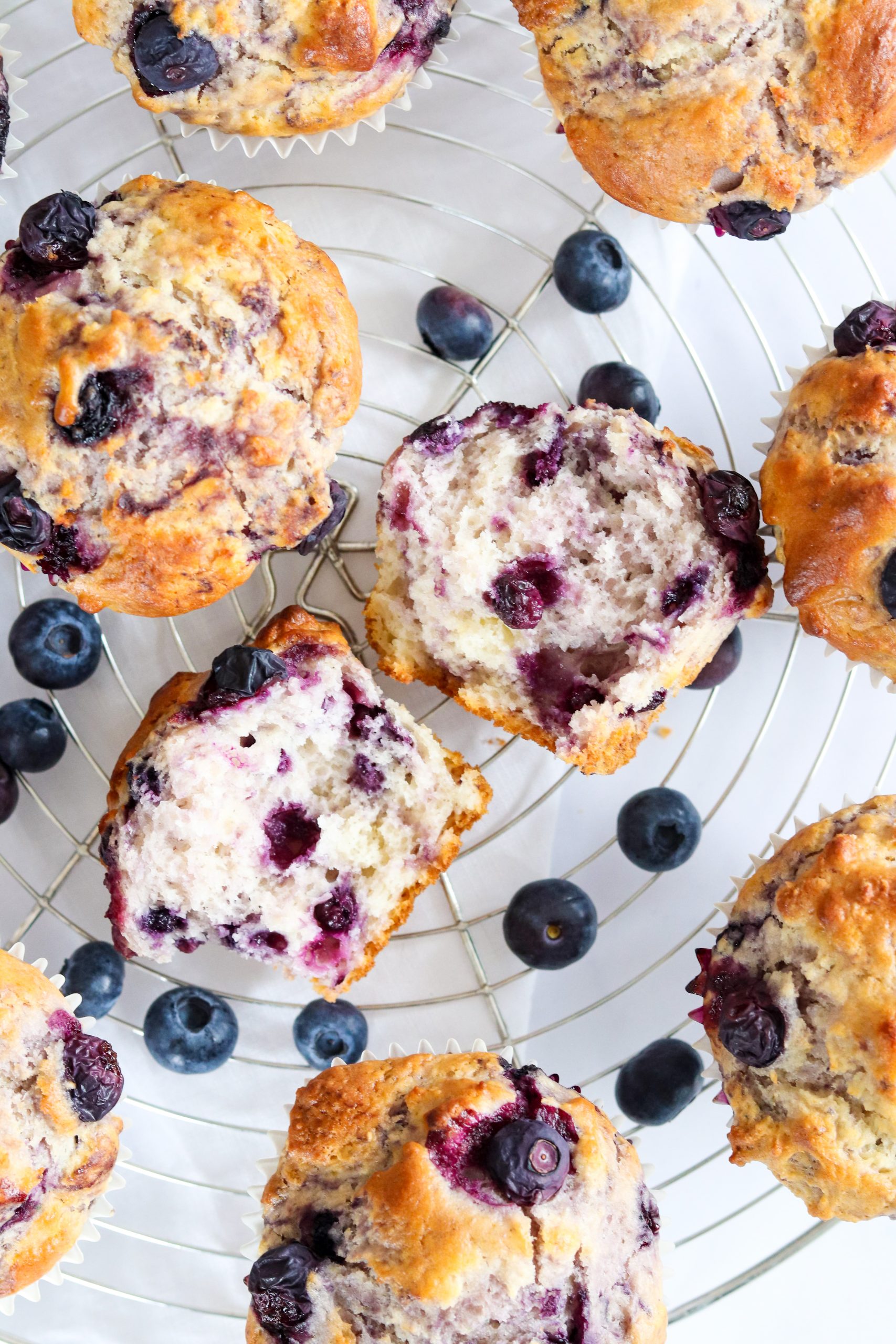 What is the difference between a muffin and a cupcake?
Muffins and cupcakes are both delicious but do have differences!
Cupcakes tend to have a topping such as buttercream whereas muffins are usually plain or with a simple crumb topping. My Rhubarb Crumble Muffins are an example of this.
When making cupcakes you don't want to fill the cases as you want a flat top to make decorating them easier. With muffins a domed top is encouraged!
Cupcakes are fluffiest when the eggs and butter have been creamed together thoroughly. Muffins are fluffiest when they have been mixed as little as possible.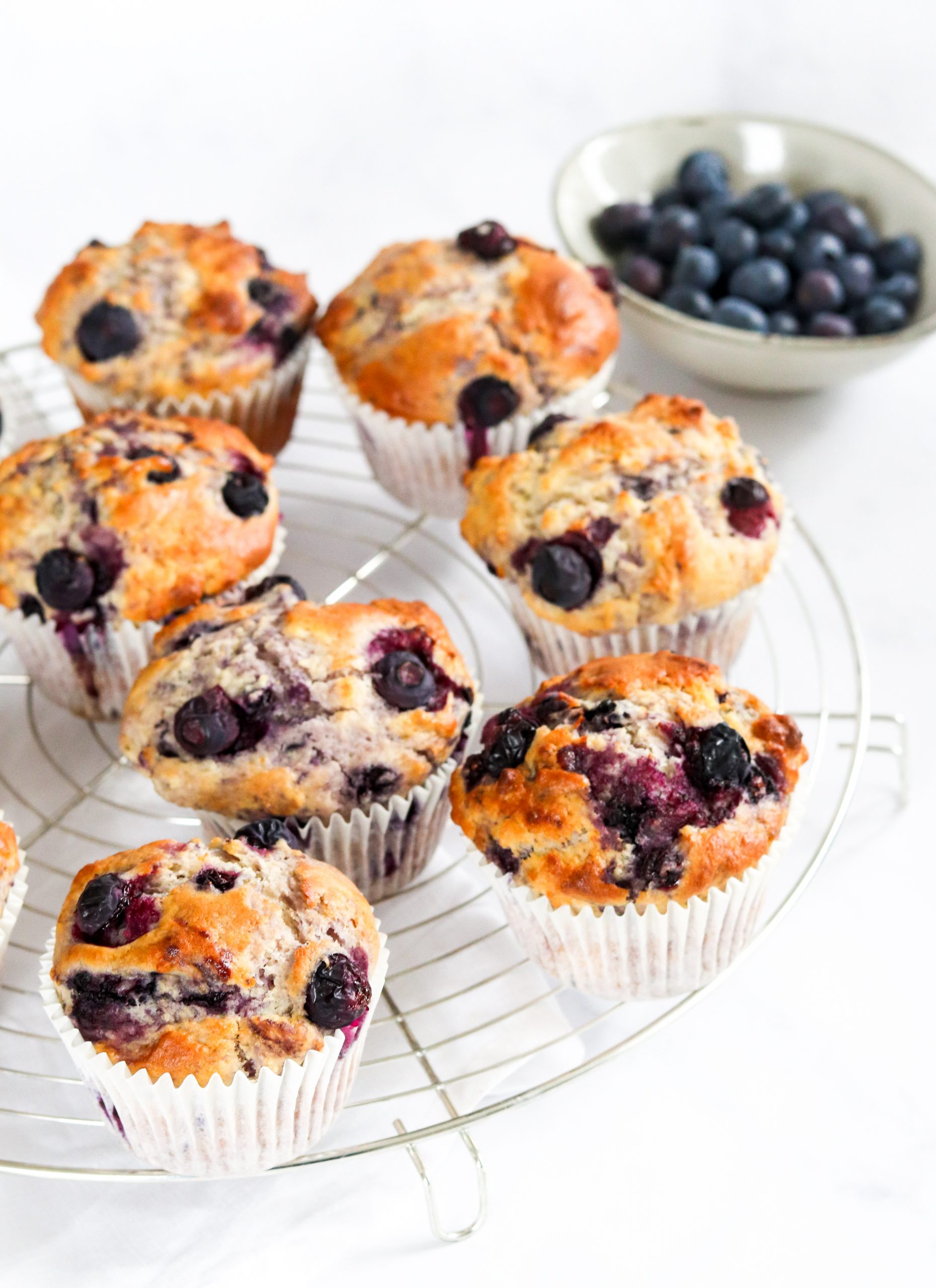 Muffins are so easy and quick to make
I am a huge fan of muffins. How quick and easy they are to make is definitely an advantage – plus how tasty they are!
These Gluten Free Blueberry Muffins are great for children to help with. You don't need to use a mixer or any fancy equipment. All you need is a large bowl and a spoon!
Mix the batter as little as possible until the ingredients are just combined. It couldn't get easier!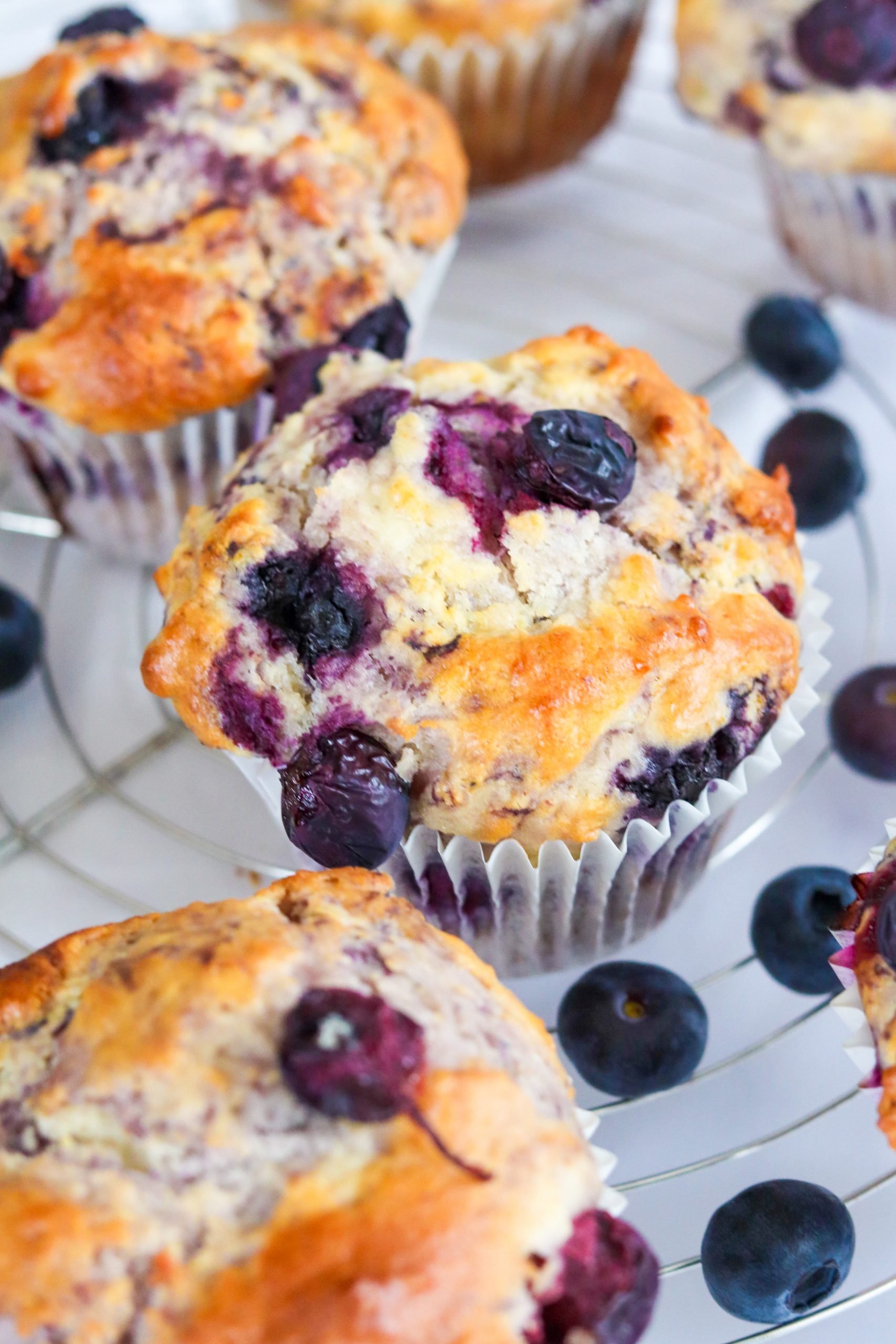 Making Gluten Free Blueberry Muffins
When my Coeliac friend Zoe came to stay, I had the perfect excuse to try out some Gluten Free Blueberry Muffins.
When I make any gluten free recipe, I always like Zoe to taste it and give her opinion. She has far more experience with gluten free food than I will ever have, so I really value her option.
When she gives me the thumbs up, I know a recipe must be good because she has unfortunately had a few less then great bakes!
The Gluten Free Blueberry Muffins didn't just have to be suitable for people on a gluten free diet; they had to be tasty enough for everyone. Just because recipes are gluten free, they shouldn't taste like they are lacking something.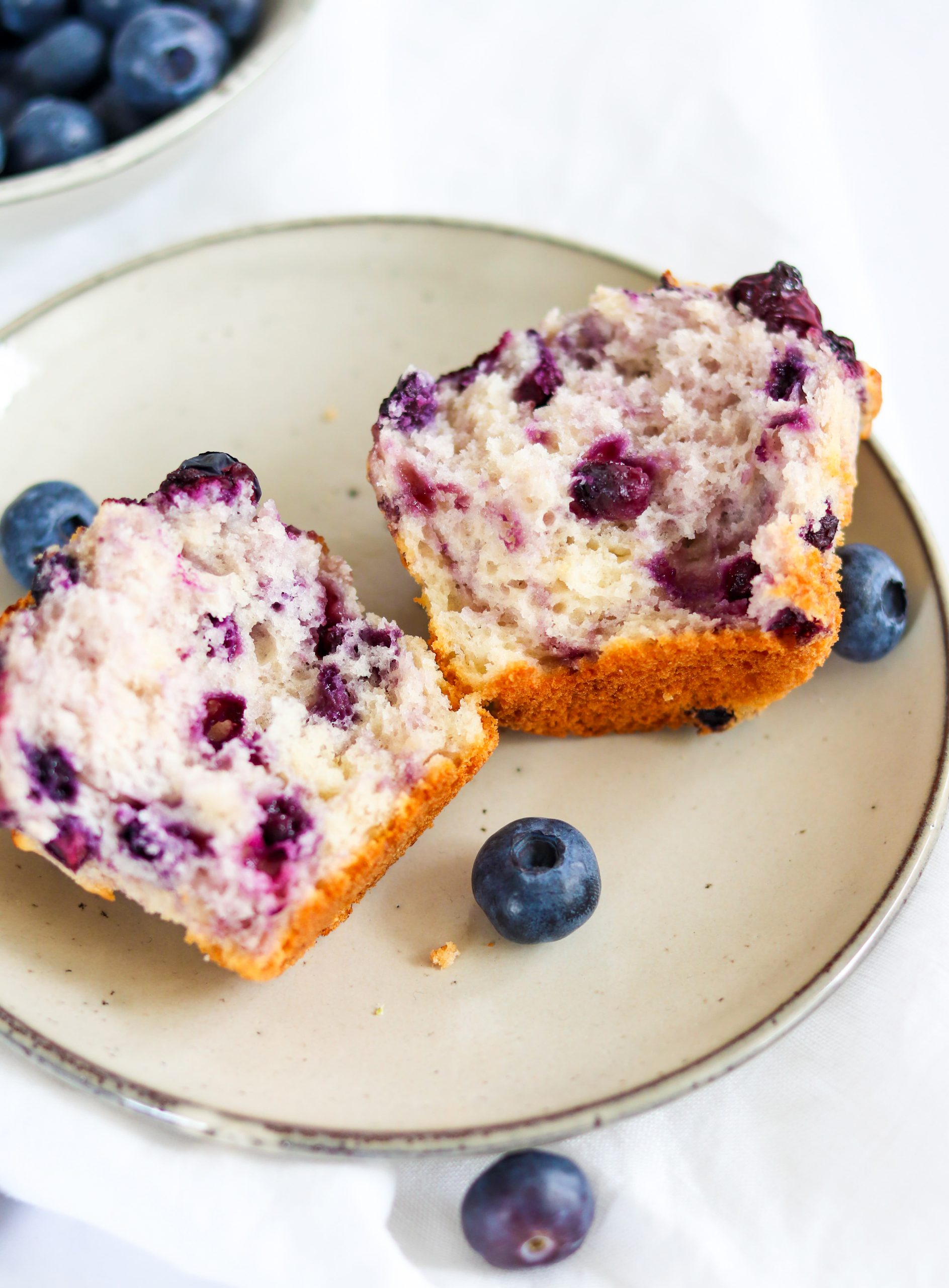 What is Xanathan Gum
I won't go too technical here, but xanthan gum is an additive commonly used in gluten free baking. It is added to help baked goods hold together and develop elasticity. This is something that is usually provided by gluten in standard baking.
Although not always used in gluten free baking, it is great at keeping things like muffins together. Without the xanthan gum, these Blueberry Muffins would crumble apart far more than is wanted.
A little bit of xanthan gum goes a long way, a bit like baking powder and bicarbonate of soda. That is also where you will find it in the supermarket, in the baking aisle.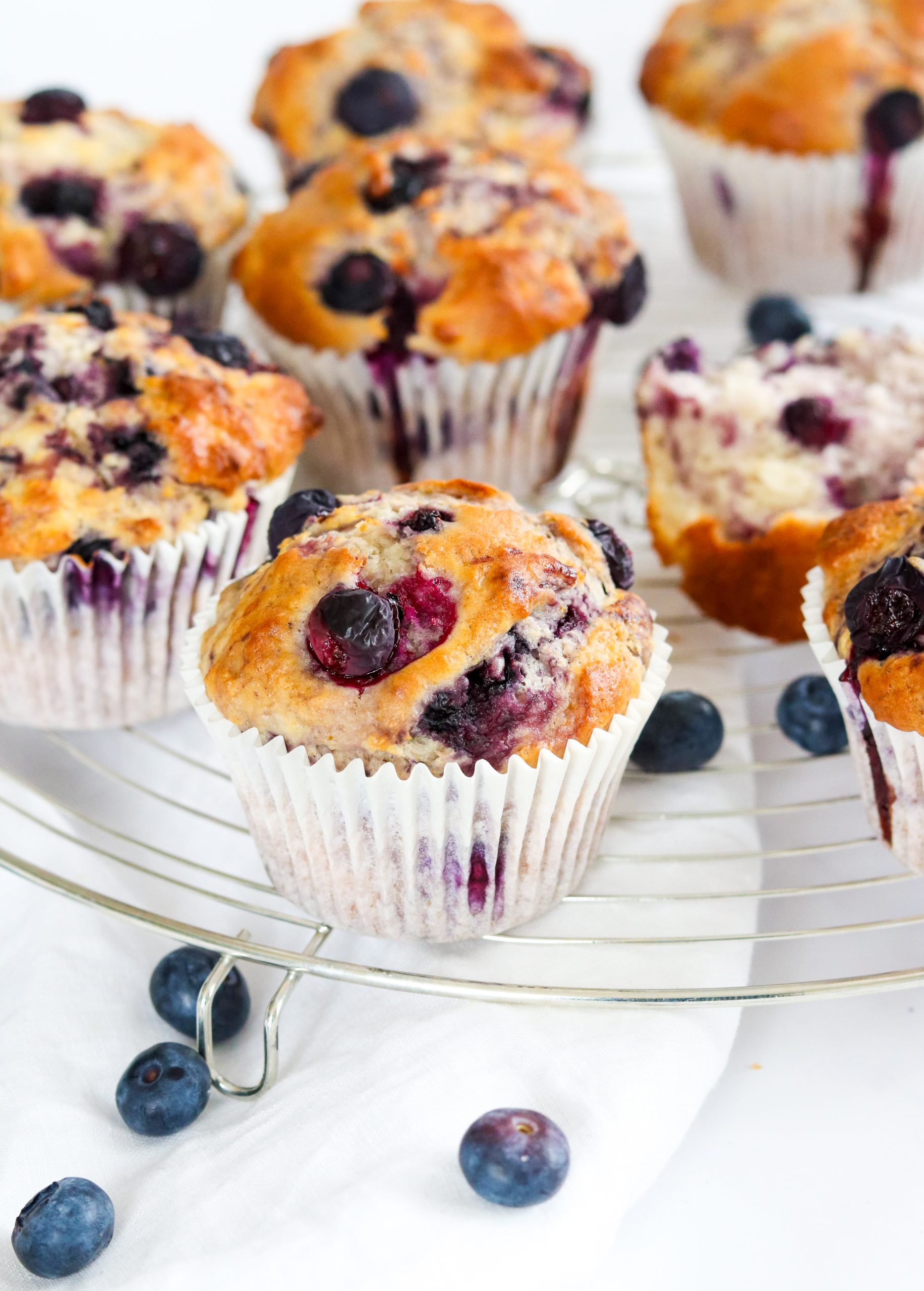 Do gluten free muffins differ from standard flour muffins?
Gluten free flour does alter the texture and sometimes flavour of bakes.
As with other gluten free bakes, these Gluten Free Blueberry Muffins tend to become drier more quickly than those using standard flour.
Therefore I would recommend either eating all of the muffins in a couple of days (go on, try it!) or freezing some on the day you baked them. Muffins freeze really well and it means you then have tasty muffins at your fingertips.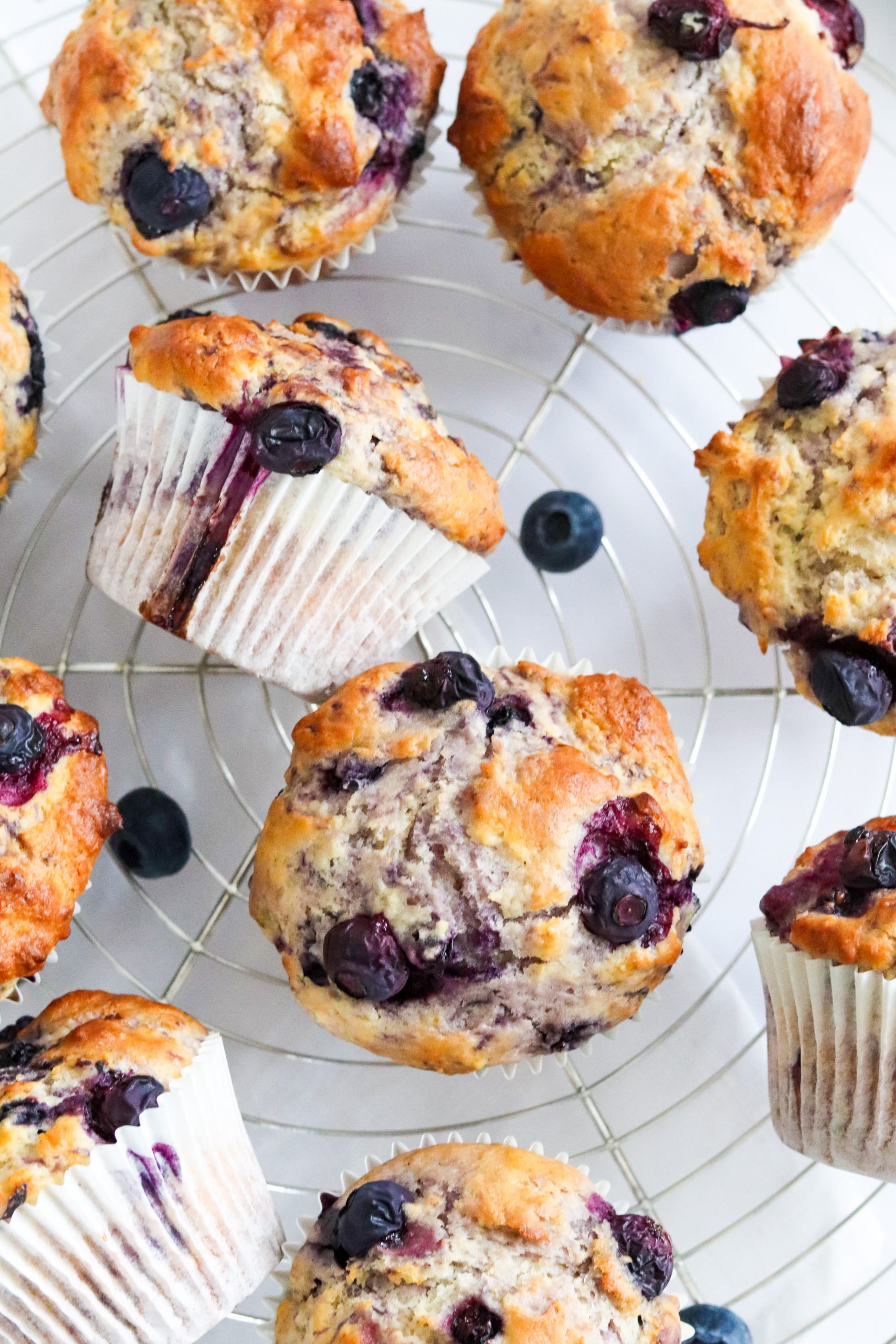 How to freeze these muffins
Freezing muffins is a great way to make them stay fresher for longer.
As gluten free flour tends to become drier more quickly I would recommend freezing the muffins on the day you bake them.
I would recommend to wrap them in cling film/plastic wrap and adding them to a freezer bag or container. Then when you want to eat one you can leave it to defrost on the side for 30 minutes or so.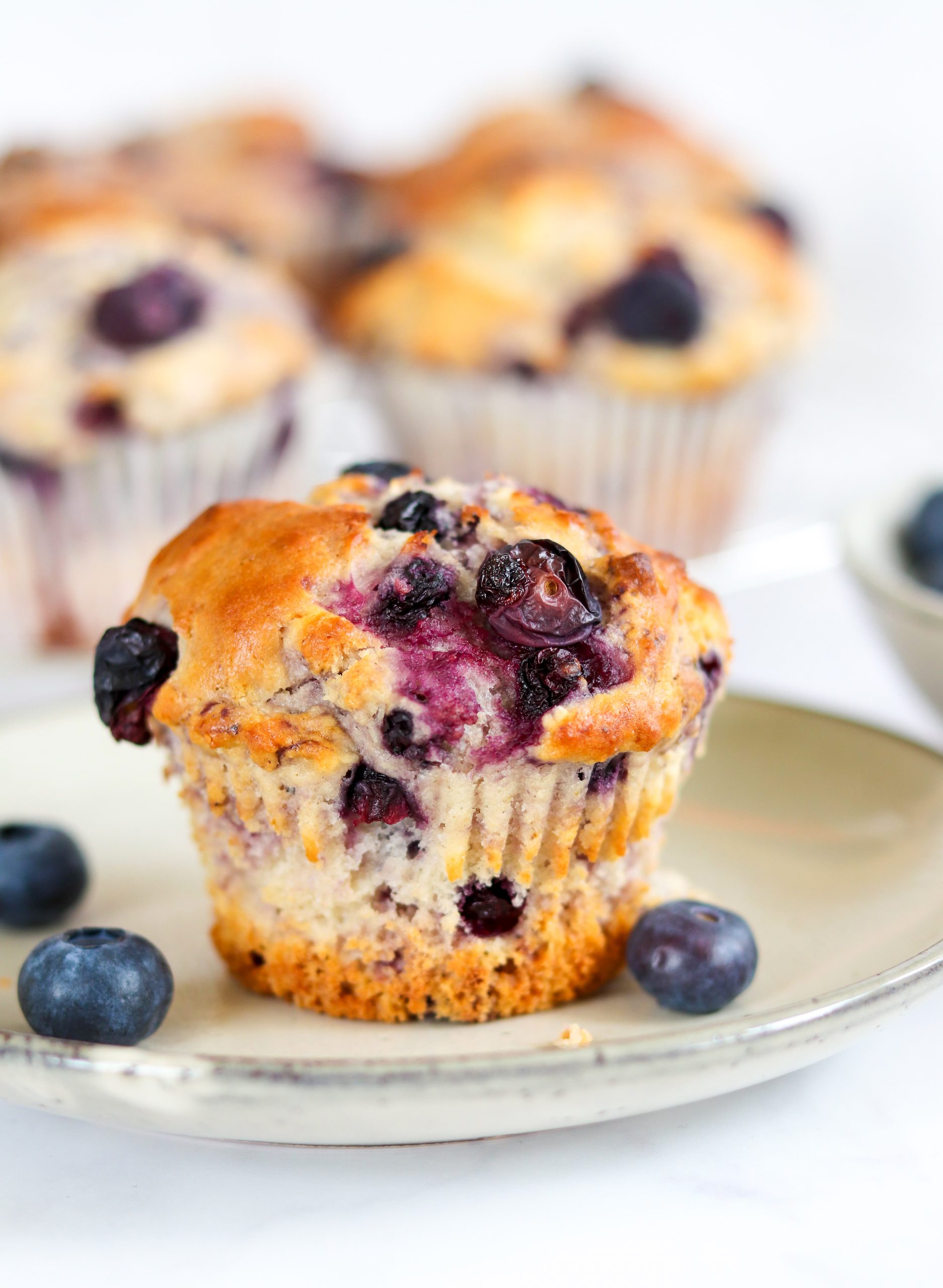 Why have my blueberries sunk to the bottom?
When baking with fruit it isn't unusual for your fruit to sink to the bottom.
I don't have a problem with this – the muffins still taste delicious! However if yours have sunk and you would like them not to, dust them in flour.
This should help them distribute more evenly throughout the muffins.
Frozen blueberries are less likely to sink when baking so you may prefer to use them instead.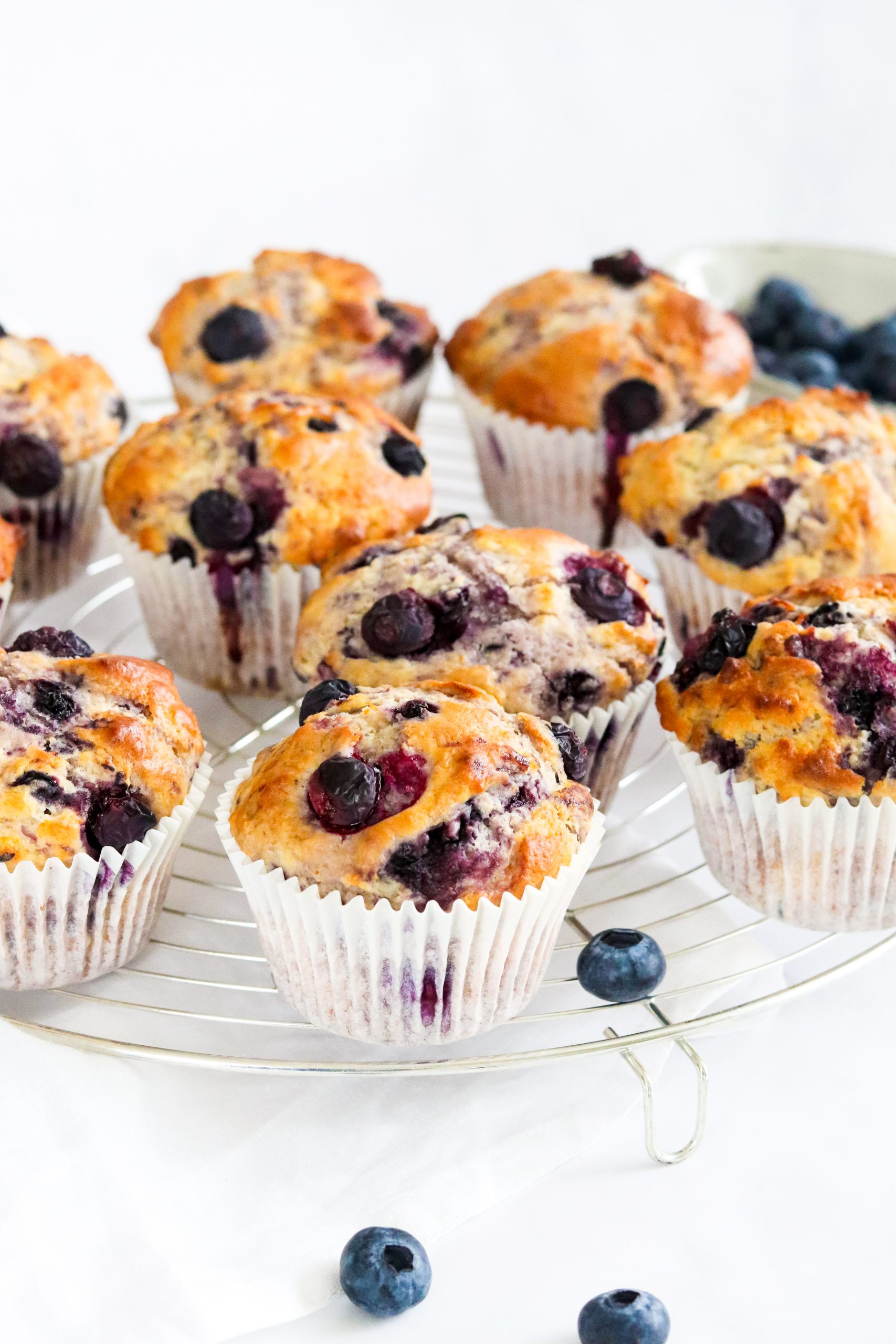 Is it best to use fresh or frozen blueberries?
This recipe is delicious with fresh or frozen blueberries so it is up to you which you would prefer.
Frozen blueberries are handy to have in the freezer to use anytime of the year. They are also less likely to sink or burst during baking.
Fresh blueberries do tend to be bigger and juicer in my opinion though!
What I tend to do is use frozen blueberries in the muffin batter and then top the muffins with fresh blueberries.
Can I make these muffins with standard flour?
Yes, absolutely.
If you don't need to make these blueberry muffins gluten free, just use standard plain flour and omit the xanthan gum.
If you make these with standard flour they will stay fresh for 2 – 3 days.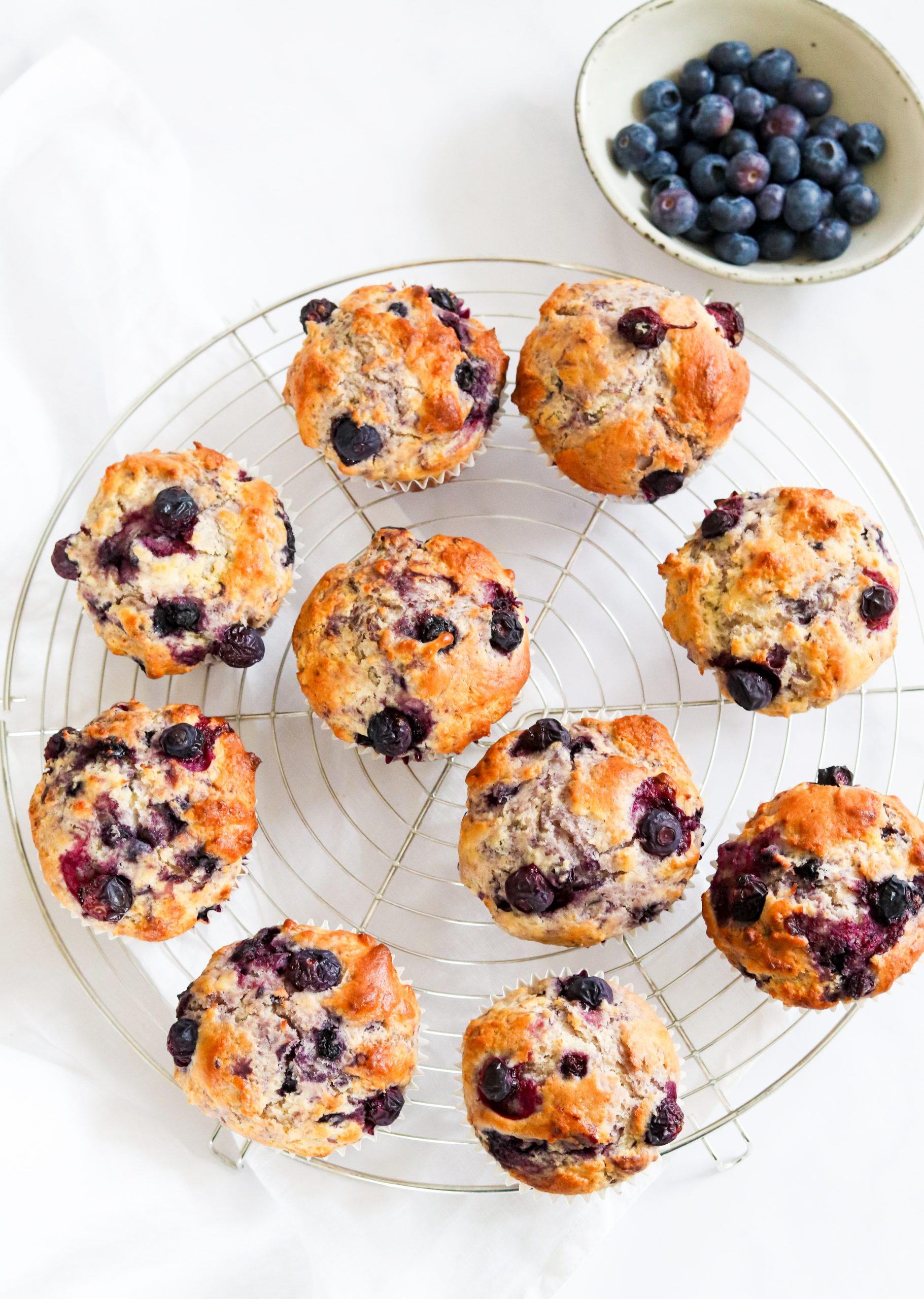 Other recipes you might like
Pin for later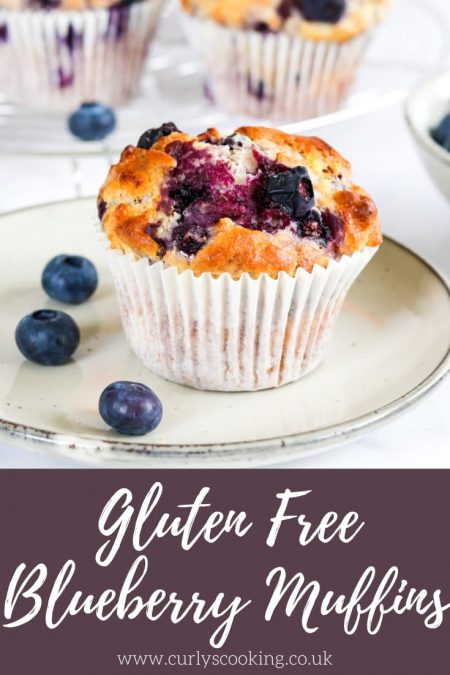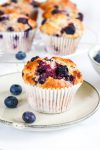 Gluten Free Blueberry Muffins
These Gluten Free Blueberry Muffins are so light and fluffy they make the perfect breakfast or midday treat whether you follow a gluten free diet or not.
Ingredients
340

g

gluten free plain flour

½

tsp

xanthan gum

3

tsp

baking powder

160

g

caster sugar

150

g

blueberries

frozen or fresh

320

g

non fat plain yogurt

60

ml

sunflower oil

1

egg
To finish
50

g

blueberries

optional
Instructions
Preheat the oven to 180°C (fan assisted or 200°C non fan) and line a muffin tin with paper liners

Add the flour, xanthan gum, baking powder and caster sugar to a large bowl and mix before adding the blueberries. Gently mix the blueberries with the rest of the ingredients

In a jug, whisk together the yogurt, vegetable oil and egg

Add the wet ingredients to the dry ingredients and stir together just until all of the flour is mixed in – do not over mix

Divide the mix between the 12 muffin cases and top with a few additional blueberries. Bake in the oven for 15 – 20 minutes

Test the muffins after 15 minutes by inserting a cocktail stick, if it doesn't come out clean, put them back in for a few minutes. Leave to cool on a wire rack
Recipe Notes
Keep in an airtight container for up to two days. They are best eaten on the day you bake them.
Nutritional information is given as a guide only and may vary.
Nutrition Facts
Gluten Free Blueberry Muffins
Amount Per Serving
Calories 124
Calories from Fat 45
% Daily Value*
Fat 5g8%
Cholesterol 14mg5%
Sodium 30mg1%
Potassium 208mg6%
Carbohydrates 17g6%
Protein 2g4%
Vitamin A 25IU1%
Vitamin C 1.5mg2%
Calcium 109mg11%
Iron 0.2mg1%
* Percent Daily Values are based on a 2000 calorie diet.
Linking to