If you're looking for a delicious rice bowl packed full of flavour, this Korean Beef Bibimbap is for you. It's so easy to customise for different tastes that everyone will be happy and it'll be your family's new favourite meal!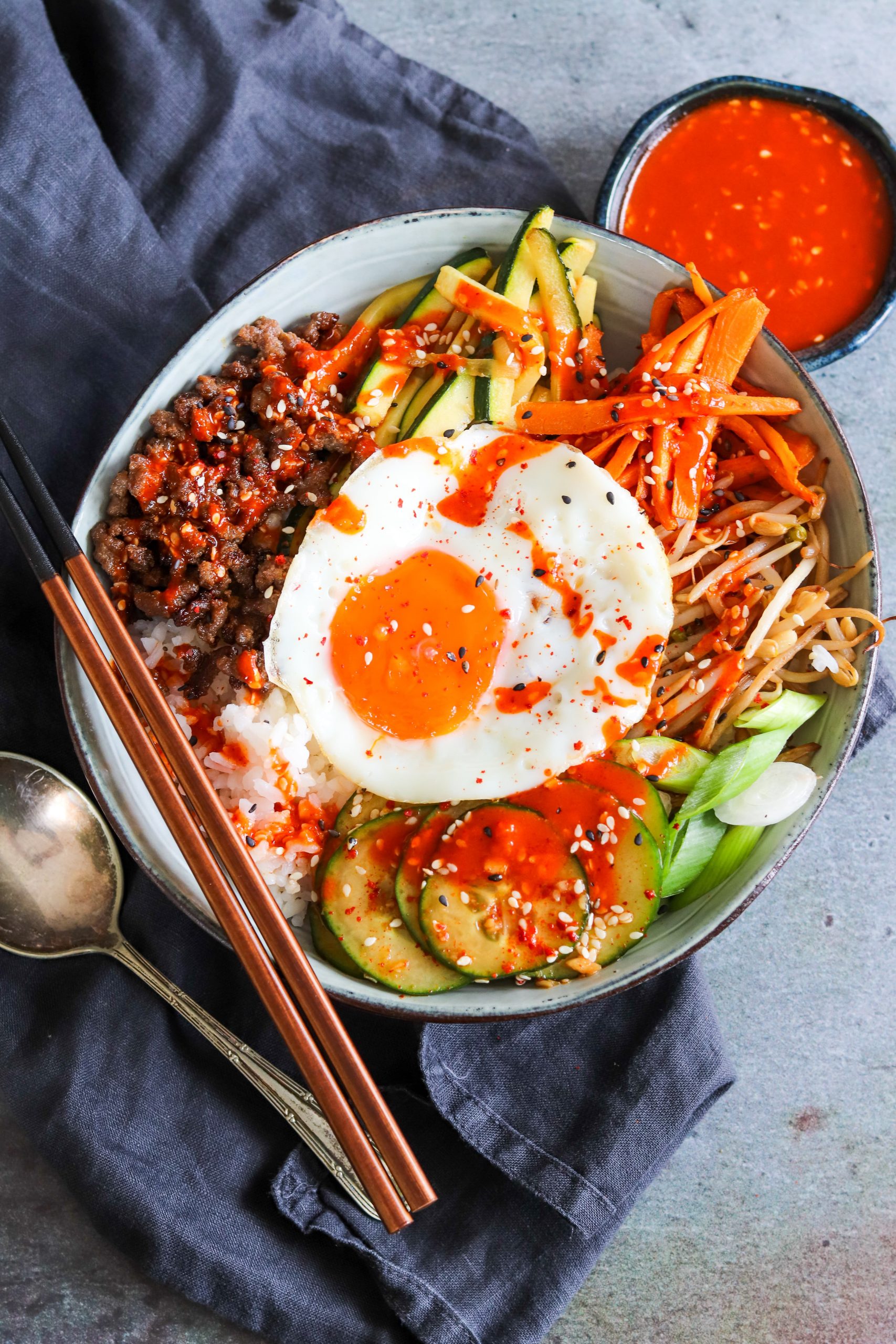 What is Bibimbap?
Bibimbap simply translates to 'mixed rice with meat and assorted vegetables'. Before you eat it, you are meant to mix all of the ingredients together.
Bibimbap is a bowl of cooked rice topped with sautéed vegetables and usually a gochujang based sauce. Beef is a popular topping which is traditionally served raw. A fried egg is also a common addition.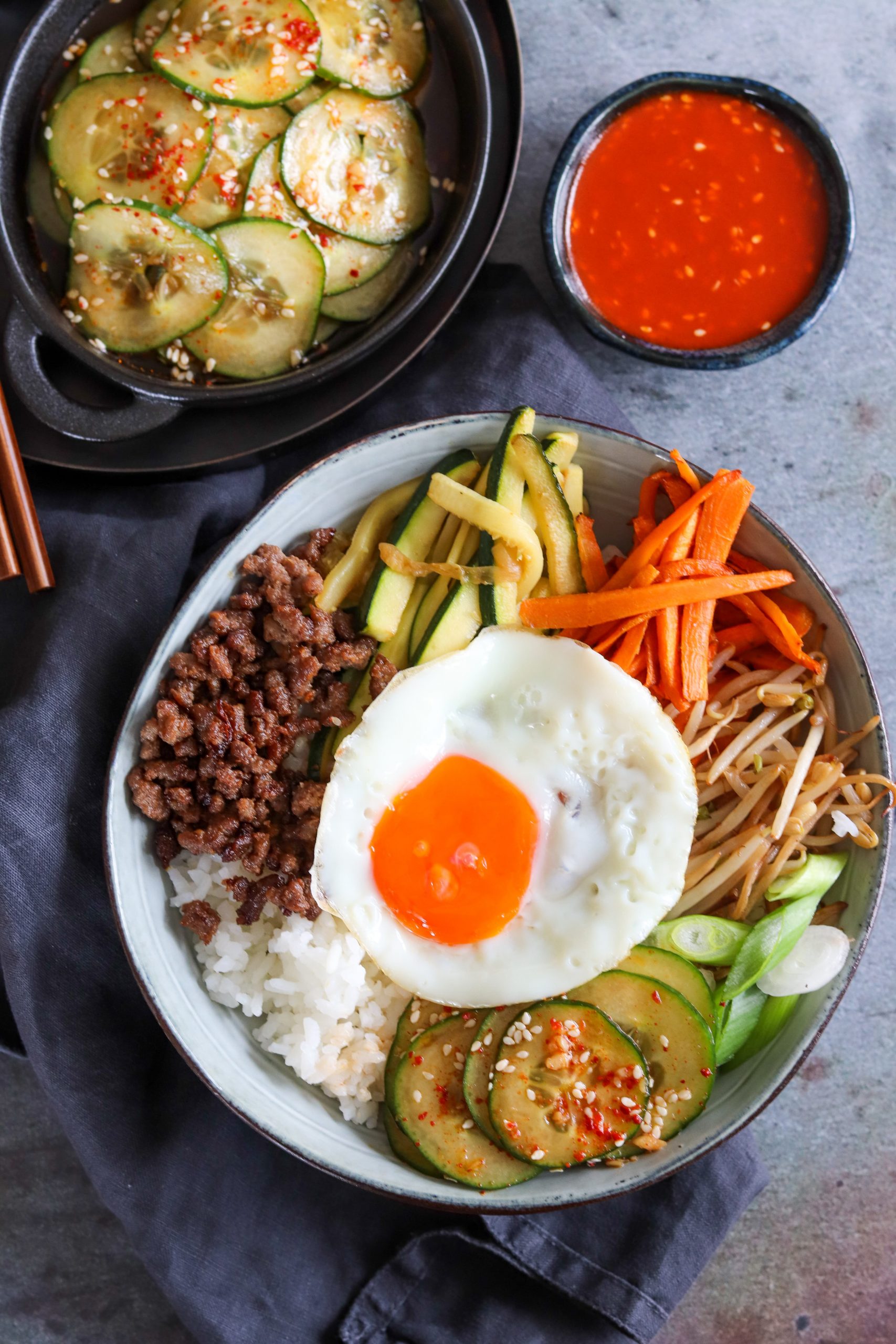 There are lots of variations of Bibimbap and different regions of Korea will serve it differently. This is my version of a classic Bibimbap as opposed to a dolsot bibimbap.
Dolsot bibimbap is served in a traditional stoneware pot. The heat of the pot creates a crisp layer or rice at the bottom that is next to the pot.
This classic Bibimbap can be served in bowl which means you don't need any specific equipment to make this delicious meal.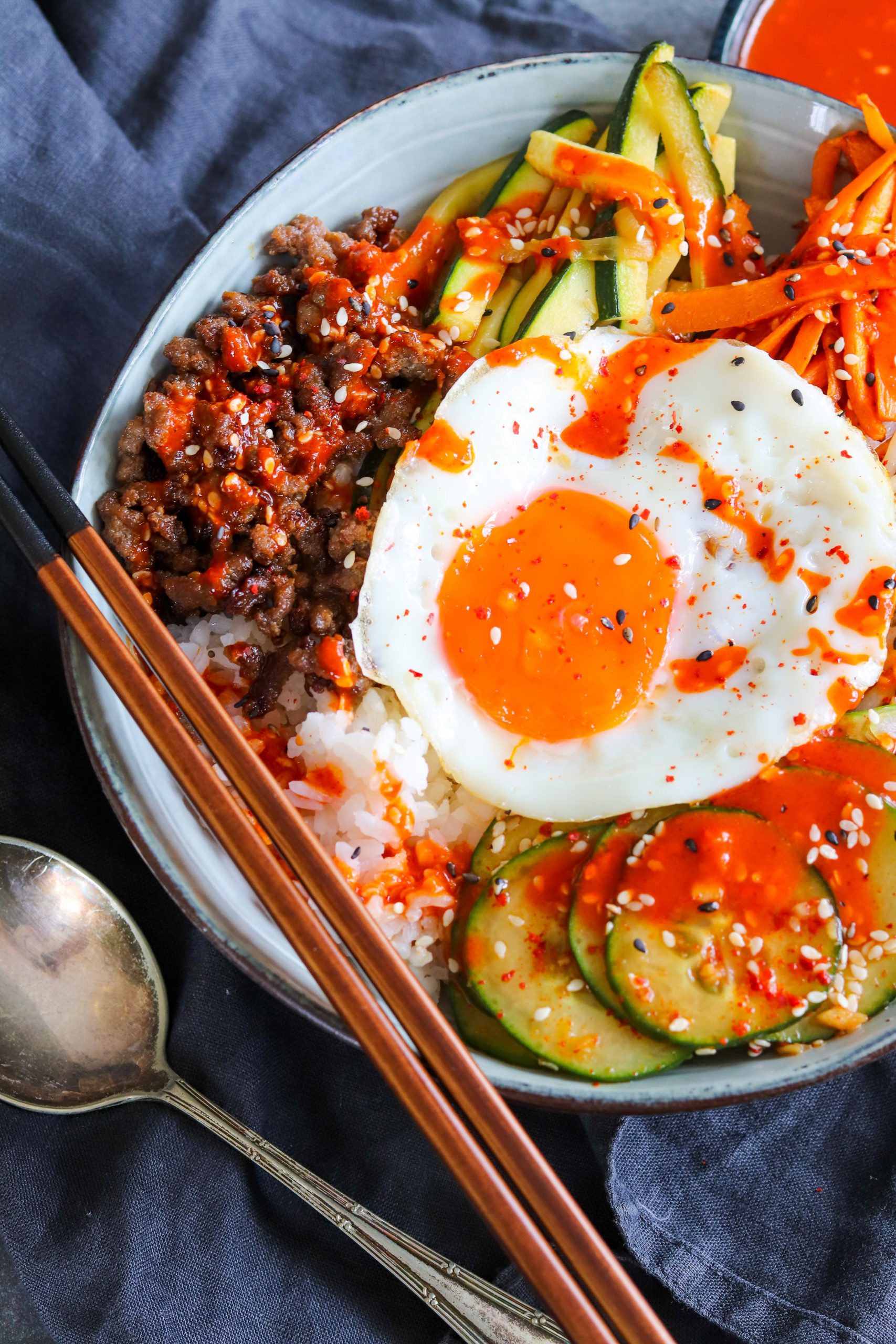 WHAT IS GOCHUJANG?
Gochujang is a fermented sweet and spicy red chilli paste made from chilli powder, glutinous/sticky rice, fermented soy beans and salt. It has a very thick, sticky texture with a vibrant red colour.
As it is quite spicy, I always recommend using sparingly until you know how spicy you like things. With this Bibimbap you can add a small amount of sauce and mix it through and then add more if desired.
Gochujang is becoming more widely available. It used to only be available in Asian supermarkets but I have seen it in the world food aisle of large supermarkets recently.
If you cannot find it where you live, you can always but it online at places like Amazon.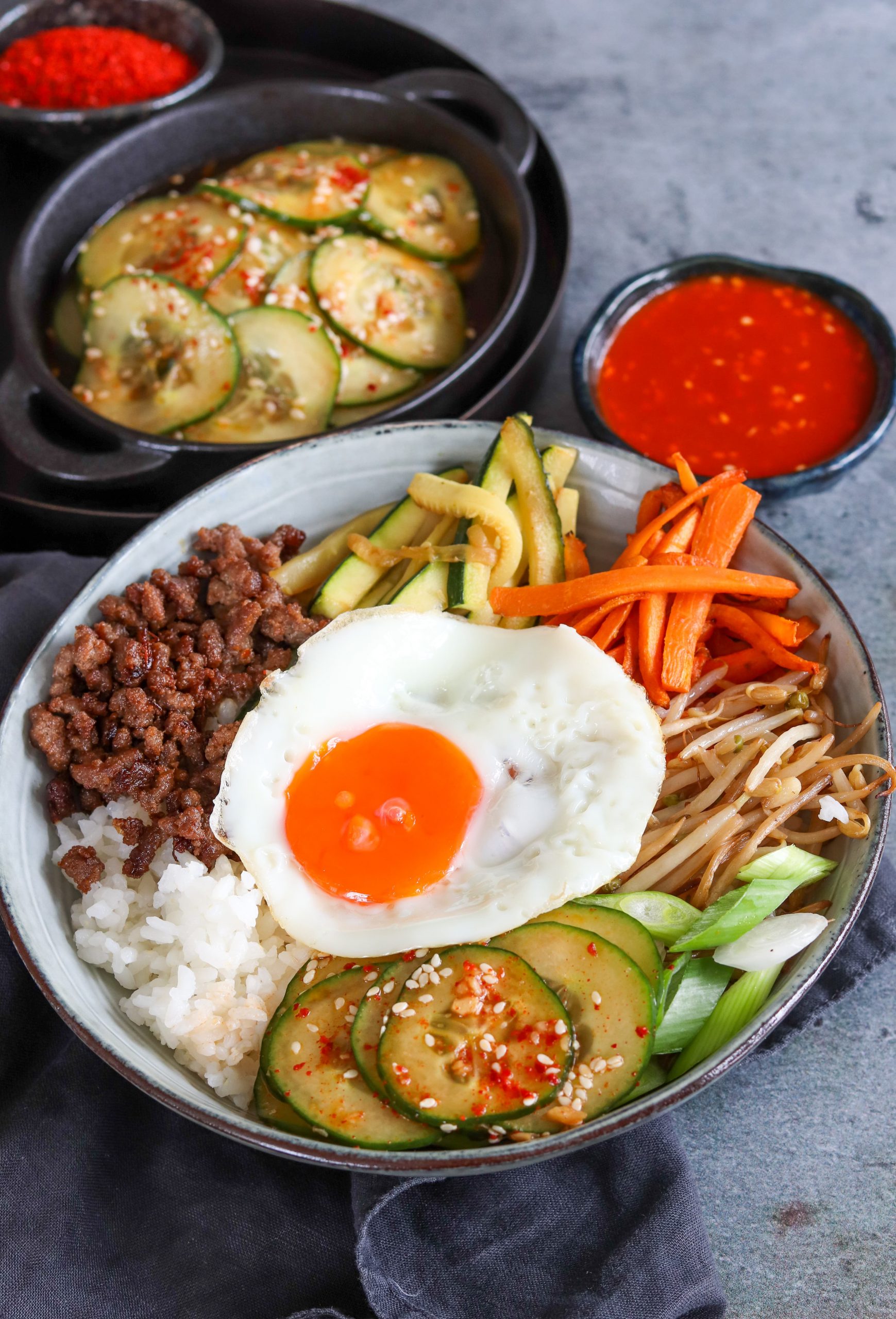 Which rice is best to use?
Koreans tend to eat mainly white short grain rice which is sometimes called sticky or sushi rice. It is my go-to rice to use for Asian recipes because it is incredibly delicious and is perfect for this Bibimbap.
You should be able to find short grain rice in most large supermarkets. All Asian supermarkets will also sell it, possibly at a better price.
If you haven't cooked sticky rice before you be unsure of how is best to cook it. This how to cook sticky rice guide explains exactly how to get perfect rice every time.
I really would recommend using short grain rice if you can. Alternatively you can use long grain rice.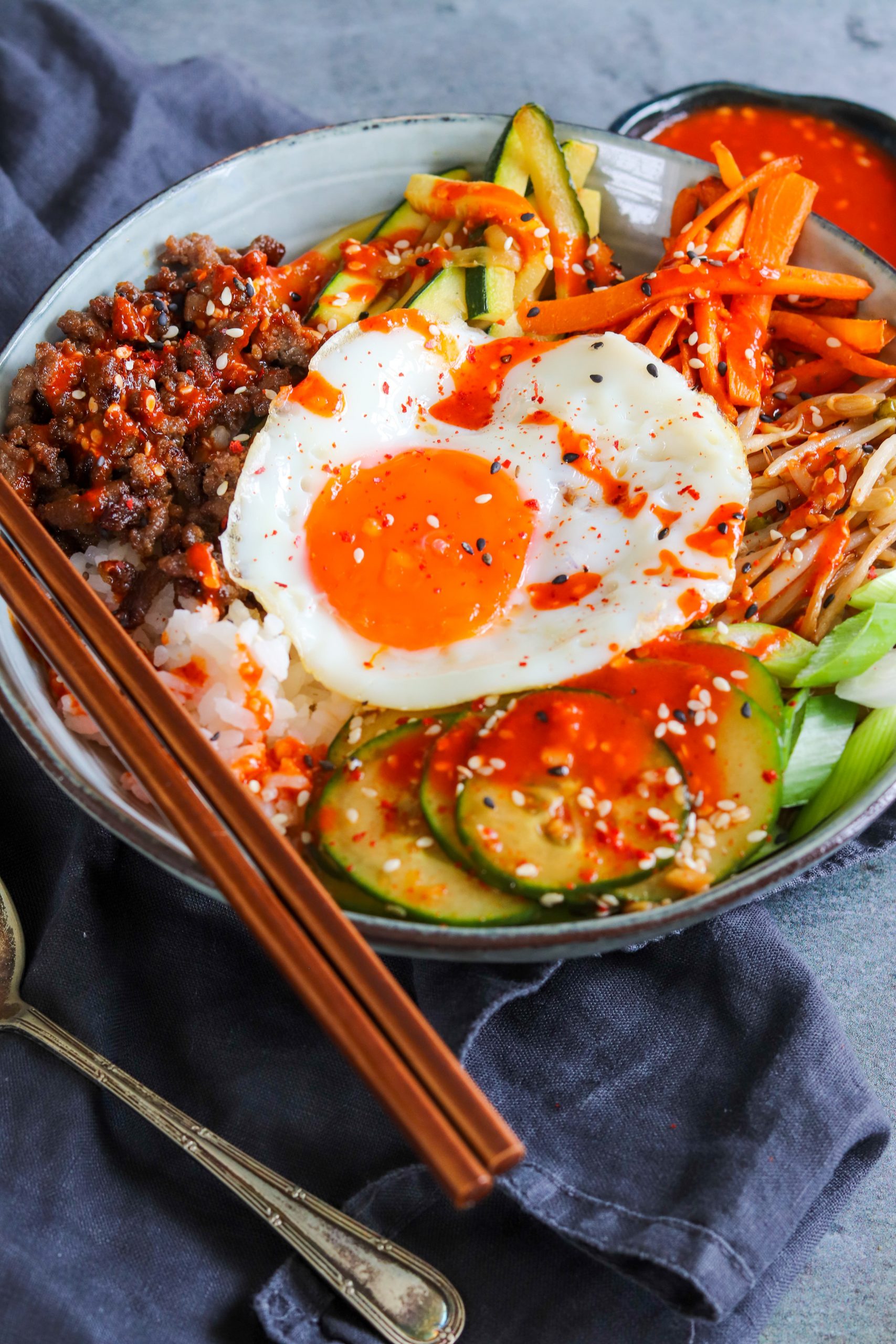 Tweak the recipe to your own tastes
The beauty of recipes like this is you can really make them your own.
I like to use carrots, courgettes (zucchini) and beansprouts as my toppings along with the beef mince (ground beef). Mushrooms and spinach are other popular toppings, but you really can use whatever you like.
Personally, I think a fried egg is an essential element to finish off this delicious dish. I love how the runny egg yolk mixes with the rest of the ingredients.
I also like to serve my Korean Cucumber Salad. It adds a cool freshness to the Bibimbap as well as adding a little more spice. Kimchi is also a popular traditional topping.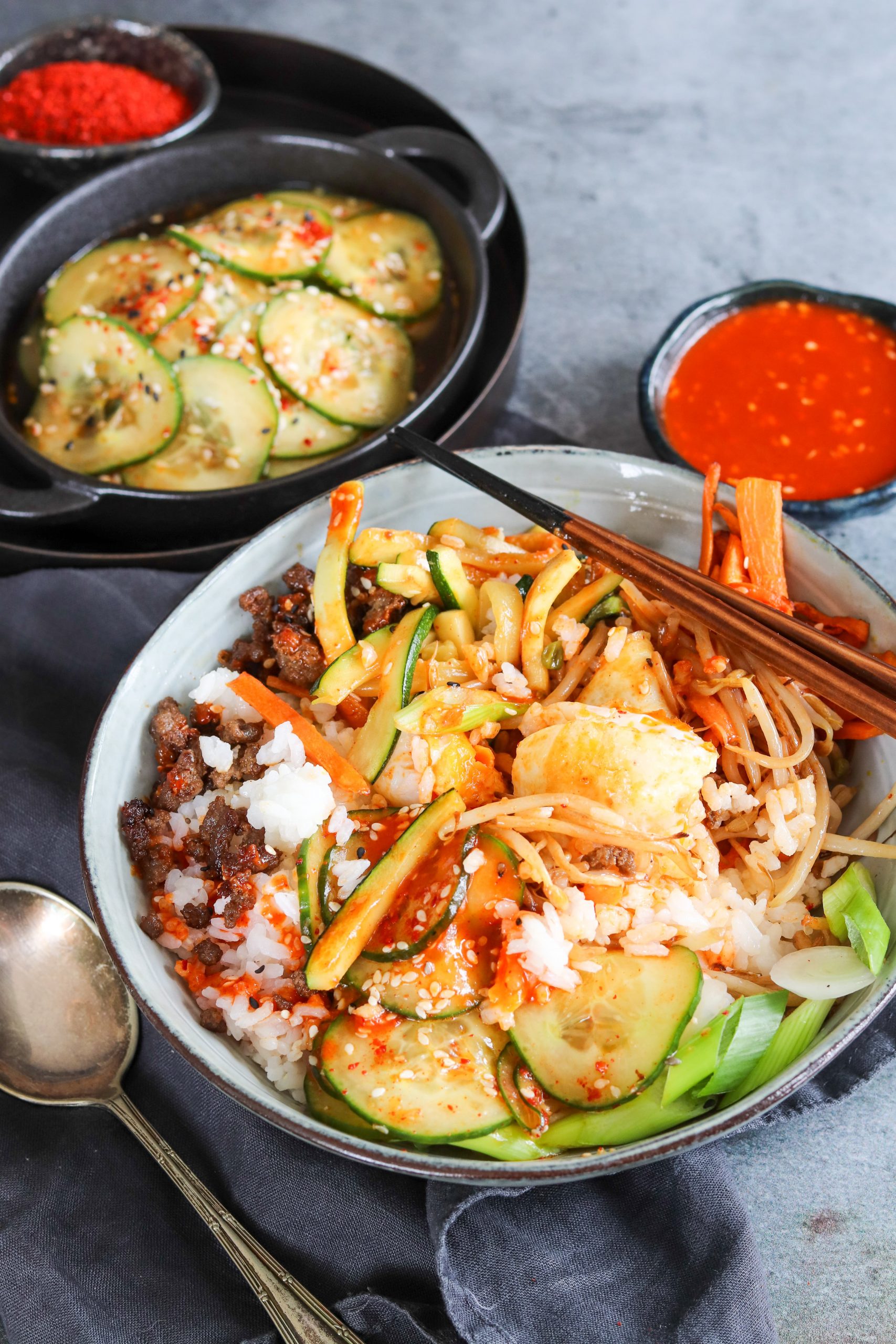 Do you have to cook the vegetables separetely?
Traditionally in a Bibimbap, the vegetables are all cooked separately. I think this is partially because the vegetables take different times to cook; but also because of how you present the dish.
The vegetables are laid on top of the rice individually which makes the dish look so inviting. However, the whole concept of this dish is that all of the ingredients get mixed together before you eat it.
If you are making this as a quick dinner for your family, I can definitely see how you might want to cook the vegetables together.
The one thing to keep in mind is how quickly each vegetable takes to cook. Don't add the carrots and beansprouts at the same time for example! Start by adding the vegetables that take the longest and gradually add the quickest cooking vegetables.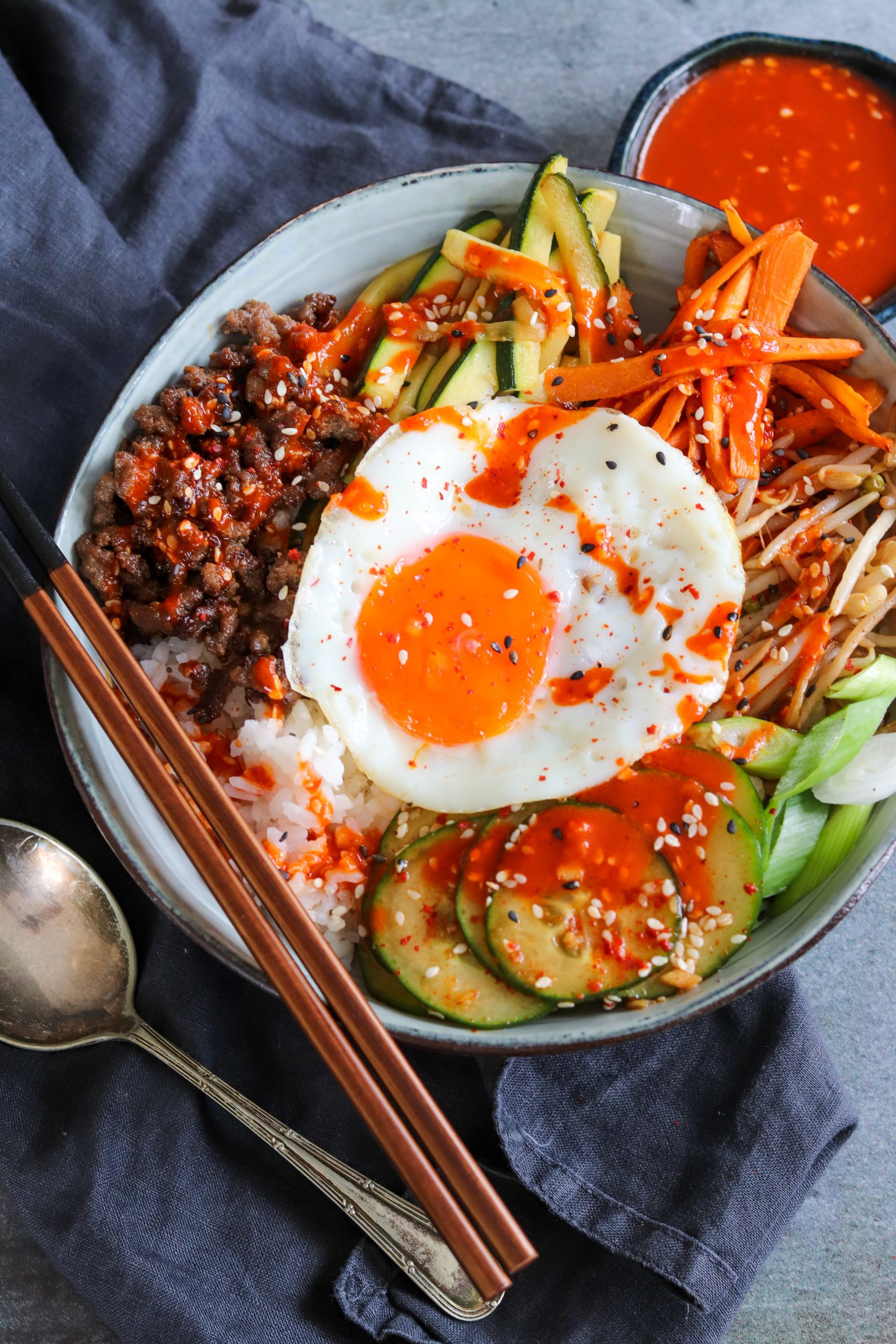 How spicy do you like your food?
The sauce for this Korean Beef Bibimbap is quite spicy, especially if you taste it on its own. When it's mixed in the dish I think it does mellow slightly.
If you are worried about the level of spice, you could reduce the amount of gochujang slightly. But I really do recommend making this dish a little spicy if you can handle it!
You can also adjust the amount of sauce you use depending on your spice tolerance. If you're a fan of spice add as much of the sauce as you like. However if you are a bit more spice cautious, you can add a small amount.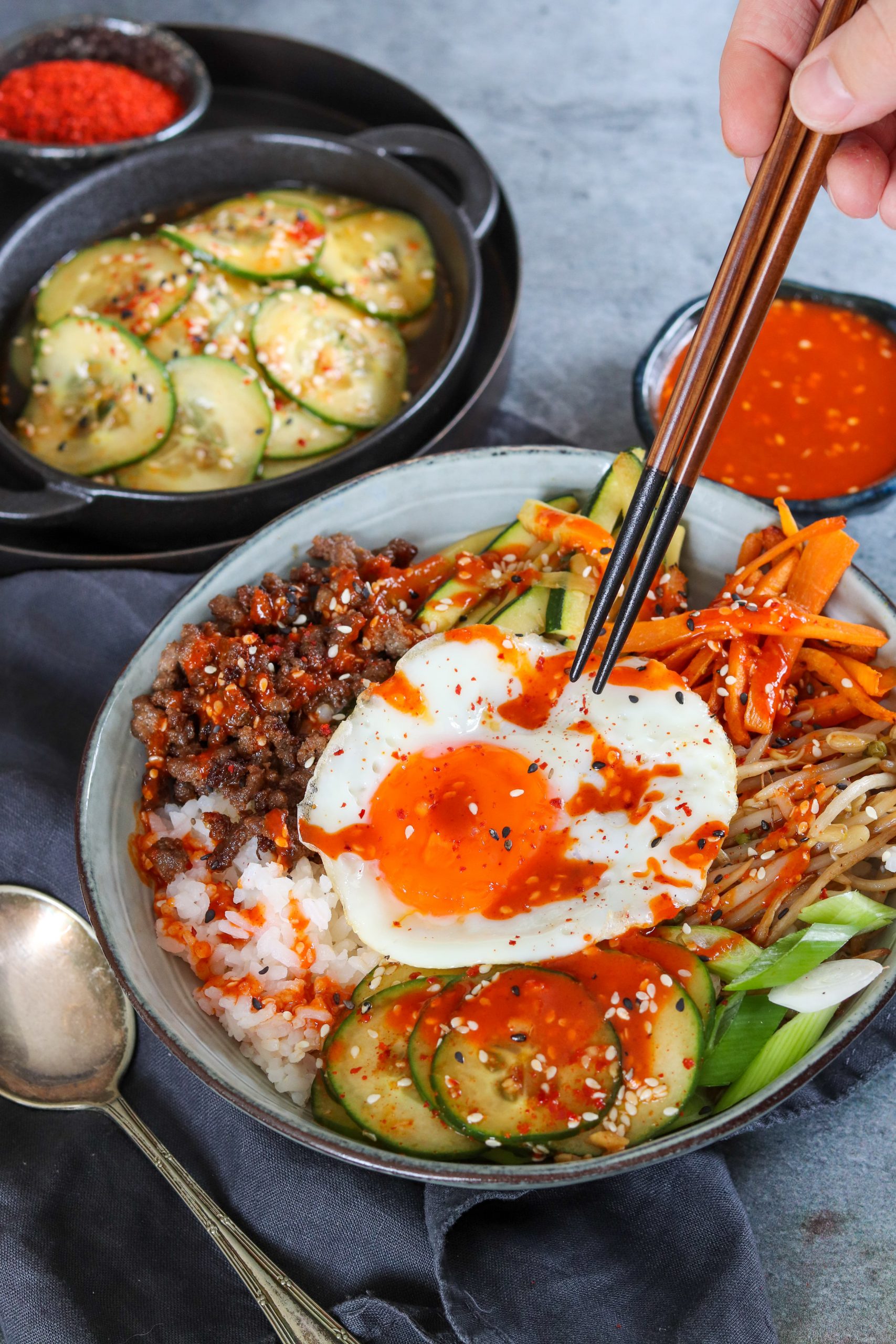 How to make this Bibimbap vegetarian and vegan
It is really simple to make this Bibimbap vegetarian or vegan.
Firstly you can swap the meat for a meat free alternative. Tofu or a meat substitute would work well. However you wouldn't be missing out if you decided to just serve vegetables.
Obviously if you are making this vegan you will need to omit the fried egg. Most gochujang should be vegan, but it is always worth checking the ingredients.
Unfortunately most gochujang has wheat or barley added in the manufacturing process so it isn't gluten free. If you are lucky enough to find a gluten free version, the only other ingredient you would need to swap is soy sauce to tamari.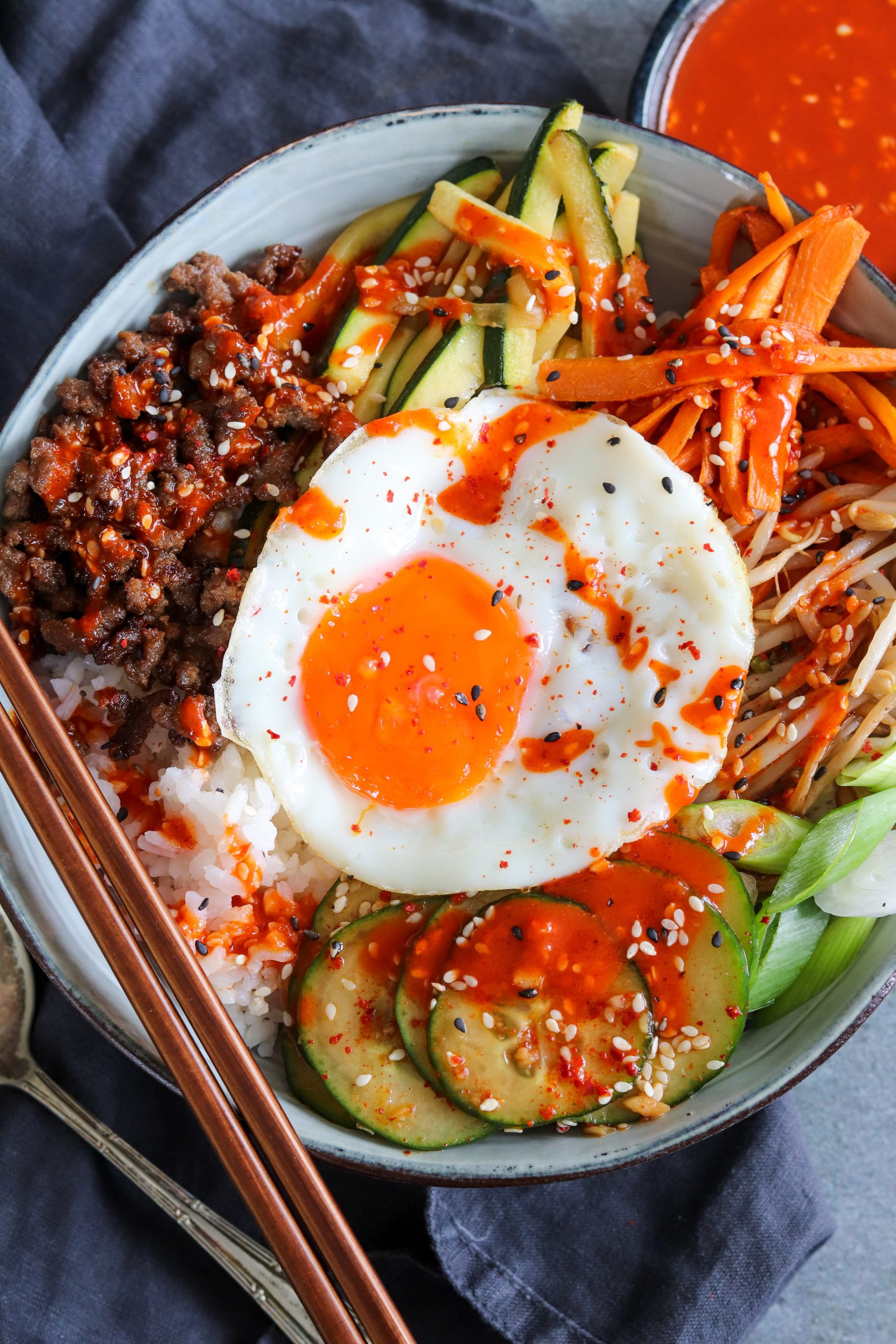 Other recipes you might like
Pin for later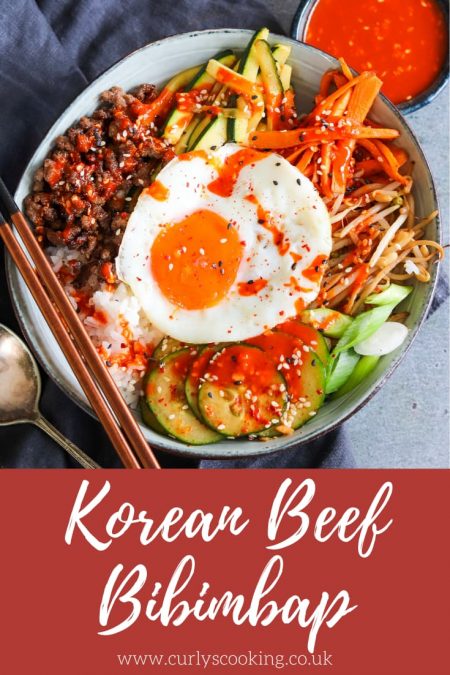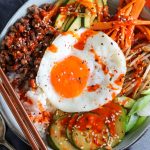 Korean Beef Bibimbap
If you're looking for a delicious rice bowl packed full of flavour, this Korean Beef Bibimbap is for you. It's so easy to customise for different tastes that everyone will be happy and it'll be your family's new favourite meal!
Marinating time
15
minutes
Ingredients
For the meat
200

g

beef mince

1

tbsp

soy sauce

1

tbsp

sesame oil

½

tsp

minced garlic

1

tsp

sugar
For the sauce
1

tbsp

gochujang paste

½

tsp

sesame oil

½

tsp

sugar

2

tbsp

water

½

tbsp

sesame seeds

½

tsp

apple cider vinegar

½

tsp

minced garlic
For the vegetables and toppings
1

medium carrot

peeled

1

courgette

Handful of beansprouts

1

tsp

vegetable oil

¼

tsp

salt

200

g

short grain rice

(sushi rice)

2

eggs + 1 tbsp oil

Sprinkle of sesame seeds
Instructions
Add the beef mince to a bowl along with the rest of the marinade ingredients and allow to sit for at least 15 minutes whilst you prepare the rest

Mix all of the sauce ingredients together in a bowl and set aside. You want it to be thin enough to be able to drizzle so add a touch more water if needed

Cook the rice as per the packet instructions with a pinch of salt

Julienne (cut into matchsticks the carrot and courgette)

Heat a small amount of the oil in a frying pan over a medium/low heat. Add the carrot and cook slowly until they have taken on some colour and softened. Season with a pinch of salt and set aside – you may want to keep them in a very low temperature oven on the bottom shelf to keep them warm once cooked

Repeat with the courgette and beansprouts and set aside

Using the same frying pan as you have cooked the vegetables in, on a high heat add the beef mince and cook for 5 minutes or until cooked through and starting to get crispy. Add a small amount of oil if needed

Heat 1 tablespoon of oil in another frying pan and cook the eggs

To serve, add the rice to the bottom of the bowl and flatten the top. Place the cooked vegetables and meat in a circular pattern keeping each ingredient separate

Add the fried egg to the top and drizzle with as much of the gochujang sauce as you want. Finish with a sprinkle of sesame seeds

To eat, mix all of the ingredients together
Recipe Notes
Nutritional information is given as a guide only and my vary.
Nutrition Facts
Korean Beef Bibimbap
Amount Per Serving
Calories 800
Calories from Fat 288
% Daily Value*
Fat 32g49%
Cholesterol 71mg24%
Sodium 874mg38%
Potassium 660mg19%
Carbohydrates 87g29%
Protein 27g54%
Vitamin A 196IU4%
Vitamin C 18mg22%
Calcium 84mg8%
Iron 4mg22%
* Percent Daily Values are based on a 2000 calorie diet.