The perfect mix of sweet, salty and spicy; this Korean Cucumber Salad is the perfect Banchan style side to elevate so many dishes. It's really simple and takes no time at all to make.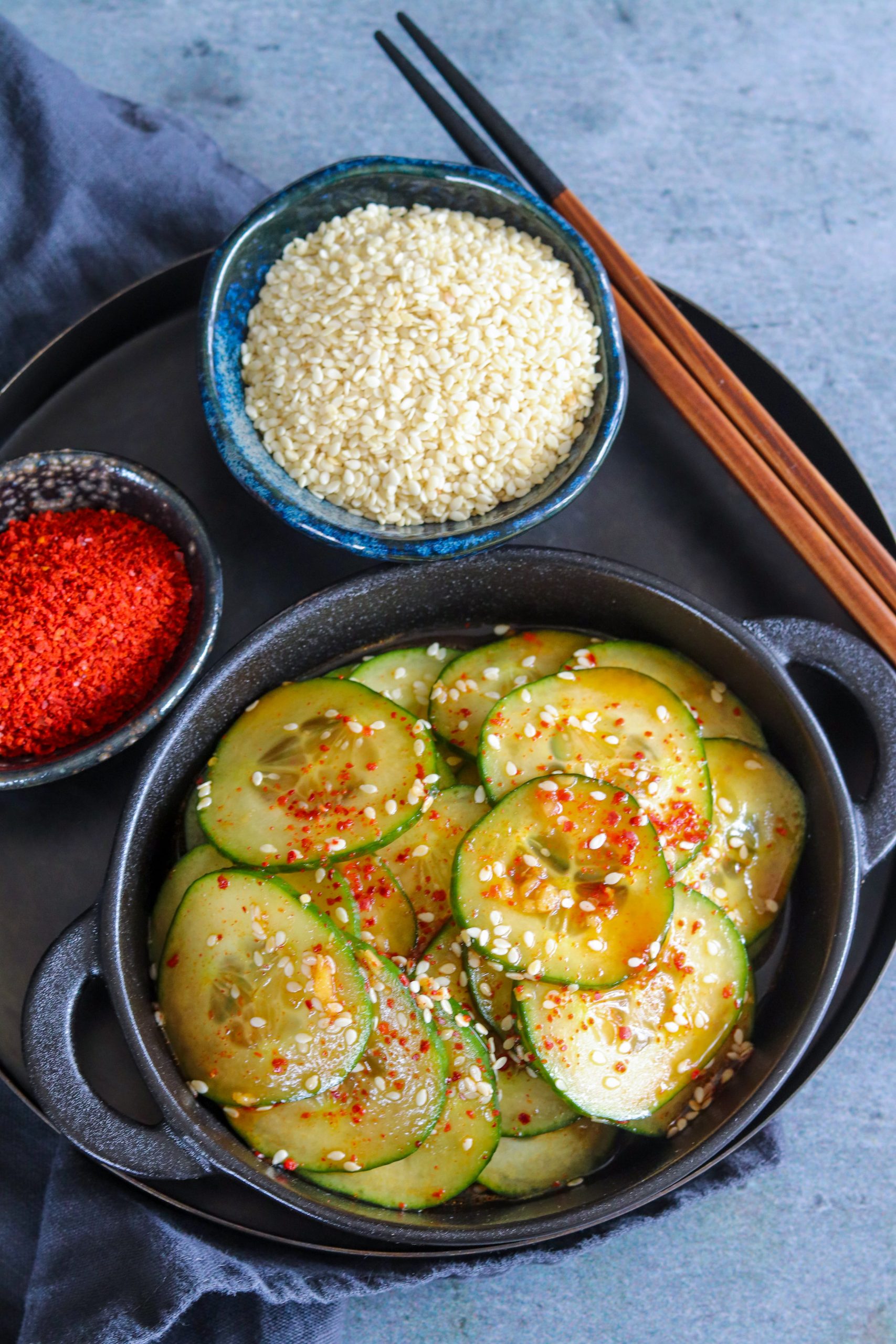 What is a Korean cucumber salad?
This is a delicious, fresh and simple salad that mixes flavours perfectly. Not only is it packed full of flavour, but it is the crunch from the cucumber that really sets it apart.
In this Korean Cucumber Salad, the humble cucumber is given a lift with the delicious flavours that make up the dressing.
Cucumber salads are popular in Asian cuisines because of the freshness they provide. They help to cleanse your palate which can be needed if you are eating it alongside something spicy!
I took my inspiration from the traditional Korean dish Oi Muchim for my take on this cucumber salad. I am not claiming my version is authentic, but it is how I like to make my version.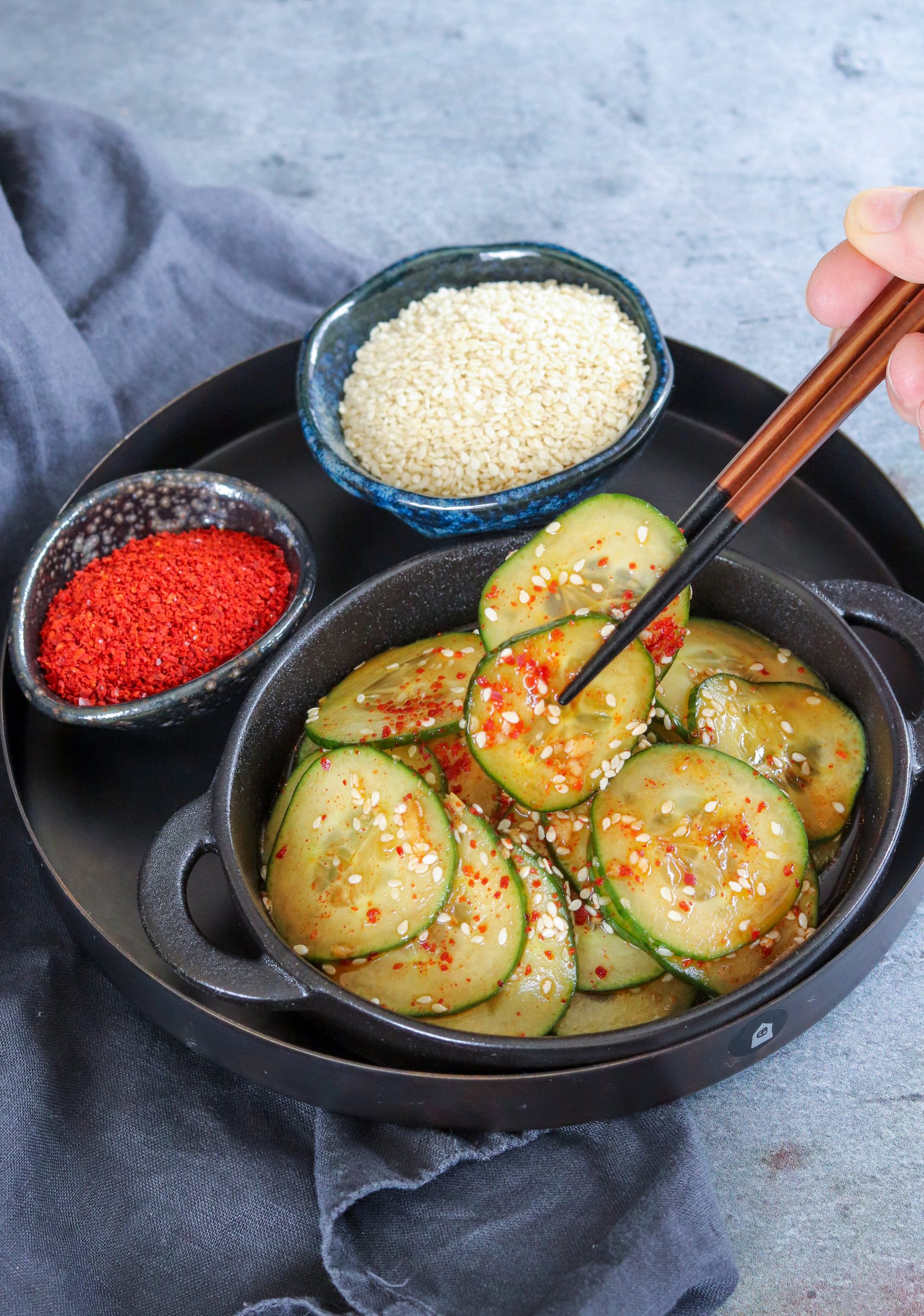 what are banchan dishes?
Banchan literally translates to 'small dishes' in Korean. Banchan are served alongside rice and are traditionally meant to be shared with everyone at the table. They are served with a centre piece such as Korean BBQ or Bibimbap.
Banchan are usually served before the main course, but are not considered a starter. They are a served as complimentary dishes to the main event.
This Korean Cucumber Salad is the perfect Banchan style dish as it is delicious served with a number of main dishes.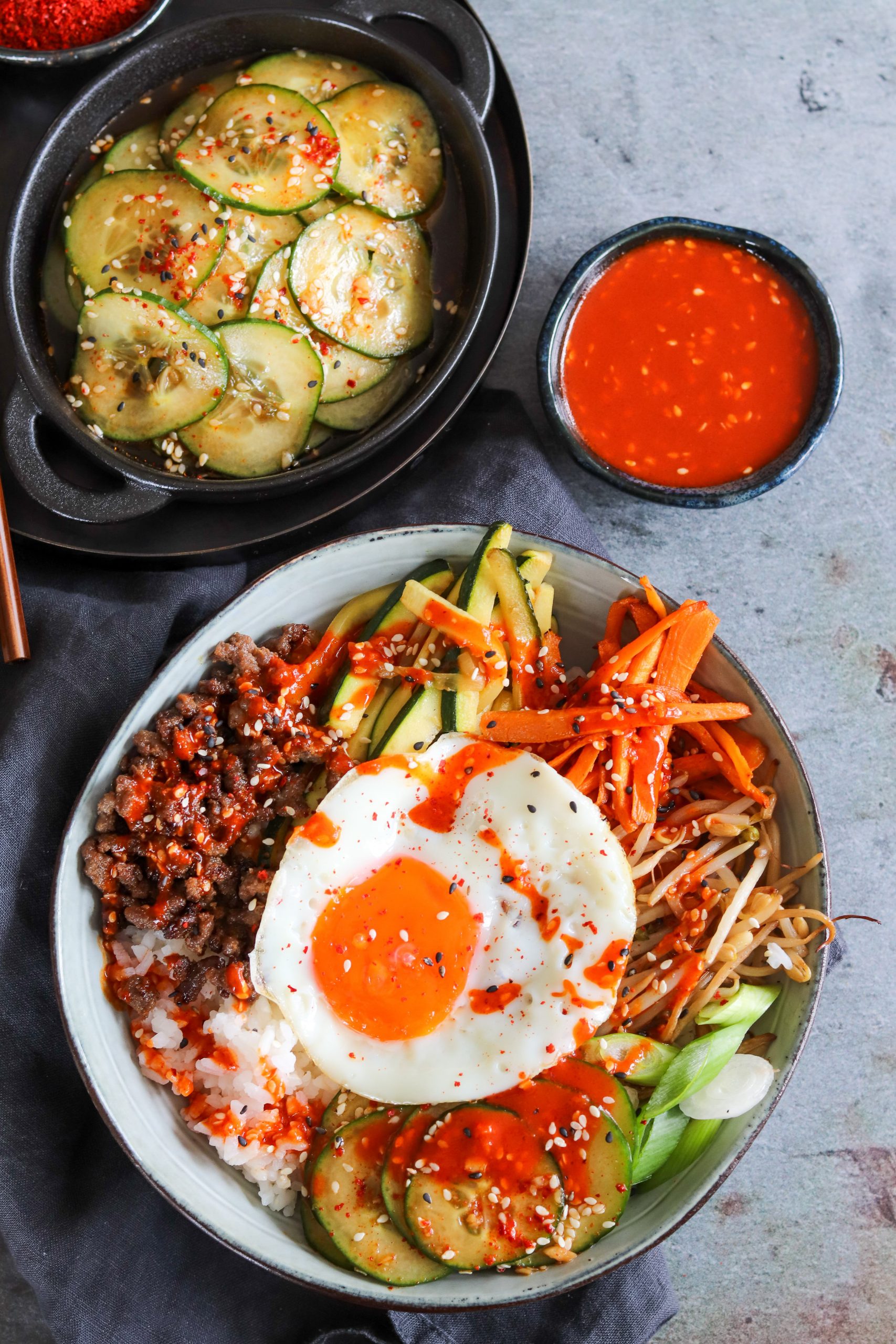 Which cucumbers are best to use?
If you are from the UK, you might not realise that there are different types of cucumber. This is because most supermarkets only sell what are known as English cucumbers.
But there are different varieties and not all would be the best for this cucumber salad.
English/Hothouse – These types of cucumber are long and thin with small seeds and a thin skin. There is no need to peel or deseed these cucumbers and they have a natural sweetness. They are perfect for this salad.
American Slicing – Thick skinned with large harder seeds and usually bitter. I wouldn't recommend this type for this salad, but if you absolutely insist on it you would need to peel and deseed them.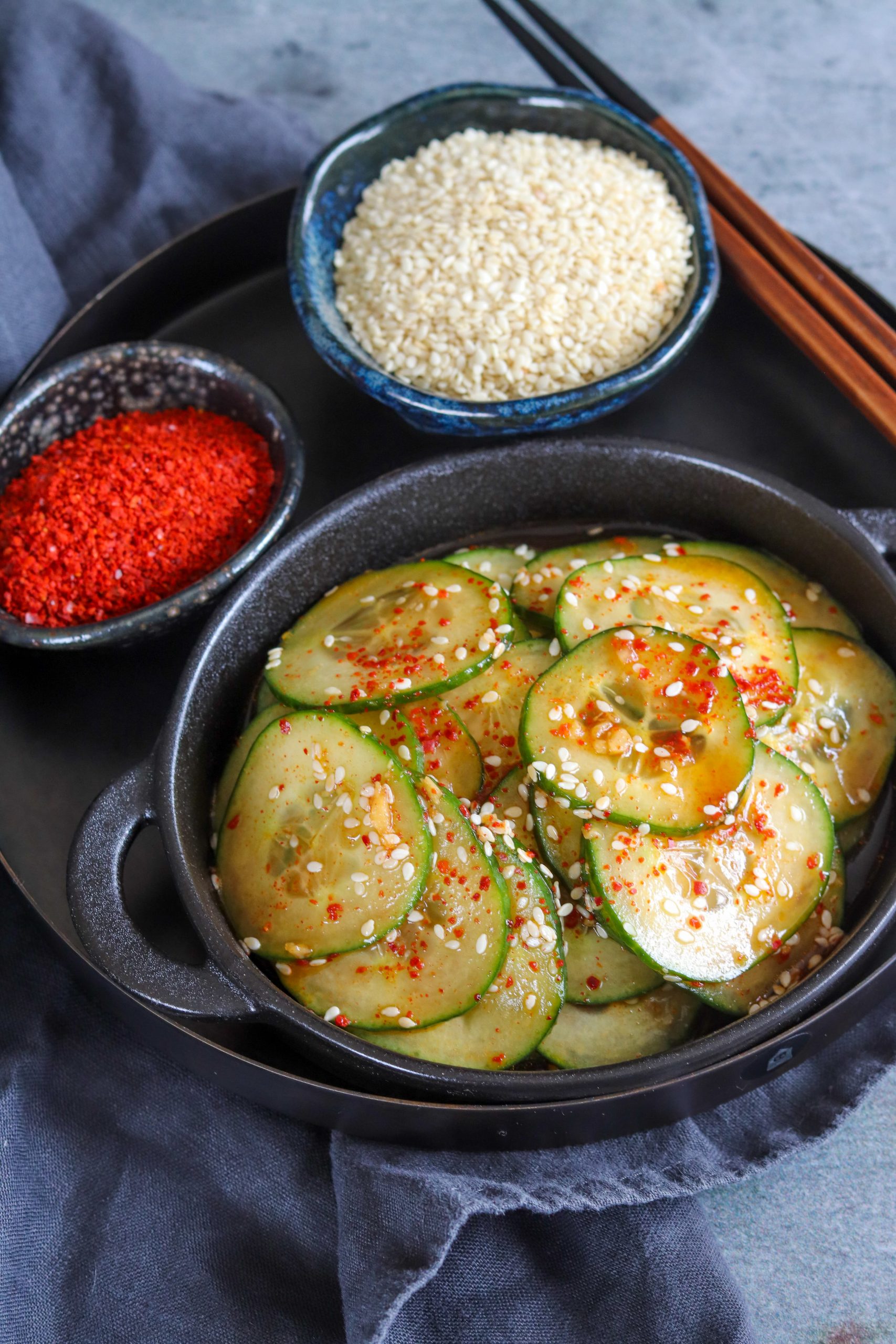 Kirby – These are sometimes also known as pickling cucumbers as this is commonly what they are used for. They are shorter and thicker with a knobbly skin which can range from light to dark green in colour.
Kirby cucumbers would work for this salad and you wouldn't need to peel or remove their seeds.
Persian – I think of these as mini versions of English cucumbers. They are usually sold in multipacks and are more expensive than other types. They would work really well for this recipe.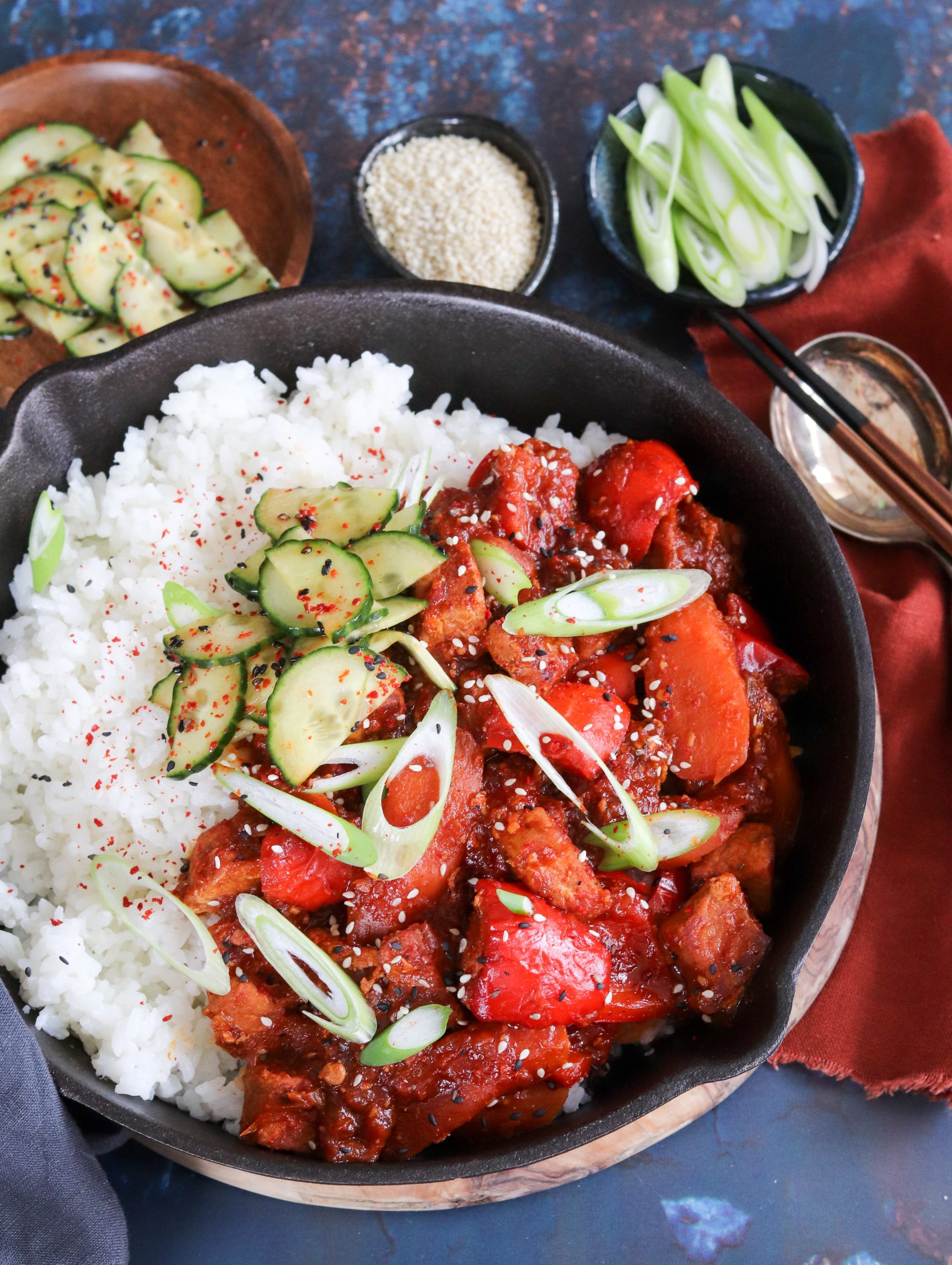 how to cut the cucumber?
You can cut the cucumber however you like for this salad. I prefer thin slices or half moon shapes.
You can cut the cucumber either by hand or with a mandolin. I have a Microplane vegetable grater which is super handy and creates perfect slices.
I like to cut thin slices because you get a good cucumber to dressing ratio. But you can definitely cut the slices chunkier if you prefer.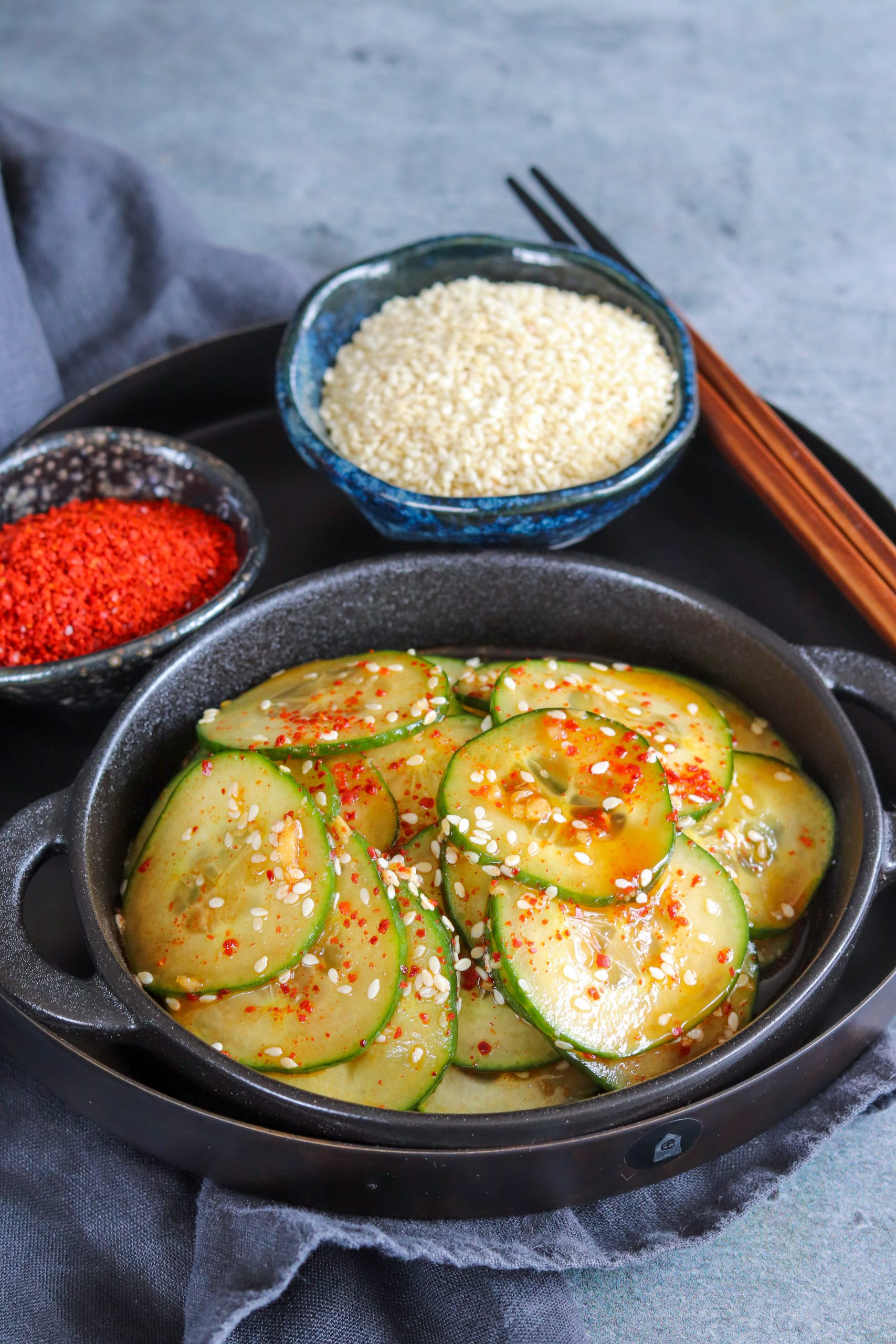 what is gochugaru?
Gochugaru is coarsely ground, spicy Korean chilli flakes. It is an essential ingredient in making gochujang, kimchi and many other authentic Korean recipes.
Although I haven't seen gochugaru in standard supermarkets yet, it is easily found in Asian supermarkets and online.
If you like Korean food I really do recommend buying some as you will find yourself using it in a number of dishes like my Spicy Korean Pork Stew.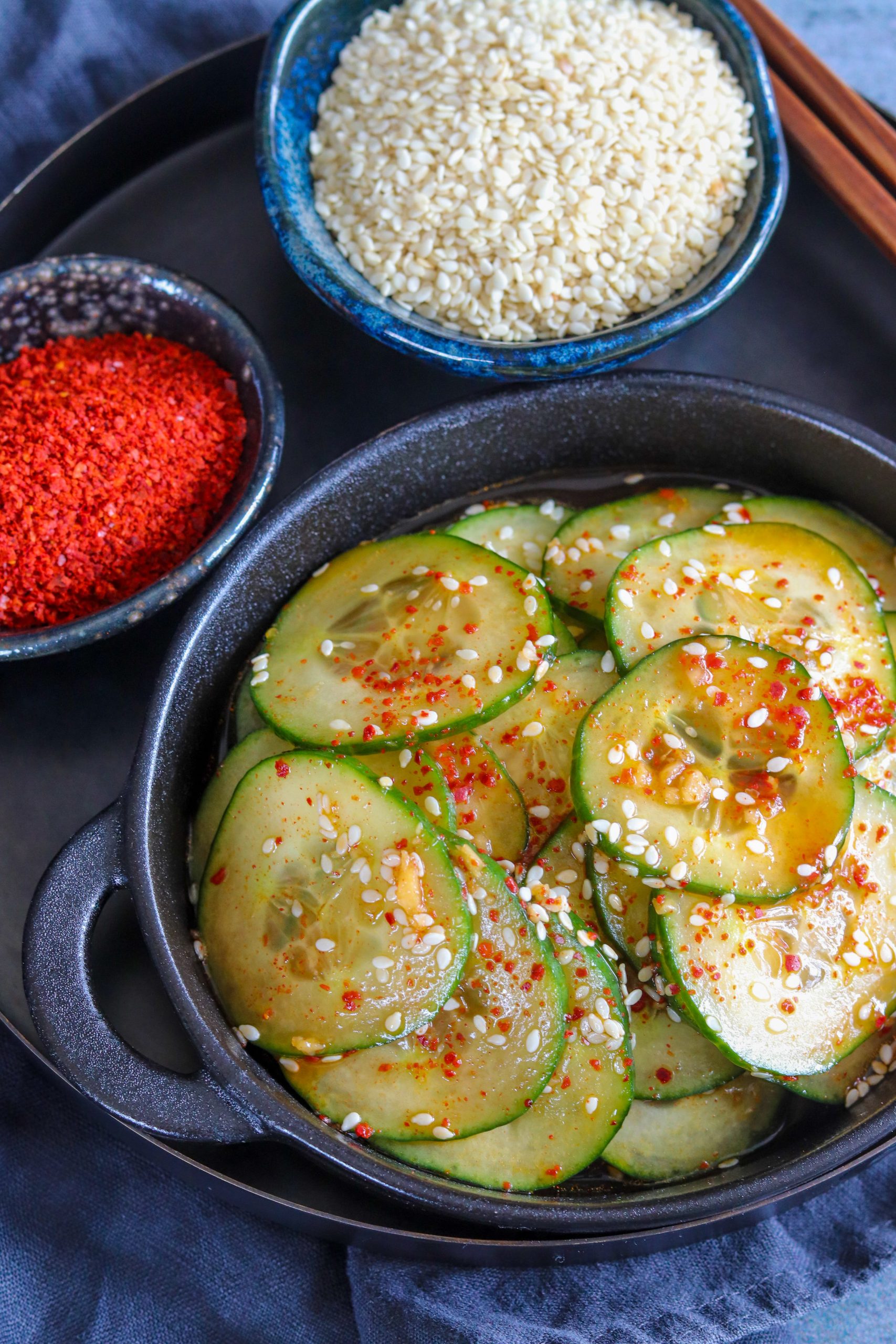 is this cucumber salad spicy?
It is completely up to you how spicy you want to make this salad. The recipe as per the quantities below is quite mild and suitable for most people.
Gochugaru can range in spice level so I would always recommend adding a small amount and tasting before you add any more.
My Korean Cucumber Salad appears to have less gochugaru in it that others you may find as it isn't as red. If you love a bit of spice, feel free to add as much gochugaru as you like.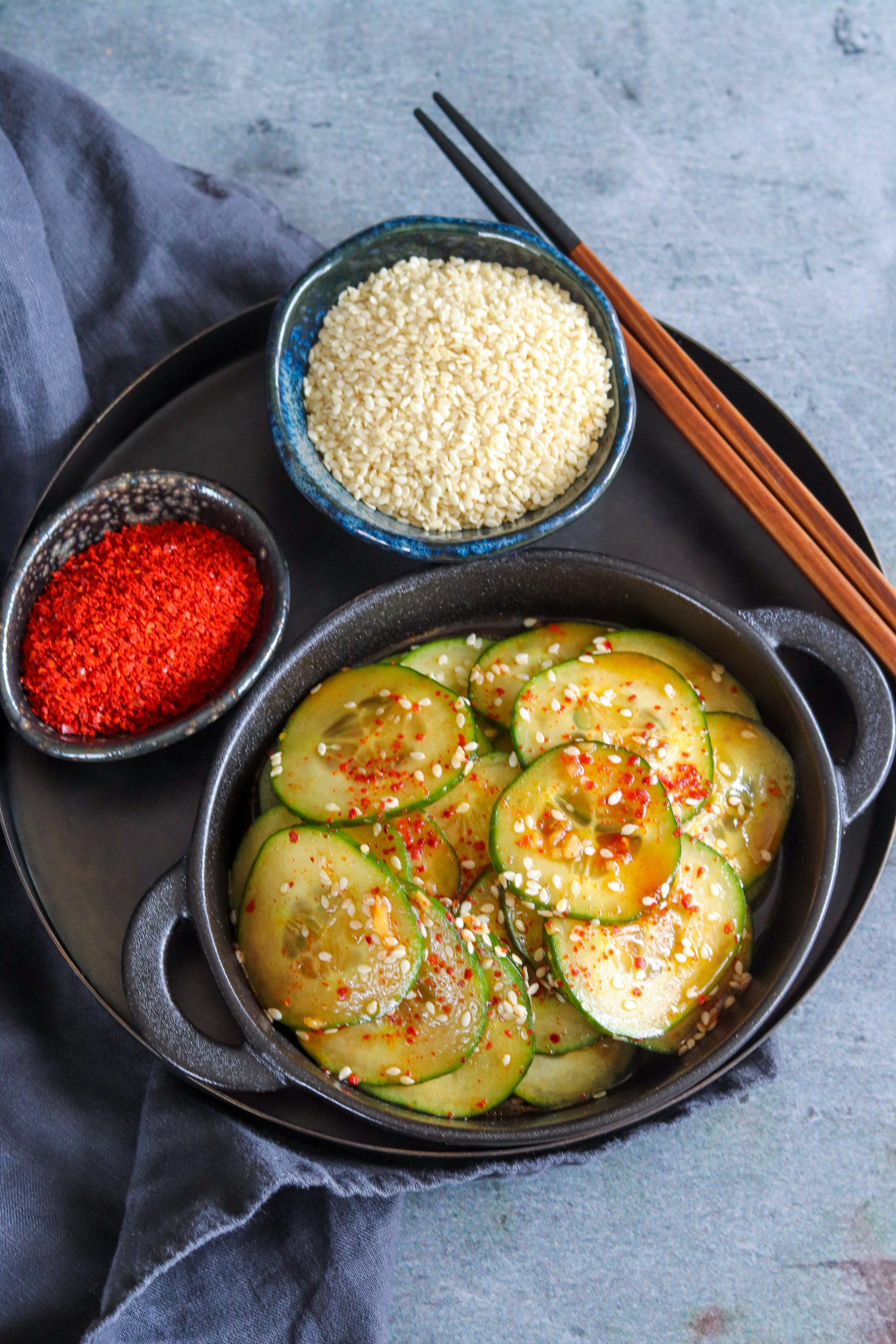 how to serve this korean cucumber salad
I will serve this salad with pretty much anything I can. If it is remotely Asian, chances are I will serve this cucumber salad with it.
It goes without saying that you should definitely serve this salad with Bibimbap. It also goes really well with my Spicy Korean Pork Stew, Slow Cooker Teriyaki Chicken and Sticky Sweet Chilli Chicken.
I would also serve this salad alongside Korean Chicken Wings and Sticky Korean Cocktail Sausages.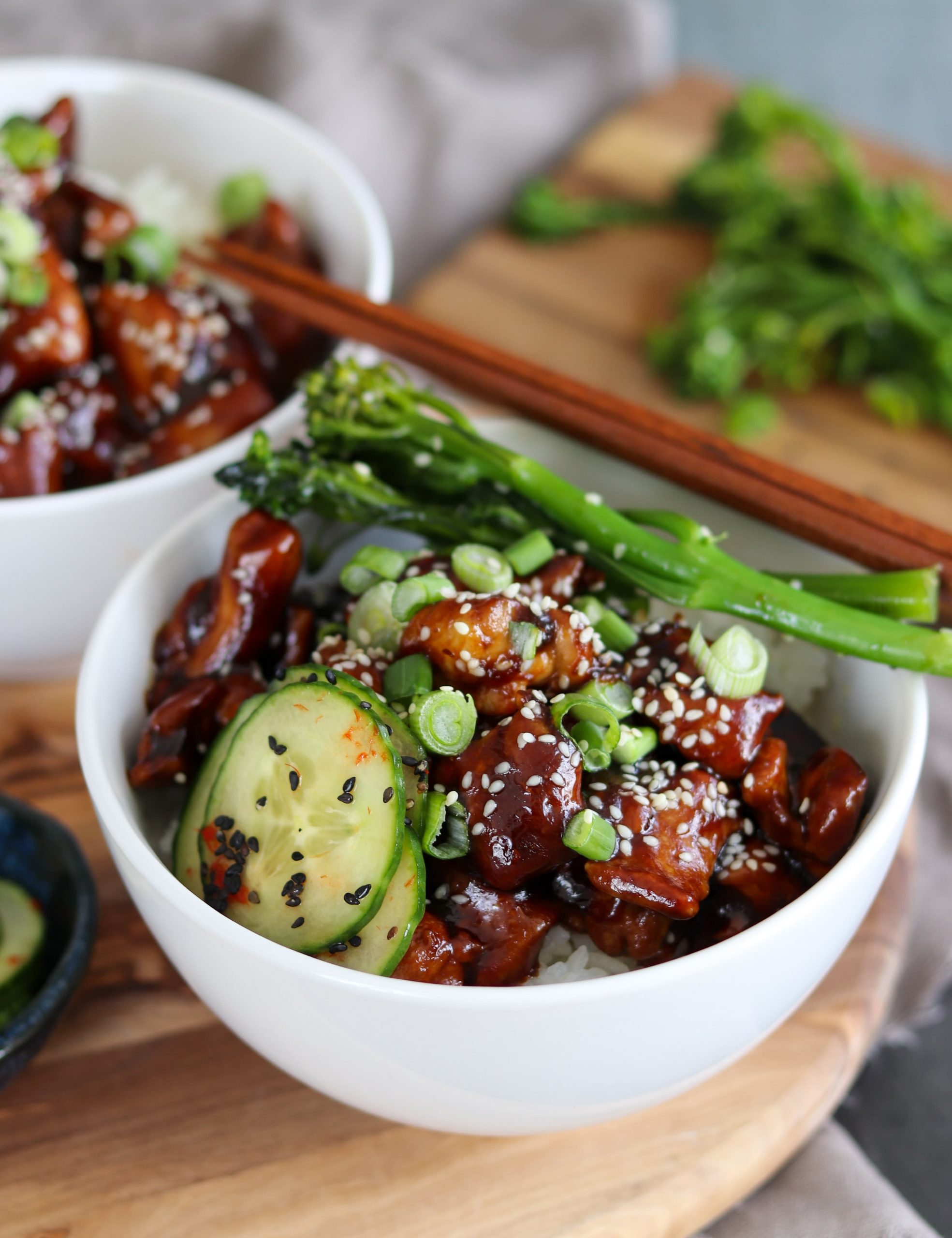 how long will this cucumber salad keep for?
I prefer to make as much as I think I will eat. This is because the cucumber stays crisp and crunchy when it is made fresh.
You can keep it in the fridge for up to two days, but the cucumber might not have the same crunch it once did. If you do want to keep it, I would recommend cutting the cucumber into thicker slices to help maintain it's crispness.
It really is quite quick to make so unless you have some left that you don't want to waste, I would recommend making this salad fresh.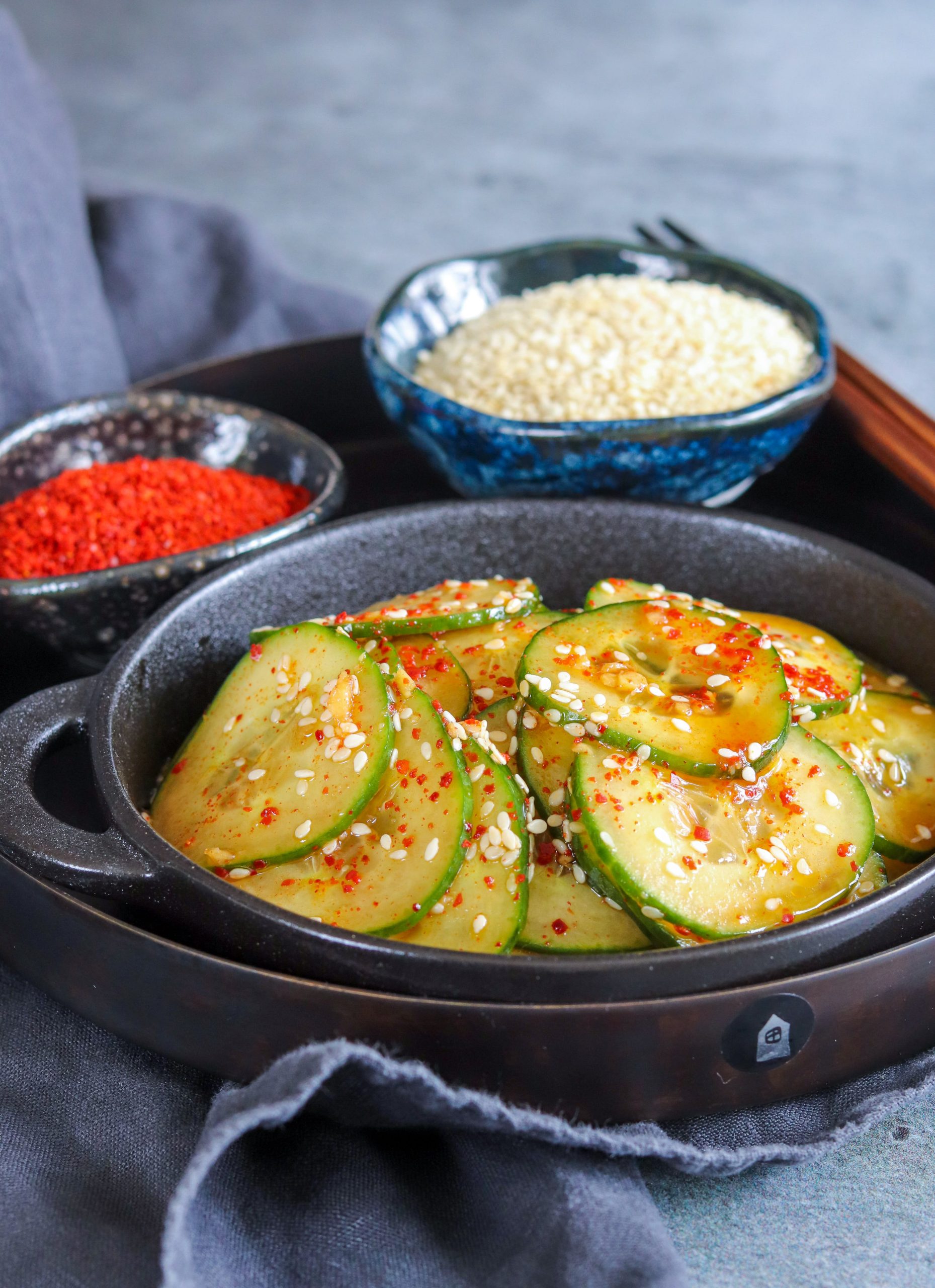 Other recipes you might like
Pin for later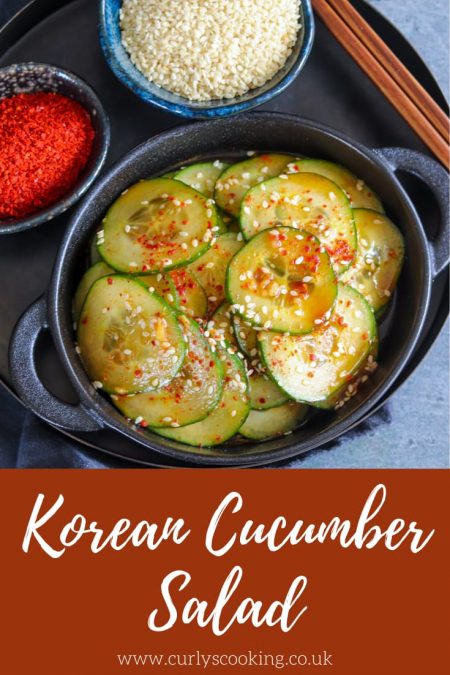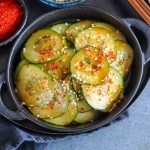 Korean Cucumber Salad
The perfect mix of sweet, salty and spicy; this Korean Cucumber Salad is the perfect Banchan style side to elevate so many dishes. It's really simple and takes no time at all to make.
Ingredients
1

cucumber

(sliced)

½

tsp

caster sugar

2

tbsp

light soy sauce

1

tbsp

sesame oil

½

tbsp

apple cider vinegar

1

clove

garlic

(minced)

1

tsp

sesame seeds

¼

tsp

gochugaru
Instructions
Slice 1 cucumber thinly into a bowl and set aside

Mix ½ tsp caster sugar, 2 tbsp light soy sauce, 1 tbsp sesame oil, ½ tbsp cider vinegar, 1 clove minced garlic, 1 tsp sesame seeds and ¼ tsp gochugaru to a jug and mix

Pour the dressing over the cucumber and stir thoroughly
Recipe Notes
Nutritional information is given as a guide only and may vary.
Nutrition Facts
Korean Cucumber Salad
Amount Per Serving
Calories 52
Calories from Fat 36
% Daily Value*
Fat 4g6%
Sodium 507mg22%
Potassium 130mg4%
Carbohydrates 3g1%
Protein 2g4%
Vitamin A 91IU2%
Vitamin C 3mg4%
Calcium 19mg2%
Iron 1mg6%
* Percent Daily Values are based on a 2000 calorie diet.