These Sticky Korean Cocktail Sausages are spicy, sweet and incredibly delicious. They're perfect for a picnic or buffet, but you might want to double the recipe because they won't last long!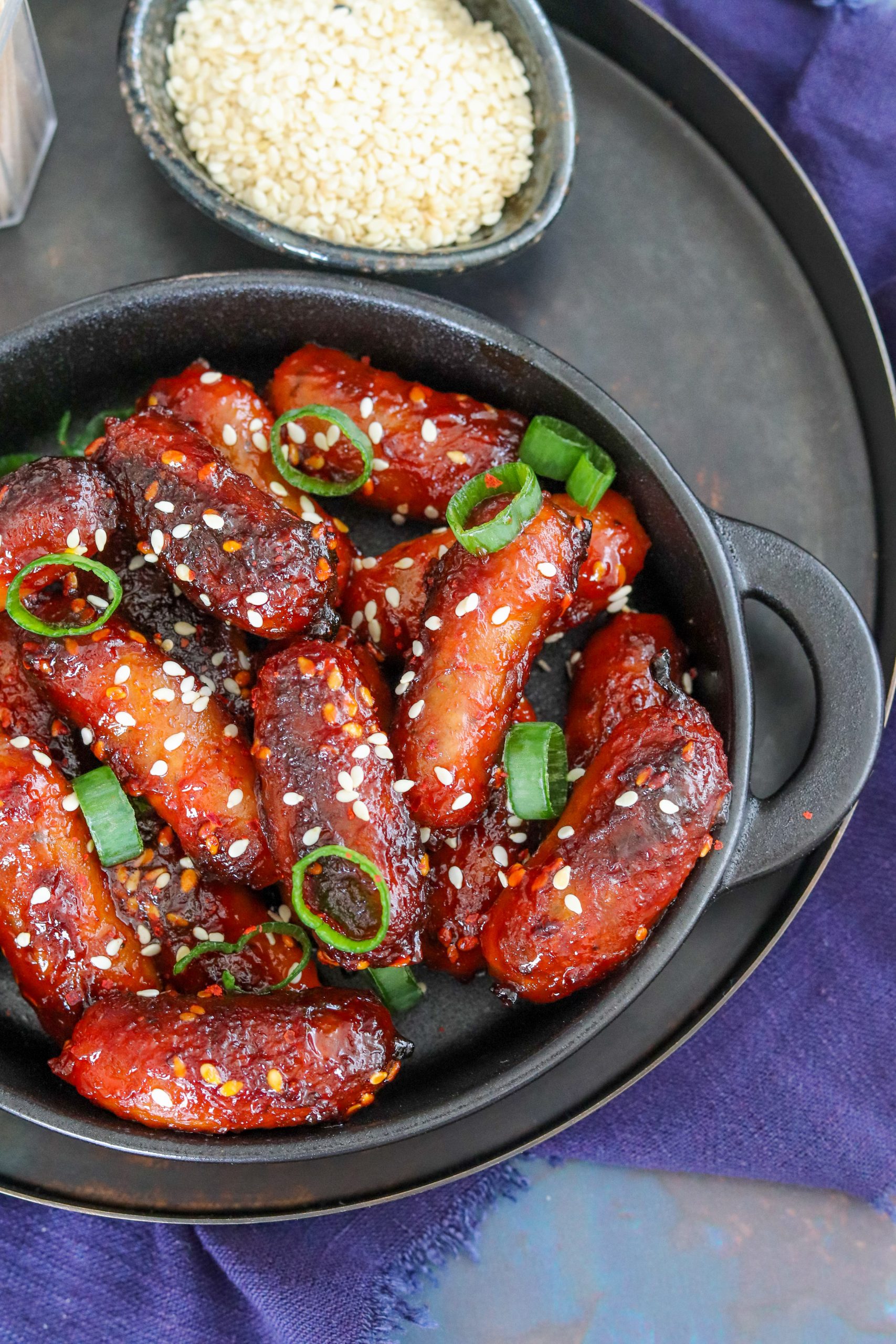 What are sticky korean cocktail sausages?
These little beauties are cocktail sausages baked in a Korean inspired glaze. The flavours are the perfect mix of spicy and sweet which works so well with the pork sausages.
Gochujang is a popular Korean ingredient which gives them a spicy kick and the honey adds the perfect sweetness.
They are so irresistibly tasty that I really would recommend making more than you think you'll need!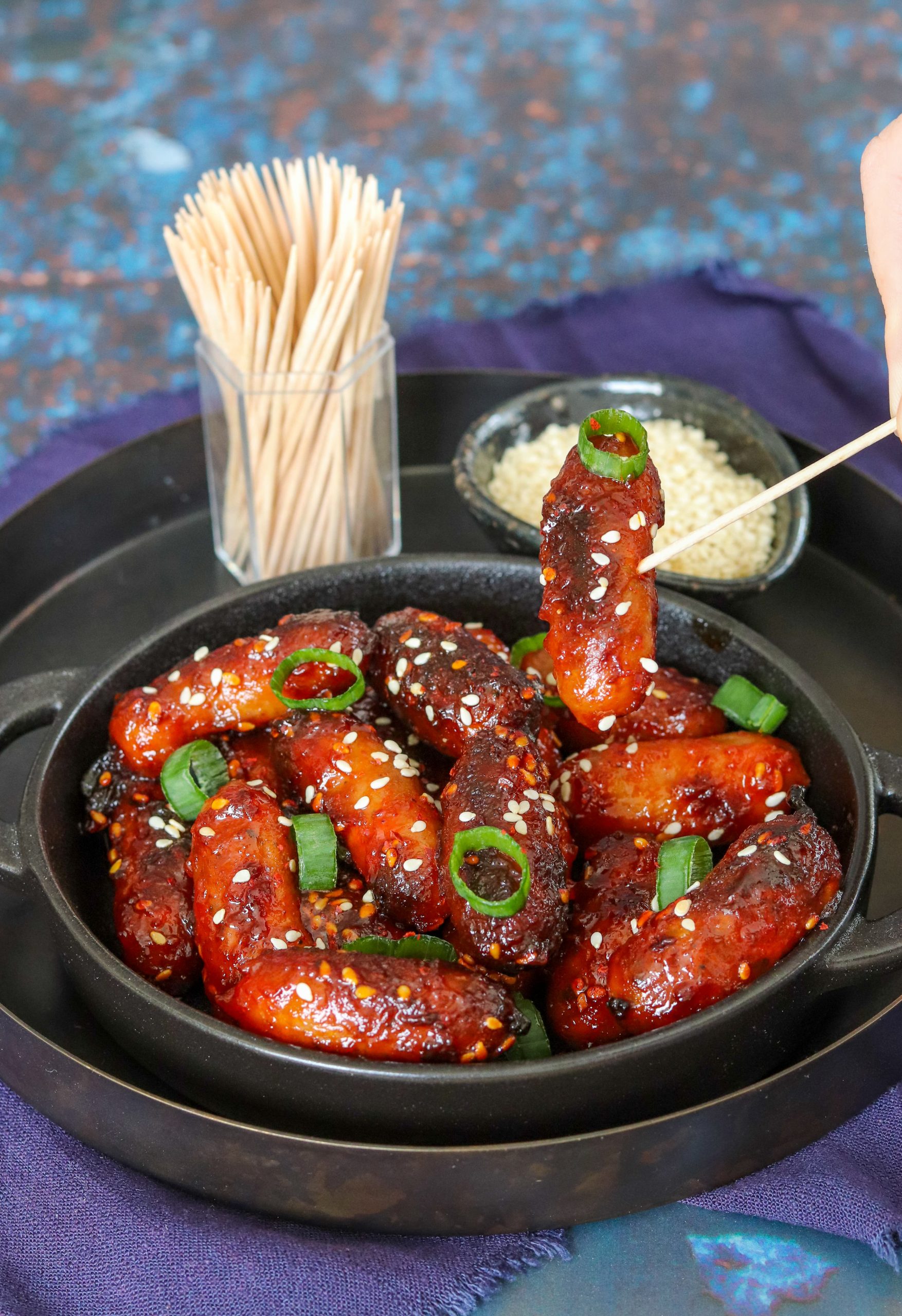 WHAT IS GOCHUJANG?
Gochujang is a fermented sweet and spicy red chilli paste made from chilli powder, glutinous/sticky rice, fermented soy beans and salt. It has a very thick, sticky texture with a vibrant red colour.
As it is quite spicy, I always recommend using sparingly until you know how spicy you like things. These Korean cocktail sausages are mild to medium but you can definitely adjust to your tastes.
Gochujang is becoming more widely available. It used to only be available in Asian supermarkets but I have seen it in the world food aisle of large supermarkets recently.
If you cannot find it where you live, you can always but it online at places like Amazon.
Once you have made these, you will also want to try my Korean Chicken Wings, Korean Beef Bibimbap and Spicy Korean Pork Stew.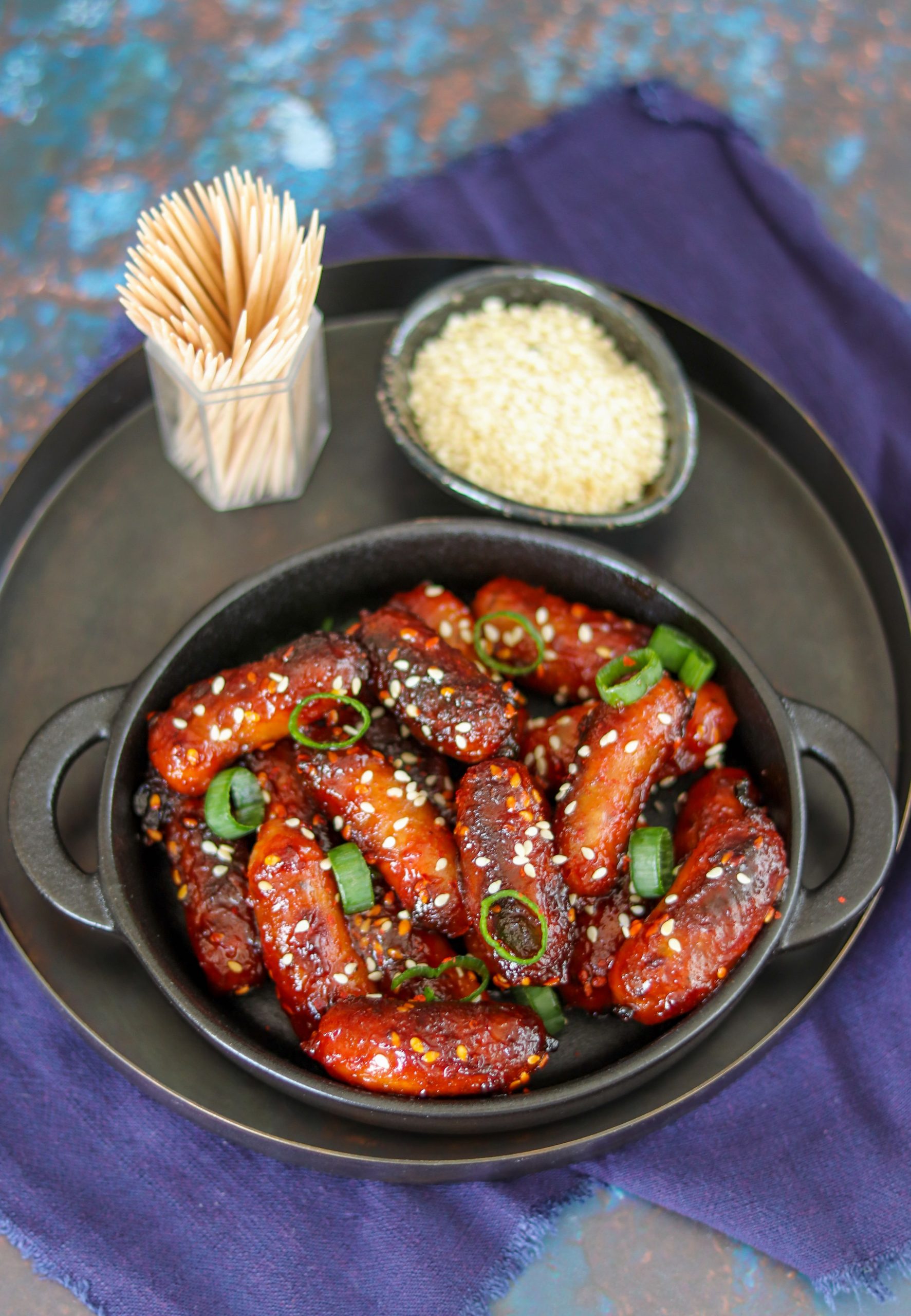 Which sausages are recommended to use?
I recommend using a good quality pork cocktail sausage. Look for ones with a high pork content as these will be more flavoursome.
I would use a plain pork sausage for these Sticky Korean Cocktail Sausages. The flavour is coming from the glaze and you don't want a strong flavoured sausage that will conflict flavour wise.
Although they wouldn't be my first choice, you could use frozen cocktail sausages. These are very popular over the festive period and readily available. Mix them in the glaze and cook them as per the packet's instructions.
Chicken or vegetarian sausages would work well too.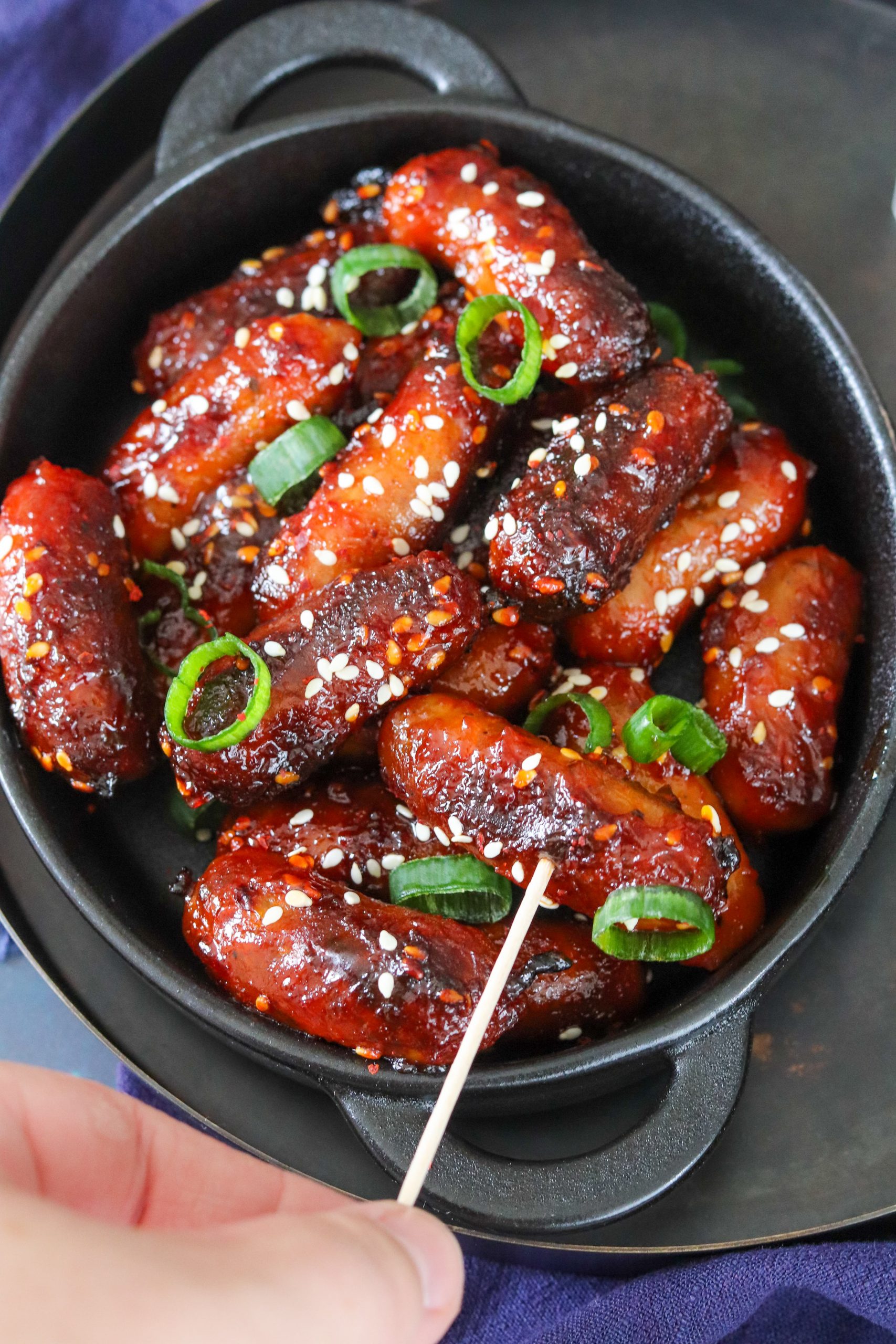 Do you have to use cocktail sausages?
No, you can use whichever sausages you like.
Cocktail sausages are perfect for serving at a picnic, party or part of a buffet. But there is nothing to say you can't use chipolatas or normal sausages for this recipe.
If you use larger sausages, you will probably need to increase the glaze ingredients so you have enough to coat them.
You will also have to increase the cooking time according to the size of sausage you are using.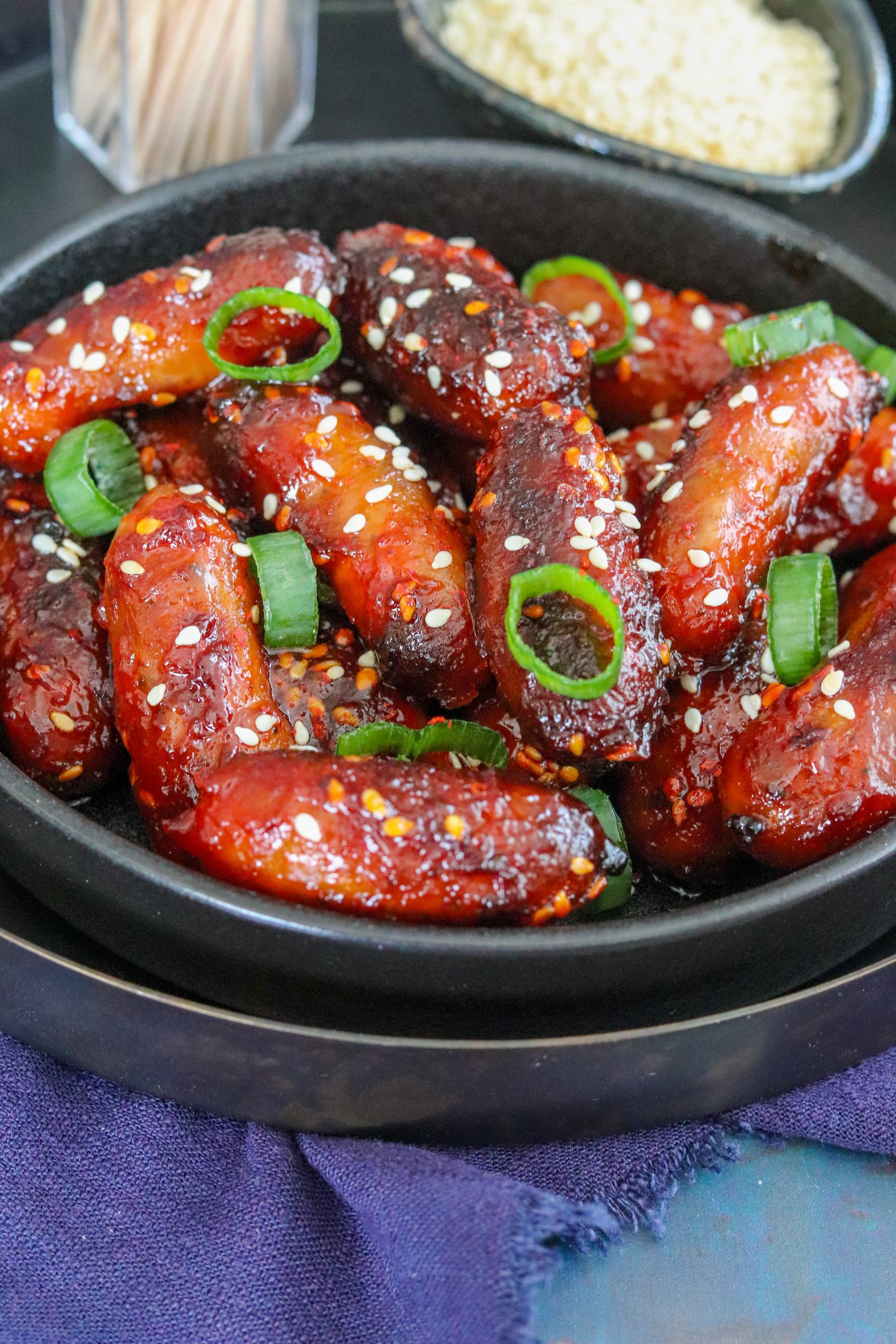 Which Honey is best to use?
You need to use a clear, runny honey for these sausages. Set honey wouldn't be very easy to mix with the rest of the ingredients to form the glaze.
I wouldn't bother using something a bit fancier like Manuka honey. These are usually more expensive and have delicate flavours.
I don't think you would be able to taste the difference in this recipe so I don't think it would be worth the extra expense.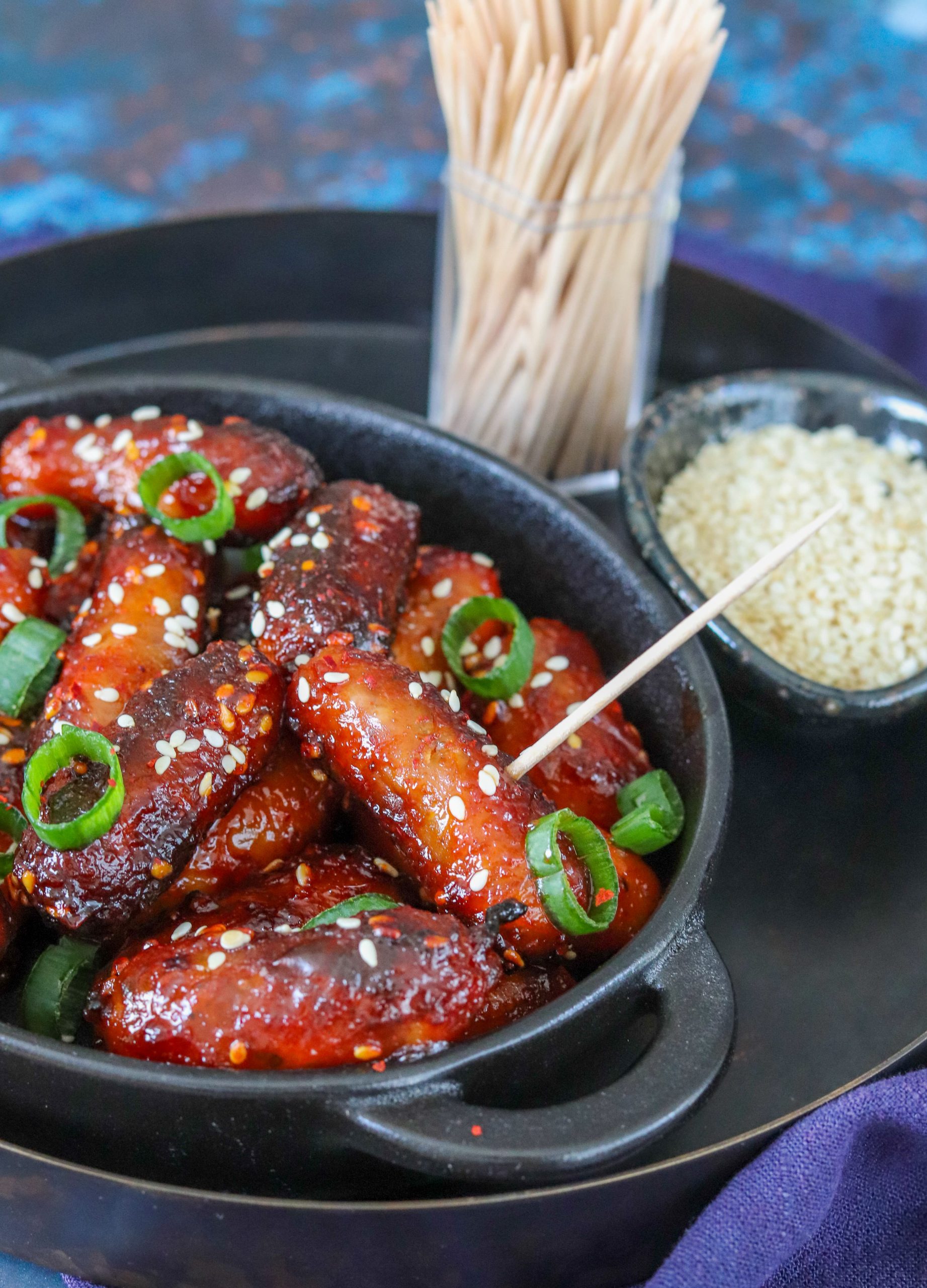 can these be made vegetarian, vegan or gluten free?
These Korean Cocktail Sausages can be made vegetarian, vegan or gluten free with a few tweaks.
To make them vegetarian all you need to swap is the sausages you use. A lot of the vegetarian cocktail sausages are already cooked. You can still coat these in the glaze and cook them for around 10-15 minutes so they get sticky.
For a vegan option, you obviously need to use vegan sausages. You will also need to swap the honey for a vegan friendly alternative. Maple syrup would work really well.
Although gochujang is vegan, it unfortunately isn't typically gluten free. Although sriracha isn't Korean, I think this would be a good alternative for this recipe as it is gluten free.
Obviously you will need to make sure the sausages you use are gluten free, but this is becoming at lot more common place.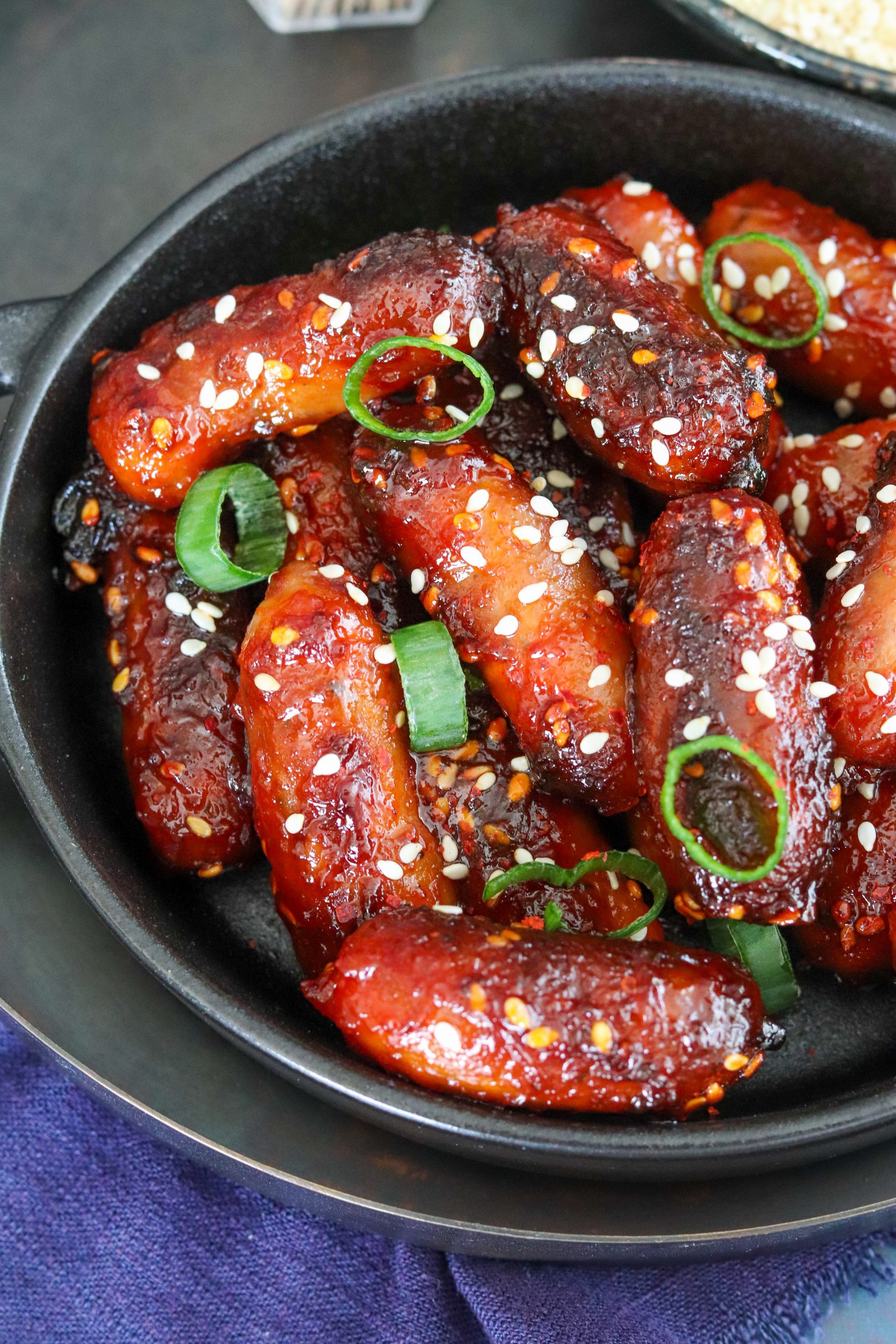 How to serve these Sticky Korean Cocktail Sausages
These sausages are particularly great for gatherings because they can easily be eaten with a cocktail stick.
No cutlery is needed and they also only require one hand which is good because there may be a festive tipple in the other. And also because they are bite size (or two if you're dainty).
These cocktail sausages are tasty served hot or at room temperature. This is perfect because you can cook them in advance before your guests arrive.
This also makes them ideal for taking on a picnic as you don't have to worry about keeping them warm.
I like to serve these Korean Cocktail Sausages sprinkled with sesame seeds and spring onions. If you wanted some extra heat you could sprinkle with some gochugaru (Korean chilli flakes) or sliced red chillies.
For other ideas of the perfect spread check out my 10 Savoury Party Food Recipes.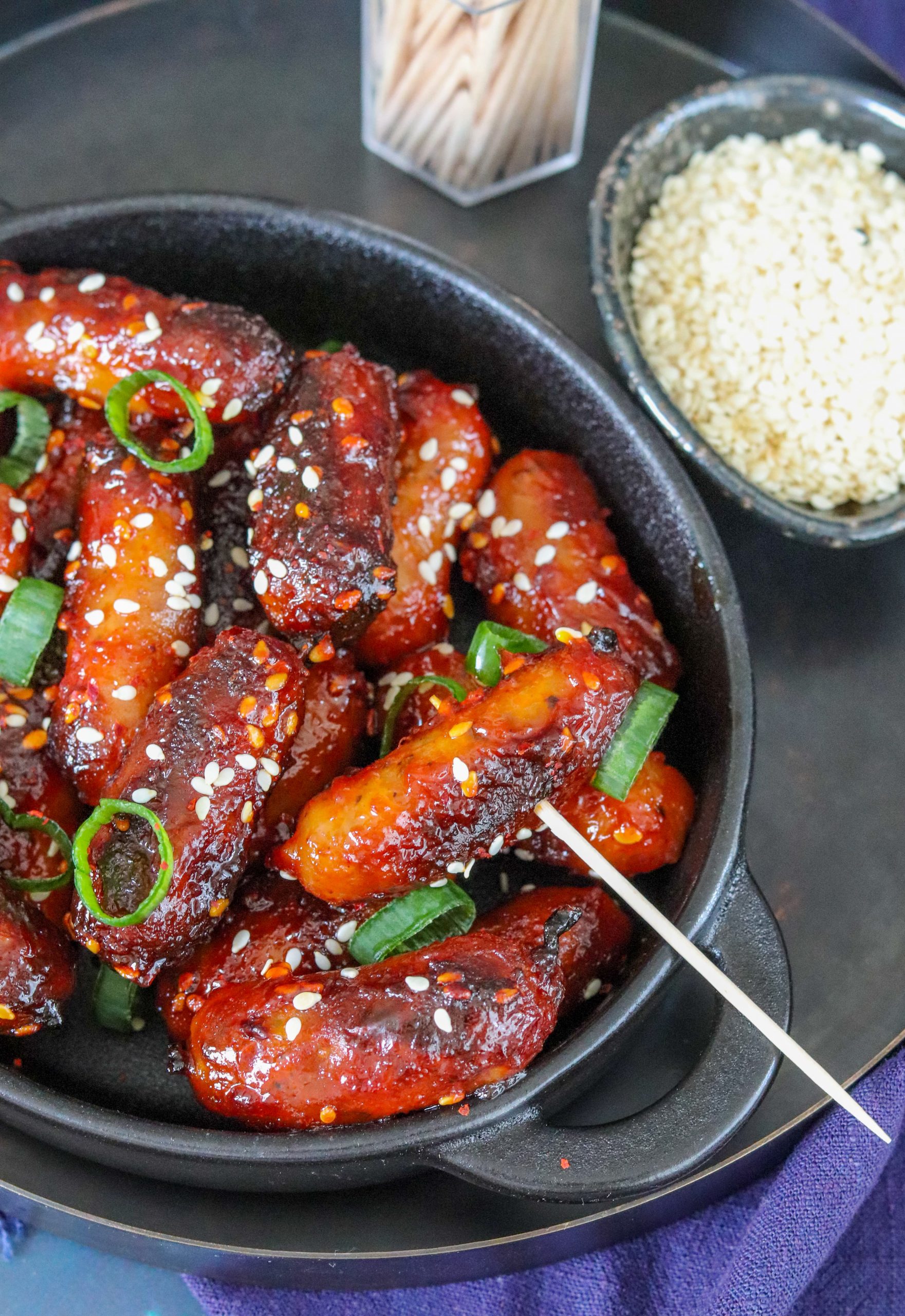 How long will these sausages keep for?
Once cooked, store any leftover sausages in the fridge for up to three days in an airtight container.
You can mix the sausages with the glaze and leave them in the fridge for a few hours until you are ready to cook them. They really don't take very long to prepare but this is one way to get ahead.
They are delicious eaten cold but you can reheat them if you would prefer.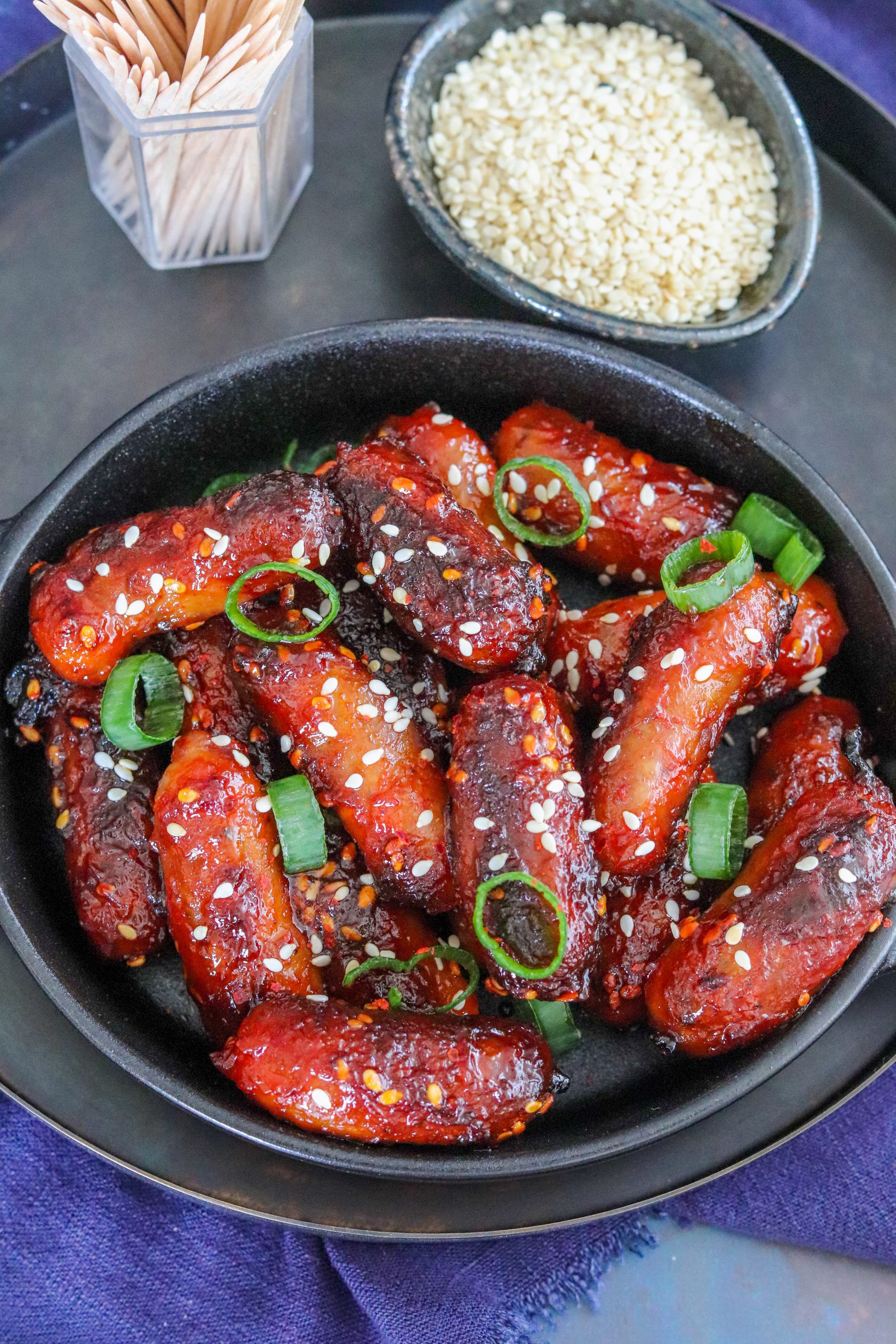 Easy clean up
Honey can be a bit of a pain to clean up, especially when it gets baked onto a tray. I really recommend lining the baking tray with foil for much easier clean up!
Silicone liners would also be a great idea to help protect your baking trays. They are easily washed and far easier than scrubbing baked on honey.
You could also use a disposable foil tray if you prefer. I know these are marketed to be disposable but you could definitely wash them and reuse them.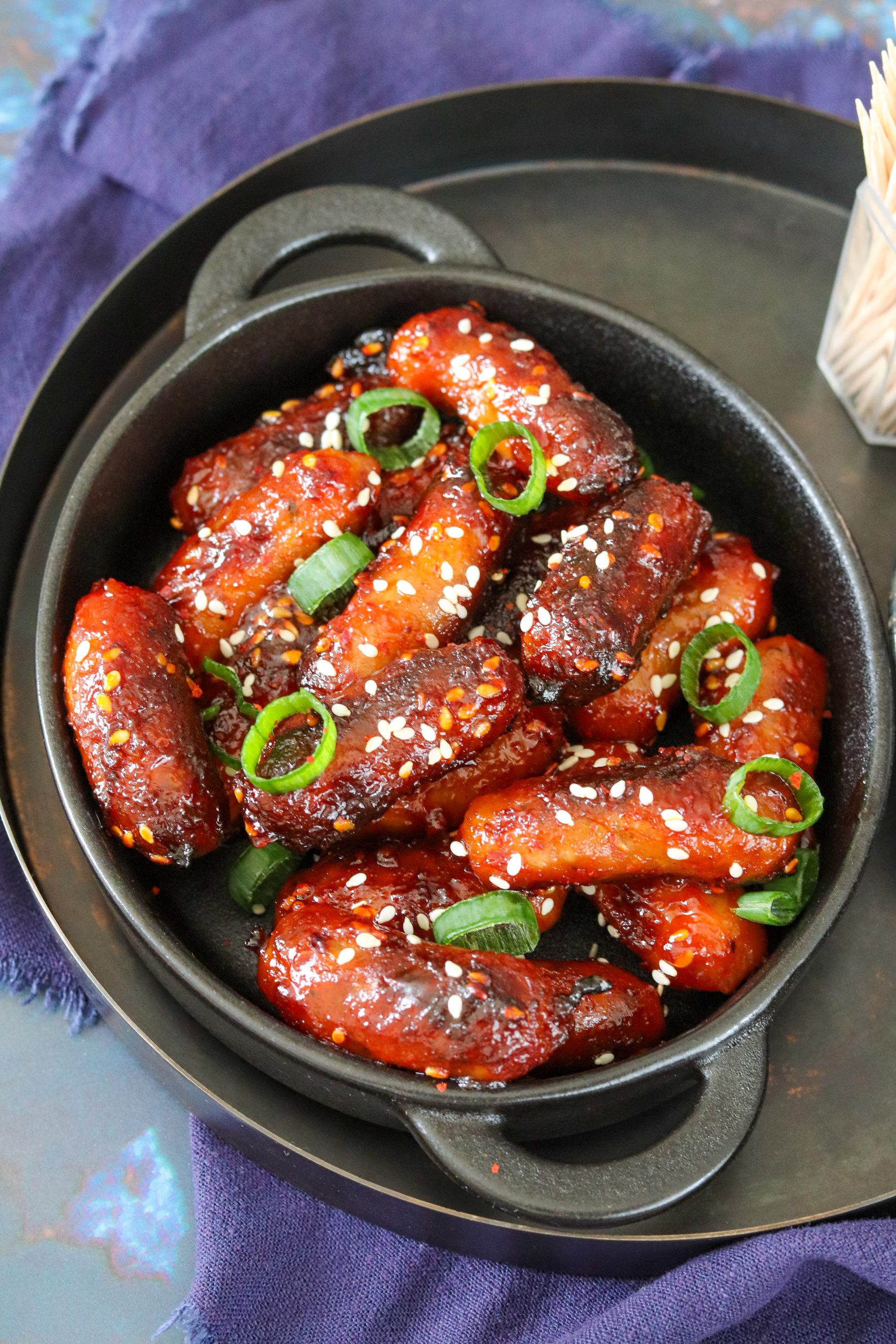 other recipes you might like
Pin for later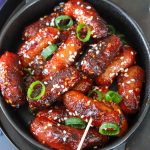 Sticky Korean Cocktail Sausages
These Sticky Korean Cocktail Sausages are spicy, sweet and incredibly delicious. They're perfect for a picnic or buffet, but you might want to double the recipe because they won't last long!
Ingredients
270

g

pork cocktail sausages

(18 sausages)

1

tbsp

gochujang

1

tbsp

tomato ketchup

2

tbsp

runny honey

1

tsp

light soy sauce

½

tsp

minced garlic

½

tbsp

sesame seeds

pinch

salt
Instructions
Preheat the oven to 180ºC (fan assisted, 200ºC non fan). Line a small baking tray with foil and set aside

Add 1 tbsp gochujang, 1 tbsp tomato ketchup, 2 tbsp runny honey, 1 tsp light soy sauce, ½ tsp minced garlic, ½ tbsp sesame seeds and a pinch of salt to a bowl. Stir to combine

Add 270g pork cocktail sausages to the bowl and mix until they are completely coated.

Tip the coated sausages out onto the lined baking tray

Cook the sausages for 30 minutes, turning them half way through
Nutrition Facts
Sticky Korean Cocktail Sausages
Amount Per Serving
Calories 264
Calories from Fat 9
% Daily Value*
Fat 1g2%
Sodium 119mg5%
Potassium 40mg1%
Carbohydrates 11g4%
Protein 1g2%
Vitamin A 27IU1%
Vitamin C 1mg1%
Calcium 12mg1%
Iron 1mg6%
* Percent Daily Values are based on a 2000 calorie diet.