This Spicy Korean Pork Stew is inspired by my favourite Korean ingredients and their bold flavours which pack a real punch. You won't regret trying this fresh twist on a tasty pork stew!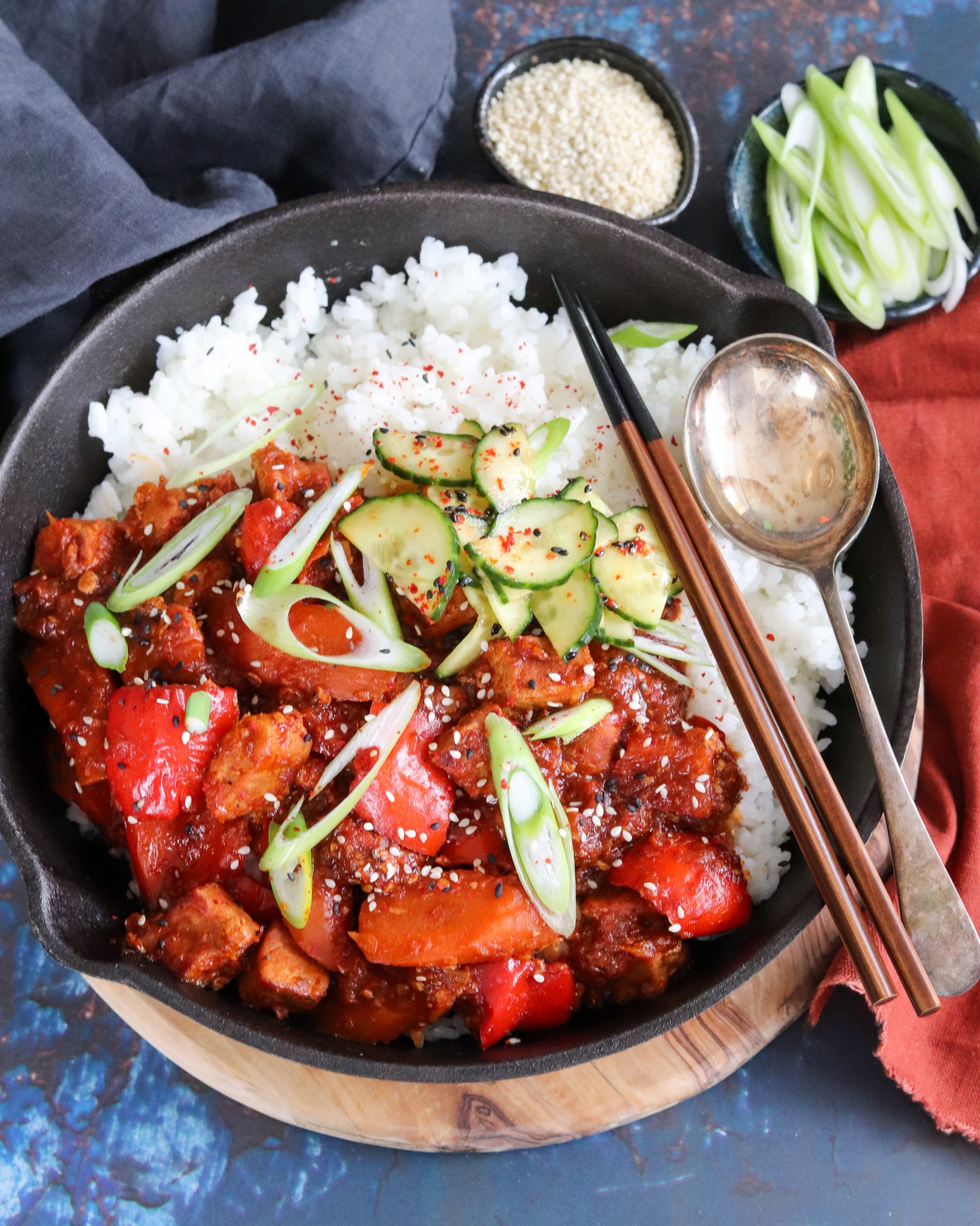 What is spicy Korean Pork Stew?
This Spicy Korean Pork Stew is my version of a type of recipe popular within the Korean cuisine. I am in no way claiming this recipe is authentic, I have just taken inspiration from one of my favourite cuisines.
Although my stew might not include all of the ingredients you might find in traditional Korean pork stews; I have used common Korean ingredients.
The gochujang (Korean chilli paste), doenjang (Korean soy bean paste) and gochugaru (Korean chilli flakes) give this stew recognisable Korean flavours.
If you are looking for something more authentic, I would check out Maangchi's Spicy Pork Stew (Dwaejigogi-jjigae) and Sue's Gamjatang.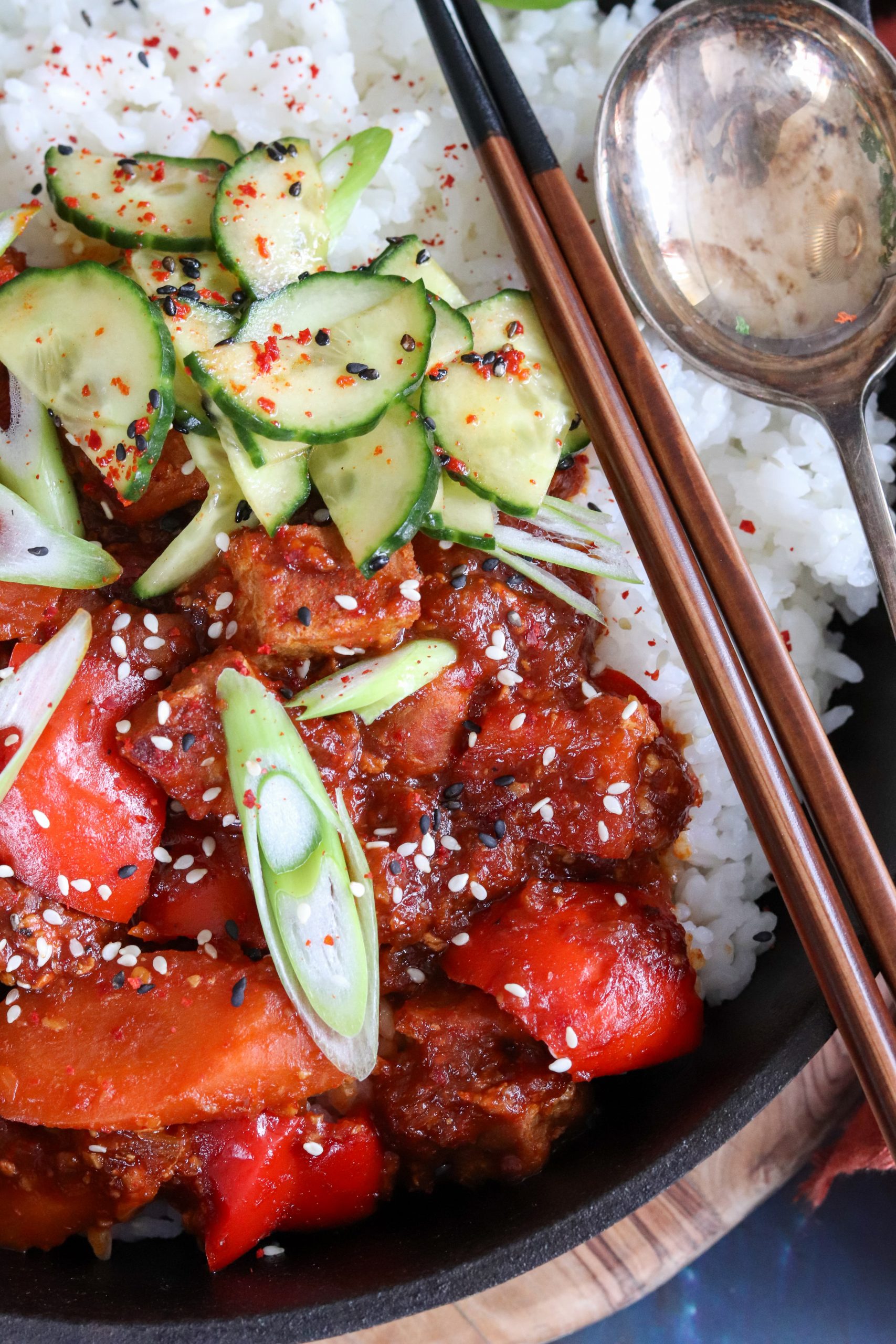 which cut of pork is best to use?
Traditionally, pork belly is the popular cut used in a lot of pork dishes. I do love pork belly, but I prefer it when the fat has had a chance to render and become crisp.
I chose to use a leaner cut of pork for my stew because I didn't want a lot of fat in the finished dish. I used pork leg but you could also use shoulder. These cuts have enough fat to provide flavour and moisture.
I wouldn't recommend using tenderloin because this is a little too lean and is likely to dry out a bit as the stew cooks.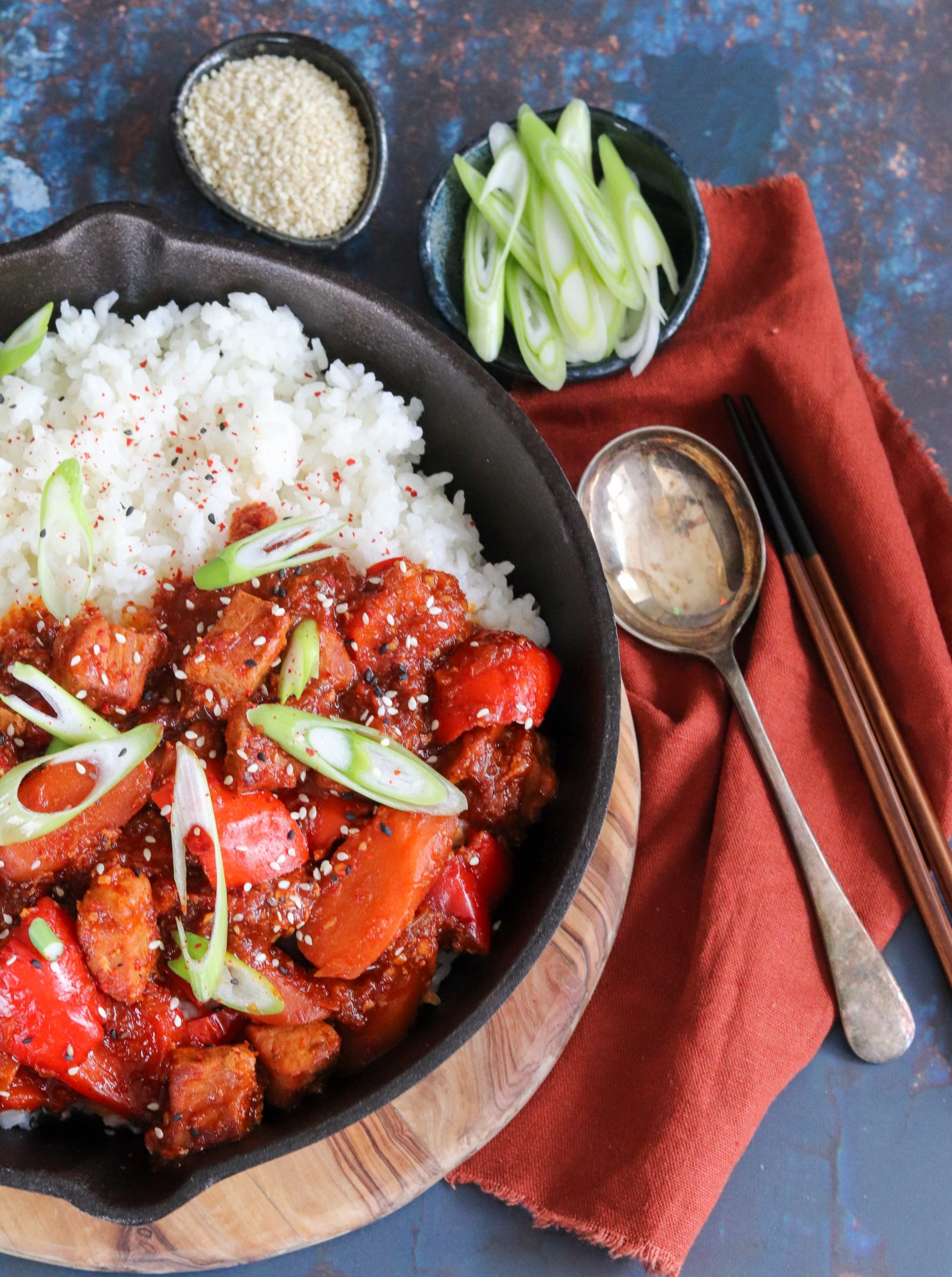 how spicy is this Spicy Korean pork stew?
How spicy you find this stew really will depend upon your spice tolerance. However I would definitely say that it is more on the spicy side – hence the name!
If you aren't a lover of heat, I would definitely recommend reducing the gochujang and gochugaru in this stew. I would halve the quantities of these ingredients to make more of a medium heat stew.
If you still think this might be a little hot for you, use one quarter of the quantity of the ingredients listed below.
I wouldn't recommend leaving out the gochujang and gochugaru altogether though as they are the essential flavours to this dish.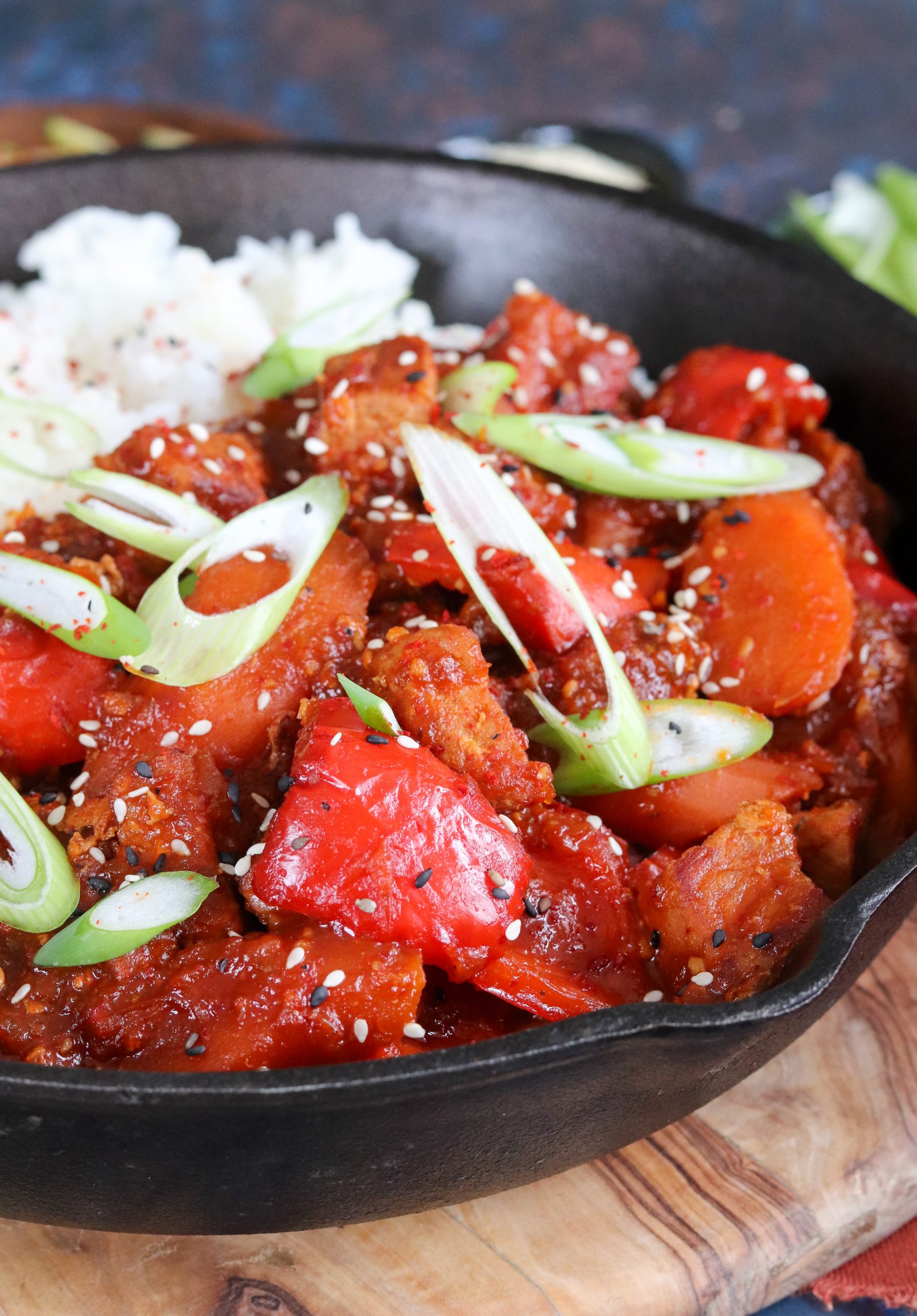 what is gochujang, doenjang and gochugaru?
Gochujang, doenjang and gochugaru are commonly used ingredients in Korean cooking.
Gochujang – a fermented sweet and spicy red chilli paste made from chilli powder, glutinous/sticky rice, fermented soy beans and salt. It has a very thick, sticky texture with a vibrant red colour.
Gochujang has been one of my favourite ingredients for a couple of years now. It is quite spicy so it is always better to use a smaller amount.
Doenjang – a fermented soy bean paste made from soy beans and salt. It is a similar thick paste to gochujang but with a colour more similar to peanut butter.
Doenjang adds a sour, salty richness to dishes and helps enhance the flavours.
Gochugaru – coarsely ground, spicy Korean chilli flakes. It is an essential ingredient in making gochujang, kimchi and many other authentic Korean recipes.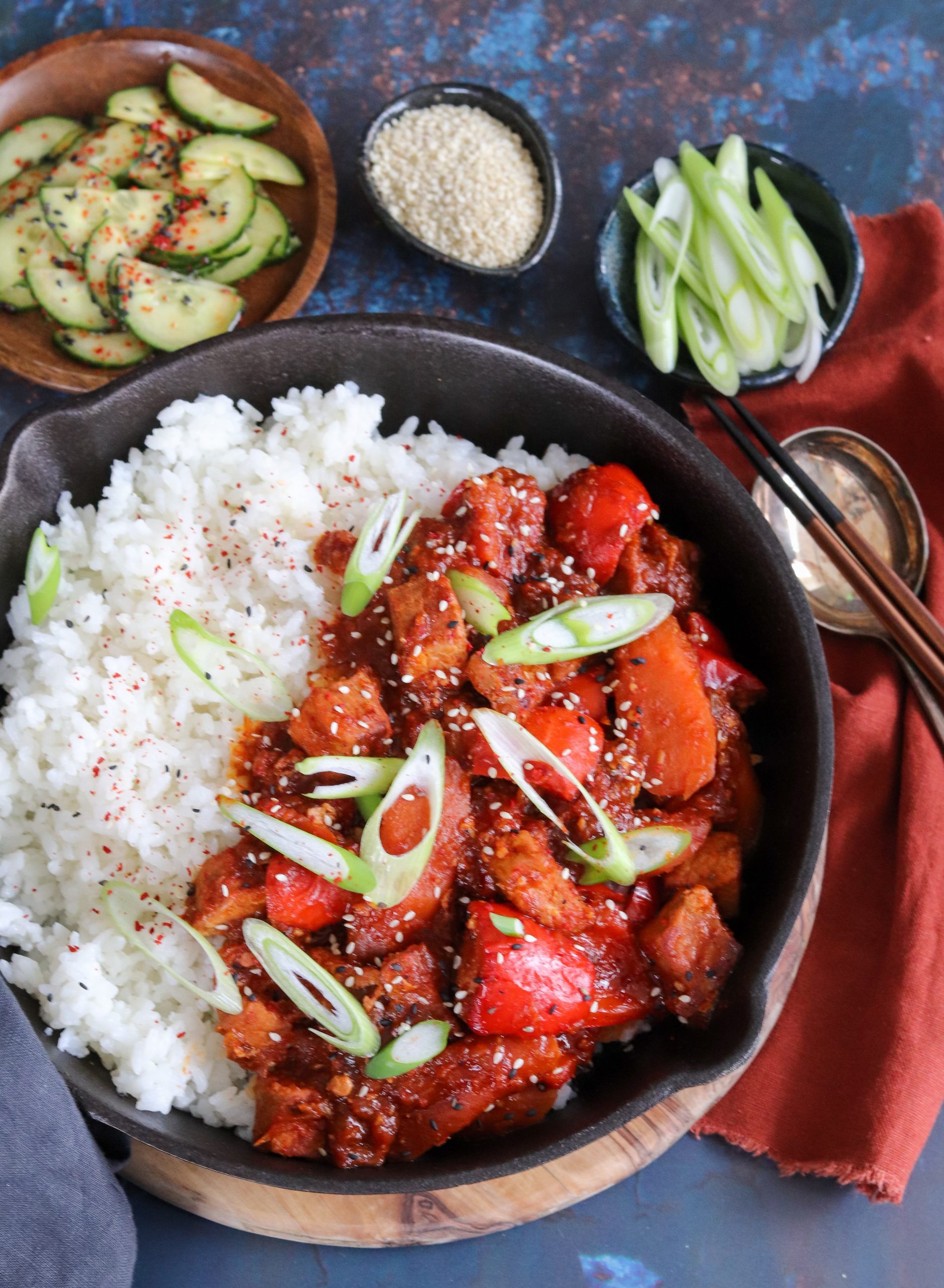 where to find the korean ingredients
Korean ingredients are becoming more widely available in the world food aisle of large supermarkets. I have seen gochujang available in a number of supermarkets.
For goenjang and gochugaru, I would recommend visiting an Asian supermarket. Here you will easily find everything you need.
I would actually recommend buying all three ingredients from Asian supermarkets because they have a much wider range of sizes and usually are a little cheaper than other supermarkets.
If you don't have an Asian supermarket close to you, you can buy all of these ingredients online. I would recommend shopping around, but you can buy all of them from Amazon.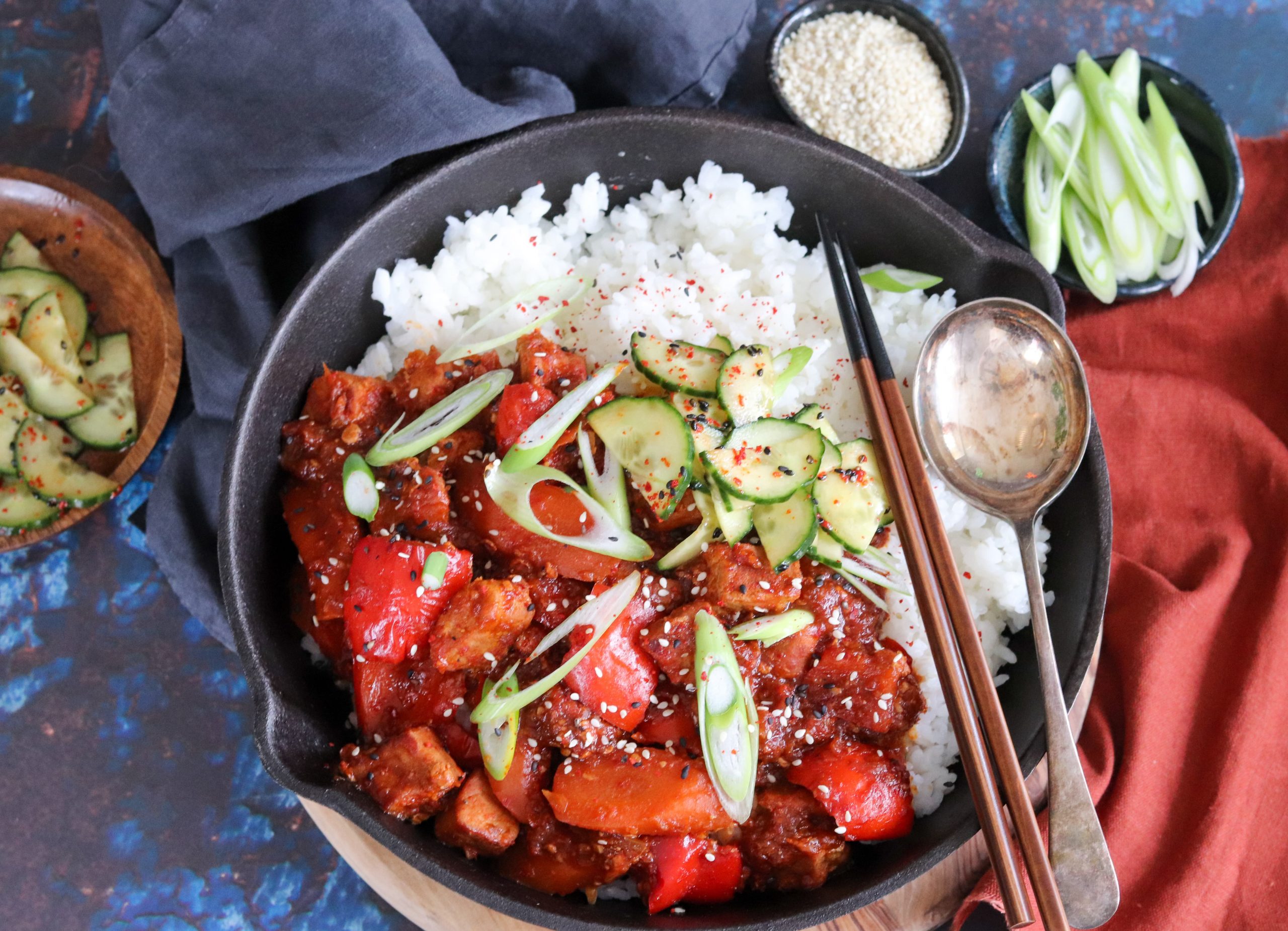 Can you use a slow cooker?
This Spicy Korean Pork Stew would work well cooked in a slow cooker. I would make sure you brown the pork before adding it to the slow cooker to give it some nice colour.
I would cook it for four hours on high or 6 hours on low. I wouldn't recommend cooking it for much longer than that because you don't want the carrots to get so soft that they start to break up.
I would add the peppers thirty minutes before you want to serve the stew. You want these to retain a slight crunch and not be completely soft.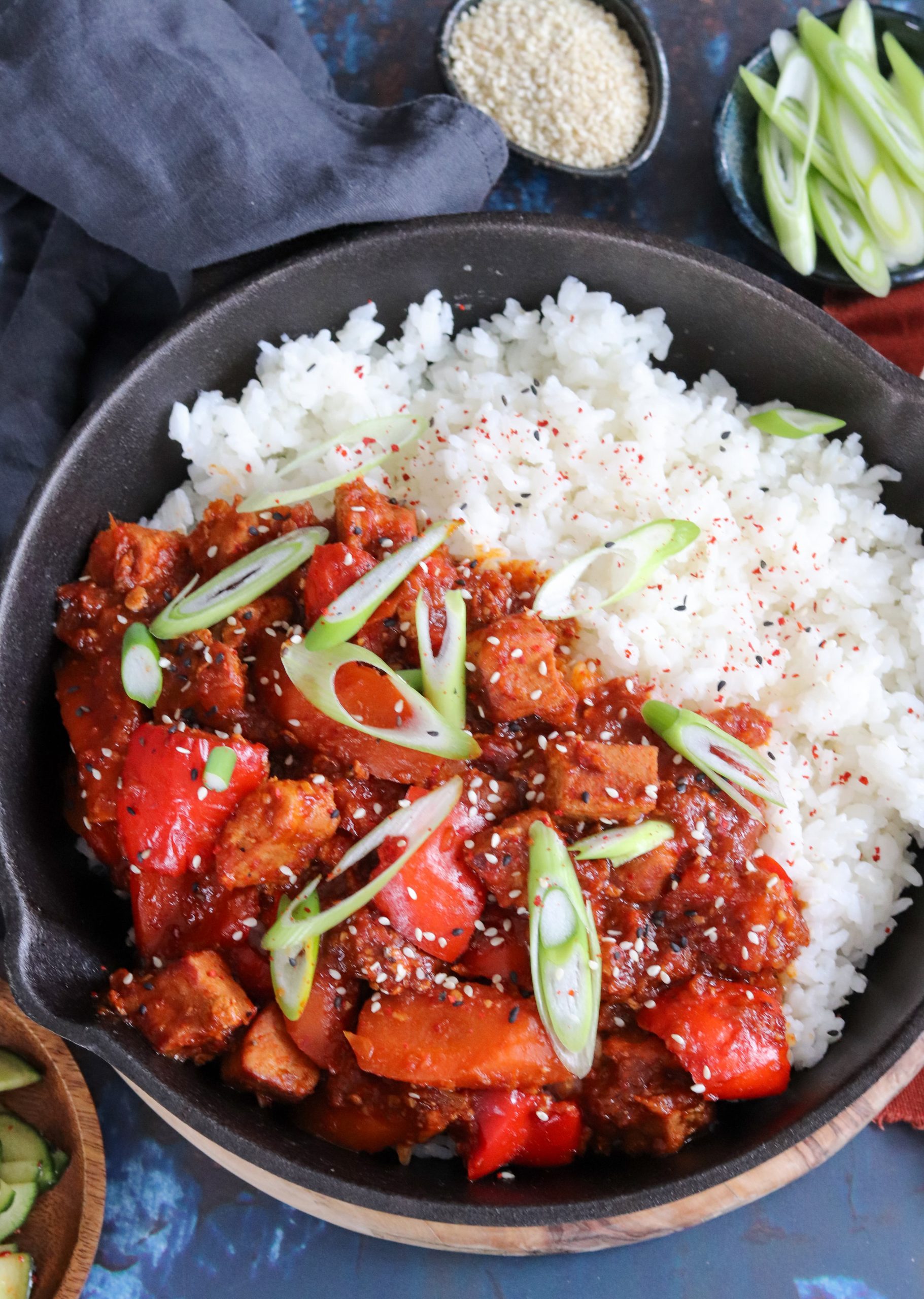 how to serve this Spicy korean pork stew
My favourite way to serve this stew is with lots of sticky rice. I really like sticky rice and love how it soaks up the delicious sauce from the stew.
I like to serve the stew scattered with some finely sliced spring onions and sprinkled with sesame seeds. Not only does this add flavour, but it adds texture and makes the stew look even better.
I also like to serve my Korean Cucumber Salad alongside the stew. It has gochugaru in it which mirrors the flavours but also adds freshness which works really well. I will hopefully get round to writing up my recipe soon!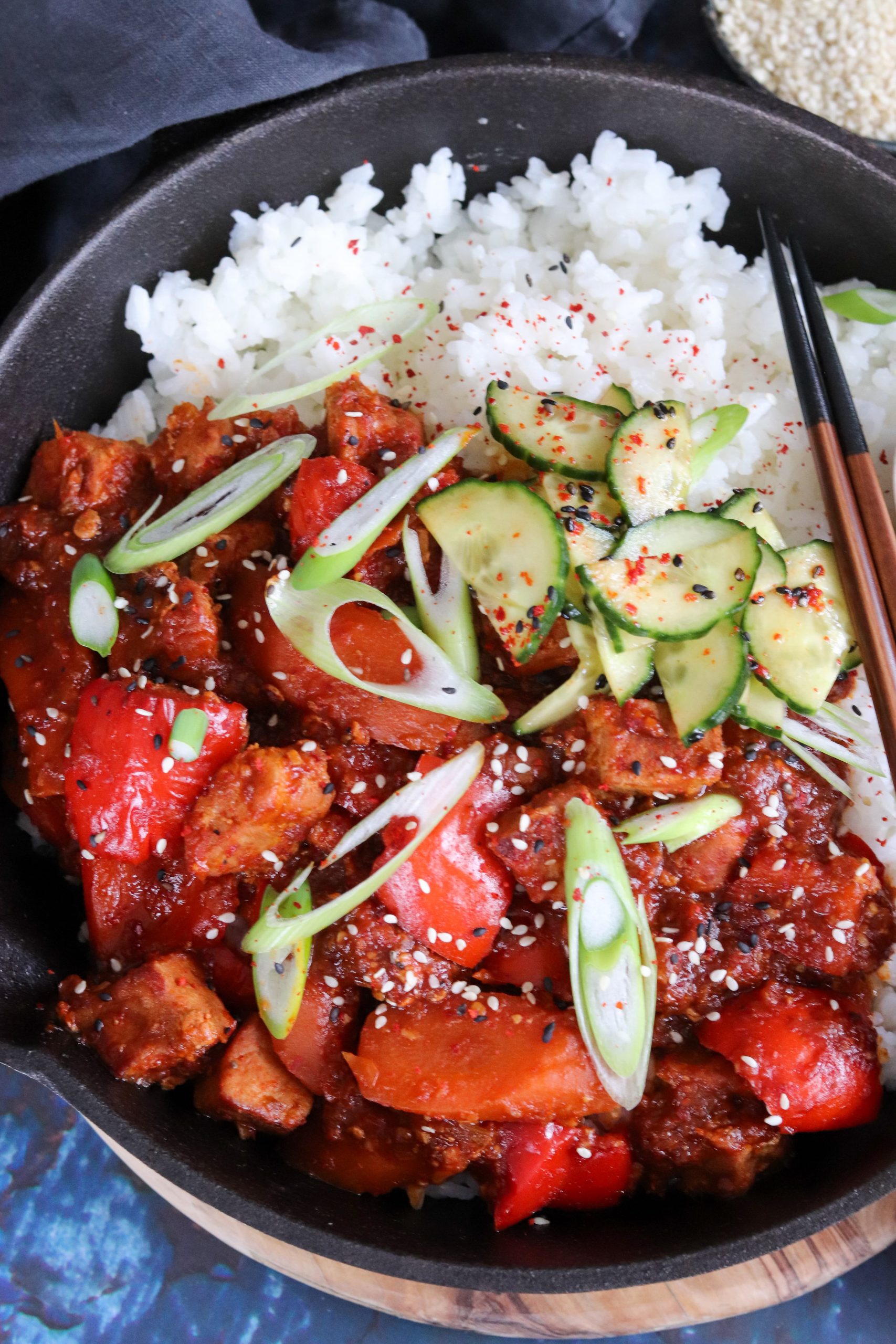 How to freeze this stew
This Spicy Korean Pork Stew freezes well. Make sure you freeze it within two hours of it finishing cooking. It can be kept in the freezer for up to three months.
When you want to eat the stew, leave it in the fridge to defrost overnight or for eight hours. I prefer to reheat the stew in a pan so you can see whether you need to add a splash of water or turn up the heat to help it reduce more.
You can reheat the stew in the microwave if you prefer. Just make sure the stew is piping hot throughout before serving.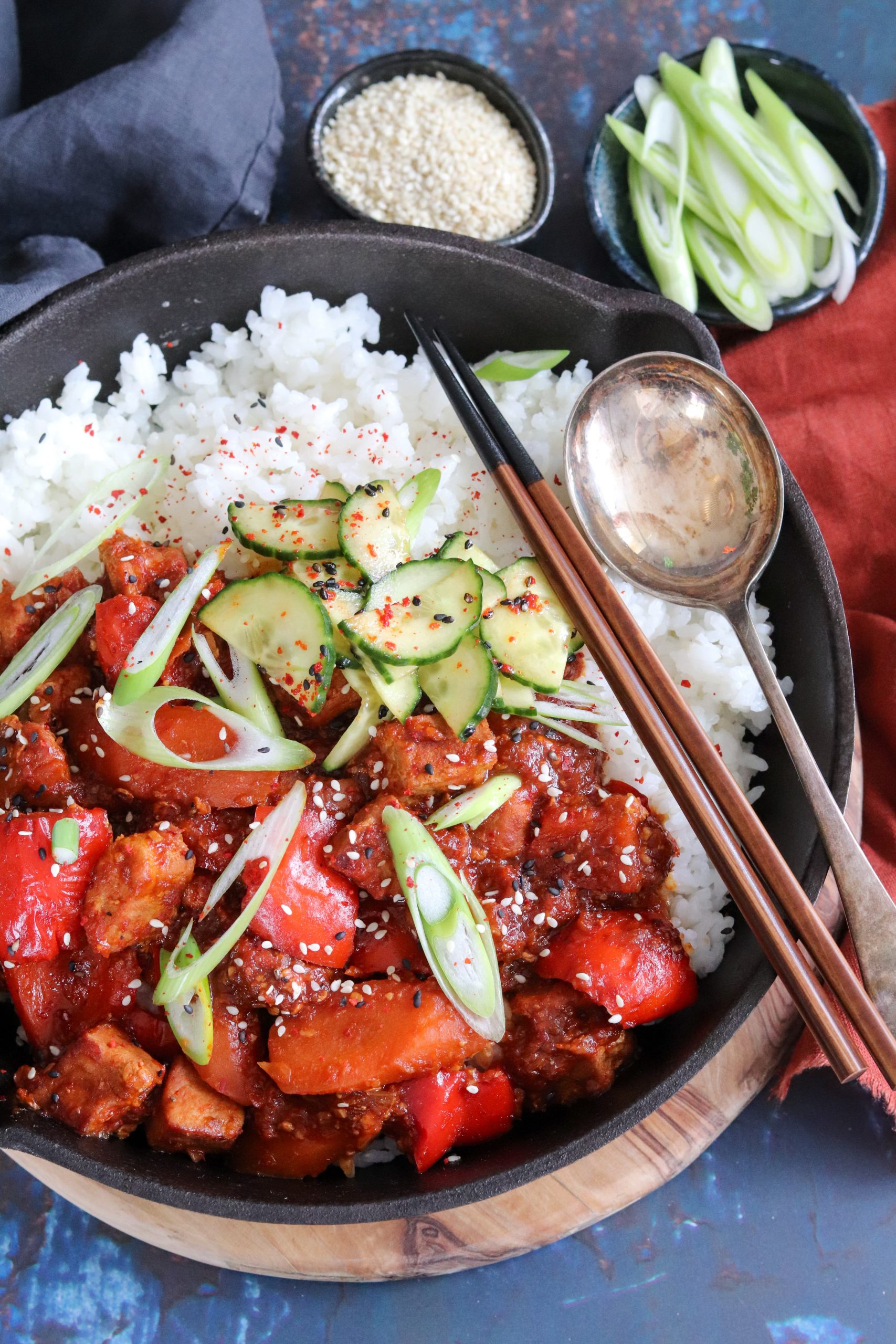 how to make this stew gluten free, vegetarian or vegan
It is very easy to make this stew vegetarian or vegan. Instead of the pork, use your favourite tofu. You will need to adjust the cooking time for the tofu.
You would then need to swap the chicken stock for vegetable stock. Instead of honey, you could use maple syrup or agave nectar to make this stew vegan.
It is a little trickier to make this Korean Pork Stew gluten free. Gochujang and doenjang often include additives like wheat or barley.
I would recommend vising an Asian supermarket to see if there are any gluten free versions for gochujang. If not, you could try to make your own gluten-free gochujang.
You could use miso instead of doenjang as it is easier to find gluten free versions. Miso has a milder flavour than doenjang but it will still add a lovely flavour. I would recommend using red miso over white if possible.
Make sure you use tamari which is gluten free soy sauce if you are making this gluten free.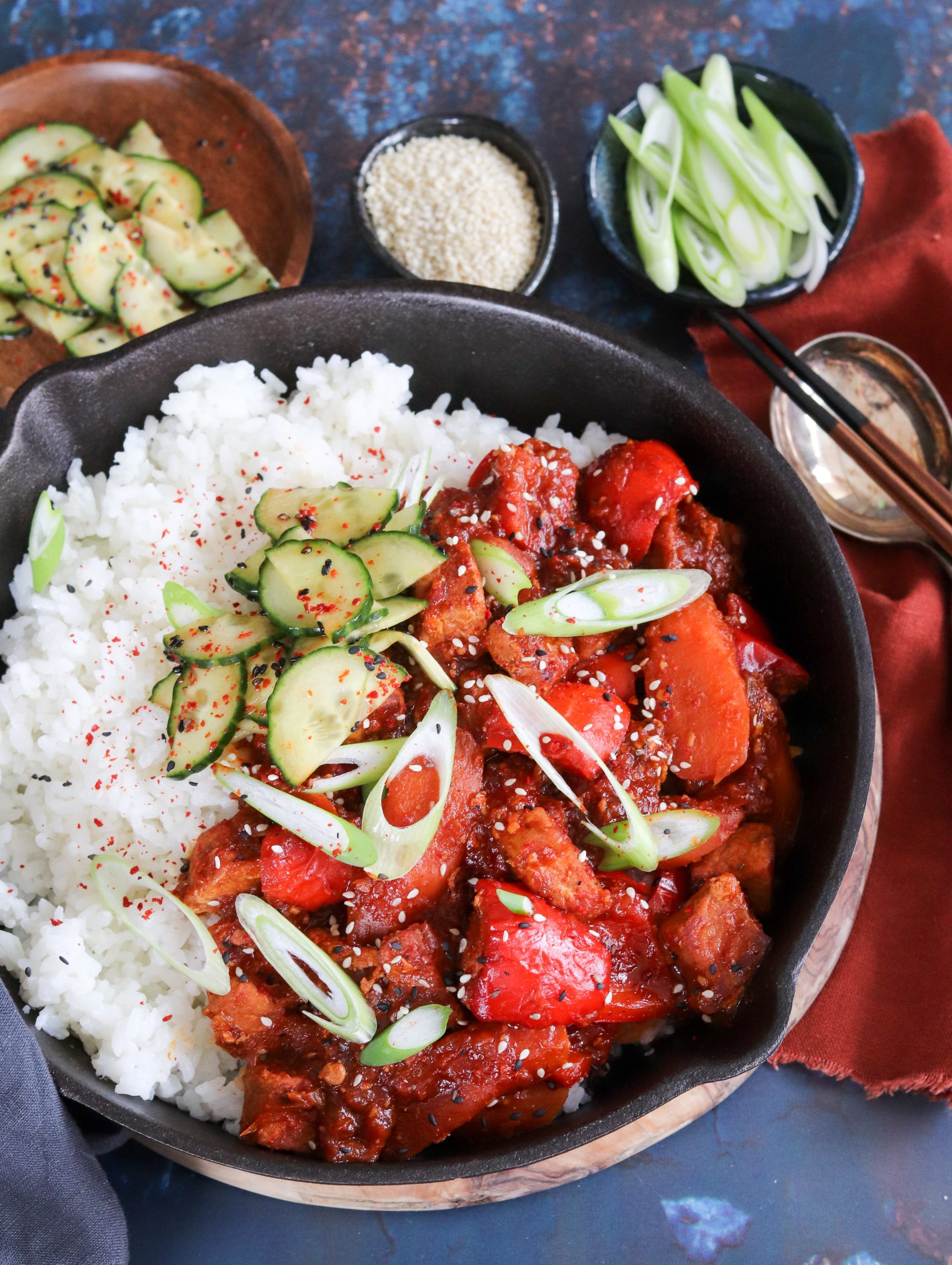 other recipes you might like
Pin for later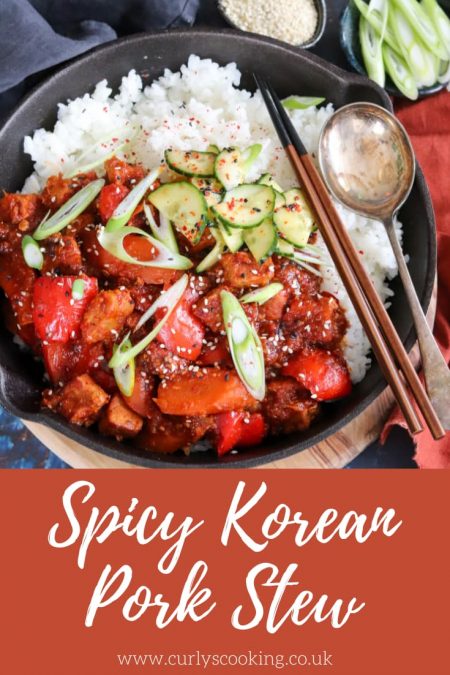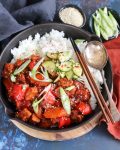 Spicy Korean Pork Stew
This Spicy Korean Pork Stew is inspired by my favourite Korean ingredients and their bold flavours which pack a real punch. You won't regret trying this fresh twist on a tasty pork stew!
Ingredients
1

tbsp

sunflower oil

500

g

pork leg

diced

1

onion

finely diced

2

sticks

celery

finely diced

3

medium

carrots

2

tbsp

gochujang

1

tbsp

doenjang

(soy bean paste)

1

tbsp

gochugaru

¼

tsp

pepper

2

tbsp

honey

3

cloves

garlic

minced

500

ml

chicken stock

2

tbsp

light soy sauce

1

red pepper
Instructions
Add 1 tbsp sunflower oil to a large pan over a high heat. Add 500g pork leg to the pan and brown for 3-4 minutes

Reduce the heat to medium and add 1 finely diced onion and 2 finely diced celery stalks to the pork and cook for 2 minutes

Cut 3 carrots into thick chunks and add them to the pan along with 2 tbsp gochujang, 1 tbsp doenjang, 1 tbsp gochugaru, 2 tbsp honey3 cloves minced garlic, ¼ tsp pepper and stir through

Add 500ml chicken stock and 2 tbsp light soy sauce and stir thorough

Turn down to a low heat and cook with the lid on for 30-40 minutes until the carrots are tender

Cut 1 red pepper into a large dice and add to the pan, cook uncovered for 10 minutes on a medium/low heat until the sauce has thickened
Recipe Notes
Nutritional information is given as a guide only and may vary.
Nutrition Facts
Spicy Korean Pork Stew
Amount Per Serving
Calories 350
Calories from Fat 54
% Daily Value*
Fat 6g9%
Cholesterol 4mg1%
Sodium 1057mg46%
Potassium 535mg15%
Carbohydrates 27g9%
Protein 6g12%
Vitamin A 9279IU186%
Vitamin C 46mg56%
Calcium 50mg5%
Iron 1mg6%
* Percent Daily Values are based on a 2000 calorie diet.