This delicious Sweet Chilli Jam is the perfect mix of sticky, sweet and spicy. It is the perfect accompaniment for so many meals.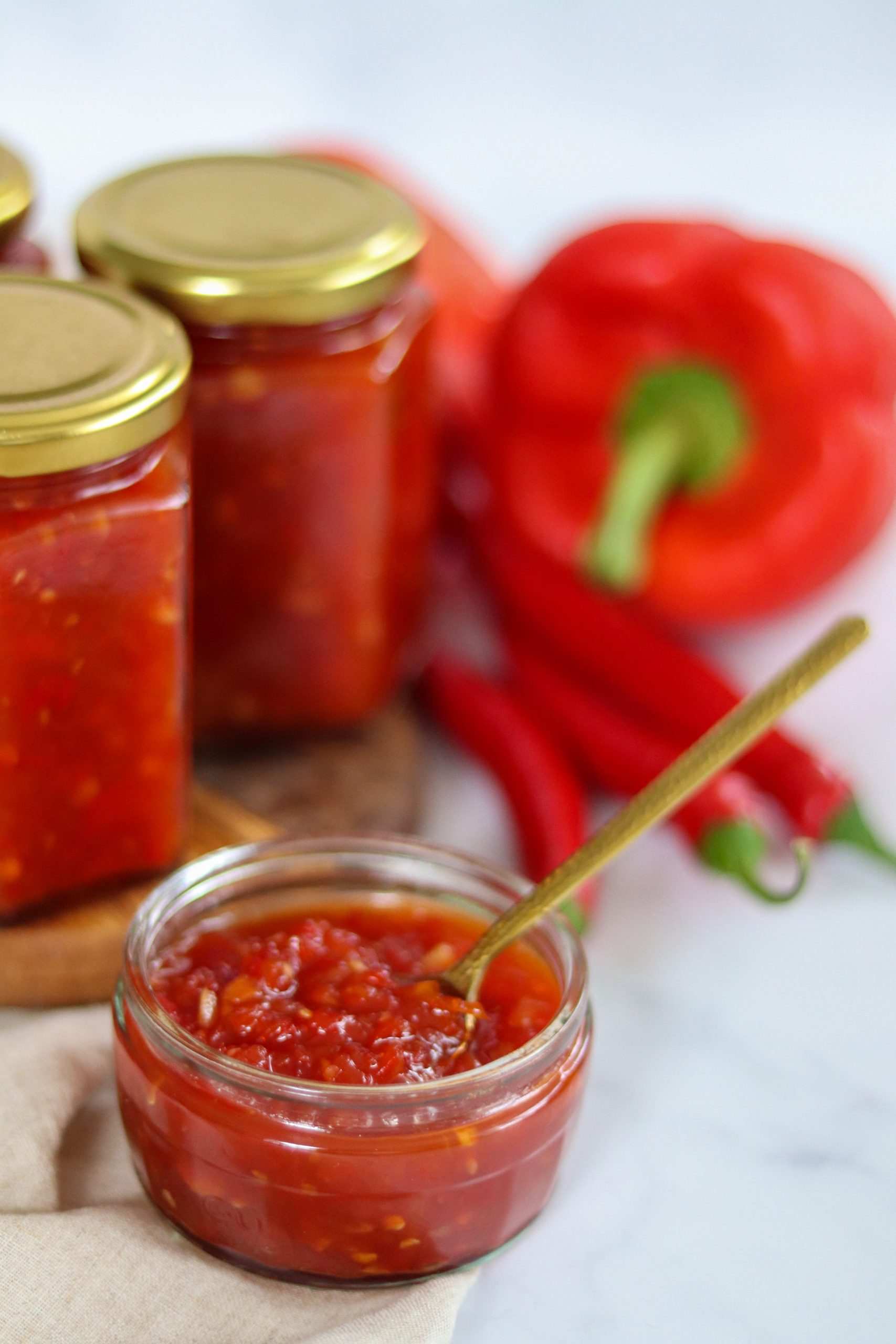 What is sweet chilli jam?
Although this is called jam, it is not the jam you would spread on your toast for breakfast.
This Sweet Chilli Jam is the perfect accompaniment to so many savoury dishes. It is a combination of red peppers, chillies mixed with sugar and a few other ingredients to make this irresistible jam.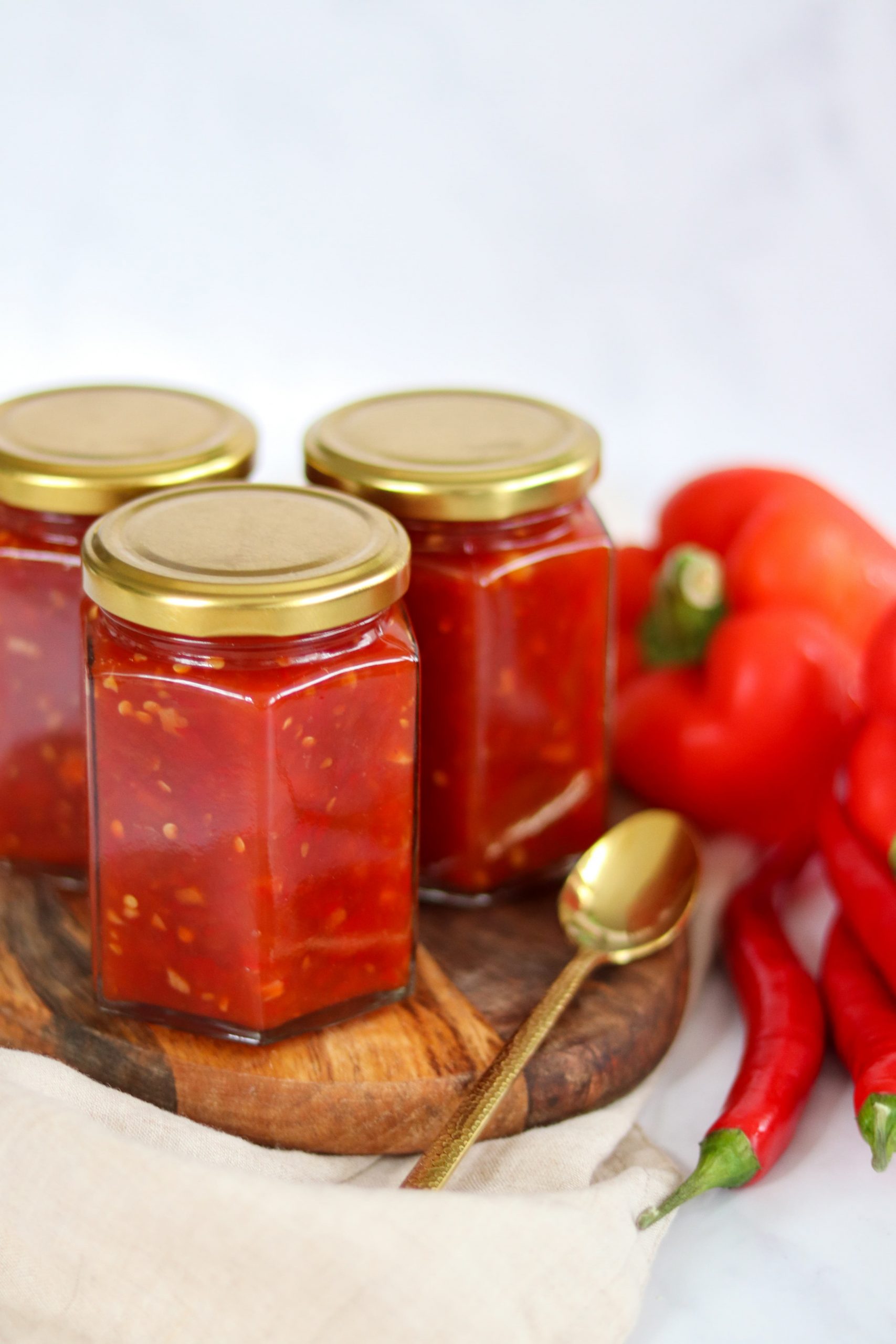 Sweet Chilli Jam isn't as hard to make as you may think
This Sweet Chilli Jam really isn't hard to make at all. If you follow the simple steps you will have no problem making this.
I have been making this chilli jam for around 8 years now. The original recipe I used was from BBC Good Food. Over the years I have tweaked it and adapted it to the recipe below.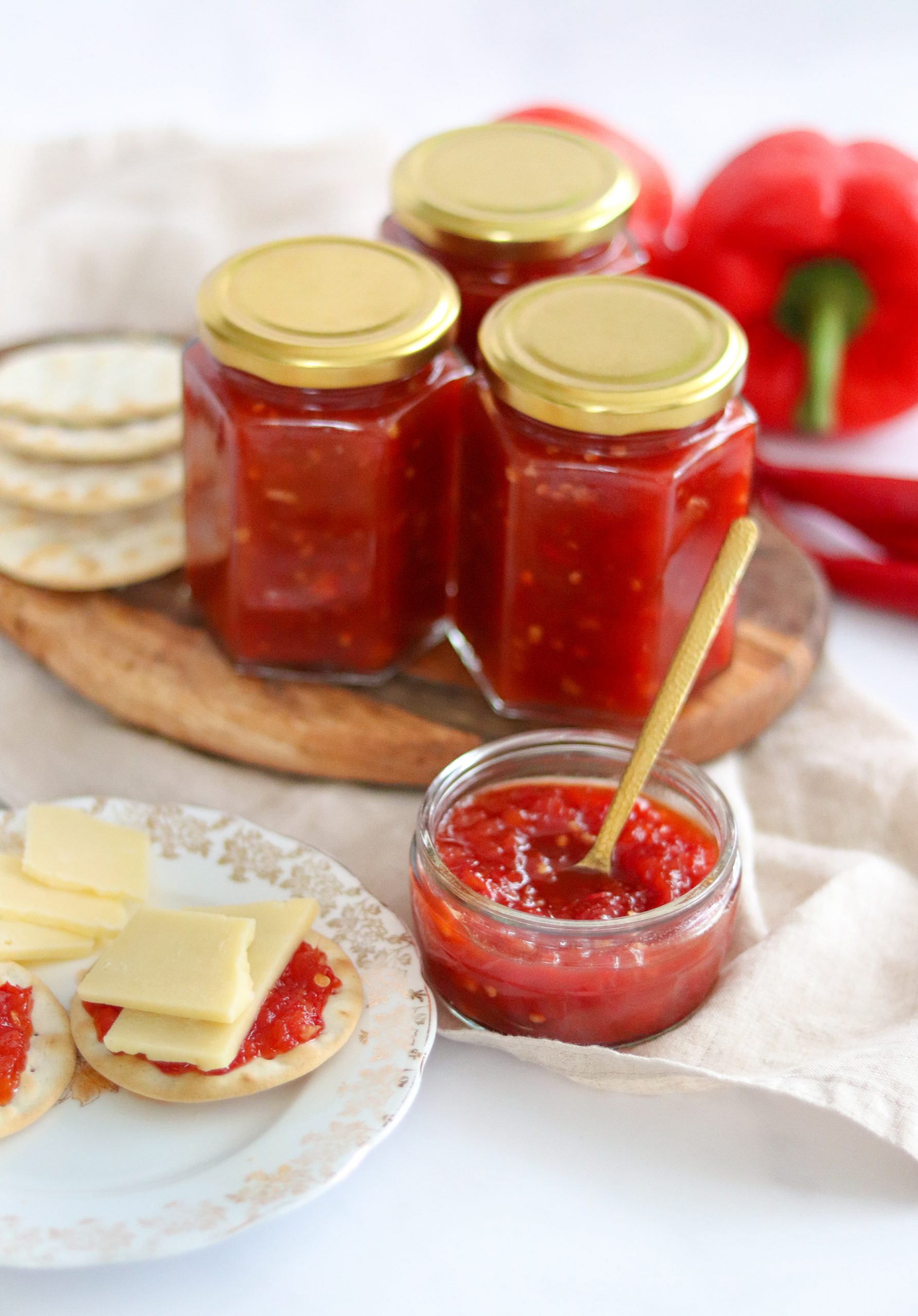 which chillies should be used?
Here in the UK, we don't have the largest selection of chillies available compared to other countries.
If you look in the supermarkets, you can generally buy 'red or green chillies'. There is no information about what variety these standard chillies actually are. After some digging around, I believe this are fresco or serenade chillies.
These supermarket chillies are usually quite short and dumpy and relatively mild in flavour. Although this are perfectly fine to use for this recipe, I prefer to use the longer, thinner chillies.
I think these might be called cayenne chillies (but could very well be wrong!). These are easily found at green grocers, markets and Asian food supermarkets. I also think they are better value than the ones from the supermarket and they're bigger!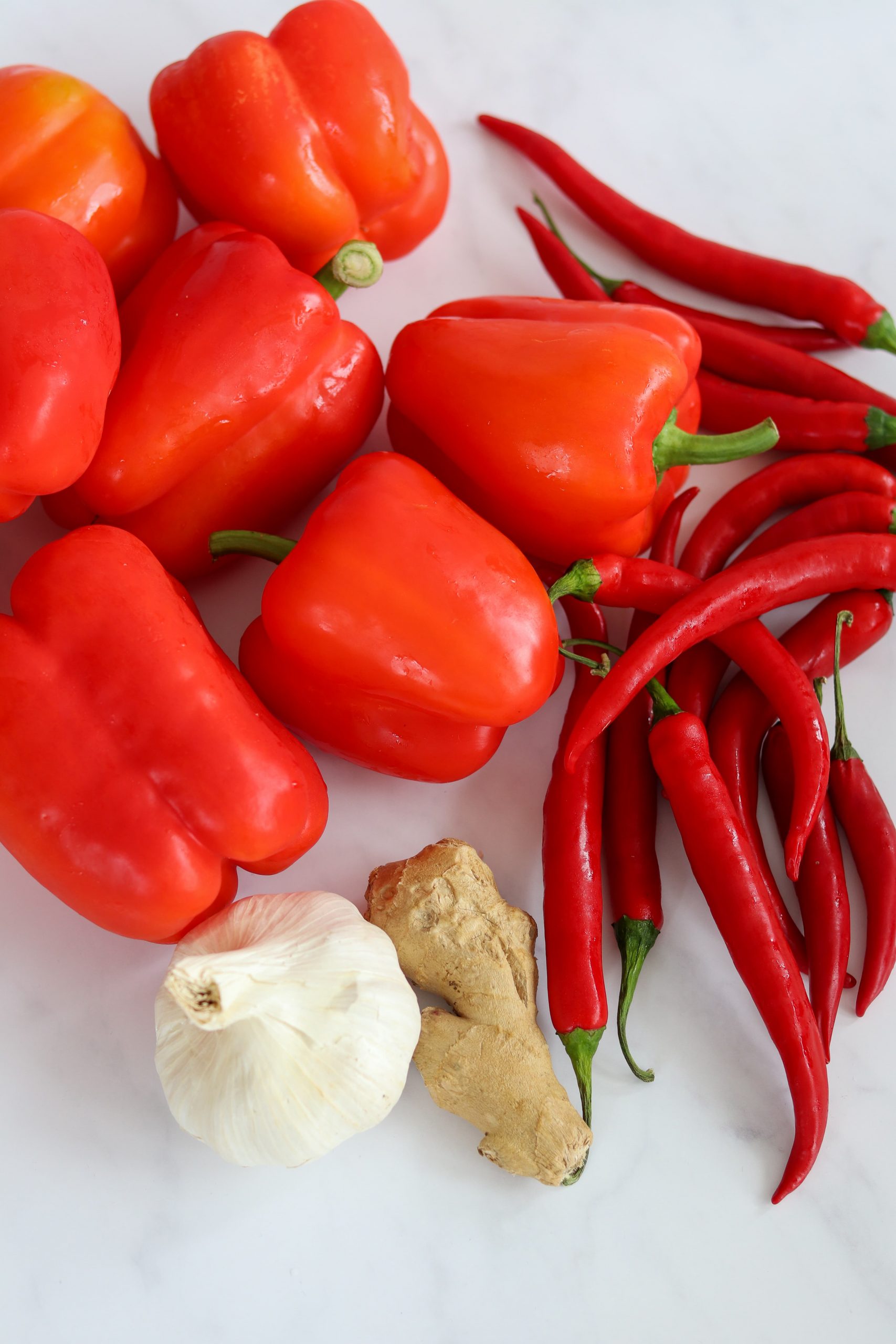 How spicy is this sweet chilli jam?
I would say this Sweet Chilli Jam is mild to medium in heat. I am yet to find someone who thinks it it too spicy for them.
Obviously this depends how spicy the chillies are that you have used. Generally speaking, the larger the chillies, the milder they are. So if you want it to be milder, look for larger chillies.
If you are someone that loves a bit of heat, you can definitely make this spicier. I would recommend adding an additional 2-3 birds eye chillies if you would like to increase the heat.
Be careful however as birds eye chillies are quite hot.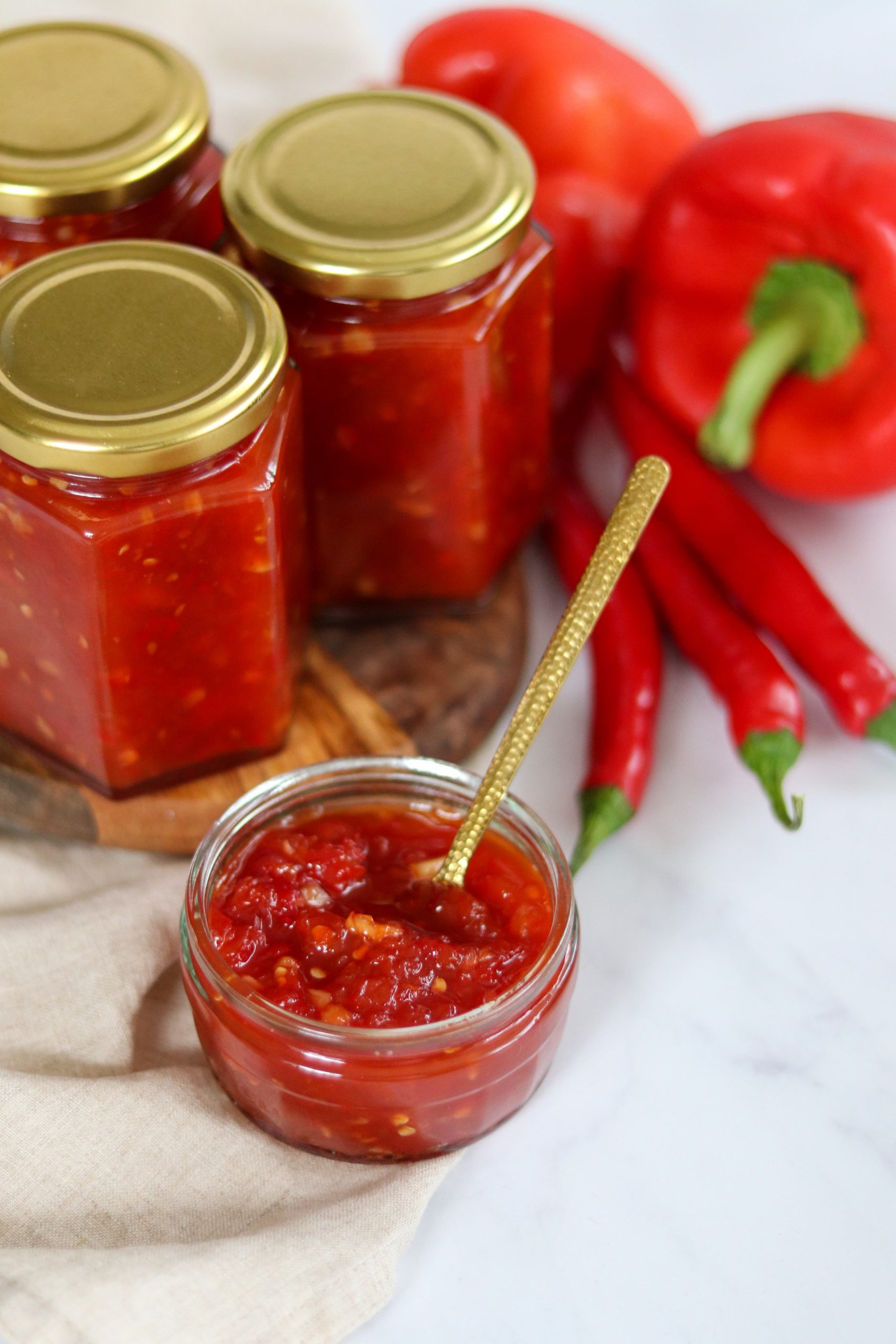 Can different coloured peppers be used?
No, I wouldn't recommend it.
You really do need to buy red bell peppers for this Sweet Chilli Jam. The peppers along with the chillies give this jam the fantastic colour. If you were to use different coloured peppers this would be lost.
Peppers vary in sizes and sometimes you can get really big ones and other times they are small. Because of this I have included the weight of the peppers you need. Just saying eight peppers is too vague in my opinion.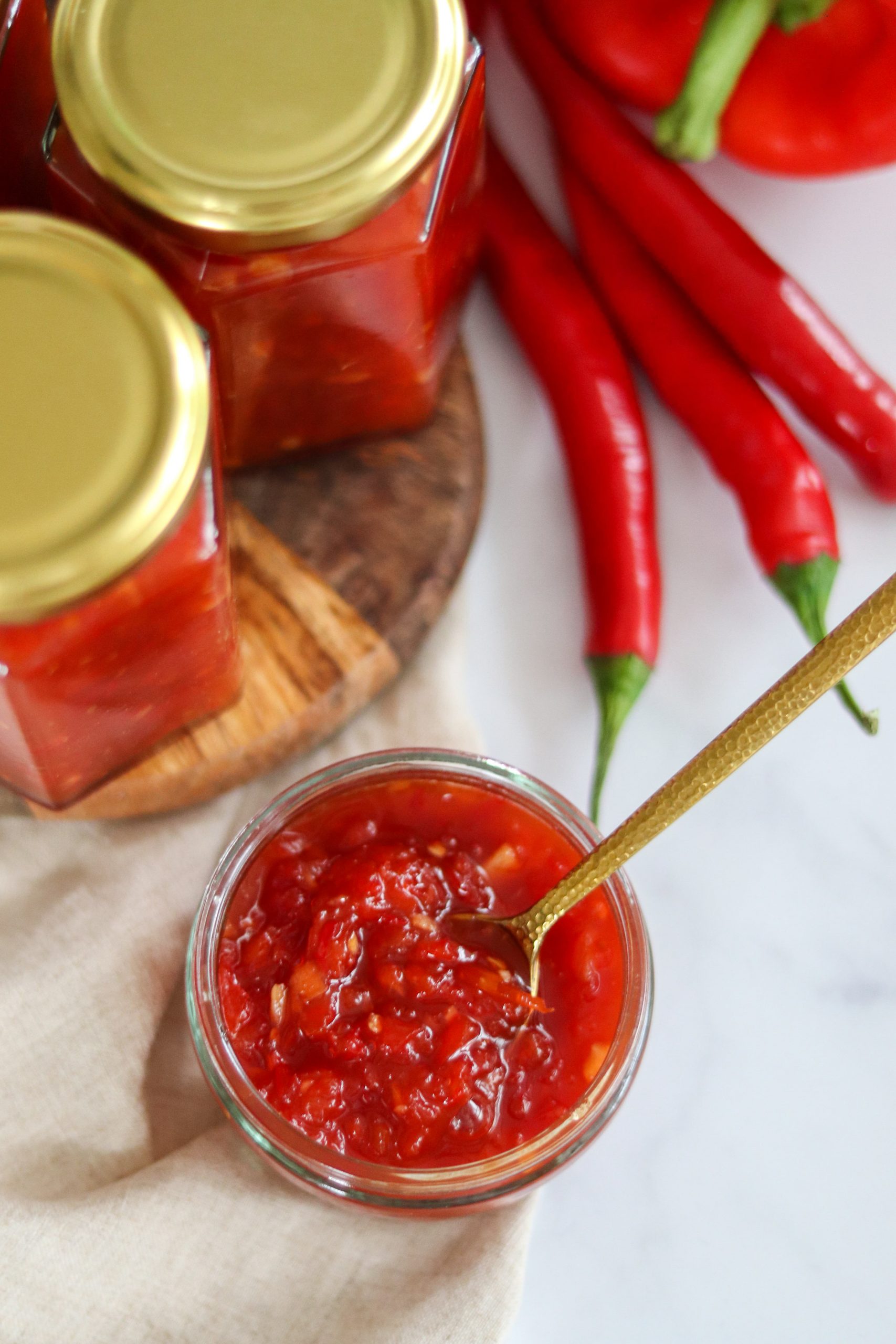 why use tinned cherry tomatoes?
Tinned cherry tomatoes are different to standard tinned tomatoes. The tinned cherry tomatoes are kept whole, they're sweeter and have a thicker more rich sauce.
Large supermarkets have stocked tinned cherry tomatoes for as long as I have been looking for the. However I have recently seen them in smaller supermarkets like Aldi and Lidl so you shouldn't have any problems finding them.
If you really can't find tinned cherry tomatoes, you can use some good quality finely diced tinned tomatoes.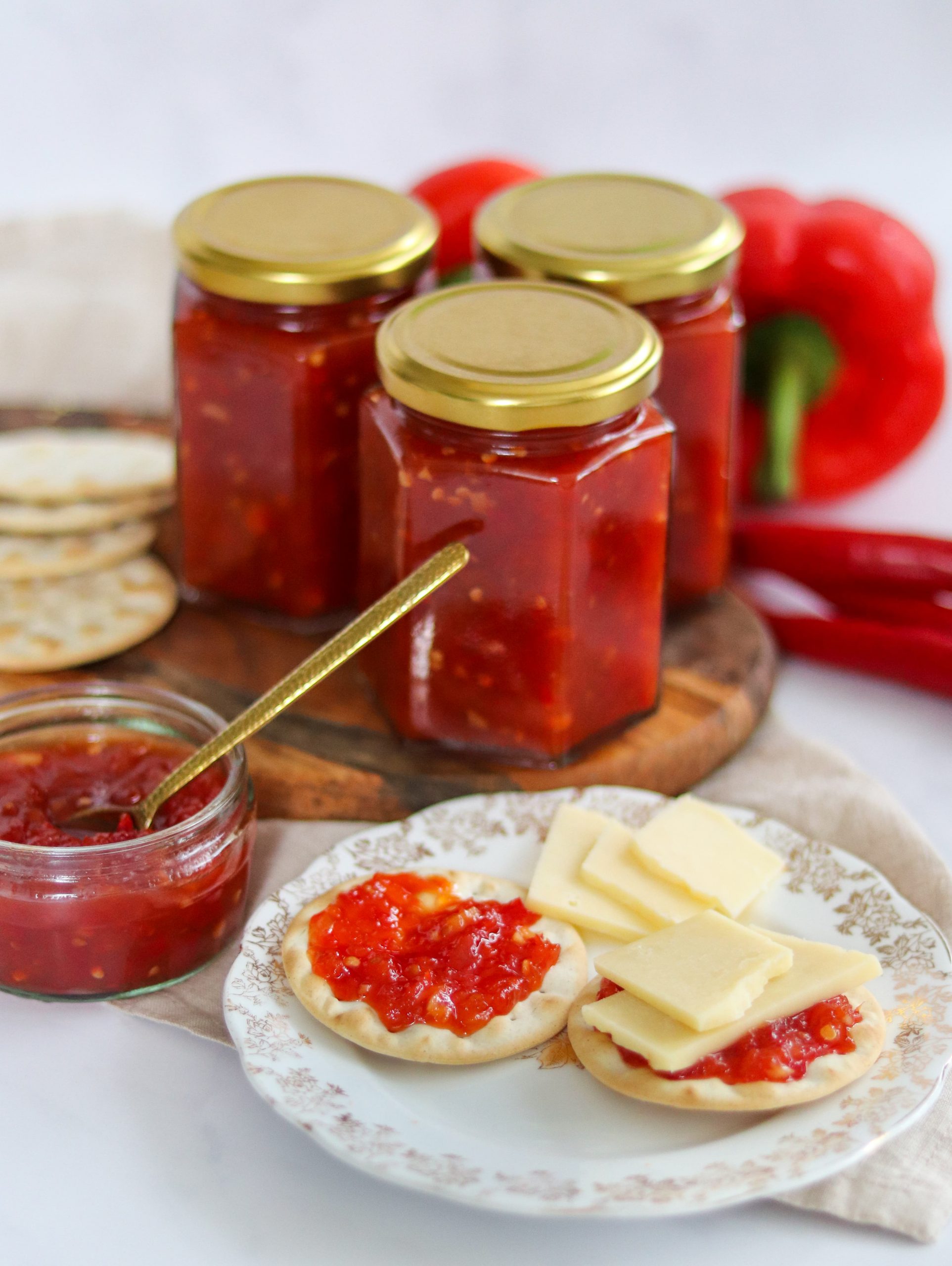 how long does this take to make?
I prefer to cook this Sweet Chilli Jam over a lower heat for a longer time.
Once it has come up to the boil and you have spooned off the scum that comes to the surface, I then turn it down low so that it it is just occasionally bubbling.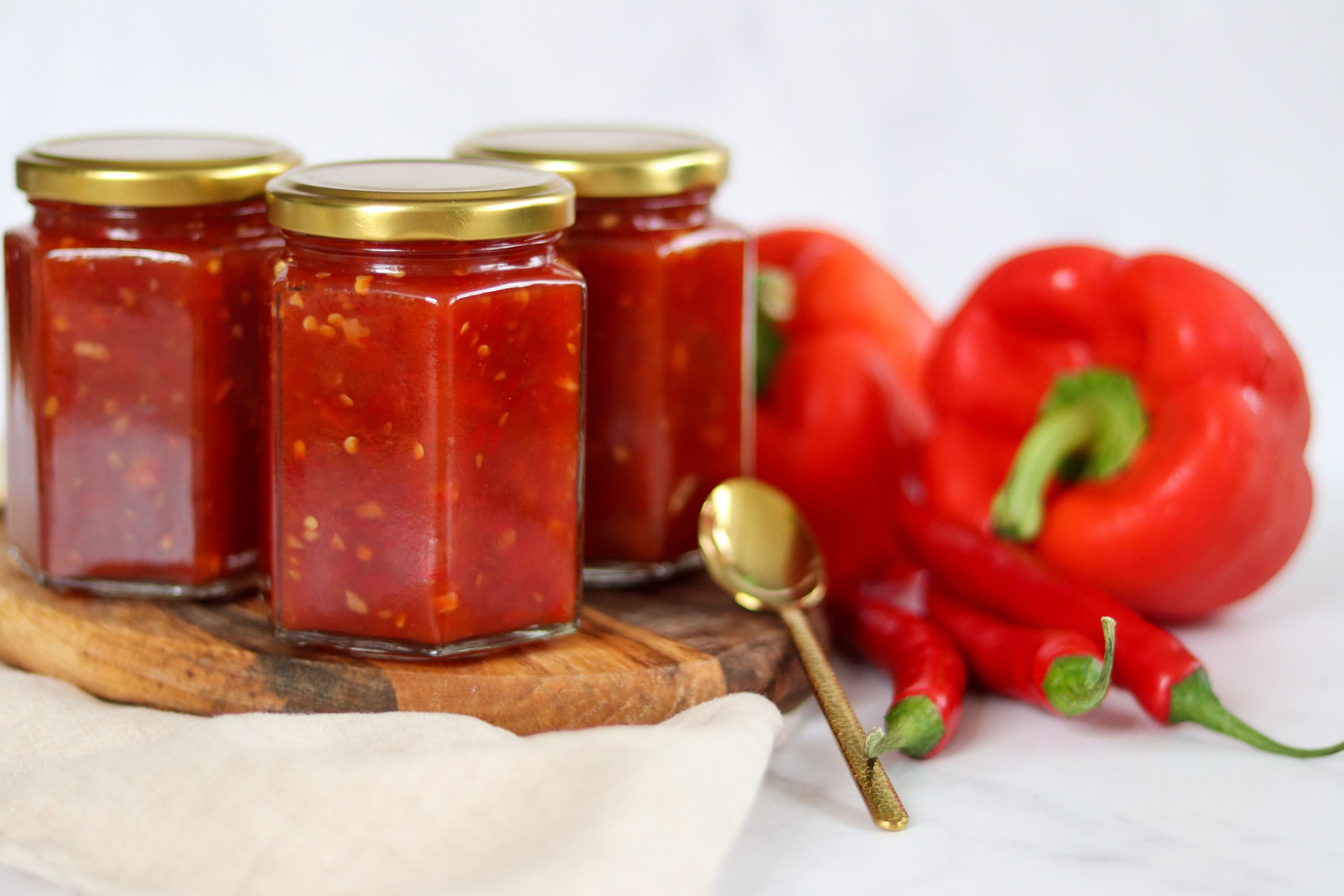 I then give it a stir every twenty minutes or so. When it starts to thicken towards the end of the cooking time, you do need to stir it more frequently. As it thickens it is more likely to stick to the bottom of the pan and burn due to the high sugar content.
If you do want to speed the process up, you can cook the chilli jam at a slightly higher temperature. This would only need around one hour, but you would have to watch it a lot more closely so that it doesn't stick to the bottom of the pan and burn.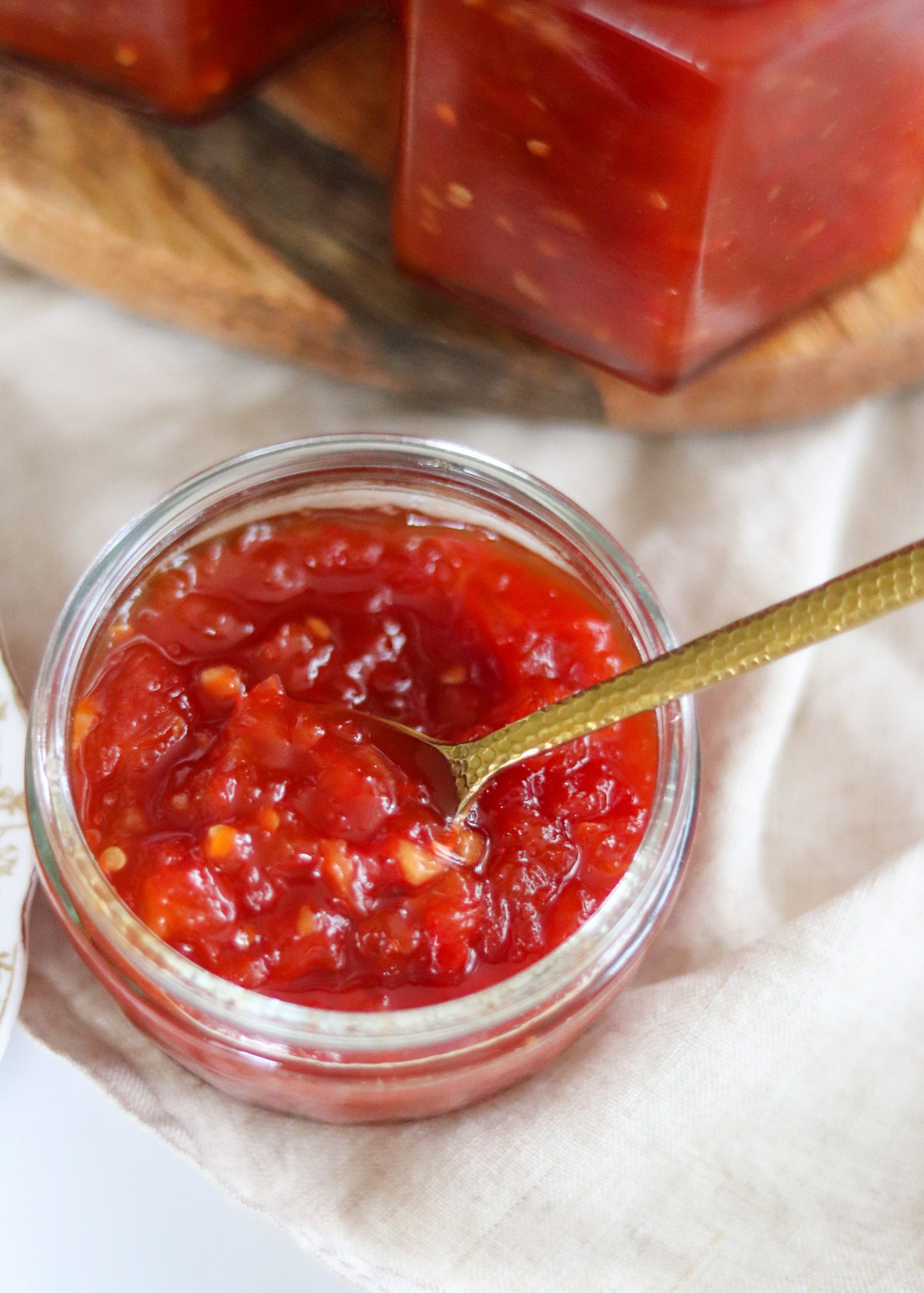 do I need a food processor to make this?
Some other jams and chutneys you can get away with chopping by hand. But I really do think you need to use a food processor for this Sweet Chilli Jam. You are looking for a fine dice which would take hours by hand.
When I first started making it years ago, I only had a mini chopper. It did take me a lot longer because I could only blitz one pepper at a time but it did do the job!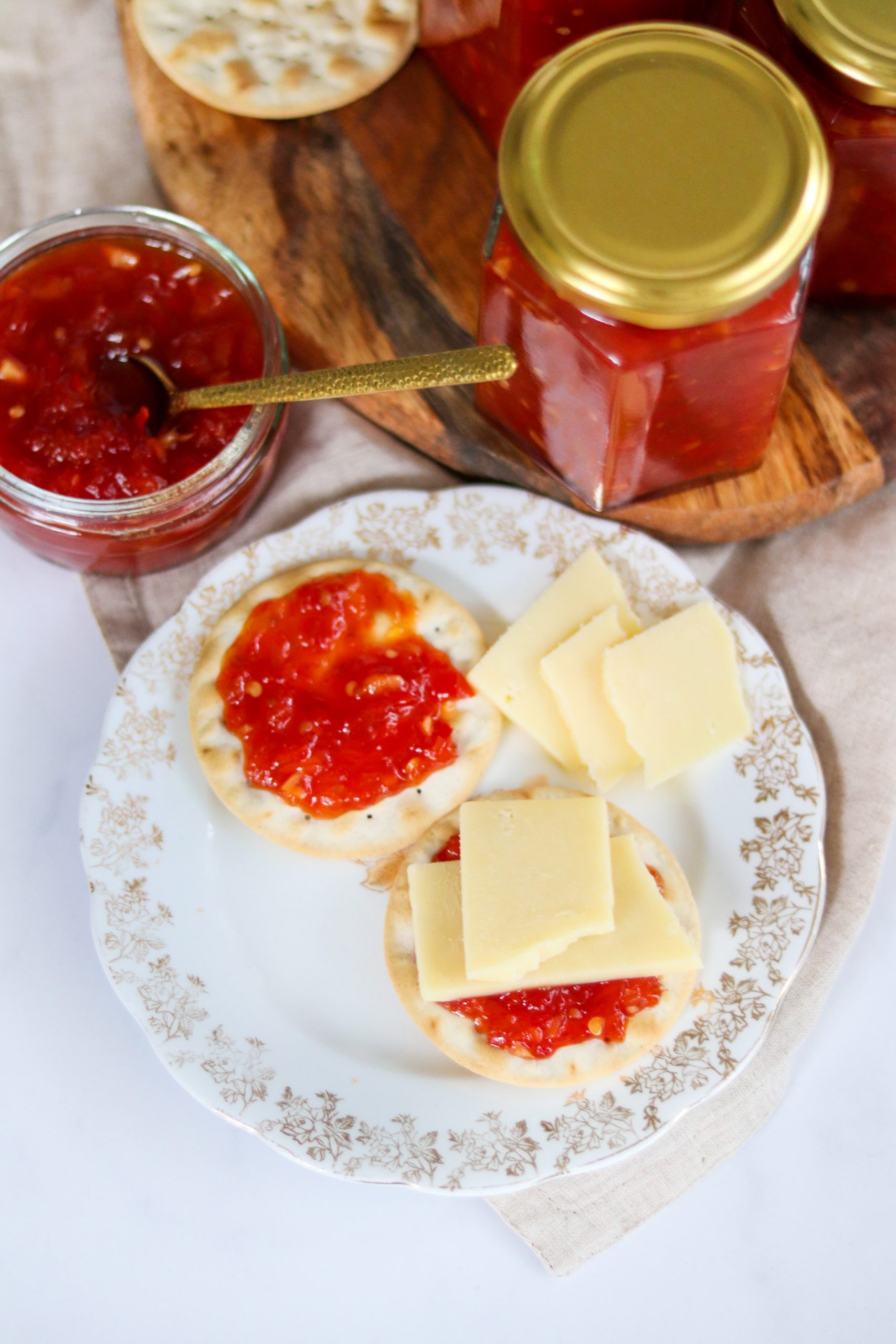 How to STERILISE jars
There is lots of different information about how to sterilise jars when making preserves.
I am not an expert, but I have always used the same method. Firstly, I wash the jars and their lids in the dishwasher and leave them to dry completely when the cycle has finished.
I then put the jars and lids on a baking tray in the oven at 160°C fan for 10 – 15 minutes. I then fill them with warm jam when the lids are still warm.
There are other methods for how to sterilise jars. I recommend checking out Tin & Thyme's post with lots of information.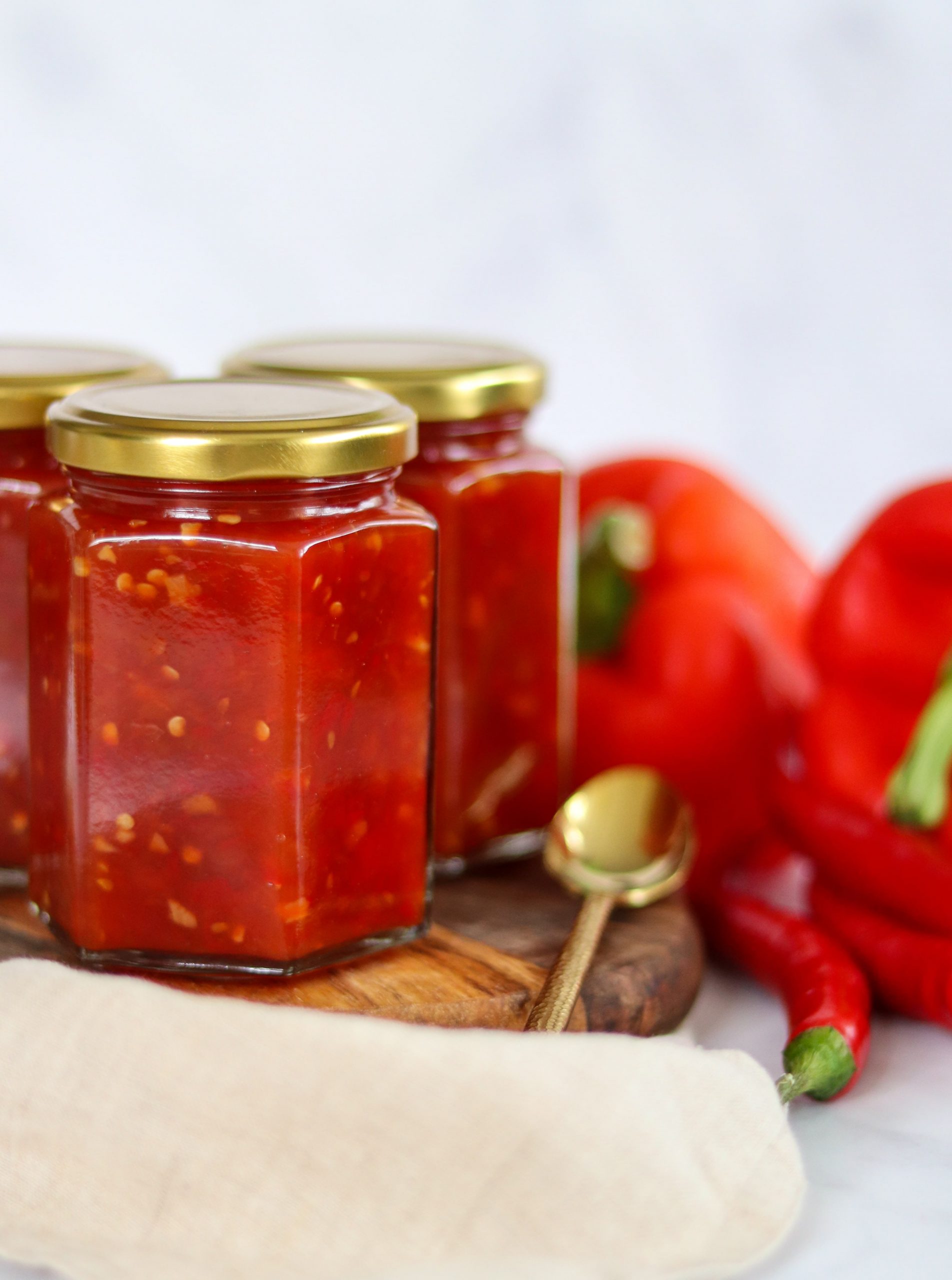 how long will this sweet chilli jam keep for?
Once the jam is in the jars it will keep in a cool, dark cupboard for three months.
I have had people tell me they have kept the Sweet Chilli Jam unopened for a lot longer than this. If the jars were properly sterilised and it has been stored correctly it may well keep longer, just check it before eating.
When it has been opened it will keep for a couple of weeks in the refrigerator.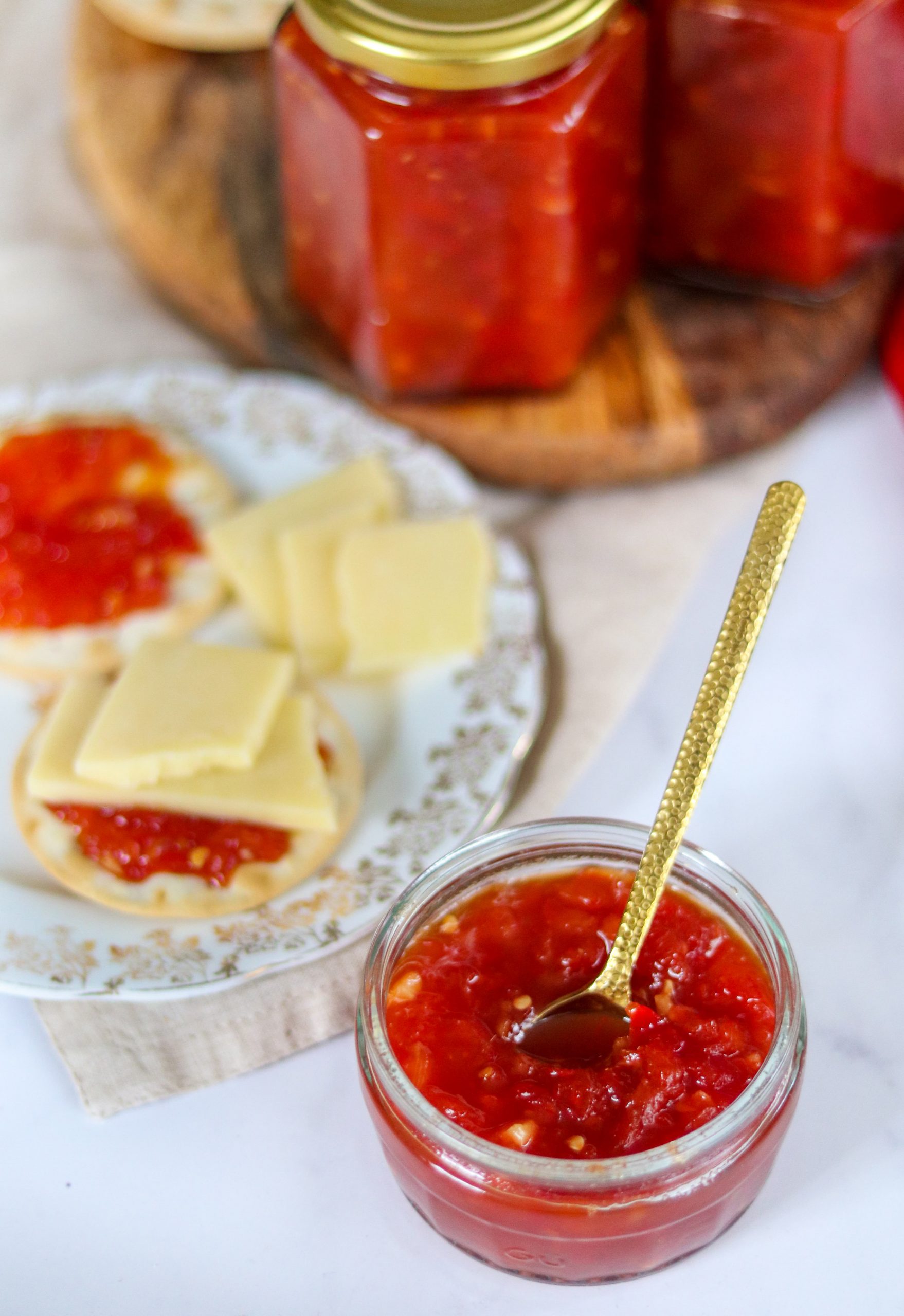 what to eat this sweet chilli jam with
Pretty much anything you like!
I always make this a few months before Christmas. This is because it is a fantastic accompaniment to cold cuts and cheese boards. And people tend to eat more of these around the festive period.
It is also absolutely delicious with cheese on toast. I spread it on the toasted bread before adding the cheese and melting. Oh my goodness it is delicious.
You can use this Sweet Chilli Jam in my Sweet Chilli Sticky Chicken or instead of the Chilli Garlic Sauce in my Pork & Green Bean Stir Fry.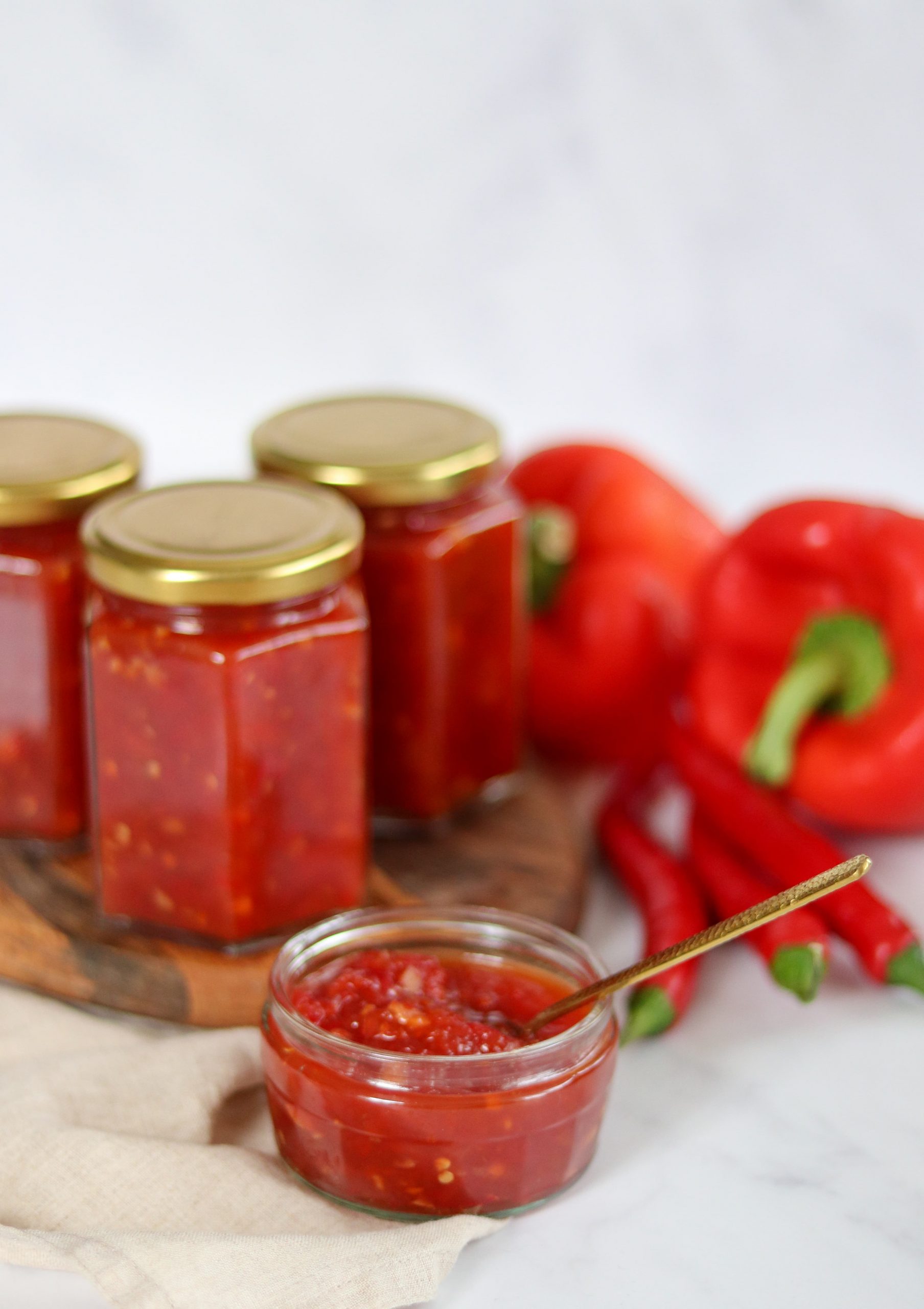 Sweet Chilli Jam makes a lovely gift
In recent years, more and more people have been making presents. This is especially the case with Christmas presents. People love receiving them because they are really thoughtful.
I have been giving jars of this Sweet Chilli Jam as Christmas presents for years along with my Caramelised Onion Chutney. Be warned though – people will ask for it again the next year! It is addictive!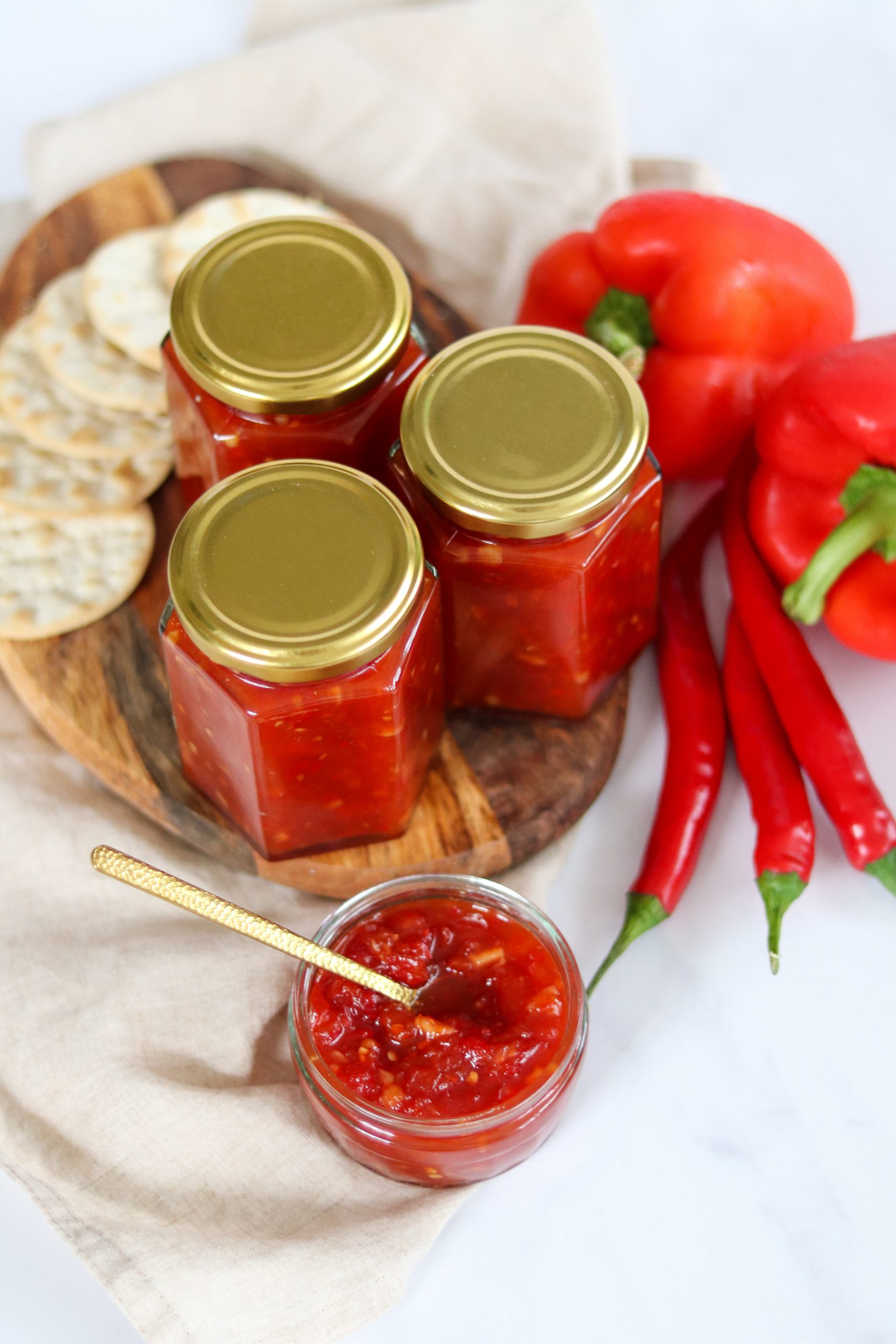 other recipes you may like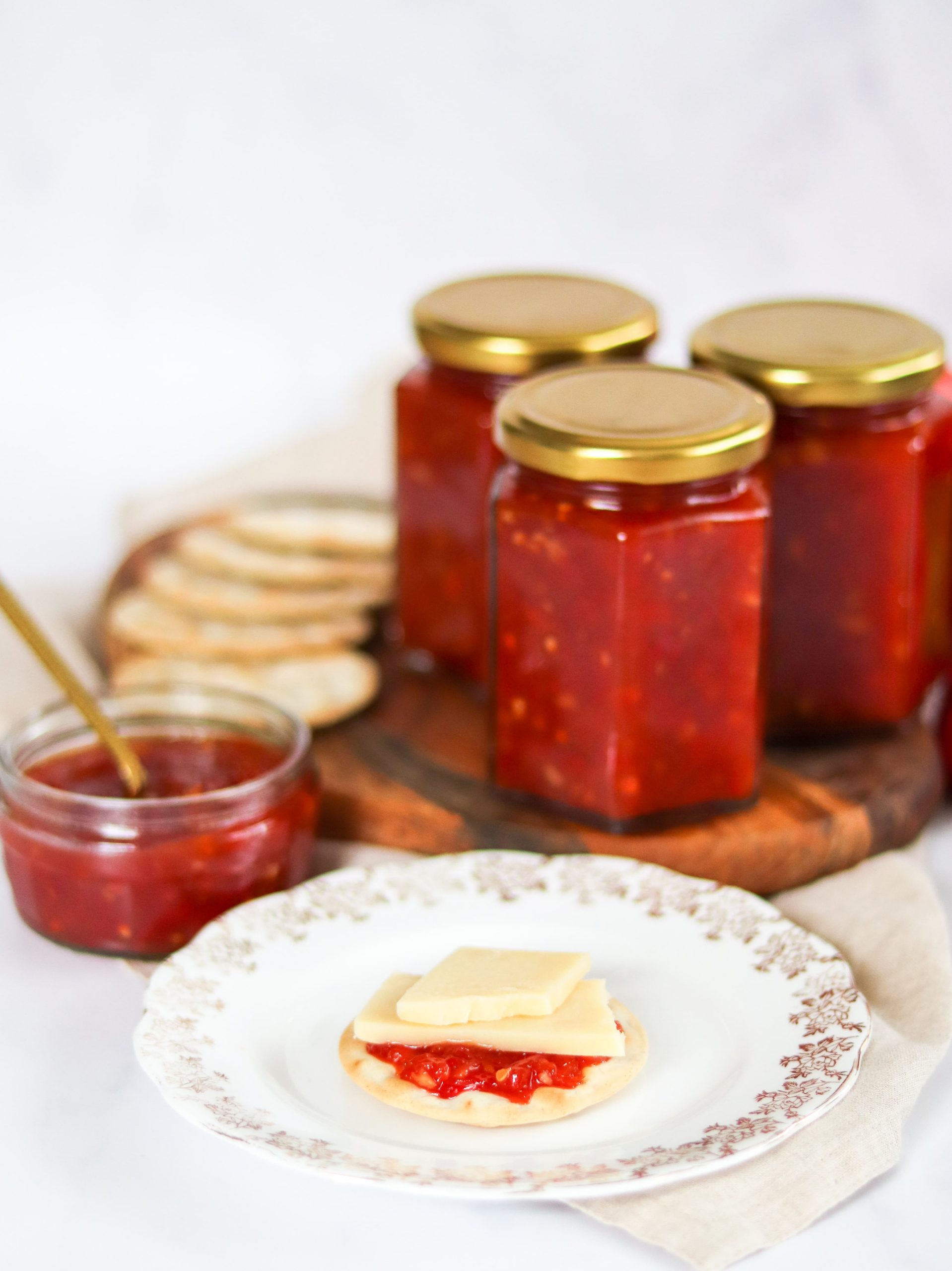 Pin for later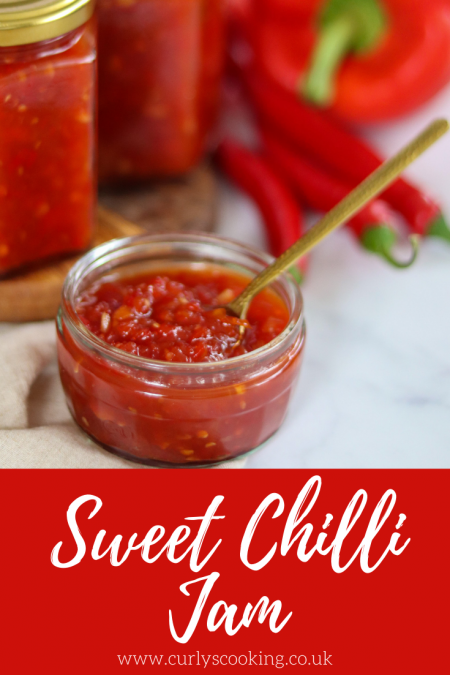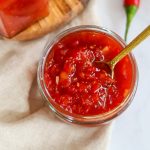 Sweet Chilli Jam
This delicious Sweet Chilli Jam is the perfect mix of sticky, sweet and spicy. It is the perfect accompaniment for so many meals.
Cook Time
2
hours
10
minutes
Total Time
2
hours
30
minutes
Ingredients
1.5

kg

red peppers

(approx 8)

30

g

fresh ginger

peeled

10-12

red chillies

10

cloves

garlic

400

g

tin cherry tomatoes

250

ml

red wine vinegar

750

g

caster sugar
Instructions
Start by deseeding the peppers and chillis and peeling the garlic and ginger. In batches, blitz the ingredients in a food processor to get a fine dice

Add the blitzed peppers, chillis, garlic and ginger to a large pan. Add in the tin of cherry tomatoes, red wine vinegar and caster sugar. Stir thoroughly

Bring to the boil over a medium/high heat. Skim of any scum that appears on the surface

Turn the heat down to low and leave to cook for 1.5 – 2 hours stirring occasionally until it is thickened and glossy. You will need to stir more frequently for the last 30 mins

Leave to cool for around 10 minutes. Pour into sterilised jars whist the jars and chutney are still warm and put on the lids. Leave to cool completely before storing in a dark cupboard
Recipe Notes
Use your food processor to blitz the ingredients to a fine dice.
Make sure you stir the chilli jam more towards the end of the cooking process so it doesn't stick to the pan.
Be careful, the chilli jam is very hot.
Make sure the jars and jam are still hot when you fill the jars.
Store in a cool, dark cupboard for up to three months. Once open store in the fridge.
Nutrition Facts
Sweet Chilli Jam
Amount Per Serving (1 tbsp)
Calories 42
Calories from Fat 9
% Daily Value*
Fat 1g2%
Sodium 27mg1%
Potassium 991mg28%
Carbohydrates 179g60%
Protein 5g10%
Vitamin A 10250IU205%
Vitamin C 515mg624%
Calcium 47mg5%
Iron 3mg17%
* Percent Daily Values are based on a 2000 calorie diet.