Rhubarb Crumble Cake Bars are a tray bake version of a classic British dessert. This moist cake is topped with roasted rhubarb and scattered with a tasty crumble layer.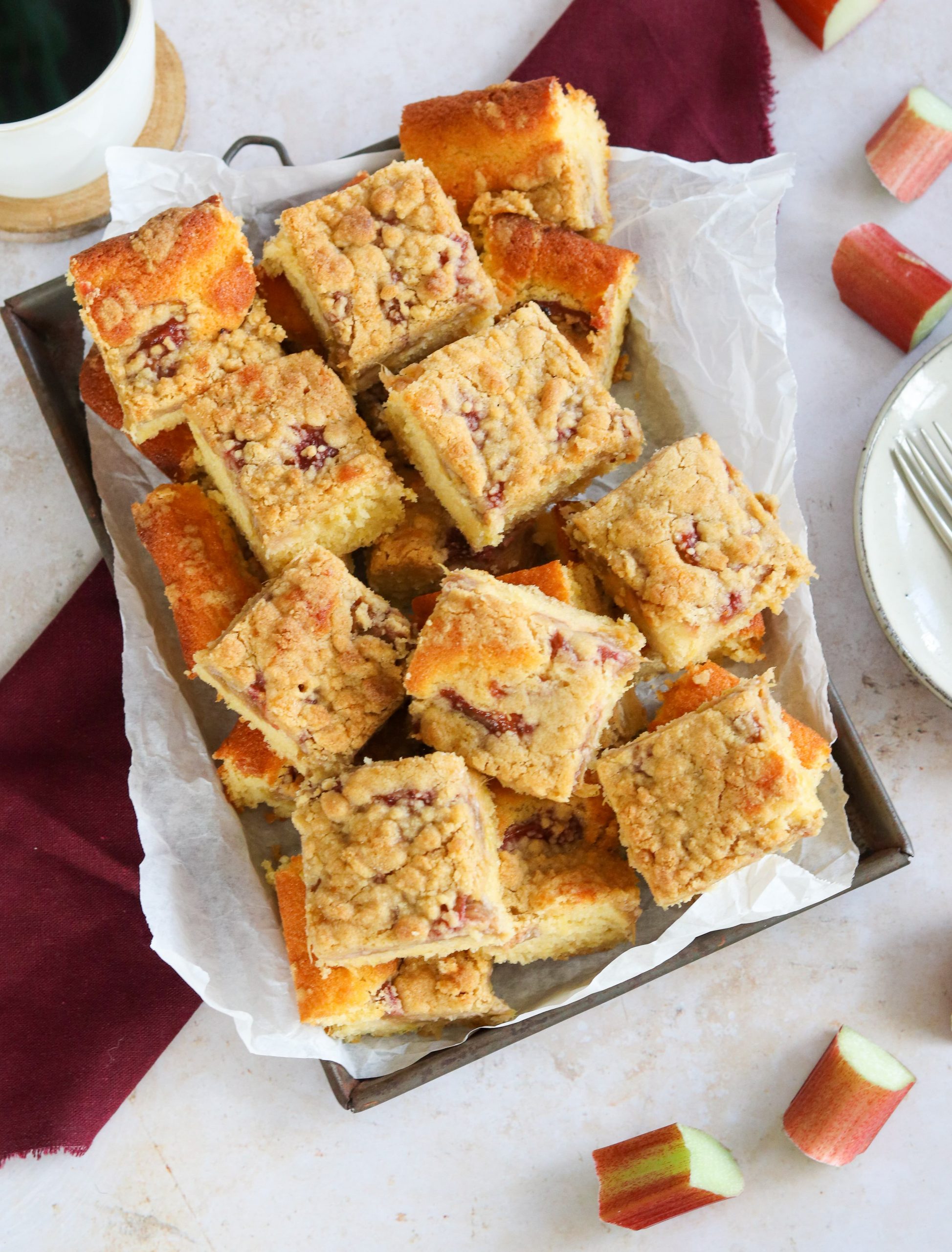 What is rhubarb?
Rhubarb is a leafy green plant with pink stalks popular in the UK. The leaves are inedible as they are poisonous so only the stalks are used. Technically rhubarb is a vegetable but it is largely considered a fruit because it is usually used in desserts and cooked with sugar.
You can grow and buy forced or unforced rhubarb. Forced rhubarb is grown in the dark which promotes the plant to produce lighter pink, sweeter stalks.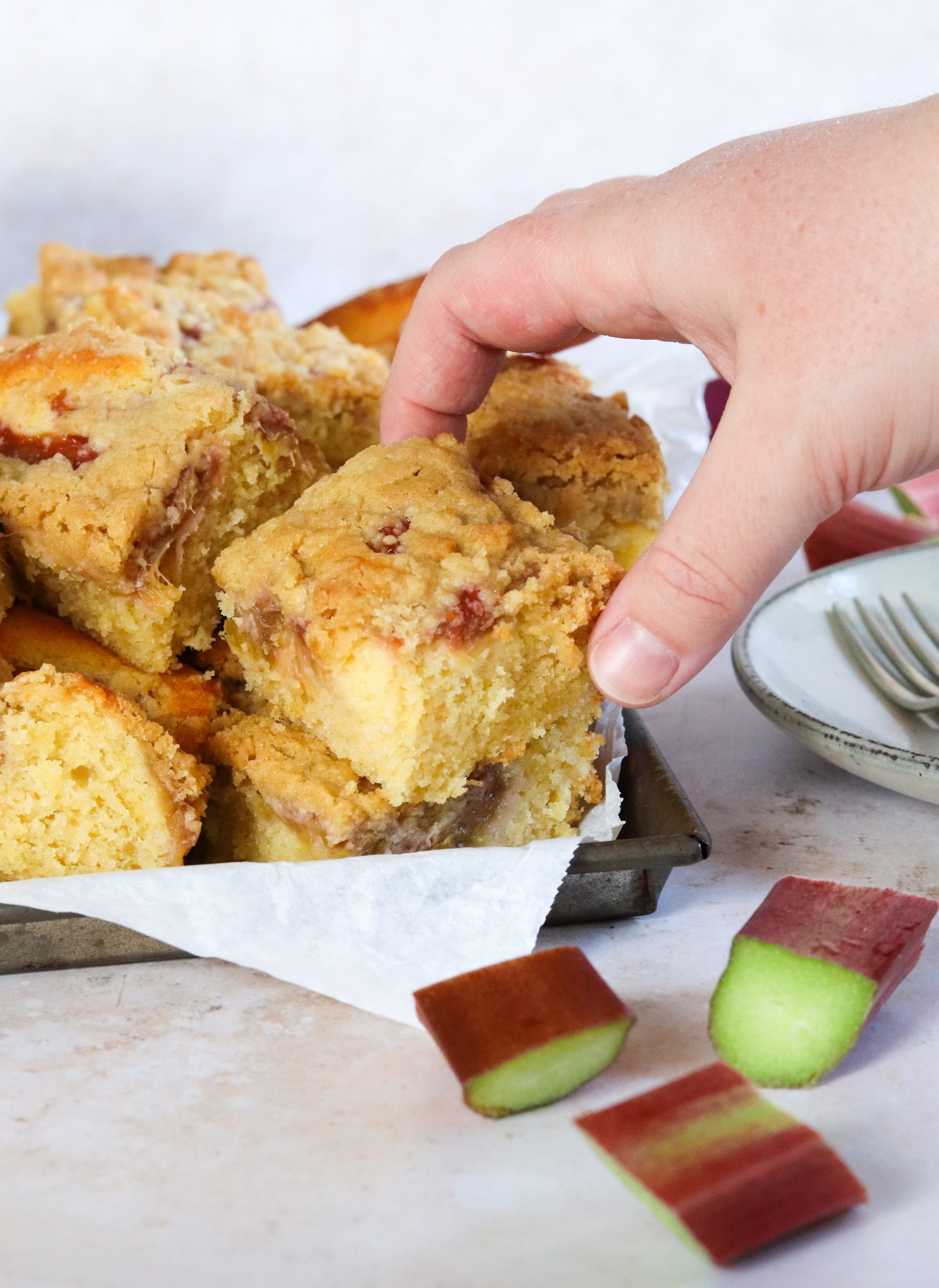 When is rhubarb in season?
Forced rhubarb is in season first, usually around mid January until March. This is popularly grown in Yorkshire in the UK and is well known for it's fantastic bright pink colour.
Rhubarb that isn't forced comes into season from March until September. This is the rhubarb that I use because my parents and Mr Curly's Nan both grow it.
I love freezing rhubarb because it means I have a supply year round and can enjoy it when it isn't in season anymore. You also don't want rhubarb to go to waste so it is a great way to save it for later.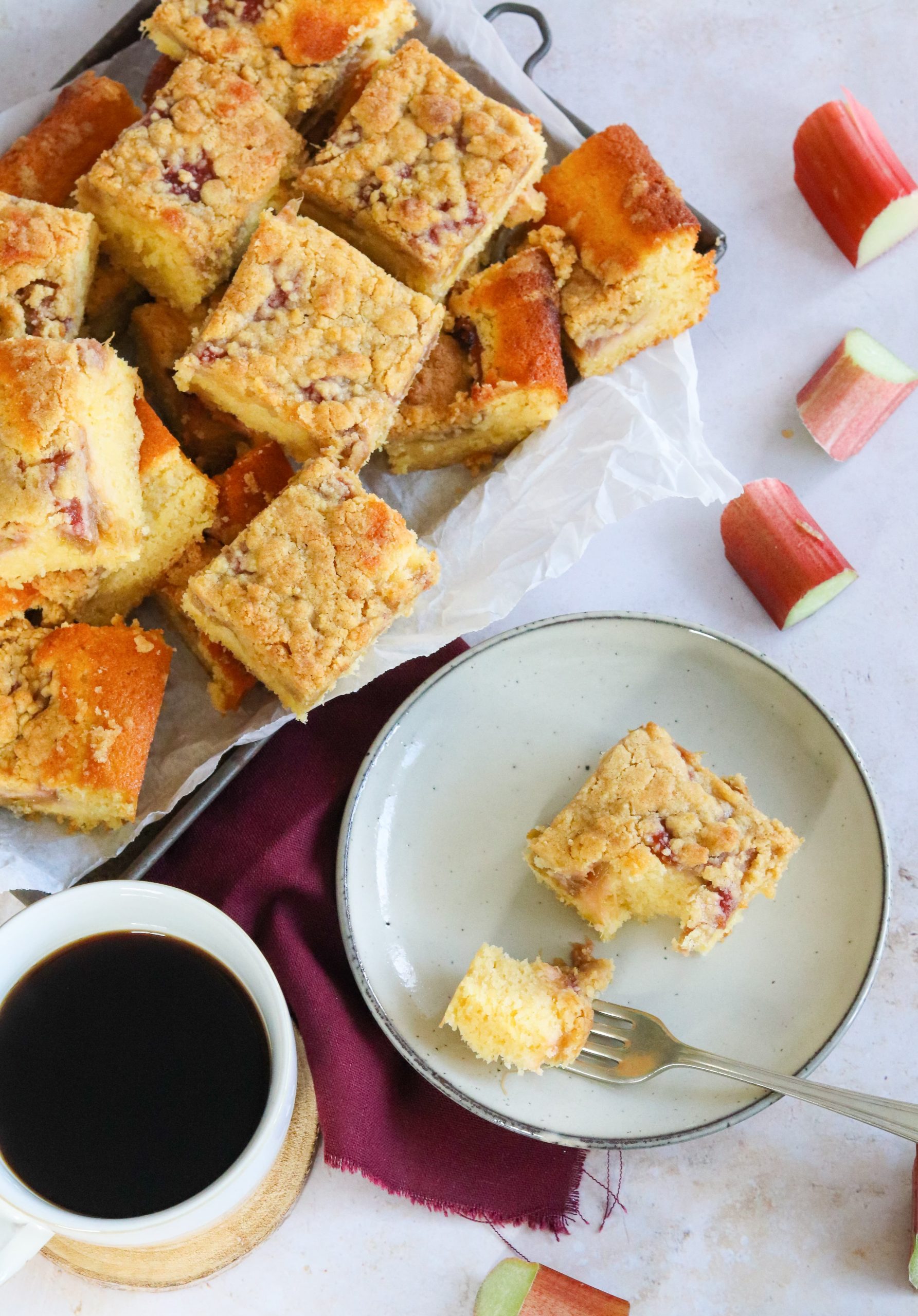 What are Rhubarb Crumble Cake Bars?
These Rhubarb Crumble Cake Bars are a delicious way of incorporating one of my favourite British desserts into a tray bake.
Rhubarb Crumble Cake Bars are a layer of tasty yoghurt cake topped with delicious roasted rhubarb. They are then finished with a generous scattering of crumble topping.
The cake bars are baked in a tray bake tin which makes it incredibly easy to cut them into equal pieces.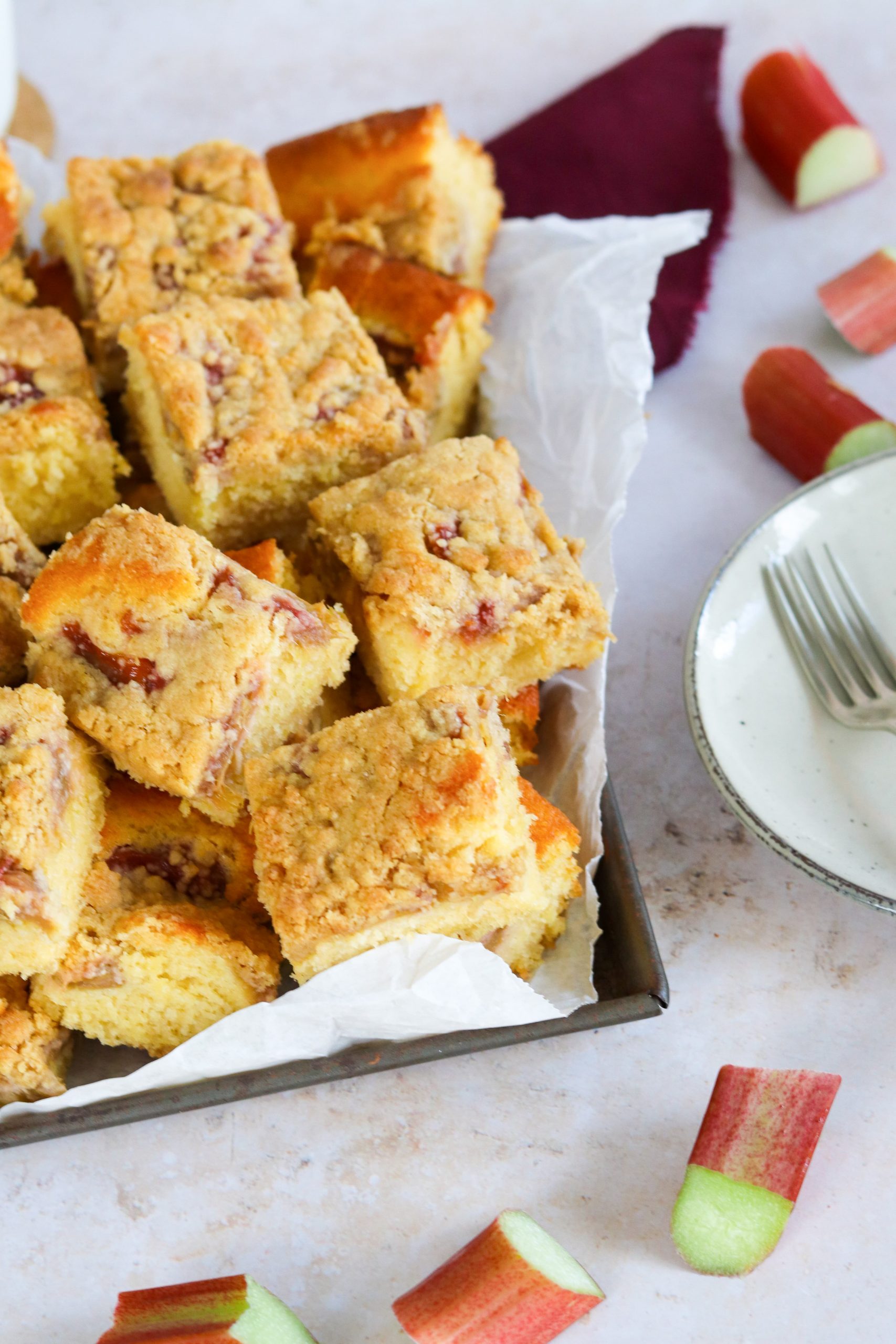 Why roast the rhubarb?
Roasting rhubarb is a great way of using it in baking. Adding raw rhubarb to a cake could mean the liquid from the rhubarb seeps into the cake. This excess juice could make the cake bars soggy – not ideal!
I like to dot the roasted rhubarb in a nice layer across the whole cake before adding the crumble topping. I do this because I like to see visible layers of the cake, rhubarb and then crumble topping.
You could marble the rhubarb into the cake batter if you wanted using a skewer or a butter knife if you prefer.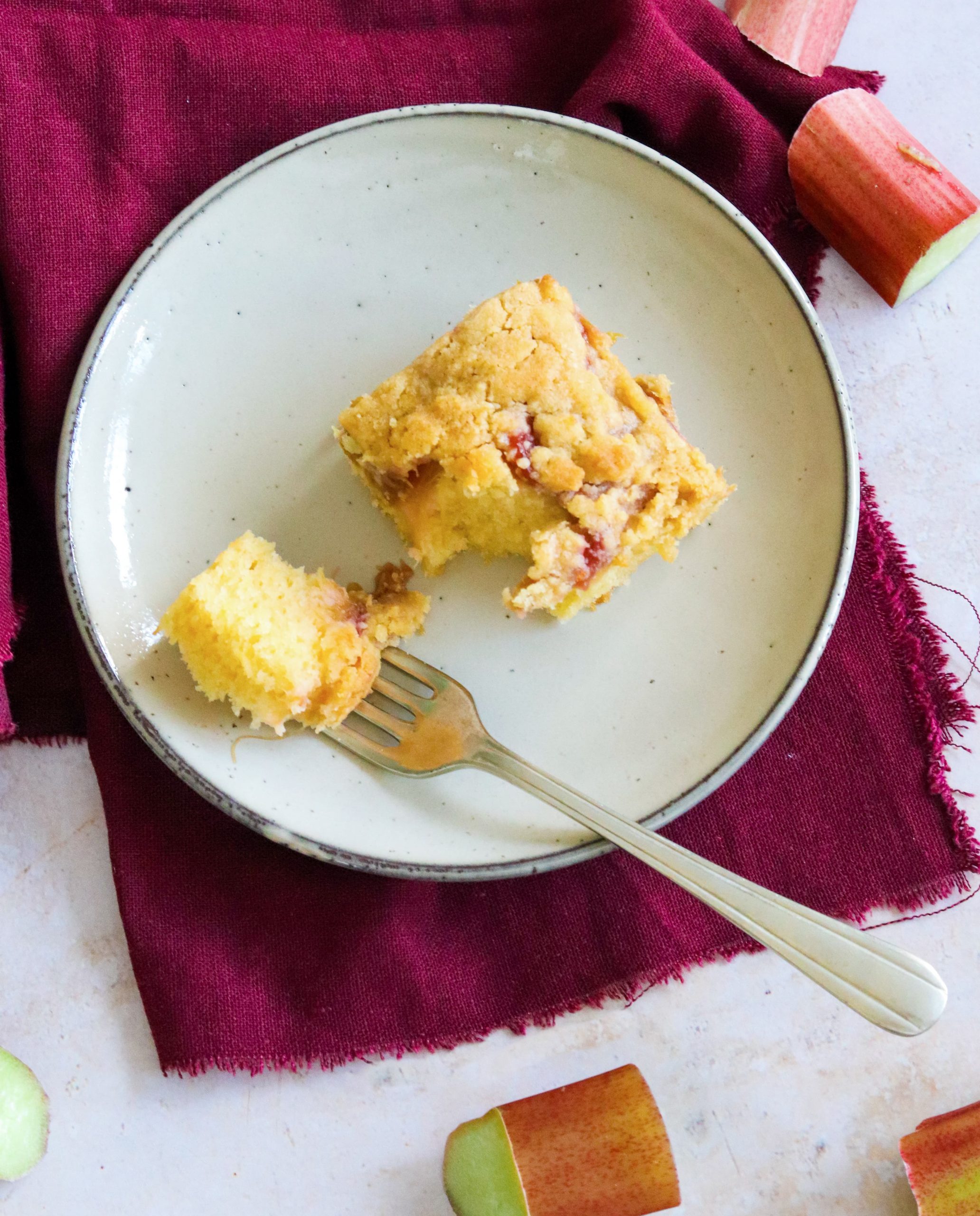 WHICH TYPE OF YOGURT IS BEST TO USE FOR THese rhubarb crumble cake bars?
I love adding yogurt to cakes. Cakes with yogurt are slightly more dense than really fluffy cakes like Vanilla Cupcakes. Although cakes with yogurt might not be as fluffy, they are really moist and delicious.
You can use whichever plain yogurt you like. I have used both natural yogurt and Greek yogurt as well as fat free versions of both. They all work really well and I haven't been able to notice any differences.
Check out my Raspberry & Vanilla Swirl Sheet Cake and Blackberry Crumble Loaf Cake for other tasty cakes using yogurt.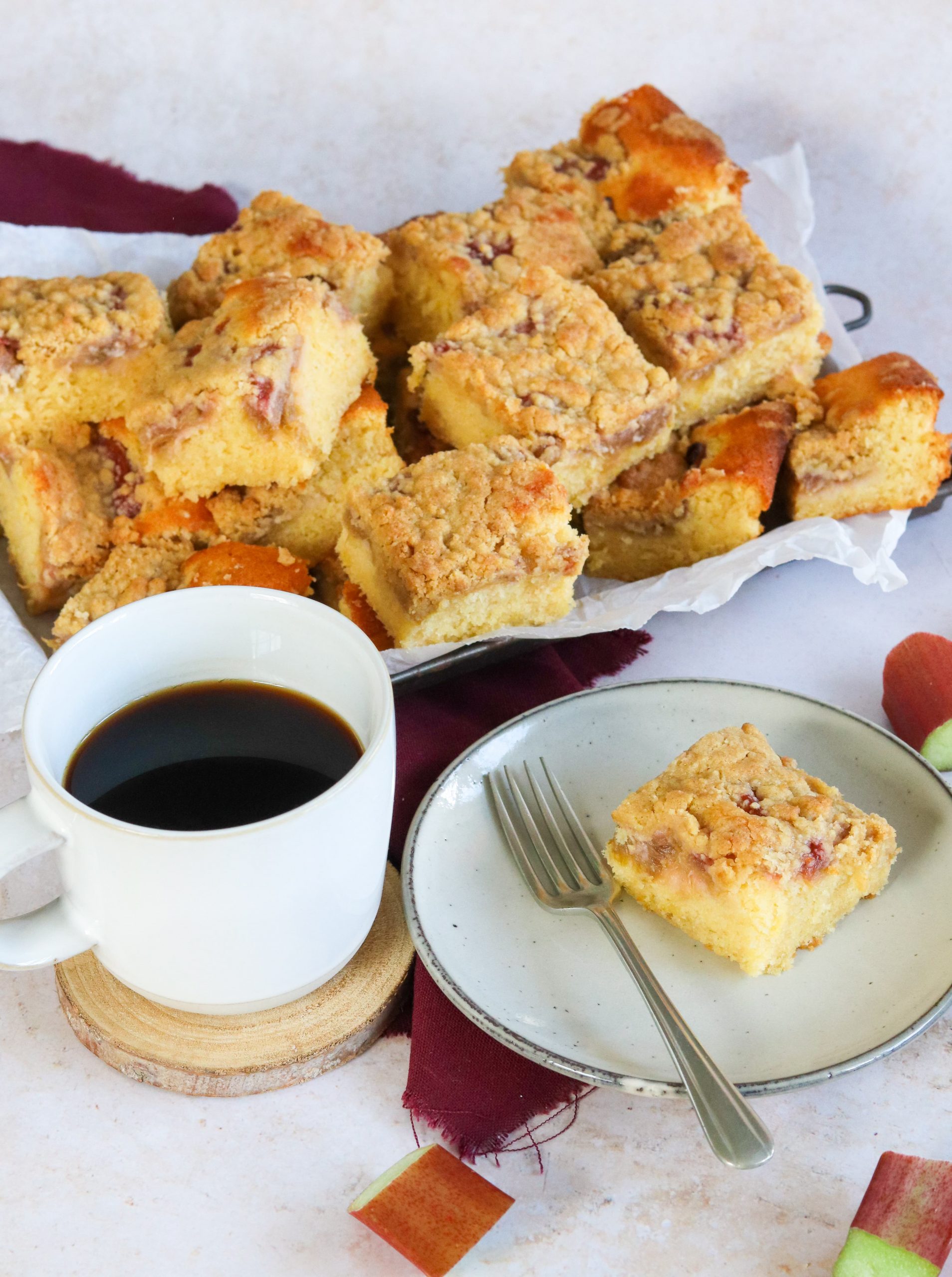 WHAT TO DO WITH EXCESS RHUBARB
If you find yourself with more rhubarb than you can use, I recommend freezing it. I get given so much rhubarb each year I can't use it all at once so have to save some for later.
I wash the rhubarb and trim it into similar sized pieces and freeze it. I've done this for a number of years now and it always turns out great.
It is up to you whether you want to defrost it or not, you could just add it straight to the baking tray for roasting. You also don't want rhubarb to go to waste so it is a great way to save it for later.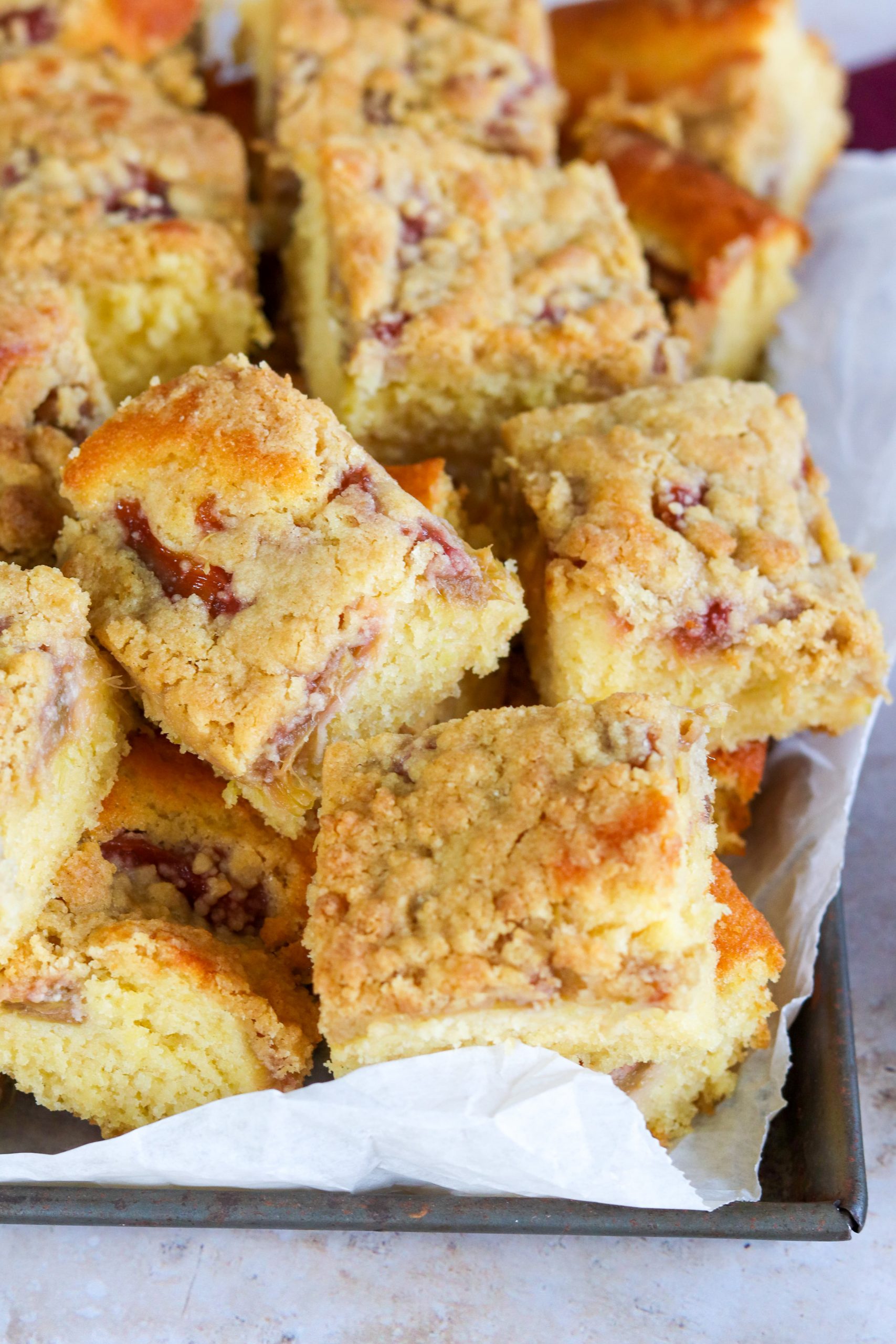 How to serve these Rhubarb Crumble Cake Bars
These cake bars are the perfect mid afternoon treat – or an anytime of day snack when you feel the need for cake! They are also really easy to transport so would be a great addition to a picnic or for lunchboxes.
They are also very easily turned into a desert. I would warm the cake bars through slightly and serve them with cream, ice cream or homemade custard.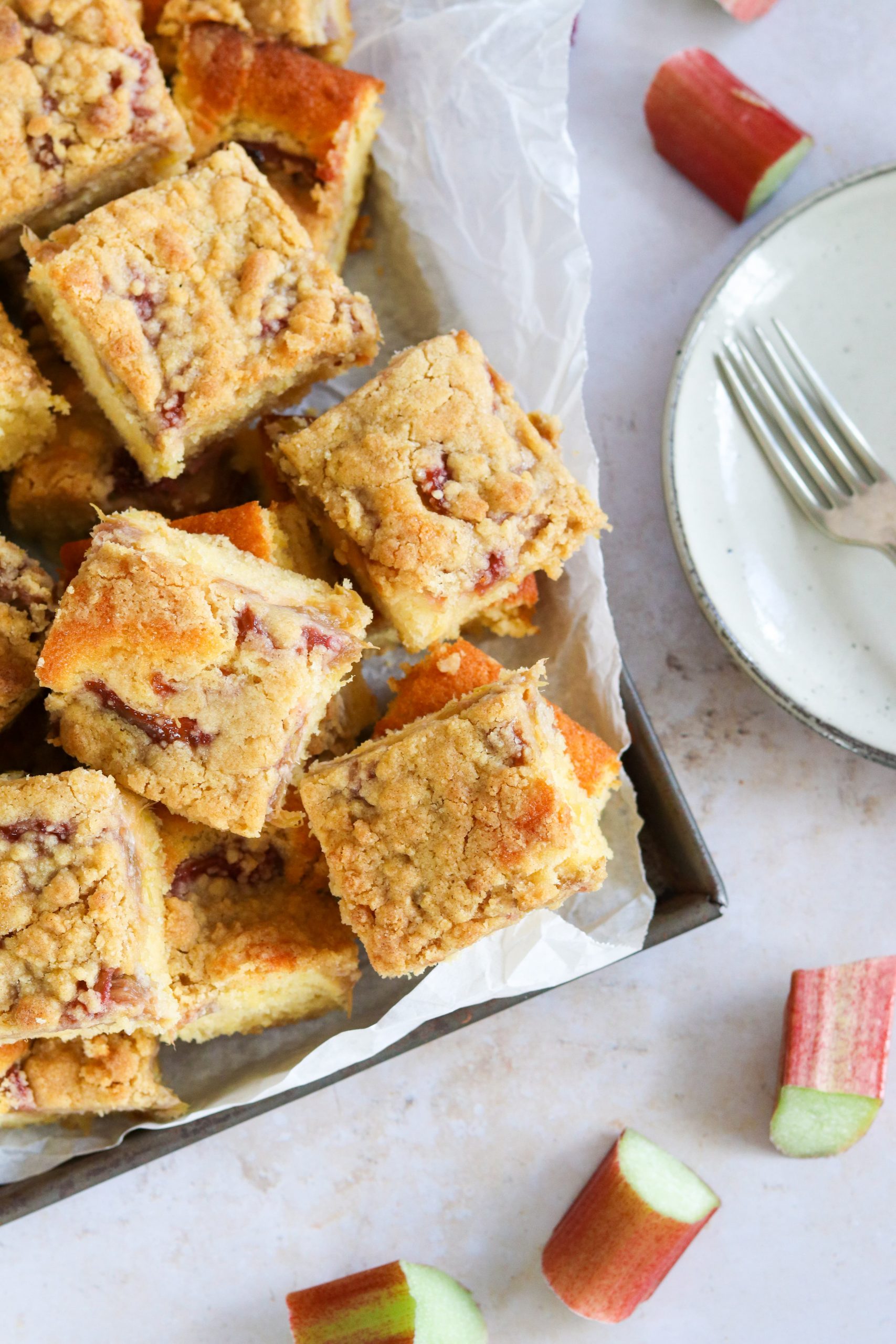 How many cake bars does the recipe make?
Well that does depend entirely on how big you want to cut the bars! I think it does depend how you will be eating them as to how big you cut them.
If you are going to be eating them as a tasty snack, I would recommend cutting them into 24 bars. You could definitely get away with cutting the bars a bit smaller if they are for children's lunchboxes.
If they are going to be served as a dessert, you could definitely cut them a bit bigger. But it really is up to you – cut them as big or small as you like!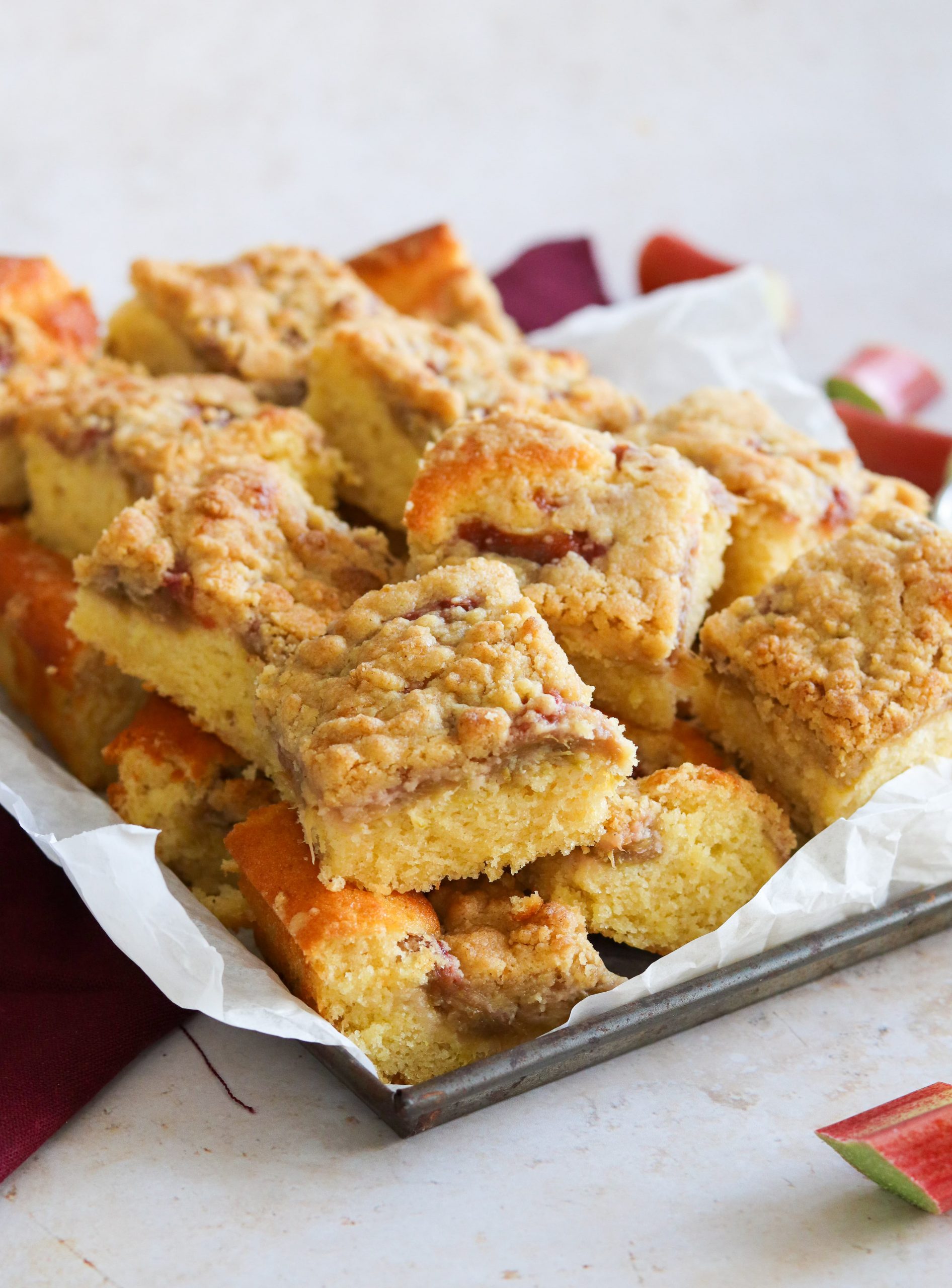 HOW LONG WILL THIS CAKE KEEP FOR?
One of the great things about adding yogurt to a cake recipe is that it keeps it moist and delicious for longer. Keep these Rhubarb Crumble Cake Bars in an airtight container for 4-5 days.
The crumble topping will soften the longer these bars are kept for. I don't mind this at all but it is worth mentioning.
You could also freeze these bars if you didn't want to eat them all. I would wrap them individually so you can defrost them as and when you need a sweet treat.
Let them defrost at room temperature for a few hours and then they will be ready to eat.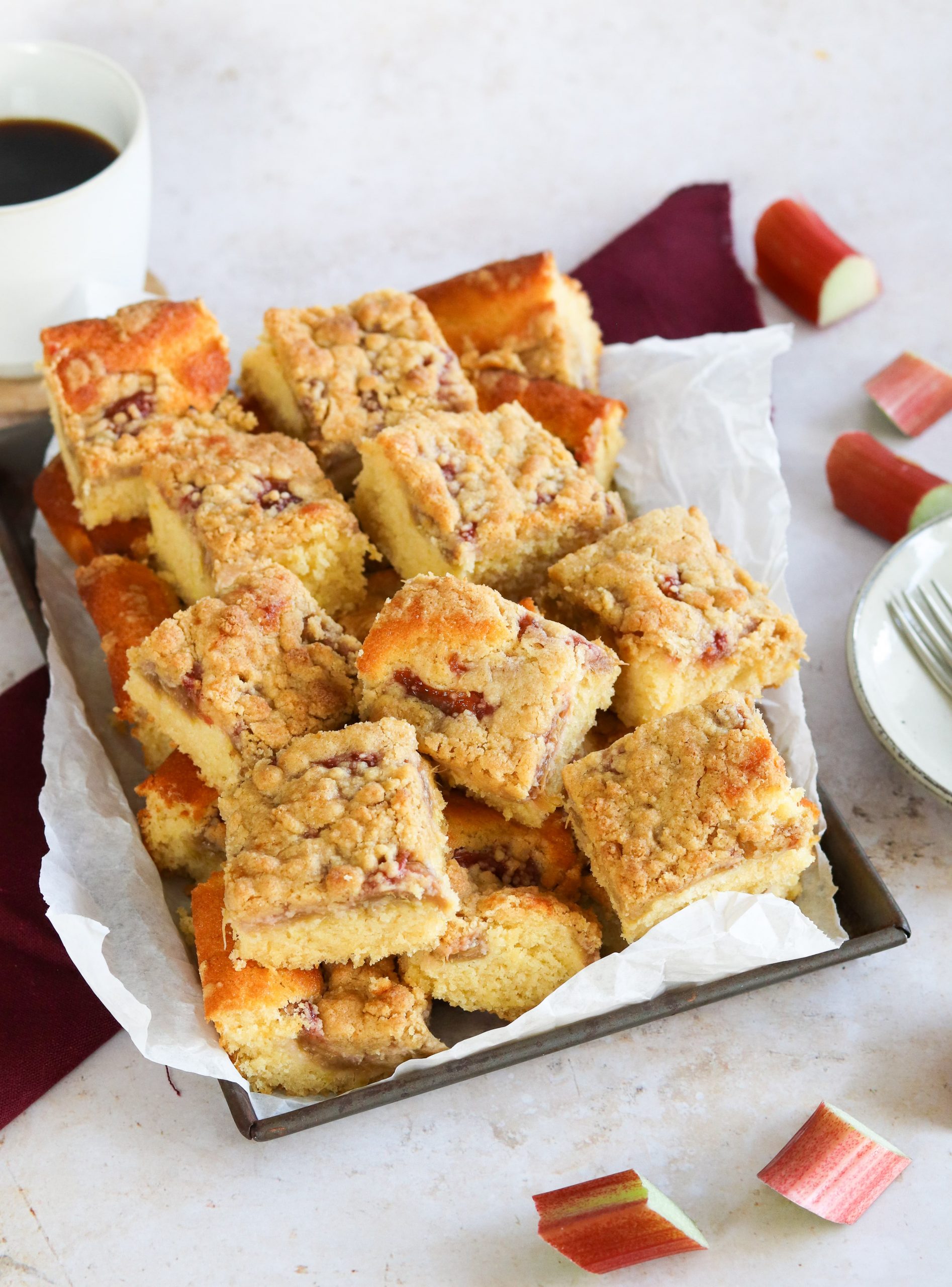 OTHER RECIPES YOU MIGHT LIKE
Pin for later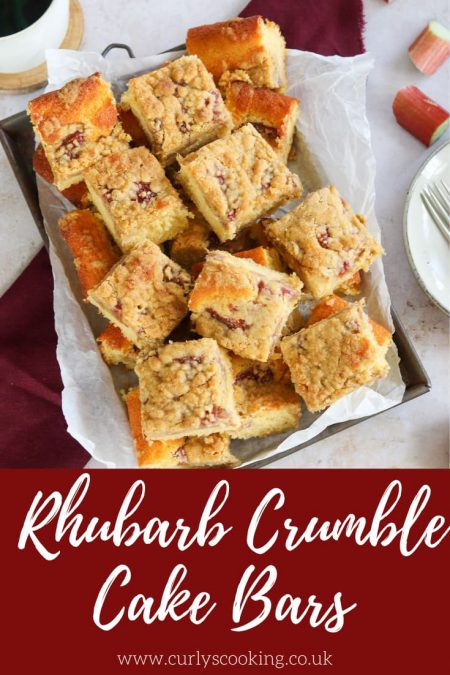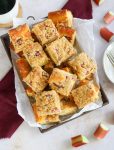 Rhubarb Crumble Cake Bars
Rhubarb Crumble Cake Bars are a tray bake version of a classic British dessert. This moist cake is topped with roasted rhubarb and scattered with a tasty crumble layer.
Total Time
1
hour
35
minutes
Ingredients
For the roasted rhubarb
600

g

rhubarb

70

g

caster sugar
For the cake
250

g

caster sugar

250

g

margarine

150

g

low fat Greek yogurt

1

tsp

vanilla extract

4

eggs

250

g

self raising flour
For the crumble topping
100

g

self raising flour

85

g

unsalted butter

50

g

light brown sugar
Instructions
Begin by roasting the rhubarb – heat the oven to 180ºC (fan, 200ºC non fan). Rinse 600g rhubarb and dry off any excess water. Trim the ends and cut into pieces roughly one inch in length

Put the rhubarb on a baking tray and sprinkle over 70g caster sugar. Toss together making sure all of the rhubarb is coated and then lay the rhubarb out in one layer

Cover with foil and bake for 15 minutes before removing the foil and giving the rhubarb a quick stir. Return to the oven without the foil for a further 5 minutes

Drain the rhubarb using a colander and leave to cool. Reserve the liquid

Reduce the oven temperature to 160ºC (fan, 180ºC non fan) and line a 20x26cm (8×10") tray bake tin

Beat the 250g caster sugar and 250g margarine together

Add 150g Greek yogurt, 1 tsp vanilla extract, 4 eggs, 250g self raising flour and mix until combined

Spoon the cake mix into the prepared tin and smooth until level. Leave to one side

In a large bowl, add 100g self raising flour, 85g unsalted butter and 50g light brown sugar. Rub the ingredients together until you form large crumbs

Add blobs of the roasted rhubarb on top of the cake mix

Scatter the crumble topping over the rhubarb. Bake in the oven for 35-40 minutes until a cocktail stick comes out clean

Leave to cool in the tin for approximately one hour before turning out and leaving to cool completely on a wire rack. Cut into squares and serve
Recipe Notes
You can use unsalted butter or margarine for both the cake and the crumble topping – both work just as well.
Keep the cake in an airtight container for 4-5 days.
Nutritional information is given as a guide only and may vary.
Nutrition Facts
Rhubarb Crumble Cake Bars
Amount Per Serving
Calories 233
Calories from Fat 108
% Daily Value*
Fat 12g18%
Cholesterol 35mg12%
Sodium 114mg5%
Potassium 105mg3%
Carbohydrates 28g9%
Protein 4g8%
Vitamin A 530IU11%
Vitamin C 2mg2%
Calcium 41mg4%
Iron 1mg6%
* Percent Daily Values are based on a 2000 calorie diet.
linking to