With blood orange juice in both the cake and drizzle, this Blood Orange Drizzle Cake makes the most of the beautiful blood orange.

What are blood oranges?
Blood oranges are a variety of orange with deep red flesh, which is where they get their name from. Depending on the variety, they can have this crimson colour on their skin too.
As well as their citrus flavour, they also have subtle raspberry flavours.
Blood oranges are really popular so make sure you get your hands on them if you can! They aren't always available in the first supermarket you come across, but keep looking.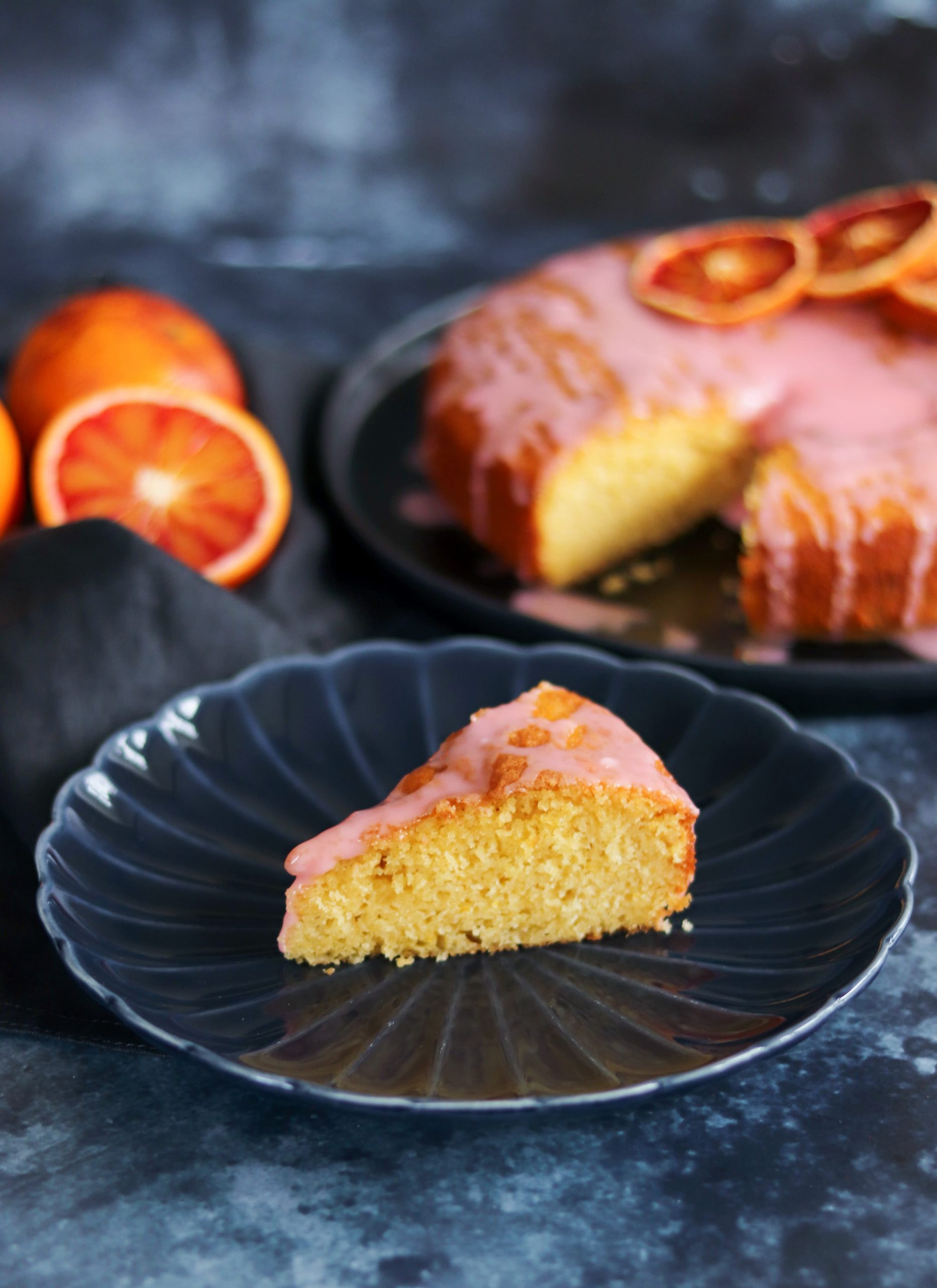 When are blood oranges in season?
The blood orange season isn't particularly long. Depending on the variety you can find them between December and May.
Unlike some other fruit, I believe you will struggle to find these outside of their season which is a good thing in my opinion.
So make sure you get them while you can! If you can't find them, try my Double Orange Cake instead.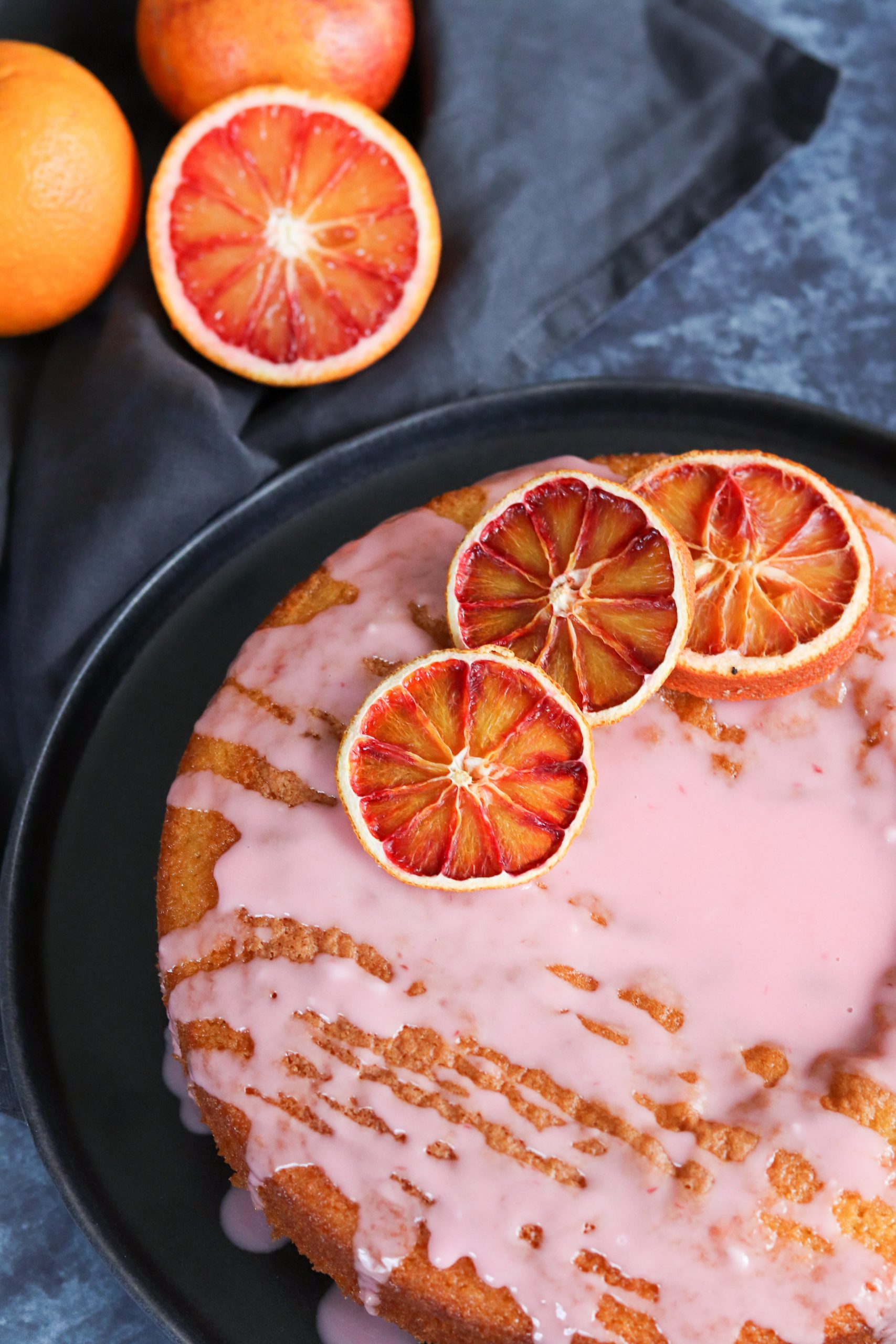 Different blood orange varieties
I must admit when I cut into the blood oranges for the first time I was expecting them to be a deeper red. I've since realised that there are three different blood orange varieties and they can vary in their redness.
The blood oranges I used had a lovely mottled red colour that had a beautifully vibrant pink juice. The flavour of the blood oranges will also vary depending on which you use.
The three most common varieties are Tarrocco, Sanguinello and Moro. All options will work perfectly for this cake.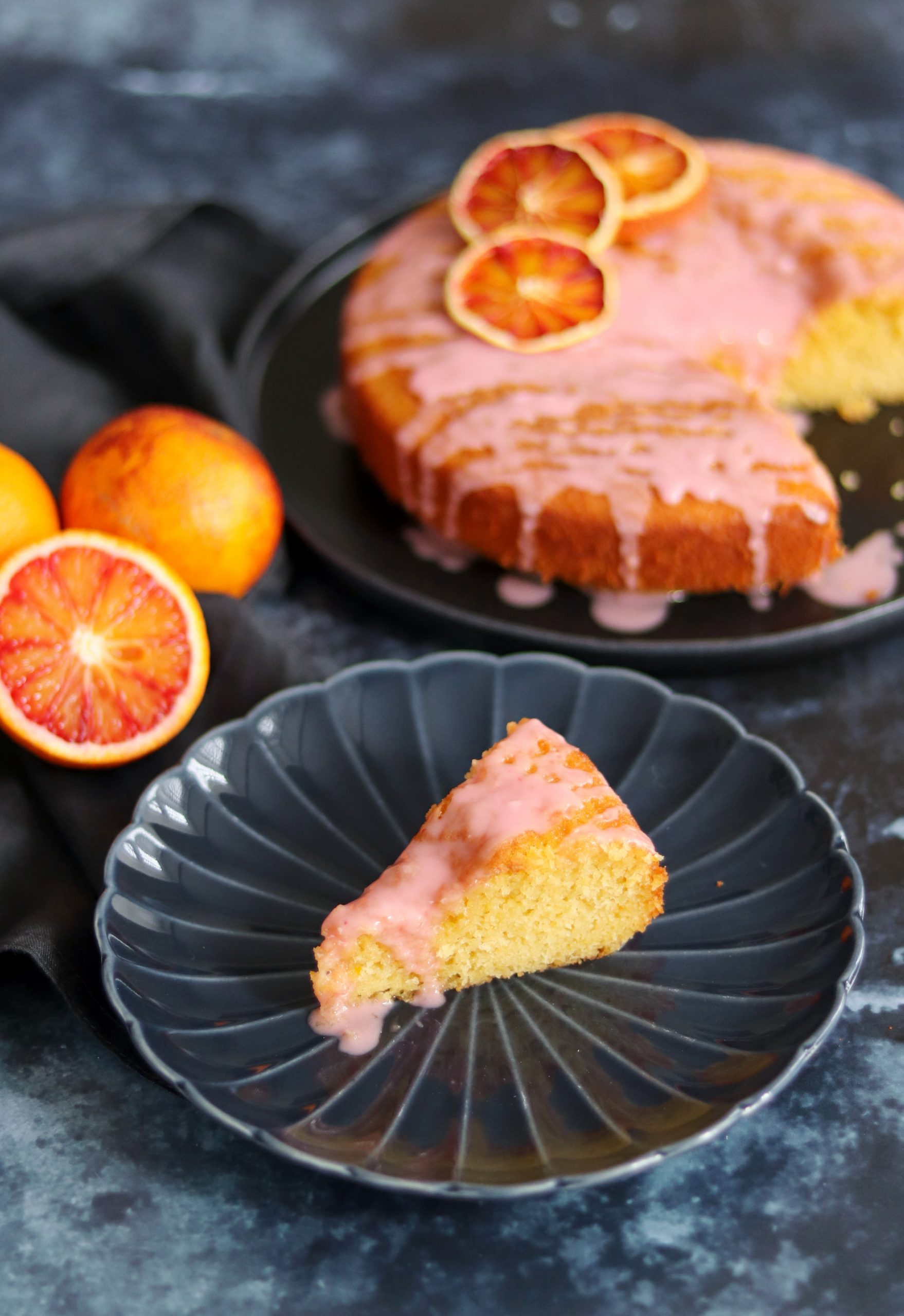 Using the all in one method
When making a cake, there are two common methods if you are using butter and sugar.
The first and possibly most common method is to cream the butter and sugar together until combined and fluffy before adding the rest of the cake ingredients in steps.
The other is the all in one method. As the name suggests, for this method you add all of the ingredients to the bowl and mix until combined.
Although the all in one method isn't the best for all cakes, it works perfectly for this Blood Orange Drizzle Cake. It also makes this cake even easier to make!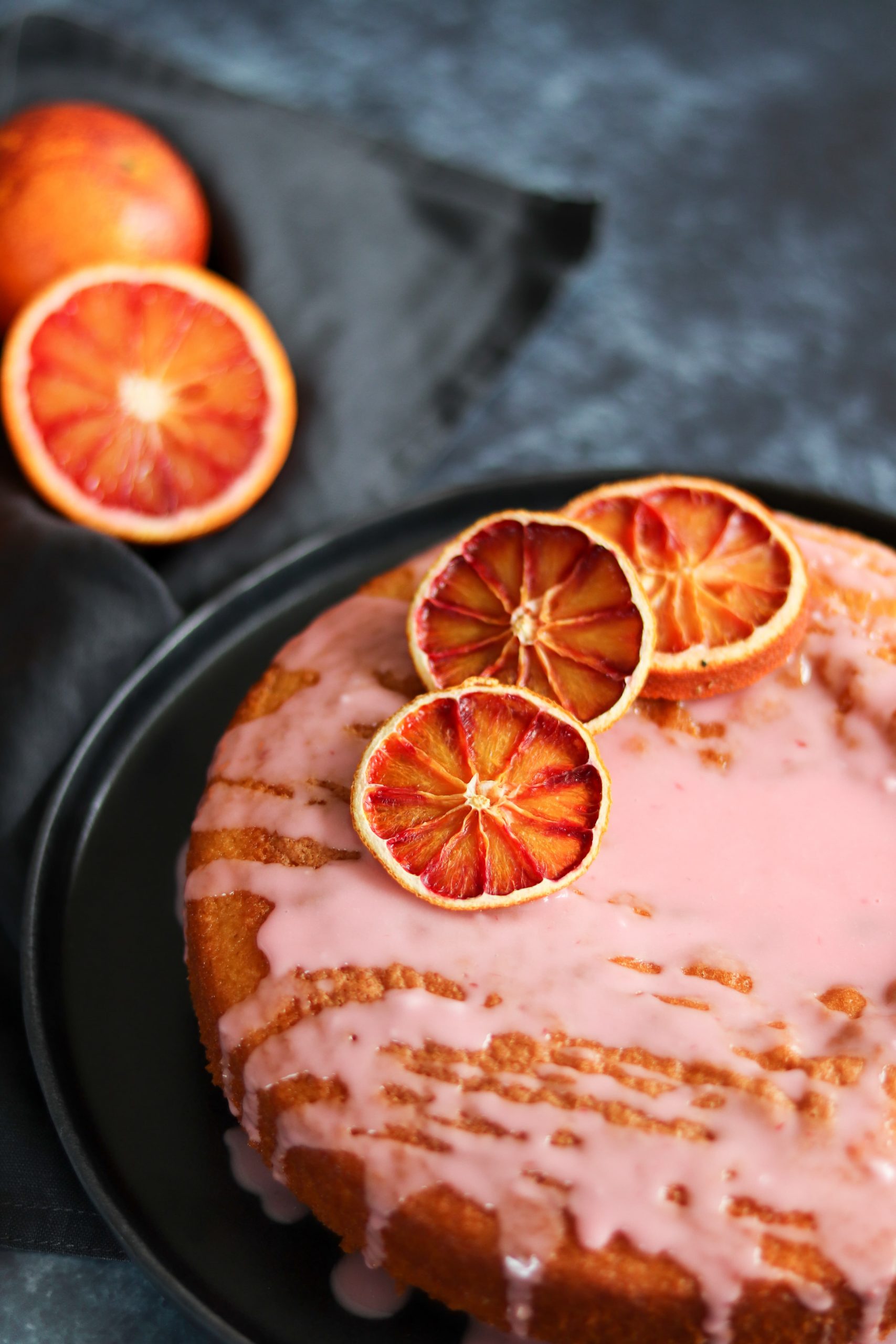 using Butter or margarine?
I tend to use margarine in cakes because it can be used straight from the fridge. With butter, you need to wait for it to soften. This is especially important for cakes that use the all in one method.
This cake will be perfect whether you use butter or margarine so use whichever is your preference.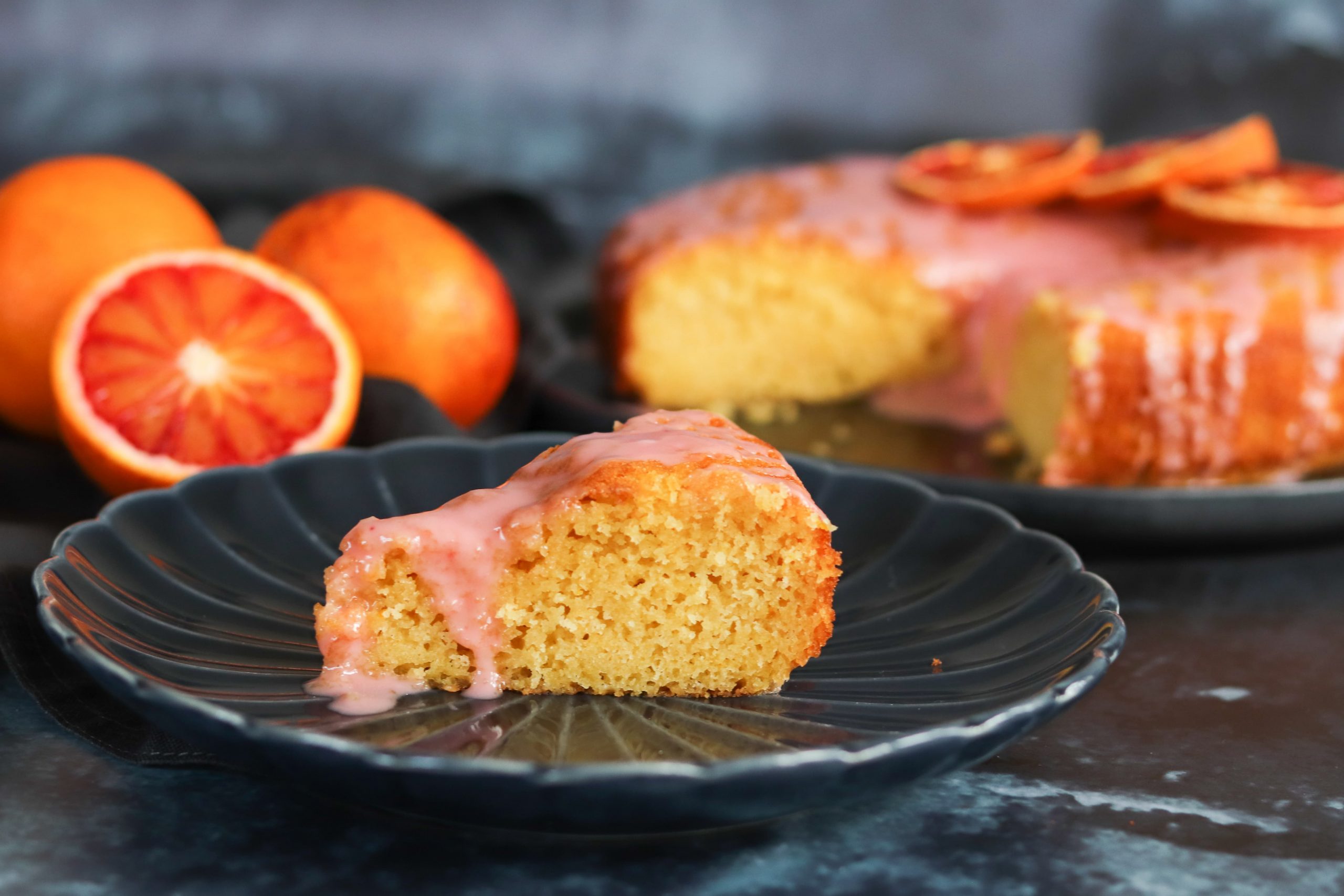 Simple decorations
I decided to decorate the Blood Orange Drizzle Cake very simply with the drizzle and some dehydrated blood orange slices.
The vibrant colour of the juice created such a vivid pink drizzle that you may think that food colouring has been used.
The dehydrated blood orange slices are very simple to make and add a lovely and natural decoration. Sew White has a guide on how you can make these yourself.
However you can decorate the cake with some finely grated blood orange zest.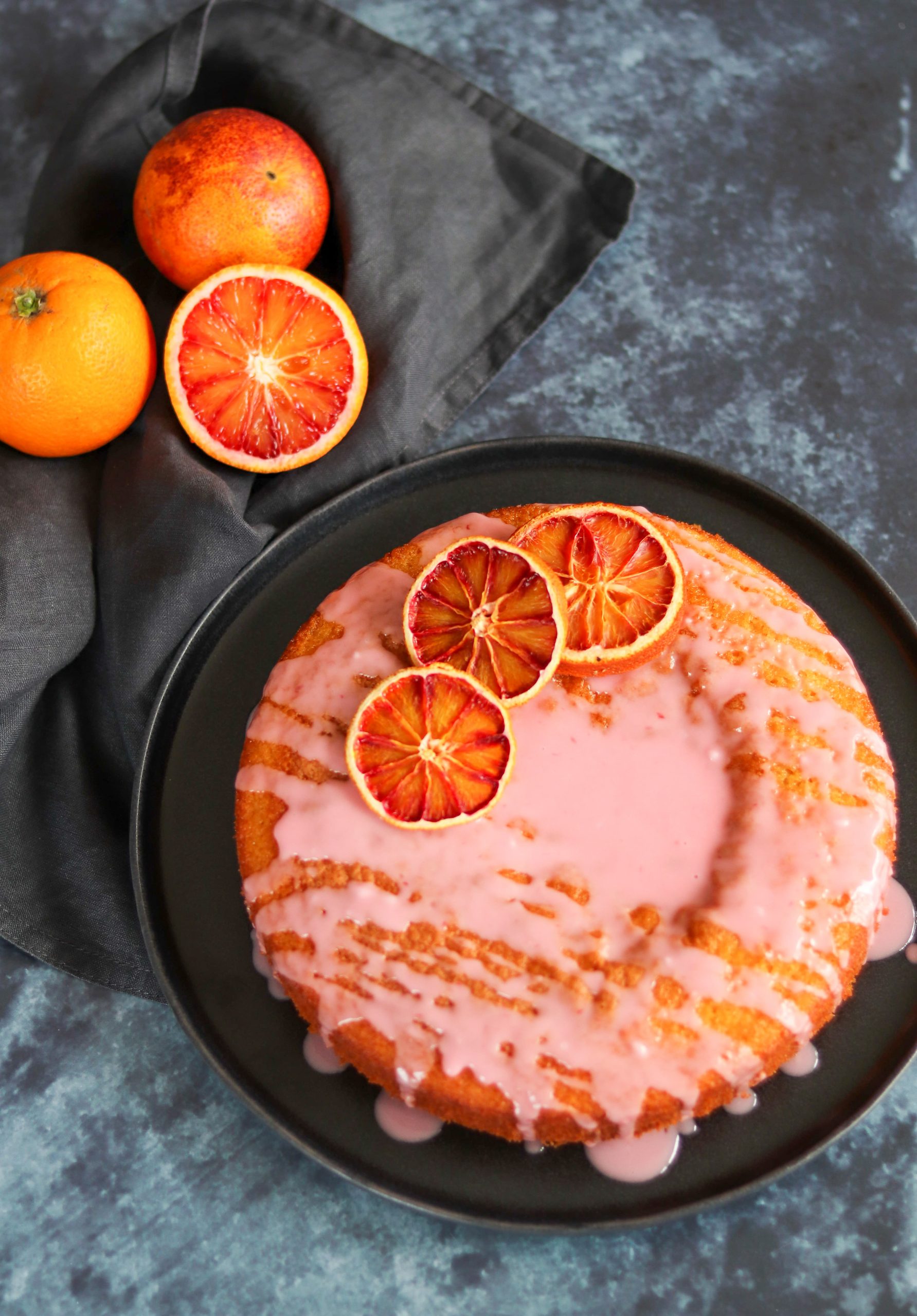 Getting the right consistency for the drizzle
I was watching Pioneer Woman's cooking show the other day and she described a drizzle as 'a living breathing thing'. This couldn't be more true.
But what she means by this is, you can't judge exactly how much liquid you will need to make the drizzle the perfect consistency.
Always start by adding a small amount at a time and stirring it in thoroughly before adding more.
If you do become a little heavy handed with the blood orange juice, just add a little bit more icing sugar to thicken it up slightly.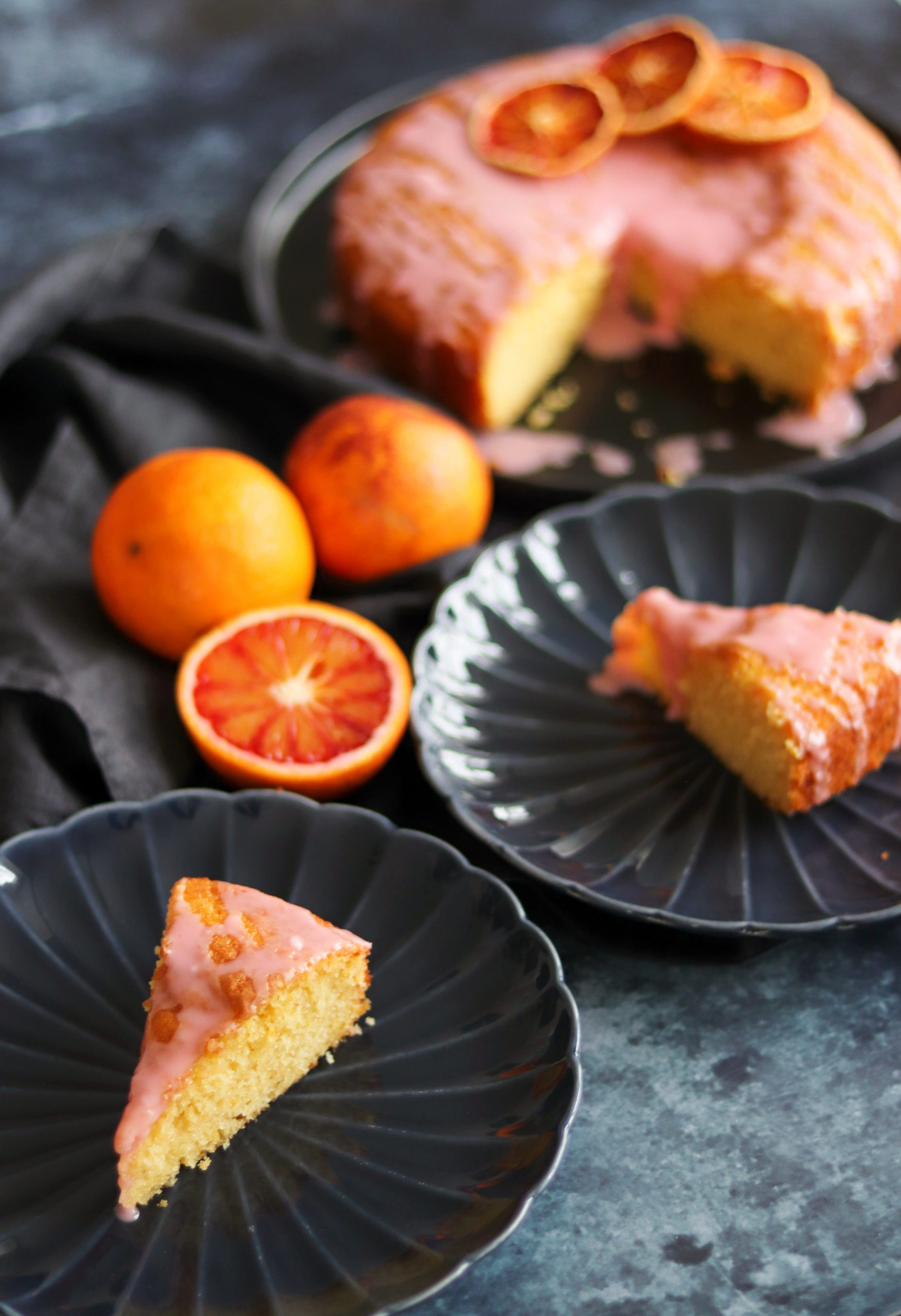 Can different sized cake tins be used?
For this cake, I do recommend using a deep cake tin rather than a sandwich tin.
If you don't have an 8″ deep cake tin, you could use a 7″ tin instead. This would make a slightly thicker cake so you could need to bake it for a few minutes longer.
If you don't have either of these tins, you could use a 8″/20cm square tin. As long as it has deep sides this will work just as well.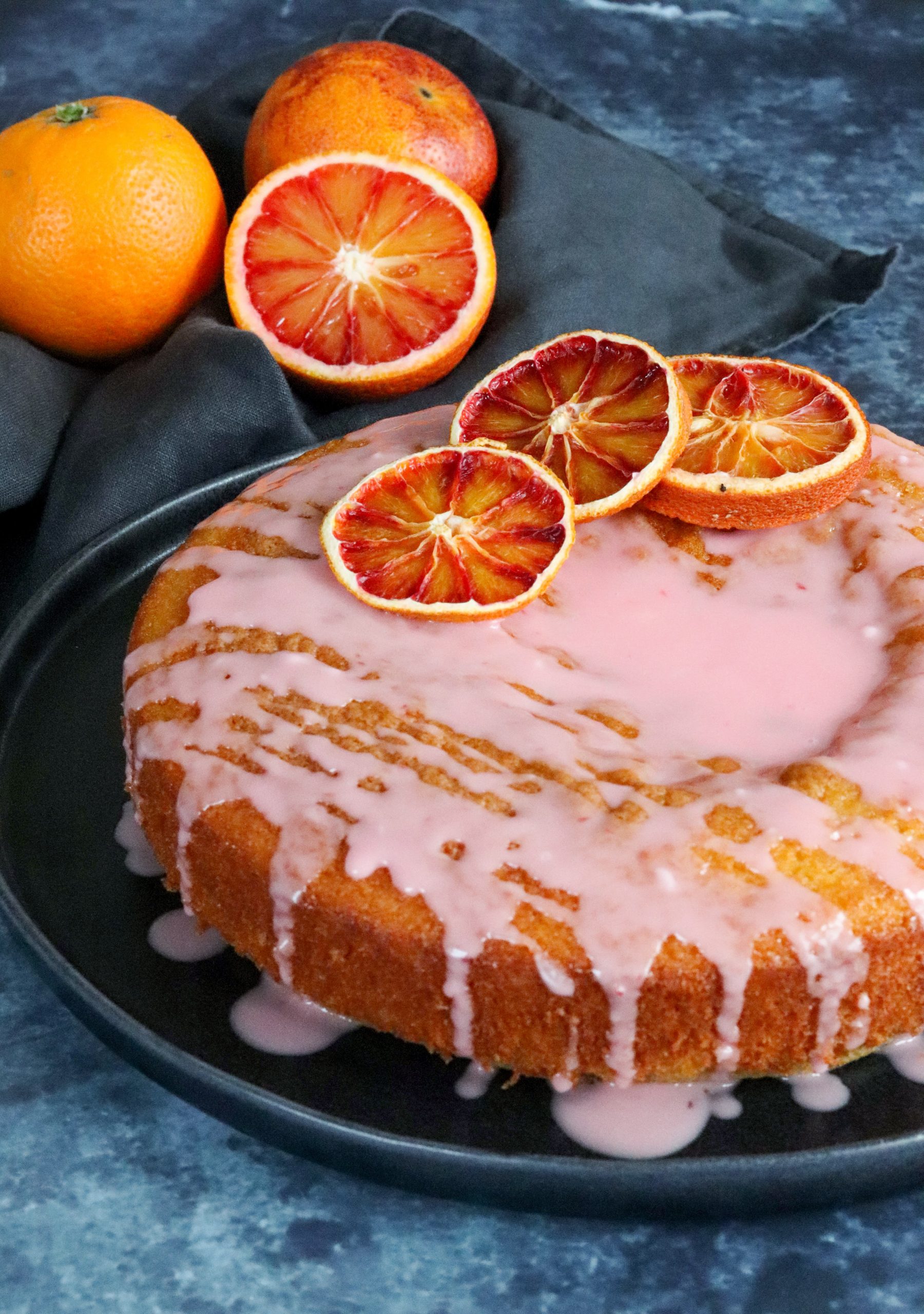 How many people will this cake serve?
This cake will easily serve 12 people and would make a lovely treat with a cup of tea.
However if you've got a bit more of a sweet tooth, you might want a slightly larger slice. In which case, it will serve less people.
How long will this cake keep for?
This cake will keep in an airtight container for 3-4 days.
If you want it to keep for longer, the cake can be frozen. Make sure you wrap it thoroughly and it can be frozen without the drizzle for up to three months.
Defrost at room temperature before adding the drizzle.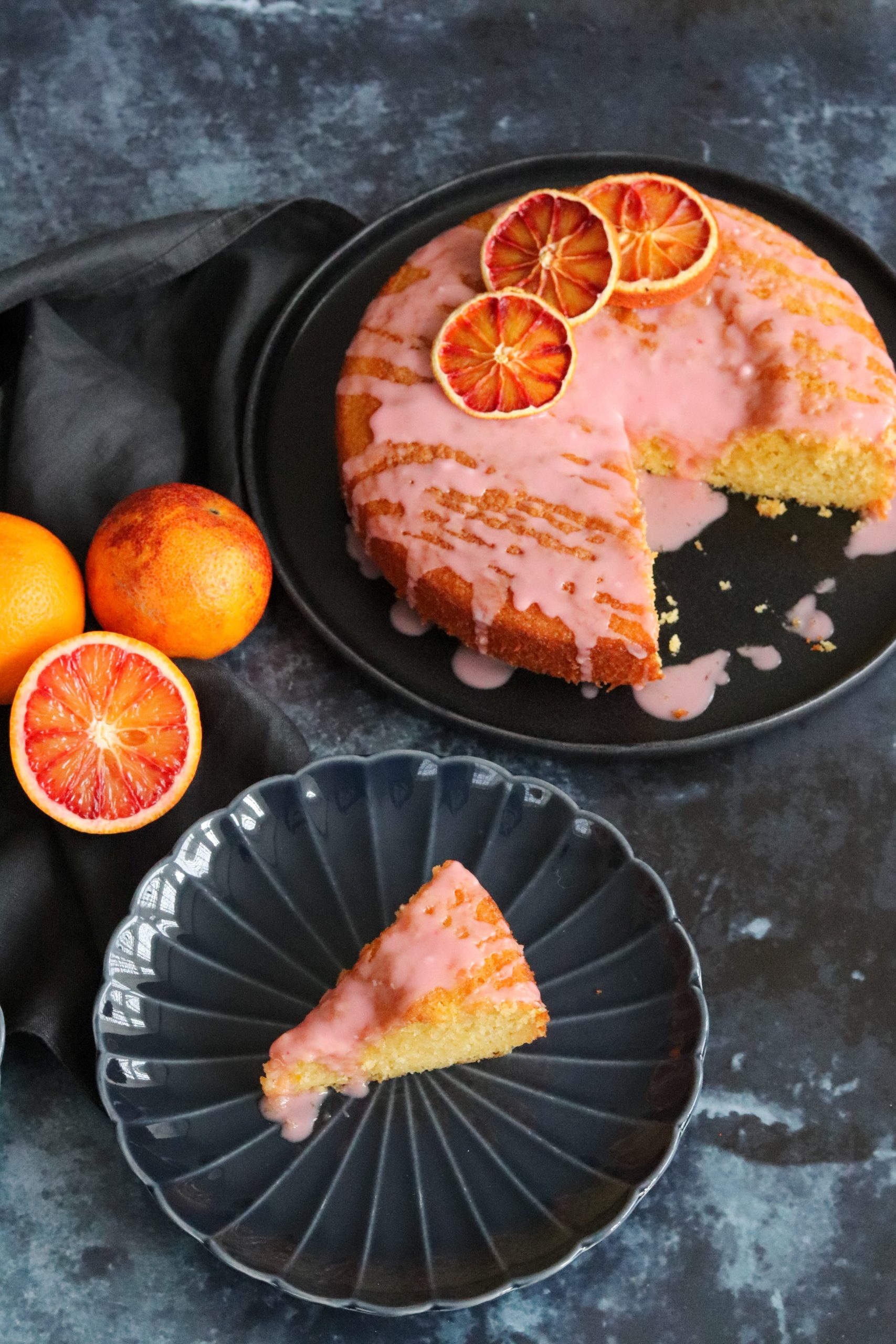 Other recipes you might like
Pin for later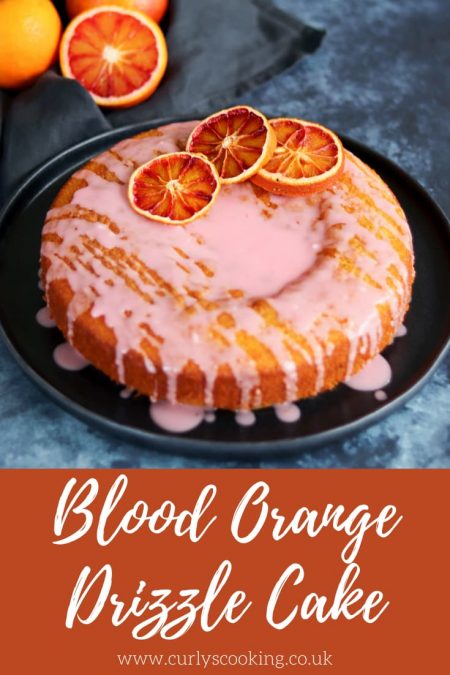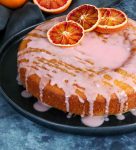 Blood Orange Drizzle Cake
With blood orange juice in both the cake and drizzle, this Blood Orange Drizzle Cake makes the most of the beautiful blood orange.
Ingredients
For the cake
175

g

margarine

175

g

caster sugar

3

large

eggs

175

g

self raising flour

1½

tsp

baking powder

70

ml

blood orange juice

(1 orange)

1

blood orange

zested
For the drizzle
100

g

icing sugar

2

tbsp

blood orange juice

Finely shredded rind or dehydrated orange slices to decorate
Instructions
Preheat the oven to 160°C (fan assisted, 180°C non fan) . Line a 20 cm (8 inch) deep round cake tin with baking parchment

Measure all of the ingredients into a bowl and beat until thoroughly mixed

Pour into the cake tin, level the surface and bake for 30-35 minutes until a cocktail stick comes out clean

Leave to cool in the tin for 20 minutes before turning out of the tin. Allow to cool on a wire rack

When the cake has cooled, make the drizzle by gradually adding the blood orange juice to the icing sugar. Add enough juice until you have a thick but drizzle-able consistency

For dehydrated blood orange slices preheat the oven to it's lowest temperature. Finely slice blood oranges and dab away excess juice with a paper towel. Line a baking tray with parchment paper and place the oranges. Put them in the oven for 6-8 hours until they are hard
Recipe Notes
Nutritional information is given as a guide only and can vary.
Nutrition Facts
Blood Orange Drizzle Cake
Amount Per Serving
Calories 271
Calories from Fat 117
% Daily Value*
Fat 13g20%
Cholesterol 52mg17%
Sodium 158mg7%
Potassium 120mg3%
Carbohydrates 35g12%
Protein 3g6%
Vitamin A 615IU12%
Vitamin C 5mg6%
Calcium 42mg4%
Iron 0.4mg2%
* Percent Daily Values are based on a 2000 calorie diet.