This Orange & Cranberry Loaf Cake has the delicious flavours of winter in the form of a moist cake topped with a tasty drizzle. It is perfect for any gathering, especially over the Christmas period.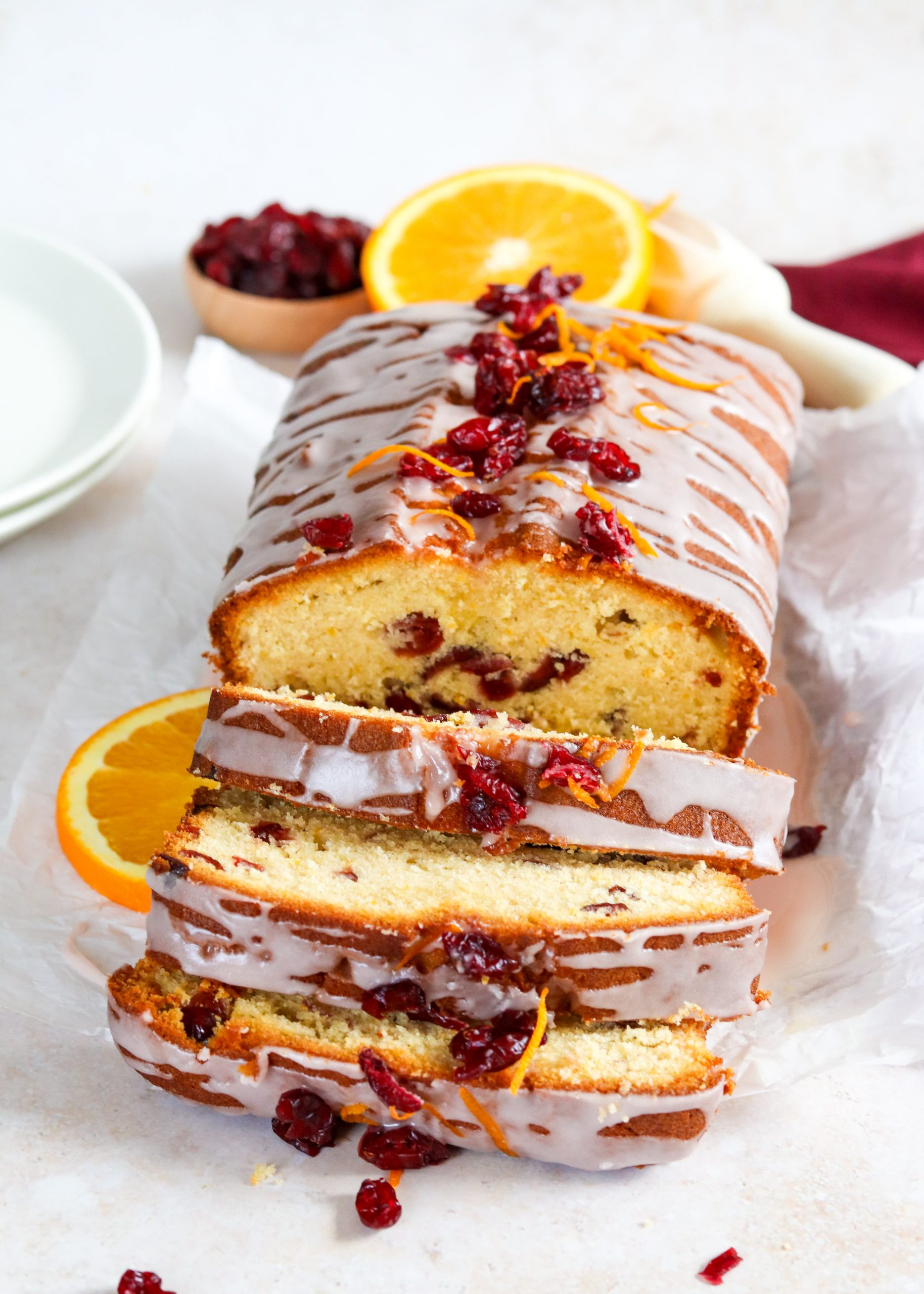 Orange & Cranberry Loaf Cake – the flavours of winter
When autumn is nearing it's end and you've had your fill of Spiced Pumpkin Cakes; it is time for delicious winter and festive flavours.
I say winter flavours, but this Orange & Cranberry Loaf cake should not only be made during the build up to Christmas! It can definitely be made at any time of year and will be delicious.
Although the flavours of orange and cranberry are often associated with Christmas, to me they remind me of winter as a whole. Especially with the subtle taste of cinnamon.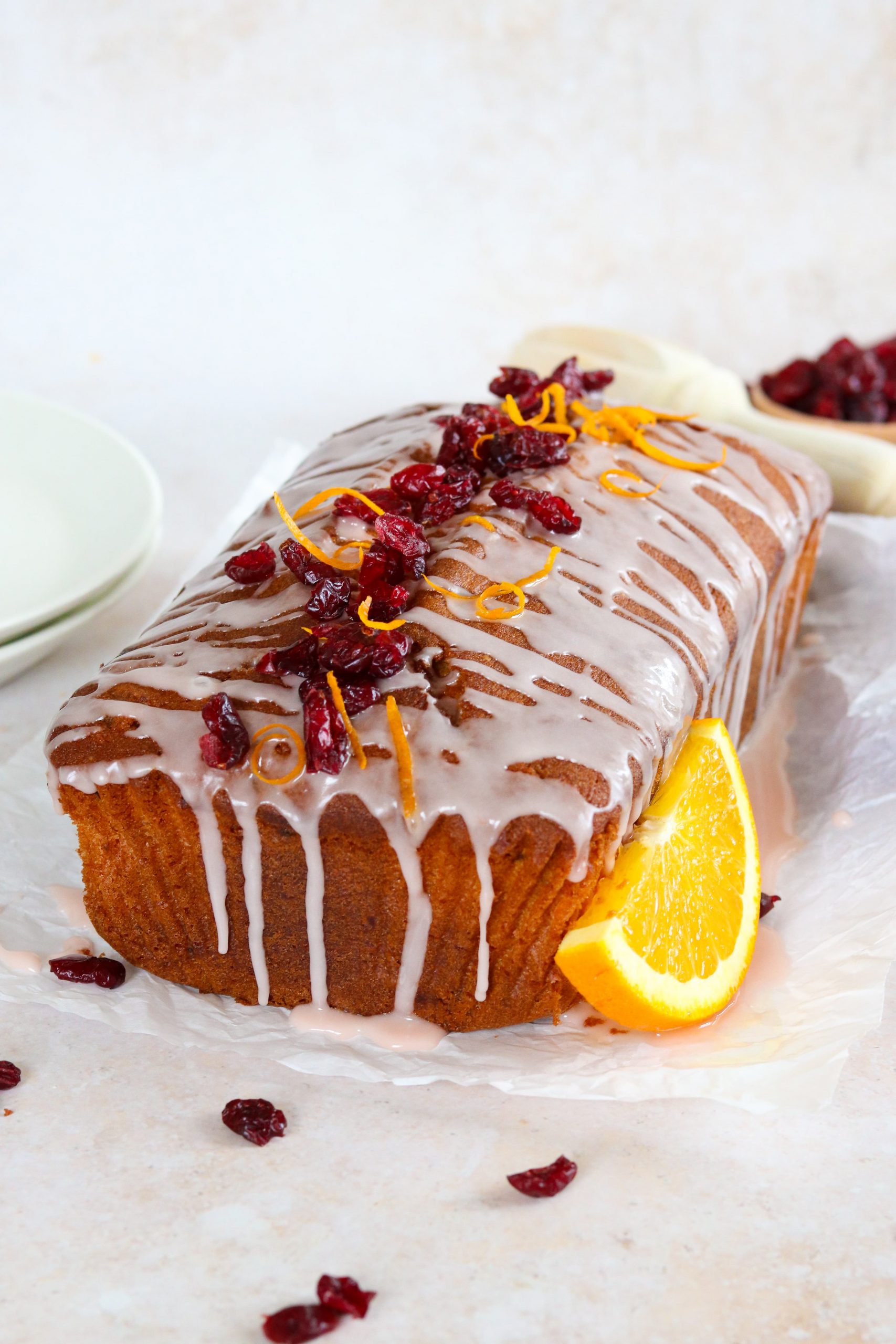 Are you a fan of loaf cakes?
I love a loaf cake. They're so simple to make and don't need a lot of fiddling with once they have been baked to make them look pretty.
My love of loaf cakes could also have something to do with my lack of affection towards buttercream. Yes, I said it. I'm not a fan of buttercream!
All this cake needs is a super simple drizzle. I do also like to sprinkle it with a few extra cranberries and orange zest to finish it to perfection.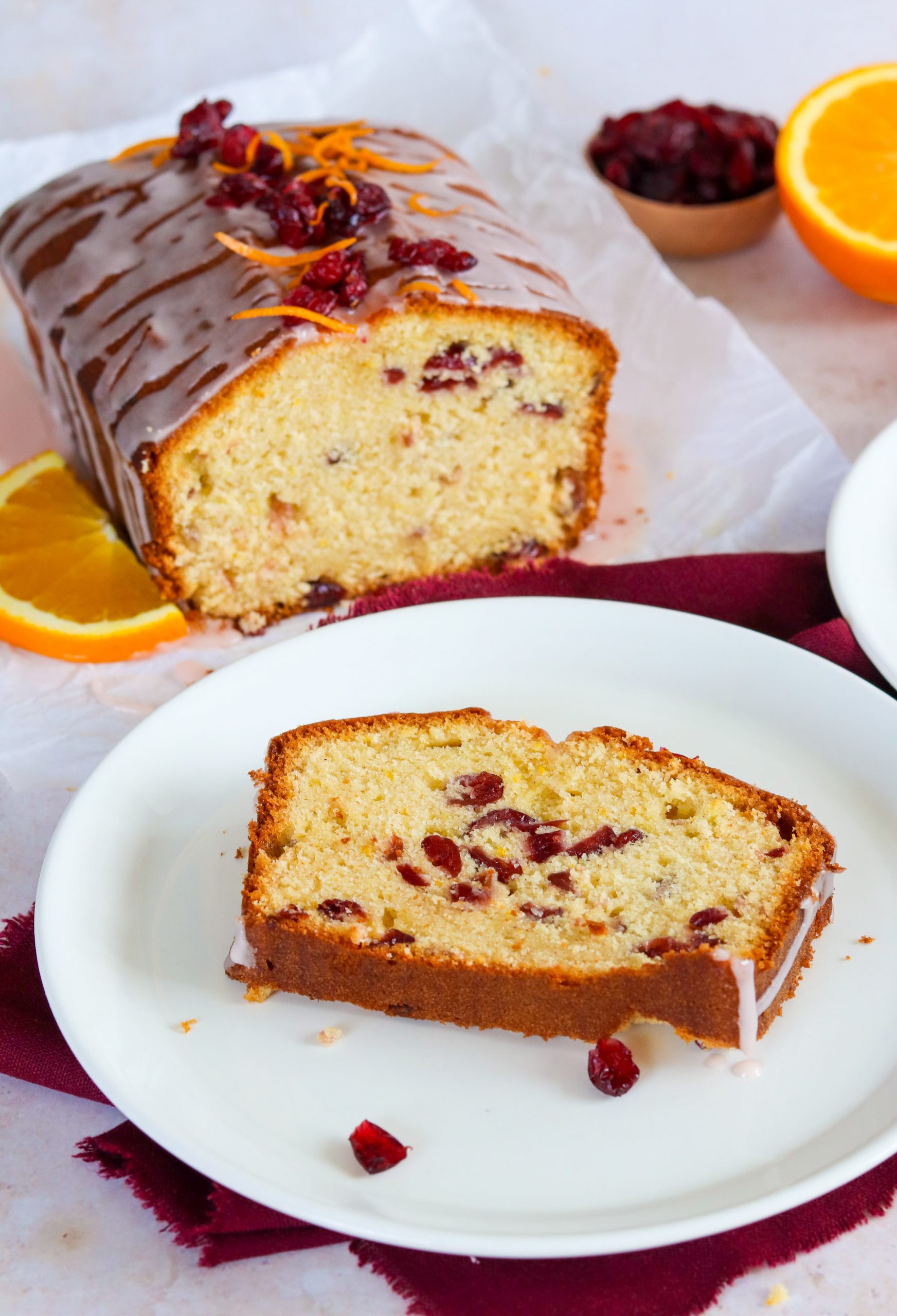 Why soak the cranberries?
This step helps plump up the cranberries and make them juicier than in their original dried state.
It is also a great way to get more orange flavour into the cake as the cranberries absorb some of the orange juice as they are soaking.
Soaking the cranberries also infuses the orange juice with some extra sweetness from the cranberries. And the orange juice not absorbed by the cranberries is used for the drizzle.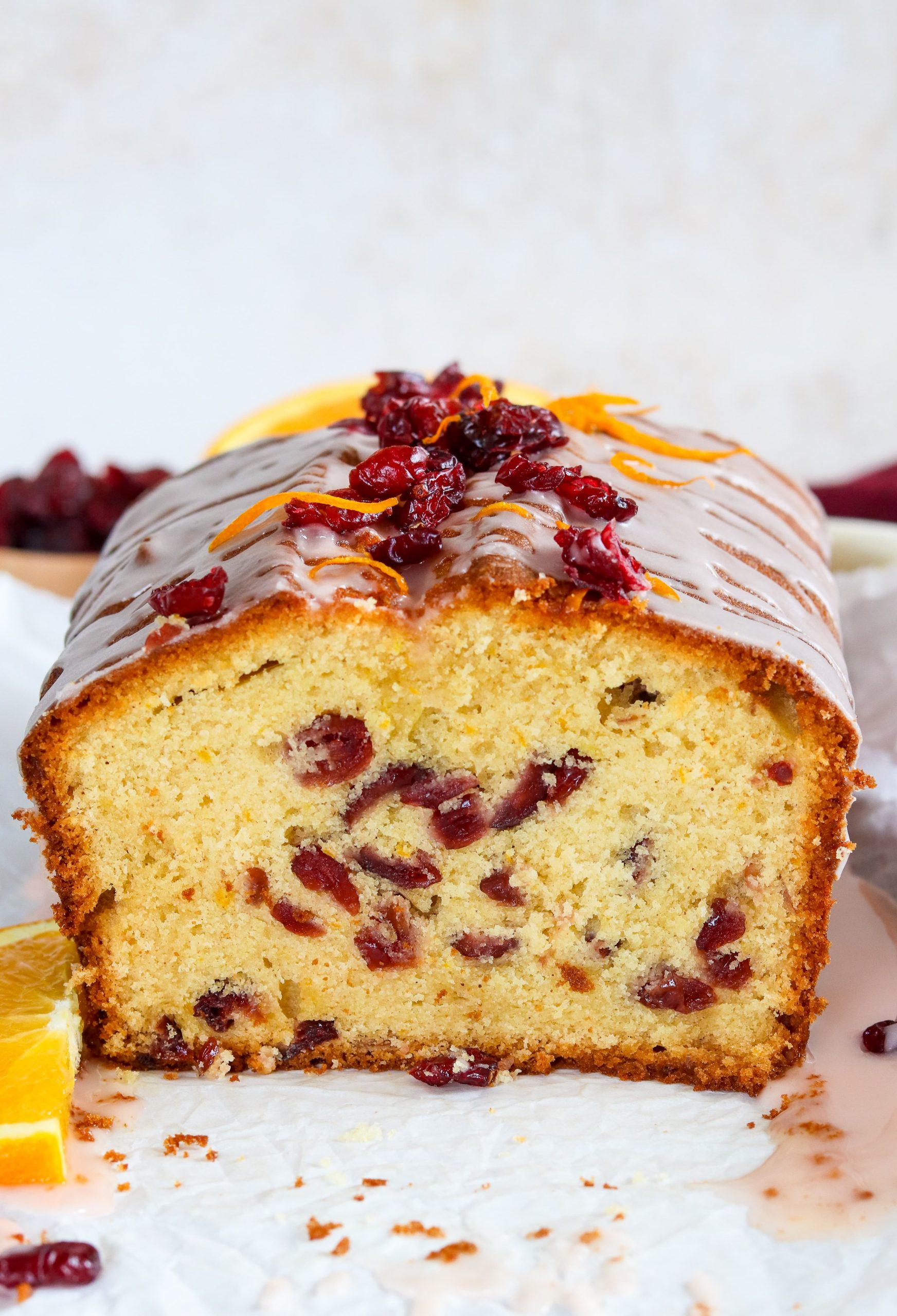 Can i use fresh or frozen cranberries instead?
If you can't find dried cranberries or would prefer not to use them, you can use fresh or frozen cranberries instead.
You wouldn't need to soak fresh or frozen cranberries because they are already plump; so you can just skip this step.
I would suggest using 50-60g if you are using fresh or frozen cranberries instead of dried. If you are using frozen cranberries, you don't need to defrost them.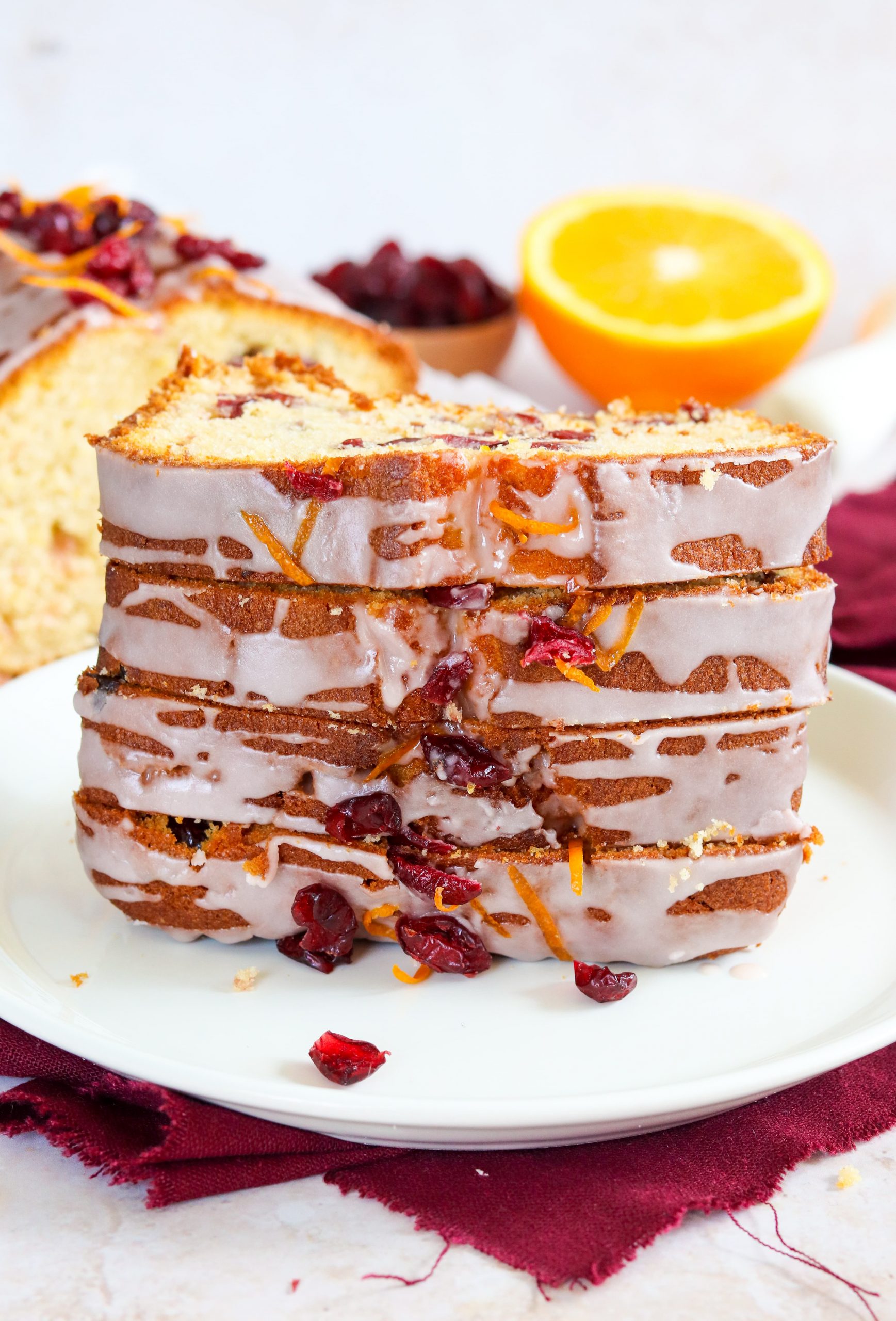 why use yogurt in this cake?
I love using yogurt in cake recipes. It gives the cake a more dense texture but also provides a great flavour and moistness.
A traditional sponge recipe like my Vanilla Cupcakes is light and fluffy, whereas a yogurt based sponge has a closer texture, but is really delicious.
I think yogurt works particularly well in this cake because it keeps this deeper cake moist. I wanted a lovely deep cake which had the potential of becoming a little dry if I used a standard sponge recipe.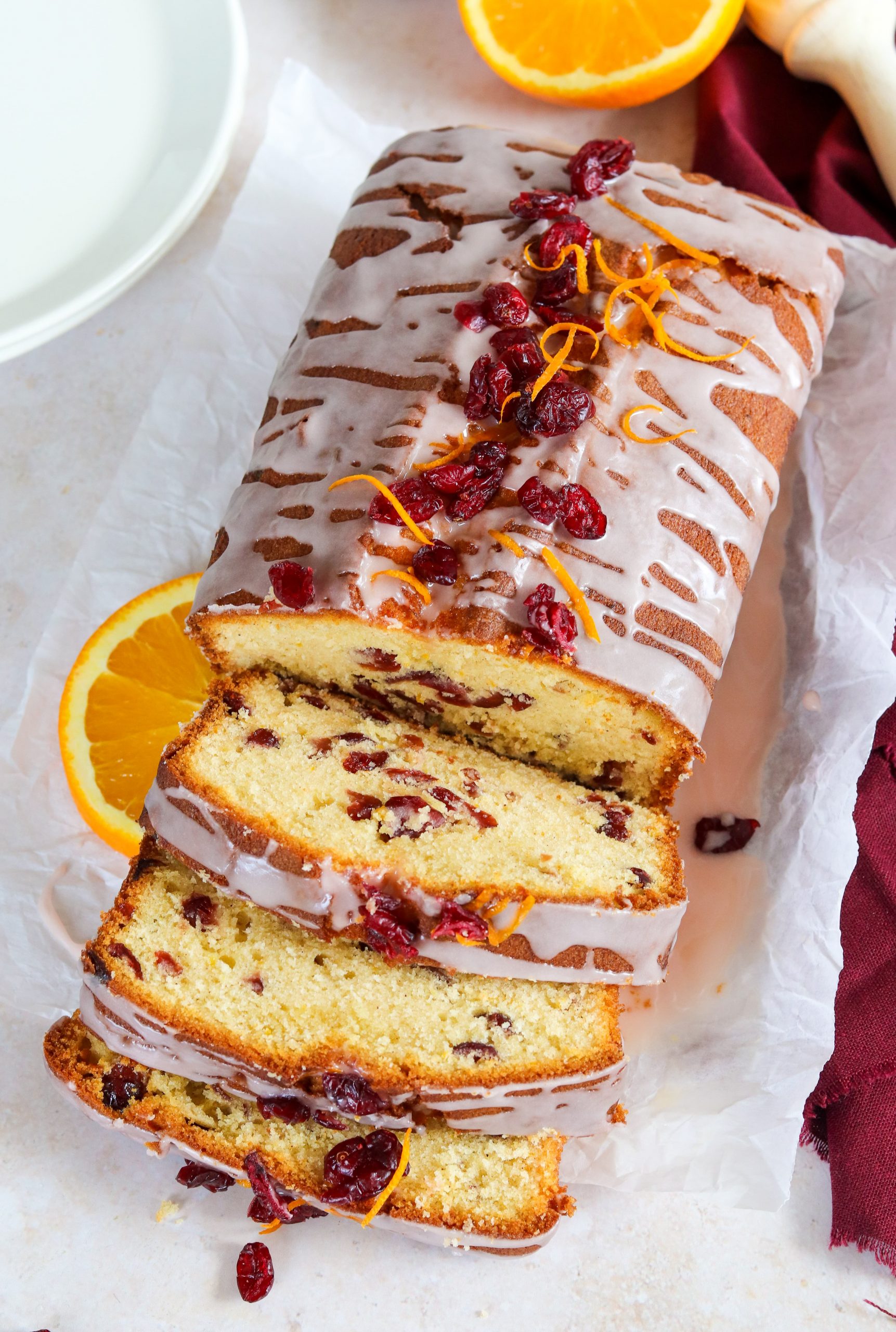 Margarine or butter?
You can use either margarine or butter to make this Orange & Cranberry Cake. Both will work just as well so it is down to personal preference.
I tend to use margarine because you can use it straight from the fridge as it is quite soft. If you do prefer to use butter, you really do need to make sure it is softened before starting to make the cake. When it is softened, it mixes so much easier and faster with the sugar.
If the butter is still a bit cold, it will take a lot longer to cream with the sugar and you could end up with lumps of butter.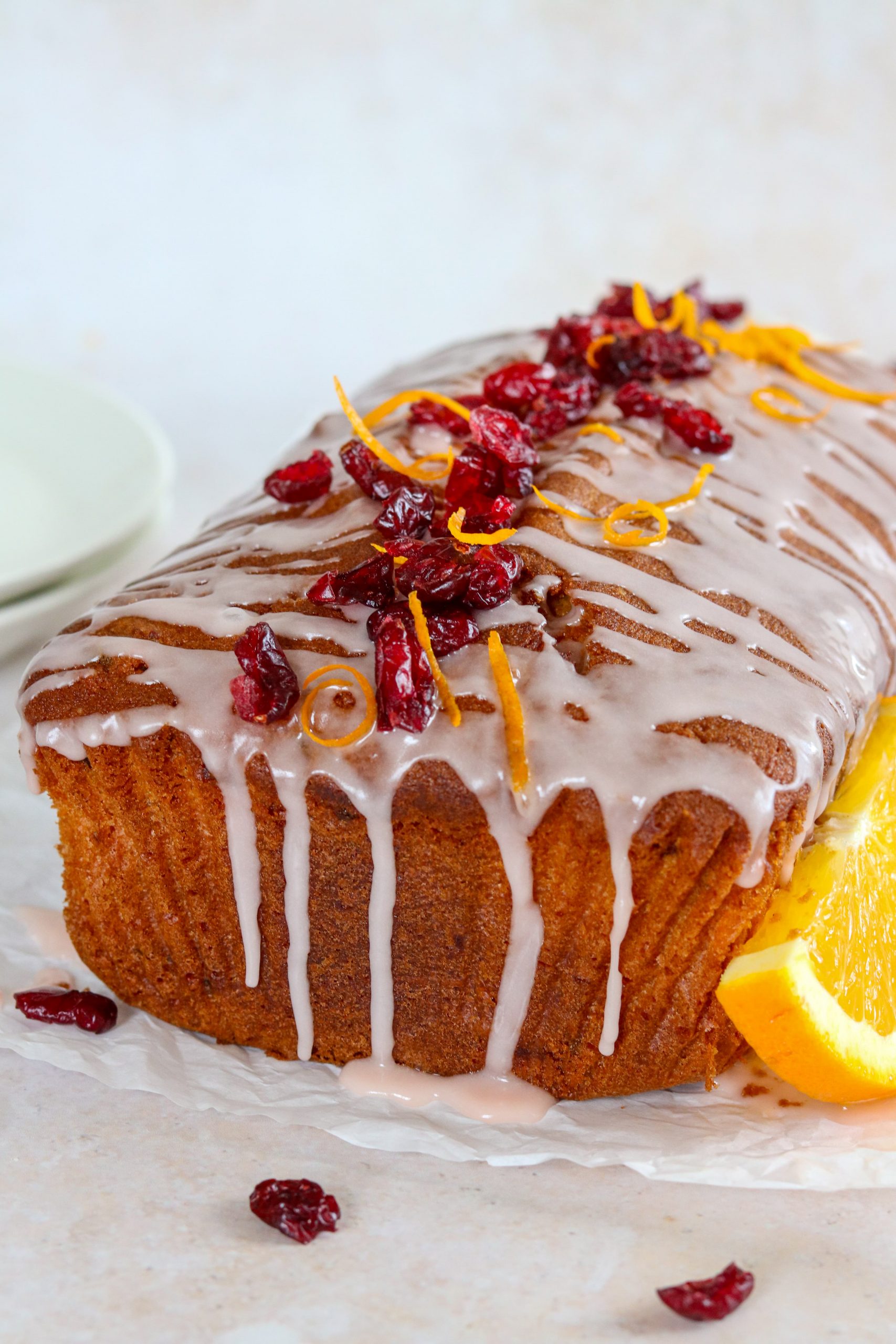 Drizzles are fantastic!
I love a drizzle. It probably has something to do with the fact I'm not keen on buttercream, but I do love a drizzle.
Drizzles are so quick and easy to make. You literally just need a bowl and a spoon. What could be easier?
They are also lighter than buttercream so it doesn't make the cake too sweet.
When making the drizzle you may not need to use all of the orange juice. Add a little at a time until you get to a consistency that is thin enough to drizzle but not too thin that it won't hold it's shape.
If you do add too much orange juice, just add a spoonful more icing sugar to thicken it up again.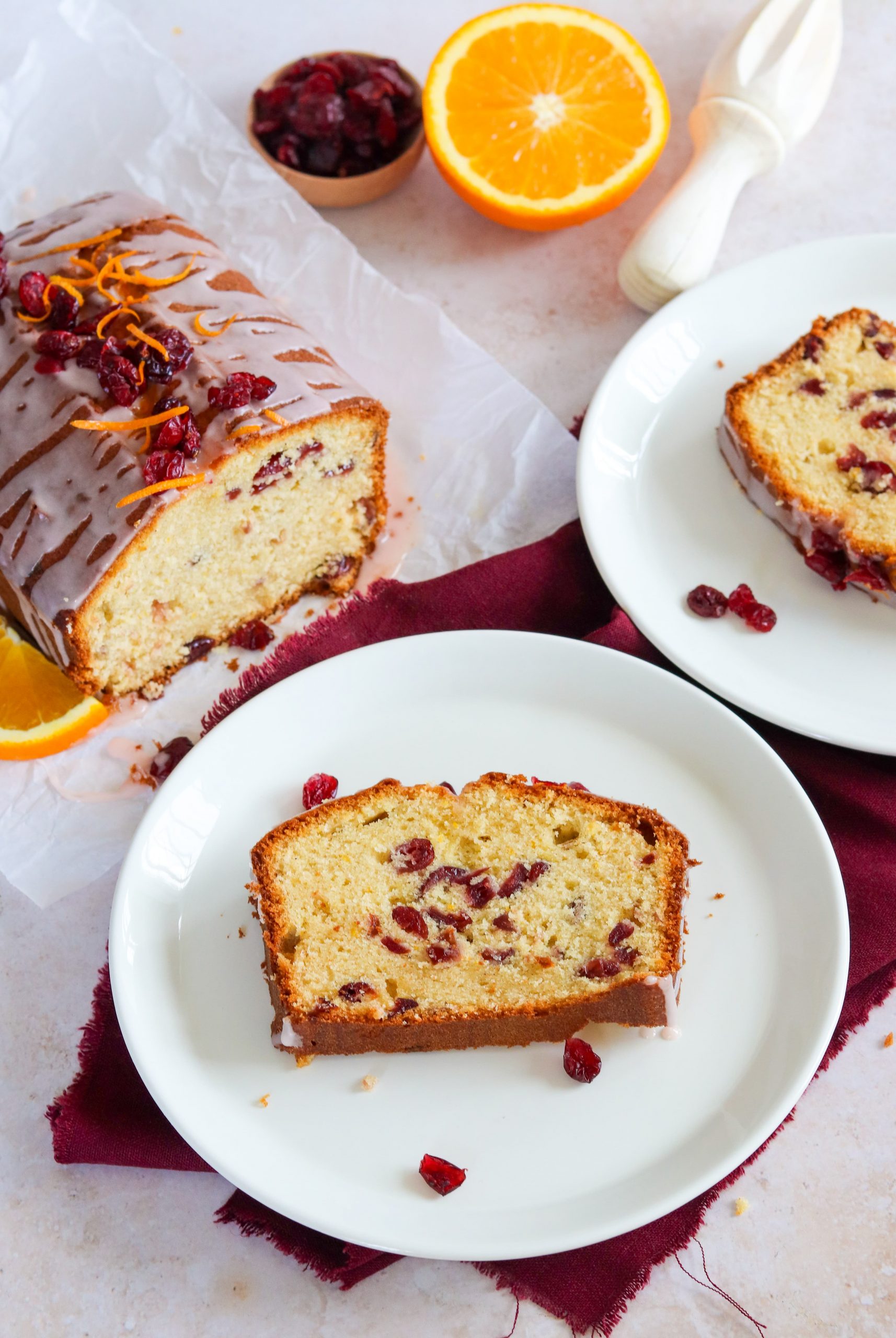 Can I use a different tin?
If you don't want to use a 2lb/900g loaf tin you can use different tins.
A really nice idea would be to make two mini loaves in 1lb/450g loaf tins. These would make lovely gifts for people.
You could also use an eight inch round cake tin instead. That would work just as well.
The 1lb cake tins and the eight inch tin would cook quicker than the recipe states below so check it after 20-25 minutes.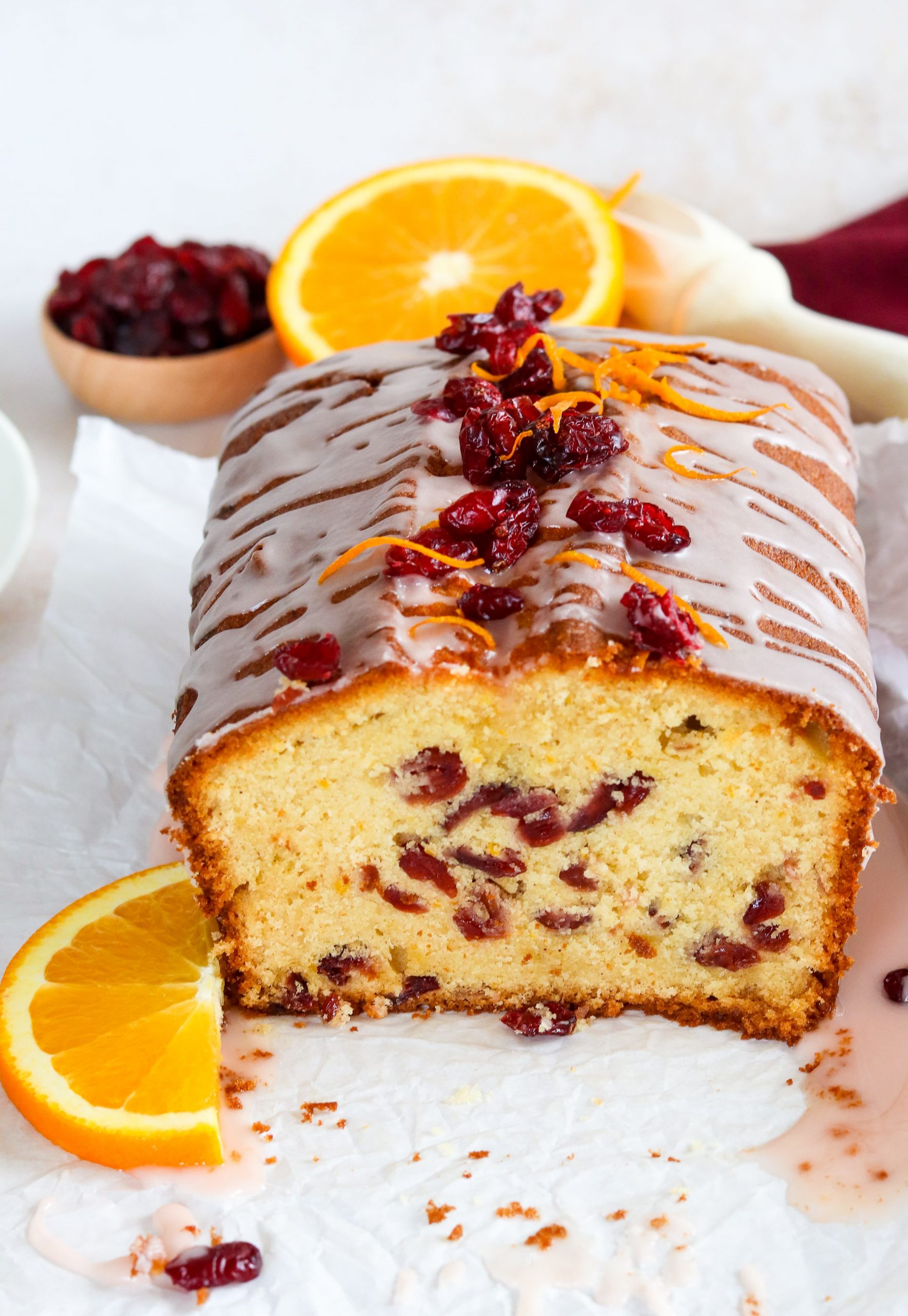 How many people will this cake serve?
That really depends how big you cut the slices!
I always say that loaf cakes will easily feed 12 people. But if people want a thicker slice then obviously it will be a little less.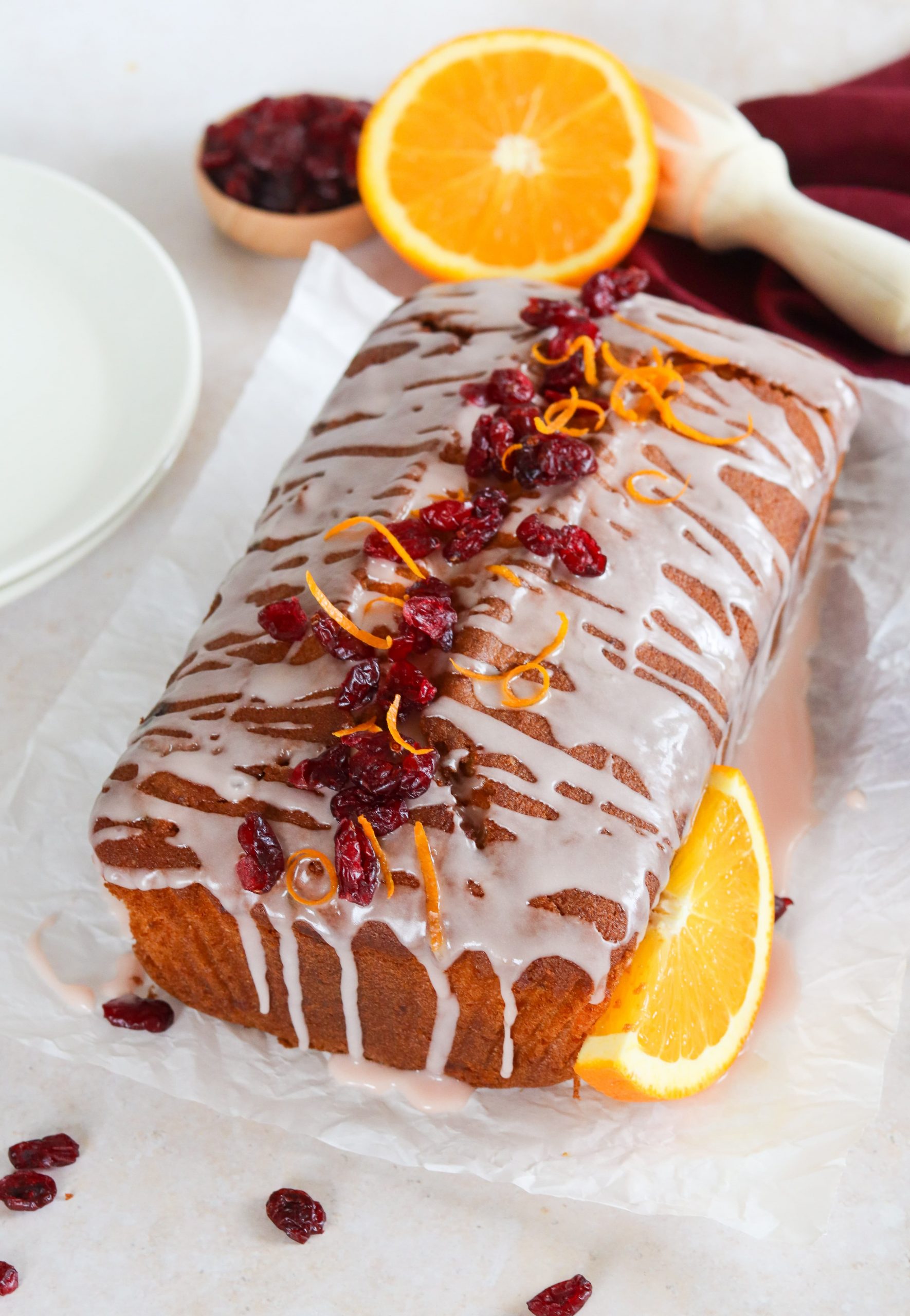 How long will this cake keep for?
This Orange & Cranberry Loaf Cake will keep for 3-4 days in an airtight container.
It can also be frozen without the drizzle if you would like to eat it at a later date. Just make sure you wrap it thoroughly and eat it within three months of freezing it.
When you are ready to eat it, let the cake defrost fully at room temperature before adding the drizzle.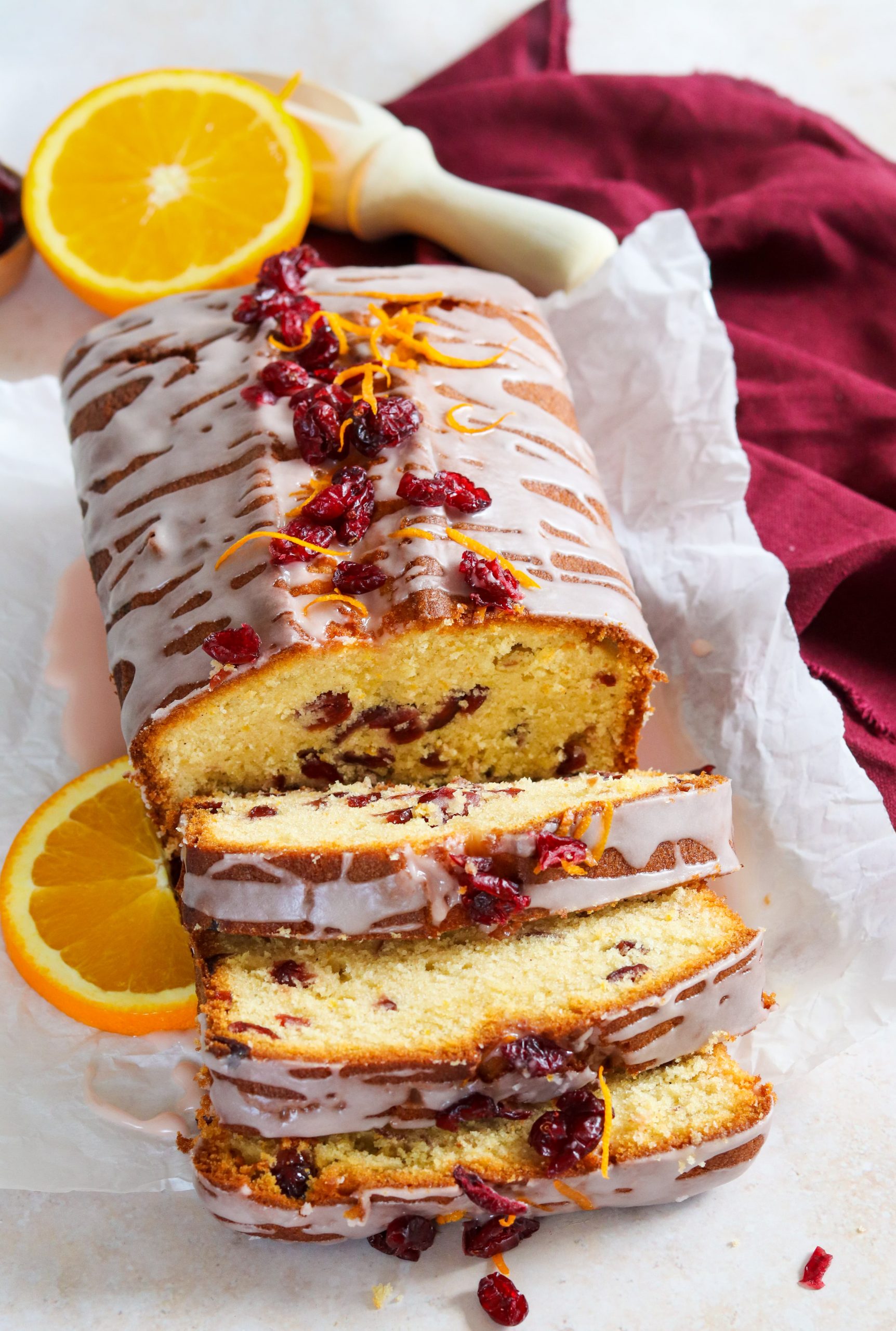 Other cakes you might like
Pin for later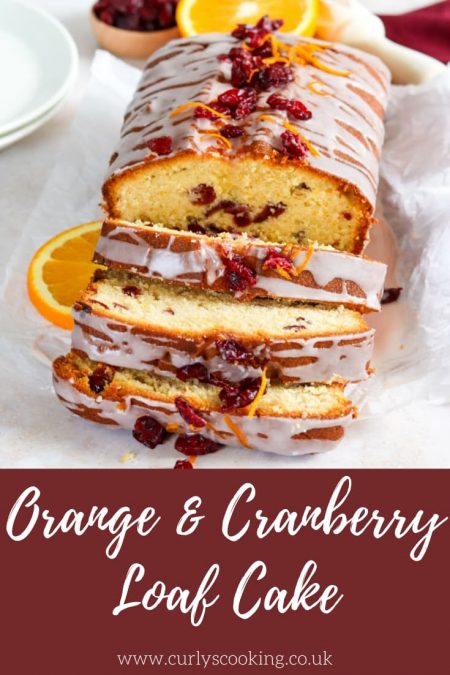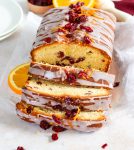 Orange & Cranberry Loaf Cake
This Orange & Cranberry Loaf Cake has the delicious flavours of Winter in the form of a moist cake topped with a tasty drizzle. It is perfect for any gathering, especially over the Christmas period.
Total Time
1
hour
30
minutes
Ingredients
100

g

dried cranberries

100

ml

orange juice

approx 1 orange

225

g

margarine

200

g

caster sugar

3

eggs

250

g

plain flour

1½

tsp

baking powder

pinch of

salt

¼

tsp

cinnamon

ground

1

orange

zest

120

g

fat free yogurt
For the drizzle
100

g

icing sugar

2

tbsp

orange juice from the soaked cranberries

2

tbsp

dried cranberries

zest

orange
Instructions
Add 100g dried cranberries to a bowl with 100ml orange juice. Cover and allow to soak for one hour

Preheat the oven to 170ºC (fan assisted 190ºC non fan) and line a 2lb loaf tin

Cream 225g margarine and 200g caster sugar together for a couple of minutes until pale and fluffy

Add in 3 eggs one at a time mixing after each addition

Add in 250g plain flour, 1½ tsp baking powder, a pinch of salt, ¼ tsp cinnamon and zest of 1 orange and mix until completed combined

Add in 120g yogurt and the soaked cranberries reserving the juice they have been soaking in. Mix until just combined

Pour the cake mix into the lined tin and level. Bake in the oven for 55-60 minutes until golden brown and a cocktail stick comes out clean

Allow to cool in the tin for 15 minutes or so before turning out onto a wire rack to cool completely

Once the cake is completely cool, make the drizzle by mixing 2 tbsp orange juice that the cranberries were soaked in and 100g icing sugar

Drizzle across the cake and sprinkle with orange zest and 2 tbsp dried cranberries
Recipe Notes
You want the drizzle to be thin enough to actually drizzle but not too thin so it runs off the cake. Add more juice to thin it or a touch more icing sugar to thicken if needed.
Nutritional information is given as a guide only.
Nutrition Facts
Orange & Cranberry Loaf Cake
Amount Per Serving
Calories 359
Calories from Fat 144
% Daily Value*
Fat 16g25%
Cholesterol 41mg14%
Sodium 201mg9%
Potassium 165mg5%
Carbohydrates 50g17%
Protein 4g8%
Vitamin A 765IU15%
Vitamin C 9.5mg12%
Calcium 66mg7%
Iron 1.2mg7%
* Percent Daily Values are based on a 2000 calorie diet.