Delicious and comforting with a touch of spice. This Vegan Lentil Chilli is such an easy slow cooker meal that is packed full of flavour. You definitely won't miss the meat!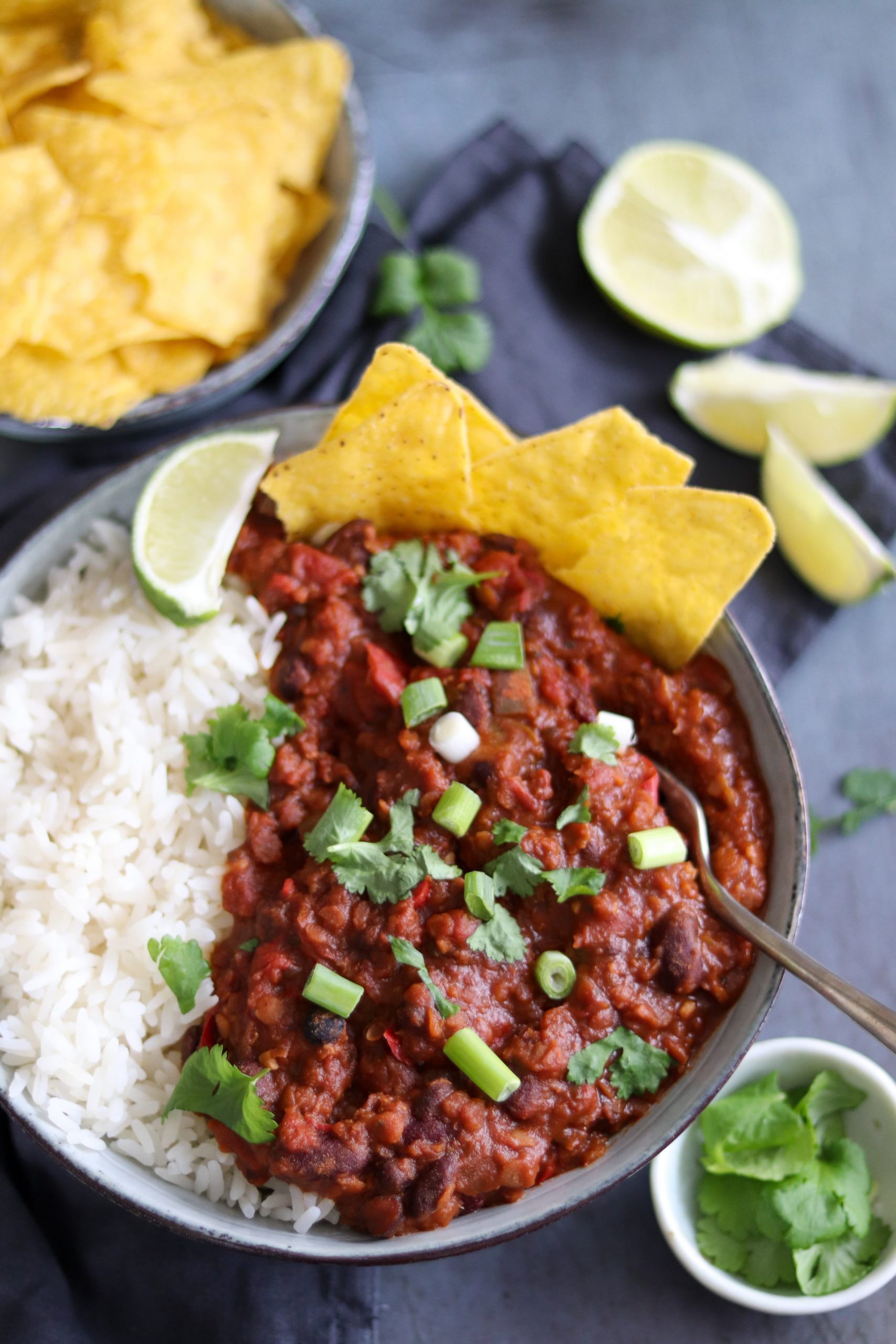 Making a lifestyle change
Over the past few months, I have been making a conscious effort to step up what I am doing to help the environment.
I've always been an enthusiastic re-cycler (that phrase might catch on!) but I've been finding ways to do that bit more. As well as recycling I am trying to reduce the amount of plastic I use; especially single use plastic.
Aside from recycling, Mr Curly and I have also decided to try and eat less meat. This will be a pretty big change, especially for Mr Curly. Up until very recently he would consider a meal to be missing something without meat.
This meant that for lunch and dinner each day, there would be some kind of meat involved. I wasn't sure how long he would last with wanting to eat less meat but so far we're doing really well!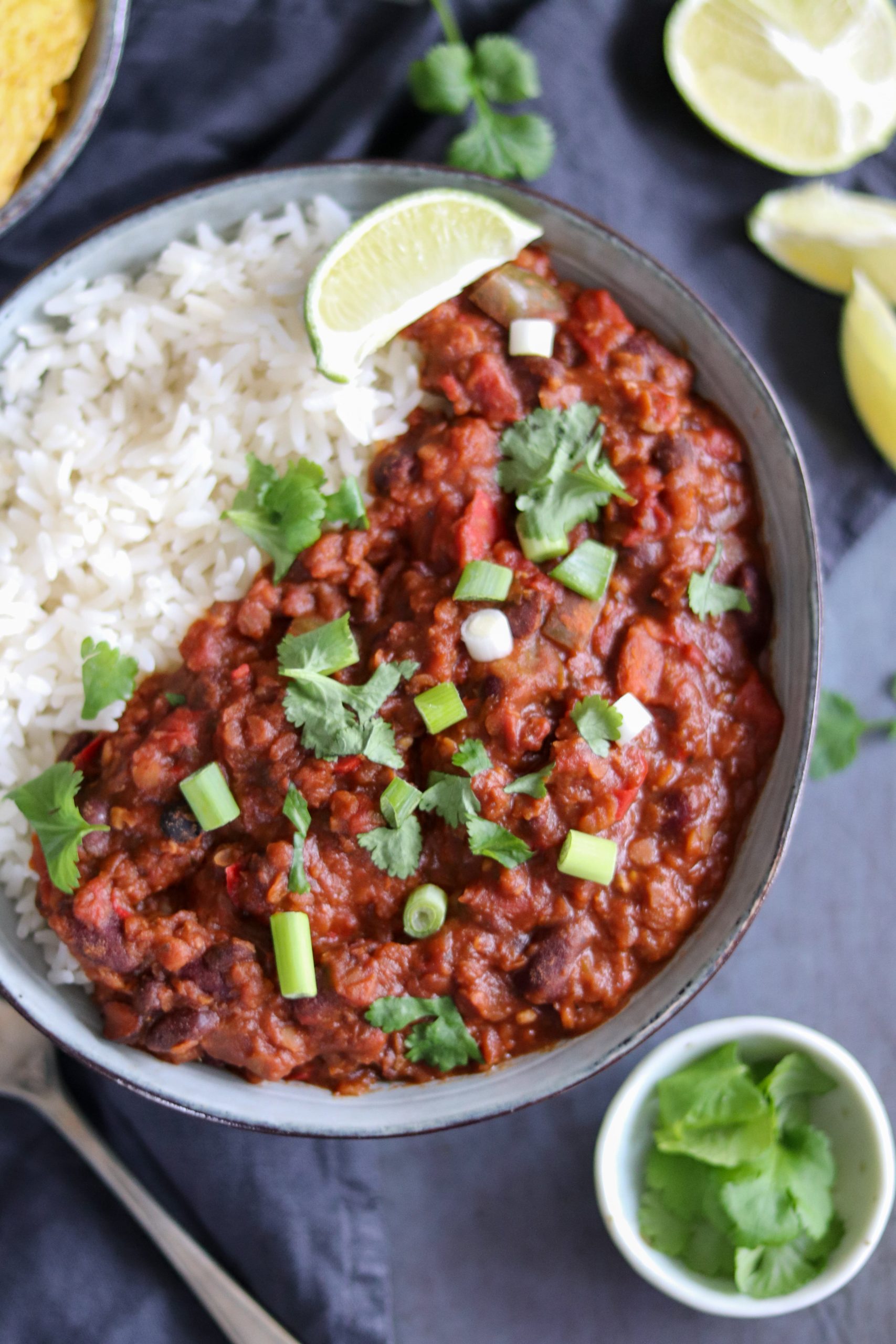 If food is flavoursome you won't miss the meat
If food is packed full of flavour, you definitely won't miss the meat in my opinion. In fact the first time I made this, Mr Curly didn't notice it wasn't meat.
As well as the flavour from the spices, I have used lots of beans and lentils. This makes this chilli feel substantial and filling. I think it also gives it a similar texture to minced beef.
Beans and lentils provide an excellent source of protein, lots of flavour and a great texture to this chilli.
If you would still prefer a meat option, check out my Chilli Con Carne and Skinny Slow Cooker Turkey Chilli.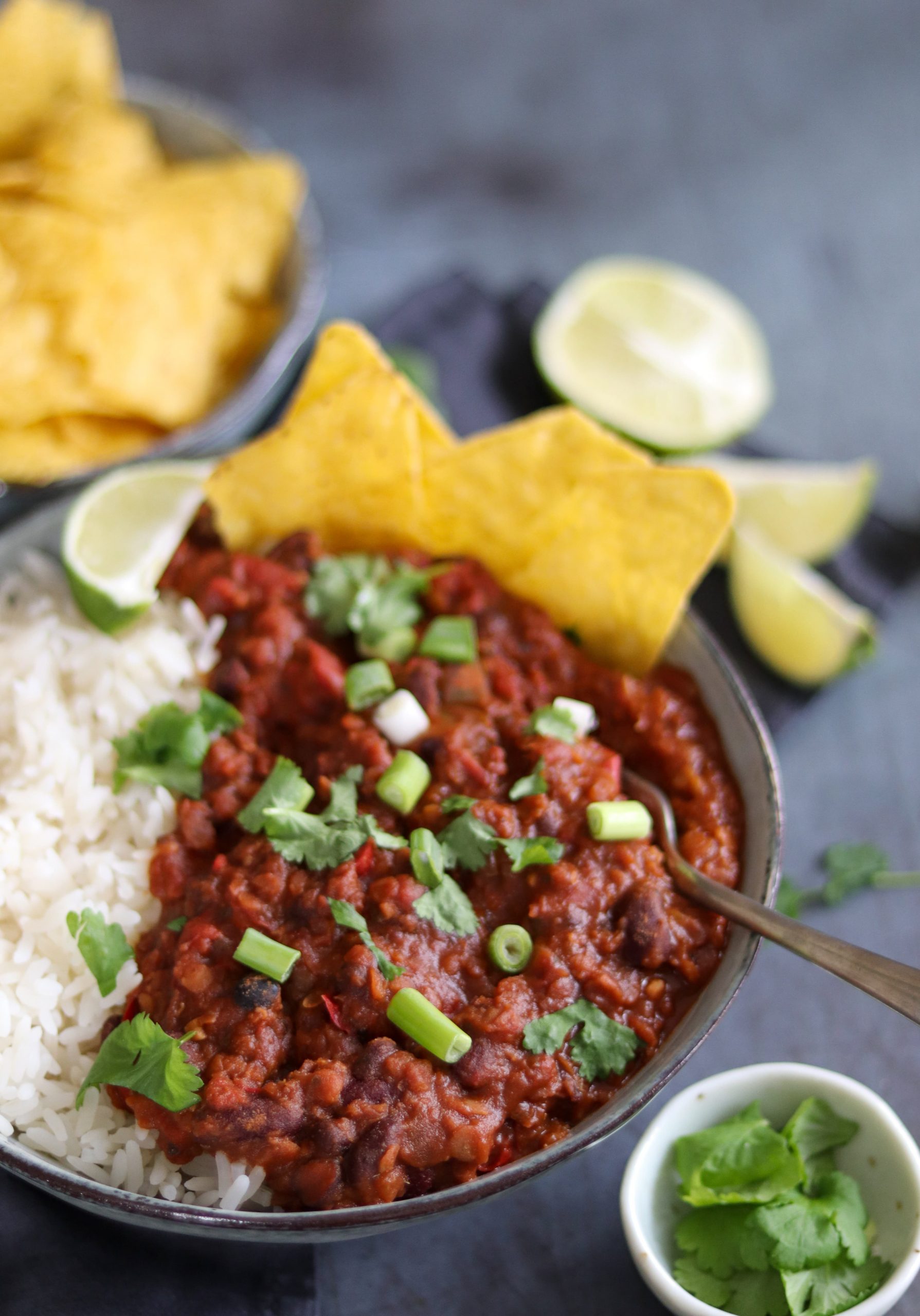 How spicy is this Vegan Lentil Chilli?
The recipe as written below is medium heat I would say. Beans and lentils can be a little bland so I think they always benefit from some spice.
I have used my favourite chilli powders for this Vegan Lentil Chilli as well as some chipotles in adobo sauce. The chipotles in adobo are spicier than the other chillies so go easy on these or leave them out altogether if you want it to be milder.
Adjust the heat by adding more or less chilli to suit your tastes. Remember to always add a little at first because you can always add more later.
If you don't have the chilli powders I have used, just use what you have.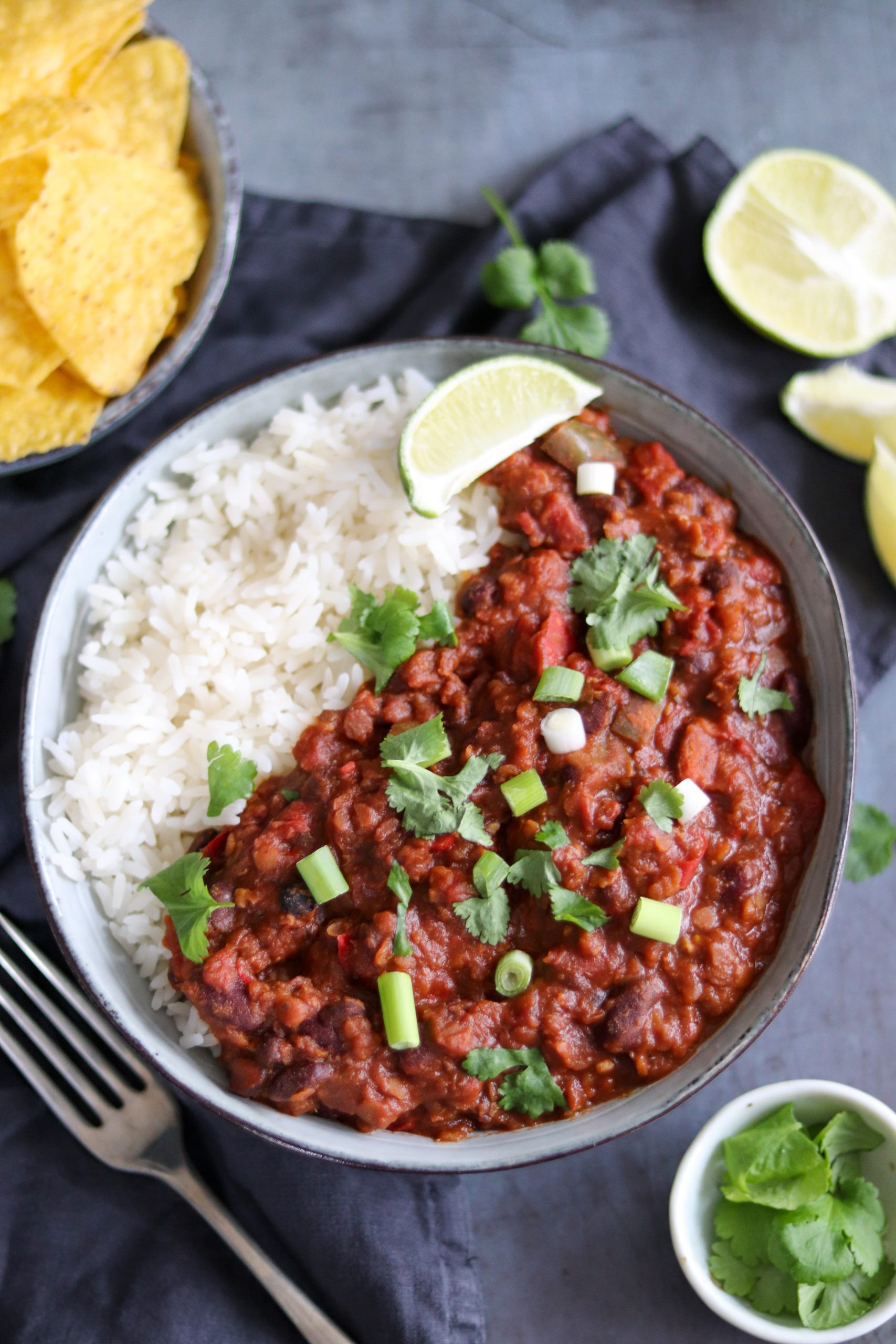 Which beans and lentils are recommended to use?
I have always added kidney beans in chilli sauce to my chilli recipes. I'll let you into a little secret – I'm not a huge fan of kidney beans!
I've always added them to my chilli because this is what my Mum did, and because the chilli sauce they come in adds a lovely flavour to the finished dish.
I like them when they are nice and soft which is why slow cooking them works so well.
I also add a tin of rinsed black beans. They are such a staple ingredient in Mexican cooking and although this recipe isn't authentic; I have taken inspiration from there.
Finally, I added some rinsed split red lentils. After a quick rinse these are ready to be added straight to the slow cooker. You don't have to soak them beforehand.
If you want to swap any of the beans or lentils, feel free; these are just my preferred choices.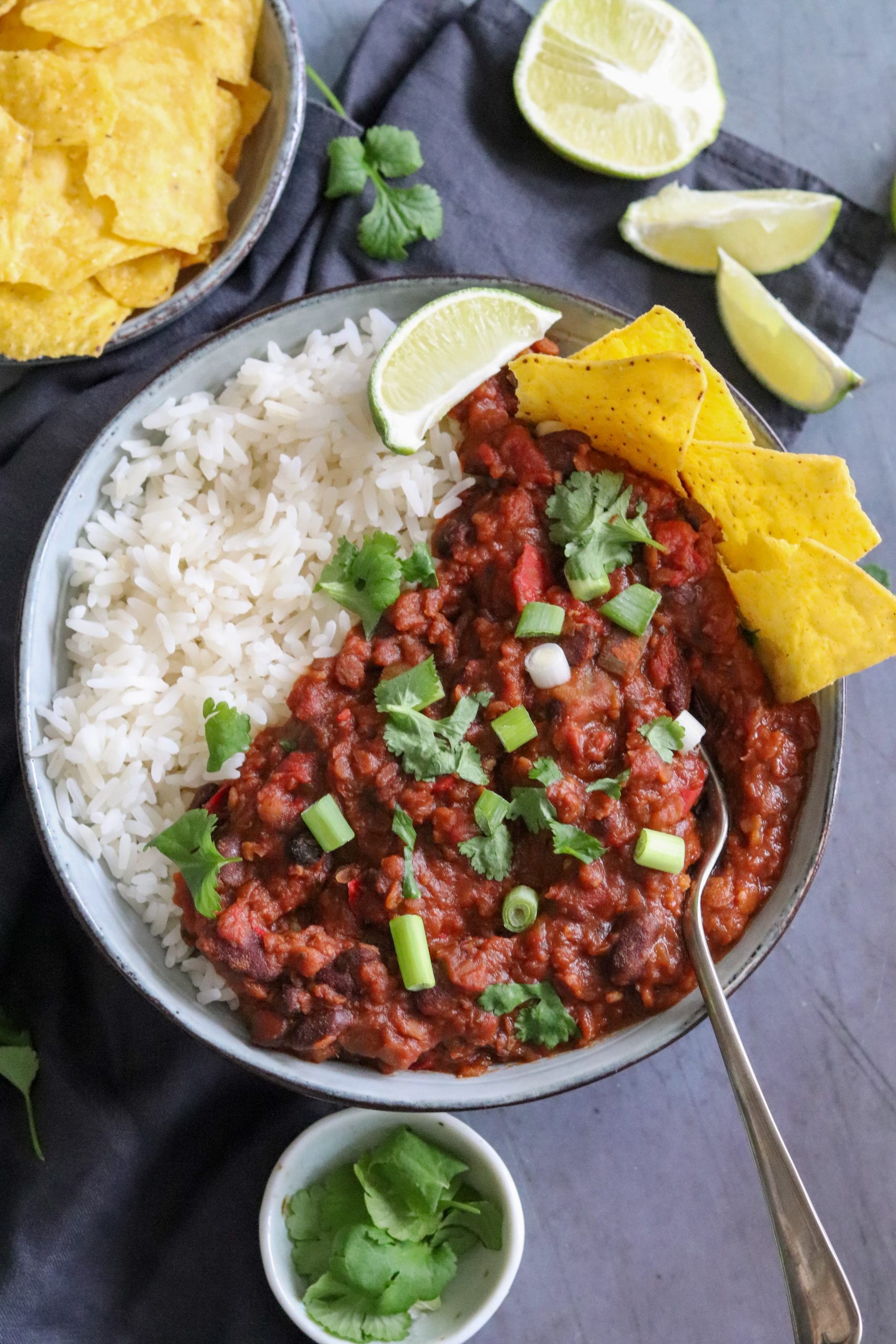 Can you taste the chocolate?
The dark chocolate doesn't make the chilli taste of chocolate, it just adds a depth of flavour. Definitely don't skip the chocolate!
Mexican chocolate is a common ingredient in Mexican cuisine for recipes such as mole. Mexican chocolate isn't readily available here in the UK. Instead I recommend using dark chocolate with a high cocoa percentage.
The high cocoa percentage is what adds the depth of flavour to the chilli. You couldn't use milk chocolate instead as this has too much sugar and a much lower cocoa percentage.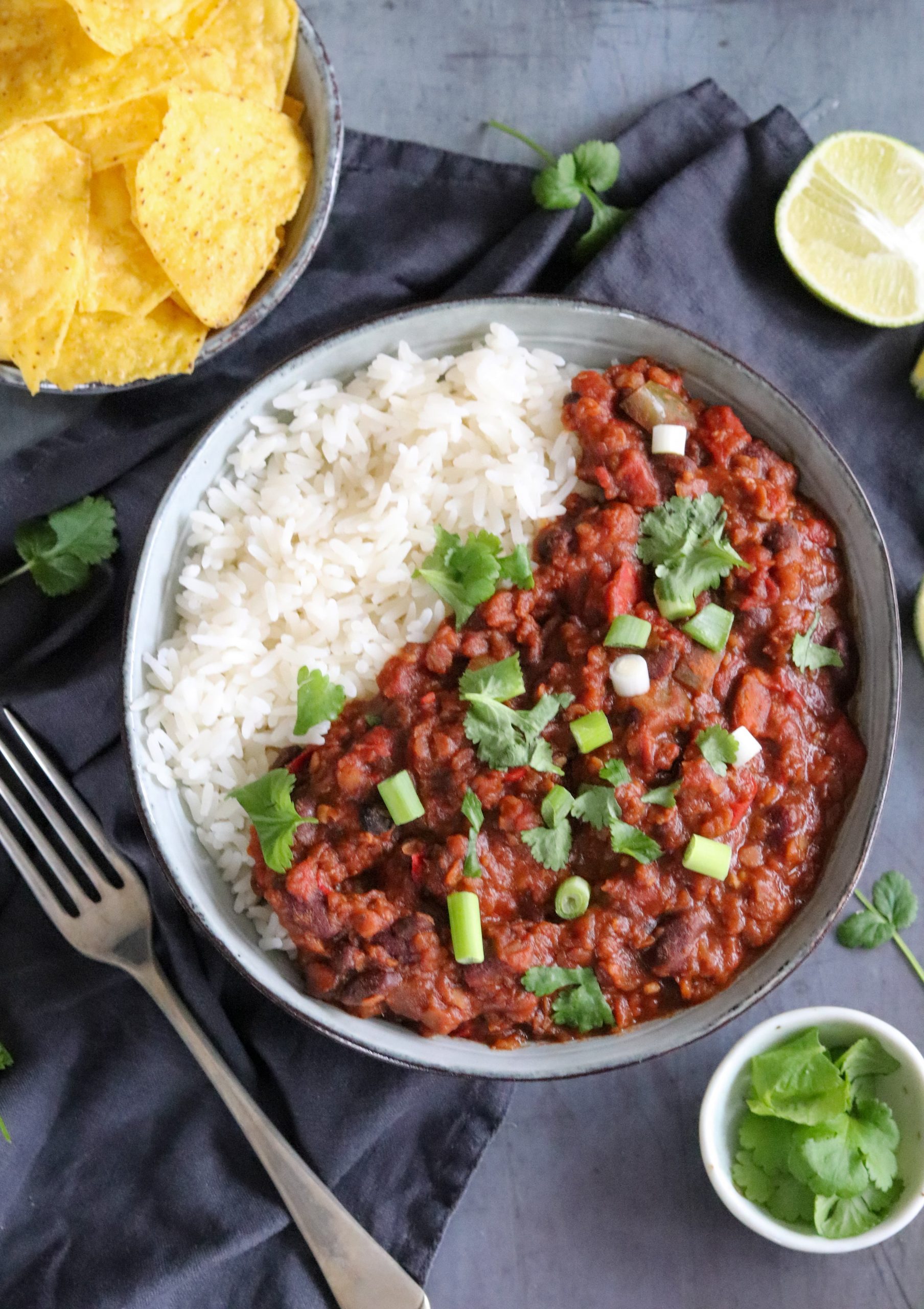 Does this chilli freeze well?
Yes it freezes really well. Make sure you put it in the freezer within two hours of it finishing cooking. Keep it in the freezer for up to three months.
When you would like to eat it, leave it in the fridge to defrost for eight hours or overnight.
I prefer to reheat the chilli in a pan so you can make any changes like adding a splash more water if needed. You can also reheat in the microwave if you prefer.
Make sure it it piping hot before serving.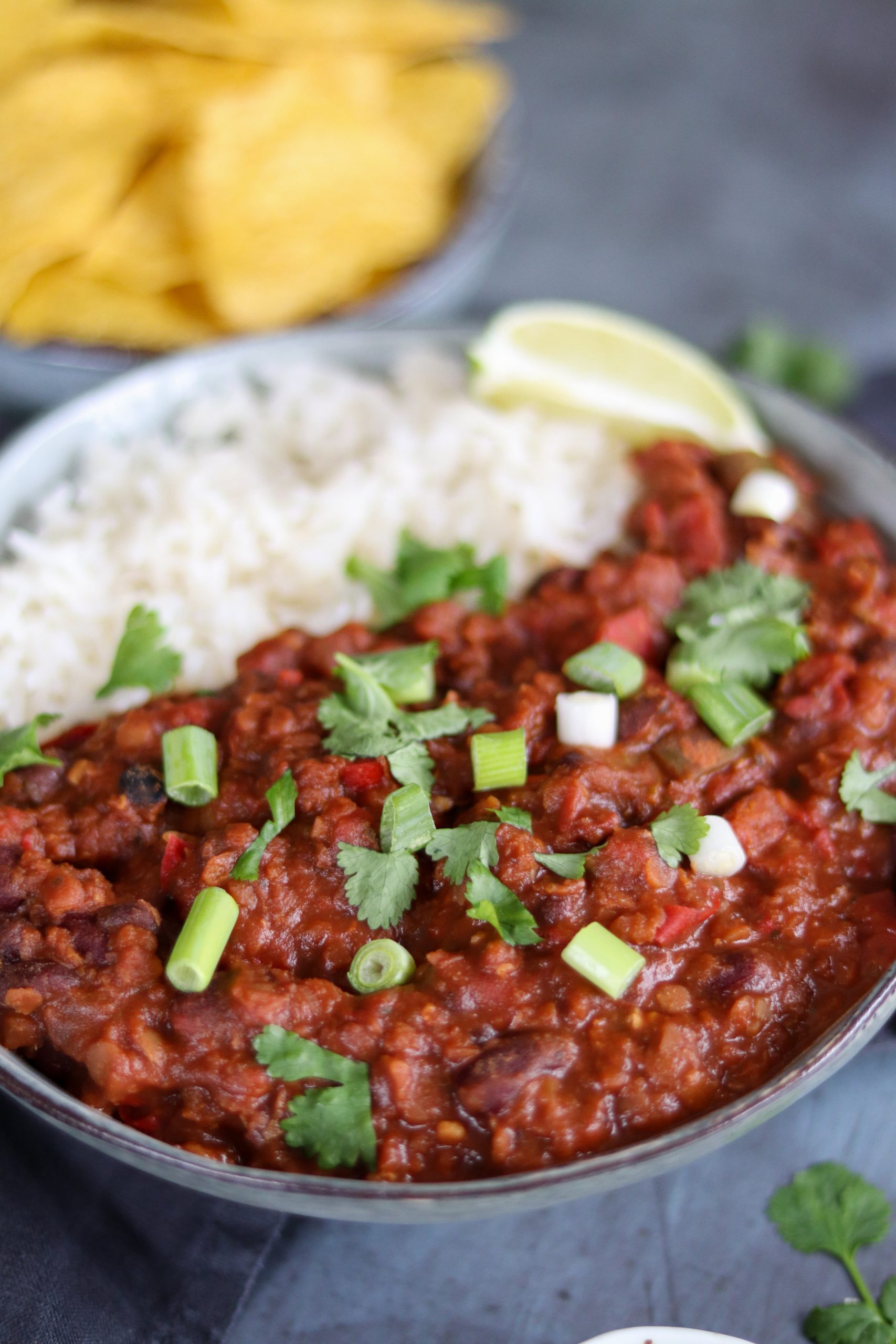 Vegan, dairy free and gluten free
When I was developing this lentil chilli recipe, my intention was to make it vegetarian. When I finished tweaking it and got it to how I wanted it to be, it turned out to be vegan too.
I wasn't sure if it was going to be vegan at first because of the dark chocolate. But most dark chocolate is naturally vegan, so perfect for this recipe.
And if that wasn't good enough, it is also dairy free and gluten free too! The perfect meal to feed lots of dietary needs.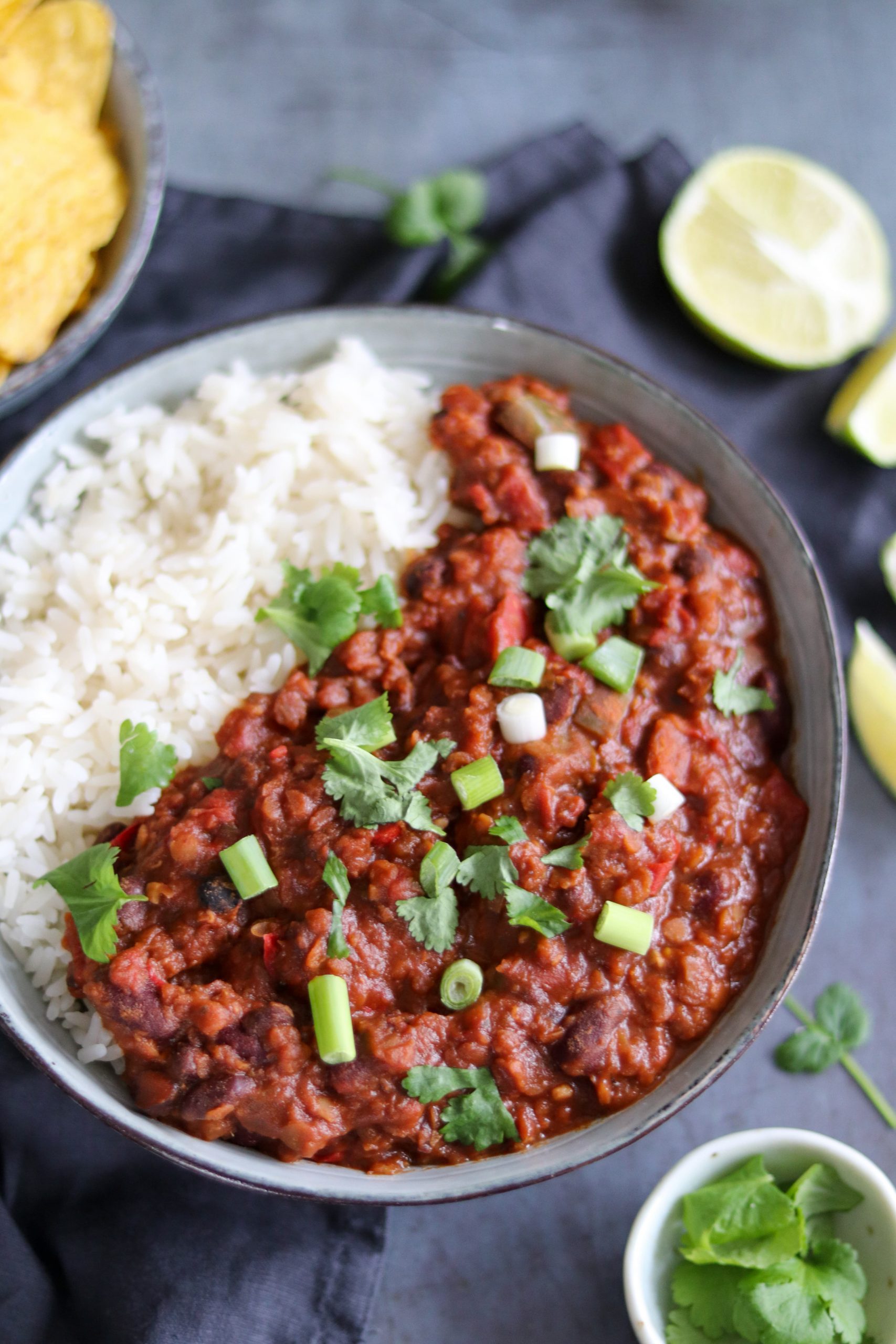 What to serve with this Vegan Lentil Chilli
Personally, I like to serve chilli with rice. I think this is quite common in the UK, but maybe not so common in the US!
As well as rice, I also like to serve some tortilla chips alongside for some added crunch. Check the packet but these should be vegan. You could also serve it as a baked potato topping.
Guacamole, dairy free sour cream and vegan cheese would also make delicious additions. A scattering of spring onions and coriander finish it off nicely!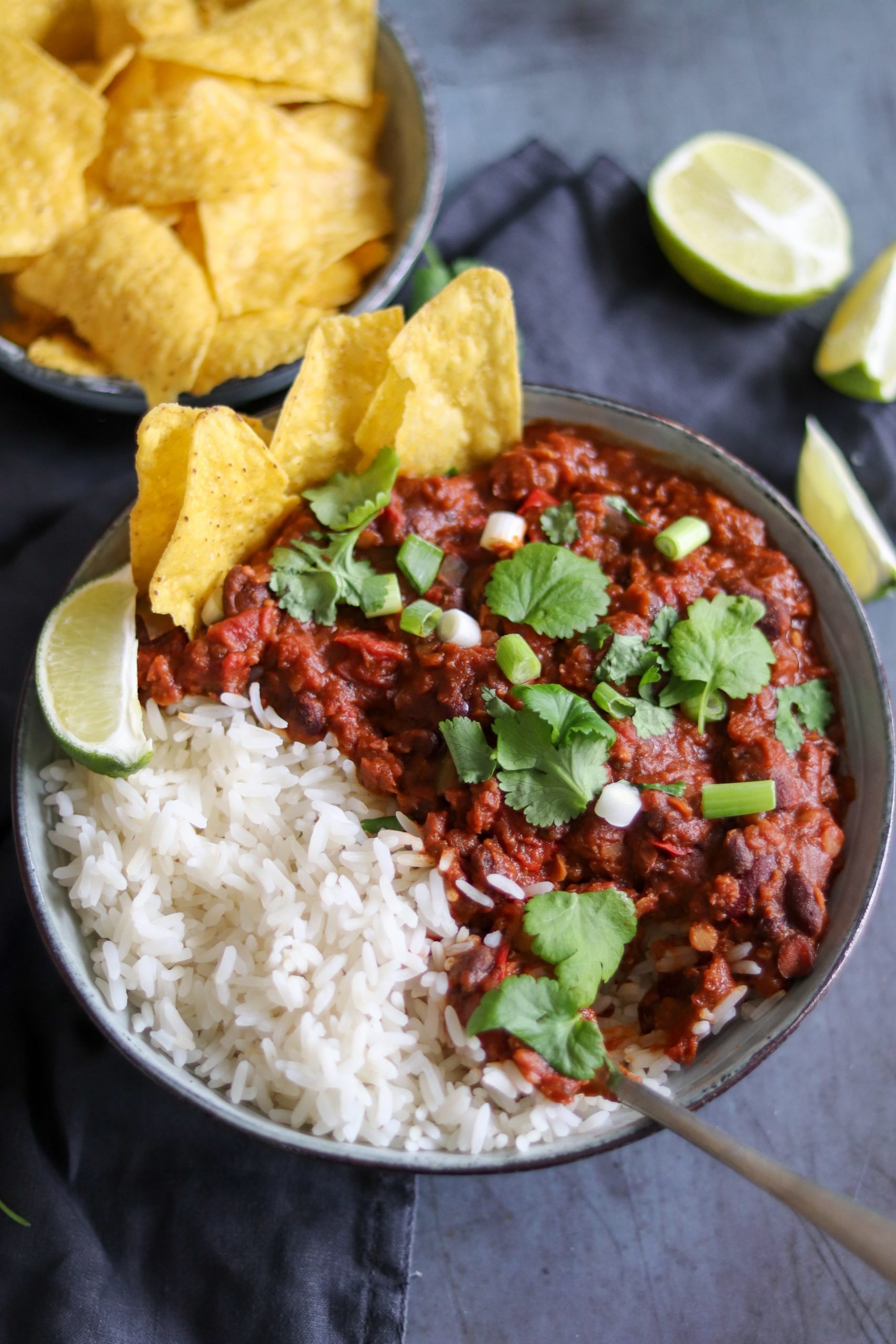 Other recipes you might like
Pin for later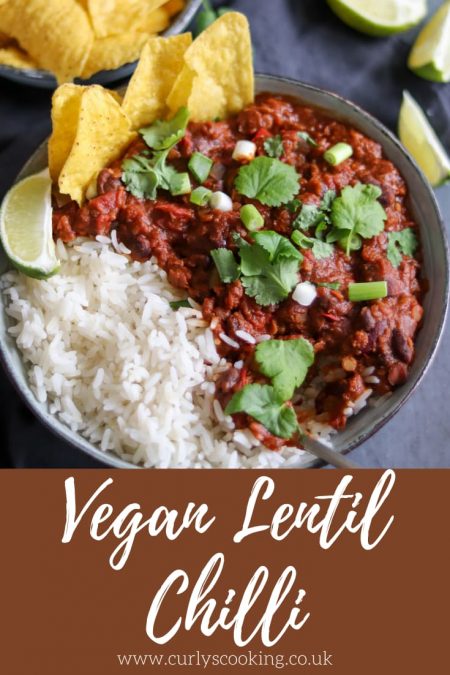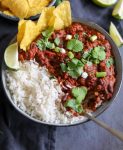 Vegan Lentil Chilli
Delicious and comforting with a touch of spice. This Vegan Lentil Chilli is such an easy slow cooker meal that is packed full of flavour. You definitely won't miss the meat!
Total Time
7
hours
15
minutes
Ingredients
1

onion

diced

400g

tin

kidney beans in chilli sauce

400g

tin

black beans

(rinsed)

2 x 400g

tins

chopped tomatoes

2

peppers

diced

1

tbsp

tomato puree

3

garlic cloves

diced

1

tsp

chipotles in adobo sauce

(optional)

½

tsp

chipotle chilli powder

½

tsp

ancho chilli powder

½

tsp

ancho chilli flakes

1

tbsp

Mexican oregano

1

red chilli

sliced

200

g

red split lentils

rinsed in cold water

300

ml

vegetable stock

1

tsp

sea salt

¼

tsp

black pepper

30

g

dark chocolate

(at least 70% cocoa)
Instructions
Add all of the ingredients apart from the dark chocolate to the slow cooker. Stir thoroughly.

Cook on high for 6 hours. Break the dark chocolate into chunks and add it to the slow cooker. Stir through and allow to cook for another 30 minutes to 1 hour until the lentils are completely cooked
Recipe Notes
I use a 3.5L slow cooker.
If the chilli starts looking dry, add a splash more water.
Nutritional information is given as a guide only and may vary.
Nutrition Facts
Vegan Lentil Chilli
Amount Per Serving
Calories 217
Calories from Fat 828
% Daily Value*
Fat 92g142%
Sodium 757mg33%
Potassium 59271mg1693%
Carbohydrates 3957g1319%
Protein 1477g2954%
Vitamin A 1190IU24%
Vitamin C 12.9mg16%
Calcium 4511mg451%
Iron 350.8mg1949%
* Percent Daily Values are based on a 2000 calorie diet.