If you haven't eaten Blueberry Ice Cream before you are missing out! This Blueberry Swirl Ice Cream (No Churn) is so simple to make and incredibly delicious.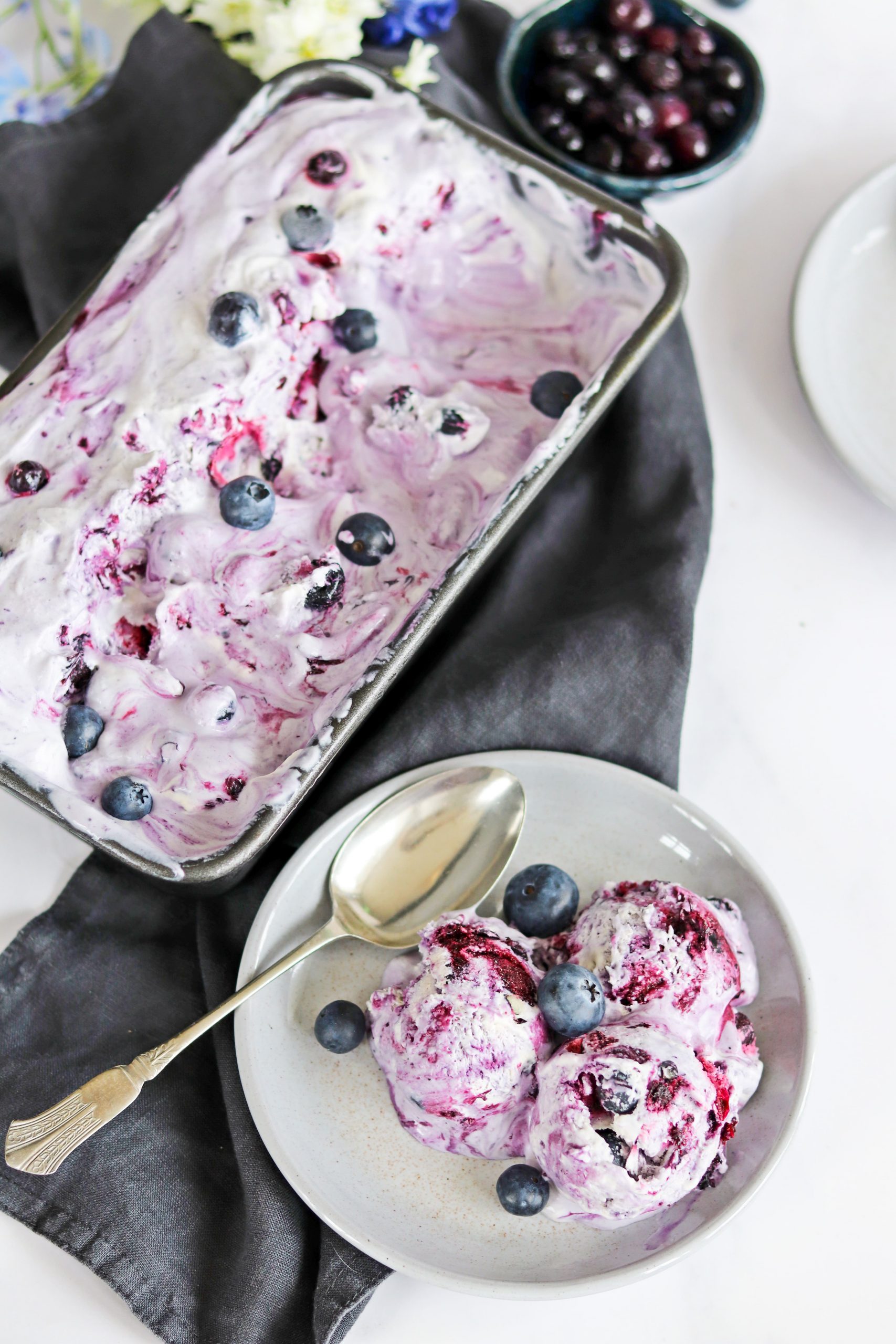 Have you eaten blueberry ice cream before?
I realise blueberry ice cream isn't the most common flavour. Flavours like chocolate and mint choc chip are always popular choices.
But blueberry ice cream is out there and if you haven't tried it you really should.
In my first job after university, next door was a cafe that sold blueberry ice cream. I drank way too many blueberry ice cream milkshakes in the short time I worked there!
But since then I always try to seek out blueberry ice cream; which is easier said than done!
So instead, I decided I had to make my own Blueberry Swirl Ice Cream so I can have it whenever I like.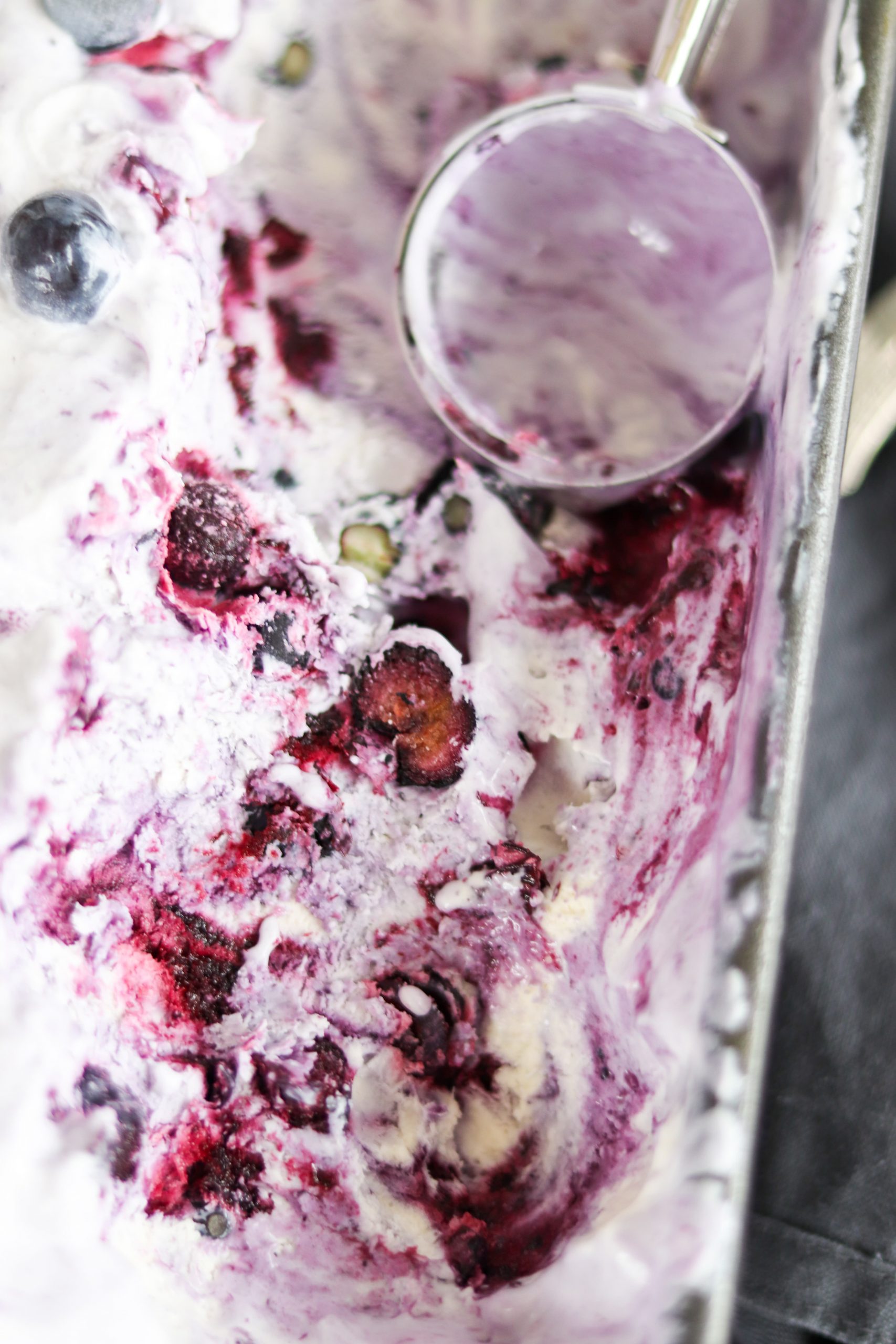 When are blueberries in season?
Here in the UK, you can buy blueberries throughout the year. However as with all produce, it is best to make the most of it when it is in season.
The blueberry season runs from June to September with different varieties coming into season at different times during the season.
In the US, blueberries come into season as early as April.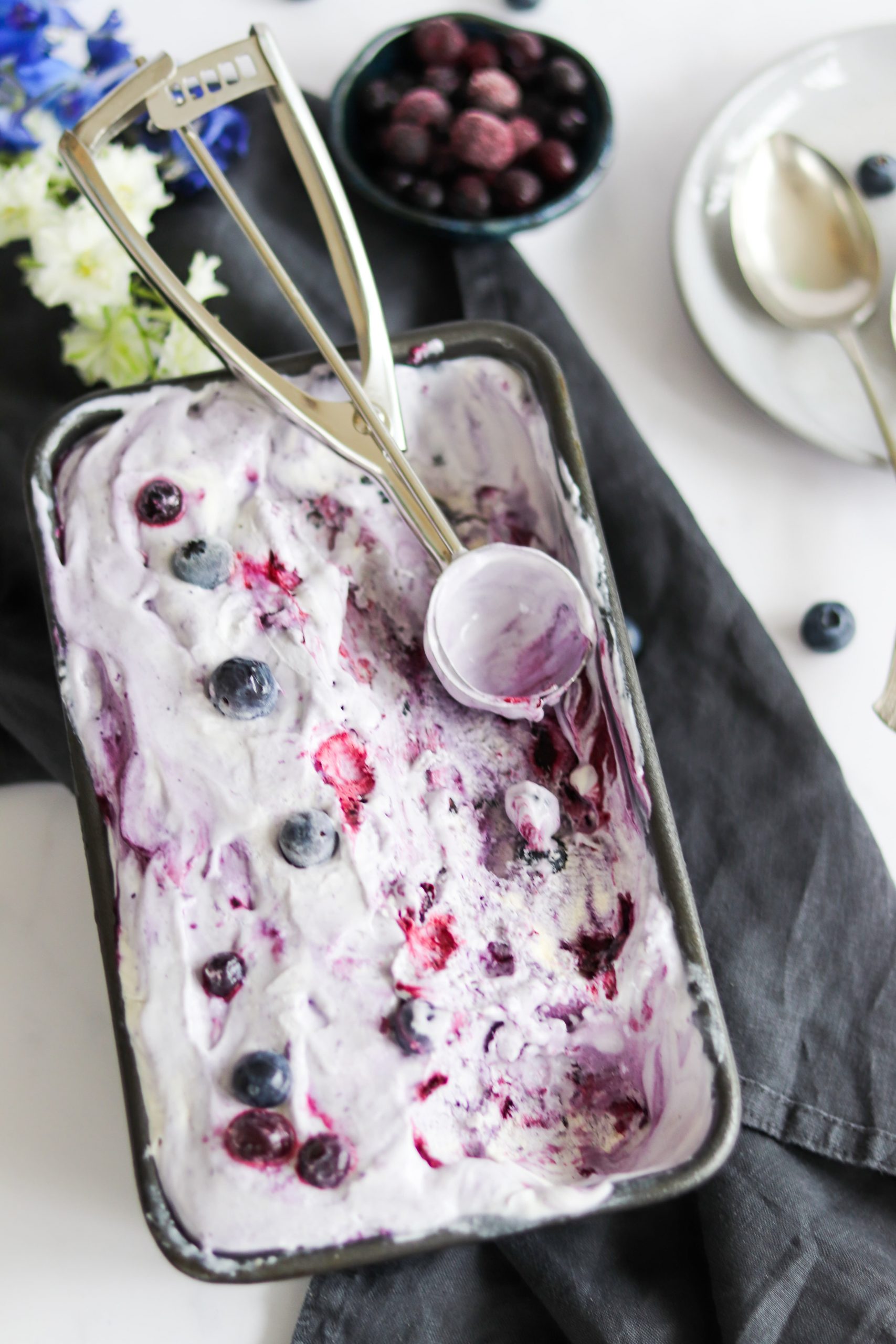 can frozen blueberries be used?
Frozen blueberries are a great alternative to fresh blueberries. They are really convenient and can be kept for much longer.
Frozen blueberries would work perfectly for the blueberry compote used for the swirl. You may just need to cook them for a couple more minutes so that they break down. There is no need to defrost them first.
I've used a mixture of fresh and frozen blueberries before and you can tell a difference. The frozen blueberries do have a slightly icier texture in the finished ice cream compared to the fresh blueberries.
Personally I preferred using the fresh blueberries to mix in at the end, but the frozen blueberries will be a great alternative.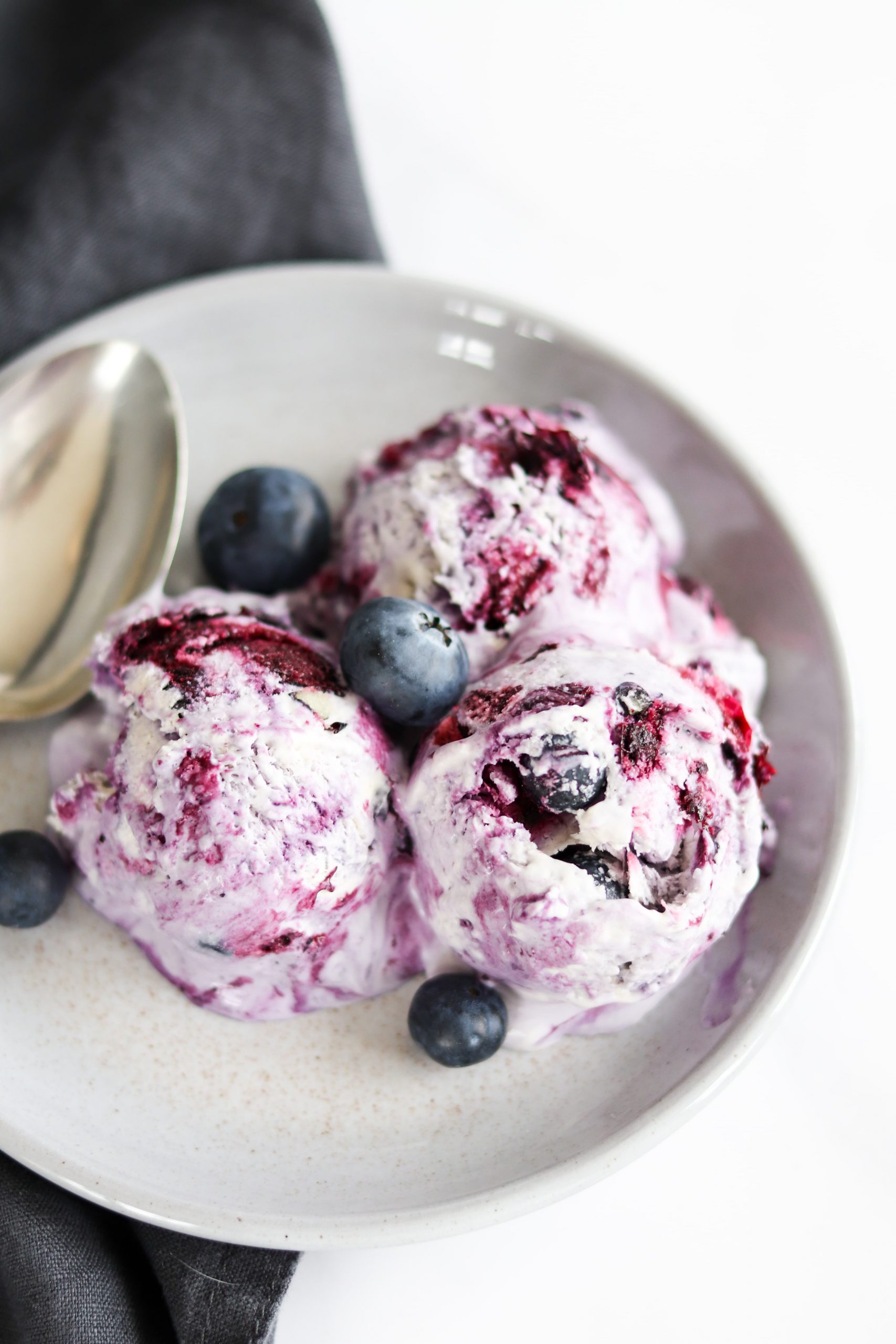 what is no churn ice cream?
Ice cream machines stir/churn the mixture as it freezes to thicken it and add volume. No churn ice cream doesn't require an ice cream maker to make it. This is because the ingredients used are different.
I have so many kitchen gadgets, but I don't have room for them all! I don't have an ice cream maker so I make no churn ice creams.
As the name suggests, no churn ice cream needs mixing together and then leaving in the freezer to freeze. No other steps are needed. So simple!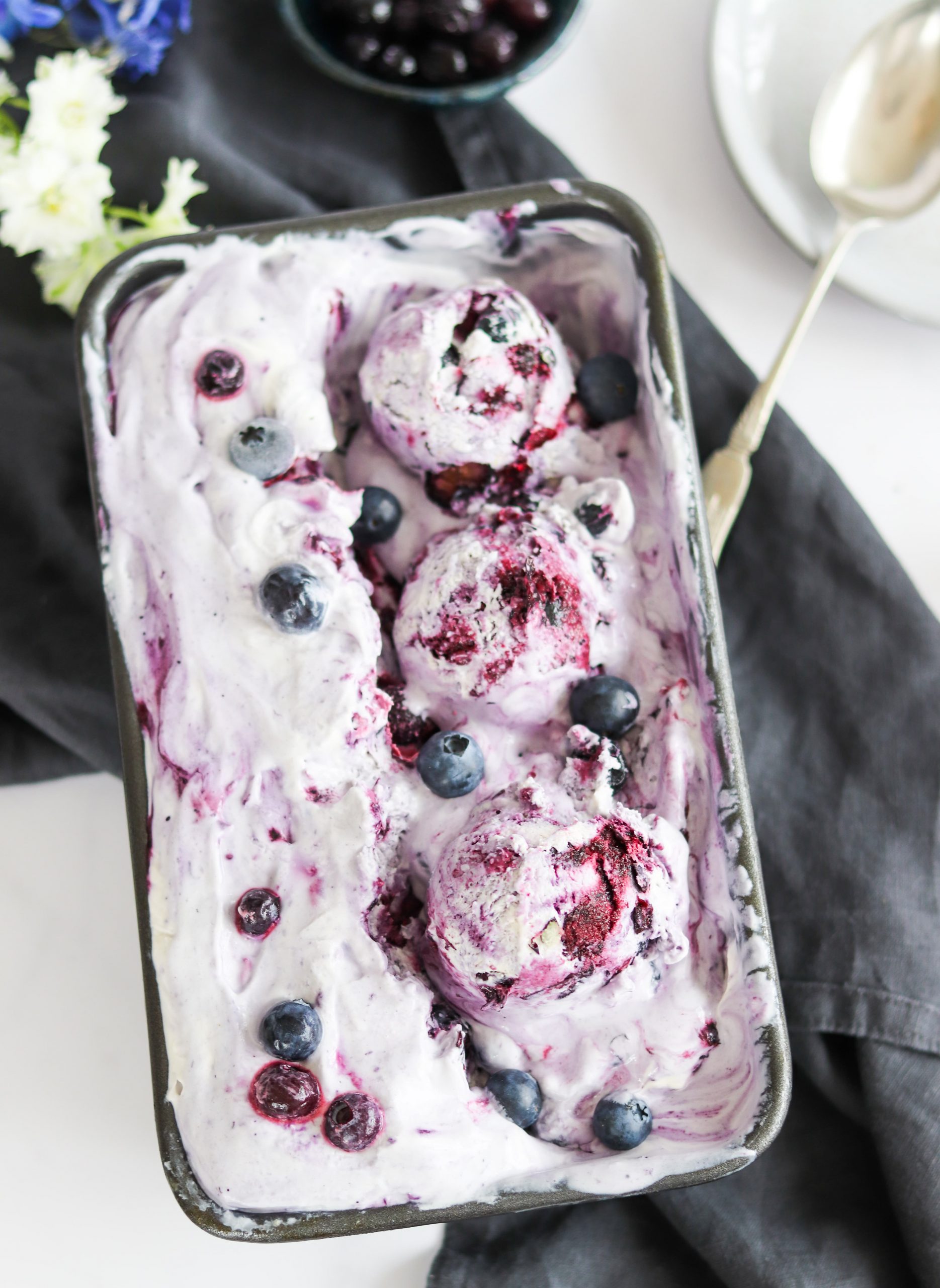 why is no churn ice cream so great?
No churn ice cream is so amazing because it is just so quick and simple to make. And also you don't need any additional kitchen equipment.
It is as simple as whisking together the double cream and condensed milk before adding any flavourings and leaving to freeze. Minimum time and effort needed.
The hardest part is waiting for it to freeze before you can tuck in!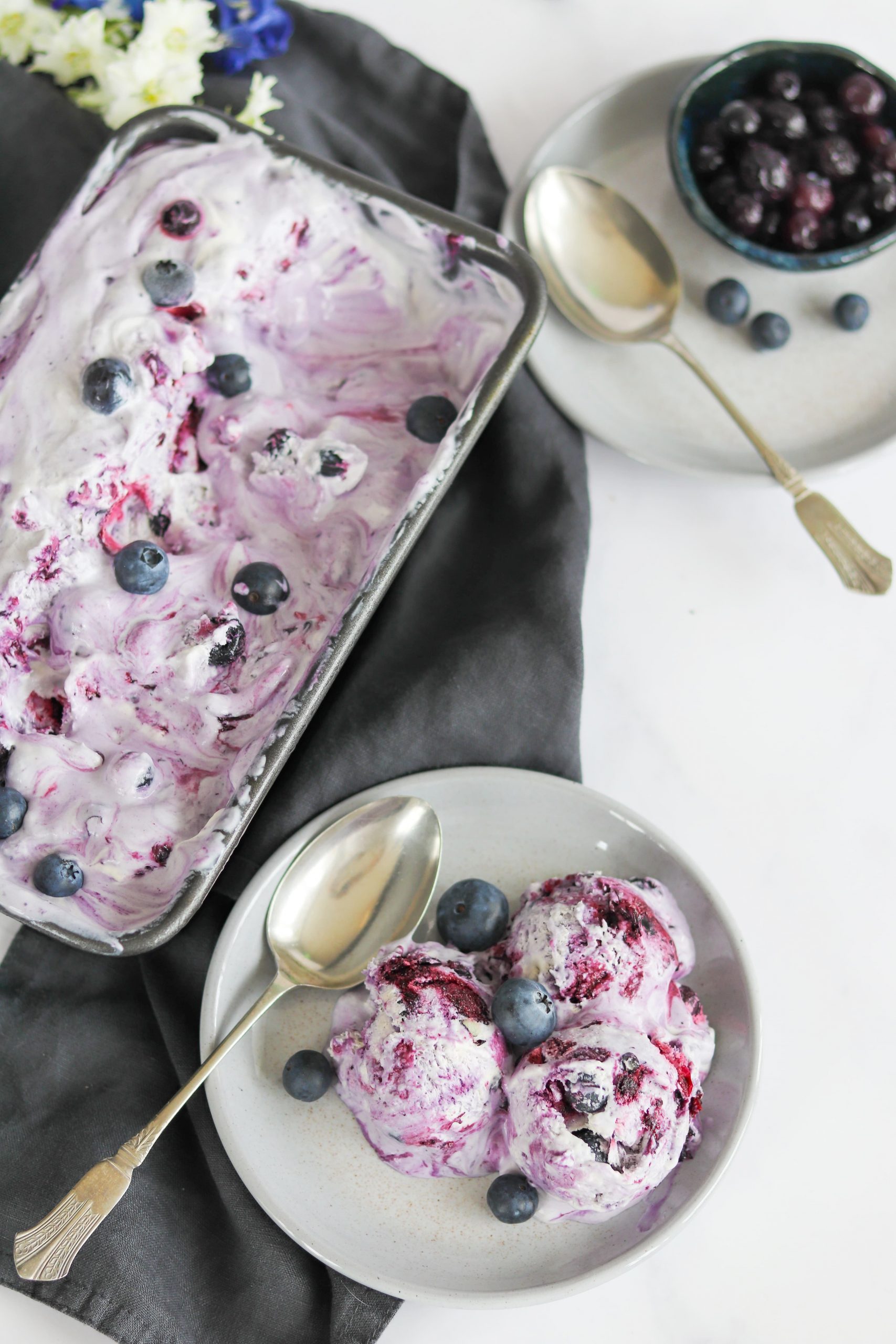 How to best enjoy this ice cream
A lot of shop bought ice creams are marketed as 'soft scoop'. This Blueberry Swirl Ice Cream is not one of these.
To enjoy it at it's best, get it out of the freezer and leave it on the side to warm up slightly for around ten minutes.
If is it a really hot day, it might be better to put it in the fridge for thirty minutes or so to soften slightly before serving it.
Letting it warm up slightly will make it a lot easier to scoop which is definitely needed if you are serving it in a cone!
One of my favourite ways to enjoy this Blueberry Swirl Ice Cream is to make a milkshake with it. I add it to a blender with some milk and a few more blueberries and then you have a delicious milkshake!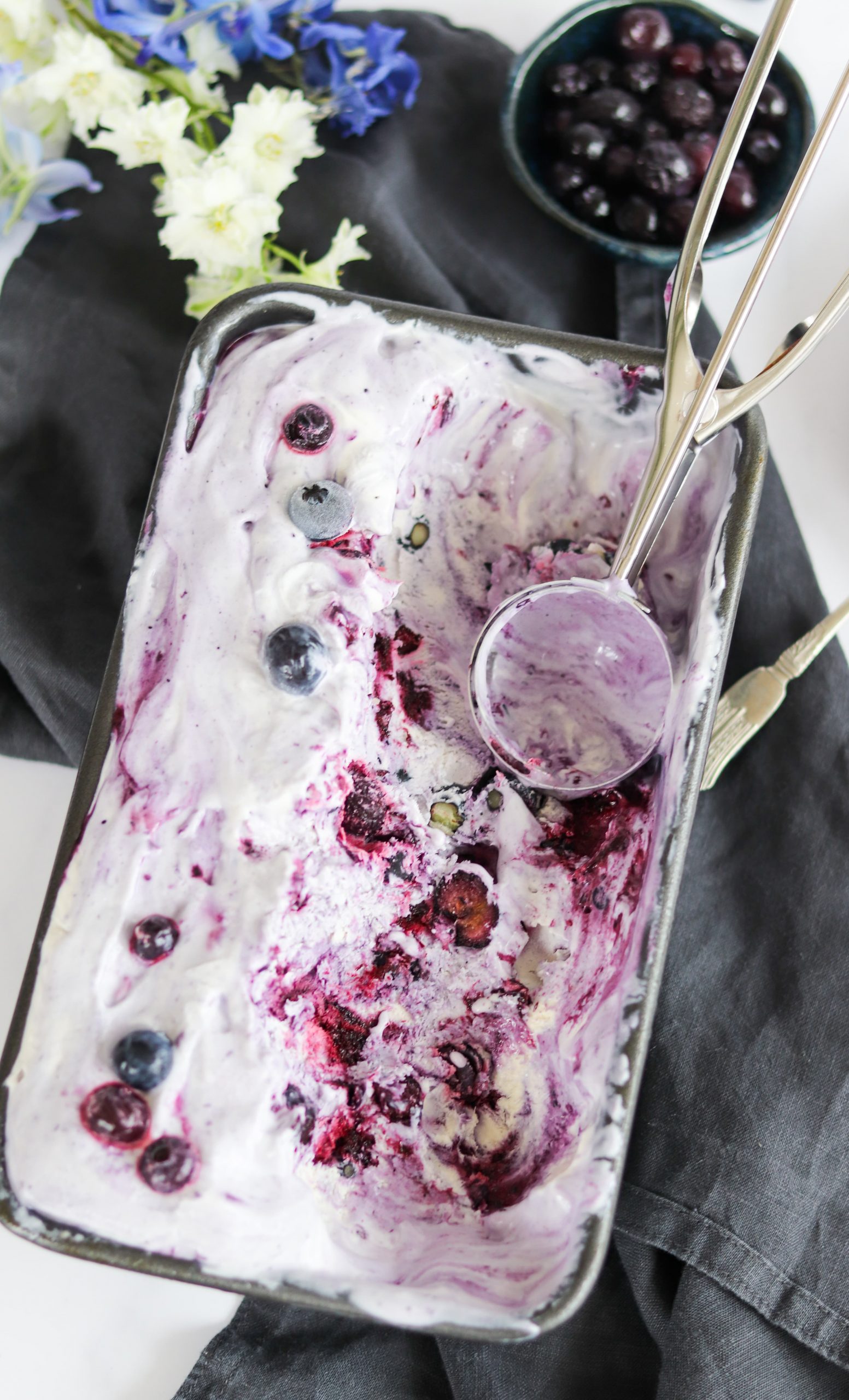 How long can you store this ice cream for?
Homemade ice cream is always best eaten quicker than you might need to with shop bought ice cream. I would recommend eating this Blueberry Swirl Ice Cream within 2-3 weeks of making it.
If it is left much longer than this then there is a higher risk of it crystallising. Although this isn't the end of the world, it would make the ice cream more icy than intended.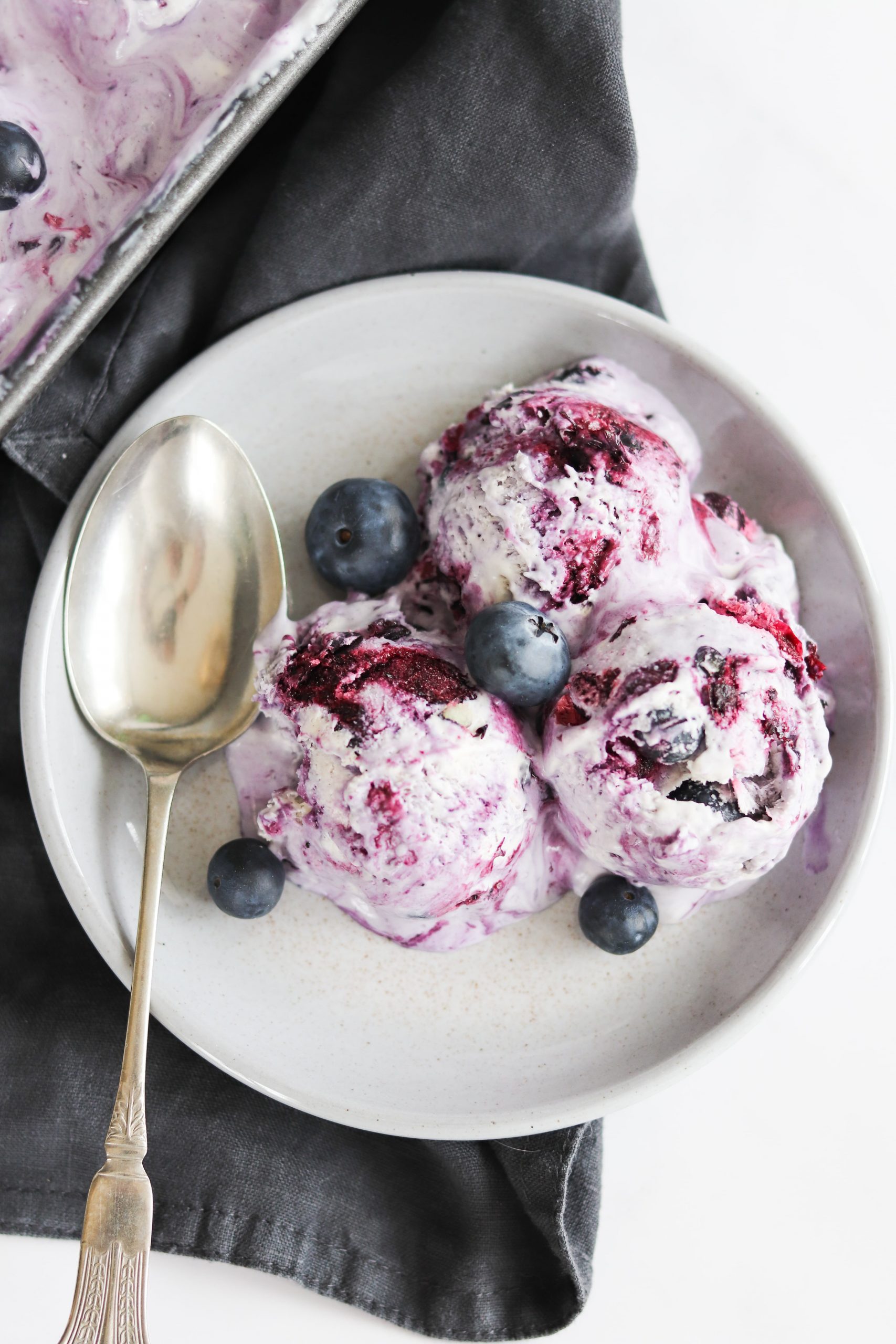 How is best to store the ice cream?
If I wasn't making this Blueberry Swirl Ice Cream to be photographed, then I would have frozen it in a Tupperware container.
A freezer safe, airtight container is the best way to store this ice cream. You need it to be airtight so that extra air doesn't get into the ice cream.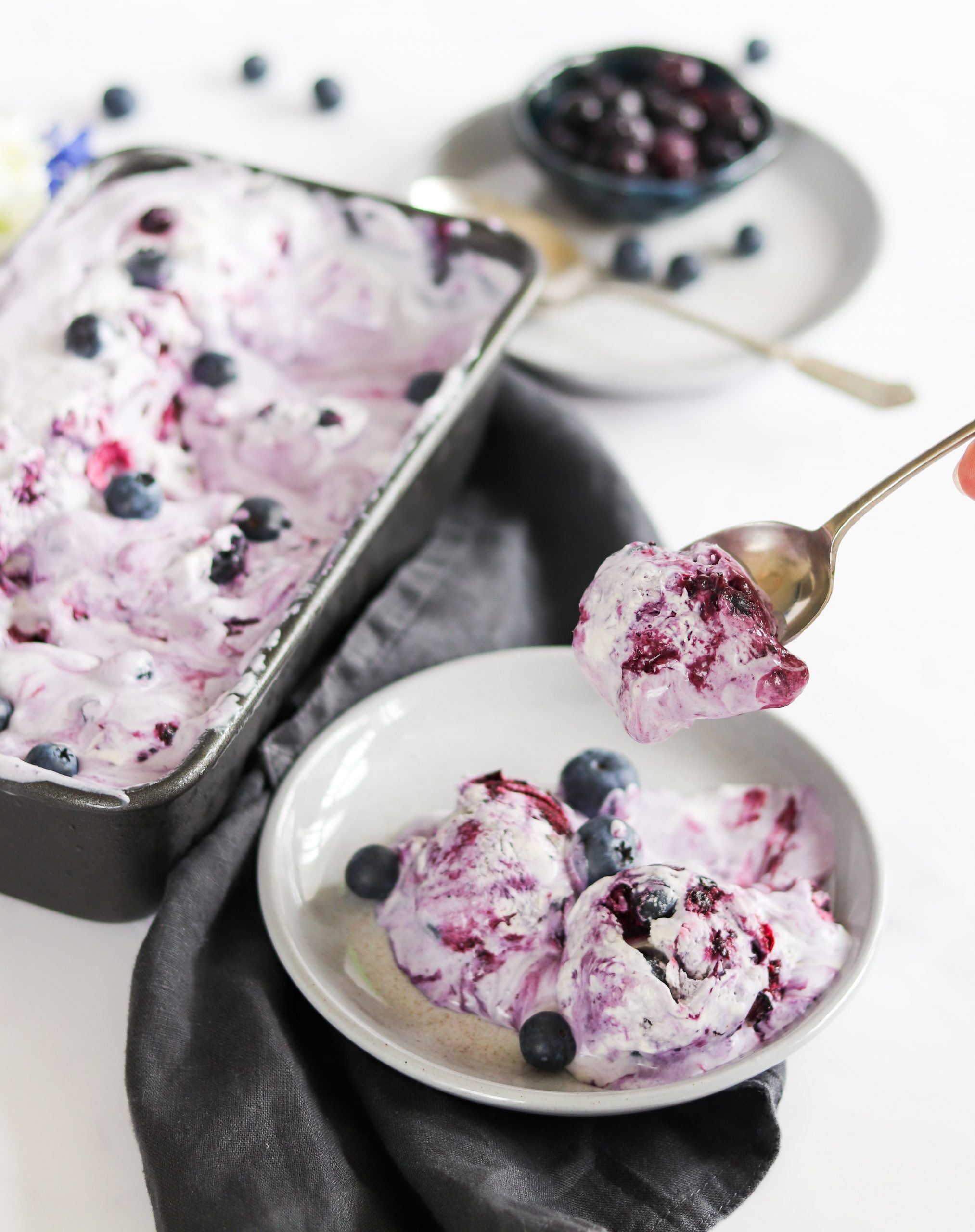 Customise your blueberry swirl ice cream
This ice cream is absolutely delicious as it is. However if you prefer you could use all of the blueberries in the compote if you would prefer not to have whole blueberries in the final ice cream.
You could also completely mix the compote through the ice cream instead of creating a swirl if you'd prefer.
To create a slightly different recipe, you could add some lemon to the ice cream. Blueberry and lemon work really well together so this would be delicious.
I would add lemon juice instead of water to the compote and add the zest of a lemon too.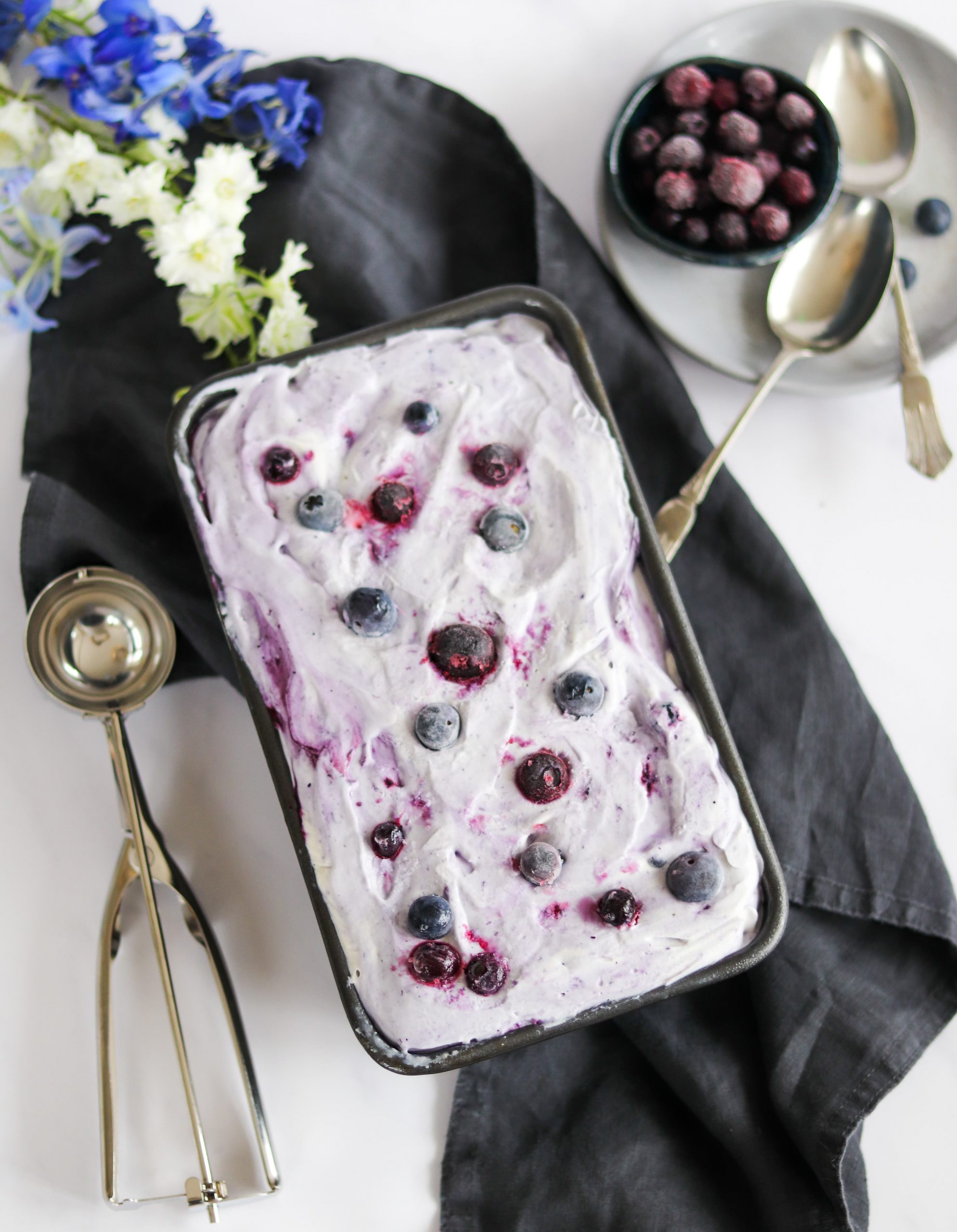 Other recipes you might like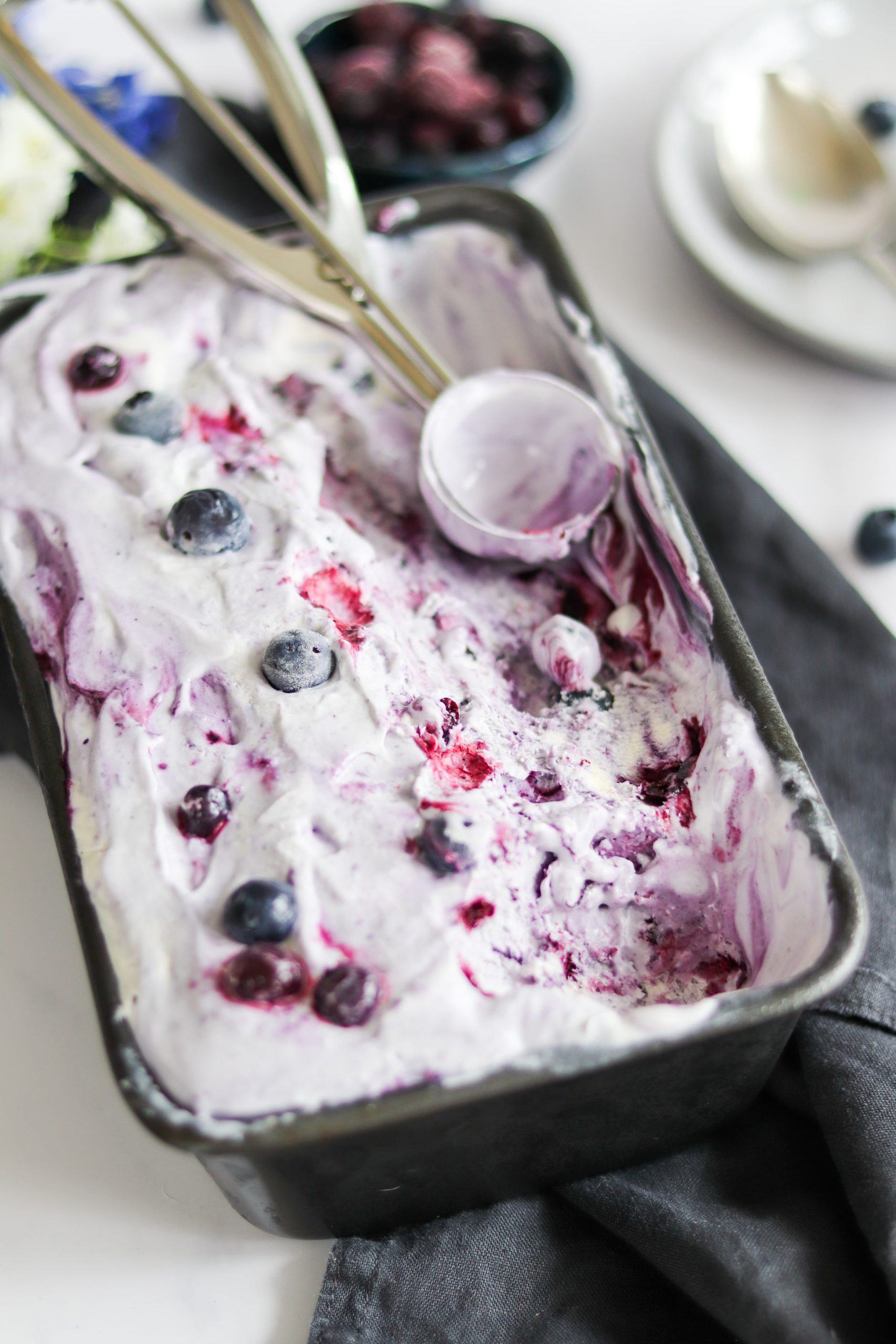 Pin for later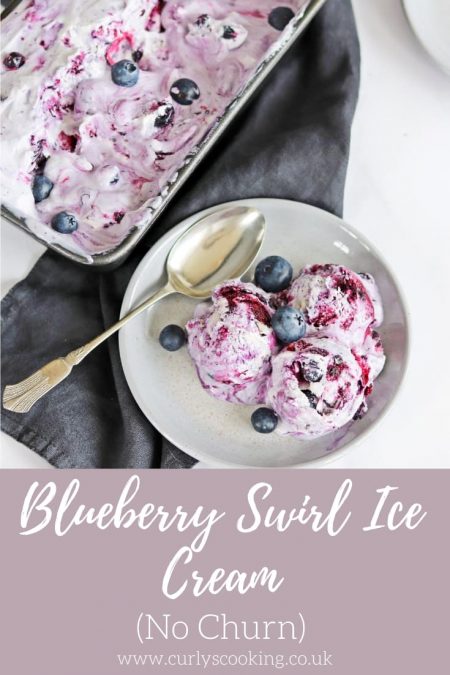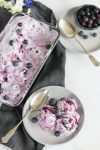 Blueberry Swirl Ice Cream (No Churn)
If you haven't eaten Blueberry Ice Cream before you are missing out! This Blueberry Swirl Ice Cream (No Churn) is so simple to make and incredibly delicious.
Ingredients
For the blueberry compote
300

g

blueberries

2

tbsp

caster sugar

2

tbsp

water
For the ice cream
600

ml

double cream

397

g

condensed milk

(1 tin)

100

g

blueberries

(plus a few extra)
Instructions
Add the blueberries, sugar and water to a small pan. Cook on a medium/low heat for 5-10 minutes until the blueberries have broken down. Stir frequently

Take the compote off the heat and allow to cool slightly

Add the cream and condensed milk to a large bowl and whisk until it becomes thick soft peaks

Add in the blueberry compote and whole blueberries

Fold the compote and blueberries through the cream mixture

Tip into your container (2lb/900ml capacity). Scatter with a few additional blueberries and put in the freezer for 12 hours
Recipe Notes
Be careful not to over whip the cream and condensed milk. Keep watching it and stop when it becomes thick. If you whip too much it will start to become butter!
Freeze and eat within 2-3 weeks to avoid crystallisation.
Nutritional information is given as a guide only.
Nutrition Facts
Blueberry Swirl Ice Cream (No Churn)
Amount Per Serving
Calories 305
Calories from Fat 189
% Daily Value*
Fat 21g32%
Cholesterol 80mg27%
Sodium 61mg3%
Potassium 186mg5%
Carbohydrates 26g9%
Protein 4g8%
Vitamin A 841IU17%
Vitamin C 4mg5%
Calcium 128mg13%
Iron 1mg6%
* Percent Daily Values are based on a 2000 calorie diet.
Linking to