These Blueberry & Lemon American Pancakes are so light and fluffy. They're packed with deliciously sweet blueberries which along with the lemon give these pancakes a lovely fresh taste.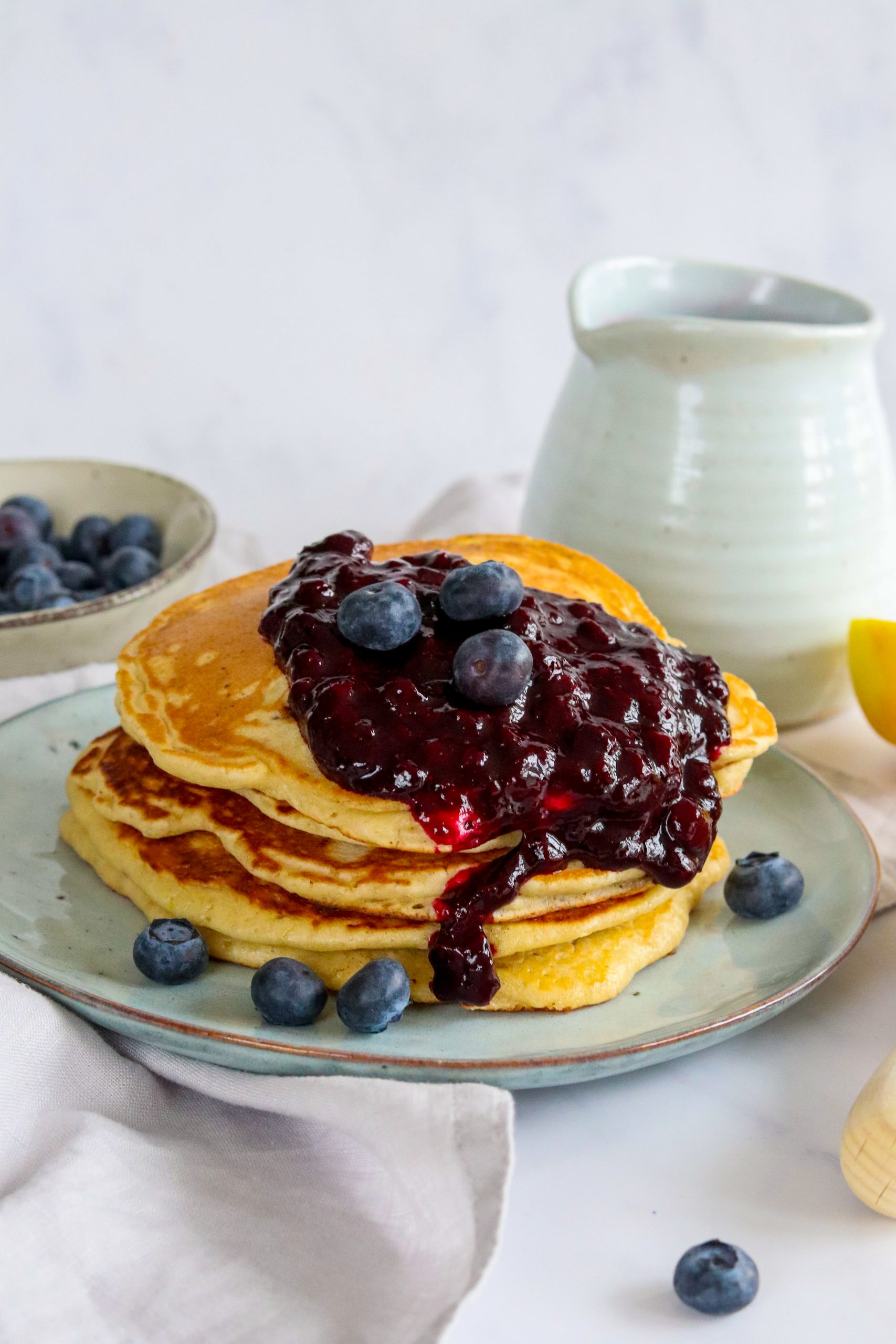 What are American Pancakes?
There is one main difference between American style pancakes and British style pancakes/crepes. This is the raising agent.
With crepes there is no rising agent so they stay perfectly thin which makes them great for stuffing and rolling.
American style pancakes typically have a raising agent which gives them their lovely thick fluffiness.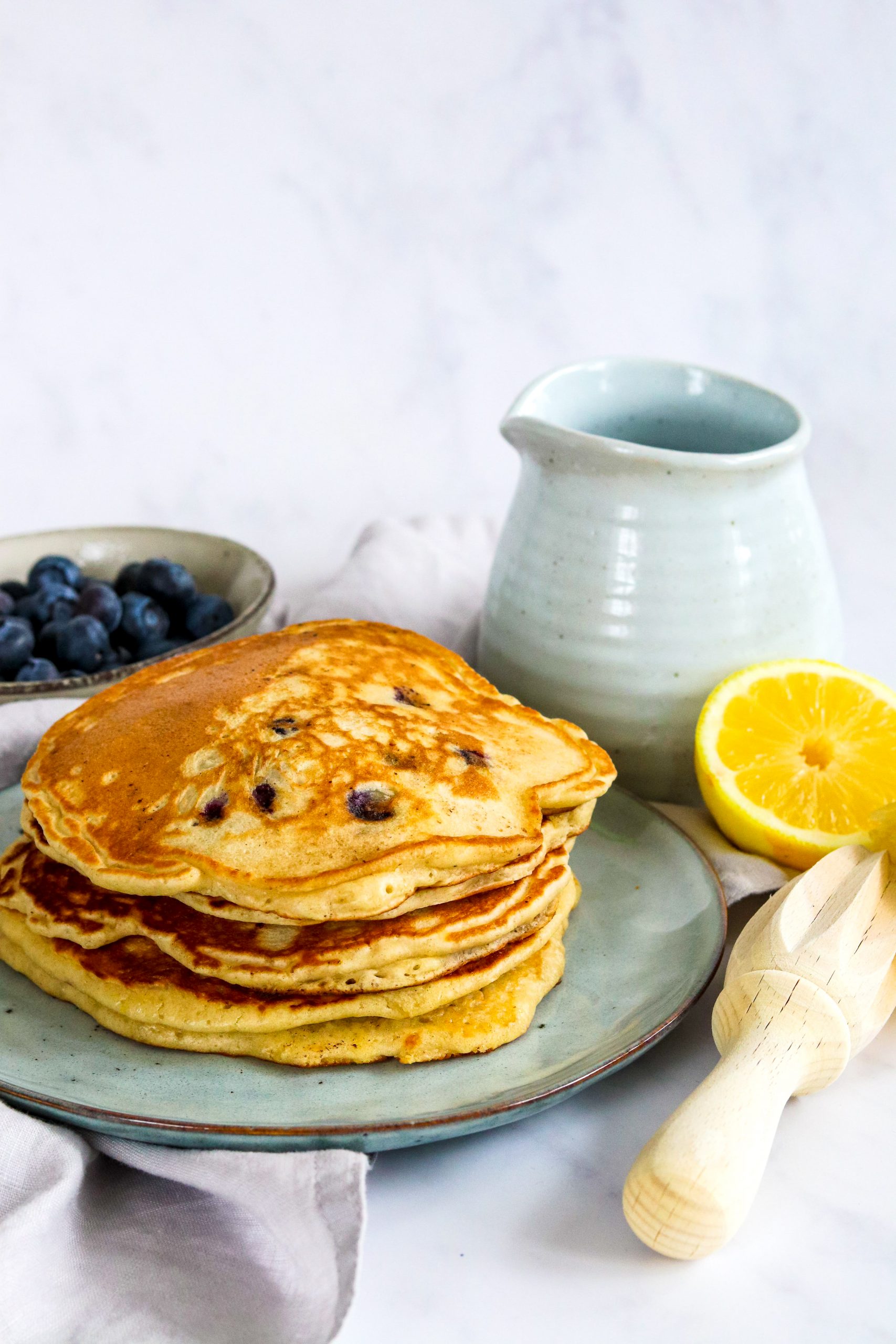 Blueberry and lemon is a match made in heaven
Blueberry and lemon is a well known and delicious flavour combination. It is one of my personal favourites.
The freshness of the blueberries works so well with the zesty lemon to make these delicious Blueberry & Lemon American Pancakes.
Check out some other blueberry & lemon flavoured recipes: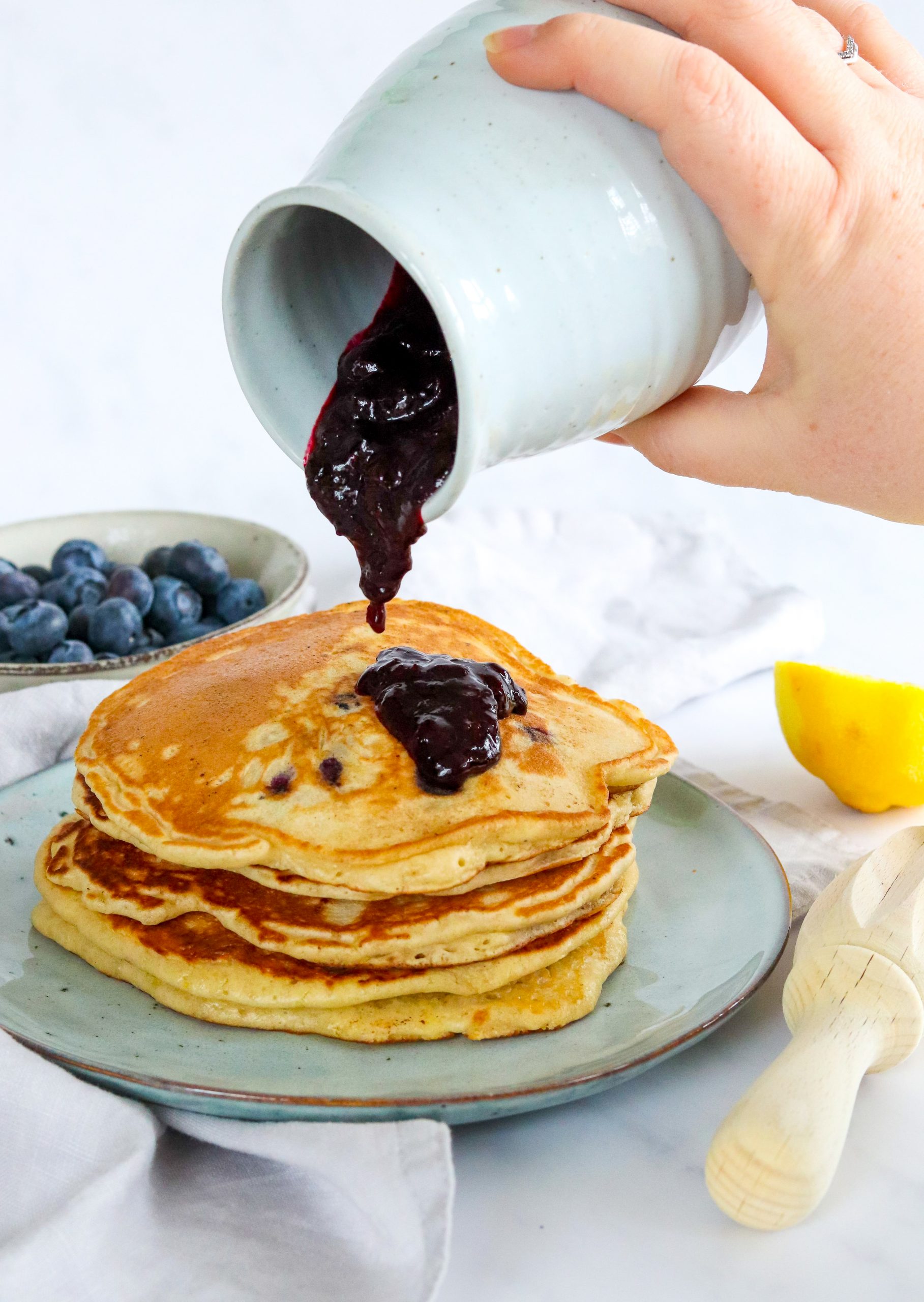 Which blueberries are best to use?
For these pancakes, you can use either fresh or frozen blueberries.
Fresh blueberries tend to be bigger and a bit juicier in my opinion so I do tend to use these for the pancakes.
Frozen blueberries will work just as well. You don't need to defrost the blueberries before you use them, just add them straight to the batter.
I add the blueberries just before I am going to make the pancakes, whether I am using fresh or frozen, so the juice doesn't run into the batter too much.
This is more likely to happen with frozen blueberries if they start to defrost and release their juice.
I prefer to use froze blueberries for the compote. As they are going to break down into a thick sauce I think frozen work perfectly for this.
Frozen blueberries are so handy to have so you can make pancakes whenever you want them!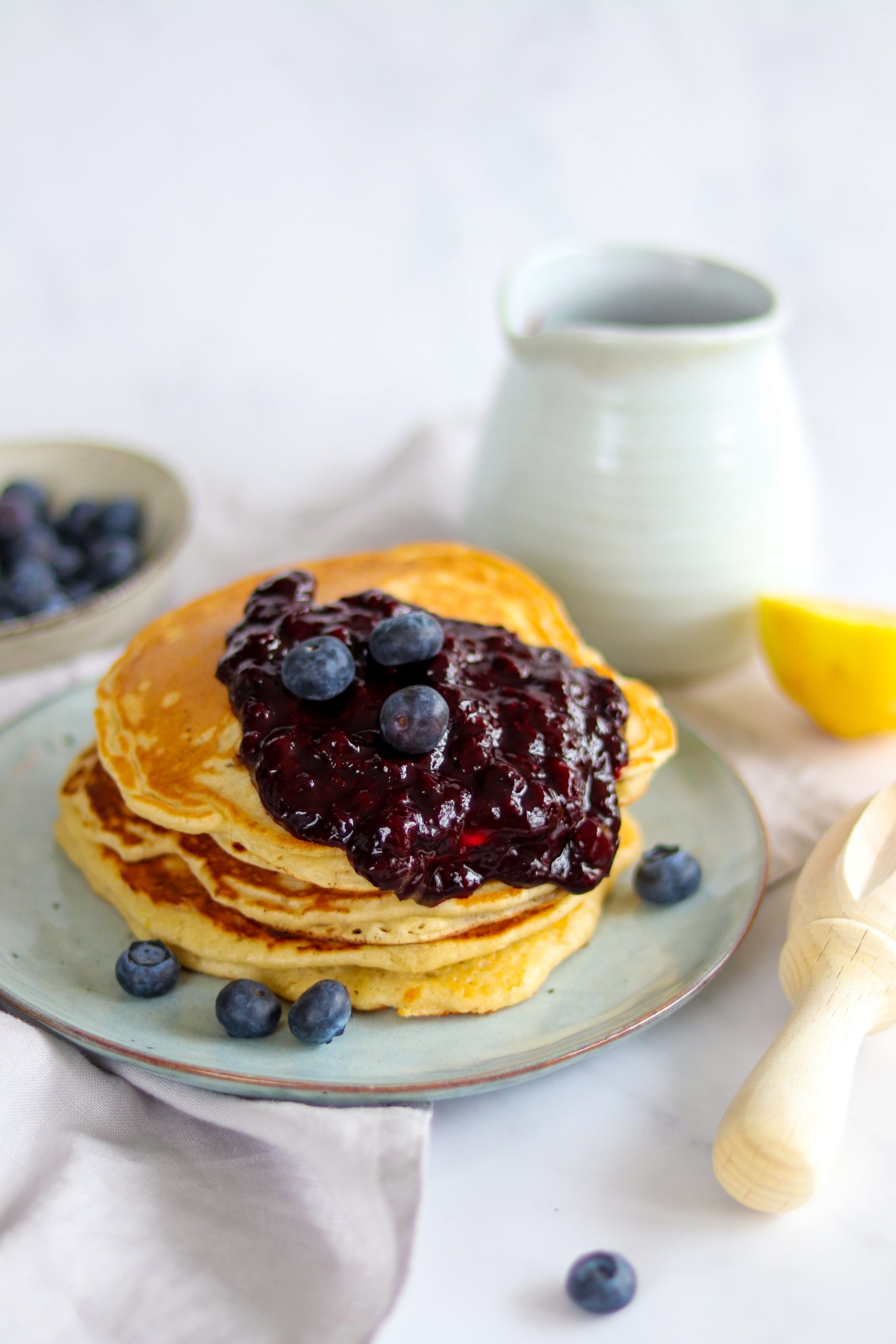 How to make the blueberry compote
These Blueberry & Lemon American Pancakes are delicious as they are, but the compote takes them to the next level.
It is so simple to make that I really do recommend you give it a try!
You just need to add the blueberries, lemon juice, lemon zest and sugar to a pan and heat through. Cook for 5-6 minutes, stirring occasionally until the berries burst and release their juice.
Leave the compote to cool slightly and then pour over your pancakes and enjoy!
I have added a small amount of sugar to the recipe because I don't like things overly sweet. Once the compote is made, give it a taste – be careful because it'll be hot. You can always add a little more sugar if you like.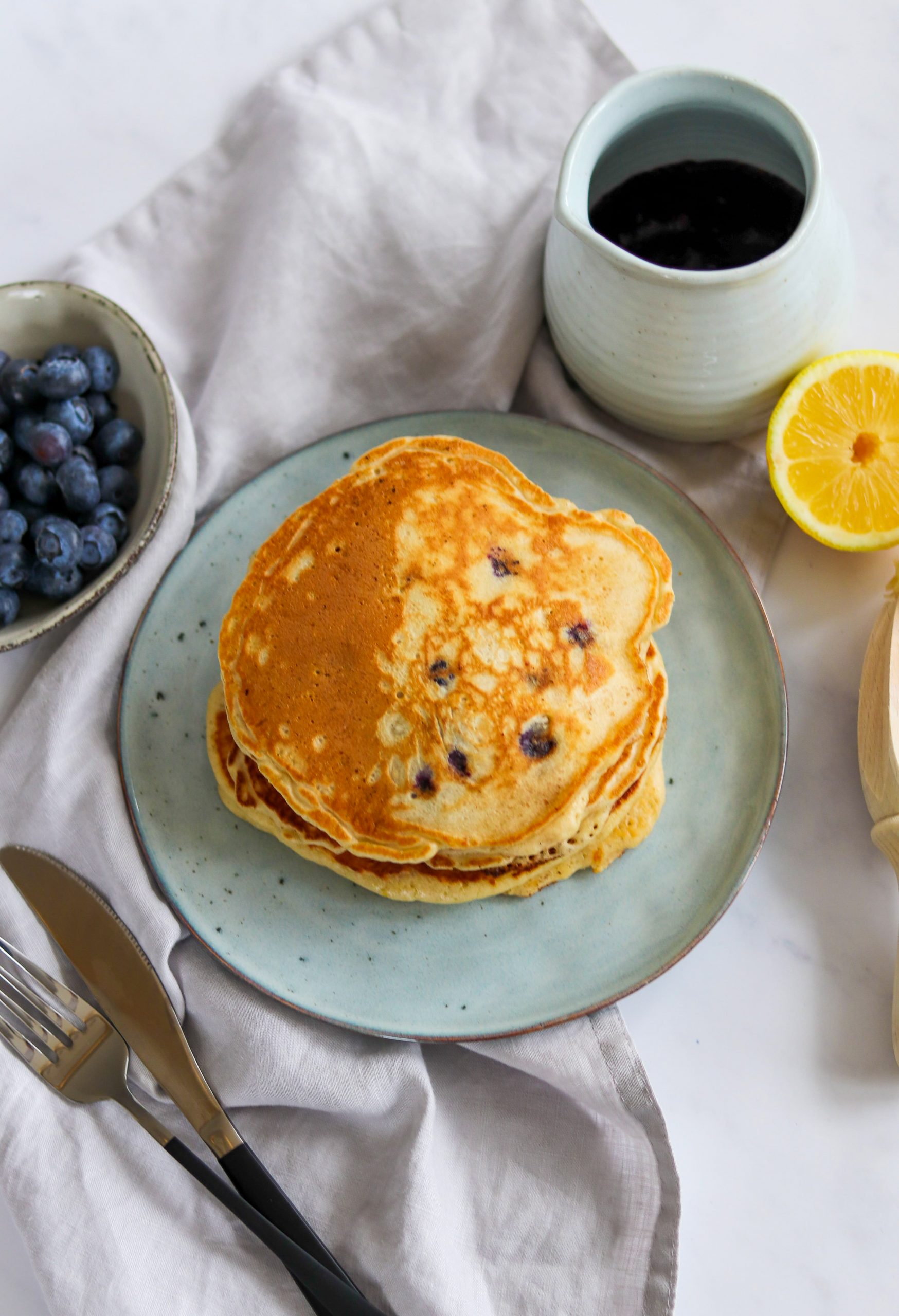 Does the first pancake always end up in the bin?
It is widely considered that the first pancake is always a dud and will end up in the bin.
Although I have never binned a pancake, my first can sometimes be not as pretty as the others.
This is more often that not down to practice and not the pancake gods! I find it is usually because I am getting my pan to the right temperature.
Your first might not be your prettiest pancake, but it definitely won't need to go in the bin!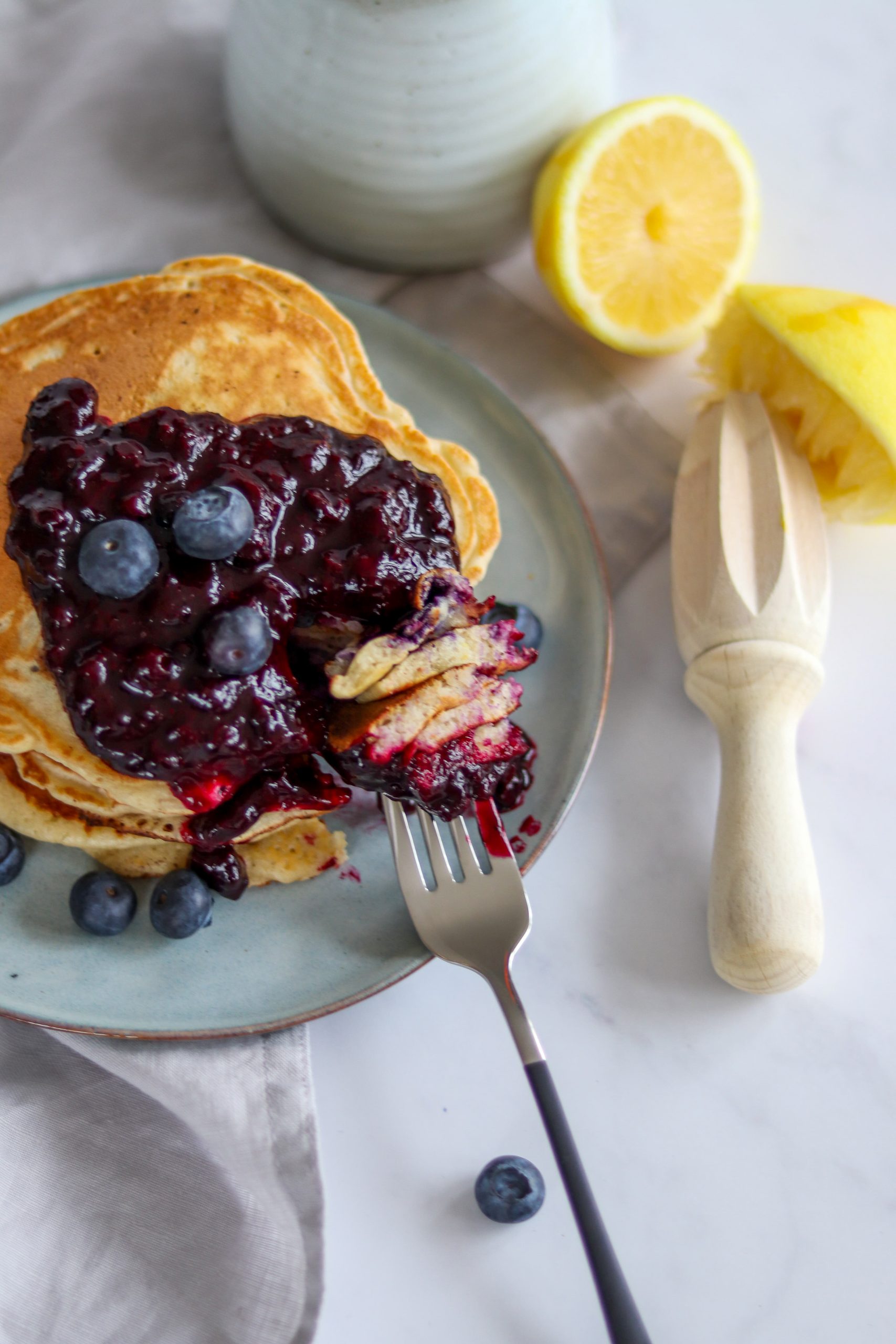 Don't add too much oil/butter to the pan
One easy mistake to make is to add too much butter or oil to the pan and you start to fry the pancakes.
You can use spray oil, vegetable/sunflower oil or butter for the pan, just make sure it is only very lightly greased.
You need to use a good non stick pan for pancakes. The butter in the batter helps to make sure the pancakes don't stick so the fat you add to the pan is just an extra guarantee.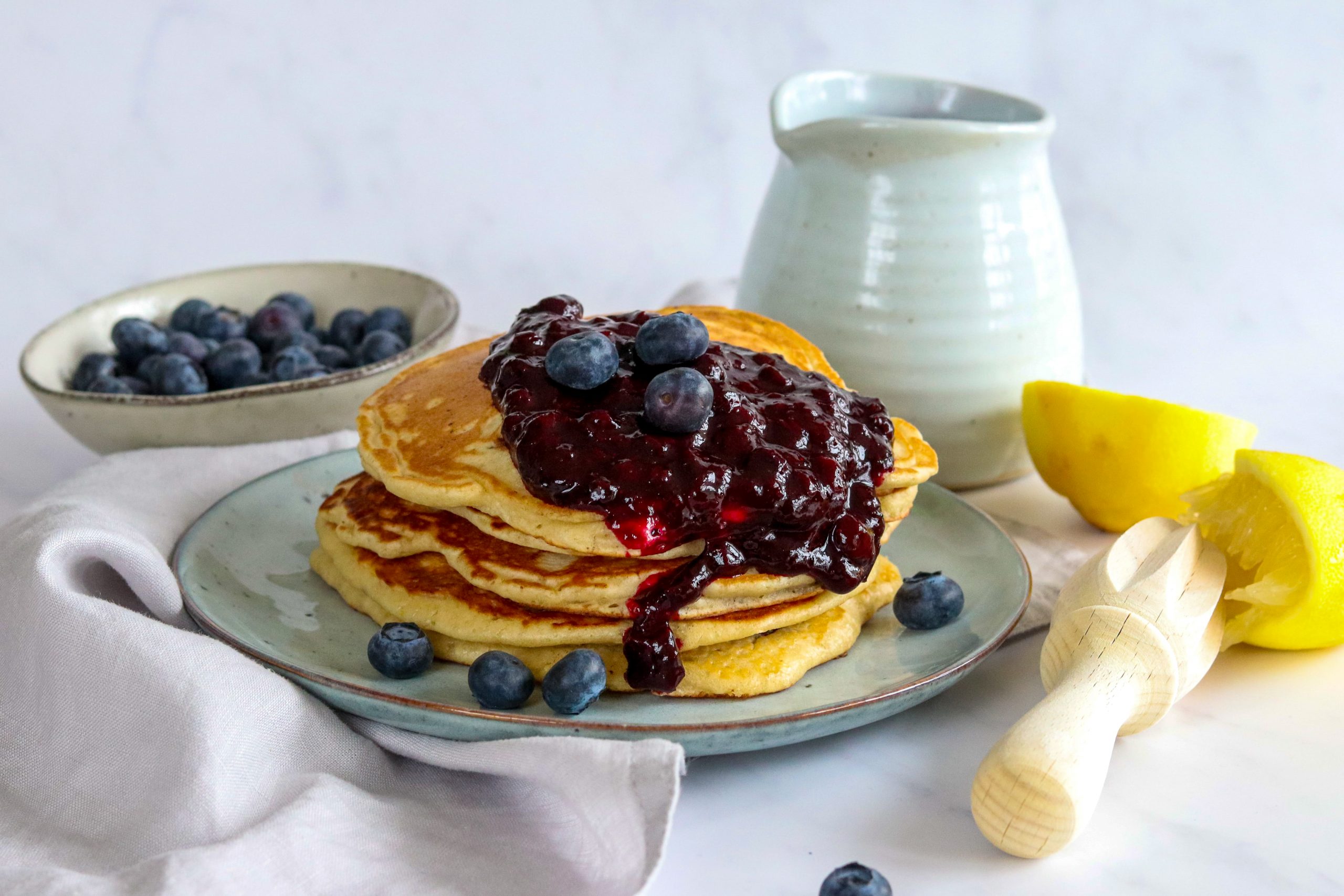 Do you have to let pancake better rest?
I have always let my pancake batter rest, even if it is only for 10-15 minutes.
Allowing your pancake batter to rest has two advantages:
It allows the flour to absorb the milk. This helps get rid of any remaining lumps that might be in your batter. It also thickens the pancake batter
It allows the baking powder to evenly distribute in the batter and create even, fluffy pancakes
If you are in a rush and don't let your pancake mix rest, your pancakes will still be delicious. Resting is just a way to get them even better; plus it gives you time to make the compote.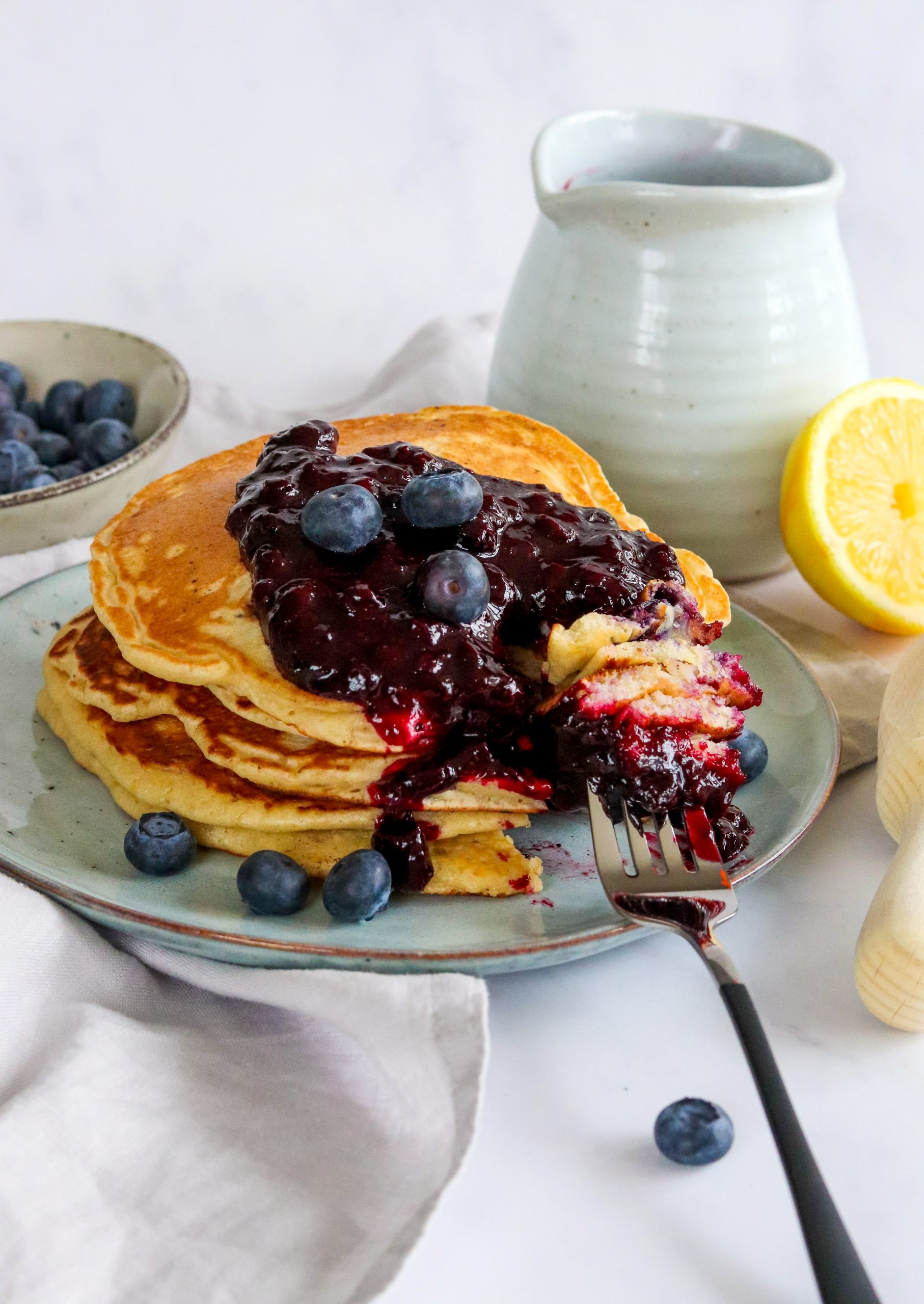 How many pancakes will this make?
There very much depends on how big you make your pancakes!
I like to use my largest mechanical ice cream scoop or an American ¼ cup measure to try and make each pancake as similar in size as possible.
This makes six large pancakes. Obviously if you make them smaller, you will be able to make more pancakes.
I think the recipe below would feed two to three people; depending on how hungry they are!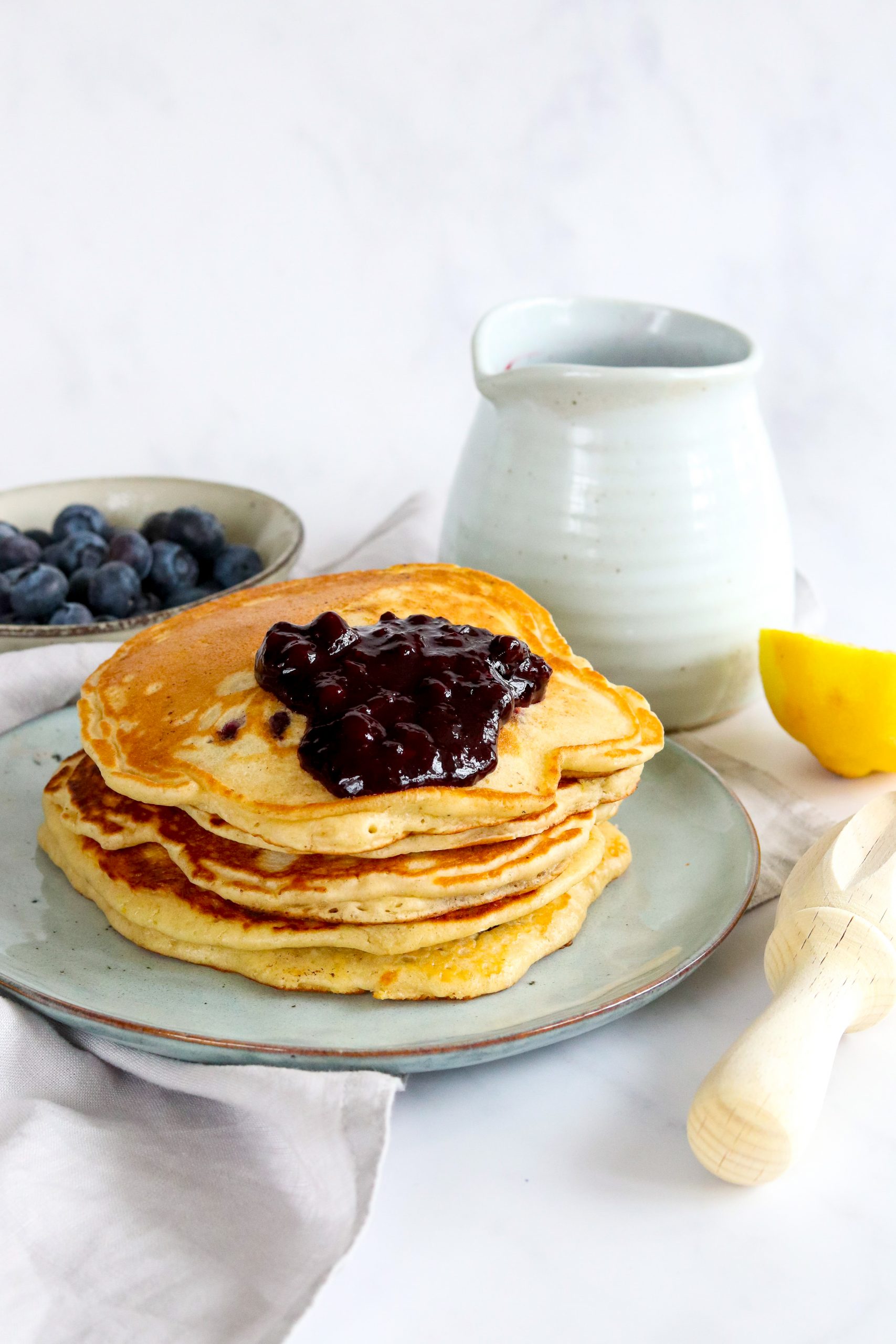 Can you reheat these pancakes?
Even though this recipe doesn't make a huge amount of pancakes, you still might want to eat them all at once.
You can keep them in the fridge for 2-3 days and reheat them when you are ready to eat them. I would lay them in a single layer on a plate and heat in the microwave for 20-30 seconds or until hot.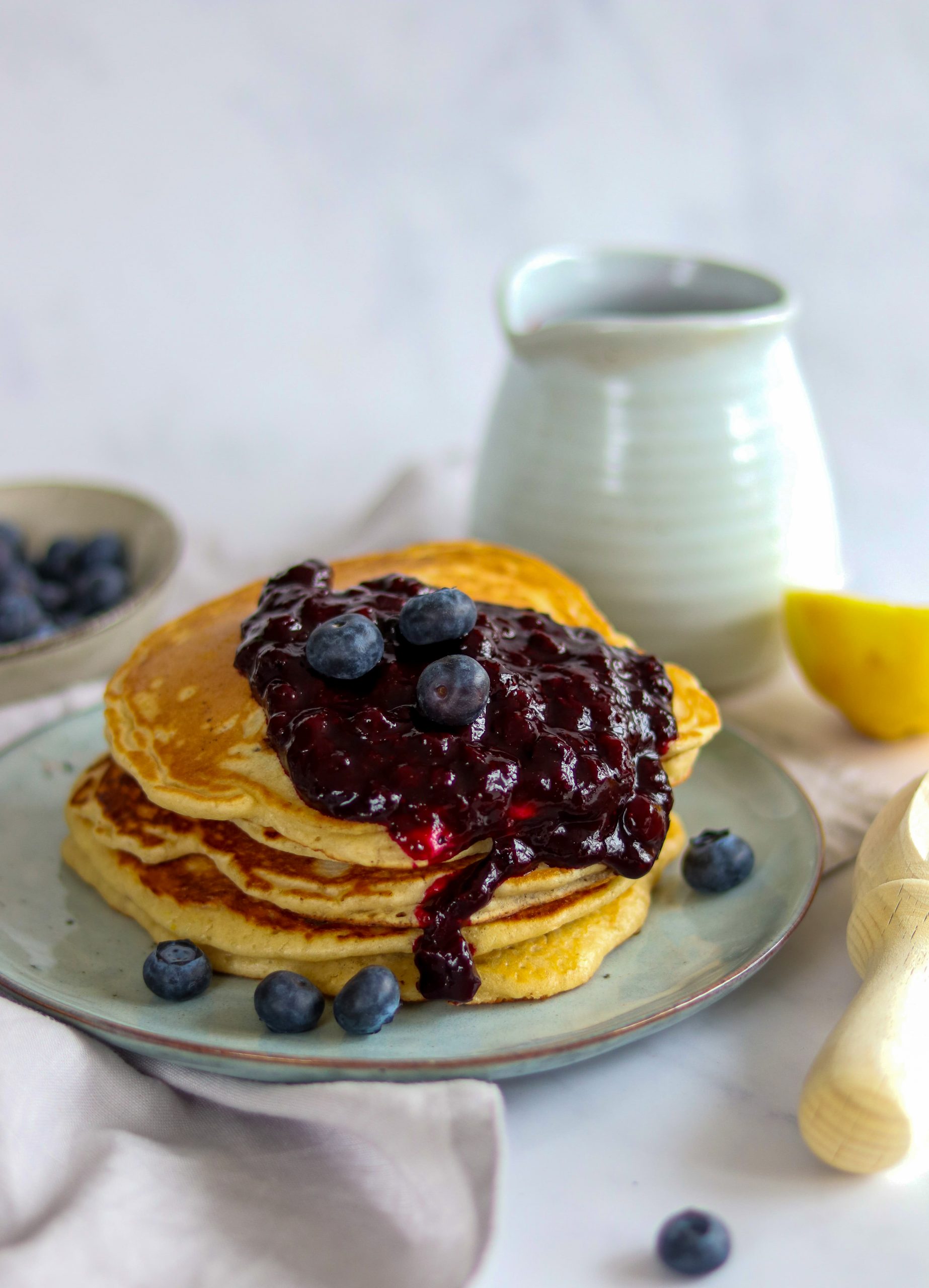 Other recipes you might like
Pin for later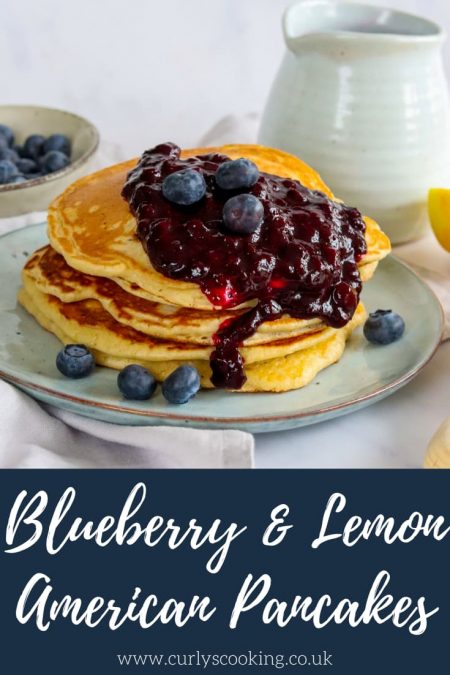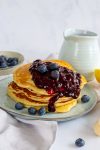 Blueberry & Lemon American Pancakes
These Blueberry & Lemon American Pancakes are so light and fluffy. They're packed with deliciously sweet blueberries which along with the lemon give these pancakes a lovely fresh taste.
Ingredients
For the pancakes
135

g

plain flour

1

tsp

baking powder

½

tsp

salt

2

tbsp

caster sugar

130

ml

semi skimmed milk

1

large egg

¼

tsp

vanilla extract

½

tsp

lemon juice

30

g

melted butter

cooled slightly

½

lemon

zested

100

g

blueberries

Spray oil
For the blueberry compote
150

g

blueberries

1

tbsp

lemon juice

20

g

caster sugar

½

lemon

zested
Instructions
Add the flour, baking power, salt and caster sugar into a large bowl

In a jug add the milk, egg, vanilla extract and lemon juice and whisk lightly before adding the melted butter and whisking again

Pour the milk mix into the flour mix and whisk until there are no big lumps

Let the batter rest for around 15 minutes while you make the compote

Add the compote ingredients to a pan over a medium/low heat. Cook for 5-6 minutes until the berries have slightly burst and released their juices.

Turn off the heat and leave the compote to cool while you cook the pancakes

Add the blueberries and lemon zest and gently stir to combine

Put a large frying pan on a medium heat and add a small amount of oil or butter. Once the pan has heated up, add a large spoonful of the batter. Remember to not overcrowd the pan

Once bubbles start to appear in the pancake they are ready to flip. Cook for up to a minute on the other side and then serve
Recipe Notes
Nutritional information is given as a guide only and may vary.
Nutrition Facts
Blueberry & Lemon American Pancakes
Amount Per Serving
Calories 378
Calories from Fat 27
% Daily Value*
Fat 3g5%
Cholesterol 58mg19%
Sodium 432mg19%
Potassium 335mg10%
Carbohydrates 64g21%
Protein 9g18%
Vitamin A 169IU3%
Vitamin C 10mg12%
Calcium 130mg13%
Iron 3mg17%
* Percent Daily Values are based on a 2000 calorie diet.
Linking to