Super moist carrot cupcakes with deliciously smooth cream cheese frosting. These Carrot Cake Cupcakes are perfect for people that prefer their cake without nuts and raisins – and for everyone else too!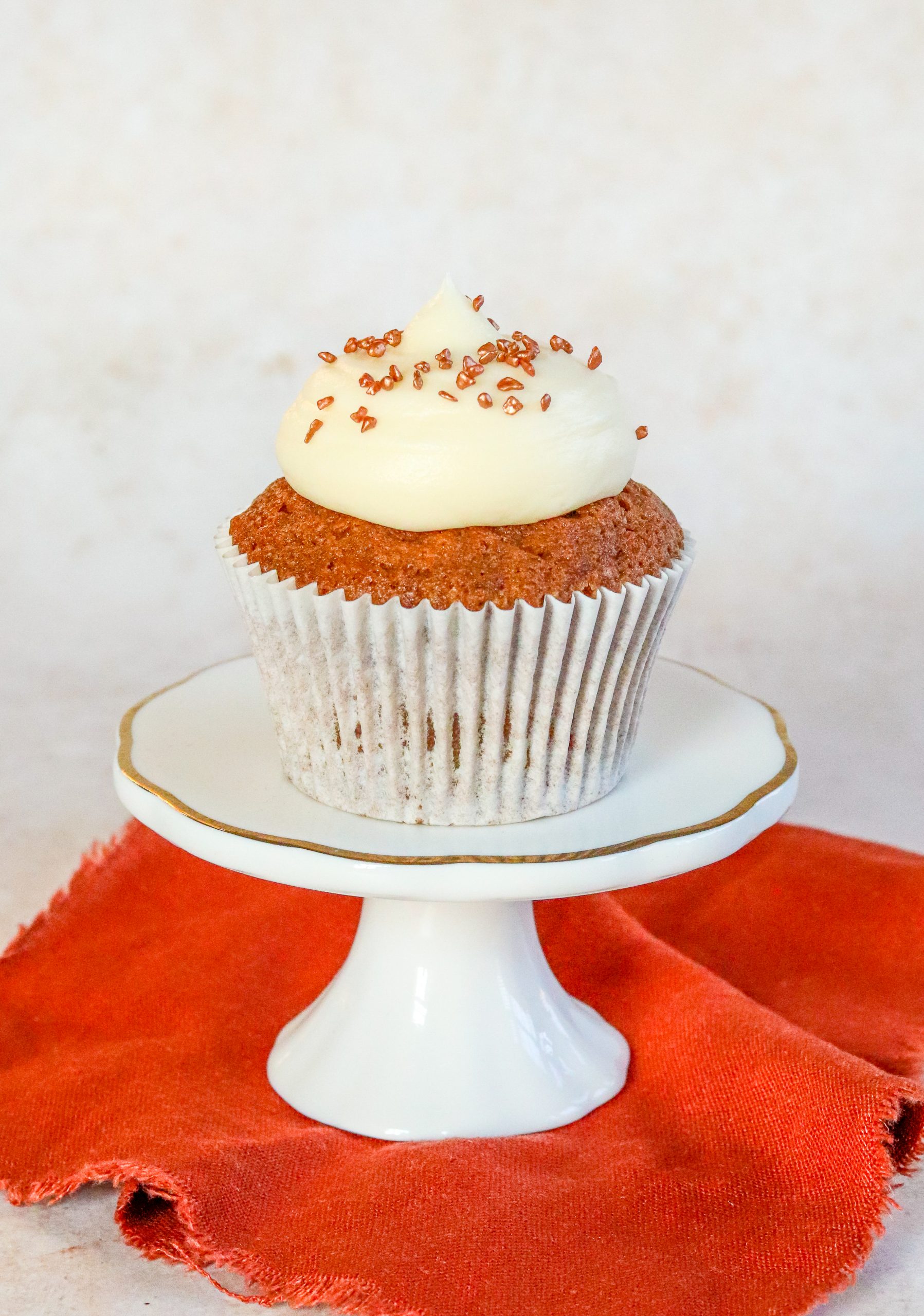 Carrot Cake Cupcakes – without nuts and raisins
For years I thought I didn't like carrot cake. That was because traditionally carrot cake has walnuts in the cake as well as often being decorated with additional walnuts.
I am not a fan of walnuts in general, but I'm also not a big fan of chunks of nuts in baking. I much prefer nuts to be ground and incorporated into the cake batter like my Pistachio Cake.
Raisins are also commonly found in carrot cake. Although I do like raisins, I know a lot of people really don't. So I decided to leave them out too in an attempt to make Carrot Cake Cupcakes that would appeal to the most people.
I know some carrot cake purists may think this is awful and all carrot cakes should have walnuts and raisins. But everyone that I know that has tried them hasn't missed the nuts or raisins at all.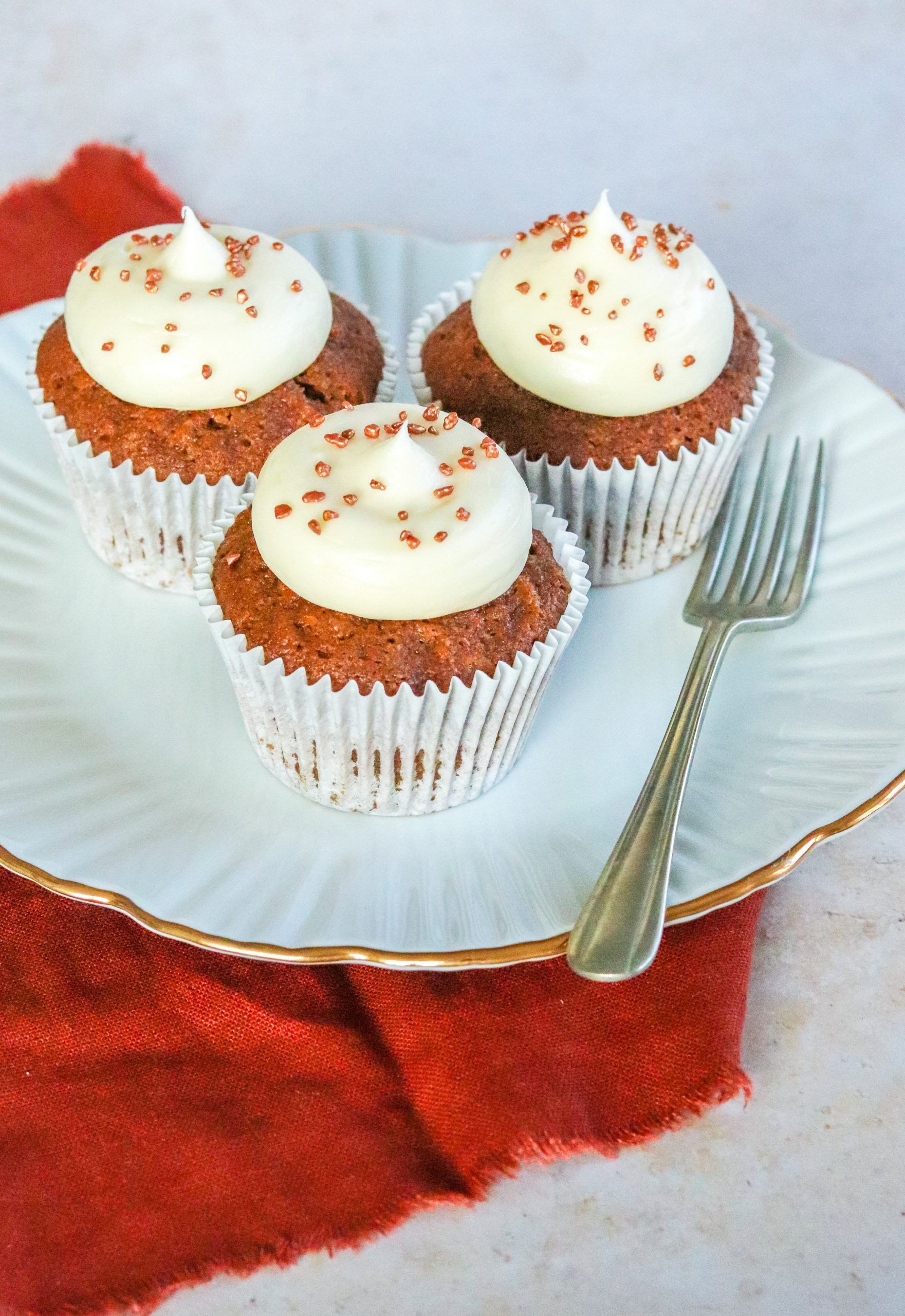 Recommended way to grate the carrots
I know grating carrots sounds like a pretty straightforward task, but it does matter!
You need to use a coarse grater because you want to be able to see the strands of carrot. If you use a small grater then you might end up with carrot mush which will be wetter.
My preferred method of grating the carrots is to use a food processor with a coarse grater attachment. If you have one, this is definitely the quickest and easiest way. It also provides the best texture in my opinion.
I always weigh the carrots once they are grated. This is because inevitably when you are grating them the ends will become too small to grate.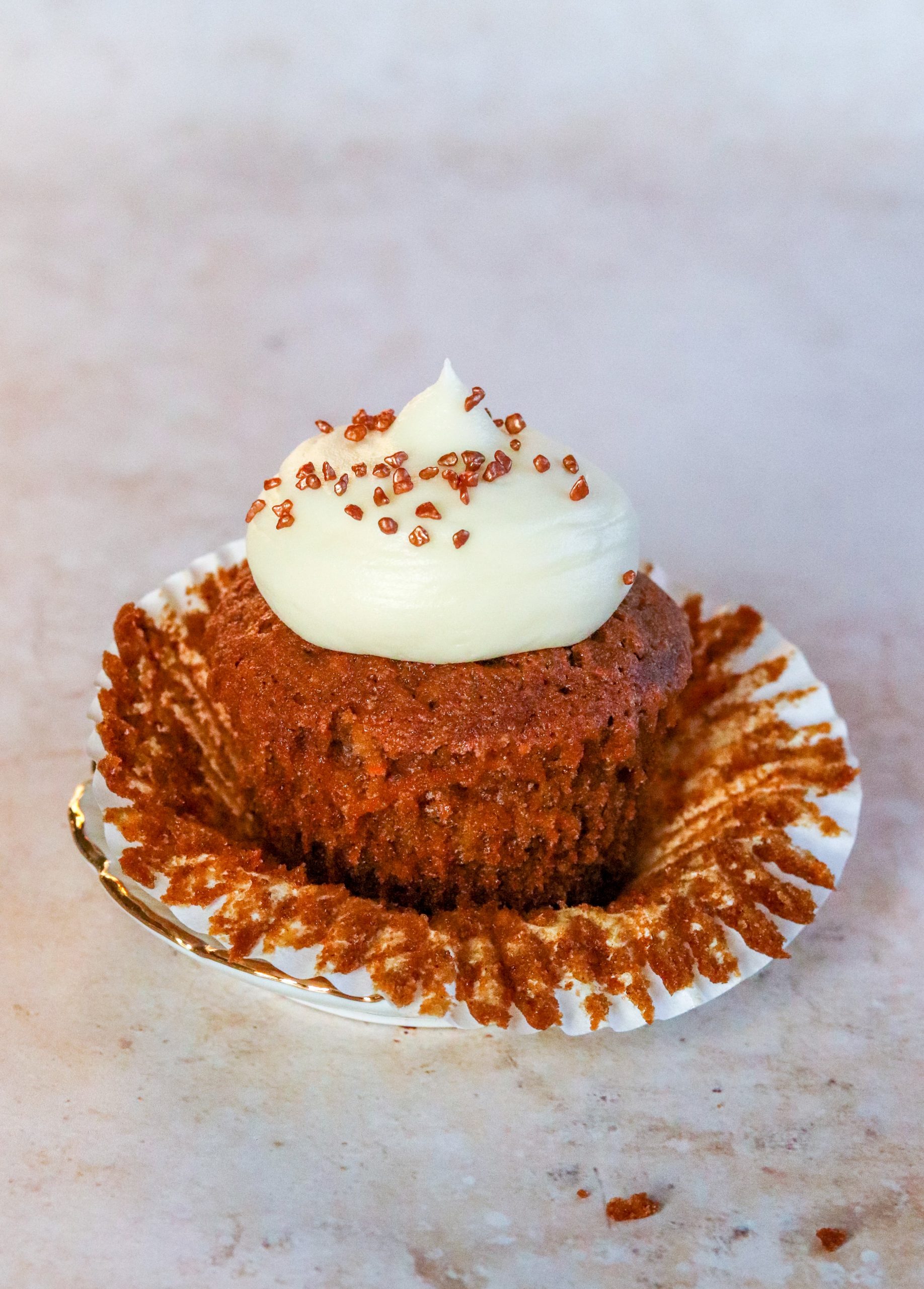 Which oil is best to use for carrot cake cupcakes?
When using oil in cakes, you need to use a plain flavourless oil.
I recommend using a sunflower, vegetable or canola oil as these don't have any strong flavours.
You wouldn't want to use something like olive oil as the flavour is too strong and would affect the flavour of the cake.
Using oil instead of butter keeps these carrot cupcakes incredibly moist and light.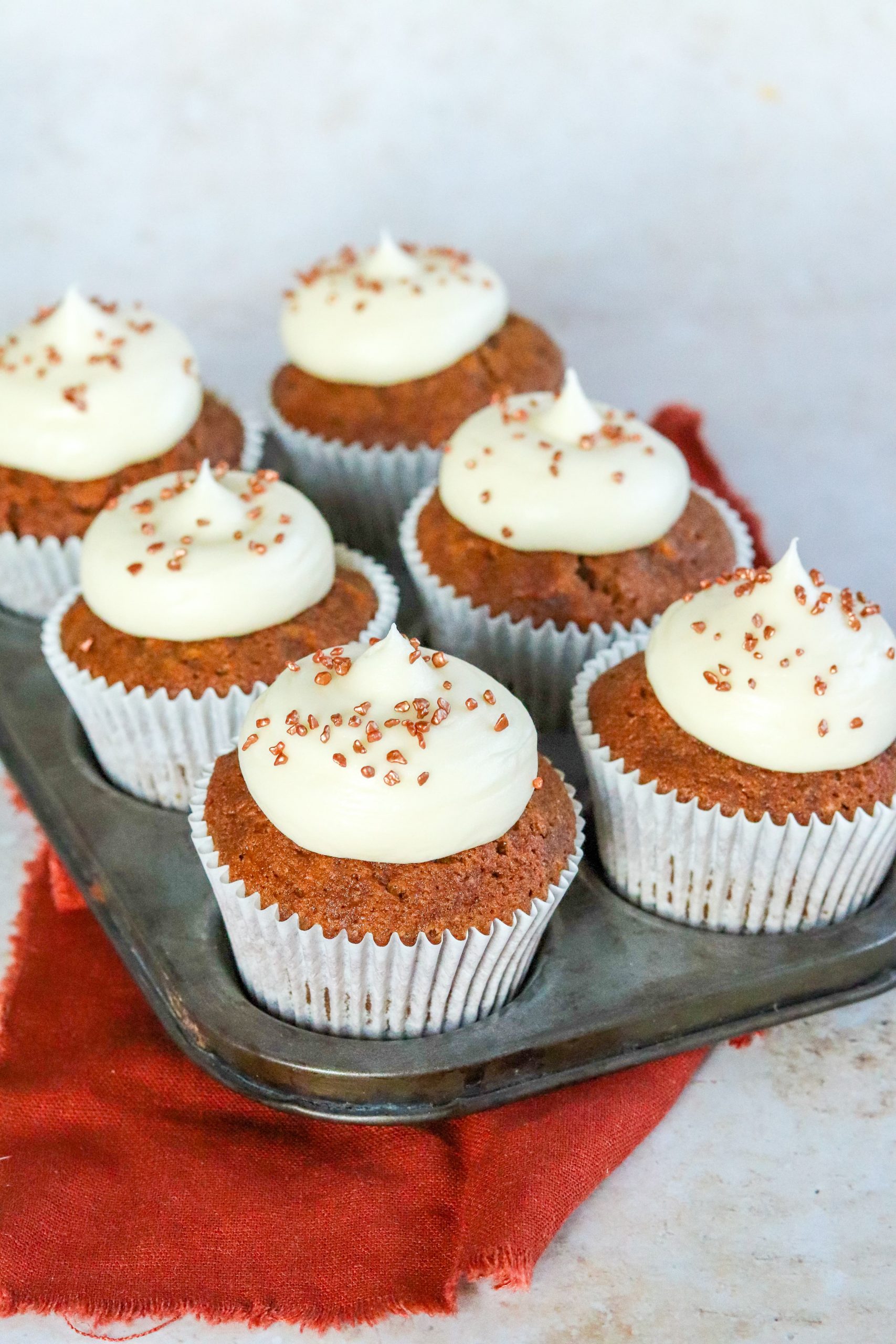 Can reduced fat cream cheese be used?
Being honest, no it really won't be the same.
You definitely need to use full fat cream cheese frosting. Reduced fat cream cheese would be too thin because it doesn't have the fat content needed to hold it's shape.
If you were to use reduced fat cream cheese, the frosting is likely to not hold it's shape and potentially run. It is very unlikely that you would be able to pipe it at all.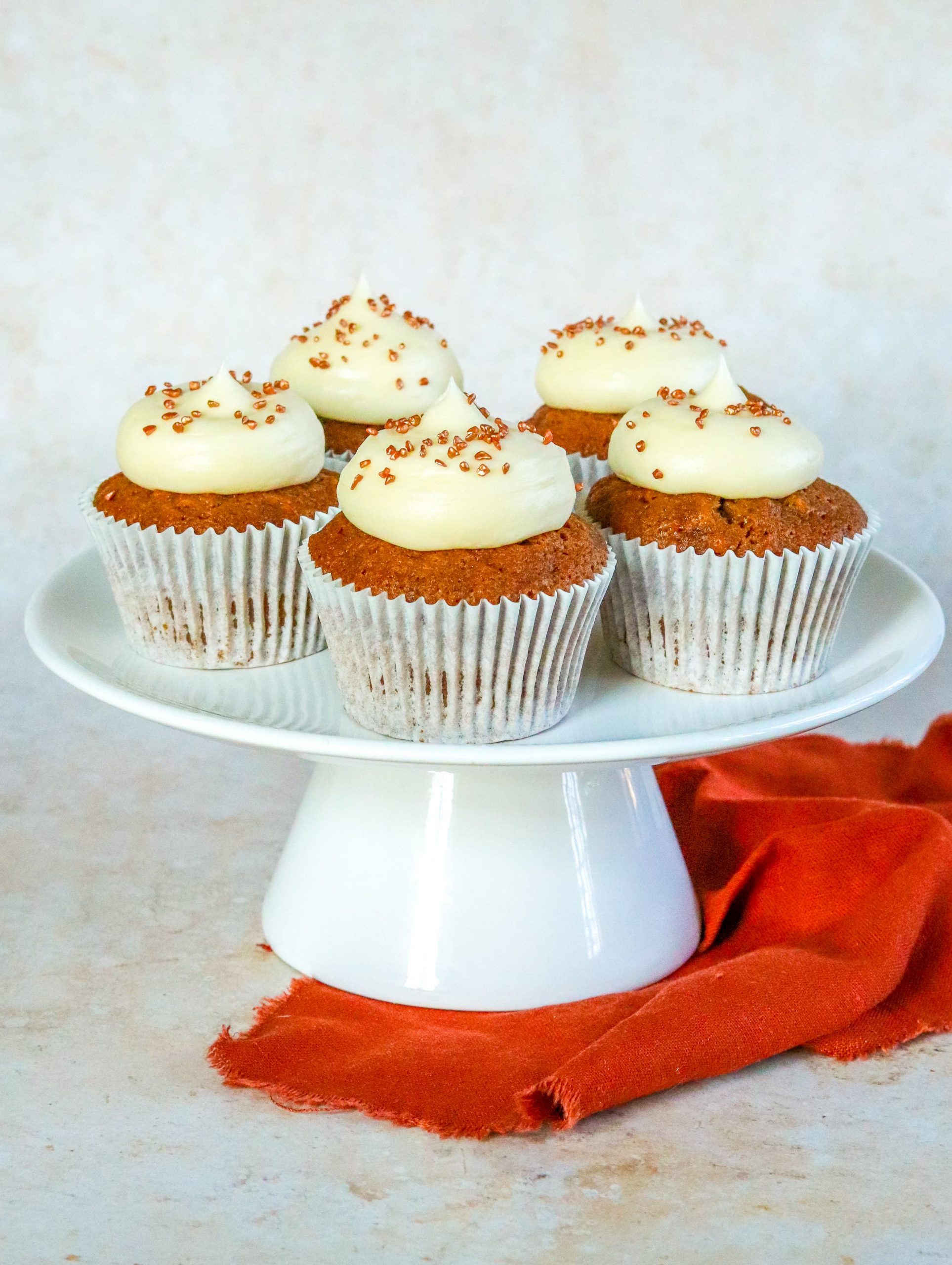 how to decorate the cupcakes
My top tip for making cream cheese frosting is to make sure your butter is at room temperature. The butter needs to be nice and soft so that it incorporates with the cream cheese and icing sugar without leaving any lumps.
I also like to beat it by itself before adding the other ingredients to make it as smooth as possible. If you use butter that isn't soft enough you run the risk of having small lumps of butter in your finished frosting.
Cream cheese frosting tends to be a little less firm than other frostings such as buttercream. This is why I use a very simple large round nozzle to pipe it onto the cupcakes.
If you use more intricate nozzles there is the risk the cream cheese won't hold the definition and the frosting can end up looking a bit messy.
It is up to you whether you would like to leave the cupcakes as they are, or whether you want to add any sprinkles.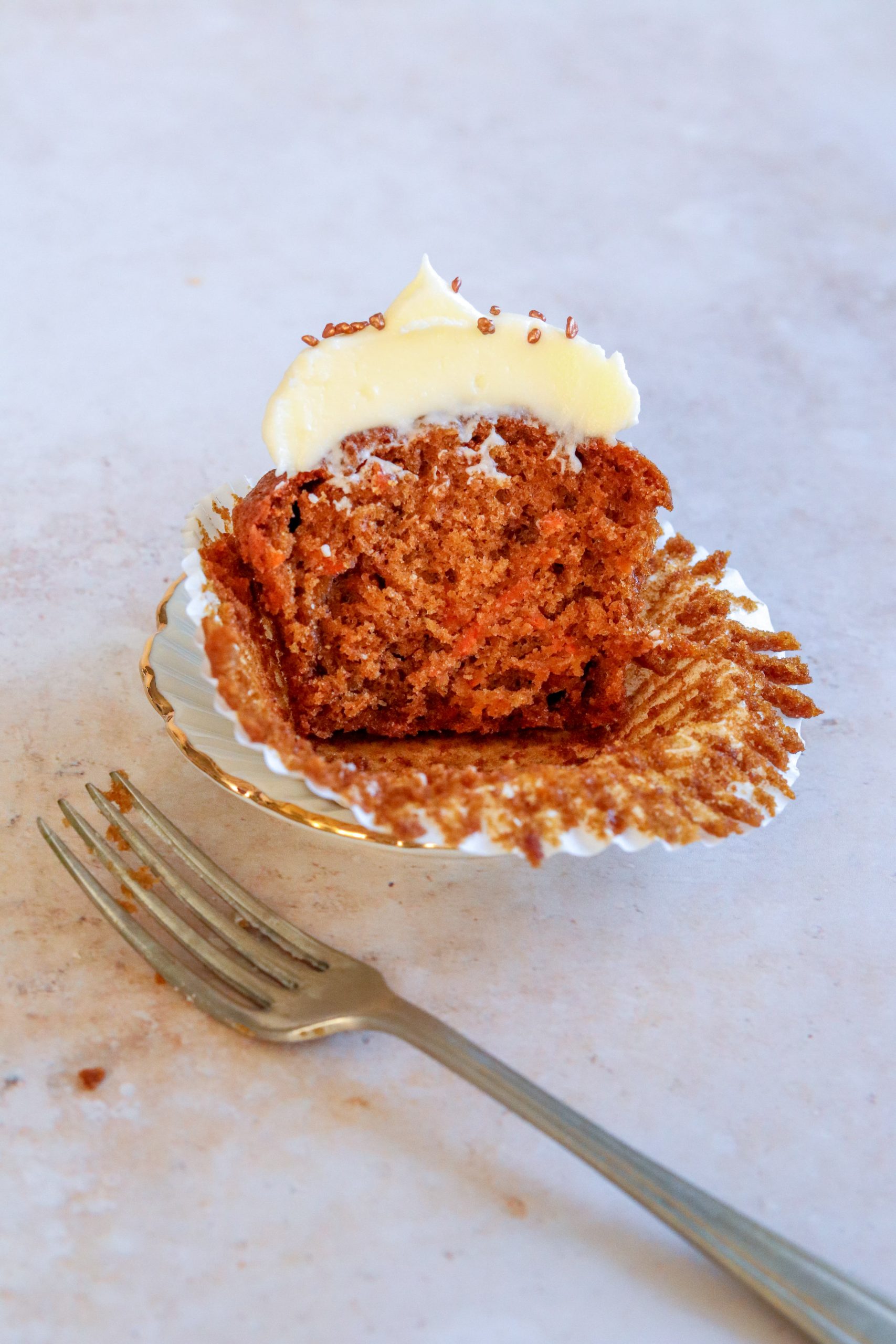 How many cupcakes does this recipe make?
This recipe makes 12 cupcakes using muffin cases.
When I originally published the recipe, the quantities were different and it made 18 cupcakes. If you would still prefer to make this number of cupcakes, use the quantities in my Carrot Cake recipe.
Twelve cupcakes is the more typical number of cupcakes people look for which is why I have adapted the recipe.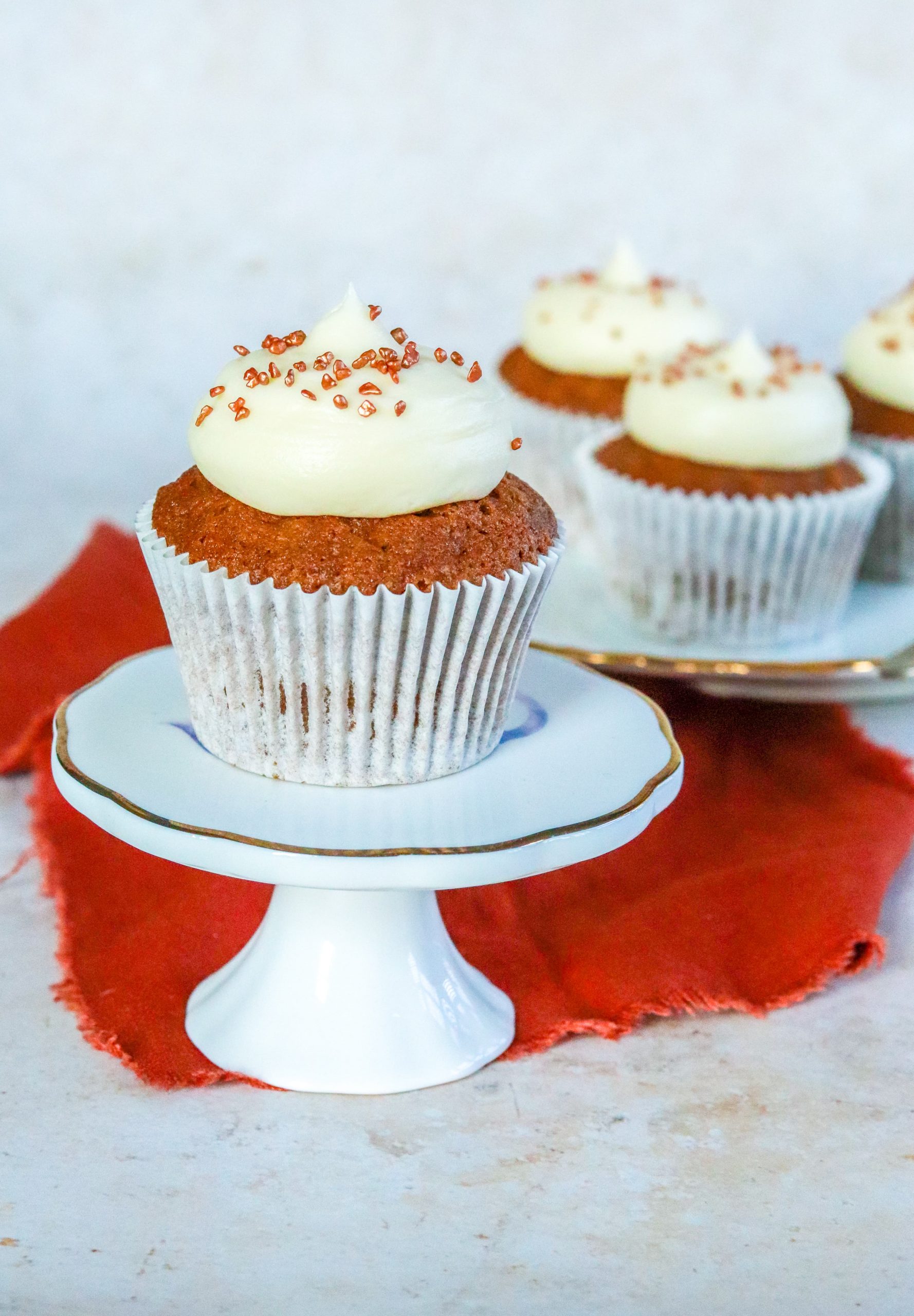 How long do Carrot Cake Cupcakes keep for?
As the cupcakes are oil based, they stay moist and delicious for longer than a standard sponge cupcake.
These will keep in the fridge for up to five days. They do need to be kept in the fridge because of the cream cheese frosting.
You can bring them up to room temperature before you eat them, but I wouldn't leave them out of the fridge for more than an hour.
If you want the cupcakes to keep for longer, I would recommend freezing them. Wrap the cupcakes thoroughly unfrosted. When you want to eat them, leave them to defrost at room temperature for a few hours.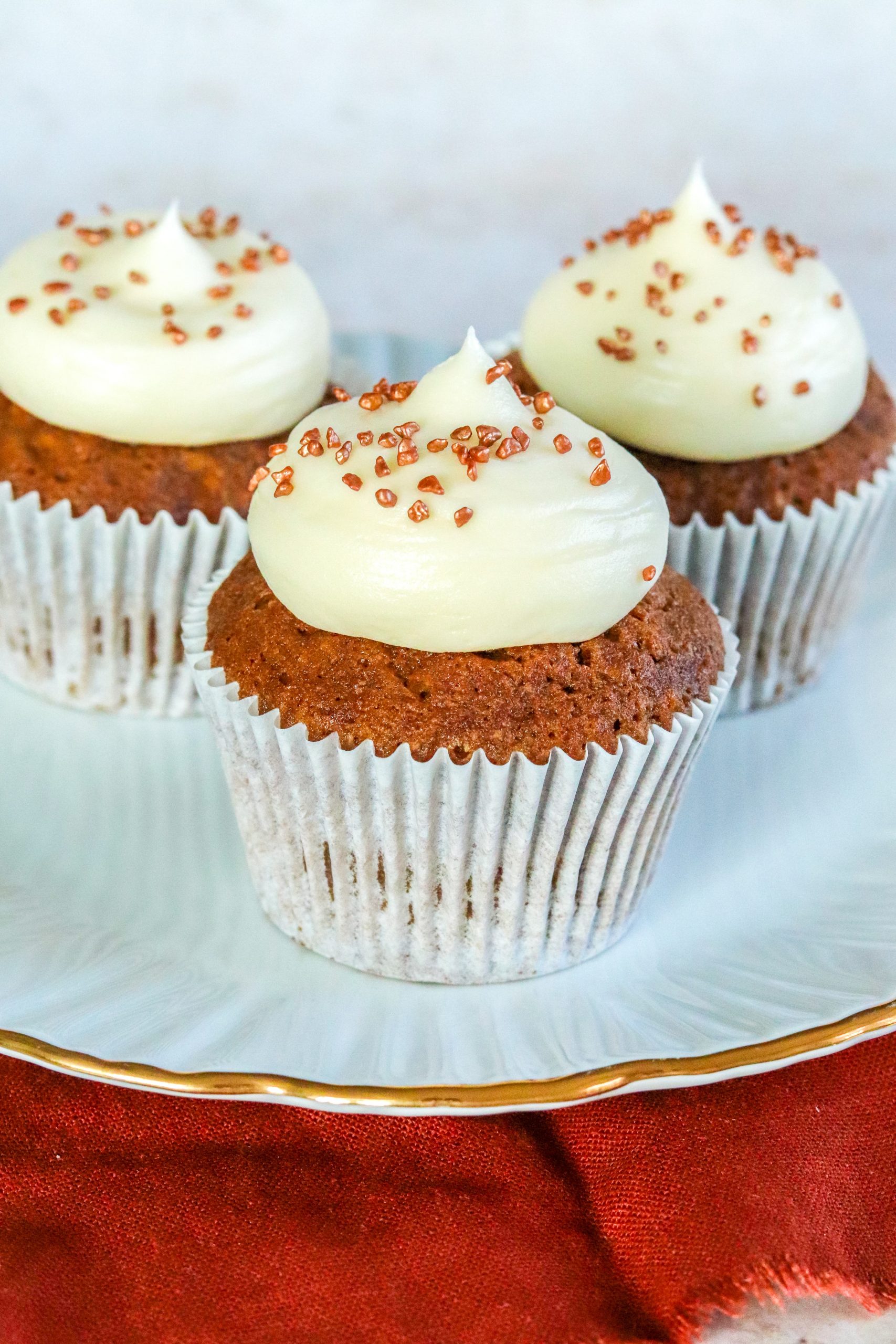 how to make these cupcakes gluten free or dairy free
Although I don't make a huge amount of gluten free bakes, I do have a gluten free carrot cake recipe. It has been sampled many times by my chief gluten free taste tester, my friend Zoe.
To make these cupcakes gluten free, use the recipe for my Gluten Free Carrot Sheet Cake but the quantities in this recipe for the frosting.
As the cupcakes use oil instead of butter they are dairy free. It is worth noting that they are not vegan because they include eggs.
For the frosting you would need to swap the cream cheese and butter for dairy free alternatives. I would recommend using a block of dairy free butter rather than margarine.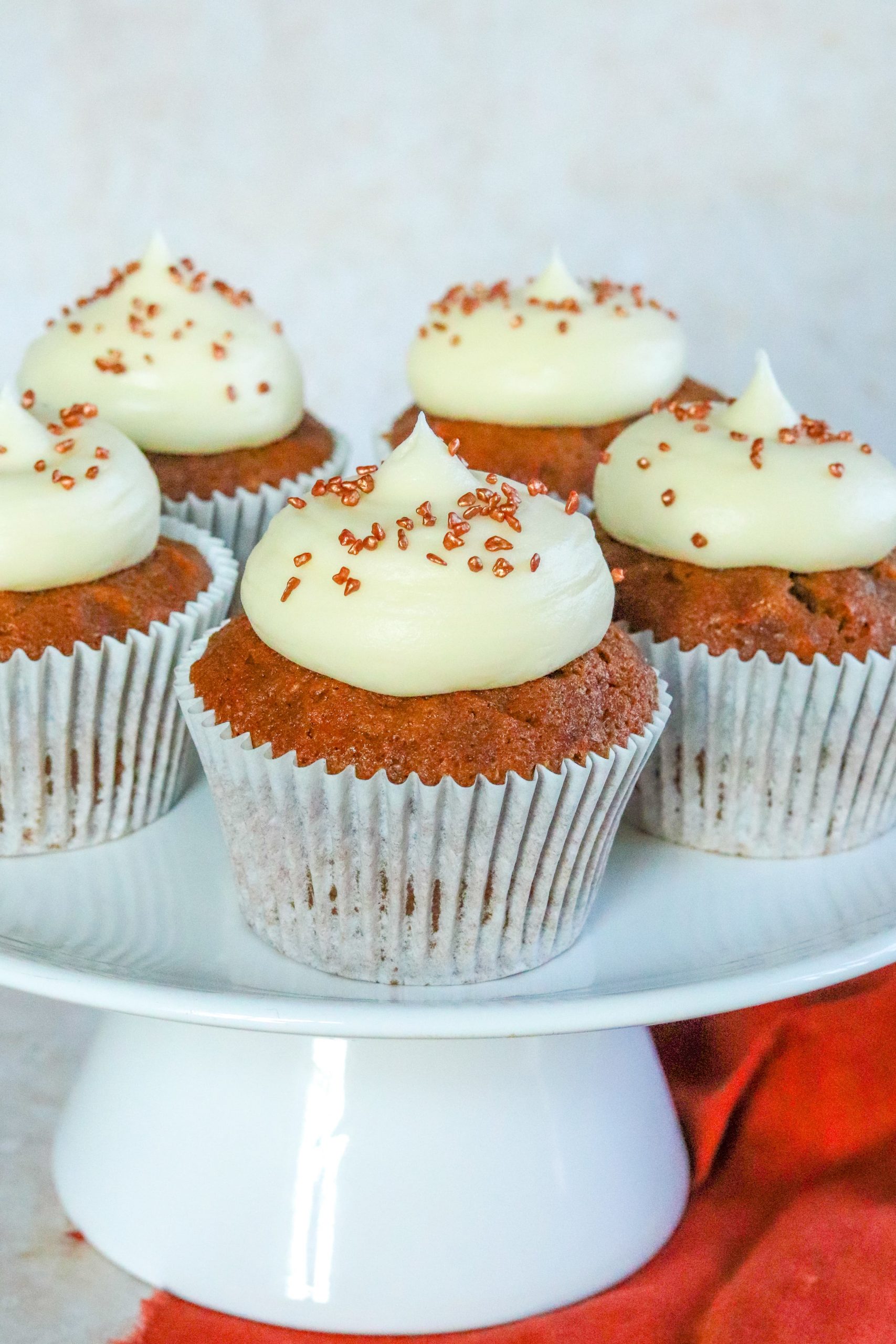 Other recipes you might like
Pin for later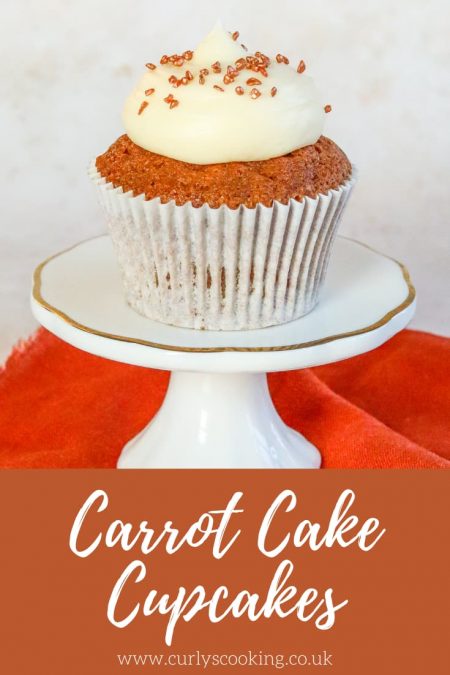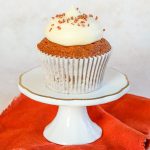 Carrot Cake Cupcakes
Super moist carrot cupcakes with deliciously smooth cream cheese frosting. These Carrot Cake Cupcakes are perfect for people that prefer their cake without nuts and raisins – and for everyone else too!
Ingredients
100

g

light brown sugar

100

g

dark brown sugar

2

eggs

200

ml

sunflower oil

200

g

plain flour

¾

tsp

baking powder

¾

tsp

bicarbonate of soda

1

tsp

ground cinnamon

heaped

¼

tsp

salt

¼

tsp

vanilla extract

200

g

carrot

grated
Cream Cheese Frosting
50

g

unsalted butter

softened

135

g

cream cheese

full fat

300

g

icing sugar
Instructions
Preheat the oven to 170ºC (fan assisted, 190ºC non fan). Line cupcake tins with muffin cases

Mix together 100g light brown sugar, 100g caster sugar, 2 eggs, 200ml sunflower oil and ¼ tsp vanilla extract in a large jug

In another bowl, mix 200g plain flour, ¾ tsp bicarbonate of soda, ¾ tsp baking powder, 1 tsp cinnamon and ¼ tsp salt together

Add the wet ingredients to the dry ingredients and mix until combined

Add 200g grated carrot and mix

Fill each cupcake case two-thirds full. and bake for 20 mins or until a skewer comes out clean. Leave to cool on a wire rack

Once completely cool, make the frosting. Beat 50g unsalted butter until smooth

Add 135g cream cheese and 300g icing sugar and mix until completely combined and smooth

Spoon the frosting into a piping bag and decorate each cupcake. Add any sprinkles or decorations you want
Recipe Notes
Break up any lumps that may have formed in the sugar before adding the rest of the ingredients.
Store cupcakes in the fridge for up to 5 days.
Nutritional information is given as a guide only and may vary.
Nutrition Facts
Carrot Cake Cupcakes
Amount Per Serving
Calories 456
Calories from Fat 225
% Daily Value*
Fat 25g38%
Cholesterol 48mg16%
Sodium 180mg8%
Potassium 146mg4%
Carbohydrates 57g19%
Protein 4g8%
Vitamin A 3080IU62%
Vitamin C 1mg1%
Calcium 51mg5%
Iron 1mg6%
* Percent Daily Values are based on a 2000 calorie diet.