A deliciously moist cake with pumpkin spices and pumpkin puree covered in soft cream cheese frosting – this simple but stunning Spiced Pumpkin Layer Cake will become your new favourite.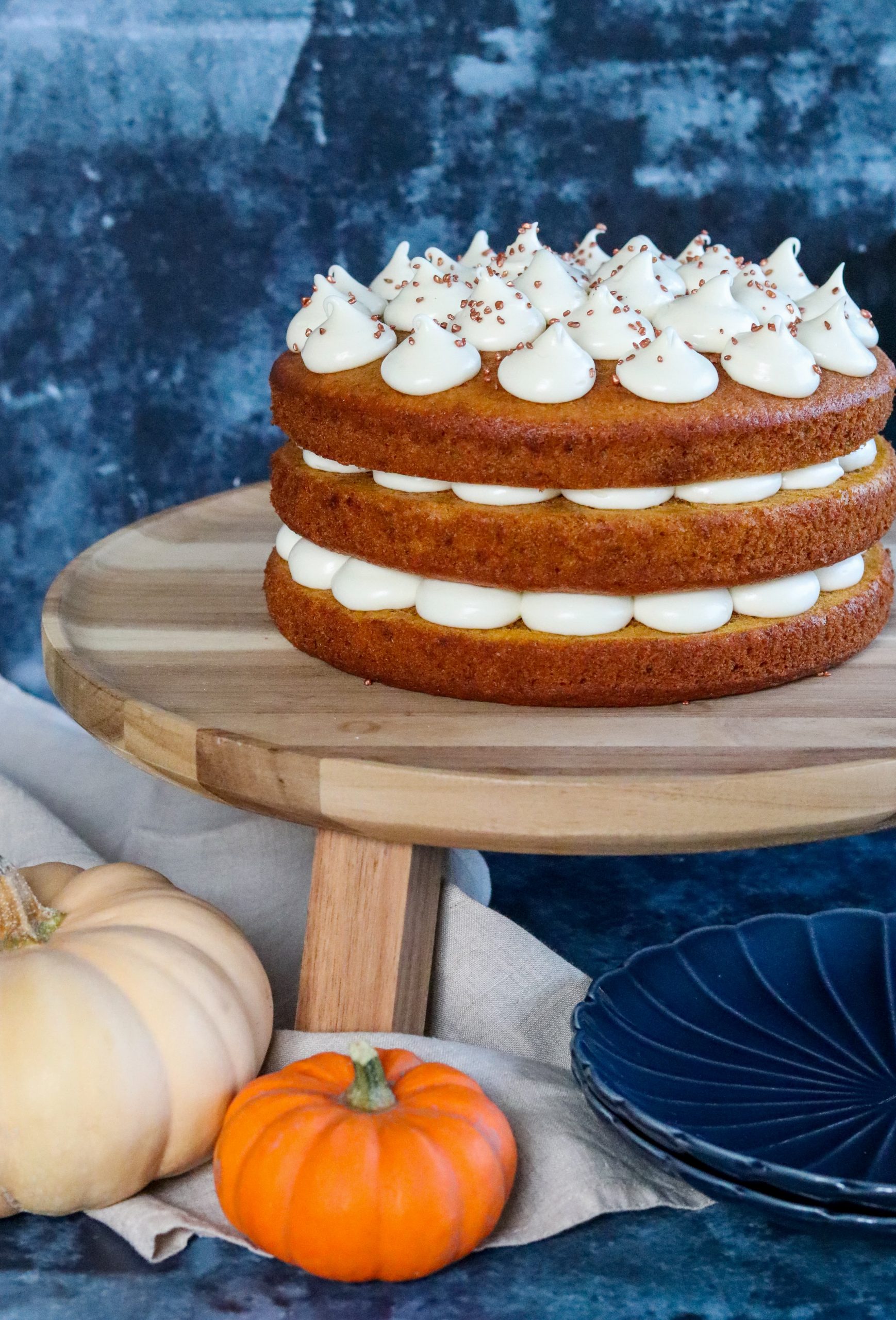 Have you eaten pumpkin cake before?
Pumpkin has always been popular in America for Thanksgiving which is how I first came across it in baking. An American friend I used to work with brought in her Pumpkin Cake Bars that she always makes for Thanksgiving.
I needed quite a bit of persuading to try them because pumpkin in cake seemed a little strange to me back then. They were delicious and she kindly shared the recipe with me which I have made every year since.
If you like carrot cake, I am very confident that you will like this Spiced Pumpkin Layer Cake with Cream Cheese Frosting. They are both oil based cakes which feature comforting spices.
If you haven't tried pumpkin cake before you need to ASAP!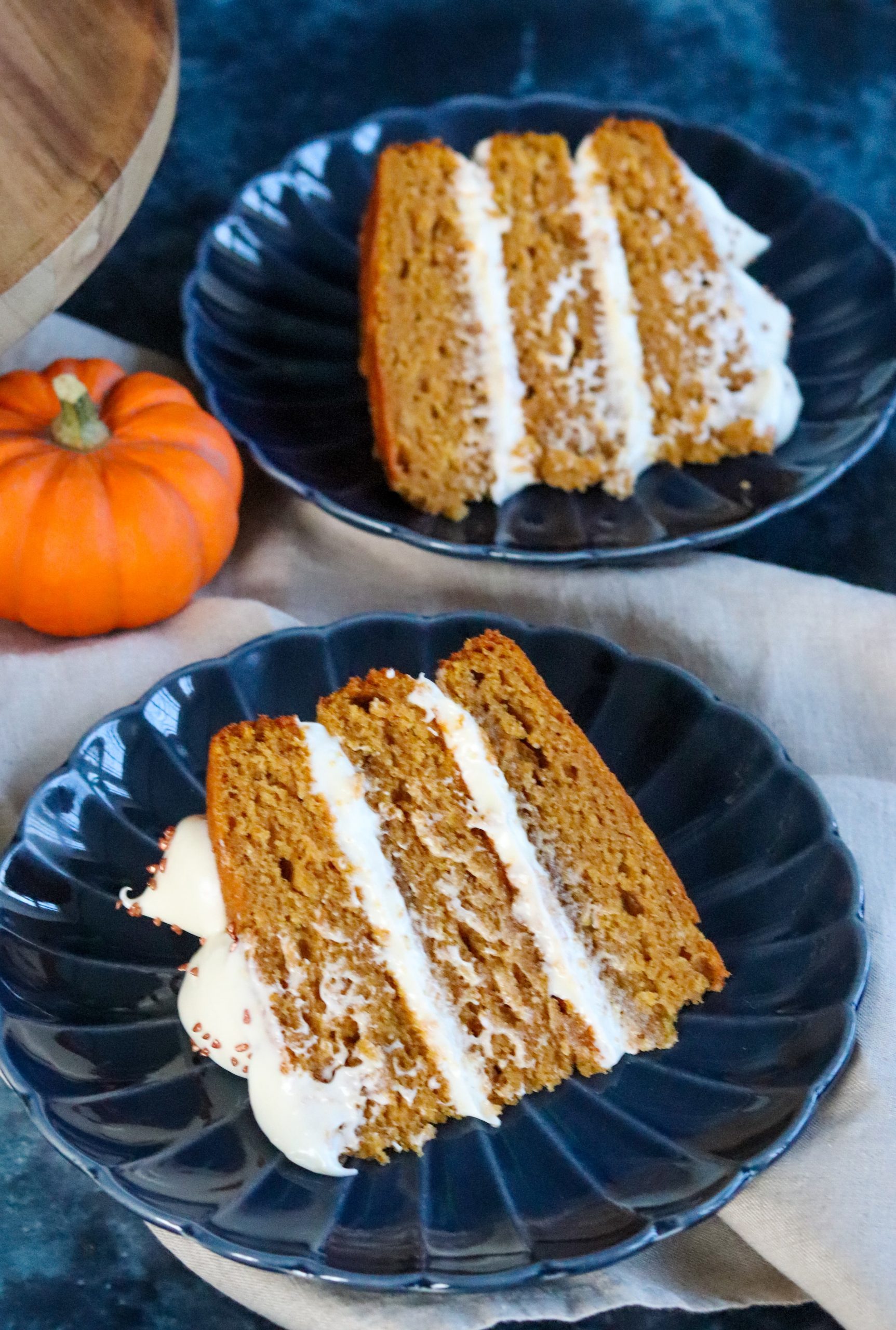 pumpkin spice season
As soon as summer draws to a end, people around the world start craving pumpkin spice season and counting down the days until their favourite coffee shops start selling pumpkin spiced treats.
But what is pumpkin spice? It is a mix of spices that are commonly used in pumpkin pie. In the US you can buy pumpkin spice mix everywhere, but here in the UK it isn't something that is sold ready made. Instead we just combine the spices ourselves to make our own variations.
Pumpkin spice is typically a combination of ground cinnamon, nutmeg, ginger, cloves, and sometimes allspice. These comforting spices work so well with pumpkin and flavour this cake so nicely.
My pumpkin spice mix misses out the cloves because I'm not the biggest fan but I have added allspice instead.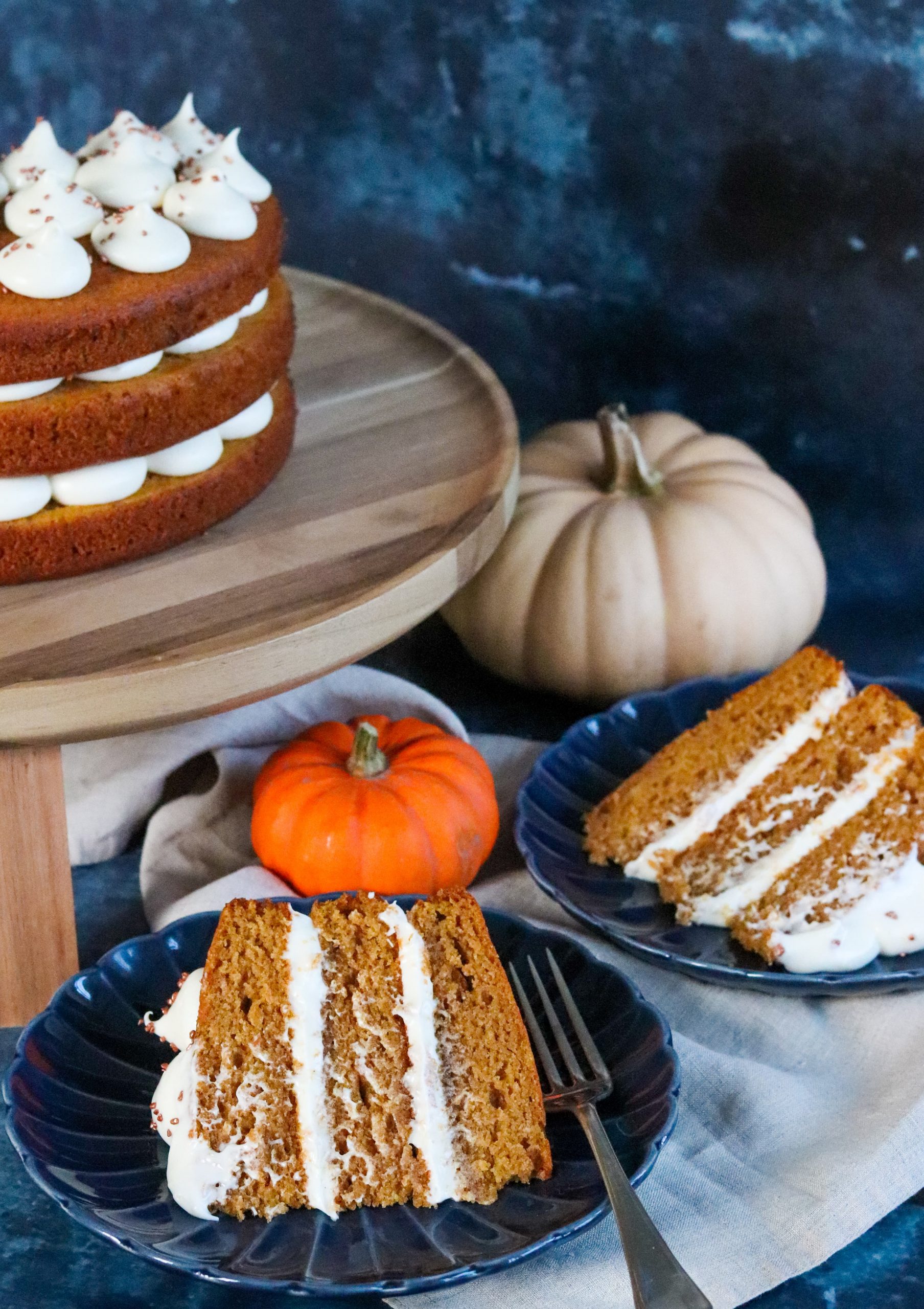 Pumpkin spice cake with actual pumpkin!
Pumpkin spice doesn't necessarily mean there is pumpkin involved! I know, I found this a bit strange too. But as pumpkin spice refers to the spices found in a pumpkin pie it isn't as unusual as it first sounds.
Don't worry, this Pumpkin Layer Cake definitely has pumpkin in it! I use pumpkin puree in the sponge which is the ultimate flavour to enhance the warming spices.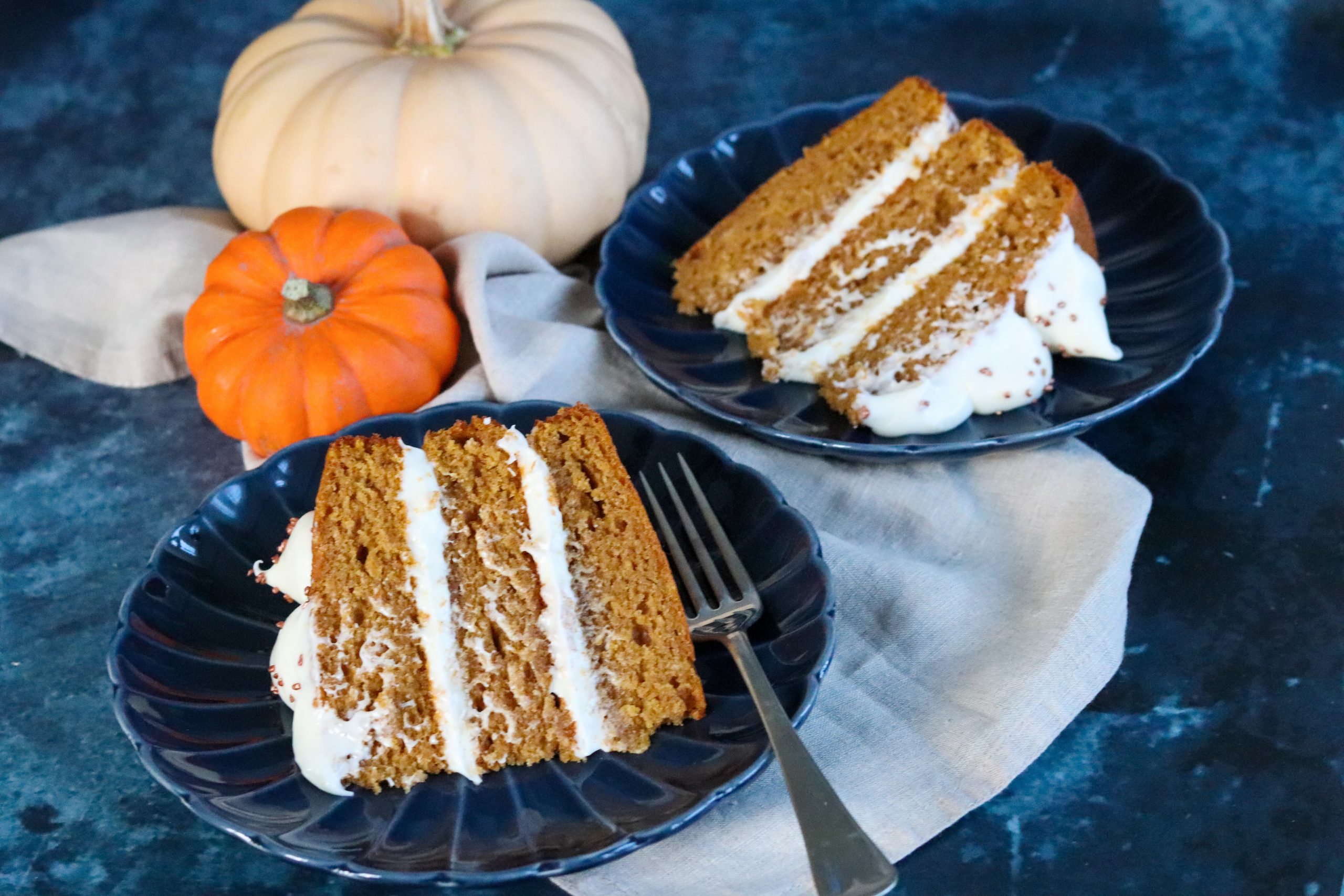 should you buy or make pumpkin puree?
You can do either. For the first time I attempted making my own pumpkin puree using a recipe from Jo's Kitchen Larder.
I hadn't previously realised that it was something that could quite easily be made yourself. Although I was impressed with the simplicity of making the puree, I'm not convinced I would rush to do it again.
This is partly due to it being slightly time consuming and partly due to laziness. The advantages of making the puree yourself are that it is a great way of using up pumpkin at Halloween instead of there being waste. It is also far cheaper to make it yourself.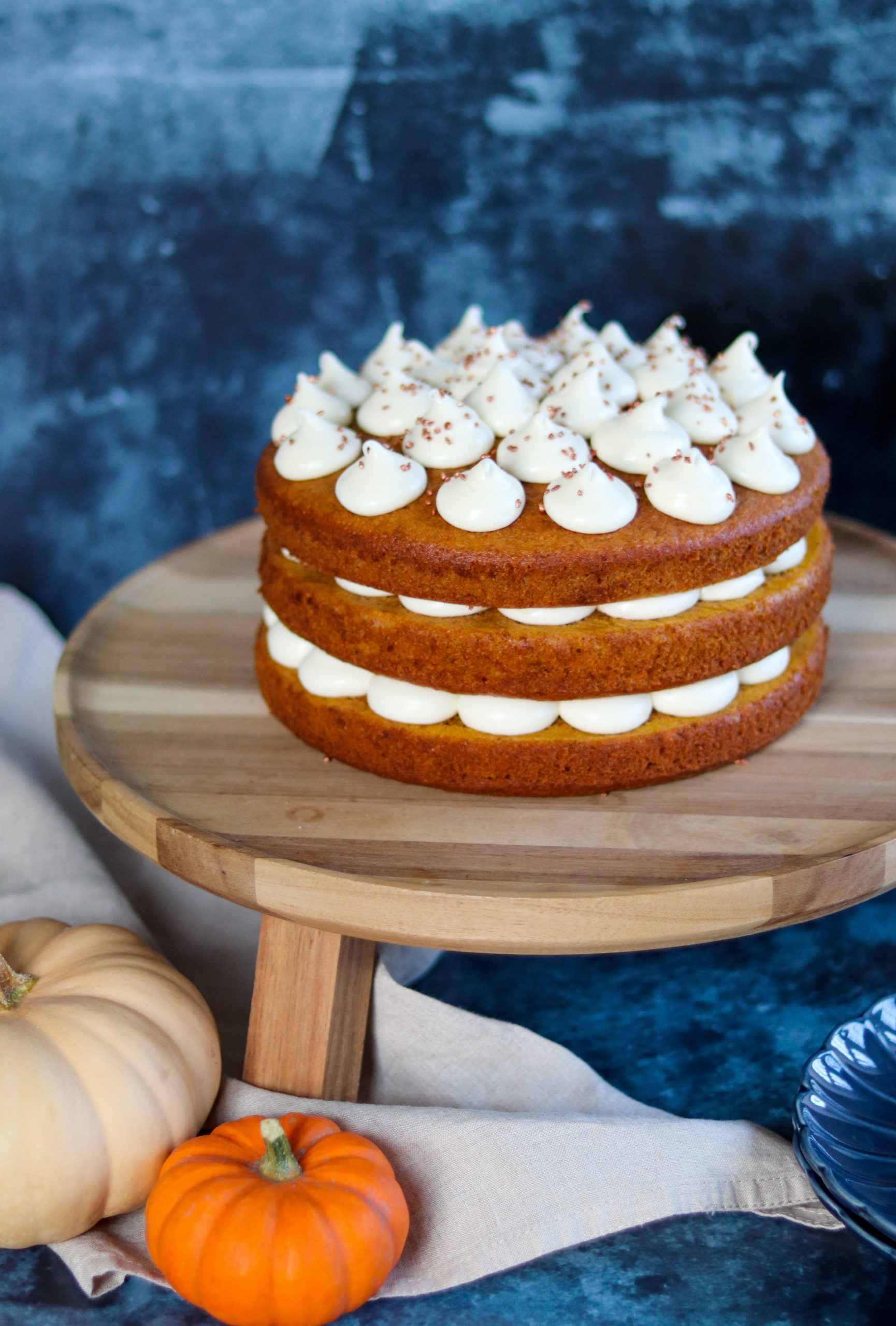 where to buy pumpkin puree
If you decide you would like to buy pumpkin puree, it is best to know where to look!
If you live in the US, you will need no help and you will know exactly where to find pumpkin puree. But for those of us in other countries it can be a little more difficult to find.
Pumpkin puree is sold in tins and 'Libby's' is a well known brand. Although it is becoming more widely available, you can't buy it in all shops.
You are more likely to find pumpkin puree in large supermarkets in their world foods aisle. Look in the USA section and you should be in luck.
Having said that, my local small supermarket has a world foods section and they sell pumpkin puree year round. If you don't find it the first place you try, keep looking!
If you really can't find it in supermarkets, you should be able to buy it online. This is likely to be a more expensive option so I would recommend this as a last resort.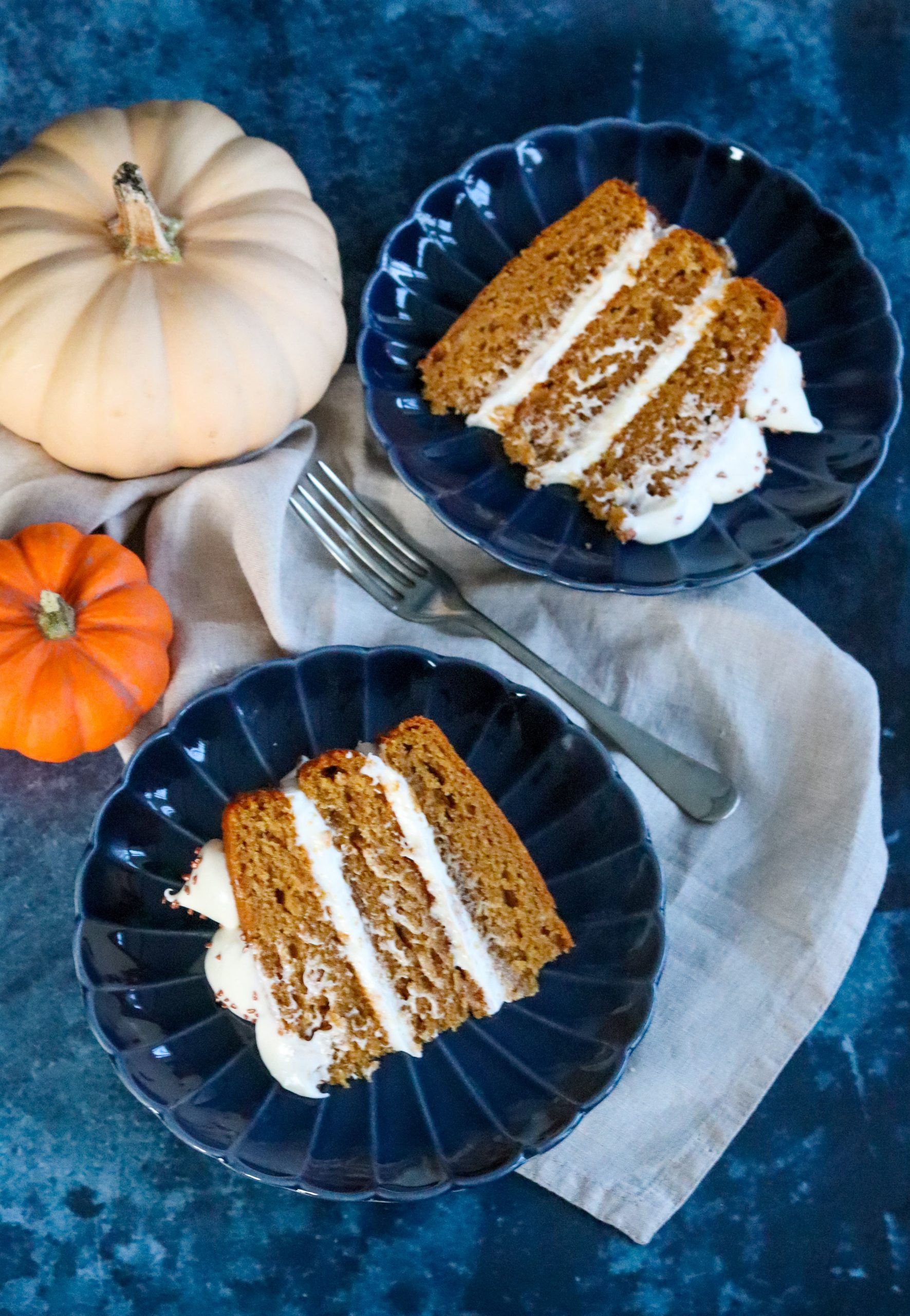 using different sized tins
If you don't have three eight inch tins, or you would just prefer to use two; you definitely can.
I would recommend using deep tins if you are going to use just two tins. Those really thin sandwich tins might not be deep enough if you are making just two layers.
If you are using two tins, the cakes will take longer to bake as they will be thicker. I would test them after 25 minutes to see if they're done. If they're not quite done, give them a few more minutes making sure you check them regularly.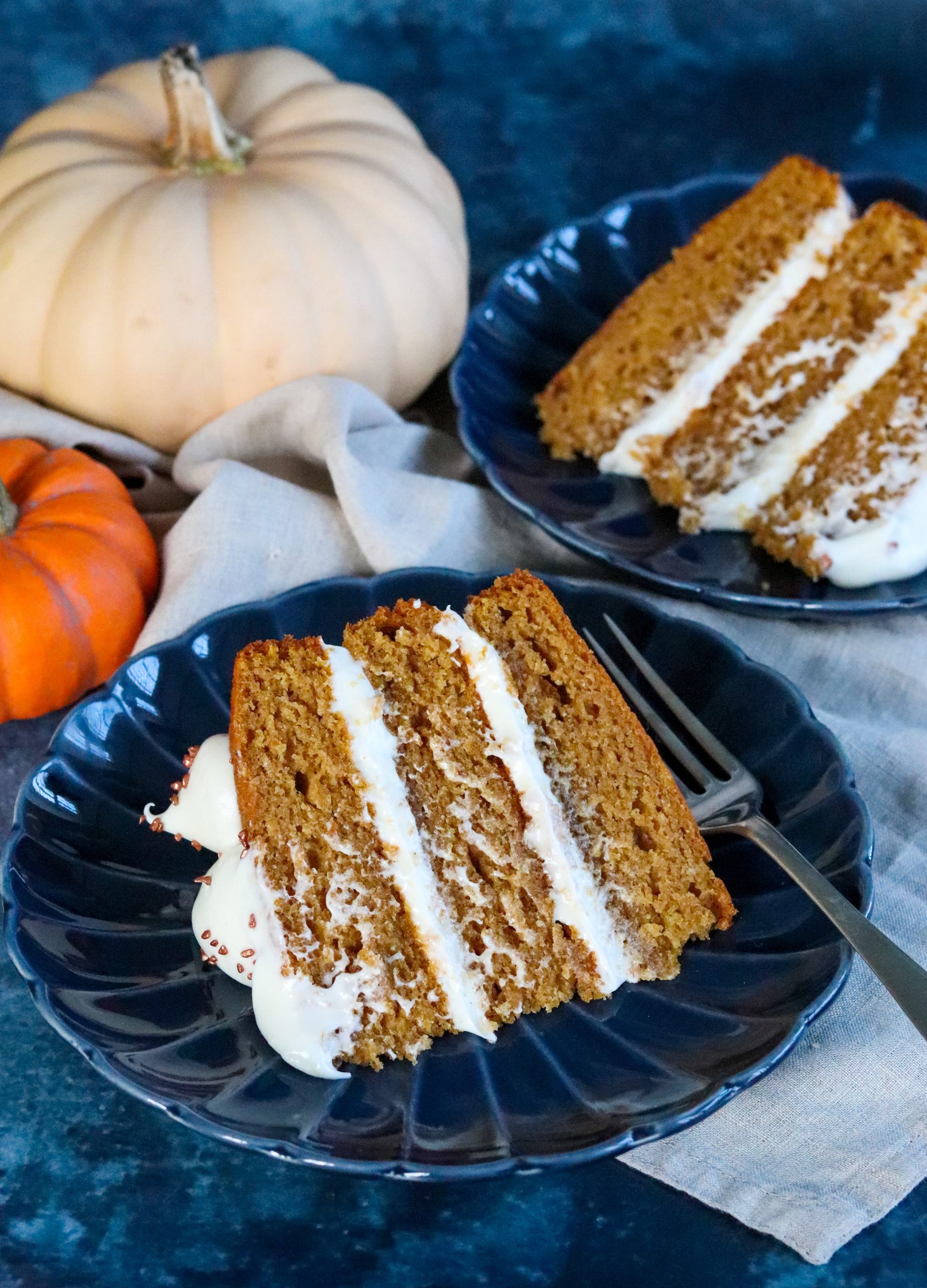 How to decorate this pumpkin layer cake
You can decorate this cake however you like! I like to pipe the cream cheese frosting with a round nozzle because I think it makes the frosting look a bit more special.
You don't have to have excellent piping skills, I completely understand if you would rather slather the frosting on with a knife. The main point is to get as much of the delicious frosting onto the cake as possible.
When it comes to decorations, I do like to add some bronze sugar sprinkles. But this is completely down to personal preference. You could very easily not add any decorations at all and this Spiced Pumpkin Layer Cake would still look beautiful.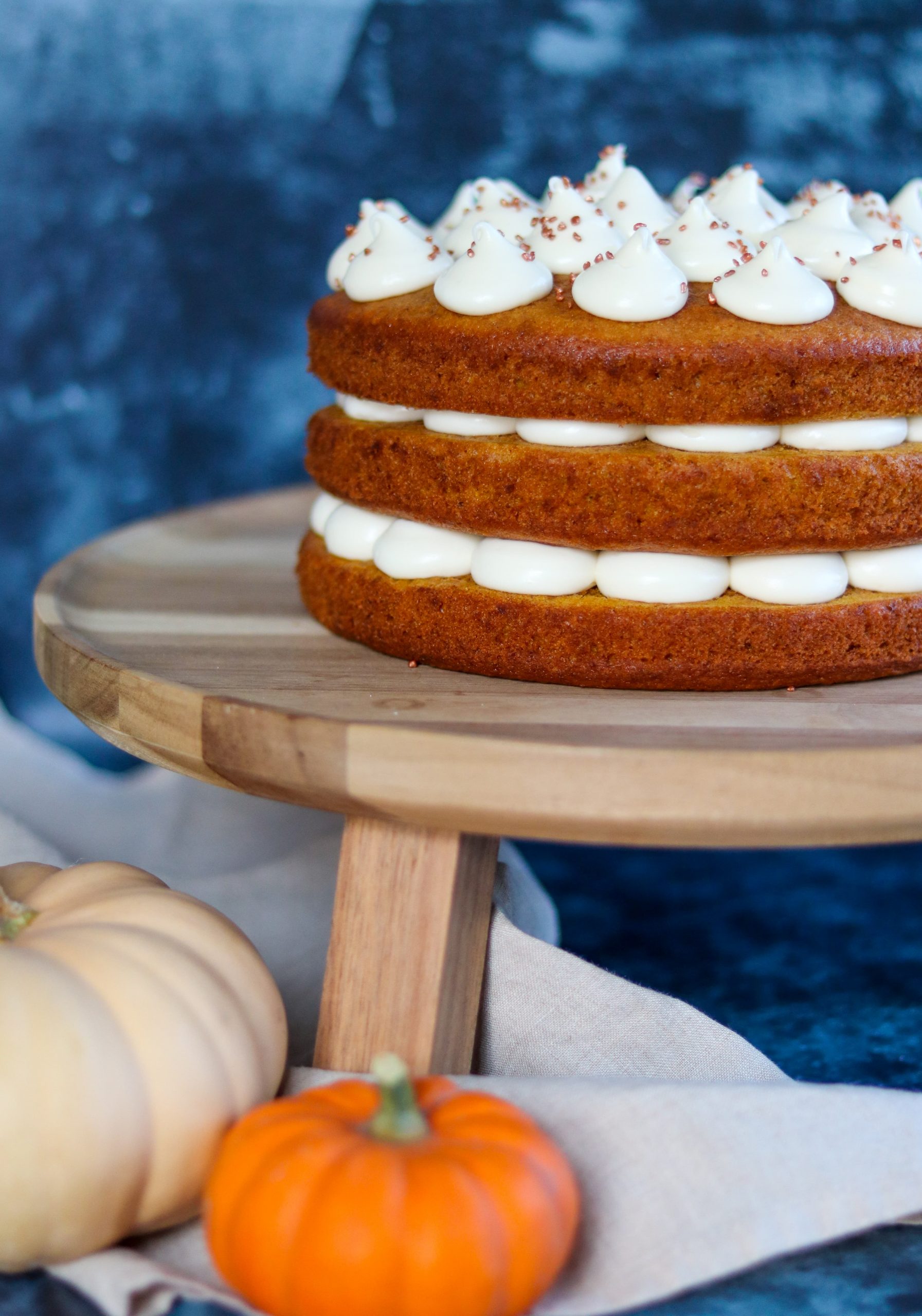 how long will this pumpkin cake keep for?
As this is an oil based cake, it stays moist for quite a few days if kept in an airtight container. I often keep this cake for four to five days and it is still delicious.
As this cake contains cream cheese in the frosting, I would recommend keeping it in the fridge.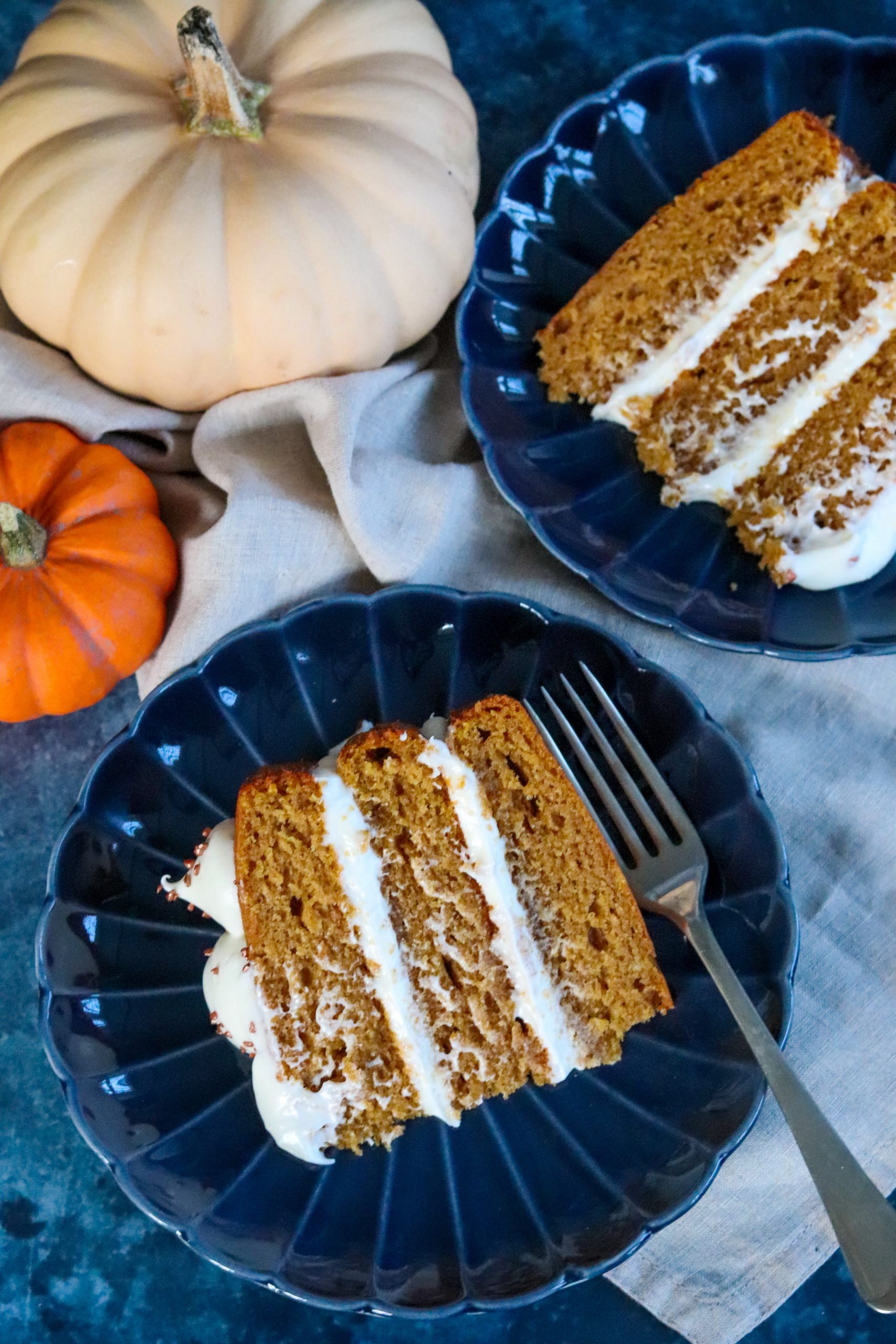 Other recipes you might like
Pin for later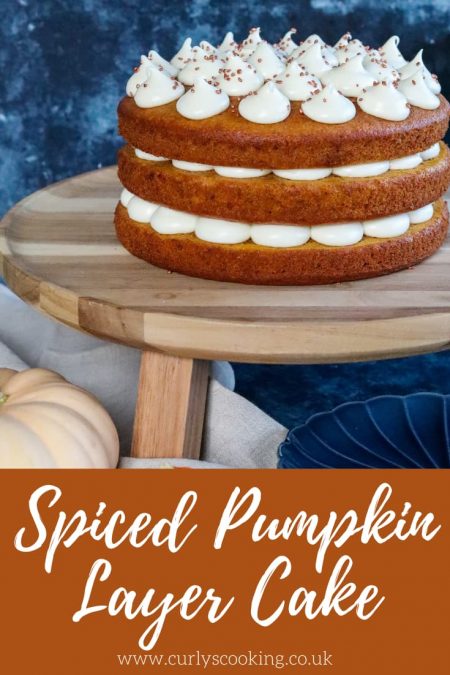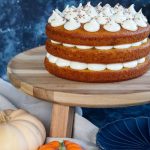 Spiced Pumpkin Layer Cake with Cream Cheese Frosting
A deliciously moist cake with pumpkin spices and pumpkin puree covered in soft cream cheese frosting – this simple but stunning Spiced Pumpkin Layer Cake will become your new favourite.
Ingredients
For the cake
385

g

caster sugar

300

g

plain flour

1 ½

tsp

ground cinnamon

¼

tsp

ground ginger

¼

tsp

ground nutmeg

¼

tsp

ground all spice

2

tsp

baking powder

1

tsp

bicarbonate of soda

240

ml

sunflower oil

425

g

pumpkin puree

4

eggs
For the frosting
100

g

unsalted butter

550

g

icing sugar

245

g

full fat cream cheese
Instructions
Preheat the oven to 160ºC (fan assisted, 180°C non fan assisted) and line three 8 inch sandwich tins

Add 385g caster sugar, 300g plain flour, 1 ½ tsp ground cinnamon, ¼ tsp ground ginger, ¼ tsp ground nutmeg, ¼ tsp all spice, 2 tsp baking powder, 1 tsp bicarbonate of soda, 240ml sunflower oil, 425g pumpkin puree and 4 eggs to a bowl and beat until completely combined

Divide the mixture equally between the three tins. Bake in the oven for 20-25 minutes until a cocktail stick poked into the cake comes out clean

Allow the cakes to cool in the tins for 20 minutes or so before turning out onto a wire rack to cool completely

Once the cakes are completely cooled, make the frosting. Beat 100g unsalted butter until smooth and softened

Add 245g cream cheese and 550g icing sugar and beat until it is completely smooth and there are no lumps

Take the first layer of cake and turn it over onto the plate or stand you are using. Add a generous layer of the frosting and pipe/spread out evenly. Repeat with the second layer

With the final layer, place it on top of the other layers but the right way up. Add the frosting and decorate how you like.
Recipe Notes
Keep for 4-5 days in an airtight container in the fridge.
Nutritional information is given as a guide only and may vary.
Nutrition Facts
Spiced Pumpkin Layer Cake with Cream Cheese Frosting
Amount Per Serving
Calories 553
Calories from Fat 189
% Daily Value*
Fat 21g32%
Cholesterol 54mg18%
Sodium 98mg4%
Potassium 153mg4%
Carbohydrates 75g25%
Protein 4g8%
Vitamin A 4350IU87%
Vitamin C 1mg1%
Calcium 47mg5%
Iron 2mg11%
* Percent Daily Values are based on a 2000 calorie diet.