Incredibly moist and lightly spiced cake smothered in smooth cream cheese frosting. These Pumpkin Bars with Cream Cheese Frosting are absolutely delicious.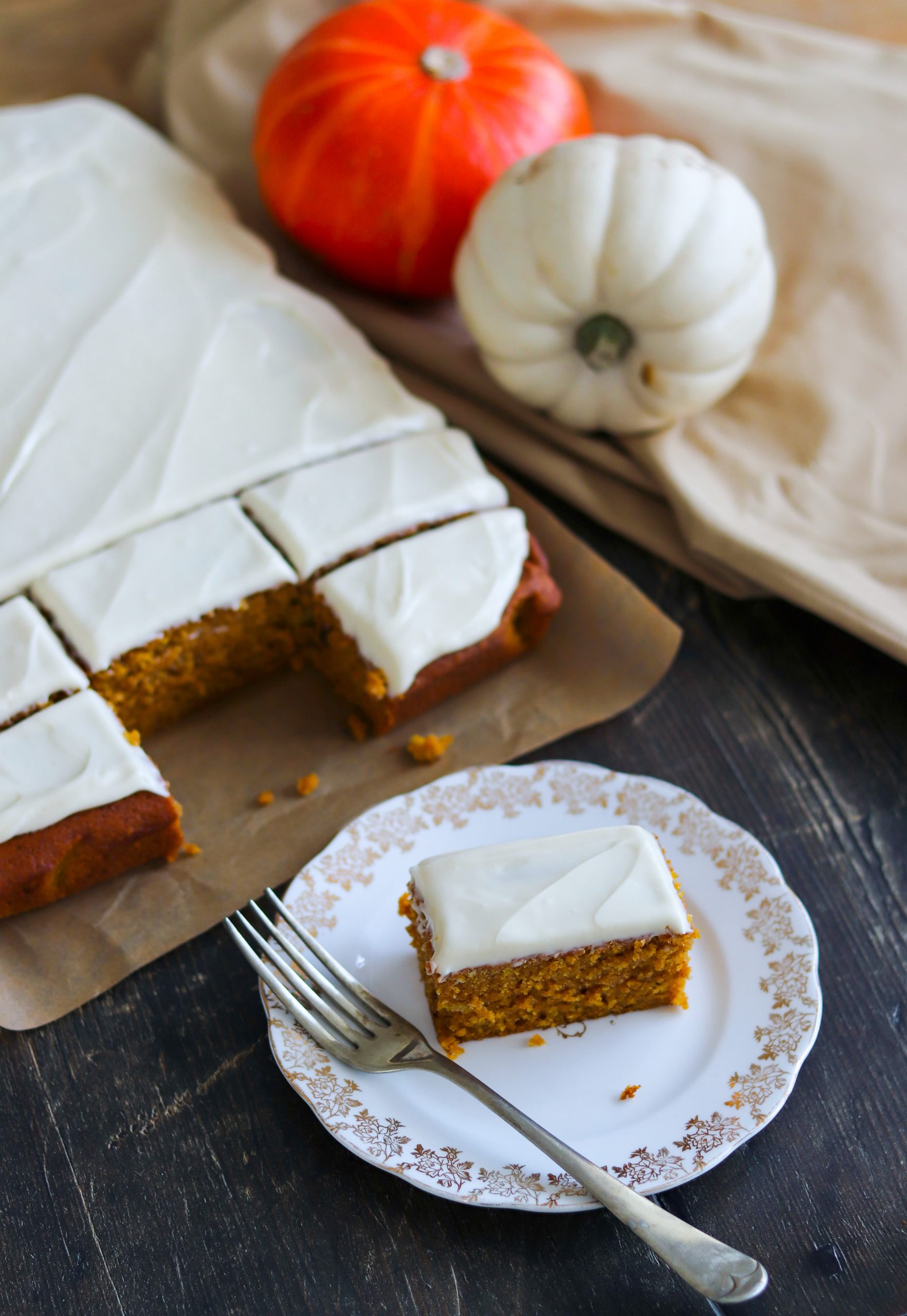 What does pumpkin cake taste like?
If you haven't tried pumpkin cake before, imagine carrot cake but slightly different.
I realise that isn't helpful but this recipe has the familiar flavourings of cinnamon and the moistness of carrot cake, but the pumpkin provides something slightly different.
Don't get put off by thinking vegetables shouldn't be in cakes – carrot cake proves this is not the case!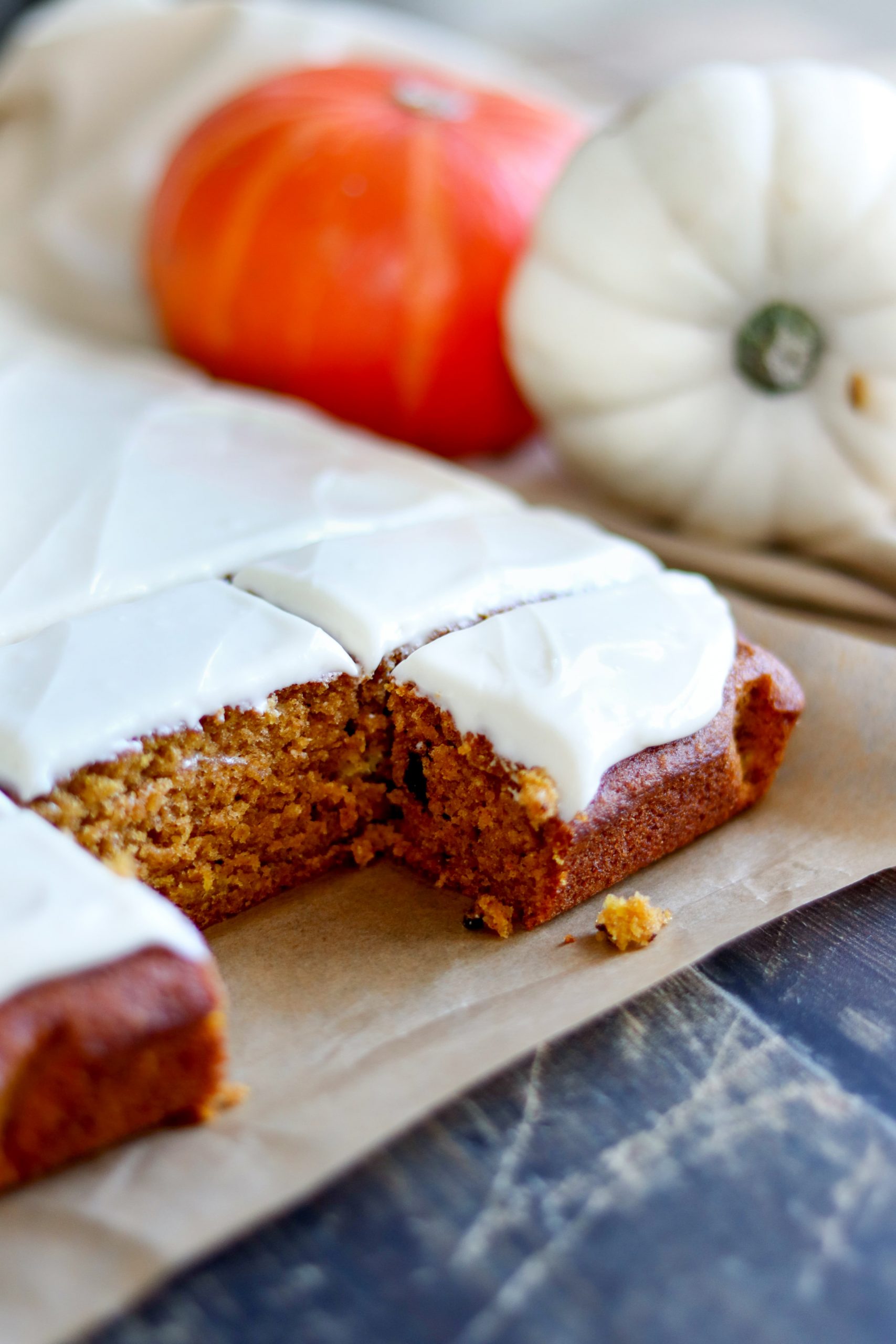 Tweaking a friend's recipe
I hadn't tried pumpkin in baking until an American friend I used to work with brought in pumpkin bars for Thanksgiving.
I'd never had anything like them. They had such a unique taste and of course because it's an American recipe they had a lovely cinnamon flavour.
Becky was kind enough to give me the recipe so I could make them myself. Over the years I have made small changes to the recipe to hopefully make these Pumpkin Bars with Cream Cheese Frosting even tastier.
These hands down Mr Curly's favourite thing I have ever baked. He loves carrot cake but he really loves these Pumpkin Bars with Cream Cheese Frosting and would like me to make them more than the once a year I do.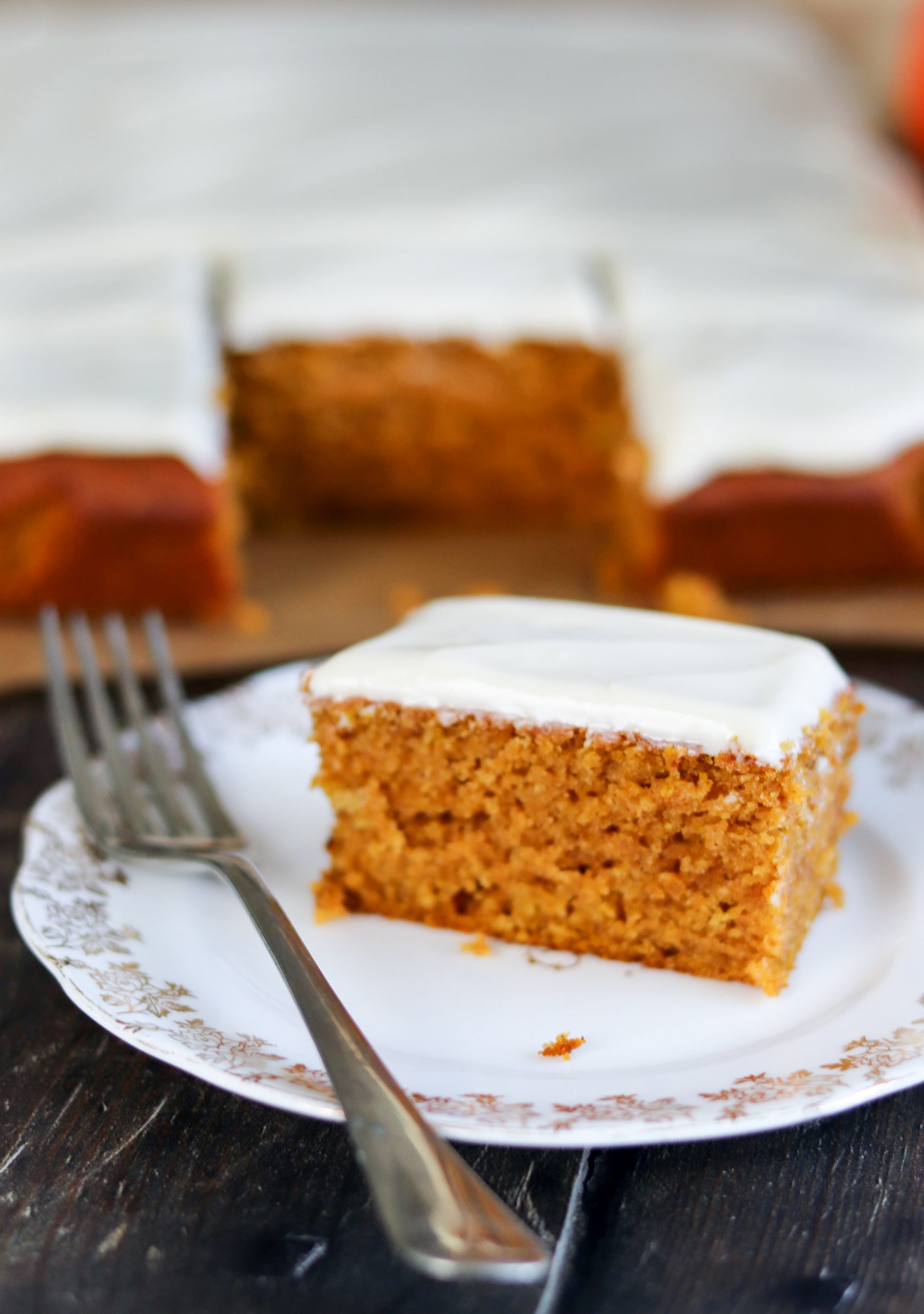 Are you a pumpkin spice fan?
Pumpkin cake is an essential flavour of autumn (fall). As soon as summer draws to a close people are craving pumpkin spice flavoured treats.
These Pumpkin Cake Bars are simply flavoured with cinnamon, but you can definitely add more flavours to make them pumpkin spiced.
Pumpkin spice is usually a mix of cinnamon, ginner, nutmeg and sometimes all spice. To incorporate these flavours I would reduce the cinnamon to 1½ tsp and then add ¼ tsp each of ground ginger, nutmeg and all spice.
If you are in the US you can probably buy ready made pumpkin spice so you could just add 2 tsp of this to the recipe.
If you are a pumpkin spice fan, make sure you check out my Spiced Pumpkin Layer Cake with Cream Cheese Frosting.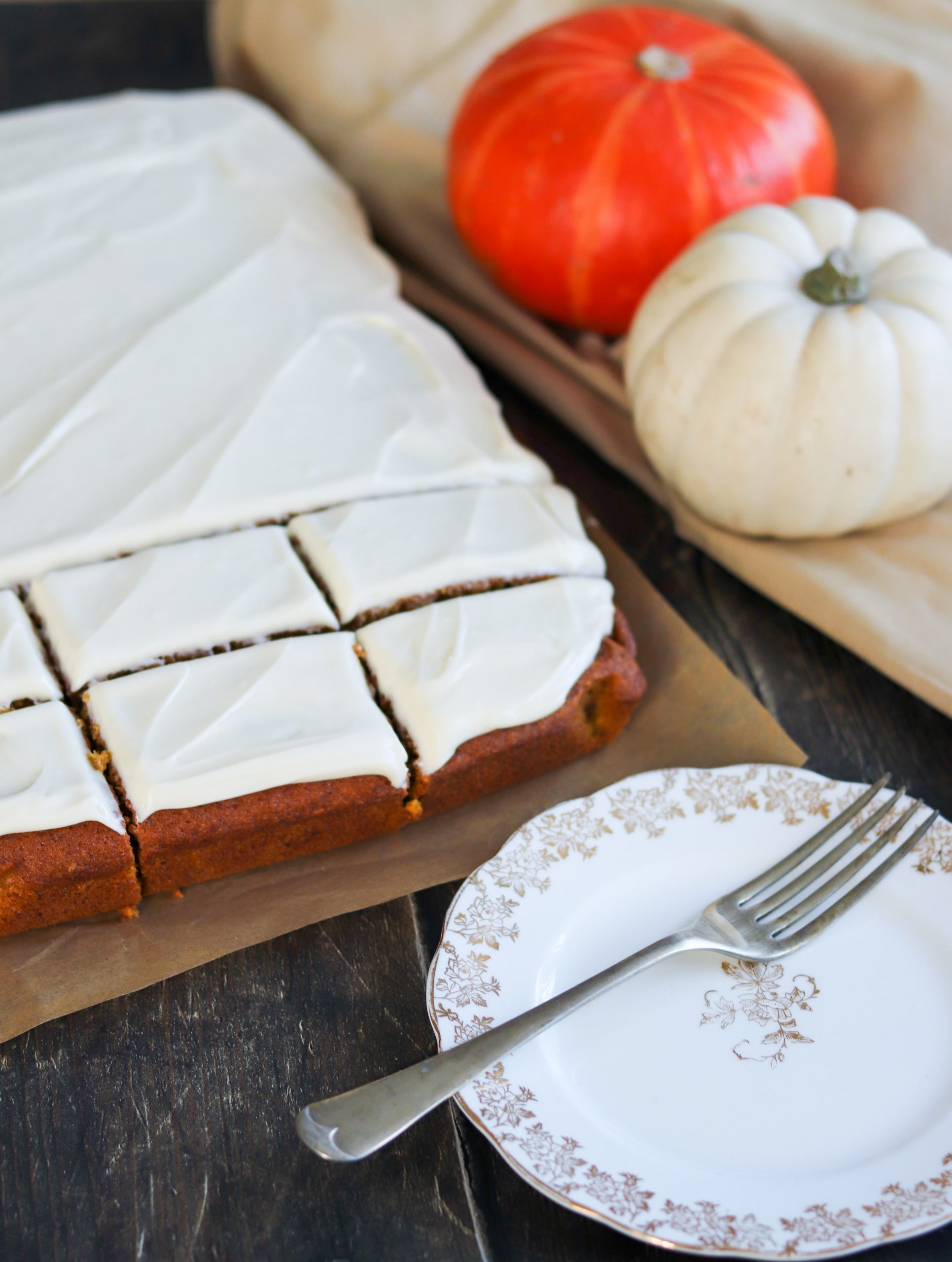 What kind of pumpkin do you use?
When I've mentioned the Pumpkin Bars with Cream Cheese Frosting before people automatically assume I spend hours preparing the pumpkin from scratch. But the recipe uses pumpkin puree from a tin so it really couldn't be easier.
Libby's pumpkin puree was recommended to me to be the best to use because it is what American's use. You can't get it in every shop so you might have to look around for it.
Most supermarkets seem to stock it now. Sometimes Aldi have it but it is more of a seasonal item for them so stock it up if you see it. Also make sure you look in the world food aisles as it is often in the American food section.
A lot of people go crazy for it at the start of Autumn so what I like to do is stock up with a few cans and keep them in the cupboard ready for Autumn. It keeps for over a year so I like to be prepared!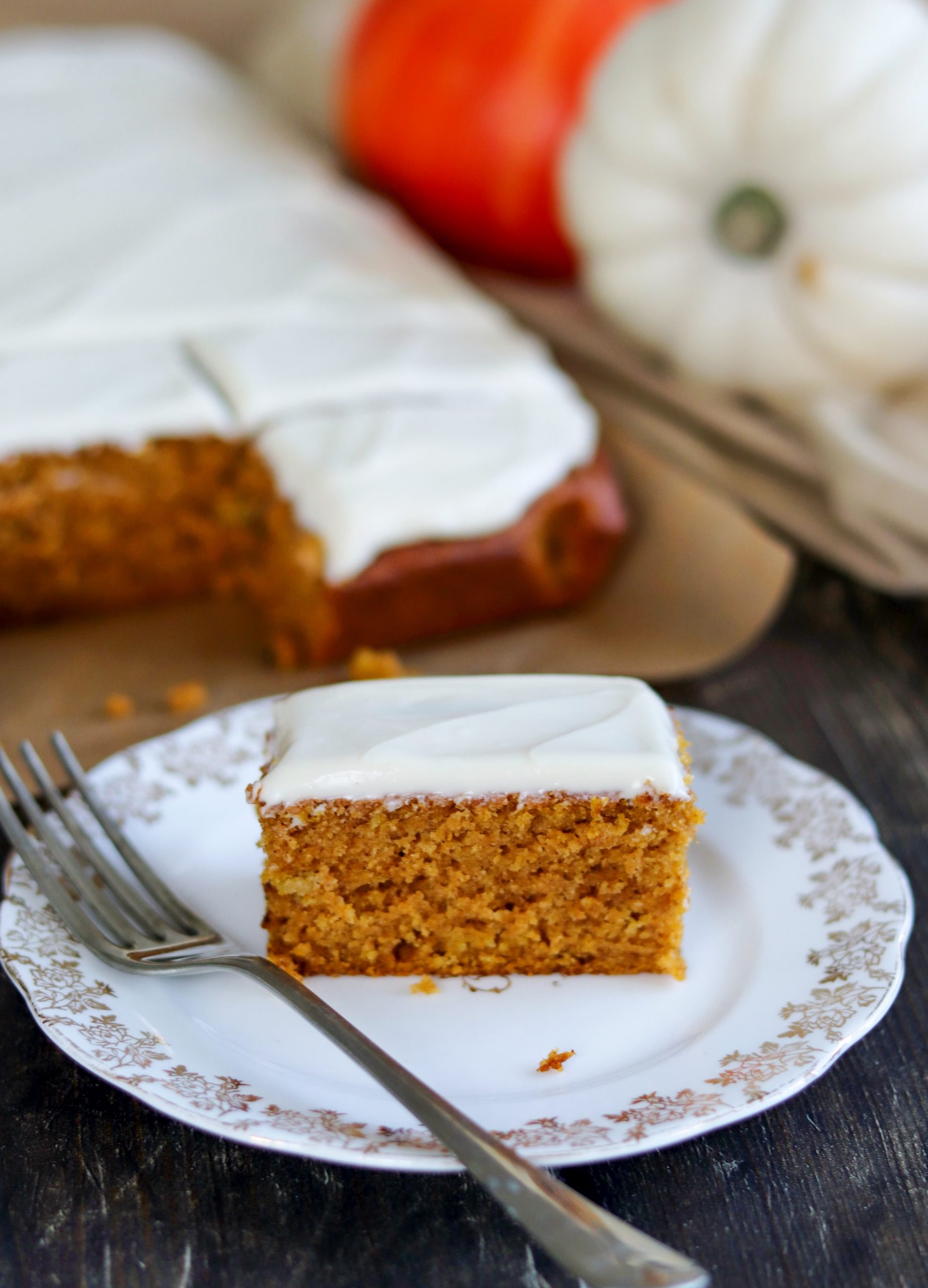 Can you make your own pumpkin puree?
Yes you can. However, when I have made my own in the past it has been wetter than the shop bought puree.
I would recommend draining the pumpkin thoroughly in a sieve before adding it to your cake mix. This will help to remove as much of the excess moisture as possible.
If you want to make your own, I recommend trying Jo's Kitchen Larder's recipe.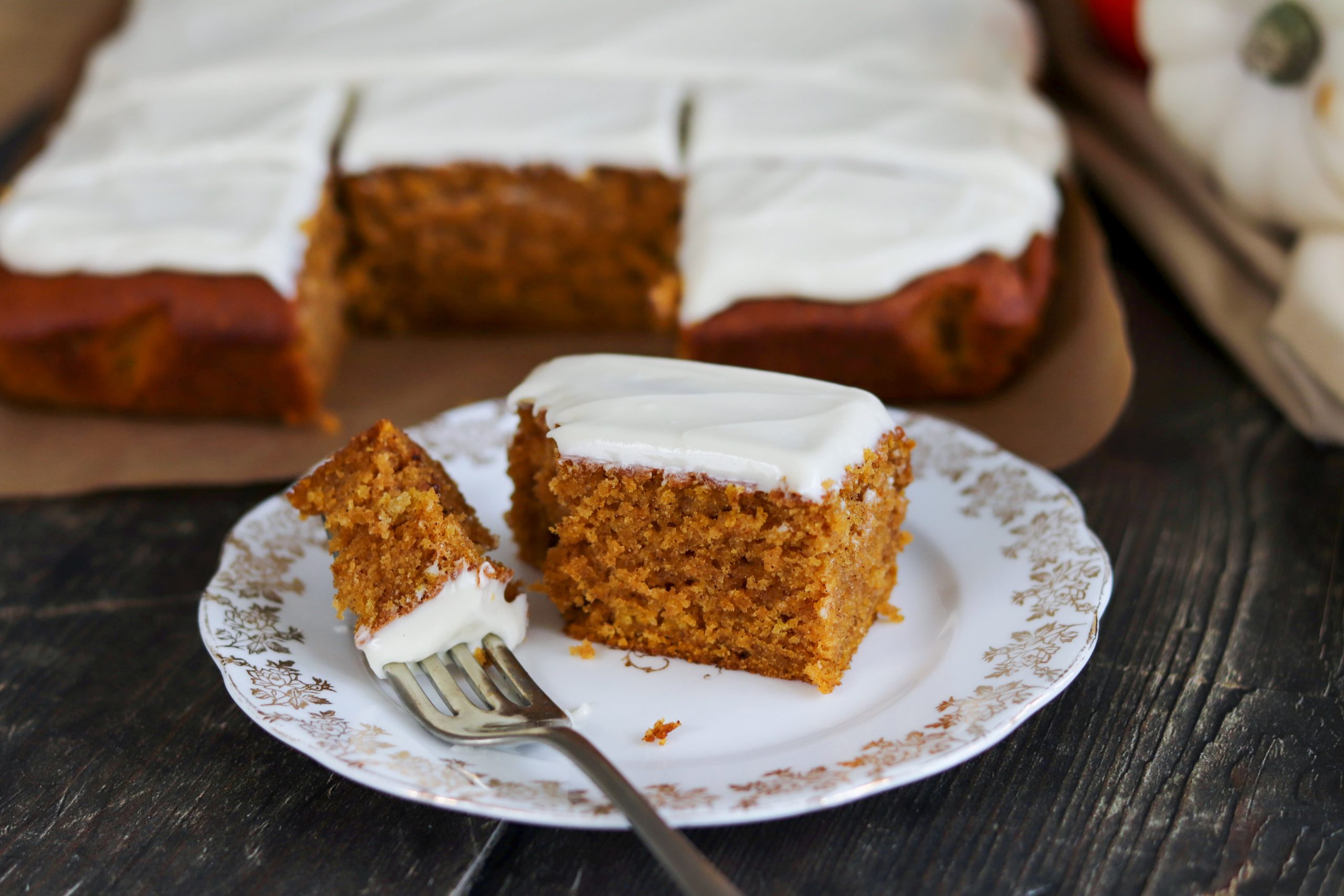 don't over bake these Pumpkin bars
These Pumpkin Bars have a moist sponge and therefore are easy to over bake.
When you are testing to see if the sponge is cooked, you want the cocktail stick to come out mostly clean – a few crumbs is ok.
The sponge does look quite damp on the top and it would be easy to think it isn't quite baked. Don't worry this is normal.
Check the cake after 30 minutes and keep checking every few minutes until it is baked. It shouldn't take more then 38 minutes. I think this is the best way to make sure you don't over bake it.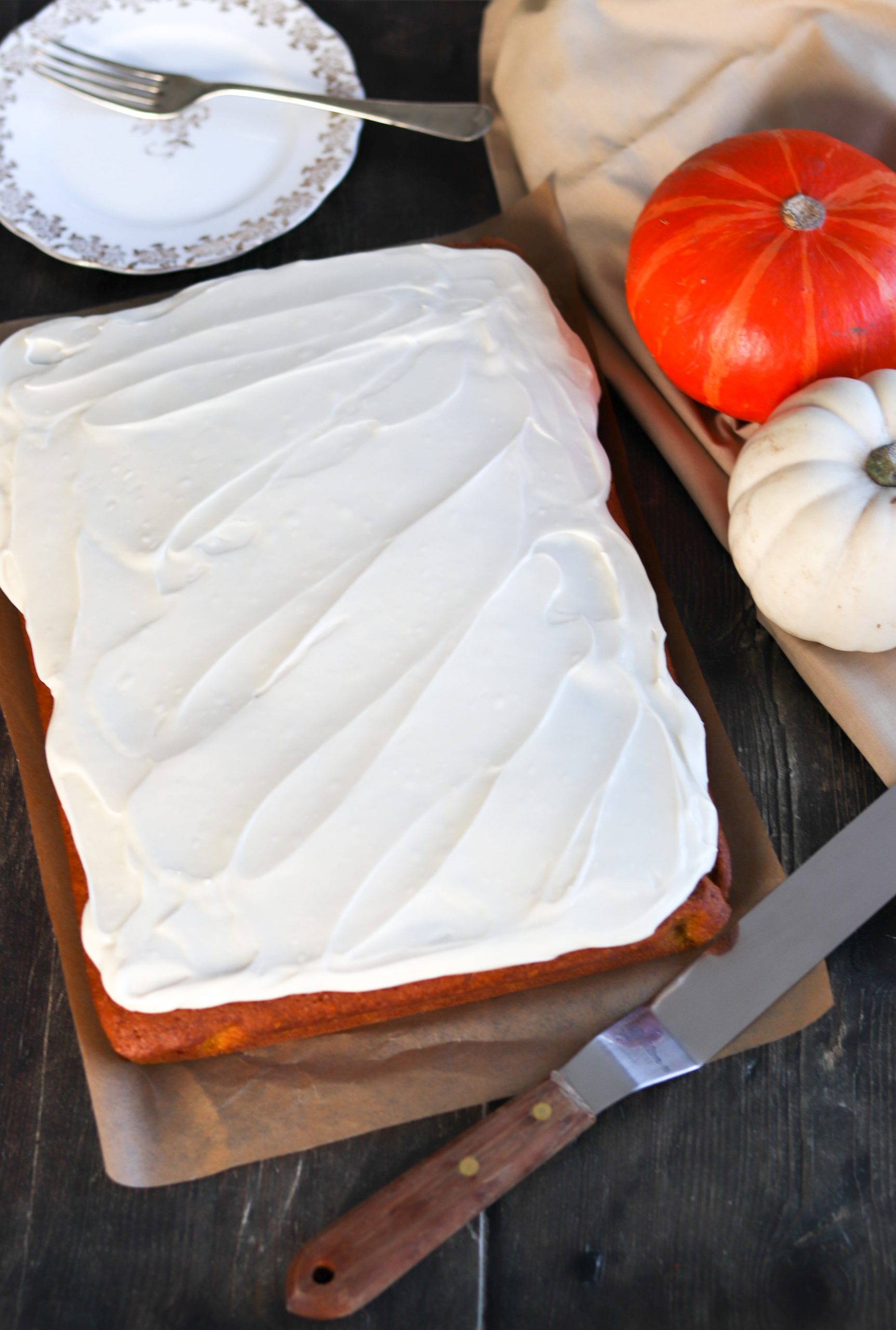 How to get really smooth cream cheese frosting
My number one tip for cream cheese frosting is to make sure you have really soft butter.
I like to get it out of the fridge a good few hours before I want to make the frosting so it is nice and soft. Firm butter is much harder to combine into the frosting and you are more likely to end up with little lumps of butter.
I also like to beat the butter by itself until it is smooth before adding the cream cheese and icing sugar. This helps make it easier for it all to combine.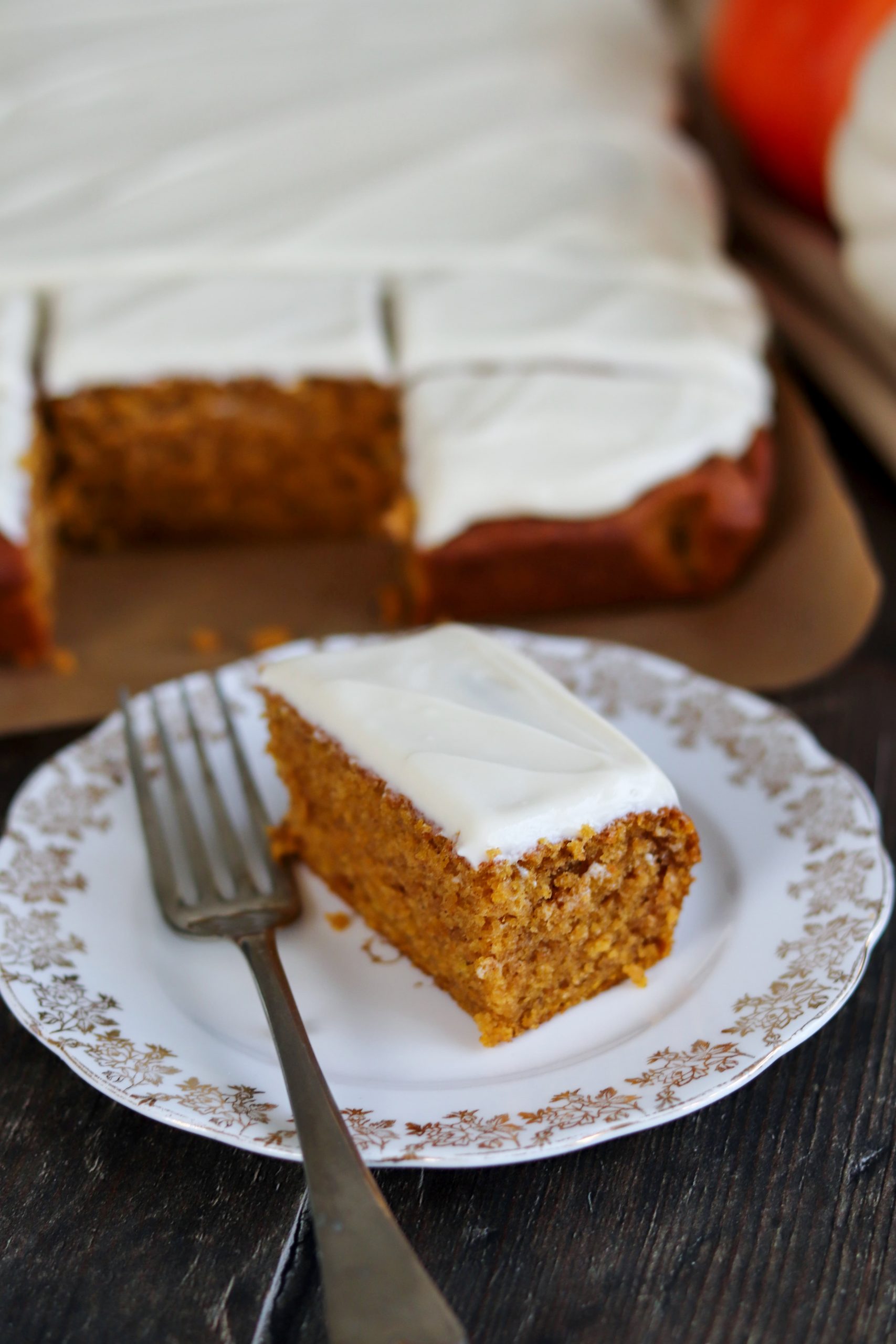 How long do these Pumpkin Bars keep for?
Like carrot cake, Pumpkin Bars with Cream Cheese Frosting keep really well because of their moist sponge. The sponge is oil based which helps it stay moist for longer.
Keep these bars in an airtight container in the fridge for up to 4-5 days. I always recommend keeping any cakes with cream cheese icing in the fridge.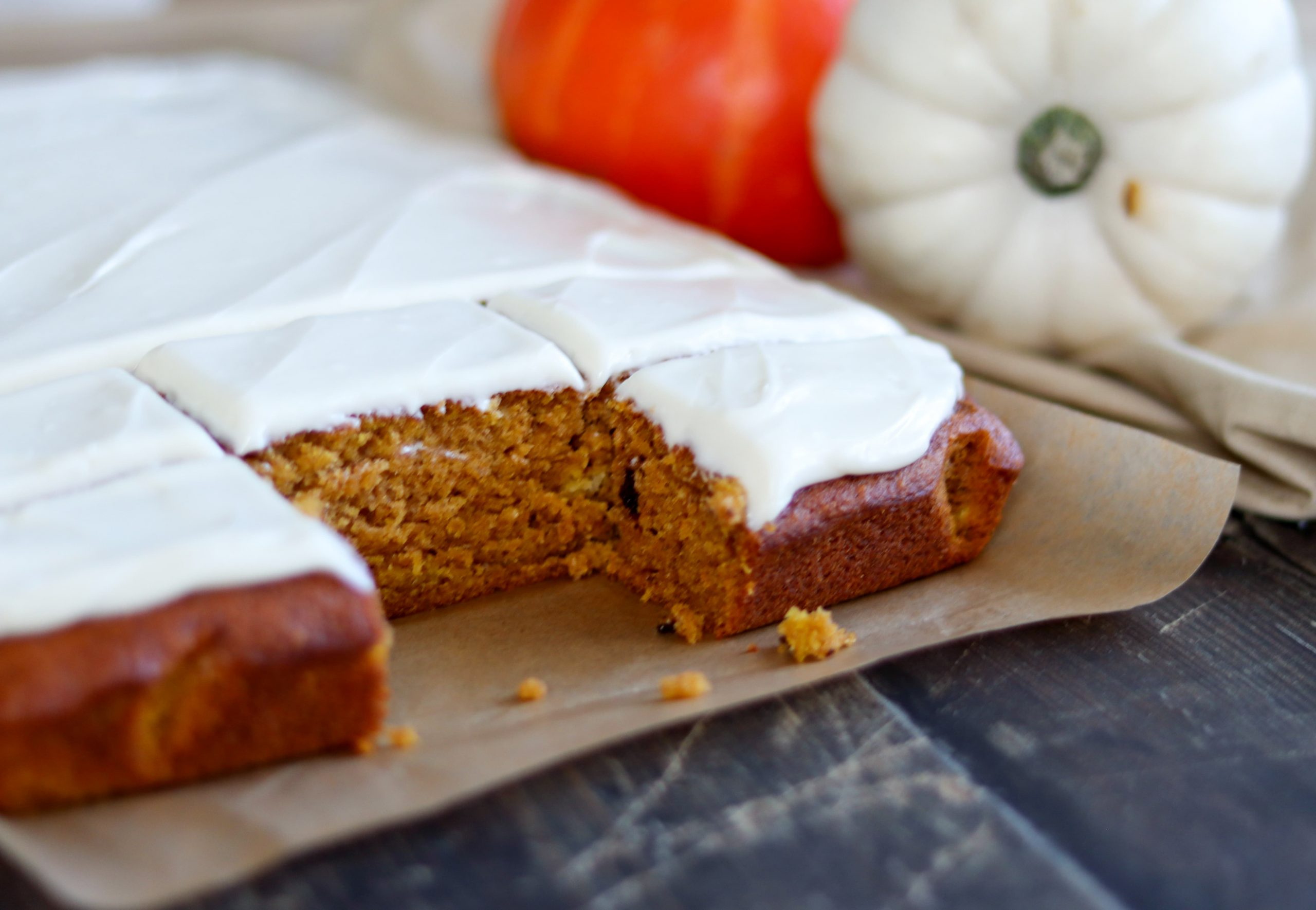 How many pumpkin bars does this recipe make?
That really does depend how big you want to cut them!
I like to cut them into 18 rectangles. However if you would prefer them to be in squares you can obviously do this.
You could also cut the bars larger if you wanted, but I do think 18 is the prefect size for these.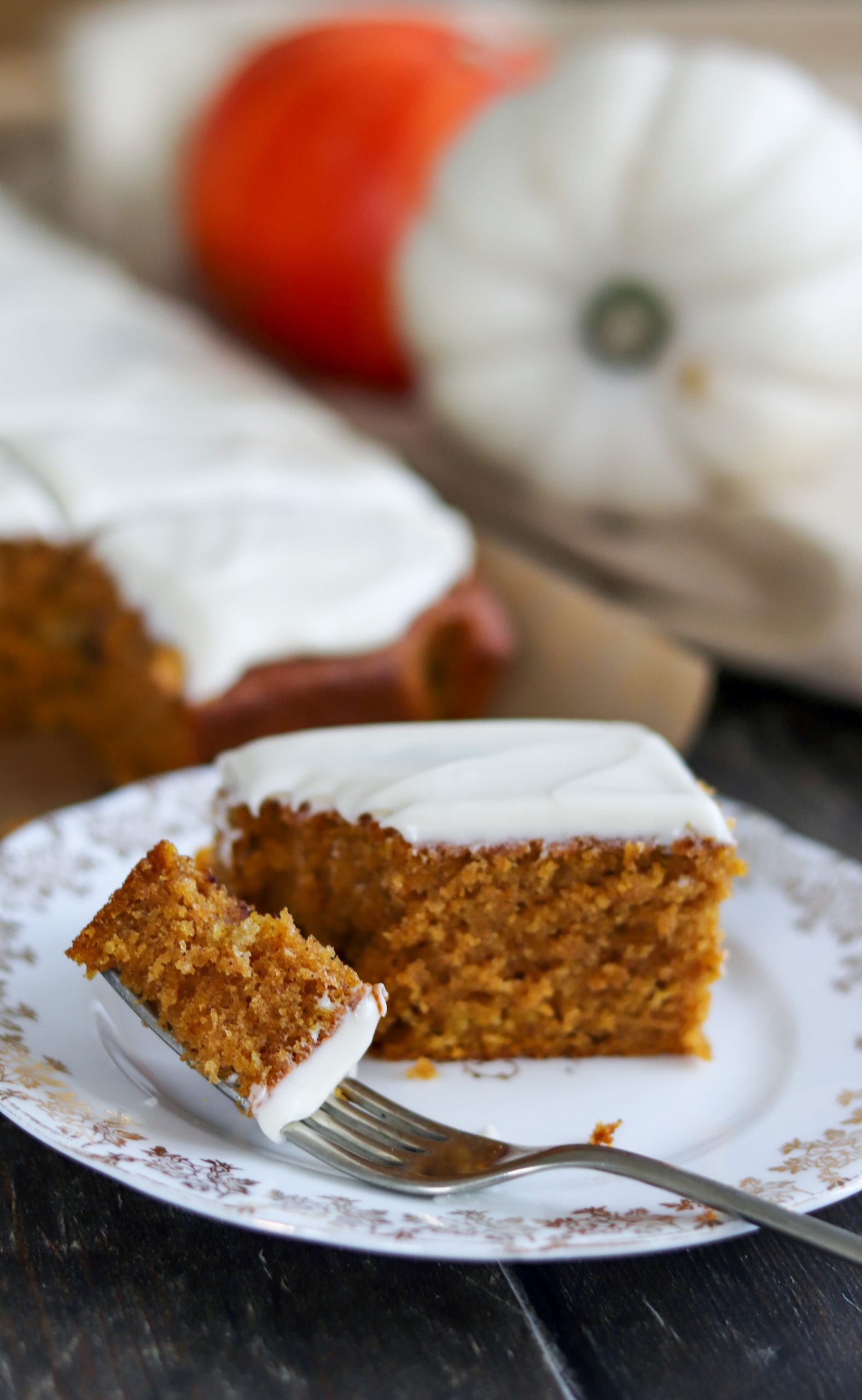 Other cakes you might like
Pin for later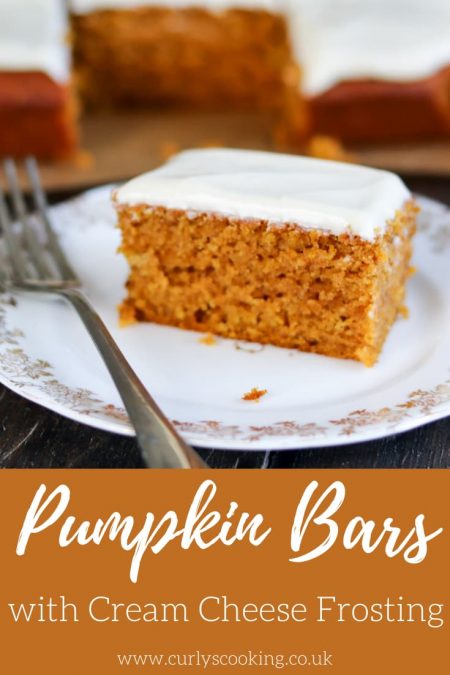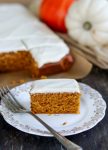 Pumpkin Bars with Cream Cheese Frosting
Incredibly moist and lightly spiced cake smothered in smooth cream cheese frosting. These Pumpkin Bars with Cream Cheese Frosting are absolutely delicious.
Ingredients
For the cake
410

g

caster sugar

250

ml

sunflower oil

320

g

plain flour

425

g

pumpkin puree

(one tin)

2

tsp

baking powder

1

tsp

bicarbonate of soda

2

tsp

cinnamon

(rounded)

4

eggs
For the frosting
35

g

unsalted butter

(softened)

225

g

icing sugar

100

g

cream cheese

full fat

½

tsp

vanilla extract
Instructions
Preheat the oven to 150ºC (fan assisted or 170ºC) and line a tray bake tin with baking parchment

Mix all of the ingredients together thoroughly and pour into the tin. Use a spatula to spread the mix is level and right to the corners

Bake in the oven for 30-35 minutes. Test with a cocktail stick, when it comes out nearly clean the cake is ready

When the cake is completely cool, make the frosting

Mix all of the frosting ingredients together and spread evenly across the cake. Cut into equal sized bars
Recipe Notes
My cake took 36 minutes to cook. Check yours after 30 minutes to see if it is cooked. You don't want the cocktail stick to come out completely clean, a few sticky crumbs are fine because this is quite a moist cake.
Nutritional information is given as a guide only.
Nutrition Facts
Pumpkin Bars with Cream Cheese Frosting
Amount Per Serving
Calories 164
Calories from Fat 18
% Daily Value*
Fat 2g3%
Cholesterol 36mg12%
Sodium 84mg4%
Potassium 84mg2%
Carbohydrates 33g11%
Protein 2g4%
Vitamin A 60IU1%
Calcium 35mg4%
Iron 0.9mg5%
* Percent Daily Values are based on a 2000 calorie diet.