Incredibly simple I almost feel cheeky to call this Chorizo & Egg on Sourdough a recipe! But it is delicious everyone needs it in their life!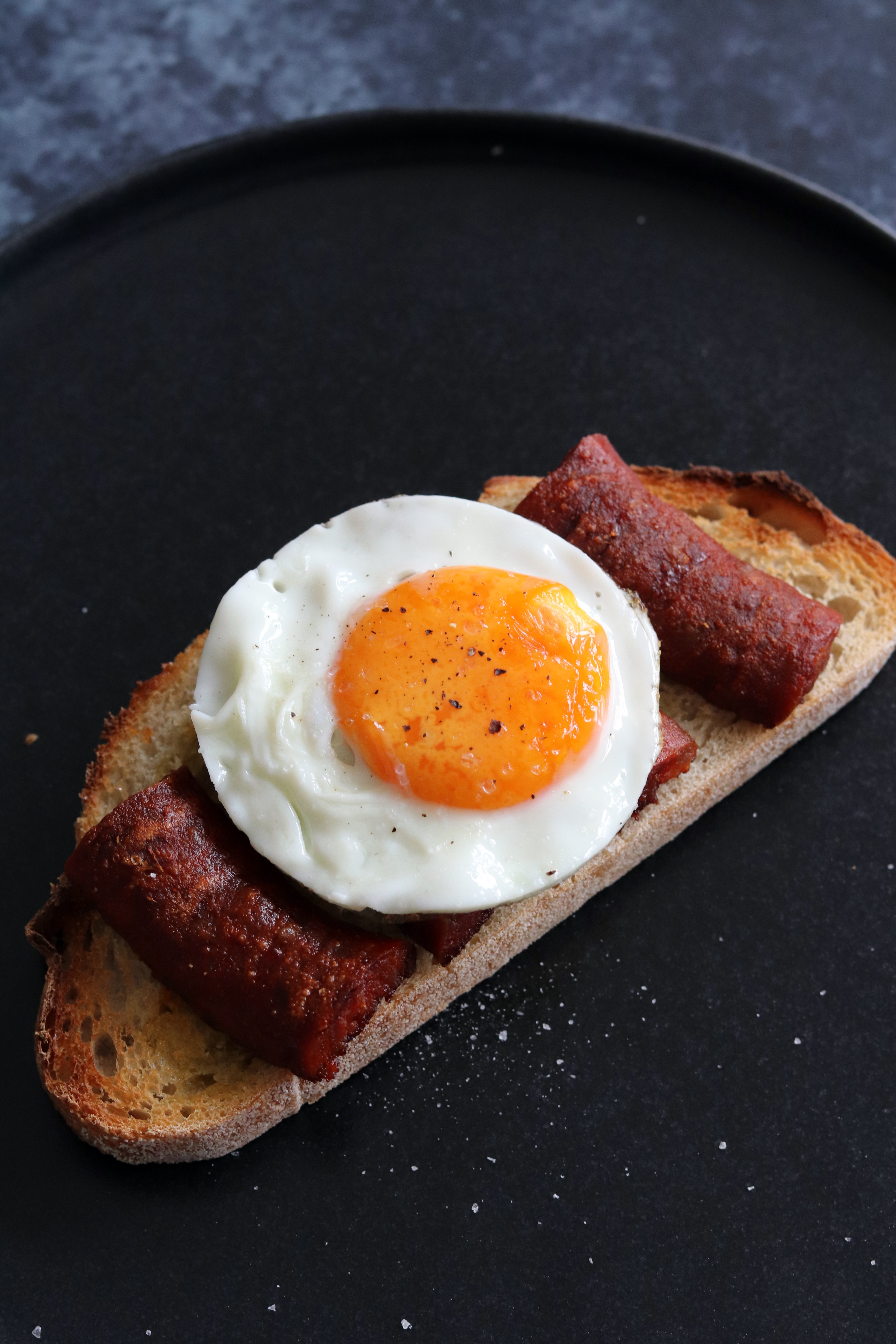 Could breakfast get more simple?
Well obviously yes it could if you fancy cereal or just toast. But as far as a cooked breakfast goes this Chorizo & Egg on Sourdough couldn't get much easier.
As I said, I feel a bit cheeky calling this a recipe because it is so simple. But I hadn't thought of this specific combination until I went to a local restaurant recently.
We went to a restaurant called Nonna's with friends and had their tapas menu. We ate a lot of delicious things, but it was their Griddled Chorizo & Fried Eggs on Toast that really stuck out for me.
Such a simple combination that I have had before in slightly different ways, but never like this.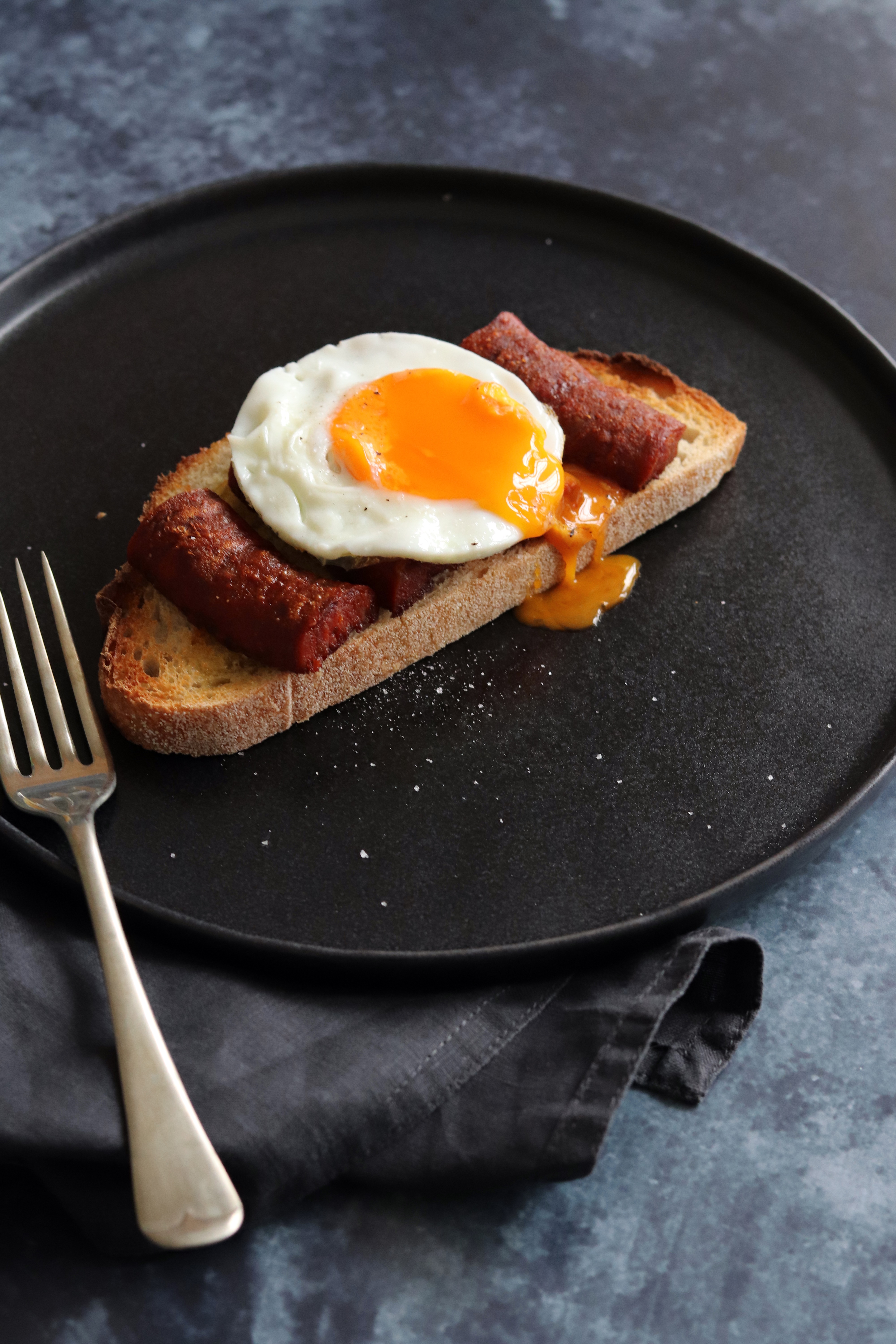 Good eggs make a difference!
Believe it or not, I have only started eating egg yolks in the last year. I'd eat the whites before but not the yolks.
A large part of me starting to eat egg yolks is paying more attention to the eggs I buy. I have always bought free range eggs, but I've started buying golden yolk eggs.
The more well known brand is Clarence Court which have the most orange yolks of any shop bought eggs I've ever seen. This gives the yolk such a rich and creamy flavour that has definitely converted me!
Although Clarence Court eggs are fantastic, they are over double the price of a standard pack of free range eggs. I tend to only buy them when they are on offer.
That is because supermarkets are now offering their own golden yolk eggs that are a good alternative at a much more reasonable price.
I frequently see them in Lidl and Aldi so don't feel like you have to spend the big price tags for a delicious egg.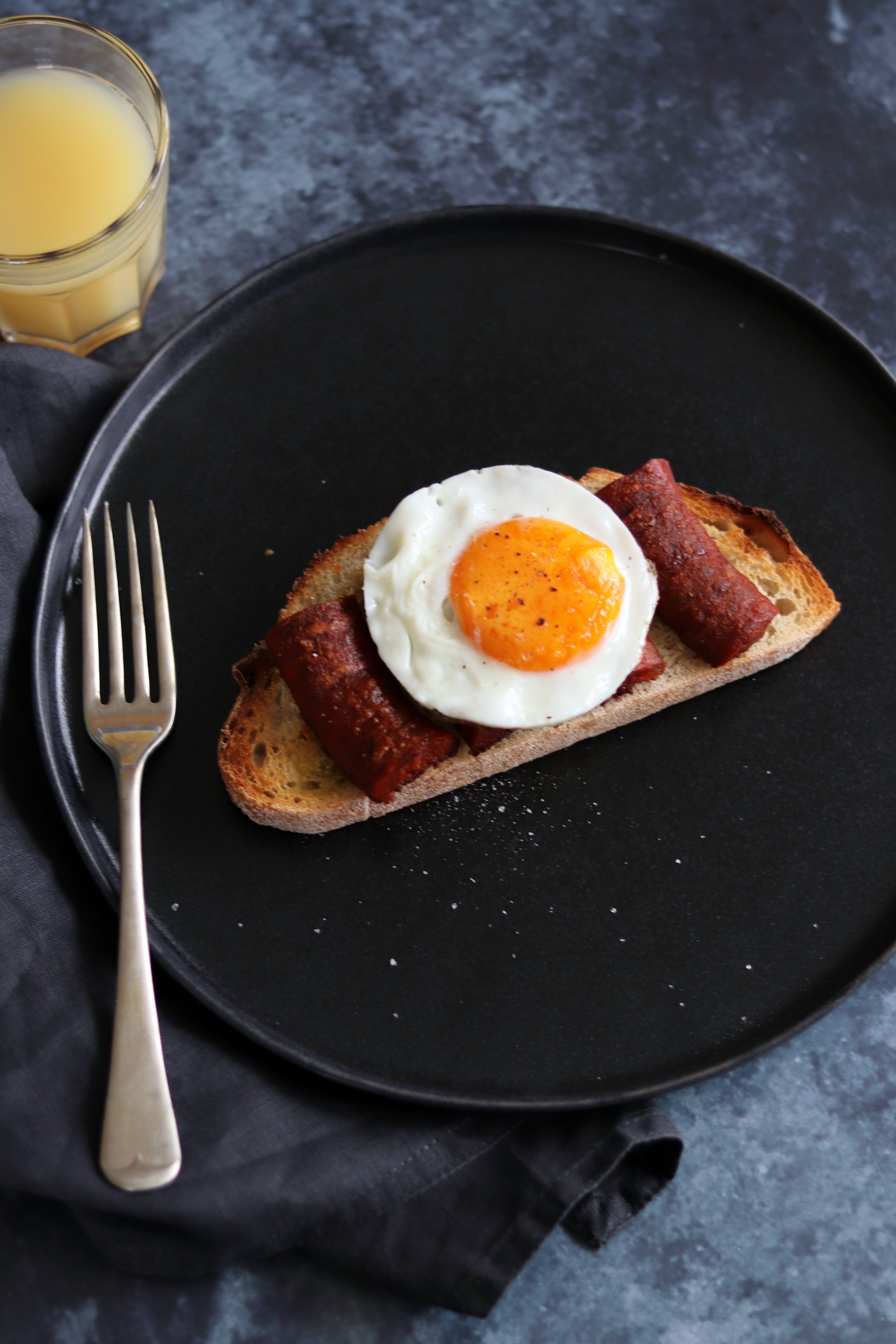 Which bread to use?
I like to use sourdough for this recipe. It's got a lovely flavour and looks a little bit more special.
I have a Lidl just down the road from me and I am very happy that their bakery offers a great selection of freshly baked bread. Their sourdough boule is one of my frequent purchases!
If you don't want to use sourdough, I would recommend another artisan loaf. Even though you are toasting it, you do still want it to have a good crust.
For something like this I wouldn't recommend a sliced loaf of bread.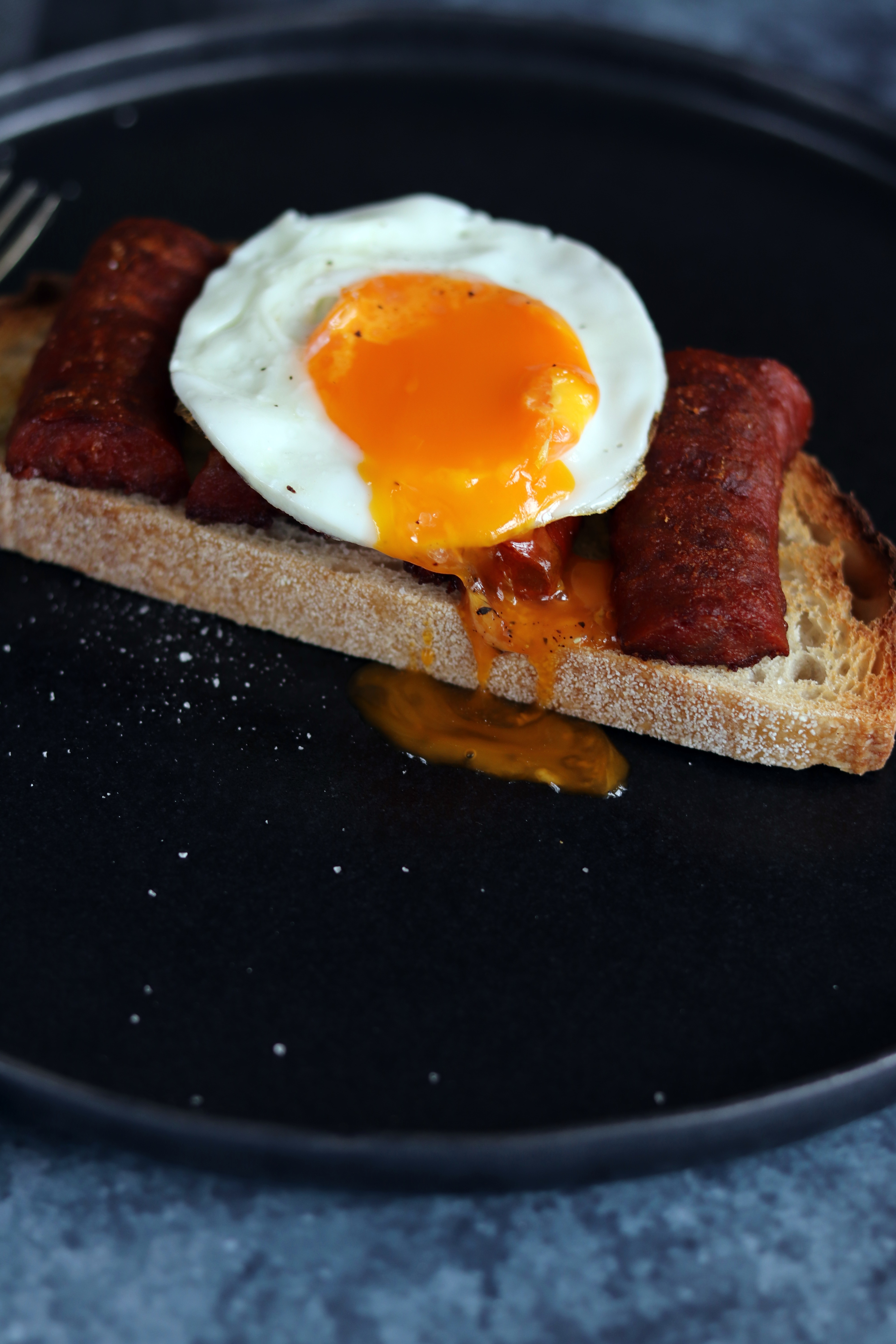 Finishing touches and tweaks
What makes this recipe so tasty are the small finishing touches. The olive oil on the toasted sourdough with a pinch of salt and pepper is delicious, don't forget it!
And the seasoning again over the egg at the end really does make a difference.
If I was making this recipe not to be photographed, I would fry my eggs in the oil released from the chorizo. This would add even more delicious flavour to the eggs.
I didn't do this because the oil would colour the egg white which would have looked a little odd in the photos! If you use the chorizo oil there is no need to add more oil to fry your eggs.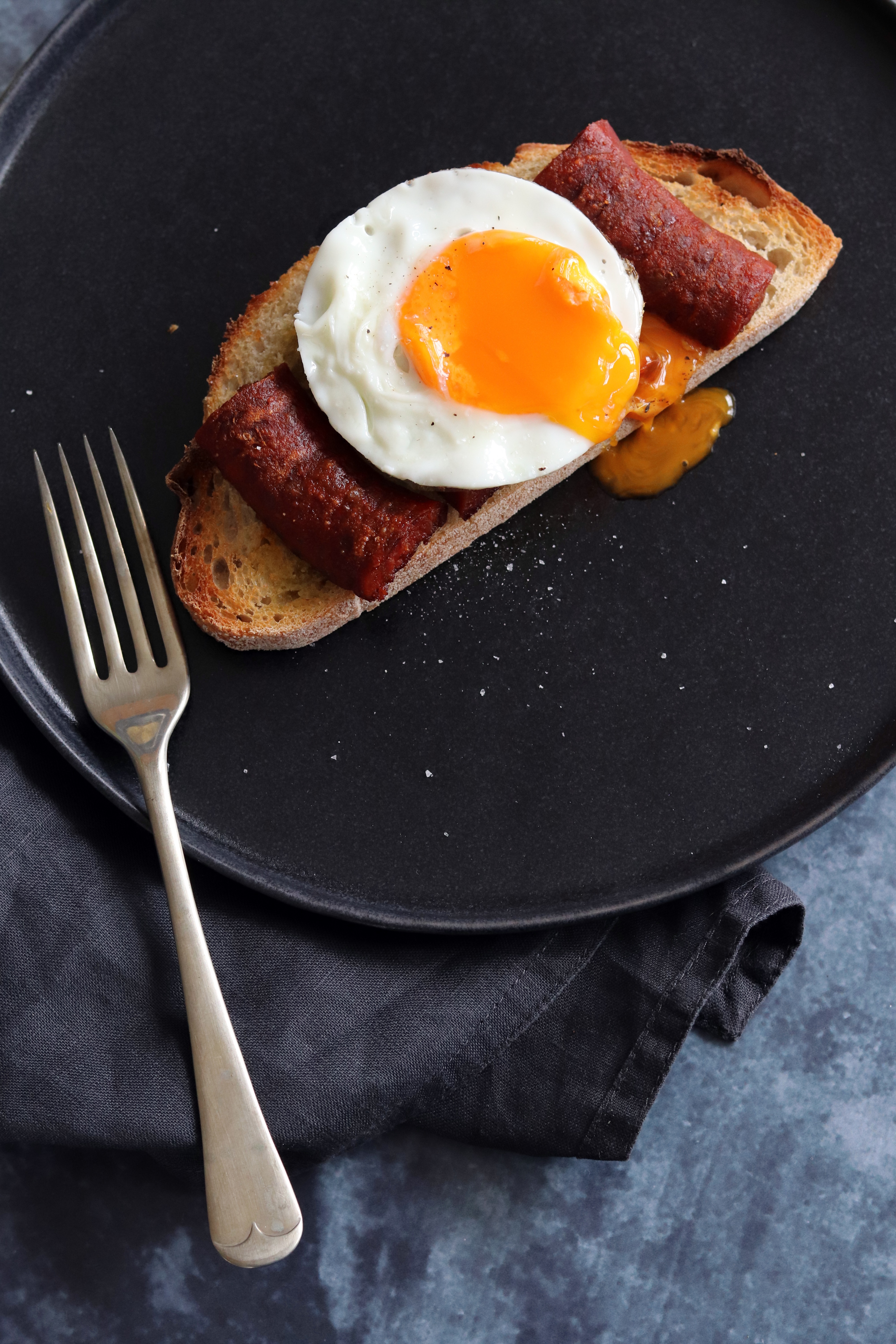 Another thing I did different for the photos that I wouldn't do usually is I trimmed the egg. The only reason I did this was so you could actually see the toast and the chorizo underneath.
I initially laid the egg as it was on top and it completely hid the chorizo! Not ideal for photography purposes but perfectly fine usually.
This recipe isn't set in stone, it is meant to be tweaked. Your slice of bread might be bigger or smaller than mine so you may need more or less chorizo.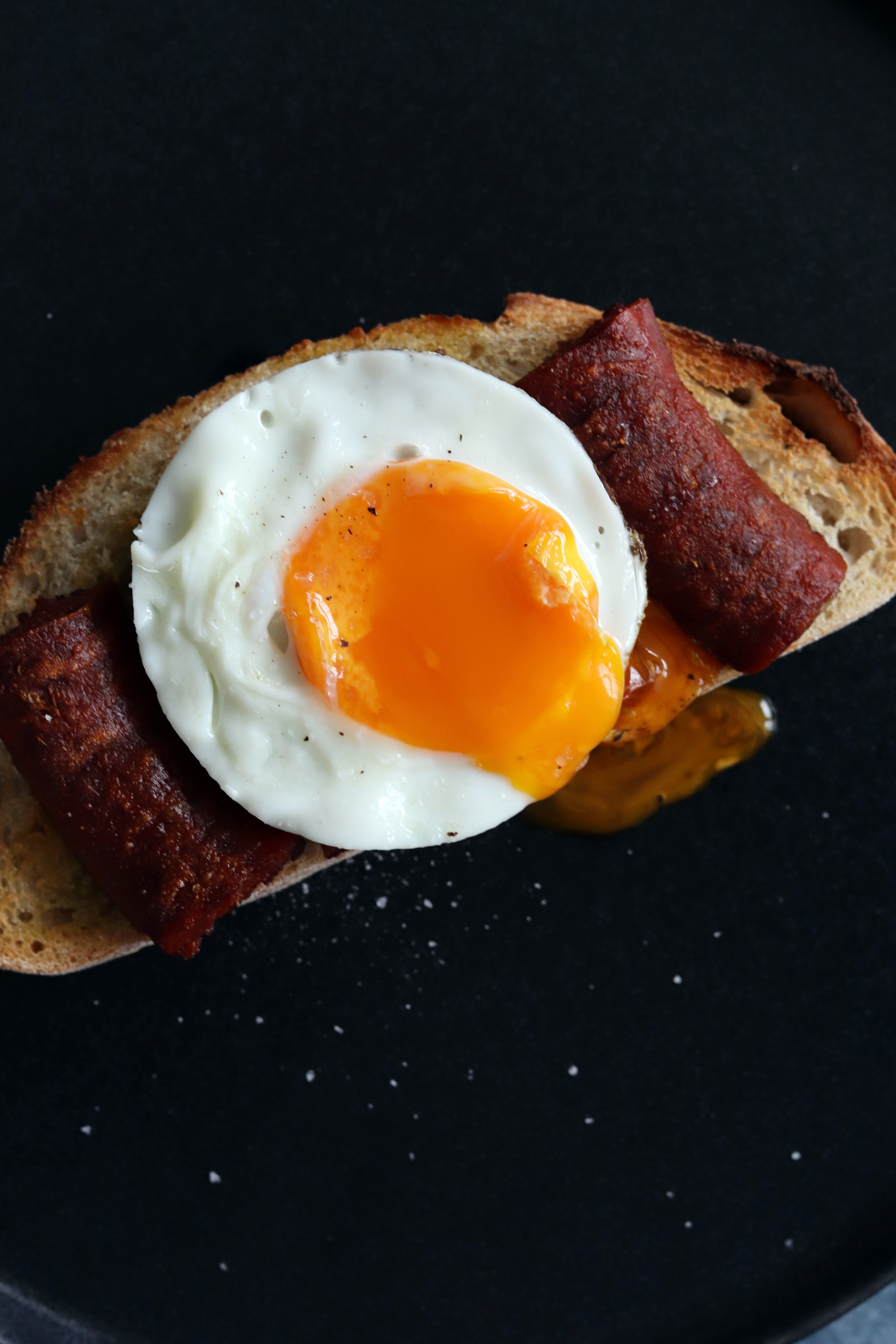 Other recipes you might like
Pin for later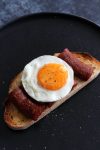 Chorizo & Egg on Sourdough
Incredibly simple I almost feel cheeky to call this Chorizo & Egg on Sourdough a recipe! But it is delicious everyone needs it in their life!


Ingredients
2

slices

sourdough

140

g

chorizo

2

eggs

pinch

sea salt

pinch

black pepper

2

tsp

sunflower oil

½

tsp

olive oil
Instructions
Cut your slices of sourdough. Cut two lengths of chorizo to fit on your bread. Cut each length in half and remove the skin

In a frying pan over a medium heat, cook the chorizo for a couple of minutes on each side until crisp. Remove from the pan and set aside

Toast the bread while you fry the eggs

If you do not want to fry the egg in the chorizo oil, remove it from the pan and add up to 2 teaspoons of sunflower oil. Fry the egg over a medium heat until it is to your liking

When the bread is toasted, drizzle it with olive oil and a sprinkle of sea salt

Assemble by placing the chorizo on top of the toast and topping with the egg. Sprinkle the egg with a pinch of salt and pepper and serve
Recipe Notes
Nutritional information is given as a guide only.
Nutrition Facts
Chorizo & Egg on Sourdough
Amount Per Serving
Calories 576
Calories from Fat 297
% Daily Value*
Fat 33g51%
Cholesterol 225mg75%
Sodium 1255mg55%
Potassium 421mg12%
Carbohydrates 38g13%
Protein 30g60%
Vitamin A 238IU5%
Calcium 58mg6%
Iron 4mg22%
* Percent Daily Values are based on a 2000 calorie diet.