Cheese & Bacon Breakfast Quesadillas are perfect for a lazy weekend brunch. Simple to make and very easy to customise, these will become a family favourite.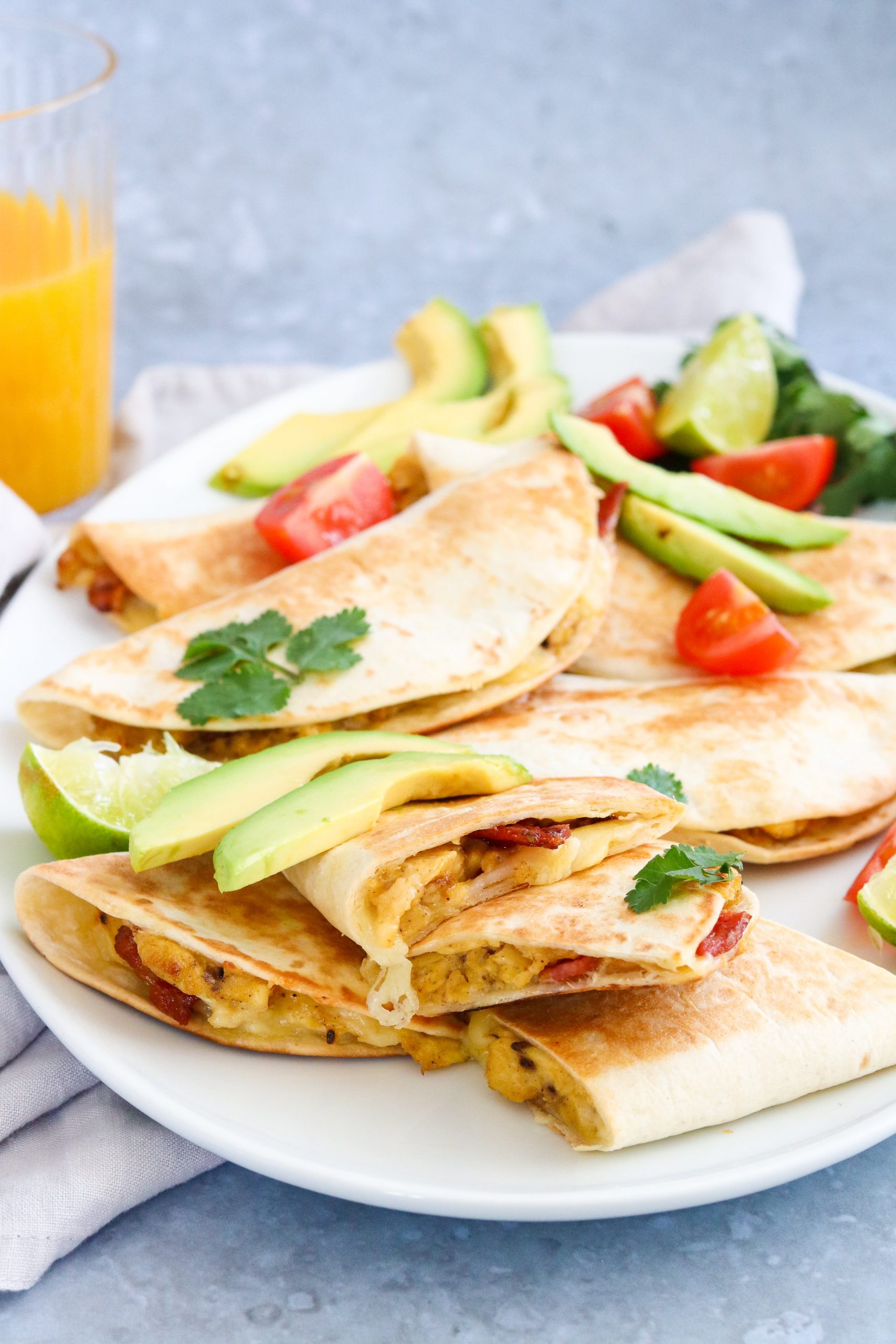 what are quesadillas?
Quesadillas are a traditional Mexican food that are also popular in the United States.
They are made from tortillas filled with a number of fillings which can be meat and/or vegetables. However quesadillas always include cheese. This is essential!
Although quesadillas originated in Mexico, these Cheese & Bacon Breakfast Quesadillas are definitely not traditional. The inspiration came from the more Americanised versions of quesadillas – definitely a bit Tex-Mex.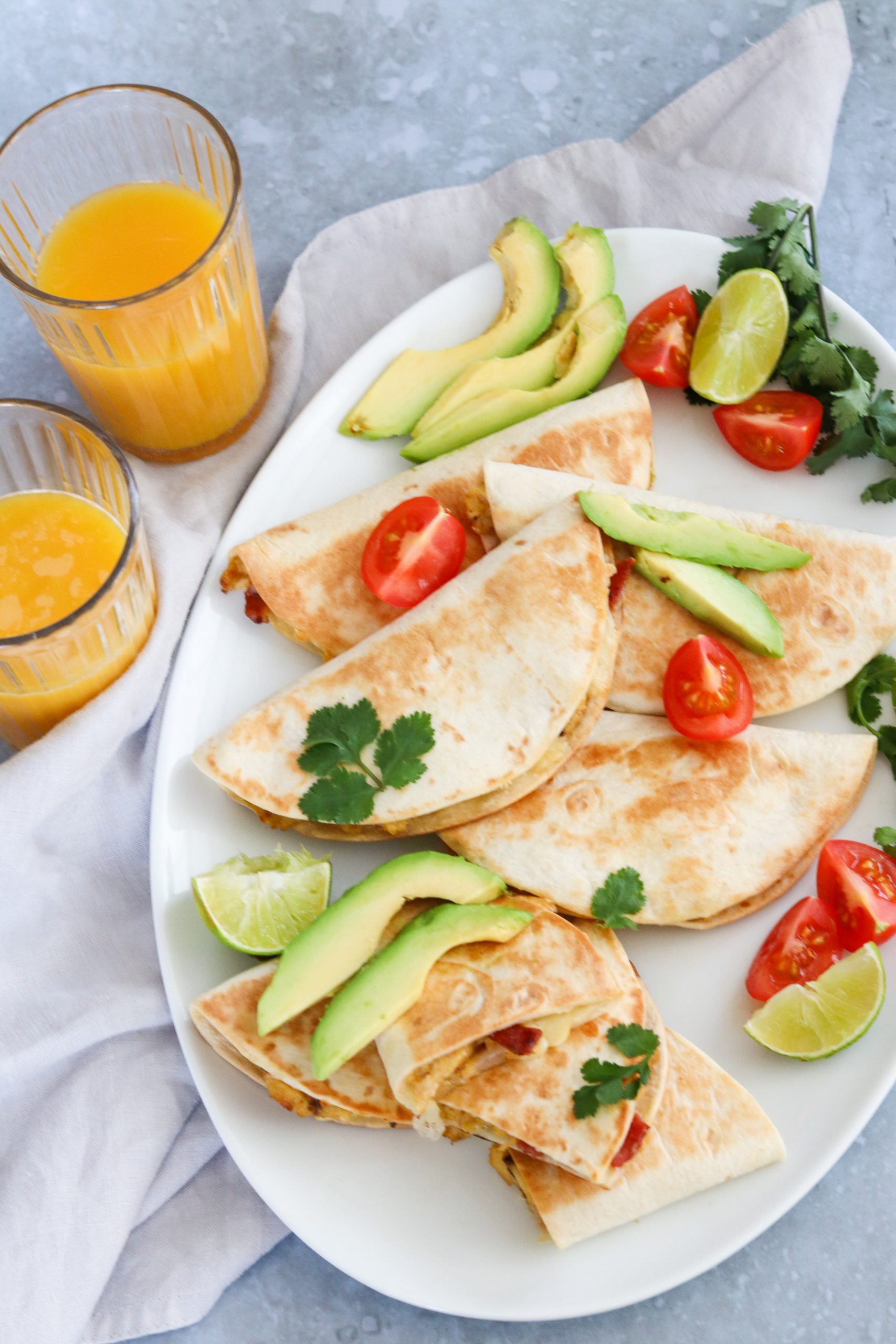 cheese & Bacon breakfast quesadillas – the perfect weekend brunch
During the week, we often don't have a great deal of time to spend preparing breakfast. That is why I like to take a bit more time and make something a bit different at the weekend.
These Cheese & Bacon Breakfast Quesadillas take bacon and eggs and make them into something a bit different.
I love using tortillas in breakfast recipes. My Chorizo & Egg Breakfast Burrito is a more substantial breakfast or brunch. And I often serve my Mexican Eggs with a mini tortilla or two.
These Breakfast Quesadillas are simple to make and easy to customise which is great if you are catering for your family or guests.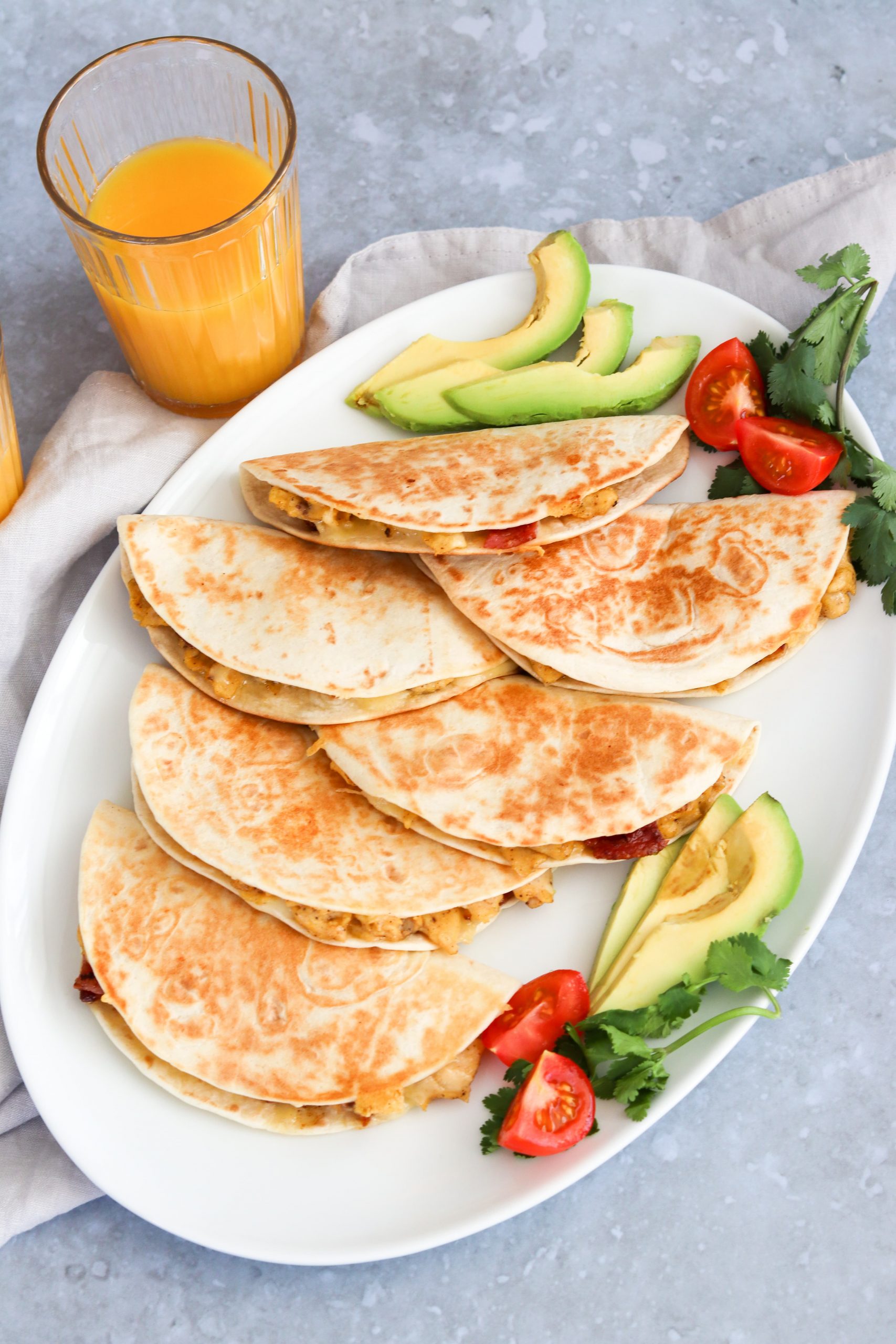 Don't overcook your eggs!
I know people have quite specific preferences when it comes to how their scrambled eggs are cooked. Whenever my uni friends come to stay, I tend to make scrambled eggs and everyone seems to like them slightly different.
Regardless of your preferences, you really do want to make sure you don't overcook them for these quesadillas. By this I mean you definitely don't want them to be completely dry.
You want them to still have moisture because they will cook further when you add them to the quesadilla.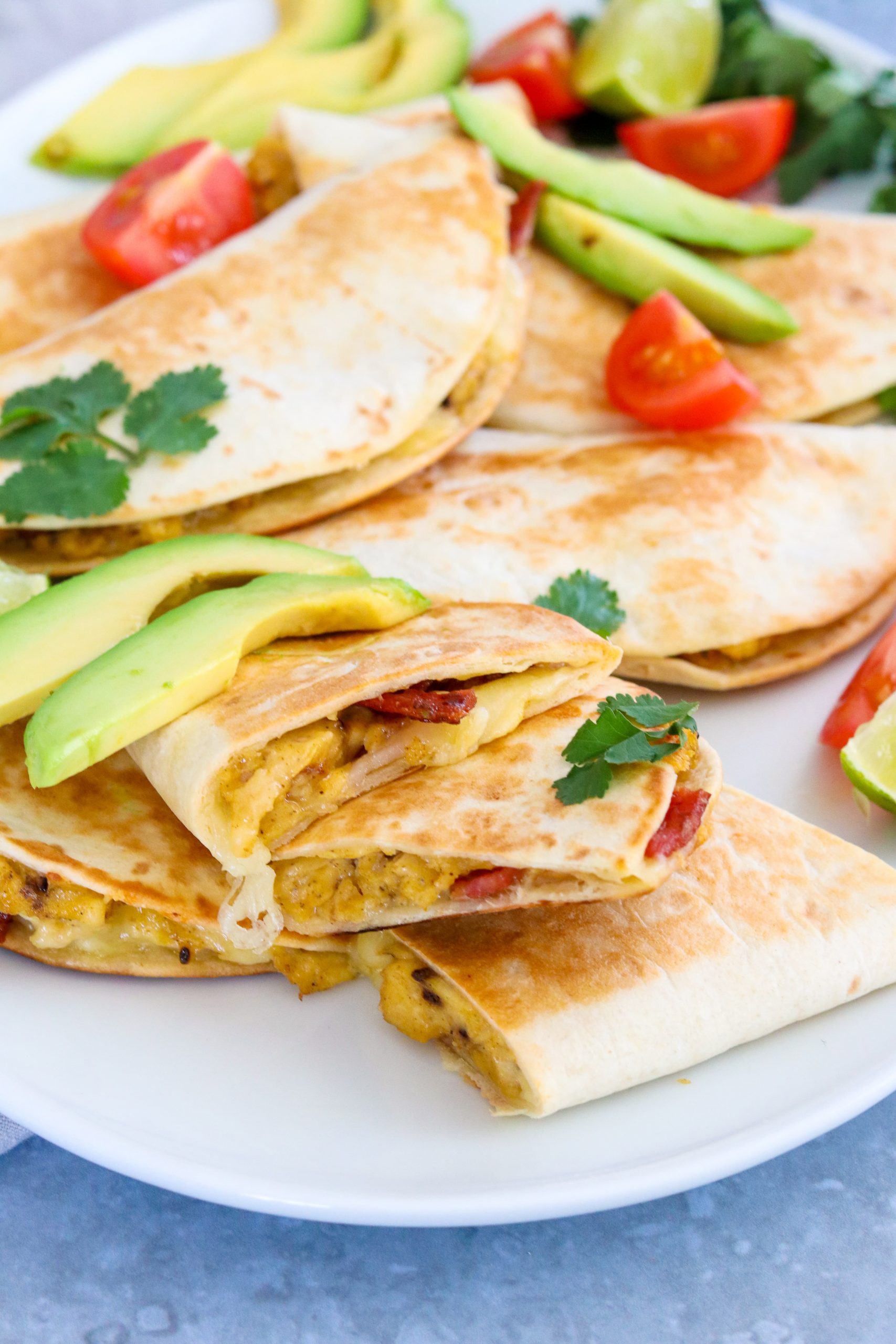 which bacon is recommended to use?
I have used smoked streaky bacon for these Cheese & Bacon Breakfast Quesadillas.
I always use smoked bacon because this is what I prefer. You can of course use unsmoked bacon.
I used streaky bacon because I think this is easier to get nice and crisp. If you're from the US, this is just your standard bacon.
You can use back bacon or bacon medallions if you prefer. These quesadillas are really flexible so use what you usually buy bacon wise.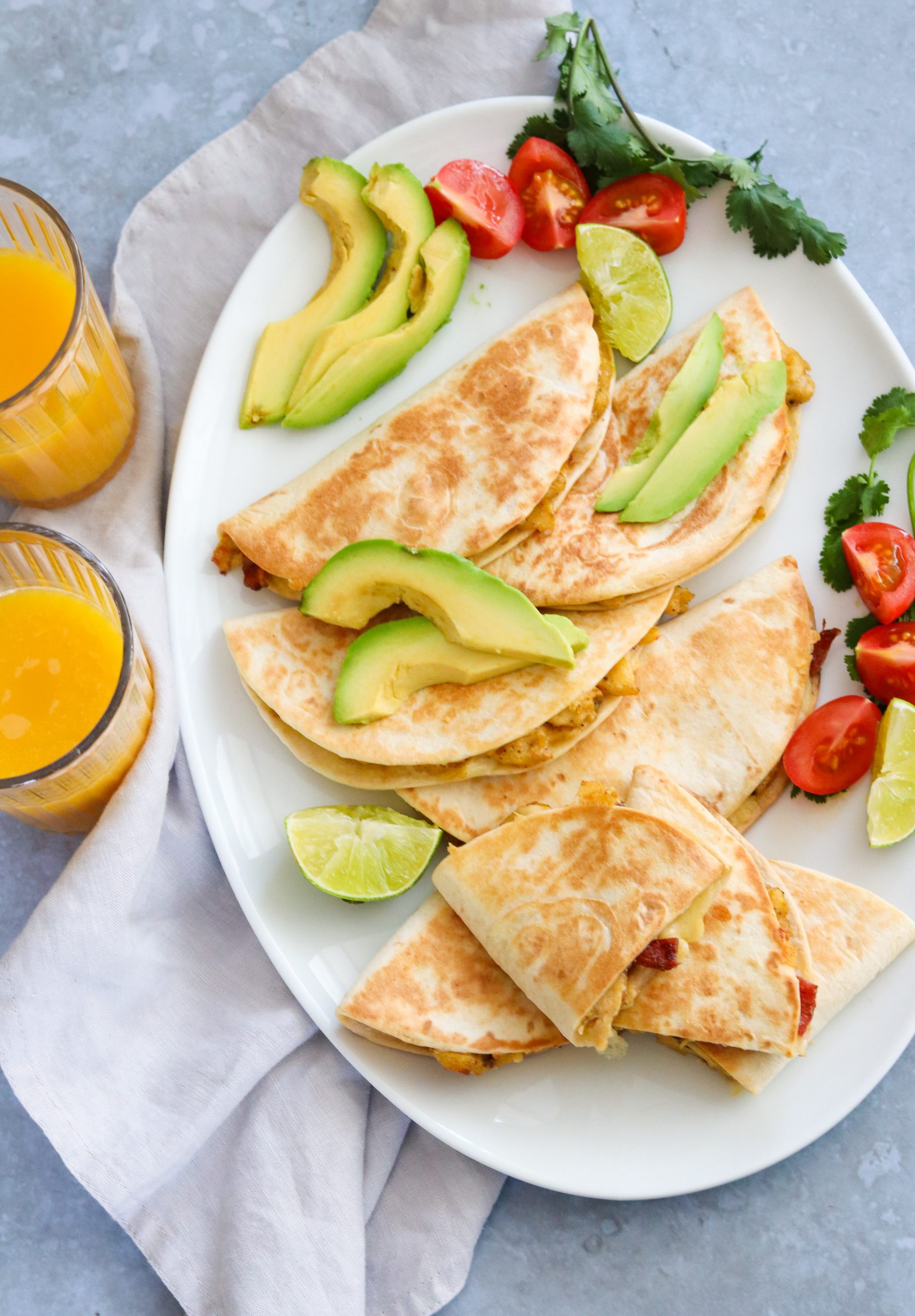 which tortillas are best to use?
I like to use mini flour tortillas for these Breakfast Quesadillas. They're nice and soft and are a good size if you want to pick them up.
By using the mini tortillas, it makes it easier to customise each quesadilla to people's preferences. You could of course use normal sized tortillas and cut them up.
Corn tortillas would be more commonly used in traditional Mexican quesadillas so you can of course use these.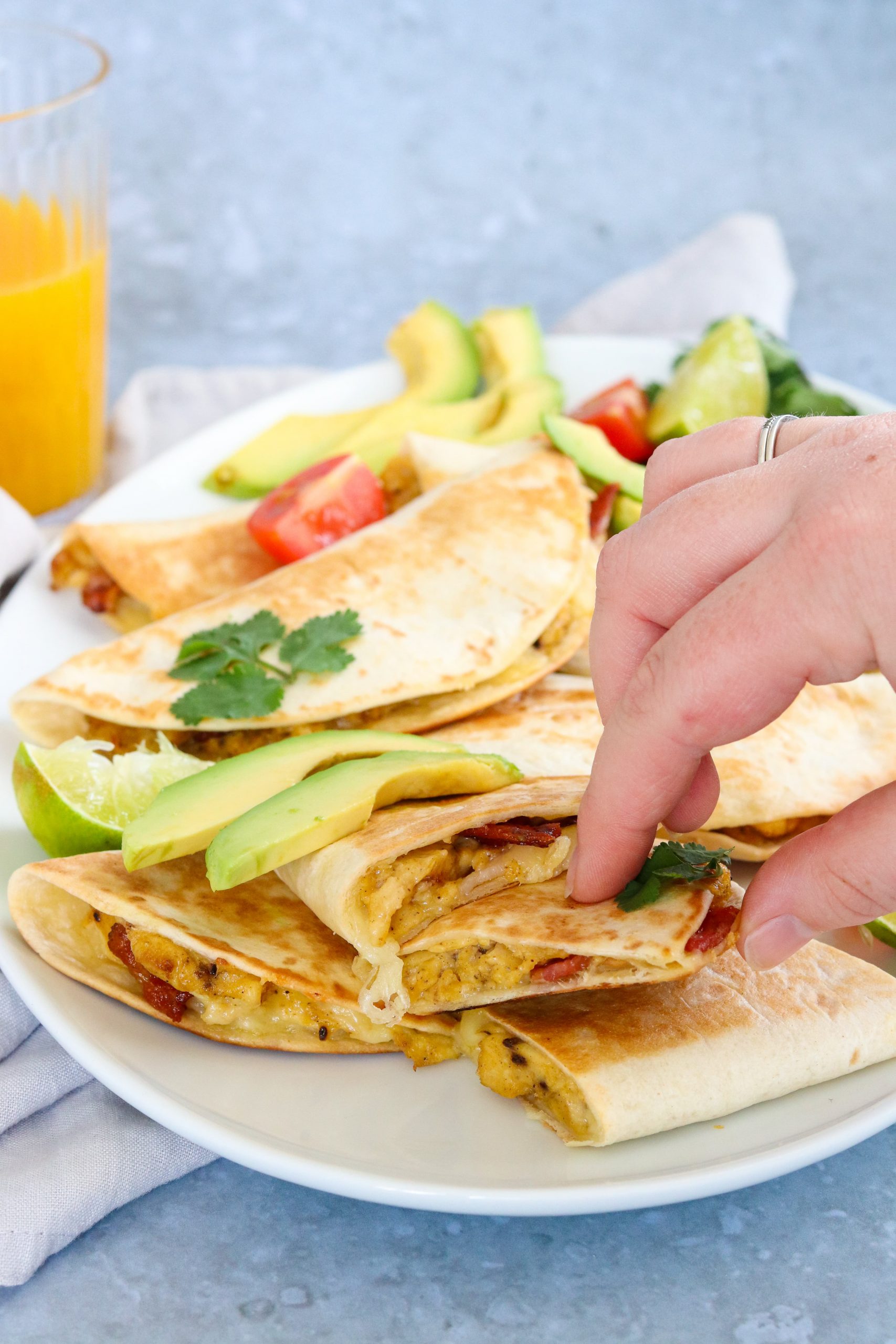 which cheese works best?
You will always find cheddar cheese in my fridge. I really like extra mature cheddar which I grate myself. This is my go-to cheese and is therefore what I use in these quesadillas.
You could use Monetary Jack cheese, Gruyère or any other cheese that melts really well. Although mozzarella melts well, it doesn't provide much flavour.
Low fat cheddar can be used, but from my experience it doesn't seem to melt as well. You can of course use this, but don't expect it to be super melted.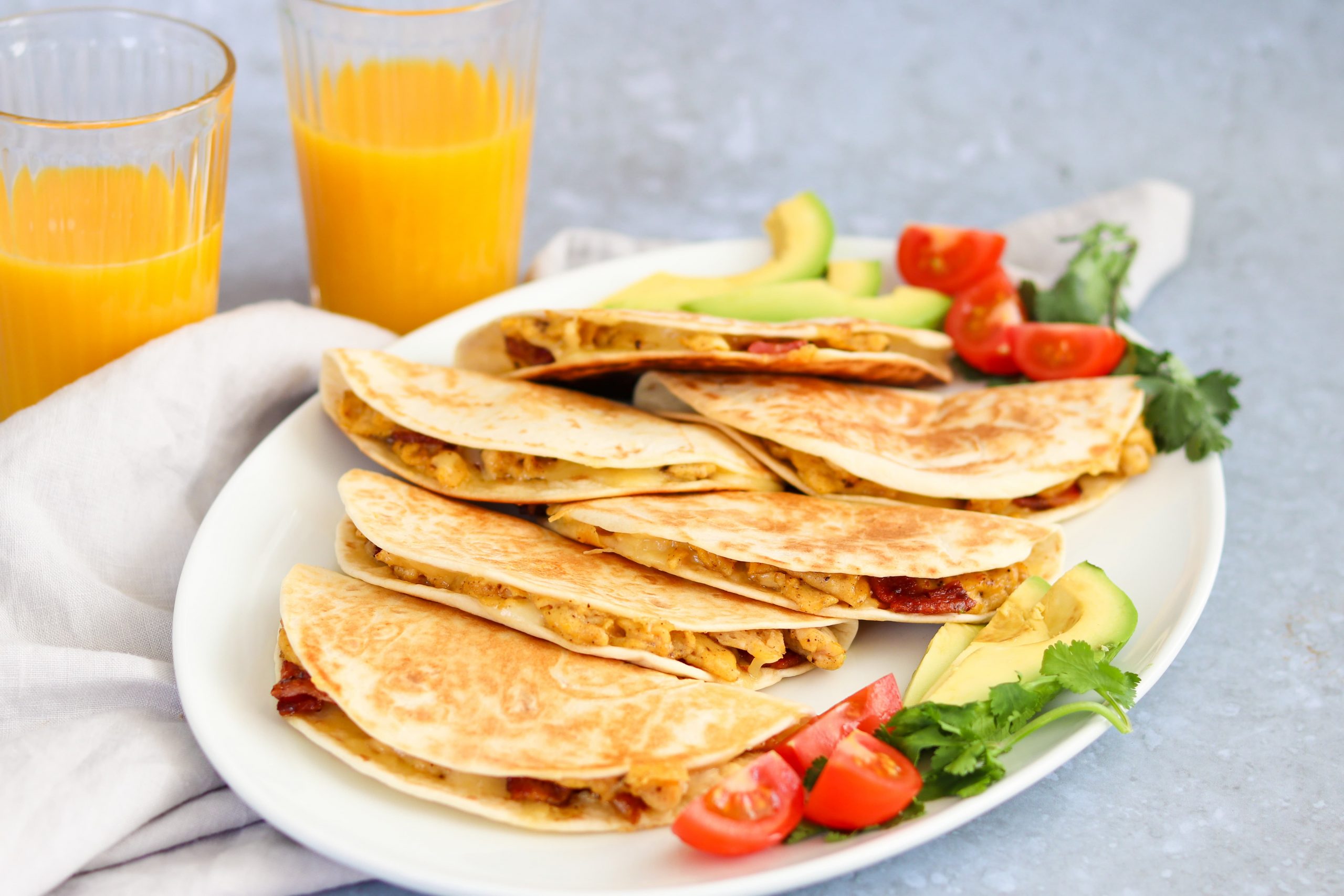 Are these breakfast quesadillas spicy?
Chilli might not be the first ingredient you associate with breakfast or brunch. I have only added a very small amount which gives a subtle warmth rather than packing any heat.
If you don't fancy this, you can of course leave it out. Or if you prefer more heat, you can add a bit more.
I have used ancho chilli powder because I like the smoky flavour it provides. If you don't have ancho chilli powder, you can use whatever you have in the cupboard.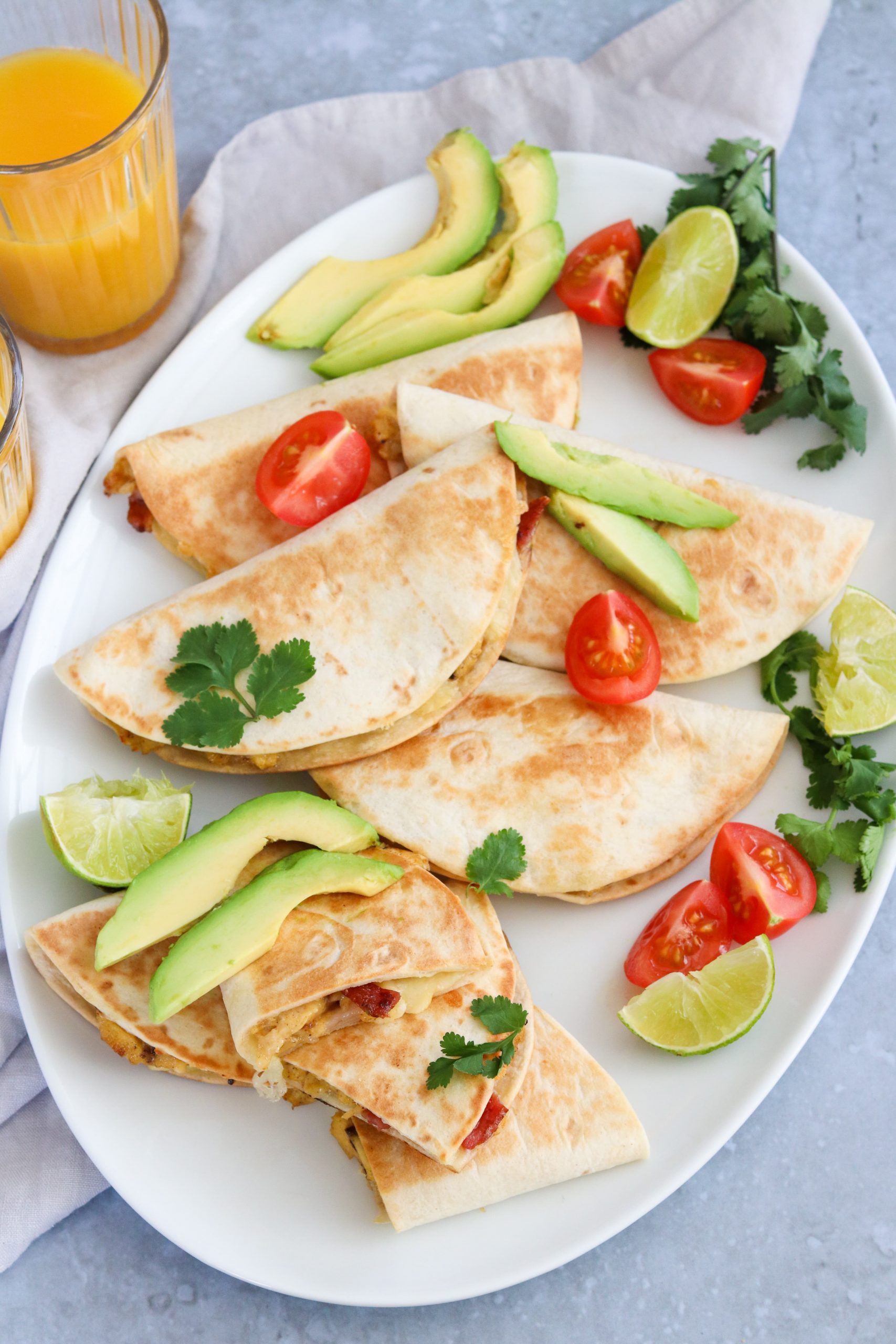 customise your quesadillas
These Cheese & Bacon Breakfast Quesadillas are calling out to be customised. There are almost unlimited ways you could tweak them.
Saying that, the one element I don't think should be changed is the egg. It is the one staple ingredient in Breakfast Quesadillas and I do think it does need to be there!
You could swap the bacon to any protein you like. Chorizo and sausage would both work really well in these quesadillas. Just make sure they are both cooked before you add them as they won't cook all the way through when in the quesadilla.
You could also leave the meat out altogether and add vegetables instead. Peppers and mushrooms would work really well.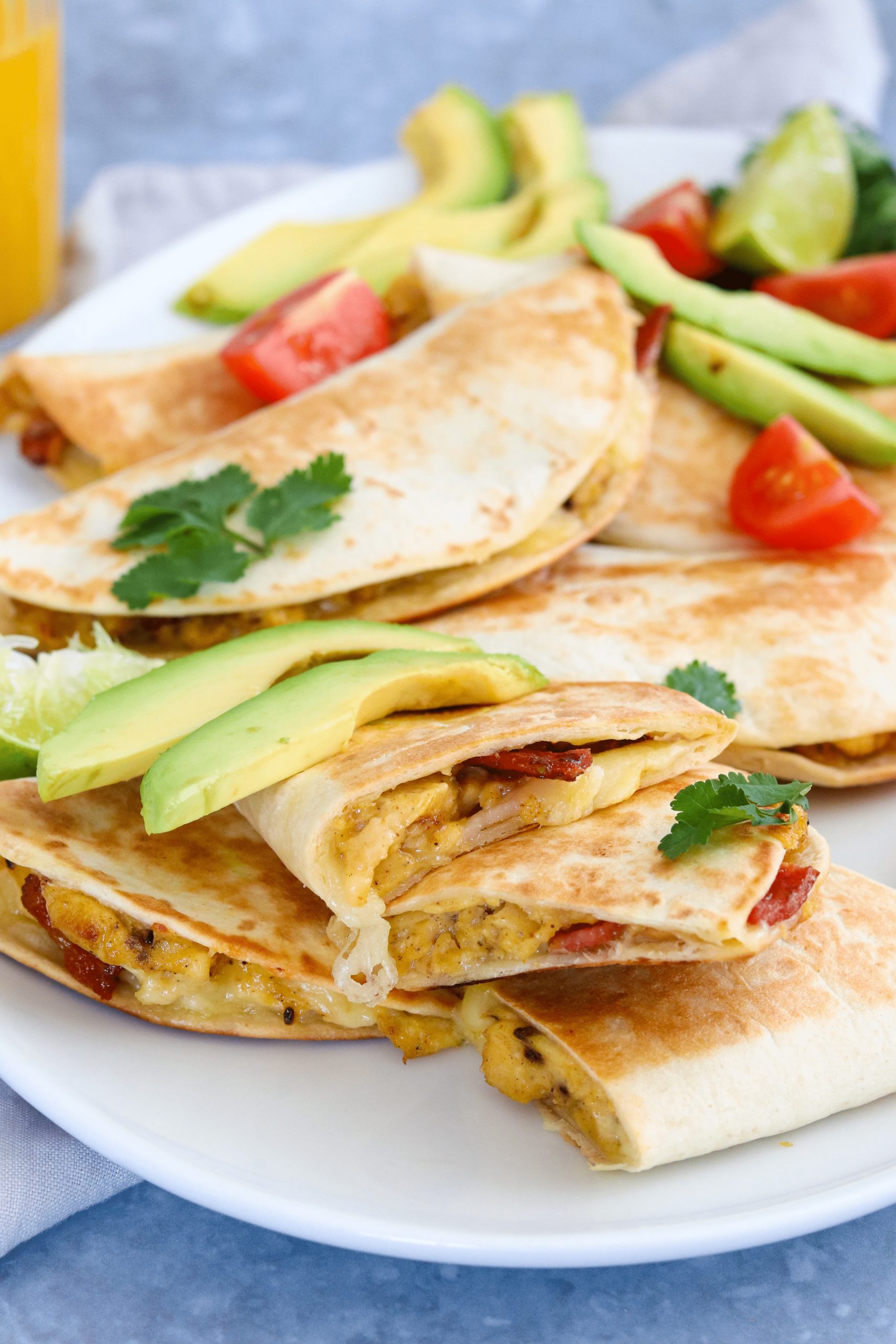 how to serve these breakfast quesadillas
These can be served just as they are and make a delicious breakfast or brunch.
You can make them a bit fancier by serving them with some sliced avocado or Chunky Guacamole.
If you want to make this a portable breakfast, wrap them in foil so they stay warm. This will make the tortillas become softer but they will stay warmer for longer.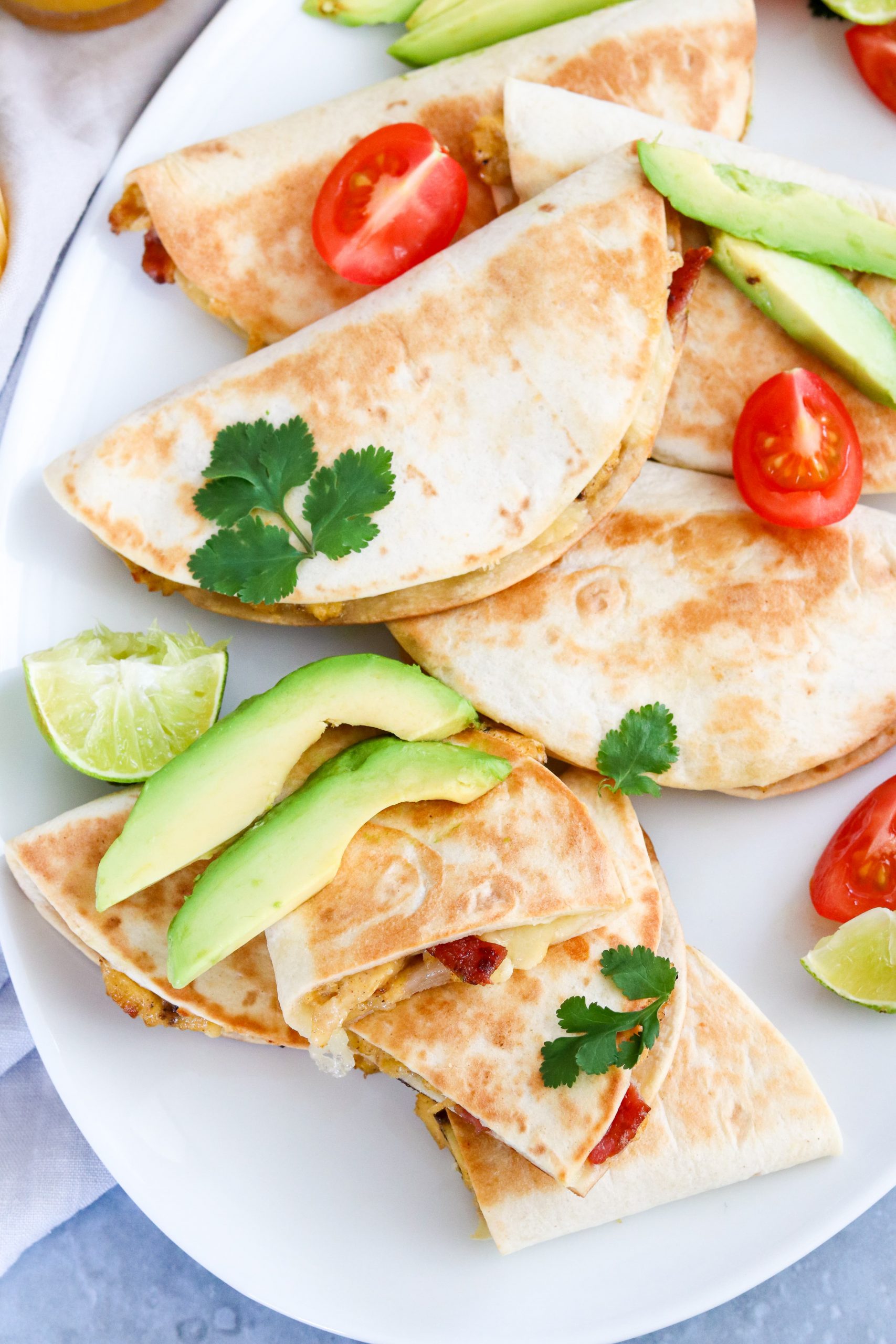 how to make these gluten free, vegetarian or vegan
These quesadillas are really easy to make gluten free. Instead of using flour tortillas, use corn tortillas. These are naturally gluten free.
To make them vegetarian, just leave out the bacon and add your favourite vegetables. As I mentioned before, peppers and mushrooms would work well. Spinach or kale would also be good options.
Making these vegan requires a few more swaps. Instead of eggs, you can use egg substitute which looks similar to scrambled egg. Alternatively you can make a tofu scramble.
Obviously leave out the bacon and add any vegetables you like. And finally, use your favourite vegan cheese that melts well.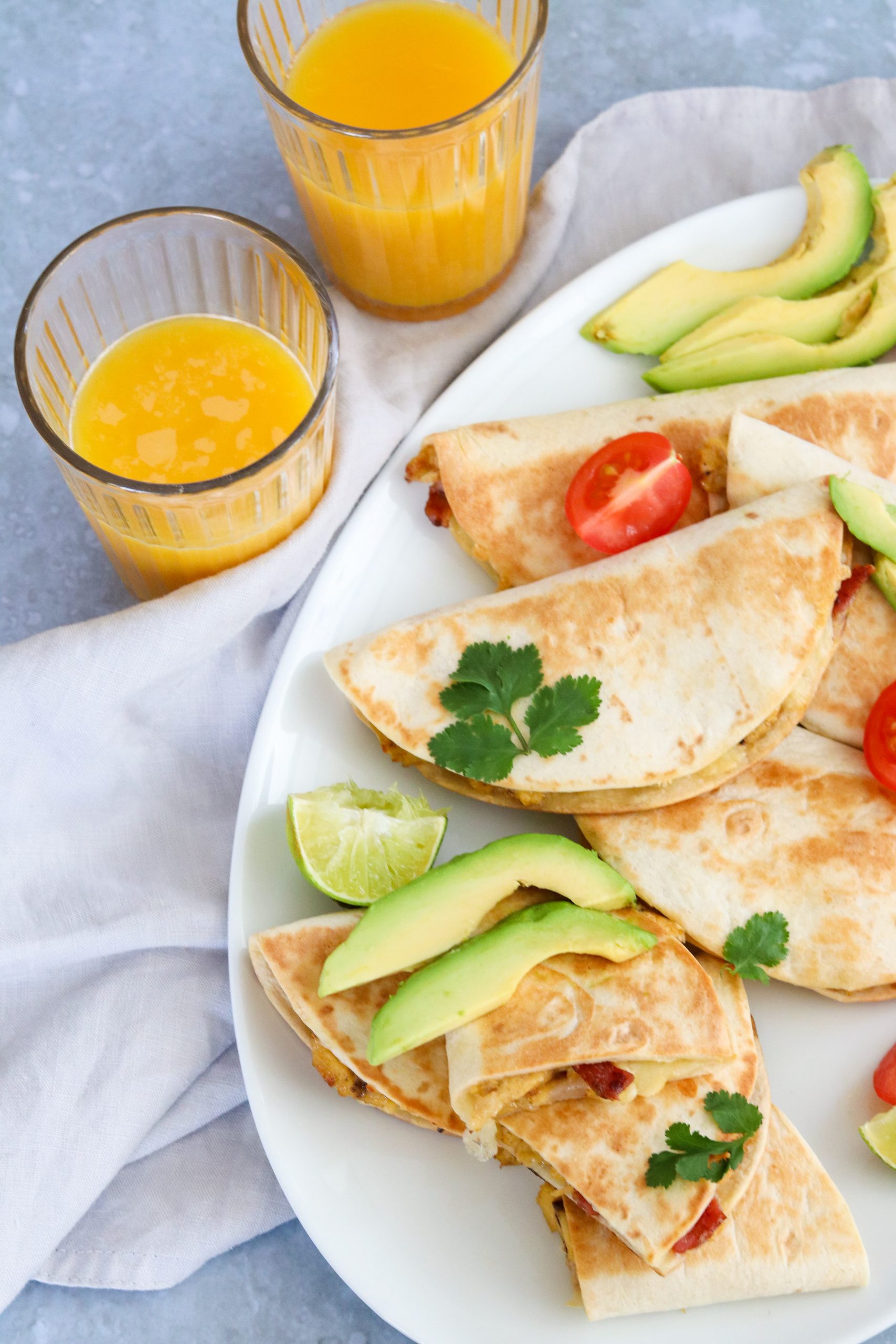 How many people do these quesadillas serve?
That really depends how hungry the people you are feeding are! The recipe makes six Cheese & Bacon Breakfast Quesadillas.
If you are serving these as breakfast one to one and a half per person would be suitable. However if you are particularly hungry, or are serving these for brunch you might want to allow for more.
The recipe is very easy to scale up and make more.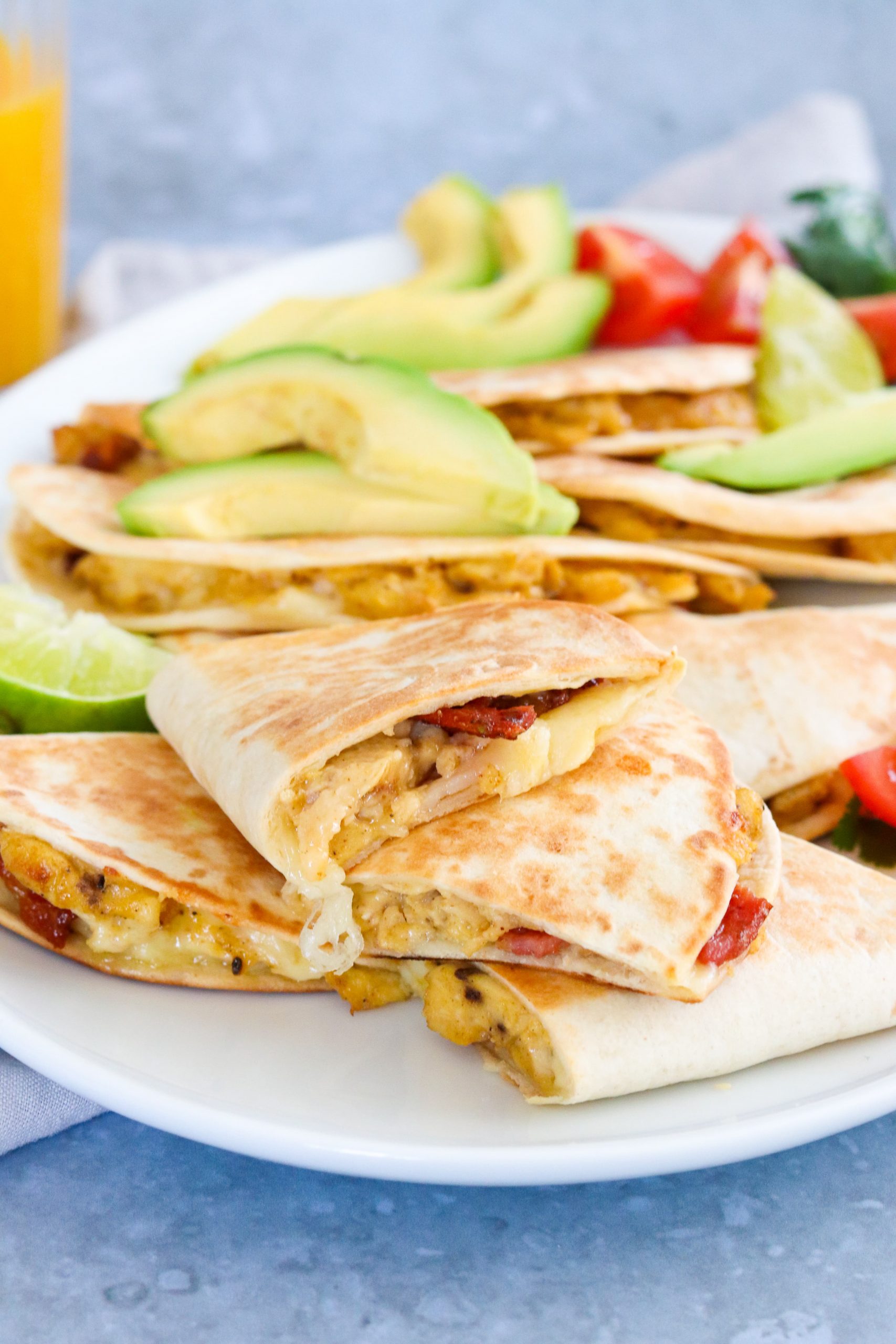 other recipes you might like
Pin for later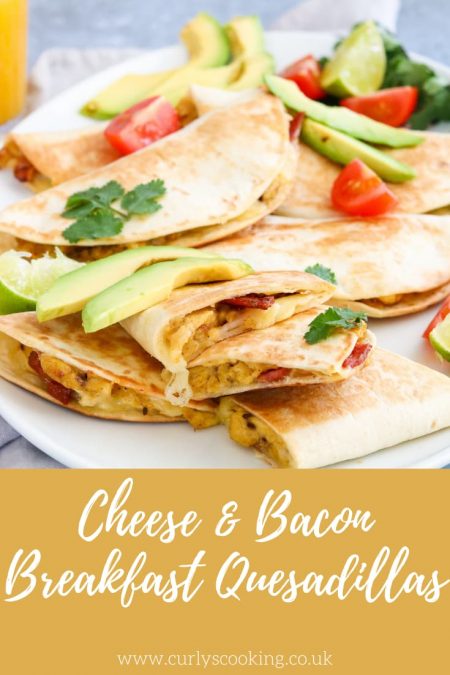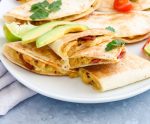 Cheese & Bacon Breakfast Quesadillas
Cheese & Bacon Breakfast Quesadillas are perfect for a lazy weekend brunch. Simple to make and very easy to customise, these will become a family favourite.
Ingredients
4

rashers

streaky bacon

4

eggs

1

tsp

semi skimmed milk

½

tsp

sea salt

pinch

black pepper

¼

tsp

ancho chilli powder

10

g

butter

6

mini tortillas

80

g

cheddar cheese

grated
Instructions
Fry the 4 slices of streaky bacon in a pan until it has reached your preferred level of crispness. Set aside when cooked

Add the 4 eggs, 1 tsp milk, ½ tsp salt, pinch of black pepper and ¼ tsp ancho chilli powder to a jug. Whisk until combined

Add the 10g of butter to a pan over a low heat. Once melted, add the eggs and cook, stirring often until the eggs are mostly cooked but still quite wet

Start assembling the quesadillas by sprinkling half of each with cheese over 6 mini tortillas

Next add a couple of spoonfulls of the scrambled eggs

Cut up the bacon and add a few pieces on top of the egg

Finish by sprinkling over a bit more cheese. Fold the empty half of the tortilla over the filled side

Heat a large frying pan over a medium heat. Place the quesadillas in the pan and cook for 2 minutes until the bottom of the quesadillas have become golden brown

Once golden, flip and cook for a further 2 minutes until both sides are cooked and the cheese has melted

Serve with whatever toppings you like!
Recipe Notes
Nutritional information is given as a guide only and may vary.
Nutrition Facts
Cheese & Bacon Breakfast Quesadillas
Amount Per Serving
Calories 214
Calories from Fat 81
% Daily Value*
Fat 9g14%
Cholesterol 127mg42%
Sodium 331mg14%
Potassium 55mg2%
Carbohydrates 1g0%
Protein 7g14%
Vitamin A 335IU7%
Vitamin C 1mg1%
Calcium 114mg11%
Iron 1mg6%
* Percent Daily Values are based on a 2000 calorie diet.
Linking to